Vizio SB3621n-E8
Design -

92%

Movies performance -

82%

Music performance -

86%

Inputs and Features -

70%

Price / Quality -

95%
---
Cheapest Places to Buy :
---
When it comes to enhancing your TV's audio you can either go the more complex and expensive way by getting a dedicated surround system or you can go for a soundbar that is designed to offer a more simple and less expensive alternative. Obviously each of the two has it's strengths and weaknesses but if you just want something better that the average performance your shiny new flat TV has without caring for any bells and whistles we often see included then you can get away with a soundbar that can be dirty cheap and provide the necessary upgrade to your immersion quality.
In today's Vizio SB3621n-E8 review we will be looking at exactly such a soundbar. Vizio has been a known quality among home cinema fans as they have created very respectable TVs and audio products over the years and the unit we will be testing here today is one of their most basic models. The SB3621n-E8 is a model that was released in 2017 and is still in retail circulation and as we had a few requests on it we decided to see what this is all about.
It seems that this soundbar offers some of the most basic features we have seen in such a unit as it comes with a 2.1 channels system meaning we get just 2 channels on the main unit along with the wireless subwoofer, along with Bluetooth streaming and a few audio features including DTS Studio Sound, DTS TruSurround and DTS TruVolume which we will analyze shortly. But if there is one thing that will certainly turn a few heads is it's price that at the time of writing hovers around the $150 mark. With such a low cost and it's completely basic feature set does the Vizio SB3621n-E8 manages to offer a worthwhile experience or it fails to deliver the goods? Keep reading as we put it to the test.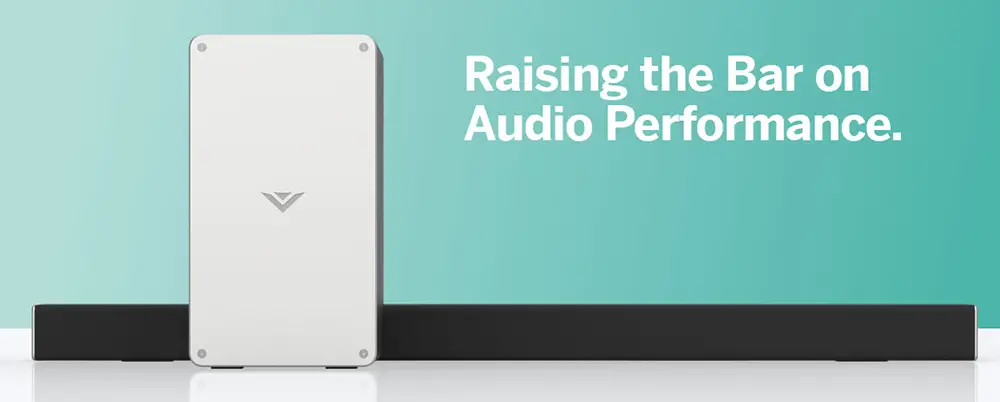 Design, Inputs and Features
Exterior
This is the second Vizio soundbar that we are reviewing here in Home Media Entertainment and the naming can be a bit confusing to those that don't keep up with the various soundbars that the manufacturer has released the last couple of years. The SB3621n-E8 is basically one of the lower tier, 2.1 channels, subwoofer equipped soundbars that Vizio has released and this specifically is a 2017 unit that still can be found around on retail.
Being a 2.1 channels system means that this unit is lacking in many respects as there are only two channels for front right and left on the main unit along with the subwoofer for the bass. The soundbar is a small one measuring just 36.00" x 2.10" x 3.20" and having a weight of 4.60 lbs it can be quite easy to place it either below your TV or mount it on the wall. The subwoofer is similarly small, in fact it's one of the smaller designs we have seen in our tests measuring just 6.70" x 11.80" x 7.90" and with a weight of 8.85 lbs.
Having such a small footprint and height means that it will most likely not obstruct your TV's IR sensors and because of this there is no need for IR repeaters that could only add to the overall cost. With such a small size for both the main unit and the subwoofer this model is mainly destined to be used in small living rooms or media centers where your primary goal is to improve your audio solution compared to what your TV is capable of. It's compact size makes it just a perfect fit.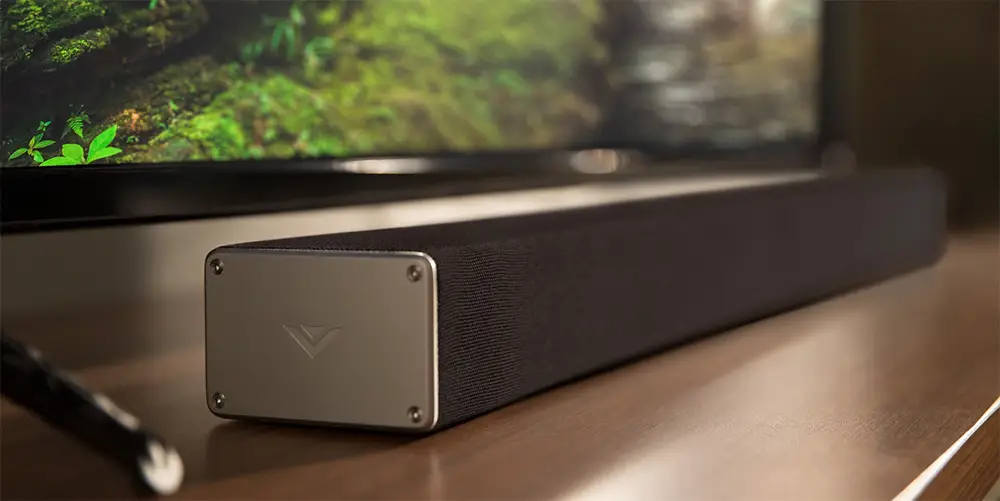 Let's talk a bit about it's design now. Over the last couple of years we have reviewed a number of low cost, entry level soundbars and while many of them were able to perform above average for their price one thing that most of them were lacking were good looks. Vizio on the other hand seems pretty determined to amaze us. This unit may not be on the same level as some of their top performing units but design wise we consider it one of the prettiest in this category. Obviously not so much for the grille cloth that wraps around the unit but mostly because of the combination of the cloth along with the silver sides that gives it a bit of a more premium look.
The design features straight lines and round edges and the non removable cloth grille is hiding the two front firing drivers along with the entire front and top faces. The rest of the unit is as usual made out of plastic but it was good quality and felt pretty sturdy. As per usual at the top side towards the center we get a few built-in control buttons for easy access without the remote. From left to right we get a power button, Input selection, Bluetooth function and volume control.
And while the Vizio soundbar gets high scores for it's looks one area where we could not be more disappointed is on the frontal display. In reality there is no frontal display, just a single vertical row of LED indicators that are located on the far left side of the front face and depending their behavior and combinations they indicate various functions of the unit.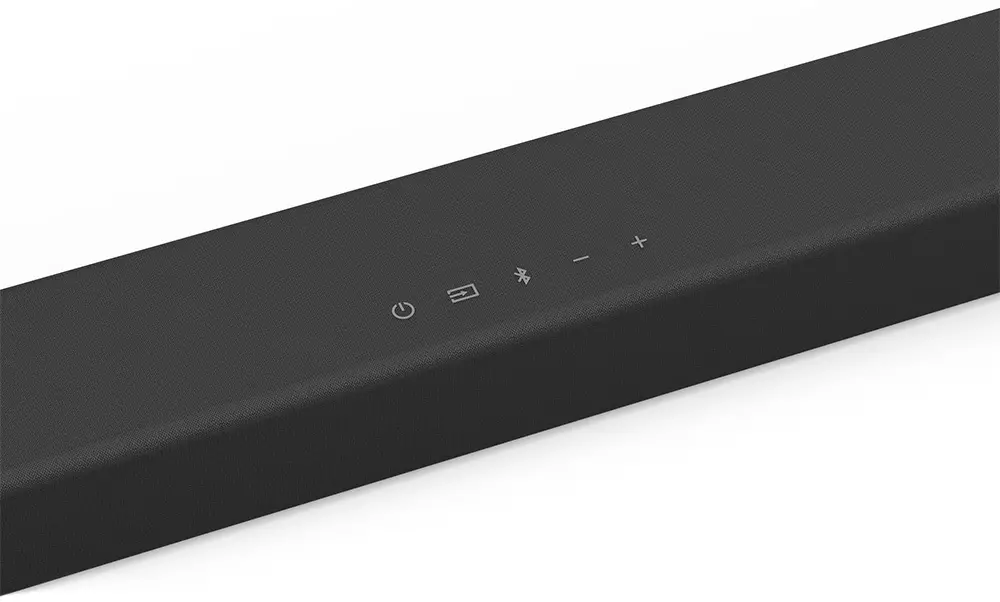 And if for volume control it is relatively easy to distinguish them when it comes to it's other functions be ready to have the manual in a handy position as you will most probably open it more than a few times in order to see what a specific combination of the lights means. It's a very frustrating system and one that really takes away from the overall good looks of the unit. We have seen similarly priced soundbars use a fully working display so we cannot imagine the reason why Vizio wouldn't use one also.
At the back of the unit we find two special insets, one at each side with each one housing the limited connections available and we will analyze them in the appropriate section. As we already mentioned there are no IR repeaters and the only other thing you will find is special holes in case you want to wall mount the thing. There is even a wall mount template in order to drill the holes in their appropriate positions before placing.
The subwoofer keeps the design of the main unit by featuring a cloth that covers both sides and upper face while the front features a silver plastic cover with the Vizio logo carved on it. This is a small looking subwoofer but a damn nice looking one. At the back side we find the back-firing driver along with a couple of buttons for pairing, since this is a wireless one, and for powering it on/off. On the left side there is a two-pin power connector while above the driver we get the bass port as this is a Bass Reflex design.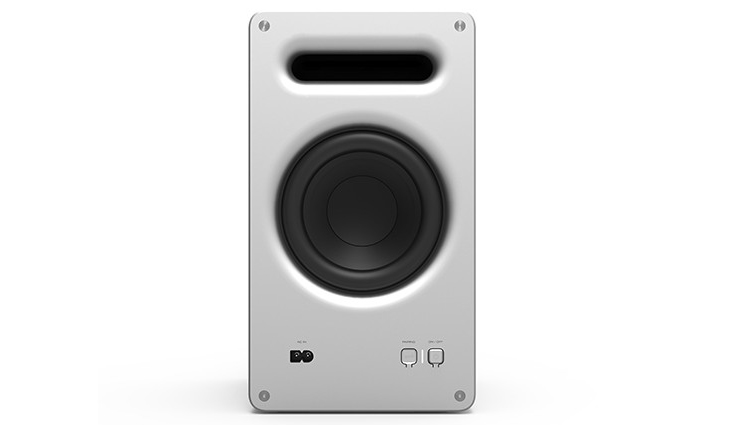 It is rather unusual to get a back-firing subwoofer as other similar ones are down-firing or front-firing variants but this can help to maximize it's performance if placed correctly as you need to keep in mind that this is a very small one so power is not one of strong points.
Overall the Vizio SB3621n-E8 is a nice looking unit and if it was not for the atrocious front LED indicators we could claim this to be one of the best looking models near the $150 price range.
Internal Hardware
With such a simple unit there is not a lot you can say about it's internals. The soundbar is using 2″ full range drivers for each of the left and right channels. Keeping it's low profile meant that they couldn't go any bigger than this but in all honesty we think it's enough for the use it is mainly destined to be used as even with these the soundbar can go pretty loud. On the other hand the subwoofer is using a single 5.25″ back-firing driver that is quite small for a subwoofer but even as such it manages to produce very convincing bass.
There are not many details on the unit's theoretical numbers as the ones Vizio give are rather thin in details but what we do know is that the SB3621n-E8 can reach a 100 dB sound pressure level and has a frequency response of 50 Hz – 20 KHz. How all these translate you can read below on our movie and music tests.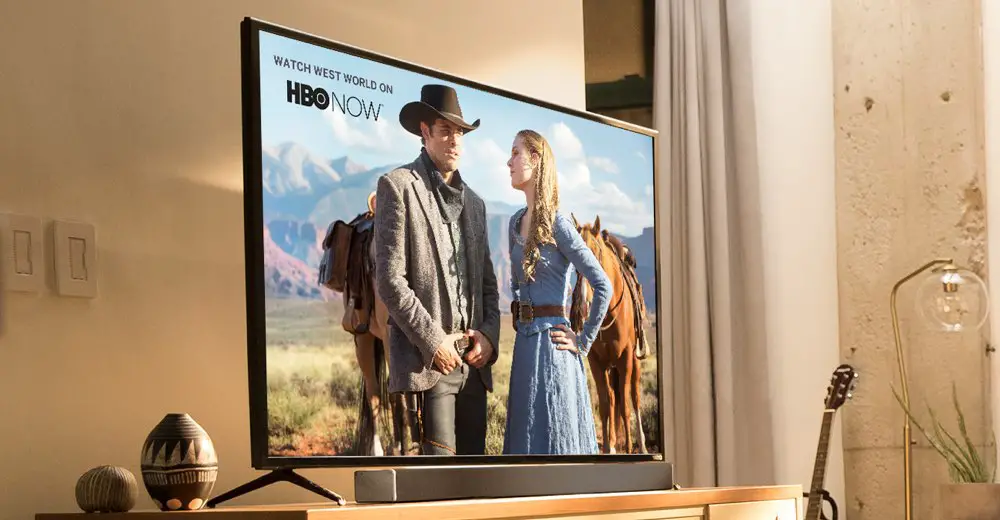 Connectivity
For such a low spec soundbar it was almost a certainty that we wouldn't get a lot of connections and indeed the ones we do get reflect the low class of the unit. With so few ports we fail to see the reason why everything is separated and not put together in a single inset as having them grouped would make cable management and our lives so much easier.
So as we see the unit from the back in the left inset we find the power connector along with a single 3.5mm analogue stereo input and a USB below that for connecting external storage and flash drives. On the other inset we get one digital optical and one coaxial audio input and…that's everything.
There are no HDMI ports to be found and although we do get the reasoning behind this, as the soundbar doesn't support anything else other than Dolby Digital and DTS to need one, we cannot accept not to have at least one when HDMI has become the number one connection being used nowadays even with this model's limited capabilities.

The soundbar has no internet connection either it be wireless or wired and it will have to make do only with the included Bluetooth v4.0 that can be used for streaming. In general connectivity options are rather thin and although we didn't have high expectations to begin with we were at least expecting a HDMI port that is so commonly used nowadays.
Control Options
With such a low price tag it was almost a given that the soundbar would come with the most basic control options. And this means that the only way to handle this unit is with the included remote. The old fashioned way… As we mentioned above you can also use the built-in control buttons but for complete control of the unit you will need the remote. And as there is no app or voice control support here things are pretty simple in this regard.
As for the remote that came with the Vizio SB3621n-E8 soundbar it has a very characteristic design that we have seen in many Vizio soundbars remotes as the manufacturer likes to keep things simple and organized. Obviously the remote is not a landmark of premium quality but it felt sturdy with good quality of materials, all things considered. We would like a smaller size as only half of it is occupied with squarish buttons giving you a sense of symmetry the way the buttons are positioned.
At the very top we get three buttons in a row for the most important functions that include power on/off, input selection and Bluetooth functionality. Below in a square formation we get playback and volume controls while below that, dead center, we get the mute button with the TruVolume and TruSurround buttons on the left and both Music and Movie modes on the right. At the very bottom there are three buttons for adjusting the bass, treble and subwoofer levels.

Since there are not many options available we like the fact that all modes and sound adjustments can be made with a press of a button as the remote includes literally every function of the unit which can very practical. You will not need to mess around with settings and menus here. A single press of a button and voila, you made the desired change. Lastly we should mention that this is an IR capable remote so you need direct line of sight with the soundbar in order to work properly.
Overall a nice remote that is very practical by including everything without it being fancy or extra premium. Also there is no backlight which makes things pretty hard in case you like to use the soundbar in a dark environment.
Extra Features and Services
This model is pretty light on features but there are a few that are worth mentioning. First of all with no HDMI ports available the type of audio formats supported is pretty limited. With the included digital audio inputs we can get only the core Dolby Digital and DTS formats and that's all there is to it. But to be honest the included hardware is not capable of anything more so we have to make do with that.
The unit also comes with only two sound modes plus an extra two sound features. For the Sound modes there are only Movie and Music options and these are very self explanatory of what they are supposed to do. But the soundbar also has a TruVolume and TruSurround feature that need to be analyzed a bit more. These two belong to the DTS Studio Sound platform and you can enable them individually.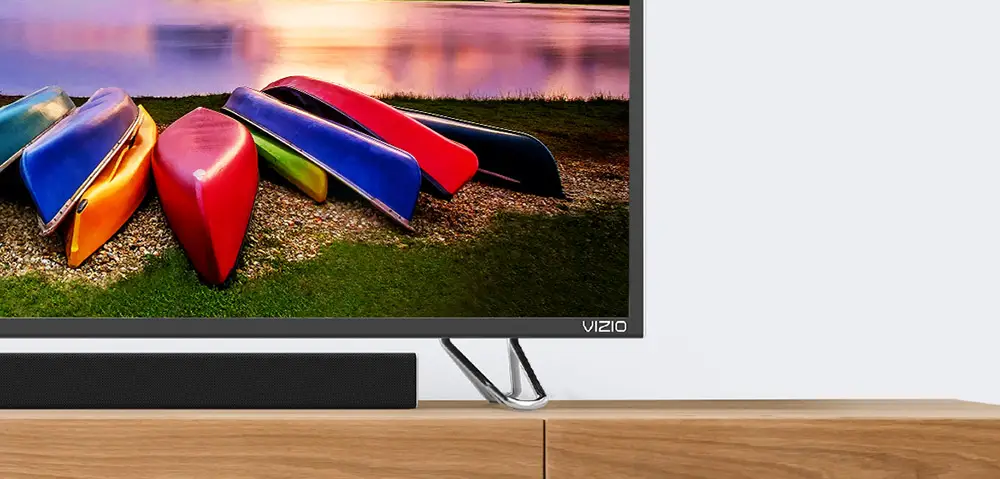 What the TruVolume does is to measure and regulate in real time perceived loudness differences and keeps the overall volume of sound level, without affecting dynamic range. For example when you are watching a movie and suddenly a commercial blasts on high volume. The TruVolume will even the output and match the volume you have set on the soundbar.
The second feature called DTS TruSurround is actually a kind of virtual technology that in theory can create an immersive surround environment with just the use of the two front speakers. We are not very fond of these virtual technologies as most of the time they fail to give a real sense of over-the-shoulder action but we are going to put it to the test to see how this behaves with Vizio's soundbar.
The soundbar supports USB streaming through the included USB port but to be honest this seems like an afterthought as it's functionality is extremely limited to only specific wav files. We cannot get why even the most common mp3 files are not supported and it feels like a half baked solution as it is right now. But nevertheless if you are using wav files you will be pleased to know that this unit can playback them.
Vizio is mostly advertising this model's Bluetooth capabilities and in reality this is the most practical way to stream music. Bluetooth pairing is easily done and the connection seemed pretty good and stable as was the quality of sound we got from it.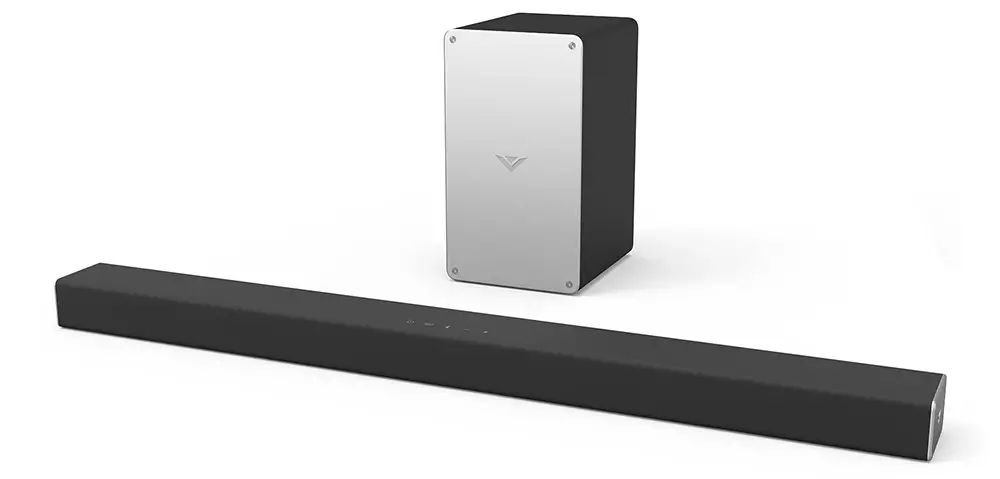 The SB3621n-E8 is a really barebones audio device. It comes with limited USB streaming along with Bluetooth capabilities and the number of audio modes and sound features we get are almost the absolute necessary that really reflect upon it's extremely low price.
Initial Setup
The time needed from unboxing to finishing initial setup could not be any shorter as things are pretty simple. After placing the soundbar under our test TV and the subwoofer to a corner near our listening position we opted to connect it through the Digital Optical port. After we powered on both the main unit and the subwoofer, the two paired almost immediately. During initial start-up the soundbar will cycle through all inputs until it finds the one that you are using and in our case that was the optical port.
With that done you are ready to make a few calibrations that are available and easily accessible through the remote buttons. As such you can adjust the subwoofer, treble and bass levels to your liking, select the preferred sound mode and decide if you are going to use the TruVolume and TruSurround features depending on the content you will be watching.
That's all you have to do and once you decide the appropriate ones you are good to go. Being so easily accessible means that you don't have necessarily to find an all around sound solution for your system. Usually adjusting the sound for different content each time can be a pain but here everything is so easy that you can make adjustments on the fly without the need to navigate through various options or menus and thus providing an amazing plug-and-play experience.

Movies
The first film of choice is the 4K UHD version of Saving Private Ryan that comes with an amazing Dolby Atmos audio track. Obviously with the soundbar's limited capabilities we only got the core Dolby Digital track but even so this was enough for us in order to determine how good this unit is.
Our testing was split into two parts with the first using the Movie mode with the TruSurround feature disabled. And what other scene to try first than the opening part with the landing of the Allied soldiers on Omaha beach. From the first moment what is evident is the improvement of the front soundstage compared to what our TV was capable of. The sound felt more alive, more punchy and more expanded. This may be a small soundbar but the sound extended beyond the physical limits of the unit. It didn't extend to such a degree that we had seen in some other bigger soundbars or some models that use side-firing drivers but we were pleasantly surprised by it's extension capabilities.
The soundbar may be lacking a dedicated center channel but was able to provide the dialogue with good separation from the other effects even if the degree of clarity is not up there with some other units that feature a dedicated center channel. Another thing that we paid attention to was how punchy it's performance felt. When you initially see this unit you don't expect it to be able to go so loud but this one did and while pushing it to extreme levels did make it buckle under the pressure you can really enjoy it in higher levels than what most casual viewers listen to.
Similarly we were pleasantly surprised by the small sized subwoofer. I heard a couple of jokes of how small this one was but when the German artillery was pounding the beach no one was laughing anymore. Obviously don't expect this to compete in any shape or form to a dedicated subwoofer but for it's size it can provide enough bass that would otherwise make the experience flat and uninteresting.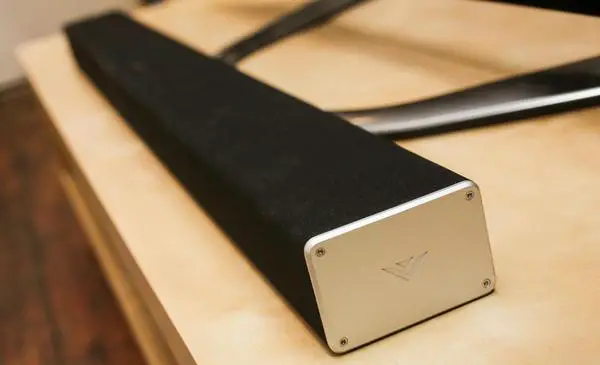 And while the overall performance of more than satisfactory if there was one area that the SB3621n-E8 was seriously lacking was in it's surround activity as there was none. All the action was totally at the front of us. Even effects that normally should appear at the rear like bullets flying past our heads their presence was only felt strictly at the front.
Now we tried a few selected scenes once again with the DTS TruSurround feature on to see if this time we would get any better results. To be completely honest with this feature on the end result felt slightly improved. The soundbar made a valiant effort to give us the illusion of surround activity and the overall soundstage felt like it came a bit closer to our position but again there was no real activity behind us and this was to be expected. This tech can do so much without the necessary hardware to work with.
We also tried another Dolby Atmos film in the shape of Pacific Rim: Uprising. Once again we only got to enjoy the core Dolby Digital track and again the kind of behavior we saw was in line with our previous tests. With the DTS TruSurround feature disabled and choosing the Movie mode we got a very fulfilling performance at the front with good separation and shifting between the left and right channels and good expansion towards the sides.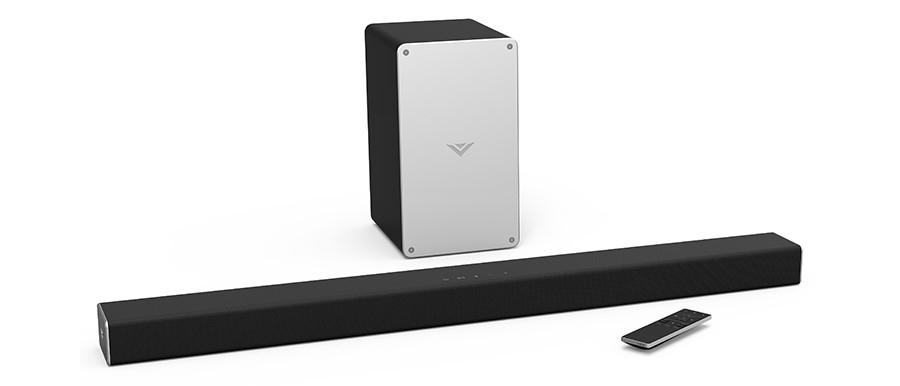 Dialogue had good clarity and composure and never felt like we were missing the center channel. The subwoofer went pretty low for it's size and such a movie has plenty of opportunities for it to flex it's tiny muscles. Lastly surround immersion was completely missing in action. Enabling the DTS TruSurround made things slightly better but not all is good as sometimes sound felt more processed than what we would like, something that is natural with these virtual technologies.
Overall the soundbar managed to fare very good with such action heavy films and even with it's hardware limitations managed to provide a very satisfying and enjoyable experience.
Music
Usually in our music tests we prefer to use the USB port as it provides the best possible results as far as audio quality is concerned. But as we imagine that most people will be using the Bluetooth streaming to listen to music and this seems to be the main way to hear audio then we opted to also complete this part of our testing this way.
So how does such a low cost soundbar fares when it comes to music? Much better than what it's asking price is but overall it really shows that we are talking about a low capabilities model. We didn't hear any major problems with how music was handled by the unit as to our ears it gave a very balanced output between the frequencies across the whole dynamic range, it's just that it didn't offer anything more than what we have heard in some other, also good, low cost models.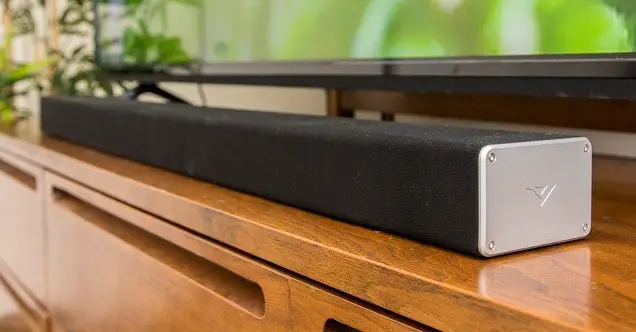 Overall we would rate it above average and once again with such a low price things always look better. Because you need to consider the cost when judging the audio performance of an audio device and as such the Vizio soundbar is an excellent low cost option. Mid-range felt solid enough, with the highs sound lively without being exciting. The subwoofer didn't provide very deep notes and hovered mostly on the upper low levels.
In total this is what we would call the definite casual music soundbar. It may not make your jaw drop but it was not meant to. And it will for sure provide you with unlimited hours of music enjoyment.
Final Thoughts
The Vizio SB3621n-E8 is the kind of soundbar that you can really appreciate as it is an honest effort of offering some worthy improvement over your TV's audio at the absolute lowest cost. Don't expect to get any fancy specs or features here and the kind of performance you will get reflect the price asked.
The unit features 2.1 dedicated channels, has an extremely attractive design and very good build quality and materials, it supports Dolby Digital through the included digital optical or coaxial ports, offer limited USB streaming along with Bluetooth pairing and playback and comes with a few basic sound modes and audio features. Initial setup is as simple as it can get as is handling it. With so few options and settings available adjusting the sound to your liking can be a breeze while it's size makes it perfect for small rooms, living rooms or media centers by providing a loud and clear performance at a price that is almost a steal.
On the downsides there is no surround activity as all action was firmly at the front of us even with the TruSurround tech enabled. So if you are looking for a more immersive experience you will have to look elsewhere. Also we found Vizio's LED indicators a poor solution to a frontal display as it makes it hard to remember the combinations of the lights. Lastly the included features and connections available are the absolute minimum and while we cannot ask for a lot more from a device with such a price tag we can always ask for more.
In the end it's cost is the most important factor. The Vizio SB3621n-E8 is a soundbar that promises to offer you something better than what your TV can do and does that with a punchy and loud performance that surely doesn't reflect the asked price that hovers around the $150 mark. And for that this soundbar is definitely worth of your consideration.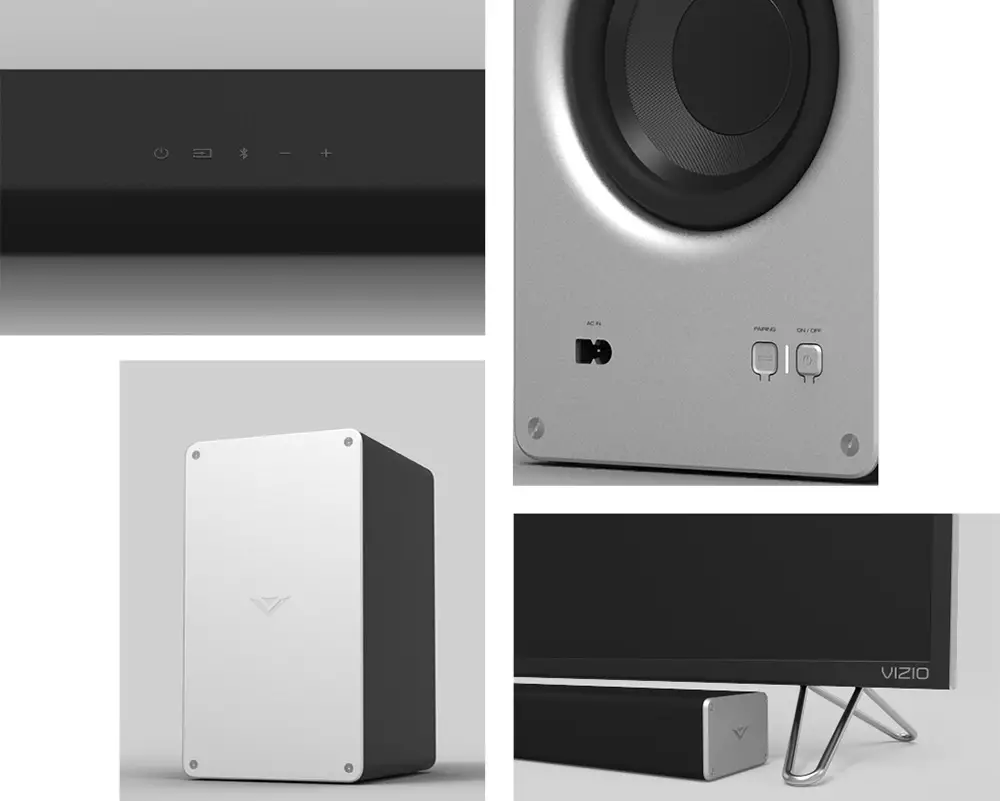 For more reviews you can check our dedicated Soundbar-subwoofer combo reviews list or even look at our Product Reviews Table where you can find the brand and specific product you are looking for.
Also don't lose the chance to subscribe to our Newsletter and gain exclusive privileges.
---
Cheapest Places to Buy :
---
Vizio SB3621n-E8 Specifications