Vizio SB36512-F6
Movies performance
9.2/10
Inputs and Features
9.2/10
Pros
Great performance
True 5.1.2 Dolby Atmos system
Many features
Jaw dropping price
Cons
No DTS:X support
No real display on the soundbar
Remote's LED display hard to see in dim light
Wired satellites are less convenient
---
Cheapest Places to Buy :
---
When we hear the words Dolby Atmos and soundbars in the same sentence usually it doesn't mean good things. And this is mostly a fault of the manufacturers themselves as we have seen many soundbars claiming to support Dolby Atmos when they don't have the necessary hardware to support it. This usually happens because in their try to offer as low priced soundbars as possible they have to rely on virtual tech to replicate the Atmos and surround effects instead of giving the soundbars the right tools for the job.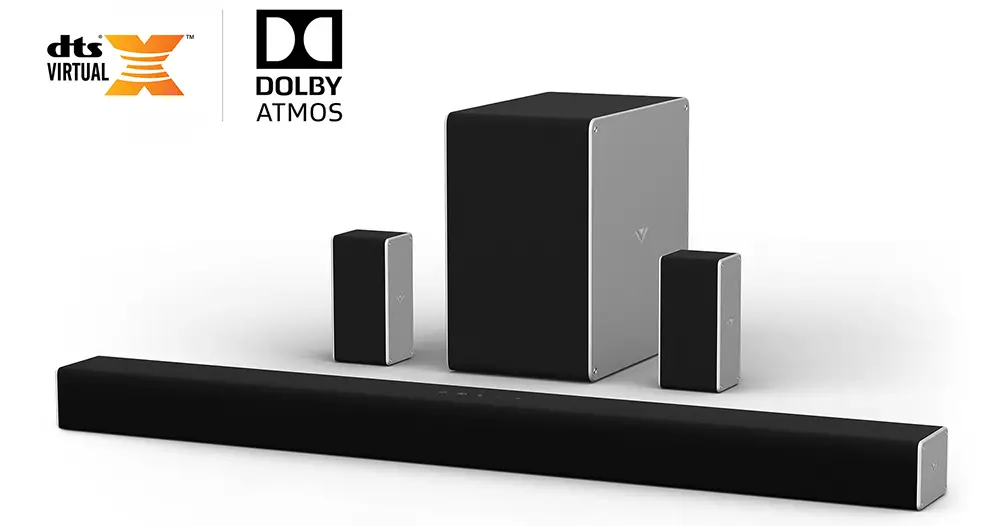 And in the rear case we see a soundbar that comes with dedicated Atmos or surround speakers the price usually go higher than what we would like. Today in our Vizio SB36512-F6 review we will be testing a soundbar that aims to go against everything we know so far by offering us a true 5.1.2 channels, Atmos enabled system with a price that almost touches the $300 mark. Yes your eyes are not deceiving you. A soundbar that uses both dedicated up-firing Atmos as well as surround speakers for a total of just $300. How can this be possible you may ask when most other soundbars with up-firing speakers cost so much more.
It seems that Vizio is determined to destroy the competition as the SB36512-F6 is a prime example of offering big while asking for little. Even without talking about it's extra features, just the value of a true 5.1.2 system outweighs by far it's asking price. Obviously a simple number doesn't mean anything if the actual performance is not as good as expected so without any further delay let's start our analysis.
Design, Inputs and Features
Exterior
Before we discuss the unit itself we need to clear up the model naming that may confuse a few of you. Vizio is using a little more complex names for their soundbars than it is necessary so we need to point out that this is the SB36512-F6 which features a 5.1.2 setup and was released in 2018. There is a similar model with the SB36514-G6 naming that is basically a similar soundbar but with up-firing Dolby Atmos surrounds also resulting in a 5.1.4 setup which retails at a higher price.
So with this out of the way let's talk about the one we will be testing today. Vizio rates the SB36512-F6 as a 5.1.2 soundbar and this means that in the box we get the main unit that includes three drivers for the front left, center and right channels along with two up-firing drivers for the Atmos effects. There is also a couple of surround wired speakers along with the wireless subwoofer for the bass.
The main unit measures just 36.00″ x 2.50″ x 3.19″ (914.4 mm x 63.5 mm x 81.0 mm) and weights only 5.60 Lbs. (2.54 Kg) which makes it relatively small and lightweight for a Dolby Atmos enabled unit. The surround speakers are also very small at 2.69″ x 5.69″ x 2.56″ (68.3 mm x 144.5 mm x 65.0 mm) and weighting just 0.88 Lbs. (0.40 Kg). In a similar fashion the included subwoofer is smaller than what we originally expected and comes with a size of 6.97″ x 11.42″ x 11.42″ (177.0 mm x 290.1 mm x 290.1 mm) and weight 10.20 Lbs. (4.63 Kg).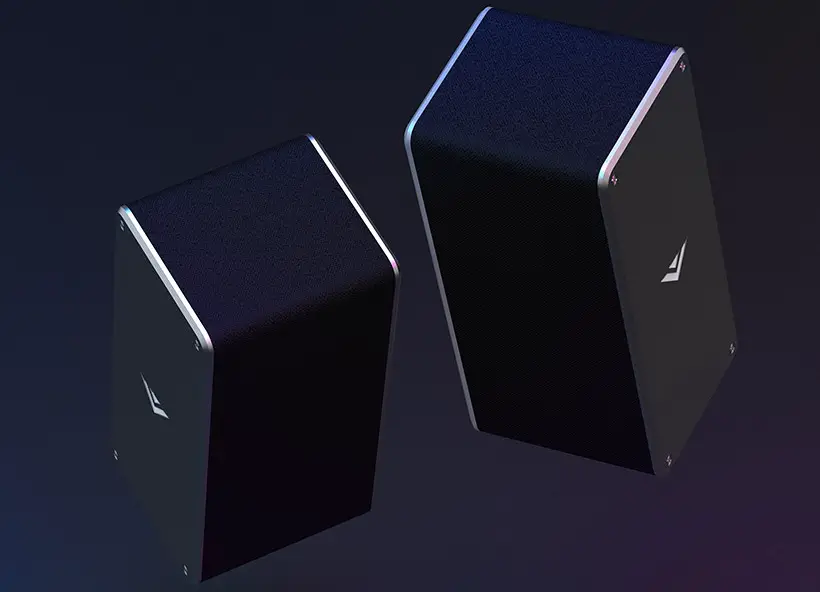 As you can understand from the above this soundbar is designed mostly for small areas and while the unit can go pretty loud as we will mention in detail a bit down in our review it feels like it was meant for small living rooms or media areas where it will feel right at home and it will be able to perform better.
As far as it's design goes Vizio has used the same across all the soundbar's components. As such the front and top of the main unit, surround speakers and subwoofer are covered in a grey colored fabric while the back is plain plastic. Both left and right sides are covered also in plastic but with a lighter color and features Vizio's logo carved in. There are no sharp edges in this design as we get round corners for a smoother transition between the front and top faces. And although plastic is the main material used we think that build quality is very good with a solid construction. For a soundbar that costs so little you shouldn't expect anything fancy but even as such Vizio managed to create a pleasing and solid model.
The cloth that covers the front and top of the unit cannot be removed and hides both the front and up-firing speakers. At the top face we get a few control buttons that are located dead center of the unit and hide below the cloth and these include the most common functions like power on/off, input selection, Bluetooth as well as volume control. Just keep in mind that these are physical buttons and not touch sensitive ones.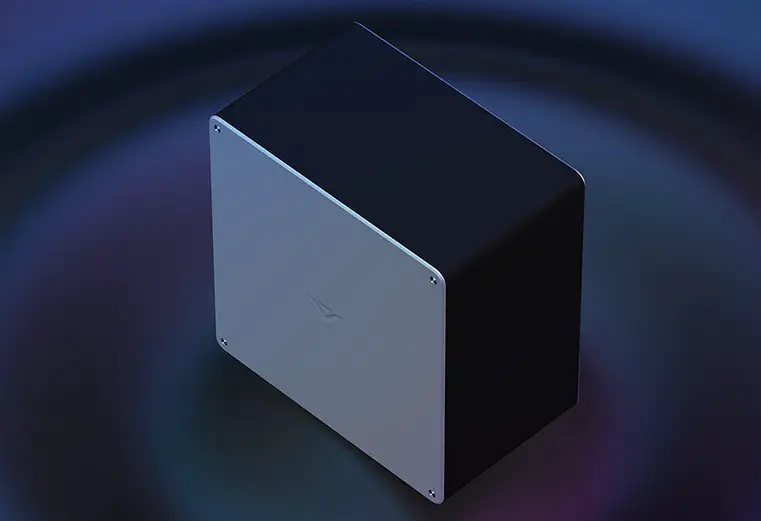 And while the overall look of the soundbar is above average both in aesthetics and functionality what we didn't like was the absence of a full frontal display. We don't know if Vizio did that because of design issues or because of cost constraints but not being able to have one is a major let down making it hard to know what the soundbar is doing at each given moment.
Instead of a full display Vizio went for a series of led lights that they placed in the far left corner of the front face. Depending on how these lights blink it indicates various functions of the soundbar. And while for volume control it's easy to understand more or less what is going on for all the rest of the functions it's hard to remember them and we are sure that you will have to open the manual more than a few times to see what the unit is doing. Not practical at all to say the least and this is probably the only big drawback of the design.
At the back of the unit we see two special insets, one on the left and one on the right, housing all the connections of the unit. There are no IR repeaters in case the soundbar is blocking your TV's IR sensor but in all honesty you most probably will not need any as the low profile of the soundbar doesn't make this a necessity. Lastly there are a couple of wall-mount screw holes in case you want to put it up on the wall. Vizio even provides a special wall mounting template in order to mark the holes correctly.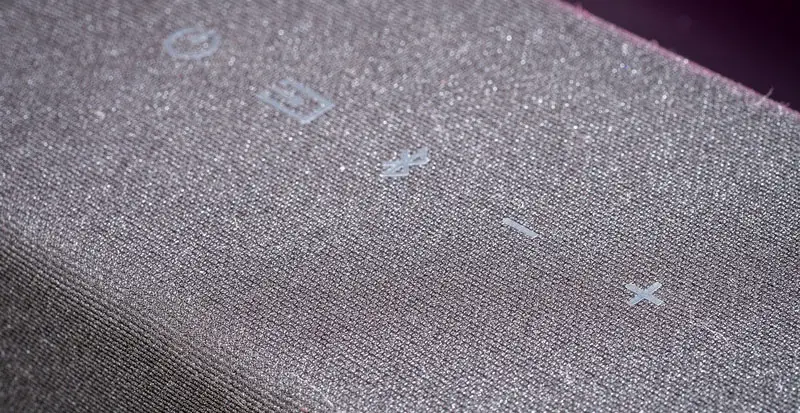 The Vizio SB36512-F6 is a lovely looking soundbar and one of the better ones we have seen in this price range. With good looks and above average build quality this unit scores high in this regard.
Internal Hardware
With the non removable cloth identifying what is under the hood can be a bit tricky. Nevertheless with a bit of digging around we were able to uncover what makes this Vizio soundbar tick. For the main unit Vizio has used a total of five 1.89" x 2.99" oval full range drivers, three for the front left, center and right channels along with a couple up-firing drivers for the bouncing Dolby Atmos effects. For such a low profile unit featuring five similar drivers would most certainly mean that an oval design would have to be used in order to fit them all in such a tight space.
As for the surround speakers Vizio used dual 1.8″ full range drivers for each one which is rather unusual for such a small design as we mostly see single drivers in this size. As for the subwoofer, this comes equipped with a single 6.0″ (152.4 mm) driver that is responsible for all the bass and comes with a frequency response of 40Hz – 100Hz. At 6″ the subwoofer may not be a huge one and to some it may seem far too small but keep in mind that we are talking about a small overall design and the subwoofer would have to follow the same principle.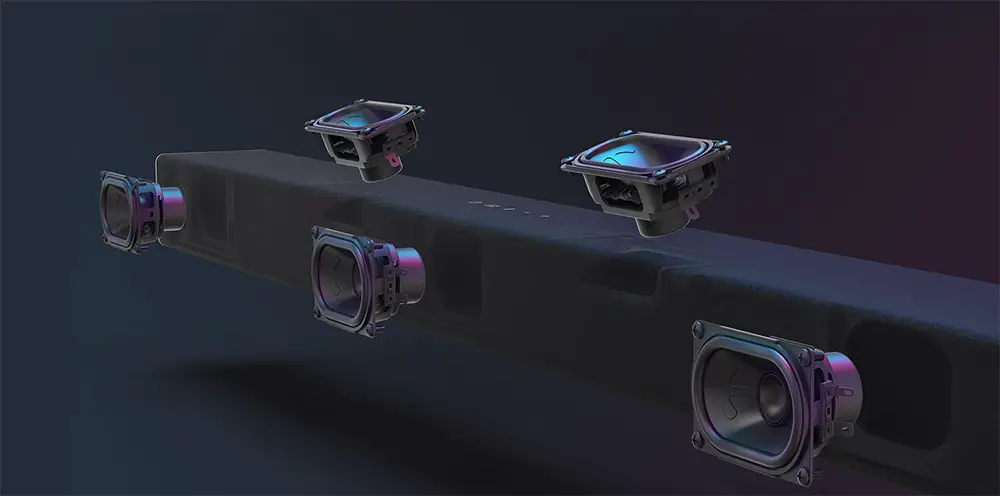 With a total of five drivers in the main soundbar along with the two surrounds and the subwoofer the system has a frequency response of 40Hz – 20kHz with a sound pressure level of 101 dB which according to Vizio is loud enough for the size of the unit.
Connectivity
When it comes to cable management it can be a bit difficult if you are using multiple cables as Vizio has separated the connections into two groups which is a bit puzzling but we guess this has to do with the general design of the system. On the left inset that the power connector is also found we get a digital optical audio input along with a 3.5mm analogue audio input.
On the right inset we get an HDMI input and a HDMI output with added ARC support, a USB port for connecting external storage with limited playback functionality and lastly an Ethernet port for wired connection to the Internet in case you don't have a stable wireless connection.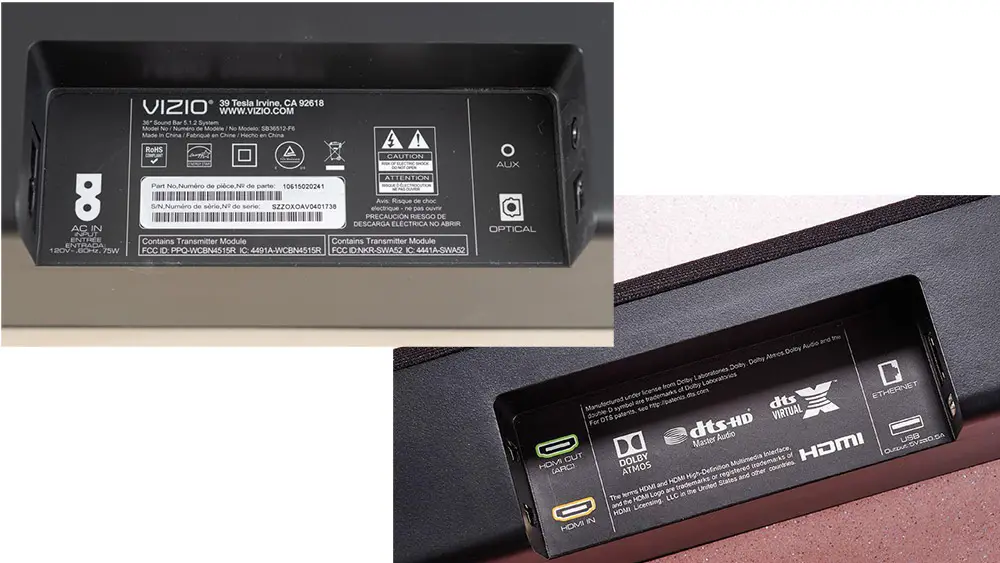 The type of HDMI ports available is nowhere to be found either in the manual or in Vizio's website but we guess that it uses the most usual nowadays HDCP 2.2 which means 4K/60p, HDR and wide color gamut pass-through. Also you may notice that there are nowhere to be found the connections for the surround speakers. This happens because Vizio decided to place these connectors on the back of the subwoofer instead of the main bar in what is surely an unusual design decision.
As for the soundbar's wireless capabilities the SB36512-F6 comes with built-in WiFi that supports 802.11 a/b/g/n/ac as well as Bluetooth v4.2.
Control Options
Vizio has equipped this unit with various types of control but let's see the most obvious first. The included remote is a rather unique design that falls outside the usual plastic with simple rubber buttons designs we see in many soundbars in this price range. The one we get here features a very simple squarish design with round corners with a total of 11 buttons along with an LCD screen at the very top.

To be honest although the display is a smart move, without some kind of backlight it makes it completely unreadable in a low lit environment and a waste as far as functionality is concerned. The rest of the buttons include a power, input and menu on top followed by the usual navigation buttons that also act as playback buttons while at the bottom we get the volume and mute buttons…and that's it. We definitely like the simplicity of the remote and it reminded us Samsung's One Remote a little.
But Vizio has also created an app called Vizio SmartCast that supports both iOS and Android devices and can completely replace your remote as it enables you to not only control the basic functions of the soundbar but also all of it's settings. But it also provides additional functionality as with it you can update the unit if needed. One thing that we didn't like about it and that we have also read many complaints about is the responsiveness of the app as many times it was lagging and took some time to update the real status of the unit.
Last but not least there is support for Google Assistant if you like to control it with your voice. Unfortunately there is no Amazon Alexa but for such a cheap unit even having Google's platform is a major plus. But in order to use voice commands you will need to have a Google Assistant device as the soundbar lacks any kind of built-in microphones that can be used for such a thing.

For this price we could really not ask for more. Vizio has really pushed the envelop with the SB36512-F6 as far as control options and no other soundbar in this price comes even close.
Extra Features and Services
Being a true 5.1.2 channels soundbar the SB36512-F6 naturally supports Dolby Atmos tracks along with all of Dolby's older variations. But to our great disappointment there is no DTS:X which is rather strange with Vizio going through all this trouble to create a true Atmos enabled soundbar and not include DTS:X support. This means that the unit can only decode up to DTS-HD Master Audio as well as include DTS Virtual:X as an extra feature in case you want to use that.
Dolby Atmos effects are created by using up-firing speakers that bounce the sound of the ceiling meaning that depending on your room configuration sound may feel different. As you understand the lower the ceiling the more pronounced the overhead effects will be.
The soundbar comes with 3 preset equalizer settings that you can choose depending on the type of content you are watching. The ones available are Movie, Music and Direct with each one changing the sound accordingly to give priority to certain effects in order to create a more immersive soundstage. The three settings are pretty self explanatory with Movie mode better suited for movies, Music mode for music and concerts while Direct mode is suited for everything else.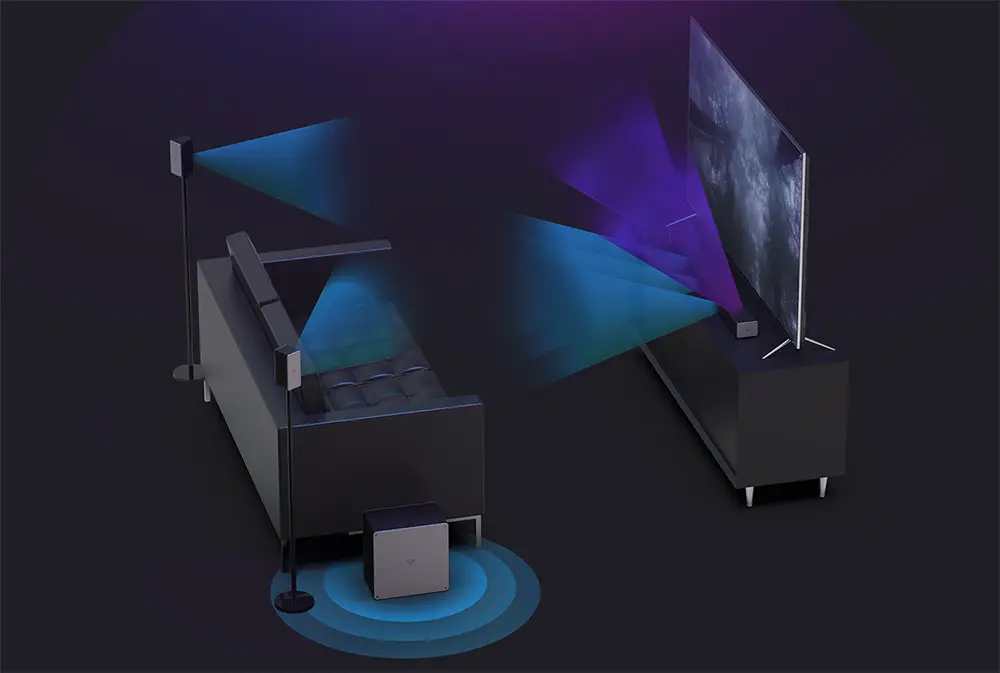 Usually soundbars provide a few extra modes like a voice mode that enhances the dialogue but unfortunately the Vizio soundbar doesn't have this. The only other mode that is available is the Night mode with which the unit lowers bass frequency levels in order to provide a more quiet environment that can be ideal for late night watching or if you happen to live in an apartment.
Let's now talk about the unit's streaming capabilities. First of all there is a USB that you can use to connect external storage and playback your files this way. There are actually 2 drawbacks with this that we can see. First of all having the port in the back makes it hard to use it frequently especially if you have the soundbar on some furniture. When wall mounted it is a bit easier to stick your hand under it but otherwise it's a hard to spot position. The other minus is the limited functionality the built-in player has as it can play only MP3 and WAV files so as you understand there aren't many options to choose from.
The other option you have is through Bluetooth streaming as you can connect any Bluetooth enabled device to the soundbar and stream music through a wireless connection. But the SB36512-F6 is not limited only with Bluetooth. As it has built-in Chromecast support you can listen to music using various streaming services like Pandora or Spotify.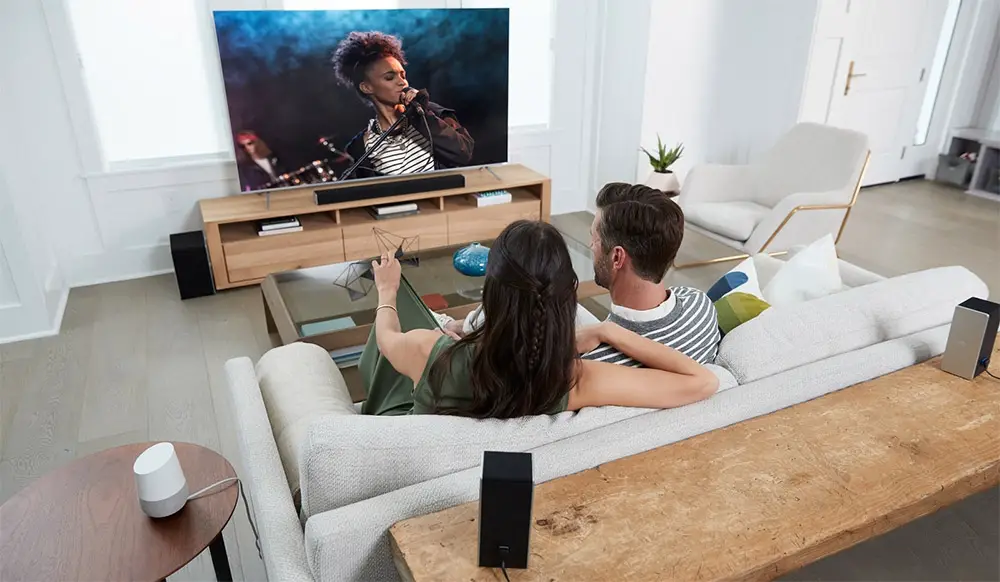 One last feature that is worthy of mentioning is support for HDMI-CEC. This can be a very handy and practical feature if you want to use your TV's remote to control basic functions of the soundbar and thus save you the trouble from having  many remotes on your viewing area. But even if the soundbar doesn't recognize certain commands you can make it learn them as there is remote programming by pointing both the TV's and soundbar remotes on the main unit. In the manual there are detailed instructions on how to do this.
In general for a $300 soundbar we are more than pleased with the kind of features we get in this one. You would think that with such an extremely low price most of the budget would be spent on the actual hardware but Vizio made sure to squeeze in a few nice features. It's streaming and playback capabilities are satisfactory even if it does not provide the most complete set of features we have seen. Good work from Vizio in this regard.
Initial Setup
The SB36512-F6 may be a true Dolby Atmos soundbar but when it comes to initial setup things are pretty simple to tell you the truth. The manual provides a pretty simple and step by step guide with pictures on how to connect everything and we can go as far as to say that this one here provides a real plug-and-play experience. If you have even little knowledge about audio equipment it shouldn't take you more than a few minutes to have everything ready.
So after taking everything out of the box and place all the speakers in their appropriate positions you will have to choose the means of connection to your TV. In our case we used the HDMI output, that has added ARC functionality, as it provides the best possible quality. Next you need to connect the surround speakers to the subwoofer and with the wires being color coded it's hard to connect them wrong. Lastly you connect both the soundbar and subwoofer to a power plug and let them connect wirelessly. Usually they do that by themselves but in the rear case they don't there is a pairing button that you can push to do it yourself.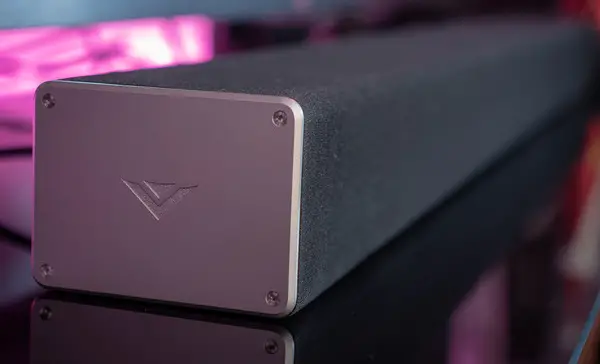 And that's all there is to it. The unit is then ready to be used. As far as it's calibration settings things are a bit thin in this regard. There is no automated calibration system so the few available settings have to be adjusted manually. The soundbar provides bass and treble adjustments as well as height and surround speakers level adjustments. You cannot change each speaker individually so placement of the surrounds have to be precisely the same. Due to the provided EQ presets you can adjust the sound output to your liking and depending on the content being played. When everything is said and done we were ready for our movies testing.
Movies
With real up-firing Atmos speakers as well as surrounds available we wanted to try out a couple of movies that would take advantage of these in order to be able to determine how good an Atmos performance this soundbar can offer. As such for our first testing we chose the 4K UHD version of Tranformers: The Last Knight. Now we have tested this movie with many soundbars before and the general experience we were getting from most of them that belonged in the lower tier class was a good front soundstage that could at best extend a bit more to the sides but that was it. There was almost no height action or surrounds activity that could really make us feel totally immersed.
Here comes the Vizio SB36512-F6, as from the first scene we tried we experienced a totally different outcome from what we got used until now. While the front soundstage was immensely strong this time we felt encircled by the action as the surrounds did produce all the back action realistically. There are many scenes with projectiles, laser fire and weapons shooting all over the place and the soundbar really made sure to keep the transitioning between the channels very accurate.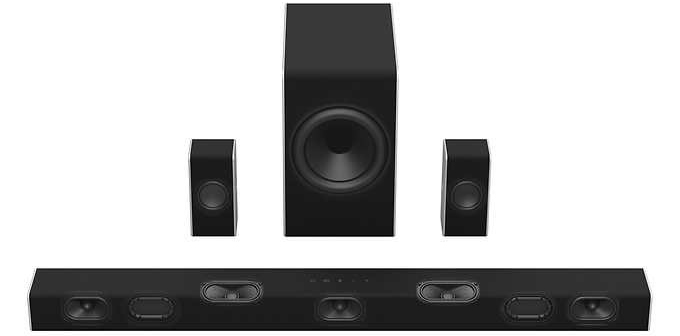 And while the back action was active we did feel the overhead layer to be alive as well with jets flying over our heads and weapon fire wheezing over our ears. One thing we should point out is that the overhead Atmos effects were not so pronounced or accurate as the front or surround sounds. And this is not a fault of the system itself rather than the type of Atmos implementation we get in this one. No matter how good speakers you have, up-firing Atmos speakers will never be as good as true ceiling speakers. That is a fact and a hard reality.
But we need to clear something up. Many people consider this up-firing solution snake oil which could not be more far from the truth. Is it as good as true ceiling speakers? Certainly not but for those many cases that ceiling speakers are out of the question the up-firing speakers are far better than having no Atmos speakers at all.
And with this into consideration the Vizio soundbar was able to really give us a sense of height even if not as precise or clear as the real deal. Many of the overhead effects felt like coming above our TV while we had a clear sense of position between the left height area and right one.
For our second test we went for an equally impressive Dolby Atmos track found in the 4K UHD of Pacific Rim: Uprising. The movie turned out as a below average sequel to the amazing first movie but everyone should agree that when it comes to it's sound it's loud, surround and overhead heavy and provides exactly what we needed for our tests.
In this film we got more or less the same kind of performance showing the qualities of the Vizio soundbar. The front soundstage was the main focus with good separation between the left and right channels while the center provided clear and distinguishable dialogue that never felt buried under all the action. Surround activity was deep enough to actually make us feel like it was coming from the back while the overhead layer was pretty good with many effects feel like coming above the TV. With the move's grand scale the Atmos effects really had an impact on our experience and the soundbar made great use of it's hardware to take advantage of it.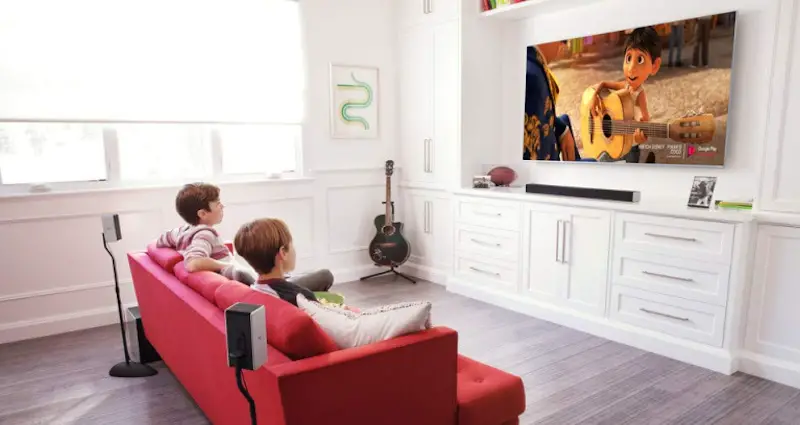 Lastly we should talk about the subwoofer's performance that was pretty good and it made us feel the rumbling during heavy action scenes. When you first look upon the subwoofer, it's size is certainly a bit underwhelming but it's performance was satisfactory for the included driver. You could feel the shaking with every Jaeger's footstep or sense whole buildings crumbling down during the fight in the city. Don't expect to bring down your walls like some heavy hitters can but in all honesty it was not meant to compete with those. It just manages to complement the rest of the system in such a way that you are not going to miss this shaking feeling from the low frequencies.
In general it's performance we would say was more front oriented with the surrounds and up-firing speakers managing to expand the immersion above and behind us in a very subtle way that is never to your face but enough to make the experience more spicy, interesting and overall enjoyable.
Music
When it comes to music testing we always like to use the included USB port for our files streaming instead of wireless as it provides the best possible quality. The built-in player of the Vizio soundbar is rather limited in it's playback capabilities so our only choice was to go for either MP3 or WAV files and we decided to go for the latter.
The unit may not be the most musical of soundbars but was able to give us good clarity on the vocals, a very tight mid-range and soft highs while the bass gave a strong performance without it going extremely low. Even with such a small footprint the soundbar gave us a satisfactory sense of space with good spacial awareness as we could identify from where each musical instrument was heard from.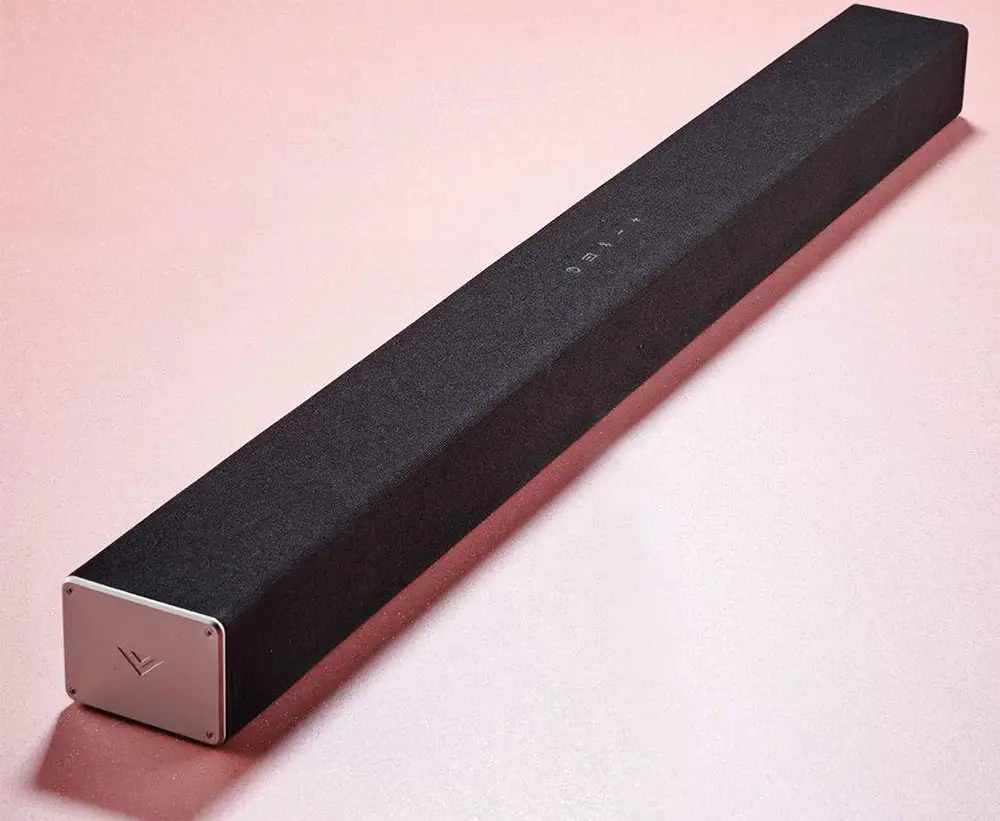 Overall we would call it's performance satisfactory and more than good for any casual music lover. Obviously if you are a music fanatic you will not be looking for such a cheap solution with the soundbar being obviously made primarily for movies viewing. But if you want to make a break between your viewings with some music tunes then rest assured that the SB36512-F6 will more than fit the bill.
Final Thoughts
We have seen many soundbars perform strongly and much better than their actual price but the Vizio SB36512-F6 takes this to a completely different level. The soundbar may be able to go loud but due to it's size and type of Atmos speakers it is definitely mostly suited for small living rooms, bedrooms and media areas. Also seeing a soundbar in this price that offers a real 5.1.2 Atmos setup and not rely or virtual tech is a really impressive feat and we need to applaud Vizio for managing to do something that seemed impossible.
The soundbar is an excellent choice if you are really tight on space, it managed to perform very good considering it's class, it offers a full 5.1.2 channels Dolby Atmos setup in a small package while it also managed to feature a few essential extras like USB and Bluetooth streaming as well as having Chromecast support. Also if you like hands free control the included Google Assistant support is a major plus. Lastly the build quality of the speakers as well as the remote is well above average with the design giving a more premium look to an otherwise cheap soundbar.
As far as it's drawbacks? Although there are a couple in our minds has stuck only one. No DTS:X support. Having a really good Atmos setup with dedicated Atmos and surround speakers and not supporting DTS:X is a head scratching decision. There is DTS Virtual:X but this can't give you the same sense as the real deal. Also another minus is the main unit's display, as there is none. The included led lights that are supposed to give you an indication of what is going on are a really bad design and we could never remember their combinations making us keep the manual in our hands almost all the time. Lastly although not a real minus but the wired surround speakers may be a limiting factor for a few people that may had preferred them to be wireless also.
Closing we could not be more excited by what we saw here today. This unit is a lovely small 5.1.2 Dolby Atmos soundbar that you will certainly fall in love with, with it's good performance, above average build quality, good set of features and a jaw dropping price. If you have a small area and you would like a real Dolby Atmos soundbar the Vizio SB36512-F6 should definitely be at the top of your list.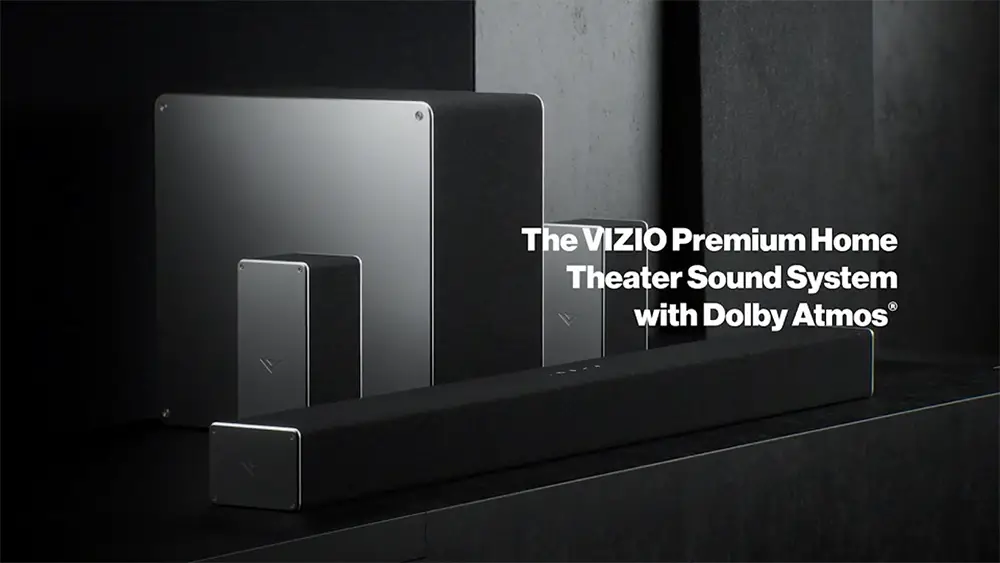 For more reviews you can check our dedicated Full Surround Soundbar reviews list or even look at our Product Reviews Table where you can find the brand and specific product you are looking for.
Also don't lose the chance to subscribe to our Newsletter and gain exclusive privileges.
---
Cheapest Places to Buy :
---
Vizio SB36512-F6 Specifications