Yamaha RX-A2070
Design -

93%

Audio Quality -

94%

Inputs / Ports -

95%

OS, Apps and Features -

88%

Price / Quality -

86%
---
Cheapest Places to Buy :
---
Every manufacturer usually produce 2 series of a/v receivers with every new lineup, a mainstream one that is targeting towards the masses and one more premium for those that seek something more as far as quality and technological excellence. Yamaha is following the same trend with their AVENTAGE premium series of a/v receivers offer us 6 receivers, one pre-amplifier and one amplifier. Here we will be reviewing the RX-A2070 which is the second best from the AVENTAGE a/v receivers Yamaha is offering in this premium series.
Design
I like very much the design of this particular receiver. Yamaha has created a very symmetrical design and tried to hide anything that would create a distraction in a very well thought frame. In the front what you see is 2 big turning knobs, one on the left for the inputs and one on the right for the volume. In the center is the front panel door hiding all other buttons and inputs. Since most of these buttons are not frequently used it's good to be hidden because I never liked when all these buttons and inputs are collecting dust in the open.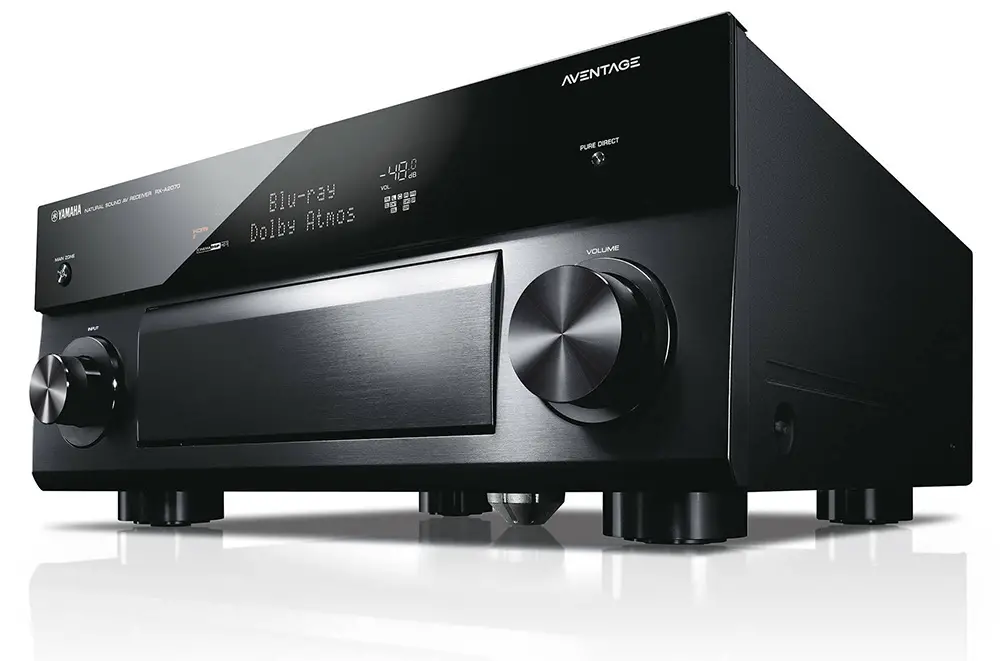 The rest of the design is more or less typical for an a/v receiver with most inputs and outputs arranged on the back. What separates this receiver from other more mainstream ones is firstly what Yamaha calls A.R.T. Wedge (Anti Resonance Technology) which is placed in the middle under the receiver and it's purpose is to reduce internal and external vibrations. In theory it sounds nice but there is no way to know if it actually works and if it has any effect on the sound reproduction quality.
The other thing that separates the AVENTAGE series from the rest is the insides and the quality of their components. Everything has been thoroughly designed and placed in order to produce the maximum quality possible. The end result definitely shows that Yamaha engineers try to deliver the best by careful thought for even the tiniest of details. The receiver is definitely a monster both in specs but also in size so before you decide to buy it check to be sure it can fit where you will place it.
Audio Quality
The size of the Yamaha RX-A2070 is not for nothing. It houses a 140 Watts amplifier (8 ohms, 20 Hz-20 kHz, 0.06% THD, 2-ch driven) that drives 9.2 channels as well as two ESS SABRE 9006AS 8-channel DACs and of course it supports all the next generation object based surround formats so you can choose to go either for a 5.2.4 setup or a 7.2.2 with only two front height speakers. So with all this power under the hood how is the receiver performing?

The results are immediately apparent from the first moment you power up the receiver and put a Dolby Atmos or DTS:X sound track into play. The clarity of individual height effects and the encompassing sound field that they create put you right in the middle of the action. I would definitely suggest to go for a 5.2.4 setup because the four height speakers will give you the best results as far as creating a completely engulfing experience. Of course the end result depends on the sound track you will choose but after checking a few samples I can say that the sound reproduction can be astonishing with sound effects coming not only from around you but also from the top.
In addition to the above we also get Yamaha's Cinema DSP HD3 which is the latest in Yamaha's algorithm in creating 3D sounds from any source using motion tracking technology to fill in the gaps. I had some experience from previous irritations of this technology and I was very pleased with the results. So when I tested the latest edition I was surprised to find out that the results were even better. This technology can be applied either for music or movie sound tracks and the results must be heard to be believed.

The sound quality of this receiver is excellent regardless of the source. Either it is music or films that you are using it for you will get only the best. And with the addition of Cinema DSP HD3 Yamaha takes the game to a whole new level. We are talking about top-rank quality here and reference for future top ranking receivers.
Inputs / Ports
The receiver offers a wide range of inputs and outputs and you can't really ask for more. In the front, under the panel door we get the YPAO microphone port, a PHONES port, a USB port for connecting external storage, analogue stereo input and an HDMI port for convenient connection with HDMI devices.

At the rear of the receiver we get a plethora of ports with 7 HDMI inputs (HDCP 2.2) and 2 HDMI outputs, component video, coaxial video/ audio connections and optical inputs. We also get pre out and zone out coaxial ports, trigger out ports, remote ports, an Ethernet port for wired connection to the internet as well as an RS-232 port.
The HDMI ports offer full 4K UHD support with HDR. It also supports Dolby Vision, HLG and BT.2020 for those with the appropriate equipment.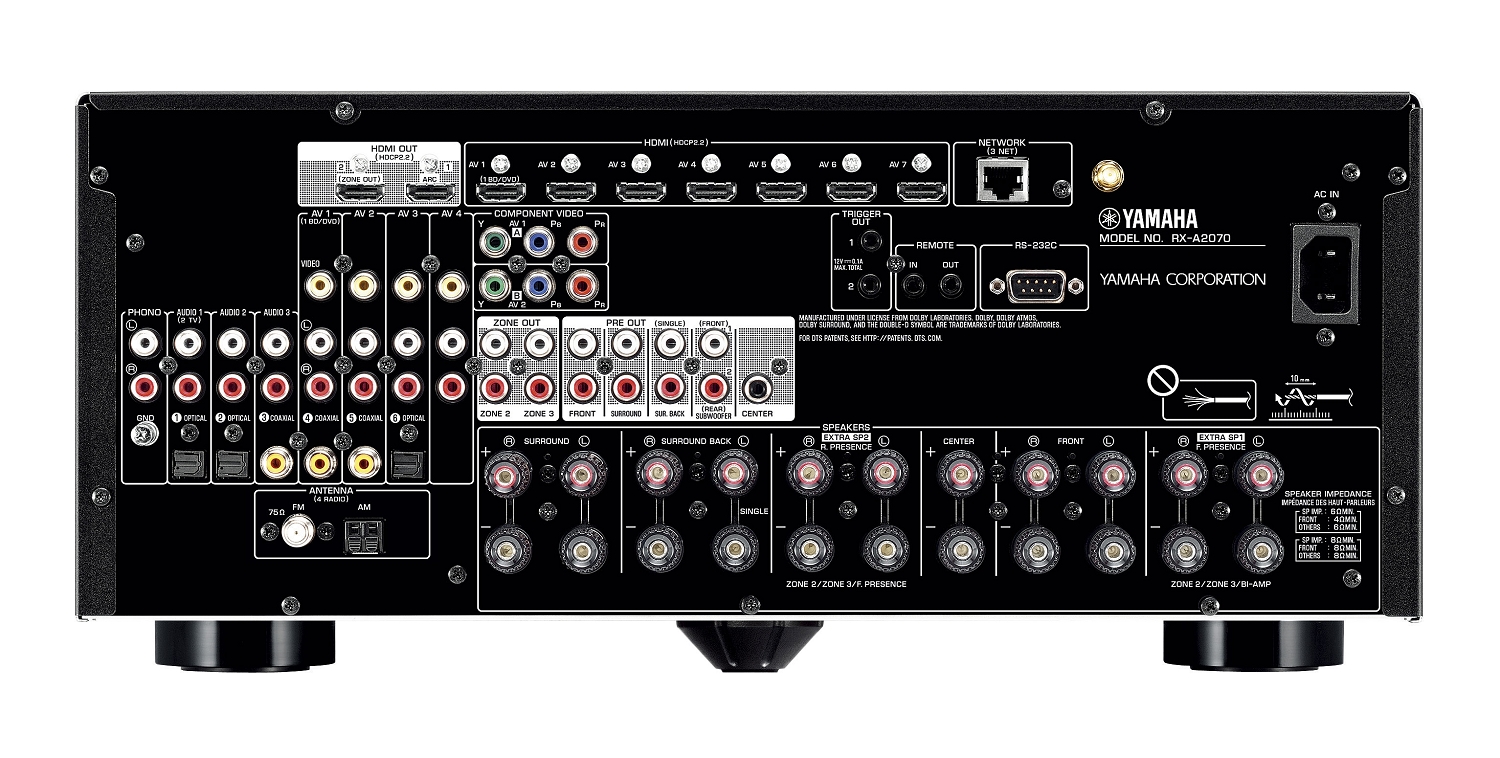 OS, Apps and Features
The setup menus are easy to navigate although it can be a bit overwhelming if you are new to all this or your are not very proficient with home cinema calibration. For the rest it can take a bit to navigate yourself through the huge amount of options and settings but after a while it becomes easier to find what you need. Home cinema calibration provides you with an adequate graphics interface to make it easier to understand what option you need to change like speakers distance, height, angle and volume level.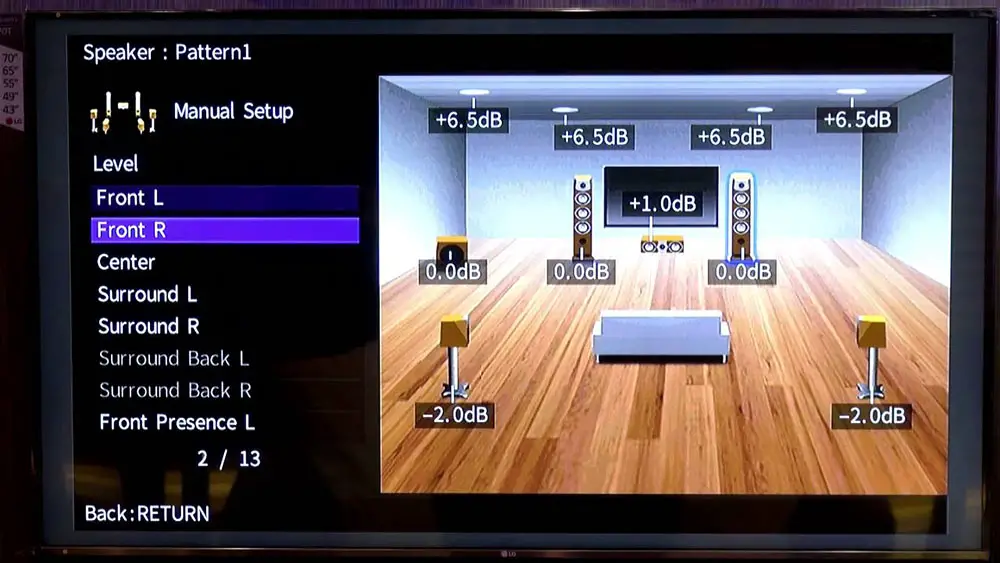 One of the receiver's most advertised characteristics is MusicCast, Yamaha's version of multiroom ecosystem which lets you hear music in multiple rooms by having the right hardware installed. To do this you can use a special application in your smartphone from which you can setup all your preferences easily and quick. As this is a 9.2 receiver you also have the ability to use it as a 7.2 receiver in your main room and use 2 channels stereo for a two zones setup.

The RX-A2070 offers access to a healthy amount of online services like Spotify, Pandora, napster or Tidal. This can be done either from inside MusicCast or from the receiver's own hardware. It also supports features like Bluetooth, Apple Airplay and USB playback.

The receiver also includes 4K upscaling if non of your other equipment is capable to do so. Although this is a feature most TVs do by themselves it's not bad to have it as an extra feature for those that want it.
Lastly the remote of the receiver gives you a healthy amount of buttons to deal with and although functional I was never fond of such remotes. Since most options can be handled from the menus I prefer this than to have to search in a sea of buttons which I have to press. The remote also lacks a backlight functionality which is considered a must for today's top of the line electronic devices.

With such a vast amount of menus, setups, parameters, settings, listening modes and input / output selections it is logical to be overwhelming some times. That's why Yamaha has incorporated a Scene memory system that lets you group all these options in 12 slot memories that can be summoned with the press of a single key. This is a real time saving feature and one that will save you from frustration.
Final Thoughts
The Yamaha RX-A2070 receiver is a technological marvel and one that Yamaha should be proud of. It may not be at the top of the AVENTAGE series but what it offers and how it is designed shows that when you create something with passion the result cannot be anything less than perfect. The RX-A2070 is more than just a good receiver. If you plan a new home theater system and want one of the best offerings right now then look no further as it will cover all your needs for the years to come and more. My highest recommendation.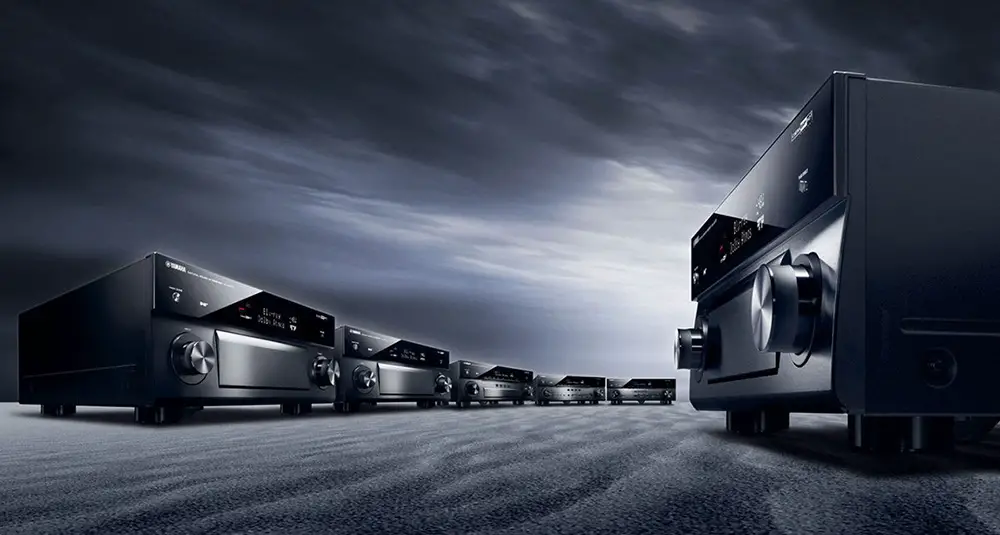 For more reviews you can check our dedicated 9 channels 4K AV Receiver reviews list or even look at our Product Reviews Table where you can find the brand and specific product you are looking for.
Also don't lose the chance to subscribe to our Newsletter and gain exclusive privileges.
---
Cheapest Places to Buy :
---
Specifications
Dolby Atmos® and DTS:X™ with CINEMA DSP HD3
CINEMA DSP HD3 with Rear VPS (Virtual Presence Speaker)
Anti Resonance Technology (A.R.T.) Wedge helps to ensure that vibrations do not affect sound quality
Symmetrical power amp layout, H-shape cross member frame and rigid chassis with additional bottom frames
Professional quality digital audio by ESS DACs
MusicCast for audio enjoyment in every room
9-channel powerful surround sound
— 140 W per channel (8 ohms, 20 Hz-20 kHz, 0.06% THD, 2-ch driven)
— 220 W per channel (8 ohms, 1 kHz, 10% THD, 1-ch driven)
— 220 W per channel (4 ohms, 1 kHz, 0.9% THD, 1-ch driven)
Wi-Fi Built-in and Wireless Direct Compatible for Easy Network
Bluetooth® for wireless music streaming and Compressed Music Enhancer for Bluetooth
AirPlay®, Spotify®*, Pandora®*, Napster®*, Tidal*, Deezer*, Qobuz*, JUKE* music streaming service
DAB / DAB+ tuner for enjoying high quality digital radio broadcasts
DSD 2.8 MHz / 5.6 MHz, FLAC / WAV / AIFF 192 kHz / 24-bit, Apple® Lossless 96 kHz / 24-bit playback
High-resolution Music Enhancer further heightens musicality from the original content
HDMI® (8 in / 2 out) with 4K Ultra HD full support, HDR Video including Dolby Vision and Hybrid Log-Gamma, and BT.2020
YPAO™-R.S.C. sound optimization with 3D, 64-bit precision EQ calculation, multi-point and angle measurement
Zone Extra Bass for more powerful bass sound in another room (Zone 2 and 3)
Yamaha video processing optimizes video content
Advanced HDMI® Zone Switching allows unprecedented AV switching to multiple zones
Versatile Zone control such as Zone 2 / 3 / 4 on / off, Zone GUI and Party mode