Yamaha RX-A880
Design -

92%

Audio Quality -

92%

Inputs / Ports -

89%

OS, Apps and Features -

90%

Price / Quality -

90%
---
Cheapest Places to Buy :
---
Yamaha for one more year offers a wide variety of AV receivers both for cost sensitive pockets but also for more hardcore enthusiasts. In order to satisfy the needs for audio and visual excellence Yamaha has created a premium series of receivers that over the years have won multiple awards and are considered some of the best in the segment. The Aventage series was always known for the quality of audio components being used in order to produce the best audio quality possible and for 2018 Yamaha updated the series with the new RX-A 80 lineup that consists of 6 models that scale from the basic RX-A680 model to the top of the line RX-A3080 receiver.
Today we will be reviewing the RX-A880 model which is positioned towards the middle of the lineup with Yamaha trying to find a balance between features, quality and cost. In the end do they manage to create a worthy model of the name Aventage? Continue reading to find out in our Yamaha RX-A880 review.
Design
The RX-A880 model keeps the same design touches that are very characteristic of the Yamaha Aventage lineup of AV receivers. You will be hard to find any differences between this year's and last year's model, the RX-A870, as the outer shell is exactly the same with only the model numbering giving away the difference.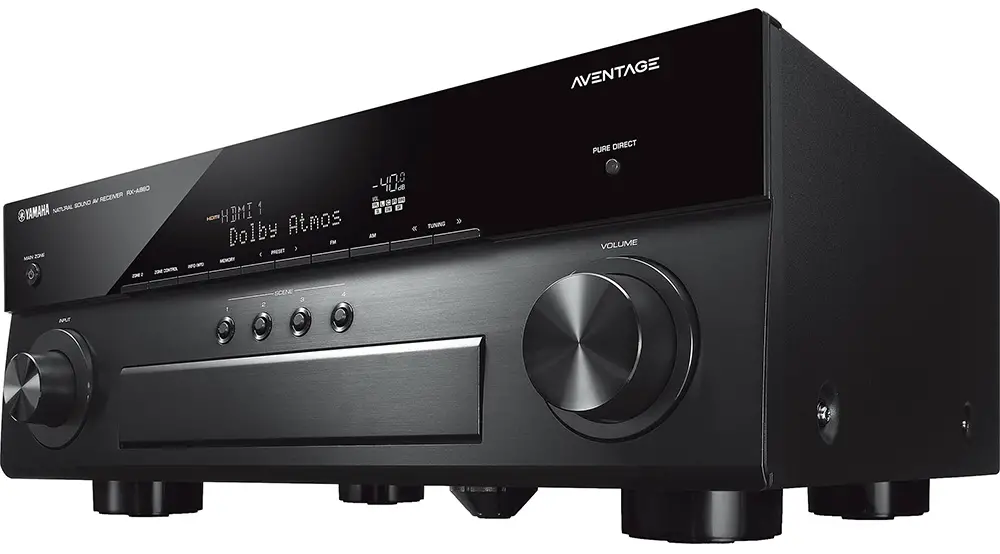 In the front as usual we find the two big turning knobs that are characteristic in all the Aventage series, one in each side, the right for the volume and the left for the input selection. The front panel is split in two with the upper part having a black gloss finish that is very much a fingerprint magnet and housing the LED display that shows all the necessary information like volume, input selection and audio playback. Just under the display there is a thin row of control buttons for zone control, radio and presets selection. To the right above the volume knob is a pure direct button while on the left above the input selection knob there is the power button.
The lower half has an aluminum finish and between the two turning knobs there is a line of 4 preset buttons and under them a hatch that hides additional buttons as well as the frontal ports. The buttons we find here are for tone control, program and straight buttons while there are also 4 ports for phones, a USB, an analogue audio input and the calibration microphone port. The arrangement of the front buttons is a bit puzzling as Yamaha opted to hide some of them while leave others in the open. We would definitely prefer a setup where everything is covered by the front hatch as they do in the higher models in the Aventage series but it seems this to be a design decision that they follow the last few years and continue to do so.

As with all the Aventage models Yamaha is putting extra attention to the build quality of their models in order to ensure the best possible outcome. And naturally they continue to do so in their 2018 lineup also with the RX-A880. It seems that the lower three models in the series are not using the same DACs as the top three models that go for the SABER DAC and instead use 4 Burr-Brown 384 kHz / 32-bit DACs. Also Yamaha has added an extra fifth foot with Anti-Resonance Technology (A.R.T. Wedge) to reduce vibration something we see only in this series. The rest of the feet use an advanced design to enhance strength and vibration resistance.
Along with the high quality parts that Yamaha chose to achieve optimum audio performance they used high quality volume IC and independent pure power supply as well as low jitter PLL circuitry to help optimize sound imaging. They heavily advertise the quality of the parts that they use in this premium series and their claims seems to be holding truth and for that we applaud them.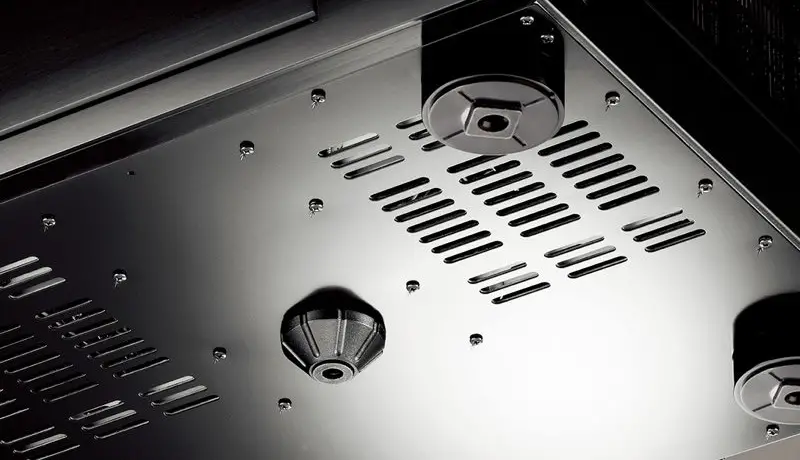 Dimensions wise the RX-A880 is not a small receiver measuring 17-1/8" x 6-3/4" x 15" (435 x 171 x 382 mm) with the antennas down which in all honesty didn't mess the connection at all so in case you are limited by space don't worry if you cannot position them vertically. The weight is 23.4 lbs (11.0 Kg) which is more or less the standard for this size. After all we don't expect you to move this thing around all the time so better find a sweet spot and let it be there do it's magic.
We were never fond of remotes that are full of buttons and unfortunately the one that comes with the RX-A880 is jam packed with them. The design is rather uninteresting while buttons don't follow a specific design pattern in order to be able to distinguish them in groups. We have seen far better layouts in even simple looking remotes and we would advise Yamaha to improve their design in the future to make it more simple for the user. Having a cluttered remote only adds to frustration and not helps with anything. Also having no backlight makes things a bit harder in the dark during viewing.

Audio Quality
The Yamaha RX-A880 is a 7.2 channels AV receiver with the ability to process 7 channels with it's built-in amplification and thus being able to create either a 7.2 channels audio setup or a 5.2.2 setup if you want to use a couple of height speakers and take advantage of the next generation audio tracks like Dolby Atmos and DTS:X. Unfortunately there is no support for adding an external amp in order to up the amount of present speakers so a 7.2 or a 5.2.2 setup is the absolute best you can do with this one.
The receiver offers 100 W per channel (8 ohms, 20 Hz-20 kHz, 0.06% THD, 2-ch driven) making it enough for a middle sized area or theater room and while it was enough for our testing area if there is need for more power you will have to go for a higher model that in all honesty is only required if you have a large room to fill. Otherwise the RX-A880 felt it had all the necessary juice to create an explosive and immersive soundstage. There is also support for front speakers bi-amp connectivity in order to boost the sound quality of the front channels, something that many consider very important.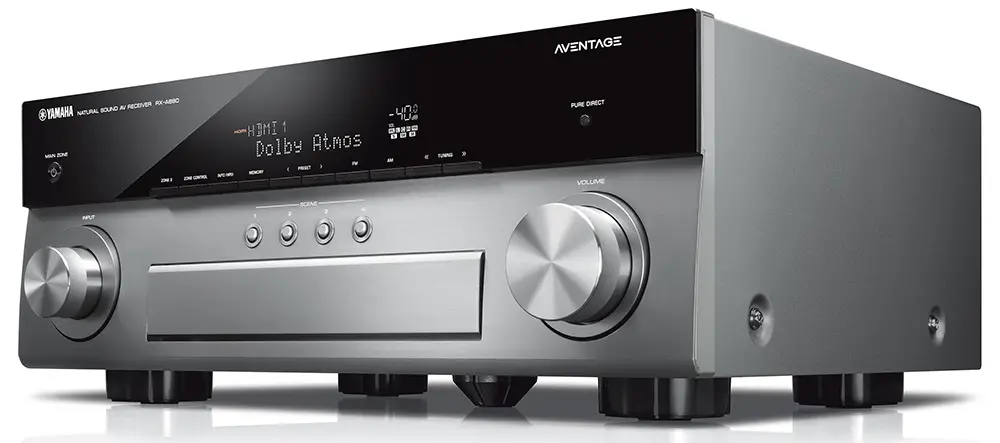 As with most Yamaha receivers there is also the Cinema DSP 3D present. This is Yamaha's proprietary sound field creation technology and what this basically does is to recreate certain spaces like concert halls or home theaters by utilizing specific algorithms and thus making you feel like you are in such an area. It's an interesting feature indeed and a few times we used it, it felt like it could produce the appropriate stage with enough realism but it is another audio processing feature and it's up to the user if he likes the result or not. In our situation we preferred to keep this off and have the audio as pure as possible.
Since we can go with only 7 channels we chose to create a 5.1.2 audio setup with 1 subwoofer and 2 height speakers that were positioned in the middle of our testing area. For our movie testing we selected as usual the 4K UHD disc of Battleship and the Blu-ray disc of The Lord of the Rings. Trying Battleship first we skipped to the scene of the first encounter between the naval destroyers and the alien ship. The level of quality was really great and certainly reflected on the quality that the Aventage series has got us used over the years. Channel shifting was very good as the explosive pegs were launched from the alien launchers and when they struck the destroyer the low frequencies filled the room as the explosions created a mayhem of debris. The height speakers also made their presence felt as the pegs were traveling in the air and gives you a sense of added space above your head.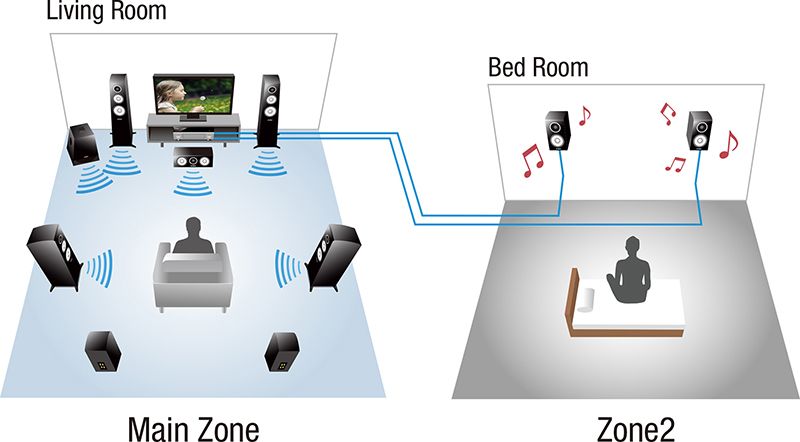 During the last confrontation between the American battleship and the alien shield ship it was amazing how the surround effects became so dominant and alive as the projectiles were flying all around. The energy produced by the alien shield felt so vibrant with it's characteristic sound effect that made us hold onto our seats while the alien targeting system sound effects created a menacing atmosphere. And even in all this craziness of explosions, debris and flying projectiles the receiver kept everything in control while dialogue was channeled to the center speaker with precision and enough clarity that was impressive.
For our next testing we tried the Lord of the Rings Blu-ray disc as we wanted to hear a more orchestrated focused sound track and here the results were similarly impressive. Each music organ was clearly audible, with position in the area being very distinguishable while all frequencies were delivered with enough punch and precision across the whole dynamic range. Even when the orchestrated soundtrack was mixed with sound effects everything was kept in great balance as the RX-A880 was delivering each sound with clarity and precision.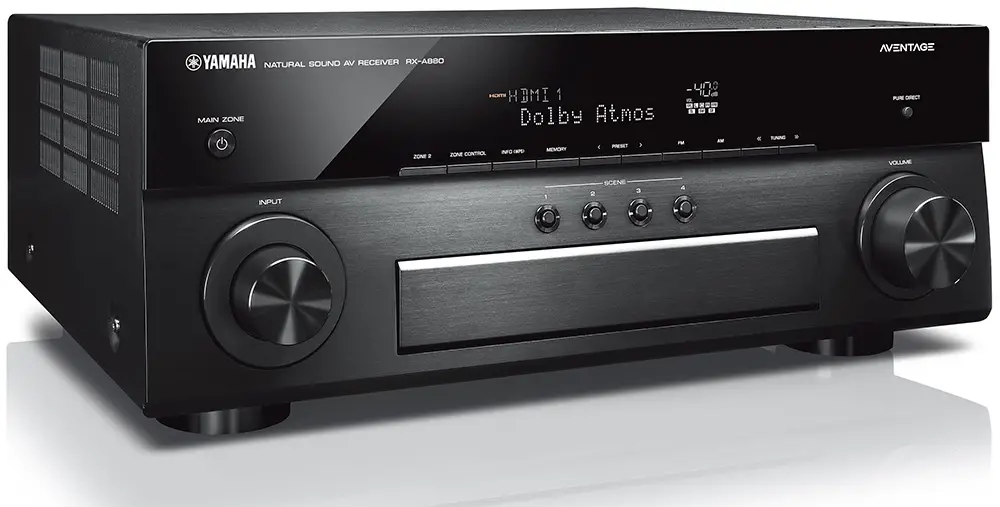 Next in line was our music testing and the receiver proved to be an excellent music performer also. As we saw during our Lord of the Rings movie testing, music playback is excellent with crystal clear reproduction of each frequency. Bass was plenty, mid-range was tight and high frequencies were delivered with precision. In this price range of course big role plays the quality of speakers you have so if you really want to make justice of such an AV receiver you will have to invest to some good quality brand speakers. Doing so the receiver will definitely show you it's real capabilities. The RX-A880 can support music playback either online or through local network as well as from USB and supports the most usual of audio formats that include FLAC or WAV up to 192 kHz/24-bit, MP3, WMA, AAC, Apple Lossless, AIFF and DSD up to 11.2 MHz.
Inputs / Ports
The RX-A880 was originally priced exactly at the $1K mark but since then it's price has fallen a bit just enough to bring it lower than this psychological limit. Having such a price puts a lot of pressure on this particular model to offer a wide variety of ports, as we have seen recently some receivers from competing brands with similar prices offer an enormous amount of both next generation but also legacy ports to satisfy all needs. Does the RX-A880 manage to offer enough? Let's find out.
At the front as we mentioned above Yamaha decided to hide all ports behind a hatch and what we get is a phones jack, a USB port (5V,1A), an analogue audio mini jack and the YPAO calibration microphone input.
Turning the receiver at the back is where we get almost all ports and what we see here is a rather usual port configuration. Let's start from the most important ones which are the HDMI ports as the RX-A880 offers 7 HDMI inputs and 2 outputs with one of them supporting ARC. All of them are HDCP 2.2 and support 4K/60p (4:4:4), HDR Video including Dolby Vision and Hybrid Log-Gamma, and BT.2020 pass-through. We also find 9 speaker terminals enough for a 7.2 audio setup plus 2 more for zone 2 configuration.

For the rest of the ports we get 2 digital optical and 1 coaxial inputs, 1 component and 1 composite video inputs, 3 analogue stereo inputs and 1 dedicated analogue stereo input for phono. The rest of the ports include a 12V trigger output, 1 input and 1 output for remote, antenna ports, 1 RS-232C port, an Ethernet port for wired connection to the internet and 7.2 channels pre-out analogue ports.
Having so many models in the Aventage series it is obvious that Yamaha had to scale the amount of ports on offer to justify the difference in cost between the different models and as such we find the RX-A880 being a bit light on the amount of legacy ports being offered. We have seen other brands offer much more as far as connectivity is concerned in the same price range and this makes the Yamaha receiver fall behind a bit to the competition. Also although it features 7 HDMI ports all of them are located at the back and we would like to have one of them at the front as a frontal HDMI port has become a standard nowadays and is very useful for quick access.
In the end it depends on what your needs are. If you just need enough HDMI ports to connect all your next generation devices then this receiver is enough with it's 7 HDMI ports. But if you have a lot of older equipment that makes a high number of legacy ports a necessity then you may need to consider a different model if the amount of ports the RX-A880 offers is not enough. Also not having a front HDMI port is puzzling as this hinders the easy of use that most receivers offer today.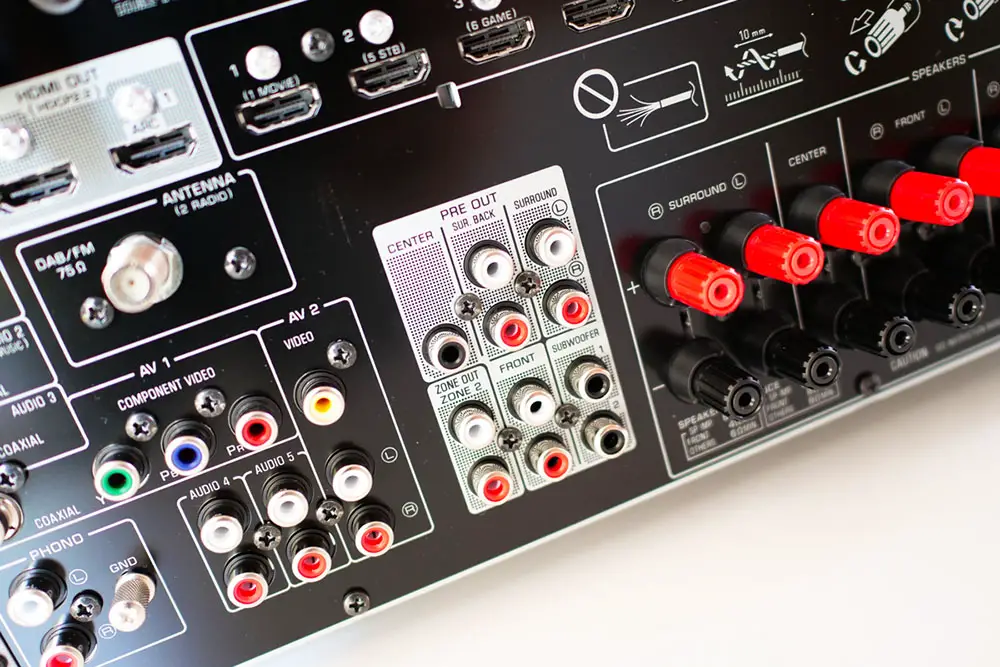 OS, Apps and Features
The receiver comes equipped with Yamaha's proprietary audio calibration system called YPAO but as with all the models in the Aventage lineup there are different types of this system offered with more options added as we go to higher models. The RX-A880 has YPAO with R.S.C (Reflected Sound Control) and Multi-Point Measurement that is able to correct audio reflections and also achieve the best sound possible at any of eight different listening positions. These auto calibration systems have come a long way since their early days and frankly they provide a very good result especially if you are not very experienced with such type of calibrations. But no matter how good they are if you are an experienced user it's better when setup is done manually.
The receiver also comes with virtual speaker technology and this includes the Virtual Presence Speaker, Virtual Cinema Front and Virtual Surround Back systems. Each of these systems what they do is that through various algorithms they create sound that originate from positions that there are no physical speakers. In simple words they create virtual speakers and in essence you can have a 7.1 audio system for example when you only have 5.1 speakers present. These virtual systems may provide some added depth but they are never as good and precise as having real speakers. This is also very dependent on the audio track and how good it is mixed so we would suggest you to try this feature first to decide if you like the outcome or not.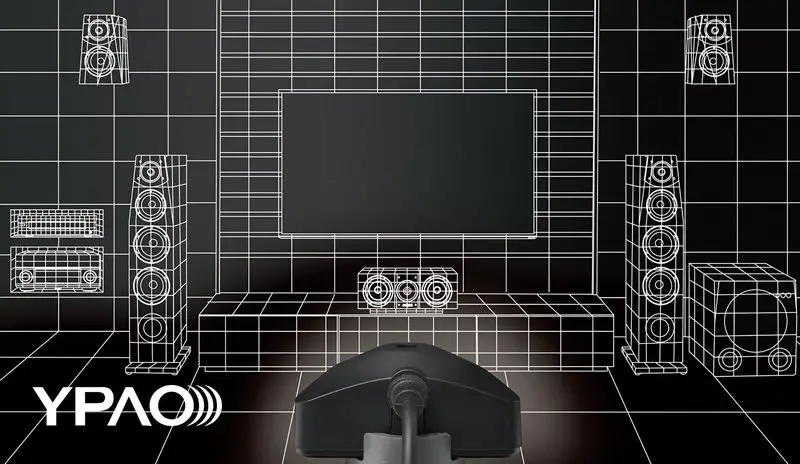 Some of the other features we find in this model include 4K video upscaling from HDMI input, support for wireless surround speakers (MusicCast 20 or MusicCast 50) or wireless subwoofer (MusicCast SUB 100), it has built-in Wi-Fi (802.11b/g/n) as well as Bluetooth for wireless music streaming (SBC/AAC) and Bluetooth output for music streaming to headphones and also comes with an Eco mode that can save you up to 20% less power when in use.
What is starting to become a standard is voice control features and the RX-A880 comes with Alexa support for those that like to use this. If you don't like the built-in user interface you can also download the AV Controller App in your smartphone or tablet and control the receiver that way.
As for multi-room playback the receiver comes with Multi-zone Function (Zone2) support. There is also Yamaha's MusicCast that you can use if you have MusicCast enabled speakers around your house. You can download the appropriate MusicCast app in order to setup and control the various speakers in your rooms.

Airplay is also supported and let you stream music from various Apple devices like Mac, iPod, iPhone or an iPad. Streaming is a must these days and even the lowest of receiver models come with a wide support so it was a given to find here support for the most known online and streaming services like Spotify, Napster, Pandora, SiriusXM, Tidal and Deezer. You can also hear to Digital radio as the RX-A880 has a built-in DAB/DAB+ tuner.
In general we are very pleased with the amount of features on offer. It may not be the most complete we had ever seen but this is natural as Yamaha has to keep a few features for it's higher models. But all the basics are here and much more as it covers all departments like audio calibration, online streaming, setup, multi-room playback and smart home functionality and thus making this model a great choice for most situations.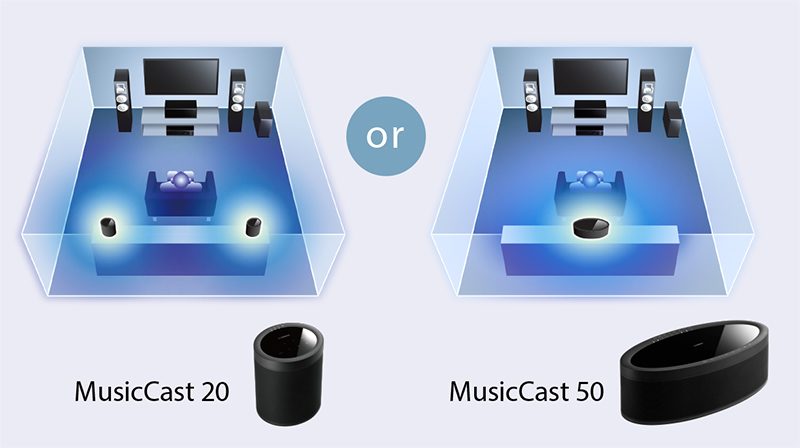 Final Thoughts
The Yamaha RX-A880 has a lot of things to like but also a few things that could be done better. On the one hand the audio quality on offer is some of the best and this has to do with the quality of audio components on use as Yamaha always uses some of the best for the Aventage lineup of receivers. Also it offers enough HDMI ports to connect all your next-generation equipment plus a reasonable amount of legacy ports. Yamaha also has equipped this model with a lot of features for streaming and connectivity like MusicCast, Airplay and a wealth of online and streaming services support as well as Alexa voice control compatibility something that is slowly becoming a standard to all new receivers.
On the other hand in this price range we would like to have more legacy ports as other brands offer but Yamaha decided to keep them for the higher models in the series. Also the user interface could use a bit of a facelift as in this day and age where most of the calibrations and navigation is done through the on-screen menus it should offer not only a simple but also pleasant design for the eyes. Lastly the remote can definitely use a redesign and go away from the cluttered look it has now.
In the end there are 4 points that we believe define this AV receiver. It has 100 watts of power enough to fill a medium sized room, offers great audio reproduction for all next generation audio tracks like Dolby Atmos and DTS:X, has 7 HDMI inputs, enough to connect all your devices without the need of any multi-connectors and has enough online and connectivity features to make it a future proof model. As we mentioned above the Yamaha RX-A880 has it's weaknesses but most of them are in specific details so if what this model offers is enough for you then the cost is definitely worth it, as getting an Aventage AV receiver will certainly offer you the kind of quality that will satisfy you for many years to come.

For more reviews you can check our dedicated 7 channels 4K AV Receiver reviews list or even look at our Product Reviews Table where you can find the brand and specific product you are looking for.
Also don't lose the chance to subscribe to our Newsletter and gain exclusive privileges.
---
Cheapest Places to Buy :
---
Specifications
7-channel powerful surround sound

100 W per channel (8 ohms, 20 Hz-20 kHz, 0.06% THD, 2-ch driven)

110 W per channel (8 ohms, 1 kHz, 0.9% THD, 2-ch driven)

160 W per channel (8 ohms, 1 kHz, 10% THD, 1-ch driven)

Dolby Atmos and DTS:X support
HD Audio decoding with CINEMA DSP 3D (17 DSP programs)

Virtual Surround Back Speaker for playing 7.1-channel content with a 5.1-channel system

YPAO – R.S.C. sound optimization with multipoint measurement
Selected high quality parts to achieve optimum audio performance
Assignable amplifiers for front speaker bi-amp connection
FLAC or WAV 192 kHz/24-bit, DSD up to 11.2 MHz and Apple Lossless audio playback
Compressed Music Enhancer for Bluetooth
Phono input for vinyl playback

Latest HDMI® (7 in/2 out) with 4K Ultra HD full support (4K/60p [4:4:4]), HDR Video including Dolby Vision™ and Hybrid Log-Gamma, and BT.2020 pass-through

4K video upscaling from HDMI input

MusicCast for audio enjoyment in every room with ability to add MusicCast Surround speaker(s) (MusicCast 20 or MusicCast 50) and wireless subwoofer (MusicCast SUB 100)

Amazon Alexa voice control compatibility

Wi-Fi Built-in (802.11b/g/n) and Bluetooth support
AirPlay allows music streaming from Mac, PC, iPod, iPhone, iPad

AV Controller app for operating various functions from iOS or Android™ smartphones and tablets

Access to: Internet Radio (airable radio): MP3, WMA Streaming Services (Spotify, Napster, Pandora, SiriusXM, Tidal, Deezer). Music files on PC/NAS: WAV, MP3, WMA, AAC, FLAC, Apple® Lossless, AIFF, DSD

Pre out terminal for Zone 2 with volume control
ECO mode operation