Yamaha RX-V385
Design -

92%

Audio Quality -

88%

Inputs / Ports -

80%

OS, Apps and Features -

80%

Price / Quality -

90%
---
Cheapest Places to Buy :
---
What we love about technology in home cinema equipment is that the lower cost models benefit the most as many features are migrating to the most budget friendly units. Not many years ago we were having Dolby TrueHD and DTS-HD Master Audio being only in the top of the line receivers and now we see these only in the most cheap models to be found. This makes things easier for people that want to enjoy some cinematic audio without the need to spend big bucks on a top of the line system.
One such model we will be looking at today in our Yamaha RX-V385 review which was released in 2019 and is currently the entry level unit in Yamaha's arsenal of AV receivers. The RX-V385 is essentially a 5.1 channels AV receiver with 70 watts of power, support for Dolby TrueHD and DTS-HD Master Audio, features the YPAO audio calibration system and comes with a few extra features that include Virtual Cinema DSP, Bluetooth streaming, 4K signal and HDR passthrough, Bi-amp capabilities and HDMI up-scaling and all these for a price that hovers around the $250 mark which is quite impressive.
But as we all know price is only one part of the equation so we are here to determine if this model has the performance, build quality and enough features that would make it a tempting offer in this low price range. Yamaha is famous for creating quality audio products in the home cinema segment so it will be interesting to see if this can also be seen in such an aggressively low priced unit. Keep reading to find out in our testing that follows.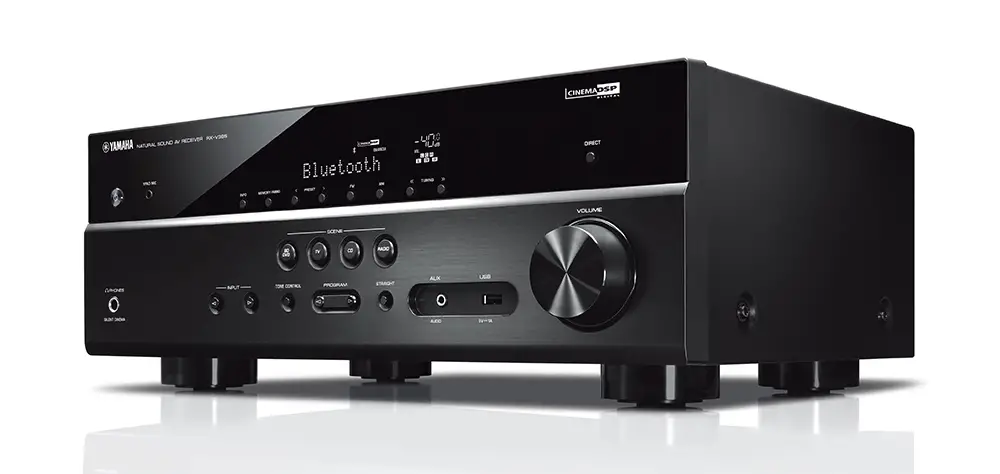 Design
The RX-V385 comes with exactly the same design as it's predecessor, the RX-V383, that was released the previous year and this doesn't come as a big surprise as we have seen many units looking exactly the same with the models they are supposed to replace. So let's see what this one has to offer.
Most Yamaha designs have the characteristic of using a glossy finish for the upper half of the front face while the bottom half usually gets a brushed metal aluminium finish that gives even such a low cost unit a more premium look. The top half incorporates the central display that is responsible of showing all the receiver's functions while on the far right we find a small circular button for Direct and on the left we get the power button along with the YPAO microphone port.
Exactly below the central screen there is an array of small circular buttons that include info, memories and tuner controls. Now on the bottom half we get even more control options with a headphones jack on the far left, a big volume knob on the far right with a couple of ports sitting to the left of it including an analogue 3.5mm audio input and a USB (5V/1mA) for connecting external storage.
At the center we get four big Scene buttons while below these four there are input selection, tone control, straight and program buttons. Not much to say here as the design is like for like with the previous model and follows a pretty standard setup as far as what is on offer on such a budget friendly model. We would like a front HDMI but we cannot ask for more in this price. Also we are a bit skeptical how much all these buttons are being used nowadays and maybe it would be preferable for manufacturers to minimize the amount of buttons that are built-in the receivers.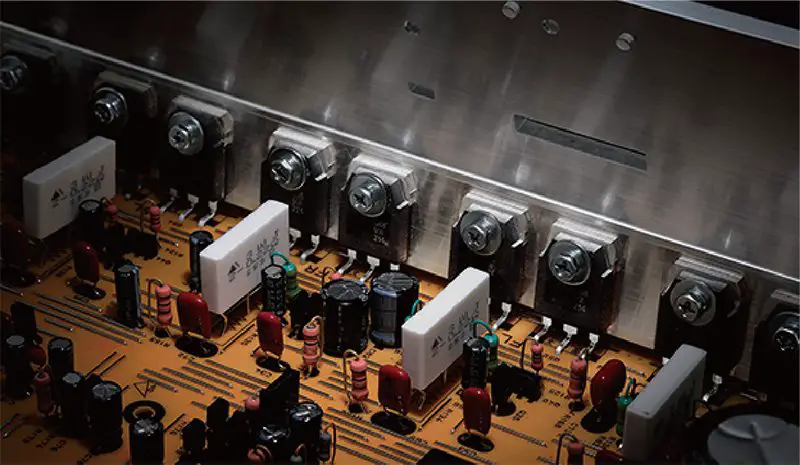 Yamaha is famous for the quality components they put into their AV receivers and especially to their premium Aventage series. But this doesn't mean that the most price friendly RX-V series lacks in this regard and so we find the RX-V385 featuring a very robust design with good quality parts that although cannot compete with the big boys they are capable of giving amazing results. As such this model employs a discrete amp configuration along with a low-jitter PLL circuit that contribute to improving it's audio performance while also features three Burr-Brown 384 kHz / 32-bit DACs taking up all conversion duties.
With this models belonging more or less on the lower end of the performance ladder this means that it's size is relatively small compared to some other full size units making it an excellent choice in case space is a limiting factor when choosing a new AV receiver. The RX-V385 measures 17-1/8″ x 6-3/8″ x 12-3/8″ and with a weight of 17.0 lbs this is a receiver that has such a footprint to fit in smaller that usual furniture, exactly what is needed for small scale home theater setups.
As for the supplied remote, the one we find with this unit is nothing fancy but gets the job done. It's the usual plastic remote with a wide range of buttons that we have seen countless times with other receivers before. Grouping of the buttons could be a bit better as we found them a bit more mixed than what we would like but at least it includes the most important functions that you will need to use.

At the top there are the four scene control buttons with various functions underneath them. Below them are the usual volume and input controls with tuner, Bluetooth and USB buttons between them, menu navigation controls are in the middle and playback buttons on the bottom. Obviously there is no backlight function and this can make it's use a bit troublesome in dim light environments.
Closing this part of our review we can say that for such a low cost unit build quality is very good and Yamaha made sure to create a receiver that may belong on the lower end but without greatly sacrificing it's construction and audio components quality which hovers above average and Yamaha should be applauded for this.
Audio Quality
Being at the bottom of the performance ladder means that the RX-V385 supports the most basic of surround setups. With the unit being rated as a 5.1 channels receiver the kind of setups that you can go for are naturally limited. You can obviously go for a 2.1 or a 3.1 channels setup but we believe that if you are going for such a receiver you want it for it's surround capabilities and not for it's stereo performance. There is no Dolby Atmos or DTS:X support and to be honest although we have seen a few entry level 5.1 channels receivers getting the latest audio formats it feels a bit over the top for such a limited surround setup. If you cannot go for at least a 5.1.2 channels setup Dolby Atmos is a bit worthless.
The receiver may not be the most powerful we have seen in this category but with it's 70 watts per channel (8 ohm, 20 Hz – 20 kHz, 0.09% 2ch drive) it has plenty of juice for small to medium sized living rooms and media areas. Along with the ability to bi-amp the front channels you can get plenty of quality out of this unit.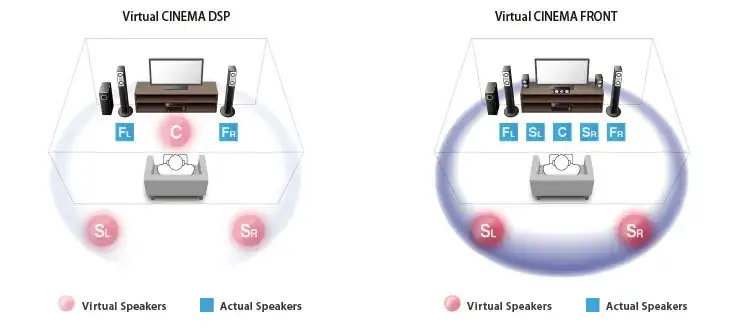 This AV receiver, as with all of Yamaha units, features Cinema DSP that is Yamaha's proprietary sound field technology that can simulate various environments with the use of complex algorithms. The environments can include concert halls and sports arenas or stadiums and thus create a whole new level of immersion.
We have tried Cinema DSP many times before in all our previous Yamaha AV receivers reviews so what we can say is that while in certain cases it can enhance the immersion in some situations the sound feels unnatural and over-processed. But it's a neat feature to have and you should definitely give it a try as many people seem to like it. The Cinema DSP version we get in the RX-V385 comes with 17 different DSP programs for movies and music to choose from.
Along with Cinema DSP the receiver supports Dolby Pro Logic II and DTS Neo:6 which are both up-mixing technologies for up-converting legacy stereo audio tracks into full surround ones.
The unit even manages to include a few virtual technologies into the mix. The first of them is called Virtual Cinema DSP and with this you can enjoy surround sound without using any dedicated surround speakers. But even if you have a set of surround speakers available but you don't have the necessary space to position them behind the viewing area you can use Virtual Cinema FRONT. With this you can place the surround speakers at the front and enjoy surround activity with this feature enabled. Lastly there is Silent Cinema that can be used in order to enjoy surround or sound field effects by using headphones.
Moving on to our movie testing, with the receiver not supporting the latest object-oriented audio tracks we opted to try out a film that came with a mix that was designed specifically with what this unit was capable of. And as such our first choice was the Blu-ray disc of Lord of the Rings: Return of the King with it's reference quality DTS-HD Master audio track. There is no better sample to try out a DTS-HD capable receiver than this as it comes with a track that in our opinion one of the best that this aging format was capable of.
Right from the start the receiver was able to deliver a very strong and immersive performance. We tend to try out the later part of the film during the siege of Minas Tirith and the unit was able to reproduce all subtle details that the track exhibits. The front channels were the most active ones with the surrounds offering plenty of moments of over-the-shoulder activity. Activity was felt all around us as channels shifting was spot on while separation was distinct and precise.
Even as the action ramped up the center channel managed to remain very distinct with great clarity over the dialogue that never felt bogged down by all the mayhem going on. The unit was also able to feed our subwoofer with all the low frequencies it could handle that made more than a few times our testing area to shake. We tried to up the volume to see how high we could go and although the unit could be pushed to very high levels it felt like it was loosing some of it's composure and control. But you will probably never feel the need to go to such extremes and the unit behaved really well even on above average volume levels.
Overall we got a very thrilling experience considering the cost of this receiver. Armors clashing, screaming soldiers, ground shaking trolls, ominous fell beasts were all reproduced with very good resolution and great precision while dialogue never hid behind the action and the lows were punching without overwhelming the rest of the sounds.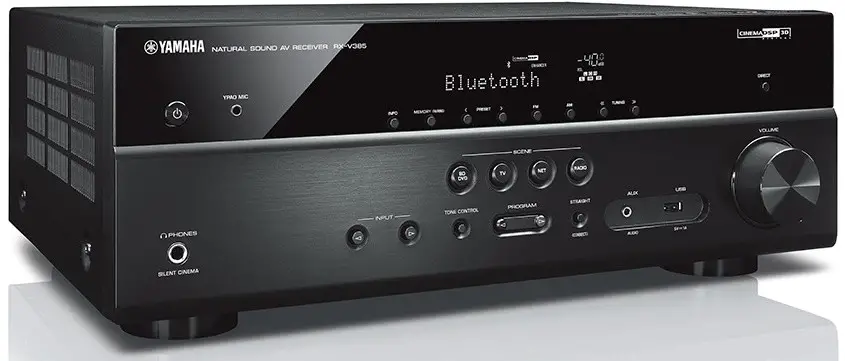 We also decided to try out the Blu-ray disc of Gravity that comes with an eerie DTS-HD Master Audio track. This time the track offered a completely different experience as it's silent moments revealed small ambient sounds while the overall silence was being aggressively disrupted by the incoming explosions and debris as the subwoofer was going into overdrive. Panning sound effects created an amazing immersive atmosphere as debris were flying all around the camera keeping us at the edge of our seats.
The film gave great priority to the center channel with dialogue being prioritized a lot and the receiver kept it in center focus until the next moment that the rest of the channels joined the action. An excellent mix with the RX-V385 being able to reproduce it with good precision, clarity and aggressiveness.
For our music testing since there is no FLAC support we decided to try a few WAV files instead. It can be surprising how much musicality such a unit can have even if it cannot reach the top performance some of it's bigger brothers have. Spacial accuracy was very good as we were able to distinguish the various musical instruments in space as the receiver was filling our testing area with sound. We cannot say that the unit felt lacking in some specific area, it's just that it didn't feel like it was excelling in any either. Like it was playing all too safe which is not necessarily a bad thing if you take into consideration the class we are into.
In normal volumes or slightly above average the receiver behaved very good keeping good control and balance overall. Mid-range felt full and dynamic with the highs and lows complementing the whole frequency spectrum. Only when pushed to extremes it felt like loosing it's focus and stability but in all honesty we would be surprised if otherwise. For such a basic unit we cannot complain as the Yamaha RX-V385 will make sure to fill your room with acoustic enjoyment.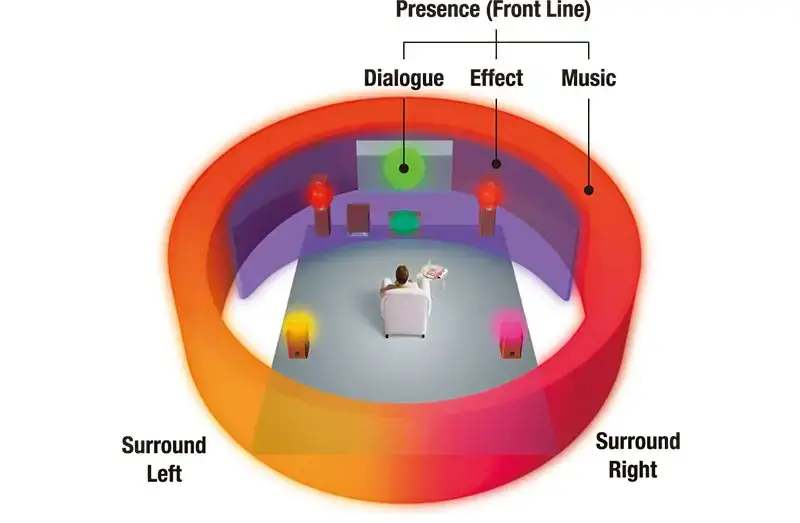 You have the ability to stream music from the included USB port but the receiver has fairly limited capabilities when it comes to the kind of music files it can playback. As such the supported files include WAV (PCM format only), MP3, WMA as well as MPEG-4 AAC (1 or 2 channels audio only). The receiver can support up to a maximum rate of 48 kHz/16 bit.
Ports and Connectivity
If you had seen the previous model in the series then you pretty much know what to expect here as Yamaha hasn't change a thing as far as the type or quantity of ports being offered. Keep in mind that being the most affordable unit in Yamaha's 2019 lineup means that the ports you will find here are few and far between but this is to be expected as a unit like this is not meant for heavy duty.
So let's see what we do get. As we already mentioned above there are a few extra ports being located at the front that include the YPAO microphone port, a 3.5mm analogue audio input and a USB port for easy connection of external storage devices. Now at the back the most prominent ports are the 5 speaker terminals along with the 4 HDMI inputs and one HDMI output.
There are also a few legacy ports included for good measure and these include 3 composite video inputs and one output, 2 analogue stereo inputs, 2 coaxial digital audio inputs and another optical one, a subwoofer output and the usual FM and AM antenna connectors.

Now we need to mention a few things here. First of all the HDMI ports are HDCP 2.3 and come with 4K / 60p, 4:4:4, 3D Pass-through, Deep Color, x.v.Color, 24Hz Refresh Rate, Auto Lip-Sync, HDR10, Dolby Vision, HLG and BT.2020 compatibility. They also support the new eARC via a firmware update which is impressive for such a unit. Another thing to mention is that all speaker terminals use binding posts instead of spring clips that we have seen many times in budget-friendly AV receivers which we consider a big plus.
Lastly we should mention that connectivity wise this unit only comes with Bluetooth capabilities as there is no WiFi support. This model uses Bluetooth 2.1+EDR.
In general we don't find any major differences compared to previous years. The overall layout of the ports have changed a bit but the type and number we get is exactly the same. The only real difference is that while the previous RX-V383 was using speaker terminals binding posts only for it's front channels the new RX-V385 comes with binding posts for all it's channels. We can call this an improvement we guess…
OS, Apps and Features
The RX-V385 may be a little light on features but there are still a few being included that are worth mentioning. The first one of them is the included audio calibration system that comes with the unit and it's no other than Yamaha's proprietary system called YPAO. The Yamaha Parametric Room Acoustic Optimizer, as it's full name is, comes in it's most basic form here as more advanced versions are reserved for higher tier units.
The YPAO version we do get can detect the speakers that are connected in your setup, measure their distance from your listening position and adjust their settings such as volume balance and acoustic parameters in order to offer the best possible result for your specific room. Running the YPAO wizard makes things very easy as the only thing you need to do is follow the on screen directions in order to go through all the necessary steps.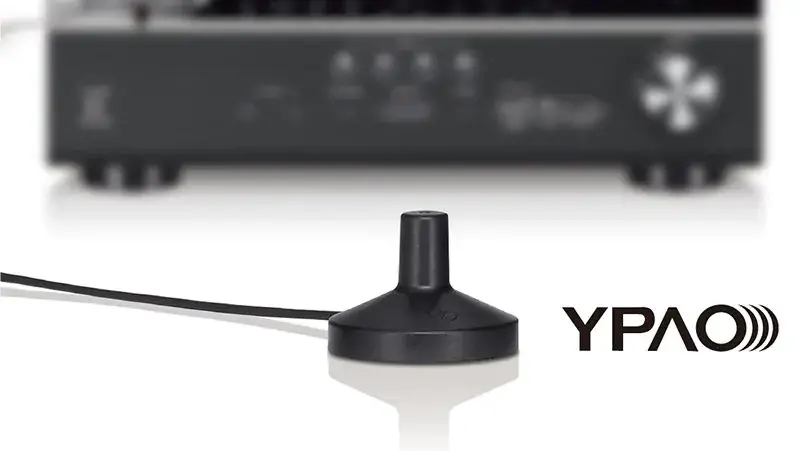 Initial setup of the receiver is very easy if you have even the slightest idea of what you are doing but even if not it should not be too hard to complete all necessary connections and initial setup. But even if you find it hard to follow the manual instructions there is an alternative that you can use that comes by the name of Yamaha AV Receiver Setup Guide App.
This handy application is available for both Android and iOS devices and can guide you step by step through easy to follow pictures in order to make all necessary connections for your specific system. If you are very inexperienced and not sure what you are doing you will definitely like this one. It's free to use so in case of trouble we recommend you to give it a try.
Streaming is not the strong point of the RX-V385 as it lacks WiFi and therefore omits any kind of support for online streaming services. The only option we do find is with Bluetooth streaming from any mobile, Bluetooth capable, device. Along comes the Compressed Music Enhancer from Yamaha that is now optimized for Bluetooth audio transmissions and ensures that your music will have vivid, dynamic sound quality during wireless playback.
As for the rest of the features that we do find in this unit include HDMI to HDMI up-scaling which is very impressive if you consider that a few years back only top of the line AV receivers were featuring that and HDMI-CEC which you can use in order to control the receiver with your TV's remote that can be very handy if you want to minimize the number of remotes you have to use in your home cinema setup.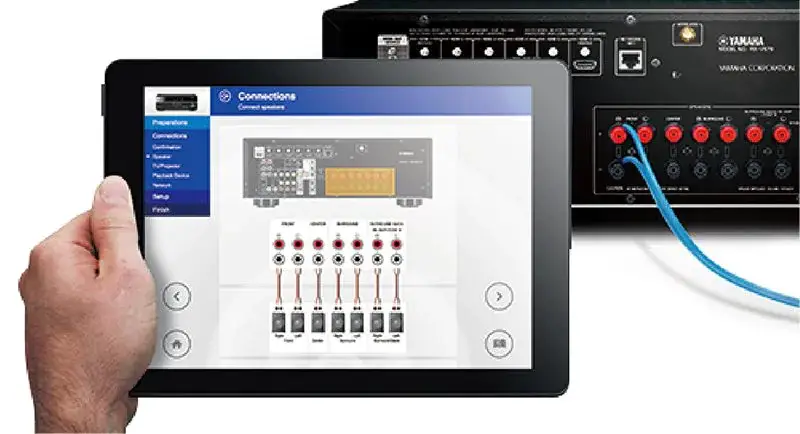 There is also Bi-amp capabilities in order to drive the high and low ranges of the front left and right channels with independent amplifiers which can greatly improve the audio performance and is something that many home cinema fans really appreciate. Lastly there is an ECO mode available that can lower power consumption up to 20% according to Yamaha measurements. But this can have a negative effect on performance so if you want to get the max out of the unit we suggest you to leave this off.
Unfortunately due to the low cost it meant that many features had to be cut that we usually find in most middle tier units. This means that there are no multi-room capabilities as neither MusicCast or Airplay are available. Also there is no voice control support whatsoever. Obviously all these missing features stem from the fact that the receiver doesn't have any kind of internet connection available that all these features rely on.
In this category things are a bit light to say the least so there were not many expectations to begin with. It seems as if Yamaha tried to focus it's attention to what matters the most, that is it's audio performance and leave out all the bells and whistles that would only add to it's price.

Final Thoughts
We need to slowly close our review and looking at the RX-V385 overall it becomes pretty obvious what Yamaha intended to do with this unit. Offer the best audio performance and the best build quality at the lowest price possible and fit in whatever other features without running the risk of increasing the cost. The end result is a unit that is performing good but light on specs and features, making it an ideal option for any entry level surround setup.
It's most obvious strengths would be it's performance as for this price we were really satisfied with the kind of quality this unit can pump out, it supports Dolby TrueHD and DTS-HD Master Audio, features Cinema DSP and virtual technologies, comes with the YPAO audio calibration system and supports Bluetooth streaming, eARC, full 4K pass-through and Bi-amp capabilities for an excellent, entry-level price.
On the downsides there is no Dolby Atmos or DTS:X support which is something some other entry-level units do offer. Also at 70 watts of power it may seem a bit weak if you have a pretty big room even though this unit is not meant for very large areas. Lastly it is missing WiFi along with any online capabilities like streaming services, multi-room functionality or voice control platforms.
To sum everything up if you want to make a decent surround setup with the lower cost possible that will have good performance and don't care about any other specific features then the Yamaha RX-V385 is an ideal option for you to consider. Performance is good, the price is great and you get a unit that has the stamp of Yamaha all over it. What better to ask for, for a small and decent home cinema setup?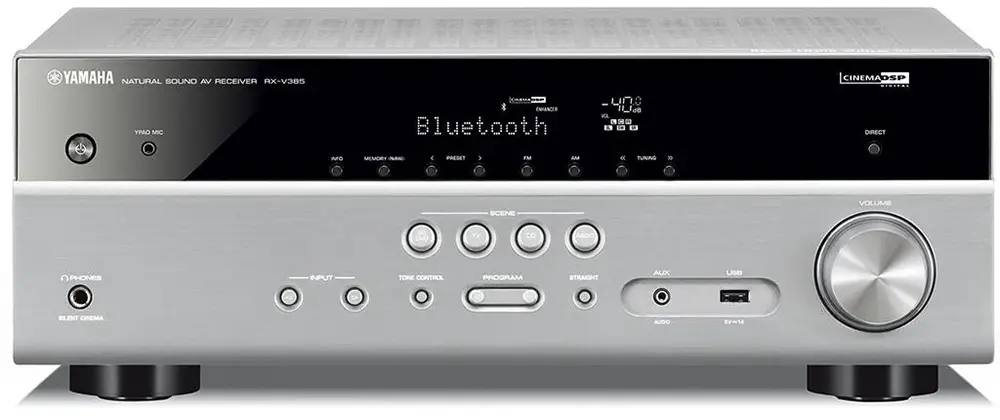 For more reviews you can check our dedicated 5 channels 4K AV Receiver reviews list or even look at our Product Reviews Table where you can find the brand and specific product you are looking for.
Also don't lose the chance to subscribe to our Newsletter and gain exclusive privileges.
---
Cheapest Places to Buy :
---
Yamaha RX-V385 Specifications