Yamaha RX-V685
OS, Apps and Features
9.2/10
Pros
Great Dolby Atmos performance
Excellent build quality
Many features and streaming options
New remote design and user interface
Cons
Not huge update over the previous year
We lost the front HDMI input
No backlight on the new remote
Price on the high side compared to competition
---
Cheapest Places to Buy :
---
Yamaha has been in the AV receivers business for many years now having produced some amazing models and have surely created a name for themselves in this regard. But competition in the mainstream AV receivers market is fierce and to stay on top you need to be able to offer the complete package that combines not only good quality and great performance but competitive cost also. And while Yamaha always had very high standards as far as quality is concerned they fell a bit behind with their pricing strategies. So in today's Yamaha RX-V685 review we will be testing the top model in their RX-V series to determine if it has what it takes to face the middle class competition.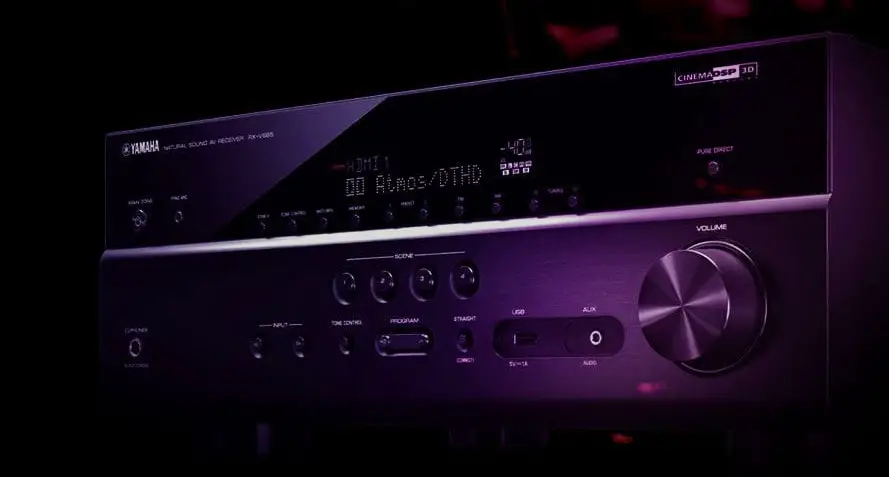 Yamaha always had split their AV receivers into two lineups. The RX-A models that comprise their Aventage premium series and the RX-V models that offer good sound and features at a more affordable price. The RX-V685 we will be testing today is the top model in this more mainstream RX-V series and is considered more of a upper mid-range unit that tries to combine good build quality and performance with a lot of features but still remain close to the $500-$600 price range.
The Yamaha RX-V685 is basically a 7.2 channels receiver with 90 watts of power, supports Dolby Atmos and DTS:X, features YPAO-RSC and comes with a wide range of extra features including High Resolution Audio, Virtual DSP, MusicCast and Airplay 2 as well as voice control and multi-zone capabilities among many others. But are all this bells and whistles enough to withstand the competition or is this model lost in a sea of similar priced but equally good models from other manufacturers? Keep reading to find out.
Design
The RX-V685 is basically a 2018 release with Yamaha releasing a trio of mid-range AV receivers at the time with this one being the most expensive and feature complete and replaces 2017's RX-V683. When it comes to these yearly releases not many things change as manufacturers usually add a couple more features, slap a new number on their naming and release them as new. This means that many times designs also remain the same making it hard to tell them apart. In the case of the RX-V685 the outer shell feels and looks the same but with a small difference that we will talk about shortly.
If there is one characteristic in all Yamaha designs is that the front face is split into two sections and we see the same being used here also. The top half featuring a glossy finish housing the central functions display with a single row of tiny circular buttons sitting underneath it. These buttons include mostly zone 2 and radio controls among a few others. On the right we get a single circular button for pure direct while on the left the usual power button is accompanied by the YPAO microphone port.
The bottom half on the other hand features a brushed aluminum texture while the buttons configuration seems to be completely unchanged. On the far right a big volume knob sticks out prominently while on the left a headphones jack offers silent viewing. On the center we get four big scene buttons while below there are controls for input selection as well as various programs. Between these buttons and the volume knob we find a USB port that you can connect external storage as well as a single analogue audio input.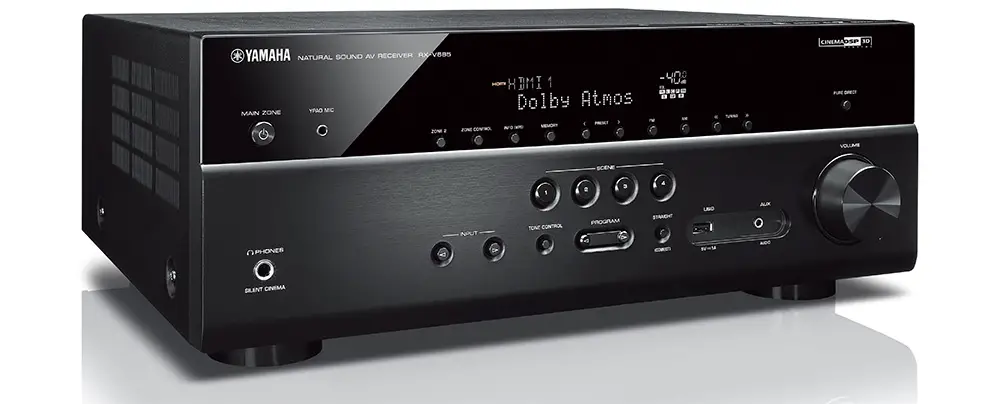 Now here seems to be the only change compared to the previous RX-V683. You see, in the 2017 model there was a HDMI input where the USB is now while the USB was right next to the headphones jack. It seems that in the RX-V685 they decided to remove the HDMI input and repositioned the USB port in it's place. Now the reason for this may not be an obvious one but we will talk about it a bit further down this article. But no matter how you see it removing the frontal HDMI port is considered a back-step in out books as we find it so much useful lately.
When it comes to build quality obviously most of the attention falls upon the Aventage series which Yamaha heavily advertise for their top quality audio components and carefully thought design. But even as such this doesn't mean that the RX-V is an afterthought for Yamaha and the RX-V685 is a prime example of the care their engineers take for all their products, even the more cost friendly ones.
As such this receiver features fully discrete power amplifiers in order to produce as low distortion as possible and comes with independent pure power supplies for it's analogue and digital circuitry. The RX-V685 comes equipped with four Burr-Brown 384 kHz/32-bit DACs that take care all conversion duties with each of them also having independent power supplies in order to produce High Resolution Audio without unwanted noise. Lastly we find a new high sound quality IC being employed for volume control while the use of larger heat sinks manage to suppress unwanted vibrations.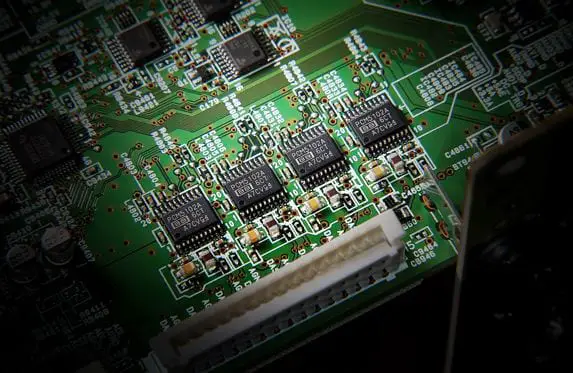 As you can understand from the above Yamaha leaves nothing to chance and even in this more cost friendly range what is being used inside these units is the result of careful and thorough engineering.
The unit's overall size reveals very much it's middle tier nature. Measuring 17-1/8″ x 6-3/4″ x 14-7/8″ (435 x 171 x 378 mm) and weighting 23.1 lbs (10.5 kg) it may not be one of the bigger ones we have seen but it needs certain space wherever you place it and as with most units of this class you are probably not going to move it around all the time.
If there is one thing that Yamaha completely changed in their 2018 lineup is the included remotes and the RX-V685 uses a new design compared to the 2017's release which may not be a day and night difference but is certainly one on the right direction. While the overall number of buttons is not dramatically different the looks as well as how the buttons are grouped together seems more refined and easier to find while design is more friendly to the eye.
At the center we find the usual navigation controls with scene, input and preset buttons above them while playback and various audio setting buttons sit below. The remote is relatively big and we would prefer a more compact design to be honest while the lack of backlight makes things harder when you want to use it in the dark.

Closing this part of our review we can say we are more than happy with what we saw here. Build quality is as you would expect from Yamaha and while things haven't changed much compared to it's predecessor the overall looks and design didn't need any dramatic changes. If there is one thing we were disappointed with was the omission of the front HDMI port. The included remote is a definite improvement compared to the previous one but with so many buttons and no backlight when it comes to usability in the dark not much have changed.
Audio Quality
The RX-V685 sits comfortably at the top of the more consumer friendly RX-V series. With it's 90 watts of power being pumped by it's built-in amplification for each channel (8 ohm, 20 Hz – 20 kHz, 0.06% 2ch drive) this unit can comfortably work it's magic up to middle sized rooms and home theaters. Being a 7.2 channels receiver you can either go for an older 5.2 or 7.2 channels setup or go for the maximum this unit has to offer with a 5.2.2 channels for Dolby Atmos effects.
The receiver does support the latest audio formats like Dolby Atmos as well as DTS:X but also supports up-mixing technologies in the likes of Dolby Surround and DTS Neural:X with which you can enjoy multi-channel surround audio from simple legacy and stereo mixes. But the unit doesn't stop there as we also get a few virtual technologies that we are about to analyze..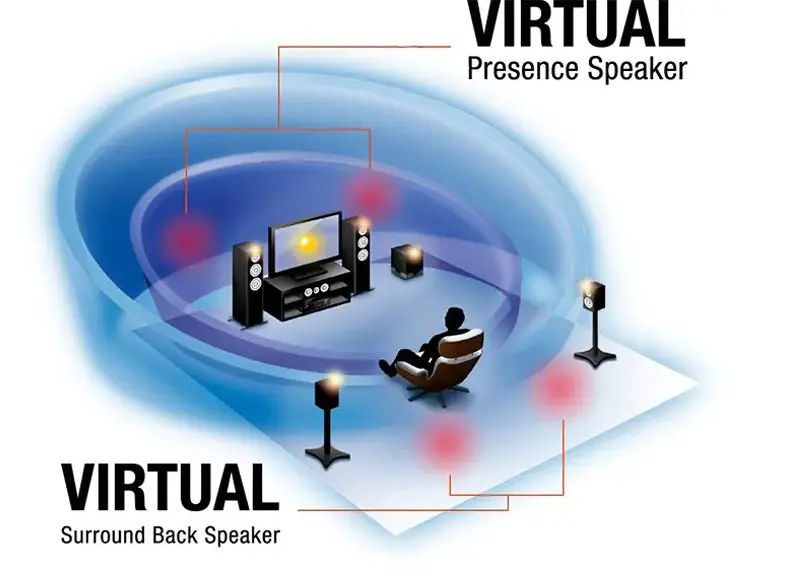 As it happens with all of Yamaha receivers the unit comes equipped with Cinema DSP 3D that is a proprietary sound field creation technology and with it the receiver is capable of reproducing various spaces, concert halls and sports arenas giving you the illusion of actually being there. As you can understand this can have various degrees of success as the end result vastly depends on the source material and the quality of it.
The end result some times may sound very artificial and over-processed while there are moments where it does give you a better sense of space and volume. But this is definitely a personal taste so we recommend you to try it out for yourself to see if you like it. Cinema DSP 3D for the Yamaha RX-V685 includes 17 different DSP programs to choose from.
But this technology is also the core for the unit's virtual capabilities. The features that are supported in the Virtual Cinema DSP include Virtual Cinema FRONT, Virtual Presence Speaker, Virtual Surround Back Speaker and SILENT CINEMA. With Virtual Cinema FRONT you can have surround effects by placing the surround speakers at the front in case you don't have the ability to position them behind your viewing spot.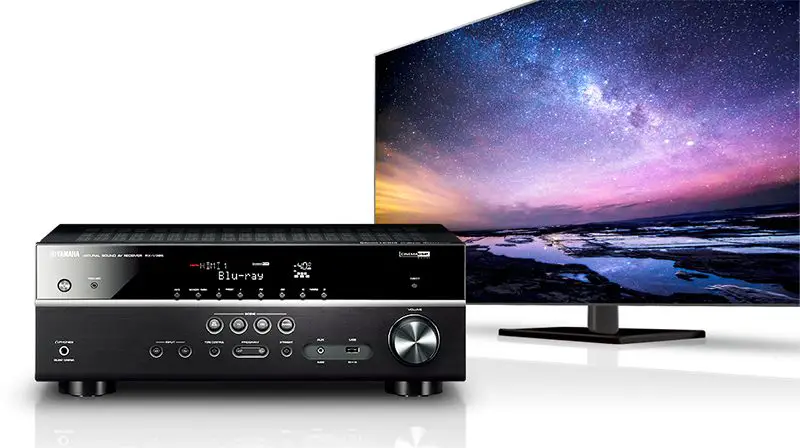 The Virtual Presence Speaker feature can create Atmos height effects without having any Atmos speakers installed while Virtual Surround Back Speaker can create surround activity without the use of surround speakers at all. Lastly SILENT CINEMA can be used to enjoy surround or sound field effects with just the use of headphones.
As with all 7.2 channels receivers we opted to go for a 5.1.2 channels setup that includes two Atmos ceiling speakers that are positioned in the middle of our testing area in order to provide the most accurate overhead results. Now there are plenty of options and material to go with when it comes to Dolby Atmos nowadays but we decided to go for a film that has proved us of it's quality mix and this is no other than the 4K UHD disc of Battleship.
You can say whatever you like about Peter Berg's blockbuster but if there is one thing that cannot be ignored is it's amazing DTS:X track it comes with. Personally we found the film very entertaining with one of the best marine battles in recent blockbuster history. So let's start with the first encounter of the Alien ship against a couple of US Destroyers.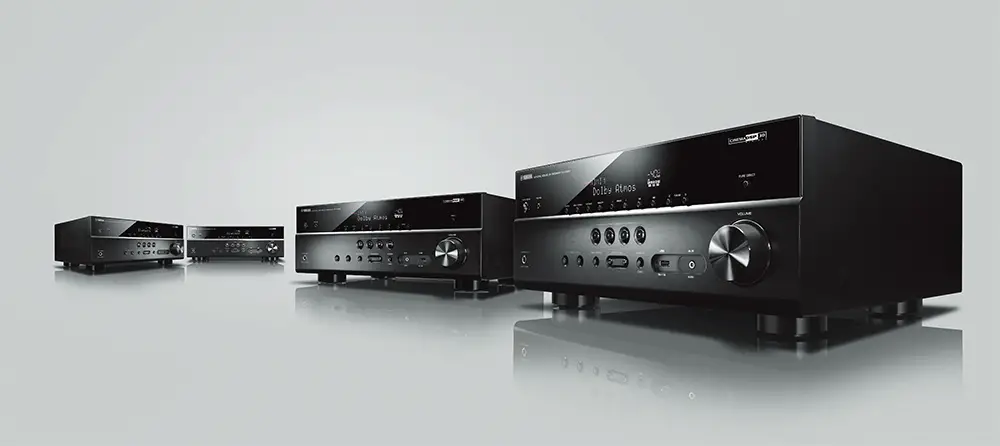 The Yamaha did a very good job into reproducing the various alien-ish sounds of the alien ship when it was targeting the US ships. When it launches the explosive pegs we got good overhead activity as well as channels shifting as the pegs traveled above our heads until they hit their targets. Sound had great clarity and precision while dialogue was reproduced with great resolution and never felt overlapping with the rest of the action. When the pegs exploded and cut the Destroyer in half the receiver made sure to feed our subwoofer with all the necessary information to give us this pleasant shaking you look for.
When debris started falling all around we got very nice separation in space that felt accurate and with good clarity. We also tried one of the last scenes where the alien mothership went against the USS Missouri. When projectiles started flying from the Battleship you can very distinctively hear them flying across the channels hitting their target. An exchange of fire between the two vessels created an amazing explosive immersion all around us that will keep you glued to the screen til the very end.
We did try to push the volume levels above what is considered acceptable for viewing in order to determine how much punishing the receiver can take during busy moments and it certainly can take a lot. Obviously with 90 watts per channel this is not for the extreme but it packs more than enough juice to keep you entertained and happy at pretty high volume levels. When pushed to less than acceptable volumes the receiver looses some of it's balance but we don't think that most people that would go for such a receiver would push it so much so you don't need to worry a bit. All in all a very fine performance that is perfect for such demanding, effects driven films.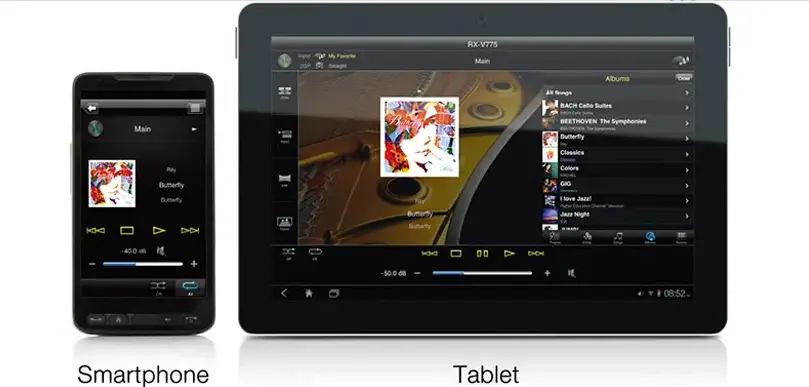 Next we moved on to our music testing and for this part, as we always use to do, we chose a selection of FLAC music tracks that we streamed through the front USB port. Since the receiver does support High Resolution Audio there is no better way to try out what this unit is capable of. Having tried a few other Yamaha receivers in the past we knew more or less what to expect as Yamaha has got us used in offering very good results in this regard.
We tried various tracks with different rhythms and tones and the RX-V685 did gave us a very nice acoustic performance with a very smooth and natural sound. We always use a direct mode in order to avoid as much processing as possible but since some circuitry is always involved we were very pleased with how it handled everything. The mid-range, the highs as well as the lower parts of the frequency scale were all delivered with very tight control and finesse. Nothing felt out of place while shifting and precision between the front channels was spot on.
There is nothing better than hearing your favorite music the way it was meant to and the RX-V685 did an amazing job at that which is an amazing feat for a middle class AV receiver.
Now one thing we shouldn't forget to mention is that this unit can not only stream music from the front USB port but also if you have a network drive or NAS server connected to your local network. There is a wide range of file formats supported here from the likes of MP3, WMA and MPEG-4 AAC as well as High Resolution Audio files including ALAC up to 96 kHz / 24-bit, FLAC up to 192 kHz / 24-bit, WAV / AIFF up to 192 kHz / 32-bit and DSD up to 11.2 MHz.

Ports and Connectivity
Let's take a look now on what is being included as far as input ports and connectivity is concerned. Being a mid-level unit means that we usually see manufacturers trying to find a balanced between offering enough but not too much that would risk getting the cost up. As we mentioned above the front of the unit includes a headphones jack, the YPAO microphone port, an analogue audio 3.5mm input as well as a USB port for connecting external storage with the only major omission being an HDMI input which is a shame really.
At the back of the unit the first thing we noticed are the nine speaker terminals available from which only seven can be used simultaneously with the built-in amplification. On the top we find 5 HDMI inputs along with 2 HDMI outputs which should be enough for the kind of audio systems this AV receiver can support. And here it seems the reason why we lost the front HDMI input. Apparently Yamaha decided to remove that input and instead include a second HDMI output that was not available in the RX-V683 model.
We don't know if they went for this change because of market research or some other design purposes but it seems this is why the front HDMI had to go. If you prefer a second HDMI output instead of another HDMI input is completely a personal matter but for us the front port adds much more practicality and should always be included.

All the HDMI ports on this model are HDCP 2.2 and there is also eARC support which is a nice addition to have. As for the rest of the specs we get 4K UltraHD Video pass-through (include 4K/60, 50Hz 10/12bit), 3D Video, HDMI Control (CEC), Auto Lip Sync, Deep Color, "x.v.Color", HD audio playback, Selectable HDMI input in HDMI standby mode, 21:9 Aspect Ratio, BT.2020 Colorimetry as well as HDR support.
Let's see what else is available now. There is one component as well as one composite video input, three analogue stereo inputs along with another one dedicated for phono, two coaxial and two optical digital audio inputs, a 12 volts trigger, one remote input and one output, an Ethernet port for wired connections to the internet, zone-2 output, 2.2 channels pre-outs and lastly the usual FM and AM antenna ports.
As for wireless connectivity we get the standard WiFi (2.4/5GHz) as well as Bluetooth v4.2 for streaming wireless music.
If we had to compare the RX-V685 with the previous RX-V683 we do find a couple of differences. The RX-V685 seems to have added the second HDMI output that we just talked about in exchange to the frontal HDMI input but also has added the 2.2 channels pre-outs that were not available in it's predecessor. So in this regard we can say that things have improved slightly and in all honesty what we do get is more or less in line with a middle class system.
OS, Apps and Features
Let's move on now on what extra features are packed with this unit. First and foremost we need to mention the audio calibration system and the one we do get here is Yamaha's YPAO – R.S.C. (Reflected Sound Control). The basic YPAO system is capable of measuring the room acoustics and the speaker's characteristics in order to achieve the best acoustic result possible. The RX-V685 comes with the additional R.S.C. feature which is responsible of correcting early reflections and provides DSP Effect Normalisation through the Cinema DSP parameters according to these reflected sounds. This results in a more balanced outcome compared to the basic system and it can improve Dolby Atmos and DTS:X performance.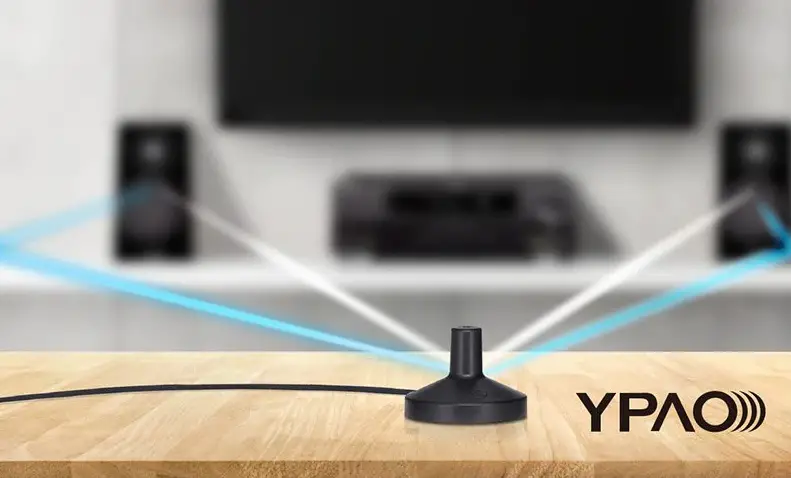 What we do mention all the time about these systems is that for novice users or those that don't have experience in calibrating manually their systems this auto calibration systems can provide the next best thing. Having improved over the years we now can get very good results from these with minimum input making them more user friendly and practical than ever before.
With voice control being a standard thing nowadays it's good to see that this unit supports the most known ones. As such there is Amazon Alexa as well as Google Assistant support but obviously you will need an external speaker in order to use them like an Echo Dot or Google Home device. But you also have the option to use Apple's Siri through the Airplay 2 app that you can download to your mobile device in case you are more of an Apple guy.
When it comes to streaming we get the standard features that include MusicCast which means that the receiver can connect with other MusicCast enabled devices and speakers in your house. To use that you will need to download a separate MusicCast app that is available and gives you many options and controls. There is also Airplay 2 which is Apple's answer to a multi-room environment for Airplay 2 enabled devices and speakers. There is also a separate app for Airplay 2 that you can find in Apple's online store. Lastly if you prefer to use a wired connection there is Zone 2 support for adding a pair of speakers to another room with cables.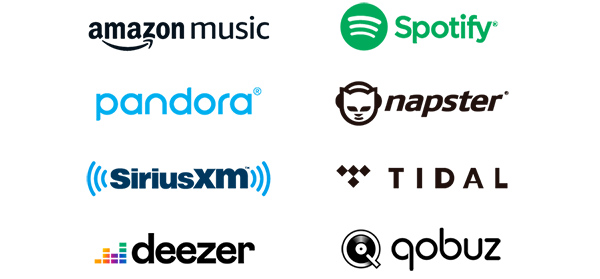 Through the above mentioned apps you have the ability to stream music by using various online streaming services including Pandora, Spotify, SiriusXM Internet Radio, TIDAL, Deezer, Napster and more. Some of them are obviously location based so always make sure that the streaming service you are interested in is supported where you live.
The User Interface that comes with the unit provides an easy and simple way to navigate through the various options and settings. It seems that Yamaha has improved the UI compared to some previous releases and while it may not on par to what a TV UI can offer for example, it's definitely a step on the right direction. Their latest graphical revamp provides you with a nice and clear high resolution image with a single column on the left grouping all menus and the right part of the screen showing all the details.
Adding to the user experience is the Yamaha AV Receiver Setup Guide App which is an app that you can download to your mobile device and can guide you step by step with all the connections and settings you have to do. A very practical one if you are a novice user. Lastly we should mention that the unit can be controlled through it's dedicated app as well as the web.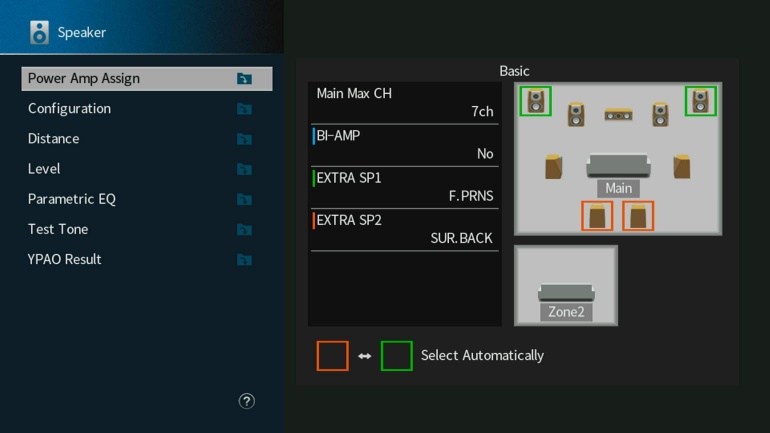 But extra features don't stop there so let's mention all the other features that are included. The receiver supports both the MusicCast 50 and MusicCast 20 wireless streaming speakers in case you prefer to use wireless rear speakers for surround. The MusicCast SUB 100 is also supported if that interests you.
For Bluetooth streaming we get the Compressed Music Enhancer from Yamaha that is responsible for maximizing the quality of the streaming audio due to transmission loss of quality. There is also HDMI to HDMI upscaling if your TV is not capable of that or if it's not particularly good at it, HDMI-CEC with which you can control the receiver using your TV's remote and thus minimizing the number of remotes you have to use, Bi-amp capabilities with which you can use an external amp to drive the front channels providing better performance and audio quality and lastly an ECO mode if it happens you to be environmental friendly and you want the least power consumption possible.
From all the above you can get a pretty good idea that the RX-V685 packs quiet a bit of value with all of the included features and while it is missing a few features here and there nothing major has been left out. It's a pretty standard set of features for this middle class category and Yamaha did follow the trend in this regard.

Final Thoughts
The receiver we tested here today is a very solid offering of the middle tier segment and it literally has the Yamaha stamp all over it. When it comes to it's performance we got more or less what we expected in that price while the included features do follow the competition on a certain degree. Things are a bit more vague here compared to both the budget-friendly and premium tier models as scaling features and prices is the main concern to most manufacturers in this regard.
The RX-V685 is a Dolby Atmos enabled AV receiver enabling you to go for a 5.1.2 channels setup and with it's 90 watts of power it can fill a middle sized room with all the audio immersion you may need. Build quality and construction was very characteristic of Yamaha quality, it features the YPAO-R.S.C. audio calibration system while the amount of extra features include Cinema DSP, MusicCast and Airplay 2, voice control support, High Resolution Audio, Bi-Amp, wireless speakers and eARC capabilities. Lastly the improved user interface and new remote design are definitely adding points as the old ones were in dire need of a revamping.
Now what we didn't like about it. First of all compared to the RX-V683 it's not a day and night difference although this was to be expected with a yearly release. We also didn't like the omission of the front HDMI port that was sacrificed for the new HDMI output that was added at the back. Also the new remote still feels cluttered with buttons and would definitely appreciate if there were fewer of them to use as there is no backlight to help handling it in the dark. Lastly the price of the unit is on the high side compared to other receivers in the same class and Yamaha really has to rethink a bit their pricing strategy.
In the end if you are looking for a 7.2 channels, Dolby Atmos enabled AV receiver for a small to medium sized room the Yamaha RX-V685 is a serious contender as you will get a unit that features Yamaha's quality and performance and enough features that will cover all your needs for a middle class system.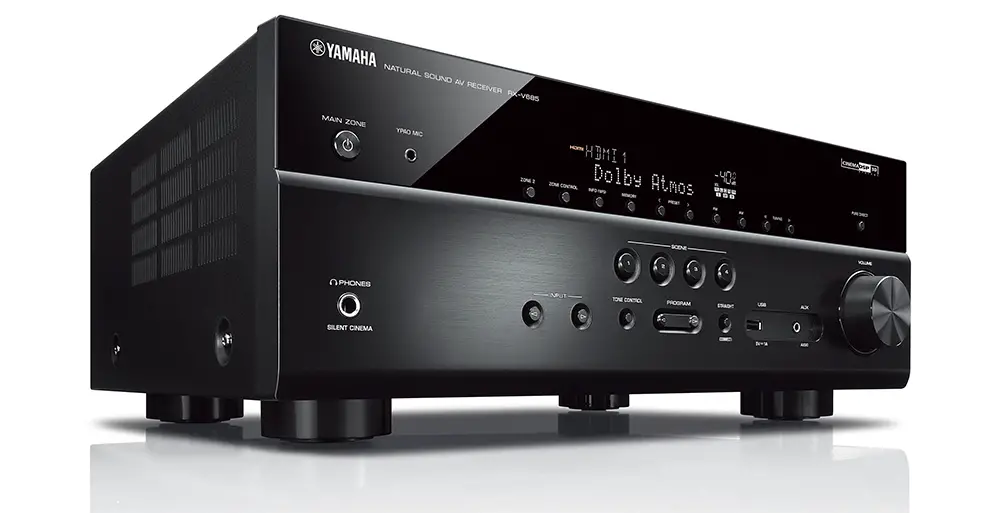 For more reviews you can check our dedicated 7 channels 4K AV Receiver reviews list or even look at our Product Reviews Table where you can find the brand and specific product you are looking for.
Also don't lose the chance to subscribe to our Newsletter and gain exclusive privileges.
---
Cheapest Places to Buy :
---
Yamaha RX-V685 Specifications