Yamaha SR-C20A
Reviewed at $179.00
---
Cheapest Places to Buy :
---
Yamaha offers a lot of products in the home theater arena and they have been releasing soundbars for a few good years now, with some of them getting really good scores from us. And so today in our Yamaha SR-C20A review we will be reviewing their most compact release so far and determine if it is a worthy purchase for what it offers.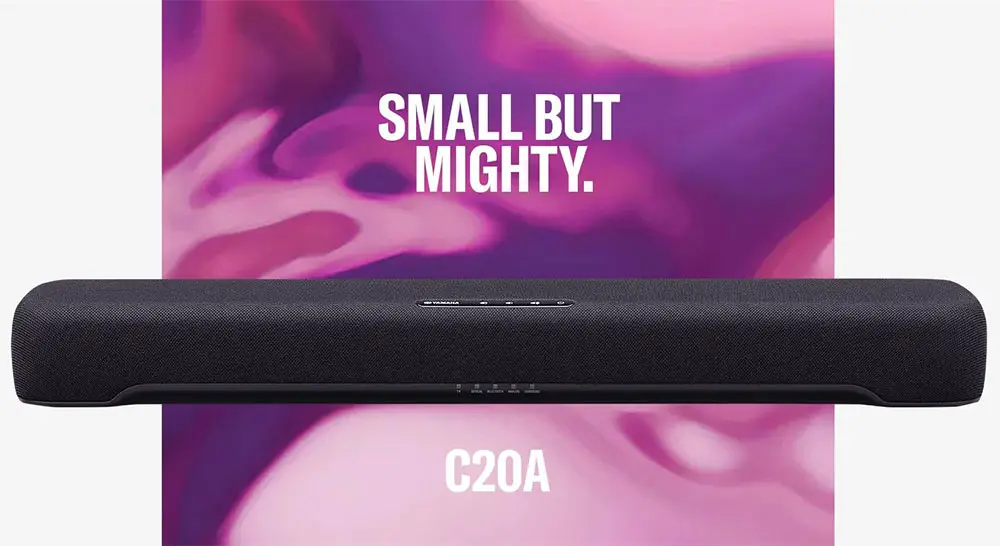 Although Yamaha has released plenty of soundbars so far, they don't have the extensive yearly releases of Samsung or LG. Their lineup usually consist of 2-3 new units every time and the SR-C20A seems to be the smallest one in their updated lineup that consists of the SR-B20A and the YAS-109.
But before we start let's look at what this small soundbar brings to the table. The SR-C20A is a compact, 2.1 channels single soundbar that has a total of 100 watts of power output, supports Dolby audio, Bluetooth streaming, comes with virtual surround technology and has mobile app support. That's all! On paper what we have is a very simple soundbar and it seems that this was Yamaha's intention when they designed it.
Compact soundbars seem to be very popular and competition is surely fierce. With a price of $179, at the moment of writing this review, does the SR-C20A manages to come up on top of the competition or it is lost in a sea of good quality soundbars in this category? Let's find out.
Design, Inputs and Features
Exterior
When it comes to looks and overall design Yamaha has its own distinct characteristics and from what we have seen the manufacturer likes to use fabric grille in their soundbars…a lot. As was the case with the Yamaha YAS-109 we had reviewed before the SR-C20A seems to follow a pretty similar look making it less impressive than other competing brands that prefer metal grilles and brushed plastic surfaces.
The soundbar is probably the most compact model from this brand we have tested so far as it measures 23 5/8″ × 2 1/2″ × 3 3/4″ (600 × 64 × 94 mm) with a weight of 3.9 lbs (1.8 Kg). Obviously such a soundbar can fit under any TV size but for bigger ones of 65″ and above it will certainly look too small and a bit out of place.
Just keep in mind that if you plan on placing it in front of your TV the soundbar, although it has a low profile design that can fit under most TV models, doesn't have any IR repeaters, so if your TV's IR sensor is extremely low then it may obstruct the signal, so you better measure first just to be on the safe side. Most TVs do have a gap of around 2.5″ below the panel so you should be ok but there are a few ones we have seen, with the recent Sony A95K coming to mind, that leave less space so always check to be sure.
The unit is almost entirely covered in a black cloth that extends on the sides and cuts on the upper back side. Now to have this in full cloth may give the SR-C20A a unique look but we are certain that opinions on whether this looks good or not will be divided, which can be said about most Yamaha soundbars nowadays.
At the top side there is a thin plastic strip exactly in the middle where Yamaha has placed the built-in buttons. But unlike the YAS-109 in which this strip included both the built-in buttons and the display of the unit, in the SR-C20A these two have been separated.
The built-in buttons are touch sensitive and not physical ones which we definitely do not like while you only get some basic functionality with an input button, volume controls and a power on/off available.
One thing that we are very critical when it comes to soundbar designs is the use of a front display that shows various functions of the unit. Some soundbars lack a fully working display making it very hard for the user to know what the soundbar is doing.
Unfortunately the soundbar comes with exactly the type of front display that we hate. A set of LED lights at the middle of the front face is all we got and although these LEDs do have specific names these are useless because not only you are not going to see them from a distance but also many times combination of LEDs will light which most probably you will never remember and you will always have to look at the manual to understand their functionality.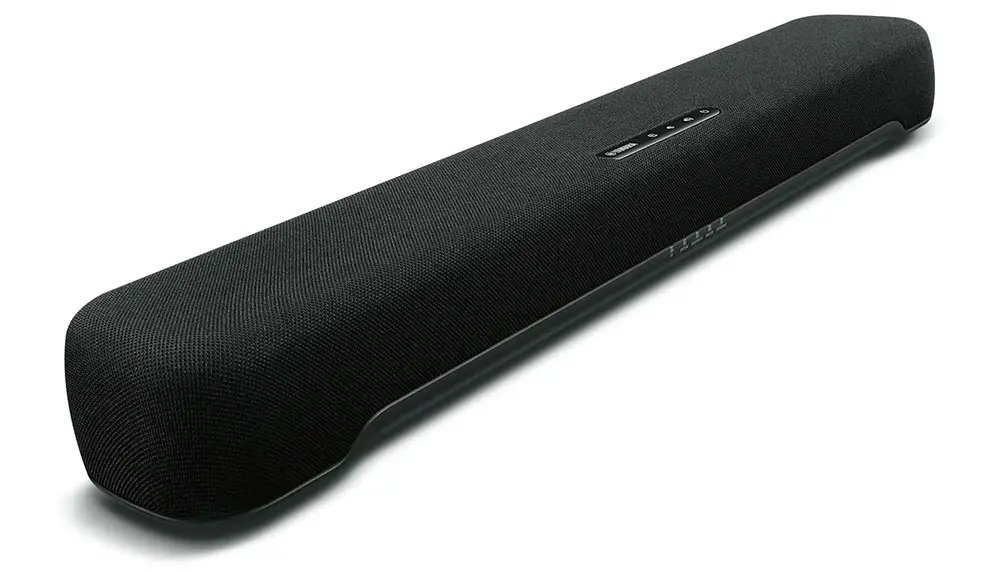 The back face is the usual affair. On the left side we get some grille holes in the plastic for the passive radiators to work better while a special inset in the middle houses all the ports. The only other element we find at the back are the special holes for wall mounting.
The SR-C20A is a standalone unit so there is no subwoofer or rear surround speakers bundled with it. In general what we have here is a compact soundbar that has all the characteristics of a Yamaha product. With its size we would say that this is a unit mostly meant for a bedroom or a PC gaming setup where you will be sitting closer to it in order to perform better.
Internal Hardware
With such a compact design Yamaha surely didn't have a lot of flexibility in terms of internal hardware. What we have here is a basic 2.1 channels system so things are a bit straightforward.
The unit incorporates two main channels with front right and left. There is no dedicated center channel which surely will affect the soundbar's performance with dialogue. The two main channels use a 4.6 cm (1.8″) cone each so without a tweeter/woofer combination that we often see in soundbars the kind of quality will also take a hit.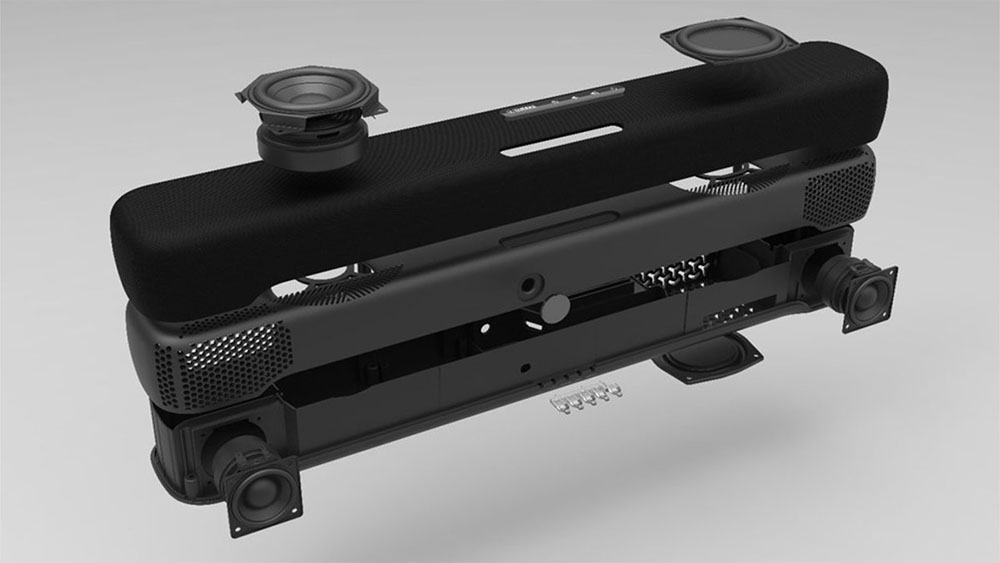 On the other hand the unit does come with a dedicated 7.5 cm (3″) up-firing cone for the bass and thus its 0.1 channels designation. But Yamaha didn't stop there as they also added a couple of passive radiators, one looking up and one down, to further enhance the soundbar's ability on the low end frequencies.
Overall the SR-C20A can pump 100 watts of power from all its channels and has a frequency response of 65Hz to 22kHz according to the manual.
With its size we surely could not expect much more. A dedicated center channel would be nice but it seems Yamaha gave priority to the bass with its dedicated subwoofer and passive radiators.
Connectivity
Next we will be looking at what connectivity options are available. In general with the small size of these soundbars we don't get plenty of options but even so the SR-C20A manages to offer all the basics.
What we do get is one HDMI output, two digital audio optical inputs, a 3.5mm analog stereo input and a single USB type-A that is used only for updates. That's all there is to it.
Having only one HDMI port means that the soundbar cannot be used in HDMI pass-through mode and the HDMI is used in combination with its ARC function in order to pass audio from the TV to the soundbar itself. So connecting all your sources to the TV in order to get a video signal is your only option here.
What is unusual here is the inclusion of two optical ports, as we often get only one even with flagship units. As a result you can connect up to four sources to the soundbar at the same time, one through the HDMI, two more through the optical ports, if these do have optical outputs, and the last one through the analog.
In terms of wireless capabilities the SR-C20A comes only with Bluetooth v5.0 and from what we saw this supports both the SBC and AAC codecs. Unfortunately no WiFi and this is the reason why there are no online features in this unit at all.
Overall the SR-C20A comes with a pretty basic layout. The second optical input is a bit unusual but it's better than not having it at all and surely will give you a bit more freedom to connect more devices on the unit directly.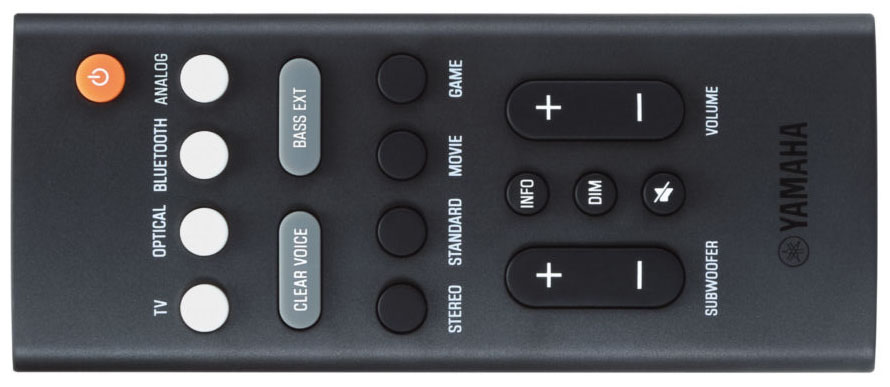 Control Options
The soundbar is very simple in general so when it comes to controlling it as the options you have are really the basic ones you would expect. We already mentioned the built-in buttons available so let's see the remote that comes with the unit.
We wouldn't expect anything fancy in this price range so no real surprises here. It's made out of plastic and has small rounded buttons with enough space between them which helps a little if in use in low lit environments as the remote lacks any kind of backlight functionality. Plastic quality is good enough and in general the remote feels sturdy and is very responsive.
The remote is similar in design and buttons layout to the one we used in the Yamaha YAS-109 with the only difference being the different buttons functionality along with slightly lower number of buttons due to the less functions and extras this one has.
At the top right we find the power control while below there is a set of buttons for input selection, two buttons for clear voice and bass extension and various sound modes. On its lower part two big buttons for subwoofer and main volume are available while between them we find the mute, dim and info buttons.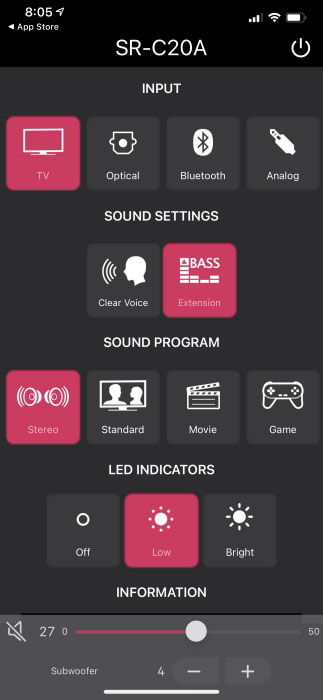 There is also the option to control the sound bar with the TV remote but there are certain limitations to this. First of all for this to work the TV must support HDMI-CEC and you have to use the HDMI connection obviously. Also there are only limited functions supported like power on/off, input selection, adjust volume and choose the output audio device. HDMI-CEC functionality was always limited so no real surprise here but for basic controls this can be very handy as you can handle both devices with one remote which can somewhat save you from the frustration of having multiple remotes on your room.
Lastly Yamaha has added support for their mobile app that you can download to your smartphone or tablet called "Sound Bar Controller". This app has a nice and simple interface with the inputs appearing at the top, sound programs and settings below them and dimming the LEDs further down below. At the bottom you will find the volume controls and various info. Overall the app feels modern and easy to navigate while it connects to the soundbar through its Bluetooth connection.
As the unit is missing a WiFi module there is no voice control support. But everything else is available.
Extra Features and Services
Now let's take a look at what extras are included in this unit. The SR-C20A is a very simple to use soundbar and to be honest when it comes to extra features the list is rather small.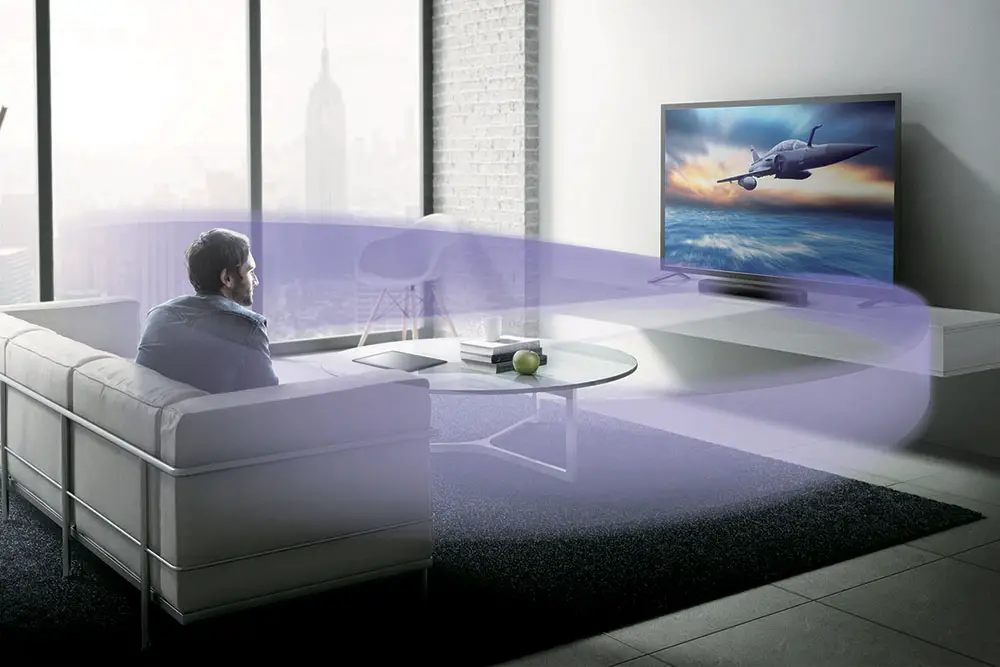 Dolby Atmos and DTS:X may be ideal to have right now but there is no point in supporting these if you don't have the necessary hardware that can make them justice. And with the SR-C20A's simple 2.1 channels system there was no point to support anything more than Dolby Digital and 2 channel LPCM. Unfortunately there is no DTS which is disappointing.
But except from these the sound bar also supports Dolby Pro Logic II which is an up-mixing technology that can turn a mono or stereo mix into full surround audio. And since we mentioned surround sound, with the complete lack of surround speakers the SR-C20A is missing a key component in order to deliver 360 degree audio.
The unit does feature virtual technology but unlike the bigger Yamaha soundbars that use DTS Virtual:X, the SR-C20A seems to feature Dolby Audio virtual surround technology.
Now, we have analyzed extensively these virtual technologies in the past and their results are a bit of a mixed bag. As this tech doesn't have either the precision or clarity of real dedicated speakers the audio many times feels over-processed and unnatural.
We will not say it's a bad technology and certainly for low cost solutions like the SR-C20A which doesn't have the necessary hardware for anything better, getting this feature is better than nothing. Just keep in mind that its performance depends heavily on the content as well as on your room acoustics.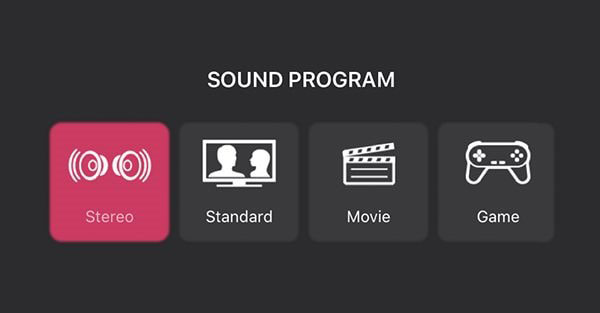 The unit also comes with extra sound modes in order to choose the one you like the most depending on the content you are watching. There are four modes available with Standard, Movie, Game and Stereo available. All of them except for Stereo enable the unit's virtual technology as surround playback is performed.
There are a few extra sound options available with the first being a Clear Voice functionality that enhances dialogue if you feel like you need this and there is also Bass Extension if you want a boost of the low end.
You can also stream audio through a Bluetooth connection. And since audio quality through Bluetooth is usually less than stellar the sound bar is using Yamaha's proprietary Compressed Music Enhancer technology in order to improve the quality of the streamed audio
As we have seen countless times in such low cost soundbars the SR-C20A lacks any kind of audio calibration system and to be honest with the available hardware such a system would be pointless. Also keep in mind that in contrast to other brands the SR-C20A does not have the ability to accept extra surround speakers. So if surround activity is of utmost importance to you then you should better look elsewhere.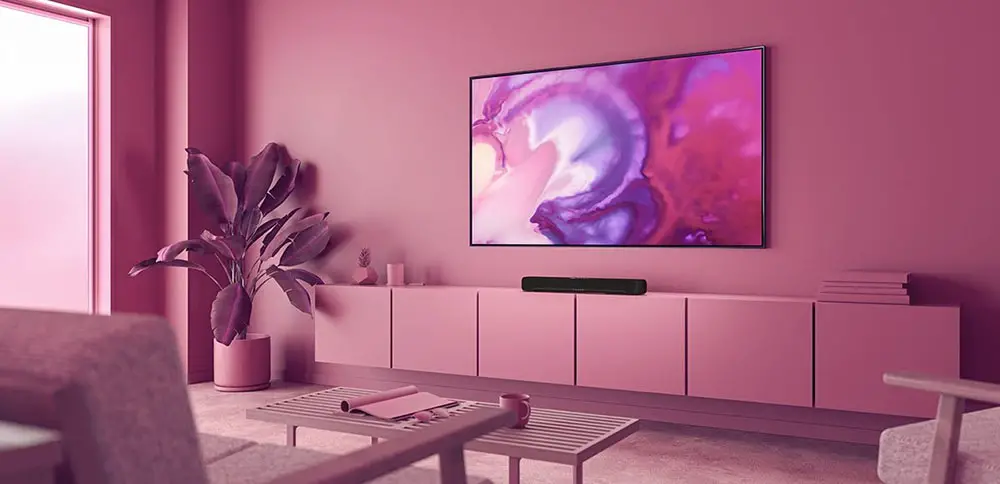 Simplicity is the key here so Yamaha has limited the functions available to the absolute minimum. We are not against that but the missing DTS surely limits the abilities of the soundbar much more than it should. Otherwise you get pretty much what you should expect at this price.
Initial Setup
When it comes to initial setup the the unit could not be any easier, and this is a characteristic of most compact soundbars these days.
First of all you have to decide the type of connection and here you have two options. Either through HDMI or the optical port. Both of them will do fine as the soundbar does not support anything more than Dolby Digital that both connections can pass-through. The HDMI connection will give you slightly more flexibility with its CEC functionality but in terms of audio quality you get exactly the same.
After connecting all cables the only thing you need to do is choose the sound mode, choose if you want Clear Voice or Bass Extension and calibrate the subwoofer volume. That's all there is to it.

Missing a lot of functions and features means that there is not a lot of work to be done initially and you can have everything ready in practically minutes. It's that easy and it will really appeal to you if you hate to go through long setups and initial calibrations.
Movies
For this review our movie of choice was Mad Max: Fury Road in 4K UHD. The film comes with an explosive Dolby Atmos mix that unfortunately had to be down-mixed in the SR-C20A.
As always we will start from the front soundstage and the first thing that we noticed was that the soundbar could not expand the sound much further than its physical limits. Obviously its size is not helping, as is the fact that there are no side-firing drivers, but in general we have seen small soundbars that offered better extension. Not so much with this one as all sound felt like coming from the same spot.
Another thing that we noticed was that with panning sounds separation was so and so. The two main channels lack the necessary distance so when sounds would travel from one side to the other the travel distance was not as impressive as we would like. You still understand the audio panning from one channel to the other, it was just not so much extensive and impressive.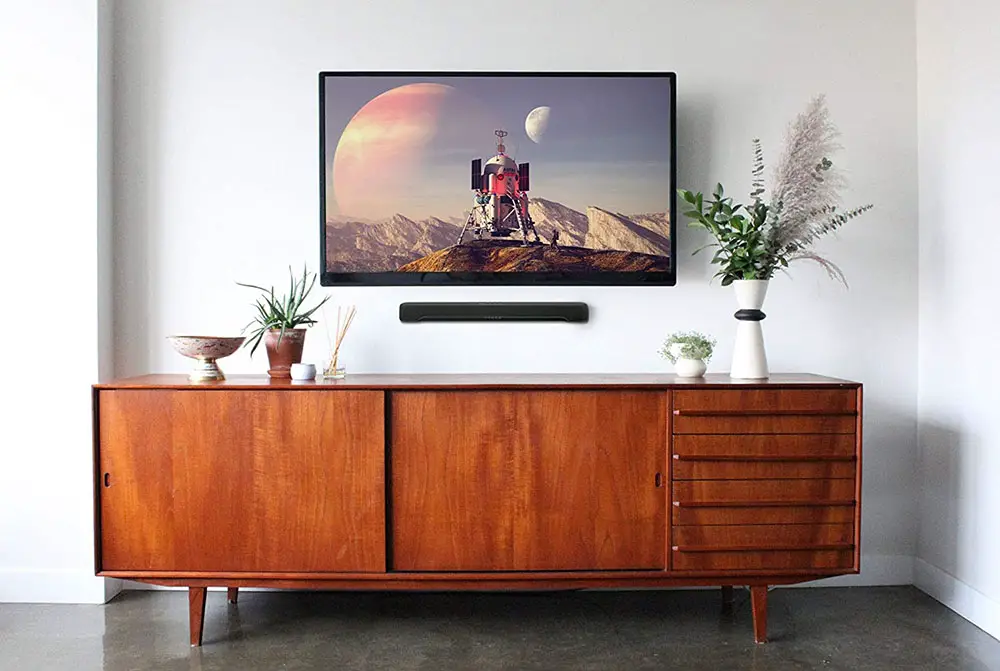 The soundbar lacks a center channel but surprisingly we found the unit's performance with dialogue very good even without using the Clear Voice function, which to be honest had little effect on the final output. Dialogue was distinguishable and clear enough even during busy action sequences so nothing bad to say here.
One area where the SR-C20A cannot do much is with Atmos and surround sounds. First with Atmos, the soundbar does not support it so don't expect to get any elevation here. Everything is fixed on the ear level and this was to be expected really.
As for surround activity, the unit does not have rear speakers nor there is an option to add any. So the only option is to use the soundbar's virtual sound technology, which by the way is Dolby's version and not DTS Virtual:X that we usually see in many low cost units.
The end result can be described as less than stellar. You do get the sense of more volume and depth but in no way you are going to get any action close or behind you. Everything remains firmly at the front. And with virtual sound enabled keep in mind that in certain moments the audio will feel more processed and less natural which will certainly make the final outcome less impressive.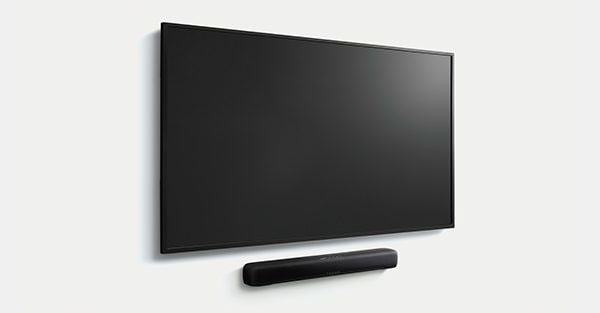 One area where the soundbar did a bit better than expected was with bass. Usually such compact units lack the low end prowess of their bigger brothers. The SR-C20A was surprisingly good considering what it has to work with and the size of its body. The dedicated subwoofer along with the dual passive radiators did great here in order to provide the audio some weight and low end power.
Obviously you shouldn't expect your walls to shake or be hit by low end waves like a dedicated subwoofer will do but compared to other single soundbars that lack any bass whatsoever the SR-C20A did better than many of them.
From what we heard we can definitely say that this soundbar is meant for close use. And by that we mean to use it if you have a TV really close to your viewing position or when being used under a PC monitor. The further away the less impact it has and definitely is not meant as a main audio system for your living room.
Music
With the SR-C20A we had three options when it comes to music playback. Either through its Bluetooth connection, the optical port or through the HDMI connection by using the TV as our source. For this review we opted for the last option as we used our test TV as a media player for the best quality possible.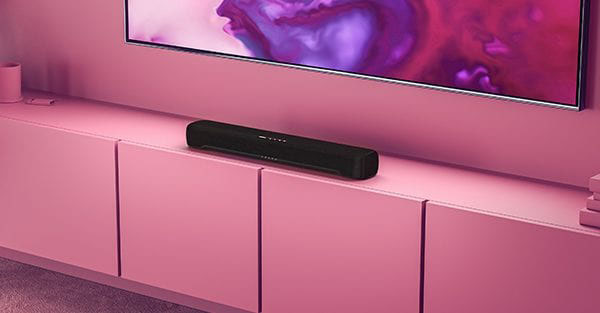 When it comes to sound modes the soundbar is missing a dedicated Music mode and since Standard mode is using virtual tech we can say with certainty that the Stereo mode is the one that is aimed to be used with music as virtual tech is disabled with it.
Overall there is nothing thrilling about the music quality of the SR-C20A but it doesn't disappoint either. It will offer you a very basic output that is in line with the kind of quality its hardware can produce.
The mid-range was ok although it was missing finesse and fidelity, the higher frequencies were good enough and with enough energy without giving you any ear fatigue while the bass was solid and easily the best part of the whole performance.
Sound imaging was acceptable but nothing to be enthusiastic about. Clarity was surely lacking and this was definitely not one of the strongest characteristics of this unit in general.
As always we tried half a dozen different genres in order to have a more accurate image of the soundbar's performance and everything we heard brought us to the same conclusion. This is a soundbar that can suffice for casual music use but you must be ready to have your expectations low enough in order to enjoy it the way it was meant to.
Final Thoughts
When it comes to these small soundbars expectations should be at check and the same applies for the Yamaha SR-C20A. The unit has its merits and surely can be good in certain situations but we cannot say that it is a good all around unit that can be used in any room and for any content.
On the positives the soundbar is very compact and can fit almost everywhere, is extremely easy to connect and setup, as it had very few features and settings to mess with, and will surely perform great when used in a small bedroom or really close under your PC monitor. In terms of audio quality it is good enough for its price and if you are not very picky then you will enjoy what it has to offer.
On the downsides the unit lacks a lot of features. And although we can turn a blind eye on this, the missing DTS is inexcusable even for such a low cost system. There is also no surround activity and virtual technology cannot do much to rectify this while there is no option to connect any rear speakers either.
Closing what we can say is that the Yamaha SR-C20A can be an ideal solution for a small bedroom or a PC gaming setup as in these situations, where you will be closer to the unit, the sound will feel more immersive. So if you know its limits and what it can do, it can be a nice boost on your PC gaming rig's audio or a respectable upgrade over your TV's sound system.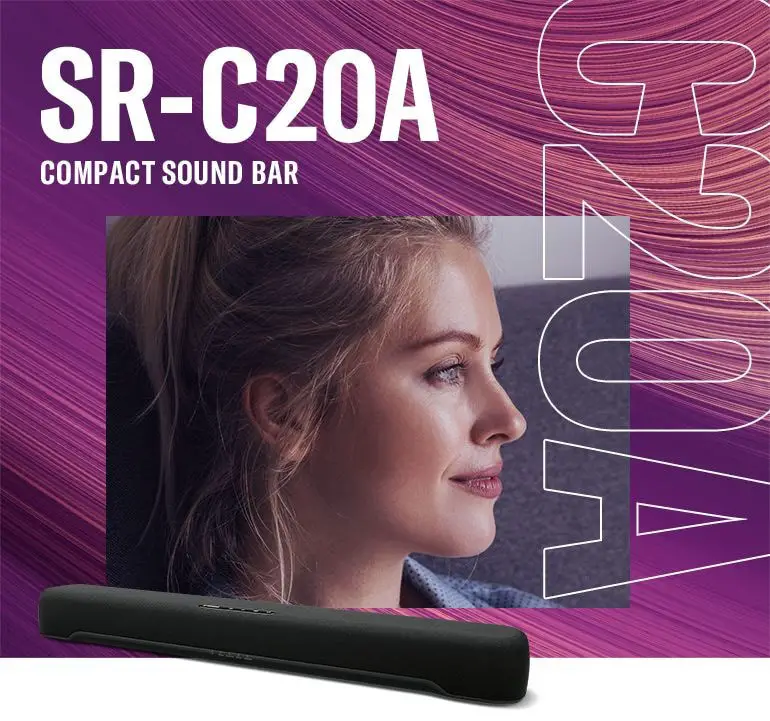 For more reviews you can check our dedicated Single Soundbar reviews list or even look at our Product Reviews Table where you can find the brand and specific product you are looking for.
Also don't lose the chance to subscribe to our Newsletter and gain exclusive privileges.
---
Cheapest Places to Buy :
---
Yamaha SR-C20A Specifications