Yamaha YAS-207
Design -

88%

Movies Performance -

90%

Music Performance -

85%

Inputs and Features -

88%

Price / Quality -

90%
---
Cheapest Places to Buy :
---
Soundbars were always the best alternative for those that either could not afford or don't have the necessary space to go for a dedicated speakers sound system. And for this reason manufacturers are constantly trying to improve the performance and quality of their models in order to bring them on par with dedicated speaker setups as much as possible. The main problem with soundbars was always the poor surround sound reproduction as the omission of surround speakers was always a limiting factor in order to create a fully immersive sound field.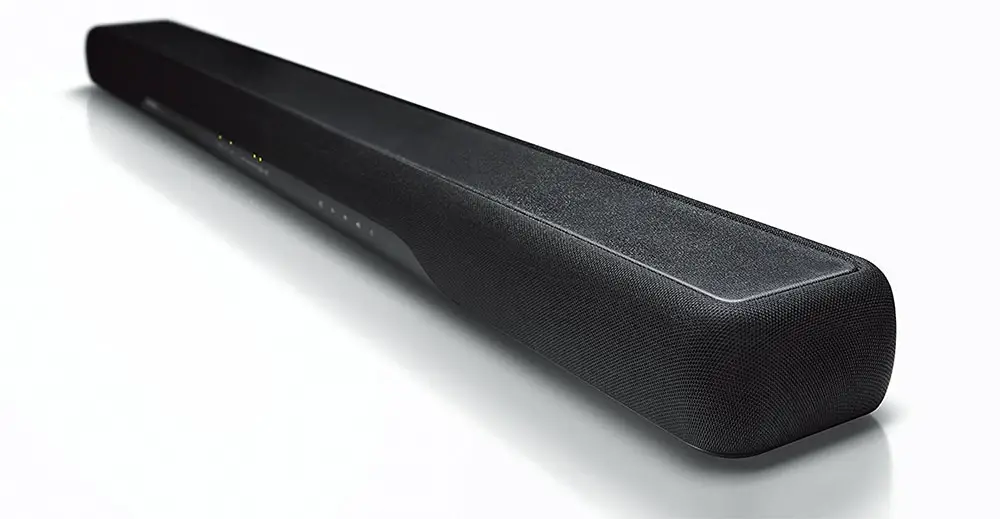 The last few years this seems to be changing slowly as new surround technologies are developing. Lately we have seen a lot of new soundbars that support Dolby Atmos providing a more complete surround experience than ever before. Now Yamaha brings out a new model that supports DTS Virtual: X, a new technology developed that can produce a complete three dimensional sound field from any source without the need of surround speakers. The soundbar we are reviewing today is the first model that supports this technology so let's see how it fairs as well as all the other features included in our Yamaha YAS-207 review.
Design, Inputs and Features
The Yamaha YAS-207 is a slim line soundbar accompanied by a wireless subwoofer and the first thing that comes in mind when you look at it is how outdated it's design looks. Yamaha may not offer the most stylish designs for it's soundbars but even considering this what we get here is like taking a glimpse from the past.
The soundbar has a relatively small footprint and a generic design with plastic at the top and cloth grill surrounding covering all the included drivers. Wall mounting it can be very easy using the keyhole mounts and with the help of the included template making the holes on the wall becomes a piece of cake. Of course the soundbar will protrude about six inches so if you are design sensitive you may want to think twice about this.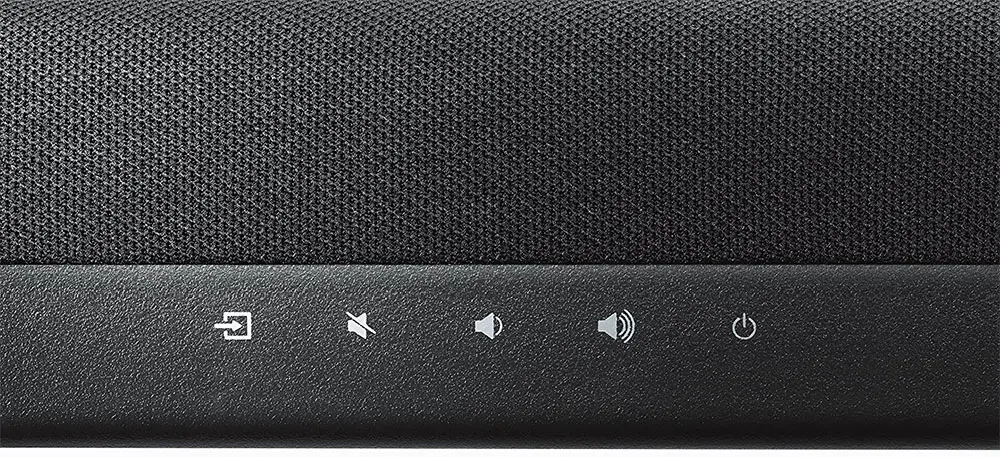 On the front of the YAS-207 we get five touch sensitive buttons for power, input selection and volume control buttons. There is also a group of nine LED indicators showing various functions of the soundbar like active input, sound mode and volume among others. The indicators although labeled are relatively small and it is almost impossible to make out which one is which from your sofa unless you memorize the lights by heart. There is also a dim function in order not to become bothersome in low light environments. In general the LED lights make the soundbar look like a device straight from the 90s especially if you compare it with a few other more modern designs we have seen lately. If you are a little design sensitive then you may want to look at other alternatives.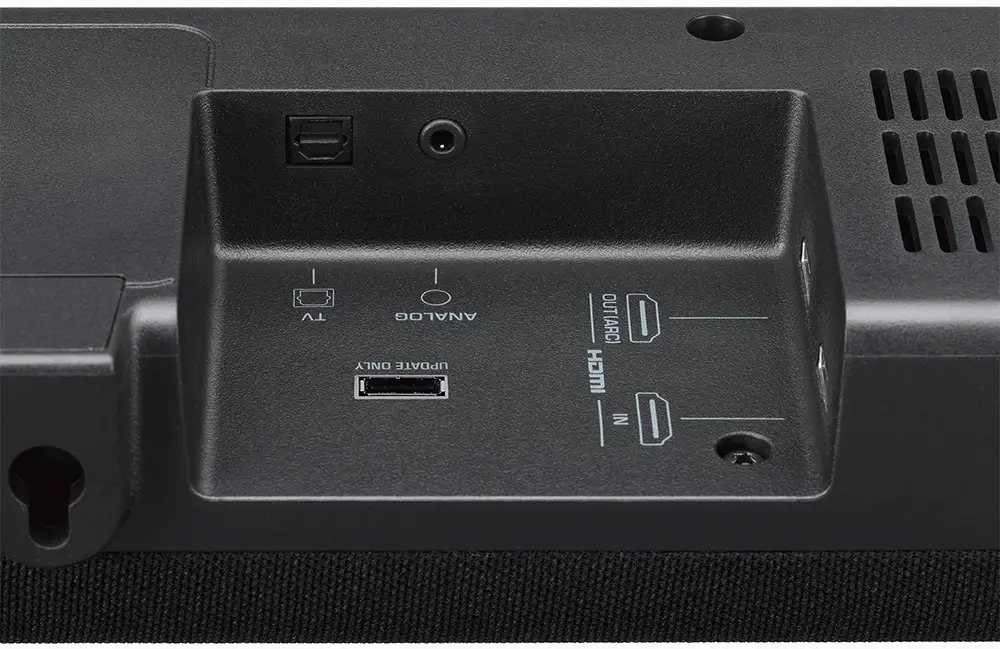 As far as connectivity is concerned all ports are located in the back of the soundbar and what we get is an HDMI in and an HDMI out port, both of them being 4K compatible with the output also supporting ARC. There is also a 3.5mm analogue input and an optical input port as well as a USB port but this can only be used for firmware updates and you cannot connect any external storage on it. Having no display can be difficult to understand what firmware your soundbar comes with but one way to distinguish it is if yours is one of the earlier versions then DTS Virtual:X will not work so if the corresponding LED light is not turning blue you need to update.
There is also Bluetooth connectivity for audio streaming but no WiFi so if you are interested in Yamaha's MusicCast multiroom audio system then you will have to look elsewhere.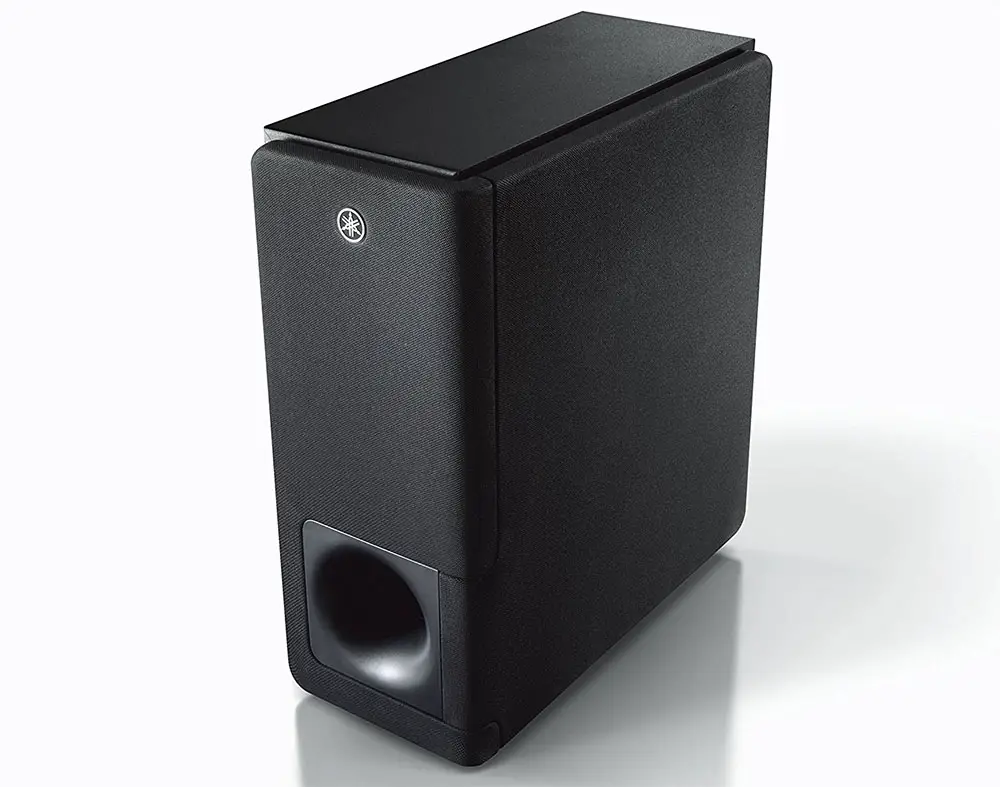 As for the included 100 watts wireless subwoofer, measuring at 15.8 x 17.3 x 7.1, the design is equally generic with it being a rectangular box similar to a desktop PC with a front side bass port and a side-firing driver. It's design can help to place it in tight spaces and between furniture that can be very practical if you have limited space. Around the back you will only find the power port and a pairing button to sync it with the soundbar. The two come paired out of the box but we also tried to pair them ourselves to see how easy it is and we didn't had any problems to do so. You only need to follow carefully the instructions on the manual and it can be done very easily and fast.

The included remote hasn't changed over previous models and is relatively small in size with big buttons that are easy to press but have no backlight functionality. Buttons included are for switching inputs, toggle surround and stereo modes, volume control for both the soundbar and subwoofer, bass balance, light dimming and others. Yamaha also offers HT Controller app for Android and iOS in order to control the YAS-207 through your smartphone with Bluetooth which can be equally useful.
Performance
The biggest selling point of the YAS-207 is that it is the first soundbar to support DTS Virtual:X, a technology that was made by DTS in order to create a more immersive and complete 360 degrees sound field  with no surround or height speakers present. In a way it simulates various virtual speakers around the viewer in order to create the illusion of surround sound. In theory it sounds very good but we had to see in testing how good this technology fairs and if it can compare to a true dedicated speakers sound system.
What we need to make clear is that this technology doesn't need a specific DTS track to work. Anything from simple stereo, to Dolby Digital, DD TrueHD, Dolby Atmos, DTS, DTS Master Audio or DTS:X or any other surround or not format will work meaning that DTS Virtual:X can work it's magic on any audio source is given to process.
As mentioned above in order to take advantage of DTS Virtual:X you need to make sure you have the latest firmware update otherwise it won't work. Getting it from Yamaha's website is easy and can be found HERE. Once you copy the file in a USB stick and follow the instructions given your soundbar will be up and ready to go in no time. Now pressing the surround button will give you two options. When green, traditional surround playback will be enabled, while blue will engage the DTS Virtual:X technology for 3D surround playback.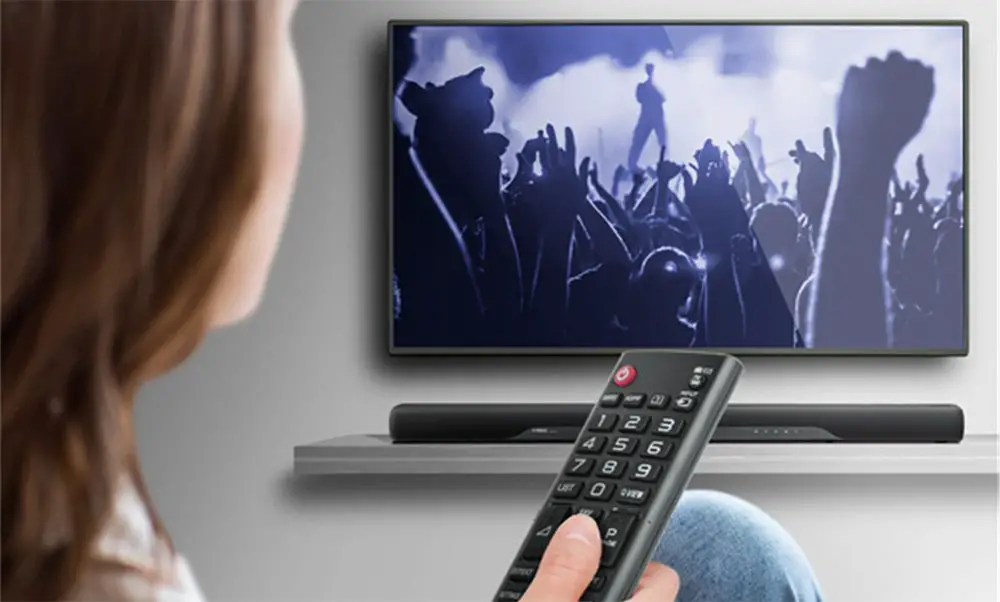 Setup of the YAS-207 was very easy as you can connect the soundbar to the TV through HDMI and connect any source you want to the soundbar. There are several modes on offer like 3D Surround, Movie, Music and Stereo. There are also a couple of features like Clear Voice that boosts dialogue to make it more clear and Bass Extension in order to boost the low frequencies. You can use any of these features or modes at the same time or in combination to find what sounds best to your ears.
Movies
Rated at 100 watts for the soundbar and 100 watts for the subwoofer the YAS-207 may not be a monster of power but it is enough to fill a small to medium sized room with all the music and sound effects you will ever need.
In order to test the capabilities of the soundbar we decided to use the 4K UHD disc of Pacific Rim: Uprising, a film with all the necessary surround effects needed to test the capability of the YAS-207. With default settings the results were pretty pleasing with enough detail and good bass. By activating Clear Voice and Bass Extension we were able to boost dialogue and bass effects making the overall result even better.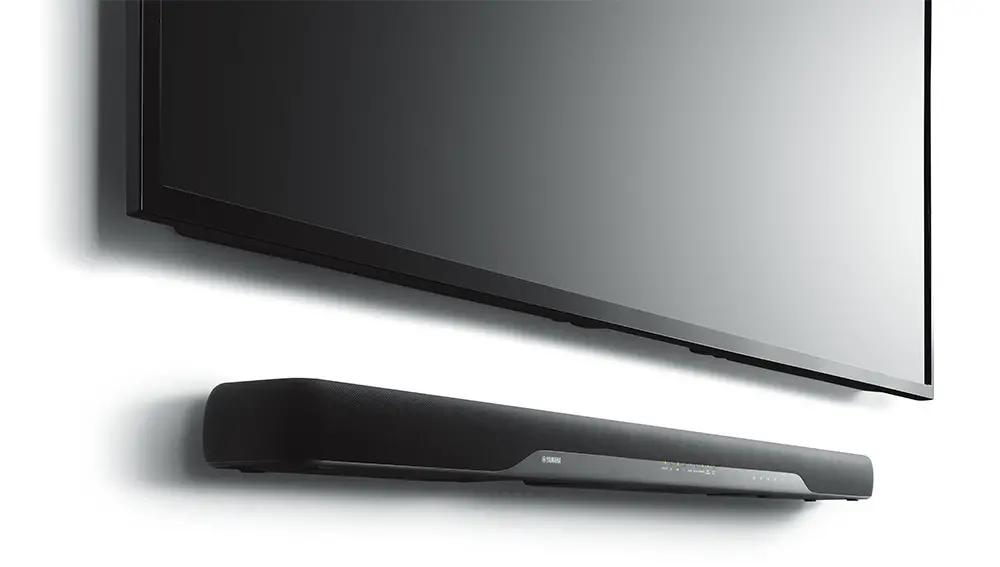 At first we decided to test the soundbar using the basic surround mode and the result we got was very good giving a sense of depth by expanding the sound field to the sides and occasionally further back. But DSP could never provide a fully immersive sound field from all directions and although the result was better than having just front speakers it left us wanting for more.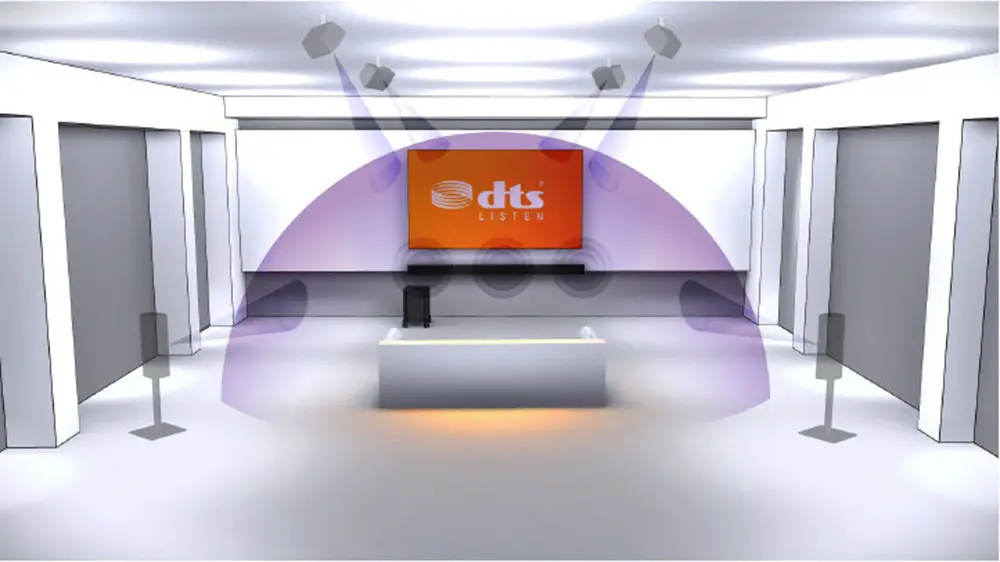 Engaging DTS Virtual:X on the other hand changed things for the better in this regard. The sound field expanded dramatically, both in depth and height making surround effects far more audible than before. Suddenly what felt like a flat experience when watching Pacific Rim: Uprising, turned into a concert of immersive surround cacophony. But all this comes at a cost. Although DTS Virtual:X creates a far better surround experience it does so by unbalancing the sound signature of the source. Ambient and surround effect are boosted dramatically and this often at the expense of the main or dialogue sounds something that can become very distracting at some points.
At the end of the day DTS Virtual:X may improve the surround reproduction but in no circumstances it can replace a dedicated speakers sound system. The YAS-207 is not meant to replace but rather to offer a good alternative in case that dedicated speakers are out of the question. Having a true 7.1.4 setup is the best way to experience immersive surround sound and no matter how much technology improves, virtual speakers will never offer the clarity and sound separation of true surround speakers.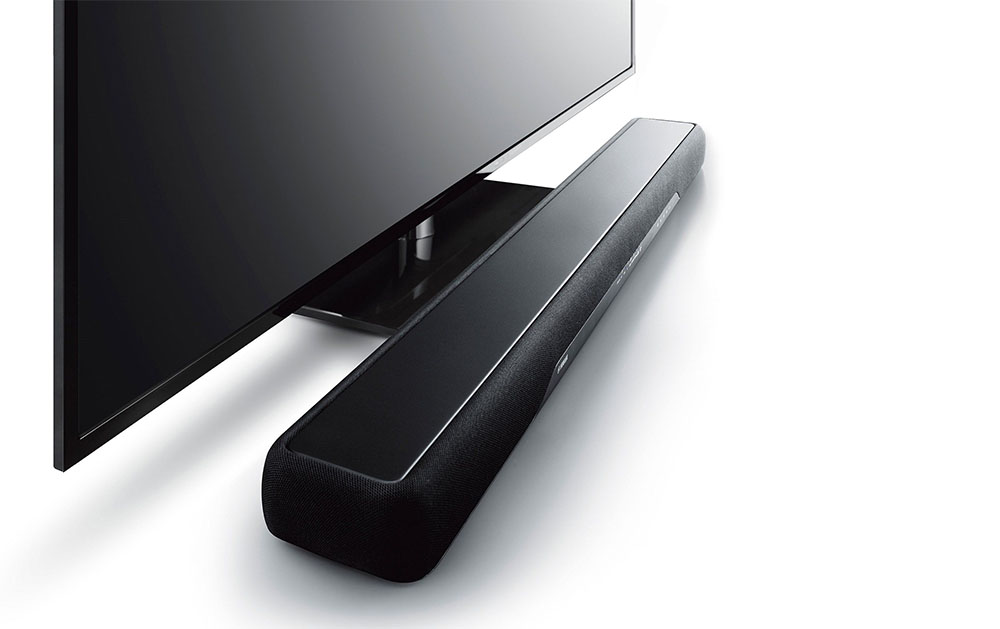 In general we would say that performance of the YAS-207 is more than adequate offering enough power, crisp sound and good surround effects for a nice overall sound experience. On the other hand the soundbar's main attraction, DTS Virtual:X, can be a hit or miss by greatly expanding the immersion of the surround effects and adding depth in all directions but at the cost of unbalancing the different elements of the sound track. In the end some may like it while others will not so it is better to hear it for yourself before deciding if it is for you or not.
Music
We also tried a few music tracks to see how the YAS-207 fairs with something different than bombastic movie tracks. The end result we would say was not impressive but was not disappointing either. We would say that it performed just above average than other soundbars in the same price range but it definitely fairs much better than any flat TV is capable of by itself. But in our ears the sound was coming a bit flat and never felt like it could produce the tremble tones of the audio tracks convincingly.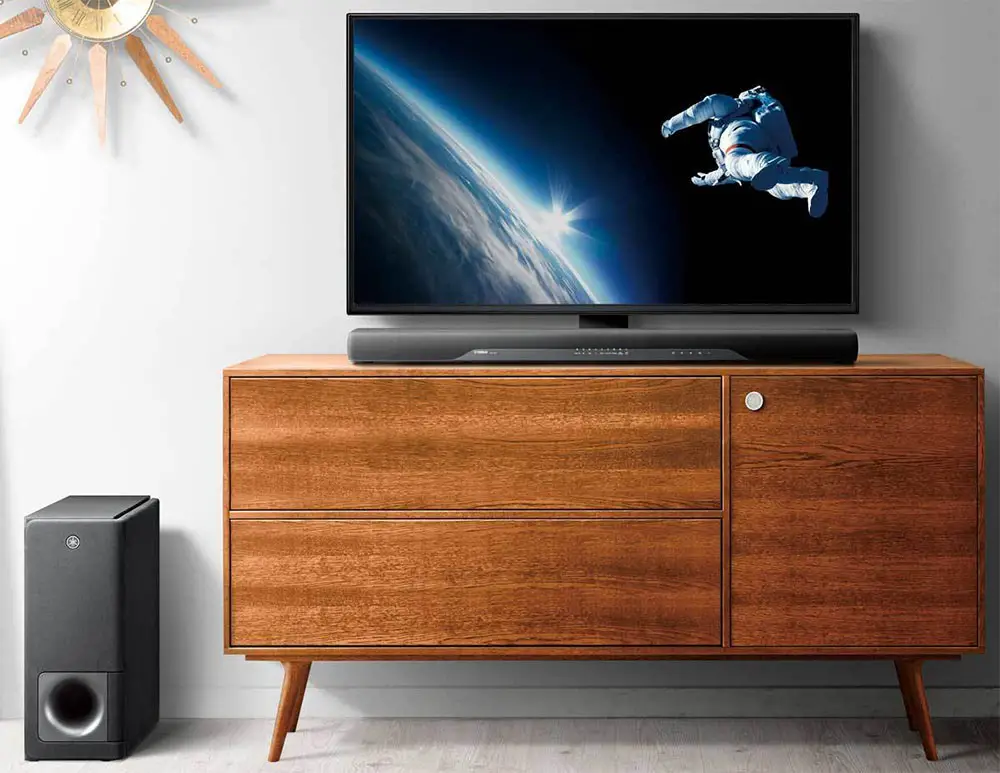 Final Thoughts
A lot have changed in the soundbar segment the last few years. The Yamaha YAS-207 is the proof that you don't need a crazy expensive system to enjoy good, immersive surround sound. Being the first soundbar to offer DTS Virtual:X, it has the honor of being equipped with a technology that is as close to a Dolby Atmos system as possible without the need for dedicated surround speakers.
The YAS-207 offers very easy setup out of the box, has good and clear sound reproduction as well as a few features like Clear Voice and Bass Extension that help improve the overall result, includes a wireless subwoofer for the lows and as already mentioned has the new DTS Virtual:X technology that helps create a more full and immersive surround experience. And all these at a price that you cannot go wrong with.
On the downside the design of the soundbar is a bit old style and uninspiring especially if you compare it with some other recent soundbars from other manufacturers, it has enough power for only small and medium sized rooms and the inclusion of only one HDMI in port can create a few troubles to some. Last but not least the DTS Virtual:X technology although it improves immersion by expanding the sound stage both horizontally and vertically it sometimes creates an imbalance in sound as it has the tendency of over-boosting surround effects.
If space and budget are two things that trouble you then the YAS-207 offers a great alternative that will offer you the next best thing in immersive surround sound and does this at a price that is more than affordable. And for that the YAS-207 is highly worth a look.
For more reviews you can check our dedicated Soundbar-subwoofer combo reviews list or even look at our Product Reviews Table where you can find the brand and specific product you are looking for.
Also don't lose the chance to subscribe to our Newsletter and gain exclusive privileges.
---
Cheapest Places to Buy :
---
Specifications
Channels : (Center Unit): Four 1-3/4″ woofers, Dual 1″ tweeters, (Subwoofer): 6-1/4″ cone woofer
Total Power : 200W : 100 W + 100 W subwoofer
Input /Output : HDMI 1 in / 1 out, Digital Optical 1 in, Analog Audio 1 in
HDMI : 4K Pass-through (50 / 60 Hz YCbCr=4:4:4, HDR, HDCP2.2), 3D Pass-through, ARC, CEC, Auto Lip-Sync
Sound Technology : DTS Virtual:X, Surround Modes (Music, TV program, Movie, Sport, Game), Compressed Music Enhancer (for Bluetooth), Bass Extended
Audio Formats : Dolby Digital, Dolby Pro Logic II, DTS Digital Surround
Connectivity : Wireless Music Streaming (with Bluetooth), Bluetooth Version/Profile (Version) Ver. 4.1 + EDR (Profile) A2DP, SPP (Audio Codec) SBC, MPEG AAC, Bluetooth Maximum Communication Range 33 ft (*without obstructions), Wireless Subwoofer
Other Features : App Control
Dimensions / Weight : (Center Unit): 36-5/8″ x 2-3/8″ x 4-1/4″, (Subwoofer): 7-1/8″ x 17-1/4″ x 15-3/4″
Weight : (Center Unit): 6.0 lbs, (Subwoofer): 17.4 lbs