BenQ HT2550 (US) - W1700 (Europe)
Design -

90%

Video Quality -

92%

Inputs / Ports -

90%

OS, Apps and Features -

90%

Price / Quality -

94%
---
Cheapest Places to Buy :
---
Last year we saw the release of a new wave of 4K pixel shifting projectors featuring the new 0,47″ UHD DLP chipset that proved to be a good alternative to native 4K projectors. These new projectors were able to push the prices down even further and we are now at a position to have a 4K pixel shifting projector to cost just under $1,500 when the cheapest native 4K projector is still stuck close to the $5,000 mark.
Obviously home theater fanatics and advanced users that can afford the higher prices would prefer the native 4K variants, but there are many people that still find the price a bit too much and that's the reason why these pixel shifters have become so popular. They manage to offer good enough results, some times very close to native 4K projectors, but with only a fraction of the price. With a price of $5,000 for the cheapest 4K projector it means that all these 4K projectors that feature these new pixel shifting chips come with a price that is 3 times lower making them very tempting.
One of the first projectors featuring the new pixel shifting DLP chip is the one we are reviewing here today from BenQ that belongs to their basic CineHome series. And although when it first came out last year it could claim that it had the edge by being offered in such a low price for a so called 4K projector now, almost a year later, there are many other models in the same category making the competition even more harsh. In our BenQ HT2550 review we will analyze all aspects of this lovely budget-friendly projector and determine if it still has has it takes to stay relevant almost a year after it's initial release.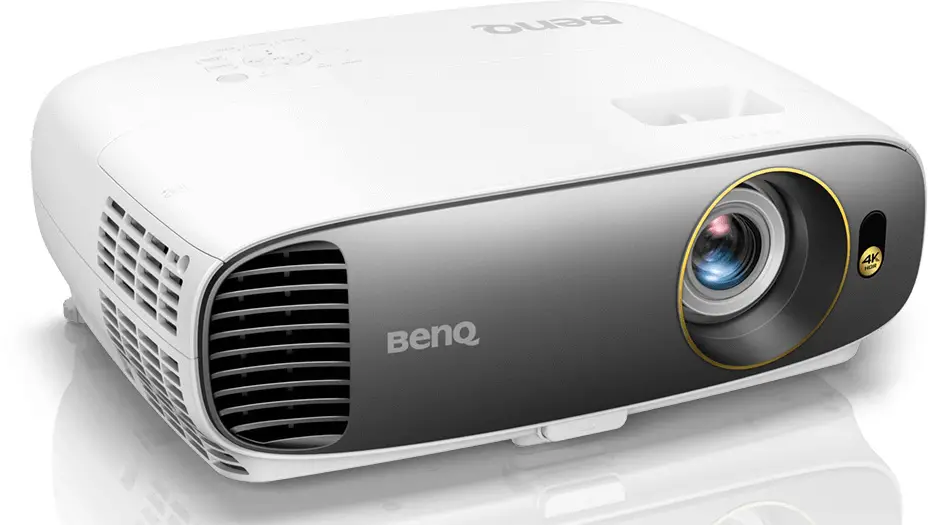 Design
Before we start analyzing it's design we need to point out that the projector can be found with 2 different names as in the US market comes with the HT2550 name while in European markets goes by the W1700 naming. Same projector with just different numbers. On the contrary there is another BenQ projector with the name TK800 which to many may seem the same but it's not. And while the 2 projectors have many similarities, too many to be honest, there are some key differences. Just to keep it simple we will just say that the HT2550 and TK800 projectors are almost the same but the HT2550 has more accurate colors while the TK800 goes for more brightness. So this way you can choose what you prefer the most.
Design wise the HT2550 features a very characteristic, curvy BenQ design. With a size of 353 x 135 x 272 mm and weight of 9.2 lbs (4.2 kg) the projector is neither big or small. You could say that for a 4K projector it has a smaller chassis compared to some other models but in general it is bigger than many 1080p projectors which is the normal really.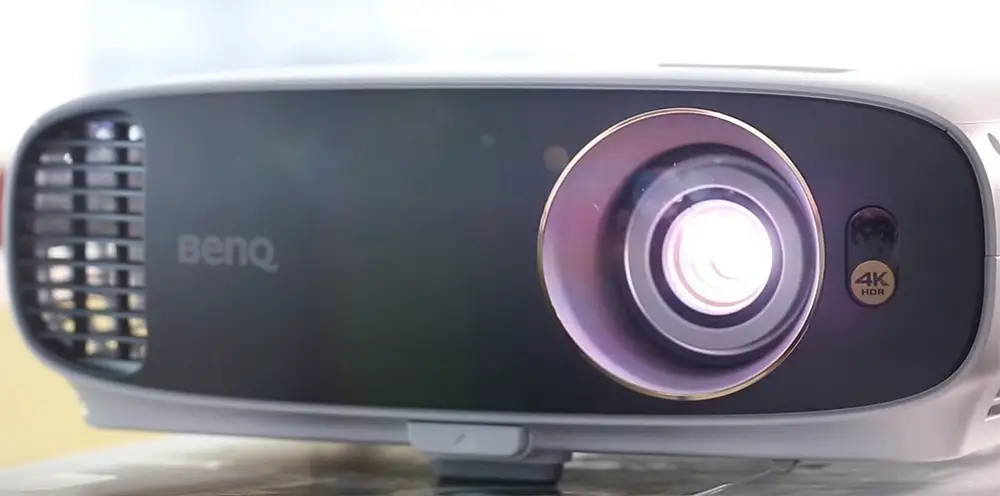 The projector follows an asymmetrical design as looking it from the front we see the lens on the right side with the IR receiver sitting next to it and a big air vent on the left corner. On the top, just above the lens we find two turning wheels for the zoom and focus functions while on the opposite corner BenQ has placed all the on-board menu and control buttons.
Here we get a power button, a source selection button, a picture mode button, an ECO button as well as the usual buttons for menu and settings navigation. In case you are wondering, above the source button there is a light sensor that is used for automatically adjusting brightness based on the ambient light of the room. There are also 3 LEDs for power, temperature and lamp condition. All connections are positioned in the back and we will talk about them a bit down this article.
The HT2550 comes with a 1.2:1 zoom lens which may not be the best we have seen but is very decent for it's price. Unfortunately it does not support any vertical or horizontal lens shifting which means that positioning the projector in a way that you will not have to use Keystone correction can be a bit of a pain if you don't want the image quality and sharpness to degrade because of using that feature.

As we mentioned above the BenQ HT2550 features a new 0.47″ single DLP chip  and with the help of pixel shifting technology it is able to produce a full 4K resolution image. For those unfamiliar with the term pixel shifting projectors in reality are native 1080p resolution projectors that are able to shift the position of their pixels at a very high speed in order to create the desired 4K image. And while when we first saw this technology it was still lacking compared to native 4K, advancements have been made and as such we are now at a point that the differences are so small that if you consider the price of these 4K pixel shifting projectors it's a good alternative for those that cannot afford a true 4K one.
One thing we paid attention to is how noise is handled by the projector. Noise usually comes from two places. One is fan noise and the other is a pixel shifting humming that occurs when the projector displays a 4K image. BenQ has done a good job on both of them with the fan being audible only when in Full power while in any of the other settings it becomes almost completely quiet. On the other hand we didn't find the pixel shifting humming bothersome and we could only hear it when the fan was not working full speed and even then it was a very low sound that you could hear at the most silent of moments.

BenQ claims that the HT2550's lamp can last for 4,000 hours in normal mode. This extends to 10,000 hours in Economic mode and can go up to 15,000 in LampSave mode but we are not sure how often you would use such a mode in a 4K projector. BenQ has also added a SmartEco mode in which the projector adjusts lamp brightness depending on the content and changes the contrast in real time and as a result this can extend the lamp life to about 8,000 hours.
BenQ always offered lovely remotes with their projectors and this is the case here also. The buttons included are well organized with a group of function buttons at the top, menu navigation buttons in the middle, a group of playback buttons under that and some picture functions at the bottom. The buttons are rather large and have a nice rubber feel to them. Very good also is it's backlight function making it perfect for any low light area. Very good work on the remote and when you think about the price then it becomes even better.
Video Quality
Technology used
The BenQ HT2550 was one of the first batch of new projectors that released last year featuring the new 0.47″ UHD DLP chipset with a price around the $1,500 price point. 4K pixel shifting technology, although not offering true 4K resolution, offered a good alternative at a very low price while manufacturers managed to keep the image quality rather high. There are two variants of pixel shifting projectors with this one using the 1920 x 1080 x 4 variant which basically means that the HT2550 is a 1080p projector and with it's chip firing each pixel 4 times we get the appropriate 4K resolution. Pixel shifting has improved vastly compared to it's first irritations and now it manages to offer quality and sharpness that is really close to native 4K projectors but without the hefty price they come with.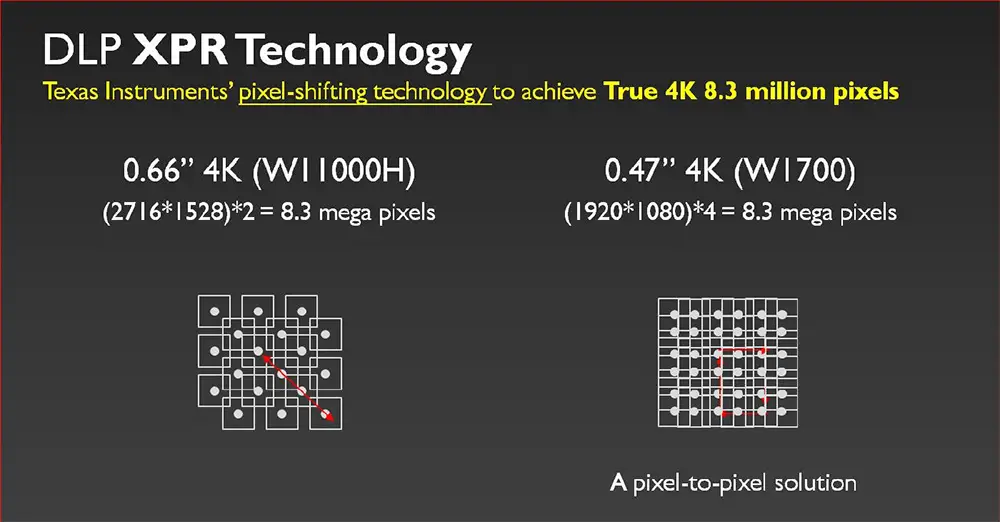 4K UHD / HDR Content
Proceeding to our 4K/HDR testing as usual we used the 4K UHD disc of Battleship in order to check it's performance. The result was great considering what is the cost of this projector. No more you need to spend huge sums of money to get any kind of respectable 4K performance as the image had great clarity and amazing colors showing us that pixel shifting technology has come a long way from when it first appeared.
This is not the first 4K pixel shifting projector that uses the new 0.47″ chip that we have tested so we more or less knew what to expect as far as 4K performance is concerned. This holds true here also as the BenQ HT2550 manages to create an image that is amazingly sharp and detailed making all the tiny details like the textures on the alien metal surfaces to become more obvious and distinguishable. Small imperfections on the actors skin as well as fabric details on their clothes became more clear than ever.
The projector supports HDR and as with other projectors with similar price we only get HDR10 support. No Dolby Vision, HLG or HDR10+ to be found here but with such a low cost you shouldn't expect anything more. HDR10 is more than adequate to produce a nice looking image and for the price you pay we have to admit that we don't have any complaint.

Color Coverage
BenQ claims that the HT2550 covers around 96% of the REC.709 color space which means that when you watch HD/SDR content the colors are almost faithfully reproduced. Color coverage is more or less the expected at this price range with all lamp based projectors as only LED or laser based projectors can offer greater color coverage. Higher BenQ projectors support wide color gamut with greater coverage of the wider DCI-P3 color space but unfortunately this is not the case here and at this price we shouldn't expect as much. This doesn't mean that during 4K playback colors don't look good, on the contrary the HT2550 was able to produce very vivid and accurate colors even without the expanded color coverage.
Brightness / Contrast
BenQ claims that the HT2550 can produce 2,200 lumens of brightness with it's 240 watts lamp making it pretty good…in theory. Manufacturers always use marketing numbers that are never achieved in real situations so with such a low priced projector we were anxious to see how close the projector could come to this claim. The HT2550, as with all projectors, comes with various picture modes and the ones we find here is Bright, Vivid, Cinema, Sport and 2 User defined modes. Bright provides the most lumens reaching 1740 lumens according to our measurements with Vivid mode reaching 1330 lumens. Cinema mode on the other hand provided the least brightness with only 980 lumens while Sport mode fared better with 1400 lumens.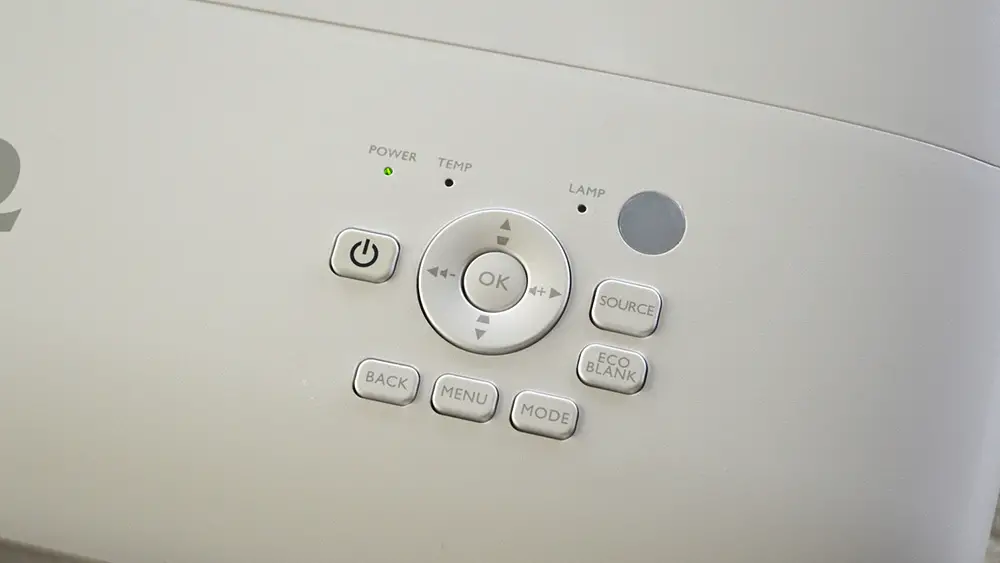 We tried out different settings and we concluded that for HD/SDR content it's better to use Cinema mode as it has the most accurate colors and while 980 lumens may not be a lot it's more than enough for non HDR video. On the other hand if 4K/HDR content is your thing we would suggest you to use the Vivid mode as it may provide a bit less accurate colors but comes with 1330 lumens of brightness that is much needed for HDR content.
Black Levels
One of the most obvious weak points of the HT2550 is it's black levels. And although shadow details are rather good the projector cannot display very deep blacks and we end with a rather grey or dark grey, if you prefer, color than actual black. This problem mostly shows in the relatively dark or pitch dark environment so if you are going to use the projector in a room with even a bit of light then you will not notice it so much. Deep blacks is in general a weak point of all these low priced projectors and you will have to go rather high in price if you want some better results. But for the average user black levels will be more than adequate as this is mostly a problem with home theater advanced users that seek the absolute best.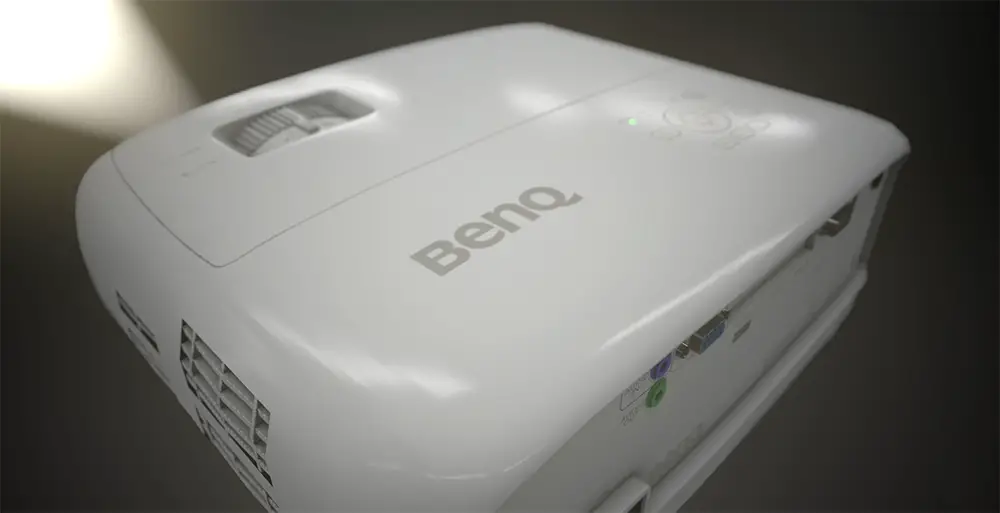 HD / SDR / 3D Content
And while the projector is advertised for it's 4K UHD capabilities this doesn't mean that it's not a good Full HD/SDR performer. We like to test our Oblivion Blu-ray disc with all our projector reviews and as such the BenQ HT2550 provided a very sharp Full HD image with very good and precise colors. The film has a very clean look and the projector made sure to show every little detail on the screen. There is a huge collection of 1080p material so it's necessary every 4K projector to be able to perform also good at lower resolutions with the BenQ HT2550 getting very good scores in this area.
The HT2550 is one of the few sub $2,000 4K projectors that still offer support for 3D 1080p content with the Epson Home Cinema 4000 and Home Cinema 4010 as well as the Optoma UHD51A being a few of them. Usually with all these projectors you will have to buy the glasses separately which adds to the cost a bit. Also being active 3D glasses means that there may be crosstalk in addition to the lower brightness that comes with 3D viewing.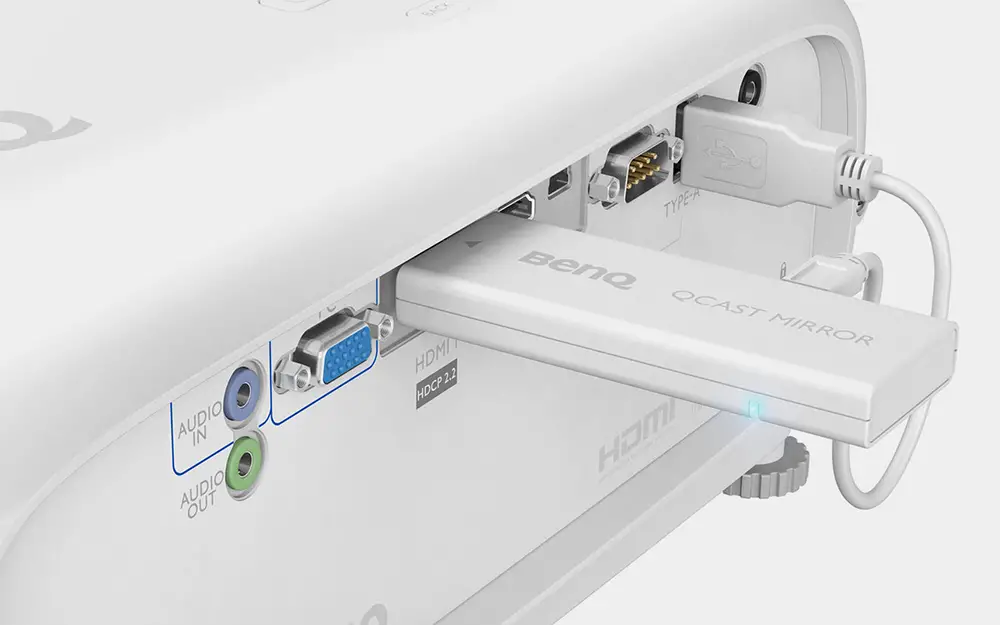 In our case you will need 3D DLP-Link type glasses which are very common to find and with a bit of searching you can get them in low price. Also something that we did notice is that the projector cannot sense 3D content and you will have to manually select 3D On from the menu in order to work. A minor problem but an odd one that we thought it was worth mentioning. In general if you like 3D and have a huge library of 3D movies then rest assured that the BenQ HT2550 will be able to play them all.
Input Lag
According to our measurements the HT2550 hovered around 48ms which makes this projector good enough but not great. If you plan on using the HT2550 for gaming then we would suggest you to test it first to see if it's responsive enough for you. In our case playing God of War felt responsive enough with fast reactions and never felt that input lag was posing a problem. And we believe this is the case with most casual gamers as only the most hardcore have a need for less input lag making this projector a good choice for casual gaming both in Full HD and 4K resolutions.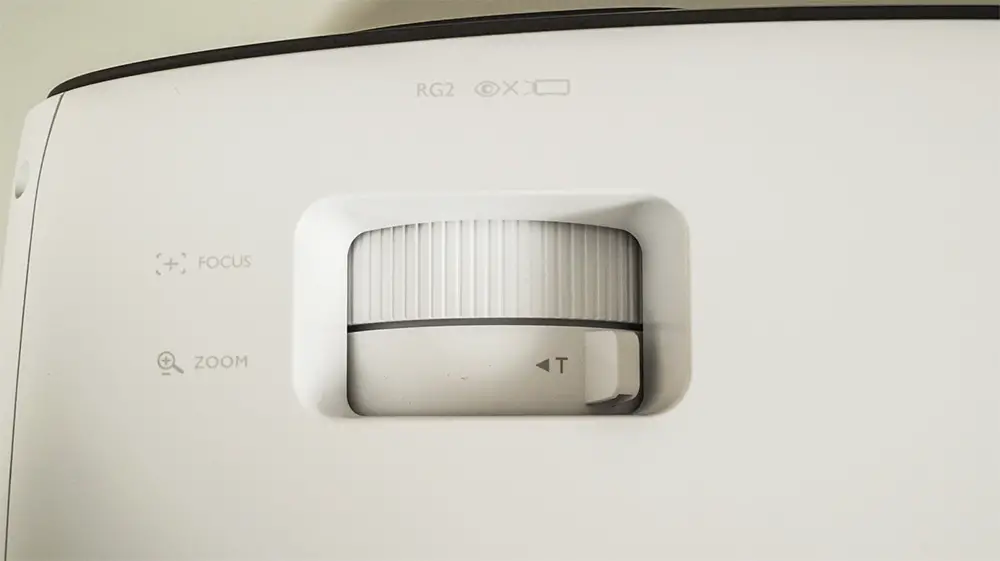 Motion Performance
The projector performed very good in our motion performance tests and although some blur was displayed during fast camera movements in general image remained solid with good clarity. Unfortunately the HT2550 doesn't have any kind of CFI frame Interpolation features for smoothing out the motion which is disappointing but was to be expected with such a low price.
Inputs
Naturally all ports are located at the back and at a first glance we get a pretty standard setup. From left to right we find a couple of analogue stereo ports, 1 input and 1 output that can be used to connect a pair of speakers, a VGA port, 2 HDMI ports with the first being HDMI 2.0/HDCP 2.2 while the 2nd one is the older HDMI 1.4 version in case you have some older equipment that does not support the latest protocol. Next we find a USB Type-B for servicing, the usual RS-232C port for command and control, another USB port of the Type-A variant this time that provides 5V/1.5A ideal for charging 3D glasses and a 12V trigger port that can be used to automatically open and close a motorized screen.

For such a low cost projector you cannot have a lot of expectations but BenQ made sure to include the most common ports with the addition of the analogue audio output that is really an extra bonus and this shows that BenQ really considers the portability of the projector. Also we liked that there is a HDMI 2.0 port meaning that the HT2550 can be used for 4K/60fps content.
OS, Apps and Features
BenQ has included in the HT2550 a 6X color wheel which is very impressive when you consider that many projectors in the same category come with 2X or 3X color wheels. The faster the color wheel the less probability a person has to see the familiar rainbow effect that is plaguing these single chip DLP projectors. Only a small percentage of the population is sensitive to this effect so you may not notice it at all but if you belong in this small percentage having such a fast color wheel means that you may see a whole movie without any distractions at all. Good work from BenQ on this.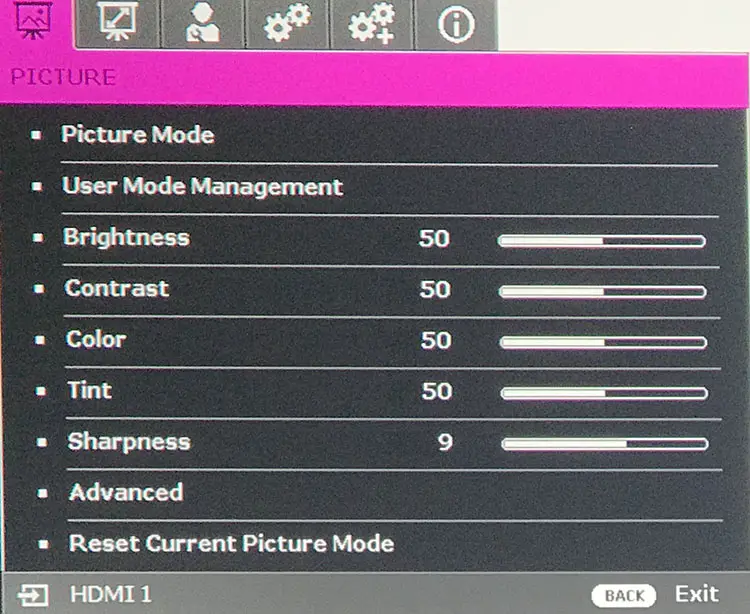 The HT2550's menus are simple but easy to navigate and find what you are looking for. All settings are grouped in categories depending their functionality and using the remote to move around the various options is very easy. We would like to have a more nice visually interface but we cannot ask for much from such a model.
As we mentioned above the projector comes with a Smart Eco function that makes the lamp as bright as it needs to be depending on the content. It may be effective on improving the lamp life but in no way it can improve image quality like a dynamic iris would which is absent in this model unfortunately. And if some of you wonder why the remote has a dynamic iris button we have to tell you that it does completely nothing as it is disabled in this model…bugger!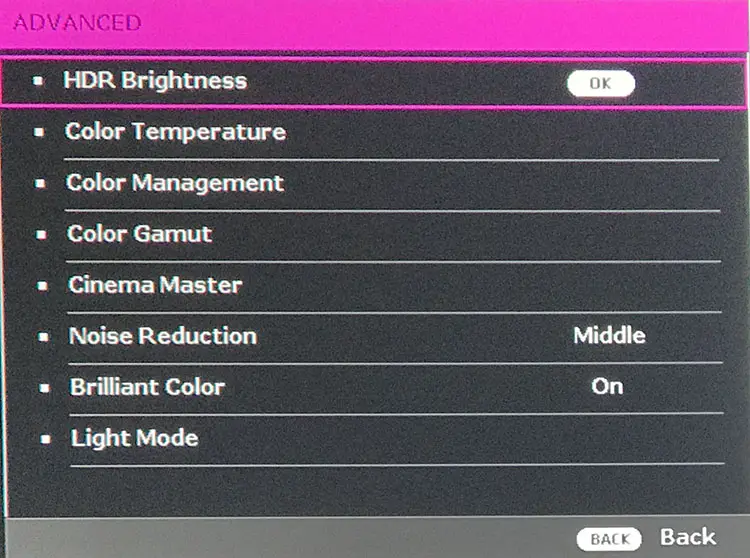 BenQ HT2550 comes equipped with a suite of image processing features like most projectors do and here it's called Cinema Master. This suite includes Color Enhancer that increases saturation and color gradients, Flesh Tone which is mostly used to correct skin tones and Pixel Enhancer 4K which works with 1080p content and with it you can improve sharpness/detail.
The projector comes equipped with a single 5-watt speaker that is nothing special to talk about but it certainly adds a bit of portability to it as you can carry the projector around without the need for extra speakers. Of course if you are serious about your home theater capabilities then a separate audio system is a must in order to enjoy a fully immersive experience.
There is also HDMI CEC functionality in order to use the projector's remote to control other HDMI-Link compatible devices something that helps to reduce the amount of remotes you have to use in your home theater.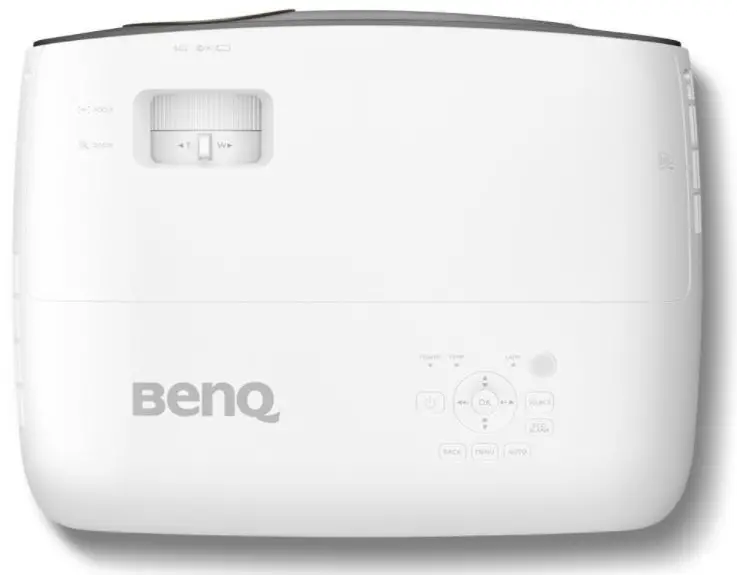 Final Thoughts
The BenQ is a lovely projector and it is immediately evident what are it's limits. Pixel shifting has evidently improved a lot in order to offer a very competitive alternative to native 4K at a much lower price and we are curious what other advancements can be made in the future.
The HT2550 boasts a really sharp 4K image with good color coverage, has adequate brightness, supports 3D for those with big 3D libraries, comes with a very fast color wheel that eliminates the rainbow effect, has a lot of image processing features, the included remote is very nice and with backlight function and is equipped with a 5 watt speaker that increases it's portability. And all these with a price of $1,500 that is more than affordable if you consider what is being offered.
On the other hand with such a low priced model there would definitely be a lot of limitations. There is no lens shifting or motorized lens which makes positioning and calibrating a bit harder. Brightness could be better as with HDR it's never enough, black levels are average at most, it doesn't support the more expanded DCI-P3 color space, there is no CFI for better motion handling and input lag although acceptable could be better.
Can all these weaknesses lower the value of this model? In reality no, the price is so low that even by the quality of the 4K image that the HT2550 can produce it's really a bargain. And while it had more value when it first came out nowadays with so many models in the same category competition is more fierce. At the end of the day the BenQ HT2550 is a projector for anyone that wants to create a new projector based home theater but the price is a worrying factor. And thus making this model a very good option. Highly recommended.
For more reviews you can check our dedicated 4K Projector reviews list or even look at our Product Reviews Table where you can find the brand and specific product you are looking for.
Also don't lose the chance to subscribe to our Newsletter and gain exclusive privileges.
---
[table]
[tr][th]US Model[/th] [th]EU Model[/th][/tr]
[tr][td]HT2550[/td] [td]W1700[/td][/tr]
[/table]
---
Cheapest Places to Buy :
---
Specifications
Projection System : DLP
Resolution : 4K UHD (3840 x 2160) Resolution
Resolution Support : VGA (640 x 480) to 4K UHD (3840 x 2160)
Brightness (ANSI lumens) : 2200 ANSI Lumens‎
Contrast Ratio (FOFO) : 10,000:1 ‎
Display Color : 30 Bits (1,07 billion color)
Native Aspect Ratio : Native 16:9 (6 aspect ratio selectable)
Light Source : Lamp
Light Source Wattage : 240W‎
Light Source Life : Normal 4000 hours, Economic 10000 hours, SmartEco 8000 hours, LampSave 15000 hours
Throw Ratio : 1.47 – 1.76 (100″ @ 3.25 m)
Zoom Ratio : 1.2X
Lens : F/# = 1.94 – 2.06, f = 15.57 – 18.67 mm
Keystone Adjustment : 1D, Vertical ± 40 degrees
Projection Offset : 110%
Clear Image Size (Diagonal) : 60″ ~ 200″
Image Size : 30"~300"
Horizontal Frequency : 15K – 102KHz‎
Vertical Scan Rate : 23 – 120Hz‎
Picture Mode :

ISF Disabled: Bright / Vivid / Cinema/ Sport/ User 1/ User 2
ISF Enabled: Bright / Vivid / Cinema/ Sport/ User 1/ User 2/ ISF Night/ ISF Day

Color Wheel Segment : 6-Seg. (RGBRGB)
Rec.709 Coverage : >96%
Speaker : 5W x 1
Interface : PC (D-Sub) x 1, HDMI x 2 (HDMI 1: 2.0 / HDCP 2.2 ; HDMI 2: 1.4a / HDCP 1.4), USB Type A x 1(2.0/Power Supply), USB (Type mini B) x 1, Audio in (3.5mm Mini Jack) x 1, Audio out (3.5mm Mini Jack) x 1, RS232 (DB-9pin) x 1, DC 12V Trigger (3.5mm Jack) x 1, IR Receiver x 2(Front/Top), Security Bar x 1
Special Features : HDR, ISF Night/ Day, CinemaMaster Video +, CinemaMaster Audio+2
HDTV Compatibility : 480i, 480p, 576i, 576p, 720p, 1080i, 1080p, 2160p
3D Compatibility‎ :

Frame Sequential: Up to 1280×720 120Hz
Frame Packing: Up to 1080p 24Hz
Side by Side: Up to 1080i 60Hz
Top Bottom: Up to 720p 60Hz

Power Supply : VAC 100 ~ 240 (50/60Hz)
Typical Power Consumption : 330W
Standby Power Consumption : 0.5W
Acoustic Noise (Typ./Eco.) : 33/29dB
Operating Temperature : 0~40℃
Dimensions (W x H x D)(mm) : 353 x 135 x 272
Net Weight (Kg/ lbs ) : 4.2 kg / 9.2 lbs