BenQ HT3550 (US) – W2700 (Europe)
Design -

88%

Video Quality -

88%

Inputs / Ports -

90%

OS, Apps and Features -

85%

Price / Quality -

96%
---
Cheapest Places to Buy :
---
4K projectors have come such a long way the last couple of years and if there is one category that has seen dramatic improvements and price reductions this would be the 4K pixel shifters that came in order to fill  the need for affordable 4K projecting systems as native 4K ones were still very expensive for the casual consumer. And in today's BenQ HT3550 review we will be testing one of the latest models of the pixel shifting kind that comes with improved characteristics and puts extra pressure on any native 4K projector today.
A while ago we had the chance to test another of BenQ's offerings, the HT2550 which belongs to the CineHome series, and in all honesty it left us with very good impressions as for a mere $1,500 you would get a projector with very good performance and capabilities. The new HT3550 belongs to the next category, quality wise, named CinePrime and while it has a few similarities to the HT2550 it also comes with some very notable improvements.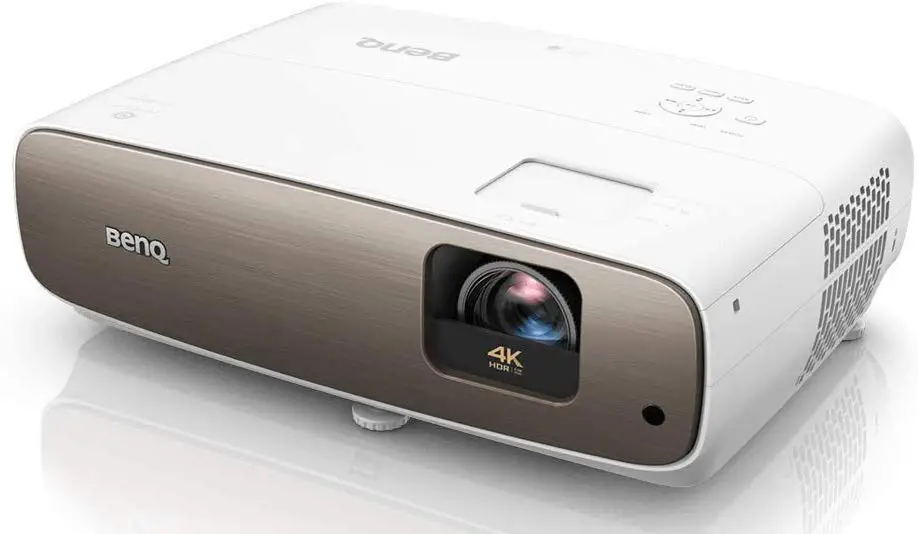 The HT3550 comes with the latest in 4K pixel shifting technology but what is rather impressive and mostly unusual in this price is that BenQ have also included a dynamic iris for improved black levels. The projector also offers lens shifting, supports HDR10 and HLG, claims 95% coverage of the DCI-P3 color space and is rated with a 2,000 lumens brightness. If you add to these the included CFI for better motion, 3D support and a pair of 5 watt speakers thrown in for extra portability you understand that there is a lot of value here for a $1,500 projector.
But with competition being very fierce in the sub-$2,000 price range and a wide range of 4K pixel shifting projectors fighting for the top spot does the BenQ HT3550 manages to stay ahead of the competition? Let's find out.
Design
First of all let's clear up the naming a bit. The projector belongs in the CinePrime series which is BenQ's second in line series behind the top premium CinePro lineup. In the US market the projector has the naming HT3550 something that changes in other markets like in the UK and Europe to W2700. The reason for the different names is not known but there is a lot of confusion when it comes to this projectors so it's good to be clear on that.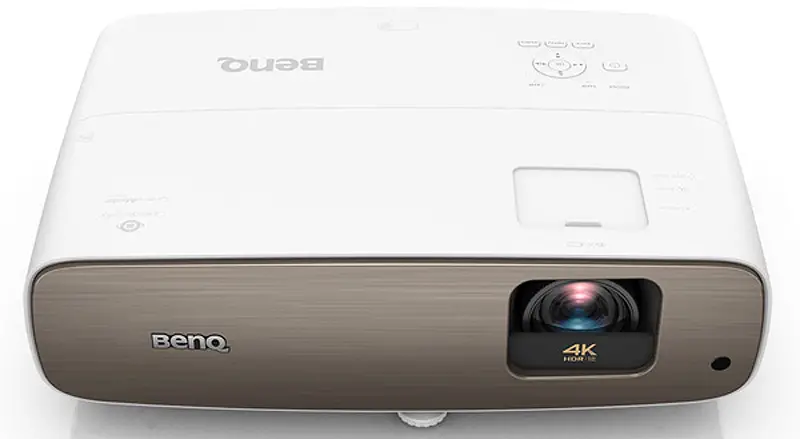 When it comes to it's design there is something very characteristic on all these BenQ projectors. They have very curvy lines and their looks immediately identify their brand. The HT3550 follows the same pattern and comes with a size of 380 x 127 x 263 mm and weight of 9.2 lbs (4.2 kg) which makes it neither big nor small but rather good for a 4K projector. Also the projector was manufactured with portability in mind and this shows in all aspects of it's design.
As with most BenQ designs the one we get here follows an asymmetrical look with the lens sitting towards the right with a single IR sensor being next to it. On the front we only find the logo sitting on the left side with the rest of the face having a rather clean design. You may have noticed the mask that sits almost in front of the lens. This is BenQ's solution in order to block stray light from appearing on the floor or ceiling but in no way it is blocking the image coming from the lens. It seems like a very simple but very smart solution to a problem that plagued many previous BenQ projectors.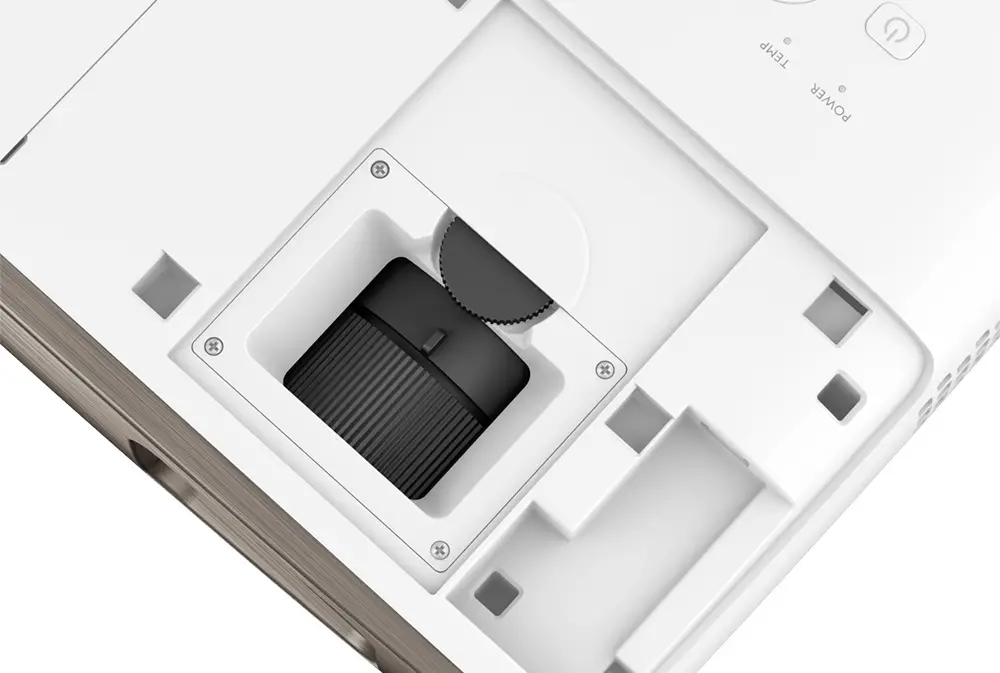 Above the lens on the top side we get a small sliding door that hides two turning wheels for zoom and focus as well as a third dial that controls the rather modest vertical shift. On the top face we also get a few control buttons and function lights. First of all there is a power on/off button with a light above it to indicate if the projector is working or not. Next to it we get the usual navigation buttons that can also be used for keystone correction as well as volume control. Below these there are three buttons on a single row for menu, back and source selection. Above the navigation buttons there are a couple more lights for temperature checking and lamp condition. On the middle back of the top face there is a second IR sensor that is usable when the projector is on the ceiling.
Now let's talk a bit about the lens. The HT3550 employs an 11-element, all-glass lens array and comes with a 1.3:1 zoom as well as 10% vertical lens shift which offers enough flexibility even if the lens shift is modest at best. At least we get some in comparison to some other models in this category that don't have any at all! There is keystone correction that can be used also but keep in mind to use this only when absolutely necessary as it can degrade the image quality something we want to avoid.

Another nice feature we get here is that when you adjust the zoom, focus seems to compensate by itself. This is a feature we usually see in more expensive projectors but it's a rather nice addition to have in such a low cost model. Usually when you adjust zoom you have to adjust focus also. Not so much here as the HT3550 seems to do that automatically.
When it comes to noise the HT3550 is neither quiet nor noisy enough. As with all pixel shifters noise comes from two places. One is the noise of the fan blowing hot air out of the projector and the other being the pixel shifting tech that is moving at very fast speeds and creates a buzzing sound. BenQ gives this projector a rating of 30dBA during normal mode which is rather loud if you are sound sensitive. Being in a silent room you will definitely hear it working but if you find it bothersome or not is totally dependent on every person. Personally we would like it to be a bit more silent but we don't consider this a huge problem at least during our testing.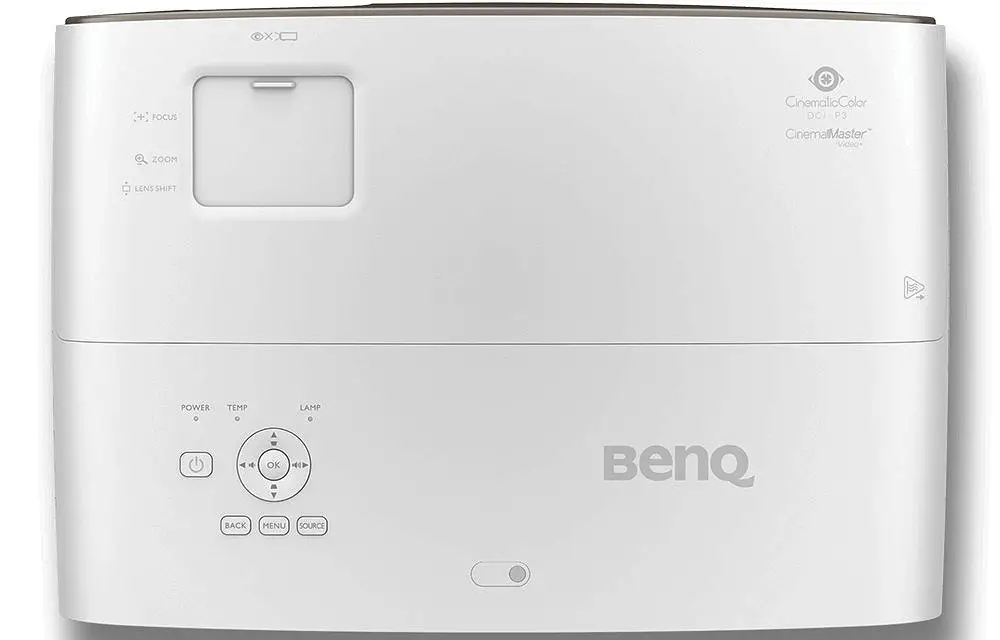 As for the lamp BenQ has added three modes in the HT3550 with normal mode rating the lamp life at 4,000 hours that extends to 10,000 hours in Economic mode. The third mode, called Smart Eco, can further extend the lamp life to 15,000 but you will probably not use this mode very often.
The included remote we believe is one of the better ones we get at this price range as it is both stylish and very practical. Buttons are very big and easy to the touch with their rubber feel while they are separated into different groups depending their functionality. In the middle we find the navigation buttons in a circular design while above them we get the power buttons, backlight, keystone correction and test pattern buttons. Below we get many additional buttons that cover the most important functions of the projector. Lastly we definitely like the inclusion of a backlight function and we praise any remote that comes with one as it can greatly help when using it in a dark environment.

Video Quality
Technology used
Things have become pretty clear when it comes to 4K pixel shifting models as there are two variations of this tech with the cheaper ones using a 1920 x 1080 x 4 pixel shifting which means that a Full HD image is projected 3 more times in a slightly off position in order to show the necessary number of pixels that are required by a 4K resolution image.
The BenQ HT3550 falls in this category as it is using a single 0,47″ UHD DLP chip made from Texas Instruments and while many will claim that no matter how good pixel shifting has become it cannot reach the quality of native 4K resolution, the reality is that looking the two side by side reveal less differences than you might think. And especially if you consider the cost of native 4K projectors that are priced at least three times higher than these $1,500 models then you immediately understand the kind of value you can get from such a budget-friendly model.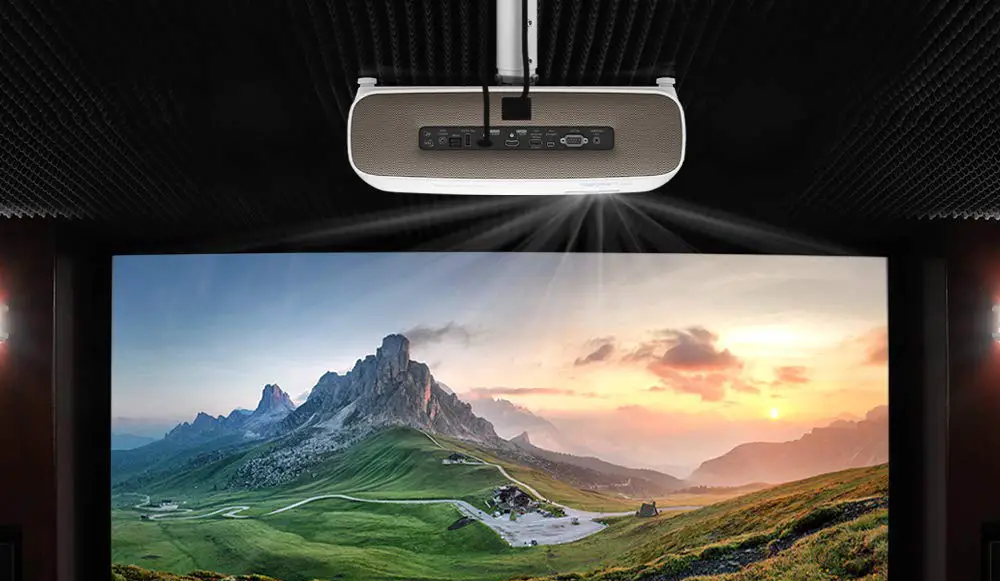 Also one minor problem that these DLP chips had was the very visible dark frame around them. The one used in the HT3550 seems to be a new generation DLP chip as it manages to offer a much more narrow frame making it less distracting and visible.
If there is one thing we don't like about pixel shifting is that because of the very fast movement this tech is doing in order to reposition the pixels these models tend to be more noisy than usual which can be a bit bothering to some.
4K UHD / HDR Content
Proceeding to our 4K/HDR testing we picked our 4K UHD version of Battleship in order to see how the HT3550 manages to perform with 4K content. We had tested this movie with a few other BenQ projectors before like the HT2550 and what is immediately apparent is the improved black levels  that we get due to the inclusion of the Dynamic iris. More deep blacks and better shadow details are two things that can be very apparent with this one and definitely distinguishes itself from the competition.
In this category of pixel shifters there are some pretty similar characteristics that we have seen with all of them exhibiting very sharp 4K images with more or less good color reproduction but rather weak black levels. The HT3550 performs similarly as the image was amazingly sharp as you could see so many details on the alien spaceship's metal surfaces. Battleship is a rather colorful film and the projector comes with very good out of the box colors that is very good for those that are not capable of further calibrating the image. From lush greens of the forests to deep blues of the ocean the projector really shines.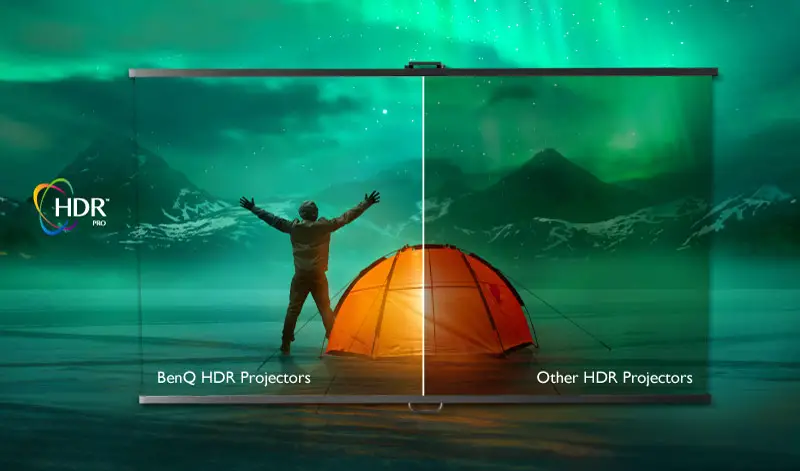 Lastly the projector comes with HDR as it supports both the basic HDR10 which is required for basic UHD playback but also HLG that is used for broadcasting. Naturally there is no Dolby Vision or HDR10+ but even having any kind of HDR with such a price is a big win.
Full HD / SDR / 3D Content
Obviously buying a 4K projector means that you want it for 4K content but with so much 1080p content available it means that any projector that respects itself should be able to perform good in this regard also. And the HT3550 doesn't disappoint here either. The film that we like to test in our 1080p projectors testing is Oblivion because we consider the Blu-ray version to offer one of the finest and sharp images this format can offer. The projector did a fine job to bring out all the little details on both the characters skin and clothes as well as surface textures and composition. Colors were very solid no matter the scenery as Oblivion offers a wide variety of scenery with different color palettes.
But 2D 1080p is not the only one we find in this projector as 3D 1080p content is also supported. There are not many projectors in the sub-$2,000 category that still support this dying format and finding one that is close to the $1,500 price point is even more impressive. Of course you will have to get the glasses separately as they are not included in the package and can add to the cost a little but at least BenQ is not forcing you to pay for them if you are not interested in 3D at all.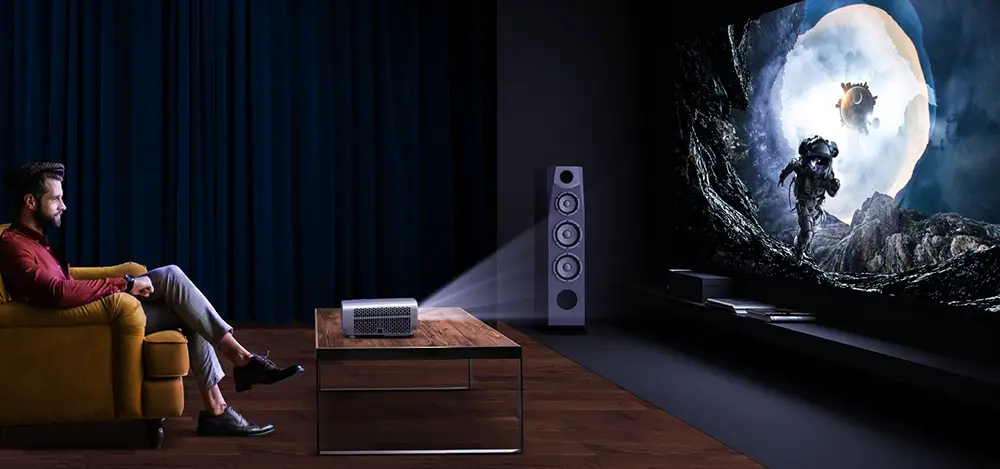 The kind of glasses needed are the usual DLP-Link variant that we have seen being used in similar situations. The image naturally is not as bright as when watching 2D content but during our testing we didn't notice any crosstalk or any other artifacts that are not related to the 3D projection. If you have a 3D collection and you don't want it to go obsolete then the HT3550 will take care of that just fine.
Color Coverage
When it comes to color coverage there is an interesting element that we find on the HT3550. There is a special color filter that is used when the D. Cinema mode is enabled that improves colors but on the other hand reduces brightness. Now this is a give or take situation so most of the times it depends on what you want the most. So the amount of colors displayed is based on a combination of picture mode along with the Wide Color Gamut and Brilliant Color settings.
Using D. Cinema mode Wide Color Gamut (WCG) is locked on so you only have the option to turn on/off the Brilliant Color (B.C.) setting. With WCG on and B.C. on you get 97% coverage of the REC.709 color space while turning B.C. off this jumps to 122%. Now when HDR is detected and the projector switches to HDR10 mode with WCG off and B.C. on we measured 58% on the DCI-P3 while turning WCG on this jumps to 75% of the DCI-P3 color space. Lastly keeping WCG on and turning B.C. off coverage went up even further to 98%.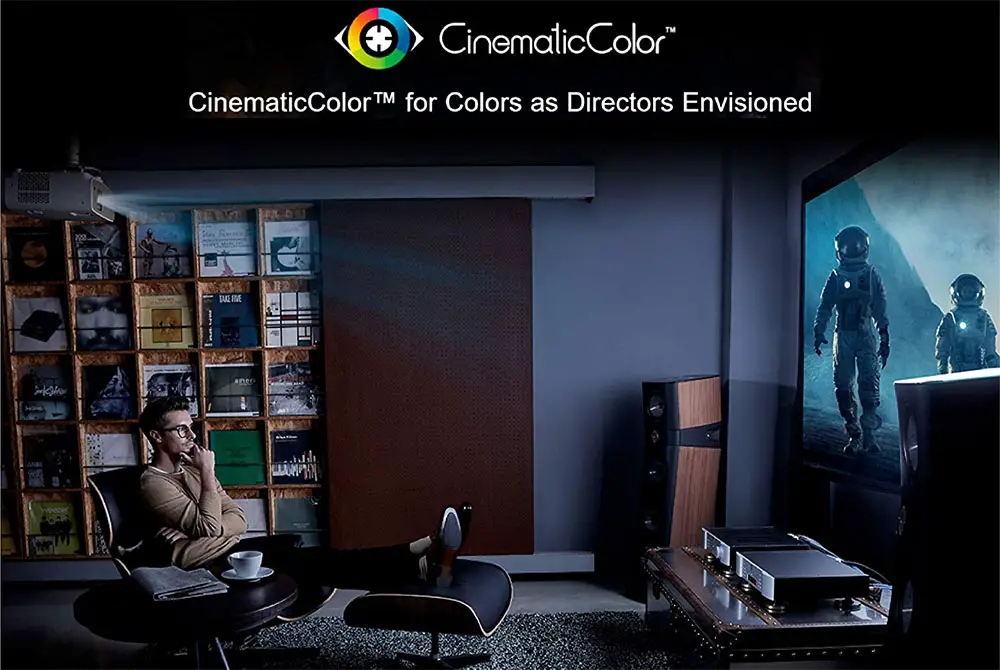 Since having both good brightness and good colors coverage is not possible at least in this price giving you the option to choose which of the two you prefer is the next best thing and kudos to BenQ for giving us such freedom.
Brightness / Picture Settings
According to BenQ the HT3550 is rated at 2,000 lumens of brightness and uses a 245 watts lamp. It's a bit strange to see this one to have less brightness than the lower HT2550 model that is rated at 2,200 lumens but what you should keep in mind is that these are theoretical numbers and projectors almost never come close to these claims. So the real question is how close the HT3550 can get to this 2,000 rating.
First of all let's talk about picture modes. The projector offers many options to choose from that include Bright, Vivid, Cinema, D. Cinema and a User defined one. These are the ones you can manual switch to but there are a few more that the projector uses automatically when it detects the appropriate signal like 3D mode and HDR/HLG modes. There is also a Silence mode that practically turns off the pixel shifting tech and makes the projector a pure 1080p one. Now for all our measurements we use the widest angle as well as Normal lamp mode.

As you can understand the Bright mode offers the most brightness with 1722 lumens measured but has a very obvious green bias to it while Cinema mode comes second with 1045 lumens of brightness. Vivid mode came third with 960 lumens and Dark Cinema came last with 812 lumens.
Now when it comes to 4K/HDR viewing the projector will switch to it's HDR10 mode, from the previously selected D. Cinema mode, that has by default Brilliant Color turned on and Wide Color Gamut off. By turning the WCG on we get better colors as we measured around 75% coverage of the DCI-P3 color space but at the expense of lower brightness. In our opinion when watching HDR with HDR10 mode you should keep both Brilliant Color and WCG on for the best possible result.
When it comes to 1080p/SDR content our proposition is to use Cinema mode if your room is brightly lit or D. Cinema if you prefer to watch in low light or completely dark.
Black Levels / Contrast
When it comes to black levels this is one key weakness that most 4K DLP projectors in this price have and in all honesty this is to be expected. To get better black levels you would have to go almost at twice the price which can be a no go for many. But it seems BenQ found a way to make a difference and this comes in the way of Dynamic iris. The HT3550 is the first low budget DLP projector that comes equipped with one and this is a major improvement over all the other competitors.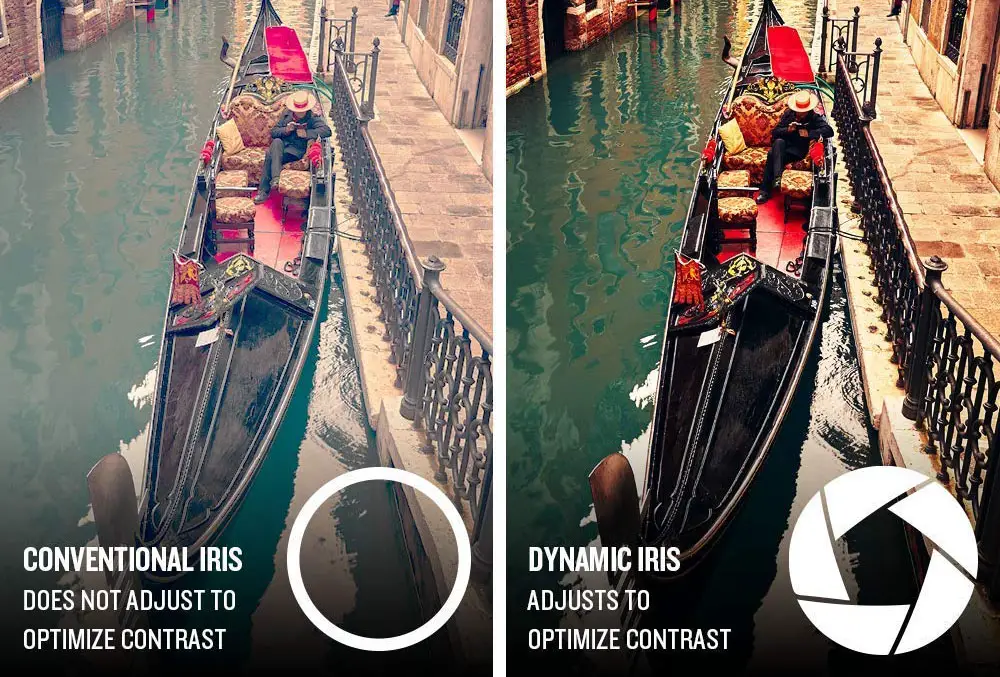 The Dynamic iris helps the HT3550 show more deep blacks that we are not used to see in this category. If you want any better than that you will have to look for the UB Epson projectors that offer vastly superior blacks but also come at a much higher price point. As things are right now the HT3550 offers the best black levels performance in it's category. Black shadow details are equally good with many details retained and Dynamic iris helps in this also.
Input Lag
When it comes to input lag anything hovering around the 50ms mark we consider acceptable even if not great for the most hardcore gamers. In the case of the HT3550 we measured 52ms in 4K resolution with CFI turned off which is borderline acceptable. But when we tested some Full HD content this went even higher reaching 62ms which is a bit disappointing.
We always like to test how input lag feels ourselves and as such we tried a bit of Call of Duty WW2 with our PS4 and to be honest to our casual eyes we didn't find the higher than what we would like input lag to be excessively bothering. A serious gamer may find it troubling but since we cannot claim to be extreme gamers our time with the game went by very pleasantly without feeling the higher input lag lowering our gaming experience in any meaningful way. So in the end it comes down to what kind of gamer you are. If you lean mostly towards the casual side then you shouldn't worry about it but if you are dead serious about your gaming experience then there are other options you may want to consider.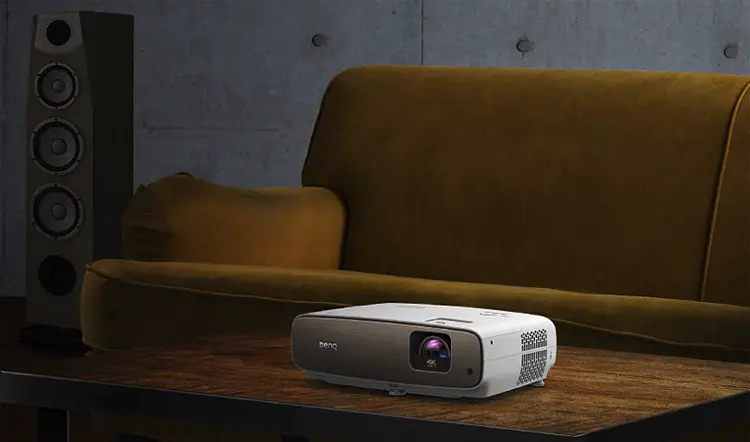 Motion Performance
The projector performed very good during our motion testing. This one comes with motion interpolation in the way of "Motion Enhancer" as BenQ names it that is part of the CinemaMaster Video+ suite that includes various technologies in order to improve the overall image quality. The HT3550 has the ability to input 36 interpolated frames between sequences in order to create smooth, blur-free motion. Very nice for the HT3550 to have such a feature and it can help a little when there are fast camera pans that reveal huge amounts of judder. Very solid performance for this price.
Inputs
All the ports are located at the back of the unit placed in a single line dead center and from a first look we get a more or less standard setup. Starting from the left we get a single 12V trigger that you can use for a motorized screen. This means that you don't have to manually open and close the screen as it will be done automatically when you use the projector. Next there is an RS-232 port for control and a mini-USB that is used only for service.
Right next to that there is a USB 3.0 port that you can use to stream content like video and audio by connecting external storage as the projector has a built-in media player. Next we get two HDMI inputs and the interesting part here is that both can carry image and audio signals while both support HDCP 2.2 making them completely identical. Next there is another USB port that can be used for charging, an optical digital output and lastly a 3.5mm stereo mini jack output.

In total we cannot complain much here. There are a couple of omissions but what is mostly needed is here. The low price of the projector is not giving much opportunity for anything fancy but in all honesty anyone who is interested in buying this model wouldn't look for anything special on the first place. We like that there is a USB 3.0 used as we are tired to see the old 2.0 version being used even in premium models.
OS, Apps and Features
BenQ has included a 2X 6-Segment RGBRGB color wheel which is slower than what we would like to see especially when the lower HT2550 was using a 6X color wheel. Having such a slow wheel means that there is a small percentage of people that are rainbow effect sensitive that will be able affected by this so keep this in mind when you consider this projector. For some people this can be bothering while for others not so much but it's always good to know when you are buying a new projector. Going for a faster color wheel would negate this effect but this would have a negative effect on brightness.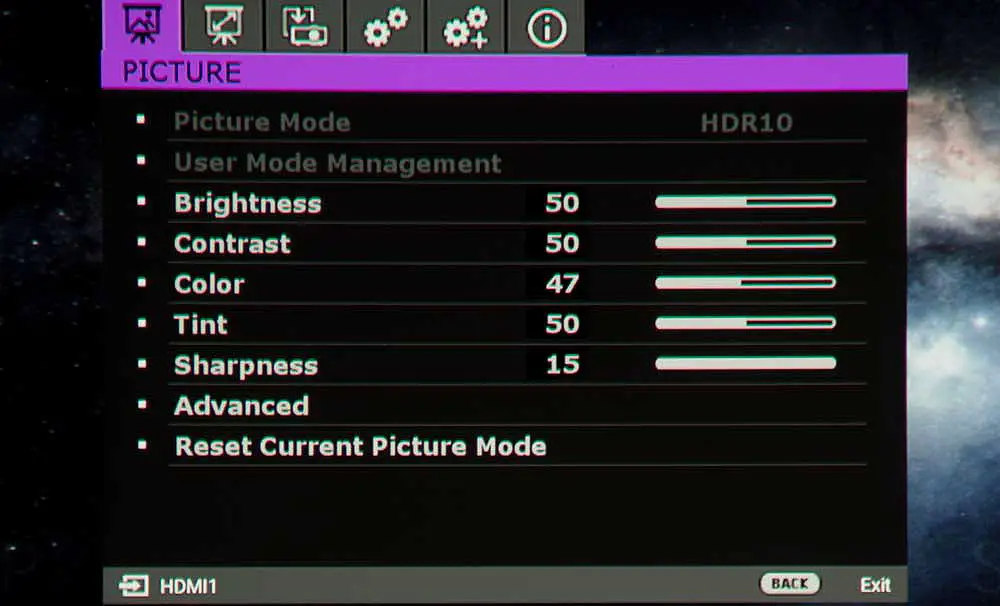 When it comes to the menus and settings what we get is the usual user interface that we have seen in so many projectors the last few years. If there is one area that projectors seem to have forgot to make any kind of improvement or upgrade is in this area. When every other home cinema equipment start to use more visually pleasing user interfaces it's a bit sad to see projectors being left so much behind on this. The menu of the HT3550 is divided into categories depending their function and even with so many options and settings it was never hard to find what we were looking for.
The projector comes with BenQ's full CinemaMaster Video+ suite that includes various settings for improving the image quality. These include 4K Pixel Enhancer which detects changes in colors between an object and the background and produces sharp edges and better surface textures, Motion Enhancer which is the motion interpolation tech that the HT3550 uses in order to smooth out motion, Color Enhancer that improves color rendering and Flesh Tone that prevents discoloration of skin tones due to the projection light.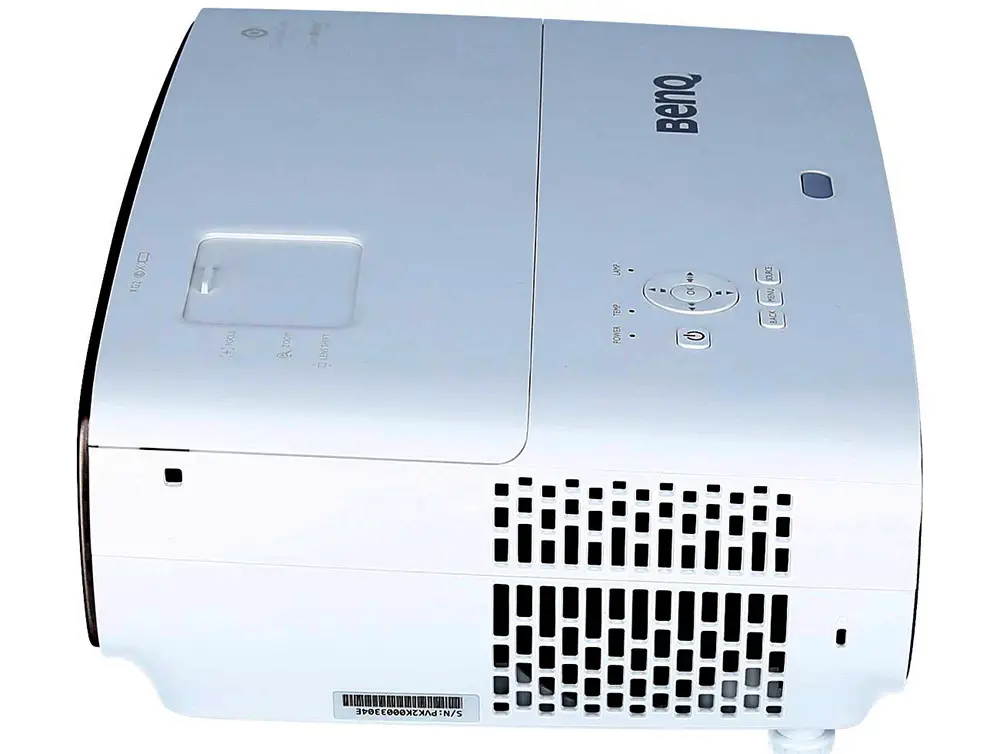 Also included with this projector is the CinemaMaster Audio+2 suite which comes with five different audio modes to choose from depending on the content you are watching. The modes available are Cinema, Game, Music, Sports and a User mode with each of them boosting different frequencies in order to create a more immersive result. Now how much immersion you can get from a pair of 5 watt speakers is another matter but at least it's good to see that BenQ is trying to improve this as much as the hardware allows it.
As we mentioned above the HT3550 also comes with a built-in media player that you can use in combination with the included USB 3.0 on the back of the projector in order to stream content like video and audio. Of course keep in mind that it's capabilities are rather limited so don't expect it to replace your dedicated media player. For example it doesn't seem to support the H.264 video format that is so common nowadays in streaming. It's a nice feature to have even if it's use will be very limited.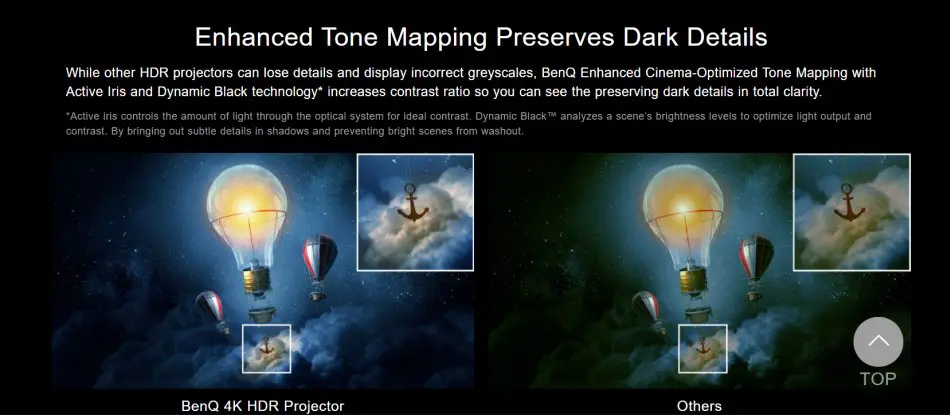 Lastly there is a Smart Eco function that adjusts the lamp light accordingly and can extend it's life depending on the use. It can be a nice feature for certain situations but in most cases and if you are going to use this projector mostly in your home cinema then you want to have this turned off.
Final Thoughts
BenQ really managed to push things even further with the release of the HT3550. The projector managed to offer amazing out of the box colors which is very important for people that are not good in image calibration. It also brings dynamic iris into play which is very important in improving black levels and one we don't usually see in this category. Also there is support for HDR10 and HLG and if you add the excellent 4K performance along with solid motion performance, a lot of image processing features and an amazing price for a 4K projector then what you get is amazing value for your money.
On the low side of things black levels are still not as good as some more expensive projectors so if you are serious about getting very good blacks levels you will have to look for a different category altogether that comes with a much higher price also. The limited vertical shift along with no lens memories can be a bit troublesome when it comes to setting up the projector while the HT3550 disappointed in our input lag tests as the measurements were higher than we expected. The projector is more than adequate for casual gaming, at least from our point of view, but for serious gamers some other gaming model should be considered. Lastly for what is worth it there is no network capabilities here as there is no online functionality.
With a price tag of $1,500 we don't know if things can get much better than what the BenQ HT3550 offers. It has the quality and performance that was unthinkable just a few years before and BenQ even managed to distinguish the HT3550 from the competition as the slightly improved blacks levels can be a huge thing in this low price range. "Value for money" in the low cost projectors just got a new king…until the next one.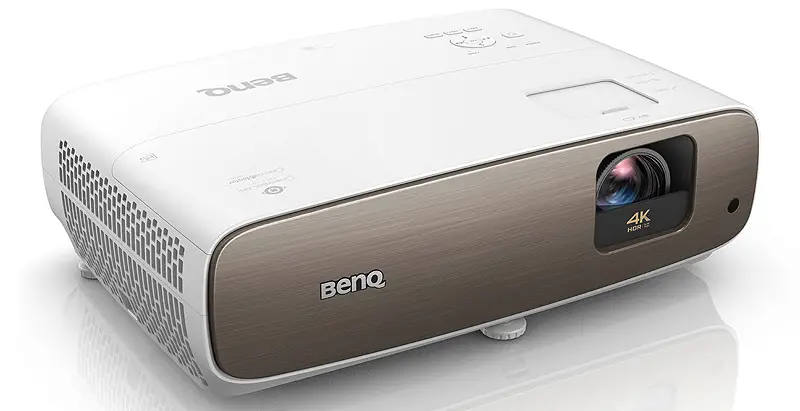 For more reviews you can check our dedicated 4K Projector reviews list or even look at our Product Reviews Table where you can find the brand and specific product you are looking for.
Also don't lose the chance to subscribe to our Newsletter and gain exclusive privileges.
---
---
Cheapest Places to Buy :
---
BenQ HT3550 Specifications