BenQ HT8050 (US) - W11000 (Europe)
Design -

92%

Video Quality -

94%

Inputs / Ports -

93%

OS, Apps and Features -

90%

Price / Quality -

87%
---
Cheapest Places to Buy :
---
For some time 4K projectors were completely out of reach for most people as their price was astronomical making them only a dream for home theater hobbyists. And although now in 2018 true 4K projectors are still very highly priced, things have changed a bit. In 2016 Texas Instruments presented a new 4K UHD DLP chip with the ability to display 3840×2160 pixels on the screen and the technology to do so is called pixel shifting, or XPR as BenQ likes to call it.
Having reviewed a few 4K pixel shifting projectors lately we were curious to see how this first 4K projector from BenQ would fair against the competition that seems to become more and more fierce as 4K pixel shifting projectors are fighting to get a piece of the mainstream market. BenQ have utilized the TI 4K UHD chip in combination with some high performing lens in their projector in order to create a model that will be able to offer amazing image quality compared to the competition. Have they succeeded in doing so? Let's see in our BenQ HT8050 review that follows.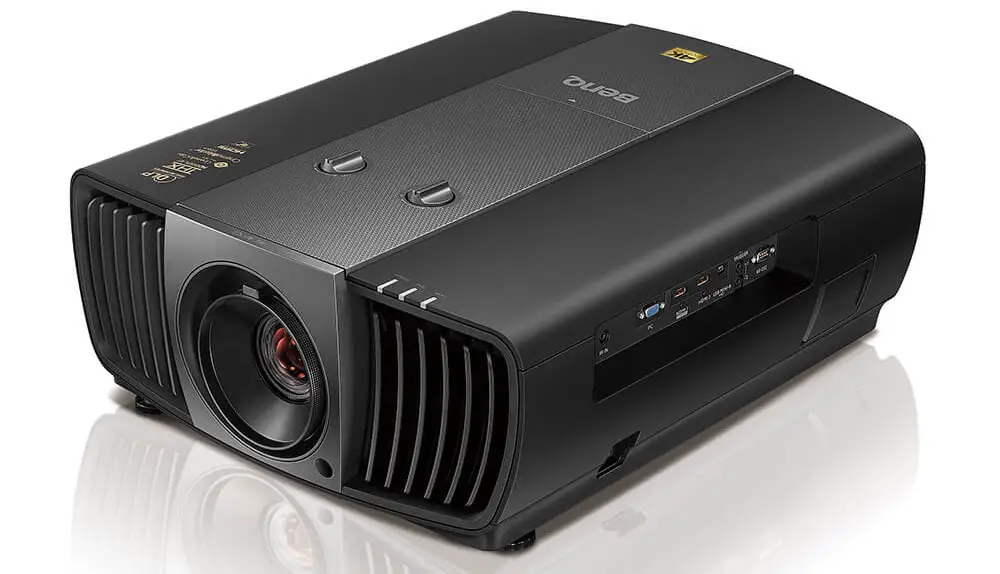 Design
Before we start talking about the design we need to clarify one thing about the projector's model number in order to avoid confusion. BenQ is using different model numbers for this projector in the US and Europe and while in the states it is being recognized as the HT8050, in Europe it goes by the name W11000. It is basically the exact same projector with different naming so depending on where you live you may need to search for it with both numbers just to be sure.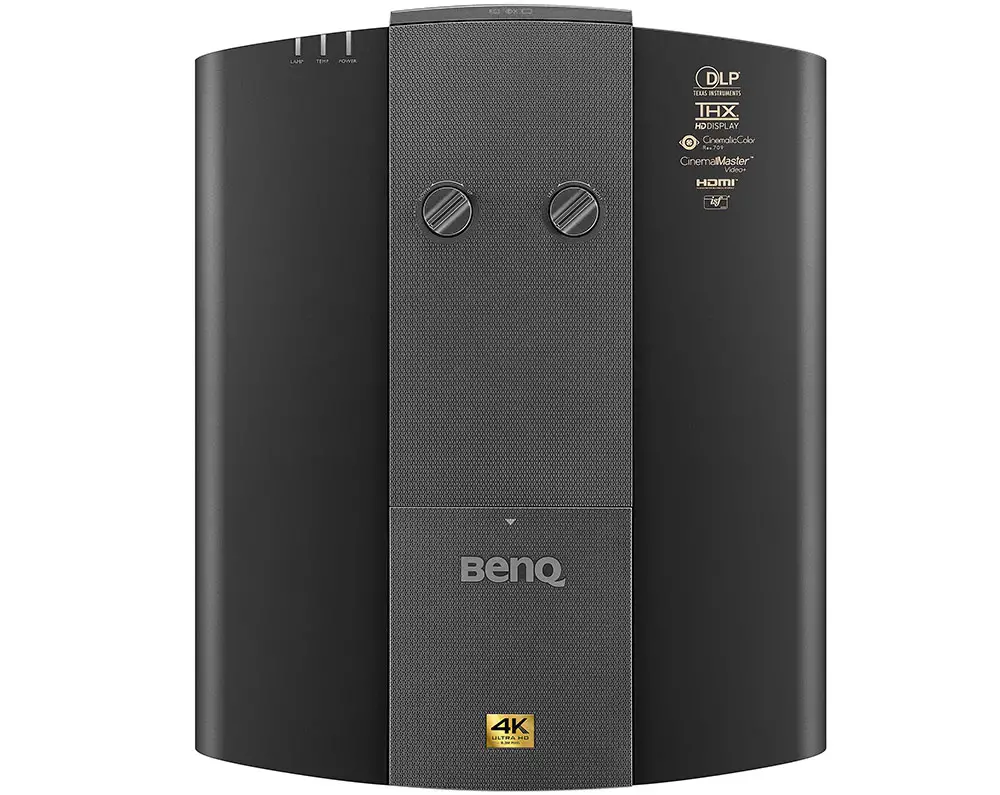 Now that we got that out of the way let's talk about the looks. BenQ has really created a very nice design, one that we would have to admit is some of the best from all the projectors we have reviewed so far. As far as it's size is concerned the HT8050 is not a small design as we are talking about 470.7 x 224.9 x 564.7 mm in size and almost 15 Kg (32.6 lbs) in weight putting it in the same ballpark as some high end models from Sony and JVC.
Don't be fooled by the photos as in real this projector is really a monster in size. The two sides of the projector are covered in plastic that are in matte black color while the middle is covered by a metal cover with a dark grey aluminum finish.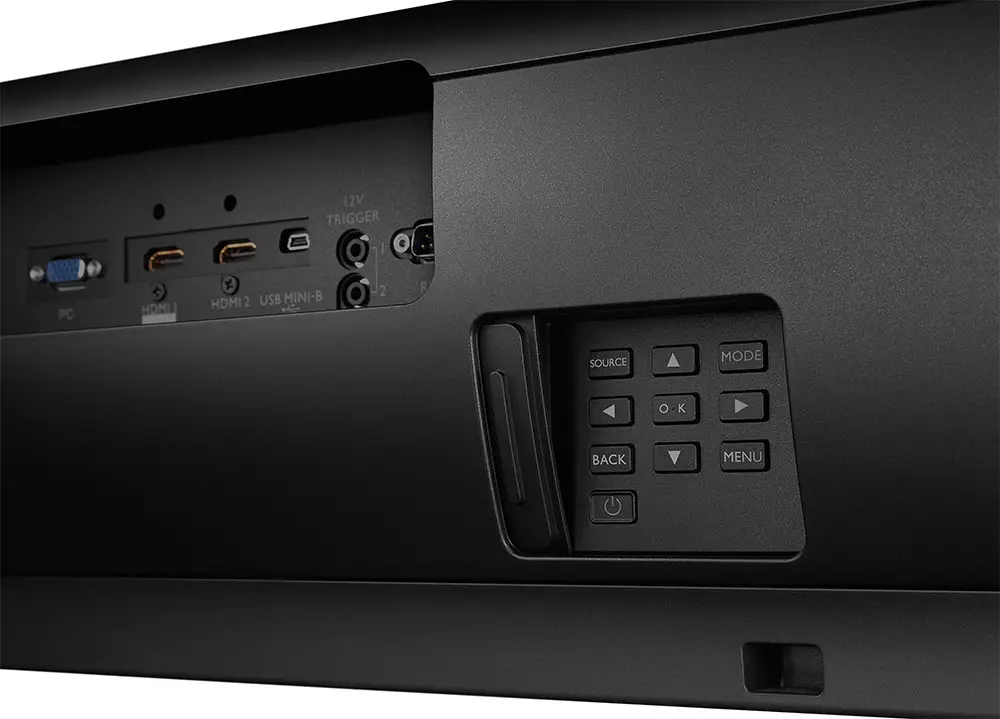 Lens are positioned dead center and situated between air vents on both sides of the front end. On the top of one of the vents there are three function LEDs while above the lens on the top we get two knobs, one for adjusting the focus manually while the other adjusts the 1.5x zoom.
As we look the projector from the back, in the left side there is an inset with all the connection ports grouped together but we will talk about these a bit further down our review. There is also a small sliding door that hides a few control buttons for menu and settings navigation as well as source and mode selection. Here we also find the power button.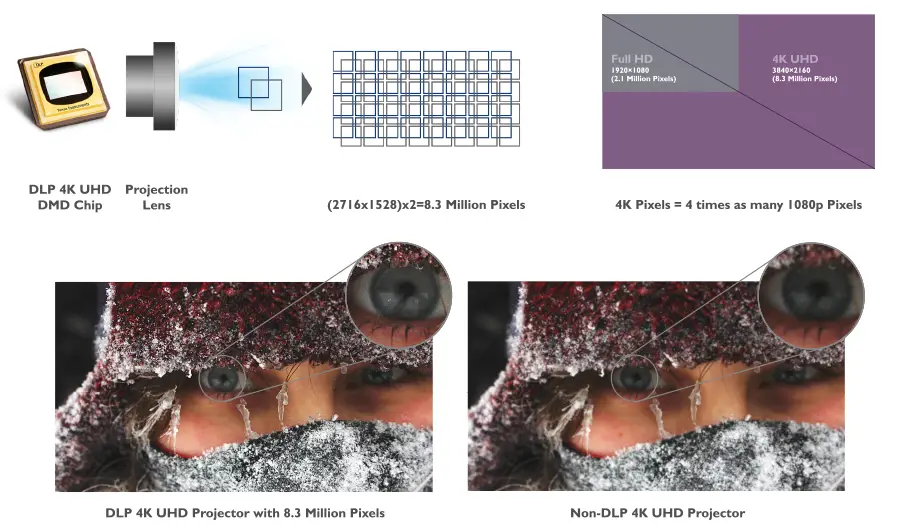 As we mentioned in the beginning of our review the BenQ HT8050 is featuring the 4K UHD chip from Texas Instruments which actually makes this projector a pixel shifting projector. But in reality there are differences between this projector and other 4K pixel shifters we reviewed before. While some 4K pixel shifters are actually of 1080p resolution and with quad pixel shifting they manage to display 4K resolution the HT8050 is able to display 2,716 by 1,528 pixels resulting in 4.15 million pixels which is half of the full 8.3 million required for true 4K resolution but still higher than most of the competition. But with DMD's fast switching speed it allows each micromirror to display two pixels, resulting in the full 4K UHD resolution to appear on the screen.
The lamp used is a 240 Watts bulb that has a life expectancy of 3,000 normal hours that can be extended to 6,000 using SmartEco mode. Overall we are very pleased with what we saw and the reality is that the HT8050 leaves a very good first impression with good build quality both on the outside and on the inside. Everything is placed where they should be in order to make controlling and handling easy and practical and although we are talking about a huge projector it manages to look good to the eye.
Video Quality
Having tested a few 4K pixel shifters we were curious to see how good the TH8050 would perform since it was heavily promoted by BenQ as having amazingly sharp image so it was only a matter of putting it to the test to see if BenQ's claims hold true. So without any further delay we popped the disc of Pacific Rim: Uprising into our Panasonic UHD player and went through a few selected scenes to see how it fairs..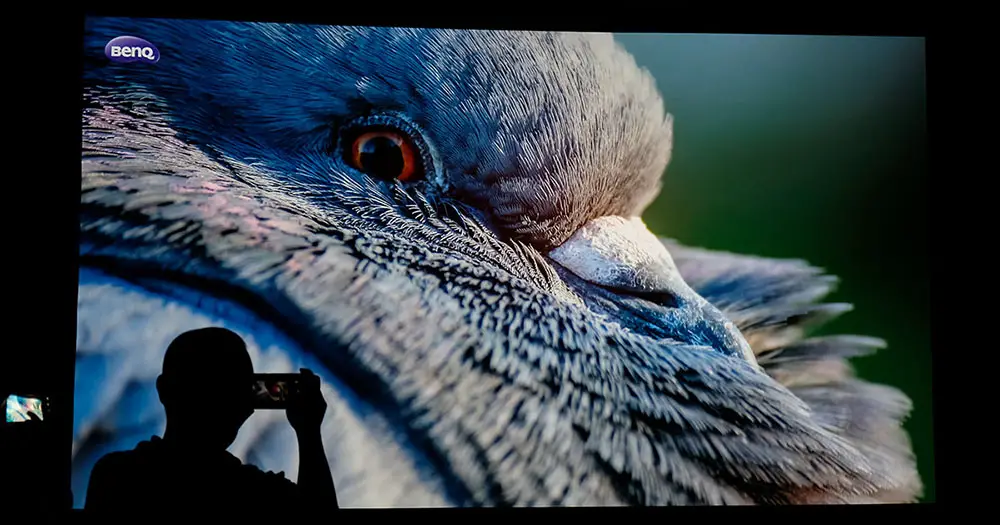 The first thing that is very apparent is the amount of clarity the 4K image holds compared to other so called 4K projectors. The HT8050's image is crystal clear and manages to perform better than other competitors in the same range like the Optoma UHD65. In direct comparisons the HT8050's clarity and sharpness of image can even rival some native 4K projectors with much higher price than the BenQ. We could easily distinguish small details on the Jaegers metal armor like scratches and dents while during the Jaeger duel in the snow you could see small patches of snow sticking on their bodies, details that were not easily seen with other 4K projectors.
The second strong point of the BenQ projector is it's exceptional color fidelity. The HT8050 is the first projector we are reviewing that is THX certified and we were curious to see how this would translate into real life testing. To get the best results you have to use the special THX mode in which color balancing is the best getting amazing Rec 709 color precision. Unfortunately as good as the colors of the HT8050 are the projector does not support Rec 2020/DCI-P3 color.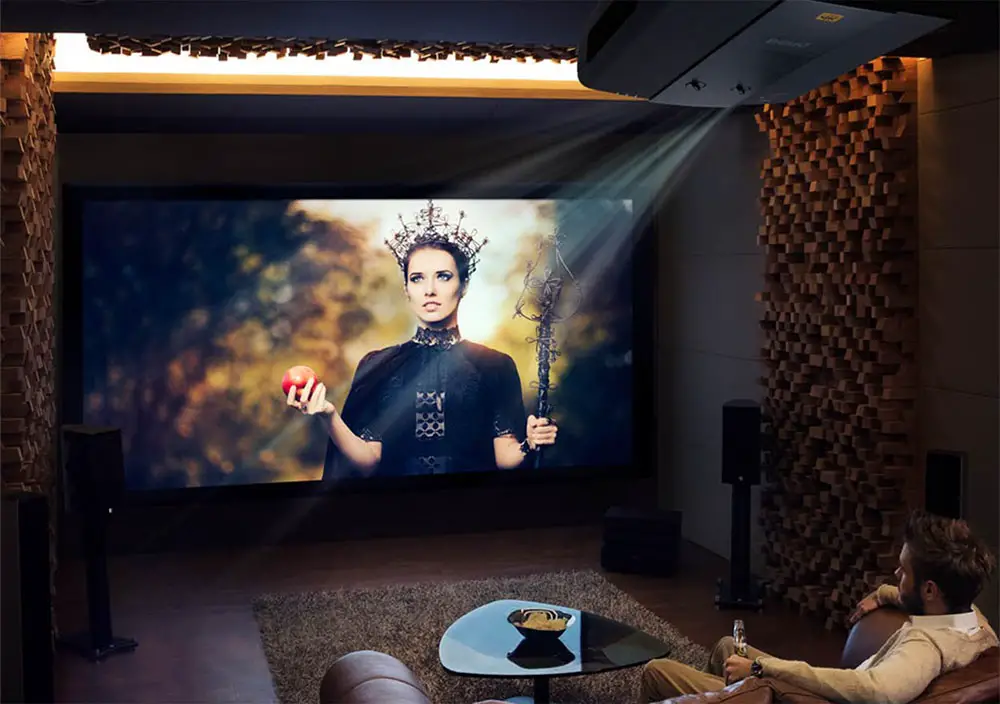 We talked about how much clarity and excellent color precision the projector has. But although these two are it's strong points there are a couple of weaknesses that would naturally be present with a projector of this price range. Contrast and black levels are mediocre making some dark images look a bit washed out, flat and unnatural. The HT8050 is lacking depth in black levels that other projectors in this price range or even a few that are lower priced have. Blacks appear more like dark grey and while doing some direct comparisons the difference is very apparent for many that will not have a chance to see this in a side by side scenario may not be bothered.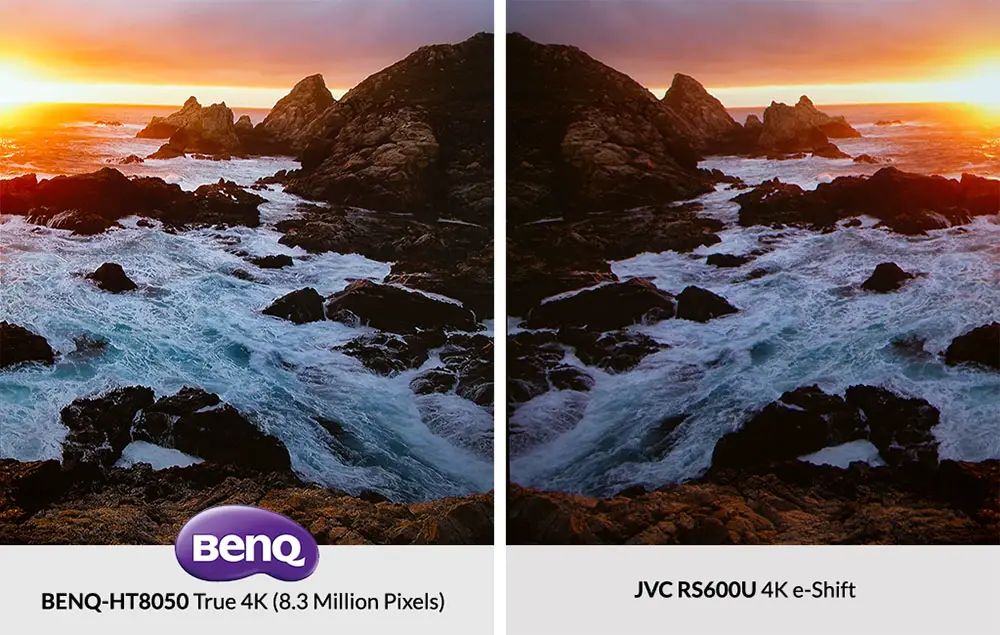 Another major omission is that the projector although it is supposed to be a 4K one, has no HDR support which is a first from all the 4K projectors we have reviewed so far. Of course HDR in projectors is a dubious thing as projectors cannot get the brightness a flat TV can do nowadays and we have seen 4K projectors to have various degrees of HDR performance but nevertheless to completely miss this feature is a head scratching one when much cheaper projectors support it.
Another missing feature is no 3D support but unlike HDR that was a puzzling one for 3D at least it makes some sense. There may be a lot of people that love their libraries of 3D Blu-ray discs but in all honesty 3D in home entertainment is dead and manufacturers that still use this feature in their equipment is more as an added gift for those few that still use it rather than a useful feature for the mainstream market.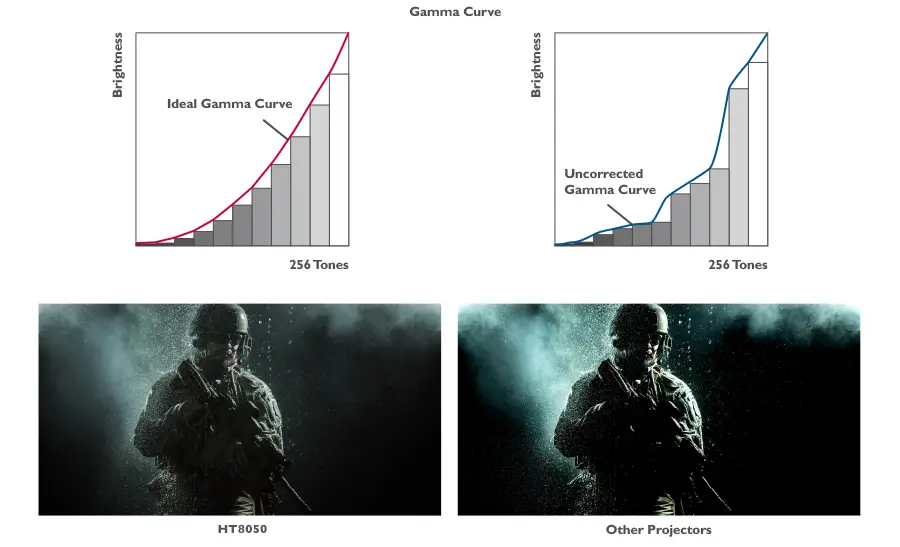 Motion performance was in general good without major judder during fast action camera movements but we would like to have some frame interpolation feature to play with. Other BenQ projector models have a Motion Enhancer frame interpolation tool that you can manually calibrate but unfortunately it is missing in the HT8050 completely.
Closing this section we have to say that the BenQ HT8050 is like a coin with two sides as far as image quality is concerned. From one side we get amazing 4K image clarity and exceptional, THX certified, color fidelity but on the other side black levels and contrast are mediocre and we are missing HDR and 3D support. So it's a matter of what you prefer the most and what your priorities are as far as what this projector can do.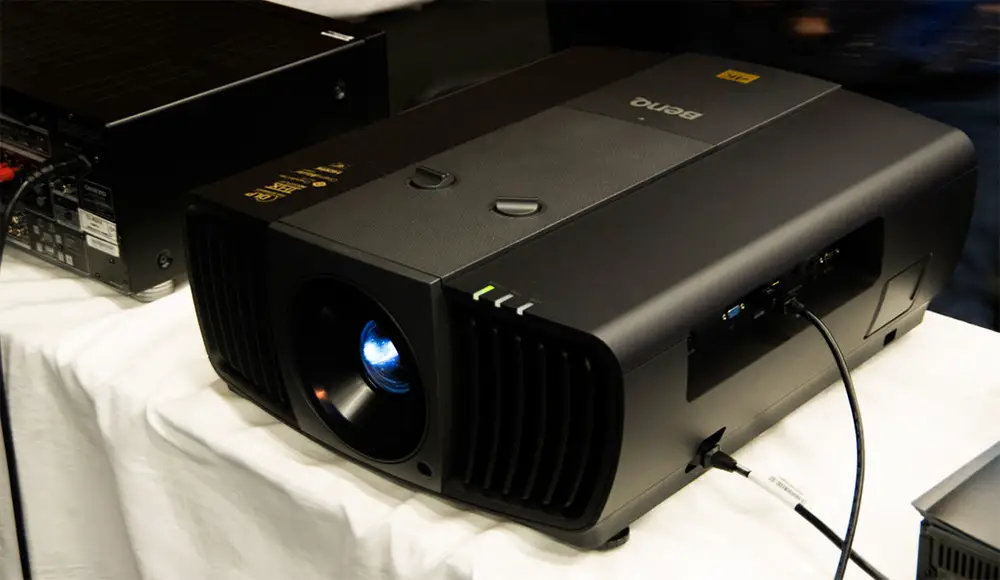 Inputs
As we said before all ports and connections are grouped together in the left side of the projector. What we find here is two HDMI IN ports with one of them being version 2.0 with HDCP 2.2 support while the second one is only version 1.4 for use with older equipment. There is also a VGA PC port, an IR IN port, two 12V trigger ports for use with motorized screens in order to raise and lower automatically, an RS-232 port, one type B Mini-USB that is used for service only and an Ethernet port for wired connection to the internet.
No surprises here really. We cannot say that we are thrilled by the amount of ports on offer but we are not disappointed either. The amount as well as the type of ports are more or less the usual we would see in other projectors of the same category with very small deviations. There are no analogue audio ports here but on the other hand it offers two 12V trigger ports in comparison to just one in other models we had reviewed before.

OS, Apps and Features
Setting up the BenQ HT8050 can be a bit difficult if you are not used in projectors calibration as there are many settings and options for those that like to have control over many image settings. In the menu we find most settings grouped in tabs in order to be able to find faster what you are looking for. We will talk about a few of these settings that are most important for the calibration of the projector.

First of all we get nine picture modes. We get Bright, Vivid, Cinema, THX which is the default setting of the projector and a Silence mode in which the projector is turning off the XPR 4K pixel shifting feature making the projector run at it's native 2,716 by 1,528 resolution as well as turning dynamic iris off and setting lamp mode to low making the projector completely silent. There are also two User defined modes as well as an ISF Night and ISF Day mode.
We also find four presets for managing color temperature with them being normal, cool, lamp native and warm. There are also 11 gamma presets from 1.6 to 2.8 in range, three lamp modes with normal providing 3000 hours of lamp life, economic with 4000 hours and SmartEco that according to BenQ can make the lamp last for 6000 hours.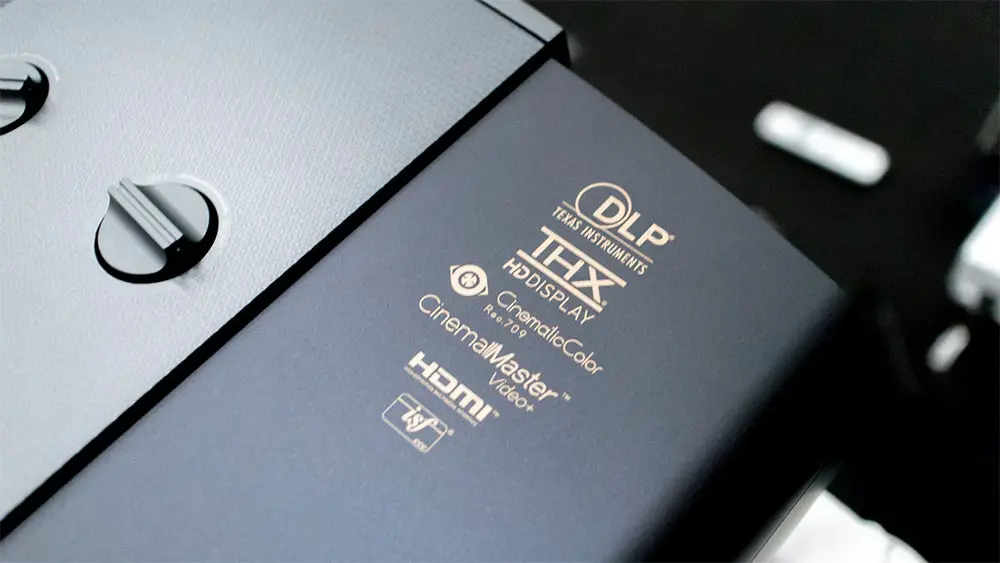 There is also a full six-point color management system that gives you the ability to adjust the hue, saturation, and gain (brightness) of all six colors, you get the option to turn dynamic iris on to automatically adjust the lens aperture to suit the image being displayed in order to improve contrast ratio, a BrilliantColor mode that is supposed to improve the color brightness as well as BenQ's CineMaster suite of video processing tools that includes Color enhancer, Flesh tone, Pixel enhancer 4K, Digital Color Transient Improvement that improves the transition between contrasting colors, and Digital Level Transient Improvement which reduces noise from fast-switching luminance in video. Last but not least we get a Noise reduction feature.
HT8050 is more or less a quiet projector. We cannot say it is the more silent one and once the fan kicks into full gear then it can be a bit audible while on the other hand using the Silence mode it becomes almost completely silent. But in normal use the projector is quiet enough not to become bothering during film viewing.

BenQ has provided a very nice remote with the projector that has a bit of a premium feel to it. Buttons are big and squarish making them easy to press while they have been separated into groups. On the top we get some basic functions like source selection, test pattern and aspect ratio control, in the middle we find the usual menu navigation and selection buttons while on the bottom we find some features controlling buttons like brightness, contrast, dynamic iris, color temperature, color management, light mode, gamma and sharpness. Unfortunately there is no backlight function which is a shame really but other than that it's a very good and nicely designed remote.
Final Thoughts
The BenQ HT8050 is a projector that although has it's shortcomings it provides a very good overall result. When we are talking about budget friendly projectors there are always trade-offs so it really depends on what you are looking for and if you are willing to accept it's weaknesses. Originally the BenQ HT8050 was priced at a staggering $8,000 but fierce competition by other projectors with similar characteristics has forced BenQ to aggressively lower it's price to the point that you can now find it at less than half it's original price showing how competition can benefit the consumers.
The strong points of the BenQ HT8050 is it's unparalleled sharp 4K image that is as good as it can get as well as it's excellent, THX certified, color fidelity with accuracy that even without any calibration is some of the best in this category. Also noise is very low relatively to other models making viewing very pleasant while lens shift range is amazing and the highest from any DLP projector we have reviewed so far.
On the other hand there are a few omissions that are hard to turn a blind eye on. Although the projector is branded as 4K it does not support HDR Another omission is that it does not have any 3D capabilities and although 3D may be very dead, many movies are still released in 3D and many people are still enjoying it so it may turn a few away because of this. As for it's image performance the projector has mediocre black levels as well as contrast. There are a few projectors with similar prices that offer much better blacks as well as improved contrast and this puts the pressure on the HT8050's overall performance.
Closing we would have to say that with the projector's original price it would be hard to compete as there are many new models that offer great specs at amazingly lower prices. But after BenQ's aggressive price cuts they managed to make the HT8050 competitive once again. In the end it depends on what you want and if it is black levels and contrast what you seek there are other models that perform better than this but if you put priority to amazingly sharp 4K resolution as well as excellent color reproduction that is THX approved then this model is one you should definitely consider.
For more reviews you can check our dedicated 4K Projector reviews list or even look at our Product Reviews Table where you can find the brand and specific product you are looking for.
Also don't lose the chance to subscribe to our Newsletter and gain exclusive privileges.
---
Cheapest Places to Buy :
---
Specifications
Display

Projection System : DLP
Native Resolution : 4K UHD (3840 x 2160)
Brightness : 2200 ANSI Lumens‎
Contrast Ratio (FOFO):

50000:1

Display Color : 1.07 Billion Colors‎
Rec.709 Coverage : 100%
DCI-P3 Coverage : 81%
Native Aspect Ratio : 16:9
Light Source : Lamp
Light Source Life : Normal 3000 hours, Economic 4000 hours, SmartEco 6000 hours

Optical

Throw Ratio : 1.36 – 2.03 (100″ @ 3m)
Zoom Ratio : 1.5x
Lens Shift : Vertical: ± 65% / Horizontal: ± 27%
Lens : F/# = 2.05 – 2.37 f = 20.54 – 30.31
Clear Image Size (Diagonal) : 95″ – 180″

Picture

Picture Mode : Bright / Vivid / Cinema / THX / Silence / User 1 / User 2 / ISF Night / ISF Day
Color Wheel Segment : 6-Segment (RGBRGB)‎
Color Wheel Speed : 1x (120Hz)

Special Features :THX, ISF, CinemaMaster Video +, LAN control, Anamorphic Lens
Compatibility

Resolution Support : VGA (640 x 480) to 4K UHD (3840 x 2160)
Horizontal Frequency : 15K-102KHz
Vertical Scan Rate : 23-120Hz
HDTV Compatibility : 480i, 480p, 576i, 576p, 720p, 1080i, 1080p, 2160p

Interface : PC (D-Sub) X 1, HDMI (1.4a) / HDCP (1.4) X 1, HDMI (2.0a) / HDCP (2.2) X 2, MHL2.1 (Share with HDMI) X 1, USB (Type mini B) X 1, LAN X 1, RS232 X 1, DC 12V Trigger X 2, IR Receiver X 2 (Front/Rear), IR in X 1, Security X 1
Dimensions : 470.7 x 224.9 x 564.7 mm
Weight : 14.8 kg (32.6 lbs)
Noise Level (Normal/Economic mode) : 26 / 23 dBA (silence mode)
Operating Temperature : 0~40℃