BenQ TK800M (2019 model)
Design -

86%

Video Quality -

94%

Inputs / Ports -

88%

OS, Apps and Features -

85%

Price / Quality -

96%
---
Cheapest Places to Buy :
---
Earlier this year we had the pleasure to review one of BenQ's most affordable 4K pixel shifting projectors with the HT2550, or W1700 in some other markets, managing to get very positive comments from us. But if there was an interesting fact about that projector was that BenQ had released two very similar models adding more confusion among consumers. One of them was the HT2550 (or W1700) that was optimized to have better colors while the other unit called TK800 was optimized for better brightness. Today in out BenQ TK800M review we will be reviewing the 2019 upgrade of the TK800, called TK800M.
4K projectors were very expensive equipment until the moment that pixel shifting technology was discovered. Now with Texas Instruments DLP chips these so called 4K projectors would fake a 4K image with minimal lose in quality but huge gains in price reductions making space for a new segment in the market for 4K pixel shifting projectors. But these new and affordable chips had to be optimized either for brightness or for better colors. You couldn't have both in a projector that would be in the sub-$2000 category.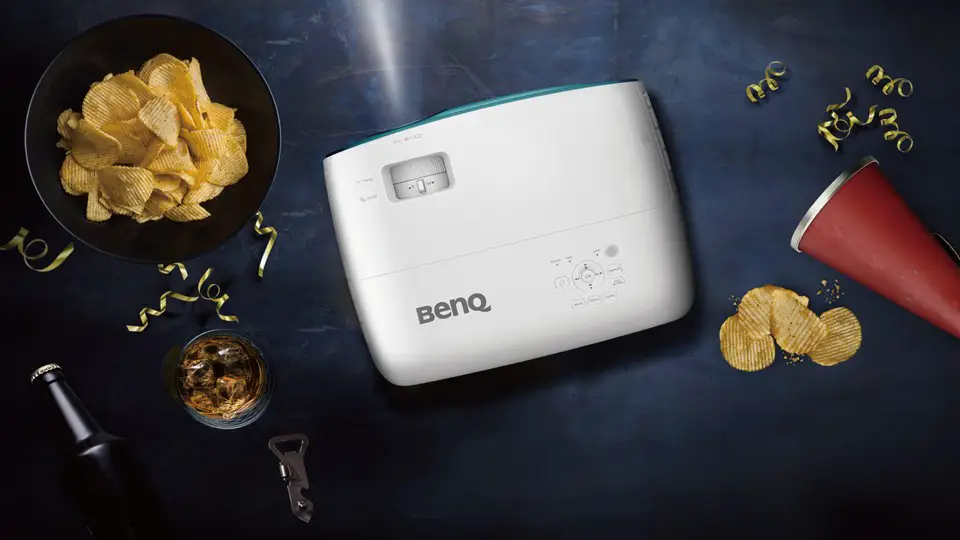 But BenQ instead of choosing one or the other decided to create two models that have great similarities in many of their specs but with one having more brightness (TK800) and mostly suited for sports and gaming while the other (HT2550) having better colors and thus suited more for home theaters with low light environments.
And so now it seems that BenQ decided to release an improved version of it's brightness capable model with a few worthy updates compared to it's predecessor. The TK800M belongs to the Home Entertainment Projectors series which is supposed to be the most mainstream series from BenQ and since we didn't have the chance to review the previous model it is now the perfect opportunity to test the new 2019 version and determine how similar, or not, it remains to it's brother the HT2550. So without further delay let's see what is on offer.
Design
Having previous first hand experience with the HT2550 meant that looking the TK800M is like looking the same model with different colors. But before we analyze it's looks we need to clear the naming in order to distinguish the similar models out now. The TK800M is the 2019 version of the TK800 model that was released in 2017. There is also the HT2550 in the US market which is almost the same model but with better colors instead of brightness while in other markets like in the UK and Europe comes by the name of W1700. So in essence the TK800M keeps it's naming among all territories. Now why BenQ decided to keep the same name for this one and choose two different names for the other is something we don't get really.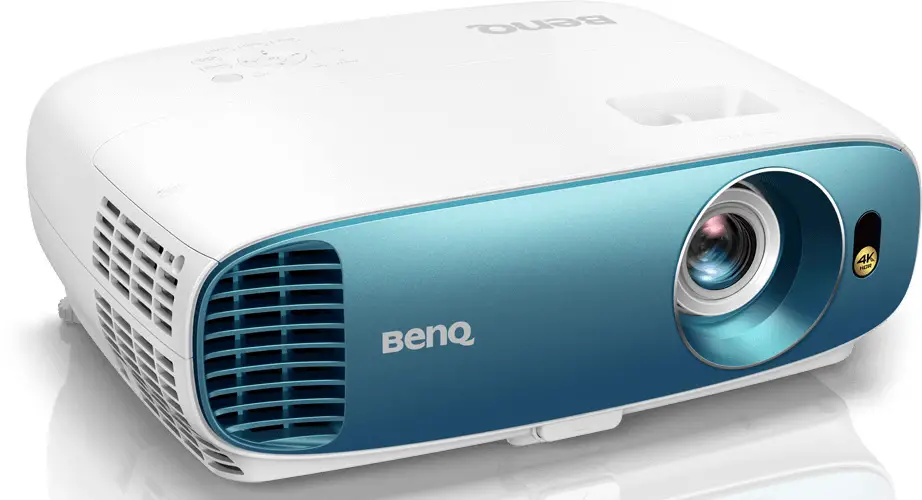 The BenQ TK800M features a very curvy design that is very characteristic of BenQ projectors as from the first look you can understand this is one of their models. Featuring a size of 13.9 x 5.31 x 10.71 inch (353 x 135 x 272 mm) and weight of 9.26 lbs (4.2 kg) this projector is definitely made with portability in mind and you will understand why from many of the features it comes equipped with. In general it is a bit bigger than many Full HD projectors but this is normal for almost all 4K projectors either it be native of pixel shifting ones.
Looking the front face of the unit it features an asymmetrical design as the lens have been placed to the right side with the front IR sensor sitting right next to it. On the left corner there is a big air vent for blowing the hot air out of the unit. The front face comes with a light blue color that is used only in this unit in order to distinguish it from the perfectly similar HT2550. On the top side now just above the lens we get two turning wheels that control the zoom and focus functions while on the opposite corner we get the on-board control buttons.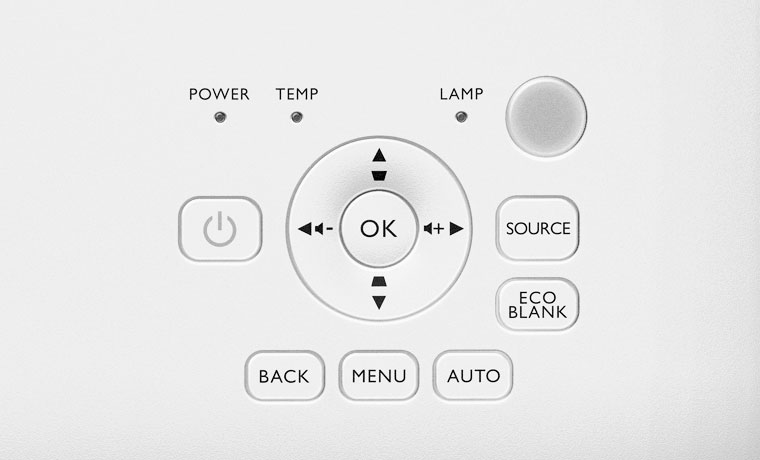 These consist from the usual circular design navigation controls with a few more buttons from power, source selection, an Eco Black button for hiding the screen picture as well as a picture mode button. On top of these there are three LED indicator lights for power, temp and lamp. These three lights work in combination and depending which are lit and what color they have they indicate various functions as well as conditions of the projector. To the right of these LEDs there is a big IR sensor that is used when the unit is placed on the ceiling. The buttons don't have the usual click touch when pushed but they felt pretty responsive even as such.
Let's talk a bit about the lens now. This seems to be one area where BenQ made a few upgrades as the TK800M features a refined optical system with a 7-element, 4-group all-glass lens with low-dispersion coatings to minimize chromatic aberration. Zoom is a modest 1.1x with a throw ratio of 1.50 – 1.65 (100″ @ 3.32 m). This is actually a downgrade from TK800's 1.2x zoom and 1.47 – 1.76 (100″@10.67ft) throw ratio which means you will have to place the projector further away in order to get the same size of image.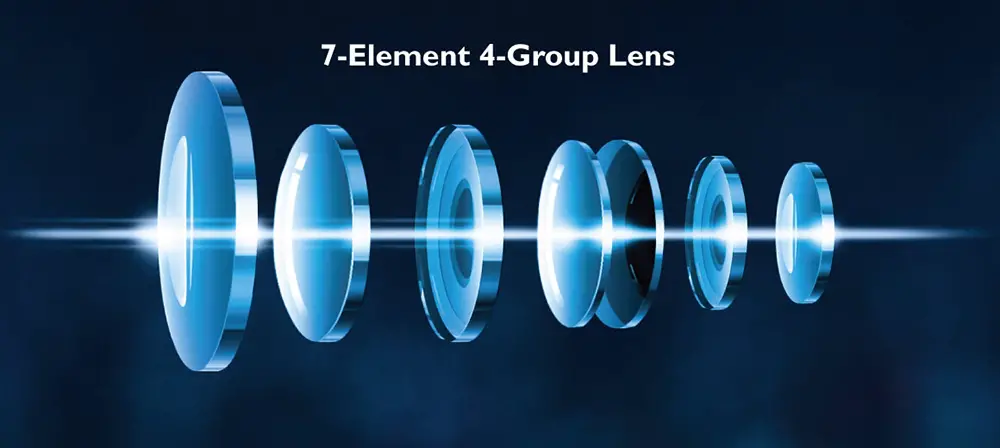 The lower zoom and throw ratio can make placement a bit more problematic than before especially if your space is not big enough. Things also don't get any easier as there is no lens shifting in this unit which means that if you don't line the projector straight you will have to use Keystone correction to straighten the image something that we always suggest you avoid doing as Keystone always degrades image quality and we don't want that.
At least there are three adjustable feet, two at the back and one at the front that can help a little in order to bring the projector as straight as possible. It should be mentioned that the TK800M also has an Auto Keystone function so the projector can square the image by itself for the best possible outcome.
Under the hood the new TK800M uses the latest version of Texas Instruments imaging chip that is responsible for the projector's pixel shifting feature in order to bring the full 4K image on screen. We will talk about this new chip in the appropriate section below but what we should mention is that the chip we get here features various improvements over previous versions and certainly offers better results. Pixel shifting has come a long way since it was first introduced and we have reached a point where it's maturity reflects it's quality making it an excellent 4K alternative to the native projection systems that may still remain superior but also more expensive.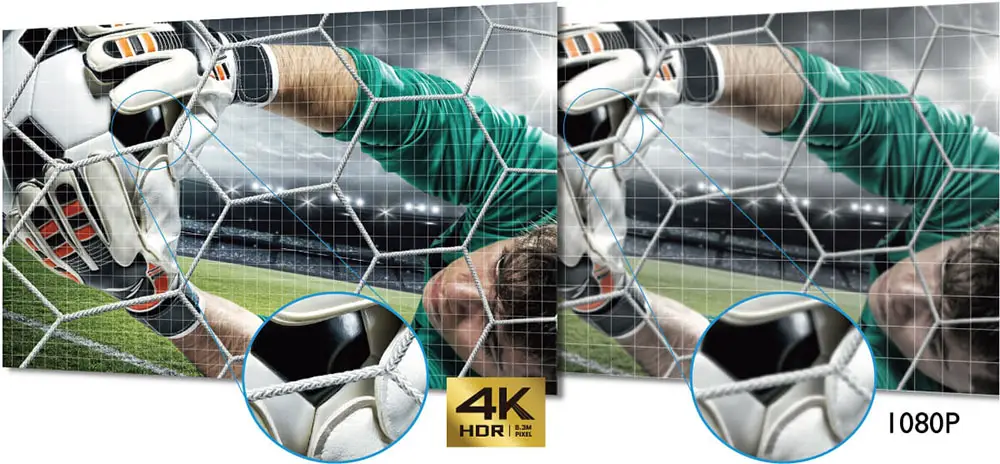 One small weakness that pixel shifting projectors have in terms of design is the usually more noise they produce compared to the native 4K ones. This has to do with the fact that pixel shifters produce noise not only from their cooling systems and fans but also from their pixel shifting system which in some cases produce a slight buzzing.
In some cases and especially when there are quiet moments this sound may be audible that can be a bit frustrating to some but in our case it was not so audible to become distracting. BenQ rates the TK800M at 33 bBA at normal operation mode which can be lowered to 29 dBA in Eco mode. If you are very much sound sensitive then you may want to test it out first before buying but for most people it shouldn't be any real problem.
BenQ claims that the TK800M's lamp can last 4,000 hours in normal use which can extend to 8,000 hours in Smart Eco mode which lowers brightness and decreases fan noise. There is also an Economic mode that ups this number to 10,000 hours by automatically adjusting the lamp brightness while for those that want to hold onto a single lamp for as long as possible there is a LampSave mode that is rated to hold a whopping 15,000 hours but image quality is the worse from all the other modes available.

For last we left the remote and while it isn't the kind of design that will turn heads, for a $1,300 4K projector the one offered is more than enough and we definitely like what we got. Buttons arrangement is good enough with big enough rubber buttons for easy pressing. At the top we find a few function buttons, the usual menu navigation control below, playback buttons under that while at the bottom we get various image control ones.
What we definitely like is the included backlight function that we consider vital for any remote that is to be used in a home theater or entertainment area. Lastly we should mention that since the projector is missing a few functions some buttons do nothing like the Dynamic Iris one.
In general for such a low priced projector BenQ did a good job quality wise. The TK800M may not turn heads by it's appearance but it is what is hidden underneath that matters the most and the designers did good to spend most of the budget to give this projector a very welcome boost in it's performance.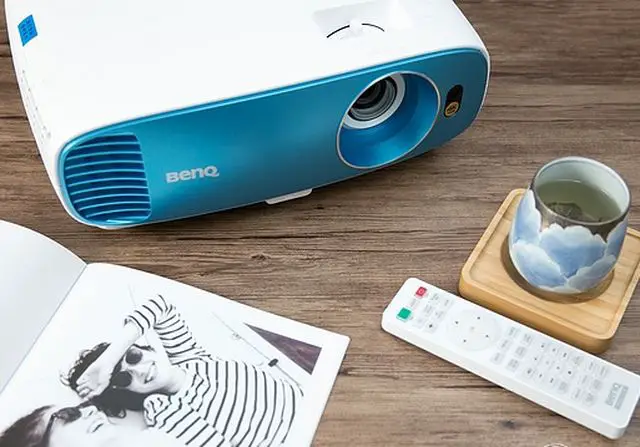 Video Quality
Technology used
As we briefly mentioned above the BenQ TK800M features the latest version of Texas Instruments' 0.47″ DMD (Digital Micromirror Device) imaging chip. This is exactly the same chip that we get in BenQ HT3550 that we had reviewed recently and comes with a few improvements compared to the one we found in the previous TK800.
First of all let's describe what this chip does. By having a native resolution of 1920 x 1080 and by moving it's pixels four times in 4 different positions at extreme speeds our eyes get the impression of a full 4K resolution image. The way this technology works hasn't changed much from when it first came out but it has seen slight improvements over time.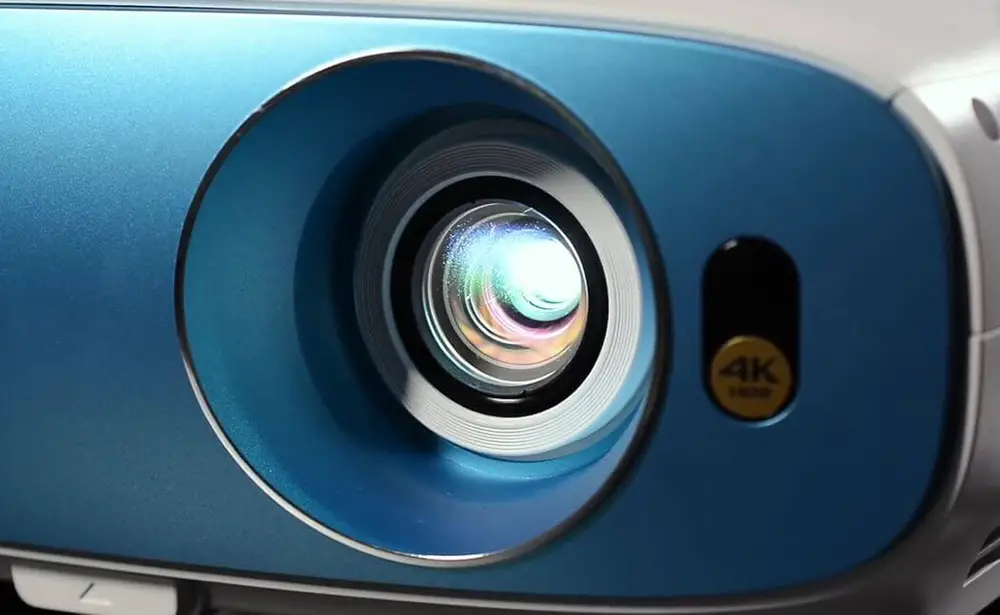 First of all the speed at which the pixels move seems to have improved which means more clarity and sharpness in the image. Also a small problem the previous chip had was a light border would be present around the screen which seems to have been fixed this time. Also since this is a single chip DLP projector it doesn't have the inherent alignment issues that we see with LCoS or LCD projectors that feature three imaging panels that are prone to misalignment something that can result in less sharpness by softening the image.
4K UHD / HDR Content
Let's proceed to our 4K/HDR testing now and the film that we decided to go with is the 4K UHD disc of The Lion King. The film that came out in UHD format recently has an astonishingly sharp and vivid image and it has become somewhat of a reference disc for most of out tests as of lately. The TK800M was able to perform admirably as the combination of the new 0.47″ DLP chip with the improved optics can produce an amazing 4K image that brings out even the tinniest of details. You could distinguish every single hair in the lion's fur while the green jungles and forests provided ample of details for the projector to show.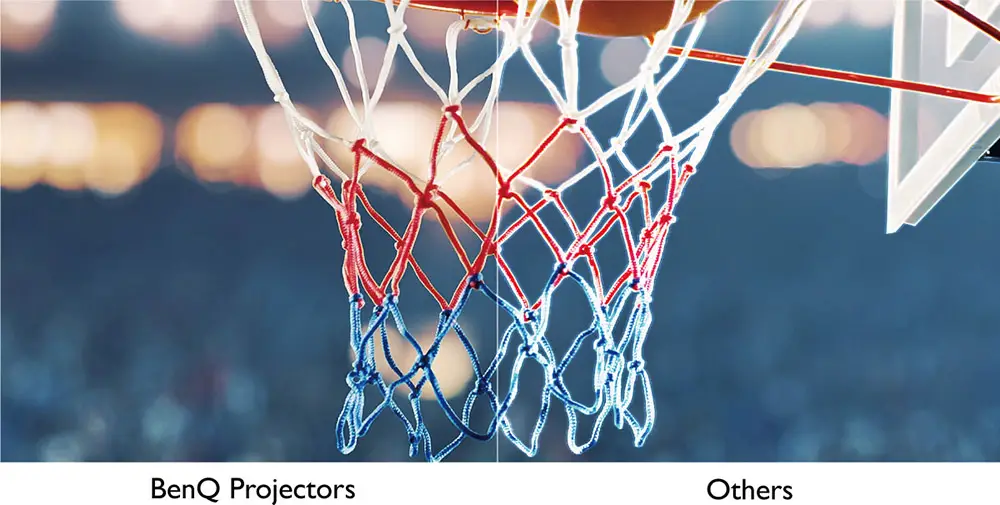 This may be a pixel shifting projector but the kind of sharpness we experienced was not far from what a native 4K projector can produce. But image clarity is not the only thing that is very good in this unit. Brightness is one of it's strong points and the TK800M made sure to bring out it's best with HDR images that were very bright and alive. Obviously the kind of HDR we got cannot compete with the HDR we get from TVs and especially when we are talking about a low cost 4K projector but all things considered the final result left us only with positive feelings.
But the TK800M does not only offers improved HDR performance but also functionality. While the TK800 only supported HDR10 the new model also comes with HLG support that is used mostly for live broadcasting. Obviously no Dolby Vision or HDR10+ to be found but we were not expecting to find any of these two.
Full HD / SDR / 3D Content
Obviously being a 4K projector the TK800M is meant to be used mostly with 4K content but this doesn't mean it's not good enough for HD/SDR content. The film that we usually select for this testing is the Blu-ray version of Oblivion and the first thing that we immediately noticed was the amazing sharpness and amount of clarity the picture had even for a 1080p resolution content.

The look of this movie also helps a lot but it seems that the improved lens that the TK800M uses really brings out all the small details on the screen. The image felt slightly softer in the edges compared to the center but the difference is very small and cannot affect the overall amazing quality we got. With Full HD still going strong rest assured that the TK800M will make the best out of your 1080p library.
And while 3D seems to be a dying feature for TVs nowadays it has found a sanctuary in the projectors segment as there are many models that keep supporting it. And the TK800M continues this trend by not only supporting 3D content but also comes with improved functionality compared to the TK800. As such the TK800M can automatically select the correct timing as well as support 3D auto switching when the appropriate content is detected.
Before you would have to manually select 3D in order for 3D content to be displayed in both TK800 and the HT2550 and it seems that BenQ finally fixed that. Obviously as with all 3D enabled projectors in this price range there are no DLP 3D glasses included which you will have to buy extra. 3D performance was very good but naturally brightness takes a hit during viewing. The TK800M may not be advertised as a 3D capable projector but it's performance in this regard as well as the improvements that come with it are very welcome ones.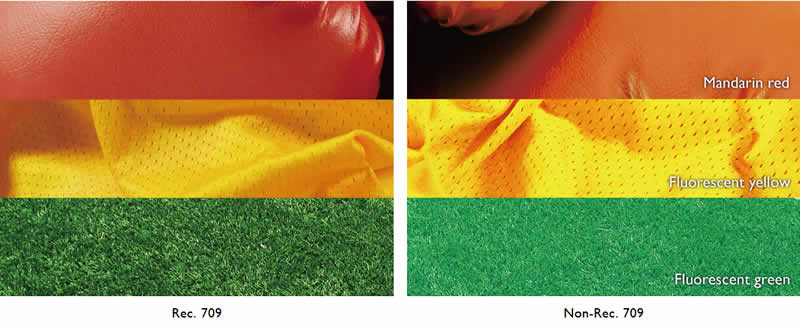 Color Coverage
The projector has been equipped with a new 4-Segment (RGBW) color wheel and this means that color gamut has increased from 92% of the previous model to 96% of the BT.709 which brings it in line with the HT2550 projector meaning more vivid and lifelike colors.Obviously 96% coverage doesn't exactly cut it to claim that this projector supports wide color gamut as it would have to exceed 100% to do so but even so the improved coverage is a welcome one.
The white segment in the color wheel is what gives this projector the necessary boost in brightness but obviously this comes at the expense of color accuracy but at this price range we shouldn't expect more as it is in reality a trade-off of specs.
One thing that should be mentioned is that some people may see the familiar rainbow effect that is common in single chip DLP projectors. The TK800M uses a 4X RGBW color wheel that should lower the probability of this effect becoming visible but just in case you should always test it for yourself in order to be 100% sure.
Brightness / Picture Settings
BenQ has rated the TK800M as a 3,000 lumens projector with it's 240 watts lamp which is amazing but what is important is how much of this holds true in a real world situation as very few projectors manage to get close to their theoretical brightness performance. This unit comes with various picture modes that includes Bright, Vivid TV, Cinema, Sport, Football and 2 User defined modes. There is also Silence, 3D and HDR modes.
Silence mode is called liked that because it disables the pixel shifting tech and makes the projector literally work as an 1080p unit. The 3D and HDR modes are auto enabled when the appropriate content is detected. As for the rest of the modes naturally the Bright mode can produce the most brightness as we measured 2870 lumens which is very close to it's theoretical performance and is intended for very bright rooms.

Next comes Vivid TV with 2753 lumens that BenQ suggest to use in rooms with some amount of ambient light while Cinema offers the lower brightness of the three with 2617 measured lumens and is mostly recommended for completely dark rooms or areas with very little light.
Now after some back and forth between the different modes the one that seems to be the most accurate one is the Cinema mode but even in this mode some calibration needs to be made in order to get better colors. This doesn't mean that it has bad out-of-the-box color performance, it's just that it can get even better with some tweaking. Having said that the Cinema mode is our recommendation for both HD/SDR as well as 4K/HDR content as the 2617 lumens of brightness that we measured are more than enough for very bright and vivid HDR images.
Black Levels / Contrast
The most obvious weakness that plagues almost all single-chip, lamp-based DLP projectors is the bad or average at best black levels they can display and the BenQ TK800M is no different in this. If you want true black levels you will have to go for a more expensive unit like the UB series from Epson but if you are extremely tight on budget then you should get used to such black levels performance.
Also the TK800M is missing a Dynamic iris which could help improve things in this regard but models that use one are much more expensive than this one. Everything has a price and while this unit excels in other areas it's price doesn't allow it to perform better here and this was more or less to be expected.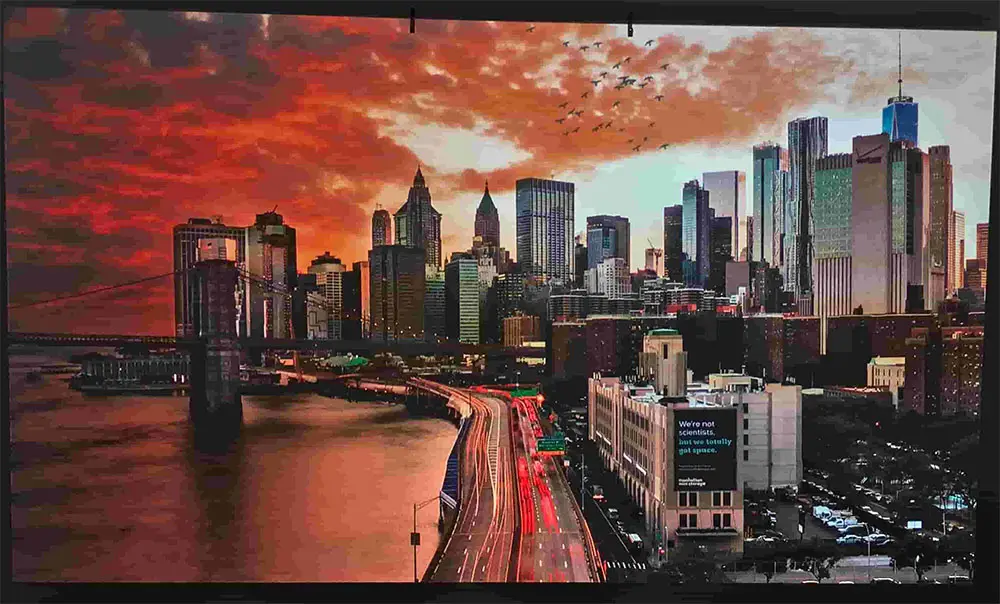 Input Lag
Let's see now how the unit fares in the input lag tests. Our measurements showed an input lag of 43.2ms which is very good for gaming but not exceptional. For any kind of casual gaming it will be more than enough but if you take your gaming sessions very seriously then there are other projectors that offer better input lag for such occasions.
But in order to test our numbers we connected our PS4 for some Call of Duty WWII gaming in order to determine if this level of input lag would be problematic. Now as we mention in all our reviews we don't consider ourselves gaming experts so our observations are based mostly on our casual gaming experience.
As such we didn't have any problems during our gaming session, responses to our commands were very fast and at no point did we notice any delay in our actions. So if you are a casual gamer as we are and you like to use this projector for mixed use then rest assured that it will serve you very well in this regard.
Motion Performance
When it comes to it's motion performance the TK800M managed to perform very similarly to what we had seen in our HT2550 review. The image managed to retain good clarity even during fast action scenes but obviously blur would appear in such moments. The projector doesn't seem to have any kind of CFI frame interpolation that could help to improve the overall motion performance but we were not expecting to get any as the extremely low price wouldn't allow for it.
Inputs
When it comes to the projector's connections the TK800M features exactly the same setup as the one we saw with HT2550 and is also the same with the 2017 model, the TK800. As such the ports we get are all grouped together at the back in a special inset to hide a little the cables connectors. From left to right we get two analogue audio 3.5mm mini-jacks, one input and one output, a VGA port and 2 HDMI ports with one being HDCP 2.2 while the second is only HDCP 1.4 in order to use if you have older equipment that doesn't support the latest protocols.

To the right of the HDMI ports there is a USB port of type mini B that is used for service, the common RS-232C port for command and control, another USB but this one is Type-A and provides 5V/1.5A power that is ideal to charge 3D glasses or power the optional QCast Mirror dongle and last a 12 volts trigger port that can be used to connect a motorized screen.
The amount of ports provided are more than enough for any basic setup. The analogue audio ports are obviously there to maximize the portability efficiency of the projector while the inclusion of a HDMI 2.0 port means that the TK800M supports 4K/60fps content which is definitely welcome.
OS, Apps and Features
The TK800M menus consist of six categories with Picture having all the settings for colors calibration and brightness, Display that include various image settings, Installation that has some setup settings, Basic System Setup, Advanced System Setup and lastly Information that reveal various details like input source, picture mode, resolution and colors. Although there are many settings available there are very nicely categorized and you can find anything you need with ease. For those dealing with a projector for the first time it may take a bit of time to find your way around all the menus but in general it shouldn't be very hard after a while.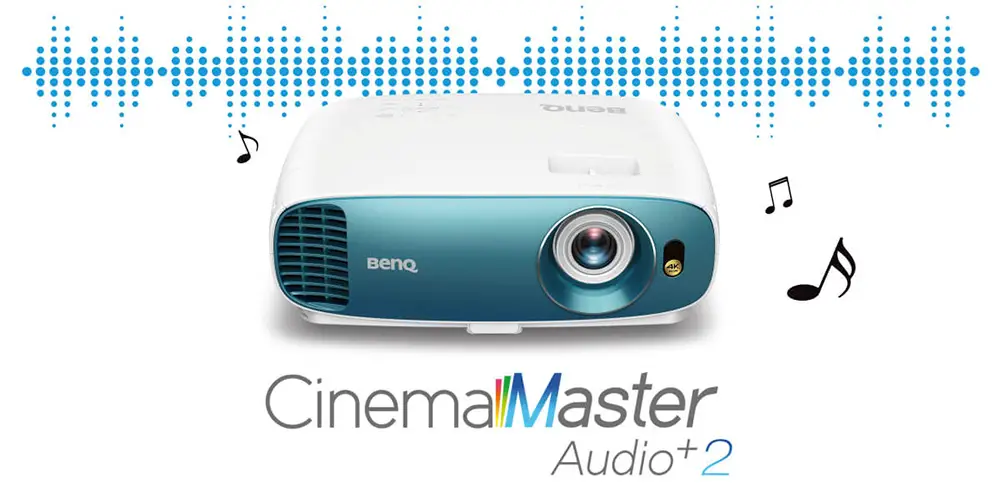 What we found disappointing is that while it's sibling, the HT2550 comes with a suite of image processing features called Cinema Master this is nowhere to be found here. To be honest the TK800 didn't have it either so it's not like we lost this feature here or something and it seems that this is kept only for the CineHome series that the HT2550 belongs to and it's a class above the one we find the TK800M. Instead of that BenQ has added the Football and Sport modes that are supposed to improve skin tones and various colors depending each setting while also improving on the dialogue against the rest of the sound effects.
And since we are talking about audio the TK800M comes with BenQ's CinemaMaster Audio+2 system that according to the manufacturer provides a wider frequency range from a powerful 5 watt speaker placed in a resonant sound chamber for deep bass and soaring highs while it's audio-enhancing technology provides exclusive EQ algorithms for pure clarity and sensual sound quality. The promotional material sounds very good but to be completely honest here, there is so much such a little speaker can do in any given situation. Yes, having a built-in speaker vastly increases the projector's portability making the need for an audio system not so big but for good audio immersion you will need a separate audio system to handle the sound.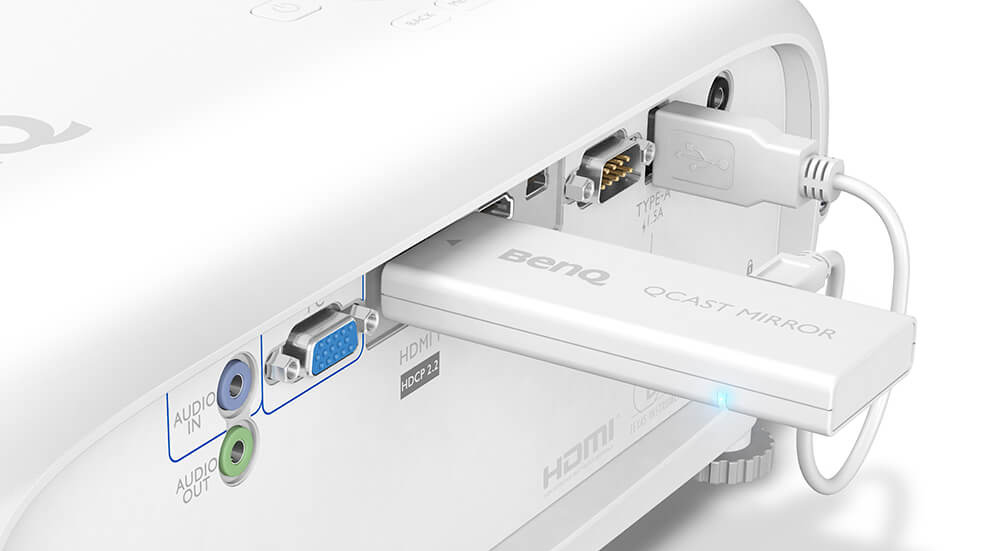 Lastly we should mention a couple of optional gear that the TK800M supports. The first is a QCast Mirror dongle that can be used if you want to do group meetings while it also supports screen mirroring. The second is a Wireless FHD Kit that you can use in order to stream wirelessly Full HD content to the projector.
Final Thoughts
The TK800M is marketed as a "sports" projector that is sacrificing color accuracy for better brightness but this doesn't mean that it cannot be used in a home theater or home cinema room. BenQ took everything that was good with the old TK800 model and improved upon it with the end product being more than impressive. But the real question is how much better the TK800M is compared to it's predecessor?
The new TK800M can produce amazing 4K images that is the result of the new lens as well as the new DLP chip from Texas Instruments. This new chip has also eliminated the light border around the image that was plaguing the previous models and many had complained about. This unit also comes with a new and improved color wheel and as a result color coverage has increased to 96% of the REC.709 color space. Brightness was the strongest area of the TK800 and things have improved here also as the TK800M comes with even higher measured brightness as well as improved color mapping for HDR content. We also get HLG support that was missing before. Lastly we got improvements in it's 3D capabilities as we get automatic selection of the correct timing as well as 3D auto switch which was missing in the 2017 model.
Design wise BenQ hasn't changed anything at all as the new unit keeps exactly the same form as well as connections configuration. The remote is also the same which is a good thing as we liked the one on offer with it's backlight functionality.
With all being said is there anything bad to talk about? Well, the most obvious one is the slight downgrade on the zoom, as we get a 1.1x here vs the 1.2x of the TK800, which also means a lower throw ratio. What this means is that the TK800M offers lower placement flexibility which is only becoming worse as there is no lens shifting. Black levels are average at best but this is common in all 4K projectors in this price while there is still no wide color gamut even with the improved color coverage.
Closing we will say we are really impressed with what we got in this unit. The BenQ TK800M comes with improvements almost across the board. We are in the sub-$1,500 territory here and with the projector's $1,300 price tag it is an amazing bargain for anyone that is looking for a portable projector that is good not only for sports and gaming but for an occasional movie session also and as such gets our highest recommendation.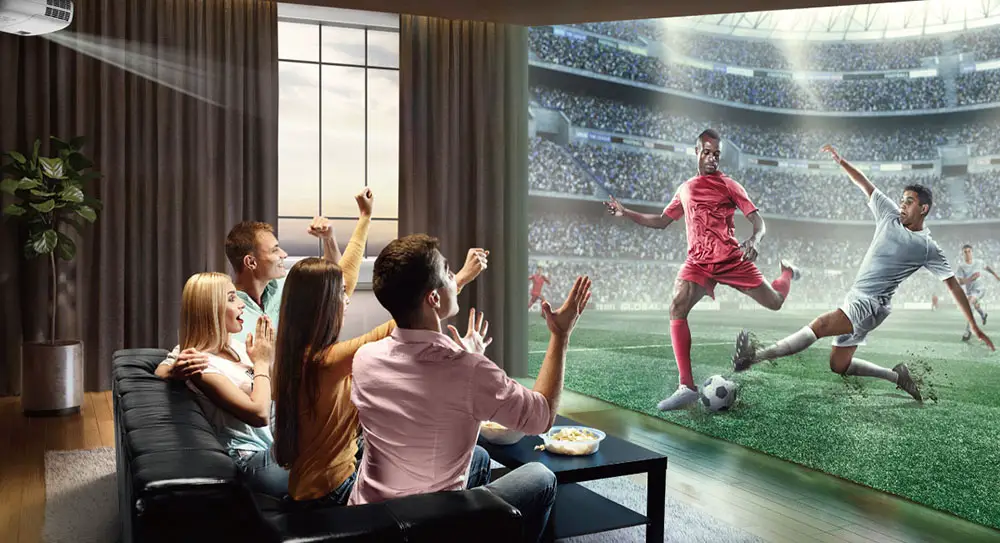 For more reviews you can check our dedicated 4K Projector reviews list or even look at our Product Reviews Table where you can find the brand and specific product you are looking for.
Also don't lose the chance to subscribe to our Newsletter and gain exclusive privileges.
---
Cheapest Places to Buy :
---
BenQ TK800M Specifications