Bose TV Speaker
Design -

92%

Movies Performance -

82%

Music Performance -

85%

Inputs and Features -

82%

Price / Quality -

88%
---
Cheapest Places to Buy :
---
If there is one thing certain is that soundbars have come a long way the last few years. But while some units have become bigger and more complex in order to come closer to performance to a full surround audio system there are others that aim for the absolute basics in order to provide the user a simple to use experience. Bose is such a manufacturer that has been in the field for many years now and they offer some good quality soundbars but in our Bose TV Speaker review today we will be looking at their smallest offering in this category.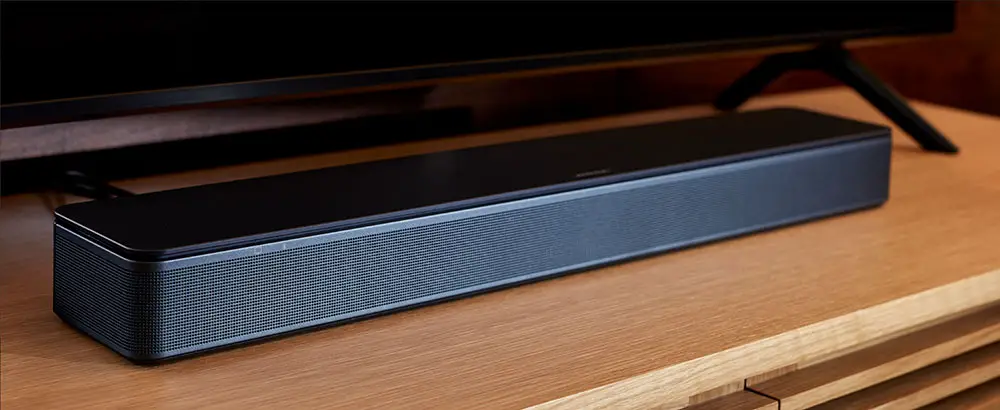 The Bose TV Speaker actually is the successor of the Bose Solo 5 TV and is basically a more compact version in looks of the Bose Soundbar 500 and Soundbar 700 that we had reviewed some time ago in order to be able to have a more unified lineup with similar designs but obviously with different features and capabilities. The Bose TV speaker is an extremely small, single unit soundbar and it is clear that Bose had designed this one with simplicity and easy of use in mind while also taking into account the limiting space many of its users would have.
This is not the first time we see such a compact offering as very recently we reviewed a similarly compact soundbar from Sony, the Sony HT-MT300 so it seems that many manufacturers nowadays are designing units with size being the first and most important aspect. The Bose TV Speaker is basically a 2.0 channels design, comes with very basic features like Bluetooth streaming and optional connection to a wired subwoofer and promises to offer some decent upgrade to your TVs audio.
In the end is the soundbar worth it or its extremely small size is having a detrimental effect on its performance? Let's find out…
Design, Inputs and Features
Exterior
Bose is always known for the premium quality materials they use on their products and the Bose TV Speaker could be no exception. The unit seems to be following very closely the design of the Soundbar 500 but on a smaller scale. It has the same lines, the same design pattern and the same materials used. You will not find the premium tempered glass here that is used on their top Soundbar 700 but it still gives you a sense of quality that we don't usually see in such a small unit.
The soundbar may not be the smallest we have tested to this day, as this goes to the Sony HT-MT300 that we reviewed recently, but still is one of the smallest designs we had the chance of reviewing. Measuring just 23.4″ x 2.2″ x 4″ (593 mm x 56.1 mm x 102.1 mm) and with a weight of only 6.61 lbs (1.95 kg) this soundbar is so compact that it can fit anywhere you want and under any TV size you may have. Keep in mind that there are no up-firing or side-firing drivers here so it's easy to even place it inside a cabinet or more confined spaces for that matter giving you extreme flexibility.
The main material being used is obviously plastic but in contrast to some other cheap offerings the one used here feels more solid and sturdy giving you a sense of better overall quality when you hold it in your hand. As we mentioned above Bose decided to unify their designs so the Bose TV Speaker has very rounded corners and straight lines and really feels like a 2020 product. The front and sides are covered by a single perforated aluminum grill similar to the 500 and 700 soundbars while on the back we get all the connection ports grouped together.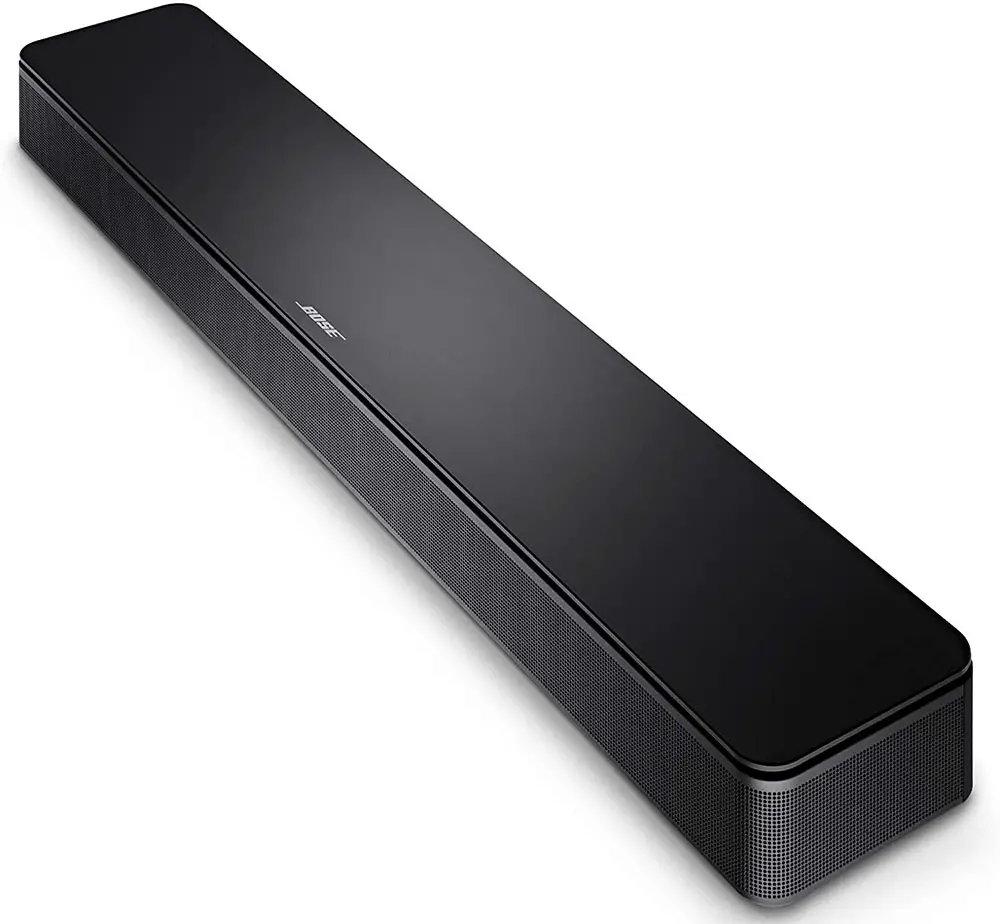 A matte finish texture is used for the whole top side that looks nice without being anything fancy. The Bose logo is sitting prominently at the center breaking the otherwise monotonous face. Now this must be one of the rare cases where a soundbar doesn't feature any built-in buttons and while this may be strange to some we believe that you are not missing much as the remote will always be your main means of control. Yes, having the option is always good but for some reason Bose thought these were not so necessary in this unit. Also if you consider that the much more expensive Soundbar 500 had only two built-in buttons it seems logical not to find any here.
Now one thing that seems to be somewhat similar from the bigger models is the type of on-board display being used. On the left side, between the top face and the perforated grille we get two LED lights with the left one being the TV light and the right one being for the Bluetooth. Now these two lights, depending on their combinations and colors, indicate various functions of the unit.
To be honest we completely hate this kind of display as it becomes extremely difficult to remember all combinations and you will have to look at the manual more often than you should to find what the soundbar is doing. We have seen even very cheap offerings going for a fully functional display so in this regard the Bose TV Speaker did disappoint us.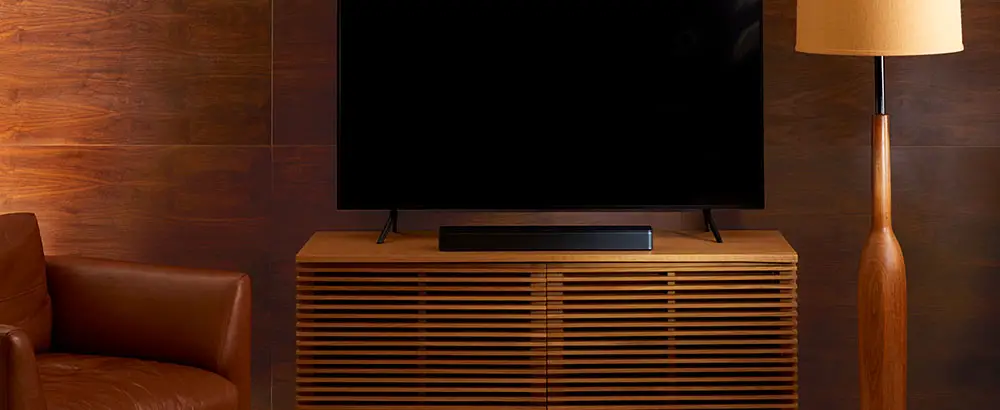 The back of the unit is pretty plain with a single inset on the right side grouping all the connections together. We definitely love the fact that the power connector is near the rest as this makes cable management far easier. Also the soundbar has a very low profile so there was no reason for any IR repeaters to be included and thus keep the cost of the unit as low as possible. Most probably you are not going to have a problem obstructing your TVs IR sensor but just in case we always recommend measuring it first before purchase just to be sure.
The soundbar is a single unit solution so no subwoofer here although there is the option to add one separately if you want but we will talk about this a bit further down our review. Lastly there is the option to wall mount the unit but you will need the Bose Soundbar Wall Bracket for that, that is sold separately.
Overall the Bose TV Speaker is a simple but yet good quality design. It is very pleasing to the eye, it feels more premium that other designs but has a couple of weaknesses like no built-in buttons or the type of display being used that for many may not be such a big deal but are worthy of mention.
Internal Hardware
The Bose TV Speaker is a simple 2.0 channels system with no additional drivers either for Atmos or side-firing woofers for surround activity. But while the drivers configuration is pretty simple the way that Bose decided to place them is rather unique and we don't usually see this in a soundbar. But to be honest with such a short length placing the drivers at each side wouldn't make a huge difference as they would still be too close to each other to provide any meaningful channel separation.

The unit is using two oval full-range drivers sitting in the middle but locked at an angle in order to provide a more wide soundstage. A single tweeter has been placed between the two drivers in order to help with the high frequencies and provide more clear dialogue.
There is not much else in terms of information on the hardware that is being used. Bose is very secretive when it comes to specs and we have no real indication of power output, frequency response or any other specifics about how the soundbar performs on paper. We said above that the unit can also be connected to a wired subwoofer but we will analyze this in the extra features section shortly.
Connectivity
In terms of connectivity the Bose TV Speaker aims for simplicity so don't expect anything fancy here. Looking at the inset at the back of the unit and starting from the left we get a single HDMI input, a Digital Optical input in case your other devices don't have HDMI ports, an analogue audio stereo input, a USB port that is used only for service and a Bass port for connecting a subwoofer.
With soundbars we are used to get a very limited number of ports but the Bose TV Speaker surprised us by including almost all the basics. It has HDMI along with analogue and digital ports with is definitely a plus. The HDMI port also supports ARC functionality for those that are interested in it while the optical port is enough for both Dolby Digital and DTS that are supported by the unit.

There is also wireless capabilities but are limited only to Bluetooth functionality as there is no WiFi here. With Bluetooth v4.2 you can stream music from your mobile device with stable and trouble free connections.
Nothing worthy of note here. We like that we get a bit of everything so either you want to use the standard HDMI port or an alternative analogue or digital port they are all available for use.
Control Options
Next we will see the means of controlling the Bose TV Speaker and to be honest they couldn't be more simple and straightforward than they are. Basically the only means of control is the included remote as the soundbar lacks any built-in buttons, mobile app support or voice control functionality so try not to loose it!
The included remote is a tiny one as the soundbar lacks a wide variety of features that would require a bigger remote with more buttons. It's made out of plastic and its design is the usual rectangle shaped with slightly rounded corners. The back has a slight curve for better handling but Bose has added on the top of it a straight stand so it will not wobble in a straight surface. What is unique is the kind of batteries this thing takes and it must be the first one we see that goes for a thin CR2032 battery type instead of the usual AA or AAA batteries most remotes use.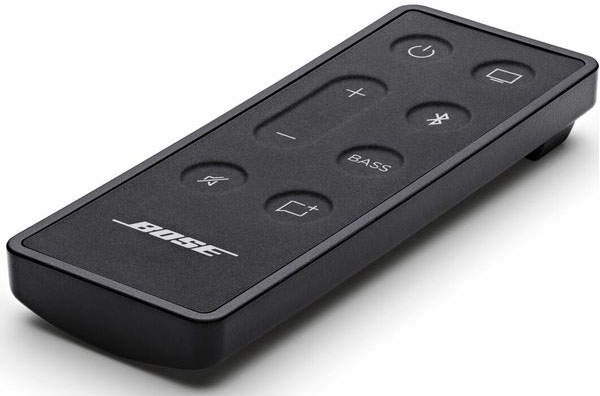 The limited buttons on the front are rather unique also. Instead of the usual rubber buttons that protrude from the remote these actually are placed on insets that may not add anything when it comes to practicality but certainly looks different from most remotes we have used before. The available buttons include the power on the top left corner with TV and Bluetooth selection on the right. Volume and bass control is next while on the bottom a mute and dialogue buttons are all that is available.
Now the Bose TV Speaker may be lacking in extra control options but at least you have the ability to use your TVs remote through the HDMI-CEC functionality in case you have used the HDMI connection. Lastly since the soundbar is Roku TV ready you can use your Roku TV remote for control also.
And that's all. The remote here is the basic and only means of control so if you are looking for something more unfortunately Bose hasn't added anything else. From one side this makes things simpler but on the other hand the more options you have the better.
Extra Features and Services
When you consider a soundbar like the Bose TV Speaker simplicity and ease of use are its main points of focus so when it comes to extra features and function the unit is pretty much on the light side so you shouldn't have very high expectations of it.
As always first we need to mention what kind of audio the soundbar supports. Obviously with its limited hardware you shouldn't expect much and the unit supports Dolby Digital and DTS with both of them being downmixed to stereo only as the unit has only two channels to work with. This means no support for Dolby TrueHD or DTS-HD Master Audio and obviously no Dolby Atmos or DTS:X.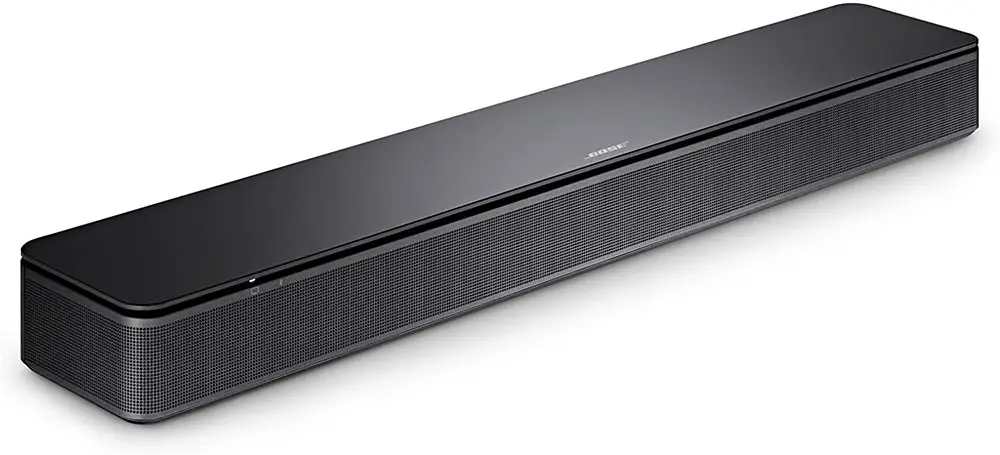 What was rather surprising was how light the unit is in terms of sound modes being offered. We have seen some dirty cheap soundbars offer much more than what this one has and to be honest there is a line where less adds more to simplicity than lower its actual value.
The Bose TV Speaker has actually a single extra sound mode that you can choose other than the default one and it's called Dialogue mode. With Dialogue mode the soundbar improves the clarity of dialogue and vocals in movies, TV programs, and podcasts by adjusting the audio balance of the system. And that's it basically. There are no other sound modes or settings available for you to choose from and even for such a small and simple soundbar this is a bit underwhelming.
The unit may be lacking any WiFi support and as a result no online streaming but at least we do get Bluetooth functionality which means you can stream audio from a Bluetooth enabled mobile device. Connection was pretty stable during our testing and was as simple as any Bluetooth connecting process. Keep in mind that there is a USB port but unfortunately it cannot be used for audio and is there only for service.
A few other notable extras include a auto wake up and shut-down function where the soundbar turns on when it detects an audio signal from one of its inputs. It is also Roku TV Ready certified which means that once connected to such a TV you can control the soundbar with your Roku TV remote and access the speaker settings using the on-screen Roku TV settings menu. Lastly there is third-party remote programming support which means you can teach the soundbar to be controlled by any TV remote you may have which can be pretty handy in case you want to minimize the amount of remotes in your room.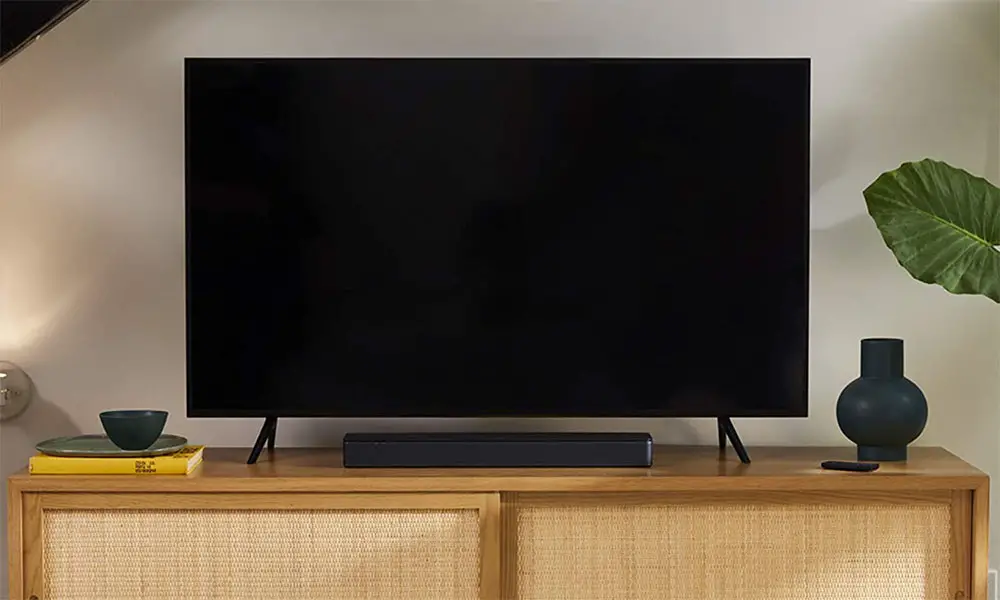 With the unit's Bose SimpleSync technology, you can also connect your Bose TV Speaker to a Bose Home Speaker or Bose Soundbar to listen to the same song in two different rooms at the same time. But for that you will need to also have the Bose Music app in your mobile device downloaded and installed.
For last we left the ability of the unit to be connected to a subwoofer in case you would like to have a bit more punch on the low end. But keep in mind that this has to be done with a wired connection meaning you will have to deal with a cable between the two. The Bose TV Speaker supports both subwoofers available and these are the Bose Bass Module 500 and Bass Module 700.
The Bose TV Speaker is extremely light on features and functions. We do get that Bose wanted to create a simple design but there is a point where too little actually affects the soundbar's value rather than becoming an efficient design decision. We believe that the soundbar lacks a little especially in its sound capabilities as a few more sound modes would definitely add more flexibility to an already extremely simple system.
Initial Setup
The Bose TV Speaker is one of the simplest soundbars we have tried and this means a lot for those people that are looking for such an easy to use system. Unpacking, placing and connecting the unit is done in minutes and as there are not many features or options to fiddle with you will be ready to go in no time. Even if you plan on adding the optional subwoofer there is not much settings to deal with other than adjusting the bass level to your liking.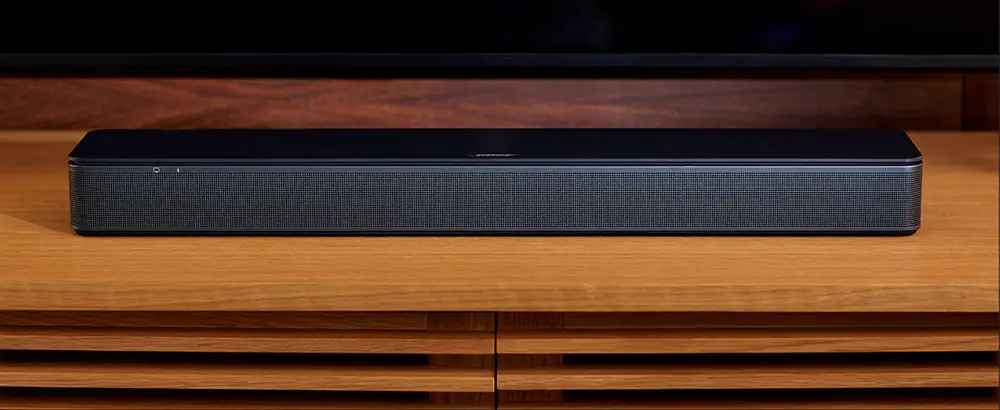 Now for our case we connected our Panasonic UHD player to our test TV and then from an HDMI output we connected the TV to the Bose TV Speaker. We did this because the soundbar lacks an HDMI output that we could use to connect everything the other way around. We could also use an optical connection but we always prefer the HDMI one. Both are fine for what the soundbar offers so either way is good enough.
After all connections done, and since there are practically no sound options to deal with, we were ready for our testing.
Movies
For our first test we opted for the Blu-ray version of Avatar with its included Dolby Digital mix. There is not much to say about the film that has not already been said and we only hope a 4K UHD version will be released at some point in the future to use in our future reviews.
Now the first thing you will immediately sense is that the sound at the front feels more satisfying that what your TV would ever be able to produce. It certainly had more volume, more clarity and more details and if you consider the size of the soundbar it makes it even the more impressive. Now while there was a certain upgrade at the front of us there are a few things that need to be said.
There is not much in terms of panning effects as the design of the two front channels does not allow for much. The sound feels a bit static although you get the occasional extension depending on the content. The soundbar is using an extra tweeter in between the two drivers and this helps a lot with the dialogue even if there is not a dedicated center channel here. This means that in terms of dialogue driven moments the Bose TV Speaker fared pretty well with clear and defined dialogue even during hectic action scenes.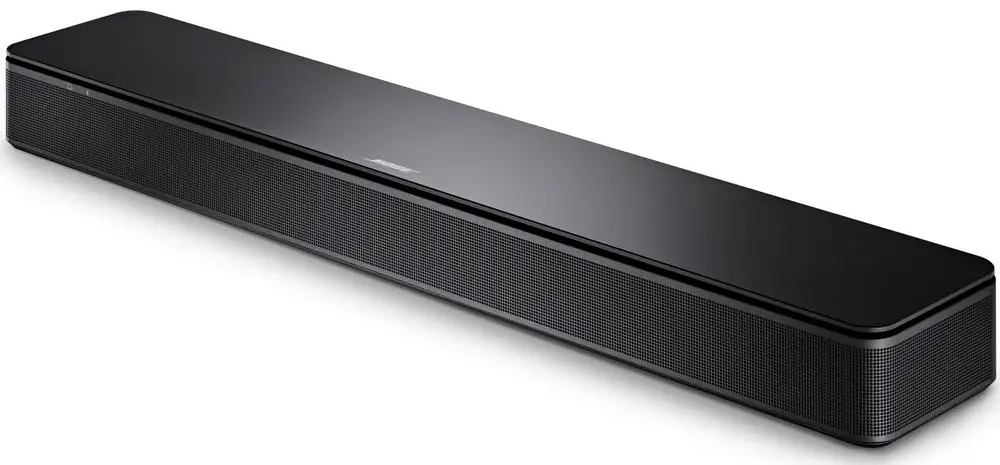 Avatar is a film that relies a lot on environmental effects and in scenes like in the jungle much of this immersion comes from small details and ambient sound effects. The unit did a valiant effort to render everything faithfully but you should keep in mind its limited capabilities so while we did get satisfying sound it didn't do much in terms of enveloping us in the film's magical environment.
And this brings us on the unit's surround capabilities which are rather disappointing. The soundbar not only lacks dedicated surround speakers but also any kind of virtual surround tech so everything was firmly fixed at the front of us. We do understand that the soundbar is mostly meant to improve your TVs audio and not to create a faithful surround audio environment but nevertheless if you are looking for any kind of surround action you will not get any here.
On the low end we were a bit surprised by how punchy bass such a small unit can output. It may not be able to complete against a dedicated subwoofer but it had a pretty good bass for most situations. Certainly in action heavy scenes like the final battle between the Navi and the corporate soldiers we would like to have a bit more thump but what we heard was good enough.
Now we should mention that while the soundbar keeps a pretty good output in normal volume when pushed to its extremes some of this is lost and there is some audible distortion that throws everything off balance. Obviously the unit was not designed for pushing its volume to the max but if you like to go high on the volume you should take this into consideration.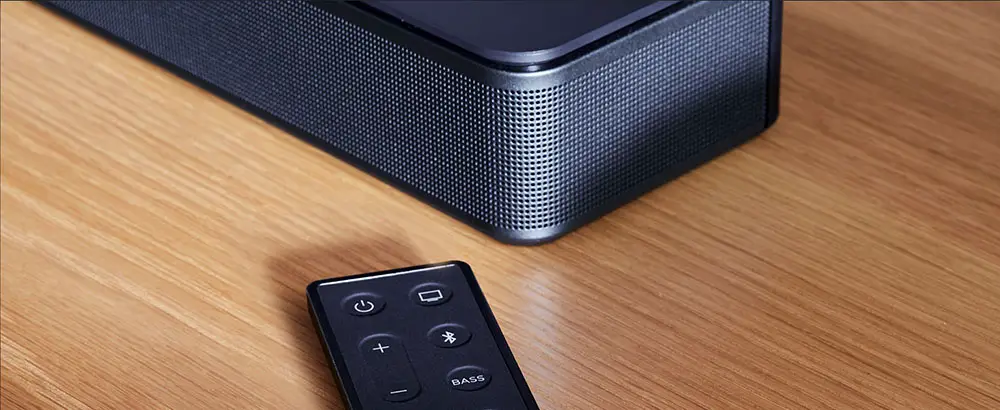 Overall for this test we would say that what we heard was slightly better than what we originally expected. Nice upgrade over our test TV with good balance at normal volume and enough low end for action scenes but on the other hand the size of the unit limits its extension and immersion capabilities while surround activity was non existent.
For our 2nd test we tried a bit of Olympus has Fallen in Blu-ray that comes with a nice and satisfying DTS mix. The film is not extremely high on environmental immersion and instead focuses more on action and dialogue and thus the Bose TV Speaker seems to fare slightly better here.
First of all as before all action was fixed at the front with not a lot of extension as the size is rather limiting here. But even as such from the get go the sound felt more pleasing, more defined and more higher resolution which helped to make the movie more interesting. Dialogue, even without a center channel, was very clear and with the film having a lot of talking this made things easier to follow.
On the low end there was ample of machine gun fire, explosions and in general low end action with the unit making the best it could which can be considered adequate but not overall impressive. There was certain power on the lower registers but not enough to shake your room or keep you at the edge of your seat.

Once again there was no surround activity to be heard of and everything was firmly coming from the front. This is not a soundbar meant for any kind of surround enjoyment and this was pretty clear in our testing. The front soundstage was satisfying enough with good volume, clear dialogue and nice presentation while the low end was ok but lacked a bit in more heavy action scenes.
Closing this part of our review what we can say is that while the Bose TV Speaker is not going to drop your jaw on the floor by its performance what it offers is a nice boost over any kind of TV speaker system can do. If you want a small soundbar to enhanced your audio enjoyment this one can definitely offer you that.
Music
Next is our music tests and for this part with the limited capabilities of the soundbar our only way was to use Bluetooth streaming which is not ideal when it comes to audio fidelity but was the only option this unit offers as there is no USB streaming available.
In terms of music quality the soundbar offered what you would expect from a compact system like this. There was not much expansion in the front soundstage although occasion sound sources would appear in places other than directly from the center. Hearing music, even for casual use as this soundbar is meant for, feels more pleasing and satisfying than just using the TV speakers. It may not have been a day and night difference but the change was more than obvious and the boost in performance, even if the quality is not much improved, was a welcome one.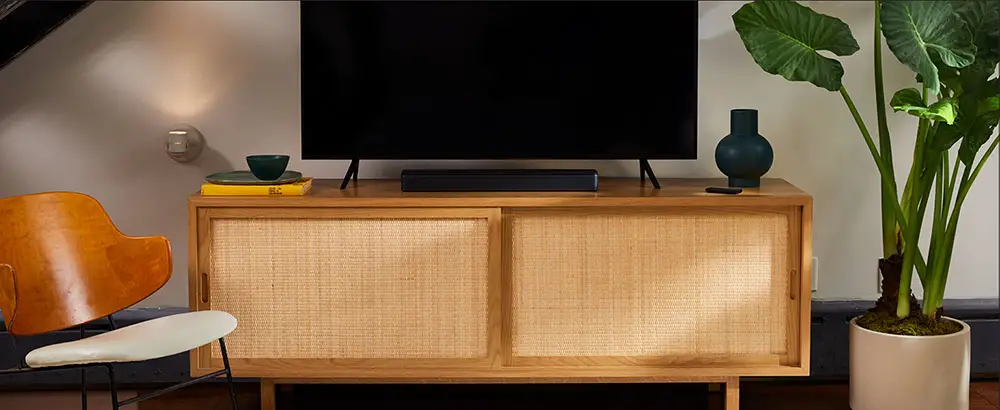 Now while sound definition was pretty good once again when we pushed the volume close to the max sound distortion was a bit audible with compression artifacts being more obvious than we would like. The unit is not meant to be used to its limits and this was obvious in all our tests. But if you plan on using it at normal volume levels you shouldn't have the slightest of problems.
Sound imaging was ok but very well defined while stereo panning effects although obvious were lacking in definition and overall extension that larger soundbars can provide. This was to be expected as the small size has a detrimental effect on it performance here.
Overall the unit did a decent job and will neither disappoint or extremely excite you. Mid-range had a good tone to it without punching into the details too much, the high frequencies felt slightly more exciting than what we would like but without becoming bothering during prolonged use while the bass was ok for casual music hearing. The Bose TV Speaker can be an excellent companion in case you are a casual user and don't have high expectations out of it.
As we always do in our reviews we tried various types of music in order to have a better idea how the soundbar behaves in different situations and in general we can say that the soundbar behaved very similarly across the board. Nice boost of sound but without offering anything that will wow you making it an idea suggestion for casual listeners and users.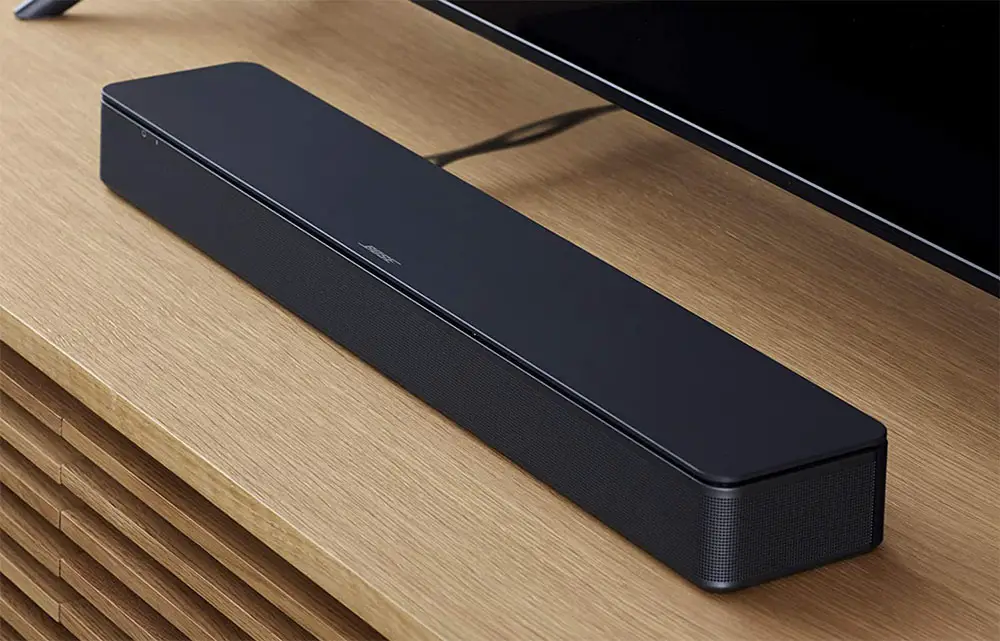 Final Thoughts
The Bose TV Speaker is the kind of soundbar that was designed with a specific purpose. To offer a simple and easy to use system to those that have almost no extra space in their TV room but seek some kind of improvement over what their TV can do. And it seems that in this regard Bose has managed to nail it as the soundbar in review does exactly that.
As we described many times already its single most strong aspect is its simplicity in combination with its compact size. If you have almost no space for something more there are not many options to consider and the Bose TV Speaker is one of them. Also while having more features means more flexibility the lack of many makes the soundbar an excellent plug-and-play unit as you don't have to deal with settings and audio calibrations. You just connect and use which can be a very important factor for many. Bose is known for their build quality and the soundbar, even if it is supposed to be such a compact design, shows this very obviously. And lastly we like the optional subwoofer connectivity as it gives a bit more flexibility to those looking for a more active and punchy low end.
On the downsides what we can say is that while the difference between this and the usual TV speaker system is obvious you shouldn't expect to get a whole new experience. Improvements are heard across the board but there are far too many limiting factors to consider it being in a whole new level of immersion. Also surround activity is completely missing in action as there is no option to add rear speakers or any kind of virtual surround support available. Lastly the soundbar is not cheap and at this price you can definitely find fully featured soundbars with a lot more capabilities but also bigger in size.
In the end what you pay here is the compact size of the unit and its ease of use. In both of these Bose has nailed it and the Bose TV Speaker is the kind of soundbar that can offer plenty of casual enjoyment in a small room.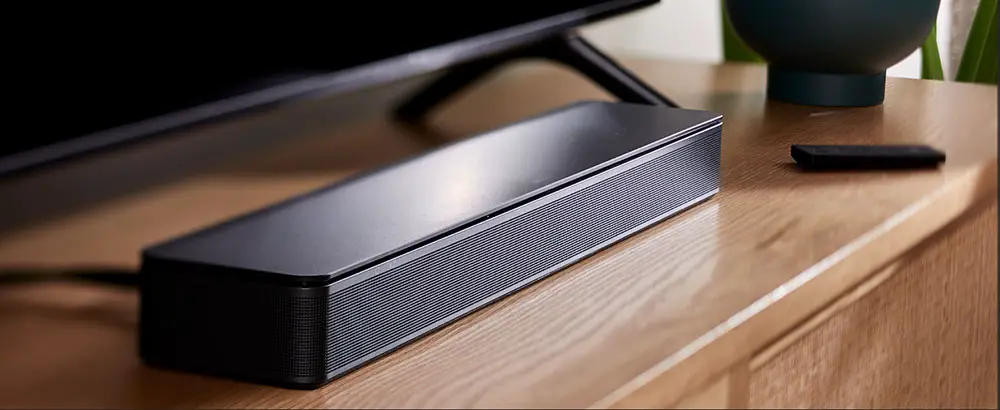 For more reviews you can check our dedicated Single Soundbar reviews list or even look at our Product Reviews Table where you can find the brand and specific product you are looking for.
Also don't lose the chance to subscribe to our Newsletter and gain exclusive privileges.
---
Cheapest Places to Buy :
---
Bose TV Speaker Specifications