Dali Oberon 7
Reviewed at $1,499.00 (pair)
Movies Performance
9.2/10
Inputs and Features
9.5/10
Pros
Amazing sound for its category
Elegant design with pleasing color variations
Wide dispersion
Great price
Cons
Not extremely detailed sound
The grilles are not magnetic
Not the best option for extremely small rooms
---
Cheapest Places to Buy :
---
This is not the first time we will be looking at the DALI OBERON lineup as a couple of years ago we had the pleasure of trying out the smaller OBERON 5 which gave us excellent performance considering its price and size. But now in anticipation of a new member in the floorstanding OBERON family, the OBERON 9 which by the way takes its place as the biggest speaker in the series, it was about time we test the other floorstander available for some time now. So in our DALI OBERON 7 review we will be testing a speaker that promises to offer great audio output for slightly bigger spaces than the OBERON 5 could and do that at a still very low price for what you get.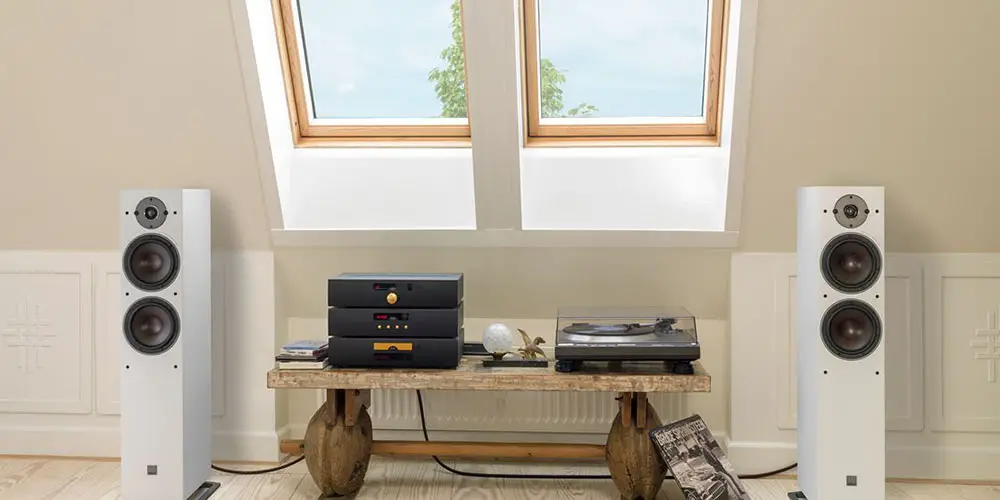 DALI is not an unknown in the field of audio speakers. The Danish Audiophile Loudspeaker Industries, as their full name is, have really made a name for themselves by creating some really spectacular lineups that extend from the really low cost category where the DALI SPEKTOR and ZENSOR series belong all the way to premium levels with the RUBICON and EPICON series. This makes the OBERON belong right in the middle and brings some of the more advanced DALI patented technologies into more affordable levels.
The DALI OBERON 7 is using what DALI is calling an SMC magnet system that is responsible for reducing non-linear magnetic distortion and this is the most affordable series you can get it. Combining that with an ultra-light soft dome tweeter, dual wood fiber woofers and a carefully braced MDF cabinet the OBERON 7 manages in theory to produce the kind of sound quality you can find in more expensive speakers in particular.
In theory all this sound very intriguing. Getting a speaker that sound better than what it costs is obviously what everyone seeks for. Does the OBERON 7 managed to performed similarly to what we had experienced with its little brother? Let's put them to the test to find out…
Design, Inputs and Features
Exterior
The OBERON 7, and in general the whole series, has a certain DALI feel to it. Although there is not a specific design touch from DALI that indicates that these are in fact made by them it's the sum of its design lines that gives its origin. In terms of size the speakers are not that big coming at 40.0″ x 7.8″ x 13.4″ (1015 x 200 x 340 mm) and with a weight of 32.5 lbs. (14.8 kg) we would mostly classify them as middle-sized floorstanders to be more accurate. That's probably the reason why DALI felt the need to cover that spot by introducing the bigger OBERON 9.
Obviously belonging in the same lineup the OBERON 7 is exactly the same in looks to the OBERON 5 but on a larger scale. Without having gone to any extremes DALI has managed to create a cabinet that looks great and certainly feels more expensive than they really are. Part of this has to do with the decision to go for a two color design with a lacquered front baffle complementing a wood-effect vinyl cabinet that comes in various colors.
Constructed from CNC machined MDF board and dressed in carefully selected high-grade laminates the cabinet employs a highly rigid construction, with solid bracing across the inside for reinforcement. This contributes to the stiffness and practically eliminates panel resonance. To optimize timing, the speakers are fitted with acoustic damping material internally along the sides, top and bottom – but not on the rear side of the front baffle. This creates a more direct contact between woofer and bass port. The audible result is a more precise bass and increased 'attack' in the midrange.
The series is offered in four color variations with Black Ash and White being a single overall color design while Light Oak and Dark Walnut feature a two color combination with the Light Oak going for a white front baffle and light oak wood vinyl while the Dark Walnut goes for a black front baffle and dark colored wood vinyl cabinet.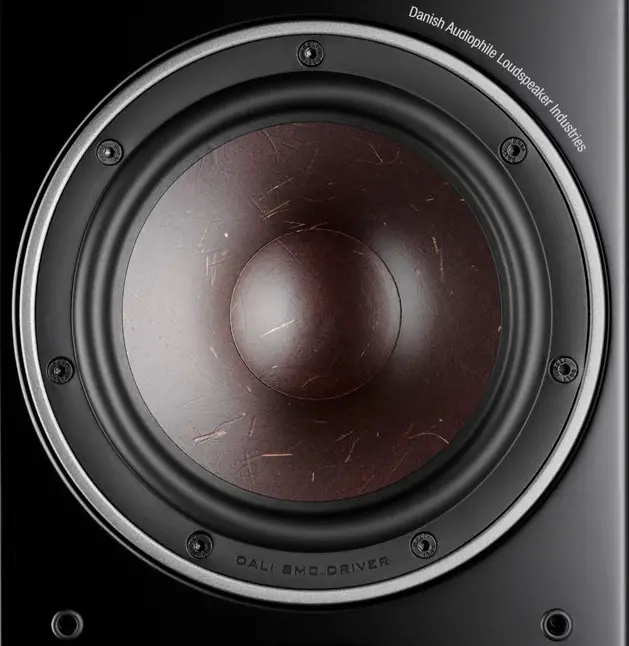 As for the front grille, it's a simple cloth design with Mountain Grey being the standard grille supplied with the light finishes, and Shadow Black standard on the dark finishes. Marshmallow White and traditional Black options are also available. We do find the look of the grilles a bit cheap and we definitely like the look of the speakers without them as the wood fiber cones certainly give them a much better look instead. Also what we didn't like is the grille retention system as they distract from an otherwise great looking front baffle. A magnet system would certainly look better but this gives away the otherwise low cost of the OBERON series.
A large bass port is placed on the rear of the OBERON 7 cabinet, optimizing room integration by utilizing the wall for improved bass performance. The speakers use a custom made aluminium frame stand which looks simple but at the same time suits better the cabinet design than having some outrigger feet.
Overall the OBERON 7 is a rather good looking floorstander. It aims for simplicity but manages to give you a feel of premium and well made quality. DALI really has nailed it with this series.
Internal Hardware
The Oberon 7 is a 2-way bass-reflex design utilizing a single high frequency tweeter at the top and two low frequency / mid-range drivers below that.
Let's talk about the tweeter first. Keep in mind that the brand new 29 mm ultra-light soft dome tweeter has been developed specifically for the OBERON series. Its 29 mm membrane is constructed from an ultra-light weight weave fabric and when compared to most soft dome tweeters in the market, the DALI dome material is less than half the weight at only 0.060 mg per mm2.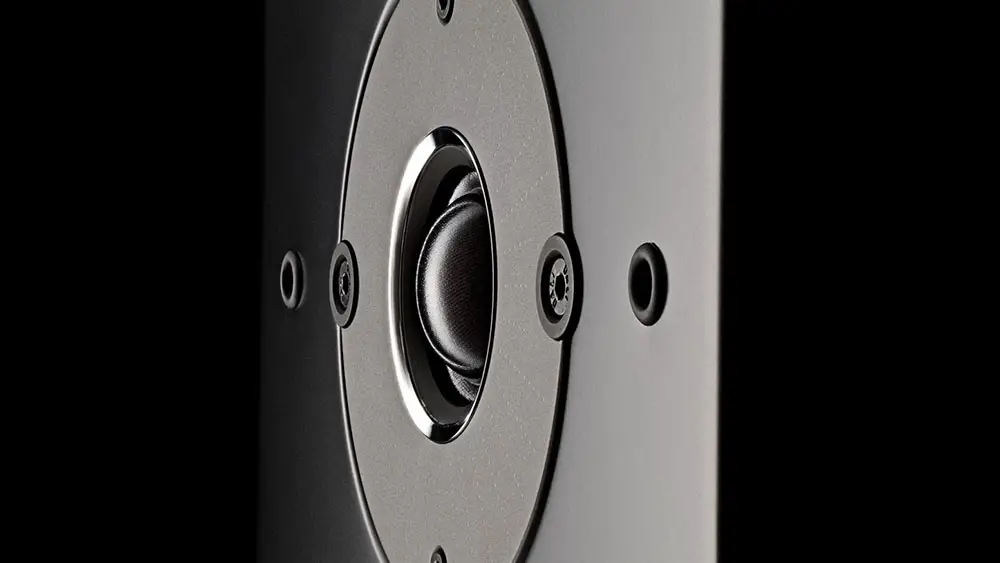 The large size of the membrane lets the tweeter generate higher sound pressure with less excursion, keeping the voice coil motion to a precise minimum. To further improve power handling, to reduce power compression, and to support linear excursion of the voice coil, the tweeter magnet system incorporates ferro-fluid cooling. Covering the entire top of the pole piece is soft felt damping. This damping material eliminates unwanted reflections that may occur from a traditional flat-surface pole piece, applied in simpler tweeter constructions.
The DALI manufactured ultra-light weight soft dome tweeter is additionally optimized for a larger bandwidth in its lower frequency area. This ensures the optimal handover from the midrange woofer to the tweeter, creating a well balanced, unforced and very coherent upper midrange. The tweeter front plate near the dome has been designed with similar geometry as the OPTICON and RUBICON tweeters to create the optimal working conditions for the soft dome. The aim is to combine an extended frequency response with wide dispersion and low coloration.
Below the tweeter we find two 7″ low frequency / mid-range drivers that feature wood fiber diaphragms which is a characteristic of many DALI speakers. This blend of a fine grain paper pulp, reinforced with wood fibers, creates a stiff, lightweight and well-behaved structure. The diaphragm area of the larger drivers in the OBERON series has greater diameter than the typical standard.
The 7" woofers in the OBERON 7 are approximately 15% larger when compared to the diaphragm area of the more common 6½" woofers size. A larger cone area allows the same sound pressure level to be generated, utilizing a lower voice coil excursion. It also allows a higher maximum sound pressure level which leads to an effortless reproduction of the dynamics in the music.
Bass and midrange diaphragms are terminated by a rubber surround chosen for its soft and highly flexible properties. This enables the diaphragm free movement with minimal damping, and leaves the magnet motor to control the movement.
The OBERON voice coil is a 4-layer design, and while 4-layers is effective for high force factor, the higher moving mass traditionally presents a problem for the midrange response – impairing voice reproduction. What DALI has done to minimize the mass was to employ a light weight, copper clad aluminium wire. This somewhat costly solution applies a thin copper skin to an aluminium core.
Combining the high conductivity/weight ratio of aluminium with the superior contact resistance properties and better mechanical strength of copper, they were able to create a lightweight voice coil with high conductivity, capable of handling high peak signal levels. The result is improved bass control, well controlled reproduction of micro details and great transient capabilities.
The magnet system comprises of a large ferrite ring magnet that surrounds a pole piece made from a unique combination of iron and SMC. Using iron for just the base of the pole piece with a 10 mm SMC crown means iron's negative effects are minimized. The SMC crown is placed right in the middle of the voice coil working region to ensure its maximum effect and results in a greatly improved flux linearity. The use of the SMC disk also greatly reduces distortion caused by hysteresis and eddy currents. These combined improvements in the magnet motor system enable the OBERON series to offer significantly more relaxed, detailed and entertaining midrange performance.
The combination of the 29 mm ultra-light soft dome tweeter along with the dual 7″ low frequency / mid-range drivers give the OBERON 7 a frequency range of 36 Hz–26 kHz (+/-3dB) with 6 ohms of nominal impedance, 88.5 dB of sensitivity while its crossover frequency has been set at 2,300 Hz.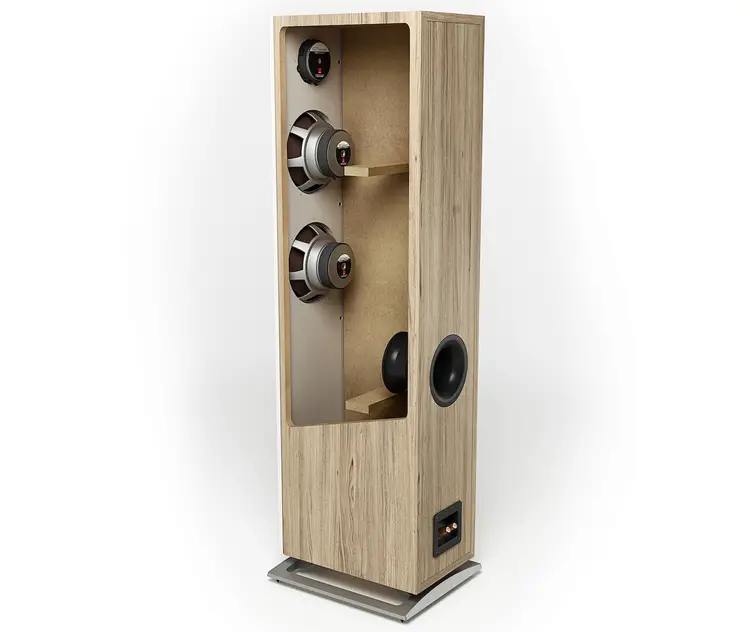 Connectivity
At the back under the bass port we get a pair of high quality gold-plated speaker terminals that can firmly hold bear wires or fitted with special plugs like spades or banana plugs. The plastic of the terminals was of extremely good quality for their price and in general they give you a sense they cost more than they really do. Since the OBERONs come with single pairs there is no option to be-wire or bi-amp them but this shouldn't really be a problem.
Performance
The speakers were very well packed and wrapped in cloth to protect them from all outside conditions. Their weight and size was not so big so a single person with some care can handle them easily. There is no assembly required here as the aluminium base is already attached on the cabinet and the only thing you need to do is to either choose the rubber feet or the included spikes for hard floors.
Usually manufacturers give some very general guidelines concerning the positioning of their speakers and DALI offers very clear instructions on how to place theirs. One thing that you should keep in mind is that the OBERON series and many other of DALI releases are designed with a wide dispersion principle. This means that they are heard better off axis reducing harmonic distortion and diffraction. This is explicitly mentioned in the manual so no toe-in is required compared to other floorstanding speakers. Since DALI themselves suggest no toe-in we decided to follow their guidelines on this and place them completely off-axis from our listening position.
As we always do in these tests we left about 2 feet from the back wall in order to give them slightly more breathing space. Distance between the two speakers was around 9 feet. Keep in mind that placing the speakers near a wall will increase its bass output while lowering its overall definition so finding the best balance is always crucial.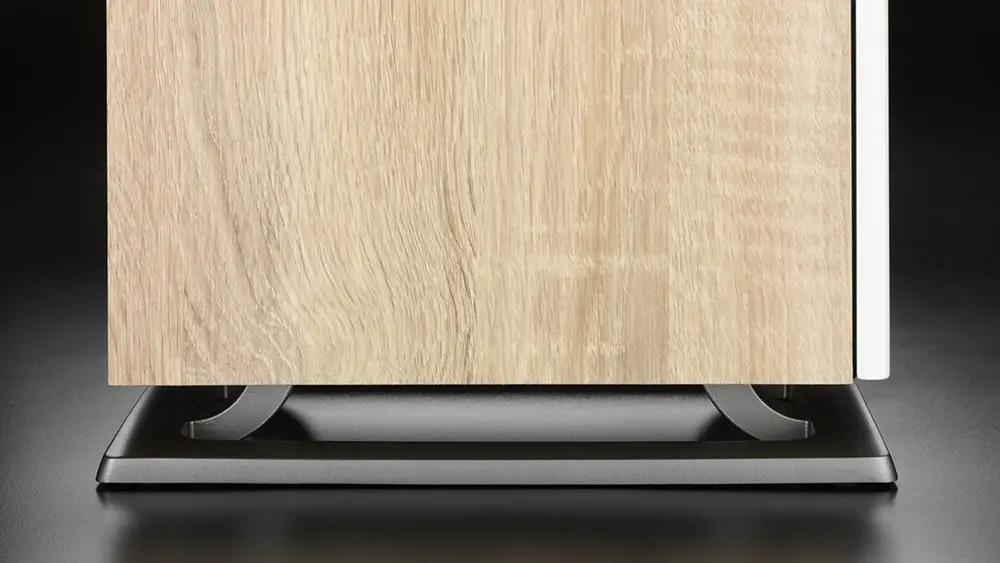 The speakers we tested had a few hours of play so they had time to pass their break-in period. Most manufacturers do suggest between 50-70 hours of break-in time before speakers can reach their peak performance but we always suggest to wait until around 100 hours to be completely sure that what you hear is what the speakers can ultimately give you.
Now as far as our testing is concerned, for our movies we like to use a simple 4.0 channels surround system with only two front channels and a couple of surrounds and the reason for this is because we can easier determine how the front speakers can cover the omissions of a center speaker and a subwoofer. Weaknesses become more pronounced and although this would not apply to any real home theater system as almost all of them would have both a center speaker and a subwoofer we are here to determine specifically the characteristics of the two front channels and at least for us this is the best way to do so.
On the other hand when it comes to our music testing we like to go for a pure 2.0 channels system with only the two front channels as this is the way that most music purists tend to go with. Now after all necessary connections and calibrations with our Marantz AV receiver we were ready to begin.
Movies
Mad Max: Fury Road has become one of the trademark movies when it comes to reference material and can really show what a speaker can do. The 4K UHD version we tried out comes with a totally flooring Dolby Atmos track that can make any speaker run for its money.
The Atmos mix is every bit as nasty as you would expect from a film having the name Mad Max slapped on it. It does not try to be delicate and will certainly not make you feel at ease with its over-the-top acoustic extravaganza. The audio mix was meant to throw you down into the dirty pits of the nuclear holocaust wastelands and slap you around until you cannot have it anymore. And the fact that the OBERON 7 felt right at home with the material was certainly impressive.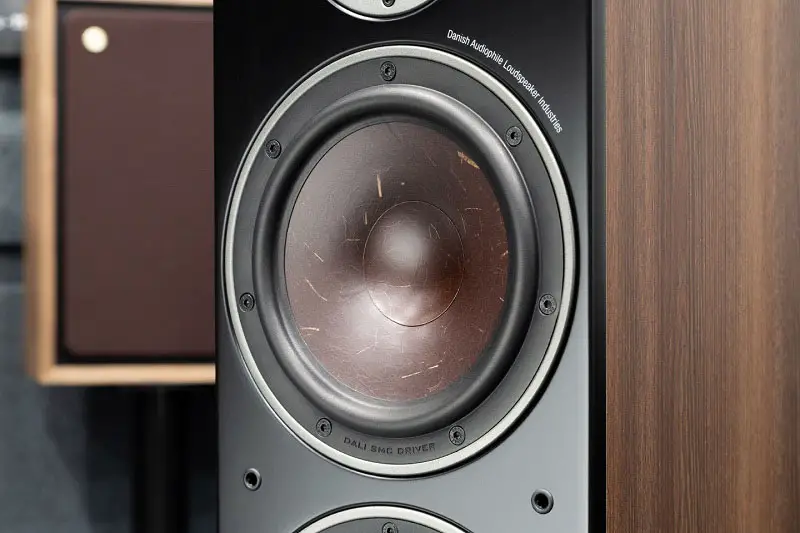 First of all what was immediately apparent was how controlled the speakers were. There were no exaggerations either at the top or the low end and this is in general a characteristic of the OBERON lineup. The speakers were very much concentrated into producing a very warm audio signature and with a very seamless transition from top to bottom.
Dialogue was pretty distinct and clear even through all that action and the OBERON 7 really gave you the impression of a center speaker being present. We did feel that it was slightly less transparent than some other speakers but in general we cannot say that we had any problems with the dialogue even through all this cacophony.
Mad Max: Fury Road really give the speakers a lot to work with. Explosions and engines roaring were pushing the low end with the 7″ drivers faring very well under pressure. The larger than usual size really helped here to keep the upper lows in tight control while a lot of high frequency sounds like screams and war cries felt menacing and pure.
The speakers worked in harmony with our surrounds and we got an amazing surround bubble with environmental effects, ambient sounds and panning sound effects that really made the experience step to an entire different level. The OBERON 7 may not be the kind of speakers that will give you extreme resolution and pure details. But it will give you the kind of quality that you certainly don't expect from this category and will enhance the sound in such a way that what you loose in pure details you gain in overall scale.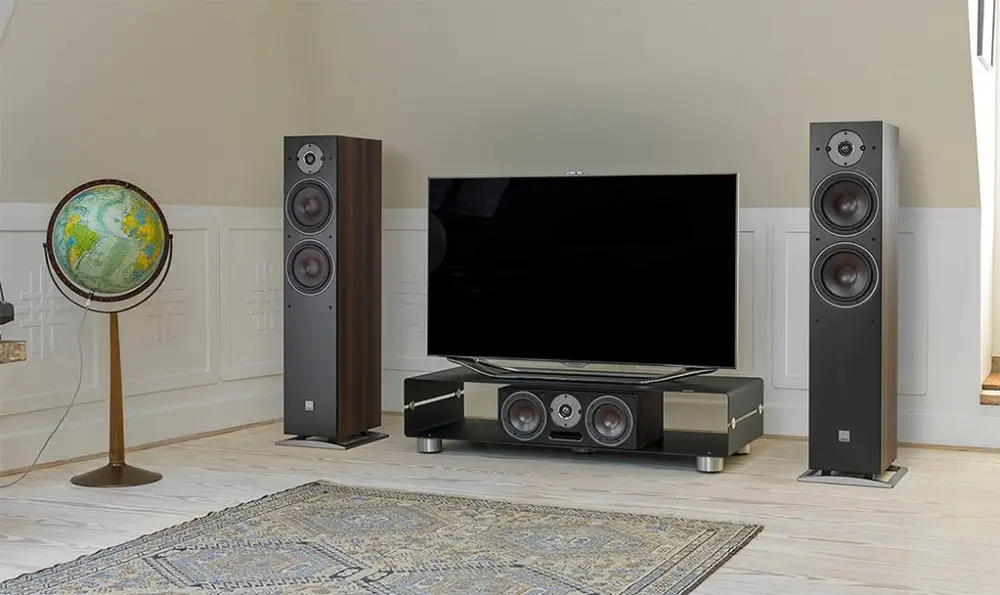 When trying to push the speakers in higher than acceptable volume they happily followed without showing any significant distortion either through the cabinet or the air port. These speakers can really push a lot of air and they can do it with extreme efficiency for their price and category. The sound output was very focused and meticulously controlled throughout the whole session.
For our second test we couldn't resist the urge to try out the Lord of the Rings: The Fellowship of the Ring in its new 4K UHD version which features a demo-worthy Dolby Atmos soundtrack. There are so many moments in the film that are worthy of testing but ultimately we decided to skip forward to the Mines of Moria and the final confrontation of Gandalf and Balrog.
The OBERON 7 is the kind of speakers that can really elevate the experience such a film can offer. As the speakers prioritize slightly more grand scale than extreme detail they gave the mines their rightful size. As the Fellowship traveled through the grand structures every voice and noise would eco across our room with extreme vibrancy and magnitude. Ambient effects were nicely rendered while panning sounds would travel with pinpoint accuracy. Tonality was great and the overall dynamics felt excellent.
When the goblins arrive and the heroes fight the cave troll the speakers did an excellent job with the elements at hand. From metal clashing, wood breaking, stones scratching and flesh ripping everything felt so accurate and realistic which really put us into the action. But when the Balrog arrives is when the OBERON 7 really is pushed to its limit. The speakers did a really excellent job at rendering the grand size of the beast on screen. Every step it took it pushed the lows with good weight and a nice shake but obviously when the moment asks for it, they couldn't pressurize the air as good or as much as a dedicated subwoofer can.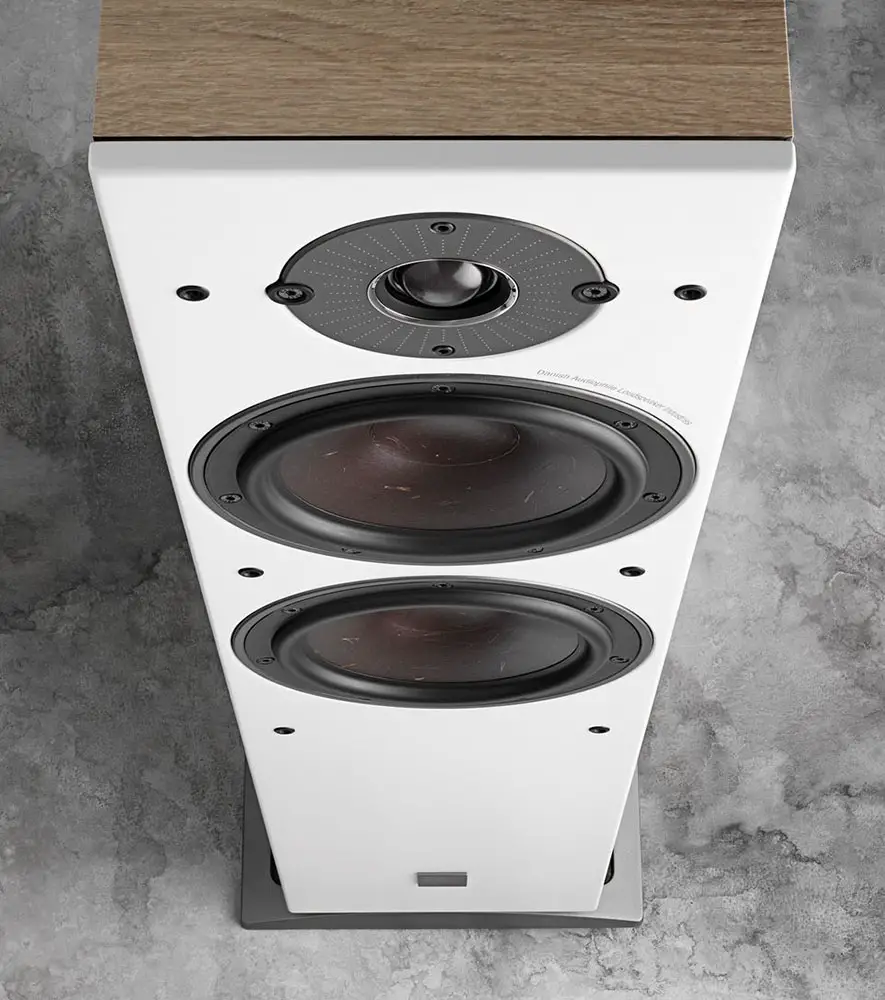 The roar of the Balrog was a good example of this. The OBERON 7 did as good a job as it could to render it but it was a touch soft and certainly made Balrog loose some of its scary posture. It probably has to do with the fact that we have been spoiled by some good subwoofers making it hard to judge such a scene without being slightly biased.
But overall we cannot say that we were disappointed by the performance, on the contrary. The OBERON 7 is exactly the right speaker to render sound mixes that go for grand scale. The ferocious control of the mid-range, the very pleasing high end and the tight lower frequencies in combination with the ability of the speakers to go large and render a sound wall that is not confined by its cabinets is exactly what most people like to hear in a home theater system.
If you are looking for such a speaker but you find the OBERON 5 to be rather small for your space then the OBERON 7 will certainly fit the bill.
Music
Last test for the day is all about music so we switched to a pure 2.0 channels audio setup with only the two front OBERON 7 connected and we streamed a selection of FLAC music tracks through the front USB port of our Marantz receiver.
The floorstanders proved very capable at rendering a very large front stage that did not only felt grand in scale but also was very accurate with the material at hand. Sound extension was very pleasing with good overall transparency. Vocals were nicely rendered with enough energy and good tonality. A very balanced mid-range was more than obvious here with everything binding together nicely and never the speakers lost focus or consistency.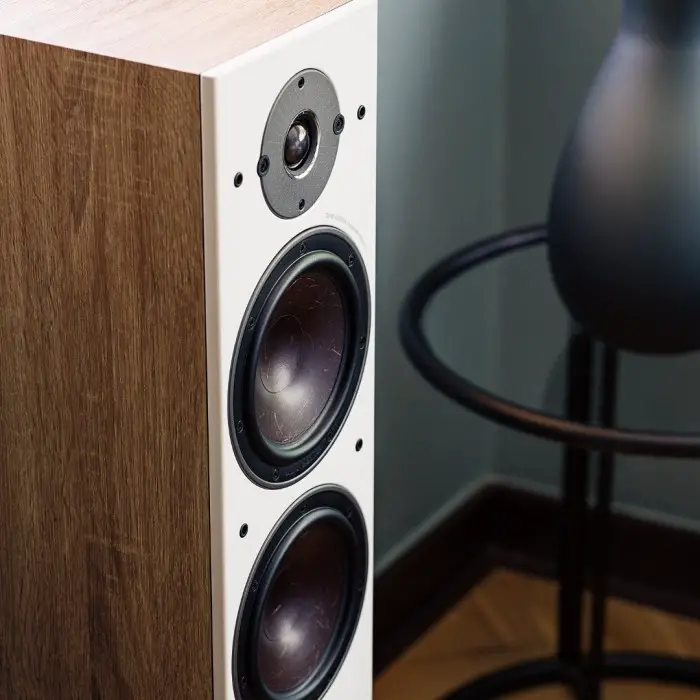 The bigger low end drivers did show us what they could do here as the lower registers were rendered with vigor and enough energy in order to give the performance the necessary weight it needed. With music that go wild on the bass the speakers never felt to choke when pushed. The bass never muffled although some slight boxy coloration was evident but only in certain moments and to be honest it was so subtle that it never really bothered us or distracted us from the overall experience.
Switching through various types of music material it showed us that the OBERON 7 was a capable performer across the board. Either it was pop, rock, classical, heavy metal, jazz or country music there was no category that the speakers would favor over another. After some time with the OBERON 7 it was very evident what they could do. A warm sound with very balanced mid-range and satisfying low end but with a small preference of scale over finer details. It's not that the speaker cannot be delicate, on the contrary. They can render an amazing amount of details but in this price some tradeoffs have to be made and this is really the only thing that these have to give away in order to go big.
Once again we tried to push the volume to more than pleasing levels and we didn't really feel that the speakers lost any of their focus or control. Really amazing for this price to find a floorstander that can really keep a straight face in demanding sessions and at high volumes.
Overall we can say that the OBERON 7 are great speakers for music. Yes, they may not be as delicate but keep in mind of their cost when you decide what you are getting here. The speakers have a lot to offer not only in scale and dynamics but also in finer details and high resolution. It's just that it cannot reach the heights of some much higher priced offerings. But to give you an idea of how good these are even with music we can say that in this price category it will be hard to find an equal performer with all the merits the OBERON 7 have. It's that good.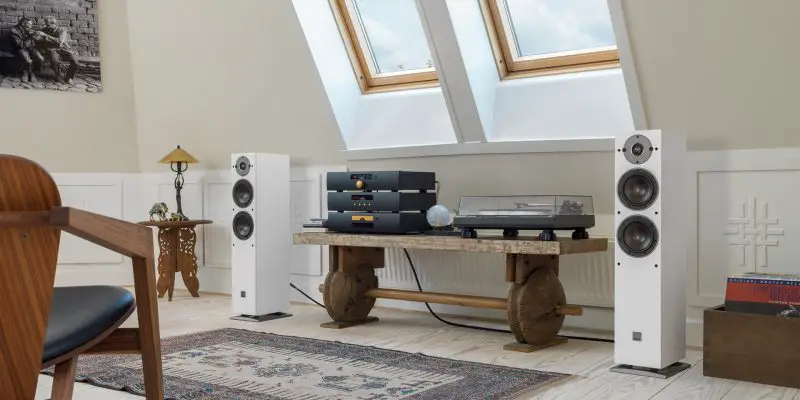 Final Thoughts
Having reached the end of our review what we can say is that we are thrilled with what DALI has been able to accomplice with the OBERON series in general and the OBERON 7 in particular. When it comes to speaker prices there is no clear line on what distinguishes a budget friendly model from a premium one. And that's because prices extend far too much and sound performance is not such a clear cut element as image quality for example. This works on OBERON 7's favor as its price is certainly on the low side for what you ultimately get and show the amazing work that DALI engineers made with this series.
First of all DALI has really nailed the design. It's simple but at the same time it binds all of its elements nicely into a lovely speaker that can elevate the design of any room they are placed in. The Light Oak dual color variant that we had for test looked amazing and we really fell in love with it. But it's not only looks as DALI made sure to put a lot of quality and technology in these with a well braced cabinet and the combination of an extra large tweeter and wood fiber cones with DALI's patented SMC technology. All these give the OBERON 7 a very warm sound without exaggerating in any frequency level and at the same time being able to push the higher volumes without loosing much of its cohesion or stability.
We loved the OBERON 7 so much during our tests that honestly we feel borderline biased towards them when it comes to mentioning anything bad. What can be said is that in terms of pure resolution and pinpoint accuracy they loose a few points. Their sound imaging could be better and more expensive offerings can offer more in overall clarity and focus. And this in all fairness is the only minus we could find. Obviously the speakers are more focused in the mid frequencies and they are not pushing very much the highs or low end that some consumers tend to prefer.
Our take on these is that if you are on the lookout for a pair of speakers that can really give you the best entry level HiFi experience with a price that is almost unbeatable by any other speaker in this category then the DALI OBERON 7 is a safe bet. They look amazing, they sound great and will give you exactly what you need without making your wallet bleed. Highly recommended.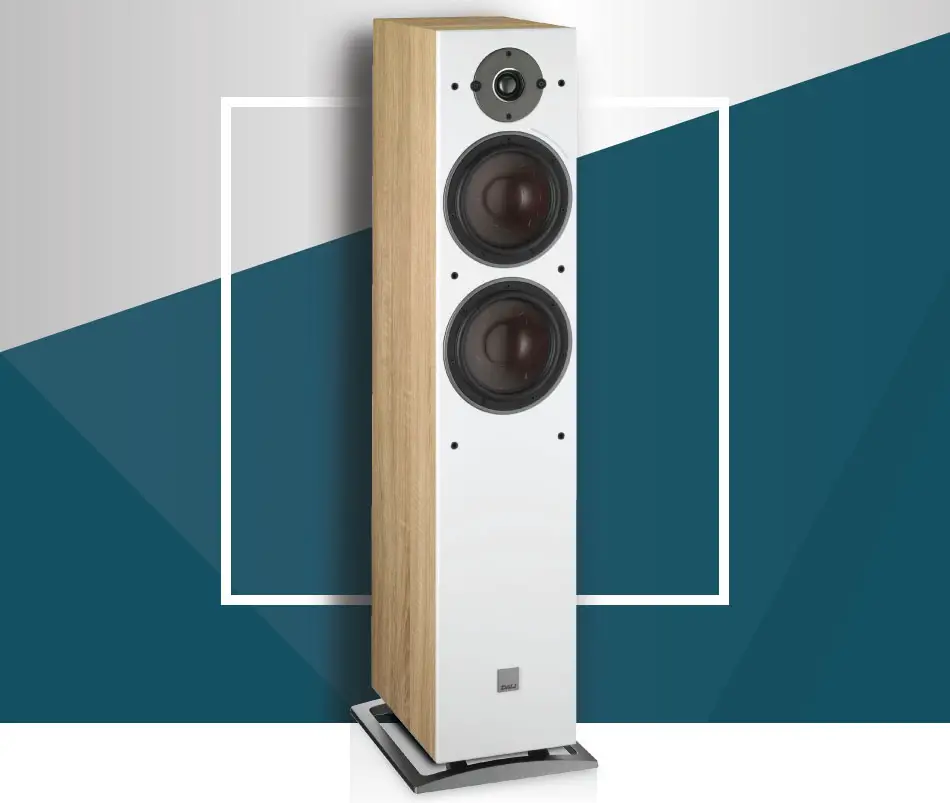 For more reviews you can check our dedicated Floorstanding Speaker reviews list or even look at our Product Reviews Table where you can find the brand and specific product you are looking for.
Also don't lose the chance to subscribe to our Newsletter and gain exclusive privileges.
---
Cheapest Places to Buy :
---
Dali Oberon 7 Specifications