Denon AVR-S960H
Reviewed at $749.00
Product Name: Denon AVR-S960H
Product Description: 7.2 CH 8K AV Receiver
Design -

9/10

Audio Quality -

9.1/10

Inputs / Ports -

8.6/10

OS, Apps and Features -

9/10

Price / Quality -

9.1/10
Summary
Reviewed at $749.00
Pros
Amazing sound immersion
Denon offered solutions for bugged HDMI 2.1 port
Punchy output
Plenty of features
Cons
No front HDMI input
Initial units had HDMI 2.1 problems
Only 1 HDMI 2.1 input
UI and remote need major update
---
Cheapest Places to Buy :
---
Today we will continue our venture into Denon's AV receivers lineup and we will be testing another model in their more affordable, in theory, S-series. In our Denon AVR-S960H review we will be looking into the most premium unit which features 7.2 channels and was one of the first units that were released with a single HDMI 2.1. This initial batch or receivers had the infamous HDMI 2.1 bug but since then there have been some interesting developments that we are going to discuss.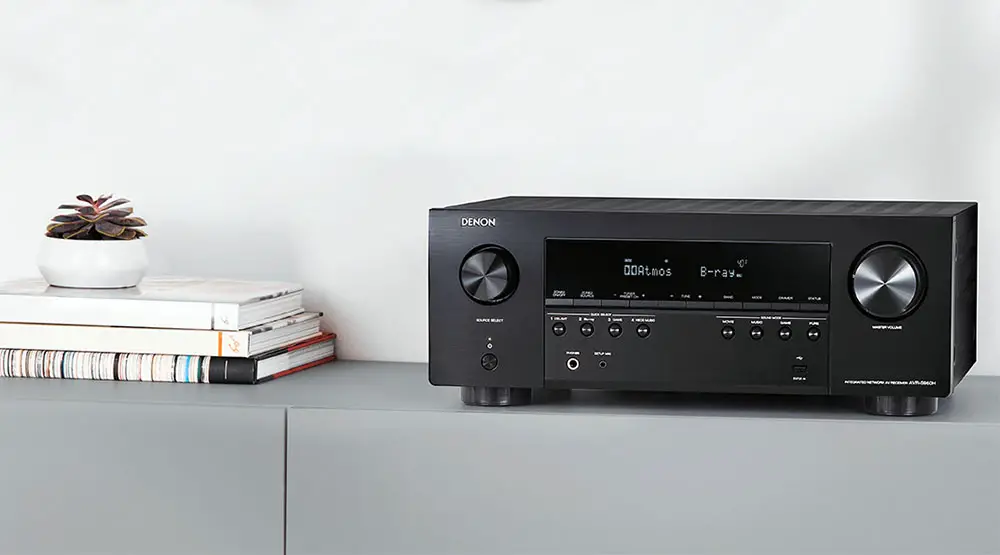 Pricing and specs between a few of Denon's S-series and X-series models are really close to each other and it has become increasingly difficult for many consumers to decide which one is the best and what differences they have. So as we test this one we will point out what similarities there are with corresponding units and what you should pay attention to.
But as we do in all our reviews let's take a look over the specs of this one. The AVR-S960H comes with 7.2 channels of built-in amplification with 90 watts of power per channel, supports Dolby Atmos and DTS:X along with the usual virtual and up-mixing tech like Dolby Surround, DTS Neural:X, Dolby Atmos Height Virtualization and DTS Virtual:X, comes with the basic version of Audyssey called Audyssey MultEQ auto calibration system and comes with plenty of extras like High Resolution Audio, HEOS technology, AirPlay 2, voice control as well as HDMI upscaling and a single HDMI 2.1 port.
The AVR-S960H is surely another solid release from Denon which promises good performance to price ratio and a vast list of extras and features. There were a lot of complaints about some 2020 models so let's start our analysis to see what have changed from back then.
Design
First let's talk about the design of the system and it seems that in true Denon fashion the S960H comes with exactly the same design as the other AV receivers in the S-series. There is no difference whatsoever in terms of looks and layout and the only minor difference seems to be its height as the S960H is slightly taller than the rest.
We measured the unit at 17.1 x 13.4 x 9.3 (434 x 341 x 237 mm) with the antennas in vertical position. As always, you can slightly minimize its height to 6.6″ (167 mm) if you turn them horizontally while this seemed to have no negative effect on the wireless signal or connection.
As for its looks the outer shell features straight lines and sharp corners as Denon has kept the same pattern the last few years. The front features a brushed metal texture with an exact shame layout as the rest of their releases from 2019 and onwards.
This means a big central display showing all functions with two big circular knobs at each side for volume on the right and source selection on the left. Under the source selection knob we find the power button while a thin line under the central display houses 10 function buttons that include tuner and zone 2 controls, Dimmer, Status and two groups of four circular buttons underneath with one group being the quick selection buttons and the other the sound modes.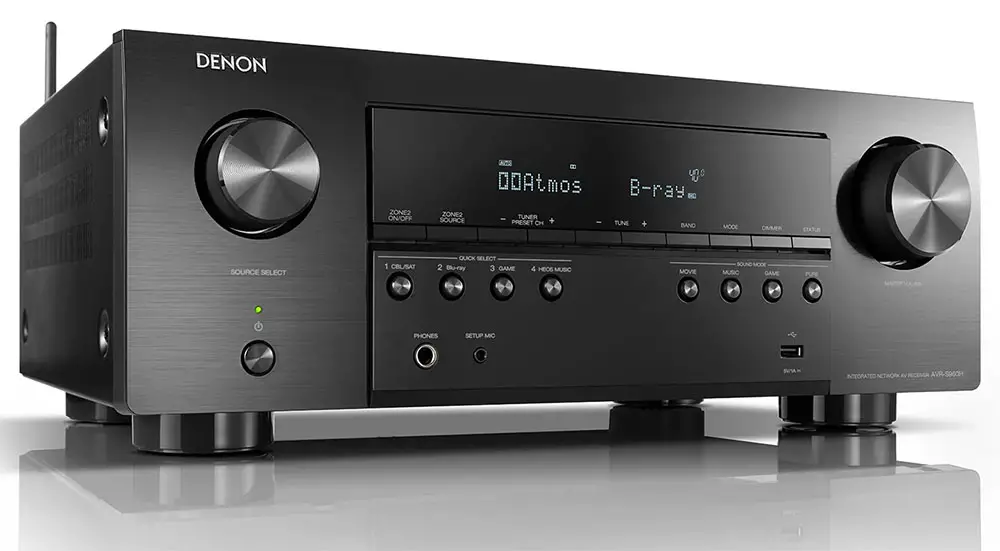 Under these buttons, as usual, we get the front ports with the headphones jack and setup microphone port on the left and a single USB port on the right that can be used to stream audio from a USB based external storage like a flash drive. Next to the USB used to be a front HDMI port but the arrival of HDMI 2.1 seems to be the reason for taking this out of almost all new low and middle tier releases. Let's hope that manufacturers will bring this back in the future as it was a very practical port to have for easy and quick access and we totally disagree with them taking this out.
When it comes to its internal hardware things are again pretty standard for Denon. The receiver features discrete high-current amplifiers on all channels with low-impedance drive capability while its 32-bit D/A converters allow for high resolution audio decoding while providing low distortion and the widest possible dynamic range. All closely priced AV receivers have the same hardware so no changes here.
The remote we find with this unit is code named RC-1239 and looks very similar to other Denon remotes, design wise, but has a few differences mostly on the functionality of some of its buttons. The remote comes with all the input buttons at the top along with the HEOS and Bluetooth functions, navigation buttons in the middle along with channel and volume controls while playback, quick selection and sound mode buttons are being placed at the bottom.

The remote in general is a big one while the buttons have a relatively small size and we would like them to be a little bigger to be easier to the touch. At least the long distance between them minimizes the risk of a wrong command which can be a regular phenomenon in a dark environment since the remote lacks any kind of backlight functionality. Its construction is good and feels pretty solid with a nice texture on top to make it look a little bit more premium.
We would love to see manufacturers lowering the number of buttons in their remotes and use a more advanced UI to pair it with, just as smart TV manufacturers have done. As it is right now most AV receivers remotes are cluttered with buttons and it feels very old fashioned compared to other audio/visual systems of today.
The AVR-S960H is another typical release from Denon when it comes to looks, design and internal hardware construction and quality. Obviously it does not use the best, as Denon keeps these for their top premium units, but the S960H seems to follow the standards the company has set over the years.
Audio Quality
In terms of audio formats we get the usual so no real surprises here either. The receiver supports the Dolby Atmos and DTS:X object oriented audio tracks but along with these we get support for up-mixing and virtual technology in order to cover all needs and specific room configurations.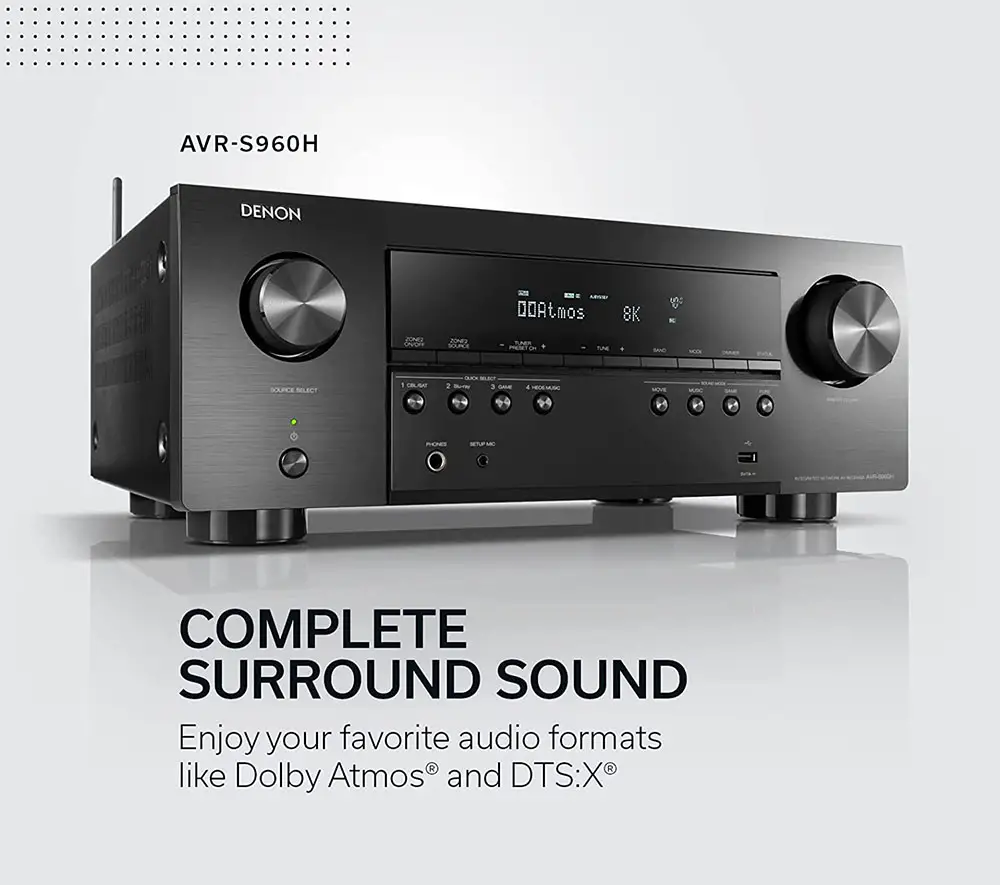 When it comes to up-mixing tech we get Dolby Surround and DTS Neural:X. What these up-mixers do is to up-convert stereo and legacy mixes in order to make use of all the speakers you have in your setup. As for virtual tech the Dolby Atmos Height Virtualization and DTS Virtual:X virtualizers are capable of creating sounds that originate from virtual created speakers around your room where there are no physical speakers present.
These virtual technologies obviously are not as good or accurate as having real physical speakers and are very much room dependent. Also the sound many times can be heard very over-processed, something we were never very fond of. If there is anything missing here that would be Auro-3D along with IMAX Enhanced as both of these are kept only for the higher tier releases in the X-series.
Τhe AVR-S960H comes with 7 channels of built-in amplification and each channel can pump 90 watts of power (8 ohm, 20 Hz – 20 kHz, 0.08% 2ch drive). As always you should not be fooled by this number as manufacturers always give ratings with 2 channels driven meaning that when all 7 channels are active this number goes down considerably.
With the supported channels you can go all the way for a 5.2.2 channels audio setup with two dedicated overhead speakers for maximum immersion. As we do in all our tests we created a 5.1.2 setup using a single subwoofer and 2 Atmos ceiling speakers placed at the middle of our viewing area.
For our first movie test we wanted to start with a bang and so we opted for the 4K UHD of Independence Day: Resurgence which uses a jaw dropping Dolby Atmos mix.
There are two elements that are very prominent in this mix. Its massive panning effects and its Earth shaking bass. And the S960H plays both of them to great extent. The immersion bubble that was created all around us really threw us in the middle of the action with great sense of directionality and precision in our 360 degrees field.
The front as always was the most active. The two front main channels did all the heavy lifting without getting any fatigue while the center channel kept all dialogue isolated from the rest of the sound effects. All dialogue was very distinct and easy to understand and at no point did we feel that the voices of the actors overlapped with the other channels.
But the front action was not only precise and accurate but extended nicely in all axis. We got some nice depth as well as satisfying extension on the sides and above the screen creating a very large sound wall in front of us.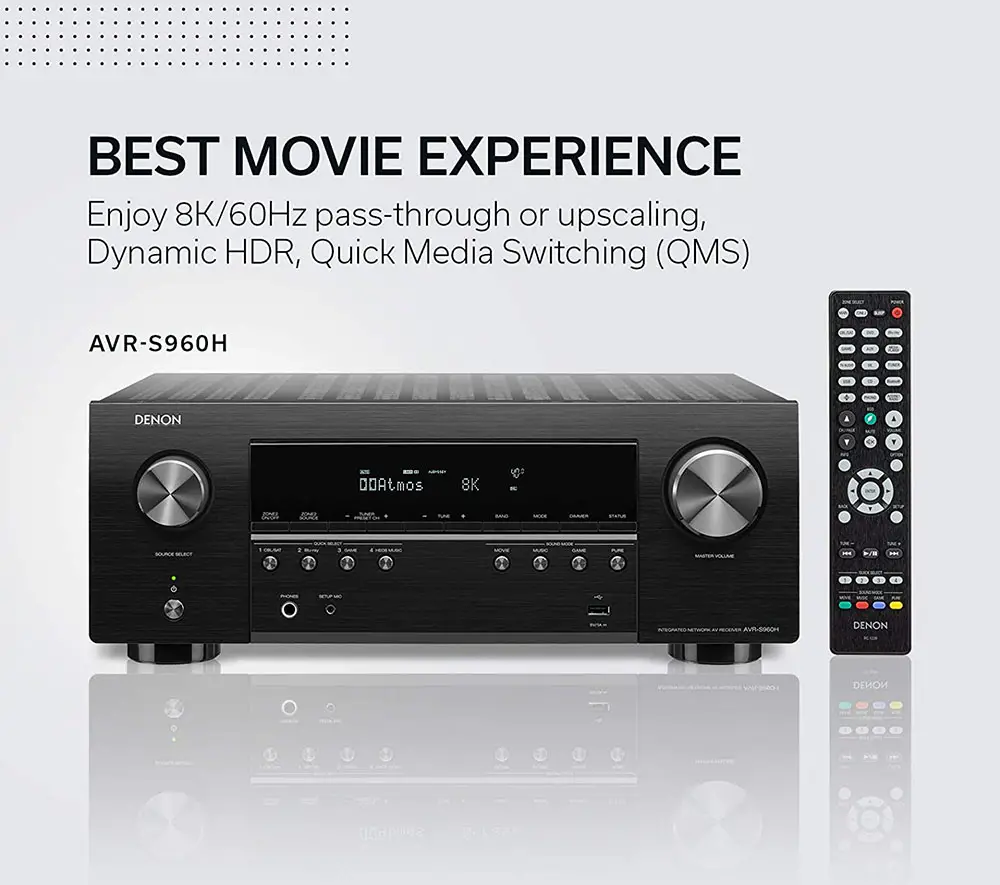 For the overhead layer things were pretty good. There was enough elevation on the Atmos effects although with only two channels available we did feel that we were loosing a bit in precision and clarity. Sometimes when panning overhead effects were active it was not very clear where they were heading. Especially if you have heard a Dolby Atmos system with four overhead channels this can be very obvious. But nevertheless the receiver did its best with what it had at hand.
Surround activity was constant. The swarms of fighter jets will give you a good idea of the surround capabilities of the S960H as did the never ending laser and gun fire as well as other highly kinetic objects moving in space. Overall the surround performance worked in harmony with the front channels in order to give us the kind of immersion we got.
On the low end, such a film has plenty to give you and the Denon never failed to deliver. From the roaring fighter jets, the big alien ships raining havoc over the major metropolitan areas, the explosions that are constant and each one bigger than the previous one and the Harvester Queen destroying everything in its path the receiver will give your subwoofer a run for its money and will make you a few angry neighbors.
We switched gears and tried out Jurassic World (yes, the first one) in 4K UHD that uses an excellent DTS:X mix. This film is not so much about explosions, although it has its fair share of bang, but goes for a more atmospheric performance with perfect ambience in the jungle scenes and during action and an overall more balanced output.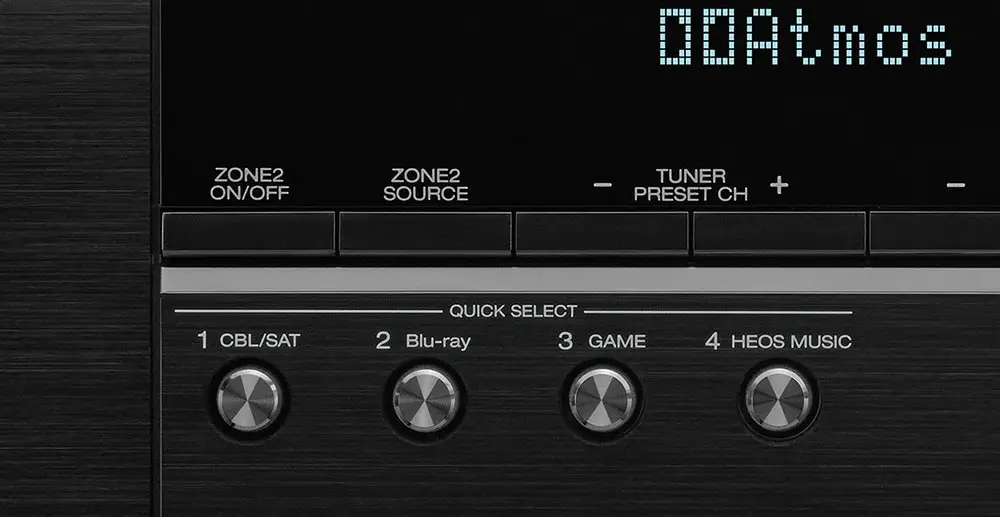 The center channel is a bit more active here but the main channels once again are the main performers. The surrounds and Atmos channels were very active in specific moments like in the underground scenes giving you great echoes that would bounce all around us and giving us a sense of the expansive world the film is taking place.
Surround effects may not be so much to the face here but again what we got was exactly what was needed in order to give us exact information of what was happening behind the camera.
Atmos effects were very carefully handled and were there to supplement the action without making them too obvious to the viewer. They were subtle as they should in order to provide the necessary extension above our heads.
The low end was very important in order to make these prehistoric animals feel like their real size. Roars were raw and with a natural tone to them and their footsteps felt menacing and heavy. If you have a good quality subwoofer to pair it with the Denon, like the SVS SB-1000 Pro we used in this test, then be ready for an amazing experience.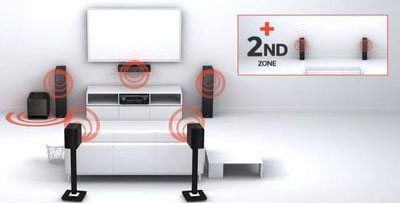 Closing this part of our review we could not be more happy from what we heard. Obviously there are better AV receivers out there with more power and better sound output but their price goes way higher. The AVR-S960H has a very affordable price for what it offers and it can be an excellent choice for your home theater system.
High Resolution Audio is also supported so except from the usual low quality MP3, WMA and AAC the receiver can also playback FLAC, ALAC and WAV files up to 192 kHz / 24-bit as well as DSD for both 2.8 and 5.6 MHz. In our case, as we always do in our reviews, we selected a few music tracks in FLAC format that we streamed through the USB port of the receiver for the best possible quality.
And for that we switched to a 2 channels setup which is mostly preferred when listening to music. As we always say it is not only a matter of how good the AV receiver is but also with what kind of speakers you are going to pair it with in order to get the best of results.
Overall the receiver did very good with music and to be honest we didn't notice anything different from various Denon receivers of similar price and category including the S760H and the X1700H.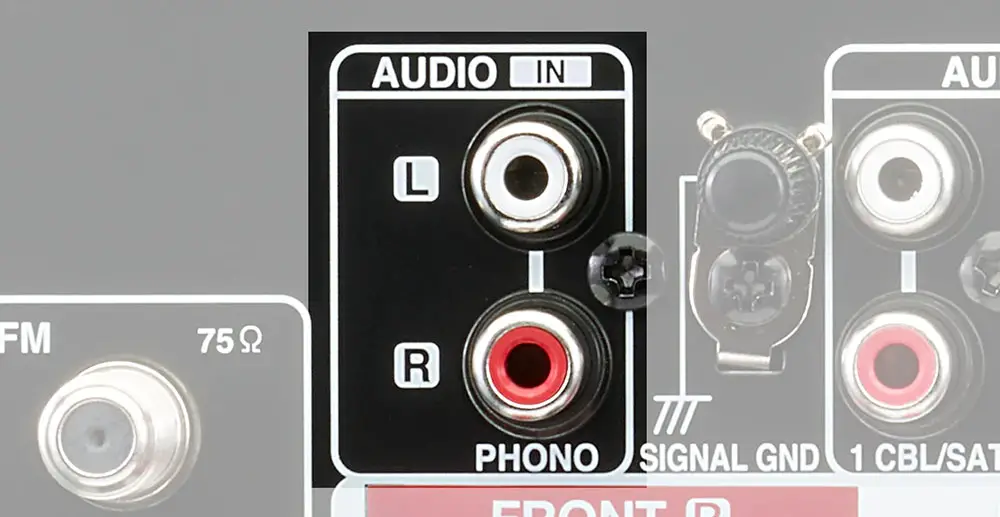 Music may not be the most strong point of these receivers but this was never meant to be. Nevertheless the S960H did manage to create a very lively front music stage with good balance across the entire frequency spectrum. We didn't hear any irregularities that would throw the overall outcome out of balance and it felt like the receiver played it safe with what it could do.
The mid-range was tight and focused, the high frequencies had good energy to them, vocals were full of emotions and the bass had the necessary vigor and tempo.
We tried to throw various genres at it and the Denon did very good overall, playing to its strengths and never trying to push beyond that. Sometimes you don't need extremely expensive hardware to get the basics and the AVR-S960H proves that very clearly.
If you are the type of user that wants this for mixed use, and by reading this review this is probably the case, then the receiver can handle all the music you throw at it with great care. As we always say these type of machines may not be at the top of the HiFi chain but their strength is to offer high enough quality, no matter the use, on a single package. And this one does just that with exceptional results.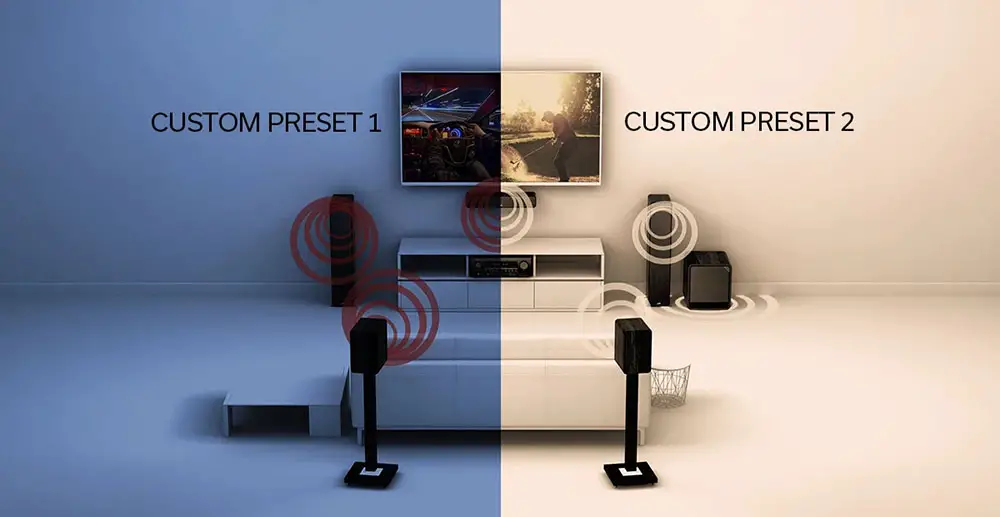 Ports and Connectivity
When it comes to ports and connectivity options the S960H comes with a pretty standard configuration for its price.
First of all we already mentioned above about the frontal ports that include the headphones jack, the setup microphone port and the USB port. The front HDMI port is absent as in many AV receivers from 2020 and onwards but we strongly hope they will bring it back at some point in the future.
At the back of the unit the first thing that catches the eye are the 7 speaker terminals placed in a straight line at the bottom which helps a lot with cable management. Keep in mind that the last two terminals can be used to connect Zone 2 speakers also. The terminals are the usual quality we have seen from Denon so all is good here with good quality plastic caps while each terminal has its own amplification.
At the top we find the HDMI inputs and here we have six of them with the last being the new HDMI 2.1. Unfortunately, as the AVR-S960H belongs in the first batch of HDMI 2.1 enabled receivers of 2020 we only have one available. If you need more Sound United created a special adaptor that includes multiple inputs for that purpose.
As for the rest of the connections we get 2 composite video inputs and 1 output, 2 component inputs and one output, 2 optical and 1 coaxial digital inputs, 1 Ethernet port, 0.2 channels pre-outs, 4 analogue audio inputs and one more dedicated for phono and the usual FM/AM antenna inputs along with the WiFi/Bluetooth connectors.
Compared to the next in line AVR-S760H, the S960H has 2 additional analog stereo inputs and the 2 components inputs and one output. On the other hand the S760H, being a 2021 model, has 3 HDMI 2.1 ports instead of one. As for the X1700H, it has everything the S760H has and adds an IR input and Zone 2 pre-out ports.
As for the single HDMI 2.1 port, this supports all the old and new exciting technologies including 8K/60Hz and select 4K/120Hz video pass-through, 4:4:4 Pure Color sub sampling, Dolby Vision, HDR10, HDR10+, Hybrid Log-Gamma (HLG), Dynamic HDR, 3D, BT.2020 pass-through, Quick Media Switching (QMS), Variable Refresh Rate (VRR), Auto Low Latency Mode (ALLM) and Quick Frame Transport (QFT).
Now we need to clarify the situation with the bugged HDMI 2.1 port that has plagued many of the 2020 AV receivers including the AVR-S960H. If the receiver was manufactured before May 2021 the Panasonic chip that handles the HDMI 2.1 connection cannot process the signal of specific sources that output at 4K/120Hz RGB signal (8-bit, 10-bit, 12-bit) like the Xbox Series X and this results in a black screen. Now there are not many sources that currently support 4K@120Hz with this exact configuration but this is purely a hardware issue and cannot be solved by a simple firmware update.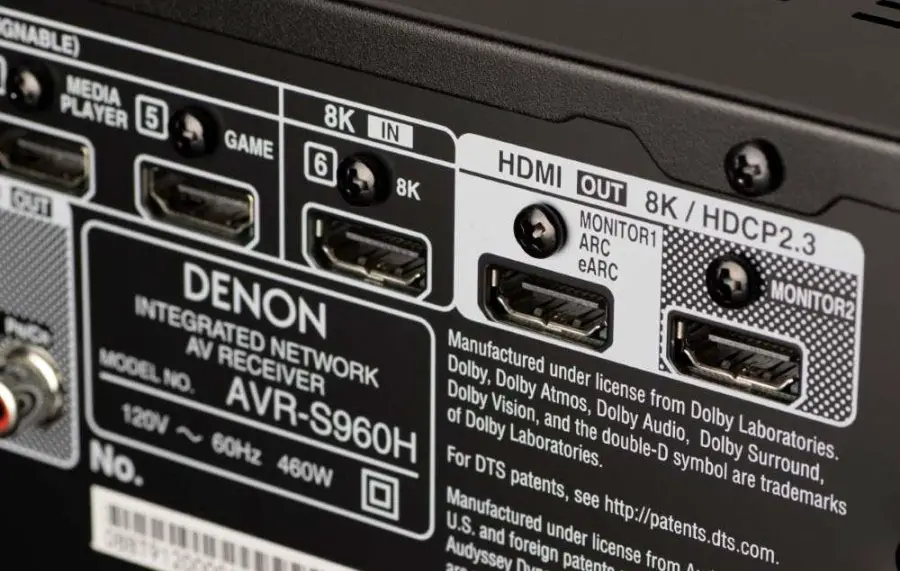 Now if you are wondering, the S960H has no problem whatsoever if you are watching movies or playing games at 4K/60Hz and 4K/120Hz YCbCr 4:2:2 signals (32Gbps bandwidth) or anything below that so in most cases you are going to be absolutely fine. This means that the PS5 absolutely works without any problems. In the rare case where the receiver accepts a 4K/120Hz RGB signal (8-bit, 10-bit, 12-bit), like from the Xbox Series X for example, this is when this problem will appear.
Sound United had announced that most Denon and Marantz AV receivers that were manufactured after May 2021 would come with an updated HDMI 2.1 chip that doesn't have this problem. But if the receiver was manufactured before this date it probably has the original HDMI 2.1 chip which means this would need a different solution.
For those pre-May 2021 receivers what Sound United has decided to do is offer, free of charge, an HDMI adapter called SPK618 that is handling the HDMI input signal and converts it in one that these receivers can handle. As such the S960H, with the use of this adapter, can accept all signals from the Xbox Series X without any problems.
Now, in order to know if the S960H you have, has the old or updated HDMI 2.1 chip there are actually two ways. The most obvious one is to connect an Xbox Series X and see if you get a black screen or not. But you can determine this by the serial number of the receiver also. Sound United stated that all models that end with 70000 and onwards are free of this bug and you should in theory be ok.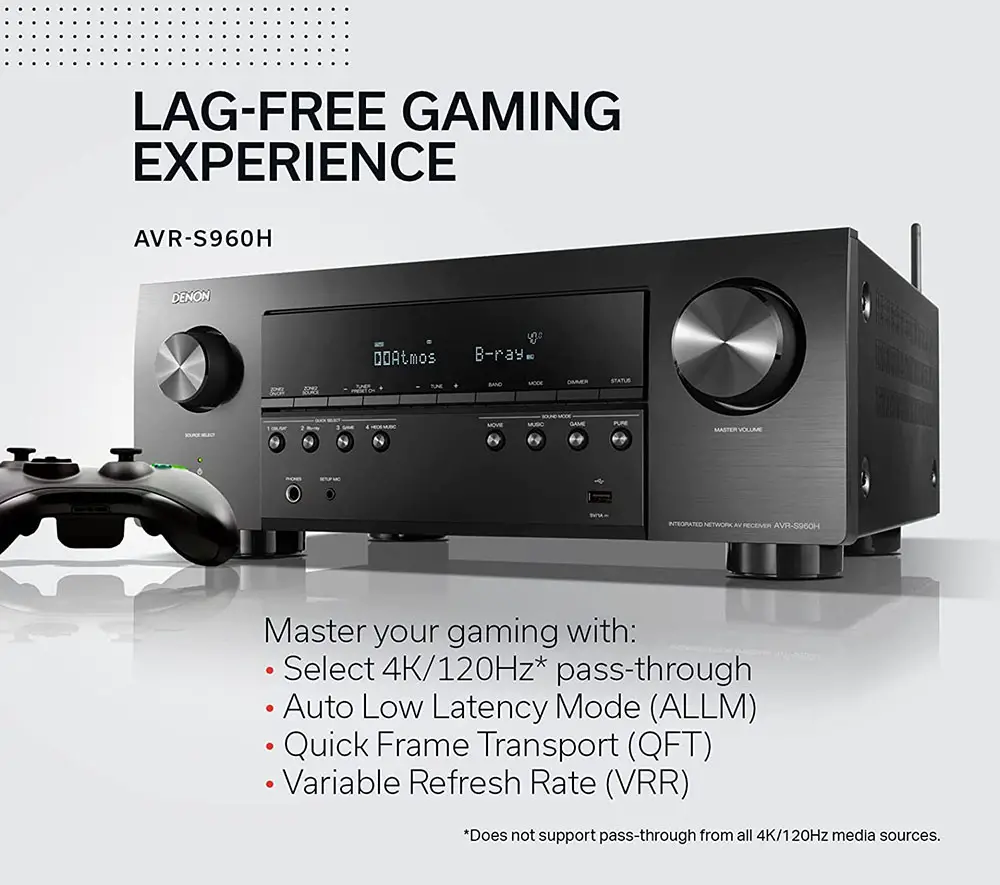 But in case your receiver is older then you can head to Denon's website and fill in the form to receive this adapter for free. Our test unit was in fact a newer, bug free, model so we can confirm that after connecting our Xbox series X we didn't experience any black screens or HDMI handshaking problems.
As for the unit's wireless capabilities we get the standard built-in WiFi which can connect both in 2.4GHz and 5 GHz networks while it also supports Bluetooth streaming. The AVR-S960H supports Bluetooth 4.2, as most Denon receivers, which is not as efficient as the newer v5 but at least we didn't have any connection problems during the time of our testing with it. 
Probably the only minus of the S960H is the single HDMI 2.1 input. In case you have multiple gaming machines this may be a problem. But if you are mostly into movies or you have only one gaming console then the single input will cover you just fine. The second minus is the bugged HDMI 2.1 port and here at least Denon has offered some solutions.
If you are one of the unlucky ones and you got a pre-May 2021 unit then the adapter that Denon offers free of charge is your only options and solution. If your unit is one of the newer ones then you have nothing to worry about.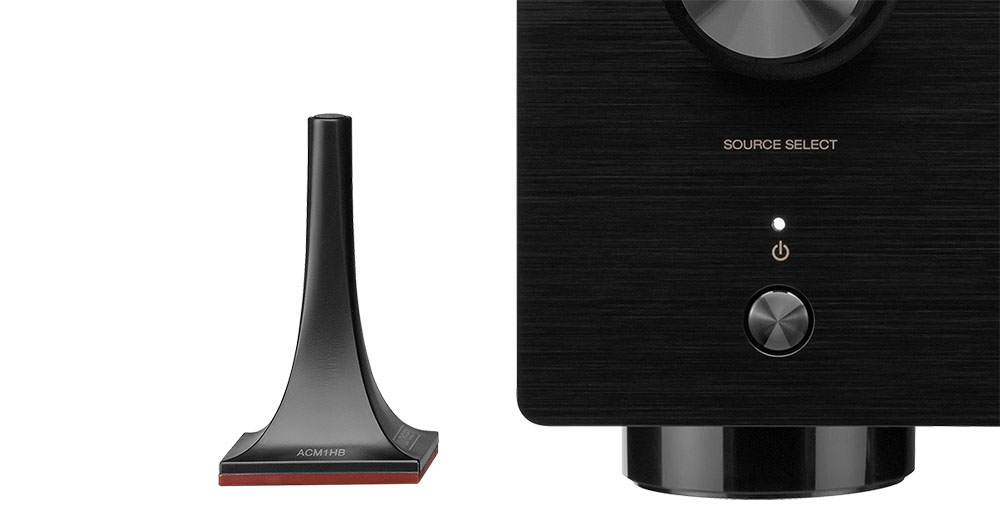 OS, Apps and Features
When looking at the features set of the AVR-S960H we couldn't find any differences between this and the next in line, the S760H that we had reviewed recently. So when it comes to extras the S-series seems to have complete parity.
First of all we will talk about the audio calibration system. Denon is using the Audyssey system and as with all manufacturers they scale it accordingly to meet the price and performance standards of each of their models.
The AVR-S960H is using the most basic version called the Audyssey MultEQ which is a step lower than the more advanced XT version found in the entire X-series. In comparison this one features lower resolution filters which can result in less accuracy but to be honest for most casual users even the basic version is more than enough.
The Audyssey MultEQ comes also with Dynamic Volume and Dynamic EQ. Dynamic EQ is a feature that is responsible for keeping the clarity and dynamic levels of audio even when you like to watch at low volume, like for night viewings for example. Dynamic Volume on the other hand is capable of balancing sudden changes and spikes in volume that could appear when there are sudden changes from TV broadcasting to commercials.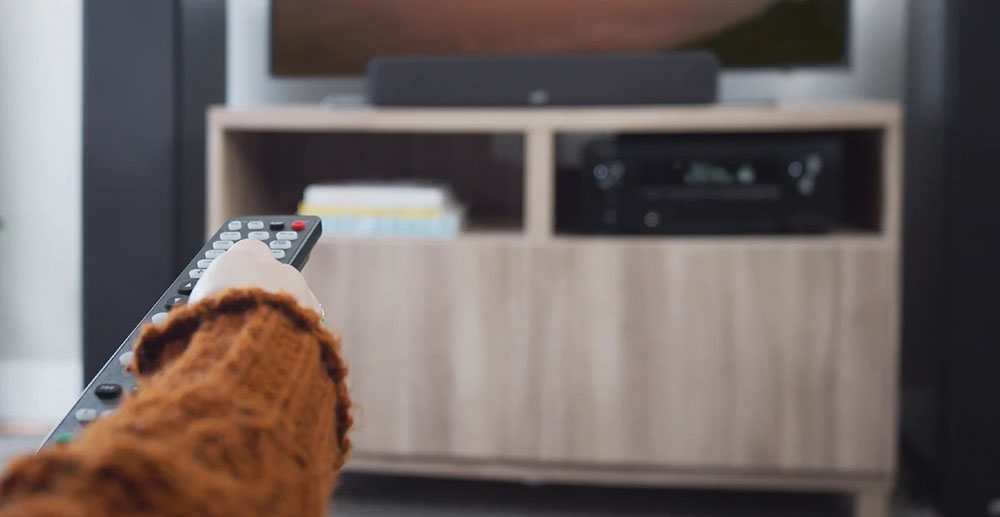 Going through the Audyssey calibration can be done either through the built-in wizard or if you want to dive deeper into calibrating your system then you can download the Audyssey MultEQ Editor app that is available for Android or iOS and do a more thorough setup with the help of your mobile device. Only keep in mind that this app has a one time fee which is a shame but it is what it is. As for the built-in system this is more than enough for most casual users as it offers almost anything you need to make very good and precise adjustments to your system.
But Denon provides another app for this AV receiver and this one comes completely free. The Denon 2016 AVR Remote app, as it is called, lets you control the unit with your mobile device through a nice visual interface. If you are tired of the included remote this is a nice and most important free alternative. The app is available for both Android and iOS devices so we suggest you give it a try to see if you like it.
The UI is the same old design we have seen in many Denon and Marantz AV receivers over the last few years. It's nothing fancy but it's practical and you can find anything you need very easy. But it looks very outdated and we strongly hope that Sound United will update it in all their releases sooner rather than later. We are in 2022 and it's strange to see so advanced UIs in TVs while AV receivers feel like they are stuck in the past.
The receiver comes with the usual streaming as well as multi-zone capabilities that Denon includes in almost all their units. As it supports both HEOS and Airplay 2 you can either stream music online from one of the available online streaming services that include Spotify Connect, Pandora, Amazon Music HD, TuneIn, Deezer, SiriusXM and TIDAL among others or create your own multi-room environment with the use of appropriate wireless speakers.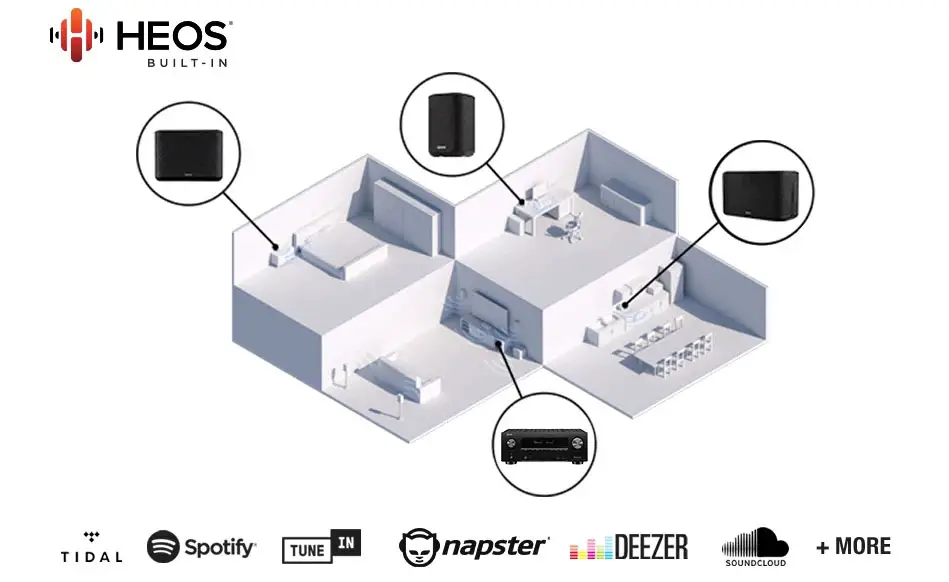 Both the HEOS and Airplay 2 apps are available for downloading from their appropriate stores for use with your mobile device. But if you prefer a wired connection the AVR-S960H also supports Zone 2 for your convenience but keep in mind this will limit the number of channels you can use in your main room to just 5.1 as there is no Zone 2 pre-outs here as we saw in the X-series receivers.
Now as far as streaming, online is not the only option you have as you can stream audio from a network drive or NAS server if it happens you to have one connected to your local network. Also with the included USB port you can stream music through some connected external storage or flash drive. Lastly if you prefer a more wireless way of streaming your music there is Bluetooth available for connecting with your mobile device. If you use Apple devices then Airplay 2 can also be used to stream music wireless through it.
And since we mentioned Bluetooth another function that is included in the S960H and seems to become a standard is that the receiver can output audio in two different ways using its Bluetooth transmitter. The S960H is capable of streaming audio to Bluetooth enabled headphones for a completely silent house experience or it can also output sound from both its speaker terminals and to a Bluetooth headset. This can be particularly practical in case there is a member in the family that is hearing impaired.
But keep in mind that this can be used only for music and not for movies. And this happens because the Bluetooth transmitter of the S960H is using SBC and not some more advanced codec meant for such use, like aptX Low Latency. As a result there is bound to be an audio delay due to the Bluetooth transmission speed making this feature ideal only for music use.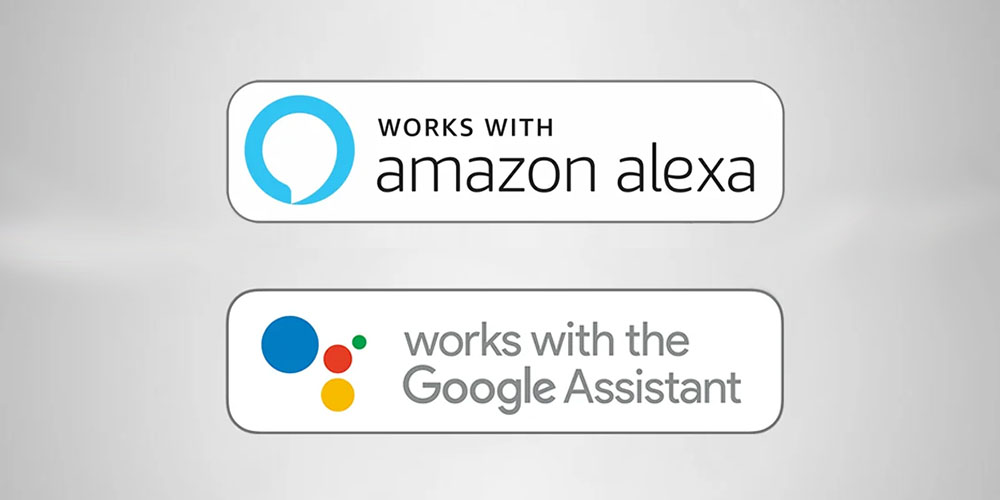 Denon is known for including all known voice control platforms to most of their models and the S960H is not any different in this regard. As such there is support for both most known ones with Amazon Alexa and Google Assistant but there is also support for Apple's Siri through the Airplay 2 app and the advanced automation system Josh.ai making this receiver complete in every way.
Another handy feature that we do find is HDMI-CEC and this one lets you use the TV remote to control the AV receiver if the TV also supports this. You can understand the practicality of this as this way you can reduce the amount of remotes you will need to have in your home theater. Obviously this feature lets you use only the most basic functions of the receiver but for everyday use it can be a very time saving one.
But extra features don't end here so let's see what else is included. The receiver supports video upscaling to 8K resolution but the limitation here is that the S960H can do that only through its HDMI ports and not from analog to HDMI like some premium units can. We also get an ECO mode that can regulate the receiver's power usage for a more environmental friendly power consumption as well as being "Roon Tested" certified.
For this last one there seems to be a bit of confusion as there are two types of certifications. Roon Ready and Roon Tested. The AVR-S960H, as with many other similar receivers like Marantz, is Roon Tested which means while Roon will work on this unit you will not get the highest quality possible. So for example if you use Airplay, audio quality is limited to 16 Bit/44.1kHz. Keep that in mind in case Roon is specifically important to you but also want your files to be streamed in their original quality.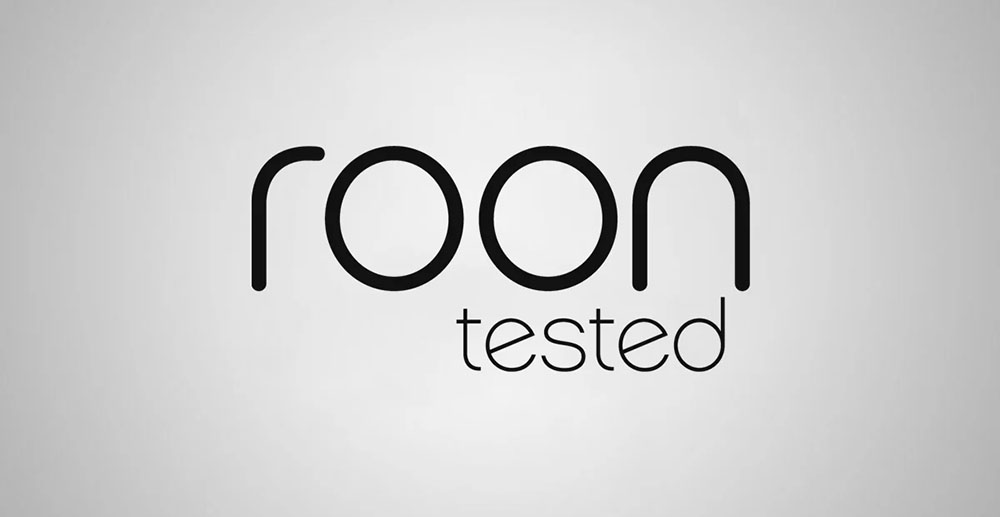 Final Thoughts
With so many units available, Denon is trying to cover all bases. As a result many of them feel very close in specs making it hard to choose the one suitable for your needs. The X-series obviously offers a bit more with a better Audyssey system, custom integration, longer warranty and a few other extras but you can say that these are worth it only if you specifically need them. If you don't then the AVR-S960H will cover you entirely.
What we saw here today is a very capable AV receiver that had very good audio output with crystal clear audio and nice surround and Atmos performance. The unit comes with all the extra features you will ever need both for offline and online use and its price is at very affordable levels.
As for its downsides our complaints will focus on two things. Except from the fact that there is only one HDMI 2.1 input, the initial units had the dreaded HDMI 2.1 bug. Denon has offered solutions for both with a multi-HDMI input adapter and another adapter for solving the Xbox series X problems. If you are a lucky buyer and got a unit manufactured after May 2021 then you don't have to worry about all this at all. Our second complaint is about the archaic UI still used and the remote that is cluttered with buttons. We live in 2022 and this control scheme has to be updated at some point after so many years.
Closing our review we can say that if you don't care about some of the X-series more advanced features the Denon AVR-S960H will cover your needs and then some. It may have been a troubled start for many 2020 releases, among them the S960H, but Denon tried their best to rectify all problems and as such the S960H remains an AV receiver that we can really recommend to you.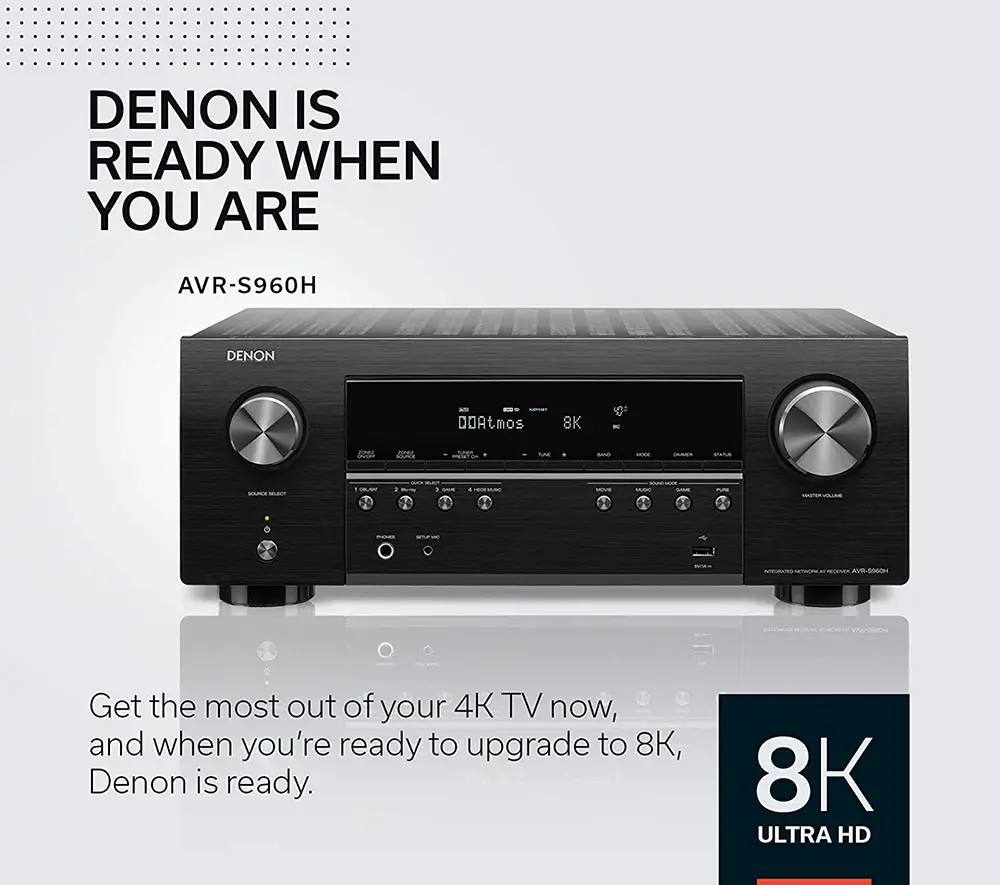 For more reviews you can check our dedicated 7 channels 8K AV Receiver reviews list or even look at our Product Reviews Table where you can find the brand and specific product you are looking for.
---
Cheapest Places to Buy :
---
Denon AVR-S960H Specifications