SVS SB-1000 Pro
Reviewed at $599.00
Movies Performance
8.9/10
Inputs and Features
9.3/10
Pros
Clear and precise bass
Excellent build quality
Mobile app support
Very small footprint
Cons
Not suitable for large spaces
It lacks the punch of bigger subs
Not very cheap in this size
---
Cheapest Places to Buy :
---
SVS has been slowly updating their whole lineup of subwoofers and along with all the innovations their new designs have one very practical feature they are including is the SVS Bluetooth remote app. But if you were living in a small apartment or in general you had a small home theater system, going for the 1000 series meant that you had to go with the good old fashion back side knob calibrations which didn't exactly feel as high end as the rest of their releases were lately. Fear not as in our SVS SB-1000 Pro review we will be looking at the new renovated 1000 Pro series that SVS recently brought to the table.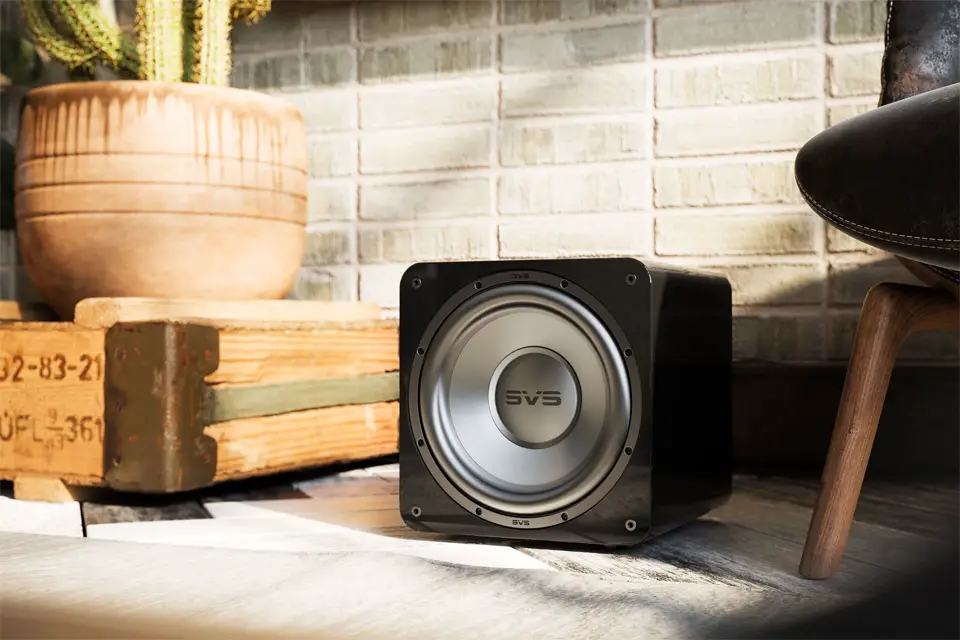 The new 1000 pro series includes as usual two models. The sealed SB-1000 Pro and the ported PB-1000 Pro with both of them featuring many similarities but also enough differences to aim for different setups. Sealed subwoofers are usually meant more for music playback without this meaning that they cannot do just fine with movies. It's just that the ported versions usually can produce more deep bass because of their ported nature while the sealed designs have more tight control of the low end that can slightly benefit music. But this is a topic for another article so we will not go into more detail here.
As for the SB-1000 Pro, SVS went ahead and made a lot of changes to their most basic series. Featuring a 12-inch long-throw driver placed in a 13″ cabinet and featuring a 325 watts RMS, 820+ watts peak power Sledge STA-325D amplifier the SB-1000 Pro may be small in size but surely aims high. And by adding the SVS subwoofer smartphone app into the mix that lets you control the subwoofer's various functions through your mobile device SVS has finally brought the 1000 series on the same level with the rest of their subwoofer lineups.
SVS may not be the absolute best you can get in the subwoofer market but is definitely one of the most popular ones as the kind of quality, performance and support they offer is second to none. Does the SB-1000 Pro continue the trend that SVS is so famous of or it falls short of the undeniably high expectations? Keep reading to find out.
Design, Inputs and Features
Exterior
The SB-1000 Pro may have been updated on the inside but when it comes to its outside construction you will fail to spot any differences compared to the previous 1000 series. Size is exactly the same measuring 13" x 13.5" x 14.76" (330 x 342 x 375 mm) with the grille attached and weights 26.0 lbs. (11.9 kg) making it easy to fit in almost all spaces even if you live in a small apartment.
Its design is rather simple with its cubic look with rounded corners while the front side is completely covered by its 12″ driver. The acoustically optimized sealed cabinet features extra-thick MDF front baffle and rigid internal bracing to create a resonance-free environment.
The cabinet is very sturdy and stable with the help of four screw-in rubber feet while one thing we definitely like is the fact that SVS decided to take out the front blue LED light that was very bothering in some of their previous releases and it added more to frustration than anything else. There were many complaints among users about how distracting this was and it seems that SVS listened.
The grille covers the entire front face and it has a centered SVS logo on the bottom center while it's corners follow the same curvy design of the main body. The cloth grille may look better than the steel mesh grilles SVS has been using in some of their releases but is definitely more delicate and needs care in order not to be teared.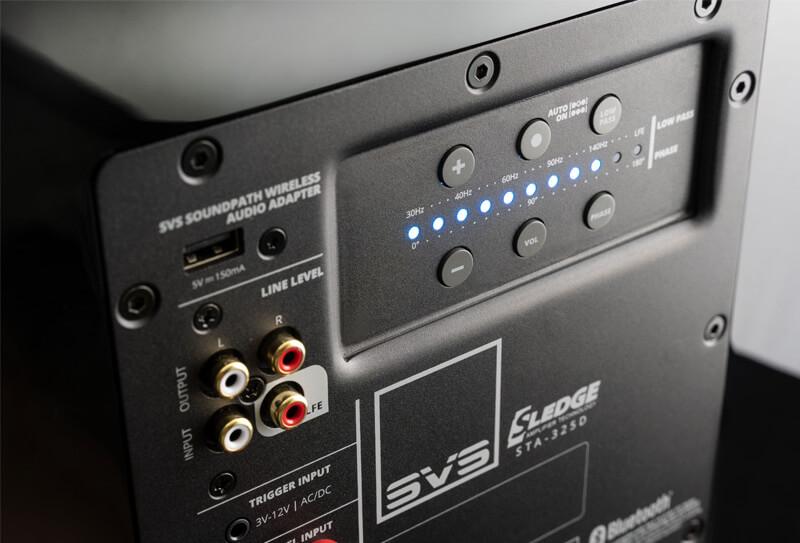 The back of the cabinet has been completely redesigned in order to incorporate all the connections along with the newly designed Intelligent Control Interface (ICI) that we will talk about in the appropriate section below.
As for the available colors SVS was always very shy of offering many variations for its speakers and the SB-1000 Pro is no different. Coming in Premium Black Ash or the slightly more expensive Piano Gloss Black and White finishes are the choices you have. The gloss finishes have a higher price but in our opinion they look so much better and are worthy of the extra price.
In terms of construction and cabinet quality the SB-1000 pro is not much different from its predecessor but this is not a bad thing. The 1000 series were already very good for their price category and the new Pro release seems to continue from exactly the same place. Compact in size but with enough quality in its materials and overall design to warrant the name of SVS on it.
Internal Hardware
The SB-1000 Pro subwoofer is using a newly designed 12-inch long-throw driver built for serious output and accuracy. The proprietary SVS design features a dual ferrite magnet motor assembly with long-throw parabolic surround for extreme excursion with room-pressurizing SPLs. A lightweight and rigid aluminum vented cone with composite fiber dustcap moves immense amounts of air to create tactile sonic energy without losing control. The result is precise and accurate response not usually seen in this size.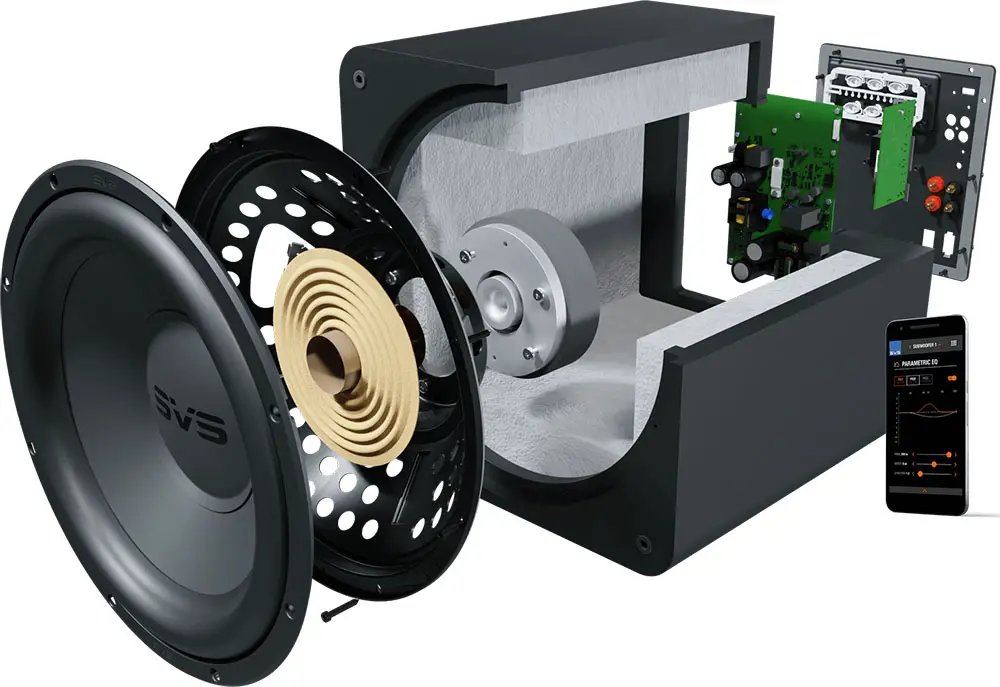 But except from the new driver SVS has also upped the amplifier specs as the one featured in the Pro series is rated at 325 watts RMS with 820+ watts of peak power. The new 1000 Pro Sledge STA-325D Amplifier with fully discrete MOSFET output was necessary to provide the necessary current and tap on the potential of the high-excursion 12-inch driver. The high efficiency Class-D topology with 34 Amp 120 Volt MOSFET's deliver effortless on-demand power while wielding pinpoint control.
In addition SVS has added what they claim to be the most advanced processor ever used in a consumer subwoofer, a 50 MHz High Resolution Analog Devices Audio DSP with precision 56-bit filtering, in order to allow the 1000 Pro Series to blend with any speakers and maintain pristine sound quality through advanced in-room tuning, optimized frequency response curves, powerful DSP controls and more.
All the above give the SB-1000 Pro a frequency response of 20 – 270 Hz (± 3 dB) which is shockingly low for such a size and price category and this puts SVS on the top spots of the performance ladder in regard to widely available consumer subwoofers.
Connectivity
The back side of the SB-1000 Pro has been completely re-designed and this means that the layout of the included connection ports has also changed even though the kind of connections we get are fairly the same.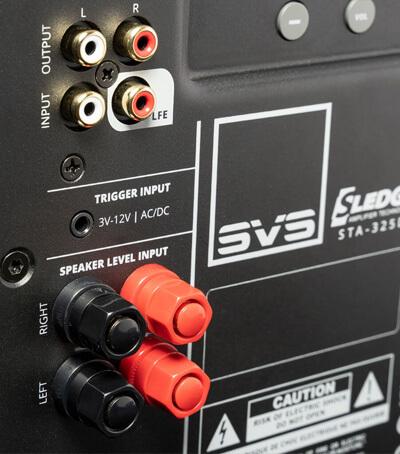 All connections are placed on the left side of the Intelligent Control Interface (ICI) and what we get is the standard LFE coaxial port as well as a pair of line level input and a pair of outputs exactly above. Below these there is a 3V-12V AC/DC trigger input which is not usual to get in a subwoofer but we see that SVS is using one in almost all their releases while exactly below that we get 2 pairs of 5 way high level speaker wire inputs.
The only change in the Pro version is the addition of a USB port at the top that is used to power the SVS Soundpath Wireless Audio Adapter that we will talk about shortly.
Other than the new USB port there is no change in the number or type of connections here and to be honest what we get is more than enough for most kinds of setups.
Controls
Exactly to the right side of the connections we find what SVS calls the Intelligent Control Interface (ICI) which is the new control system for all functions of the subwoofer while also provides connection for the SVS Subwoofer Smartphone App. Basically we get four buttons that control the power on/auto on mode, the phase, the volume and the low pass filter along with a duo of buttons for increasing or decreasing the mentioned values. The LED bar lights between these buttons act as a visual indicator for the value you set for each function. And while the overall design of the ICI looks nice and more modern than what we usually see in subwoofers it basically has the same functionality as the rest.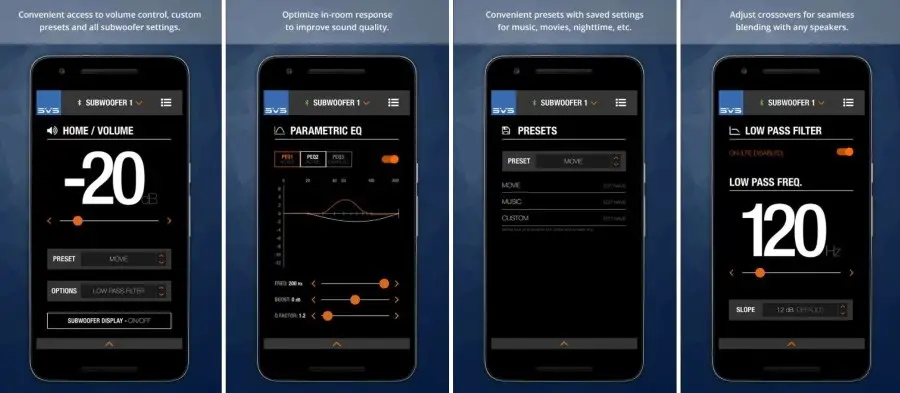 Now one characteristic that sets the SB-1000 Pro apart from the competition is the inclusion of a mobile app that you can use to set various parameters instead of having to use the rear panel ICI all the time. This can be very handy in case you want to place the subwoofer in a specific position where the rear panel is hard to reach. It's like having the rear panel at the palm of your hand and more.
The app connects to the subwoofer through Bluetooth and when you access its main page you get a plethora of functions that you can play with including the volume, Parametric EQ, Presets, Low Pass Filter, Phase, Polarity and System Settings. For each of these settings there is a help page that analyzes how each one affects the performance of the sub but details are a bit on the light side and we would like to see more details being added to make it clear what each one does. There is even the ability to rename your subs in case you are using a dual sub setup in order to be able to distinguish them easier.
With the app you can save custom presets for one-touch tuning with optimized settings based on listening preferences for movies, music, and more. Variable port tuning modes with customized frequency response curves for "Standard" and "Sealed" allow tuning for maximum output or deep bass extension and transient speed. While a 3-band parametric EQ controller allows precise adjustments for boost or cut, Q-factor, and frequency down to the single Hz level so you can customize performance by eliminating peaks, nulls and other room issues.
The mobile app is an amazing feature and one we would like to see in more subwoofers. When SVS brought this system to its bigger units it felt like the small 1000 series was left unattended. But SVS had big plans and bringing this to its smaller category really sets new standards in this price range.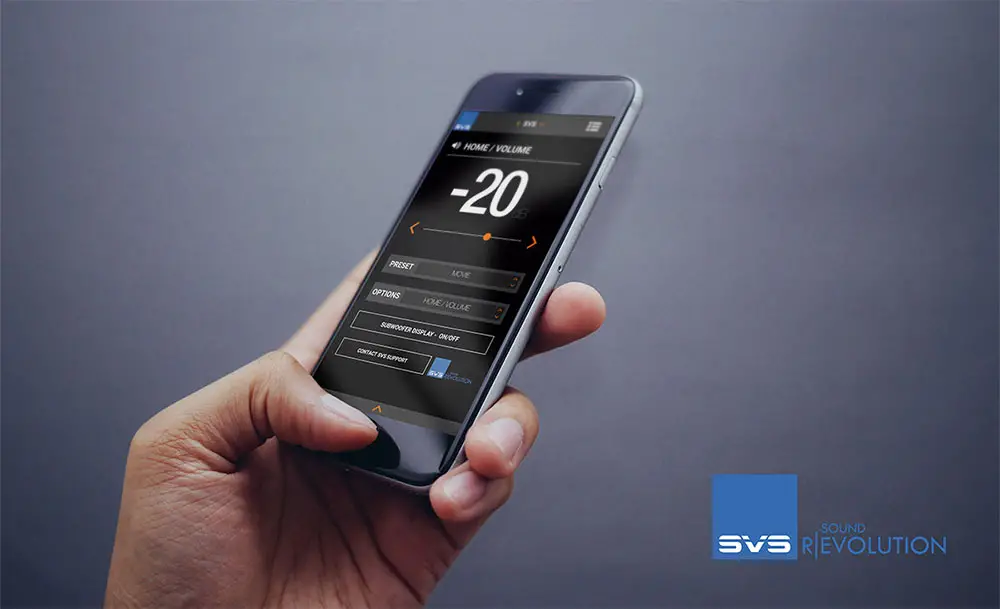 Extra Features
The subwoofer has an auto function mode which can be activated by pressing the Auto/On button. The first time this button is pressed puts the subwoofer in continuous mode and the button will turn blue while a second push will activate the Auto function while the button will turn to Amber.
In case you are troubled by the wires you have to run through your house and you prefer a more wireless environment SVS has introduced the SoundPath Wireless Audio Adapter which can be connected to the SB-1000 Pro and powered by the included USB port. This is a new feature that SVS introduced in all their new releases and to be honest it's an ingenious design as we have seen wireless speakers becoming a trend lately and it seems that SVS took notice and introduced this small adapter that can really do miracles without the need of wires.
Many will be thinking about any noticeable delay due to the wireless nature of the transmission but our previous experience with the device gave us excellent response and you shouldn't really be worried about this.
Lastly if you live in an apartment and your shiny new SB-1000 Pro is bothering the neighbors SVS has introduced the SVS SoundPath Subwoofer Isolation System which are basically high grade rubber feet especially designed to decouple the subwoofer from the floor and make the energy transfer as weak as possible. These work very nicely so if you have noise problems or wooden floors we would strongly recommend to use these.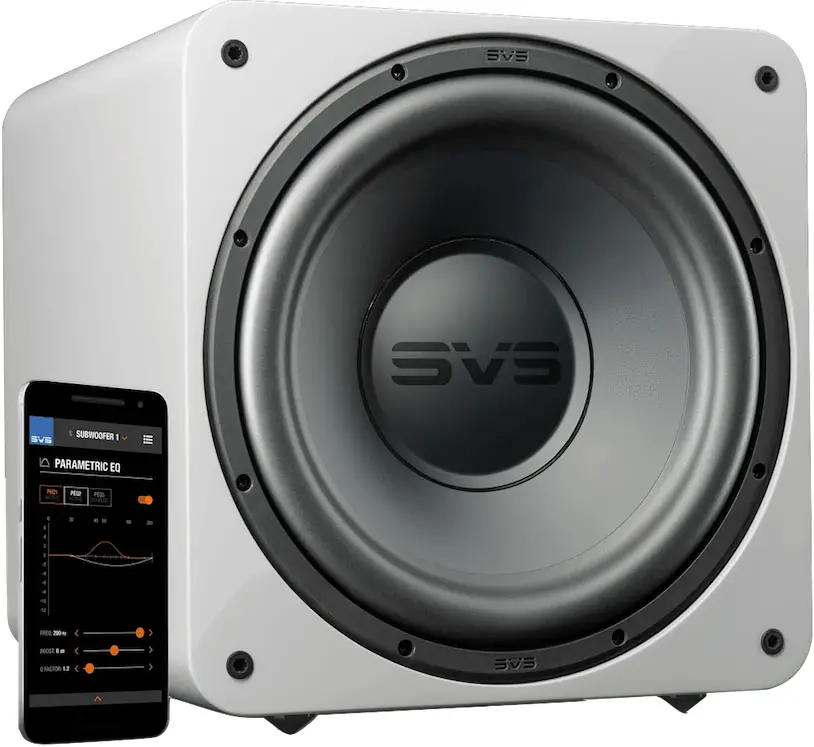 Performance
As a general rule of thumb sealed subwoofers do tend to fare better with music than with movies as their sealed design is capable of more accurate and tight control of bass which can be detrimental with bass intensive songs. On the other hand a ported sub offers more deep and punchy bass which usually have an advantage in movies. But this doesn't mean that a sealed design cannot do great in movies, on the contrary they can sound magnificent. It's just small differences that aim for those that look for very specific things in the performance they get.
As with all our subwoofer tests we placed the unit in the front left corner and kept around two feet (60cm) around it in order to provide it with some breathing space although the front-firing design of the SB-1000 Pro would not be affected as much as some other subs. Keep in mind that the closer you place it to a wall the more impactful bass you will get but on the other hand it can sound a bit too boomy so it's a trial an error situation really.
Always remember that there is no right or wrong subwoofer placement and each position has it's advantages and disadvantages and all that matters is what sounds best to you. Now for our movie testing we used a standard 5.1.4 channels, Dolby Atmos setup with 4 height speakers and a single subwoofer that was the SB-1000 Pro. After going through the initial audio setup with our Marantz receiver we were ready to begin our tests.
Movies
For the first test of the day we decided to go big and for that a film like Independence Day in 4K UHD was exactly what we needed. Its explosive DTS:X mix is just the kind of material necessary to make the SB-1000 Pro flex its muscles and show us what this little monster can do.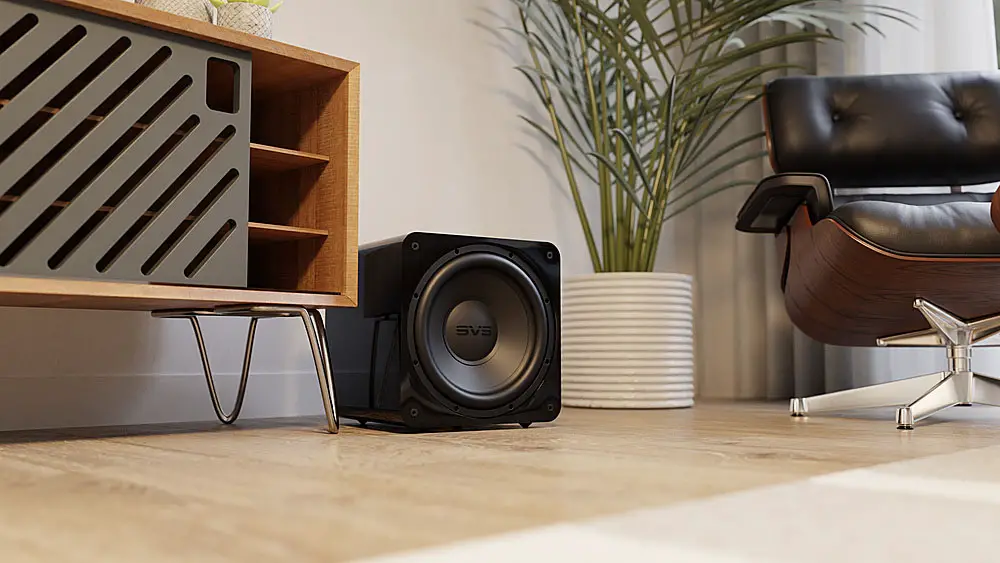 It's amazing what SVS has managed to do with such a small size and the included DTS:X mix brought all its low end power front and center. Obviously the highlight of the film is the landmark destruction sequence and here the sub really gave everything as the magnitude of destruction was felt on the lower registers with such a thunderous power.
With every explosion on the Empire State Building you could sense the scale and magnitude of destruction without falling flat at any moment of the whole sequence. The heat wave that followed the initial blast would leave only scorched Earth with a low end rumble indicating the menace that was approaching.
And while these scenes were obviously the highlight there was much more to see from such a film. When the fighter jets attack the main alien ship everything from missiles, explosions and afterburners sounded impressive with good volume, pleasing power and enough extension. At no point during all this mayhem did we feel the sub to choke or the bass feel boomy. There was good clarity and tight control that was impressive to see in this size.
For our second test we tried out the first Transformers film with its blasting Dolby Atmos track. Such a film needs no introduction really and the sub did feel right at home with the level of low end action and on-screen destruction you get.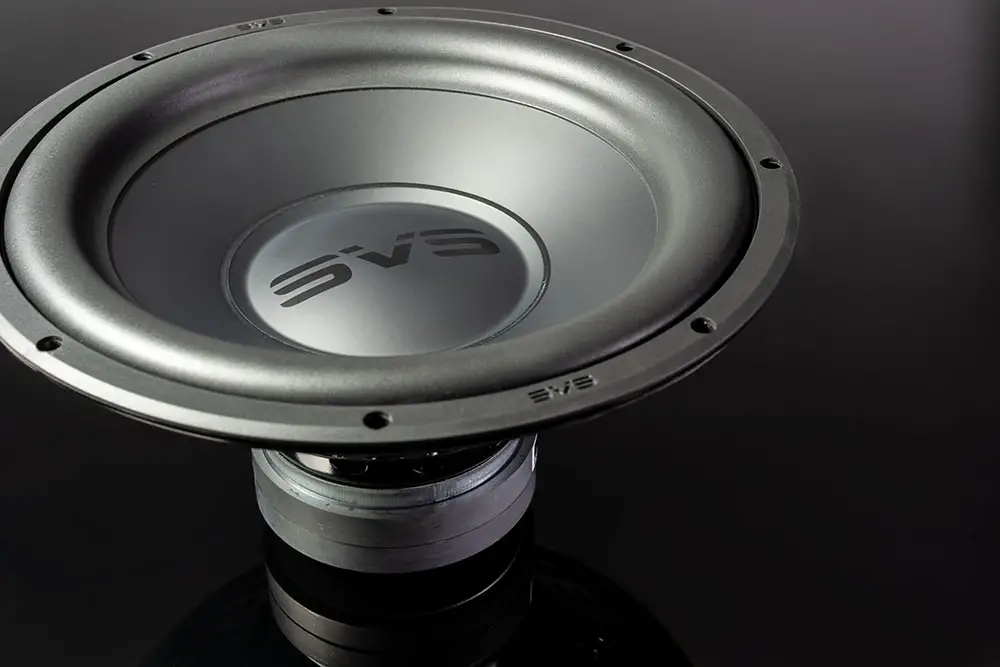 The SB-1000 Pro once again proved to us that it's a master at handling its low end output and managing to do so not only by providing enough power but also extreme control without stopping being delicate. Because its not just all out bass. When a scene asks for more detail the 1000 pro will be more gentle, when the low end roars into the depths the sub follows without complaint and more importantly without being left for breath.
There was no shortage of bass in this film. From the weight of these big robots when they are walking, from projectiles hitting all over the place, debris falling from on-screen explosions you name it. If there was a list of low end effects then this film has it all and the sub was as happy as ever to play them like an experienced maestro guiding his orchestra. And the sealed nature of the SB-1000 Pro did help it to be more accurate and articulate even if this meant loosing some of its prowess.
Sealed subs may do slightly better with music but if there is one thing that the SB-1000 Pro proved us is that a good sealed design will do exceptionally well no matter the source material. And from what we heard here today this could not be more close to the truth making this one excellent small performer that can do miracles in any small sized home theater system.
Music
Next comes our music testing and for this we switched to a 2.1 channels system with only the front channels and the SB-1000 Pro connected in our Marantz AV receiver. As we always do in our music tests we selected a few FLAC music files that we streamed through the USB port of the Marantz receiver for the best audio quality possible.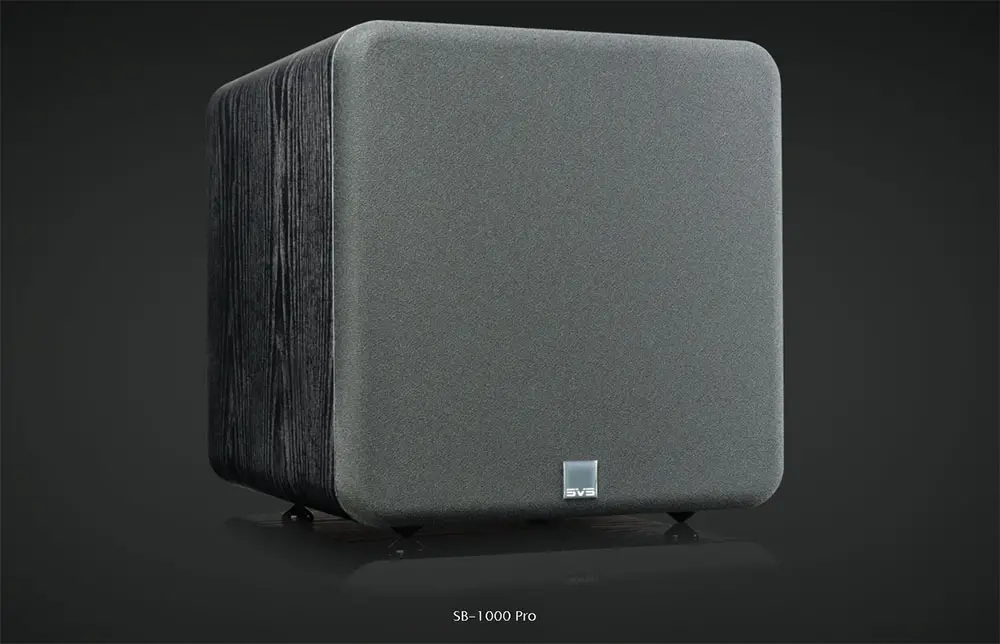 We were sure that since the sub managed to impress us so much in our movies test then with music it should surely sing. And oh boy we were not disappointed. The sub knows its strengths and makes sure to bring them forth for you to enjoy. As we have said before it's not only enough to have the necessary power on the low end but also how delicate and how you manage to control it that brings forward all the qualities of a song.
And the SB-1000 Pro has all the elements needed for such an unforgettable performance. There was enough detail due to its sealed design that brought forth a higher musical quality compared to what a ported sub can do. And the added power of the pro version does help to push the low end with more vigor than before.
As always we tried various types of songs and the subwoofer displayed the same behavior across the board. Clear bass with nice deep extension, good power and fine control no matter how demanding the song was. The sub would just follow the tempo with precision and never complain or loosing focus.
If you are looking for a small all around subwoofer to be used both for movies and music the SB-1000 Pro is an excellent choice but if music is your thing then this unit is a no brainer and will give you such an experience that is surely money well spent.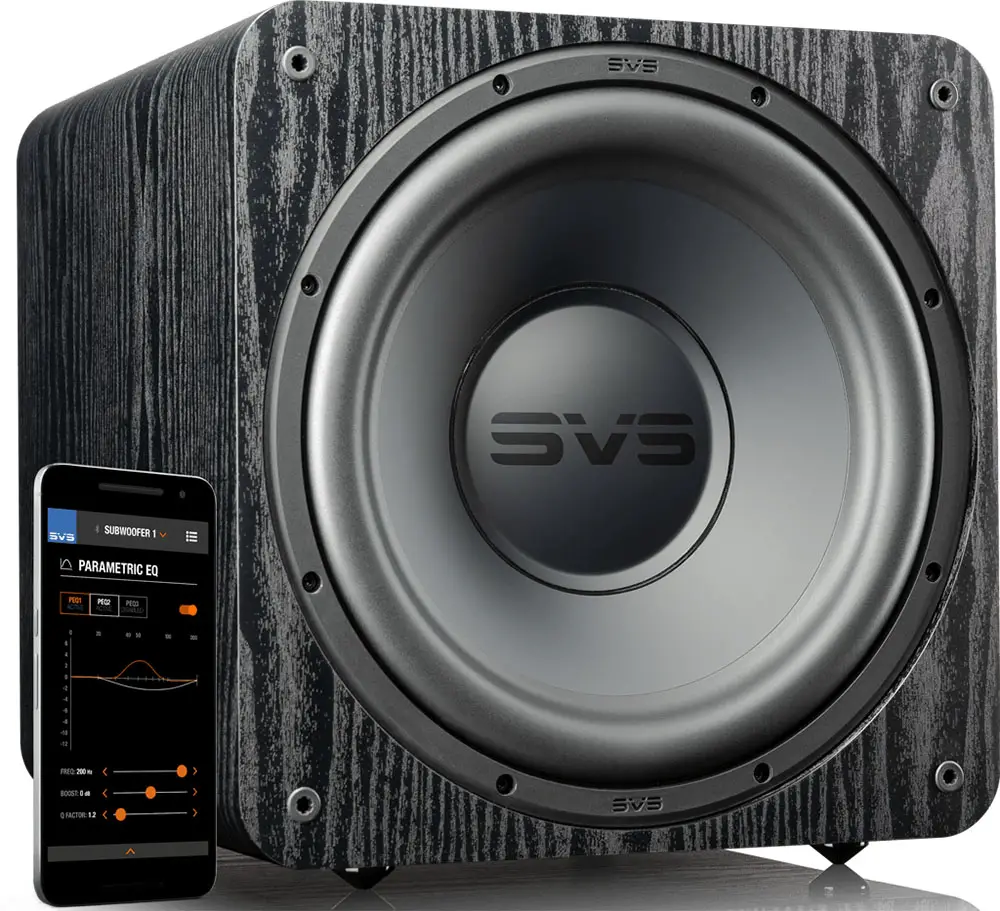 Final Thoughts
The 1000 series was one of the most successful releases SVS had made as they has managed to combine great performance, with an incredible price all packed into a small factor box that was ideal for most spaces. The new SB-1000 Pro continues this trend but SVS managed to update it enough to give it this extra something that would make the new release a meaningful one.
The SB-1000 Pro is a beast in a small size and while when you first look at it, it will not give you an idea of how much power it hides but when it starts to sing it will show its teeth. The sealed cabinet did provide the subwoofer with tighter control of the low end without loosing much of its power or low end extension. And although we are sure that the PB-1000 Pro can provide this little extra on power output and bass punch the SB we tested here will be more than enough in most situations.
The cabinet was as always nicely built and the inclusion of the ICI system and mobile app support gives the Pro version a nice practicality boost taking it a step ahead of most other similarly prices releases.
Is there anything bad to say about such a fine release? Not really to be honest, SVS have managed to make a great sub even better. Obviously the SB-1000 Pro is not meant for big spaces as for that situation you should go for either the PB version that has slightly more oomph or go to a bigger category with the 2000 series. Also the gloss finish options do cost more but they look so much better than the premium black ash color.
Ending our review what we can say is that if you are looking for a good quality small factor subwoofer that has the power and low end extension of bigger subs then the SVS SB-1000 Pro is the one for you. It has all the ingredients to continue the success of the previous 1000 series and SVS made sure to provide it with the tools to do so. Highly recommended.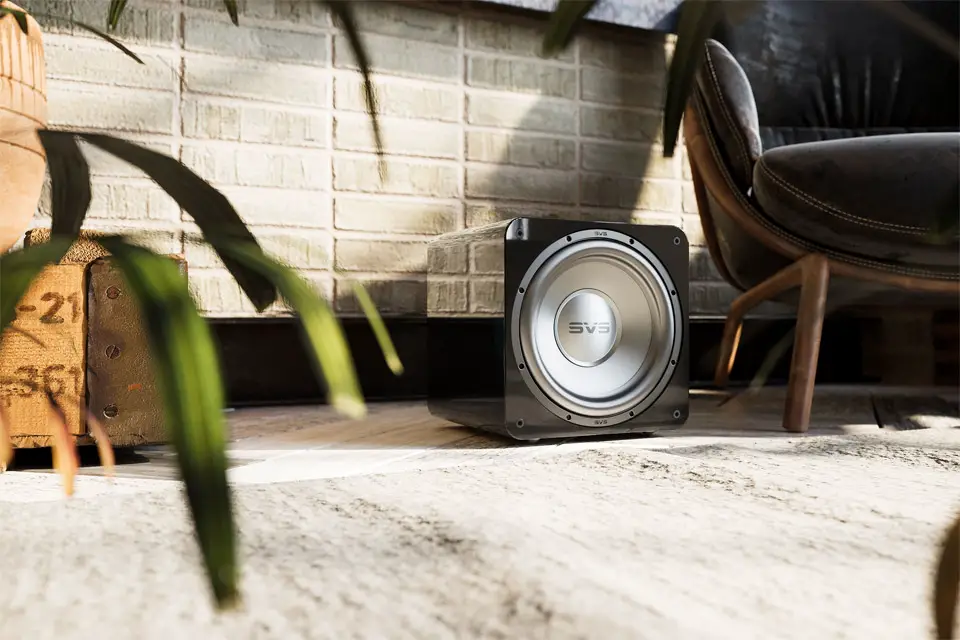 For more reviews you can check our dedicated Subwoofer reviews list or even look at our Product Reviews Table where you can find the brand and specific product you are looking for.
Also don't lose the chance to subscribe to our Newsletter and gain exclusive privileges.
---
Cheapest Places to Buy :
---
SVS SB-1000 Pro Specifications