SVS SB-1000
Movies Performance
8.8/10
Inputs and Features
9.0/10
Pros
Clear and precise bass
Excellent build quality
Very small footprint
Good price for an SVS product
Cons
Not suitable for large spaces
It lacks the punch of bigger subs
Doesn't go as low as other similar subs
The front power led can be a bit distracting
---
Cheapest Places to Buy :
---
If you are dealing with audio and more specifically home theater sound for some time then the name SVS will ring more than a few bells. And while the company has made a name for their quality speakers in general a lot of people praise their top of the line premium subwoofers they have created over the years. And while many home theater fans tend to prefer the bigger offerings the company is manufacturing there is certainly the need for smaller sized speakers for people that cannot either afford to go big or space limitations are not allowing it.
For this specific reason SVS is offering a couple of small sized subwoofers that were created exactly for this reason. To satisfy those consumers that are limited by space but don't want to sacrifice much in quality. For this specific group SVS created not one, but two subwoofers with the SB-1000 and the PB-1000 models covering the small-sized segment of their subwoofers lineup. In today's SVS SB-1000 review we will be looking at the first of the two, being a sealed-type variant, and test how it behaves both in movies and music. Is this subwoofer's size a limiting factor or is there more to it than meets the eye? Let's find out.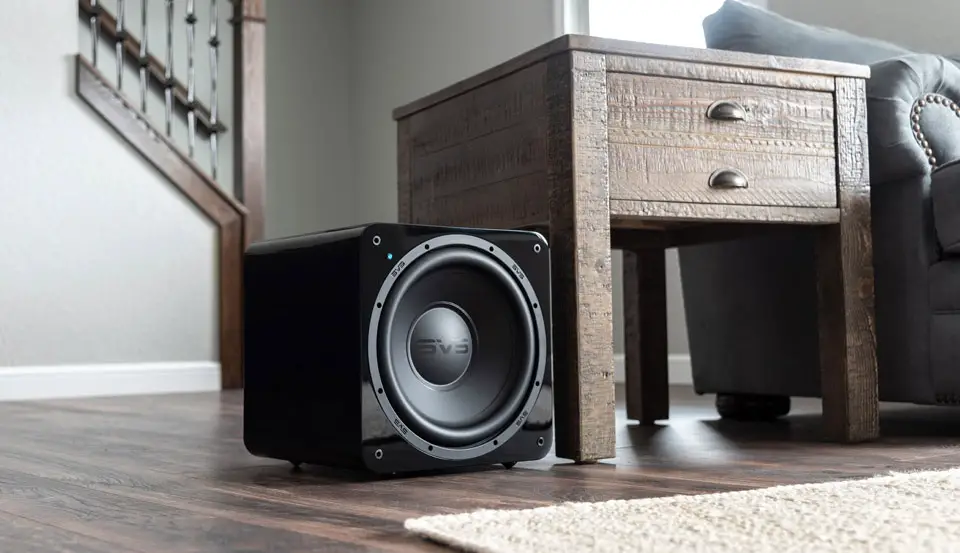 Design, Inputs and Features
Exterior
When you first look at the SB-1000 the first impression it gives you is how small this thing actually is. With a cubic design the subwoofer has a rather small footprint so if you are worried about space afraid not as this one here can fit almost anywhere so it surely gives you plenty of freedom when it comes to placing it in your room. It measures 13.5″ (H) x 13″ (W) x 14.6″(D) with the grille on while it weights just 27 pounds making it one lightweight subwoofer so moving it around is as easy as it gets.
It's design is rather simple and with it's small size it will mostly go unnoticed no matter where you place it which we consider a good thing. It comes with nice round corners to give it a bit of character while the front is almost completely covered by the driver. The grille covers the entire front face and it has a centered SVS logo on the bottom center while it's corners follow the same curvy design of the main body. The cabinet is made out of Medium Density Fibreboard (MDF) with the front panel being 1″ thick while the other panels seem to be a bit thinner at 0.75″. On the inside SVS has placed 2″ thick of damping material on all four sides.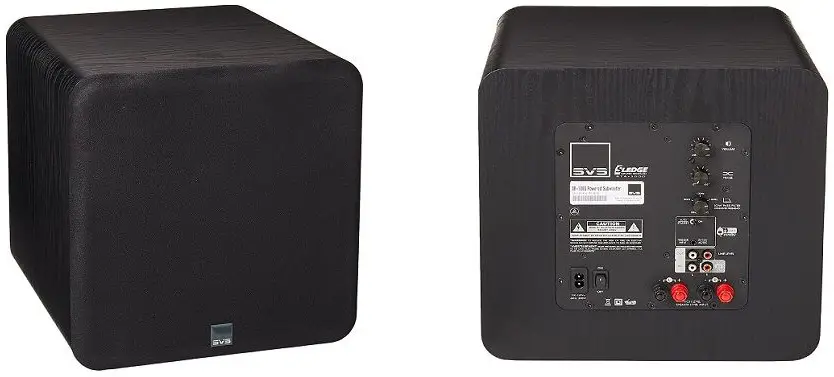 Looking it at the front, on the top left side of the 12″ frontal driver, there is a small LED light that indicates when the subwoofer is powered on. When it receives a signal the light turns blue while when in standby it turns red. Having the light on the front is a matter of personal taste with some prefer it while others may find it a bit distracting. When you have the grille fitted the light naturally is very subtle but as many people will for sure like to have it without the grille and use it in dark environments then it may become a bit bothering. There are three color variations available with Premium Black Ash, Piano Gloss Black and Piano Gloss White being the ones you can choose from.
At the back we find all the available controls, buttons and connections that we will analyze a bit further down this article. In general the SB-1000 is a compact subwoofer and it is pretty clear why it was designed like this. If you don't have the luxury to go big then this one here will definitely fit the bill.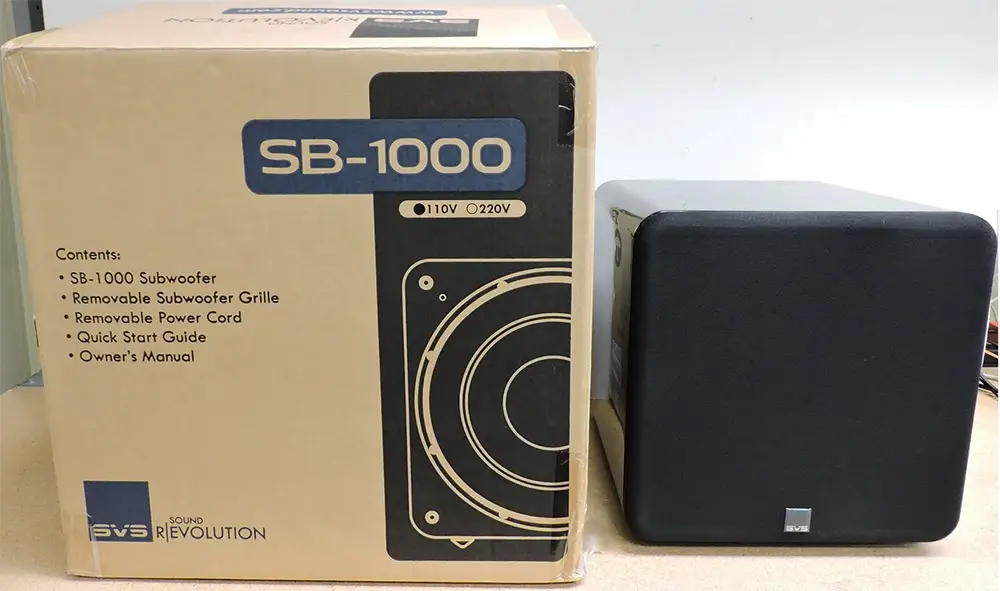 Internal Hardware
The SB-1000 comes with a forward firing 12″ driver and given the small size of the outer shell it covers almost completely the front panel. The driver has a long throw design and utilizes a lightweight treated fiber composite cone along with a rubber surround. Dual high-grade ferrite magnets along with FEA-optimized motor technology for low distortion, a vented pole piece for greater cooling and low noise and a high-power voice coil for excellent thermal management complete what seems to be a light duty design.
SVS equipped the SB-1000 with a STA-300D Class D amp that is using a sledge design and can provide 300 watts of continuous power (720 watts peak dynamic power). What is particularly interesting with this amp is that it comes with an advanced DSP signal processor something that is not very usual to see in a budget-friendly $499 subwoofer. Usually most cheap subs use analogue circuits which provide less precision so having a DSP puts this subwoofer ahead of most of the competition.
The subwoofer comes with an input impedance of 47 kΩ (unbalanced RCA) / 2 kΩ (speaker level) and frequency response is 24Hz-260Hz at +/-3dB.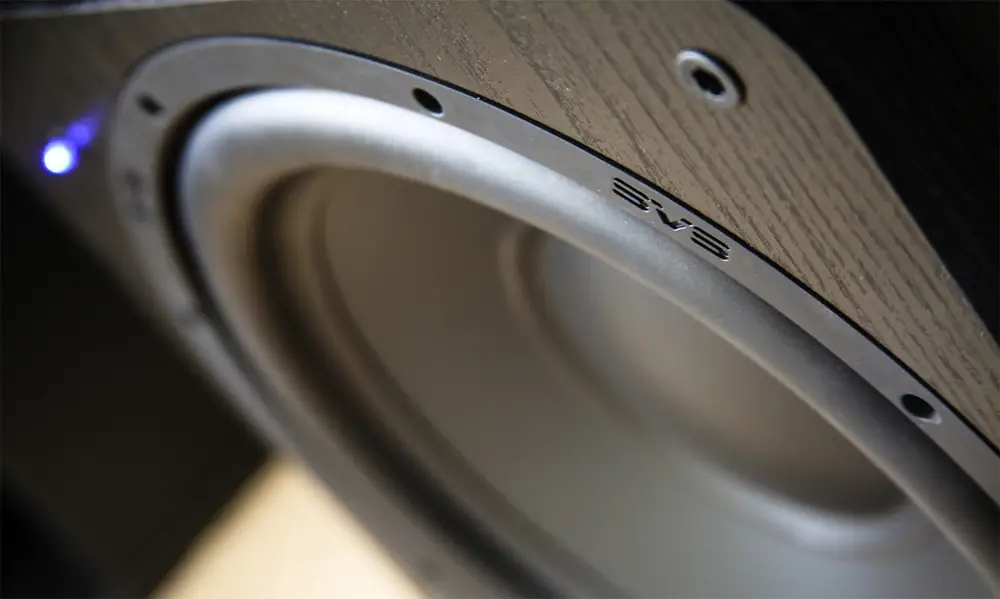 Connectivity
Connectivity wise the SB-1000 comes with the standard LFE coaxial port as well as a pair of line level input. Above these we get a pair of line level outuputs while below there are 2 pairs of 5 way high level speaker wire inputs. Lastly there is a 3V-12V AC/DC trigger input which is not very usual in this price range so are a bit surprised to find one here.
Controls
The subwoofer comes with all the usual control we find in such speakers. As such there is a power switch, an auto standby/on switch as well as 3 round knobs with the first controlling the volume, the second being for the phase and the third being for the 50Hz-160Hz low pass filter (LPF). We should point out that these dials are not analogue but rather digital actuators which means they provide much more precise and noise-free adjustments and this shows how much attention to detail SVS is putting on their speakers, even the lower priced ones.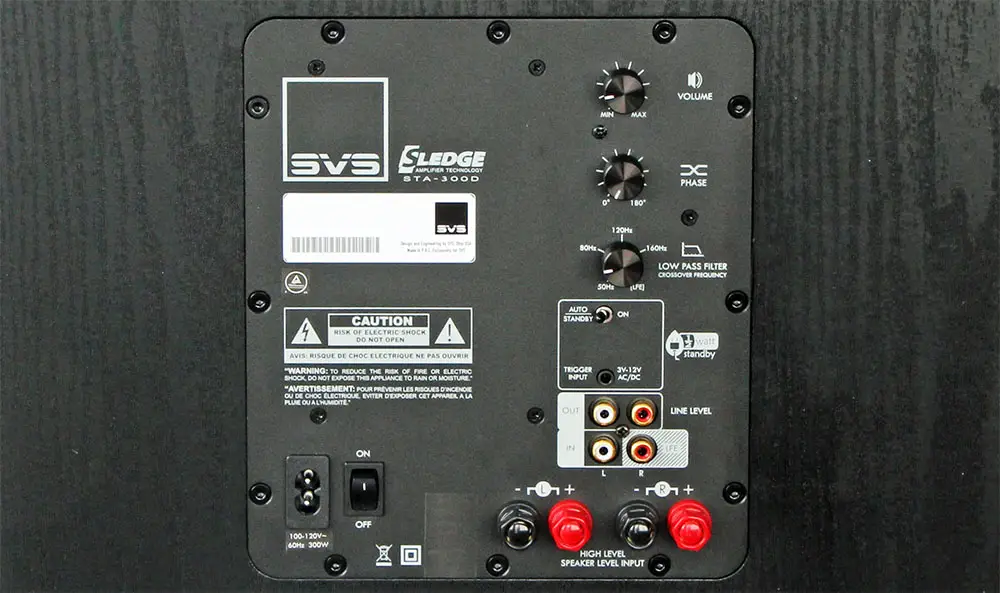 Extra Features
For those power sensitive the SB-1000 consumes less that 0.5 watts when it switches into standby mode making it even more cost friendly in the long run. The subwoofer is also RoHS compliant with it's lead-free construction for those that also care about the environment.
Performance
The "SB" in it's name indicates the sealed-box type design the SB-1000 comes with and with such a small footprint and size things are very easy when it comes to it's placement in our viewing area. Usually subwoofers should be placed near a wall or a corner in order to enhance the low frequencies so in our situation we placed it on the front left corner right next to the left front speaker with about 1 meter setting them apart.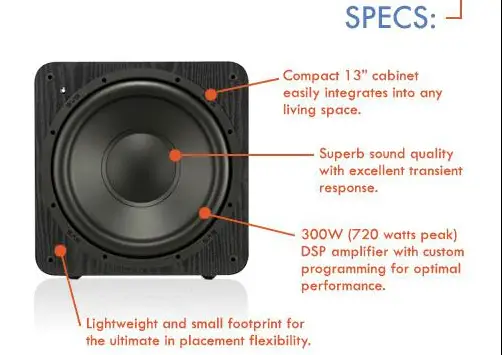 Movies
For this review we decided to test a couple of films that we thought were exactly what we needed in order to see how capable the SB-1000 was with bass heavy action scenes. The first one being Saving Private Ryan with it's 4K UHD version coming with an amazing and bombastic Dolby Atmos track. Naturally the opening scene with the landing of the Allied forces on Omaha beach provide enough material for the subwoofer to stretch it's legs and show us if it had what it takes in order to bring to life such a dramatic scene.
The Omaha beach landing has many elements that can keep the subwoofer pretty busy. Artillery fire, German machine guns and explosions are in the menu and the first thing that was immediately apparent was the precision and clarity of the bass. And while the subwoofer seemed to keep a straight face most of the time it felt like it lacked the necessary power to make the explosions sound like real ones. All the low frequencies seemed to be reproduced faithfully but it felt like real depth was missing in order to strike us in fear.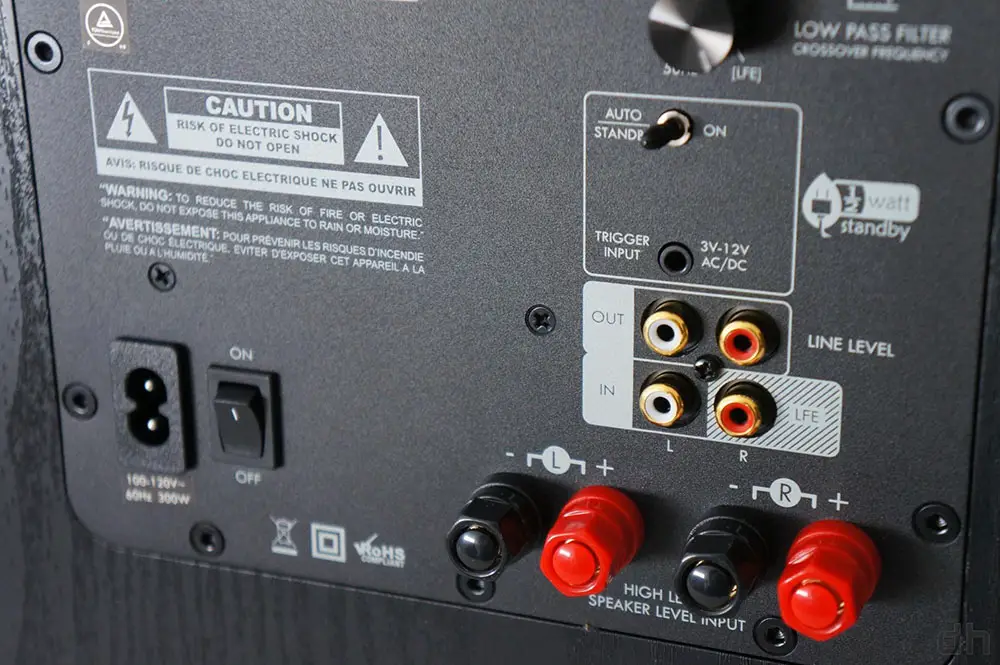 During the climatic battle at Ramelle, tank rumble was very distinct but again we felt like it was missing the necessary weight to make us feel uneasy. Tank cannon fire as well as grenade explosions had good dynamics and made us feel some vibrations but needed a bit more punch to make them feel really menacing.
The second film we tested was Jurassic World in 4K UHD which has a very nice DTS:X audio track. The film provides plenty of opportunities for the subwoofer to give it all as it is a bit more subtle than Saving Private Ryan. Dinosaur roars felt very realistic but for they heavy footsteps we would like to feel a bit more rumble. With the film providing a more balanced execution the SB-1000 kept playing along as there was no need for so raw power that could make us feel like something was missing making us enjoy every minute of it.
Music
Next we went through a series of music tracks to see how the modest SB-1000 could handle something more subtle like music. The subwoofer showed solid dynamics and nice details during kick drums but we would like a bit more punch to give it this little extra that would make the tracks shine. Sometimes depth was missing that would make us feel more engaged and deep bass wasn't quite there as we would like. But even with these shortcomings the SB-1000 was able to keep it's composure and it's really amazing that such a small subwoofer can produce so much bass. From our testings it was obvious what this little subwoofer's limitations are but if you consider it's size and price it's definitely an achievement how it performs.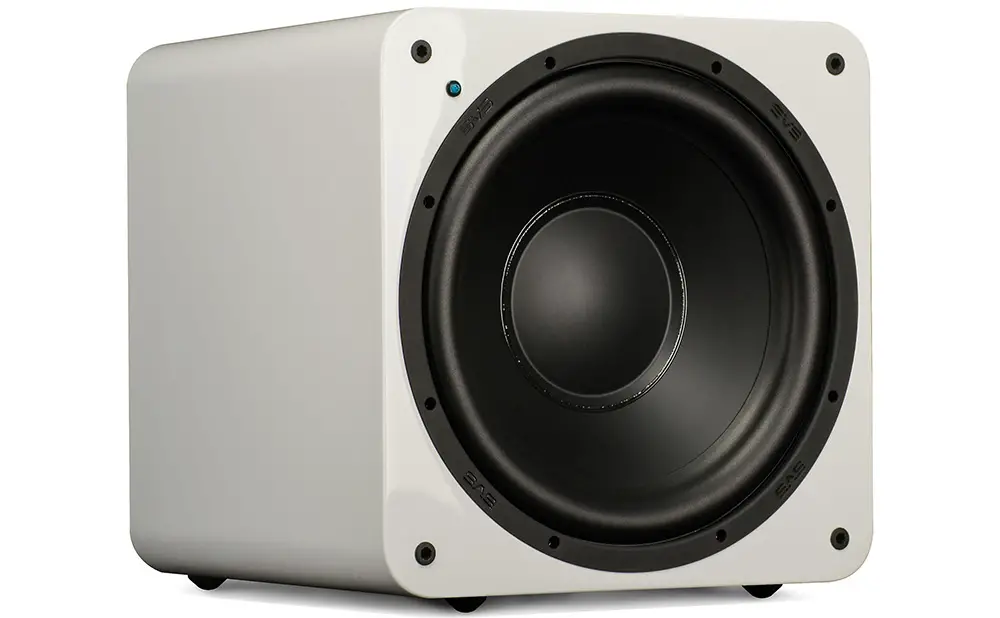 Final Thoughts
Closing this review we cannot but feel happy with how such a small subwoofer like this managed to behave even under stressful situations. It may not have the ability to go crazy low as some other speakers do and it was not able to rumble our viewing area in the same way as some other ported subwoofers were able to but for such a small size the SB-1000 was able to provide very clean and precise bass while we are certain that it will provide enough lows for most people that are not seeking anything spectacular.
This speaker was created with a specific mindset. To provide a quality constructed subwoofer with a price that would be affordable to most, keep as small a design as possible for those that are extremely restricted by space and all these without compromising it's performance by much. It may not be the cheapest option in this size but the SVS SB-1000 is a subwoofer that can accompany any kind of compact audio system from simple stereo setups up to small sized surround systems and provide you with all the bass you will ever need. If you are not crazy about bass but you want a quality small sized subwoofer then look no further because here we have a winner.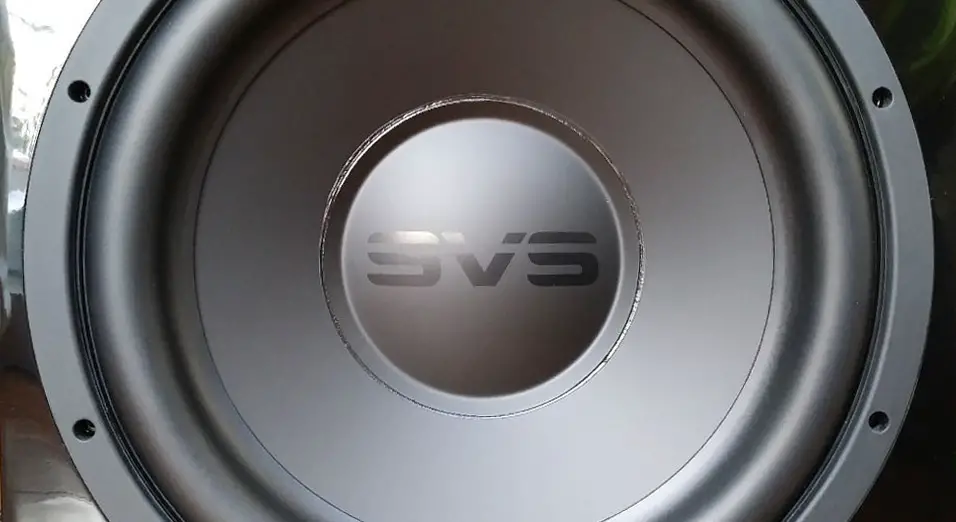 For more reviews you can check our dedicated Subwoofer reviews list or even look at our Product Reviews Table where you can find the brand and specific product you are looking for.
Also don't lose the chance to subscribe to our Newsletter and gain exclusive privileges.
---
Cheapest Places to Buy :
---
SVS SB-1000 Specifications