Denon AVR-X1500H
Design -

90%

Audio Quality -

90%

Inputs / Ports -

88%

OS, Apps and Features -

90%

Price / Quality -

92%
---
Cheapest Places to Buy :
---
Today we will be testing another model on the X lineup of Denon receivers with the AVR-X1500H being positioned at the bottom of the tech ladder. Denon makes sure to distinguish their X series from their S lineup by providing a more advanced audio calibration system with the Audyssey MultEQ XT, a 3rd year warranty as well as zone 2 pre-outs for the lower X models.
Being the lowest model and coming with a price of $600 at the time of the review this receiver is targeted for those looking for a good quality receiver but their budget is tight enough not to allow for a model that would offer many bells and whistles but that would get the job done in a setup that doesn't have many requirements as far as connectivity and power is concerned. But even the lowest model in the series must meet certain requirements that reflect today's needs so the real question is if Denon has managed to create a budget receiver that could satisfy this certain market. Let's see if this holds true in our Denon AVR-X1500H review that follows.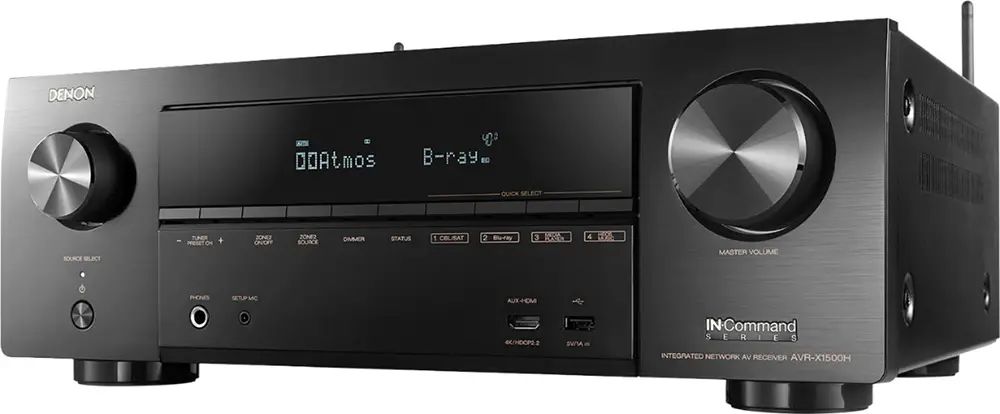 Design
The AVR-X1500H has many similarities in design with it's bigger brother, the AVR-X2500H, as all buttons and controls have the same layout. The only thing that separates the two receivers is the height as the AVR-X1500H is lower in size due to probably the lower hardware that the chassis need to facilitate. Measuring 17.1 x 13.4 x 5.9 in (434 x 339 x 150mm) and with a weight of 19 lbs (8.6 kgs) the receiver has the most compact size in the AVR-X series and is one of the most compact full-sized receivers you can find, making it a pretty good contender if your space is extremely limited.
The front face doesn't offer anything special as it follows the familiar design we see in most receivers today. As such we get 2 big turning knobs, one at each side, with the right one for the volume and the left for input selection. In the center we get a big functions LED display that show the most important functions like audio track, volume, input selection and active speakers among others. Exactly under the display Denon has placed a series of thin buttons that control various functions like tuner control, zone 2 buttons, dimmer status and 4 quick selection buttons. Under these we get a headphones jack, the calibration microphone port, an HDMI port and a USB for connecting external storage. Lastly the round power button is located under the input selection knob.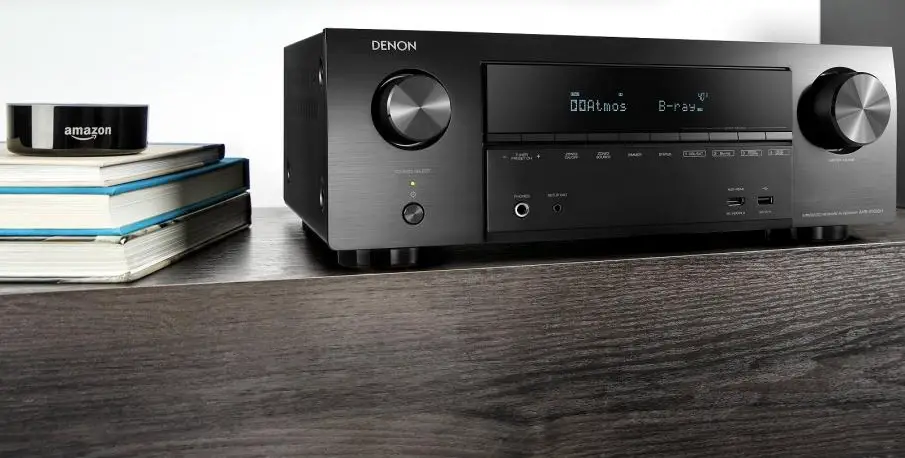 Featuring a black brushed aluminum texture in the front face the receiver's design is full of straight lines and hard edges. We were very pleased to see that Denon kept the build quality at very good levels even for such a budget-friendly model. As with the X2500H, this model also features a 4 cores DSP chip running at 300 Mhz that is handling all the necessary audio and video and well as the supported features.
The remote that comes with the AVR-X1500H (RC-1227) looks very similar in design and style with the one we had seen during our AVR-X2500H review. In fact they are completely similar, with the remote we have here only missing a couple of input buttons at the top that is logical since the AVR-X1500H comes with less inputs so some buttons are not needed. In a similar fashion the buttons are from rubber and featuring round designs while their size could be a bit bigger for easier pressing but at least there is adequate spacing between then in order to avoid pressing the wrong one.

Grouping is rather good with input selection ones sitting at the top, navigation buttons under them, a few playback buttons underneath and some quick selection and sound mode buttons at the bottom. Build quality was good enough, all things considered, and while the remote was nothing extraordinary it got the job done which is all that matters in this price range. Sadly there is no backlight function which is a bummer but we couldn't expect anything more.
Closing this part we can say that we are happy with the quality of the AVR-X1500H both design-wise as well as it's internal components. Denon has created a lovely budget receiver without compromising anything important here. It may be low priced but the AVR-X1500H certainly doesn't look like one.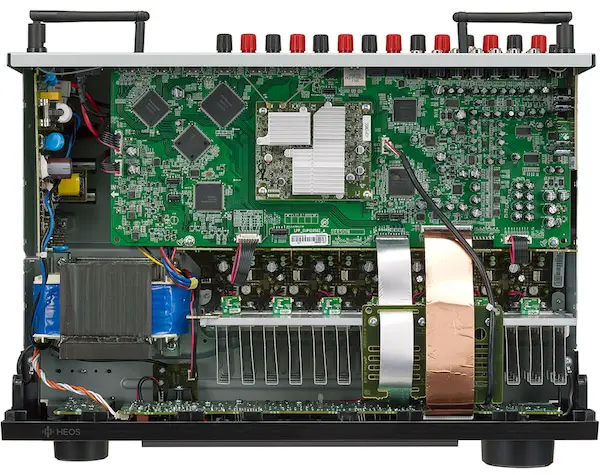 Audio Quality
Denon AVR-X1500H offers support for the latest Dolby Atmos and DTS:X formats as per normal. We also get support for up-mixing technologies with DTS Virtual:X which is a feature that creates the illusion of overhead sounds from virtually created speakers when there are none. All these up-mixing technologies are fun to play with and having tried them in the past we have mixed feelings about them as the results are not always good. But what our experience showed is that this vastly depends on the source material so if you keep your expectations at check and the source material allows for it then this virtual experience can elevate the sound immersion. Naturally Auro-3D is missing as this is only kept for the top tier models.
The receiver comes with 7 channels of built-in amplification with 80 watts per channel (8 ohm, 20 Hz – 20 kHz, 0.08% 2ch Drive) plus 2 subwoofer ports making it ideal for setups with 5.1 speakers up to 5.2.2 with 2 extra height speakers for the Dolby Atmos and DTS:X height layer. With only 80 watts the receiver may have trouble with large rooms but if your space is rather small or your home cinema is situated in your living room then it will have no problem as it have the necessary juice for such spaces. For our testing we opted to go for a 5.1.2 setup with a single subwoofer and 2 height speakers positioned in the middle of the listening area to have the best overhead coverage.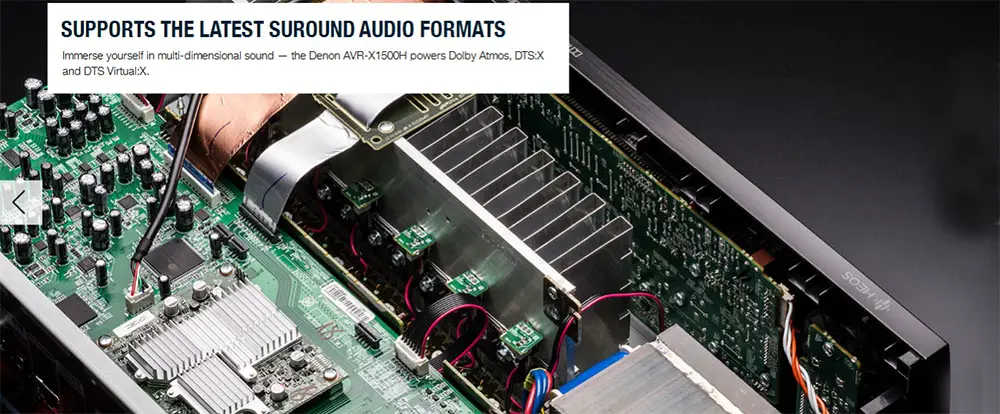 For our first test we chose the 4K UHD of Transformers: The Last Knight that has one of the best Dolby Atmos tracks in the format. You may say whatever you want about the quality of the film but everyone will agree that it's Atmos track will give you one hell of a ride and this is what we got here as the AVR-X1500H looses no time and show immediately what it is capable of. Destruction is front and center here and the receiver made sure to faithfully reproduce all acoustic elements with great resolution and clarity. A film like this that has so fast action means that channel separation and shifting must be precise and distinct.
High pitched robotic sounds, projectiles flying all over the place, gunfire, explosions, debris falling all around and electronic sounds create a soundstage that will keep you at the edge of your seat and the Denon receiver kept everything in control and balance as the sound effects never overlaped each other while dialogue cameout very clean from the center channel. At 80 watts of course the receiver don't have the power to go extremely high but since this is not meant for large areas and home theaters for your normal small media room or living room it has plenty of juice to go before reaching it's limits.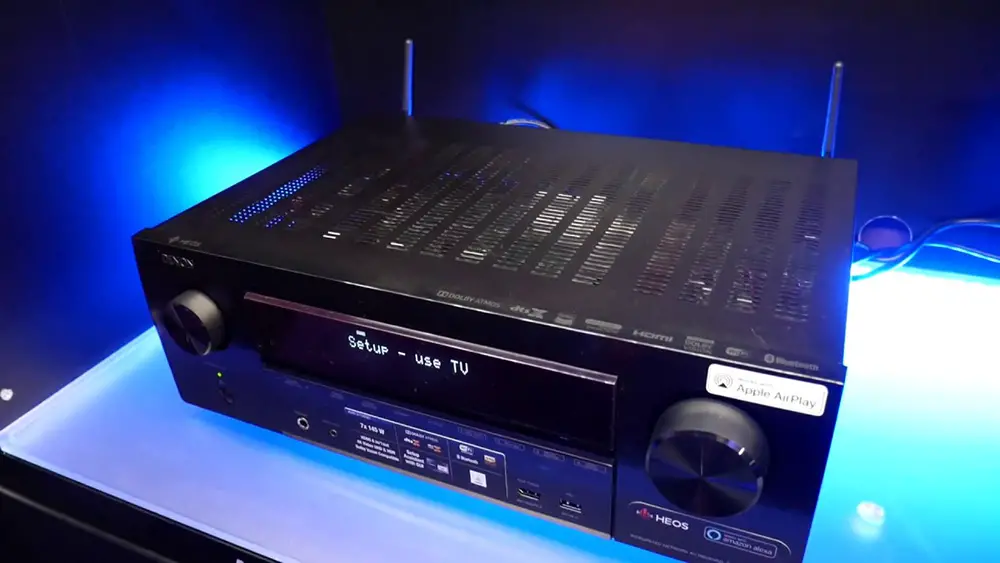 Another film that we always like to try with our receiver reviews is the Blu-ray version of Lord of the Ring: The Return of the King with it's amazing DTS-HD Master Audio. We may not get the overhead layer that Atmos provide but this is an audio track that never stops to amaze with it's amazing dynamics and powerful orchestrated music. The last part with the siege of Minas Tirith obviously is one of the highlights of the film and the receiver here also gets very good marks as everything is reproduced very good. Bass came in high volumes but never interfered with the mid-range as the Mumakils wreaked havoc to the Rohirim army while the high-pitched screams of the Fell beasts flying above the city filled our testing room with an unsettling feeling. An amazing track with the X1500H providing a very solid performance.
All receivers nowadays support a wide range of lossless and lossy audio formats and this is true here also with the AVR-X1500H supporting MP3, WMA, AAC, FLAC, ALAC, WAV, FLAC HD 192/24 bit, WAV 192/24 bit, ALAC 192/24 bit as well as DSD streaming (both 2.8 and 5.6MHz). In order to test the music capabilities of the receiver we opted to try a few FLAC audio tracks to stream them through the front USB.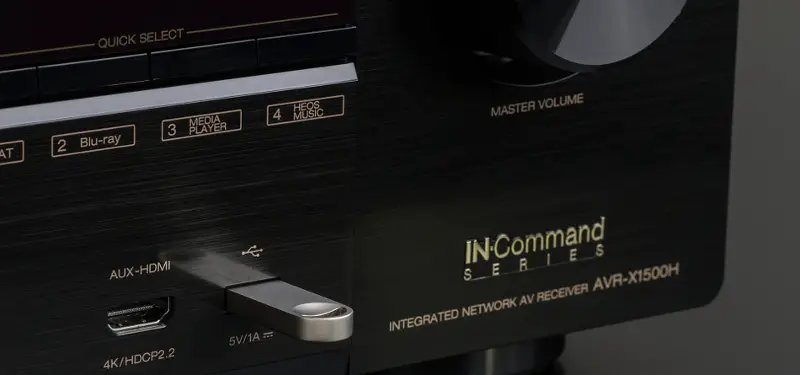 The receiver managed to perform admirably considering where it belongs in the price ladder. Having similar hardware to the recently reviewed AVR-X2500H we were expecting to get similar performance and the X1500H didn't let us down. Audio separation was solid as music and vocals were not overlapping on each other. Mid-range provided a very good foundation on which the lows and highs would complete the whole audio spectrum. Sound instruments were both very distinguishable and well defined in space and we got a sense of clarity and resolution that was really good for such a receiver. Performing similarly as the X2500H but with a better price we felt that the AVR-X1500H is a great performer and with a price that makes it rather interesting.
Getting such a performance in this price is one of the strong points of the AVR-X1500H. Audio quality was high at all times either it be a film or music we never felt the receiver to underperform. Of course it is limited a bit by it's relatively low power but since it was never meant to be used for large spaces we believe this will not be a problem for anyone that wants to use it in small to medium sized home theaters. Excellent work from Denon on providing such performance in such a low price.

Inputs / Ports
The Denon AVR-X1500H is the lowest model in the AVR-X series so we were not expecting much as far as connectivity is concerned. Having 6 models in the series it means that ports number increase as we go up the ladder and this leaves the AVR-X1500H with the most basic of ports. We mentioned before that in the front we get what we consider the standard that all av receivers should have nowadays with the familiar headphones jack, the calibration microphone port next to it, an HDMI port that supports 4K/HDCP 2.2 and a USB port (5V/1A) that you can connect some external storage or hard drive.
Now looking at the back we find 5 HDMI inputs and 1 HDMI output that supports ARC. As with the front, all the HDMI ports in the back also support 4K/HDCP 2.2 while at the bottom we get 7 speaker terminals that are enough to support from a simple 5.1 setup up to a Dolby Atmos enabled 5.2.2 audio setup.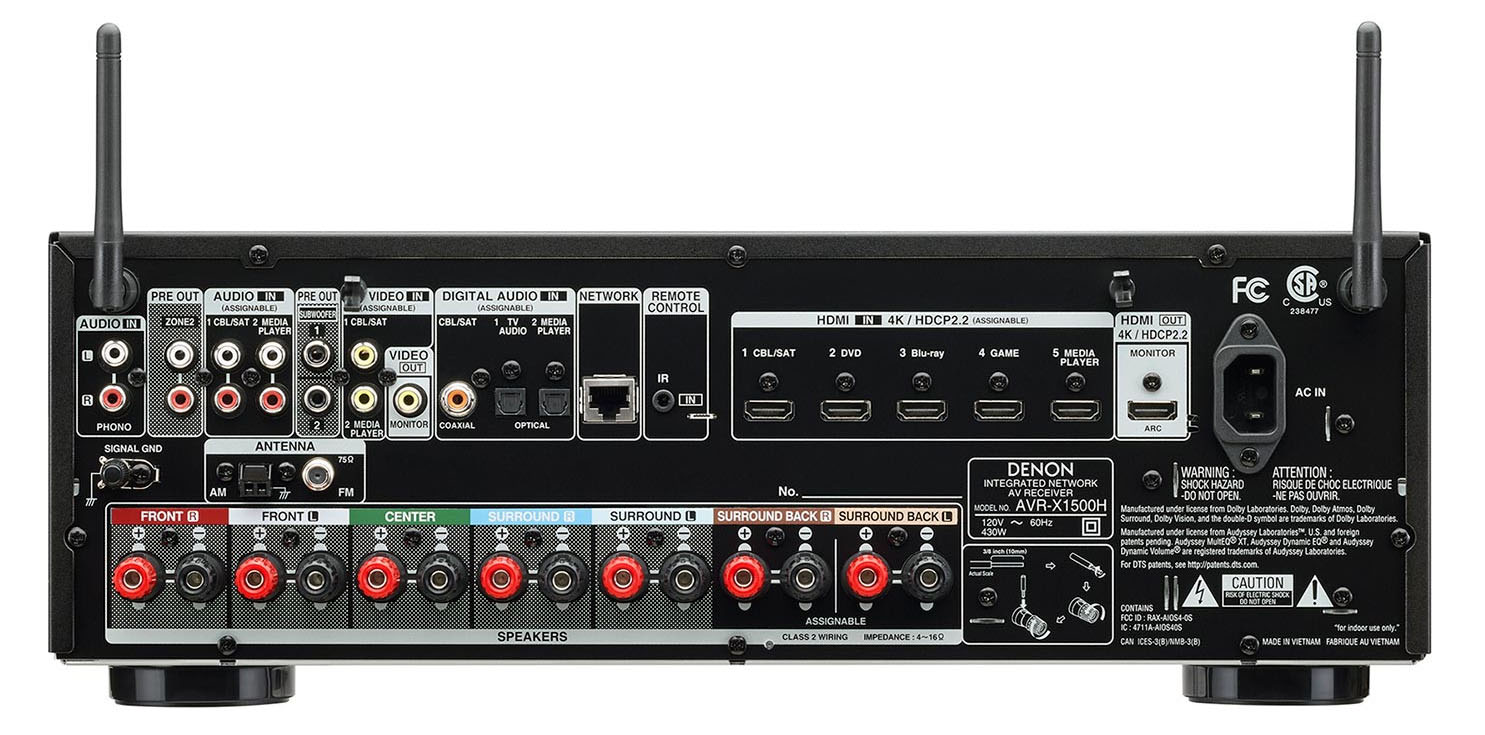 Looking at the rest of the ports we get 2 analogue stereo inputs, 1 dedicated phono input, 2 subwoofer pre-outs, 1 zone 2 pre-out, 2 composite video inputs and 1 output, 1 coaxial digital input and 2 optical ones, an Ethernet port for wired connection to the Internet, a remote control input and the usual FM and AM antenna connectors. The AVR-X1500H has also built-in WiFi and thus we get dual Bluetooth/WiFi antennas.
The lowest denominator should offer a little bit of everything and practically this is what we get here. Most common ports are here, with maybe the exception of component ports, but in limited numbers. There are a few omissions but naturally they are kept for the higher tier models. In general you shouldn't expect much but if you are considering the AVR-X1500H it means that your budget is pretty tight so we would suggest you first make sure that the receiver has all the ports you will need for your specific setup just to be sure.
OS, Apps and Features
As with all the receivers in the series and in general the last couple of years the Denon AVR-X1500H supports the latest HDMI 2.0/HDCP 2.2 protocol which means it supports 4K/60Hz full-rate pass-through, 4:4:4 color resolution, HDR and BT.2020, plus Dolby Vision compatibility and Hybrid Log Gamma (HLG) that is used for broadcasting. Unfortunately this is the only model in the series that doesn't support any kind of upscaling either from Analogue to HDMI or from HDMI to HDMI.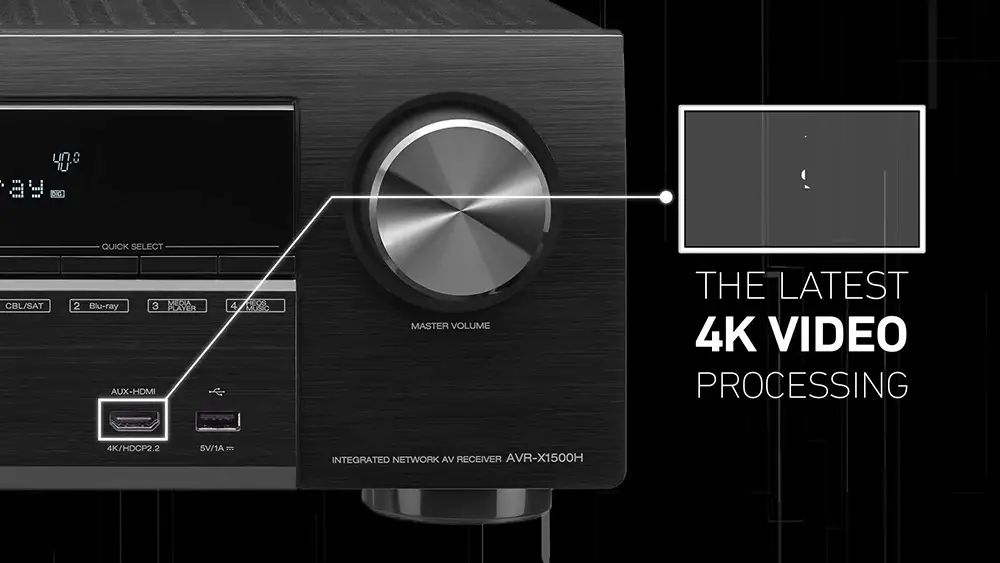 This may be the cheapest receiver in the series but being part of the AVR-X family means that the AVR-X1500H also gets the more advanced version of Denon's calibration system in the form of the Audyssey MultEQ XT system and it comes along with the Dynamic EQ feature which helps to keep the dynamic levels and clarity even at low levels as well as the Dynamic Volume which balances sudden volume spikes between TV programs and commercials shifts. Audyssey LFC was missing on the more expensive X2500H so it was natural to be missing here also.
Calibration here can be done as with all Denon receivers either through the built-in setup and by following the on-screen instructions or if you prefer you can use the Audyssey MultEQ Editor that can be downloaded for either Android or iOS devices. We found the app to offer a much improved visual interface compared to the one offered by the receiver itself while you will be able to find more options to play with. On the downside the app is not free as there is a one time payment fee to download which may turn away many from using it. In our opinion only if you are very much into calibrating your audio setup it is worth paying for it as the one provided with the receiver does the job just fine.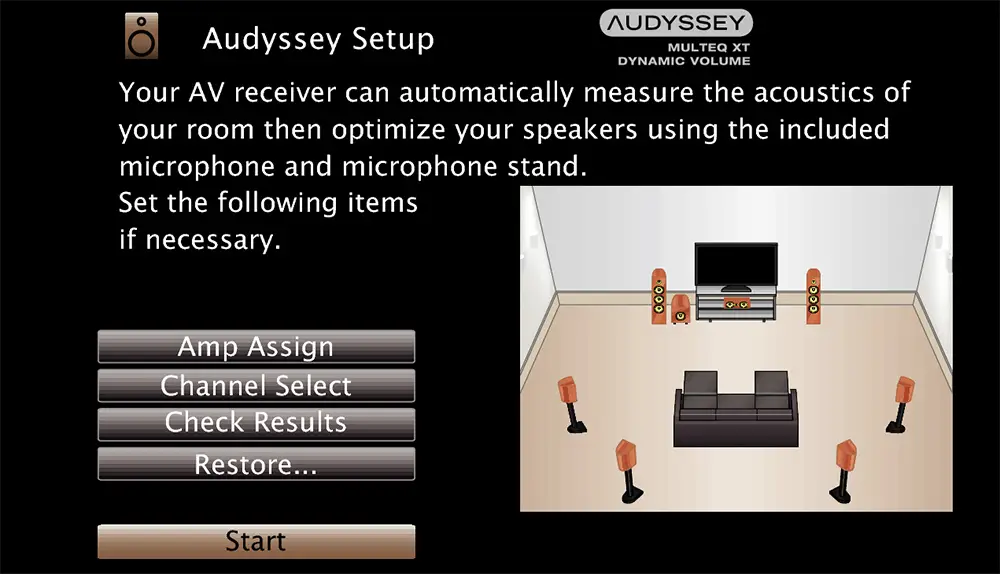 Another app that is available for Android and iOS devices is the Denon AVR app that you can use to control basic functions of your receiver. Since this app is free we would suggest that you give it a go as it is well made and provide many options and settings to manage. We have tried it before a few times and we liked what we saw providing a nice alternative for control.
The user interface and menus of the AVR-X1500H are very simple and easy to follow with clear instructions and the graphics that help you through every step. Unfortunately the graphics reminded us a different era as they looked like something from an 80s device. We have mentioned this before in our X2500H review that these receivers should include updated graphics as the hardware is powerful enough to handle a refresh in the graphics department. TVs seem to go that way as every year they offer some kind of visual improvements and we don't see the reason why AV receivers not to follow accordingly.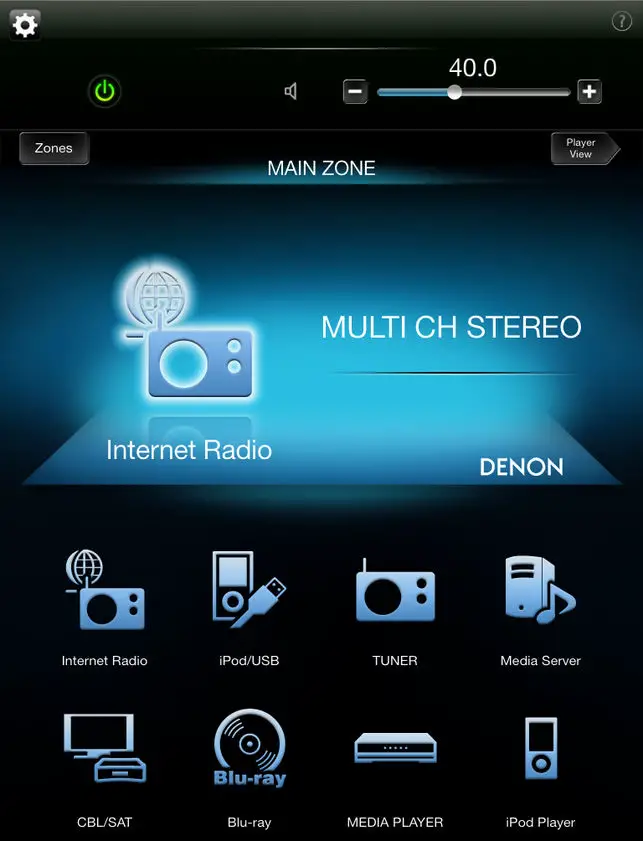 Another feature that seems to become a standard is the ECO mode with which the receiver can manage it's power in order to lower power consumption. If you want the receiver to work at full power then we suggest you leave this option Off always.
Streaming was a new thing a few years ago but now is old news so support for a wide range of streaming services is a given now and as such here we find Spotify, Pandora, SiriusXM, Amazon Music, TIDAL, Deezer, iHeart Radio, Napster, Soundcloud, Mood Mix as well as Internet radio with TuneIn. Streaming locally is also possible if you have a local NAS server connected to your network that you can use to listen to music and audio files.
Wireless connectivity can be achieved with the use of the built-in WiFi that supports both 2.4GHz/5GHz or you can connect it with an Ethernet cable if your wireless connection is not stable enough. We tried both ways and we didn't experience any problems either way but this very much depends on where the wireless router is positioned in your house so you will need to test this first.

The front USB port can be used to connect some external storage and stream music through it while Bluetooth functionality lets you stream music  from a mobile device. Alternatively you can use Apple's Airplay for streaming audio that is also supported.
Multi-room support is another feature that has not only become a standard but we see expanded support as the years come by. The receiver comes with HEOS technology and you can use it in order to connect the receiver with other HEOS enabled speakers that you have around your house and thus create your own multi-room sound ecosystem. And while HEOS was until recently the only feature available now we also get Apple's Airplay 2 which offers similar functionality to HEOS and we see both of them supported here.
If controlling your receiver with the remote bores you then the AVR-X1500H offers you a more exciting way with voice control. The receiver includes all the possible ways for command and control as there is support for Alexa through the HEOS Home Entertainment skill but also for Google Assistant, Apple Siri and Josh.AI. Changing volume, input selection and sound modes can be done easily and fast without the fuss of finding your remote and while voice recognition has vastly improved the last few years we still prefer our trusted remote for more accurate control.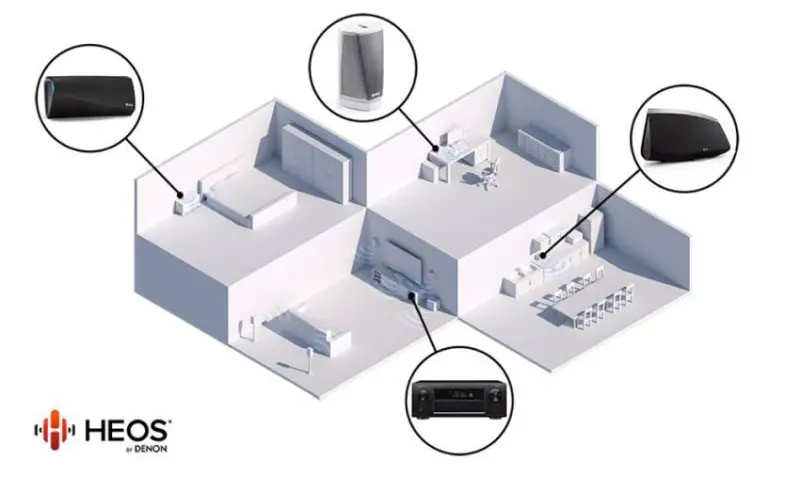 If the number of remotes you have to handle is a problem then the receiver can help you with this as it supports TV connectivity through the HDMI CEC function in order to control it with the TV remote and save you from having one more in your home theater. And since we are talking about connectivity we should mention that unfortunately there is no eARC support in the HDMI ports here as this is reserved for only the higher tier models.
Closing this section we have to say that we are happy that Denon didn't make any compromises in this area. Almost everything we saw in the more expensive X2500H is also included here and thus making the receiver future and feature-proof. Good decision from Denon to include so much functionality in a budget-friendly receiver.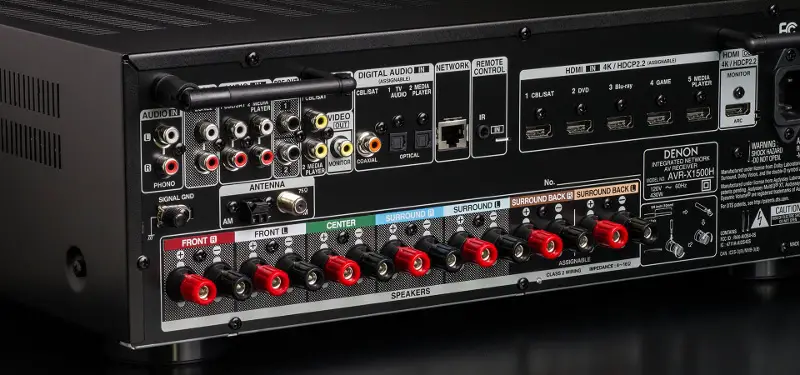 Final Thoughts
Closing we have to admit that when starting this review we were a bit nervous on what functions Denon would have to cut in order to meet the price this receiver sells for. Being the cheapest in the AVR-X series it means that some serious cuts would have to be made but on the other hand it should meet certain standards. Reaching the end of the review, find us breathing in relief as the downgrades are not as severe as we were afraid.
On the positive the receiver keeps support for all known formats including Dolby Atmos and DTS:X while also support up-mixing technologies like DTS Virtual:X. Feature-wise it comes fully packed with a great amount of online, streaming and multi-zone features ready to make the receiver the center of your audio entertainment while voice control adds a bit of a futuristic twist to it. Being part of the X series means that it also includes an updated version of the famous calibration system called Audyssey MultEQ XT along with the Dynamic EQ and Dynamic Volume features.
But the lower price means that there are bound to be some cuts and omissions. Some more advanced features are missing like Auro-3D while the Audyssey app is not free as with all models. Being a 7 channels receiver means you can go for only 2 height speakers which can be less accurate than using 4 ceiling sources. But the real question is what is this receiver missing compared to it's bigger brother, the AVR-X2500H. This is easy as the changes focus on three things. This receiver has less connectivity ports, it has less power and support no upscaling whatsoever. And that's it.
Looking at the X1500H and the X2500H which are the two lowest models in the X series we cannot but feel that the X1500H has better value. Upscaling is not all that important in a receiver in our books while power will make small difference as both these receivers are destined to be used in small to medium areas and living rooms. So if the amount of ports that the X1500H has, are enough for your audio setup then you can really save yourself some money by going for this one. The Denon AVR-X1500H offers great performance and comes featured packed making it a very good deal for just $600, ideal for anyone that is on a very tight budget.
For more reviews you can check our dedicated 7 channels 4K AV Receiver reviews list or even look at our Product Reviews Table where you can find the brand and specific product you are looking for.
Also don't lose the chance to subscribe to our Newsletter and gain exclusive privileges.
---
Cheapest Places to Buy :
---
Specifications
High-performance 7.2 channel AV receiver with 80W power per channel (8 Ohms, 20Hz-20kHz, 0.08% THD)
Supports Dolby Atmos, DTS:X and DTS Virtual:X
Amazon Alexa voice control compatibility
6 HDMI inputs; 4K/60 Hz with full-rate pass-through HDCP 2.2 support on all HDMI ports
4:4:4 color resolution, HDR10 and BT.2020, plus Dolby Vision compatibility and HLG
Award-winning Denon guided setup assistant and graphical user interface
Stream the most popular music services – Spotify, Pandora, TuneIn, Deezer and more
Built-in Bluetooth, Wi-Fi and AirPlay Capability
Built-in HEOS wireless multi-room audio technology
IP control capability Control4 SDDP (Simple Device Detection Protocol) certification
Audio playback of lossless files WAV, FLAC, ALAC and DSD (2.8/5.6MHz) files

Smart TV connectivity to control the AVR with a TV remote via HDMI CEC

Phono input to connect your turntable and play vinyl records

DSP chip with four 300MHz DSP cores

Dual subwoofer outputs

Audyssey MultEQ XT app and included mic