---
Cheapest Places to Buy :
---
It has become increasingly difficult the last few years for AV Receivers manufacturers to add enough features to their offerings in order to distinguish themselves ahead of the competition. And while with the arrival of 4K UHD format and HDR it gave a bit of breathing air for all big brands to produce new models that will have something new compared to their previous lineups it seems that we are reaching a point that again it will be hard to offer new specs that will make a purchase of a new AV receiver to have some meaning and justify the price you will have to pay.
One such example is the AV receiver that we will be reviewing today. Denon is a very respectable company that has been making quality AV receivers for many years now. Their 2017 lineup of AV receivers was a very good one offering models ranging from the most budget friendly ones to the crazy expensive top of the line models. A few months ago we reviewed one of these receivers, specifically the Denon AVR-X4400H which was a 9.2 channels AV receiver and scored very good marks across the board from our testing. Now it's time to test another model of that lineup by trying the next in line which is the Denon AVR-X3400H, a 7.2 channels AV receiver that is considered a medium to lower tier model in that lineup.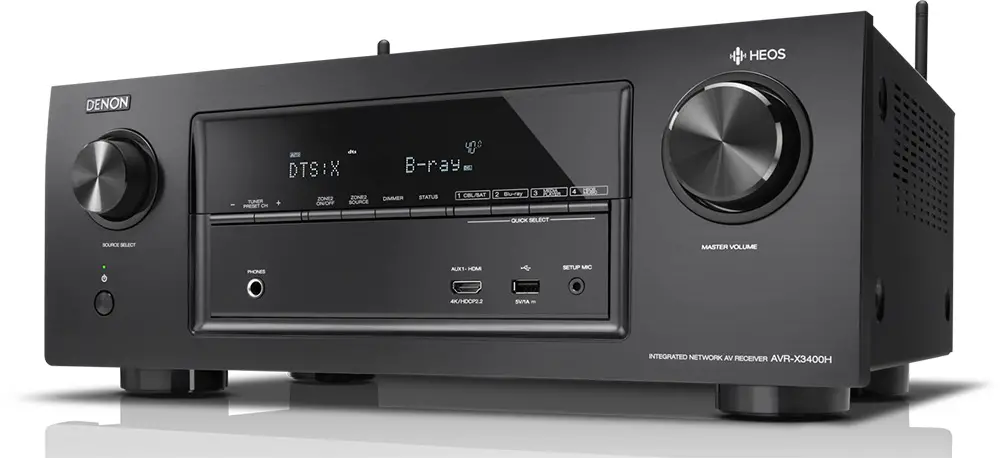 Does the Denon AVR-X3400H manages to distinguish itself from the competition when so many medium tier AV receivers have flooded the market lately? And how does it perform when you consider we are talking about a more or less budget friendly receiver. All this and more in our Denon AVR-X3400H review.
Design
The Denon AVR-X3400H has a very similar design to the AVR-X4400H that we mentioned earlier as well as with a few others in the same lineup showing that Denon is using the same chassis with small deviations between this close related models. But they also have a few fundamental differences.
The overall design follows a very characteristic Denon design. In the front we get two big turning knobs, one at each side, with the one on the right for the volume and the one on the left four source selection. In between these two we get the usual front display revealing all important information like input selection, volume, soundtrack type and others.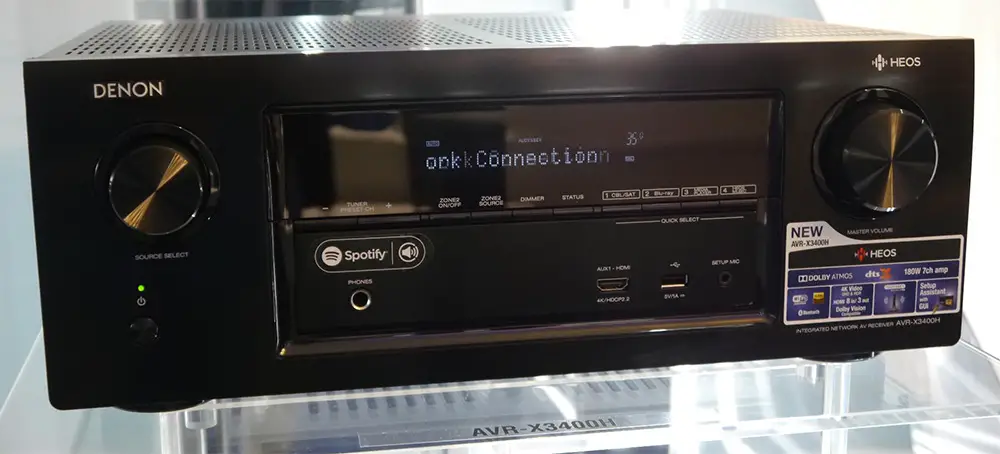 The major difference from the 4400 model is that under the display here we don't get a drop down panel door that hides control buttons. Instead under the display we get a thin row of control buttons that include quick source selection, zone 2 controls, tuner channels selection, dimmer and status buttons. Under these we get the front inputs that include a HDMI port, a headphones jack, a USB port and the test microphone input.
The front of the receiver is aluminium based while the rest of the body has a brushed metal finish and it comes unfortunately only in black color. The overall construction feels really sturdy for a mid priced AV receiver. It follows the same general design characteristics and we are pleased with how everything is placed.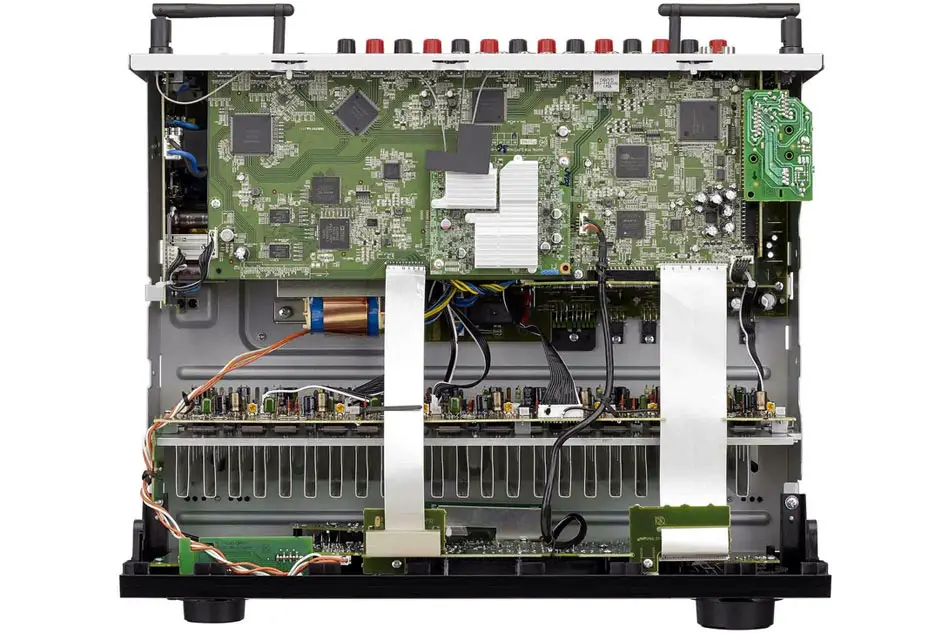 Being Denon the AV receiver gets some quality components under the hood. According to the company the AVR-X3400H features advanced reference-class 32-bit AKM D/A converters on all channels. This ensures consistent high fidelity and precise channel matching across all channels while achieving the widest dynamic range possible with the lowest distortion. Also the DSP (Digital Sound Processor) chip of the AVR-X3400H features tremendous processing power with 4 300-MHz DSP cores that can process over 1 billion computations per second.
Overall we are pleased about both the external design and the internal components of the AVR-X3400H showing that even for a mid to low priced AV receiver Denon is serious at delivering the best possible in this price range.
Audio Quality
The receiver is equipped with seven channels of built-in amplification with a power of 105w per channel which may not seem a lot but we are talking about a receiver that is designed for small to medium sized rooms so it is enough to create an immersive sound field even in relatively small spaces.
With it's seven channels you can go for either a 7.2 channels setup or a 5.2.2 configuration if you want to take advantage of the latest audio formats with the addition of a couple of height speakers that will greatly expand the sound field above the viewer. We opted for the second option as in our opinion height speakers should be a given whenever possible in any kind of today's home cinema system as it offers far greater immersion than any 7.2 system could ever offer.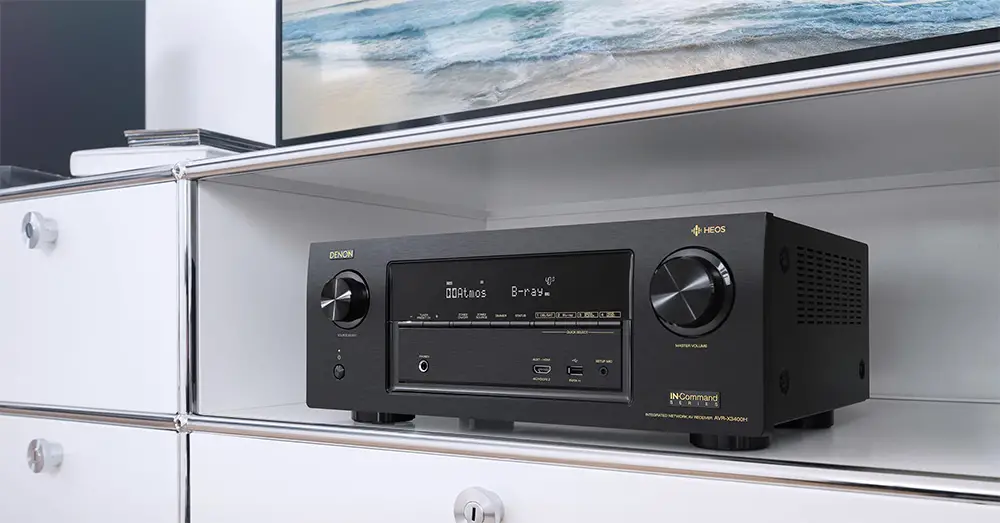 After setting up the receiver for our 5.1.2 system we popped the 4K UHD disc of Pacific Rim: Uprising in our Panasonic UHD player and played a few testing scenes in order to check the behavior of the receiver. Pacific Rim: Uprising comes with a spectacular Dolby Atmos track that offers both over the top action, mesmerizing calm scenes with ambient sounds and dialogue driven moments making it ideal to test any receiver in different situations. The results we got put a smile on our face as the Denon AVR-X3400H managed to offer good sound separation between the speakers and a multi-layered sound reproduction that for a mid-priced receiver like this is really impressive.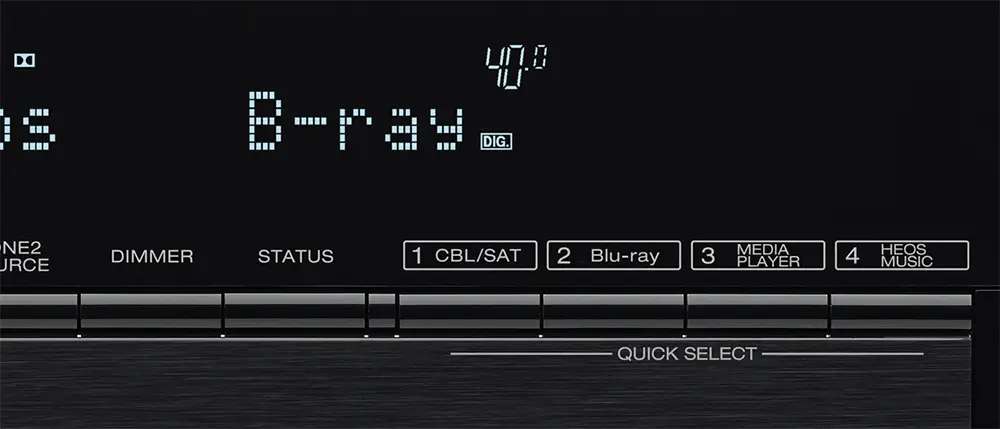 When the action kicks in the receiver makes sure to pass all the necessary information to the speakers creating a very pleasing and immersive sound bubble around the viewer. The AVR-X3400H may not have the power of it's bigger brother, the 4400H, that we tested before but for most typical living rooms and small dedicated media rooms that will be used it had no problem to go very high without maxing out. Height speakers were delivering very distinct sound effects that expanded the sound field way above the viewer while the bass will hit you on the face and definitely make the neighbors angry. The center channel that delivered all the dialogue had good separation and the sound was clean and distinguishable.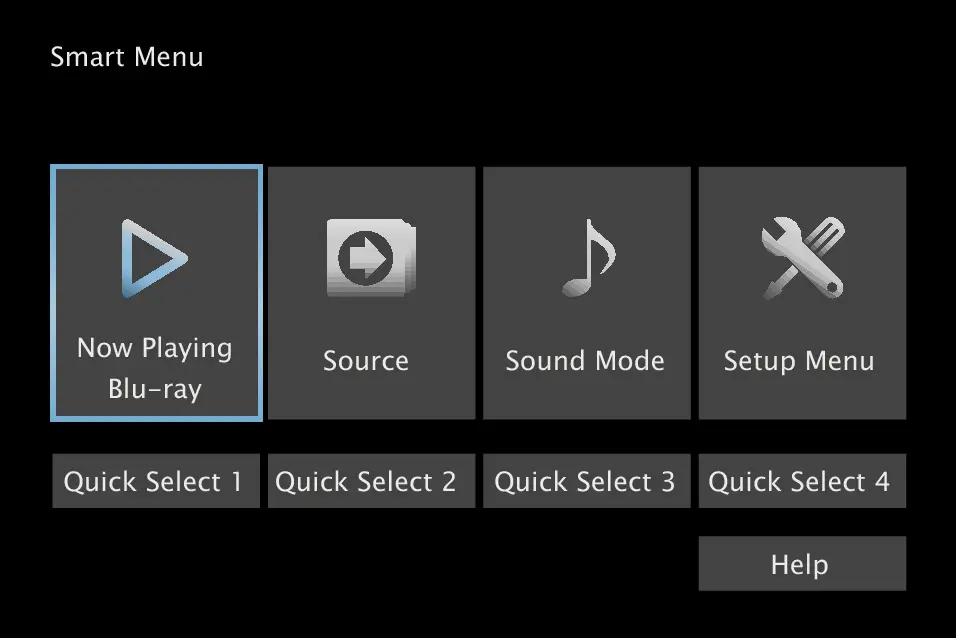 The AVR-X3400H also comes equipped with DTS: Virtual X which is a technology that can create any kind of surround and height virtual speakers out of a simple 2.1 audio system that comes with a couple of front speakers only. What this technology does is by using special algorithms it analyzes the incoming audio signal and guesses where specific sounds should be placed in a 3-dimensional listening space where no speakers are present. DTS: Virtual X can work with any kind of incoming multi-channel audio signal from simple stereo (by using up-mixing) all the way up to 5.1/7.1 audio tracks (using additional processing) to add vertical and horizontal sound elements without the need for physical speakers.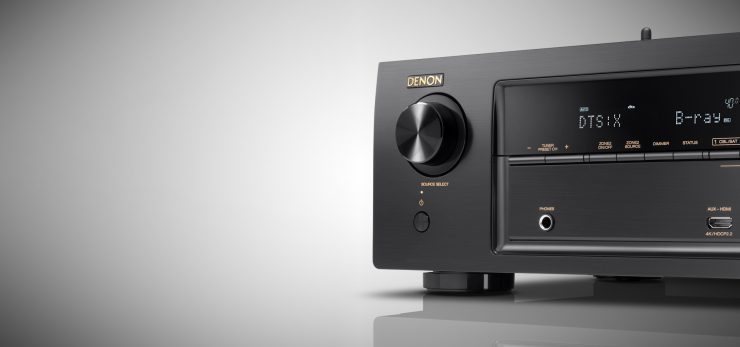 The result may be good if there is no alternative but it will never reach the quality of a true dedicated surround system. The best way to decide if you like this technology is to test it yourself as many people seem to like it while others completely hate it. Nevertheless it's good to have it as an option and a good alternative for those that don't have the space or budget to add surround speakers.
The AVR-X3400H is also a very capable music performer delivering great music reproduction with great clarity and oomph to spare even at more demanding music tracks. With the addition of HEOS you can hear your favorite music anywhere in your house with the addition of HEOS enabled speakers. All the above make the Denon AVR-X3400H a very good all around movies and music audio performer that will make your small room shake and tremble without limits.
Inputs / Ports
The receiver offer a big amount of inputs and outputs that will satisfy almost everyone and is very good at this price range. What the AVR-X3400H offers is eight HDMI ports (with seven being at the rear and one in the front) as well as 3 HDMI outputs with all of them being 4K HDCP 2.2 compliant and support up to 4K 60Hz, Wide Color Gamut (WCG) and HDR (HDR10, Dolby Vision and HLG). As with all Denon receivers the speaker ports are color coded to be easily distinguishable and we get in total 7.2 channels resulting in either 7.2 or 5.2.2 audio setups. From the number coding you understand that as per standard nowadays you can connect up to two subwoofers for more dynamic lows and immersion.

As for the rest of the connections what we get is five analogue inputs, two coaxial digital audio inputs as well as two optical ones. There are also two component video inputs and three composite video inputs. There is also the usual FM and AM antenna connectors for the radio, one trigger out port, an RS-232 port and one IR remote control input and one output. Connectivity wise the AVR-X3400H is equipped with an Ethernet port if you prefer more stable wired connection to the internet but also features WiFi and Bluetooth for wireless connections.
OS, Apps and Features
Denon's setup guide is very nicely done and helps you to setup your audio system through a series of steps where you can select various options. The way the instructions are represented are clear and easy to understand even for those that are not very much experienced into calibrating such systems. Options include speakers setup, volume,distance, source inputs among others.
Denon has also included with the receiver a setup microphone and with the help of their proprietary calibration system called Audyssey MultEQ XT32 the user has everything needed to take correct measurements and make calibrations for the best possible outcome. As with all it's receivers Denon also offers the Audyssey MultEQ Editor App for both Android and iOS in order to calibrate and customize your receiver through your smartphone or tablet.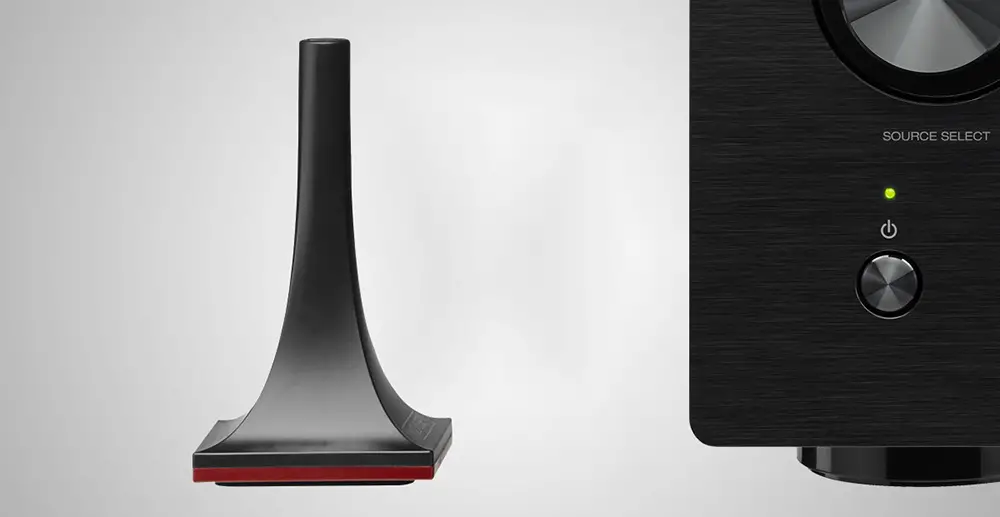 As mentioned above the AVR-X3400H also supports the famous HEOS multi-room audio system that gives you the ability to hear music anywhere in your house. To do so you will need to place HEOS enabled speakers to your rooms and the whole system is controlled through a dedicated app while it supports various online streaming music services for you to choose from.
With the AVR-X3400H it's possible to enjoy 5.1-channel surround in one room, while another 'zone' plays another source—such as CD, streaming audio, or HDMI source. It also features high resolution audio decoding with multiple lossless file types including ALAC, FLAC and WAV at up to 24-bit/192-kHz along with compatibility for 2.8/5.6-MHz DSD files (DSD is the audio coding format of SACD).

The remote that comes with the receiver is a bit different that what was offered with the AVR-X440H but at the same time has a similar button layout. It comes with a brushed metal finish look on the top while the buttons seem to be well organized and separated into certain categories. At the top you will find all the source selection buttons, in the middle volume and channel controls, under them setup navigation buttons as well as playback buttons and on the bottom a few quick selection buttons.
In general the remote is very practical and easy to handle and if there was one thing that I didn't like was that there is no kind of backlight which to us should be a given for all electronic devices even for a budget friendly AV receiver like this. But we guess they must have something more to offer in premium models so we don't complain.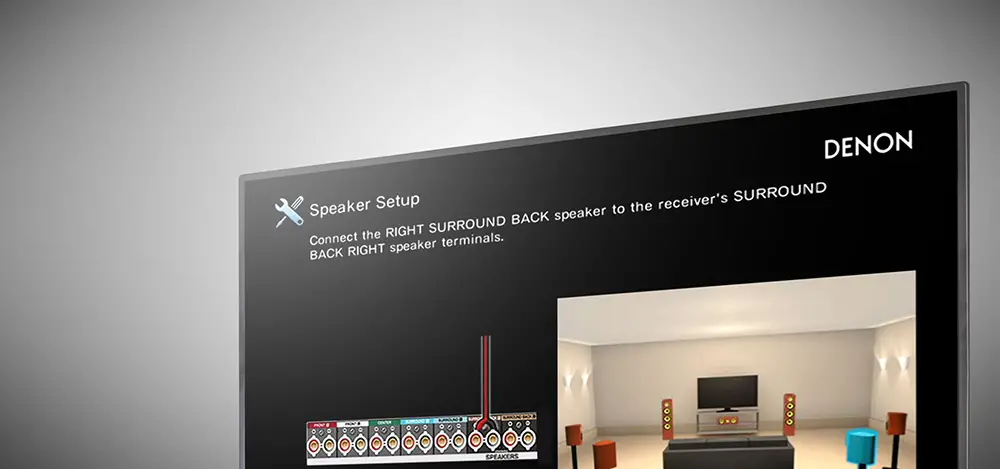 There is also the option of using an app in your smartphone or tablet that lets you control all aspects of the receiver if you find this preferable to the remote. This app and the HEOS app can work in conjunction creating a more seamless experience. With a single press of a button you can change back and forth between the two apps for easy and quick access. Very good work from Denon on this regard.
Final Thoughts
A big percentage of consumers ask for two things when buying a new AV receiver. First to support the latest audio formats and second to provide good audio reproduction. The Denon AVR-X3400H succeeds in providing both of them while keeping the price at low levels. For sure it is not fully packed with features and specs that some of it's bigger brothers offer but in all honesty only a small percentage of audiophiles will use these exotic extras.
The AVR-X3400H ticks all the right boxes for it's price range by offering good audio reproduction, good amount of ports and features and support for all the latest audio formats. Being a 7.2 channels AV receiver you can either go for a full 7.2 surround setup or for a 5.2.2 audio setup in order to take advantage of the new Dolby Atmos and DTS:X tracks that offer higher audio immersion. With a few new models rolling out in 2018 the price could not be any better so if you are on the market for a low to medium priced AV receiver the AVR-X3400H is definitely one you should add to your list.
For more reviews you can check our dedicated 7 channels 4K AV Receiver reviews list or even look at our Product Reviews Table where you can find the brand and specific product you are looking for.
Also don't lose the chance to subscribe to our Newsletter and gain exclusive privileges.
---
Cheapest Places to Buy :
---
Specifications
7.2 channel AV Receiver with 105W per channel (8 ohms, 20 Hz – 20 kHz, 0.08% THD)
4K/60 Hz pass-through, Dolby Vision compatible, HDR, HLG, eARC and BT.2020
8 HDMI inputs (incl. 1 front) with full HDCP 2.2 support, 3 HDMI outputs
Advanced Video Processing with full-rate 4K Scaling for all sources
Dolby Atmos (up to 5.1.2) and DTS:X
Built-in Wi-Fi with 2.4GHz/5GHz dual band support, built-in Bluetooth
Built-in HEOS Wireless Multi-Room Audio Technology
AirPlay, Bluetooth, TuneIn Internet Radio, Pandora, Spotify, Amazon Prime Music, iHeartRadio, SiriusXM, Soundcloud, Tidal, Napster or Deezer Network Audio Streaming
AKM 32-bit D/A converters; DSD (2.8/5.6MHz), FLAC, ALAC and WAV support
Audyssey MultEQ XT32, Dynamic Volume and Dynamic EQ, LFC, Sub EQ HT
Color-coded speaker terminals
Setup Assistant
Denon 2016 AVR Remote App