Denon AVR-X3600H
OS, Apps and Features
9.4/10
Pros
Excellent performance
Dolby Atmos, DTS:X and IMAX Enhanced
Complete up-mixing and virtual set support
Huge list of features and streaming services
Cons
It could use a bit more power
Audyssey MultEQ editing app has a charging fee
No backlight remote
No composite outputs
---
Cheapest Places to Buy :
---
If you have been following our reviews or you are in the loop then you probably have noticed that when it comes to new yearly AV receivers releases things have slow down considerably the last 2-3 years as manufacturers are struggling to find new tech to incorporate into their models.  But once in a while we see a manufacturer, in order to beat the competition, to include tech in a model that we wouldn't normally see in a yearly release. In our Denon AVR-X3600H review we will be testing one of the AV receivers that Denon released in 2019 and makes a bigger leap than expected from it's predecessor.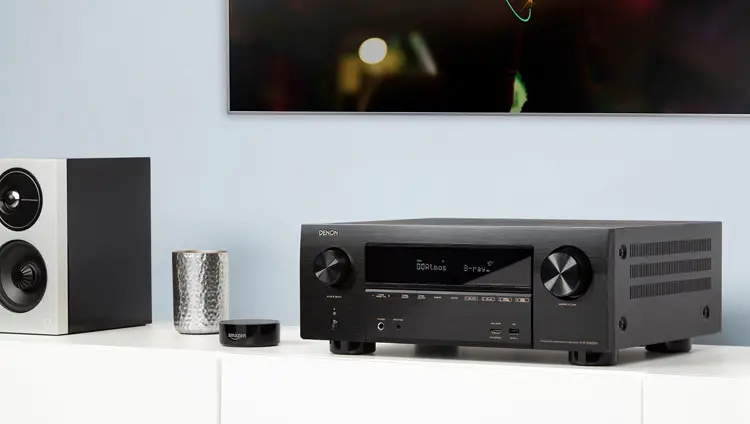 At first look the AVR-X3600H is supposed to replace the 2018 AVR-X3500H which was a 7.2 channels receiver. But in an unusual move Denon decided to up the supporting channels to 9.2 making the 3600H the first AVR-X3X00H receiver to support full 9.2 channels and thus bringing it closer to it's bigger brother, the AVR-X4500H which didn't get a 2019 refresh.
With this update the new mentioned receiver came much closer in specs than some may think and you may be wondering which one to go for. With the AVR-X3600H supporting 9.2 channels with 105 watts per channels which can extend to 11.2 with an external amp, Dolby Atmos, DTS:X and IMAX Enhanced support, the full set of virtual and up-mixing technologies as well as a plethora of other features than include HEOS, Airplay 2, High Resolution Audio, voice control, custom integration, wireless capabilities as well as eARC and ALLM the new 2019 model is a force to be reckoned with. So let's see what all these mean in our review that follows.
Design
The last Denon receiver that we had reviewed in the same class was the 2017 AVR-X3400H which featured a bit of a different design. For 2018 Denon made a few changes to the front face design of the unit and this new changes came across to the 2019 unit also making the two being like for like in shape and design with only the naming on the lower right corner revealing their difference. The new AVR-X3600H comes with a size of 17.1 x 15.4 x 6.6 in (434 x 391 x 167 mm) with the antennas in a horizontal position and weights 26.68 lbs (12.1 kg) making it a middle sized receiver that is normal for it's class. Just make sure to allow some breathing space around the unit where you are planning to set it up.
The design of the unit will certainly not win any awards as it follows the same design principles that most others receivers do. The AVR-X3600H has very characteristic straight lines and sharp corners and comes with the usual two knobs setup, one at each side that controls the volume and source selection. Under the source selection knob we find a single circular button for power while the front display sits prominently at the upper center part of the unit and is responsible for showing all important functions.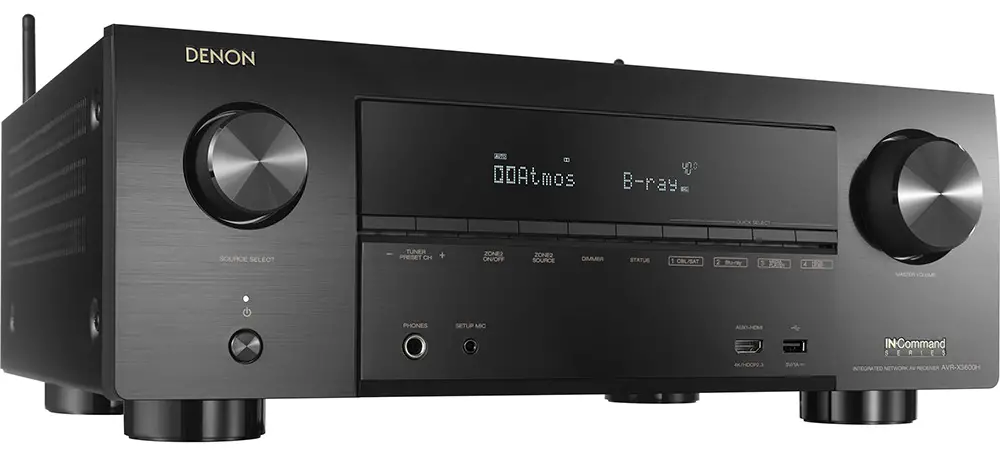 Below the central display we get a single line of buttons that are responsible for controlling the tuner, zone 2 functions, dimmer and status while the last four buttons are dedicated to quickly select and input source if you want to have fast access to certain equipment instead of using the knob. Below these buttons we find the usual front ports that we consider so useful to have and Denon made sure to include the ones that are most needed. As such we get a headphones jack, the Audyssey calibration microphone port, a HDMI port and a USB port for connecting external storage.
Denon always made sure to create good quality audio products and the AVR-X3600H reflects on that even if it is not a top of the line model. The receiver features discrete high-current amplifiers on all channels while it's AKM AK4458 32-bit D/A converters are responsible for providing low distortion and the widest possible dynamic range. The unit may belong to the middle class but quality wise what makes this unit tick is more than capable in providing an amazing acoustic experience.

The remote that comes with the unit is the 2019 RC-1228 which looks very similar to other Denon remotes design wise but comes with a few differences in the button layout. The one we get here comes with all the input buttons at the top along with the HEOS and Bluetooth functions, navigation buttons in the middle along with channel and volume controls while playback, quick selection and sound mode buttons are being placed at the bottom.
The remote in general is a big one while the buttons have a relatively small size and we would like them a little bigger to be easier to the touch. At least the long distance between them minimizes the risk of wrong commands which can be a regular phenomenon in a dark environment since the remote lacks any kind of backlight functionality. It's construction is good and feels pretty solid with a nice texture on top to make it look a little more premium.
In general not much have changed in the 2019 refresh as far as the design. Denon kept the looks completely the same which is totally fine by us. Construction is sturdy, the quality of the components are good and in general the unit gives you a sense of quality that Denon is very famous for. Belonging in the middle class you shouldn't expect to be floored by what is on offer but is more than enough and as always what matters the most is, you guessed right…the audio performance.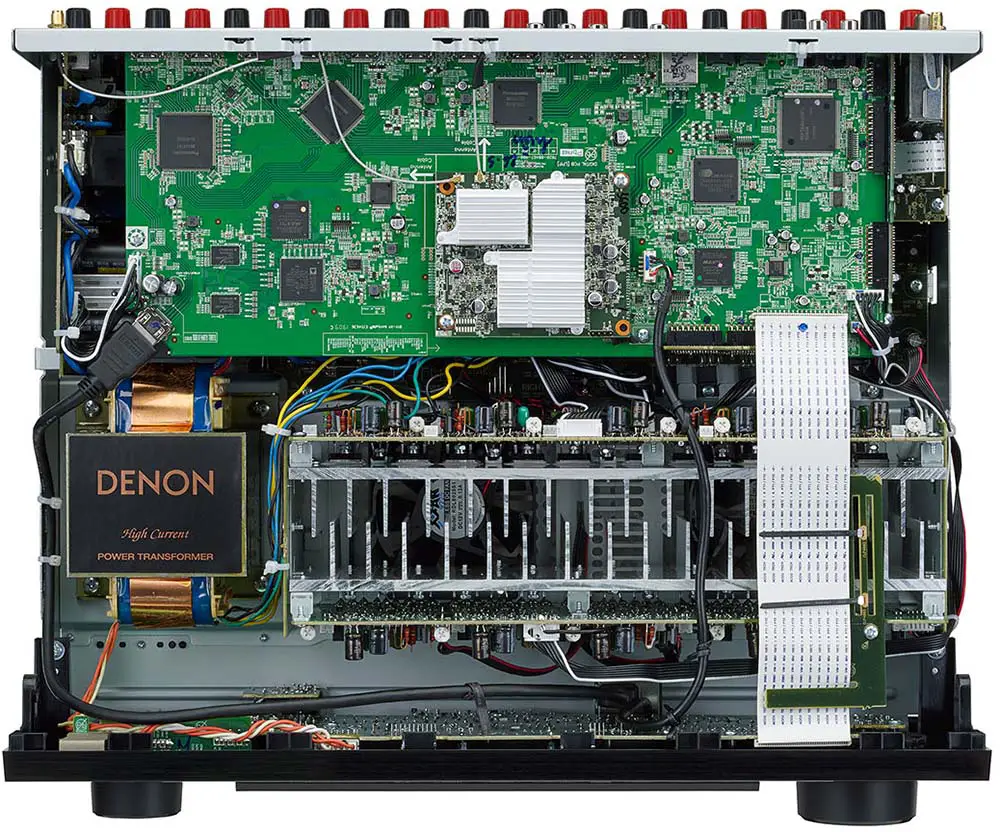 Audio Quality
When it comes to supported audio formats the receiver comes with all the important ones. Dolby Atmos and DTS:X are obviously supported as is IMAX Enhanced content which still hasn't managed to make a breakthrough in the market although it's extremely early to judge it. But the receiver doesn't stop there as we also find Dolby Surround and DTS Neural:X up-mixing technologies that can create multicannel surround audio from legacy source material.
What is new in the X3600H is that we also get Dolby Atmos Height Virtualization that along with DTS Virtual:X offer the usual duo of virtual technologies available that are capable of creating sounds that source from virtual created speakers around your room. So in case you are missing Dolby Atmos or dedicated surround speakers these technologies can help to create a more immersive soundstage without the need to place real speakers. The result with this virtual tech varies a lot and while in some cases it can indeed provide a more immersive result with sound having more volume and depth in other cases the sound may feel very distorted and over-processed.
The AVR-X3600H ups it's channels compared to the previous model to 9 with 105 watts of power for each channel (8 ohm, 20 Hz – 20 kHz, 0.08% 2ch drive). In reality obviously this number is much lower but manufacturers always like to give us numbers for a 2 channels setup. With it's 9 channels of built-in amplification the unit can go for a wide variety of setups from basic 5.1 channels all the way up to 5.2.4 or 7.2.2 Dolby Atmos setups. You also have the ability to go for a 7.2.4 setup by adding an external amplifier to drive the last two channels. For our testing and whenever we have the ability we go for a 5.1.4 setup with 4 Atmos speakers and a single subwoofer.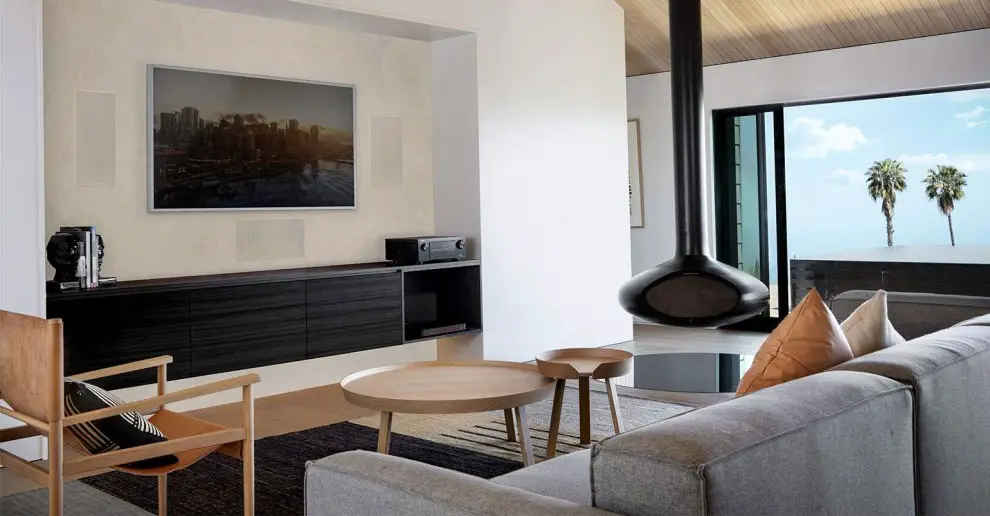 For our testing we decided to try out something different than usual so we went with the 4K UHD version of Aquaman. The film features an amazing Dolby Atmos track and obviously the highlight is mainly in it's underwater scenes. The AVR-X3600H didn't have any problem with such a loud mix and was able to create a very realistic atmosphere when the main action was happening in the water. The battle during the last act of the film is of course a scene that deserves a good quality AV receiver to really make the best of it and the Denon was able to bring forth all the small details and dynamic qualities of the mix.
Surrounds precision and channels separation was spot on, shifting between the channels was instant and followed the action to the millisecond while the center channel was able to provide a very clear and distinguishable dialogue that never felt like it was overshadowed but all the explosions and mayhem happening around. Bass was deep and made our walls shake more than a few times with the receiver never giving you the sense that it was loosing it's integrity. In general for such a demanding track the receiver not only was able to pass with flying colors but was able to deliver a performance that was exciting, immersive and joyful.
In most of our reviews there is one test that we never get bored to try out and this is no other than the Blu-ray version of Lord of the Rings with it's marvelous DTS-HD Master Audio track that is of reference quality and one of the best the format has ever seen. This time we decided to check out the Battle for Helm's Deep from the Two Towers which was the first big scale battle we were able to experience in detail in the Lord of the Rings movies.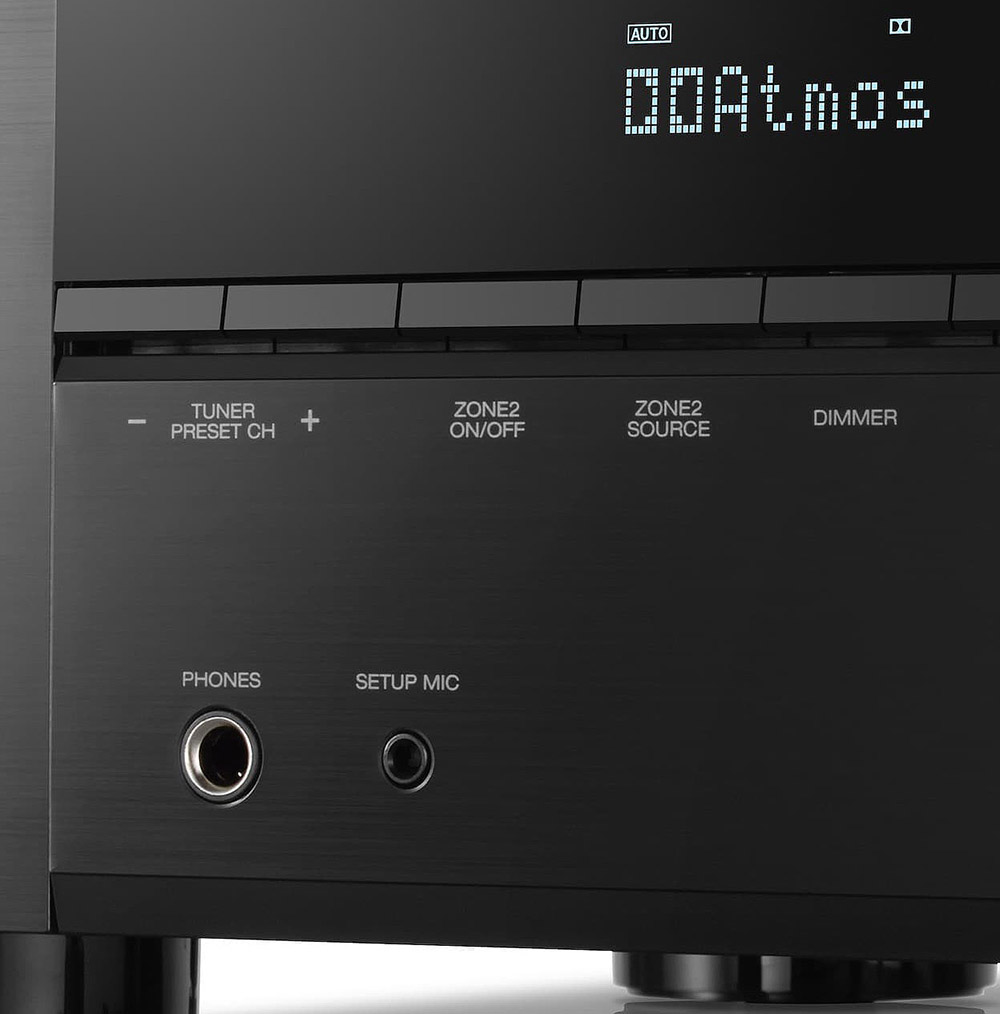 From the first moments the receiver was able to pass you the feeling of uneasiness as you can sense Saruman's army approaching while during 10,000 Uruk-hai storm the fortified defenses the ground shakes and all speakers go into overdrive. The receiver masterfully managed to control all elements either it was the low frequencies or the rest of the effects. But the soundtrack not only excelled in it's more action oriented moments as environmental ambience was alive and vibrant while the orchestrated music wrapped around the sound effects without overshadowing the action at all. An amazing performance by the receiver and it really showed that if you pair the receiver with a good set of speakers prepared to be amazed literally.
But it's not all movies here so we should point out that High Resolution Audio is obviously supported by the AVR-X3600H and except from the usual low quality MP3, WMA and AAC files you can also playback lossless FLAC, WAV and ALAC files up to 192/24 bit. DSD streaming is also available for both 2.8 and 5.6MHz. As we always do in our testings we selected a few favorite music tracks in FLAC format that provide one of the best quality possible and streamed them through the USB port.
Having performed in such an amazing way during our movie testings we felt like it was impossible to give us the same level of excitement during music. Oh boy how wrong we were. Either you are listening to music in a stereo setup or a full blown surround system the kind of immersion we got was really not expected. The receiver was in total control with it managing to place us right in the middle of all this. The bass was rock solid, mid-range felt tight and well balanced and the highs felt very natural. With the volume at a bit higher than the average the receiver never felt like it was running out of steam while the kind of directionality and spacial precision was extraordinary. This receiver really never stopped to amaze us.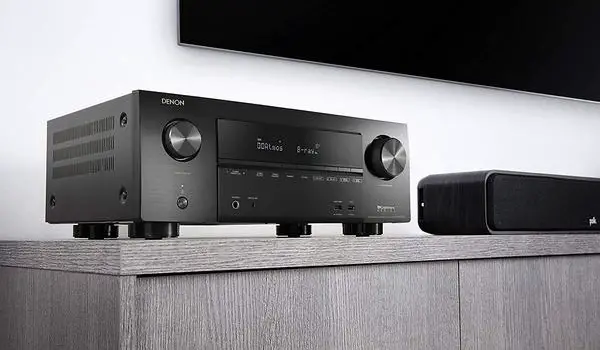 Either you are a casual user or a hardcore home cinema fan the AVR-X3600H is the kind of receiver that can put a smile in your face with it's qualities. Either it is movies or music, it will never stop to throw you in the middle of the action and offer you countless hours of acoustic immersion.
Ports and Connectivity
With this unit being exactly in the middle class it should offer plenty of options when it comes to it's next generation as well as legacy connections as it's predecessor did. With the X3600H offering a considerable bump in some of it's specs it seemed that it was deemed necessary to also rearrange all the ports at the back. The number and type of ports are almost exactly the same so there is no change in this regard but we will talk about them momentarily. As we already said the front houses a few easy to access ports including the headphones jack, the calibration microphone port, a USB and a HDMI port.
Obviously the biggest change in the back of the AVR-X3600H comes in the way of the included speaker terminals. From the 7 available in the X3500H we went to 11 channels in the X3600H from which the 9 of them can be used with the built-in amplification and the other two with the help of an external amp. All speaker terminals have been placed on the bottom of the unit covering the entire back bottom side. At the top we get the most useful of connections with 7 HDMI inputs along with 3 HDMI outputs which are more than enough to cover all needs of even the most hardcore users.

As for the legacy connections being offered we get 5 analogue stereo inputs with another one dedicated to phono, 3 composite video inputs, 2 component video inputs and one output, 2 optical and 2 coaxial digital inputs, zone 2 outputs and 11.2 multi-channel pre-outs. As for the rest we find a Ethernet port for wired connection to the internet, a 12V trigger port, an RS-232C port, a remote control input and another output and lastly the usual FM/AM antenna as well as WiFi/Bluetooth antenna connectors.
The unit features HDCP 2.3 for it's HDMI ports which means they support 4K Ultra HD 60Hz video, 4:4:4 Pure Color sub sampling, Dolby Vision, High Dynamic Range (HDR10), Hybrid Log-Gamma (HLG), eARC, 3D, and BT.2020 pass-through along with ALLM that can be very useful for gamers and HDMI-CEC for easier control of the unit using your TV's remote. The AVR-X3600H features the same ports as it's predecessor with Denon even managing to squeeze 11.2 pre-outs compared to the 7.2 channels pre-outs of the AVR-X3500H.
OS, Apps and Features
The AVR-X3600H comes with a very comprehensive list of features and on paper seems to be similar to what we saw in the AVR-X4500H so let's see them one by one.
First of all the calibration system used. It seems that the X3600H comes with the best version of Audyssey, called the full platinum suite, that includes Audyssey MultEQ XT32 along with Audyssey Dynamic Volume, Audyssey Dynamic EQ, LFC and SubEQ HT that we had seen being used in all the top tier models from Denon. By using the included microphone the system analyzes up to 8 different listening positions and by creating precise digital filters it can offer a much improved acoustic performance.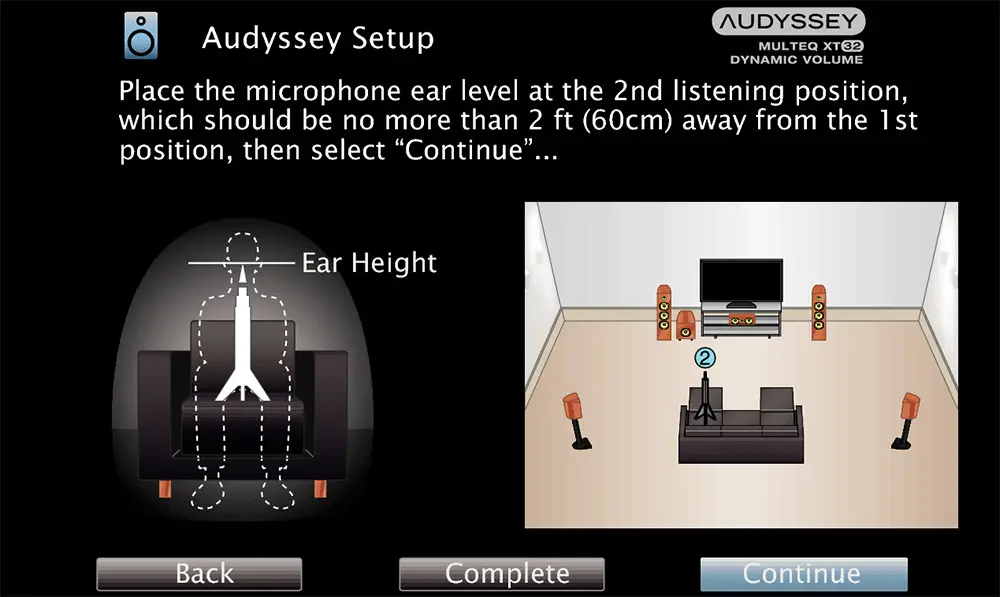 Along with it come a few extra features like the Dynamic EQ that is responsible in keeping the dynamic levels and clarity even when you lower the volume for late night viewings while the Dynamic Volume is capable of balancing sudden changes as well as spikes in volume when TV broadcasting is switching from programs to commercials. There are a couple of more features that are worth mentioning with one of them being the Audyssey LFC that isolates the low frequencies within your listening area while the SubEQ HT helps to calibrate a dual subwoofer setup if it happens you to have one.
Calibrating your system can be achieved by two ways, depending mostly if you want to dive deep into calibration settings or you want a more simple step by step walkthrough. In case you are not very experienced then the built-in wizard is more than enough for you as it provides easy to understand directions for you to follow. But for those that want to have complete control over their calibration settings Denon also offers the Audyssey MultEQ Editor app which is available for both Android and iOS mobile devices. This app offers much more flexibility and functionality and it can be a very handy tool for experienced users with the only catch being that you have to pay a one time fee for it in order to download which is a bummer really.
At least Denon provides another app, this time for free, that you can download and you can control the receiver through your mobile device. The app is called Denon AVR app and is also available both for Android and iOS and we do suggest that you try it out to see if you like it as it provides a very nice and good looking interface, easy to be handled by anyone and providing a nice alternative to the old fashioned remote.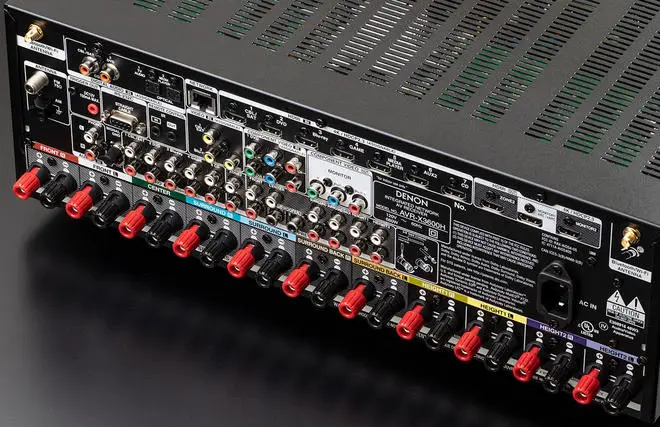 The included User Interface is the same one we have seen in a few other AV receivers. It's simple and easy to navigate as everything is categorized relative to their use. We have said before that updating the visual design to be more with our times would be a welcome change and there is no reason not to do so as AV receivers come equipped with hardware that is more than capable in supporting a better looking interface. TVs are miles ahead in this and we hope at some point AV receivers will follow. But at least what is there offers all the practicality you will need even if it's not the most pleasing to the eye as we would like.
As for it's streaming capabilities now the unit comes with all the usual services you can imagine. The supported list is quite extensive including TuneIn, Spotify Connect, Tidal, Deezer, Amazon Music, Sound Cloud and Napster among others. But streaming is not limited only to online streaming services. If you happen to have a network drive or NAS server connected to your local network you can stream audio from there also.
In order to offer all these features it was a given that the unit would come with both wired and wireless connectivity. It's built-in WiFi can support either 2.4GHz or 5GHz in wireless mode but if it happens you to have connection problems then a wired connection usually can save you from all this trouble. We tried to stream some music with a 2.4GHz wireless connection and we didn't experience any problems as our connection was rock solid.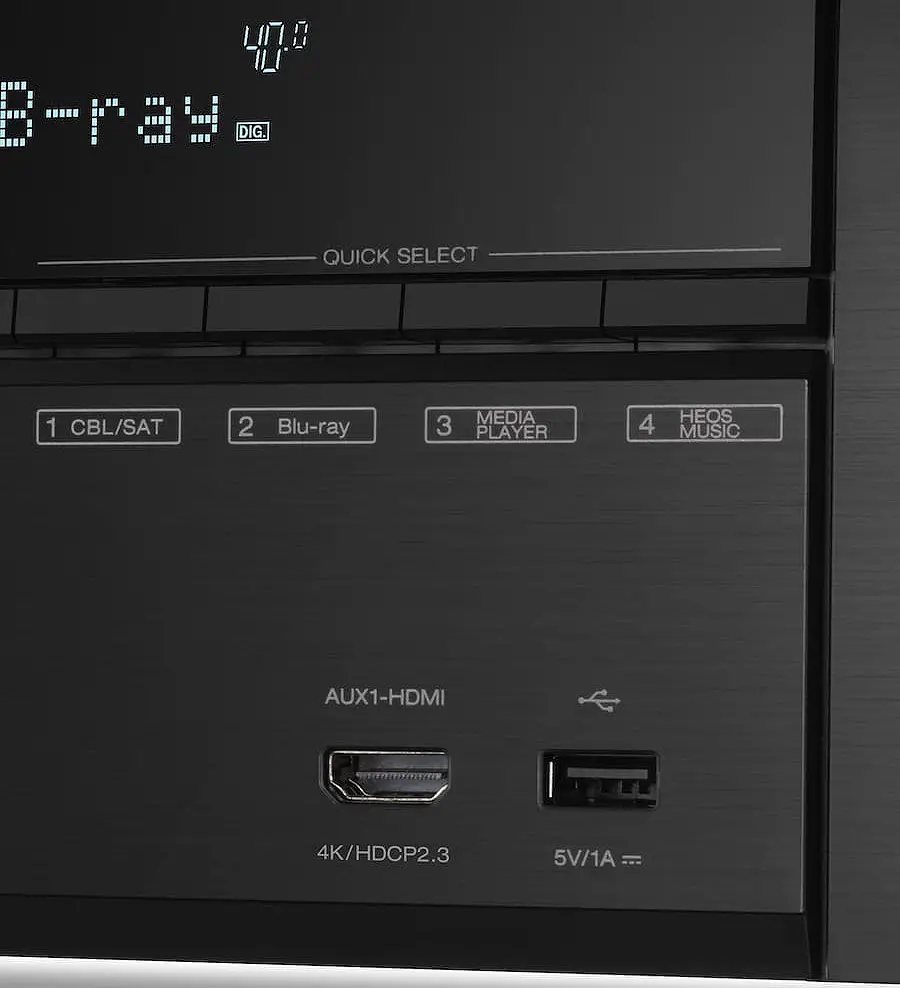 Another way to stream music through the receiver is through the included front USB port. If you have an external storage of flash drive this port is ideal for quick access to your music files. Obviously if you have a Bluetooth enabled device you can also use that way to stream audio from your device to the receiver. Pairing the two is as easy as it can get and if you have ever used Bluetooth before the process is exactly the same. Lastly Apple lovers can use Airplay to stream music to the receiver from their Apple devices.
When it comes to it's multi-room capabilities the X3600H supports the usual HEOS technology that is a feature you can use to connect other HEOS enabled speakers around your house wirelessly. Another feature that has become a standard lately is Airplay 2 which is a similar technology made by Apple. With Airplay 2 you can stream music to any Airplay 2 enabled speakers or other Apple devices. The unit also supports wired multi-zones with a maximum of two being supported.
Voice control has become the shiny new thing when it comes to home automation and most newly released receivers support one or more of these platforms. All new models from Denon seems to include every known voice control platform in existence with Amazon Alexa, Google Assistant, Apple Siri, through the Airplay app, and Josh.ai all being present making this model future proof in this regard.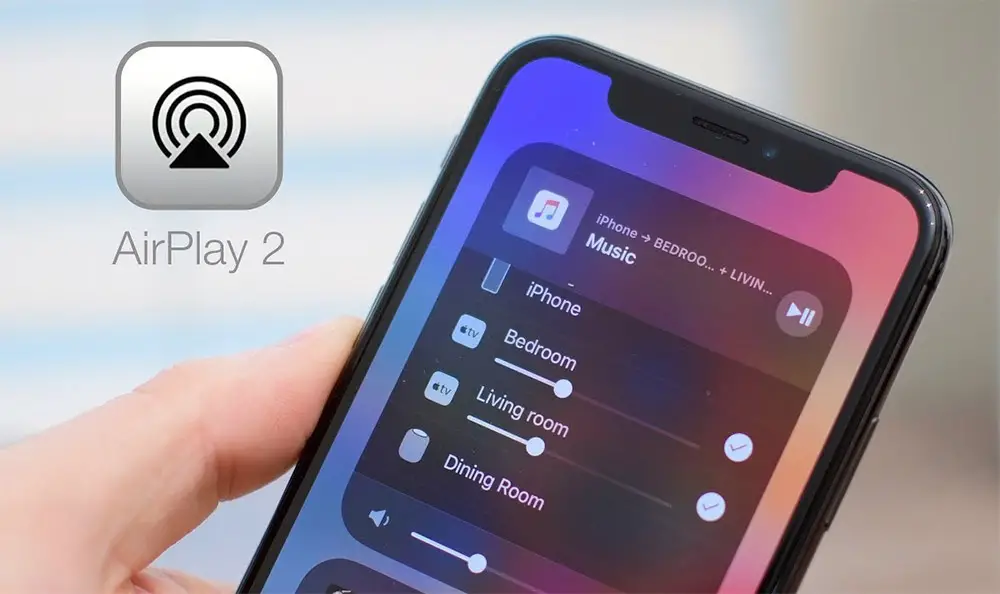 But maybe you are more old school and letting your remote collecting dust breaks your heart but on the other hand you don't like to have multiple remotes when listening to your favorite music. This model has you covered as with it's HDMI-CEC function you can use the TV's remote to control some basic functions of the receiver like volume control. It may not offer a lot of functionality but for some basic handling it can be a very handy feature.
But other than the above there are many more features included in the AVR-X3600H like analogue and HDMI to HDMI upscaling, Bi-amp capabilities, custom integration by using Ihiji Invision and Domotz Pro, support for Control4 automation and Creston intelligence, an ECO mode that can regulate it's power output if you are an environment sensitive person and a full suite of video calibration controls (for use by an ISF technician), along with ISF Day and ISF Night video modes.
There is so much value and so many features in the X3600H that is really hard to find anything important missing. Denon has created a really future proof model and will satisfy both casual and more hardcore users with it's plethora of available options.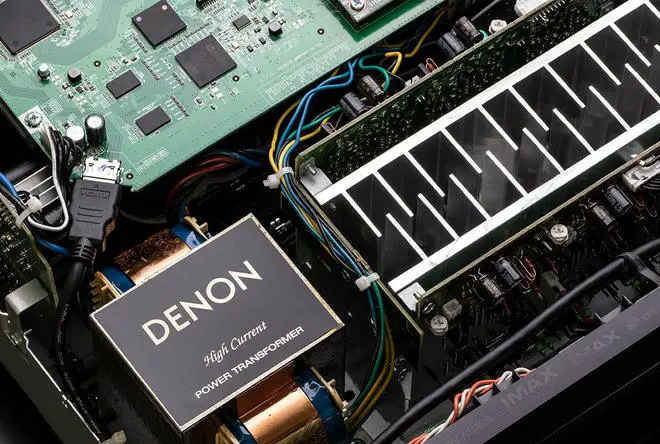 Final Thoughts
The Denon AVR-X3600H is one of those rare cases that a yearly release really takes us by surprise by not just offering a repackaging of last year's model with just a couple of new features but giving us an AV receiver that is on a total different class from it's predecessor. As a result the AVR-X3600H comes much closer to the next in line AVR-X4500H by offering the same number of channels and a feature set that is very close between the two AV receivers.
Obviously many will be wondering what are the differences between the two and we are here to clear things up. The AVR-X3600H has less power, has no Auro-3D support and comes with a few less connection ports. On the other hand it comes with Dolby Atmos Height Virtualization and HDCP 2.3 which the AVR-X4500H doesn't have. Everything else is similar and this shows you how close the two units have come, at least until we see a new refresh of the X4500H series.
Summarizing everything up the AVR-X3600H managed to perform admirably and with it's 9.2 channels that can extend to 11.2 with an external amp can offer plenty of flexibility when it comes to the kind of setup you are looking to create. It supports Dolby Atmos, DTS:X and IMAX Enhanced content while also comes with the full set of up-mixing and virtual tech if you like how these perform. For calibration we get the best version of Audyssey that comes by the name of Audyssey MultEQ XT32 with Audyssey Dynamic Volume, Audyssey Dynamic EQ, LFC and SubEQ HT while also comes with all the streaming and multi-room services you will ever need.
The receiver really nails it when it comes to functionality and it is really hard to find anything bad to talk about. Obviously if you are a power hungry user the unit may lack the necessary juice if you love to push it to extreme levels on very large rooms. But for the most part the 105 watts offered are enough for most cases and you shouldn't worry about it. Also we will always be against the one time fee that the Audyssey MultEQ editor app asks for. And if we could accept that for the cheaper models at least we would expect to get it for free when you have to pay $1,000+ for such equipment. Lastly we would love to see a backlight on these remotes that Denon makes.
Finishing with our review we will say that we are very enthusiastic with the Denon AVR-X3600H. It managed to offer quality, performance and functionality all packed together and with a price tag slapped on it close to the $1,000 mark it offers amazing value for money. Are you still reading this? Make yourself a favor and go grab a piece…

For more reviews you can check our dedicated 9 channels 4K AV Receiver reviews list or even look at our Product Reviews Table where you can find the brand and specific product you are looking for.
Also don't lose the chance to subscribe to our Newsletter and gain exclusive privileges.
---
Cheapest Places to Buy :
---
Denon AVR-X3600H Specifications