Denon DHT-S316
Reviewed at $299.00
Movies Performance
8.4/10
Inputs and Features
8.6/10
Pros
Compact size with low profile
Dolby Digital and DTS support
Good bass performance
Easy to setup and to use
Cons
No surround activity
No WiFi functionality
LED array is frustrating
Slightly pricey
---
Cheapest Places to Buy :
---
Denon is a very respectable brand in the home theater market with their AV receivers being the first that comes in mind and have rightfully earn a lot of praise through the years. But Denon makes a lot more than just AV receivers and another market they are in, although in a smaller capacity, is the soundbars one. And today in our Denon DHT-S316 review we will be testing the last one in their current lineup that we didn't have the chance to check out yet.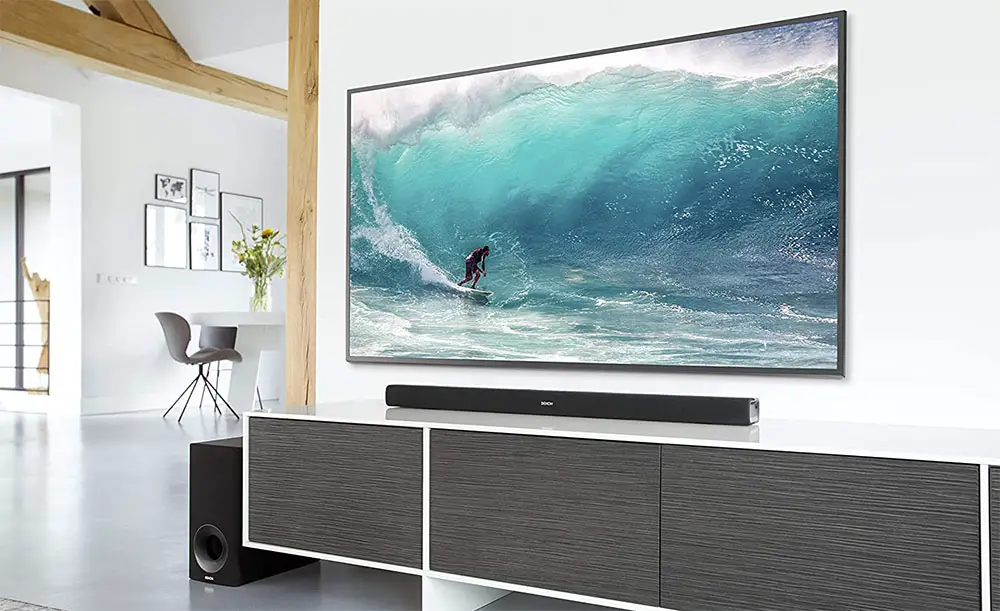 The DHT-S316 soundbar is not a new model. Unlike the DHT-S517 and the DHT-S217 which are new 2022 models, the DHT-S316 is available for a couple of years now. But judging by its specs it seems Denon decided to continue its availability in order to bridge the gap that was visible between the two new releases. So in essence the DHT-S316 is considered the mid-tier option in Denon's soundbars lineup.
Let's see now real quick what this soundbar can offer. This is essentially a soundbar-subwoofer combo with a 2.1 channels configuration, it supports Dolby Digital and DTS sound while in terms of extras it comes with the bear minimum which is Bluetooth streaming and very few sound features.
The Denon DHT-S316 looks like a really simple system. In terms of features you get the basics and judging by the specs it is very obvious why Denon kept it well into 2022. But with a price of $299 competition is very stiff nowadays and there are a lot of other brands with similar cost. Does the Denon one manages to offer the kind of quality that the others are missing? Let's find out…
Design, Inputs and Features
Exterior
The soundbar's design does not stray far from the usual Denon look and surely the newer releases took many of the same characteristics of this one.
The main unit measures 35.4″ x 2.16″ x 3.22″ (89.99 x 5.46 x 8.18 cm) and weights 3.9 lbs (1.77 kg) making it very similar in size to the DHT-S217 but with almost half the weight. With such dimensions the soundbar can be used in a lot of different setups including gaming and PC monitors among others.
Just keep in mind that if you plan on placing it in from of your TV the soundbar, although it has a very low profile design that can fit under most TV models, it doesn't have any IR repeaters, so if your TV's IR sensor is extremely low then it may obstruct the signal, so you better measure first just to be on the safe side.
The soundbar has an extremely low profile with just 2.16″ of height but there are several TVs like the Sony A95K for example that leaves no space under the screen so there you are going to have a potential problem.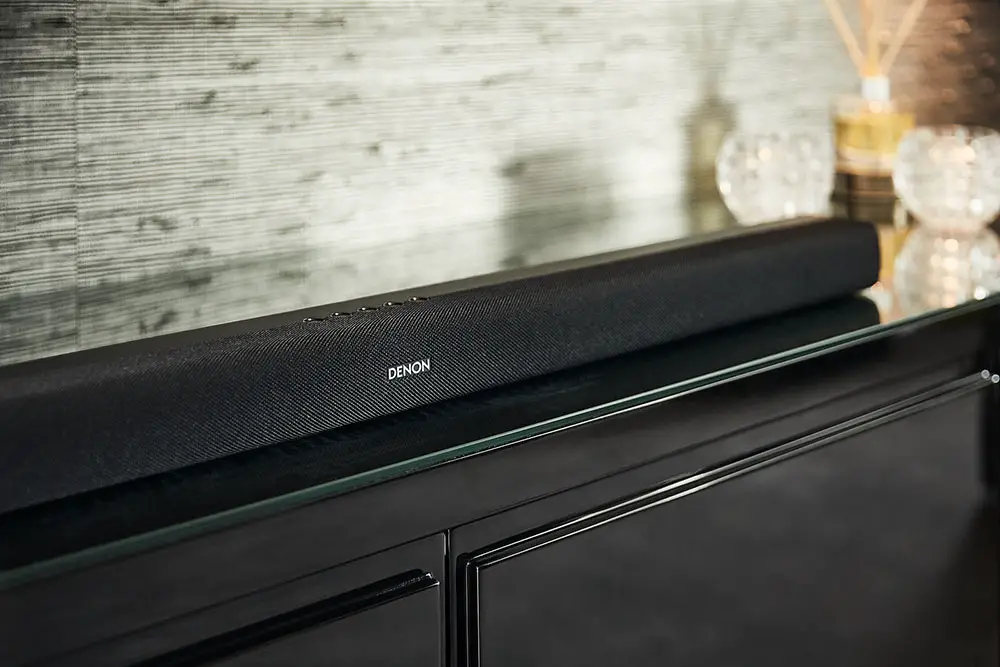 As for its looks the unit's entire front as well as part of the top and bottom are covered in a fabric cloth grille covering all the drivers while the rest of its body is made out of sturdy black colored plastic.
At the top we find a set of built-in control buttons located exactly at the middle including a power button, input selection, Bluetooth and volume controls. These buttons are physical ones and have good spacing in order not to accidentally press the wrong one in a dark environment.
One thing we always are very critical about when it comes to soundbars design is the kind of functions display they come with. Many manufacturers go for the usual full display but there are many low cost soundbars, and some not so low cost, that go a different route and this is to use an array of LED light indicators in order to show what the soundbar is doing. Unfortunately, being a Denon means that the DHT-S316 uses this frustrating LED lights.
Placed exactly at the middle, right above the Denon logo, there are four LEDs in a single row and depending the function of the unit different combinations and colors light up. This is the simplest way of a front display being used and to be honest it's not a very practical one. Because if you don't remember the combinations or the colors of the lights you will have to open the manual every single time to see what the unit is doing. Which is tiring after a while and not so practical to do every time you want to use it.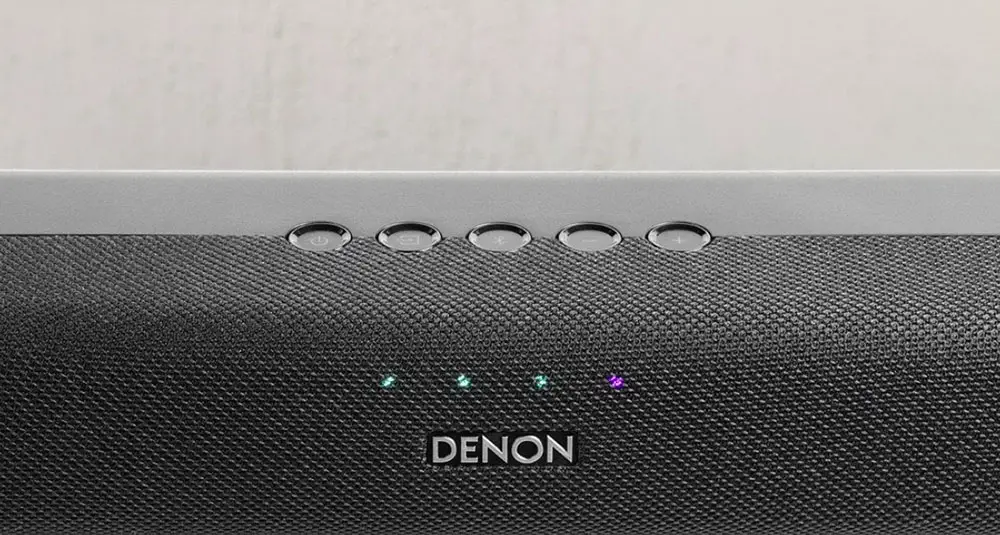 At the back we get a limited number of connectors placed all together in a specially designed inset placed on the left side. Unlike the DHT-S217, in this one the power connector is separated from the rest in the right side so keeping all cables together is slightly more complex here. There are also special holes in order to wall mount it if you like and with its low weight this could not be any easier.
And then we have the subwoofer which is the usual black box made of some short of MDF while the entire front is covered by a fabric cloth grille protecting the front-firing driver. The air port is placed at the front in this one which helps to place it in tight spaces while keeping air flow free of obstacles. The subwoofer measures 6.7″ x 12.3″ x 13.4″ (17.07 x 31.22 x 34.06 cm) and weights 11.35 lbs (5.15 kg) which can be considered more or less the standard for its category.
The DHT-S316 is your typical Denon soundbar. It doesn't try to impress but Denon made sure it is up to their standards and obviously on par with the price limitations it has to abide by.
Internal Hardware
The soundbar is basically a 2.1 channels system but you really shouldn't be confusing it with the DHT-S217, as that one is also considered a 2.1 channels soundbar, as these two have some fundamental differences.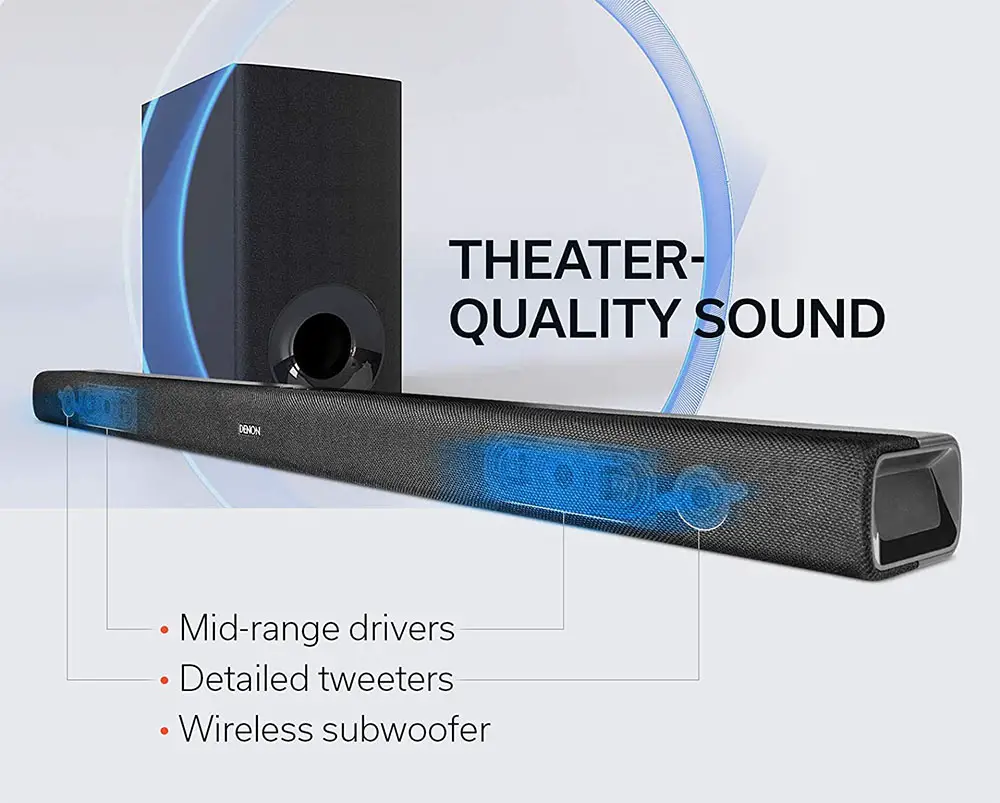 The DHT-S217 is a single unit system and has built-in subwoofers while the DHT-S316 we have here comes with a dedicated subwoofer which surely has far more punch and power and this is the reason why this one is priced slightly higher than its smaller brother.
As for the DHT-S316 specifically, the front fabric grille is hiding all the drivers for the two main channels. For each of them Denon used a single 1"/25mm round tweeter along with a 1.25″ x 4.4″ mid-range driver.
The unit is missing a center channel and because of this we expect similar behavior with the DHT-S217 when it comes to dialogue output.
Connectivity
Let's look at the connectivity options now and the DHT-S316 seems to come with the standard basic configuration that we have seen in countless other low cost soundbars.
In a specially angled inset we find a single HDMI port, a 3.5mm analogue input and a digital optical input. That's it! There is also the power connector but this is placed on the other side of the back face while the soundbar features a USB-A also but unfortunately this is only for updates and nothing else.
One HDMI means that the unit cannot be used in pass-through mode. Also, although we don't have specifics on the port's capabilities, this is not needed as the soundbar only supports Dolby Digital and DTS which even the optical port is sufficient enough to playback. Lastly the HDMI port supports CEC in case your TV does also.
As for wireless capabilities the unit uses Bluetooth 4.2 which makes it possible to stream audio from your smartphone to the soundbar. Unfortunately only the SBC codec is supported so Bluetooth is only good for music as anything else will surely present audio sync problems. There is no WiFi available which is not all that surprising as both the newer DHT-S217 and DHT-S517 were missing that.
Control Options
In terms of controlling the soundbar the DHT-S316 is not all that different from the other Denon releases we tested recently. This means that control options are rather limited compared to the competition. Above, we mentioned the built-in buttons available that offer some basic functionality but the remote remains the main means of control for this unit.
Design wise the Denon remotes are not all that different between the various models. They may differ a bit in button layout but design and overall usage remains the same. The remote is small, comes with very few buttons as it doesn't have many functions and features to begin with and in general is simple to handle no matter if you are tech savvy or not.

At the top we get the power and mute buttons while under them there are three buttons for the input sources and Bluetooth functionality. The unit is missing a pure button that we had seen in the newer Denon releases along with a couple more input buttons so this remote is even more barebones than what we saw before in the other remotes.
Two large buttons under them are for controlling the volume as well as the bass while below them we get three buttons for the different sound modes you can select depending the content you watch like movies or music while a Night Mode is also available when you don't want to bother other people while sleeping. Finally we get three buttons that adjust Denon's Dialogue Enhancer.
There is also HDMI-CEC functionality. If your TV is connected via HDMI and your TV supports CEC (and it is enabled in the TV settings menu), you can control the volume and mute functions on the Denon from your TV remote without any further setup.
Unfortunately without WiFi the soundbar looses the ability to be controlled through voice commands and also there is no dedicated app that could be used instead. So don't loose the remote as it's your only means of controlling it.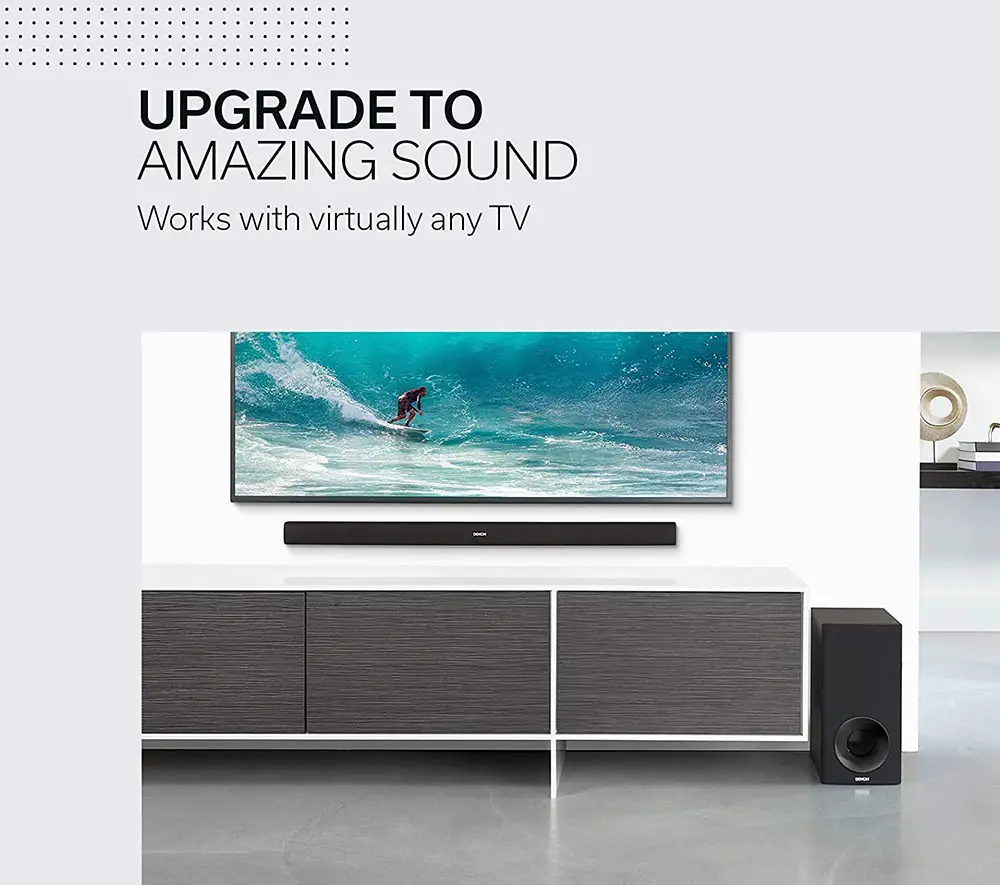 The DHT-S316, being an earlier release than the 2022 models, has slightly less options here. The newer soundbars have also the ability for remote control learning something that is not available here.
Extra Features and Services
Now let's look at all the features the soundbar comes with and we will start with the audio formats being supported. Being essentially a previous generation soundbar, the DHT-S316 lacks any kind of object oriented sound formats support or any virtual audio enhancements.
The soundbar can decode Dolby Digital, DTS sound and Linear PCM through the HDMI and Optical ports while the AUX port can support stereo audio. The DHT-S217 is missing DTS sound so if you really want it then the S316 may be a better option for your case.
The DHT-S217 is a very simple soundbar and as such it comes with only some basic sound modes. You have the option to choose between Movie and Music mode depending on the kind of content you will use it for. But there is also a third one called Night mode which reduces bass and volume dynamics while improving voice intelligibility for low volume listening which can be very handy for late night use.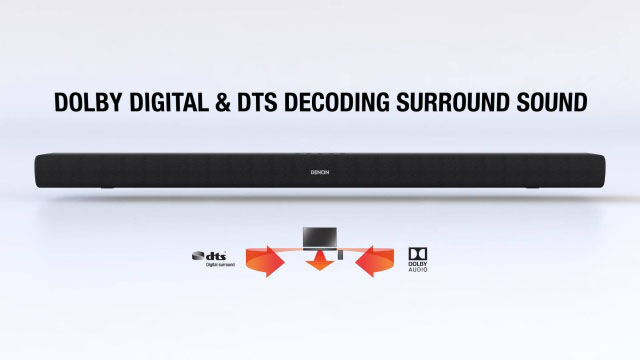 As we mentioned above, the S316 is missing a Pure mode that we find in the 2022 models but as this unit lacks any virtual sound enhancements this is not really necessary.
Another familiar feature in Denon soundbars is Denon's Dialogue Enhancer technology which frankly is another name for Polk Audio's Voice Adjust technology that was included in all Signa soundbars. And as expected you will find three different levels of adjustment. The Dialogue Enhancer works in exactly the same way, boosting the dialogue in case you feel it is weak compared to the rest of the audio. In our case a Low or Medium setting was still more than enough in most cases as the High setting was a bit too much and altered very much the audio output.
In true Denon fashion the DHT-S316 lacks any kind of EQ settings or an auto calibration system and the only adjustments that you can really make is the bass. From the remote you can control how much bass you like easy and fast with the press of a button. If you don't like to go through various audio settings and calibrations then the Denon is as simple as it gets. The soundbar is extremely easy and you will surely love it if you are the kind of person that hates going through various settings and calibration menus.
In terms of streaming you get only Bluetooth capabilities and nothing else. With the included built-in Bluetooth you can stream audio from any Bluetooth enabled device but the quality is certainly lower than what it would be if you stream music from a streaming service in your TV through the HDMI connection or even the optical port. So while for casual use it may suffice if you want the best quality possible a wired connection is a must.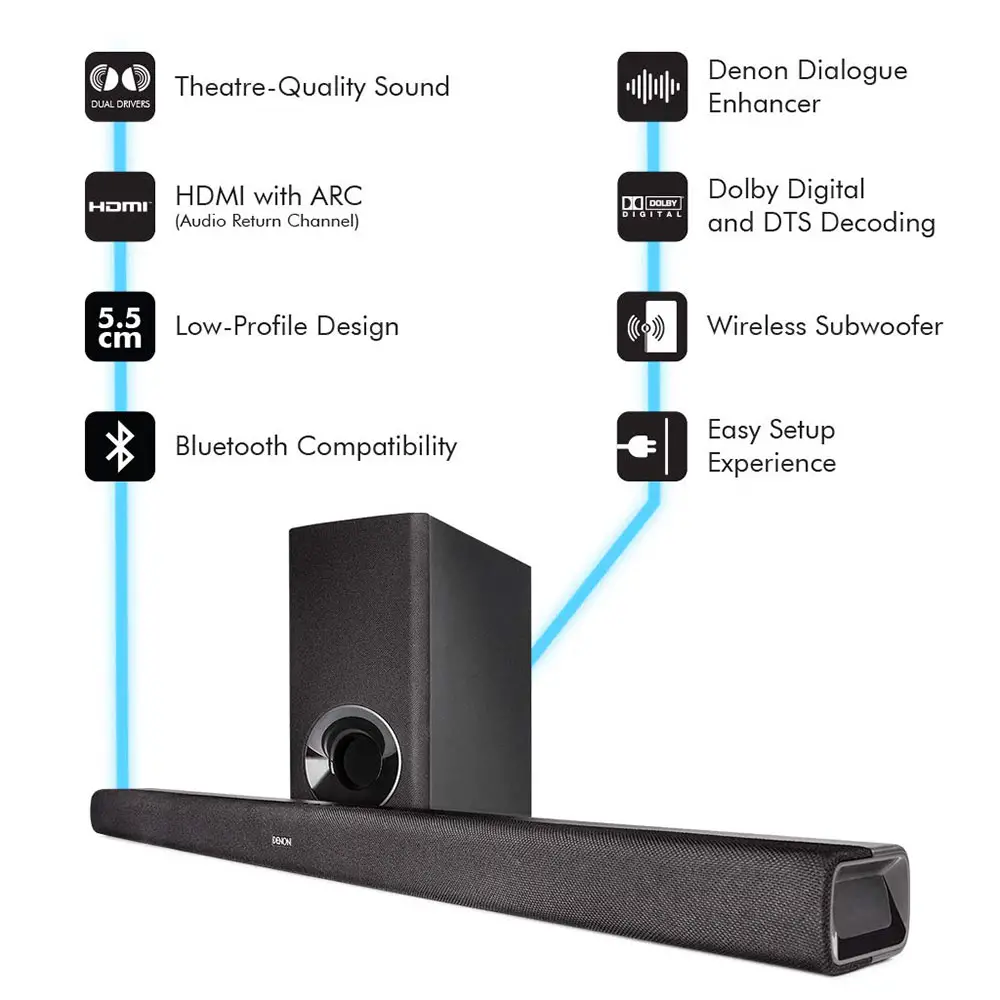 The DHT-S316, just like the DHT-S217, does not support USB playback although a USB-A port is present. This is only used for service and updates and nothing more. As such Bluetooth and the included wired inputs remains the only means of streaming music to the unit.
The soundbar is missing WiFi and so there are no online capabilities available. It can offer a purely offline experience. Also keep in mind that the DHT-S316 cannot be expanded with surround speakers so its surround performance is basically non-existent.
Denon is known for adding only the basics in their soundbars and this seems to be a decision based on the general philosophy they have for their soundbar products and not a limitation due to the low price.
Initial Setup
A Denon soundbar is a simple soundbar and the DHT-S316 is as simple as it gets which is in line with our experiences with the rest of their lineup.
The whole process is so easy and fast that even if you have no previous experience you will have no trouble setting this up and be ready in just a few minutes and this has mostly to do with the fact that there are no complex configurations or settings to be made. Everything is kept to the minimum.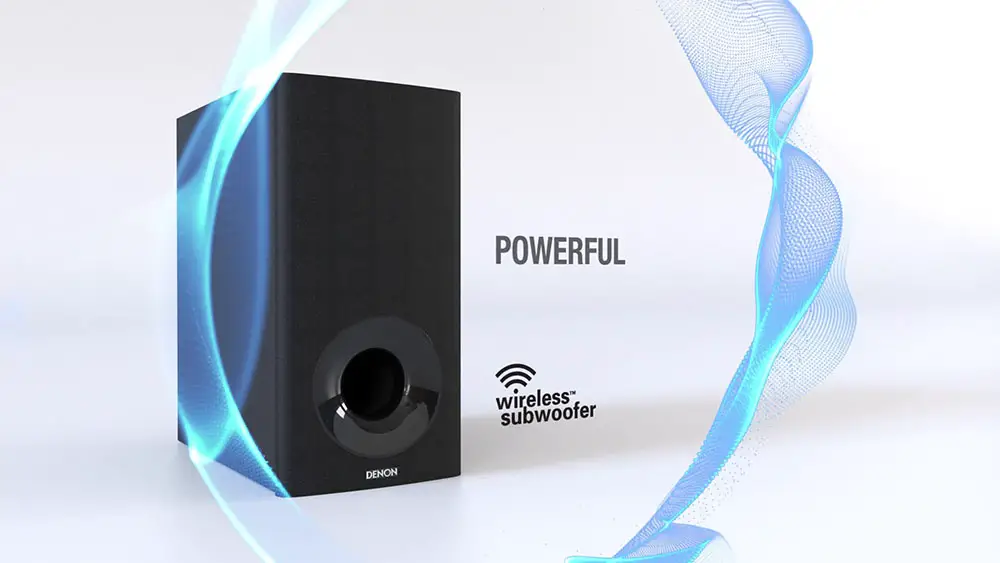 First of all you have to connect the soundbar to your TV and you have various options to choose here. You can go either for HDMI or the optical port or even go with the AUX port if your TV is old and there is no other way of connection.
The subwoofer and the main bar are connected automatically but even if they are not a simple press of the BAR SYNC button at the back of the subwoofer will pair them relatively fast.
If you are a casual user that just wants to connect it and use immediately then you will love it. If you are looking for more in-depth calibration options you are not going to find them with this one or with any Denon soundbar for that matter.
In terms of actual settings there are basically three buttons that you will need to press. Select the audio mode depending on the content, choose one of the three voice adjust settings and calibrate the bass volume. That's all and it cannot be more straightforward that this one.
You will literally need just a few minutes to unbox the whole thing and have it ready. That's how easy and simple Denon made it.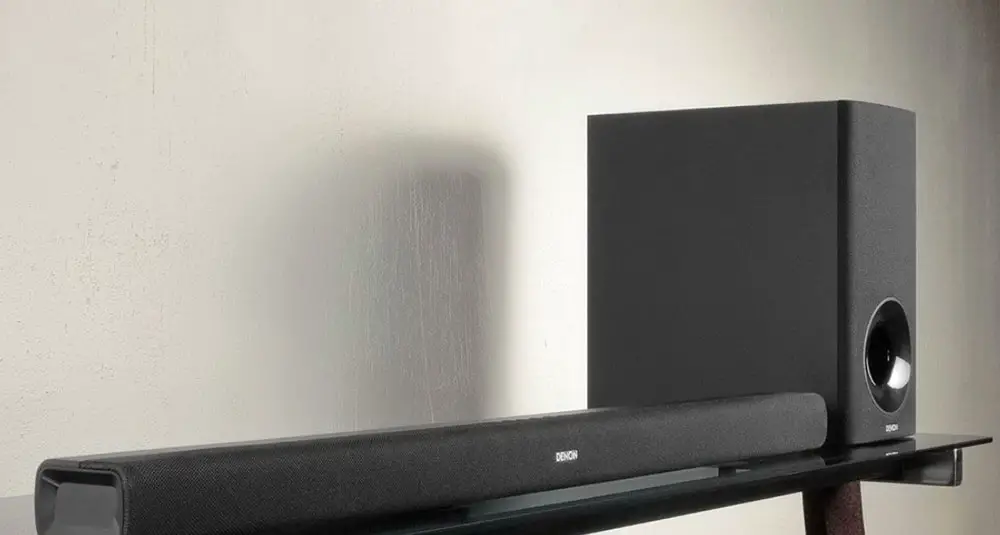 Movies
Keep in mind that this is not a Dolby Atmos soundbar in any way or form and there is also no virtual technology that could support this format. So we get the plain old Dolby Digital or DTS treatment here. Also we should note that even 5.1 channels surround sound has to be downmixed to the 2.1 channels available to the unit.
We wanted something with a band so we tried out Battleship in 4K UHD. Although the format provides an amazing DTS:X mix in our case we are only getting the core DTS 5.1 instead.
As per usual, just like with units that do not come with surround speakers all action was very much front oriented. It is not exactly rocket science but any soundbar without rear speakers fails to give you a convincing surround immersion.
Obviously you will get a nice boost over what most TVs can do and we are not talking only about volume. Clarity is better, extension and depth of sound is notable while the dialogue is kept isolated and contained from the other two channels.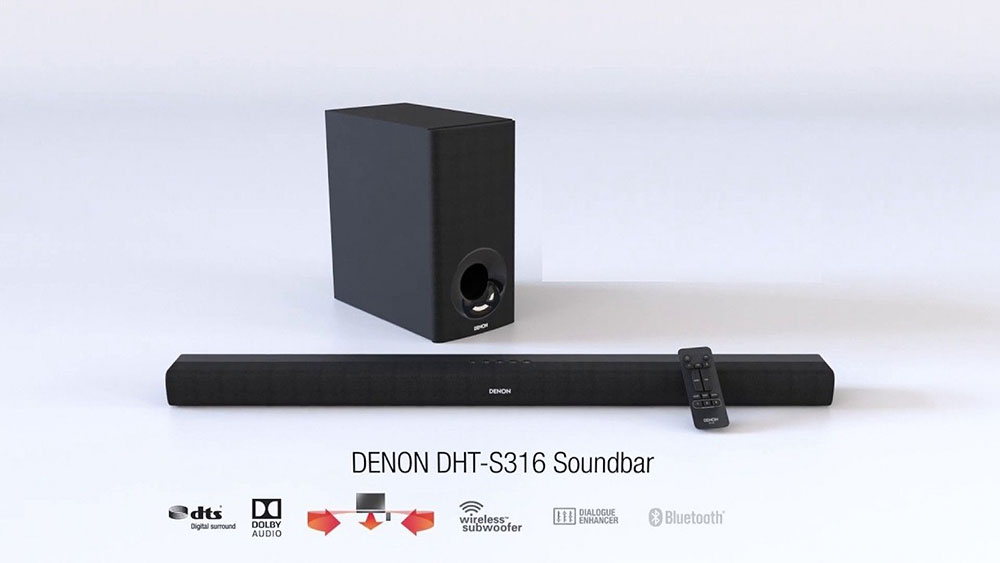 Panning effects were noticeable but they lacked the clarity and wow factor that separate speakers can provide. This is a problem with most similar soundbars so it was not a problem with this specific model. Obviously where you sit and how your room acoustics are will vary the outcome of the sound you will get.
Being a relatively small soundbar the closer you sit to it the more immersive the outcome will be. The front sound wall was satisfying but never overall engaging. Like it was missing something that would draw us into the action. The unit does not feature any side firing channels so the output was more confined than other releases that uses such tech.
Dialogue was pretty distinct considering there is no dedicated center channel present but you could still understand the difference with soundbars that use a center one. At least the unit comes with Denon's Dialogue Enhancer technology which gives you enough flexibility to find the sweet spot that sounds best to your ears if you feel that dialogue is weak.
One thing we hate is that a lot of brands advertise their soundbars as Dolby Atmos capable but their performance leave a lot to be desired. And this is a major advantage of the DHT-S316. It does not try to be something that it isn't and this way it does not create false expectations of its sound quality and performance.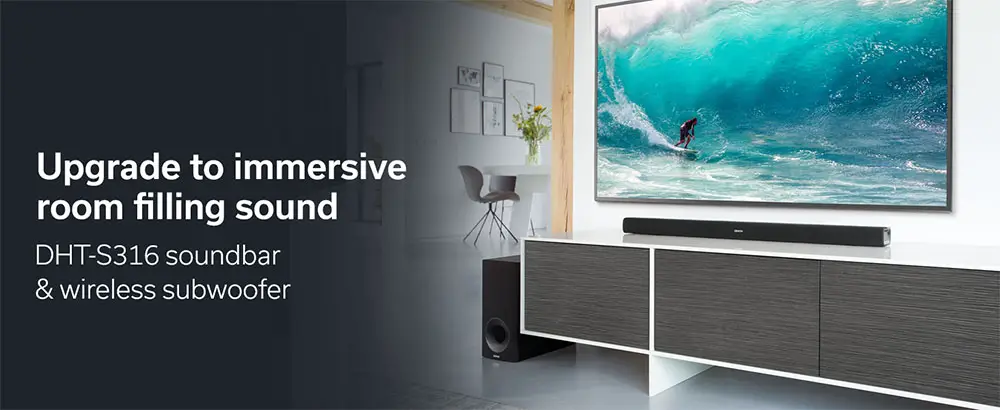 As a non Atmos soundbar we didn't sense any sound elevation and this was to be expected. Everything was at ear level and mostly towards the front.
Having a dedicated subwoofer proves to be a major advantage here compared to the DHT-S217 which does not feature one. Obviously the one provided with this unit will not offer you the most Earth shuttering experience ever but compared to the half-baked solutions included in single soundbar systems this is miles ahead.
The subwoofer had plenty of punch and with a movie like Battleship it had a lot of opportunities to flex its muscles. Explosions and cannon fire will give you a shake or two providing the much necessary weight and low end prowess to each scene.
Your jaw will surely not fall on the floor but the bass performance of the DHT-S316 left us with good impressions from its solid presence during these tests.
Closing we can say that this unit can surely give you a lot more than what a TV with a simple sound system can. It has more volume, more depth, more clarity and punchier bass. It suffers in surround performance and there is no overhead activity but if you don't have the budget for something better it will still give you plenty for its bucks.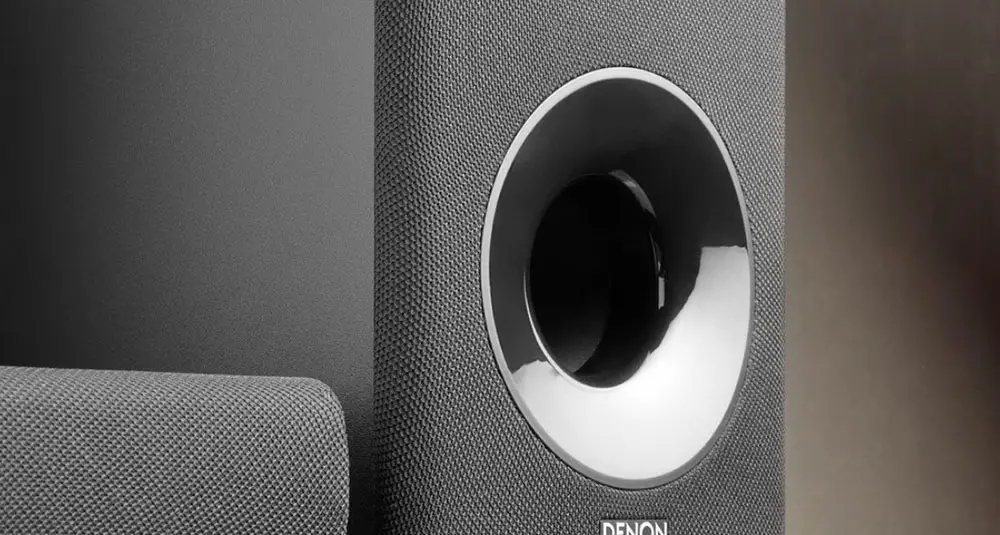 Music
With the DHT-S316 you have two options when it comes to music playback. Either through its Bluetooth connection or through the HDMI port by using the TV or a media player as the source. For this review we opted to use our TV to stream music through HDMI for the best quality possible.
Numerous times in the past we have compared Denon soundbars to some Polk Audio units, specifically the Signa series and we always said that in our opinion the Denon ones have a slight edge due to the inclusion of a Pure mode. But this is not the case here as the DHT-S316 is missing this mode.
Instead we get a dedicated Music mode and this is the one we used instead for our review. In many soundbars we don't like the Music mode as it adds some processing to the mix but as there is no pure or standard mode to use here we were forced to use the only available for music.
Its performance reminded us a lot the DHT-S217. Solid output but its hardware limitations definitely show. The performance was lacking in definition and overall resolution but if you don't pay too much attention you are not going to be bothered by it.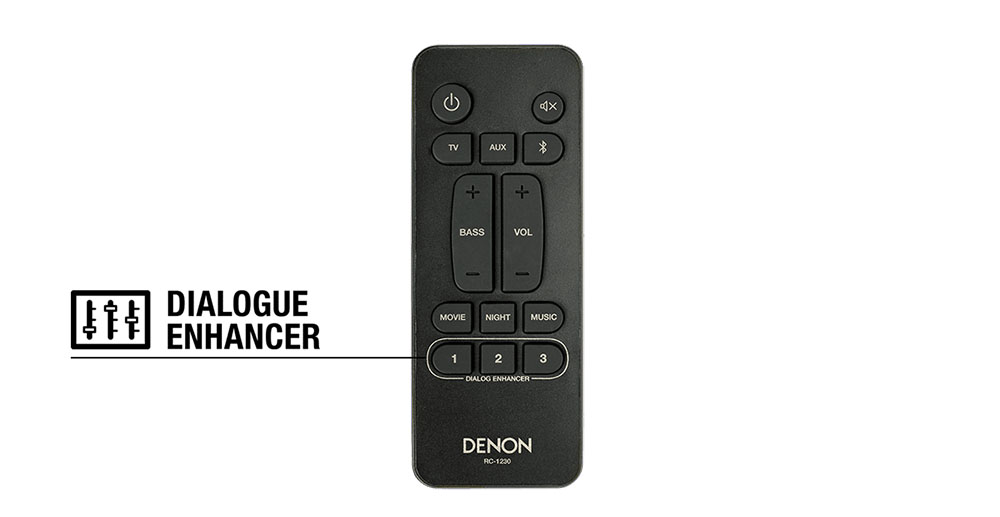 Vocals, although most of the times had good clarity, lacked somewhat compared to units with a dedicated center channel. You could sense that they were coming from the center of the soundbar but they didn't have the high resolution we were hoping for.
Bass was good enough and the included subwoofer did push the low end to respectable levels. Bass intensive songs will make the sub grasp for air but this was only in some extreme moments and most of the times it managed to cope with the low end intensity without any major issues. It followed the tempo very good and kept rocking until the end.
Stereo imaging was just ok and you shouldn't expect a whole lot more. We went through various genres, as we always do, and you could sense where the unit's limits really were. Obviously this is not HiFi material and you should really not expect to get anything close to that.
The Denon DHT-S216 is a perfect casual soundbar for music playback. If you do not pay too much attention to the details, and you really shouldn't, then this one can provide a very pleasant musical experience.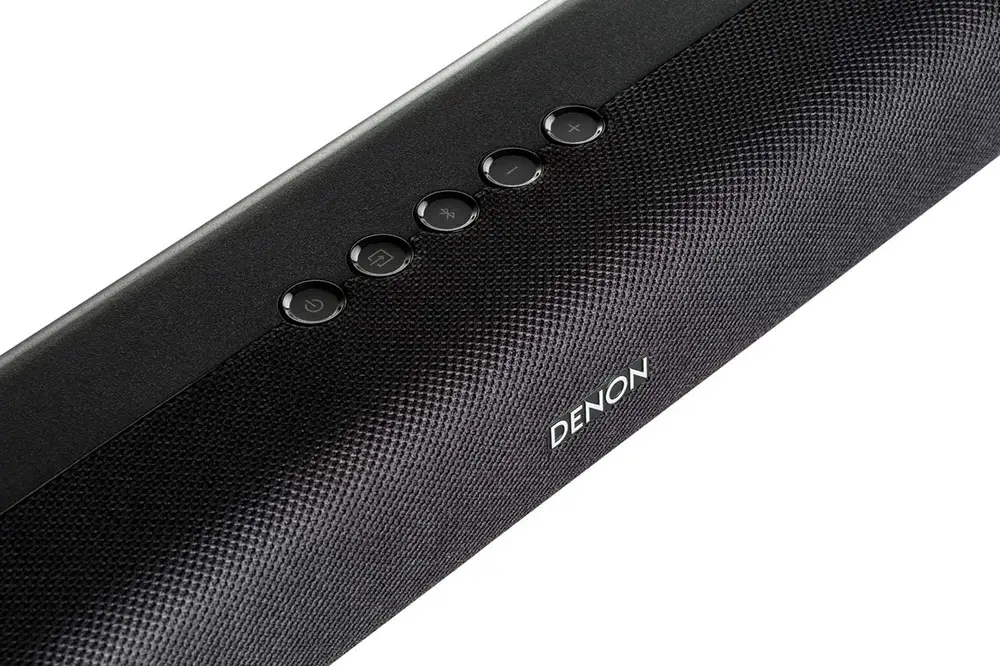 Final Thoughts
The DHT-S316 is a bit of an odd entry only because of the new 2022 releases. Denon decided to keep it as part of their new lineup as an offering that bridges the gap between the DHT-S217 and the DHT-S517 and we can see why. The addition of a subwoofer can really make a difference and while the DHT-S316 is missing a few features of the newer releases it's nothing major that impacts its overall value.
Its main strengths are obviously its compact size, making it easy to fit in most places, its overall simplicity which will be adored by casual users that want a straightforward experience and its solid front performance and bass prowess. Oh and we shouldn't forget that this is the only one of the three Denon soundbars that supports DTS which is a big plus in our books.
On its downsides, there is the complete lack of surround activity, no WiFi seriously limits the unit's connectivity and streaming abilities, the LED array being used is atrocious while price could certainly be slightly lower for such a simple system. Don't forget that competition is fierce and at $299 there are many options to choose from.
The Denon DHT-S316 is a soundbar that will neither astonish nor disappoint you with its performance. It is a good choice for either movies, music or gaming and will appeal to you if you are a casual user that seeks a system that doesn't bother you with complex settings and audio features.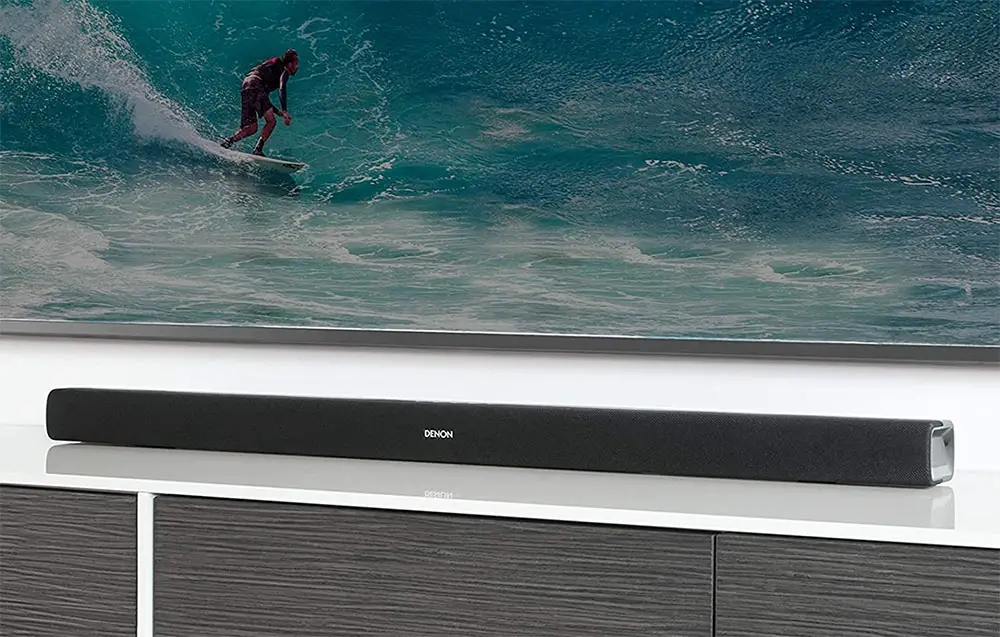 For more reviews you can check our dedicated Soundbar-subwoofer combo reviews list or even look at our Product Reviews Table where you can find the brand and specific product you are looking for.
Also don't lose the chance to subscribe to our Newsletter and gain exclusive privileges.
---
Cheapest Places to Buy :
---
Denon DHT-S316 Specifications