Harman Kardon Enchant 800
Design -

92%

Movies Performance -

90%

Music Performance -

90%

Inputs and Features -

91%

Price / Quality -

94%
---
Cheapest Places to Buy :
---
When you hear the name Harman Kardon you most probably think about some electronic device that they have audio tuned as they have made a name by doing so the last few years. But while the name gives you a sense of quality to everything they put it on they also make their own range of products. Very recently we had the chance to review a few of them and today in our Harman Kardon Enchant 800 review we have the pleasure to test another of their soundbars.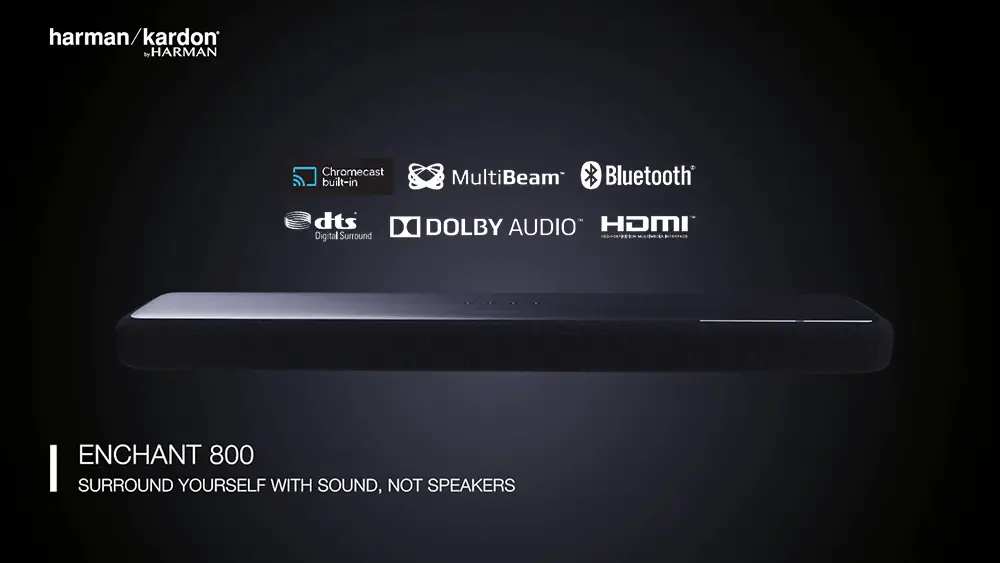 The Enchant 800 belongs to the Enchant lineup of soundbars that have been in the market for a while now and consists from two models. The top premium Enchant 1300 that we had reviewed recently and the lower spec Enchant 800 that we will be looking here today. Now from a quick look at the specs the two soundbars have many things in common. While with the Enchant 1300 Harman Kardon went bananas with the number of speakers they included, 13 drivers to be specific, the Enchant 800 comes with a modest but still equally impressive for a soundbar number of 8 speakers.
But except from the reduction in the drivers count and the difference this would bring to the amplifier specifications and the overall size, the Enchant 800 seems to come with all the same functionality and features Harman Kardon's top premium model also has. In a way the Enchant 800 seems to be a more modest version of it's top brother without sacrificing any of it's functionality in doing so.
But the Enchant 800 still remains a highly priced soundbar, if you take into account it's original price and not the ongoing heavy discount at the time of writing this review, so it remains to be seen if what it offers is worthy of the asking price. Let's find out…
Design, Inputs and Features
Exterior
When we had reviewed the Enchant 1300 it impressed us with it's quality of materials and small details that gave that model a rather more premium look without looking extraordinary fancy or flashy. The Enchant 800 follows the same recipe here but applies that on a smaller size.
The 800 model obviously is aimed for smaller TV sizes. While the 1300 would perfectly fit under a 55″ TV the Enchant 800 is measuring 33.8″ x 2.6″ x 4.9″ (860 x 65 x 125mm) and weights 9.5 lb (4.3 kg) making it an ideal size for any TV even as low as 43″ or lower. As with it's bigger brother this is a standalone soundbar although you have the option to add the Enchant subwoofer if you like and you can buy it separately.
The soundbar does have a very nice look as it features the exact same design lines we saw in the 1300. Somehow Harman Kardon managed to create a premium look but without having to rely on any fancy looking designs or exotic materials. It's the small details that set it apart and they did an excellent job at that. The whole front of the unit is covered by a fabric that extends on the side and even covers a small part of the back side. The top face is covered by a metal cover with a nice thin chrome strip around it. The same strip is used around the side firing horns also which is a rather nice touch.
At the top face things are pretty basic as we get the usual built-in buttons dead center. These are physical buttons and no touch sensitive and while you may a bit skeptical about this in such an expensive model, we do prefer them this way as touch sensitive may look nice but are impossible to use in a low light room. Except from the four buttons there is nothing else visible as the soundbar doesn't include any microphone array that would allow it for built-in voice control although it does have a hidden one that is used for the AMC auto calibration system.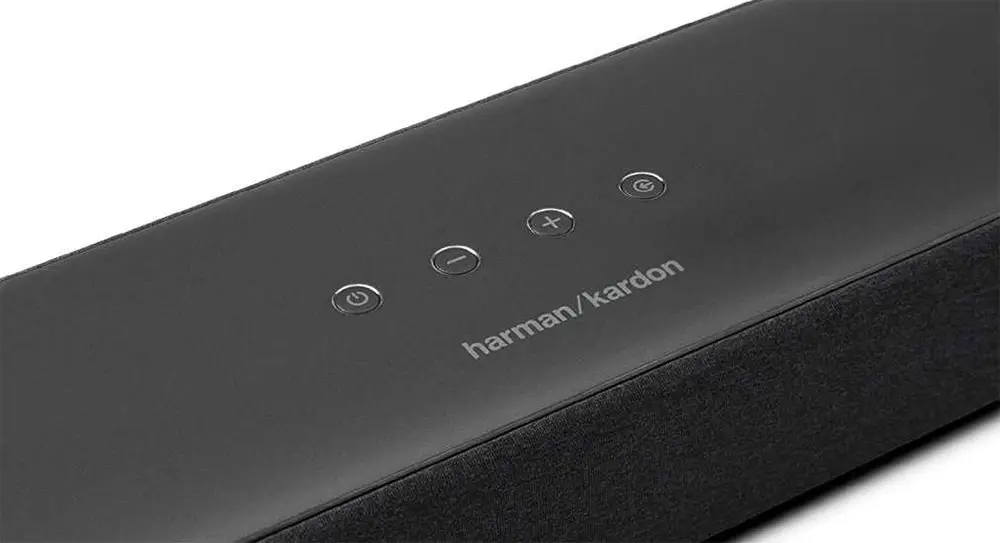 One thing we would find inexcusable in this price range is not to have a display screen and thankfully the unit does feature the same type of display as the 1300 model. This is located behind the cloth on the right side of the center channel and as usual it shows all the basic functions of the soundbar. After a few seconds of inactivity it will turn off completely in order not to bother you when using it while there is a dimmer function on the remote so you can adjust it's brightness.
Turning the soundbar around we find the same type of cloth that is used at the front covering the upper part of the back side also. Exactly in the middle we get a single sound port that should help with the bass performance of the unit while at both sides of this port we get two insets with all the connections and ports the soundbar comes with and we will analyze shortly.
One thing that needs mentioning is the soundbar's height. While this is a low profile soundbar it doesn't have an IR repeater so in the rare case it will obstruct your TV's IR sensor you have no way at overcoming this problem. Obviously with such a low height the chances are very small for a TV to have it's sensor so low but it's always good to measure first beforehand just to make sure you will not have any problems after. The unit also comes with L-shaped wall brackets in case you want to wall mount the thing.
Having seen the Enchant 1300 before we were not particularly surprised with this one. It comes with exactly the same design, same quality and same attention to detail, only on a smaller size. The soundbar gives you a feeling of premium quality and Harman Kardon did a very good job in this regard for it's price.

Internal Hardware
It seems that in general Harman Kardon decided to go crazy with the number of drivers they would use in their Enchant series of soundbars. The Enchant 800 may be the most modest of the two models but coming with an impressive 8 drivers is still something to be excited about. So let's see what we get under the front cloth here.
The unit comes with three front channels along with the same two side firing ones we saw in the 1300 model. The only thing that is different here is the number of drivers each channel is using. Every one of the front three channels uses two 50mm (2″) woofers for a total of six drivers. As for the side firing ones we get the same 25mm (1″) side-firing tweeters placed inside a horn design as in their premium model in order to add depth and widen the surround effects it produces along with Harman Kardon's "MultiBeam Surround Sound" technology that we will analyze a bit further down our article.
We will say here the same thing we said in our Enchant 1300 review. Harman Kardon is advertising this as an 8 channels soundbar which in the world of home theater can be a bit misleading. When we talk about channels we don't mean the number of drivers at play which is what Harman Kardon has done here. Basically the Enchant 800 is a 5.0 channels soundbar with each of the front channels using 2 drivers each along with the side-firing ones that act as the surrounds.
The combination of the 6 front speakers along with the 2 side firing ones can output a total of 90 watts RMS power, has a frequency response of 76Hz–20kHz, a max 91dB SPL and 1% total harmonic distortion (THD).

Connectivity
The Enchant 800 feature a similar layout when it comes to it's ports. Looking the unit at the back Harman Kardon has created two special insets on both sides of the central sound port where all ports are located.
On the left inset we get the power connector along with a single 3.5mm analogue stereo audio input. On the right one we find a single HDMI input with a single HDMI output next to it, a USB port and a digital optical audio input.
All HDMI ports are HDCP 2.2 and can support 4K signals with HDR10. There is only one input and one output so we are a bit disappointed with that as for such an expensive soundbar we were hoping for something better. The HDMI output supports ARC functionality but not the newer eARC that is becoming the standard nowadays. As for the USB port this is only v2.0 and not the newer 3.0 while it's placement at the back is not practical at all if you want to connect some USB flash drive for some music streaming.
To the right of the sound port you may notice a small button and that is used for subwoofer pairing. Since the subwoofer is optional and bought separately you will have to pair them if you buy both of them.

As for the unit's wireless connectivity options there is both WiFi and Bluetooth built-in. WiFi supports IEEE 802.11b/g/n/ac in both 2.4 and 5 GHz networks while Bluetooth is version 4.2.
Basically the only difference the Enchant 800 has with the top tier Enchant 1300 is the different number in the HDMI inputs as here we get only one. Everything else along with it's wireless capabilities is exactly the same.
Control Options
Similarities between the two Enchant models continue here also as the Enchant 800 comes with the same set of control options. First of all about the remote that comes with the unit. While other soundbars give you the option to either use the remote or a dedicated app for most of the included functions the Enchant 800 doesn't have a dedicated app making the use of the remote a necessity.
At least the one that comes with the unit is a good one and certainly with a quality above the average that we see most of the time. But to be honest with such a price we would be disappointed otherwise. The moment you hold it in your hand it will give you a sense of higher quality construction while the buttons layout is pretty good and very well thought.
Placed at the top we get a dim control for the display screen along with the AMC audio calibration button. Five presents are placed below them that you can use by adding your own settings to them. So in order not to loose time every time with settings you select your own and save them to one present that you can bring up with a single button press.
A huge volume control button sits in the middle with four buttons around it for mute volume, source selection, sound mode and Bluetooth pairing. Under these there are four lines of extra buttons that include playback controls, shuffle, night mode, bass control and audio sync.

The remote is exactly the same we saw in our Enchant 1300 review and we are very pleased with it's construction and quality materials used. Only the lack of a backlight is a bit disappointing in an otherwise great remote.
As a second option you can use the built-in buttons of the unit that are placed on the top face but these offer only basic functionality so sooner or later you will have to use the included remote. The buttons included will allow you to power on/off the device, control it's volume and select it's input source. That's all.
Also we shouldn't forget to mention Google Home. You need to use the app in order to connect the soundbar to the internet but it can also be used for some extremely basic functionality. Also Google Home will allow you to use Google Assistant to control the soundbar but since there are no built-in microphones in the unit you will need to have an external Google Assistant device that accepts your voice commands.
Lastly the soundbar supports HDMI-CEC and TV remote control compatibility. What this means is that if you connect the unit through the HDMI port with your TV and the TV also supports this feature you can use the TV remote for some basic soundbar control. Obviously the more dedicated functions still need the Enchant 800's remote but for basic usage this can be pretty handy.
Also the soundbar can accept commands from the most known TV manufacturers remotes. But even in the rare case it doesn't it has the ability to learn with a procedure that is described in the manual. So as you understand there are plenty of options to choose from.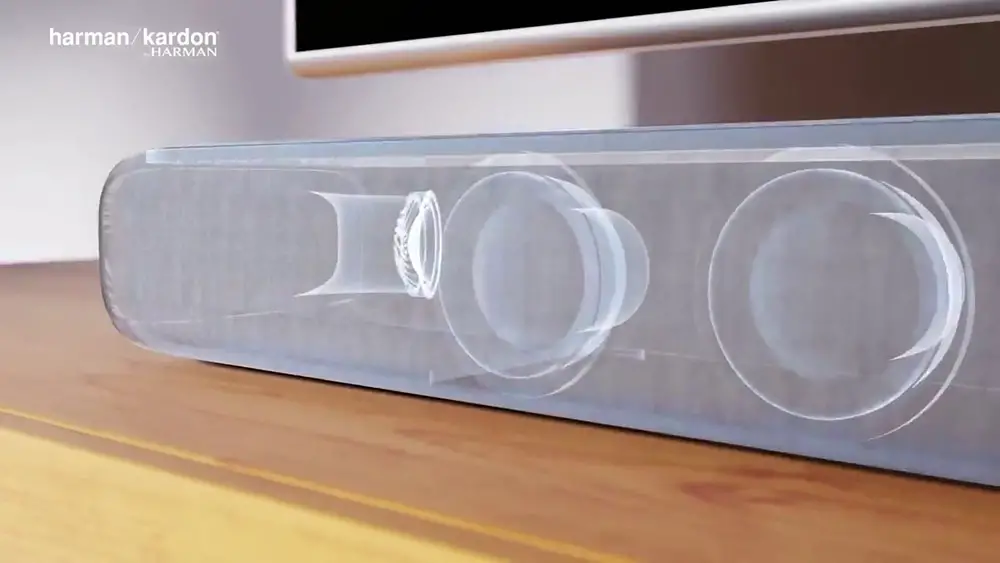 Closing this section we have to say that we are a bit surprised that Harman Kardon doesn't provide a dedicated app for controlling their Enchant soundbars. Other far cheaper models do have their own app so for a unit that is so expensive not having one is a bit disappointing.
Extra Features and Services
Looking at the features set that is included in the Enchant 800 we understand that we get exactly the same one as we saw in the top tier Enchant 1300. Everything is included so this part of our review will be almost exactly the same as we did for the 1300 model. Let's talk about the unit audio formats support first.
The 800 model supports both Dolby Digital and DTS signals but only their core formats. No Dolby TrueHD and DTS-HD Master Audio and certainly no Dolby Atmos or DTS:X. But with no dedicated up-firing speakers the last two would be completely overkill to have for such a basic setup. So what we get here are the basics and nothing more.
If there is one feature that Harman Kardon is marketing very much with both their Enchant units is their proprietary MultiBeam technology that is responsible for creating more immersive surround effects. Now this technology is working in combination with the front and side firing speakers and with the use of some heavy sound processing it's purpose is to give you the illusion of over-the-shoulder action.
Now there are many variations of this technology and each manufacturer is using different names but what this technology basically does is trying to bounce the audio of the walls of your room in order to give you the illusion of sound from the back. It's essentially similar to what up-firing Dolby Atmos speakers do by bouncing sound on the ceiling and make you believe that audio is coming from above.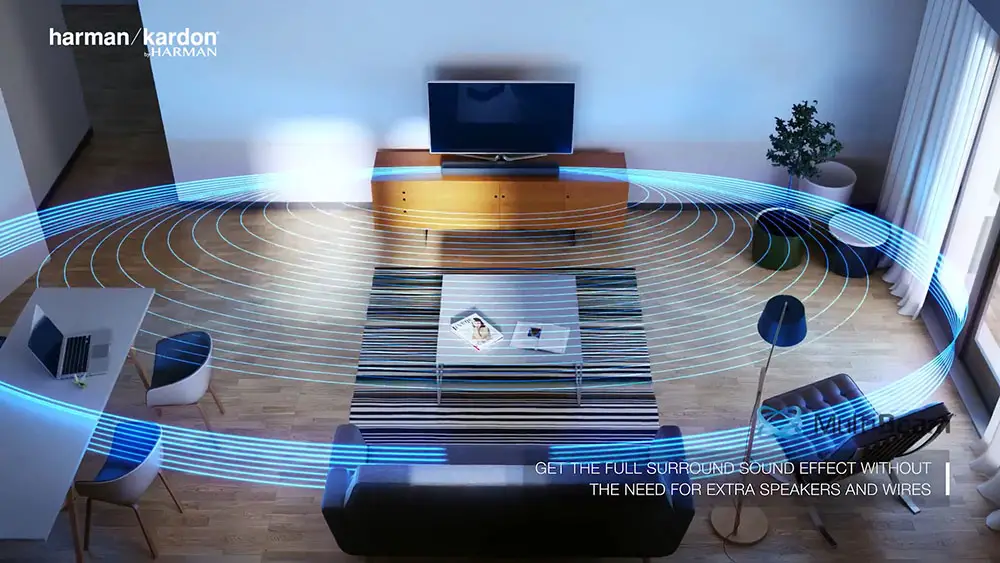 This kind of technology can vary in performance and heavily depends on the kind of room you have. A small room with straight and close walls will enhance this effect while in a wide open area it's effect will be greatly diminished. But even in the best case scenario the over-processed sound never manages to give us a very convincing result. There is so much that this type of tech can do but it's also the best next thing if dedicated surround speakers are out of the question.
We are pleased to see that Harman Kardon has also included an automatic audio calibration system that they call Automatic MultiBeam Calibration (AMC). This system, when you enable it, starts playing some test tones and adjust it's audio settings to perfectly match your room. You have to make sure that not only the front firing but also side firing speakers are not obstructed in order to get the best possible results. The whole procedure lasts only a minute and the difference between a calibrated system and one that is not we can say is pretty big. After calibrating the Enchant 800 with AMC we get a sense of having a wider and more fulfilling sound-stage than before. So make sure to try it out as we think you will also like the better output it gives.
Any soundbar needs a few sound modes that can give you the best results for what you are watching so this unit comes with 5 different ones including Standard, Music, Movie, Voice and Personal. The Standard and Movie modes make heavier use of the MultiBeam Surround technology and are aimed mostly for movies in order to create a more immersive atmosphere while Voice and Music still use it but in a more subtle way and thus are more suitable for broadcasting and music concerts. The Personal mode is very similar to the Standard mode with the exception that you can calibrate the bass as you want and save it as a preset for future use.
Lastly a Night mode couldn't be missing and does what it's name says. By reducing loud sounds it can create a more even audio output that is ideal for using in low volume for some late night viewing.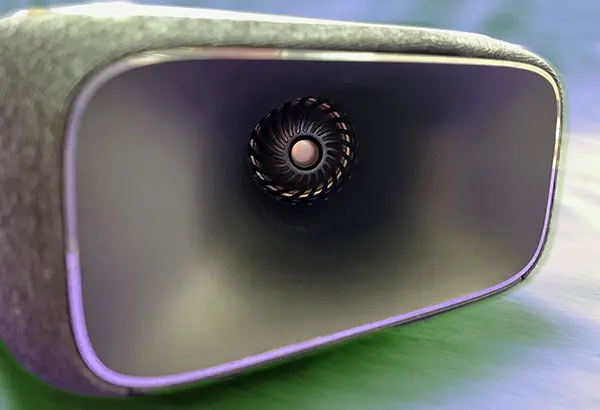 As with the 1300 model we find it rather strange that the Enchant 800 is not being advertised for supporting High Resolution Audio. The soundbar supports exactly the same formats so by using the USB port you can stream not only low quality MP3, AAC and OGG files but also the high quality WAV (192 kHz) and FLAC (192 kHz) formats.
But if you are more into wireless streaming you can use the built-in Bluetooth connection and stream music from your mobile device. The Bluetooth included is v4.2 and not the newer 5.0 but we did try a few selected music files that we streamed that way and we didn't notice any streaming or connection problems. Obviously distance and obstacles play a big part in this so it's very much area dependent.
But with the soundbar having built-in WiFi and Chromecast it means that there is a huge list of online streaming services that you can choose from. The most obvious names are present like Tidal, Spotify, Deezer, TuneIn and so on and most probably you will find the one you like the most. For online streaming to have Chromecast built-in is a major plus.
One last feature that is worth mentioning is that in case you feel that the soundbar is lacking in bass you can pair it with the Enchant subwoofer that is capable of adding this extra punch that can make action movies so much more immersive. The subwoofer is not cheap so it's good to see it as an optional selection.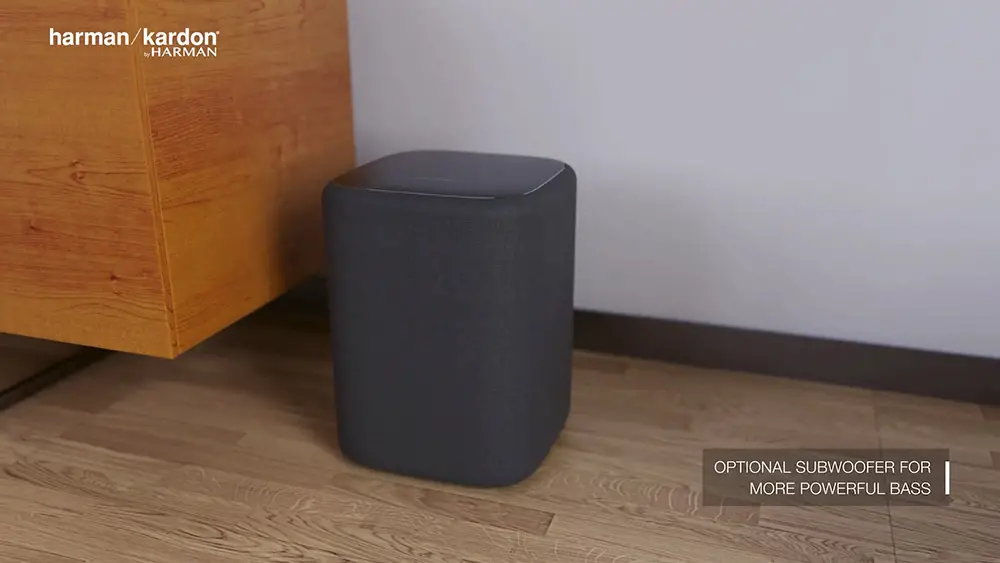 Initial Setup
We need to mention that our goal was to test the soundbar's core performance and as such our testing was done without the optional subwoofer. Obviously our experience will surely improve if we would also use it so keep that into consideration when you read our comments about it's performance.
Placement and initial setup was as easy as it gets really. After placing the soundbar on a furniture in front of our TV we made sure to let ample of space in both sides for the side horns to work properly and used the HDMI ports to connect it to both our UHD player and TV.
By using the Google Home app we connected the soundbar to the internet which was rather simple to tell you the truth. The last step included the AMC audio calibration system and we let it do it's thing that lasted about a minute. Simple, quick and effortless so if you want a soundbar that you can have up and running in no time the Enchant 800 is definitely one of them.
Movies
With our memory still fresh from the Enchant 1300 review we decided to try the exact same films we did in that review for comparison sake. With the 800 featuring a similar setup but on a smaller scale and with fewer speakers available we were curious to see how close of a performance the soundbar could offer to the top tier model. So with this in mind we took out our 4K UHD disc of Midway that comes with an explosive Dolby Atmos mix. But as explosive as it may be we only get the core Dolby Digital mix as the unit doesn't support anything else than that.
Now when you first listen to the Enchant 800 it's really great how powerful such a small soundbar can be. The soundbar puts all it's 8 speakers to good use in order to fill the front sound-stage and give you an expanded performance that would go beyond the physical limits of the unit. The sound did feel slightly narrower that what we remembered of the Enchant 1300 but this is normal if you consider the more constraint design of this one.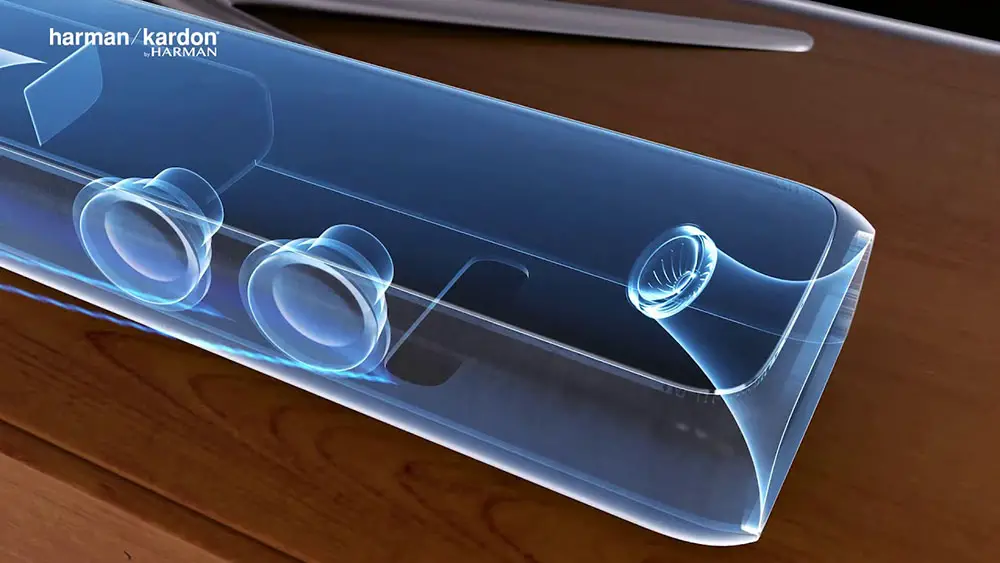 Midway if a film that has a lot of panning effects as the camera is put right into the action in the middle of the air. Machine gun fire, anti-air blasts, explosions and airplanes whizzing from one side of our room to the other felt very alive and accurate. The channels had good separation between them with the center channel keeping the dialogue clear and distinct. Having a center channel does a lot to help with this and is one reason why the center stage never felt lacking.
When it came to bass performance the soundbar did try to dive deep and offer you some punch but it didn't have the power to give a room shaking experience. With such a movie that has very demanding low end the end result felt a bit shallow and uninspiring. Not that it was bad for a standalone unit but if you want to get the most out of such a film then the subwoofer is a necessity. The Enchant 800 can definitely offer better low end than other soundbars of similar size but the comparisons stops there. If you want to feel the excitement of shaking your sofa get the subwoofer.
Lastly we left the surround capabilities of the unit and here things were more or less similar in nature to what we had seen in the Enchant 1300 but slightly worse. With this we mean that there is no direct action coming from the back. The unit, with the use of the side horns and it's MultiBeam technology, did try to bring the action both closer to our position as well as to our sides. Our testing area is relatively limited so this also helps a little to elevate it's performance and there were certain effects that felt like were coming almost from both our sides. It was not very distinct or clear but it was there.
For our second test we chose the Blu-ray disc of Lord of the Rings: The Fellowship of the Ring and more specifically the Mines of Moria and the confrontation of Gandalf with the Balrog in the Bridge of Khazad-dûm. With this soundtrack's more delicate nature it's very impressive to see how the Enchant 800 could handle small details that can elevate an acoustic performance. Ambient and environmental sounds inside the mines expanded the room greatly and will make you believe you are actually there.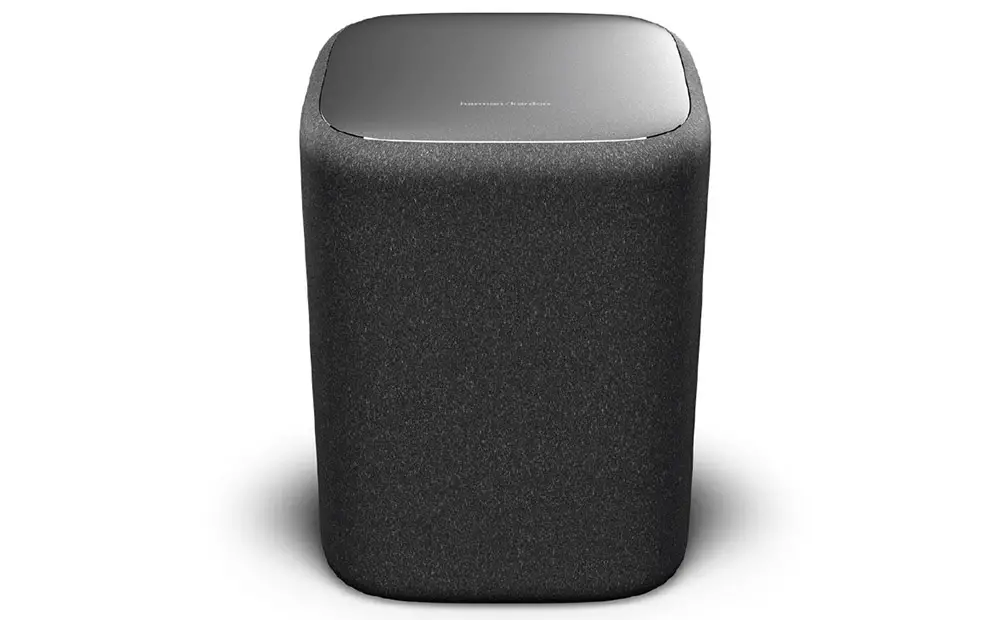 This scene features a lot of silent moments as dialogue comes front and center with the soundbar keeping a great balance between silent moments and when to add some flavor in the mix with tiny sounds here and there. Again the unit benefits a lot from having so many speakers at play. This helped it push the boundaries of the front performance slightly more than expected for it's size. Echoes would travel from left to right and opposite while many times we felt noises slightly closer to us than firmly positioned at the front showing that the MultiBeam technology was trying to do it's thing.
When the Balrog appears and the soundtrack switched to third gear the unit does try to dig deep but the end result comes slightly uninspiring. Balrog doesn't have the necessary weight or size as the soundbar struggles to punch the lows but with average success. Such scenes do need a subwoofer to really appreciate them so if you are an avid movie lover than we suggest you make yourself a favor and go for the sub also. It will elevate such scenes tenfold and will do make justice to an otherwise very good performing soundbar.
Once again when it comes to surround activity we got similar behavior to what we saw in our Midway testing. Action got slightly pushed near our position and slightly to our sides but not as distinct as it was with the Enchant 1300. It was there but in a more subtle way.
One thing we need to say before we move on to our next part of our review is that both the Enchant soundbars and more specifically the Enchant 800 that we are looking here today offers one of the best bouncing surround effects performance that we have heard in a soundbar of this size. It's not clear, accurate or distinct but compared to some other implementations we had tried before, Harman Kardon managed to come on top. The combination of the side firing horns and MultiBeam technology makes their best to offer you a more immersive experience and to some degree they succeeded. Add to this the great front stage and you get more than what this small soundbar seems to offer.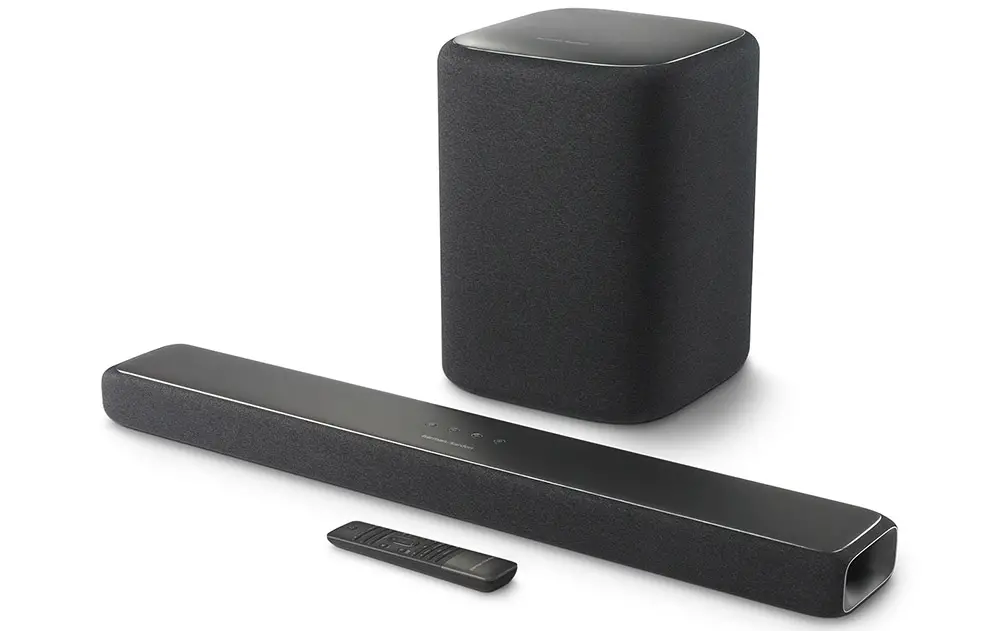 Music
When it comes to it's music capabilities the Enchant 800 comes with the same feature set of the Enchant 1300, this means time to test some music in FLAC format. After choosing a few selected songs we streamed them through the included USB port for the best possible quality.
Now the Enchant 800 is a lovely, small musical soundbar and has certain values that makes it stand above the competition. First of all we found sound clarity to be rather impressive. Audio was very clear and of high resolution. Certainly it's size doesn't give you the impression of the performance you will get but the unit is able to produce some very good quality music.
Channel separation was rather good and with very good sound imaging. The stage in front of us, while narrower than what we remembered in the Enchant 1300, still managed to fill in all the musical instruments and keep them separated enough and with no overlapping. The soundbar didn't buckle under the weight of even more demanding rhythms and kept a straight face in most instances. Bass was on the light side and made some tracks feel a bit uninspiring in this regard.
Obviously the unit cannot go crazy high in volume, considering it's size, but even when we pushed it to higher levels the unit only felt slightly loosing it's balance and integrity. But for normal volumes it will behave excellently.

Final Thoughts
This is the end of our review and what can we say is that the Enchant 800 really has all the values and strengths that we saw on the company's top flagship but on a more constraint scale. By having less speakers and size but with all other features and technologies accounted for this one we tested today does manage to distance itself from other similarly sized soundbars.
What we liked… The unit is pretty compact which means you can fit it almost anywhere, it's quality of construction and use of materials are higher than average and the remote is one of the better ones we have seen. Performance wise the unit did manage to offer a convincing front stage and slightly less convincing surround effects while it did it's best to push the lows in ways that most single soundbars of this size fail to do so. Lastly there is a wide list of supported features including the AMC auto calibration system, audio streaming through USB and Bluetooth, Chromecast built-in that includes a wide variety of online streaming services, High Resolution audio and HDMI-CEC along with ARC functionality.
On the downsides surround activity, especially behind us was non existent. Also the soundbar's surround performance will greatly depend on the kind of room you have so if it's a wide open area then expect even worse performance in this regard. Also while it's size makes placement easier this is limited by the side firing speakers that require you to have free space on both sides of the unit. Having no subwoofer also limits the soundbar's performance on the low end of the spectrum and make the experience much more shallow than what we would like. Lastly no IR repeater means that there may be instances where your TV's IR sensor is blocked so you have to make sure it's not before buying it.
Closing the Harman Kardon Enchant 800 does offer much more than what it's size would make you believe. With an initial price of $700 this is not a cheap soundbar and we wouldn't be able to justify it's price with the kind of performance we got but there seems to be some very heavy discounts right now that bring it's price at half price making it a crazy deal at the moment. So if you are looking for a good quality and good performing small, single soundbar with a maximum price of $300 then this one fits the bill perfectly.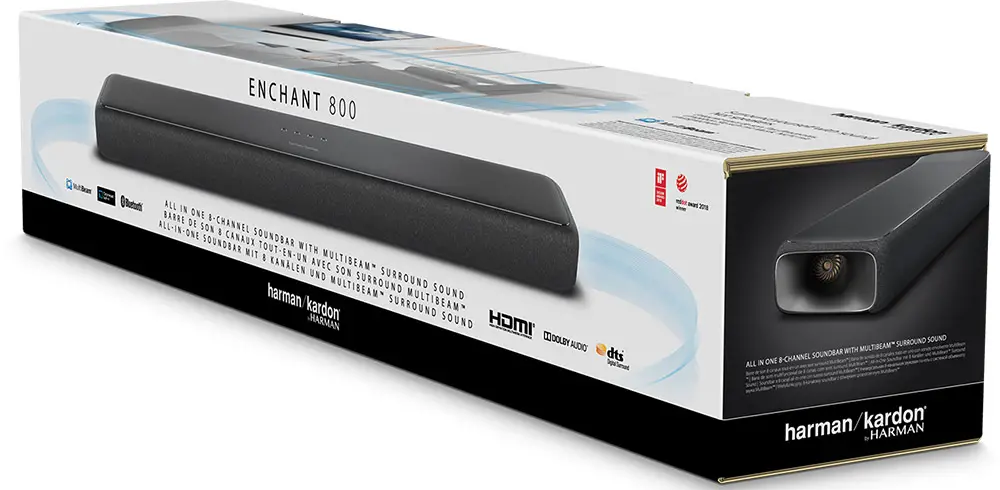 For more reviews you can check our dedicated Single Soundbar reviews list or even look at our Product Reviews Table where you can find the brand and specific product you are looking for.
Also don't lose the chance to subscribe to our Newsletter and gain exclusive privileges.
---
Cheapest Places to Buy :
---
Harman Kardon Enchant 800 Specifications