Harman Kardon SB26
Movies Performance
8.6/10
Inputs and Features
9.4/10
Pros
Good front sound-stage
Satisfying bass
Very easy setup
Plenty of connections
Cons
Mediocre design
Remote feels very cheap
No surround activity
Slightly high price for the features it offers
---
Cheapest Places to Buy :
---
Today we will be looking at another soundbar-subwoofer combo from a company that is no stranger when it comes to sound and this is no other than Harman Kardon. In our Harman Kardon SB26 review we will test one of their soundbars that belongs to their SB lineup and this particular one has been on the market for many years now with the American company still keeping it in circulation showing how much it was accepted among consumers.
Recently we had the pleasure to test another of their products, their Harman Kardon Enchant 1300 soundbar which is a far more expensive offering that left us very impressed for a single soundbar setup so we were curious to see how things would fare on the other side of the budget spectrum.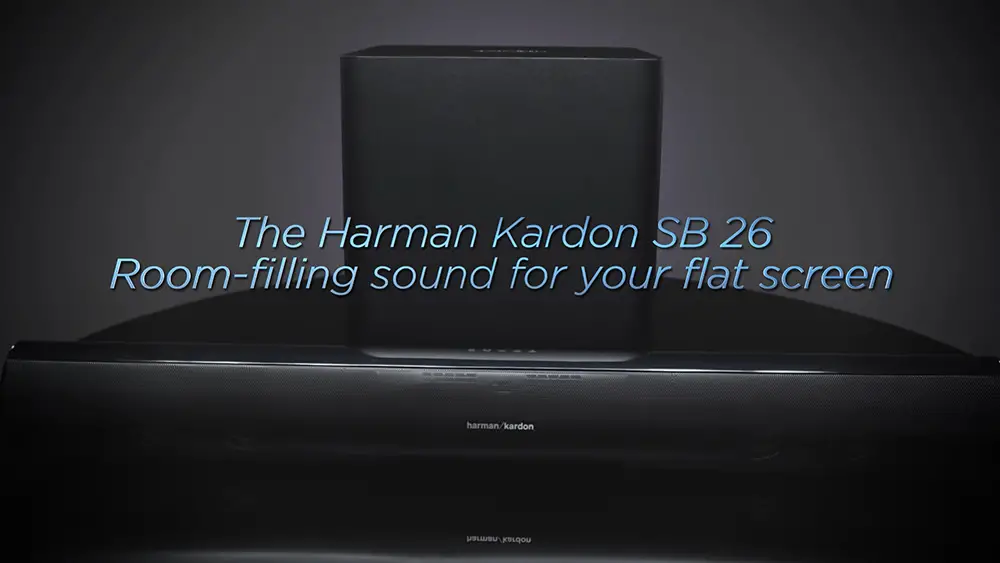 The SB26 can be considered a low to middle tier soundbar and is the most budget friendly one that Harman Kardon is offering right now. They have a couple of other models with similar prices but they don't include a subwoofer so the SB26 can be considered the cheapest option you can get from them. With 2.1 channels and 160 watts of total power the SB26 also comes with a few extra features to sweeten the deal including Harman's Display Surround Virtual Speaker surround mode, an EQ switch for wall or table mounting, adjustable subwoofer crossover, Bluetooth streaming, HDMI-CEC and app support.
But with an initial price of around $600 this is not considered a cheap soundbar as there are plenty of options in the sub-$500 category that can offer very good performance. But it seems that Harman Kardon is making some heavy discounts on the SB26 that reach even half it's original price making it a much more tempting proposal so keep that in mind also. Taking all the above into consideration does the Harman Kardon SB26 has what it takes to take on the competition or time has left it's mark on the manufacturer's cheapest proposal? Keep reading our review as we put it to the test.
Design, Inputs and Features
Exterior
The SB26 is certainly a soundbar that is not going to win any awards with it's design or general looks. It's cylindrical design may not be one that will draw the attention of the crowd but is certainly a unique one that we don't see often used.
As for it's size this one is a really compact one as with a size of 920mm x 110mm x 89mm and a weight of just 3.5 Kg the SB26 can sit nicely under any TV of 43″ and above giving it plenty of flexibility. Along with the soundbar we get a subwoofer that measures 320mm x 365mm x 320mm and weights 9.4 Kg. Although from a general perspective the subwoofer is not a big one, more like a small to middle sized one, it is bigger than we expected for such a compact soundbar so it will be interesting to see how it will perform shortly.
Harman Kardon is supposedly a premium company and as such many of their products offer higher quality that the average but it seems this doesn't apply here. The SB26 is definitely looking like a budget soundbar with plastic being used for most of the main body. The entire front is covered by a perforated grille that cannot be removed and is covering the front firing drivers. Overall design is very simplistic and you will not find anything out of the ordinary that could give you a sense of quality that Harman Kardon has shown us countless times.
At the top side, placed exactly at the middle we find the usual built-in buttons. The ones available here include a power button, a surround mode button, volume controls and a Bluetooth one. All buttons are physical ones and not touch sensitive which is a definite plus for finding the one you want in the dark. No microphones are available as the unit lacks any kind of calibration system of voice control support.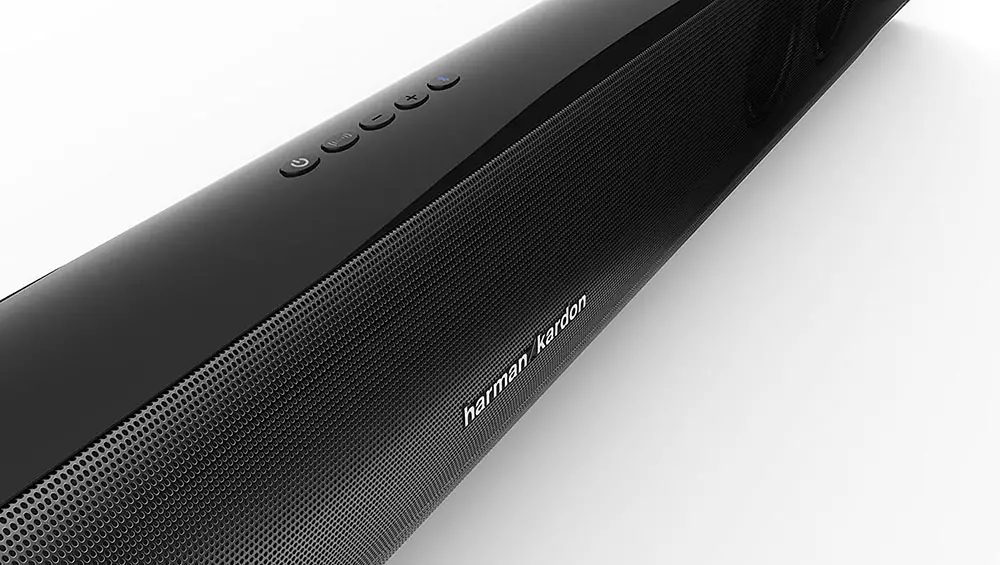 One thing we always like to have in a soundbar is an actual display in order for us to have some visual indication of the soundbar's functions. Unfortunately the SB26 has none which means you cannot know what input you have selected or what volume you have the soundbar set at. The only way to somehow bypass this is with the use of the soundbar's "On Screen Display" that can be used if you connect it through the HDMI port. But we will talk more about this in the extra features sections below.
Now at the back of the unit we find all the connections grouped together in an inset that is directly at the center of the soundbar. You will not find anything else other than the wall mounting bracket holes specially made to hold the L-shaped brackets you will find in the package, as we said above this is a fairly simple design overall.
One thing that needs mentioning is the high profile of the unit. With 110mm of height it will most probably block your TV's IR sensor. For this reason Harman Kardon has provided an IR repeater that you can connect to the back of the soundbar in order to relay the TV signals. But instead of being built-in the main body as we have seen in some other models this one here is optional and you can connect it to the back only if you need to.
Lastly we shouldn't forget to mention the subwoofer also. Featuring a cubic design with rounded corners the subwoofer can be easily mistaken for a small table rather than an audio device. The down-firing driver is hidden from plain sight so it keeps a very minimalist and symmetric look. Featuring a bass reflex enclosure means we get a big sound port at the back just above the controls. And in a rather surprising move the subwoofer features a crossover knob that you can adjust between 100 Hz and 250 Hz along with a phase switch. These two we usually see in dedicated subwoofers and it's very rare to see them in a soundbar setup.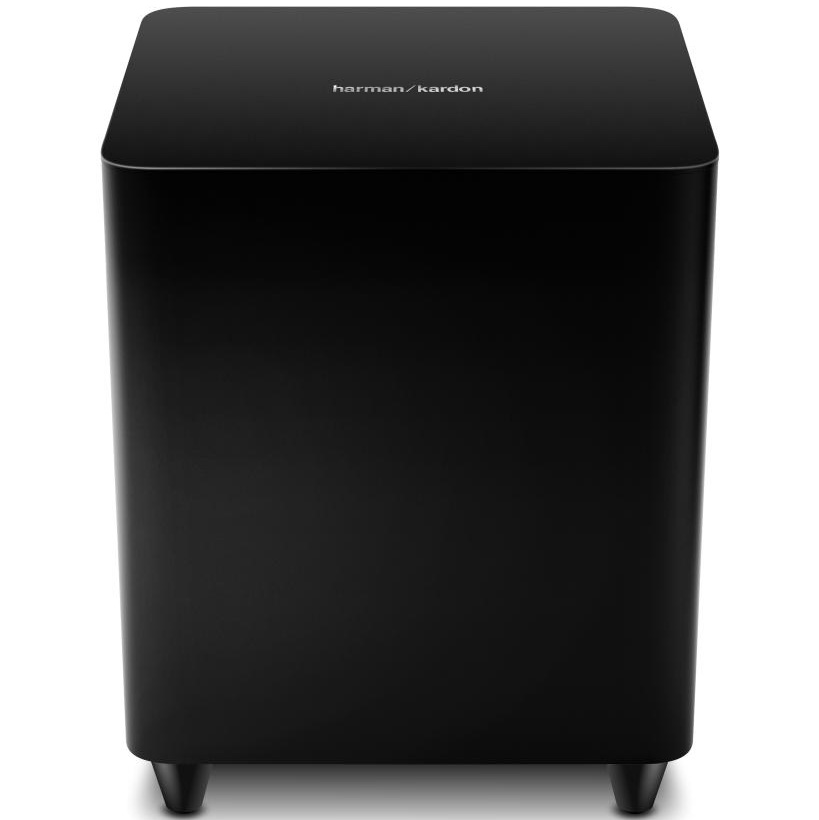 Overall the SB26 is a fairly basic design and provides only the absolute necessary. The optional IR repeater is a nice addition but other than that don't expect anything fancy both in terms of design and quality of materials. It certainly gets the job done but for a soundbar with an initial cost of $600 you would expect more.
Internal Hardware
The SB26 being a 2.1 channels soundbar means that the main unit has only 2 channels for the front right and left. For each channel Harman Kardon has used two 75mm (3") cone midrange speakers along with a single 25mm (1") dome tweeter. So in total we have 4 midrange drivers and 2 tweeters.
Now although we don't have more information regarding the drivers used, from the above it's obvious that we are talking about a pure stereo setup even if Harman Kardon is using more drivers than what we usually see in similar 2.1 setups. Obviously more drivers means more wide dispersion and better overall sound handling but this is something we will determine in our testing section. The soundbar does have this "Harman Display Surround Virtual Speaker surround mode" that is supposed to enhance the surround activity so we will see if this can do any good with such a basic setup.
As for the subwoofer, this is using a larger than usual 250mm (10") down-firing driver. Usually soundbars of this size use smaller drivers in their subwoofers so it's interesting to see a 10″ being used here. In combination with the large sound port at the back it should give you all the shaking you will need.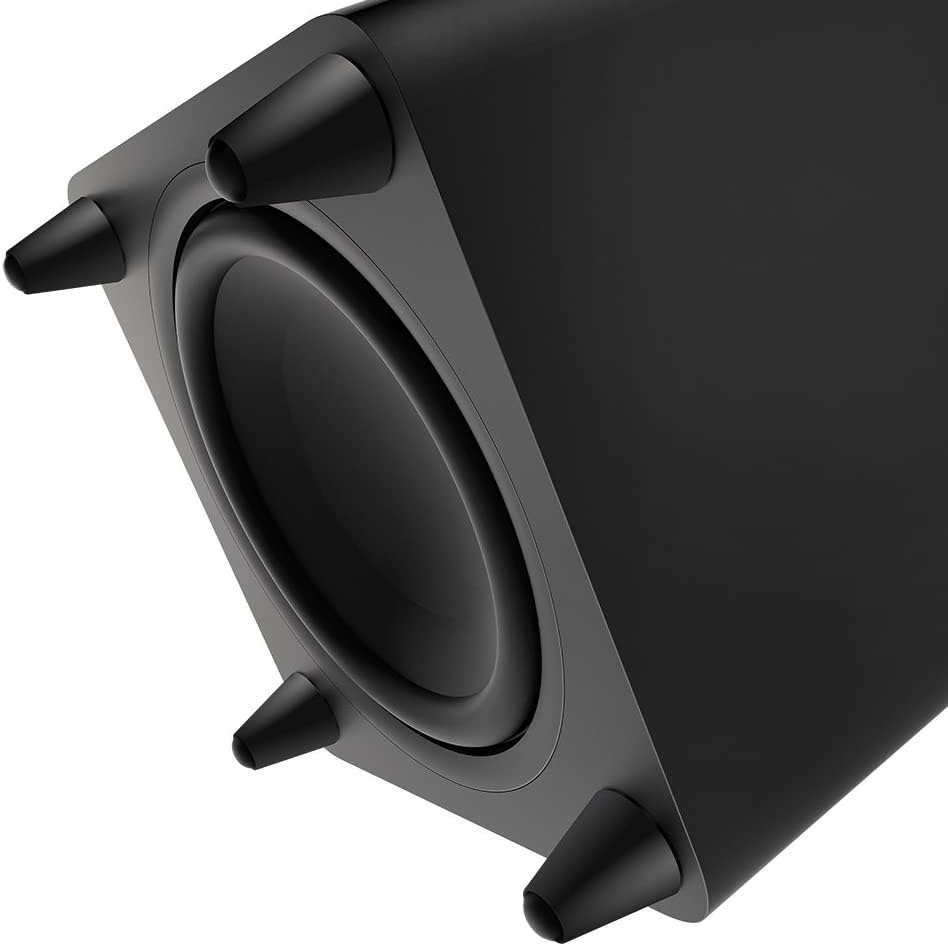 Each channel in the soundbar is rated at 30 watts meaning we get a total of 60 watts while the subwoofer is rated at 100 watts of power giving us a total of 160 watts while we get a frequency response of 38Hz to 22kHz.
Connectivity
When we started reviewing the SB26 it was obvious that what we had was a very basic, even if not very cheap, soundbar setup. In this regard we were expecting to get a very basic connection layout. But it seems that Harman Kardon had a different idea. When we reviewed their Enchant 1300 soundbar we were very impressed with the connectivity options they had included and while the SB26 is not at the same premium quality category we would say that we get much more than we expected.
So beginning from left to right in the center inset at the back of the main body we get a USB port that unfortunately is used only for software update, the power connector, the IR transmitter connector, an analogue audio input, a digital optical audio input, an HDMI output that also supports ARC functionality and two HDMI inputs.
Now to the right of the HDMI inputs there is a small switch for table/wall equalization depending on where you are going to place the soundbar. This is a rather unique feature that we haven't seen used in many soundbars in general but makes sense to have one. Lastly to the right there is a subwoofer pairing button and the pairing indicator in case you need to connect the two if they are not already.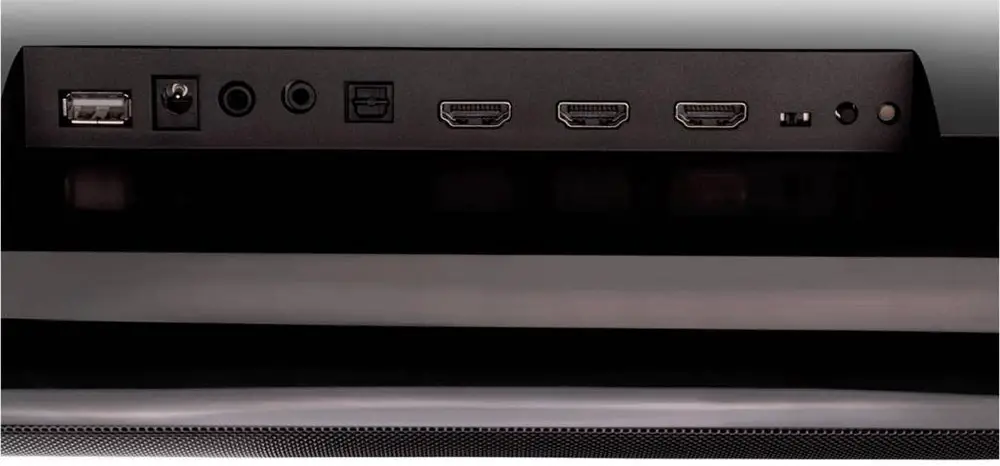 Lastly as far as wireless connectivity the SB26 offers basic Bluetooth streaming. There is no WiFi available so any online functionality is out of the question.
Having two HDMI inputs is definitely a plus but it really depends how you see it. The unit is a basic one but with a fairly high price if you don't take into account the ongoing discounts. So it's a bit of a mixed bag really as it offers more than what we usually get in low cost 2.1 channels soundbars but it's just about right for a unit that costs in the $350 range right now.
Control Options
Next we will be looking into the ways that you can control this soundbar with. As always the included remote comes first. The one that comes with the SB26 is really a disappointing one. For a soundbar that costs, even with the ongoing discount, north of $350 the remote couldn't look and feel cheaper than this. It's a very small remote in size while the plastic feels far too cheap for a model made by Harman Kardon.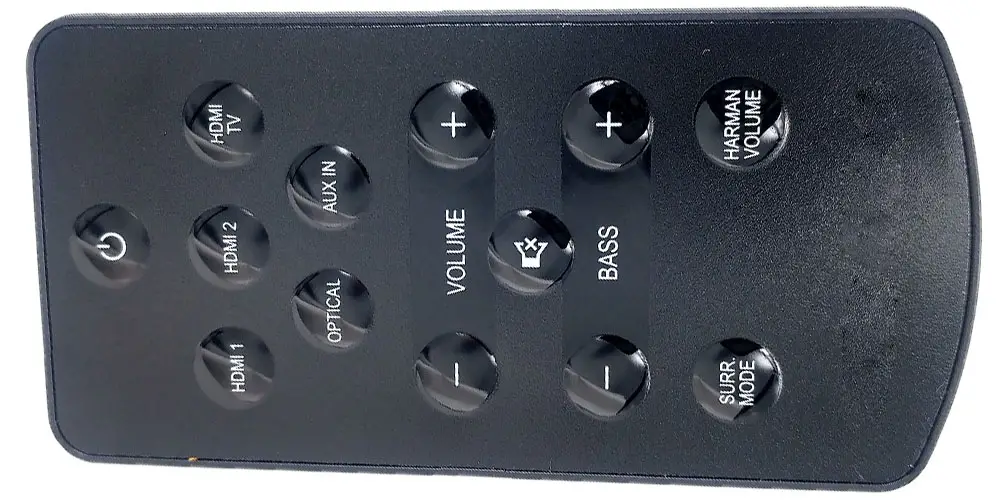 The number of buttons that it has is obviously small and this reflects the more or less few features available in this unit. Obviously there is no backlight here which can make it's use hard in the dark but at least the circular buttons have enough space between them to avoid pressing the wrong one. The buttons layout is pretty good with the power button at the top, five buttons below for all the inputs, volume and bass controls with a mute button between them and two buttons at the bottom for Surround Mode and Harman Audio.
Except from the remote you can also use the built-in buttons on the top of the soundbar itself for some basic functions that include powering the unit, enabling or disabling the surround mode, control the volume and using Bluetooth. With so few features in total you could very well use the built-in buttons and do just fine.
If you find the included remote bad then you also have the option to use the Harman Kardon Remote app which is supported by the SB26 and provides a much better visual interface for controlling the soundbar. Now you may wonder since there is no WiFi in the SB26 how you can use your mobile device to control it. This is done through the Bluetooth connection and while it may not be the ideal way it's the only one available so you will have to make do. And since the app is totally free you can give it a go to see if you like it.
Lastly we should mention that you can also use the remote of your TV to control the soundbar for some of it's basic functions. Obviously for this to work your TV must also support HDMI-CEC but even if the SB26 does not recognize it, you have the ability to program the soundbar to listen to certain commands like volume control, mute and power on/off.
Extra Features and Services
When it comes to extra features the SB26 is pretty light compared to some other similarly price soundbars that have released the last couple of years. Obviously the unit starts to show it's age in this regard but let's see what is on offer.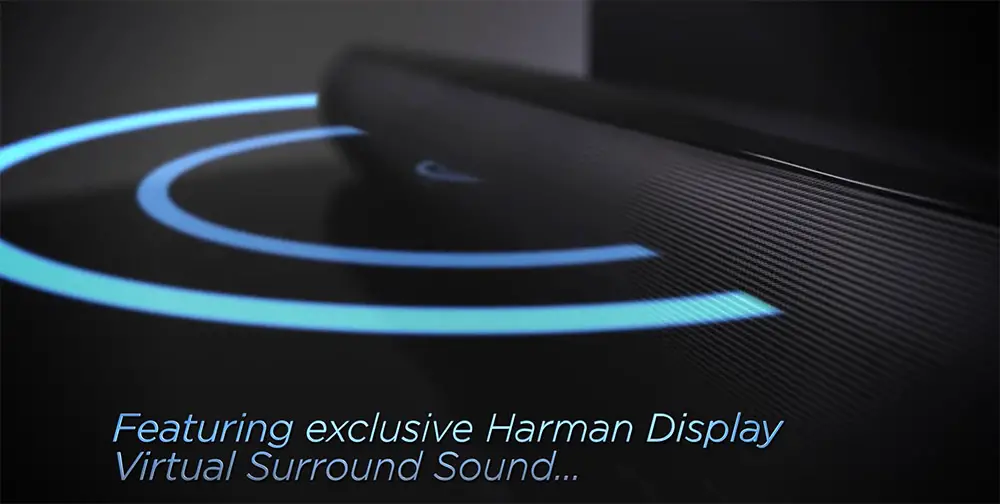 First of all it seems that this unit only supports Dolby Digital signals. For a simple 2.1 soundbar this may be enough as Dolby Atmos or DTS:X would be an overkill but still we would like to have DTS support also. But pretty much all content come with some sort of Dolby Digital mix so you shouldn't have a big problem with that.
Now you have two options when it comes to the way you hear sound. It's either the simple stereo mode where the soundbar will output the two front channels along with the bass through the subwoofer or you can enable the "Harman Display Surround Virtual Speaker surround mode". When you enable this the corresponding button on the soundbar will turn blue and this way you can enjoy a more surround-sound experience with the use of virtual technology.
Now we have seen similar technologies in soundbars multiple times and since then it has become the norm to have some kind of virtual tech so we will put this to the test in order to determine if it can offer any kind of surround immersion or not. Usually such tech is very dependent on the area you will be using it in as more wide open rooms tend to diminish these virtual effects.
The SB26 doesn't have any kind of calibration system while the only real control you have for the sound is for the subwoofer volume. This along with the EQ switch on the back of the soundbar and the adjustable crossover on the subwoofer are the only actual adjustments you can make to the soundbar. Even cheap soundbars these days offer some kind of basic audio adjustments that include treble control but unfortunately the SB26 has none.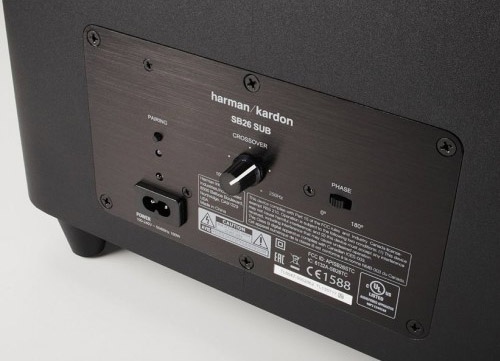 Another example that shows how light this soundbar is when it comes to extra functions is in the sound modes it has. It only has one and this is called Harman Volume. This mode actually has three options, high, low and off. Harman Volume is an advanced digital signal processing technology to controls playback volume. It helps you avoid volume increase from commercials, volume differences when you change channels or switch sources.
Moving on to streaming, things are pretty basic here also. There is only Bluetooth available for streaming audio from a mobile device. We don't know what Bluetooth version it uses but we did test it and we didn't experience any notable connection problems. No WiFi means that there is no online functionality and no streaming services available here.
Last but not least we should mention the On Screen Display (OSD) feature that can work only if you connect the soundbar through the HDMI port with ARC functionality. Since there is no physical display on the soundbar itself this is the next best thing to have. When enabled an overlay image will appear on the TV for five seconds and show various information like volume, subwoofer volume, mute, source and if one of the Surround or Harman Volume modes are enabled.
Initial Setup
Initial placement and setup of the SB26 is as easy as it gets. We decided to place the unit on the furniture in front of our test TV and also used the included IR repeater in order for the TV signals to pass through. We connected our player through the HDMI port and we used the HDMI port to connect the SB26 to the TV.
Since we placed the SB26 on a furniture we turned the switch on the table setting and adjusted the Bass volume through the remote and subwoofer crossover on the subwoofer itself accordingly to give us the best possible results. We these out of the way you are basically done as there is no other calibration of volume adjustment available. You only have the option to either use the Surround mode or not.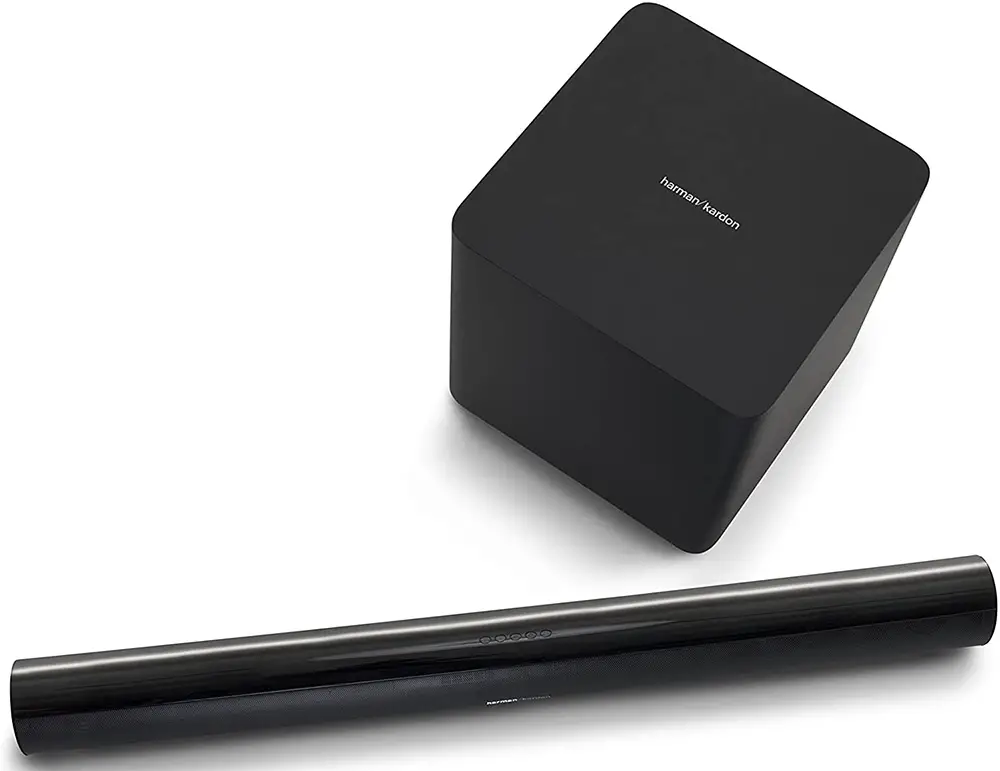 Movies
For our movie testing we went with the UHD version of Rogue One: A Star Wars Story. Now the UHD disc comes with a near perfect Dolby Atmos mix but here we will only be able to hear the core Dolby Digital mix. But that's just fine by us!
This film offers plenty of variety when it comes to it's scenes, from space battles to exotic locations and it gives plenty of opportunities to any audio system to show what it can do. Now one thing we should note is that we first tried the SB26 with it's Surround mode turned off. This means that the system was working as a pure 2.1 system with the two front channels and the subwoofer.
Now first of all we could say that the front soundstage was pretty satisfactory for such a relatively small soundbar. It really broadened the sound wall in front of us while separation between the two front channels was pretty good and accurate. Every dialogue was very clear and distinct, even with the soundbar lacking a dedicated center channel and even with busy scenes the they were never overshadowed by the rest of the action.
As for the bass the subwoofer managed to go pretty low and offer us plenty of shaking during the busy moments. The battle of Scarif during the end of the film is an excellent scene where explosions and blast fire provide the subwoofer the necessary info it needs to shake our walls. Obviously the sub doesn't have this chest pumping power of bigger subwoofers but for it's class it did the job just fine.
Now as far as surround effects and activity there was none. You could feel that all sounds were coming from the two front channels and even effects that were supposed to be heard from the back were firmly placed at the front. So our next step was to enable the "Harman Surround mode" to see if it could give us any more surround effects realism.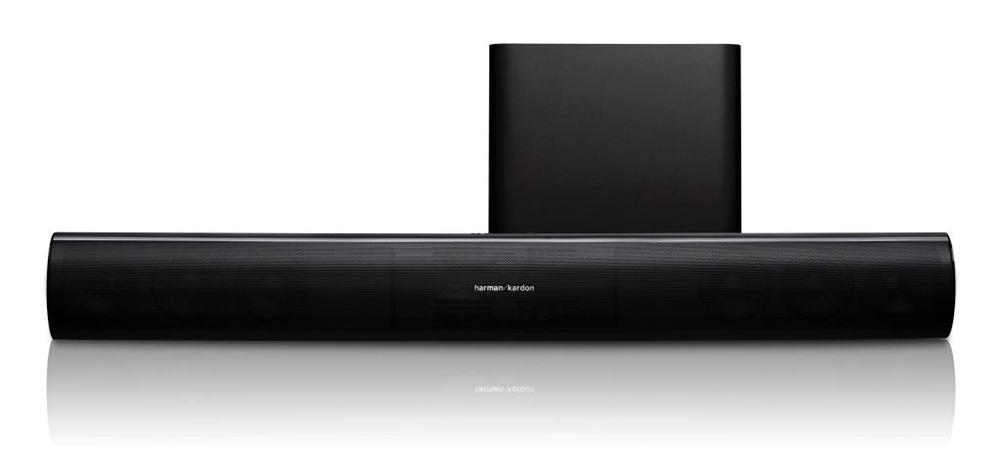 Now one thing to keep in mind is that as we mentioned above such virtual technologies that are based on bouncing the sound on walls to give you the illusion of surround activity are very much dependent on your room layout. If you have a boxy area with very close walls the effects will be more obvious while in a more wide open area these will diminish greatly.
In our case with the Surround mode enabled and by trying similar scenes once again we can admit that there were certain moments that the mix felt like having more volume and extended slightly more in the sides and towards us. The SB26 did try to bring the action closer to our viewing position and this certainly increased the immersion slightly. Also it felt like sounds were extending beyond the physical limits of the soundbar. As for behind the shoulder action once again there was none and this was to be expected to be honest. The Surround mode does offer slightly more fulfilling sound but in no way a true surround experience.
From a pure movies perspective using the Surround mode is a good way to get the most out of this unit. Don't expect any Earth shuttering performance but it will definitely elevate the audio performance of your TV by far. The SB26 was able to offer good separation and precision of the front channels, clear and distinct dialogue, nice channels shifting, satisfying bass and with the Surround mode enable slightly elevated immersion by bringing the action closer to the viewer.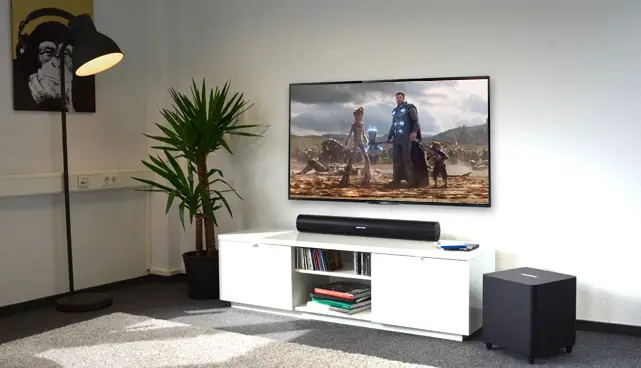 Music
Next we went on to try some music and see how the SB26 would behave with that. Unfortunately the soundbar doesn't support either High Resolution Audio nor USB streaming so our only option was to try out low quality Bluetooth streaming. Also as Harman Kardon recommends, we left the Surround mode disabled in order to have a pure 2.1 channels experience which is the best way when listening to music.
Surprisingly the SB26 did sound very good, even better than we originally expected. For listening some low resolution audio through Bluetooth we got a pretty satisfying result. The SB26 felt right at home no matter what kind of music we would throw to it. The two front channels provided very good panning effects while sound imaging was nice for just a stereo mode. Obviously we didn't get the sound dispersion of some other wider soundbars but we didn't feel that the SB26 was very much constraint.
As for the sound quality we didn't hear anything that felt very much out of place although it was not the kind of performance that will knock your shocks off. We would mostly describe it as a very pleasing casual performance and if you don't have any high expectations or trying hard to find it's weaknesses you will certainly enjoy it's acoustic result.
Mid-range along with high frequencies were good even if not great while the low end went deep enough and with good punch and control. We felt there was good balance between the lows and the rest of the frequencies and even with bass demanding songs it never gave us the impression that it was overshadowing the rest of the sounds.
A very balanced and satisfying outcome that felt good for casual music listening but one that will never leave you drooling on the floor.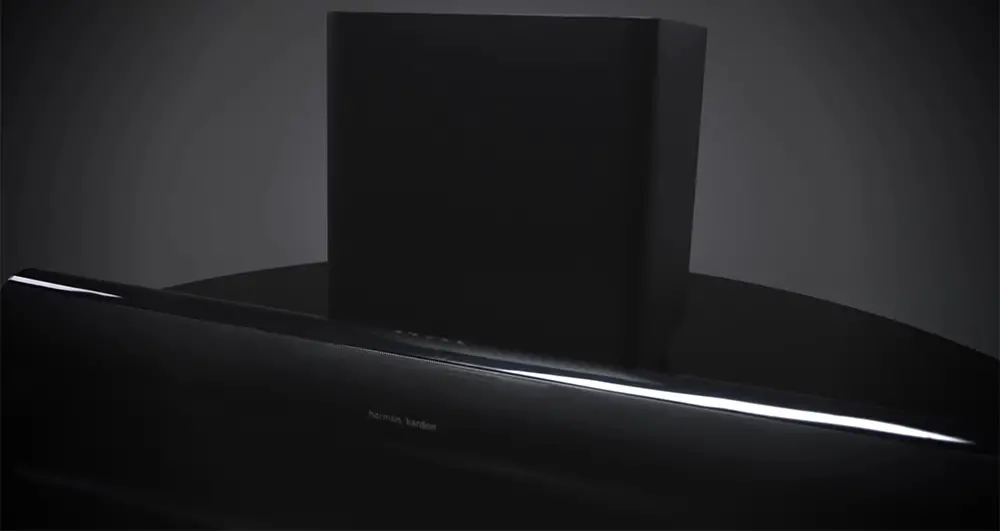 Final Thoughts
Having been on the market for many years now maybe it would be harsh to compare the SB26 to other soundbars that came many years after it. Obviously manufacturers have added a lot of features lately and in this regard the SB26 feels to offer a very basic experience. Maybe this is the reason why Harman Kardon is heavily discounting this unit in order to keep it competitive as the original price doesn't cut it any more for the experience this soundbar offers.
Bur even as such the SB26 has a lot to give. With 2.1 channels and 160 watts of total power the soundbar has the quality and power to elevate any TV audio tenfold and make any casual viewing a really pleasant experience. It's relatively compact size means that it can fit under even smaller TVs while the inclusion of an IR repeater means that you don't have to worry if it obstructs your TV's IR sensor. Along with the included Surround mode which can slightly improve immersion with movies, a satisfactory number of connections, Bluetooth streaming, mobile app support and HDMI-CEC and ARC the unit includes all the basics it needs.
On the downsides the design of the unit is nothing exciting to talk about while the remote feels very cheap even for Harman Kardon's most basic soundbar. Surround activity was extremely on the light side as there was no action behind us even with the Surround mode enabled. Also we don't get many features with this one so don't expect the bells and whistles we see on the soundbars of today. Lastly there is no display screen and your only alternative is the On Screen Display if you use the HDMI port with ARC functionality.
Being released a few good years ago the SB26 could justify it's original price. But with the competition being so fierce lately in the soundbars segment keeping the same price would be a marketing suicide. Good for Harman Kardon that understood that and now we see it being priced around the $350 mark and even lower in some cases which is still slightly high but far better than the original $600 price tag.
The Harman Kardon SB26 is the kind of soundbar that will certainly offer much more than any TV can do and can give you a very pleasant acoustic experience both for music and movies but without offering anything amazing or out of the ordinary. If you have your expectations at check then it will give you what you expect from it.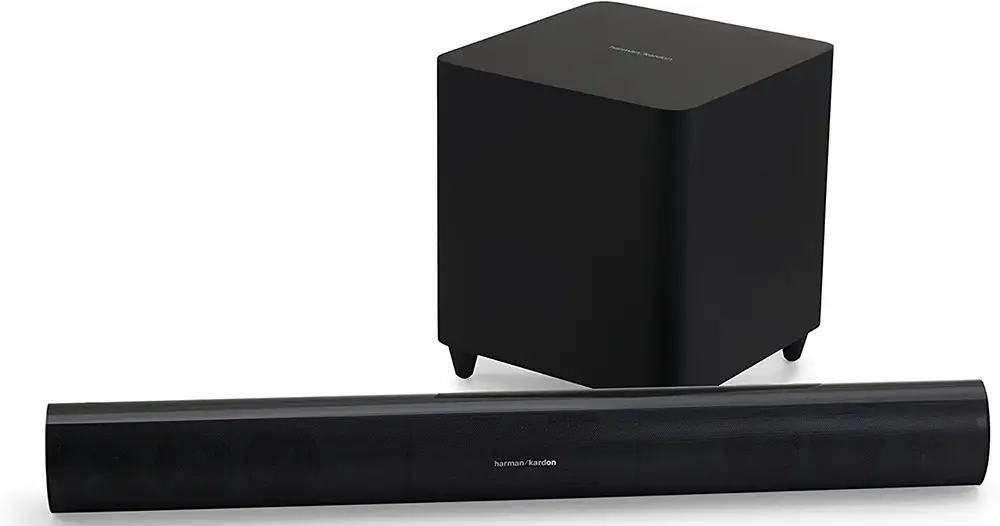 For more reviews you can check our dedicated Soundbar-subwoofer combo reviews list or even look at our Product Reviews Table where you can find the brand and specific product you are looking for.
Also don't lose the chance to subscribe to our Newsletter and gain exclusive privileges.
---
Cheapest Places to Buy :
---
Harman Kardon SB26 Specifications