Hisense L9G
Reviewed at $5,499.00
Ports & Connectivity
9.5/10
OS, Apps and Features
9.0/10
Pros
Very accurate colors
Great SDR and HDR brightness
Android TV and sound system included
Comes bundled with a projection screen
Cons
Black levels could be better
Cannot playback 3D content
Cannot output 4K@120Hz
Price is a bit high for many
---
Cheapest Places to Buy :
---
When it comes to deciding between a TV or a projector you always have to choose what serves you best. Each one has its strengths but you can have only one or the other, most of the times. But what if these two could be combined? Ultra short throw projectors were made specifically for that but these are still a very small market even though they have gained considerable exposure lately. And in our Hisense L9G review today we will be looking at a projector that tries to combine everything into a single package.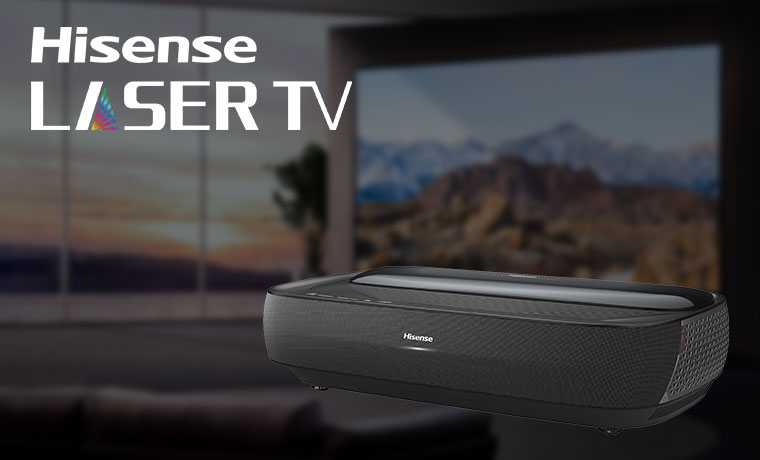 The L9G is a UST laser projector that Hisense cleverly markets as a laser TV and tries to combine a big screen, the practicality of an UST projector, the smart functionality of a normal TV and the audio output of a soundbar all in one package. In theory this sounds a very lucrative proposal and if done right then Hisense really has a winner in their hands.
But let's take a quick look at the specs. The L9G is a triple laser DLP, ultra short throw projector that comes with a screen in the package, more on this shortly, is rated at 3,000 lumens brightness, is claimed to cover the full BT.2020 color space, comes equipped with Android TV which includes all its streaming and smart features and also includes a 40W Dolby Atmos system with four front-firing drivers.
On paper the Hisense L9G indeed looks impressive as it truly combines a TV, a projector and a soundbar all in one. But does this hybrid of a system manages to excel in all the areas necessary to make it a worthy proposal? Let's start our analysis to find out…
Design
Before we start analyzing the projector there is one thing you need to know about this one. It comes in four different variations so you have to be careful to choose the one suited for your needs. First of all since the projector comes bundled with a screen there are two options to choose from, a 100″ and 120″ size. These two sizes come in two different variations, an ALR Daylight Screen which has a 1.2 gain but limited viewing angles or an ALR Cinema Screen which has a 0.4 gain and an acclaimed 150 degrees viewing angle.
The model we have here for reviewing is the 100″ with the ALR Cinema Screen code named 100L9G-CINE100A (100 being the size and CINE indicating the Cinema screen, for the Daylight screen you will see the code DLT) so always pay attention to the code name to make sure the one you seek is the one you actually buy.
Looks and Ventilation
The projector itself measures 24" x 6.1" x 13.6" (610 x 155 x 346 mm) and weights 24.7 lbs (11.2 kg) which is just about the size and weight you would expect from an UST projector of this category. It uses an all black plastic shell but its design is nice with curvy lines across its entire body.
Hisense seems to have taken ventilation pretty seriously as there are air vents all over the place. Both sides along with the bottom feature openings for air to go through while on the back there is an air vent with a fan to keep the temperature at low levels.

The front is covered by a grille to protect the front firing speakers. Exactly in the middle under the Hisense logo we see a power indicator while below the grille and slightly to the left we find the IR sensor. On the right side we find the power button while on the left there is a USB port making it easier to connect some external storage if necessary.
As an UST projector the lens is naturally placed at the top. Hisense has added a few protection features with a foreign object detector just in front of the lens along with two eye protection sensors on the right and the left in order to protect you from sudden power on of the unit.
At the back we naturally find most ports grouped together, you can head to the appropriate section for this, while the projector sits on four adjustable feet in order to balance it correctly.
Lens Specs
The lens has a 0.25:1 fixed throw ratio so there is not much to do there, no zoom or lens shift is available, as the unit is supposed to work with the screen it comes bundled with which certainly makes things a bit easier but at the same time correct placement is essential. There is an auto Geometric Correction feature that uses your phone in order to adjust the image but we would advise you to do this the manual way for better results. There is also Keystone correction but as always this should be used as a last resort as this feature will lower the image quality.
One thing you should make sure is that wherever you place it, you have enough room as the projector sits about 11 inches from the screen, for the 100″ model, and if you take into account the size of the unit itself it means that you need more or less about 25 inches from the front of the projector to the back of the screen. For the 120″ size we haven't exact measurements but surely it will be even more.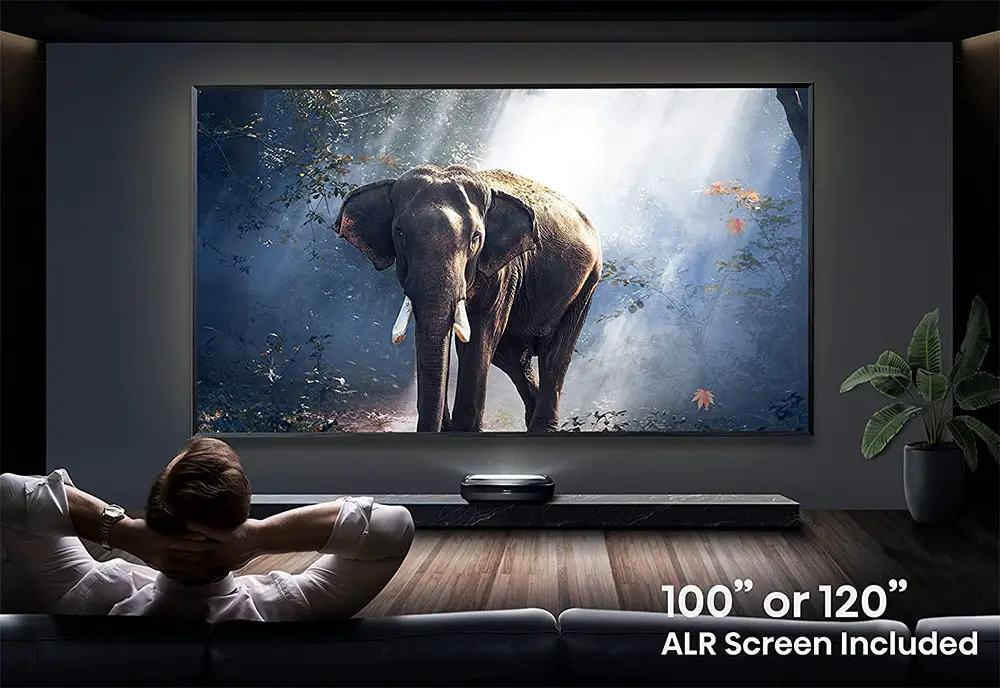 As for the screen itself, it has a nice adjustable mechanism in order to rotate it as you want or change its height. Hisense seems to have put a lot of though into the screen and not make it feel like an afterthought just thrown in the bundle for good measure.
Noise Levels
Hisense doesn't provide specific noise measurements for the L9G but in general we found it to be very quiet. From a distance of about 3 feet the unit was barely audible when viewing quiet scenes while during action moments the sound covered it completely. The noise we measured was about 36dB from the mentioned distance in normal use.
Light Source Hours
Its light source is rated at 25,000 hours which is great and this is one of the advantages of a laser projector. Also surprisingly the L9G seems to offer more hours than other UST projectors we have seen before which makes this one an even better choice among the competition.
Remote
As for the remote that comes with the unit, it has everything you would expect from a smart projector like the L9G. Its overall quality is nothing to brag about as it is the usual black design remote that just does what it was meant to. No premium design here or anything. The remote uses both IR signals and Bluetooth as it has a built-in microphone that you can use to issue your commands to Google Assistant and also makes sure that your button commands will register even if the projector is not in the line of sight of the remote.

Along with the usual navigation, playback and control buttons there are six dedicated buttons at the bottom for various streaming services like Disney+, Youtube, Amazon Prime, tubi and Google Play.
Overall the Hisense L9G is a nice looking projector. It may not feel the most premium of projectors but its lovely curvy look surely is pleasing to the eye while the screen that comes with it is carefully designed and surely doesn't feel like it was just thrown into the mix to make the bundle look more interesting.
Video Quality
Technology used
The L9G is using a single 0.47″ 4K UHD DMD DLP chip from Texas Instruments that is responsible for displacing a full HD 1080p image in four different positions at very high speeds in order to produce the full 4K image that is very close in clarity and quality to a native 4K image. This makes the L9G a 4K pixel shifting projector and not a native 4K one.
For those that don't know what pixel shifting is, it was created by manufacturers in order to bring down the cost of 4K projectors by offering similar quality at much lower price levels.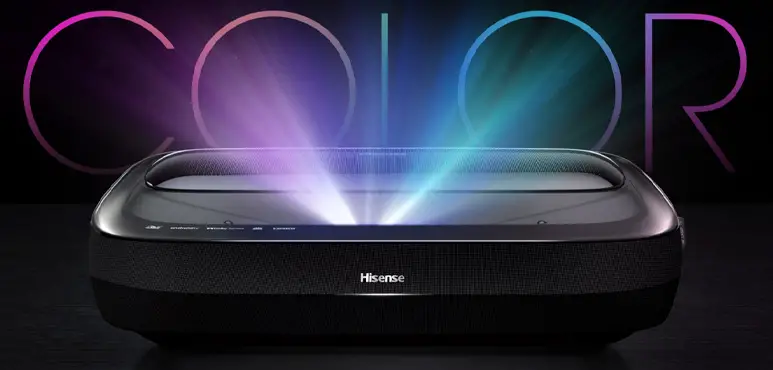 These pixel shifting projectors are usually distinguished in two different categories depending the type of pixel shifting technology used. There are projectors that shift the image only in two positions and these use slightly larger chips and are a bit more expensive while those that use the 1920 x 1080 x 4 technology tend to be cheaper without any meaningful loss of quality.
In general if you are considering a 4K projector but you are unsure about going for a pixel shifting unit we would say that its main strength is offering very close quality to a native 4K model but at a much lower cost. The L9G displayed amazingly sharp images during our testing and it was impossible to distinguish if this is a pixel shifting projector or a real 4K one. It was that good.
4K UHD / HDR Content
For this review we opted to try out the 4K UHD version of Jurassic World: Fallen Kingdom. As we have mentioned countless times before having a pixel shifting projector doesn't mean that in terms of clarity or sharpness you are getting an inferior product. On the contrary, the image we got out of the L9G was spectacular especially during the Isla Nublar scenes. The details on the surfaces, the imperfections on the skin of the actors, materials composition and the dinosaurs skin detailing was through the roof making our eyes trying to catch all the tiny details that would reveal in front of us.
And if clarity and sharpness was one thing that will impress you the other will certainly be the color accuracy and overall performance. With its triple laser light source the L9G can do miracles and can reproduce an amazing wide color gamut. From the lush green jungles to the hot red lava of the volcano eruption, everything looked so vivid and true to life.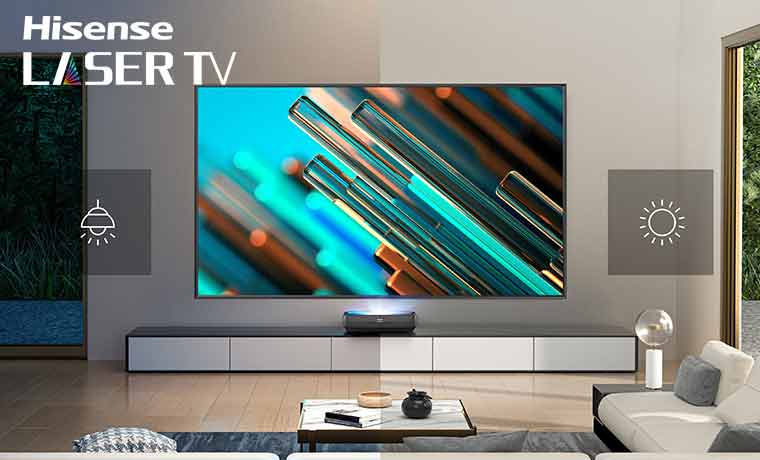 With sharpness and color reproduction so good was there anything that we didn't like? Well, as a DLP projector you can say that the L9G does not have the deepest of blacks which is really a weakness of the technology itself rather than some problem with this projector in particular. We have seen better and worse performances here but the L9G seems to sits comfortably somewhere in the middle providing deep greys while the more light you add to the room will surely help to mask this weakness even more.
The projector offers plenty of picture modes with all of them having an SDR and a HDR variant. Now one thing that we did notice is that the Filmmaker mode seemed to be the most accurate one when it comes to HDR content and the one we strongly suggest you to use. But although this mode suggests you turn off most image processing for the most accurate picture, we found that using the Active Contrast feature helped improved the washed out look we noticed during viewing.
In order to confirm what we saw we did try a couple of other films and in all of them the Active Contrast seemed to help a lot with black levels and without any noticeable clipping. So turning this on and setting it at medium along with the Filmmaker HDR mode seems to be the best settings for HDR viewing.
And since we are talking about HDR content the L9G seems to support the usual as we find HDR10 which is the basis for 4K UHD playback along with HLG which is used for live broadcasting. No Dolby Vision or HDR10+ here but with most projectors having limited brightness capabilities anyway there is not much to be missed by these two.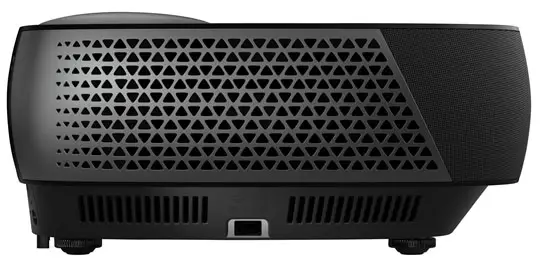 Full HD / SDR / 3D Content
Next it was time to try some 1080p material and as we always do we used our Blu-ray copy of Oblivion for this test. The projector once again displayed the same characteristics that we noticed during our 4K UHD viewing. Obviously the level of detail here goes according to the source and the 1080p images were still clean enough and with a lot of details still visible on screen. It may not had the same level of sharpness as the 4K images but this was to be expected.
Colors were once again spot on using the Filmmaker mode, in SDR this time, with natural colors throughout the viewing time. The cold, almost sterile look of the film was immediately evident while the projector seemed very capable with the film's diverse scenery from the green forests, to the sandy deserts and the rocky wastelands. Everything translated on screen with faithful color grading and no visible banding.
Once again black levels were not the best but at the same time not the worse. The Active Contrast does help here also making the overall image during dark scenes feel less washed out. It is as if you remove a fogy film from the screen and everything suddenly looks better.
The L9G may be a projector meant to be used with 4K material in order to really show what it is capable of but from what we saw during our review it is also very capable at lower resolution content without having to do any major adjustments to its settings.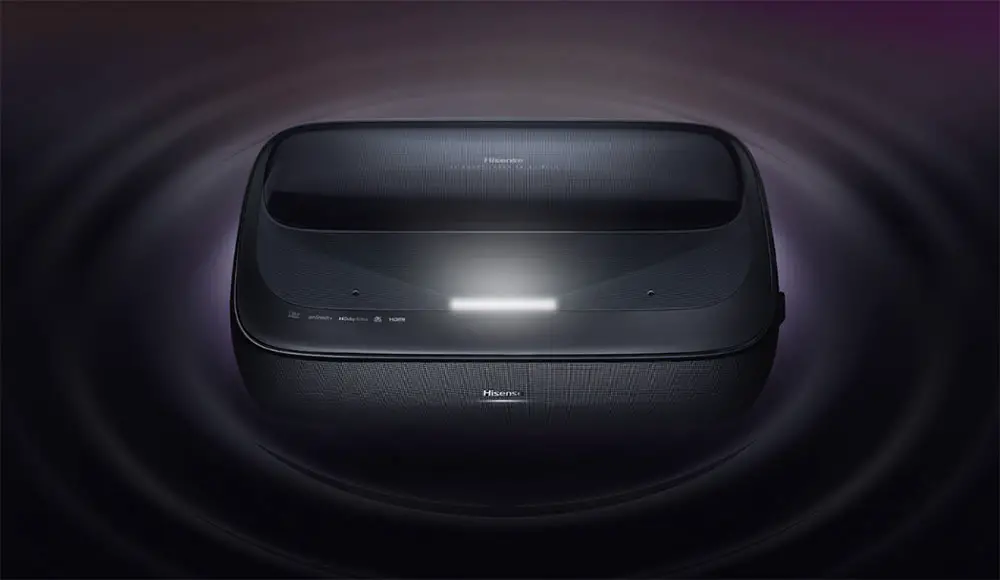 One thing that certainly surprised us was that the L9G does not support 1080p 3D content. And this is even more surprising given how feature complete the projector is. With a lot of extremely cheap 4K projectors supporting 3D we are really scratching our heads why this was left out if you consider that many consumers looking at the projector market are also avid 3D supporters. Is this an omen of things to come in the projectors market or just a glaring omission on Hisense's part?
Color Coverage
Let's see next how the L9G performs with colors. As we mentioned above the projector comes with a TriChroma laser light source which allows the L9G to display up to 107% of the BT.2020, or REC.2020 if you prefer, color space. This makes this projector amazingly accurate with colors and capable of wide color gamut which is essential for HDR viewing.
As we usually do, we will talk in more detail about the available color modes in our next section of the review but in terms of color performance and accuracy we would suggest you to use the Filmmaker mode, as mentioned above, as this gave us the best results overall. Some may argue that the Theater mode is more accurate and this may hold true for out-of-the-box performance but as you will read below the Theater mode was much dimmer than the Filmmaker mode which we didn't like very much.
One thing to noticed here is that the Vivid more, obvious the most bright of the available ones, was still very much watchable even if it had a blueish look to it. In a dark room this becomes very obvious but you wouldn't use this mode in such conditions anyway. On the other hand in a very bright room Vivid mode would make sense and due to the light conditions the blueish tint is not as apparent.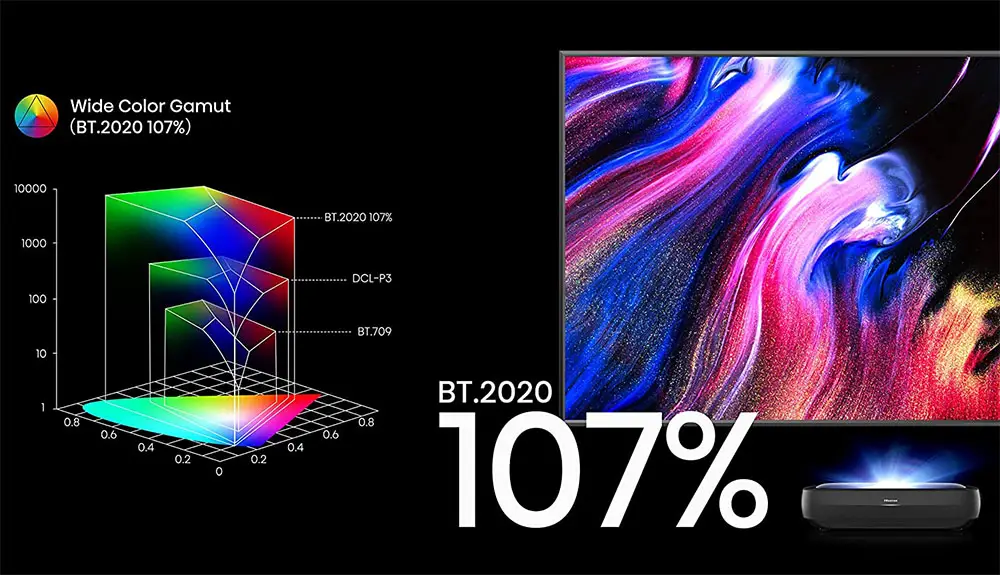 One thing that some of you may be wondering is if the projector suffers from the Rainbow effect. The theory says that laser projectors can still show rainbows but at a lesser degree than color wheel based DLP projectors. In our case we didn't notice any at all but this may not hold true for you. If you had problems with color wheel DLP projectors you may still see them with the L9G but this is something that you have to try out for yourself. So if you are aware of this then make sure to get the projector from a retailer that accepts returns, just in case.
Brightness / Picture Settings
Next is our brightness test and according to Hisense the L9G is rated at 3,000 lumens. Keep in mind that there are many factors that can affect brightness on a projector, so the numbers we provide are only for giving you a general idea of the projector's capabilities and yours may differ in the end.
When watching SDR content the available modes include Vivid, Standard, Energy-Saving, Game, Sports, Theater Day, Theater Night and Filmmaker. The same modes are available for HDR also with the only difference being there is a single HDR Theater mode.
Vivid was obviously the most bright of them all, even though not the most accurate, topping at 2,915 lumens. Game and Sports modes came close second at 2,900 lumens while Energy-Saving came third at 2,857 lumens. Filmmaker was the next one measuring 2,623 lumens, Standard mode came after at 2,580 lumens while the Theater mode came last at 1,907 lumens.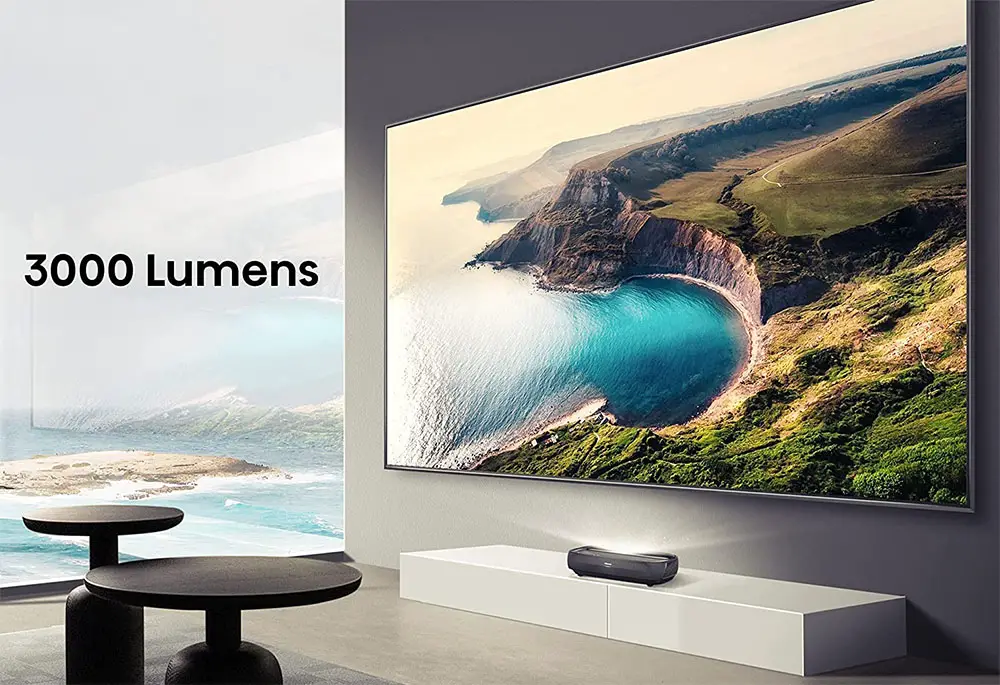 From the measurements above it is rather obvious why we opted for the Filmmaker mode. The Theater mode may be equally accurate for out-of-the-box usage but it brightness output was far below what the Filmmaker mode was able to output. And that's why in our opinion the Filmmaker mode is the best mode you can choose from that combines great brightness, accurate colors and decent black levels for the best image quality overall.
Black Levels / Contrast
As we mentioned above the black levels of the L9G are ok but in a completely dark room they appear more dark greys than pure blacks. If you have the Active Contrast off then everything appears washed out while with it turned on and using a medium setting made the image really pop with deeper blacks while still retaining shadow details.
In terms of contrast ratio Hisense is rating the L9G at 1,000,000:1 with Active Contrast activated but we would suggest you not to look at this number too much as usually these numbers don't translate good in real world situations as we have seen countless times in our tests.
We cannot say that we are entirely surprised here. The L9G basically displays the same kind of weaknesses most low cost DLP projectors have. Obviously how bothering this is, is up to each person and you may find the black levels of the L9G totally fine, even good in some cases especially if you use the Active Contrast setting, but the fact remains that there are projectors out there that can display much deeper blacks. And while with most projectors its easy to distinguish the category and the price level you have to go to experience that, when it comes to UST projectors things are a bit muddier.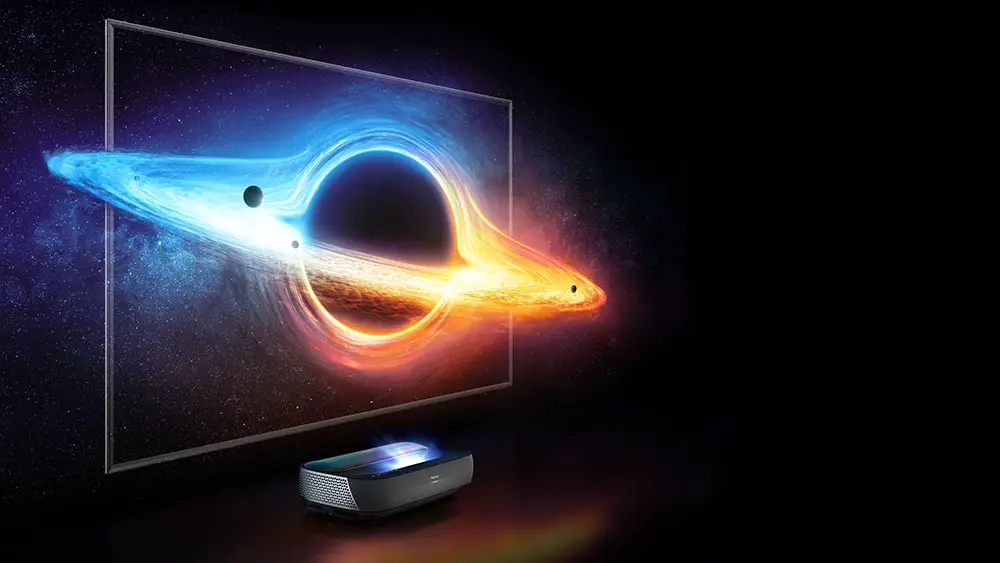 In the end the L9G with a bit of calibration and in combination with the Filmmaker mode and Active Contrast setting can display blacks that are deep enough to be considered satisfying either you use the projector in a bright room or a completely dark theater.
Input Lag
Although the L9G is not a gaming projector its HDMI 2.1 ports do provide a few essential features for gaming which will greatly appeal to hardcore gamers. Auto Low Latency mode (ALLM) is one of them and the projector will switch to Game mode whenever it will detect an appropriate signal from a gaming console.
One thing that you should keep in mind is that while the L9G can accept signals up to 4K@120Hz this cannot be also output on screen. Due to the limitation of its DLP technology the projector can output at a maximum of 4K@60Hz which is more than fine for most situations.
So how does the projector faired in this test? With a 4K@60Hz signal that we fed the L9G from our PS5 console we managed to measure an input lag of 34.7ms which is more than decent. It may not be able to reach the astonishing low values of some smart TVs or even a few gaming centric projectors but for most people a value close to the 30ms mark is good enough for trouble free gaming.
As in all our reviews, we connected our PS5 to the projector and used our copy of F1 2021 for a few laps. For this test we tried the fidelity mode which gave us a 4K@60Hz signal. For the time we spent playing the game everything felt very smooth. All our commands were registering immediately on the screen and we didn't sense any delays that could downgrade our experience.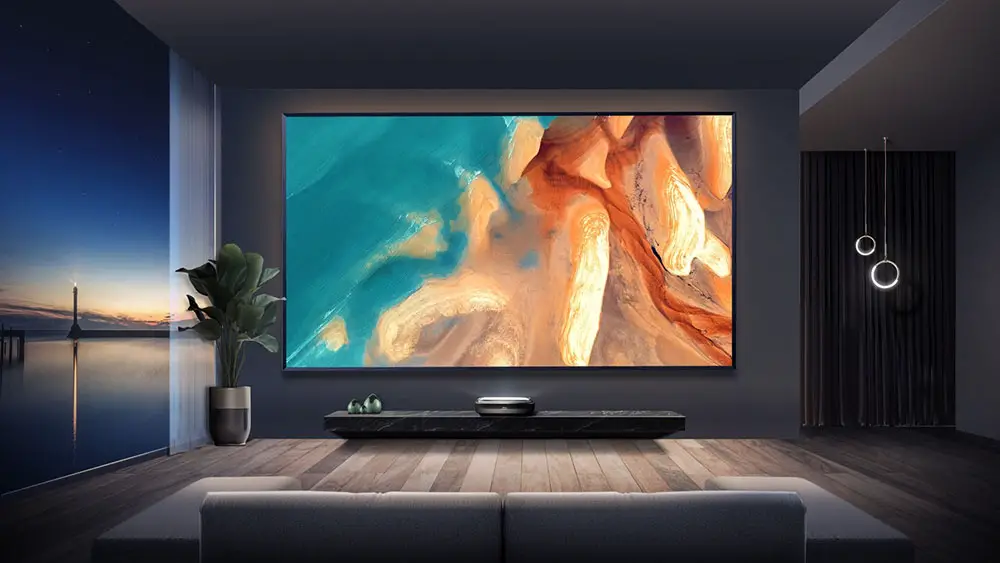 The L9G is an excellent projector for gaming and if you plan on getting this one for mixed use then be assured that it will do great in both fronts.
Motion Performance
When it comes to motion the Hisense L9G uses what is called MEMC technology which stands for Motion Estimation Motion Compensation and is basically the motion interpolation feature included to smooth out motion and motion blur.
The L9G comes with six different motion compensation presets which includes Custom, Film, Clear, Standard and Smooth while you also have the option of turning it off completely. In the Custom mode you can manually adjust how much you want this to affect the resulting image while the rest provide specific settings that are ideal for specific content.
From what we could tell the Film mode was specifically made for 24p content while the Clear mode is better for 30p or 60p content. In most cases the interpolation feature worked pretty well but make sure you use the right setting in order to avoid the famous Soap Opera Effect (SOE).
Overall we can say that the projector handled motion pretty good. Either it is movies, broadcast signals or games its motion performance could be described as more than satisfactory. Yes, there are a few stumbles here and there but overall we were very satisfied with what we experienced.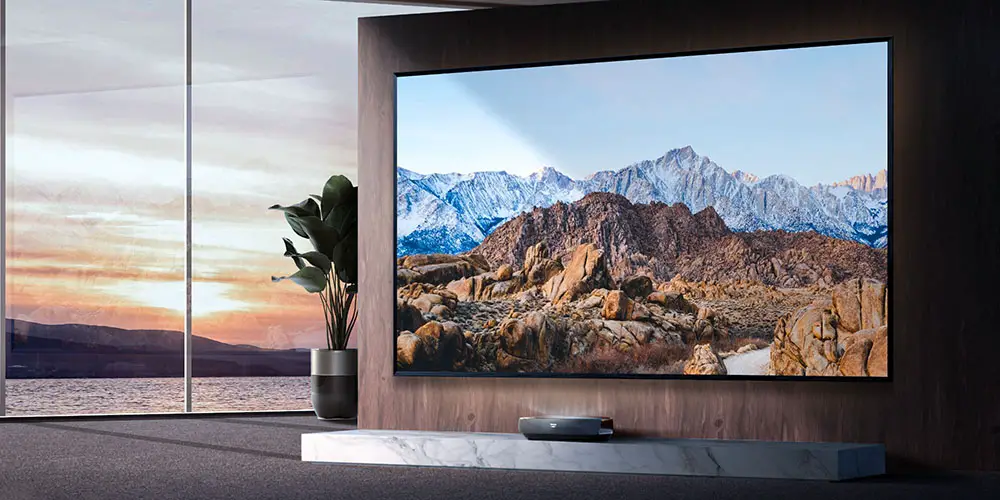 Ports & Connectivity
Next we will be looking at all the available ports on the projector. As usual most of them are grouped together at the back side of the unit with the exception of a single USB port that is located to the left side as you look the L9G from the front. Just for your information this is a USB 2.0 port.
Now at the back we find 3 HDMI inputs, another USB port which is 3.0 this time, an analog audio output, a digital optical audio output and an Ethernet port for wired connection to your local network. There is also a serial port for connecting a home automation system along with an antenna port for broadcast channels.
The interesting fact here is that the L9G actually has two HDMI 2.1 ports while the third one is the older HDMI 2.0. This means that the HDMI 2.1 ports can accept up to 4K@120Hz signals while the third one can accept only up to 4K@60Hz. Unfortunately having HDMI 2.1 ports doesn't mean that the L9G can display up to 4K@120Hz on screen and eventually it resolves the signal down to 4K@60Hz only. And this has mostly to do with the DLP technology deployed in the L9G.
And while the L9G may not be able to display 4K@120Hz the HDMI 2.1 ports allows it to include a few functions that are available only in this latest version, namely eARC in HDMI 2 along with ALLM (Auto Low Latency mode) which allows the projector to identify a gaming source and switch to the appropriate mode accordingly.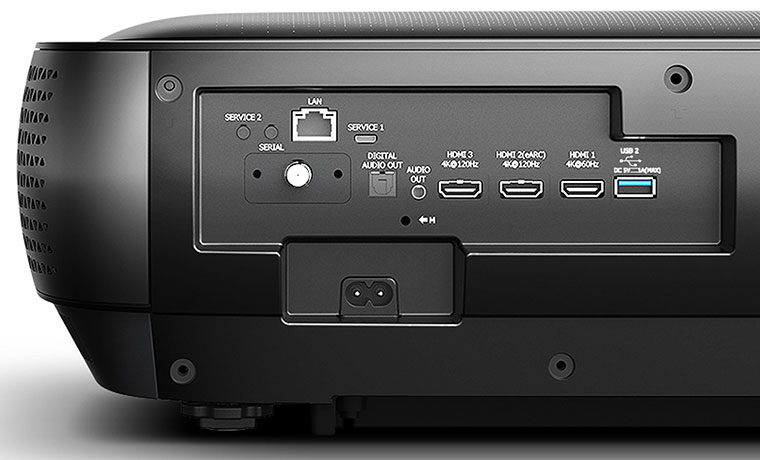 Being practically a smart projector the L9G couldn't be without wireless functionality. As such you will find WiFi support with its built-in 2×2 Dual-Band WiFi module that supports 802.11a/b/g/n/ac along with Bluetooth functionality.
OS, Apps and Features
The projector comes with Android TV, essentially making it a smart projector with many functions that we find in today's smart TVs. If you have used the Android TV user interface in the past either in a smart TV or some other projector then you will feel right at home as there is no difference here.
Now keep in mind that you actually have two menus. The one can be accessed by pressing the projector menu on the remote and the appearing menu is the usual you see in any projector and allows to change all settings like colors, image adjustments and picture modes among others.
The second UI is actually the Android TV UI and this can be accessed by pressing the home button on the remote. This will bring the Android TV interface which allows you to use all the available smart features and streaming services available.
Both the projector settings and the Android UI have been nicely combined and it feels like they are part of the same system which adds to the whole experience.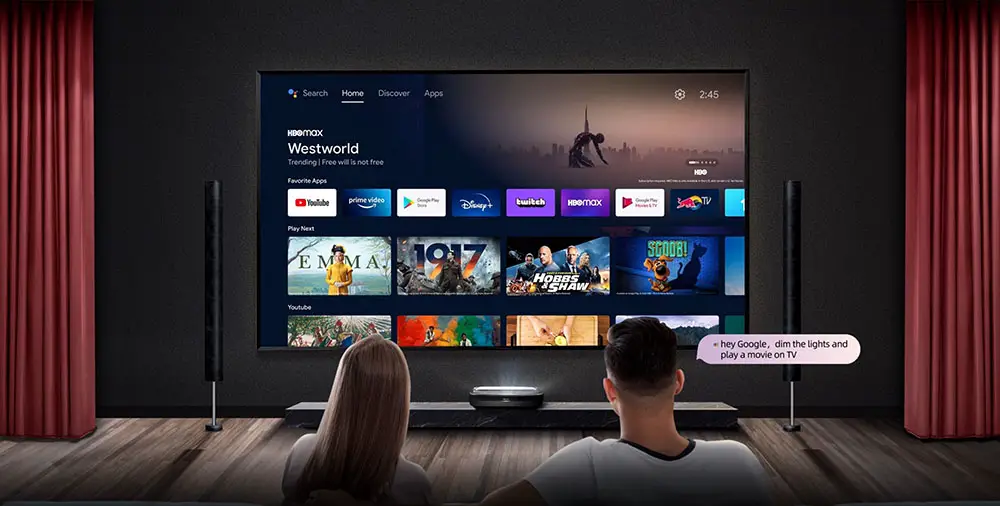 Overall navigation in the Android UI felt very smooth. We didn't notice any lag or slow down during opening and closing various apps and the general feel was great and very pleasing. Now, in terms of support the L9G has everything you would expect from a smart platform like Android TV.
This means that most of the big names like Youtube, Disney+, HBO Max, Apple TV, Vudu, Hulu and many more are all present along with many music apps like Spotify and Tidal. We definitely like that the remote has six dedicated buttons for some of them but we would also like to be able to program some of them to our liking. Now if there is one notable omission that is definitely Netflix. Unfortunately right now the only way to show Netflix on the projector is by casting it from another device. Not the most practical thing to do but better than not being able to do it at all.
There is also Chromecast support which means you can stream content from any Chromecast enabled device to the projector. And this is the solution, a temporary at least, to the missing Netflix app. You can cast Netflix from a PC using a browser or another device that does support it to the projector itself. Hopefully a much better solution will be offered in the future but for now this is the only way.
Voice control is also available with Hey Google and Google Assistant which can be activated from the dedicated button in the remote. The projector can also work with Amazon Alexa but for that you will need an external Alexa device.
The Hisense L9G claims to be a laser TV and as any TV it should be able to display broadcast channels which means it needs a TV tuner. And this projector is one of the few we have seen that actually has one. This adds to the Hisense's claims that the L9G is not a projector in the traditional meaning of the word as it offers the complete experience of a smart TV combined with the strength of a fully fledge projection system.
There is also a pretty capable built-in media player available. It can playback the most usual music and video files without a problem and all of the content we tried on it played fine without any problems as far as we could tell.
The projector features a built-in sound system that combines four forward-firings speakers with a total of 40 watts of power. The system supports Dolby Digital and Dolby Atmos sound and tries to create a more enveloping experience through the use of virtual surround technology. From our testing with it we can say that in terms of audio quality its performance could be compared to a low tier soundbar which is not that bad especially if you consider how many things Hisense tried to cram into this little black box.
But even if you find the built-in audio lacking and you have a better external audio system the inclusion of eARC may be the best thing for you.
Lastly there is WiSA support which means it can transmit hi-resolution audio to WiSA Certified speakers. For this you will need an external USB transmitter which you can buy separately. With WiSA you can transmit audio with quality up to 24 bits at 48 kHz/96 kHz and with latency that is much lower than the typical Bluetooth codecs.
Just looking at what the projector comes with, it is obvious that Hisense wanted to offer a completely similar experience to what a smart TV offers nowadays and certainly they have succeeded on this. If you want a projector but afraid of loosing all the smart functionality of a TV then fear not as the L9G is missing nothing on that front.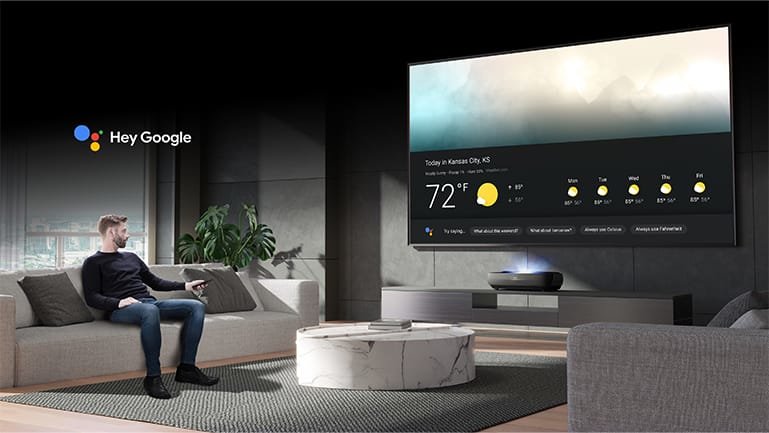 Final Thoughts
Hisense is not new to Ultra Short Throw projectors but now competition is much more fierce than what it was a few years back when the first UST projectors started showing up. And with the L9G it shows that slowly we are getting to the point where these kind of projectors will have their own dedicated market and their own loyal followers. Having already tested another excellent UST projector, the Optoma CinemaX P2, it's starting to become clear where this market is aiming for.
The L9G in particular impressed us as a whole package. Hisense tried to combine everything into a single box and for the most part they have succeeded as the projector manages to combine the benefit of having a projector, being the large screen cinema experience, with the smart functionality of a flat TV and a solid performing soundbar all into one. And if you add that its actual picture quality is particularly impressive with sharp and detailed images, excellent colors, great brightness in both SDR and HDR and low enough input lag that will appeal to many gamers then what we have here is a real winner.
As for its downsides there is not much we can say. Its black levels are not the best and there are projectors that can do better in that front, it cannot playback 3D content which is particularly strange since projectors is the only 3D stronghold still standing and while the unit can accept 4K@120Hz signals due to the DLP limitations it cannot display more than 4K@60Hz. Lastly with its price surpassing the $5,000 mark it certainly will make a lot of people think twice. There may not be many cheap UST projectors around but when you consider how cheap a standard 4K pixel shifter is nowadays it will surely make many people wonder if the premium price is worth it.
Closing our review what we can say about the Hisense L9G is that it is surely the best UST projector we have tested to this day. It combines a projector, a smart TV and a soundbar all in one, it has plenty of features and most importantly its picture quality is more than impressive by any standards. As a result it gets our highest recommendation. Kudos to Hisense for this excellent release.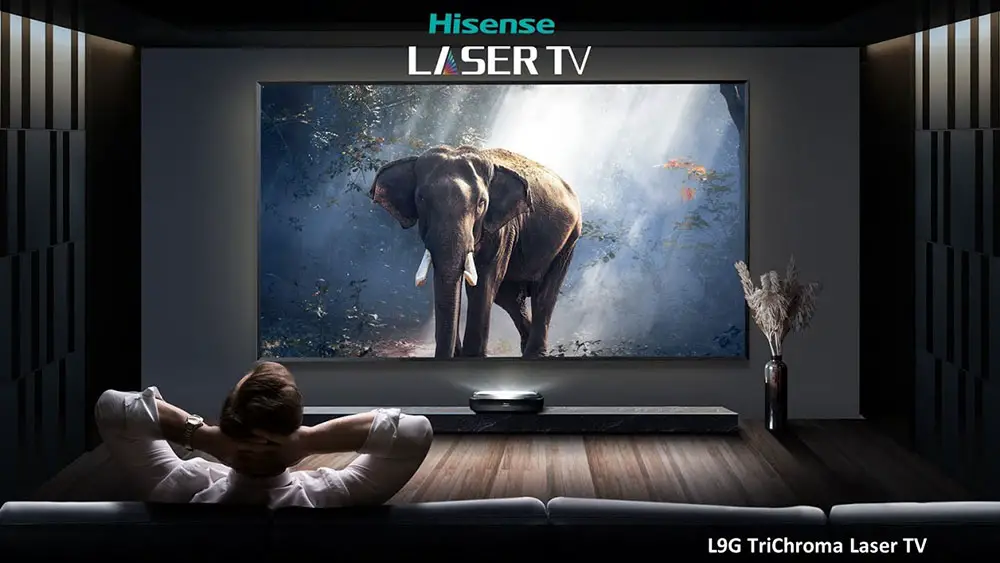 You can find more 4K projector reviews in our dedicated section HERE. Also don't lose the chance to subscribe to our Newsletter and gain exclusive privileges.
---
Cheapest Places to Buy :
---
Hisense L9G Specifications