Hisense U8H
Reviewed at $699.00 (55")
Ports & Connectivity
9.0/10
OS, Apps and Features
9.2/10
Pros
Amazing SDR and HDR brightness
Excellent contrast
The mini-LED backlight is better than 2021's FALD
Google TV 11.0
Cons
Bad viewing angles
Mediocre upscaling
Visible banding in darker shades
Visible stutter in low frame rate content
---
Cheapest Places to Buy :
---
Having recently checked a couple of the latest 2022 Hisense TVs, namely the A6H and the U6H, one thing that is immediately noticeable is the remarkable pricing these have considering their capabilities and features compared to the competition. So today in our Hisense U8H review we will be looking at one of the first mini-LED TVs Hisense brings to the market and determine if it also has all these distinct characteristics that made all the previous Hisense TVs such interesting proposals.
One thing that we need to make clear is that the U8H greatly differs in characteristics and capabilities in different markets. The unit we had for testing is for the US market but we have read reports that the U8H in some European countries has different specs and as you can imagine we cannot be sure what Hisense offers in every single one of them. Keep this in mind if you eyeing this model in your respective market and look at its specs very carefully.
So let's go over the specs real quick to see what this units comes with. The U8H (for the US market) is using a native 120Hz VA panel with a mini-LED backlight with local dimming while the Hi-View Engine (4K) quad core CPU takes processing duties. As usual with most Hisense TVs, the U8H supports both HDR10+ Adaptive and Dolby Vision IQ which is a major plus while Dolby Atmos is also available. Lastly the TV comes with the latest Google TV 11.0 which seems to be the standard in all Hisense TVs for 2022.
Upon first look the U8H has some really juicy specs and considering the jaw dropping price of $699 for the 55″ we have here for testing, the U8H can shatter all competition from the get-go. But does all these translate into really breathtaking image quality or is it far too good to be true? Let's find out.
Design
When it comes to its looks one would think that since most TV brands like to reuse last year's designs the U8H would borrow elements from the 2021 U8G. But it seems that the change to a mini-LED backlight necessitated a new body to be used. As a result the new U8H is completely different from its predecessor both for the panel and the stand it comes with.
The U8H is really thin and measures around 2.9″ (10 cm) which means that it got thinner by almost a whole inch! So if you like to hang your TVs on the wall this one should look amazing.
Borders and bezels wise the TV is really good. Both sides and the top are extremely thin and even the bottom side is much thinner than some other models we have tested recently. As a result the TV blends much better with its surroundings while the image feels much more immersive.
The back is also completely different. The diagonal checkerboard pattern from last year is replaced by a more subtle textured horizontal pattern. The other big changes here is the inclusion of the centered subwoofer which was absent last year but on the other hand it seems that we are missing the lower groove that was present in the U8G in order to help with cable management.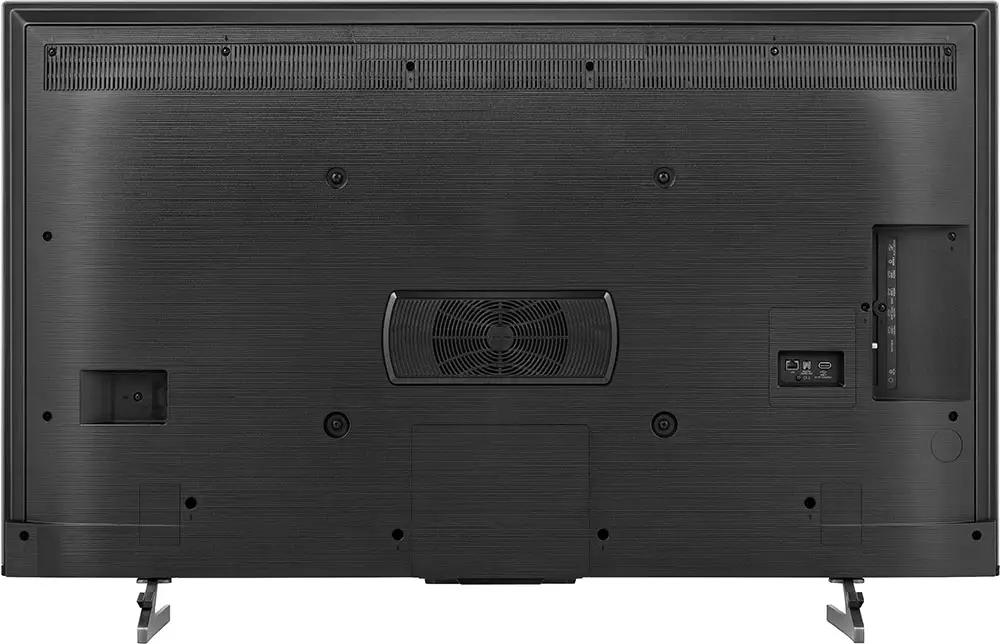 The ports are all together on the right side, divided into two groups with some of them looking sideways while the rest backwards. On the right side we find only the power connector and at the center the usual VESA wall mount holes.
The stand that the U8H uses is also completely different. The rather unusual stand of the U8G is replaced by a more standard bench type stand. The legs are made of metal and sit almost at the edges of the TV so make sure you have a big enough furniture for it. For cable management they have special clips at the back to help keep everything together.
As for its remote, the one we found in the U8H is not very much different from the one we had seen in the U8G but it seems that some buttons have changed functionality. But other than that the design and buttons layout remains the same.
All buttons are made of rubber while Hisense has retained the six dedicated buttons at the bottom for the usual Netflix, Amazon Prime, Youtube, Disney+, tubi and peacock.

The remote is made out of plastic, its feel is in general good and while it is IR based which means it needs line of sight to work it can also be connected through Bluetooth in order to use its microphone and voice commands feature. The remote may not look as premium as some competing brands but it will do what it was meant to and to be honest with such a low price tag you shouldn't expect anything more than this.
The U8H is a good looking TV. The inclusion of the new mini-LED backlight helped the TV to lose some of its thickness which makes things easier and better looking for wall mounting. Materials used and construction are of the usual Hisense quality so if you know what to expect you are not going to be disappointed.
Video Quality
Processor technology used
Unlike most other brands that, at least on a marketing level, like to boast about the capabilities of their TV's processors, Hisense is very coy about their own.
In general we have little information regarding the CPUs Hisense is using in their TVs. We do know that the brand name they use is Hi-View Engine 4K and it's a quad core CPU that is being used along with the MediaTek MT5895 SoC. Not much else is known about this chip or any other specs it comes with.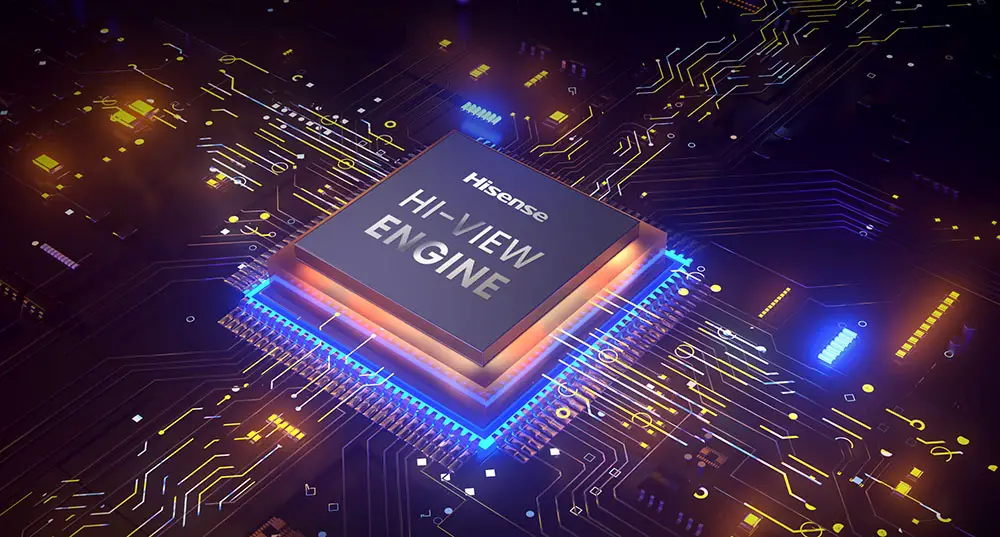 As for its capabilities these are the standard including 4K Upscaling as well as Noise Reduction capabilities.
In terms of up-scaling the U8H was good but not without some issues especially with low quality, low resolution content. When upscaled to 4K we noticed certain artifacts along with aliasing which surely were not visible with some other high tier TVs. Not extremely bothering and while viewing various content this may not be so much obvious but it was definitely there and should be mentioned.
We do not know if this is the same CPU that is being used in the lower tier Hisense models as all of them use the same "Hi-View Engine" brand name but it seems that the one in the U8H is more advanced in order to be able to handle the more advanced features of this model.
Lighting technology used
Hisense, just like Sony, was a bit late to the mini-LED party but now they are here and the U8H is surely going to make some waves. But how good Hisense's implementation is?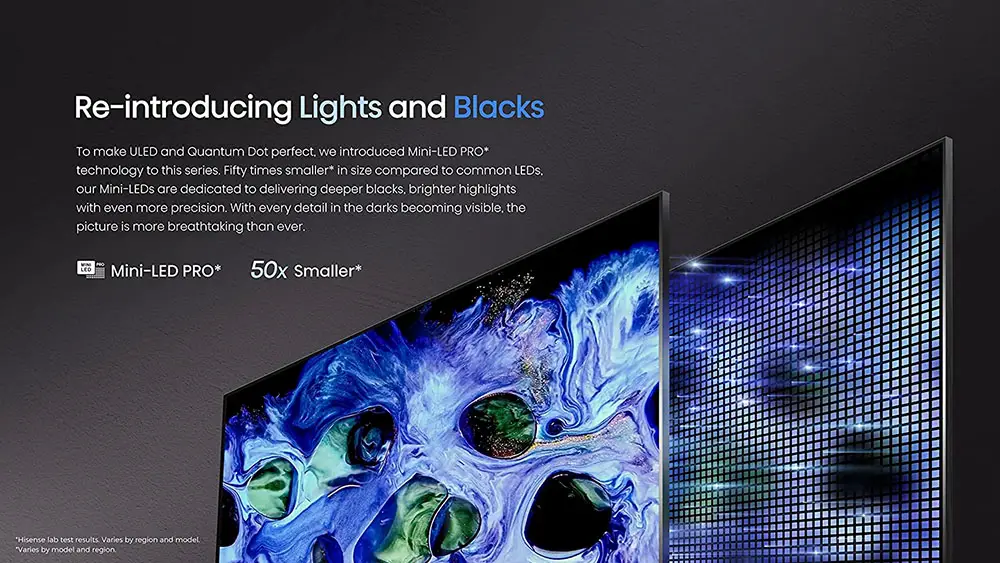 The arrival of mini-LED brought several improvements over what was previously possible with the older FALD backlights although this still has its fare share of problems.
The U8H is using a mini-LED backlight which is accompanied by Hisense's ULED technology that uses specialized local dimming algorithms to control the thousands of tiny, high-density Mini LEDs with much better precision and independence than any previous FALD system could.
The major advantage of mini-LED is that its LEDs have 1/50 the size of a conventional LED. Instead of using a lens to disperse light, and a package to fix the LED in place, Mini-LED has incredibly thin micro layers filled with many more LEDs. This way this technology has much better and more precise control of the densely packed LEDs, preventing what was the most obvious disadvantage of previous LCD backlight systems, blooming.
Keep in mind that while mini-LED technology is vastly superior to any other LCD backlight system so far, from what we have experienced in previous years, it is not alleviating the blooming problem completely and it is still very much dependent on the number of zones that have been added to each panel along with how efficient the dimming algorithms are.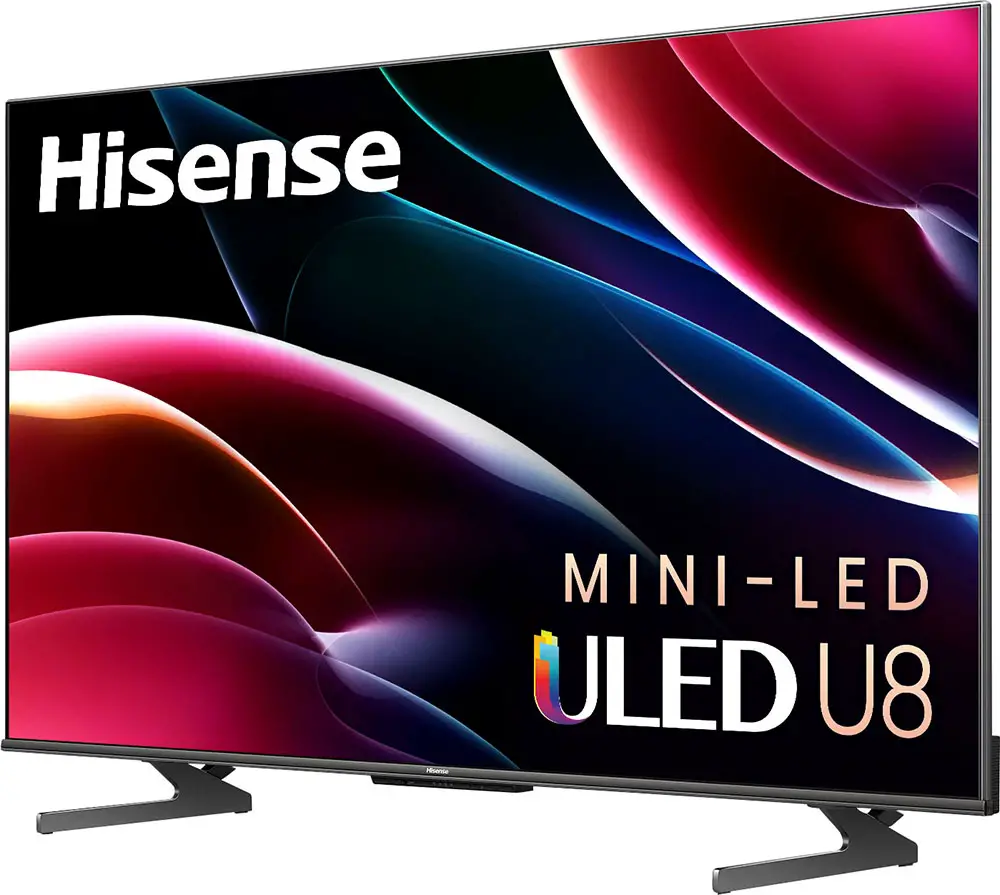 And the U8H seems to follow the same principle as the bigger sizes seem to utilize more zones. The 55″ size we have for testing comes with 336 zones which is increased to 504 zones for the 65″ size and 528 zones for the 75″ version.
Now, in our blooming test patterns the U8H did really good but it still had a few problems. And we say that because there was still blooming visible in specific scenes. Obviously in bright scenes occupying the whole screen this is a non issue but in dark backgrounds bright objects will still show small halos around them. Subtitles in a black screen also show some blooming but it is not very much and surely is not distracting at all.
The zones transitioning was relatively fast and the algorithms were responsive enough not to show any bothering delay. By looking very careful at the test patterns we did see some ghosting which indicated that the zones would not turn off fast enough but with real content that we tried everything looked great and most probably you are not going to notice this most of the times.
Another thing we noticed was some black crushing and if the image has a lot of small highlights then you are going to loose some of that detail. Again this may or may not be so obvious with real content and it's not an issue that will immediately hit you in the face but we should mention that it is there nevertheless.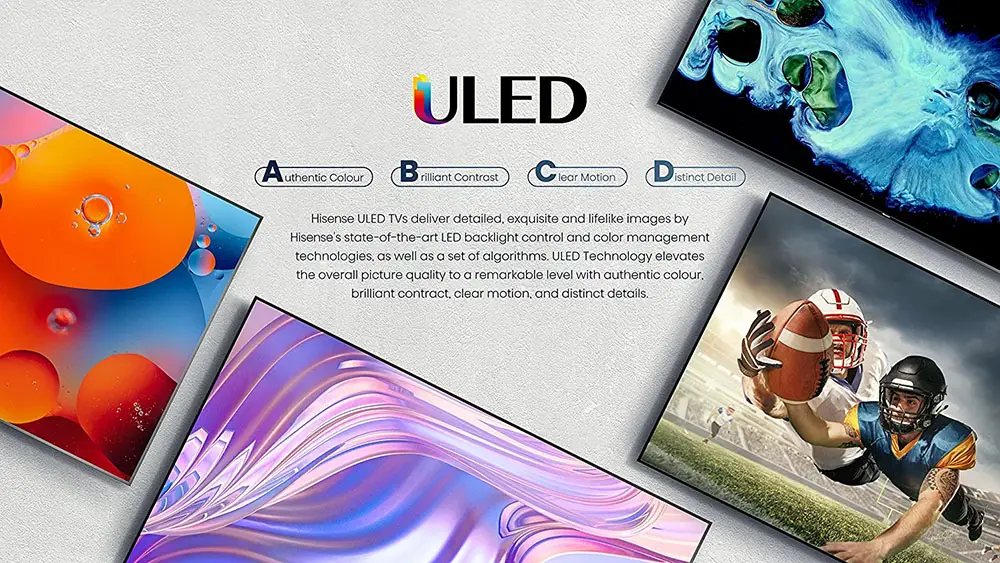 Overall, despite some problems that we did notice, we can say that the U8H left us with very good impressions here. The mini-LED backlight is a vast improvement over the FALD backlights we saw in Hisense TVs both last year and this year in the U6H.
The higher count of zones help minimize the blooming by a lot and the algorithms that handle the zone transitioning were responsive enough. The black crush issue was not a major issue from what we saw and surely not a deciding factor for its overall image quality.
Brightness / Contrast
One of the most important factors, but not the only one, of any HDR TV is its brightness and this is where LCD technology always exceled at compared to OLED. Hisense is one of the few companies that actually provide specific brightness numbers for their TVs and it seems that the U8H gets an impressive 1500 nits marketing claim which is the same as the U8G got last year.
For this first part of our review we measured the SDR brightness over a 10% window and the number we got was 1,552 nits which is more than you will ever need for any kind of SDR content. This means that even in a very bright room the U8H can deal with glare and bright lights with ease.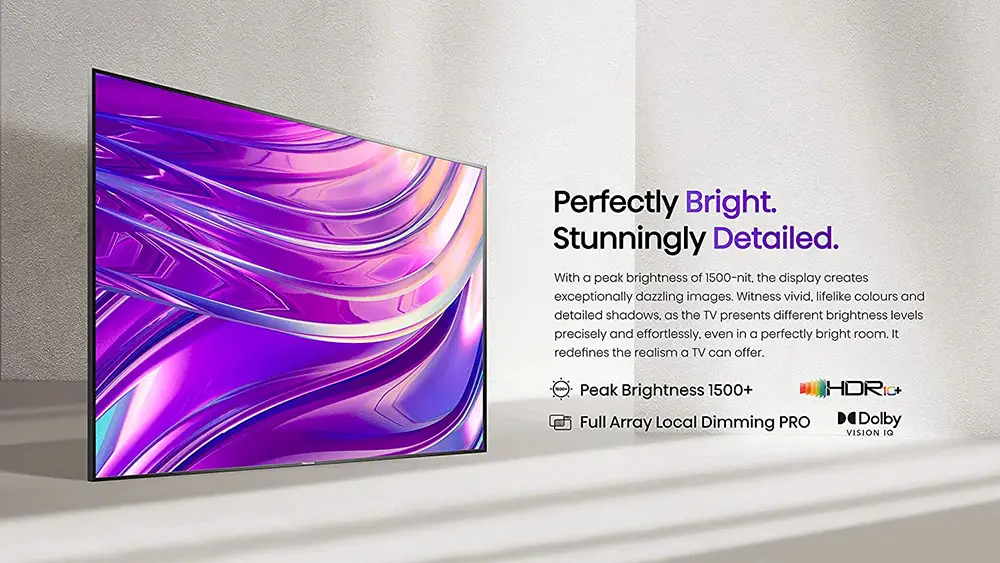 When it comes to HDR brightness over a 10% brightness we measured 1,732 nits which again is amazing especially if you take into consideration the price of this model. Hisense really made the impossible and offers a real 1,500 nits TV for just $699 for the 55″ size something unthinkable some years back.
The numbers above show that the U8H is noticeably better and brighter than the 2021 U8G. The mini-LED backlight surely plays a major role here and helps the U8H display very bright and impressive highlights no matter what the content is.
Brightness levels followed the EOTF reference values very close with very minor inconsistencies, up to its smooth roll-off point with most details being preserved due to this.
The TV uses a VA panel and the U8H managed to do even better than last year in terms of contrast with blacks showing very deep even in a low lit or completely dark room. When you enable local dimming things improve even further and actually contrast is boosted by much more than what we saw in the U8G. Another area where the U8H is a vast improvement over its predecessor.
Viewing angles
Using a VA panel means that the U8H is not very good with viewing angles. VA panels in general have trouble with this so it's not a problem of the U8H in particular. Some manufacturers tend to use extra layers in order to improve this problem but this TV doesn't seem to be using any similar technology.
As such the best angle we could measure on the U8H was around 30 to 35 degrees at maximum. Anything more and the image quality takes a huge hit. Therefore the U8H cannot be considered a family friendly TV where many members will be watching at the same time from extreme angles.
On the other hand, the semi-gloss coating in combination with the extremely high brightness the TV can produce can fight off most glare and light reflections.
Since what is acceptable image quality is very much a personal matter, and considering all the above, we would suggest you to try it out in a local store in order to be sure if it is acceptable by your standards or not.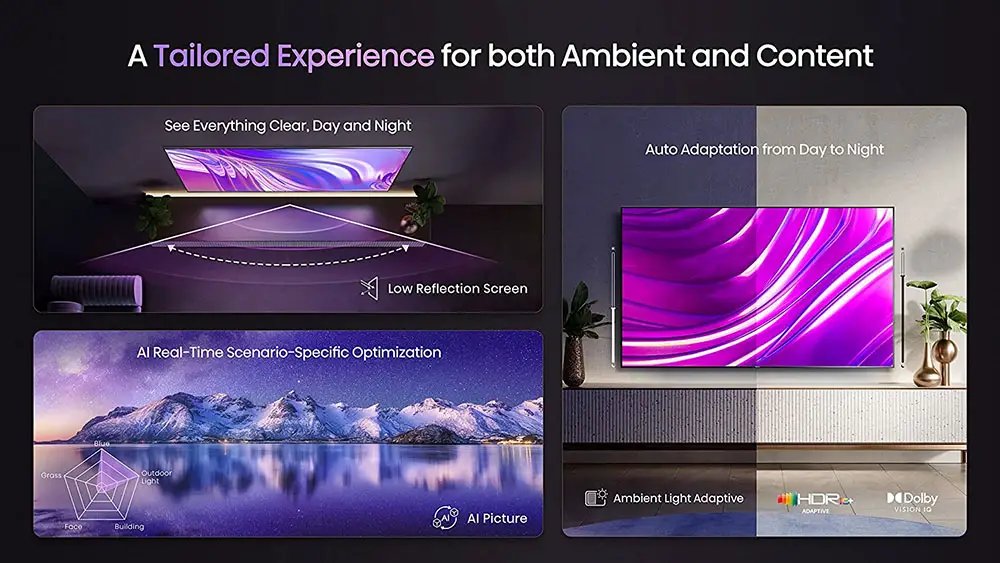 HDR support
With the current HDR war you really have to choose which camp you want to follow as not many brands support all available ones. It's either Samsung's HDR10+ or Dolby Vision that Sony and LG support which is really a shame as we don't get the chance to choose all of them at any time. Thankfully Hisense is one of the few brands that are not supporting any specific camp and instead went ahead and added everything in their TVs.
As such the U8H supports not only the basic HDR10 but also HLG which is used for streaming content and both HDR10+ and Dolby Vision which use dynamic metadata for a much better image quality.
The U8H also supports both Dolby Vision IQ and HDR10+ Adaptive. These technologies consider environment lighting by making HDR more accurate at depicting how dark or bright the lighting is within your specific room light conditions.
This is done with the use of the TV's built-in light sensor and thankfully this is a feature that you can turn off if you really want to appreciate the brightness capabilities of this unit as enabling it most of the time will dim the picture far more than what we would like.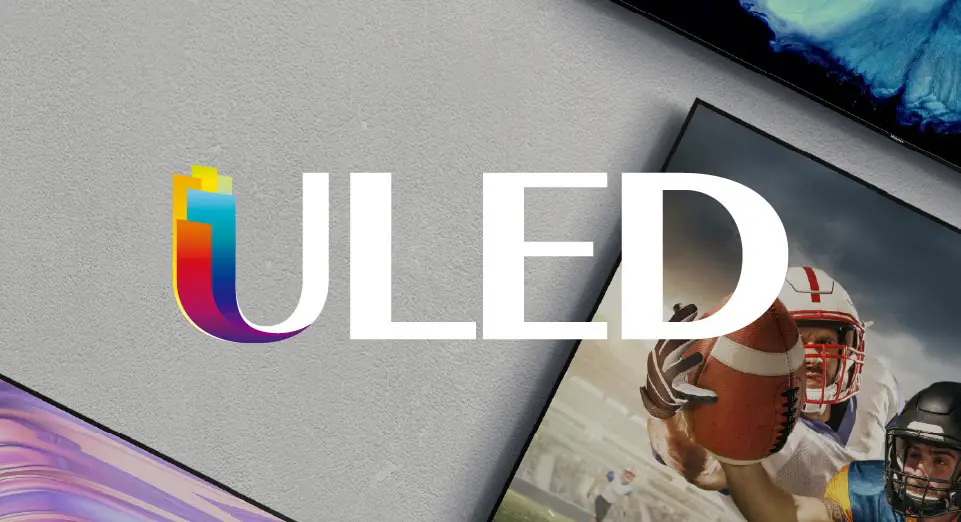 Overall you do not miss anything with the U8H. It includes all HDR protocols and then some so you will not have to worry if it will support specific content or not. For this price there is nothing more you can ask for.
Color coverage
Let's talk about its color performance now. The U8H belongs in the ULED family of TVs meaning it comes with Quantum Dot technology. This results in the TV supporting wide color gamut and thus display more accurate and lifelike colors.
According to our measurements the U8H covers about 98% of the DCI-P3 color space which is almost perfect. On the wider REC.2020 color space we got an astonishing 80% coverage which again is much higher than most of the competition and in this price range you are not going to find anything better.
Before calibration the U8H had great out of the box performance, something that will surely please most casual users. White balance and gamma were pretty accurate while only a couple of colors had values above the DeltaE limit of three.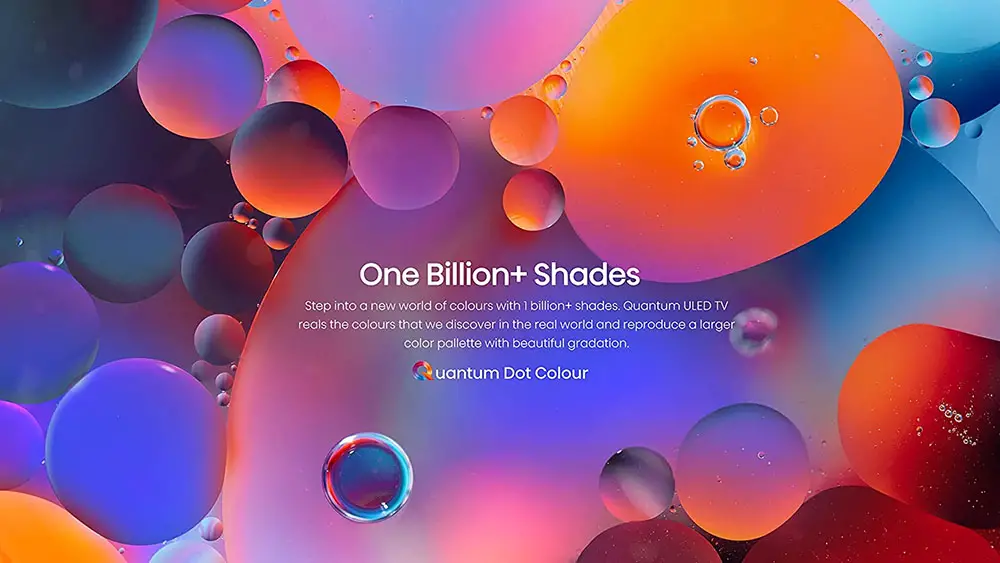 One thing that we noticed here, and is worth mentioning, is that while with other TVs improving their out of the box performance was a more straightforward procedure things were a bit more complicated with the U8H. Trying to improve one color would result in breaking another so improving its default performance was not as easy as we thought it would be.
You can still make a few adjustments to make the image even more accurate but we can say that even with its default values the TV performed extremely well and can do admirably without any further calibration.
When it comes to color gradients the U8H was good but not great. We noticed some obvious banding in darker shades and there is little you can do about it as the Noise Reduction features available didn't seem to do much to improve this.
Motion performance
We move on to our next part which includes our motion performance tests. The U8H is using a 120Hz panel along with a backlight dimming frequency of 960Hz which makes it completely invincible to the naked eye.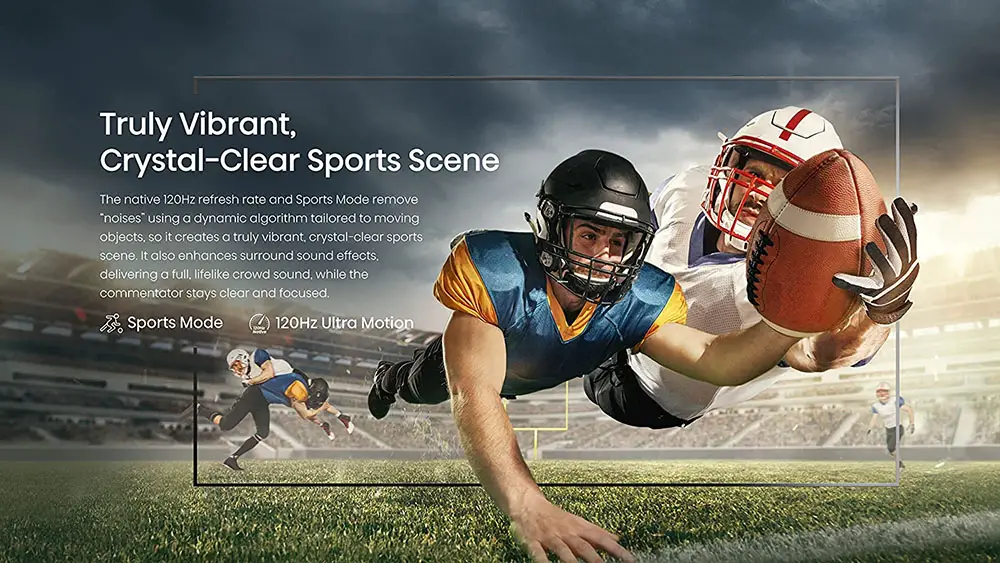 You have the option to use either the standard motion interpolation system or use the Black Frame Insertion (BFI) interpolation that is adding black frames in between individual frames and can potentially smooth out motion. This can be used for both 60Hz and 120Hz content and thus it avoids any duplication that we often see when using it.
On the other hand BFI had a negative effect on brightness due to the black frames that are inserted which is standard when using this feature.
Overall motion performance was ok but not without some very frustrating problems. With low framerate content, as most movies are, the TV had a lot of stutter and you have to use a high setting of motion interpolation to even get any kind of satisfying results. This surely will disappoint if you were expecting to get good motion that would complement its otherwise great image quality.
Input lag
Next onto our input lag tests.
We measured the U8H at a really low 15.5ms input lag in both 1080p and 4K resolutions which is excellent and will satisfy even the most demanding of gamers. With such a low input lag gaming can really be a pleasure but in order to get such a low value you have to keep in mind that you need to use the available Game mode.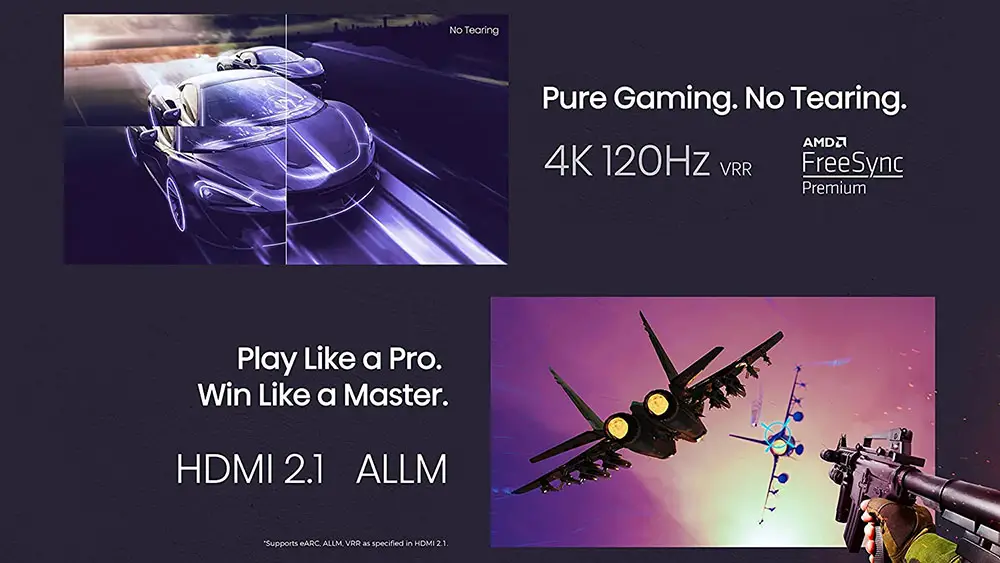 Outside Game mode the U8H measured 121ms average in 1080p and 4K resolutions which is very high for serious gamers but can still be adequate for slow paced offline games.
So for the most part if you plan to play games with this TV then make sure that Game mode is enabled in order to get the best out of it.
Utilizing HDMI 2.1 means that the U8H also comes with certain gaming features including VRR. The unit supports both HDMI Forum VRR and FreeSync but not G-Sync, at least at the time of writing this review. VRR on the U8H works on the 48Hz – 120Hz range.
The second gaming feature it supports is Auto Low Latency Mode (ALLM) that can be used with any devices that support that like the PS5 and Xbox consoles and can greatly benefit users.
For testing we connected our PS5 to the U8H and played a bit of Horizon: Forbidden West which gave us a 4K signal at 60Hz with VRR engaged. The game look magnificent in the U8H and by using its performance mode we got nice 60 fps gameplay with no tearing or stuttering. Also all our commands would register immediately on screen and response times were excellent.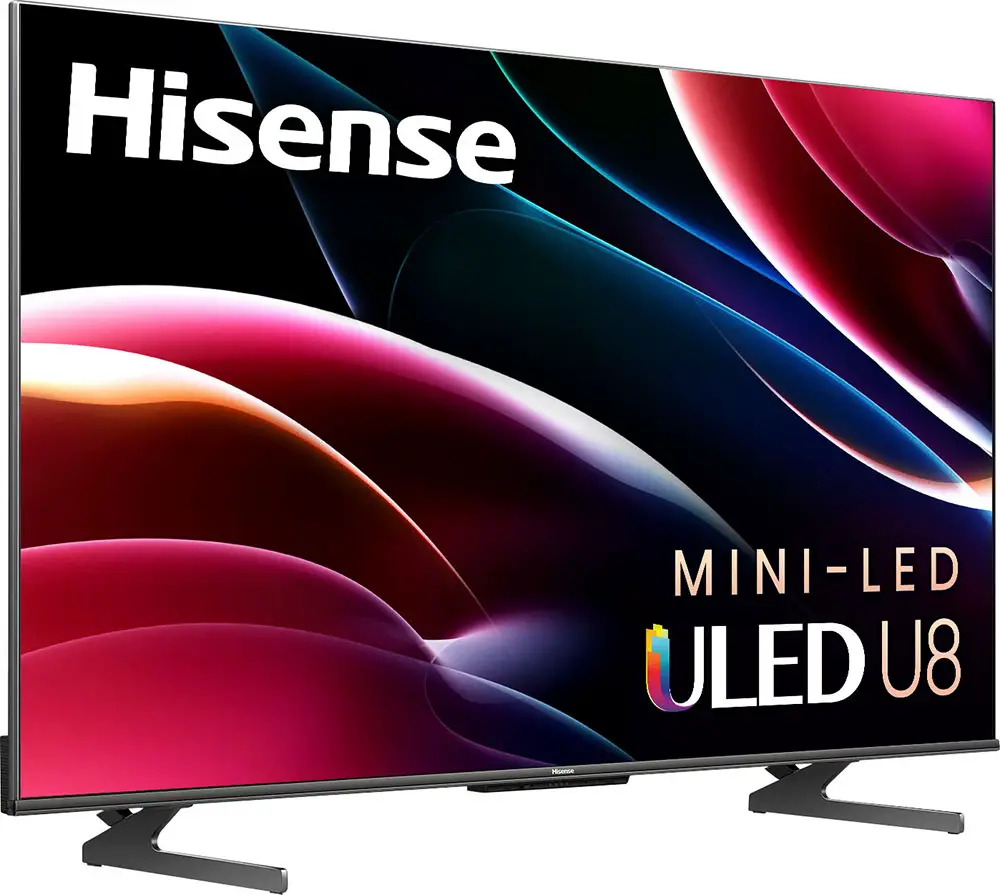 As a result the U8H is not only good for movies but can do great with any kind of gaming content and thus is an excellent choice for mixed use.
Image quality impressions
The U8H comes with certain upgrades compared to last year's U8G and someone would expect that this would put this year's release on top. This is true, to a certain extent.
The mini-LED backlight gives the U8H a major advantage both in terms of peak brightness but also in contrast. The U8H uses a very capable local dimming feature while it can reproduce colors more faithfully than its predecessor.
But it is not without its own issues. There is visible banding in certain dark shades, viewing angles are mediocre, stuttering was very visible with low framerate content while its upscaling capabilities were not as impressive as we are used to see with certain competing brands.
But as always, everything has to do with the price asked so when you think what you pay for this TV then suddenly this will change your thinking. It has amazing brightness both in SDR and HDR, excellent contrast, great color reproduction, almost perfect out of the box performance, supports all known HDR formats, its input lag is low enough and comes with all required gaming features for any serious or hardcore gamer. And all that for just $699 for the 55″ size.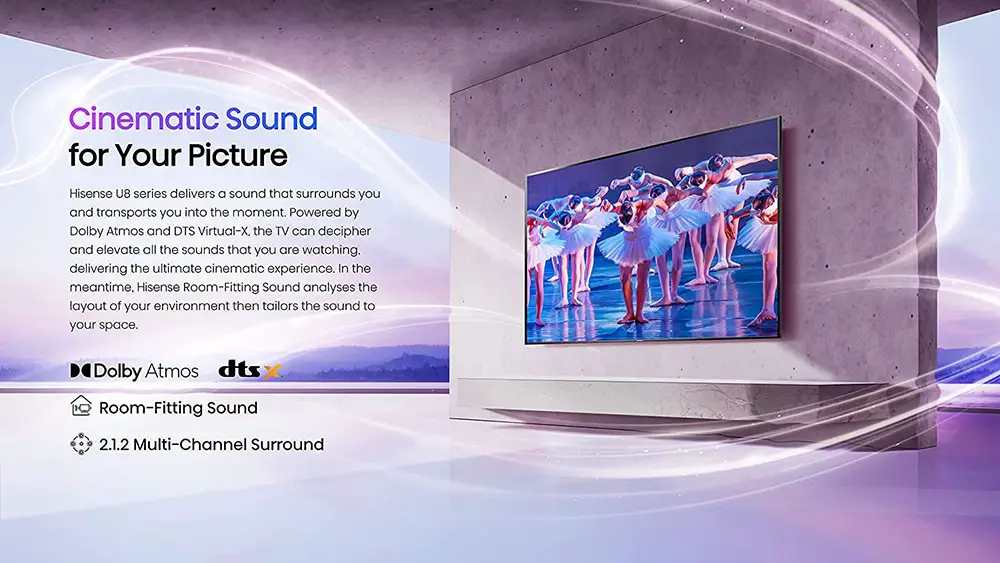 Audio Quality
Next in line is sound performance and from what we see the U8H features a pretty standard 2.1 channels audio system with a total of 40 watts of power (2 x 10 watts and 20 watts for the subwoofer) which is a cut above the usual 2.0 channels systems we see in the lower categories.
The U8H has punchy sound with good clarity on the dialogue and boosted low end but as always these can do little to immerse you in the action. There is no surround activity while pushing the volume to high levels introduced some noticeable compression artifacts.
There are a few sound modes to choose from, as always, but these doesn't change much in terms of the actual sound output you will get. You also have the ability to output either from the TV speakers, through the eARC connection or even to some Bluetooth enabled speakers. At least with the inclusion of eARC the U8H can pass-through not only Dolby Atmos but also DTS:X to an external device like a soundbar or AV receiver.
The U8H supports not only Dolby Atmos but also DTS and IMAX Enhanced which not many brands do. Actually out of the big three only Sony has similar support. Although with a 2.1 channels system you should not expect much in terms of what the TV itself can do, at least these are available for those interested.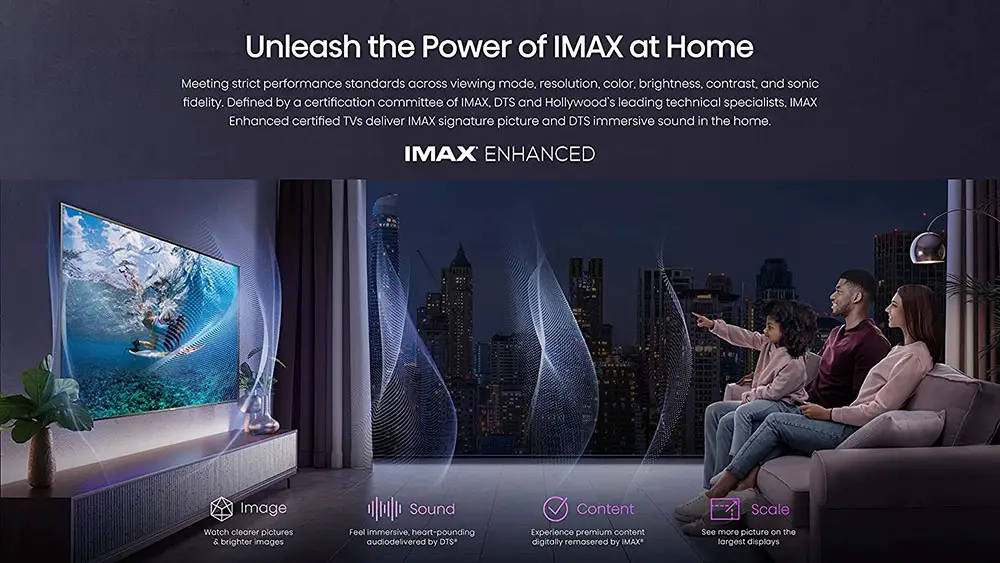 Overall the U8H tries a lot to do more than what today's smart TVs can and the included subwoofer helps a little to boost the low end and give some necessary weight to the output. But if you really want some cinematic immersion make yourself a favor and get at least a good performing soundbar if not a whole surround system.
Ports and Connectivity
As we mentioned above the U8H comes with two sets of ports located at the right side of the back panel. Those looking sideways include four HDMI ports, one USB port, the antenna/cable connector, an audio/video input jack that needs a special adapter to be attached, a headphones output and one service jack. At the other group we find an Ethernet connector, a digital optical audio output and a second USB port.
As for the HDMI ports in particular, we get two HDMI 2.1 ports along with two more older HDMI 2.0 ones. Although some other manufacturers like LG and Samsung offer more HDMI 2.1 ports at least two are better than one and Sony is actually on the same boat here.
The problem here, as usual, is that one of them is also the one with ARC/eARC functionality so if you plan on using that then you are left with a single HDMI 2.1 port. In general all TVs that feature only two HDMI 2.1 ports use Mediatek's SoC but these in the U8H provide full 48Gbps bandwidth in order to allow high frame rate gaming and all HDMI 2.1 gaming features.
This means that they support ARC, eARC, HFR, ALLM and VRR. With VRR you should know that it is supported out of the box, something that applies for many 2022 models, but only HDMI Forum VRR and FreeSync are available. G-Sync seems to have problems and at least for now it is not supported.
Also we should not forget to mention that the sideways USB port is actually a USB 3.0 (blue one) and this is great as not many brands tend to use them and rely mostly on the archaic USB 2.0 instead.
As for the TVs wireless capabilities we get built-in WiFi6E (Triple-band) along with the Bluetooth although they do not mentioned anywhere which version this TV uses.
Lastly the U8H seems to be one of the first Hisense TVs to come with NEXTGEN TV (ATSC 3.0) but from what we saw sometimes there were certain issues like audio sync problems. Hopefully Hisense will fix these with a firmware update.
Overall a pretty standard configuration for a mid to high tier TV like this one. Let's hope that the limitation of having two HDMI 2.1 ports with the MediaTek SoC will be resolved at some point in the future as this seriously limits the connectivity capabilities of all TVs that come with it.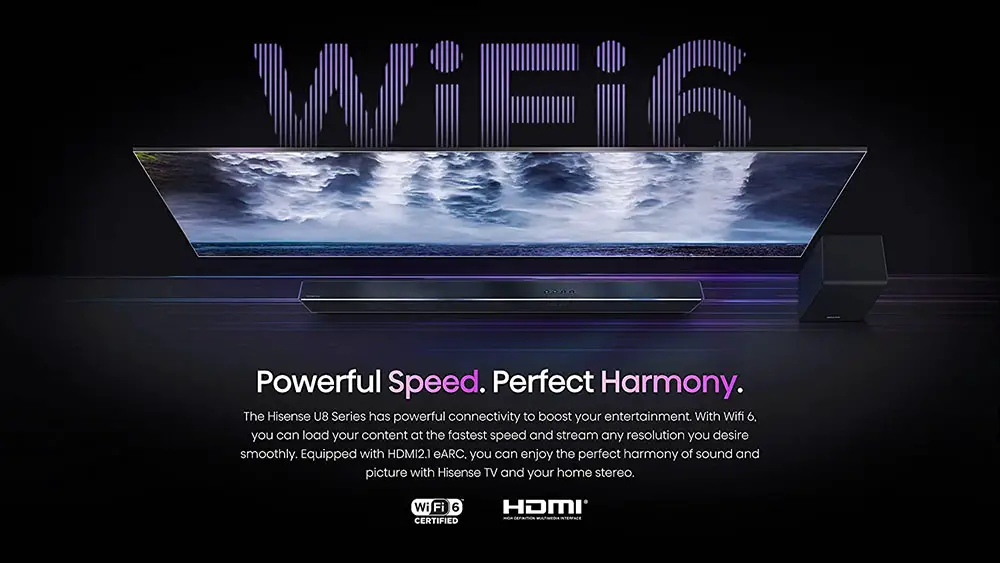 OS, Apps and Features
Unlike Sony, Hisense decided to keep the Android TV OS in their TVs last year, but it seems that for 2022 they finally decided to change and as a result the U8H is using the new Google TV 11.0 as all other Hisense TVs this year.
Now, we need to do special mention on the OS because Hisense is one of the few companies that use different OS for the same model in different regions. As a result the US version of the U8H comes with Google TV while some other markets, like Europe, use the VIDAA U6.0 OS. We cannot be sure about all markets so please check yours to be sure what you are getting.
Now many of you may be puzzled what the difference between Android TV and Google TV is. Well, it's not so much difficult to understand what has changed really. Google TV is still Android TV but with an extra layer on top of it. Think of it like it is with Android smartphones. Most manufacturers that use Android in their releases they use on top of that their own layer that gives this extra something to their UI that make them unique both in appearance and functionality.
The same is with Google TV. You still basically use Android TV but there is the extra Google TV layer on top in order to make the UI feel different both in looks and functionality. The new Google TV 11.0 doesn't seem to be vastly different from the Google TV 10.0 we have experienced in many 2022 Sony TVs. There are some refinements here and there and some minor additions but overall this is basically the same OS from before.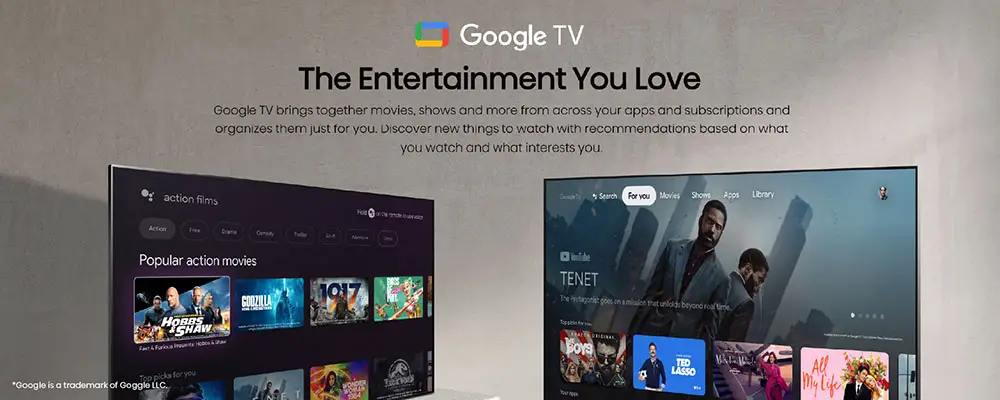 Google TV seems to have been designed around recommendations, either it is movies, TV shows or applications and this seems to be the main focus of the latest OS in general. During setup the wizard asks you of what specific streaming services you use in order to customize the Home screen recommendations.
Google TV, in our opinion, is far better than any version of Android TV that came before. Surely, it needs a bit of getting used to but after a while it's easy to navigate around its menus and multiple settings. Navigation was really smooth with the U8H and all the apps we tried would open relatively fast and with no major delays.
If there is one thing that Android has in abundance that is definitely the huge support from developers. Through the included Google Play you can find literally thousands of apps that you can download and use except from the pre-installed ones. There is so much content available that you will definitely find the ones you are looking for and the list goes on and on.
Some of the most prominent names are all accounted for including Disney+, HBO NOW, Hulu, Prime Video, SHOWTIME, Pandora, Sling TV and YouTube. As always some of them are region dependent so make sure the ones you are interested in are working in your area.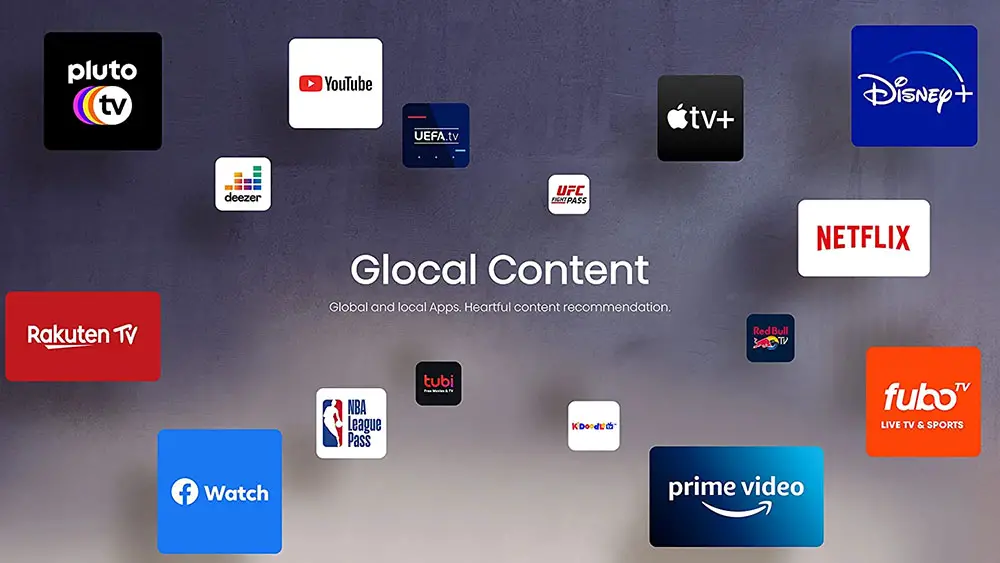 Chromecast is also available and it gives you the ability to stream content from other Chromecast enabled devices like mobile phones and tablets directly to the TV. Voice control is also present as you can use the remote's built-in microphone to give commands to the TV. Google Assistant and Amazon Alexa are both supported and functionality extends far beyond controlling the TV itself as you can also control any smart devices you have in your house.
There is also a built-in media player available that you can use to playback various video and audio content from any external storage connected to the USB ports. The list of files and codecs supported is rather extensive and in fact Hisense has vastly improved the codecs support in their 2022 media player compared to last year. Audio support has also improved as now except from MP3 files it can also playback AAC, WAV and FLAC.
Once again having tried a selection of files showed that the U8H can playback most of them with only a couple of them having problems. Some extremely high bitrate files and some with weird codec combinations failed to playback correctly but overall we are very happy with its behavior.
The new Google TV 11.0 in the U8H feels better overall with small refinements, faster and notably smoother navigation while some minor additions are always welcome and the improved media player can surely be handy. The new Google TV feels and looks better than ever.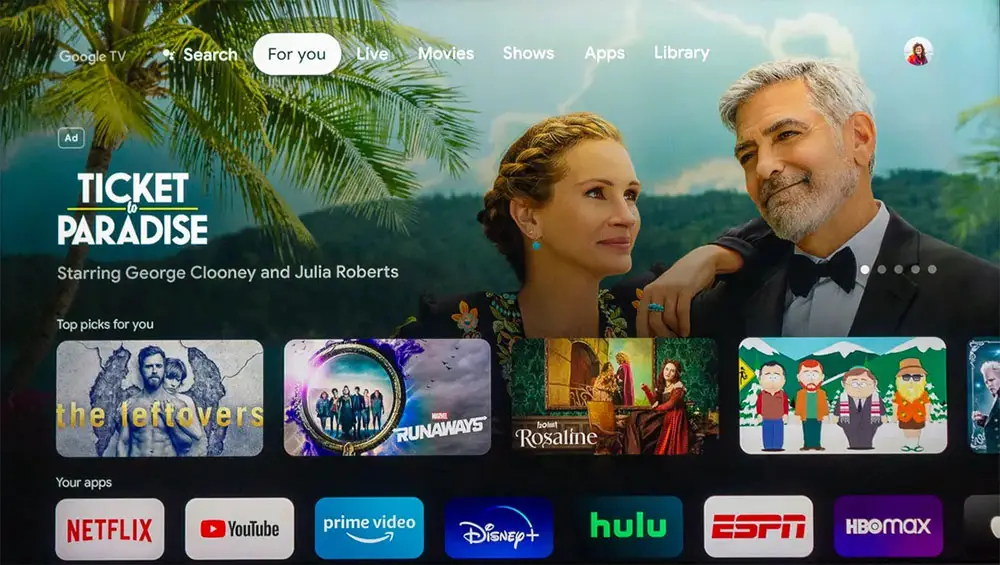 Final Thoughts
The U8H is a really difficult TV to judge and actually it was one of the hardest "Final Thoughts" section we had to write. On one hand the TV comes with some breathtaking specs but when you consider its downsides, these do not allow us to give this one the absolute blind buy TV badge. And then you see the price and you again have second thoughts about all this.
The TV has a lot of good things to talk about. Its amazing brightness, excellent contrast, great colors and low input lag are complemented by its full support for all HDR protocols including HDR10+ Adaptive and Dolby Vision IQ, its HDMI 2.1 ports with its full gaming features support and full Google TV 11.0 treatment. All of these with a price of just $699 for the 55″ version which is totally insane.
And just about when we are ready to give this our highest recommendation in the budget enthusiast market we are reminded of the TV's banding issues, stuttering with low frame rate content, bad viewing angles, mediocre upscaling and so and so audio reproduction. And although this is not directly affecting the U8H for the US market, the U8H in some other markets is vastly different in specs and performance than the one we had, adding some major confusion among consumers.
Closing, and after a lot of thought and discussion, we believe that the Hisense U8H is a really worthy TV. If it didn't have some of those annoying problems we would definitely declare this a must buy, especially at this price. But as nothing is perfect, the U8H has to settle with its own problems and so are you. If you want some top tier performance but your wallet does not allow it, then the U8H is your only alternative, and one that really deserves your consideration.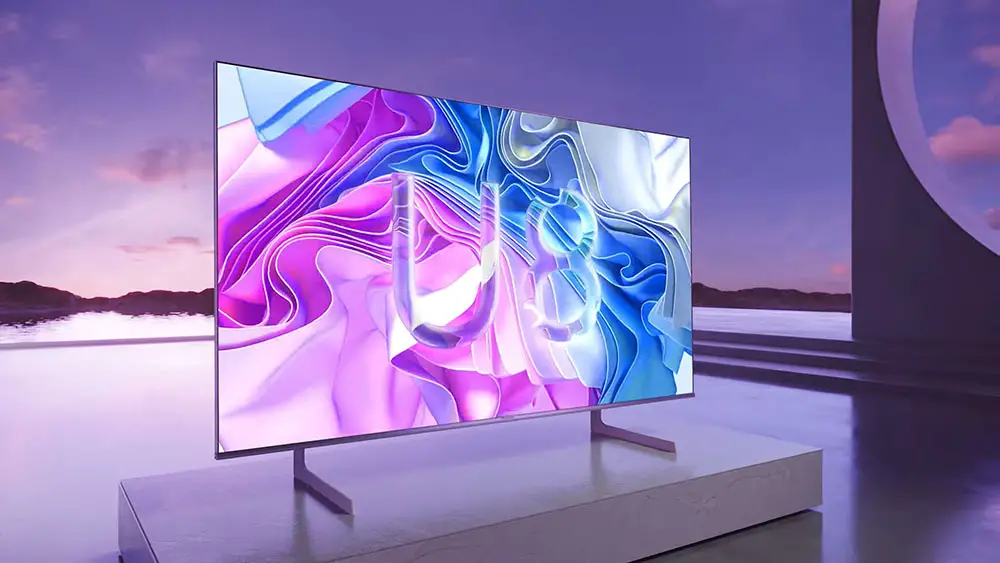 For more reviews you can check our dedicated 4K LED LCD TV reviews list or even look at our Product Reviews Table where you can find the brand and specific product you are looking for.
Also don't lose the chance to subscribe to our Newsletter and gain exclusive privileges.
---
---
Cheapest Places to Buy :
---
Hisense U8H Specifications