JBL Bar 3.1
Movies Performance
9.0/10
Inputs and Features
9.2/10
Pros
Good movies performance
Very easy setup
Powerful bass
Reasonable priced
Cons
No real surround immersion
Cheap looking remote
Music performance could be better
Mid-range is lacking
---
Cheapest Places to Buy :
---
JBL has created some very nice soundbars lately packed with nice features and enough power to their models offering nice value for money. Recently we reviewed another soundbar from JBL, the JBL Bar 5.1, which left us with very good impressions sporting a modular design and good performance so when we learned that we will be reviewing another of their models we were again excited to see what is on offer from such a respectable company which is now owned by HARMAN, a world leading audio company that was recently acquired by Samsung.
This time we will be reviewing a lower tier model in their soundbar lineup and we were curious what kind of performance a more budget friendly model can give us. Also having no real surround capabilities is always limiting these type of soundbars to offer any kind of real immersion even though a lot of them come equipped with various virtual surround technologies. Can this soundbar perform better? Does it provide proper immersion during viewing? And is it powerful enough for the price asked? All these questions and more are answered in our JBL Bar 3.1 review.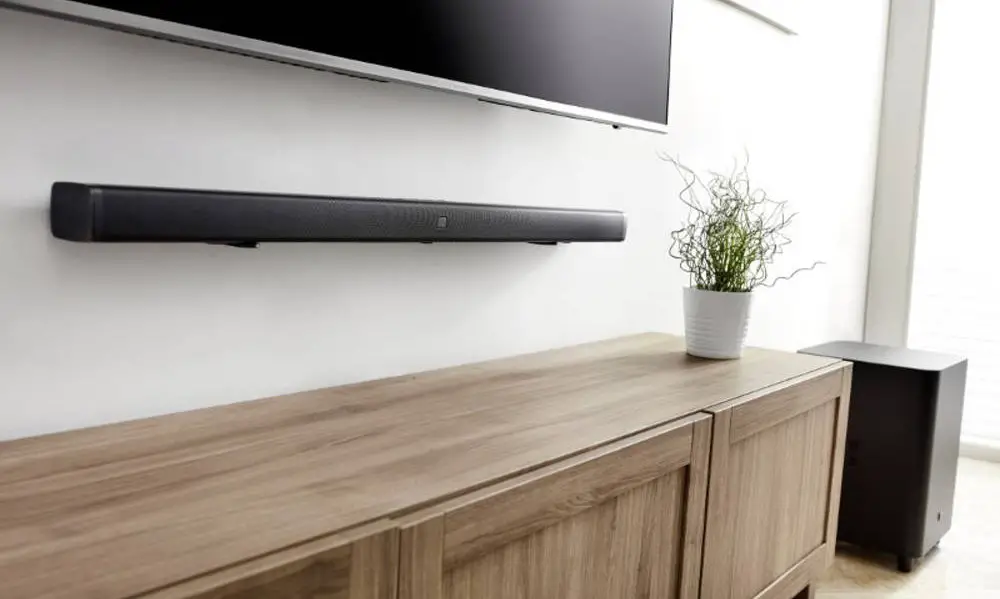 Design, Inputs and Features
The JBL Bar 3.1 soundbar has a fairly standard design that will most likely pass unnoticed by most. It's neither fancy or bad looking and thus will manage to keep a low profile in the room that will be placed. Measuring 40" x 2.3" x 3.1" / 1018 x 58 x 78mm (W x H x D) and weighting 2.3 Kg / 5 lbs, the Bar 3.1 is neither a monster soundbar nor the smallest we have seen. Usually big soundbars have problems fitting under smaller TVs but this one can sit comfortably even under a 43″ panel without making it look like it extends a lot from both sides.
Most of the soundbar front and top sides is covered in a dark grey metallic speaker grille with the color being an odd choice as most other equipment is usually matte black and as a result it makes color combination a bit off. Center front we find the JBL logo while on it's right under the grille there is a big, bright display showing which input you have chosen. The display light closes after a while in order not to become bothersome during viewing. On the top center we find four circular control buttons in a single row for power, volume up, volume down and input source selection.

The back is where we find all connections in two separate inset sections. Our guess is that this was made in purpose in order to help with cable management as having all ports at the same place would make the connections, especially of the thick HDMI cables, a real pain. As such in the right inset JBL has placed the power connector as well as two HDMI IN ports while in the left inset section we get another HDMI input, an HDMI OUT port with ARC support, 1 digital optical input, 1 3.5mm analogue input and a USB port for playing stored music from external devices like flash drives or hard drives.
In order to feed it's three channels JBL has equipped this soundbar with 6 x 2.25″ racetrack drivers accompanied by 3 x 1.25″ tweeters. There are no sideways or up-firing drivers and as such there is no capabilities for this soundbar to playback any of the new object-oriented audio tracks like Dolby Atmos or DTS:X.

With the soundbar comes a wireless subwoofer that is equipped with a 10″ down-firing driver. Measuring 12" x 12" x 17.3" / 305 x 305 x 440mm (W x H x D) and weighting 12.1 Kg / 26.6 lbs the sub is really anything but subtle. Having the size of a small trash can, this sub can definitely deliver some much desired bass to the overall experience. On the back we only find the power connector and a small button to pair it with the soundbar. Normally the two come connected from the factory but even if you have to do it yourself following the manual instructions is easy and fast.
In total both the soundbar and sub provide 450 watts of power which is more than enough for this category and pricing. But is power enough to deliver a good acoustic result? We will see this a little further down in our testing section.
The included remote is very similar to the one we saw in the JBL Bar 5.1 soundbar with only some different buttons due to different functionality resulting in us having the same opinion as before. The remote is an ugly piece of plastic that will get the job done but will not offer anything else. It looks cheap, it feels cheap and it is as if JBL forgot to spend some time creating a nice looking remote for all it's soundbars. Buttons on the remote include controls for all it's functions and is very simple to use and understand what each one is supposed to do.

The JBL Bar 3.1 comes with 5 different sound modes being Standard, Music, Movie, Voice and Sport. Standard will offer a balanced result and is good for mixed viewing while Music is very similar to standard and you will need a trained ear to spot any major audio differences. Now Movie you will definitely want to use it as it enhances the low frequencies making them stand out more in order to give a more dynamic result. Voice gives priority to the center channel in order to enhance dialogue while at the same time dials back the bass but we wouldn't use this for anything else other than some TV show or something. Lastly Sport mode again enhances the bass while also adding a bit of an echo for a more dramatic effect.
Another audio feature on offer is JBL surround which tried to create a pseudo-surround feeling with just the front channels. We were a bit skeptical how this feature will perform in such a budget friendly soundbar and the results are more or less what we expected. The surround feature manages to expand the sound stage a bit more towards us and gave it a little more depth but in no way did it manage to give us a sense of real surround sound so anyone who expect something like that should keep their expectations at check.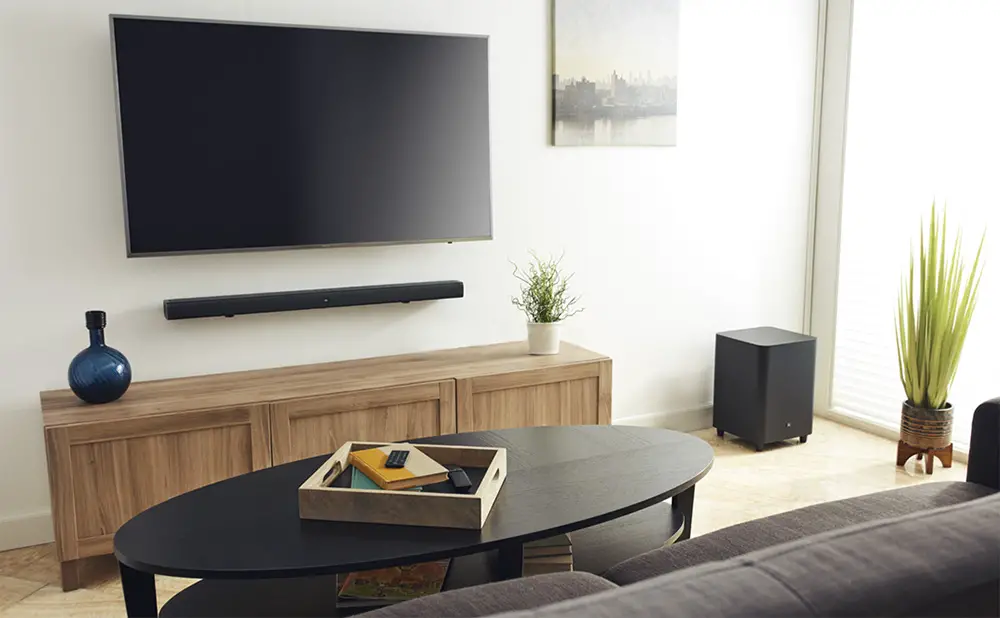 Lastly there is support for Bluetooth streaming so you can connect any device like a smartphone and stream music to the soundbar. Be aware that this works only one way as you cannot stream music from the soundbar to your Bluetooth device.
JBL has equipped the Bar 3.1 with a nice feature set that is in line with it's price. It has enough ports and the most important features needed in order to create a nice setup for your movies and music enjoyment. But features may be one thing with performance being another so let's see how this one performed in the following section.
Performance
Unlike the JBL Bar 5.1 here we don't have any surround speakers and thus there is no need for any calibration for the surrounds to be done. Connecting the soundbar can be done either through the HDMI ports or the optical port but we chose the HDMI one. The only real calibration that you can do is the Sound mode selection and the bass calibration so things are pretty simple something very good and practical for people that are not very much into calibrating such devices or just want to keep things simple.
Movies
For our movie testing we chose Movie mode and set the bass at level 15 as a starting point. The film we chose as always is Pacific Rim: Uprising in 4K UHD which has a nice audio track with busy but also more ambient filled moments perfect to test any kind of audio equipment. After all the necessary preparations we put the disc in our Panasonic UHD player and go through our pre-selected test scenes.
Immediately we were surprised by the amount of bass the subwoofer was offering us. It was not excessive nor it was covering the rest of the audio range and having set it at level 15 seems to be perfect for our tastes. We tried to up the bass level a few points just to see how it behaves and the walls really started to shake. So if it's bass that you want then this soundbar will definitely not disappoint you.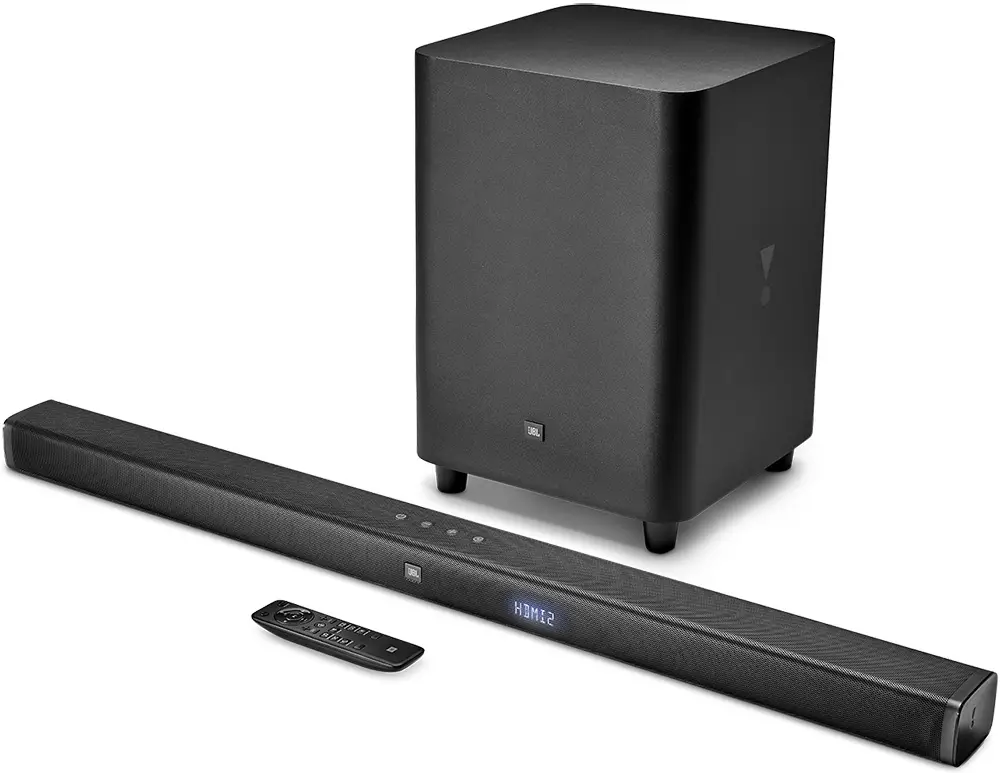 Having a dedicated center channel means that high frequencies as well as vocals and dialogue are clear and there is good separation from the rest of the channels. The soundbar offered good transition between the left and right channels and it gave us a sense of a wider front sound stage that extended more to the sides.
But while on the front things were looking good the same cannot be said about the surround. The JBL Bar 3.1 offers no surround depth due to the omission of any surround speakers. JBL has equipped the soundbar with a feature called JBL surround and while this technology manages to push a bit the soundstage towards us at no point did it manage to offer an authentic surround experience. The same can be said about the height layer also. Since there are no Dolby Atmos enabled drivers the top layer feels a bit empty and one dimensional.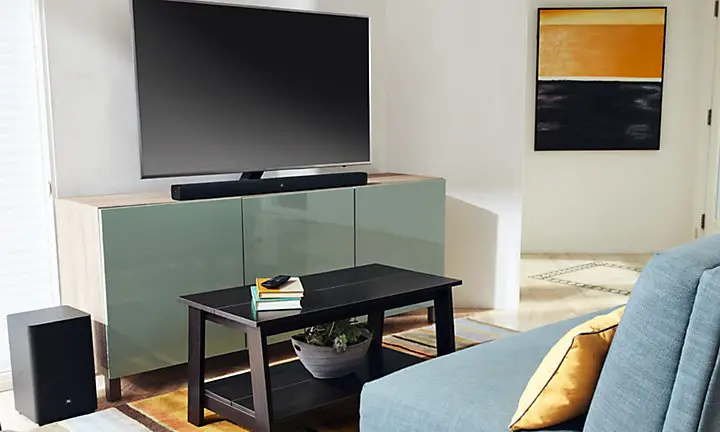 The JBL Bar 3.1 has obviously limited capabilities. With no surround or height speakers it was a given that we should not expect anything fancy. Soundbars by design offer limited capabilities in comparison to a fully fledged audio system so when we are talking about a budget friendly soundbar expectation should never be too high. Taking these into consideration performance is rather good offering good separation between the existing channels, dialogue is clear and bass will rumble your house…and probably the neighbors' also.
Music
Finishing with our movie testing next in line was a few audio tracks to see how music was performing. While we tested different sounds and rhythms our sense here is that the JBL Bar 3.1 is lacking a bit in mid-range. Low frequencies remain dominant while the high are clear and sharp but there seems to be a bit of a disconnect in the middle that is more obvious during music playback. Maybe to a casual ear this may not be so much obvious and for many certainly this will not be a huge problem as this soundbar can definitely offer a good enough audio experience but the problem is there and should be mentioned.
Other than this we didn't notice any other major problems. The Bar 3.1 managed to follow sudden shifts on song dynamics rather good while there were no major audio distortions. Considering what price we are talking about performance, although not great, we would say that is very adequate.
Final Thoughts
JBL created a soundbar that has some very characteristic advantages but also some glaring drawbacks. On the one side its' simplicity makes it ideal for everyone that wants an easy to setup system that can offer better performance than any integrated TV audio system. Also the included subwoofer offers ample bass for the lovers of low frequencies. Connection ports are enough to connect all your favorite devices while controlling the soundbar could not be easier as it's functions and features are easy to understand and manage. Finally movies performance is rather good and can definitely offer a better experience than without this soundbar at all.
On the other hand mid-range is lacking and this may not be so obvious during film viewing due to the low frequencies becoming more apparent but during music reproduction this becomes more audible. Also there is no sense of depth behind the viewer as well as above as the lack of dedicated surround and height speakers is undermining it's effectiveness to offer such immersion. Lastly the remote is poorly designed and although it can get the job done we were expecting something better even for this price range.
In total we cannot say that we are disappointed with the JBL Bar 3.1 as its' lack of surround or up-firing drivers made us understand from the start what to expect more or less. The powerful subwoofer was a nice surprise as the simplicity to set it up also. But the lack of mid-range was a bit disappointing. JBL Bar 3.1 is clearly targeting a very specific group. Those that want a simple setup with not a lot of cables or settings to deal with that offers a nice upgrade over the TV's built-in audio system but at the same time don't care very much about having a nice surround experience and all this at a good price. If you identify yourself somewhere in that description then the JBL Bar 3.1 is definitely worth it as it will elevate the audio performance of your TV without a lot of fuss and trouble.
For more reviews you can check our dedicated Soundbar-subwoofer combo reviews list or even look at our Product Reviews Table where you can find the brand and specific product you are looking for.
Also don't lose the chance to subscribe to our Newsletter and gain exclusive privileges.
---
Cheapest Places to Buy :
---
Specifications
Total Maximum Power : 450W
Max SPL : 103dB
Frequency Response : 35Hz to 20KHz
Soundbar Transducer Size : 6 x 2.25″ racetrack drivers, 3 x 1.25″ tweeters
Subwoofer Transducer Size : 10″
Ports : HDMI Video Inputs X 3, HDMI Video Output (with Audio Return Channel) X 1, Analogue X 1, Optical X 1, USB X1
Connectivity : Bluetooth 4.2
Soundbar Dimensions (W x H x D) – Weight : 40" x 2.3" x 3.1" / 1018 x 58 x 78mm – 2.3 Kg / 5 lbs
Subwoofer Dimensions (W x H x D) – Weight : 12" x 12" x 17.3" / 305 x 305 x 440mm – 12.1 Kg / 26.6 lbs