JBL Bar 5.1
Design -

88%

Movies Performance -

92%

Music Performance -

90%

Inputs and Features -

90%

Price / Quality -

92%
---
Cheapest Places to Buy :
---
Soundbars have been created with one thing in mind. To offer a better alternative to the mediocre sound that most TVs are producing nowadays but without the need of a lot of extra space that would otherwise undermine the whole purpose of such a system. And although technology in soundbars have progressed a lot since the early years they still have a major disadvantage. Creating a fully immersive surround sound field is still out of reach for most of them and they only manage to create a wider field that feels better but it still remains mostly in front of the viewer.
A few new technologies have been developed recently to address this by creating virtual surround speakers and although these soundbars create a better encompassing sound field they cannot beat the experience of a fully surround system. Here comes JBL, a very respectable company and one that has created some very nice speakers over the years, to give us a soundbar that tries to merge both a soundbar and a surround system into a single device. Have they managed to succeed? Continue reading our JBL Bar 5.1 review to find out.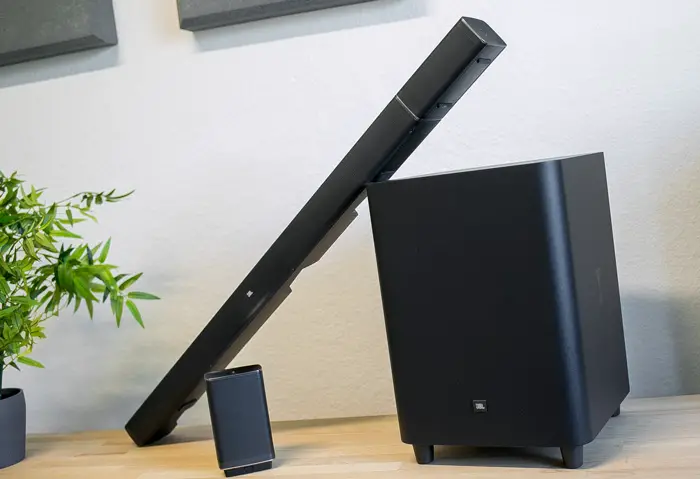 Design, Inputs and Features
The JBL Bar 5.1 soundbar features a very unique design, one we had never seen before and it clearly shows that JBL tried to think out of the box in order to offer the best of both worlds. The advantages of a soundbar with the immersion of a fully surround audio system. But in order to do so actual surround speakers are needed, so how did JBL managed to merge these two together? By creating a soundbar that has surround speakers that attach to both sides of it and can be removed at any moment you want to use them. A very clever design indeed but not without a few pitfalls. But let's take everything for the beginning.
With the surround speakers attached on the main unit the soundbar is measuring 1148mm (45″) long which not small at all and you should definitely be sure it fits where you want to place it. It's height is 58mm (2,3″) which means it will fit comfortably under most TVs but it also gives you the option to wall mount it if you want by providing all the necessary brackets. JBL provides separately brackets for the main unit and for the surround speakers so you get the freedom to choose what you want to do.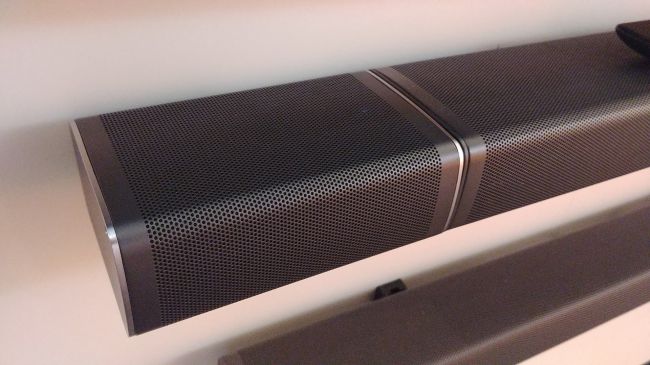 Design wise the main body is nicely made with a perforated plastic body mesh that is decorated with chrome metallic trims. It may not be the best looking soundbar ever made but is definitely above average and better looking even than some other more expensive models we have reviewed in the past. On top of the soundbar we find four round control buttons for power, volume and source selection while on the front in the right side of the logo there is a hidden display under the grill and shows you basic navigation directions. The display comes with three levels of dimming and it turns off quickly in order not to become bothersome.
With the unit also comes a wireless subwoofer that is bigger in size than what we normally see in this category of soundbars and it has a very common black box type of design with a matte black color and measuring 440 x 305 x 305 mm (16″ x 12″ x 12″). It's round corners give it a bit of character in an otherwise plain design. Being wireless the subwoofer only has a power cable on the back and a button in order to sync with the main unit.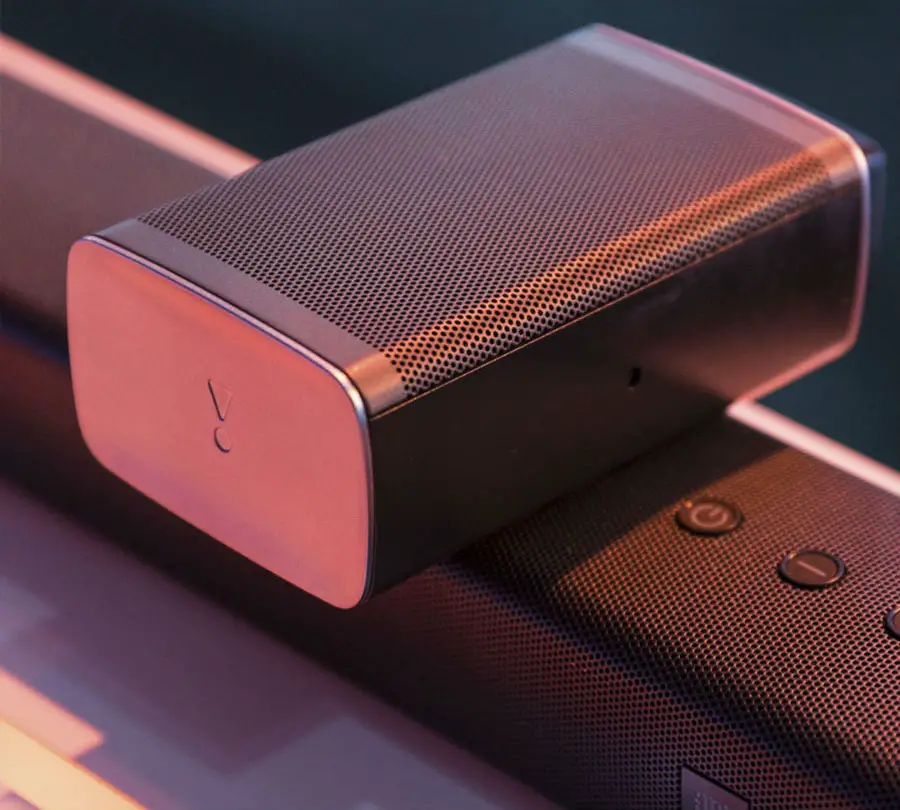 Let's talk a bit about the surround speakers. As we said above they are attached to both sides of the main unit using magnets and you can separate them at any time in order to use them as rear speakers. JBL decided to go full wireless with these speakers and here lies it's biggest advantage but also a major flaw. Going full wireless means you don't have to mess with any wires at all. No audio cables, no power cables, nothing. This means the speakers run on batteries and these will have to be recharged every few hours.
Fully charged the speakers can last around 10 hours of use which is not bad in our opinion. When batteries are empty you will have to reattach the surrounds in the main body in order to recharge them which takes about 3 hours to do so. If you use your surrounds very frequently then this constant recharging may be a bit bothersome but if you are watching movies once in a while it is not so bad. JBL has equipped them with a system to go into stand by or even to completely power down if they remain inactive for 10 and 20 minutes respectively in order to conserve power.

The main unit that includes the three front channels (left, center and right) as well as the two surround speakers are equipped with 6 x 2.25″ racetrack drivers plus 3 x 1.25″ tweeters bringing it's total power to 210 Watts. And if you add the subwoofer that uses a 10″ driver with a total power of 300 Watts then we get a staggering total power of 510 Watts which is impressive for a soundbar of this range.
The soundbar comes equipped with a couple of features with the main being SoundShift which basically is pairing the soundbar with your smartphone through Bluetooth in order to use it for music streaming. The switch is made very easy on the fly as you press play on your smartphone and the soundbar mutes any other sound playing like from the TV to give priority to this. This feature can be turned off at any time.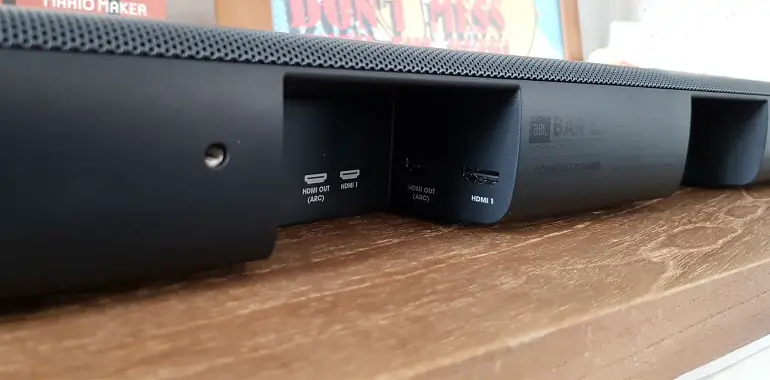 JBL has also equipped the soundbar with a USB port that you can use for connecting some external storage for USB music playback. The position of the port is at the back so it may be a bit difficult to use this all the time.
Talking of ports the soundbar have all ports positioned at the back in a strange way we dare to admit. First of all not all ports are grouped together as JBL has separated them in two groups. The middle section of the back side has two insets and at each side they have positioned the ports looking sideways in order to help with cable management.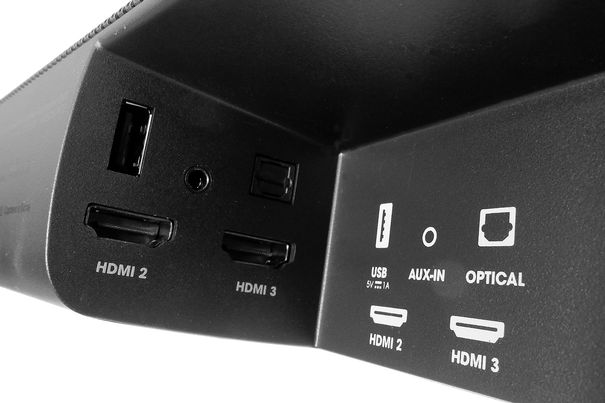 In one side we get two HDMI ports with one HDMI IN and one HDMI OUT that also supports ARC. In the other side we get a couple more HDMI IN ports, an analogue IN port, a USB port for connecting external storage and an Optical port.
Controlling the soundbar is done through the included remote and although the buttons layout is good providing everything you will need, it's design and general feel is rather cheap and bad looking making you think that the remote was an afterthought after a generally very nice design of the main unit. Although we didn't have any problems it's plastic body didn't feel very sturdy so hopefully it will not break down after some use.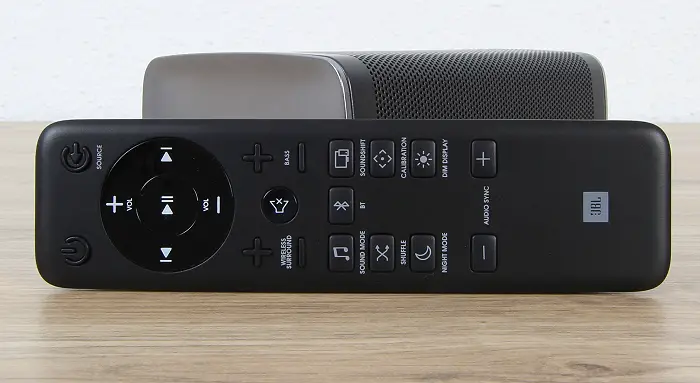 Performance
JBL's first goal was to design a system that would be easy to use. And it seems that this holds true as setting up the soundbar was as easy as unpacking a kid's toy. With the surround speakers attached to the main body the system behaves as a 3.1 system. The moment you detach the surround speakers the system turns into 5.1 mode automatically so you don't have to do anything. Both the surround speakers and the subwoofer comes synced from the factory so there was no need for us to do anything about it.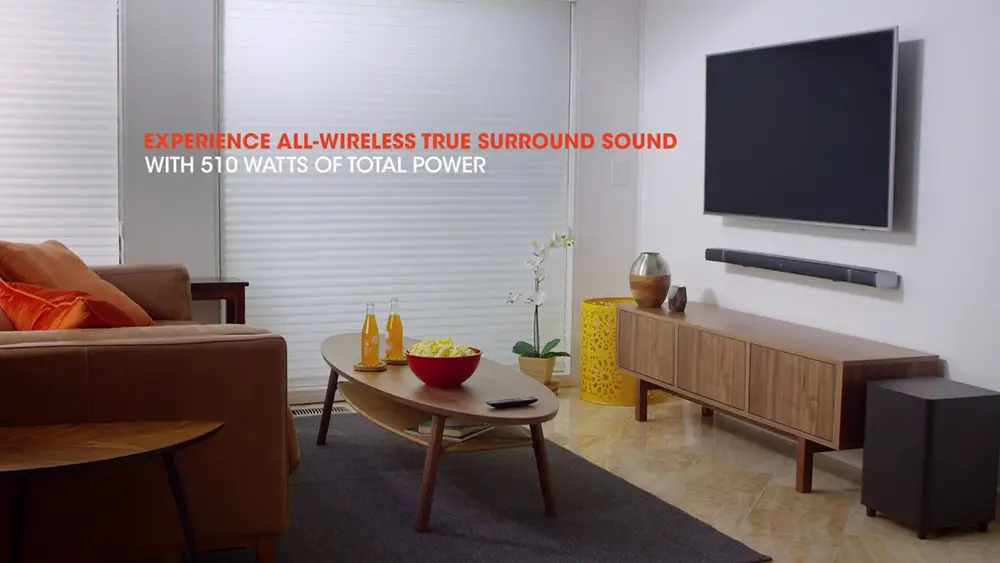 With the soundbar JBL has included a calibration microphone in order to make automatic calibration of the 5.1 system. The whole process is similar to most AV receivers calibrations with the system testing each speaker in order to find the best balance. All you need to do is place the surround speakers where you want, position the test microphone and press the corresponding button on the remote. Simple, easy and fast.
But even if the automatic calibration does not satisfy you there is the ability to control the bass and surround speakers power manually in order to bring them to your liking. The soundbar provides a few sound modes that you can use depending on the situation. The ones available are movie, voice, music, sports and standard. There is also a Night mode in which the soundbar flattens the dynamic range in order to avoid sudden spikes in volume that can be bothersome during night when there are people sleeping in the house and dinosaurs are wreaking havoc.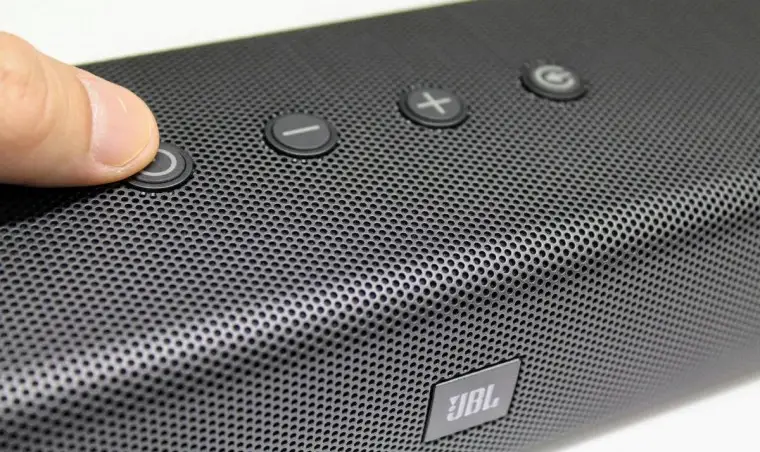 Movies
Just for the sake of comparison we decided to test the soundbar in both 3.1 and 5.1 setups in order to determine how it behaves in both situations. Starting with the surrounds attached to the main body we used our copy of Pacific Rim: Uprising and choosing specific scenes to see how the Bar 5.1 would behave.

Our first impression was rather positive with the sound field being completely in front of us naturally but the soundbar managed to deliver good separation between the front channels. What was obvious was that the bass was taking many times center stage as the system seems to favor the lows a lot which can create a bit of imbalance.
Between the strong lows and the sharp trembles the mids lacked a bit of warmth that may not be immediately apparent but we noticed it after a few tests. As a 2.1 system the soundbar cannot provide a very immersive experience but it is much better than any TV would ever be able to do and in this JBL has done a very good work.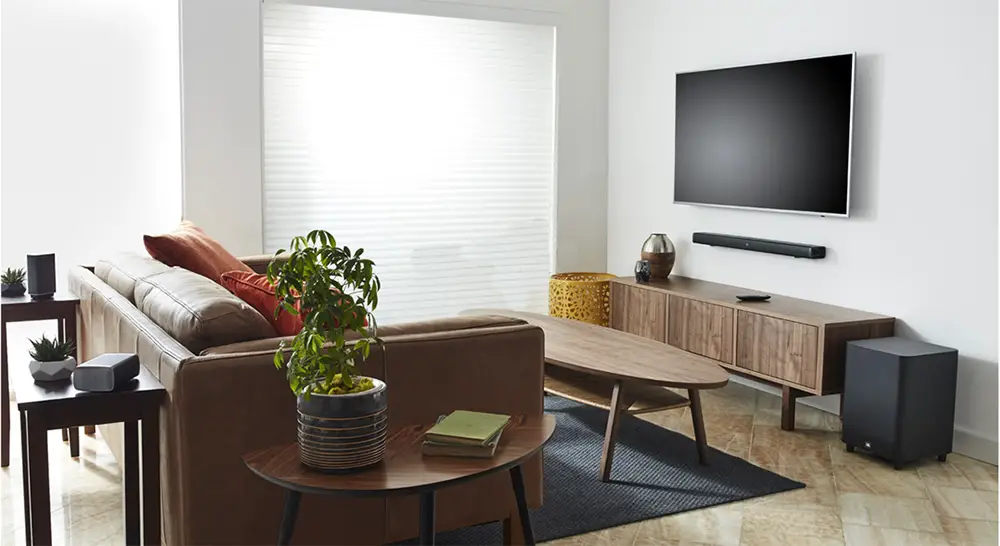 Separating the surround speakers from the main body makes this system a completely different beast. Suddenly the immersion bubble encompassed the whole viewing area. Surround sound effects came to life and we felt like we were right there into the action. The surround speakers need a bit of  calibration in order to find the sweet spot but after that they definitely deliver as projectiles were passing right next to our heads while more than once we turned our heads to see from where the sound was coming from.
Between explosions, crumbling buildings, projectiles flying and robots clashing the Bar 5.1 will never slow down as it feels right at home. In general we would say that the soundbar felt like it was mostly designed for movie fans that demand room shaking bass, clear dialogue and strong surrounds. And in this regard the Bar 5.1 delivers and more.
Music
Testing a few music tracks also revealed the same behavior we saw during movie testing. The soundbar was very capable when dealing with bass-heavy music while on the other hand it felt like there is lack of mid-range presence during playback of tracks that rely on warm mids. And although during watching movies the soundbar was managing to cover this weakness with it's bombastic bass and surround presence here things are a bit more messy. Trebles on the other hand were sharp and made their presence stand out.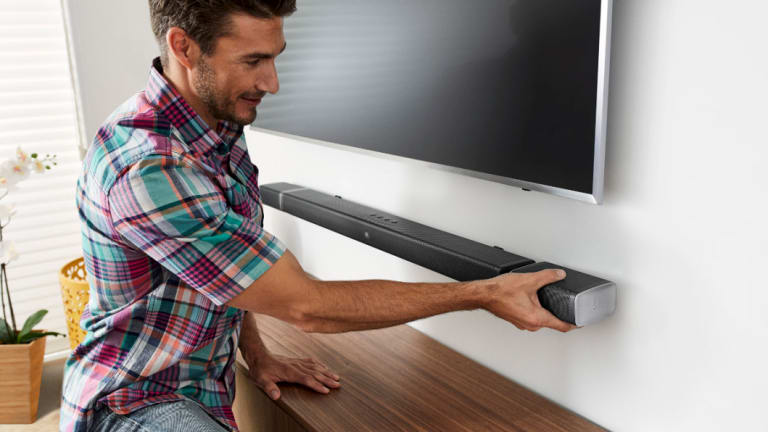 Final Thoughts
JBL tried to create a modular design that would take the best of both worlds and come up with a design that is not only easy to use in any given situation but also provide good performance for all tastes. In our opinion they managed to do so but not without a few losses.
The JBL Bar 5.1 provides both a 3.1 and a 5.1 system that is easy to setup and to calibrate, provides good performance for movies viewing and is the epitome of a true wireless 5.1 surround system as the surround speakers are completely cable free while the subwoofer only requires a power cable.
On the other hand it has weak mids and during films with lots of bass and surround action this may not show very much but during music playback it will show it's ugly face more. Recharging of the surround speakers can be a chore for some people while the remote design leaves a lot to be desired.
JBL has put a lot of thought into this system and it shows. Trying to create an all around system that would do everything was a smart move in trying to reach a wider audience and although it has it's flaws we believe the good far outweigh the bad. Adding to the above a nice overall design and a relatively good price for a complete 5.1 system the JBL Bar 5.1 is a system that we would definitely recommend to someone that will use it mostly for movies. As for music playback it will do the job just fine but there are other much better options to consider also.
For more reviews you can check our dedicated Full Surround Soundbar reviews list or even look at our Product Reviews Table where you can find the brand and specific product you are looking for.
Also don't lose the chance to subscribe to our Newsletter and gain exclusive privileges.
---
Cheapest Places to Buy :
---
Specifications
Total Maximum Power : 510W
Max SPL : 104dB
Frequency Response : 35Hz to 20KHz
Soundbar Transducer Size : 6 x 2.25″ racetrack drivers, 3 x 1.25″ tweeters
Subwoofer Transducer Size : 10″
Ports : HDMI Video Inputs X 3, HDMI Video Output (with Audio Return Channel) X 1, Analogue X 1, Optical X 1, USB X1
Connectivity : Bluetooth
Soundbar Dimensions (W x H x D) – Weight : 1148 x 58 x 93 (mm)\ 45″ x 2.3″ x 3.7″ – 3.9kg \ 8.6 lbs
Subwoofer Dimensions (W x H x D) – Weight : 440 x 305 x 305 (mm) \ 16″ x 12″ x 12″ – 13 Kg \ 28.7 lbs
Surround Speaker Dimensions (W x H x D) – Weight : 165 x 59 x 93 (mm)\ 6.5″ x 2.3″ x 3.7″ – 0.6kg \ 1.3 lbs