JBL Cinema 610
Design -

90%

Movies Performance -

88%

Music Performance -

88%

Inputs and Features -

85%

Price / Quality -

90%
---
Cheapest Places to Buy :
---
When thinking about home theater audio surround systems we tend to think about top of the line equipment and crazy speakers setups that cost a lot of money. But there are many people that don't have neither the budget nor the space to create their dream system but still want to enjoy some quality viewing with a surround system. Here comes JBL that may be a brand that offers top of the line speakers but also have a few models that are mostly targeting the average consumer that wants to spend as little money as possible for an audio setup but with the quality of such a respected company..
For that reason JBL has created a home cinema speaker system that offers good enough performance without breaking the bank and at the same time having small enough size to fit in tight spaces and small rooms. Cinema 610 is this kind of system as it was created first and foremost with offering the best surround experience at the lowest price possible. But is it good enough to be worthy of the cost or in their trying to create a cheap system JBL lowered the quality too much? Read our JBL Cinema 610 review to find out.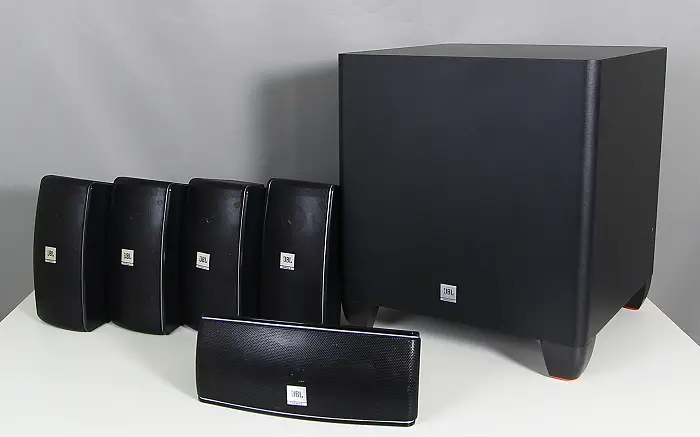 Design, Inputs and Features
The JBL Cinema 610 is a lovely 5.1 channels system and you understand this from the moment you look at the box as most of it's space is being occupied by the subwoofer. Upon unboxing we got 4 identical speakers that are meant for the main front and surround channels, a center speaker and an active subwoofer.
The 4 main/surround speakers come with dimensions 7.87" x 3.8" x 3.92" (200mm x 96.8mm x 99.5mm) and weight 0.8kg (1.76lb) and are compact enough to fit almost anywhere. Naturally being so small you will have to place them on some furniture or mount them on the wall with the included wall mounts. Their black plastic casing feels solid enough while the drivers are being covered by a metal grill with the JBL logo standing in the middle with prominence. Speaking of drivers each of these 4 speakers comes with a 75mm (3") cone that covers the mid-range and a 32mm (1.25") tweeter for the high frequencies. The speakers are rated at 60W power with 86dB @ 2.83V/1 meter sensitivity and a frequency range of 130Hz – 20kHz.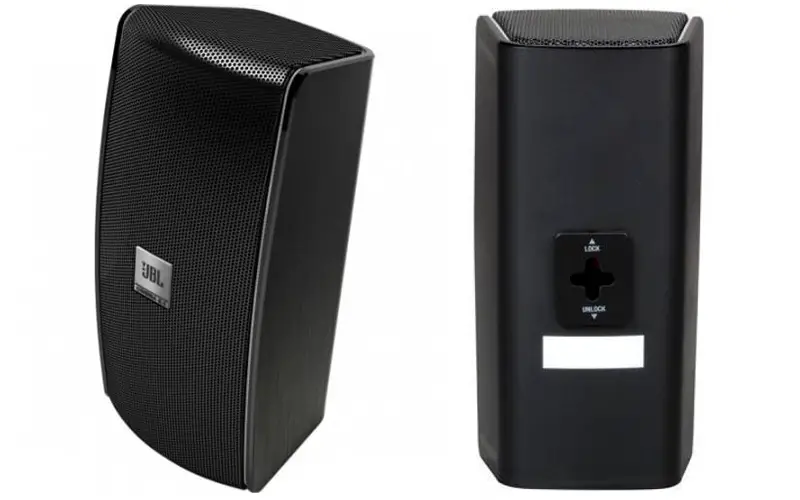 The center channel on the other hand uses a similar setup but has dual 75mm (3") cones and a 32mm (1.25") tweeter and as such it's size is bit different at 3.92" x 9.4" x 3.78" (99.5mm x 239mm x 96mm) and weights 1.23kg (2.7lb). The rest of the specs are similar with the only difference on the frequency range as the center speaker has a range of 150 Hz – 20kHz and sensitivity of 89dB @ 2.83V/1 meter.
One small detail that we observed was that all these speakers have 4 Ohms impedance. This means that you have to be careful the AV receiver you will connect them to, not only not to be very powerful, as 10 – 100 Watts is the ideal, but also to have support for 4 Ohms speakers or at least be able to handle them.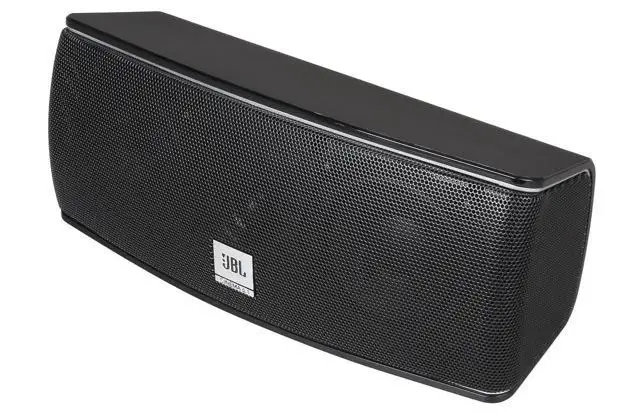 Then we have the subwoofer which has a cubic almost design with clean sides and big feet to leave enough breathing space under for the down-firing driver. The subwoofer with it's bass reflex enclosure has 100 Watts RMS power and frequency response of 38Hz – 250Hz all due to the 200mm (8") woofer that comes with it. In the back things are pretty simple also with only the power connector, a phase switch and a volume knob while on top of them we find a big centered bass port.
The subwoofer has relatively small dimensions at 357mm x 320mm x 324mm (14" x 12.6" x 12.7") and 8.12kg (17.9lb) of weight which make it of rather compact size and you should be able to find a corner to fit it. The subwoofer in general follows the same principle of the rest of the speakers by having a small footprint that can help with placement in areas that don't have a lot of free room.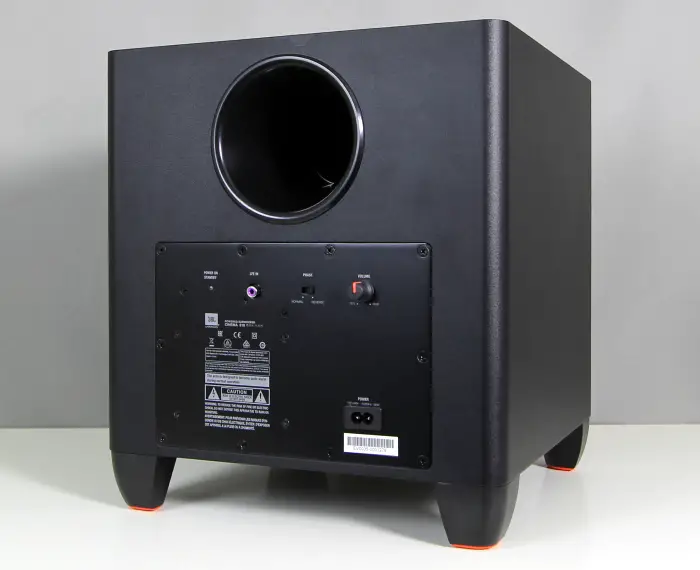 The 4 main and satellite speakers as well as the center one come with wall mounting brackets but JBL could do a bit better work as their design is average as they are made to hold the speaker on the wall but at the same time provide the way for the cables to pass through which in our opinion is not very good as the cables can be damaged during installation.
In total we liked the design that JBL used. The speakers are looking good to the eye by having small touches that makes them look more premium while they are small enough to fit anywhere either it be bookshelf, wall or furniture. The subwoofer is small enough also and has a very neutral design that makes it look for like a small table for your drink rather than a speaker. The speaker cables that come in the box are nothing special and we would suggest that you buy some better quality ones but in this price range we could not expect anything better so we have no complaints here.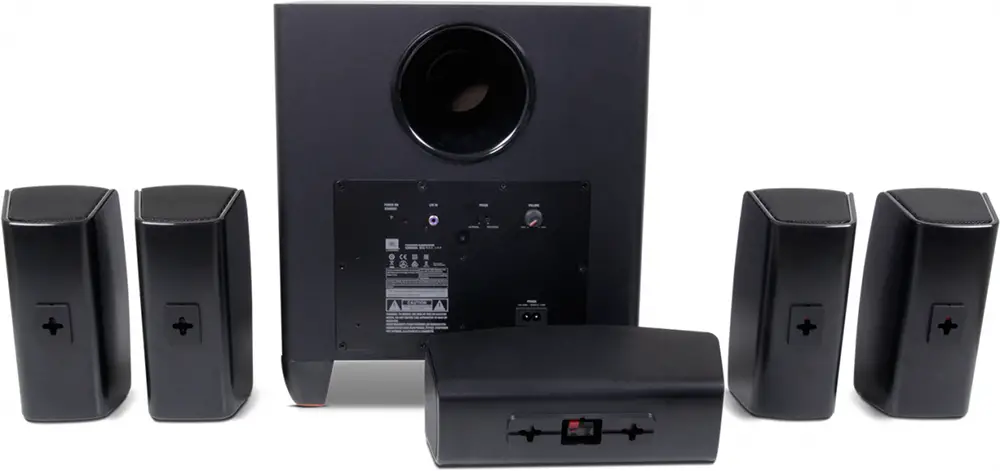 Performance
Having such a small size, placing the speakers in our testing area proved to be the easiest thing. We connected the speakers into our AV receiver and after the necessary calibrations we were ready to check how they would perform. Being a 5.1 system meant that there are no overhead channels involved so we wouldn't be able to fully enjoy a Dolby Atmos or DTS:X track but this is not the point with such a speaker setup as it is meant to offer entry level audio immersion.
Movies
The movie we picked for our testing is the 4K UHD disc of Battleship. Up until now we were able to test this audio track in it's true form and the DTS:X track that comes with it is a truly amazing experience. So we were very curious how Cinema 610 would manage to reproduce the core DTS Master Audio track and if we would get the dynamics and punch that it can offer.
The speakers have some very obvious limitations that for someone that has heard some higher quality speakers can distinguish immediately. But the point here is not to compare these with the quality of better speakers but to check if for the price asked they can offer a good enough performance. Our first impression was rather good as we got good balance and control over the whole dynamic range. Sound came a bit flat for our tastes and with less depth than what we would prefer. On the other hand bass was very good without being neither excessive nor too little.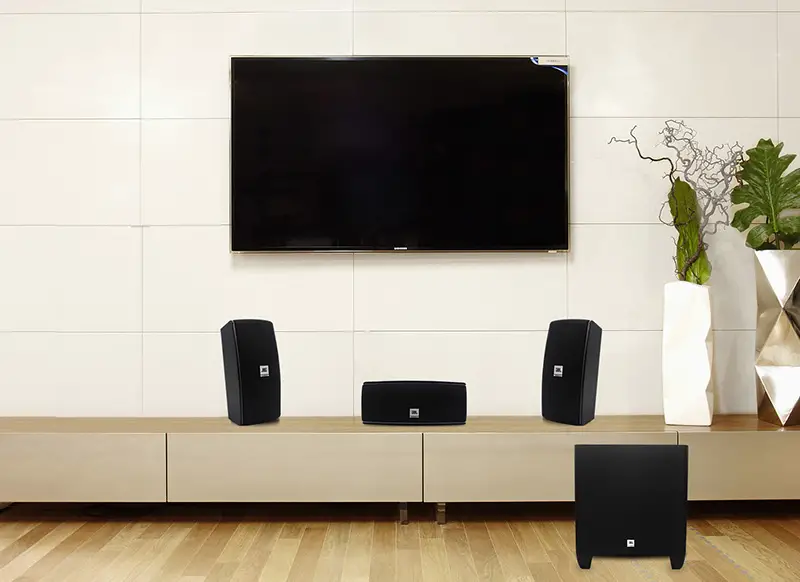 During the battle between the Navy Destroyers and the alien ship explosions felt punchy enough as the subwoofer provided enough power to our liking. During the shooting in the final battle between the USS Missuri and the alien mother ship the projectiles can be heard very clearly through the surround speakers giving you a lot of depth in the rear as well as at the front. The center channel provided clear enough dialogue but we would like it to be a bit more focused than it was.
Changing a bit of style and setting we tried the Blu-ray disc of Lord of the rings with it's more orchestrated audio track. The Cinema 610 here also offered similar performance being able to reproduce the epic music of the film with good clarity and distinct separation of the musical instruments. We would like it to offer a bit more oomph that makes these kind of soundtracks more alive and show their character but we cannot be very demanding so we will just say that the system provided a rather good audio performance.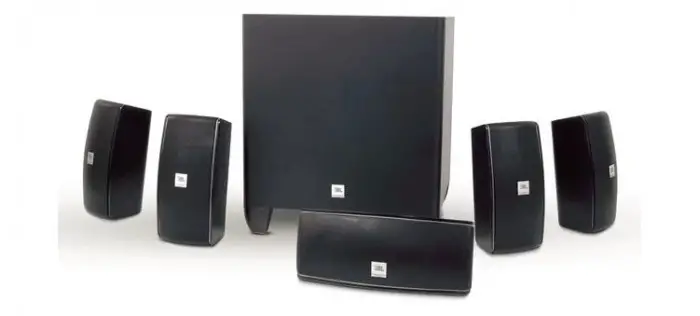 Being rated at 60 Watts for the satellites can be considered the main problem of these speakers as taking the volume to higher levels make the speakers to loose their balance and control and you feel that they are running out of power making the end acoustic result something of a mixed bag. But for normal viewing the system keeps a good control and offers enough acoustic details to be considered adequate.
Music
Next in line is our testing of some audio tracks to see if we would get similar performance as in our movie testing. Choosing our FLAC audio tracks and going through a few listening sessions our impression was the same. Low frequencies were good enough without overshadowing the rest, mid-range felt balanced enough while high frequencies were adequate. Separation of the musical instruments was distinct and positions in space were clear enough.
In total the result can be described as satisfying but the sound once again felt a bit flat and artificial for our tastes and we would like it to have a bit more depth to it. Other than this we cannot say we had any major objections and we had a very pleasant time with this little audio system.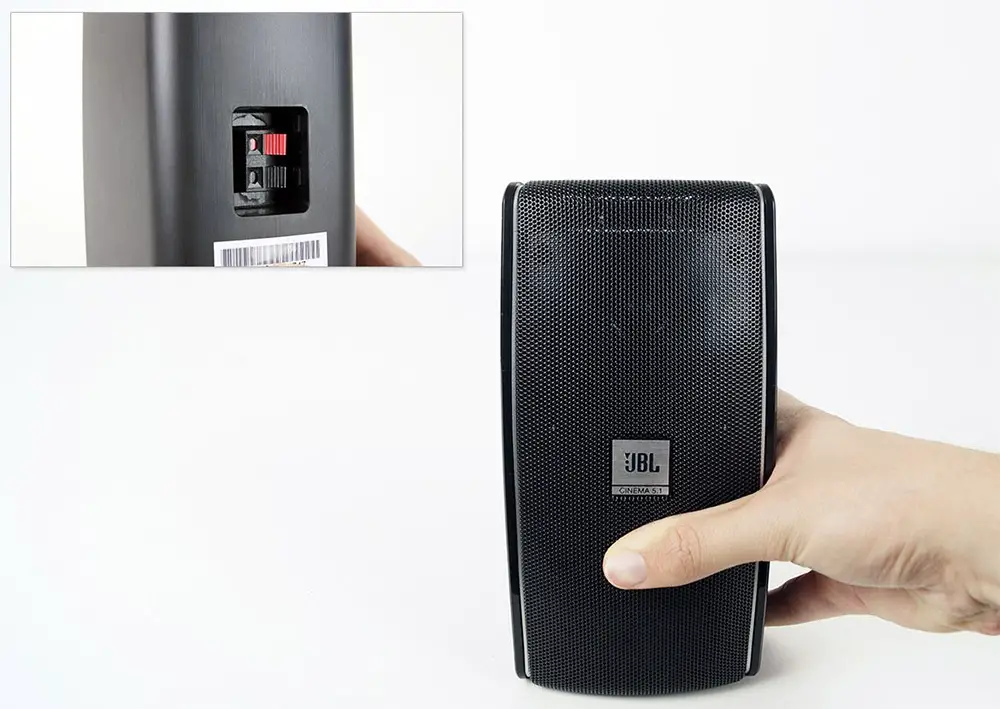 Final Thoughts
The JBL Cinema 610 is clearly destined for people that want to experience some surround audio but without spending a lot of money or have enough space for a biggest system. They have a nice design, they are compact enough to fit almost anywhere and most importantly they perform adequately for their size. And if you add the low price the end result can be very attractive if you are limited by space or budget, or both.
On the other hand there are few things we didn't like and should be mentioned. First of all as the satellite speakers are rated 4 Ohms you should make certain that your AV receiver can support them making things a bit more complex than what they should be. Also the wall mounts could have a better design to avoid the risk of damaging the cables and last but not least being rated at 60 Watts they are not the most powerful speakers you can find and as such expectations of how high they can go should always be at check.
We are testing so many huge speakers lately that trying out such a compact model was a pleasant change. And the performance you get may surprise you for their looks. Being a 5.1 system we would recommend to accompany it with a similarly low priced receiver and one that would perfectly fit this spot is the Marantz NR1509 which has a slim design, supports 5.1 setups and has a low price that can help you to be in line with your budget limitations. You can read our full review of the Marantz NR1509 HERE.
If you don't have a lot of expectations, and in all honesty in this price and with this size you shouldn't have much, then the JBL Cinema 610 will offer you many hours of cinematic and surround audio immersion.

For more reviews you can check our dedicated Complete Home Cinema Speakers reviews list or even look at our Product Reviews Table where you can find the brand and specific product you are looking for.
Also don't lose the chance to subscribe to our Newsletter and gain exclusive privileges.
---
Cheapest Places to Buy :
---
Specifications
Satellites

Recommended Amplifier Power : 10 – 100 Watts
Power Handling (Continuous/Peak) : 60W
Impedance : 4 ohms
Sensitivity : 86dB @ 2.83V/1 meter
Frequency Response : 130Hz – 20kHz (-6dB)
Midrange : 75mm (3") cones
Tweeter : 32mm (1.25")

Dimensions (H x W x D) : (7.87" x 3.8" x 3.92") – 200mm x 96.8mm x 99.5mm

Weight : 0.8kg (1.76lb)

Subwoofer

Amplifier : 100 Watts RMS
Frequency Response : 38Hz – 250Hz (–6dB)
Woofer : 200mm (8")
Enclosure : Bass reflex
Dimensions (H x W x D) : (14" x 12.6" x 12.7") – 357mm x 320mm x 324mm
Weight : 8.12kg (17.9lb)

Center

Impedance : 4 ohms nominal
Sensitivity : 89dB @ 2.83V/1 meter

Frequency Response : 150 Hz – 20kHz (-6dB)

Midrange : Dual 75mm (3") cones
Tweeter : 32mm (1.25")

Dimensions (H x W x D) : (3.92" x 9.4" x 3.78") – 99.5mm x 239mm x 96mm

Weight : 1.23kg (2.7lb)