JBL Studio 590
Reviewed at $1,299.00 (pair)
Movies Performance
9.4/10
Inputs and Features
8.8/10
Pros
Satisfying bass
Neutral sound
No distortion at high levels
Excellent value with discounted price
Cons
Cabinet and finish could be better
The feet feel cheap for such big speakers
No magnetic grilles
Only two color variations
---
Cheapest Places to Buy :
---
There are so many speakers today in almost all price categories that can be increasingly difficult to choose what is best for you. But even as such there are a few brands that always managed to distinguish themselves for their attention to detail and excellent performance for their price and one company that seems to be good at this is no other than JBL. And today we will revisit one of the floorstanding series that left us with pretty good impressions the last time we dealt with them. So in our JBL Studio 590 review today we will be looking at the biggest floorstander in the series and see what it has to offer.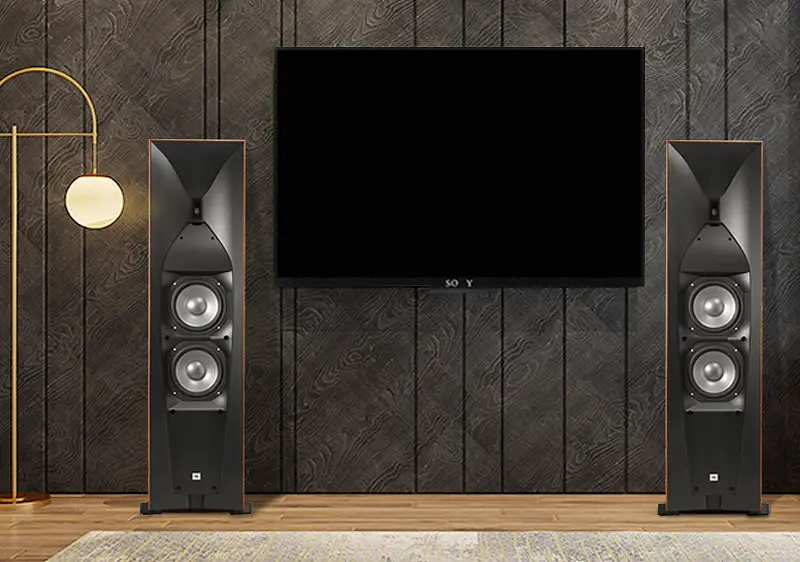 The JBL Studio series has been released a few good years now and they have managed to gather good impressions from their users. And it seems that JBL continues to make some generous discounts on them as you can currently find them almost at half of their original price making them a huge bargain. The Studio series are horned based speakers and to be honest it's not everyday that we test such designs as other than Klipsch only a few brands tend to use this type for home use.
JBL has created three florstanders, the Studio 590 that we will be testing here today, the mid-sized Studio 580 that we had tested previously and the smaller Studio 570. Along we also find the Studio 520C center speaker and the Studio 530 bookshelf speaker and thus you can make a complete surround system from the series. The only thing missing is a subwoofer but for this you can go for a different brand as per usual in home theater surround systems.
Equipped with 1″ compression drivers in bi-radial horns and dual 8″ low frequency transducers this mid-fi speaker seems to have a lot of hardware in comparison to its price and if you take into account JBLs expertise on the field we expect a lot from these floorstanders. As always what determines the success of each speaker is its performance compared to its price so do the Studio 590 manage to impress or they are lost in a sea of good quality speakers in this category? Let's find out…
Design, Inputs and Features
Exterior
The first thing that catches your attention with the Studio 590 is certainly their size. The JBL Studio series have in general fairly big floorstanders in comparison to other series and with the 590 being the biggest in the Series 5 it surely is evident. The Studio 590 measures 49-3/4″ x 12-11/16″ x 16-1/4″ (1263mm x 322mm x 413mm) and weights 69.5 lb (31.5kg) which is considerably more than its smaller brother, the 580, and as a result these are ideal mostly for larger areas where there are no particular space limitations. If you have a very small room then we wouldn't suggest these and you should probably look at the smaller Studio 580 or even the smallest floorstander in the series, the Studio 570.
In terms of overall looks and design all three floorstanders in the Studio 5 series feature exactly the same design with only their overall size changing. As such the 590 is exactly the same as the 580 we had seen before just in a bigger scale.
All the Studio floorstanders, including the 590 we have here, are very unique in the way their cabinet is designed as they go away from the typical rectangular box type of design. Instead the back face has a smaller footprint than the front resulting in a somewhat conical extension towards the front. The cabinet uses 19mm (3/4″) MDF enclosure giving them a fairly rigid construction while the heavily braced design and the non-parallel surfaces provide the speakers with reduced resonances.
The speakers are offered in two colors only with black and cherry finishes the ones available.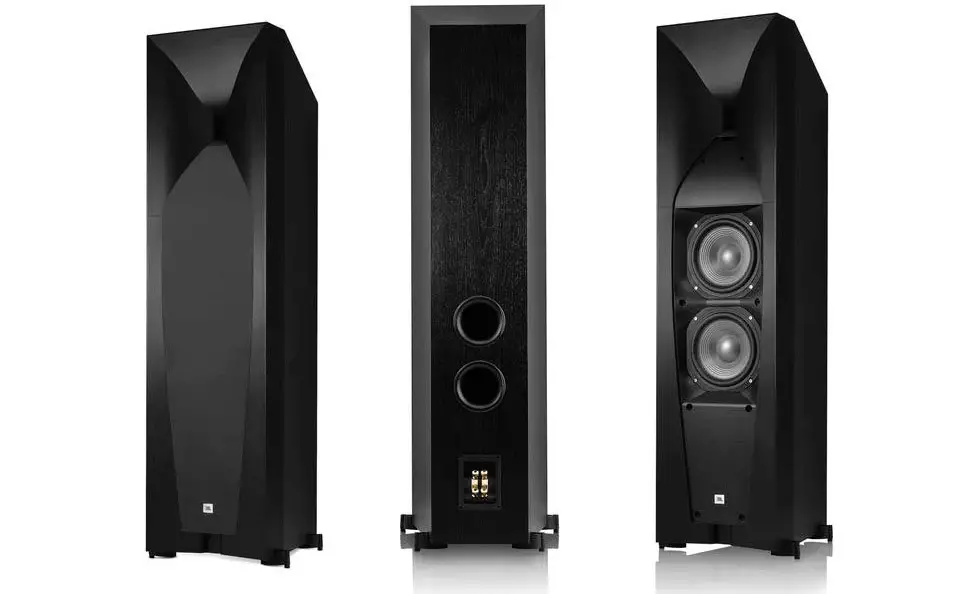 The front baffle of the Studio 590 is certainly one of a kind with the cloth grille having curvy lines and covering the dual low-frequency transducers below the high-frequency horn. The grille attaches itself to the front face with the usual plastic plugs meaning that if you prefer to use them without the grilles the plug holes will show a bit ugly. It would be nice to have magnetic grills but that's not the case here which is a bit disappointing if you consider the original price these speakers went for. And we have seen lower priced models having magnetic grilles so this is a small minus.
Usually when we talk about the look of a floorstanding speaker it is more common to look better without the grille as the exposed drivers give them much more style. With the Studio 590 we have to admit that the opposite was the case. In general its huge horn at the top suits better with the subtle lines the grilles give it. Not that they look bad without it but for some reason the exposed low frequency transducers didn't look so good and the exposed holes from the grille plugs certainly do not help.
At the back we find two fairly large bass ports that are placed close to each other and are there to increase output and extend bass response. Below that we find the usual dual binding posts inside a specially designed inset. JBL provide two port tube inserts in case you find the bass too excessive and want to reduce their bass output in the 50Hz – 100Hz region.
The speakers come with outrigger feet making the speaker's footprint a bit larger than its main body and you can use either the included threaded rubber bumpers or spikes depending on the surface you will be using them. These are the same design we saw in the Studio 580, obviously and they really feel somewhat cheap and for such large speakers. We would like to see a better design than the one we got here and if you consider the price there is no excuse to go so cheap on these.

Closing this part of our review our opinion remains the same as we had when reviewing the Studio 580. The speakers have a certainly unique design and their huge horns and un-parallel cabinet design will make more than a few heads to turn. But build quality while certainly not bad we wouldn't call it exceptional either and in their original price we would call it a bit disappointing. The new reduced price certainly reflects its quality far better and we can say that in this price category they are good enough.
Internal Hardware
In general the Studio 590 seems fairly similar to the Studio 580 we had tested before but there are a few notable differences. The speakers feature a 2 1/2-way design with two low-frequency transducers handling all the low end and a single high-frequency compression driver above them handling the rest of the mid-range and high end.
JBL knows very well the advantages a horn based design has from their professional speaker releases and so they decided to use a similar design for the Studio series.
For this reason JBL has created a special system that includes a 25mm (1″) high-frequency compression driver featuring a one-piece Teonex diaphragm/surround, a neodymium magnet and comes with a 25mm (1″) voice coil offering better dynamic range with lower distortions. In front of that we find a glass-filled ABS bi-radial high-frequency horn which is responsible for widening the listening area while it's controlled directivity minimizes unwanted interaction of the high frequencies with your walls and furniture.
For the high frequencies the Studio 590 is featuring exactly the same design as the Studio 580 we had seen before so no major changes here. The difference comes in the low frequency transducers as the bigger cabinet allowed JBL to use bigger drivers in this one.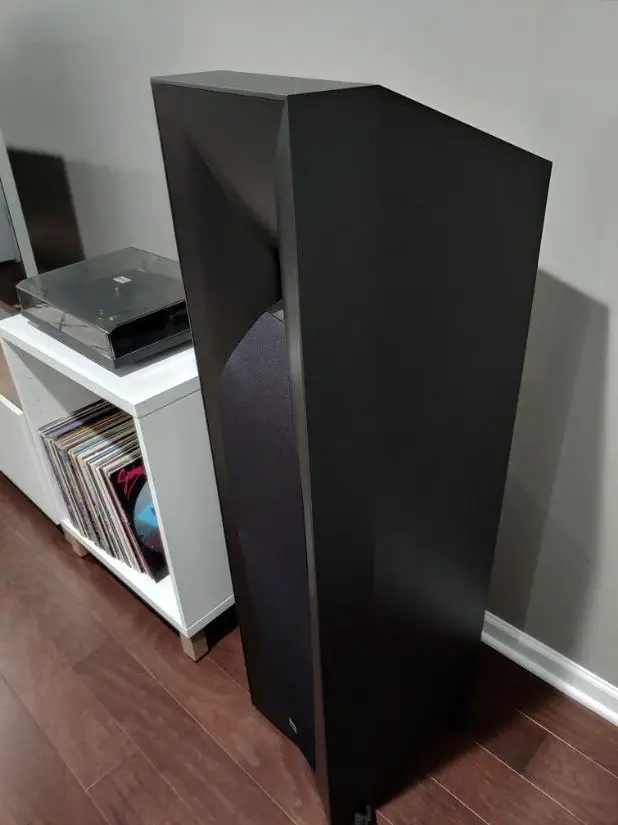 As such we get dual 200mm (8″) low-frequency transducers that are responsible for all bass duties. These transducers come with 38mm (1-1/2″) diameter woofer voice coils and use stiff, lightweight ribbed PolyPlas cones with rubber surrounds. JBL uses their Symmetrical Field Geometry (SFG) technology on their heavy-duty magnets while they also feature rigid, non-resonant cast aluminum frames.
Similar to the Studio 580, in the 590s the crossover has been set at 1.5kHz which is slightly lower than what we usually see but the low-loss, 2 1/2-way crossover network ensures smooth transition between the upper low-frequency transducer, the lower one does not crossover into the tweeter, and the high-frequency compression driver/horn with less distortion and sound coloration.
The combination of the 25mm (1″) high-frequency compression driver and the dual 200mm (8″) low-frequency transducers give the JBL Studio 590 speakers a frequency response of 35Hz – 40kHz (–6dB), 92dB of sensitivity and 6 Ohms of nominal impedance while the recommended amplifier power has been set by JBL to 250 watts.
Connectivity
At the back of the unit under the rear bass ports we get dual gold-plated binding posts that are bi-wire-capable. The gold-plated speaker connectors can accept a variety of wire connector types which range from bare wire, pin connectors, spade connectors or banana plugs. Their quality and construction is honestly very good and above the average. The terminals are connected externally through gold plated connectors in case you don't want to bi-wire them.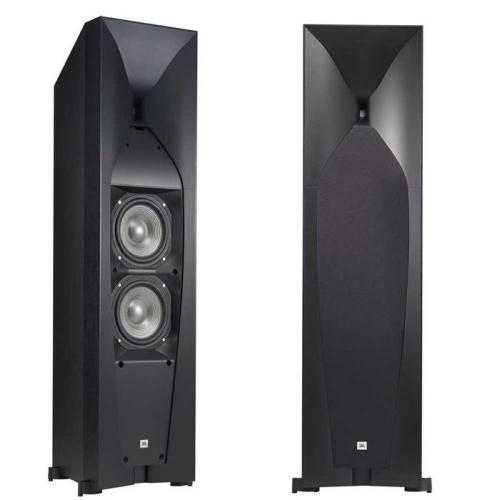 Performance
The speakers are big and they need careful handling as the packaging is not as good as we would like. Definitely ask help when unpacking them as their size and weight will make it difficult to unbox them by yourself. There is no special assembly needed as the feet are built-into the cabinet. You only need to choose between the included spikes or rubber bumpers depending on the floor you want to place them on.
The JBL manual is very thorough when it comes to the speakers placement and provide enough information for those that don't know exactly what to do. Keep in mind that these are general directions and you should place them the way you feel they sound better in your specific environment.
As such they suggest a maximum distance of 10 ft (3m) between them, 40-60 degrees angle and around 20 in (50cm) from the side walls in order to have a more accurate stereo soundstage and better imaging. In our testing, as we usually do, we have placed the two speakers around 9 ft (3m) apart and about 1 ft (30cm) from the back wall in order to have certain breathing space for better bass performance. Also we did some toe-in towards our listening position but this is also something that depends on how you sense the sound and it is a trial and error procedure.
The Studio 590 we tested were past their break-in period so what we heard was definitely their best. In general most manufacturers do suggest between 50-70 hours of break-in time before speakers can reach their peak performance but we always suggest to wait until around 100 hours to be completely sure if what you hear is what the speakers can ultimately give you.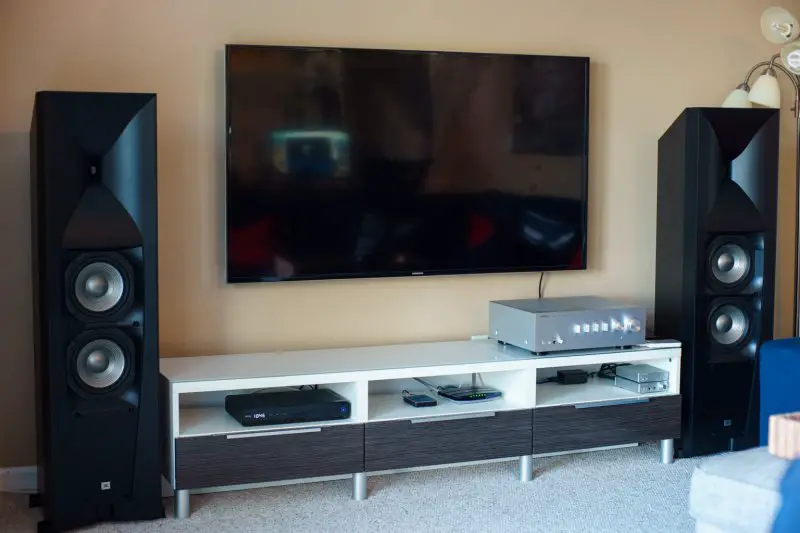 Now as far as our testing is concerned, for our movies we like to use a simple 4.0 channels surround system with only two front channels and a couple of surrounds and the reason for this is because we can easier determine how the front speakers can cover the omissions of a center speaker and a subwoofer. Weaknesses become more pronounced and although this would not apply to any real home theater system as almost all of them would have both a center speaker and a subwoofer we are here to determine specifically the characteristics of the two front channels and at least for us this is the best way to do so.
On the other hand when it comes to our music testing we like to go for a pure 2.0 channels system with only the two front channels as this is the way that most music purists tend to go with. Now after all necessary connections and calibrations with our Onkyo AV receiver we were ready to begin.
Movies
For our first movie test we decided to go for something a bit more atmospheric so what better opportunity to take out our 4K UHD version of Prometheus with its extraordinary DTS-HD Master Audio track. The film may not be as action driven as many of the other films we usually try on our tests but this doesn't mean that this is not as impressive as ever with its top class sound design and extremely detailed immersive output.
The film doesn't have any specific scenes that stand above the rest as throughout its entire running time there are always moments that can wow you with its acoustic elements. We tried out the whole sequence of the landing of Prometheus onto the Alien planet and what we got for the Studio 590 was a visceral acoustic performance as the low end punch of the Prometheus engines were bursting on the ground of the planet.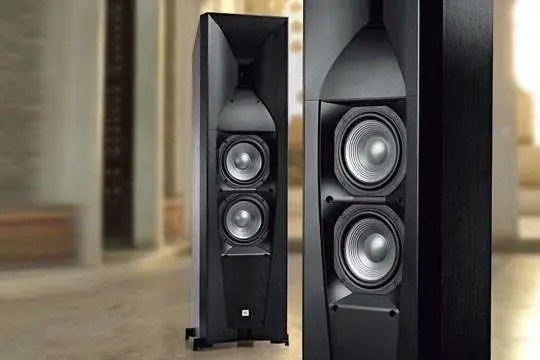 The stage at the front felt expansive enough with good extension to each side of our listening position and with satisfactory depth at the middle. When the crew of the Prometheus was searching the inside of the alien ship the speakers did their best to render all small elements and give you this eerie feeling of isolation and unseen danger. The 590s may not be the speakers that will give you the most high resolution sound but their mid-range stability and neutrality made them easy to hear and enjoy.
The film is particularly dialogue driven and the front speakers did an excellent job at providing clear and distinct dialogue that felt like coming front and center and without mixing with the rest of the audio elements. We would love them to have more depth and slightly better imaging but looking at the whole performance they did a pretty good job with the missing center channel.
Surround and panning effects were nicely rendered both at the front between the two main channels and also between the surround speakers. We didn't notice any meaningful delay and all transitions felt smooth enough and accurate.
The Studio 590 may be able to give you a very pleasant and easy going performance but one area where they really exceled at was in their low end. The 8″ low end transducers really helped on that front and the speakers provided a punchy and trumpeting bass that not many speakers in this price can offer. Obviously don't expect to be hit hard on the chest as a dedicated subwoofer can do but the low frequencies felt so much more alive, fulfilling and satisfying that we could very well watch the whole film without a sub and still enjoy it.
Another aspect that was pretty impressive was how loud these can go. As we always do, we did try to push them to high levels and the speakers did react with a level of self control that was really amazing. We didn't sense any distortion coming either from the cabinet or the rear air ports and in the few bass heavy scenes that the film had the speakers did pass with flying colors.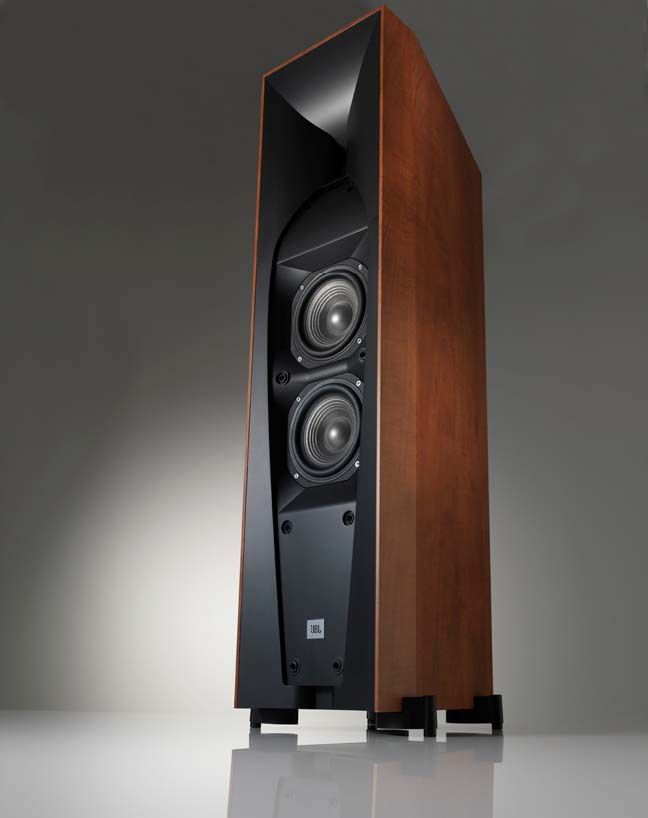 For our second test we wanted to go for a bit more bang so what better option than Battleship in 4K UHD with its thunderous DTS:X mix. People can say whatever they want about the quality of this film but we loved it and the action is first class and exactly what we call reference material.
First scene to test was obviously the first encounter of the navy destroyers with the alien vessel and what an encounter that was. The Studio 590 was exactly the kind of speakers we needed to render the grand scale that the scene asked for. Expansive at the front with nice extension in all axis and mostly towards the sides was what made the whole performance throw you right into the action.
When the alien ship launched its explosive pegs on the destroyer we got nice panning effects as the pegs were traveling on the air while when they did explode and cut the navy ship in half we got an amazing low end rumbling while debris were falling all over the water. All these elements translated very good into our space with the main speakers rendering even the tinniest of details at each given moment.
Dialogue was once again very satisfyingly clear and even with such action oriented scenes we never had trouble to understand what they were saying. And even hectic scenes were cannon fire, explosions, special effects and music were all hitting you from all sides the dialogue was kept isolated front and center.
Such a film really favors the low frequencies and the last battle between the USS Missouri and the alien mother ship was as impressive as ever. When the battleship was throwing all its ordnance to the alien ship we got such a powerful low end action that was really satisfying with good power, enough punch and enough volume. Of course a sub can do a lot more in such scenes but we were very satisfied with what we got and shows how good work JBL did in the low end with these speakers.
Once again environmental and surround effects were very nicely translated in space with good accuracy and no audible delays.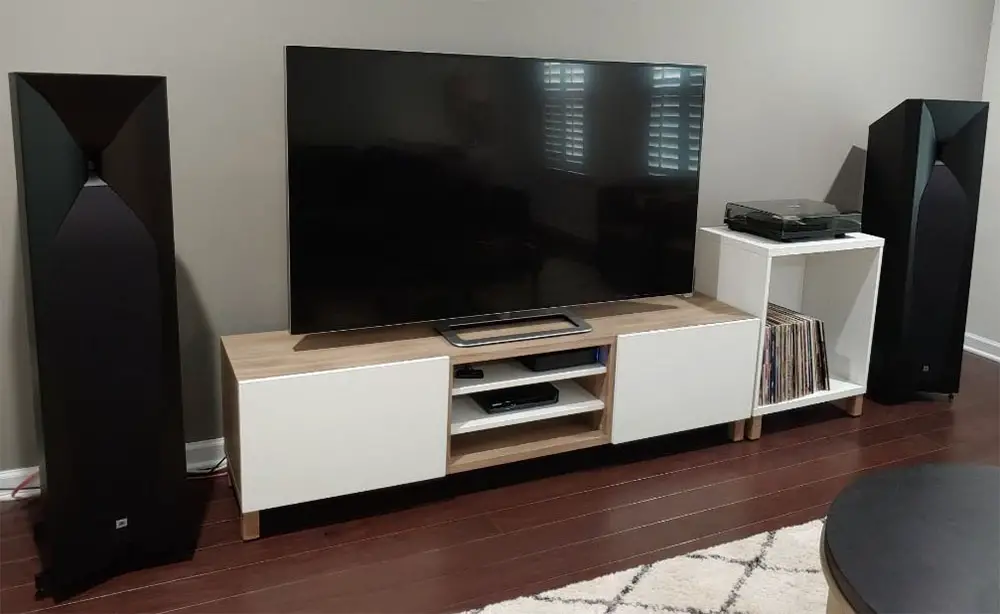 The speakers in general try to give you a very neutral audio signature. They will not throw your jaw to the ground but they will certainly not disappoint. We liked that they don't try to exceed their limits, like they know what they are capable of and it was particularly impressive that at no point did we feel any fatigue that with some other horn based systems you may experience. The speakers will try to be delicate when a moment asks for it but also can be nasty and all out loud when all hell breaks loose.
In general the JBK Studio 590 can be excellent speakers for any home theater system that asks for a pair of big floorstanders and will bring their mission to completion and your excitement higher than ever.
Music
Last test for the day is all about music so we switched to a pure 2.0 channels audio setup with only the two front Studio 590 connected and we streamed a selection of FLAC music tracks through the front USB port of our Onkyo receiver.
We will start with the front sound stage and you immediately understand how good the combination of the high-frequency compression driver and bi-radial high-frequency horn is. The sound felt like it exploded right in front of us with a performance that was so alive and vivid. We like how easy going the mid-range was and how nicely the high frequencies translated into our space as the speakers were never shy of details and attention to detail.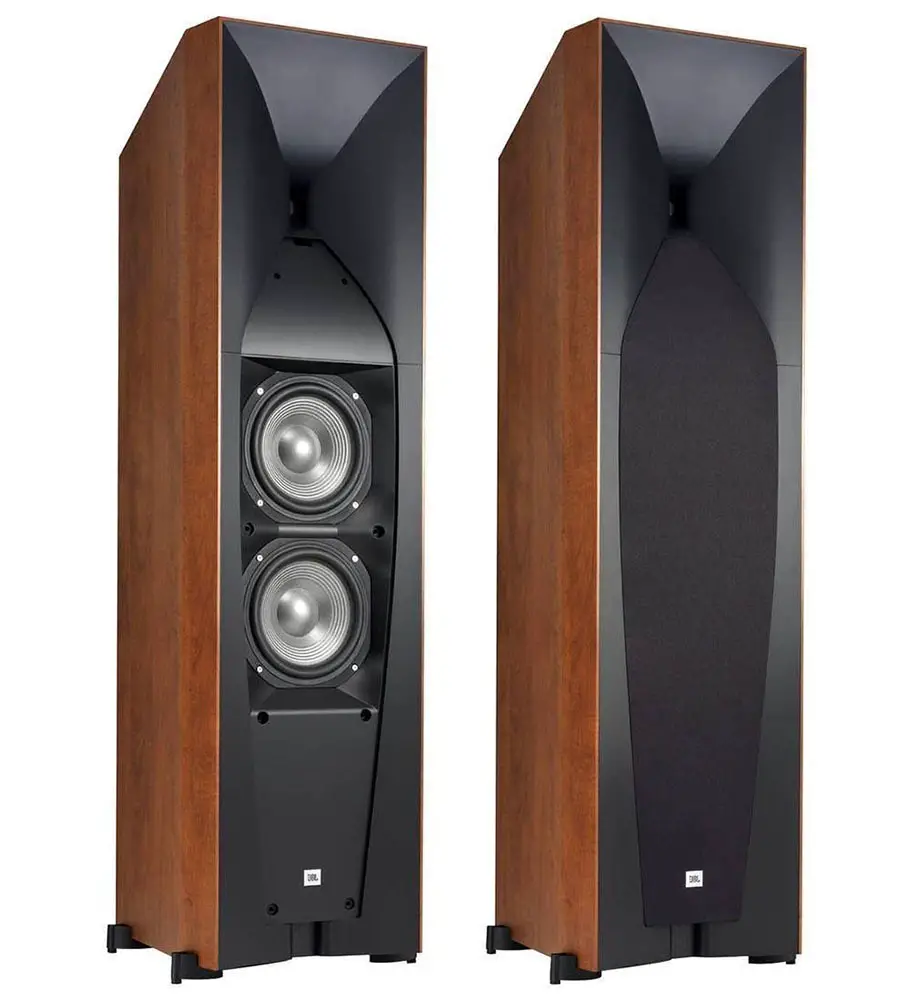 Stereo panning effects were good enough with nice transitions and good tempo and while we have heard some better performances the 590s did a very good job at it. Stereo imaging was very good also and you could easily pinpoint all sound sources in space without much effort. On the high end we never felt ear fatigue and it was impressive how easy it was to hear them for as long as you want without feeling the need to rest.
Once again the bass was one of the main highlights and the Studio 590s did an amazing job at providing the necessary low end to all music songs we tried out. Nice tempo, satisfying power and good punch as the speakers dived as deep as they could and kept the momentum going even with more bass demanding sessions. If you don't want to use a subwoofer in your system the 590s are really the speakers you should look for in this price category.
As always we tried out various types of music in order to get a feeling of how the speakers react in different situations and we didn't feel that they missed the mark in any particular genre. Anything we threw at them either be rock, pop, heavy metal, jazz or classical music the speakers reacted accordingly and provided us with exactly the kind of performance that would relax you and bring the enjoyment to higher levels.
Closing our tests we could say that the JBK Studio 590 are the kind of floorstanders that proved very capable no matter the source material. There are better speakers out there that can provide better performance but you will have to climb in price considerably to find any meaningful differences. With the current price reduction JBL is selling them the 590 are really unbeatable and exactly what you need if you seek a pair of good quality floorstanders without having a very big budget to spend.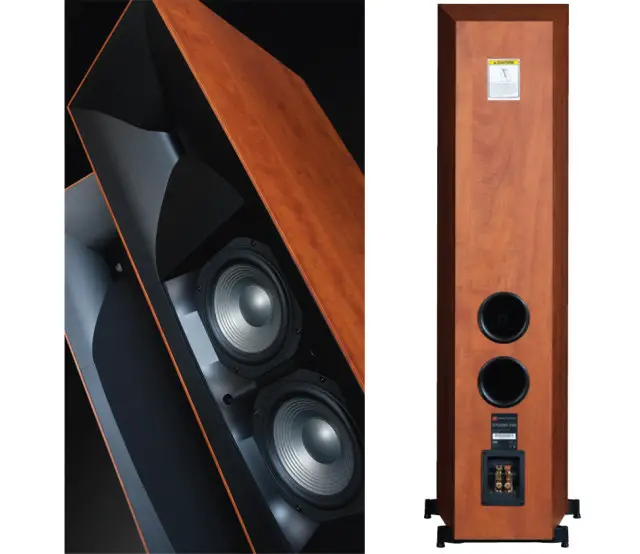 Final Thoughts
JBL never disappointed us and the Studio 590 proved to us that you don't need extremely expensive speakers to enjoy good quality sound. Are there better speakers with better performance out there? Of course there are but at what price? And if the original price these went for was a little too high for what you get at the current price is a bit of a no brainer especially if you have a big room but a tight budget.
The Studio 590 certainly have a unique look and those who like horn based speakers will most certainly adore them. But JBL made sure not only to create a rather unique design but used their expertise in the professional market to bring some of their technologies to the consumer segment. As such the speakers come with dual 8″ (200mm) low-frequency transducers and a single 1″ (25mm) high-frequency compression driver placed inside a bi-radial high-frequency horn giving them a surprisingly neutral and easy going sound for their design. With solid mid-range and a powerful low end these speakers are meant for high quality home theater action.
On the downsides we do get that horn based speakers are not for everyone and we do get that many don't like this type of design which is totally fine. Also the cabinet is not the best of quality and the reduced price they come with seems to reflect this slightly. We also didn't like very much the feet which were already built-in the cabinets. They are plastic and their looks and design makes them very cheap for such big cabinets and this is an area that JBL did disappoint us. Also we would love to have magnetic grilles which we don't and with only two colors to choose from there is not much variation to fit all situations.
With an initial price of around $2,000 per pair these looked to be a bit overpriced. Not that they didn't sound good but with so many good speakers in that price range it would be hard for the 590s to rise above competition. But JBL is making huge discounts on these and for the $1,299.00 price asked now for a pair, JBL managed to bring their performance and price in line to make them an exceptional choice for anyone that wants some mid-fi speakers that are meant for big rooms, sound amazing and don't ask an arm and a leg.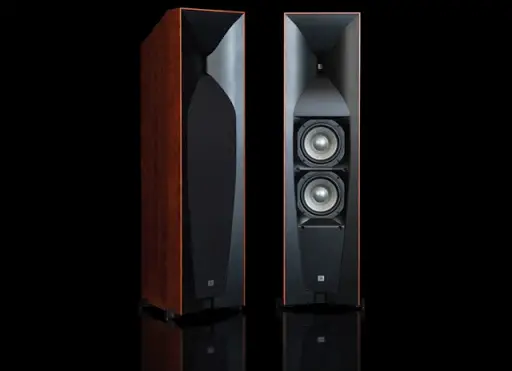 For more reviews you can check our dedicated Floorstanding Speaker reviews list or even look at our Product Reviews Table where you can find the brand and specific product you are looking for.
Also don't lose the chance to subscribe to our Newsletter and gain exclusive privileges.
---
Cheapest Places to Buy :
---
JBL Studio 590 Specifications