JVC DLA-NX5 (US) - DLA-N5 (UK/Europe)
Ports and Connectivity
9.2/10
OS, Apps and Features
9.5/10
Pros
Sharp 4K images
Comes with Auto Tone Mapping
Great motion performance
Excellent price for native 4K
Cons
Huge size
Average contrast for this price
No wide color gamut support
No motorized lens cover
---
Cheapest Places to Buy :
---
It's been a while since JVC had announced their latest projector models that consisted from two native 4K units and a 8K e-shifter, the first of it's kind. Some time ago we had the opportunity to test the DLA-NX7, their top native 4K unit and while it came with a hefty price it's performance was really breathtaking and one of a kind. But not many people can afford to give such a hefty amount for a projector and with it's price still hovering above the $6,000 mark it still remains a dream for many casual consumers.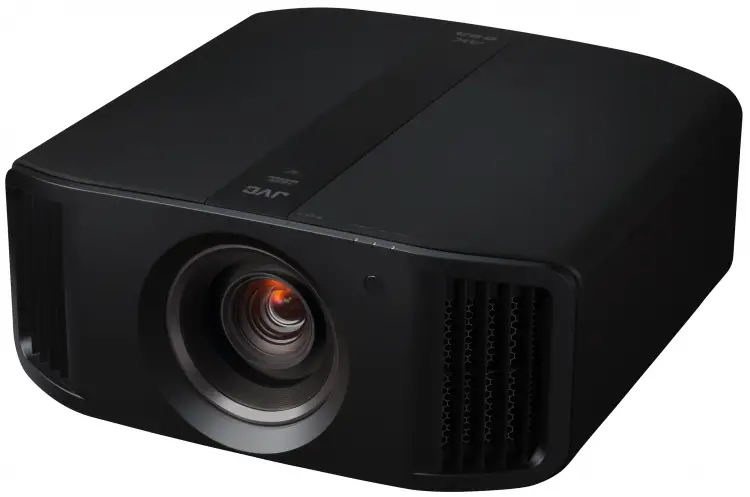 And this is where the entry level model from JVC comes in. In our JVC DLA-NX5 review we will be looking at this more affordable priced model that offers true 4K resolution and breaks the phycological barrier of $5,000. With a price tag that as of the time of writing hovers around the $4,500 mark the NX5 aims at gaining part of the market that native 4K Sony projectors were holding for some time now. But does this unit has the performance and features to go against the competition and how much of an impact can the new D-ILA projectors can make in the home theater market?
JVC has been a very known brand in home theater projectors for some time now but their products were mostly highly priced and not for many. With the NX5 trying to get into the more casual friendly market it is interesting to see what this unit is all about. Keep reading as we put it to the test to determine if it's a worthy addition to their otherwise amazing series of projectors.
Design
OK first of all before we talk about the actual design of the NX5 let's clear the confusion around it's naming. The same thing we had to do with the NX7 as there are a few different names that you can find this projector with. First of all the US variant comes by the name of DLA-NX5 while if you live in Europe or in the UK you are going to see the name DLA-N5. Now both of these names come from the JVC consumer division.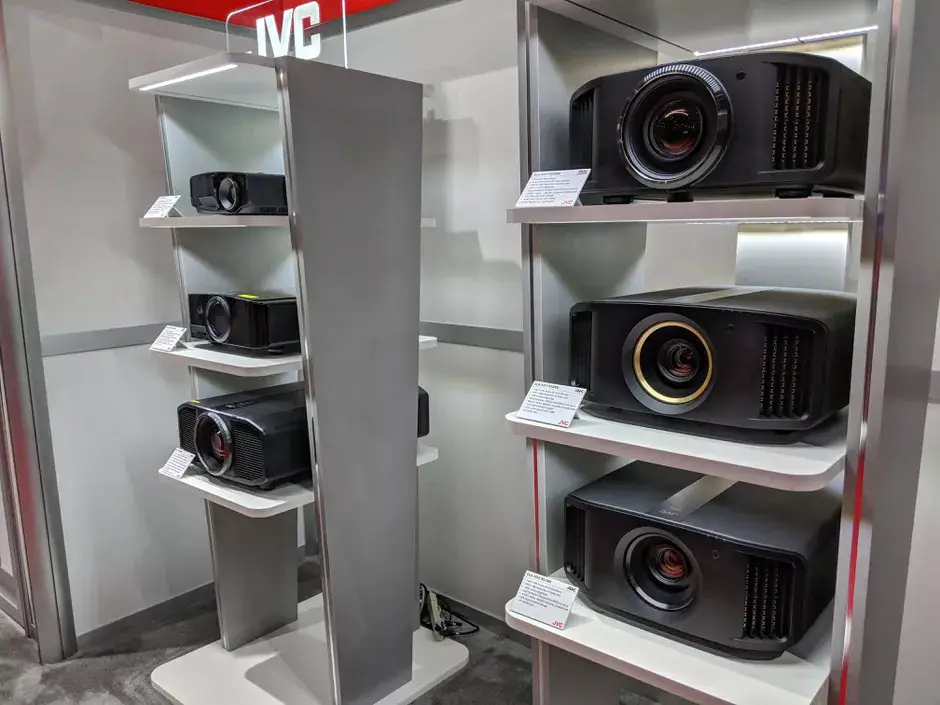 And here is where things can get a bit confusing. JVC has also the JVC Pro division which basically sells the same projector under the DLA-RS1000 naming. There is no difference whatsoever between these models in their hardware and the only way you can tell them apart is what seems to be a gold trim ring around the lens as the consumer version comes with a silver one instead. Having the same hardware means that pricing shouldn't differ at all so if you find both of them at different prices we recommend you to go for the lower one. Why JVC adds such kind of confusion between their products is beyond our comprehension.
Now that we got this out of the way let's talk about the actual design. The NX5 comes with exactly the same design as the NX7. In fact these two are so similar that you will be hard to tell them apart by just looking at them. Both the NX5 and NX7 are small powehouses and thus need plenty of space to incorporate all the necessary hardware. As such the NX5 is not a small projector. Measuring 19-3/4 x 9-1/4 x 19-1/2 (500 x 234 x 495 mm) and with a weight of 43.12 lbs (19.6 Kg) this small monster needs ample of space where you plan on placing it. With the same size as it's bigger brother and with only slightly less weight the NX5 is a formidable to look projector.
The unit features a rather simple look with a black boxy design with curvy corners and a matte black finish and our reaction to it is exactly the same as it was in the NX7. It looks good without going overboard. Everything is positioned exactly the same with the front face keeping the lens dead center with an IR sensor right in the upper right corner of it. In both front corners we get two huge air vents but as with the NX7 we didn't notice any light leakage out of them. Exactly at the corner above the IR sensor we find three indicator lights while the top face features a simple black strip in the middle with some logos on it and nothing else.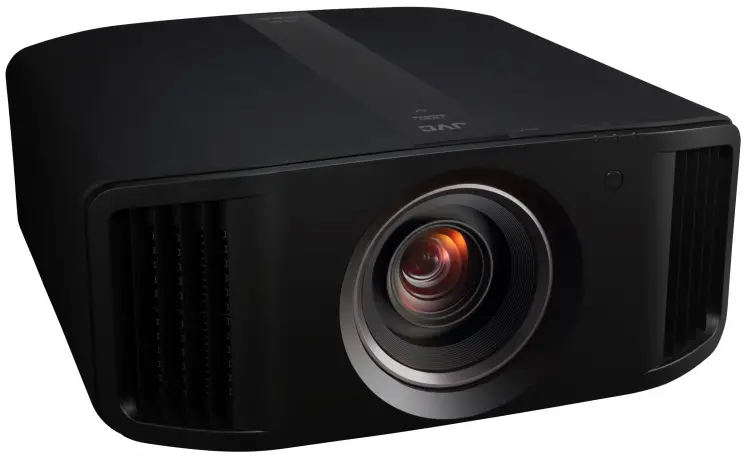 The back of the unit is also exactly the same and here we get two big air inlets at both the right and left side as well as one in the middle that features a filter that can be taken out and cleaned. Above the right air inlet we get a second IR sensor that is handy for when placing the projector on a furniture in front of you as well as the built-in controls that include a power button, menu, navigation buttons and a back function. On the left side of the control buttons we get all the connections of the unit that we will analyze them in the appropriate section while all four legs feature adjustable screws in order to level the projector accordingly.
One of the highlights of the latest JVC projectors is definitely it's lens. The NX5 features the same 17-element, 15-group all-glass 65mm diameter high-quality motorized lens that JVC designed to deliver exceptionally clear images and was also used in the NX7. This lens comes with a 2x zoom, a similar 1.4 to 2.8 throw ratio and a great ±80% vertical and ±34% horizontal lens shift which can be very handy when placing the projector and calibrating it.
Having such a big size lens shift can be a real life savior so this is a major plus. If there is one minor is that while there is motorized lens there is no motorized lens cover which means that you will have to use a plastic cover which can be very frustrating if you want to do that every single time. The NX7 was the same and it feels every bit the same here.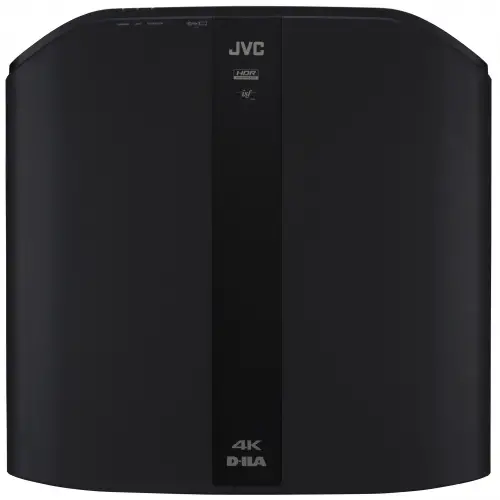 When it comes to noise the DLA-NX5 felt very quiet and was very similar to the NX7 in this regard. With a distance of around 6.5 feet (2 meter) between us and the projector the NX5 was producing around 22db in low lamp mode. This figure would go up to around 30db in high lamp mode and you could just hear it mostly in quiet moments. The large chassis featuring big air vents along with the native 4K technology that doesn't need any noisy pixel shifting technology are the reasons for it's mostly quiet operation. Great work from JVC on this regard as we are a bit noise sensitive and we appreciate those projectors that offer similar silent operation.
The NX5 uses a 265 watt NSH lamp that according to JVC has an average life of 4,500 hours in low mode. Neither exceptionally high nor very low and this time is just about the average we see in other projectors also when used in low lamp mode.
The remote that is included with this unit is the same one we had seen before in the NX7 and it comes with a redesigned look compared to remotes that JVC was using before. The new remote has a nice premium look and is very easy to handle as the size is just about right. Buttons size is good although there is no space between them which can result in accidentally pushing two of them instead. But the major plus is the included backlight function that illuminates the button's writing instead of the whole buttons and this can majorly help when using the remote in the dark.

There are no built-in speakers here but this should not be considered a minus as the projector is not meant to be mobile friendly like some others we had tested recently. It's huge size and weight makes it a one time handling unit and should be treated as such. Similarly to the NX7, the DLA-NX5 is a projector that was designed for a home theater and as such there is no mobility friendly features to be found.
Video Quality
Technology used
Moving forward with our review we will take a moment to talk about the tech that is hiding under the hood and we will make sure to pinpoint the differences between the NX5 and those found in the NX7 as the two projectors share a lot of similar tech and features and as a result offer similar performance in some aspects.
With this in mind the NX5 is a native 4K projector that is capable of projecting a full 4K signal (4096×2160) and does that without the need of any shifting technology. Once again we find three of JVC's new third generation 0.69 inch D-ILA chips that are responsible for the full 4K resolution. What is worth noting is that as most 4K UHD content is rendered at 3840 x 2160 resolution the NX5 will display black bars on the right and left sides of the screen which can be a bit distracting. So if you want to take these out of the screen you will need to calibrate the image accordingly.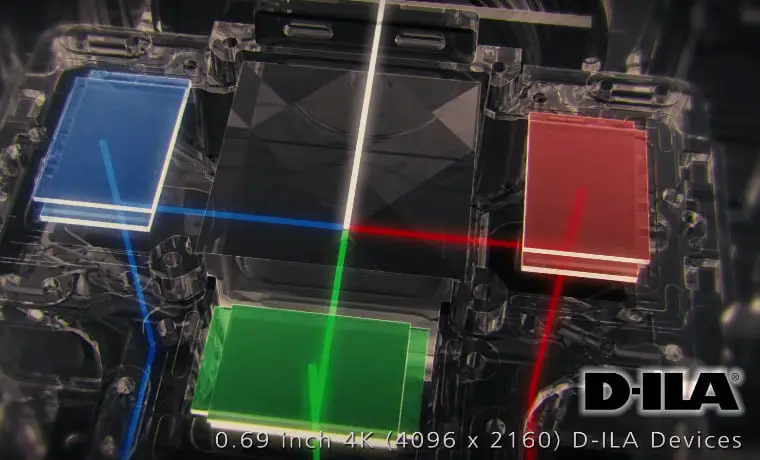 The NX5 comes with the same features that we saw in the NX7 which means that we get improved lens controls, the included light engine features a new design while updates on the software include the new Auto Tone Mapping that automatically adjusts settings based on the mastering information included in HDR content and thus offers better overall brightness and image quality.
4K UHD / HDR Content
For image testing the DLA-NX5 we decide to try out the UHD version of Spider-Man: Far from Home. The kind of quality we saw was truly amazing with the first thing that striked us was the kind of sharpness and texture resolution. Everything showed so clear and pronounced while color volume and composition was great. The film is very colorful and bright with many scenes happening in broad daylight and the NX5 was able to reproduce everything very faithfully.
Even in scenes that were happening in the night the projector was able to produce very satisfying blacks even if it could not reach as deep as the NX7 while shadow details were excellent. Colors like explosions would pop up between the low lit environments and would almost give them a three dimensional feel. A really amazing experience that only a native 4K projector can offer.
When it comes to the NX5's HDR capabilities we find support for HDR10 which is the basic protocol for UHD playback as well as HLG that is used mostly for broadcasting. One major feature that all three JVC releases comes with is the inclusion of Auto Tone Mapping. We had previously seen this one in our NX7 review so we knew more or less what to expect from it. One thing that plagues most projectors when it comes to displaying HDR content is their inability to show very bright images that is needed for HDR content. And even with projectors that have high lumen output the end result leaves a lot to be desired compared to even middle tier HDR TVs.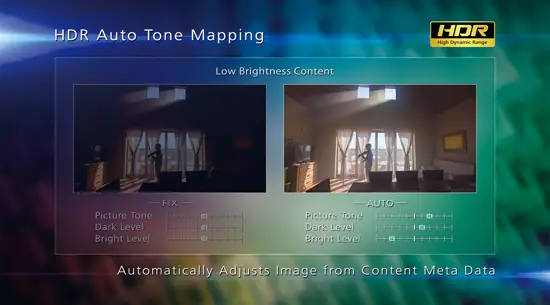 This is where Auto Tone Mapping comes to the rescue as what this basically does is to read the static HDR metadata of a UHD disc and adjust the image settings of the projector according to the max and average light settings of the content being displayed. This way the end image that we see is better as it is tailored to the projector's capabilities.
The Auto Tone Mapping is an amazing feature and when it works it can really produce very good results if you take into account the limited brightness capabilities of the NX5. But if you paid attention you will notice we said "when it works". The problem here, being the same in the NX7, is that this feature to work it must be able to read the HDR metadata on the disc which many time is not the case. As such the projector cannot know the brightness settings on disc and thus leaves the user, being you, to do the calibration manually. If this feature could work 100% of the time it would be a real life savior but unfortunately this doesn't happen. But when it does work it's really amazing.
Full HD / SDR / 3D Content
Buying such an expensive projector means that 4K is your main thing. But since we are sure you still have plenty of Full HD content in your library you will want to know how the NX5 does with 1080p content also. For that reason we took out our Blu-ray disc of Oblivion which we like to test in all 4K projectors mostly because of the very characteristic visual style the film has.
The DLA-NX5 managed to upscale the 1080p picture up to 4K in a very masterful way and it shows how capable this unit is in this regard. Everything from surface details, texture composition, resolution and color accuracy were incredible and made us watch more than what this review would allow us. Black levels and shadow detail was very good while there was breathtaking clarity and resolution across the whole screen which made this session even more impressive if you consider we were watching a 1080p disc upscaled to 4K. So when it comes to Full HD content rest assured that the NX5 will not disappoint you.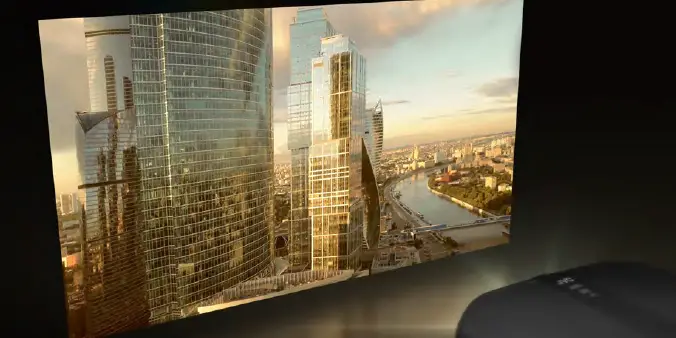 The projector even offers support for 3D content although we don't know how many still prefer this. But certainly there are a few hardcore users that like it so being able to support 3D is a plus even if you cannot use it directly. And this happens because you will need to buy an extra 3D Synch Emitter in order to connect with the wireless 3D glasses that you also need to buy separately. Having no dedicated 3D mode can be a chore as you will need to use a custom made and while we didn't have the chance to try out the 3D part with the NX5 we suspect that performance should be similar to the NX7 that we were able to test and was really amazing.
Color Coverage
One of the first and most glaring differences that the NX5 has compared to it's bigger brother is that the NX5 is capable at displaying less colors. The NX7 had a BT.2020 color profile and with that it was capable at achieving around 99% of the DCI-P3 color space. On the other hand the NX5 is missing this color profile which means you will have to settle with the DCI color profile and thus get a lower coverage in the DCI-P3 color space.
But this doesn't mean that the NX5 is bad at displaying HDR colors. On the contrary the projector was capable at rendering very vivid and lifelike colors and certainly was able to deliver above average performance in this regard.
Brightness / Picture Settings
With the NX5 being rated as a 1,800 lumens projector this is another area where we get a slight reduction compared to the NX7. And while 1,800 lumens may not seem much it remains to be seen how close to this theoretical number the NX5 can get to.
Before we proceed with our measurements we should point out that there are 4 different picture modes to choose from that include Natural, Cinema, HDR10 and HLG along with 6 user modes that you can use to save your own personal settings. Two things we need to mention here, first being that we loose the Film mode that seems to be only available in the NX7 while we should also note that the NX5, along with the NX7, is one of the few projectors that don't have a dedicated 3D mode as we already noted above.
There are also a couple of HDR modes with HDR10 and HLG modes available and both of them will auto switch when the projector detects the appropriate content being displayed.
One thing we mention all the time is that brightness measurements can vary greatly and they should not be taken as a given number. There are so many variables that can give you different brightness than what we get here in our testing, like different settings, lamp hours and modes so our number should only be used as a reference and nothing more.
If there is one thing that we had noted during our NX7 review and we also see it here is how good out-of-the-box performance the NX5 has. Obviously there is room for improvement with the right calibration but even without an expert you can get very decent color accuracy and brightness making this unit much more user friendly than some other premium 4K projectors. The peak brightness we managed to get out of the NX5 was 1450 lumens which was more or less what we expected. This amount of brightness is more than enough for SDR content while it can be considered good for HDR also. Obviously it's lower than the NX7 but not by much which is a major plus.
As for what settings we would go for after some back and forth we would choose the Natural picture mode with BT.709 color profile for 1080p/SDR content and the HDR10 picture mode along with the DCI color profile and the Auto Tone Mapping feature for 4K/HDR content.
Black Levels / Contrast
Contrast was another area where we get a downgrade compared to the NX7. The NX5 comes with a 40,000:1 native and a 400,000:1 dynamic contrast ratio which in theory is exactly half of what the NX7 was capable of. But as always these numbers are the peak theoretical ones and real numbers can vary a lot compared to these.

In order to improve contrast JVC uses what they call "Intelligent Lens Aperture" that analyzes the input image and automatically controls the black levels and this is how the NX5 is capable at getting that 400,000:1 figure in order to offer a more immersive viewing experience. One thing we should point out is that while the NX5 has much less contrast than some other models in the same price the end result was still very good with deep black colors and great shadow details.
Input Lag
Let's see now how the NX5 performs in the input lag test as this is very crucial for hardcore gamers that seek as low values as possible. Testing gave us a 39ms input lag on average which is very similar to what we got with the NX7. This figure is not bad at all even though we have seen a few Sony projectors offer much lower values and thus many gamers prefer them for this reason. But for casual gaming 39ms is more than enough and for this reason we tried Call of Duty WW2 in order to determine if this value is good enough by our casual standards.
And indeed our gaming session went by very smoothly as we never felt our commands were lagging behind what was seen on screen. Everything felt precise and on point. The projector also supports Low Latency Mode that can improve response time if connected with a supporting game console but you should keep in mind that you cannot have both C.M.D. (Clear Motion Drive) and Low Latency Mode on so you have to choose between the two.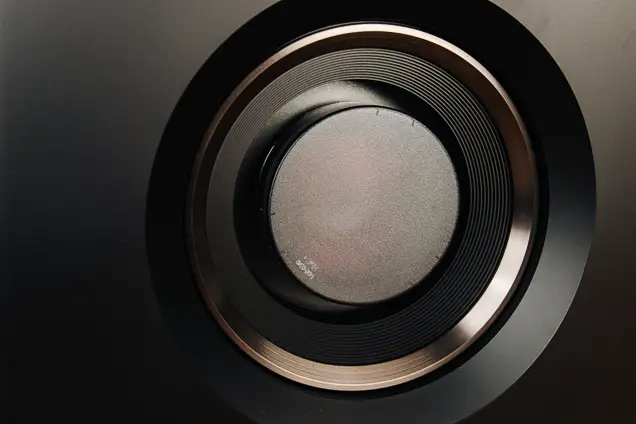 Motion Performance
When it comes to it's motion performance the NX5 behaved very similar to the NX7. This happens because both of them use the same motion interpolation software that JVC calls C.M.D. (Clear Motion Drive) in order to improve the image during fast camera panning. Another included feature is called Motion Enhance that works in parallel to the C.M.D. and is responsible at driving the D-ILA panels depending on the movement of the image and as a result we get less motion blur.
Spider-Man: Far From home has many action scenes with fast camera movements and the combination of the Clear Motion Drive and Motion Enhance feature gave us very clear images with very few motion artifacts. Motion Enhance can be set either at low or high setting or you can turn it off completely if the motion feels unnatural. Lastly we should mention that the NX5 can support 4K content (4:4:4 chroma) at 60p which is pretty amazing to be honest.
Ports and Connectivity
When it comes to ports and connections from what we saw both the NX5 and NX7 feature exactly the same ports with exactly the same specs. As such all the ports are placed at the top left corner of the back side and what we get is a 3D sync port that can be connected with JVC's separate PK-EM2 3D Synchro Emitter in order to communicate through a wireless connection with the PK-AG3 3D glasses. Next there are a couple of HDMI ports, an RS-232C port for command and control, a USB port that can be used only for upgrades, an Ethernet port for wired internet connection and lastly a 12V trigger that can be connected to a motorized screen.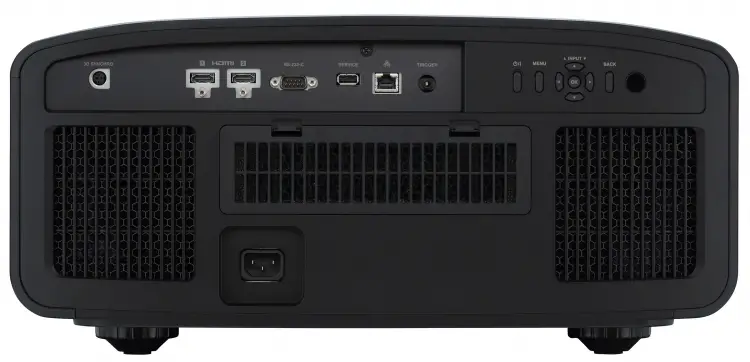 Both the HDMI ports are HDCP 2.2, support full 18Gbps transmissions as well as 3D and Deep Color. Having 18Gbps HDMI ports was something that many users were asking before and many projectors could not support. Thankfully JVC listened and made this possible in all their lineup.
OS, Apps and Features
When it comes to the extra functions and features it seems that the NX5 supports almost everything we saw in the NX7 both in terms of menus and settings so what we saw in our NX7 review will be similar to our review today.
Setup is fairly easy as the manual provide very details instructions on how to connect and calibrate everything so even if you have little idea what to do you shouldn't have any major problems. The four adjustable feet will help you balance the projector straight while there is keystone correction and lens shift in order to bring the image to it's correct position. As always use keystone only in case of extreme need as using it always lowers image quality.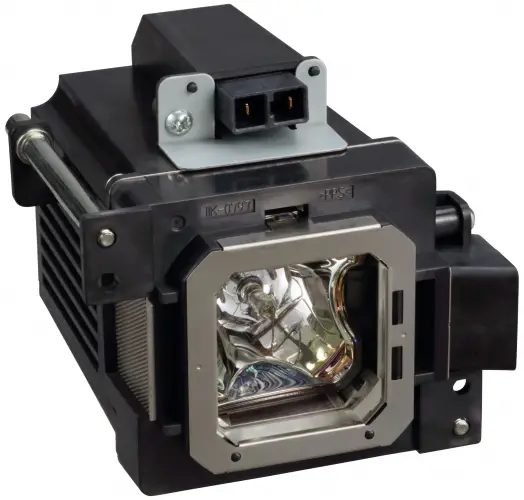 When we powered up the projector we got the familiar by now D-ILA logo and after some HDMI handshaking, that we should mention was a bit of a problem with previous JVC projector releases, we entered the main menu which is divided in 6 different categories that include settings depending their function. The ones we get are Picture Adjust, Input Signal, Installation, Display Setup, Function and Information. The NX5 comes with the majority of settings we got on the NX7 with a few missing but here we will mention the most important ones.
The amount of settings that we do get is a major one giving you great freedom when it comes to image adjustments. One of them is Multiple Pixel Control (MPC) image processor while there is also a six-axis color management system. Another nice feature is Installation Mode that allow you to group save settings that include Lens Control, Pixel Adjustments, Screen Adjustments, Mask, Anamorphic  Stretch Modes and Aspect Ratios. This is different from Lens Memories that allow you to save specifically image settings.
Also worth mentioning is the Auto Calibration Function that makes the NX5 capable of optimizing various aspects of the image like gamma, color space, greyscale or color tracking in order to compensate for the changing color balance in long-term projector usage. Also included is ISF C3 (Certified Calibration Controls) mode while a fan favorite is it's ability to display the MaxCLL and MaxFALL mastering data available for HDR content on some UHD Blu-ray discs.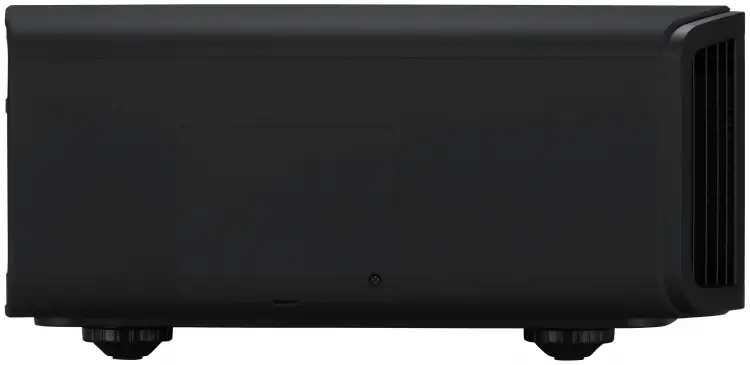 Final Thoughts
Getting a true 4K projector was a dream for many home theater fans but up until recently prices were very high for most people to consider. With Sony offering a true 4K projector in the $5,000 limit made the competition follow accordingly and now we see some models priced even below that price making them more affordable than even.
The NX5 is such a projector and it seems that JVC is determined to get a portion of the lower priced native 4K projectors market. There are so many things to like with this model as build quality is similar to the bigger NX7 and comes with many features of it's bigger brother. This means you will get amazingly sharp 4K images with greatly improved HDR performance while the Auto Tone Mapping feature helps improve things even more compared to previous years.
Motion performance was also on par to the NX7 as both the Clear Motion Drive and Motion Enhance features do a lot to improve the image and motion blur. If you add the 3D support, very thorough image and color settings, lens shifting, Auto Calibration Function and ISF C3 mode the projector has all the tools to create an amazing viewing experience.
But in order to lower the price and bring it to more affordable levels means that certain corners had to be cut. Compared to the NX7 there is a slight reduction in brightness but it still remains in satisfactory levels, the contrast is cut by half which can result in less than stellar black colors while we loose wide color gamut support. No motorized lens cover is not a big deal but it is a frustrating one especially when there are a couple of cheaper projectors that come with one and lastly for 3D playback you will need to buy the extra 3D Sync module and glasses that add a bit to the total cost.
Summarizing we will tell you this. For a native 4K projector that costs around the $4,500 price mark the JVC DLA-NX5 is an amazing choice if you are looking for a native 4K projector but don't want to spend huge cash and we assure you, this unit will pleasantly surprise you by it's quality, performance and image settings feature set. JVC has created a strong contender in this category and they deserve kudos for their release.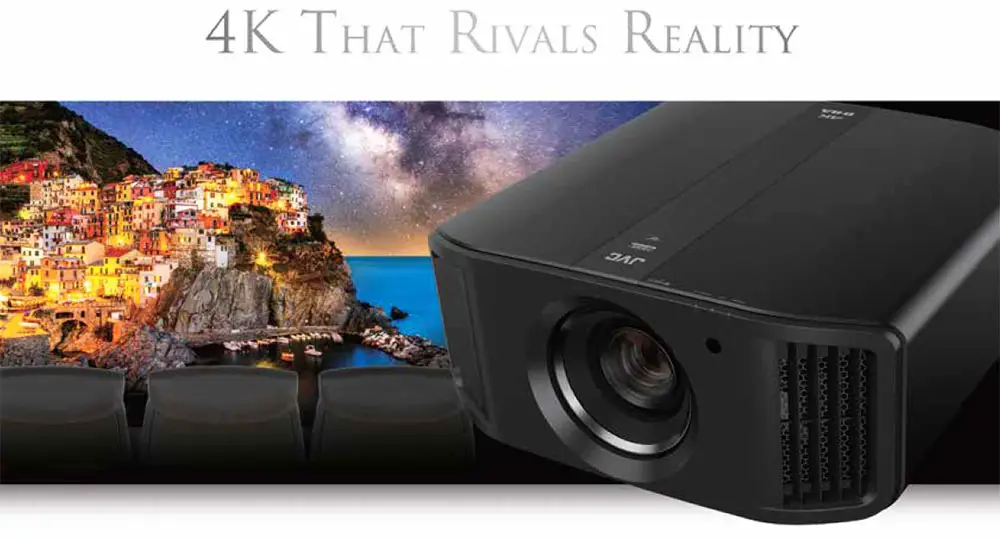 For more reviews you can check our dedicated 4K Projector reviews list or even look at our Product Reviews Table where you can find the brand and specific product you are looking for.
Also don't lose the chance to subscribe to our Newsletter and gain exclusive privileges.
---
---
Cheapest Places to Buy :
---
JVC DLA-NX5 Specifications