Klipsch RP-6000F
Reviewed at $1,150.00 (pair)
Movies performance
9.3/10
Inputs and Features
9.5/10
Pros
Unique looks
Great overall performance
Satisfying bass
Good value
Cons
Highs a bit over-exciting
Their vintage looks is not for everyone
Not ideal for small spaces
Not many color options
---
Cheapest Places to Buy :
---
Klipsch is a brand that need no introduction and has been a fan favorite of many home theater owners for more years than we can count. When it comes to speakers there is a huge market out there consisting of both well established as well as less known brands but if there is one that has managed to keep their status along with its dedicated audience then that would have to be Klipsch. And not without reason as they have managed to keep their standards of quality over the years creating some amazing speakers. In our Klipsch RP-6000F review today we will be taking a look at one of their floorstanding models and see how it performs.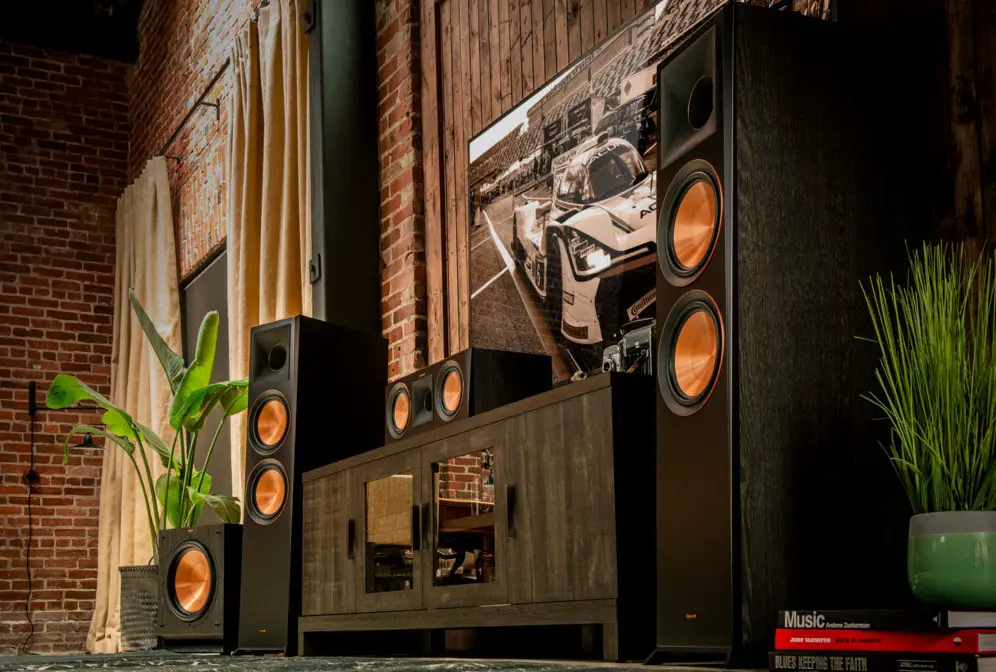 The RP-6000F belongs in the Reference Premiere series but this is not our first introduction into this amazing lineup as some time ago we had the pleasure to test another of the floorstanders, the smaller RP-5000F which left us with excellent impressions. This time we will go slightly bigger and check the second biggest unit in the series being surpassed only by the top RP-8000F.
Klipsch made sure to create an extensive series that includes 5 floorstanders, 3 bookshelves, 2 surrounds, 1 atmos module and 5 center speakers in order to provide its fans with plenty of options and flexibility when it comes to choosing the right size. And if you take into account the advanced technologies that are included here such as special Titanium LTS vented tweeters, Tractrix horn technology and Cerametallic woofers giving all Klipsch speakers their unique classic look then what we have here is certainly special.
If our previous experience with the RP-500oF is any indication we expect a lot from this bigger unit. The Reference Premiere series is riding high on the fame of its manufacturer but in the end it's the real performance we can get out of them that will determine it's success. And this is what we will be looking at here today.
Design, Inputs and Features
Exterior
All the floorstanding units in the Reference Premiere series have exactly the same design with their size being the only thing that make them apart. The RP-6000F being the second biggest of the bunch comes at a size of 39.62" x 9.35" x 17.02" (1006 x 237 x 432 mm) and with a weight of 49 lb (22.2 kg) it can be considered a bigger than average model that certainly is not meant for small rooms. A medium sized area with plenty of breathing space would be preferable in order to let these work their magic properly.
Featuring the same design means that all of them, including the RP-6000F come with the same bass reflex cabinet that uses a rear-firing Tractrix port. This rear bass ports can greatly influence the sound output of the speaker depending on how close you place it to the wall as this can disrupt the air flow at the back. The closer the port is to a wall it can enhance the low end output but at the expense of sound resolution and clarity. And if you take into account that these speakers are in general deeper than many average floorstanders this may pose some spacing issues. So keep this in mind in case you are considering these and you are not sure if they are ideal for your room.
When it comes to the cabinet construction the RP-6000F are really magnificent especially if you think of their price. Klipsch has put a lot of care into creating a tower that looks good and feels premium and solid in order to perform according to the standards the company has set over the years.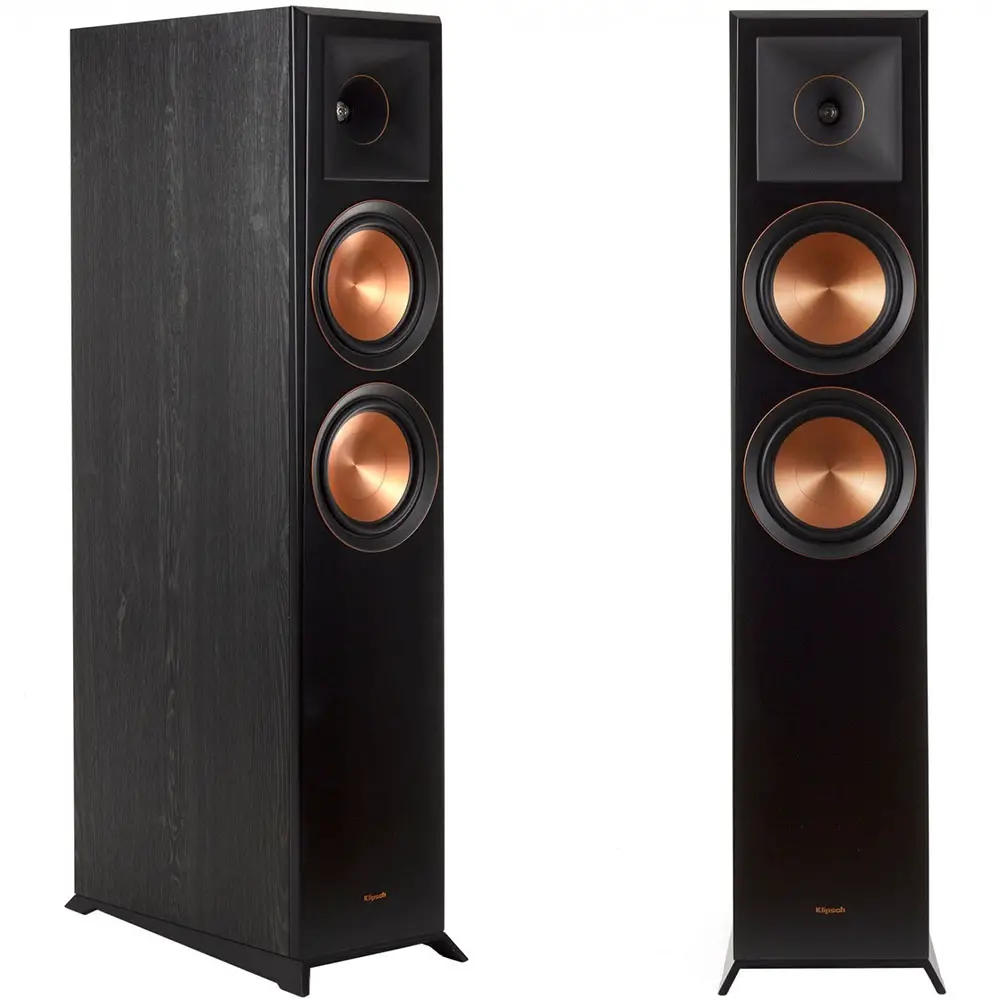 The RP-6000F include ebony and walnut models that boast satin painted baffles with a scratch resistant finish, while the premium piano gloss cabinet is hand-sanded for a clear, mirror-like finish. The mirror-life piano gloss finish is seamless due to the meticulous hand sanded and hand polished process.
The front baffle has the characteristic Klipsch look and if you have seen their designs then you immediately know what we are talking about. Covered completely by a full frontal grille that attaches magnetically for an elegant transition from powerful showstopper to discrete performance piece. Obviously having a Klipsch speaker would be a shame to use it with the grilles on but nevertheless the option is there for you to choose.
It's when you take the grille out that the speakers really shine and show their beauty with the horned based tweeter at the top being accompanied by two 6.5" Cerametallic cone woofers below. When we reviewed the RP-5000F we thought the 5.25″ woofers looked lovely but the 6.5″ ones being utilized here are on a league of their own. The sight is unique and we will never get bored of looking at the unique sight a Klipsch speaker offers. At the bottom a small logo complement the overall look.
Turning the speaker around we find the wire terminals at the bottom, as usual, in a small inset while above we get a single Tractrix port which is another proprietary Klipsch technology. The Tractrix ports Klipsch uses are different than normal air ports that we see in most other manufacturers as their size is bigger and are perfectly matched to the cabinet and woofers, creating ideal airflow with minimal distortion or turbulence even at the lowest frequencies.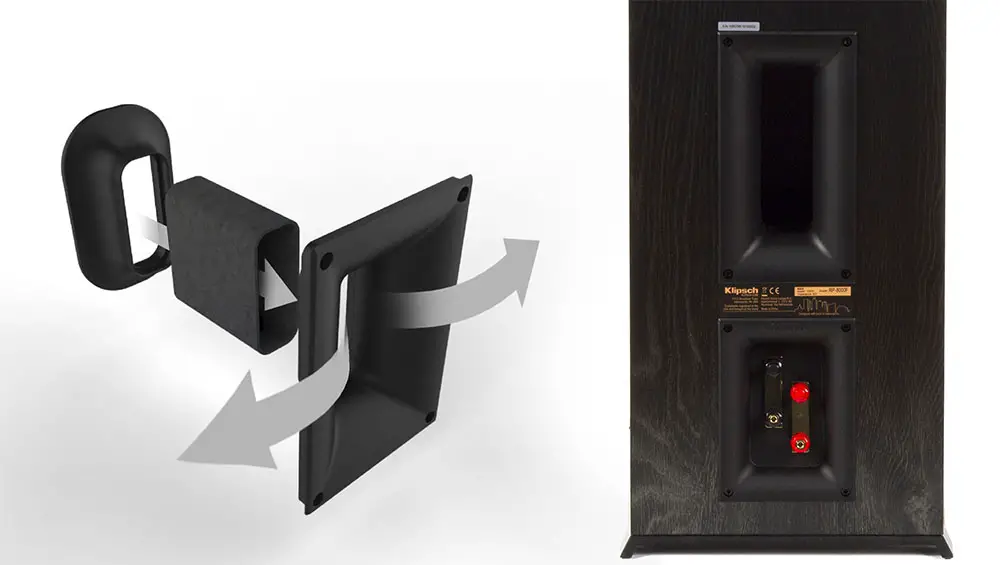 Utilizing Tractrix geometry, the Reference Premiere ports allow for the most efficient, fastest air transfer from the cabinet, which reduces port noise for punchier low frequencies. Klipsch Tractrix ports have custom designed inner flares that help reduce air turbulence entering the port. Less turbulent air helps reduce port noise for cleaner, more powerful bass.
The RP-6000F comes with cast aluminum feet and provide a more modern look with less resonance than MDF or ABS plastic. It is mechanically designed to minimize surface area in contact with floor, decoupling the speaker for faster, tighter low frequencies and more detail.
Klipsch speakers are unique in their look and you can immediately set them apart from the rest due their unique characteristics. The RP-6000F are not much different from what we had seen in the RP-5000F but they offer a nice boost in size in order to fit in bigger spaces. The Reference Premiere series remain a fan favorite with their copper anodized trim rings, cast aluminum feet, satin painted baffles and laser etched logos retaining their classic but at the same time premium quality that Klipsch was always known for.
Internal Hardware
And while it's nice to have some good looking speakers it's what is inside the cabinets that really matter and can make or break a speaker. No major change here compared to the RP-5000F as both share the same technologies with the notable difference being the bigger woofers being utilized in the 6000F that compliment the bigger cabinet.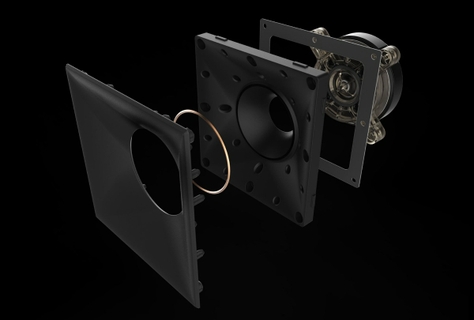 The RP-6000F uses a single high frequency tweeter at the top of its array along with a couple of 6.5″ woofers for the mid/bass frequencies. A very known characteristic of the Reference Premiere series is the speakers efficiency and we see that Klipsch has managed a 97dB sensitivity on the RP-6000F which means that the speaker is extremely efficient as it asks for less power for any given volume compared to most of the competition.
First of all for the high frequencies Klipsch has used a 1" Titanium LTS vented tweeter with Hybrid Cross-Section Tractrix Horn technology. Horn loading maximizes efficiently and increases detail while focusing high frequencies towards the listening area. Proprietary Tractrix geometry provides the most efficient transfer of high frequency waves into the listening area. The phase plug and compressed molded silicon face ensure smooth frequency response. When combined, the cleanest, most natural sound possible is created.
The exclusive Linear Travel Suspension (LTS) minimizes distortion for enhanced, detailed performance. LTS tweeters are a hallmark of previous Reference lines, making it a core component of some of the best speakers in the world. The new vented tweeter housing reduces standing waves that create unwanted harmonics, resulting in enhanced detail and clarity in high frequency reproduction.
This tweeter is complemented by dual 6.5" Cerametallic cone woofers which are another very characteristic Klipsch element. A signature feature of the Reference Premiere series, Cerametallic woofers are exceptionally rigid and lightweight for minimal distortion and maximum efficiency. When paired with the Tractrix horn-loaded LTS tweeter, it provides the highest speaker efficiency in its class.
The combination of the Titanium LTS vented tweeter along with the dual 6.5″ Cerametallic cone woofers give the RP-6000F a frequency range of 34 – 25kHz with 8 ohms of nominal impedance, an impressive 97 dB (2.83V@1m) of sensitivity while the crossover frequency has been set at 1800Hz.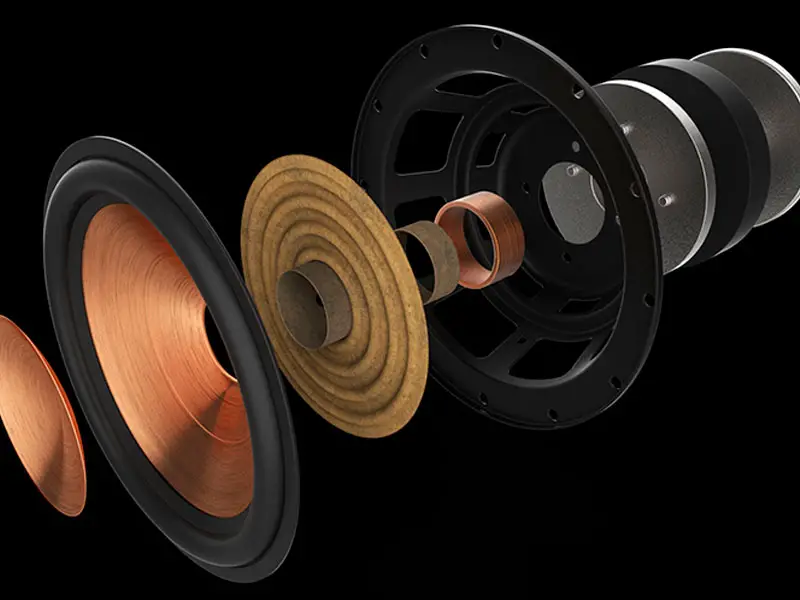 Connectivity
Τhe RP-6000F floorstanding speakers come with dual input terminals so you can bi-wire or bi-amp them for a custom, high-performance experience. With the available terminals you can either use bare wires or various plugs including spades or banana plugs if that is your preference but for these you will have to remove the seals that almost all speakers come with lately.
Performance
Unpacking was pretty straightforward although their size and weight do require careful handling. Klipsch has been very careful with their packing so no complaints there.
Now as far as positioning Klipsch has included very thorough directions in their manual for those not knowing how to place their speakers properly but as always these are general guidelines and each room has its own acoustics so it really depends heavily on you to try out different positions and see what you like the most.
Due to the nature of our testing, as we always do we left about 2 feet from the back wall in order to give them slightly more breathing space. Distance between the two speakers was around 9 feet while we like to toe-in them to our viewing position for better sound imaging. Keep in mind that placing the speakers near a wall will increase its bass output while lowering its overall definition so finding the best balance is always crucial.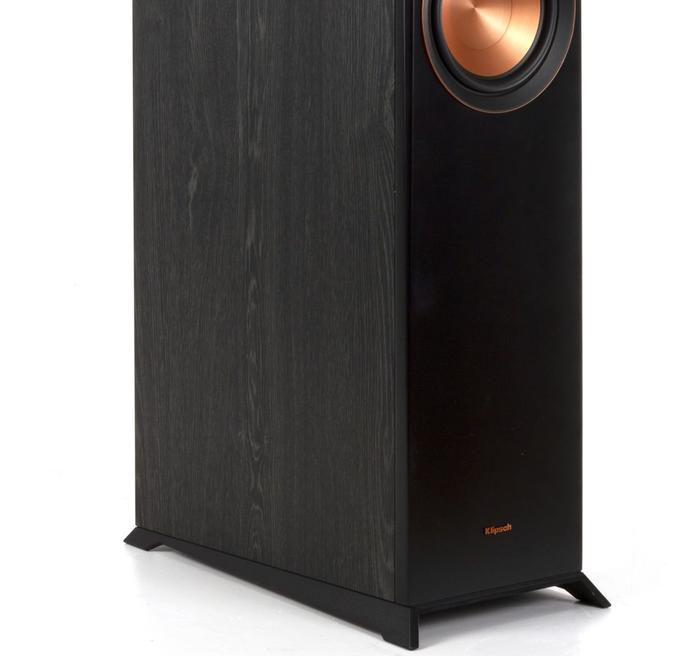 The RP-6000F we tried were new and had very few hours under their belt so keep that in mind when reading our opinion on them. Most manufacturers do suggest between 50-70 hours of break-in time before speakers can reach their peak performance but we always suggest to wait until around 100 hours to be completely sure of what you hear is what the speakers can ultimately give you.
Now as far as our testing is concerned, for our movies we like to use a simple 4.0 channels surround system with only two front channels and a couple of surrounds and the reason for this is because we can easier determine how the front speakers can cover the omissions of a center speaker and a subwoofer. Weaknesses become more pronounced and although this would not apply to any real home theater system as almost all of them would have both a center speaker and a subwoofer we are here to determine specifically the characteristics of the two front channels and at least for us this is the best way to do so.
On the other hand when it comes to our music testing we like to go for a pure 2.0 channels system with only the two front channels as this is the way that most music purists tend to go with. Now after all necessary connections and calibrations with our Onkyo AV receiver we were ready to begin.
Movies
First film for today we decided to try out Bumblebee in 4K UHD that comes with a fantastic Dolby Atmos mix. Being basically a Transformers film, Bumblebee is no short of crazy action, surround mayhem and low end destruction so we think it was just what we needed for the RP-6000F to flex their muscles.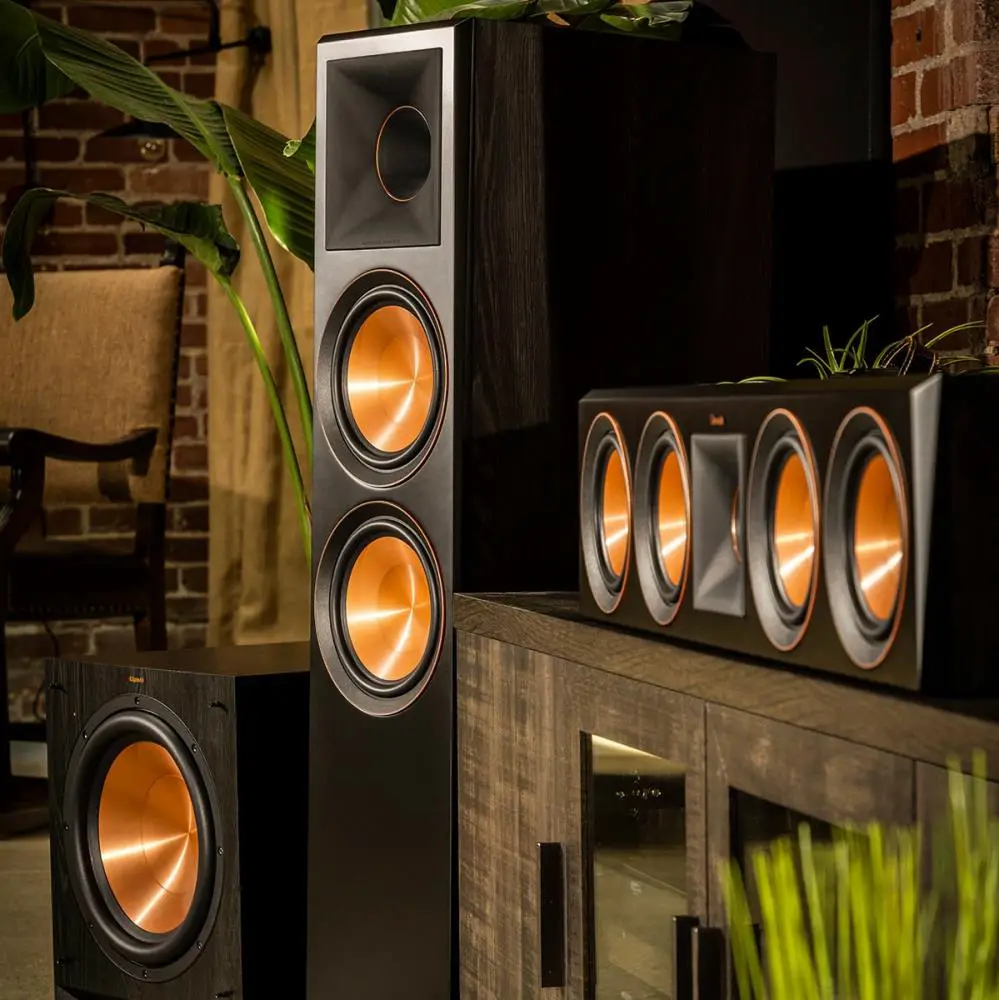 The floorstanders were every bit as good as we were expecting them to be. The front sound wall felt extremely detailed with many electronic sound effects that follow all these giant robots being particularly realistic and nicely articulated. There are many details in the soundtrack that are usually lost but here we could hear everything that made this world alive and believable.
When the action starts the speakers followed accordingly. The 6000Fs we able to give us very satisfying expansion but had also amazing depth making them almost transparent. The Cerametallic woofers had a very natural and raw acoustic signature and were able to reproduce the whole frequency spectrum with incredible accuracy. While we didn't use any Atmos speakers the floorstanders did a very good job adding some height to the performance and this certainly added to the whole immersion.
Dialogue felt very distinct and audible even through all the mayhem and while we were missing a dedicated center channel the RP-6000F did a great job at keeping it front and center without mixing it with the rest of the effects either it was during busy action scenes or more dialogue driven moments.
And while the RP-5000F had nice low end the RP-6000F takes it a step further as the 6.5″ woofers were able to dig slightly deeper and hit the low registers with a bit more vigor. With every explosion, cannon fire and building falling apart the floorstanders provided the necessary shaking and bass rumble needed in order to add the necessary weight to the action on screen.
The RP-6000F also worked harmoniously with our surround speakers, although a different brand, and we got very nice panning effects that were very accurate, nicely rendered and extremely detailed during channel transitions. And with the ability of the front channels to create such a high volume front stage even with the omission of a dedicated center channel and no subwoofer it was an amazing feat.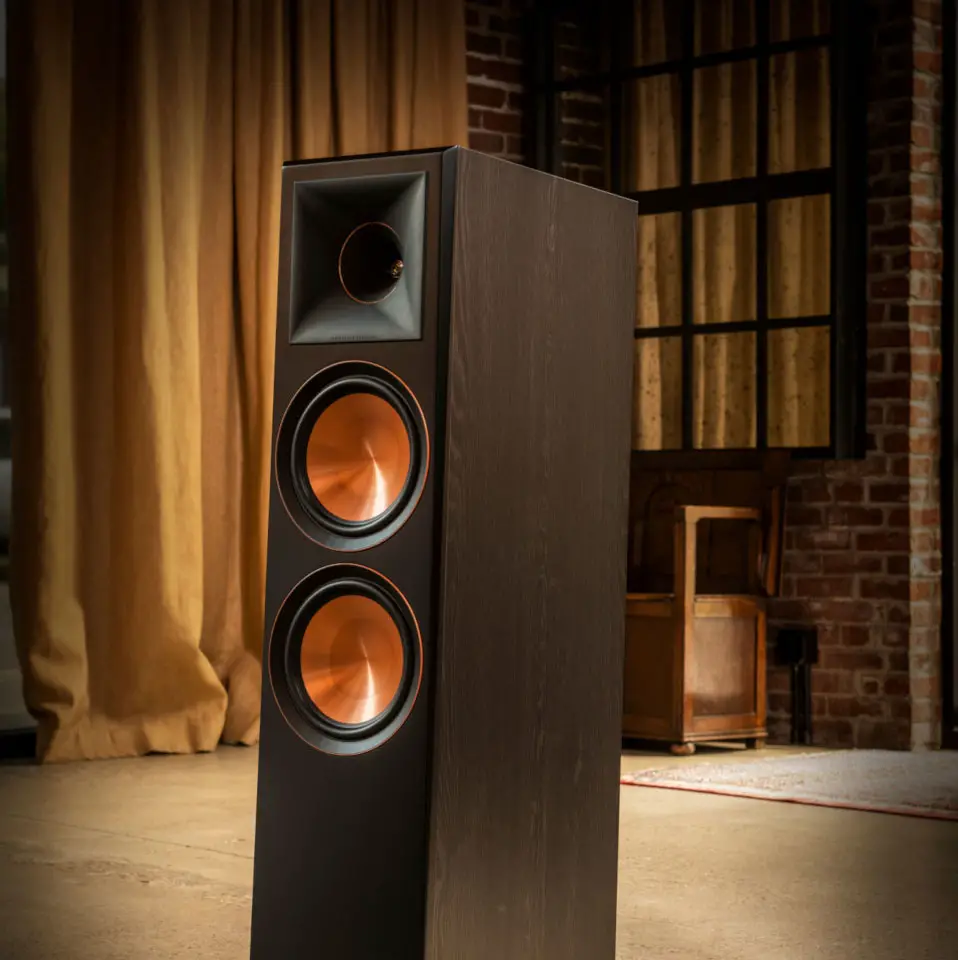 Lastly we should mention that if you like to push the volume levels higher than usual then the RP-6000F will certainly amaze you with their integrity and sense of control. There are many speakers that can offer high quality audio but some of this, is lost if you push them to the extreme. The RP-6000F did fare much better than average on this regard and could keep a straight face without loosing their balance or introducing any audible distortion either from the cabinet or the air port.
For our next test we decided to try another equally impressive film which is Cloverfield in 4K UHD. Unfortunately no Dolby Atmos mix here but the included Dolby TrueHD 5.1 lossless track is equally impressive even if the filmmaking style is completely different from Bumblebee we tested before.
With its camcorder style of viewing Cloverfield put you right into the middle of the action and in comparison to other destruction films that you get grander shots of the action here we rely more in environmental and surround effects in order to get the big picture and what is happening around us. And this is where the RP-6000F rely did an amazing job.
Their ability to offer greater sound expansion on all axis did help a lot in giving us a higher sense of our surroundings. Sound did feel more cluttered and more unattended due to the nature of the recording but even in this state sound imaging was great. Most of the time you don't see the alien on screen but you can hear it screaming, upping the tension and making you hold on the edge of your seat.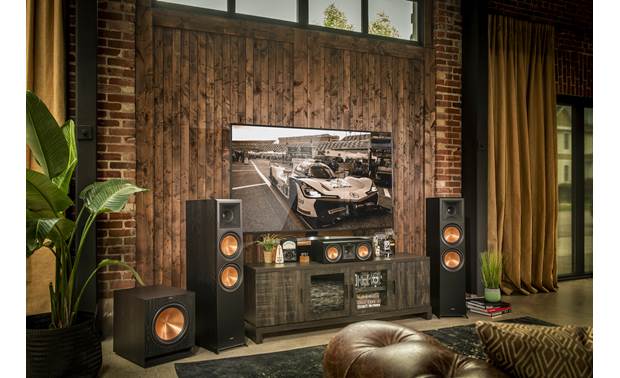 When the artillery started pounding the creature on the streets you could feel the power of each cannon fire, their thump and low end power. Dialogue was also extremely good and easy to discern even through all this chaos. There were moments that we could close our eyes and feel like a center speaker was connected showing how good the RP-6000F was covering this omission.
As with Bumblebee the speakers could go satisfyingly low and you could feel the terror as the buildings were crumbling under the power of the alien creature. The bass was articulate, nicely balanced and with enough oomph to give you a sense of scale and weight this monster had.
Overall the RP-6000F are the kind of speakers that can fit perfectly in a home theater and can give you such an acoustic experience that such disaster blockbuster films are made for. They can be easy going when a moment asks for that but also push to the extreme in more demanding scenes making them an excellent choice for any home theater system.
Music
Last test for the day is all about music so we switched to a pure 2.0 channels audio setup with only the two front RP-6000Fs connected and we streamed a selection of FLAC music tracks through the front USB port of our Onkyo receiver.
When we reviewed the RP-5000F we were very satisfied with their behavior so we were expecting at least a similar performance here and oh boy did we get it. The RP-6000F felt every bit as good as its smaller brother and then some. Vocals had so much energy and excitement to them that you could almost feel the emotions of the performer.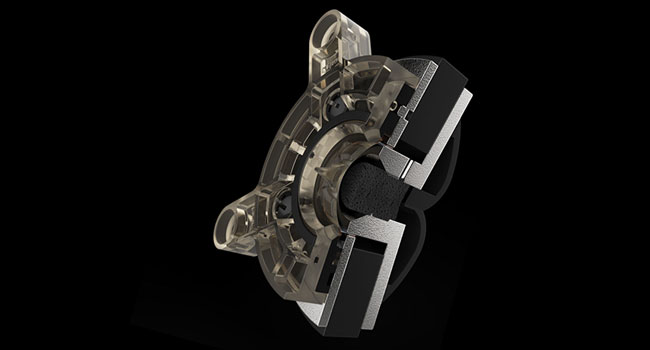 The speakers had excellent transparency and stereo imaging as they were particularly capable at rendering all sound sources with such accuracy that you could almost touch them in space. Stereo panning effects were very to the point and gave you this exciting feeling while transitions were very masterfully handled and never felt like loosing their grip of the rhythm.
The vented tweeter combined with the tractrix horn are a unique combination that give the Klipsch speakers a very distinct audio signature and the same we found here with the high frequencies being full of life, with plenty of energy and amazing clarity while it never felt to become tiring. At least in our ears it was like the floorstanders were masterfully sitting on the edge between being playful and overall exciting without ever crossing that line that could render them tiresome.
The 6.5″ woofers gave the speakers the necessary power needed to provide an excellent bass but also keep the pace during more demanding moments. The 6000F had a tad more power on the low end and could go just a bit lower than what the 5000F could while keeping the same resolution and clarity with the bass never feeling muffled or bogged down. We were amazed by how satisfying bass the RP-5000F could provide and frankly the 6000F managed to do even better. So if you like to go bass heavy on your music the speakers will follow with no complaints.
We could be talking for hours about how good the RP-6000F sound and how articulate they are with music but no words can replicate the real experience. If you are looking for some good quality speakers and music is your thing then you owe it to yourself to audition them because they really deserve it.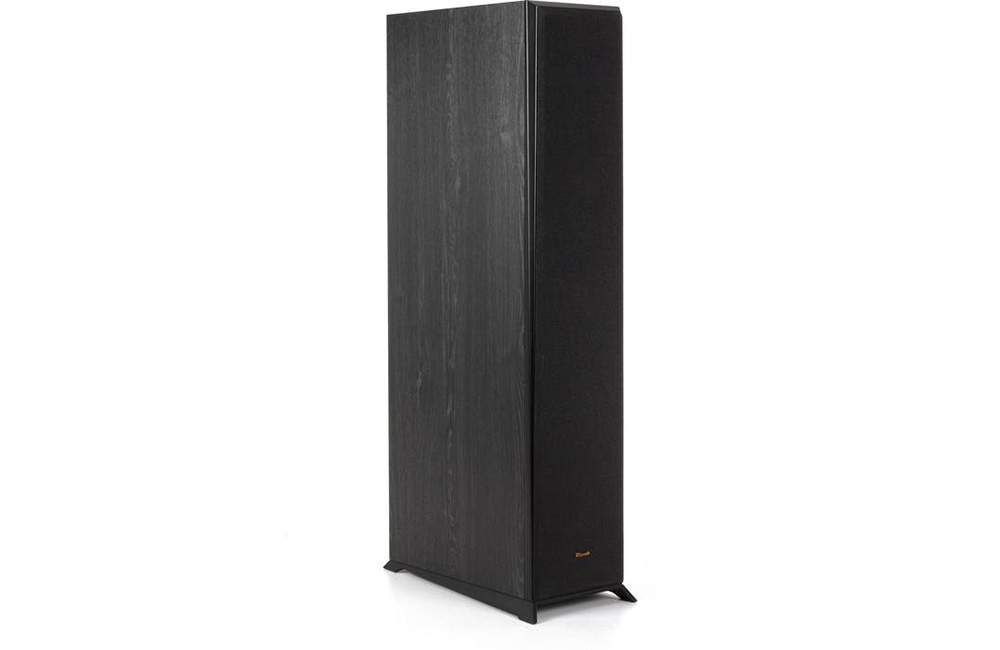 Final Thoughts
Klispch has been dealing with horn-loaded tweeter speakers for so long that they have become the signature of their design mantra. With every new release of theirs they push the technology to new levels of audio quality and the Reference Premiere series is the culmination of all this work. And the RP-6000F is the kind of speaker that doesn't hold back and has plenty to give you with the appropriate content.
Obviously we wouldn't be talking about a Klipsch speaker if we didn't mention its looks that have this unique classic vintage style due to the high quality cabinets and eye catching Cerametallic woofers that sound as good as they look. The horn-loaded tweeter provide the speakers with plenty of energy on the higher registers while things looked equally good at the opposite side of the frequency spectrum. These were some easy going floorstanders and particularly powerful too. If you pair them with some equally good electronics they can certainly provide a performance to be remembered.
Is there anything bad to say? Well, the speakers didn't fail in any particular area. Some people may find the highs a bit too much and this is natural due to the horn design being used but at least in our case we didn't feel like they were crossing the edge. But this may not apply to everyone as many like a more toned down performance in the high end. Also as with all Klipsch designs this unique vintage look is not for everyone and many certainly prefer a more modern look but this is Klipsch and this is how they have decided to be.
Closing our review we can admit that we were having high expectations of these ones and in the end we were not disappointed. The Klipsch RP-6000F are amazing combining high quality, unique looks and the necessary technologies like their horn-based tweeters, Tractrix ports and Cerametallic woofers in order to bring the kind of acoustic performance that we know Klipsch is capable of. If you are looking for a good HiFi experience and you have the space for them it's time for an audition.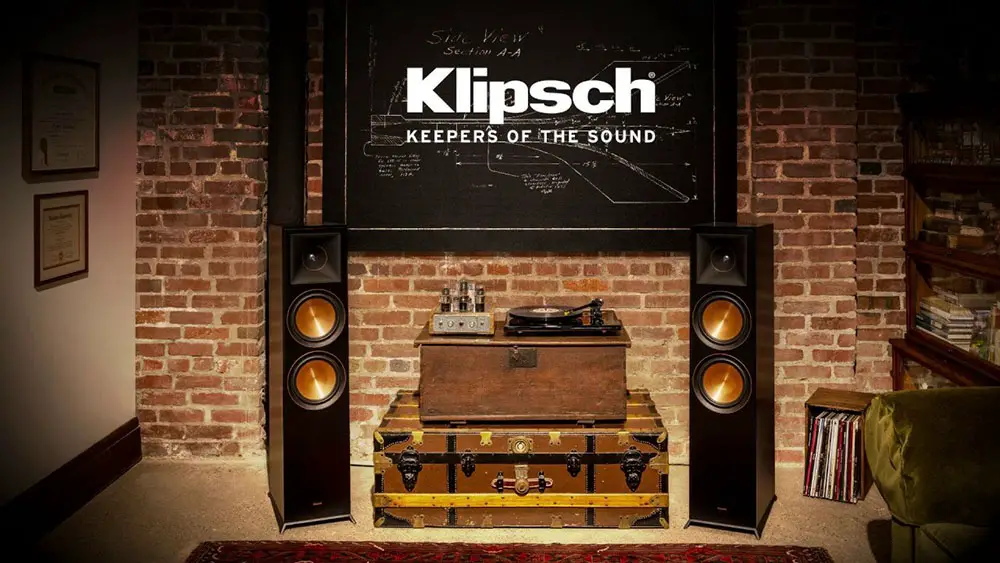 For more reviews you can check our dedicated Floorstanding Speaker reviews list or even look at our Product Reviews Table where you can find the brand and specific product you are looking for.
Also don't lose the chance to subscribe to our Newsletter and gain exclusive privileges.
---
Cheapest Places to Buy :
---
Klipsch RP-6000F Specifications