LG BX OLED
Design -

90%

Video Quality -

91%

Ports & Connectivity -

90%

OS, Apps and Features -

95%

Price / Quality -

92%
---
Cheapest Places to Buy :
---
It seems that until new panel technologies reach critical consumer mass OLED will remain the top technology if you are looking for a new shiny TV to get with the best image quality possible. But having an OLED is not a cheap solution and certainly not for everyone. And this is where LG comes in and in our LG BX review today we will be looking at their most cost friendly OLED model that promises to combine all the advantages of the OLED technology but on a more budget friendly package.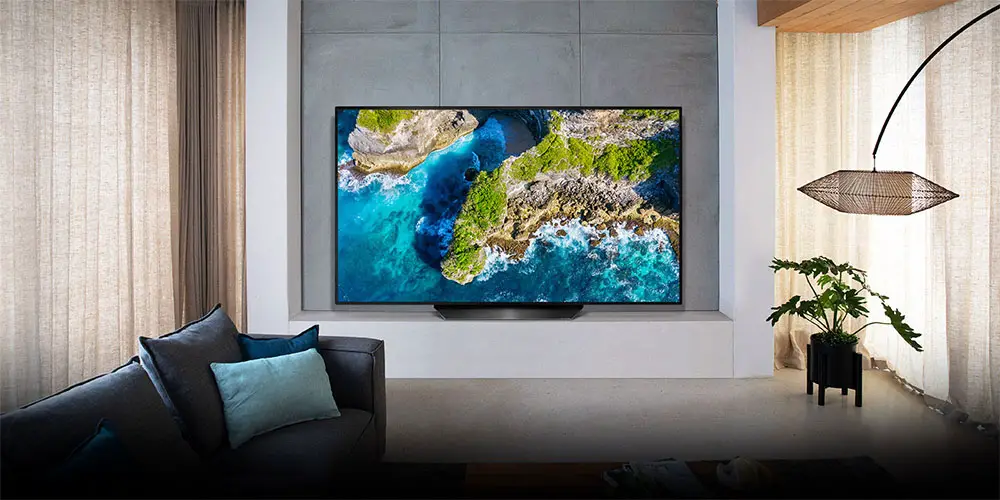 The B OLED series was and still remains a very popular one. Obviously for those looking for the best will go for the C series and this years LG CX continues to amaze but if you would like something a bit cheaper then the 2020 BX can be a good choice also. Obviously there are certain reductions in this one in order for LG to be able to cut down on the cost and we here today will determine how much these reductions affect its overall quality and how does it fare compared to last years LG B9.
But make no mistake. The BX may be the most cost friendly model in LGs arsenal but still packs amazing hardware and features. Under the hood we find the α7 Gen3 Processor 4K with its amazing AI capabilities, it has LGs new Dolby Vision IQ that can adjust the Dolby Vision dynamic tone mapping according to the light conditions in the room, is has all the new features that we saw in the CX like the Filmmaker mode and HDR Gaming Interest Group's HGiG mode, has HDMI 2.1 ports and supports NVIDIA G-SYNC, FreeSync and VRR and is Dolby Atmos enabled. On the software front we get the latest webOS along with a very extensive list of features that we will analyze in the appropriate section.
The LG BX certainly has a lot going for it so lets see if LG managed to release another great OLED this year.
Design
It terms of general design there are no real surprises as we got used to see these yearly releases being very similar to their predecessors. As such the BX seems to borrow the design from last years B9 with its characteristic crazy slim design and very thin borders.
As with most OLED TVs the BX is featuring an extremely thin top half while the bottom half extrudes a bit more as it houses all the electronics, connections and audio system. Nothing has changed as far as overall thickness as the lower part of the TV has a maximum of around 1,96″ (5cm) thickness making it ideal for wall mounting without making the TV look odd sticking out of the wall.
The similarities continue with the extremely thin borders that measure the same as last year and thus make the image look more immersive. At the right side of the back face we find the available connection ports which are again separated into two groups with one looking sideways and is more accessible when the TV is wall mounted and another looking backwards. It seems that the connections layout has changed a bit this year but we will talk about them shortly.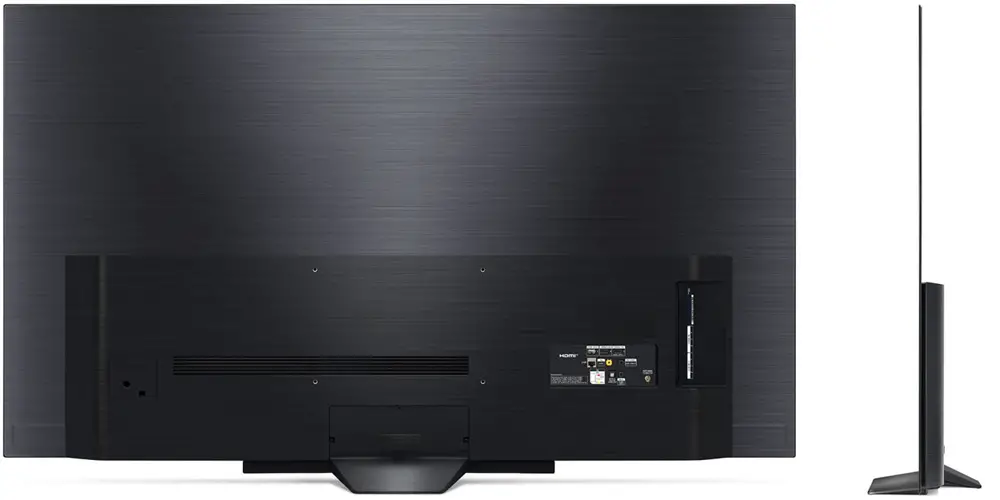 Build quality is high as it should for an OLED model with the top half back face being covered in metal holding the panel stable while the lower half is made out of plastic and has a horizontal line type texture in order to blend with the rest of the back panel. The power connector is once again separated from the rest and placed on the left side while we also get special holes for the VESA wall mount.
The stand being used seems to be very similar to the one we saw in the B9 so no changes here either. It has a smaller footprint that the one found in the C series which is good as this way you can place the TV on even smaller furniture. But on the other hand being smaller and because it's made out of plastic it can wobble more than what we would like. The C series feature a metal stand which feels more stable so the stand is another part where LG had to make cuts in order to bring the cost slightly down.
One thing to keep in mind is the overall low height of the stand. So if you plan on getting some short of sound bar you should make sure that it will not obstruct the TVs IR sensor. It's not a huge problem but it should be mentioned just in case.
The included remote seems to be the same as the one we saw in our LG CX review and is code named MR20 for this year. There haven't been any significant changes to the Magic Remote but we feel that it's already good enough to require any significant alterations to the design. LG seems to follow a different design principle for their remote than Samsung but this doesn't make it any less good.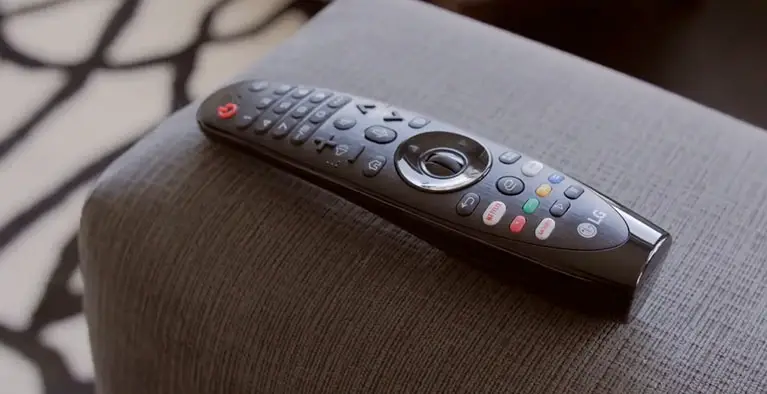 The Magic Remote that comes with the BX is a fully featured remote with all the buttons you will ever need while also including a built-in microphone for issuing your voice commands to the available voice control platforms, it can be used as a mouse pointer which is LGs unique feature for easier navigation and can be used as a universal remote either your other devices support HDMI-CEC or not. Excellent remote and we are pleased to see LG using it with the BX also.
No real surprises here for the most cost friendly OLED from LG. The BX features a similar design to last year and comes with the same remote we saw in the CX. The BX may be meant for those more budget sensitive consumers but still looks like a premium model.
Video Quality
Processor technology used
While all OLED TVs feature, for one more year, the same panel it seems that the B series will once again use a different, less capable processor than its bigger brothers. As such the LG BX features the 3rd generation of the a7 processor officially called "α7 Gen3 Processor 4K".
Once again both the a9 and a7 processors rely heavily on AI for its various functions and the 3rd generation of the a7 couldn't be any different. There are three functions that we should mention here. The α7 Intelligent Processor recognizes the quality of the original content and optimizes the clarity and sharpness by removing noise. The processor can also analyze the type of content—movies, sports, animation, or standard—and automatically adjust the picture and sound to best suit the genre.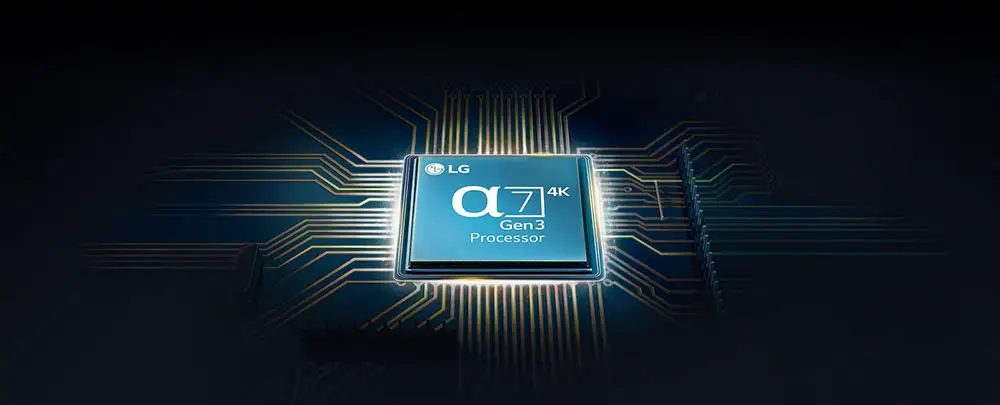 Lastly a light sensor measures the surrounding ambient light, then the processor finely adjusts tone mapping for optimal screen brightness. HDR content is refined with brightness adjustments that transform darker scenes into ones with better contrast, detail, and color depth.
For this part of our review we did test various video files with different qualities from low SD content, 720p, 1080p all the way up to 4K resolutions and the BX behaved very good into up-scaling everything into 4K. We didn't notice any major artifacts from the up-scaling process so we consider a job well done.
But the α7 Gen3 Processor 4K capabilities don't stop there as it comes with various audio refinements also including AI Sound, OLED surround and Adaptive Sound Control. More on these in the audio section of our review below.
Lighting technology used
The BX, as with all the other OLED models, is using self emitting pixels and don't have a need for a backlight as LCD TVs have. This results in higher light control and precision, and the ability to turn off completely its pixels means that you can get totally black levels which is really as good as it gets and really elevates the image quality tenfold compared to what we see in most LED LCD panels.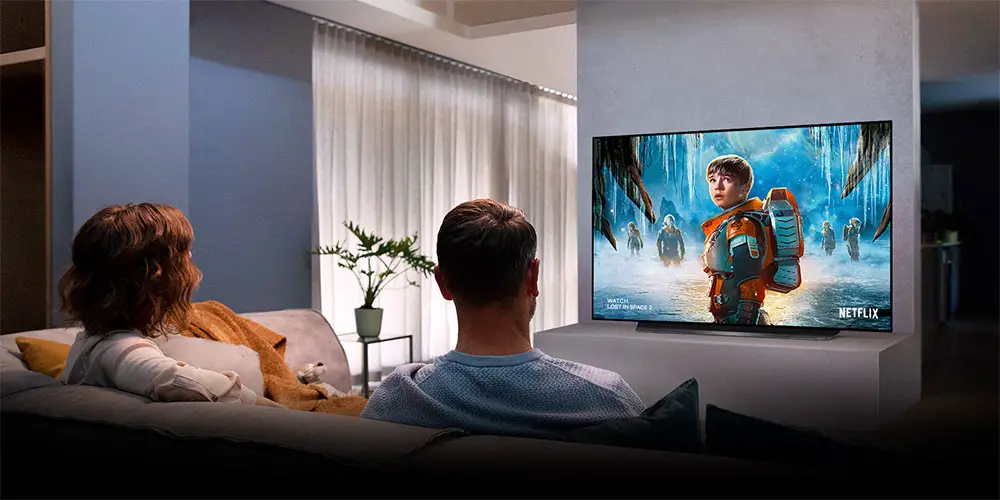 Because there is no backlight the BX has no problems like blooming that creates bright halos around bright objects when seen in dark backgrounds and also its image quality is not dependent on how many zones the backlight has as all FALD LCD TVs do.  So in this regard all OLED panels behave the same.
But as with everything OLED has a few shortcomings. The first one is that all OLED TVs, due to the technology involved, cannot be as bright as LCD TVs can. In the early years there were small advancements in this but the last few yearly releases seem to have hit a wall. At least the true black levels slightly compensate this shortcoming. And the second one is that OLED technology is more prone to permanent burn-in. We have seen manufacturers, including LG, adding special features to combat this but nevertheless OLED has slightly increased risk of burn-in and should be handled accordingly.
For this second reason LG has included  features like Screen Shift, Logo Luminance adjustment and automatic pixel refresher.
Brightness / Contrast
It is widely accepted that OLED is the superior technology when it comes to image quality. But even so when it comes to brightness it looses hands down to LCD as it seems it will never be able to have the ample brightness output we see in some of the top LED LCD flagships today.
Focusing on the BX now in terms of SDR brightness the TV gave us 398 nits  over a 10% window which is adequate for SDR content and this number is close to what we had measured last year in the B9 but slightly lower than what the CX gave us. SDR content does not have high brightness requirements so what the BX gave is enough even if not overall exciting.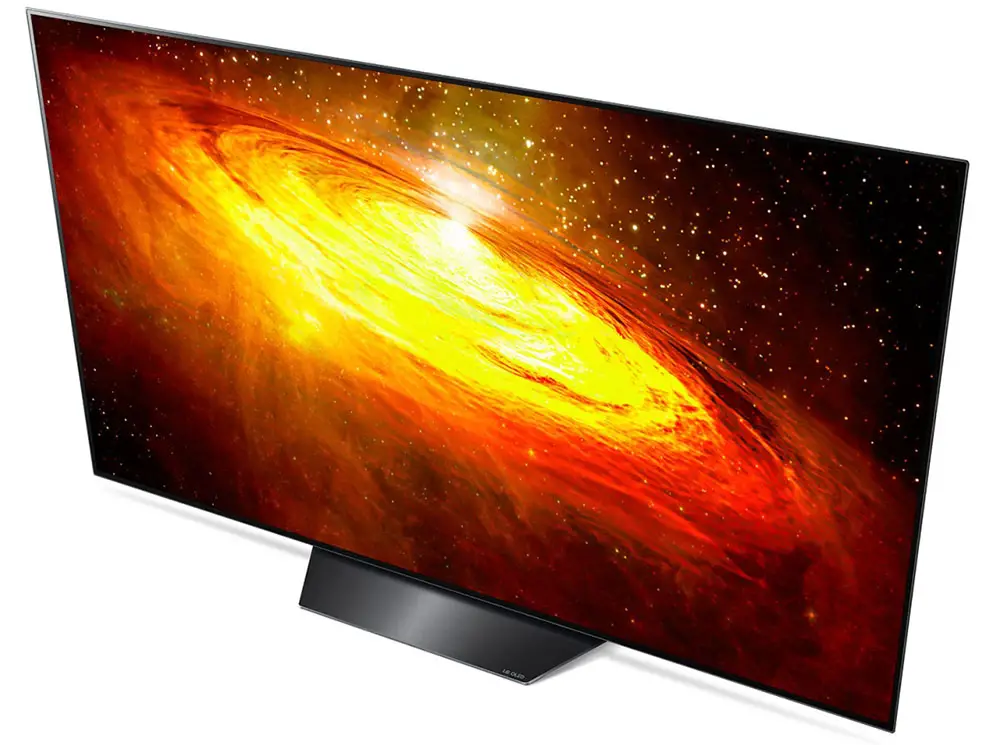 On the HDR front our measurements showed that the TV can output 536 nits of brightness over a 10% window. Once again this number is average for any kind of HDR content. It cannot be described as bad but certainly doesn't have the pop and bright highlights that some other models are capable of displaying. Unfortunately this number is lower not only than what we measured in the CX but also lower than last years B9 model which is a bit strange but not overall surprising.
The BX features the exact same Automatic Brightness Limiter (ABL) we saw in the CX and what this does is to limit the overall brightness of the screen when large parts of it become too bright. The Peak Brightness option in the menu can control how this mechanism behaves and to be honest it's a trial and error procedure to see what you like the most. If you turn this off then in most cases you will get about half brightness output except from when almost the entire screen is bright in which case it will limit the peak brightness to even much lower levels. If you use any other setting then in most cases you will get much higher brightness numbers close to the number we measured and with a full bright screen this number will get lower.
The BX has infinite contrast ratio as per usual with all OLED TVs. By turning off its individual pixels it can achieve perfect black levels instead of dark greys that we are used to see in LCD models.
Viewing angles
Another major advantage of OLED and thus of the BX is its extreme viewing angles that it can offer. No other technology can reach such angles and even with the improvements in LCD TVs by adding special filters to somewhat get closer to OLED performance what OLED offers is one of a kind.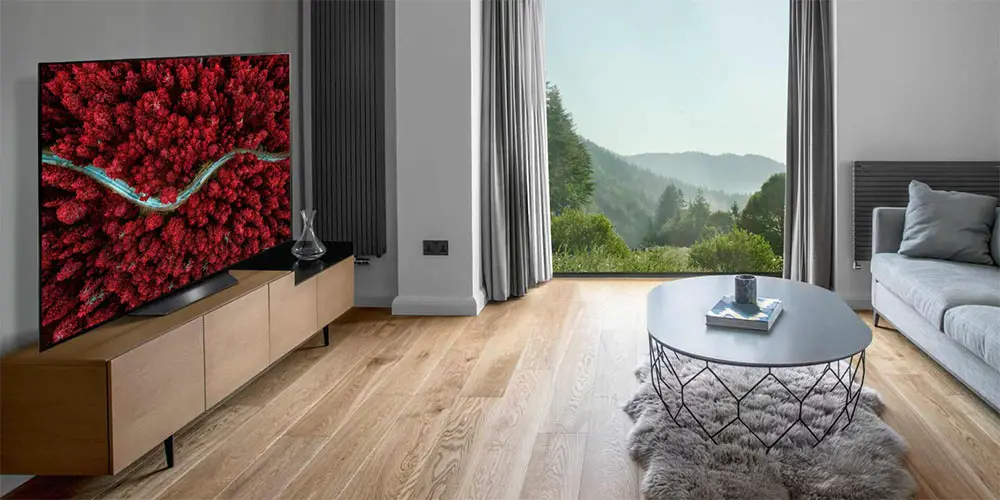 Nothing majorly surprising here as the BX seems to behave the same as both the CX as well as last years B9. Color reproduction, black levels, brightness and contrast seem to hold well up to 45-50 degrees of viewing angle. Pushing it more the image will start deteriorate fast but to be honest you will have to be at an angle that you will most probably never watch so we can say that the BX did excellent here.
If you want to use this TV as a family TV with many members watching at different angles or you are looking for the most cost sensitive solution with the best viewing angles possible then the BX is your best bet.
HDR support
The BX along with all the other LG models support the same HDR protocols as it happens the last few years with LG being firmly behind Dolby's offering and with no end visible to this war. As such there is HDR10 support which is essential for 4K UHD playback, we also get HLG that is mostly used for broadcasting and obviously Dolby Vision which is the most advanced HDR protocol and supports dynamic metadata for the best image quality possible.
New this year, as we briefly mentioned above, is Dolby Vision IQ which is a feature we first saw in the CX and seems that the BX is also using. What Dolby Vision does is that by using an external light sensor it can detect the light conditions in your room and automatically adjust the Dolby Vision dynamic tone mapping in the content you are watching. This may seem like a neat feature to have but to be honest it just adds more processing to the image and we are sure that most image purists will keep this turned off. But it's an interesting feature to experiment with nevertheless.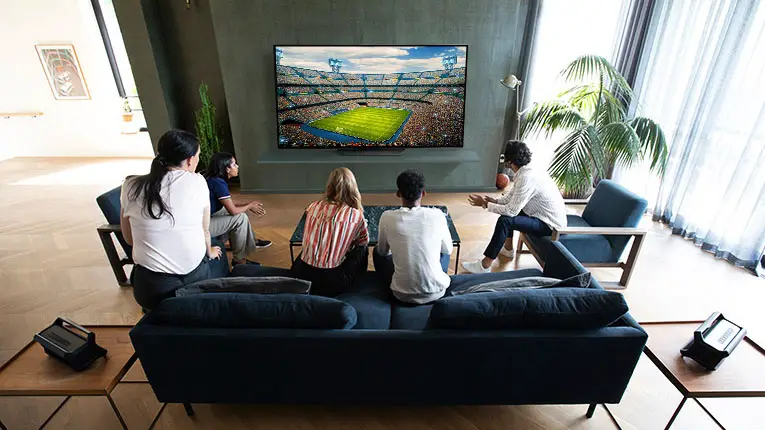 Color coverage
Let's move on to our color coverage tests. The BX obviously supports wide color gamut which is essential for 4K UHD with HDR viewing and can reproduce more accurate and lifelike colors. The BX managed to give us 97% coverage of the DCI-P3 color space and 75% of the wider REC.2020 color space. Now these numbers are extremely good and in fact are better than what we saw in last years B9. In fact the BX performed extremely close to this year CX which is incredible for a cheaper model.
To be honest we were expecting to see slightly lower numbers here compared to the CX but the numbers are so close to each other that we will consider them almost equal. Compared to last year the BX managed to improve the rendered colors in the REC.2020 and while this may not be very visible to the naked eye any improvement is a welcome one.
Motion performance
Moving on to our motion performance tests and the BX once again exbibits similar performance to what we saw in the CX review. First of all the BX comes with OLED Motion Pro, as LG like to call it, and with it comes a native 120Hz panel. Unlike LCD TVs that rely on backlights that show flickering OLED doesn't need such and thus is entirely flicker free to most people.
The unit comes with the usual Motion Interpolation features in order to create smoother motion and remove unwanted judder when camera is making fast panning movements. The BX showed very good behavior with very little artifacts when we enabled the interpolation system. This feature can be activated by the TruMotion setting in the menu and adjust the two available sliders for De-blur and De-judder according to your needs.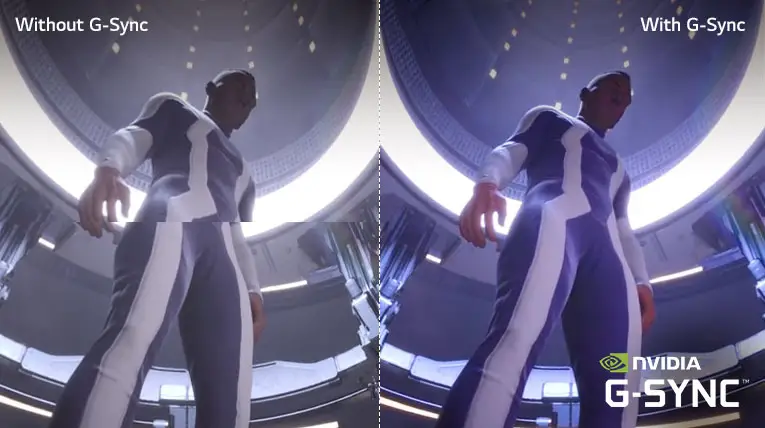 Just keep in mind that if you push these sliders in very high settings the "Soap Opera Effect" will appear making content appear like shot on video. Keeping minimum values in both can really improve the overall effect and smooth the motion just enough to be obvious.
Similar performance we also see in the included Black Frame Insertion (BFI) feature which is a motion interpolation technique where a black frame is inserted every two individual frames and thus give you the illusion of smoother movement. This feature has its ups and downs and the most obvious weakness is the lower brightness output due to the included black frames. And with OLEDs fairly limited brightness this can lower brightness to even less desired levels. At least it seems that unlike previous years LG has improved on the flickering appearing with BFI as now you can set different settings for it and thus change the flickering frequency.
Lastly we need to mention that the LG BX supports all available VRR technologies and this means it comes with HDMI Forum VRR, NVIDIA G-SYNC and also AMDs FreeSync solution. This way you have the choice to use the one your other devices support which is a huge plus in our books.
Input lag
Onto the input lag test now and we have been in general very pleased with the kind of performance TVs are giving us lately. Reaching as low as single digit numbers is more impressive than ever and most big manufacturers seems to have made great improvements in this regard.
Now specifically for the LG BX we managed to get a 14.8ms input lag with the Game mode enabled which may not be the best we have seen to this day but it's extremely low and similar to what we had seen in the CX. Now this input lag is an average of 1080p and 4K resolutions as their difference is very small to be noteworthy. Outside of Game mode the input lag can go as high as 96.5ms so keep this in mind in case you are going to use the TV for a lot gaming.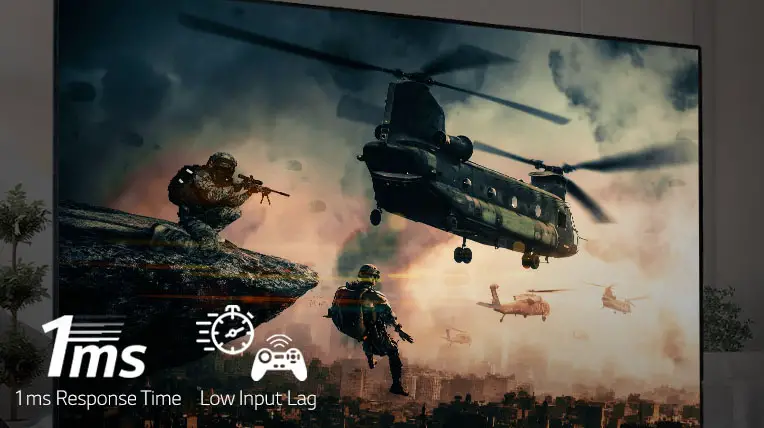 But it's not only the extremely low input lag that makes this TV ideal for gaming as LG has included Auto Low Latency Mode (ALLM) that can be use with other supporting devices like gaming consoles and can greatly improve the gaming experience. For this year we also get the new HGiG mode that was created by the HDR Gaming Interest Group and ensures you enjoy HDR games the way that their creators and developers intended.
Before closing this part of our review, as we always do in order to get a real feeling of how this TV behaves with gaming, we used our PS4 and played with F1 2019 going around a few laps ain Monaco. The BX really shines with games that need very fast responses. Our commands were registering instantly and we didn't feel like we needed to adjust to any delays or lagging. Everything was showing on screen blazingly fast and with perfect accuracy so you wont have anything to be concerned about in this regard.
Image quality impressions
The BX managed to give us very satisfactory results and for one more year it can be considered an excellent choice for those seeking an OLED TV but are a bit more concerned about the price. The BX continues the trend of being an OLED on a budget by cutting back on specific specifications in order to bring the cost down to more affordable levels.
On the plus side the BX has all the goodies that come with an OLED panel which means the jaw dropping, deep black levels, infinite contrast and amazing viewing angles along with with up-scaling and AI features that stem from the use of the new α7 Gen3 Processor 4K. Color coverage was excellent, input lag was amazingly low and motion performance was more than solid.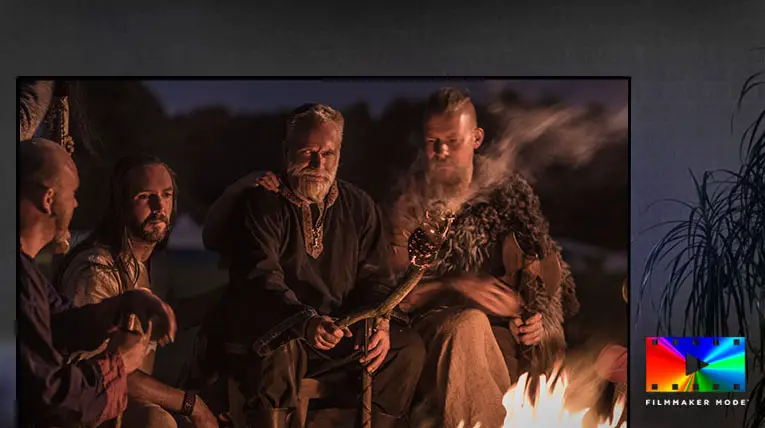 LG has also added the Filmmaker mode which is a one button feature that adjusts the image settings of the TV in order to give the most accurate picture without the need to make any manual adjustments and this is one that will greatly be appreciated by many users. This along with all the other new features like the HGiG mode and Dolby Vision IQ give the BX an extensive list of visual enhancements that you can choose from.
The most obvious downgrade here compared to the CX is in its brightness output. And the difference is enough to be obvious. Obviously something had to give away in order to create a cheaper model so as with the previous years the BX leaves a lot to be desired in this regard. Lastly, as with all OLED TVs, the risk of permanent burn-in is higher and you should always be extra careful of how you handle it in order to avoid any unpleasant surprises.
Audio Quality
Onto the audio now and what is used in the LG BX is pretty much the same system we saw in the CX we had reviewed recently with only minor differences in its capabilities. As we have said many times before with the arrival of so slim TVs there is simply not enough space to incorporate capable enough audio systems that could really create an immersive atmosphere. Manufacturers are trying to rectify this by adding more advanced software and virtual tech but if the hardware is not capable enough there is so much software can do.
The BX OLED comes with a pretty standard 2.2 channels audio system with a total of 40 watts of power. Part of the a7 Gen 3 Processor 4K capabilities is the inclusion of AI Sound and what this does is to optimize sound by genre by analyzing audio sources depending on content type. The AI algorithm can also up-mix two-channel sound to convincingly mimic 4.0 surround sound, enhancing the quality for a better listening experience. The only difference here is that the feature seems to be a less capable variant of the AI Sound Pro that we saw in the CX OLED.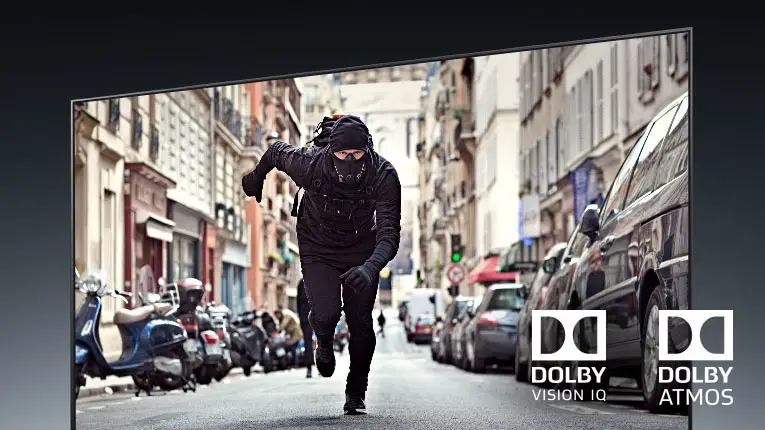 In addition to the above there is also Bluetooth surround ready which means that the BX cannot only mimic 4.0 surround audio but it can really drive the up-mixed audio into two wireless, Bluetooth enabled speakers that you can use as surrounds and get much better and accurate surround activity.
And since we are talking about surround audio the TV is also capable of supporting Dolby Atmos either through some streaming service or through the HDMI eARC connection. With the included audio system don't expect to get a real Atmos experience but nevertheless it's good to see it being supported.
Continuing on the TV's AI sound capabilities we get what is called Adaptive Sound Control. Whatever you're watching either it be dramas, sports, movies, news, or music the processor recognizes it and optimizes the sound for that specific content type. As a result newsreaders' voices will be clearer, and movie sound effects will be more vivid.
Lastly we find the AI Acoustic Tuning function and with this the TV is using the magic remote's built-in microphone to detect the size of your room, the position of the TV, and where you're sitting in order for the processor to tune and balance the sound to fit your space.
In general the BX can provide a very solid acoustic experience for casual viewing. The sound can go loud and keep enough clarity, voices are distinct and sound effects can be pretty loud. Just don't expect to get the kind of immersion a surround system can provide. For that you will have to go for a soundbar or a full surround system.
Ports and Connectivity
Let's see next what kind of connections are available in this unit. All ports are located on the lower right corner of the back face and as we mentioned earlier they are split into two groups with some of them looking sideways while the rest look backwards. Now what is a bit strange is that while the overall design of the BX is almost exactly the same as the B9 LG had rearranged the ports available. No major changes as the number of ports have remained the same but this layout change seems rather strange.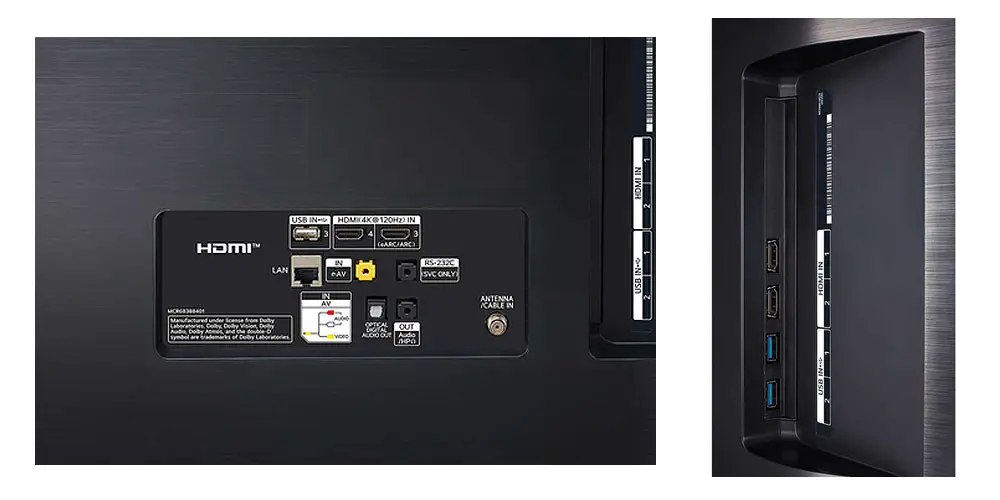 First lets talk about the connections that look sideways. Here we get two HDMI ports along with two USB ports for connecting external storage and other USB connected devices. Now for those looking backwards we get another two HDMI inputs along with a third USB port, an Ethernet port for wired connection to the network, a composite video input that needs a special adapter to be used, an RS-232C port, a digital optical audio output, an analogue stereo audio output and the usual antenna/cable connector.
Now a few comments to make here and beginning with the HDMI ports, the two looking backwards are actually version 2.1 but as we had seen in the CX review these are not full 48Gbps ports but rather 40Gbps capable which means they can support up to 4K@120, 4:4:4 and 10-bit along with the rest of the old and new available technologies these bring including ARC, eARC, ALLM, VRR, G-Sync, FreeSync, HFR and HDMI-CEC. Also there are no USB 3.0 available here which is a shame but not very much surprising.
As for the TVs wireless capabilities we get the usual setup with the built-in WiFi (802.11ac) along with support for the newer Bluetooth v5.0.
OS, Apps and Features
Let's now look at the smart platform that is included with the BX with all its functions and features. As with all LG TVs in 2020 the BX OLED is using the latest version of LGs WebOS as we have reached version 5.0. In general not many things have changed and LG continues to update its system with small refreshes and additions each year by adding more functionality to keep things interesting. More or less the webOS we get here is the same we saw in the CX OLED so let's analyze everything one by one.
The general layout of webOS is not much different from previous years and if you have spent any time with any of the previous versions then you will find your way around pretty easy. At the bottom we get the usual row called "ribbon" which includes the menu, settings and all app tiles. A second row above that appear when certain apps are selected and is called the "AI Preview". This second row can give you specific recommendations for content or quick access links which can be very handy in certain situations. Unfortunately not all apps support this but some other bigger ones like Youtube does.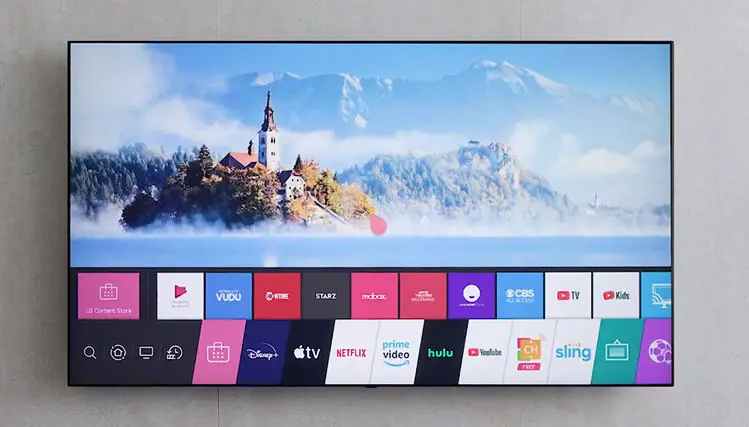 And as we mentioned apps the webOS in the BX boasts a huge list of supporting streaming services and you will certainly find all the big names here. Services like Youtube, Netflix Amazon Prime, Vudu, Hulu and Google Play Movies are all accounted for. There are also the new Disney+ and Apple TV+ but what is unfortunately missing is the Freeview Play system including all stand-alone catch-up apps like BBC iPlayer. We saw this in the CX OLED so it was not a real surprise to see the same in the BX also.
Having so many apps and streaming services can be a real pain navigating around, especially if you use multiple of them at the same time. So there are two ways to customize everything. The first one is to manually place the tiles whatever way you want while there is an Intelligent Edit also that rearranges everything depending on how often you use each app. This way you can have everything the way you want or depending on how heavily you use them.
Part of the AI suite in the BX is also the inclusion of Apple's Airplay 2 along with Homekit. With Airplay 2 you can stream content from other Apple devices on your TV while HomeKit lets you control certain aspects of the TV through your mobile device.
Another feature that LG included for the first time this year is Sports Alert. With this feature you can set in the TV your favorite team across multiple sports and let the BX inform you of pending games, in which channels they will be shown and real time score updates. Sports Alert is using the internal tuner to get information but it lacks a bit in selection options as the most prominent teams are supported till now. It's a nice feature and if LG can include more teams and improve its functionality it can be a really nice feature to have.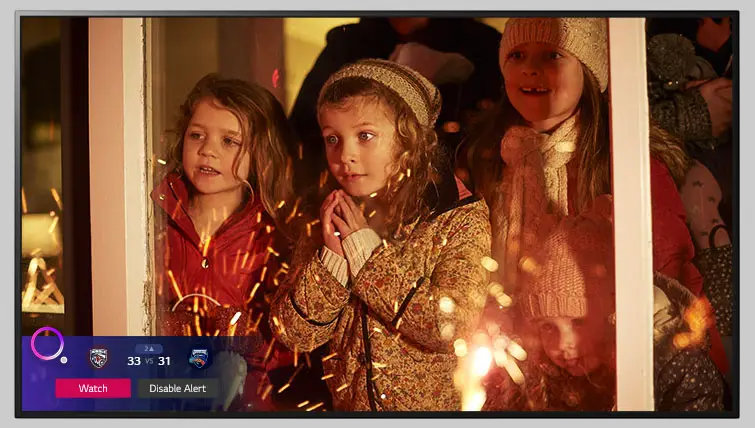 No smart TV would be complete without having voice control capabilities and the BX OLED comes with the full package. This means that other than LG's own ThinQ AI platform that can be used to obtain various information there are also Amazon Alexa and Google Assistant built-in for you to choose from. With the use of the magic remote built-in microphone you can issue your commands accordingly not only to the TV itself but also to other smart devices in your house.
But voice control is not the only alternative you have as you can download and use in your mobile phone or tablet the LG ThinQ app and control the TV through that. For those of you that still use the LG TV Plus app keep in mind that this is not going to work with this model so you will to use the mentioned app for the BX.
The Home Dashboard is another neat feature that finds its way into LG TVs for one more year and although it seems very similar to what we saw before there are small changes and refinements for 2020. With the Home Dashboard you can have an overall look of all connections and connected devices to the TV while you can also access all of them remotely from one big screen and create your unique daily routine with the Magic Remote.
Lastly we shouldn't forget to mention that this model is WiSA ready which means you can connect any WiSA enabled wireless speakers that use built-in amplifiers and stream audio this way. We haven't been able to test this feature yet but having more is always good as it gives plenty of options to the end user.
So that's all for webOS. Nothing major to note here that we hasn't previously being said. The webOS is an amazingly stable platform with great UI, huge support and plenty of options to choose from. LG is refining and adding new functions every year making it even better. Good job on this one.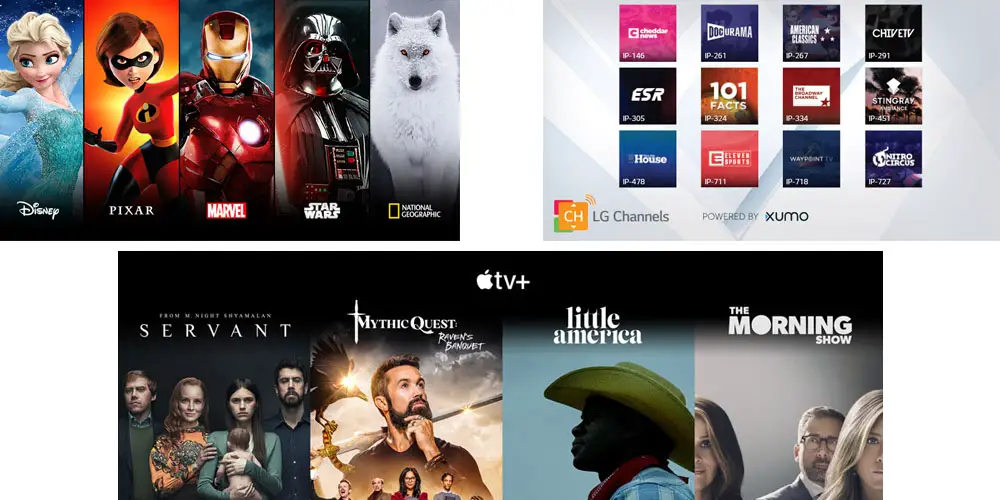 Final Thoughts
The BX OLED is the kind of TV that tries to combine the best of two worlds which is the quality that OLED has but on a more affordable and low cost package. But even if we are talking about a toned down OLED make no mistake as the BX is still considered a premium model and with it comes a huge amount of features and functionality that any OLED should have.
On the plus side the BX had managed to show us excellent up-scaling capabilities even with its less capable processor, it's color reproduction and coverage was great, it had all the amazing values we can get from an OLED such as extreme viewing angles, crazy deep blacks and infinite contrast while input lag and motion performance were top notch. If you add to these the very good build quality and the inclusion of the fully featured webOS then the BX has little to envy from its bigger brothers.
On the downsides the most obvious downgrade, that is characteristic in the whole B series over the years, is its lower brightness output. In fact the BX managed to give us even slightly worse numbers than last year's B9 OLED. Other than that there is no HDR10+ which is a Samsung thing for now, risk of burn-in is slightly higher as with all OLED panels and should be handled with care while for 2020 we are missing Freeview Play and catch-up apps like BBC iPlayer along with DTS decoding which has been dropped from all LG models.
If you are determined to get an OLED TV but the cost worries you then the BX OLED is your best bet. It comes with almost all features that you can find in the higher CX OLED and it's mostly on it brightness output that is loosing some points. OLED is still the king and even this one is a very capable model that can do real justice to this amazing technology. And combined with a more affordable price the LG BX OLED is a TV worthy of consideration.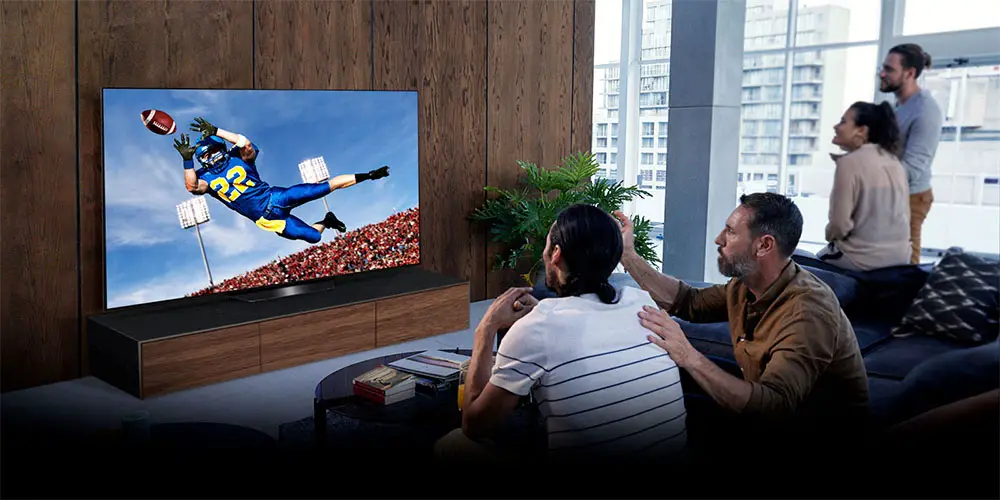 For more reviews you can check our dedicated 4K OLED TV reviews list or even look at our Product Reviews Table where you can find the brand and specific product you are looking for.
Also don't lose the chance to subscribe to our Newsletter and gain exclusive privileges.
---
---
Cheapest Places to Buy :
---