LG C9
Design -

93%

Video Quality -

96%

Inputs and Ports -

92%

OS, Apps and Features -

96%

Price / Quality -

94%
---
Cheapest Places to Buy :
---
LG is firing on all cylinders for one more year with their OLED TVs in their effort to improve an already amazing 2018 lineup. With Samsung abandoning the OLED bandwagon some time ago and focusing for the time being exclusively on improving their LCD tech, LG found the opportunity to set the standards, so to speak, as far as TV image quality is concerned. And while OLED still have a few weaknesses it is widely regarded as the best TV tech available today.
In 2018 LG managed to amaze us with a very stellar lineup that gained favorable comments across the board making it even more interesting to see what improvements LG have managed to make in this year's models. For 2019 LG presented 6 new models for their latest OLED series that include a new rollable TV that will release later this year, one 8K OLED TV and four 4K UHD variants.
In 2018 one of our most favorite models was the C8 as it managed to offer the best value for money with it's spectacular image quality while keeping it's cost at reasonable levels. So when we learned that we would review it's successor made our excitement even higher. But the real question remains. Does the new C9 model manages to live up to it's predecessor's name and what further improvements could LG include in an already amazing model? All answers to follow in our LG C9 review.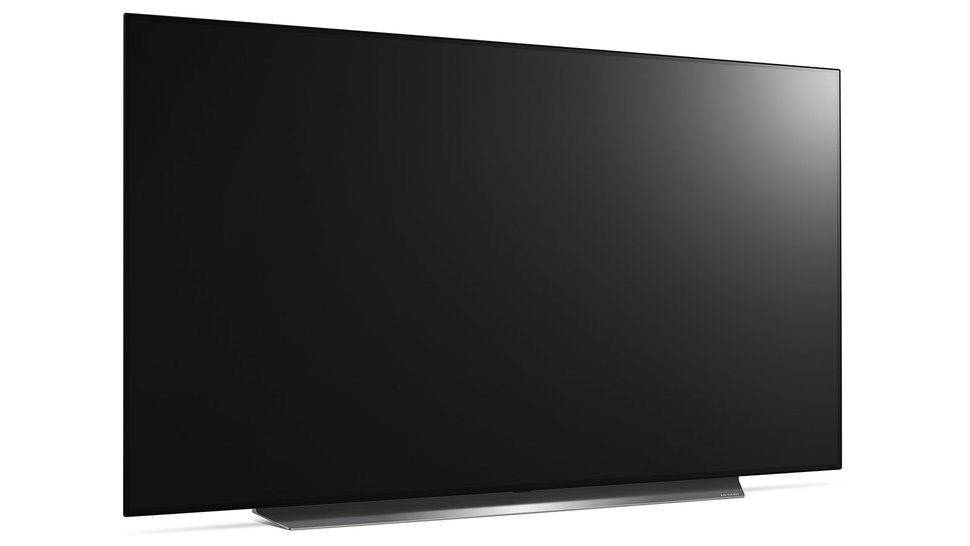 Design
When it comes to the general design of the C9 we felt both excited and disappointed. Being an OLED the TV is thin, crazy thin we would say as even the bottom part of the panel that houses all the electronics measures only 4.8cm in thickness. The borders are also extremely thin and the gap between the edge of the bezel and the pixels is almost non existent making this a sexy looking TV.
On the other hand we really miss the One Connect Box that Samsung uses in all of their top tier models. With LG we get all connection ports at the back of the main body which can make connections a bit more difficult in case you are considering to wall mount it. The back is covered in a dark brushed metal finish plastic while all the connections are located in the right side separated into two groups with one looking sideways while the other looking backwards.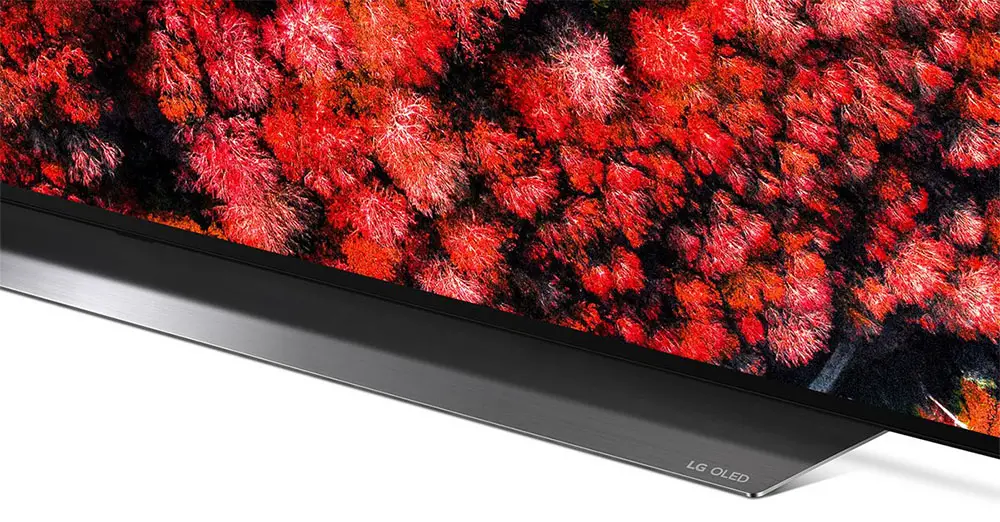 The stand of the C9 looks similar to last year's C8 but with a few key differences. Instead of a curved front design the C9's stand comes at a straight angle while the rear of the stand is much heavier in order to offer better balance to the panel. Length is similar, with the stand covering nearly the full width of the TV so you have to make sure your furniture is big enough to fit all of it.
The remote that comes with the unit is the familiar Magic Remote that LG uses for some years now. The 2019 version (codenamed MR19) comes with the same buttons configuration we had seen previously and the only thing that shows this is a new version is the different icons on some of the buttons. Other than that the remote offers the same kind of functionality we had seen before. It uses Bluetooth for communication which means there is no need to directly point it at the TV while you can also use it as a mouse pointer which is a great unique function of the Magic Remote. This year you also have the ability to program it to function as a universal remote if your other devices don't support HDMI-CEC.
Overall build quality is very good and the C9 looks very similar to last year's C8 with small improvements. Not much to say on this regard with the C9 looking like a really premium model.

Video Quality
Processor technology used
What makes this TV tick is LG's Alpha 9 Gen-2 processor which is an incremental improvement over last year's excellent Alpha 9 processor that LG used in their 2018 OLED models. In the early days of OLED we were seeing major improvements on performance but it seems lately this is slowing down indicating that the technology is slowly reaching it's limits. Therefore manufacturers are shifting their focus in other important areas to further improve image quality and one of them is processing.
One key feature that LG seems to be promoting heavily this year is AI processing which uses a database of 3 million sample images and by analyzing on-screen content the TV tries to adapt it's settings accordingly. This applies to all content that the TV displays but obviously it comes more handy in lower resolution content like 1080p, 720p or even SD material with it's effective noise reduction. The Alpha 9 Gen-2 processor is also very effective in clearing macroblocking and banding that is very evident in highly compressed streaming content.

There is also Dynamic Tone Mapping which seems to be very effective against HDR brightness limitations of OLED. By analyzing HDR on a frame-by-frame basis the C9 is able to adjust the tone mapping accordingly in order to improve HDR images.
Lighting technology used
One of the major pillars for the amazing image performance of OLED panels is that they don't need any backlight to function. As such the C9 is able to dim or turn off it's individual pixels giving it a major advantage over traditional LED LCD panels. The most obvious advantage of being able to handle each one of it's individual pixels is that there is no blooming at all around bright objects when viewed against a completely dark background. Looking at the TV displaying an object against a completely black background must be seen to understand how good it looks. If you haven't looked at an OLED panel before it feels like a small revelation and it is really as good as it sounds.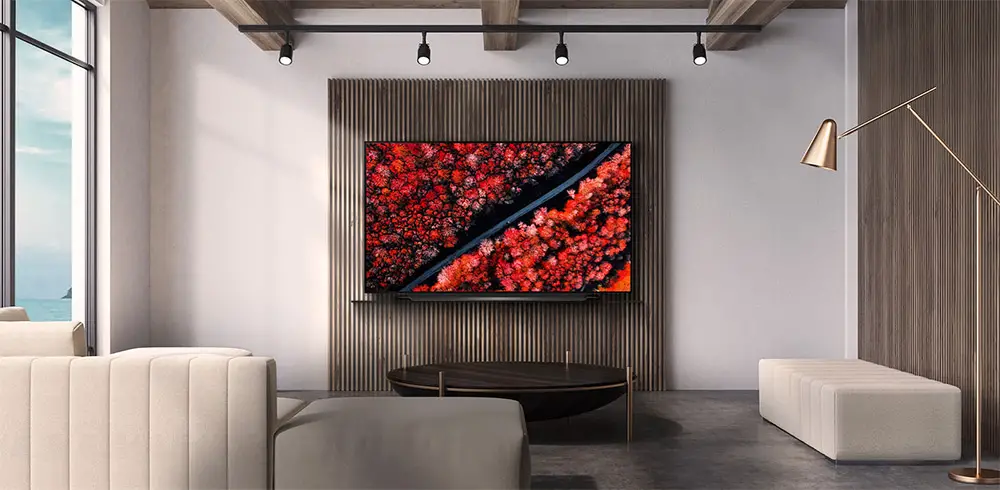 Brightness / Contrast
If there is one thing that OLED is playing catchup compared to LED LCDs is it's peak brightness. And while in the first years we were seeing major improvements in this area the last couple of years we get the sense that this is slowing down a bit which probably means that the OLED tech as it is today is reaching it's limits in this regard.
Measuring the C9's peak SDR brightness we got 425 nits on a 10% window while HDR brightness on the same 10% window gave us 817 nits. Both these results are very good without being exceptional. Of course SDR content doesn't have the need for excess brightness while in HDR we may not be reaching LED LCD's brightness levels but the deep blacks that OLED can display is their saving grace making the lower peak brightness not such a big problem.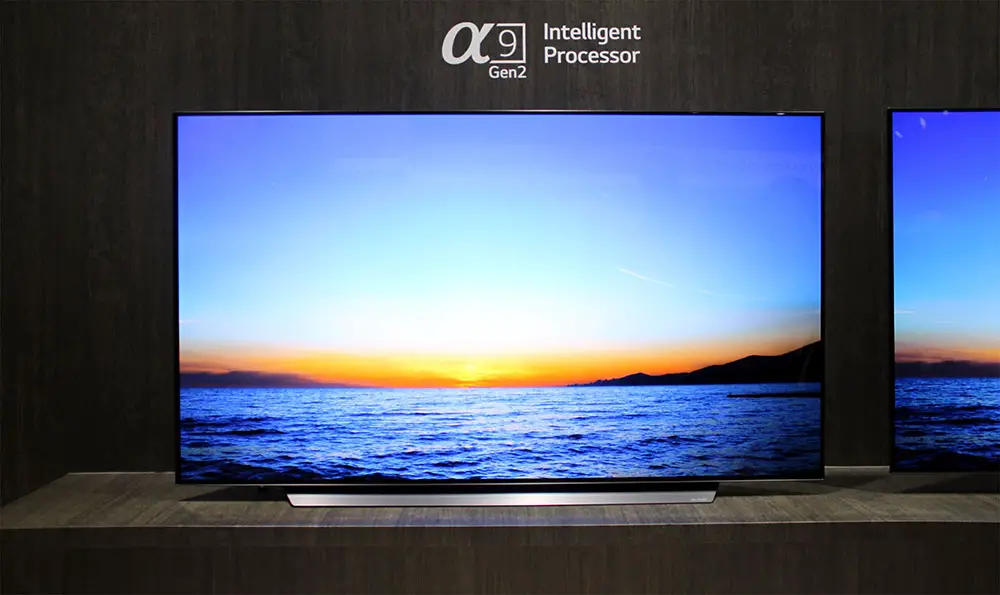 One thing we should mention is that the C9 has an Automatic Brightness Limiter (ABL) which lowers the overall brightness when large parts of the screen get very bright. Turning that off sets the maximum brightness at different peak levels than using a different setting. Also the 10% window that we get our measurements may not present a real world example but what it does is to give us a point of comparison between different TV models.
Being an OLED panel the C9 has infinite contrast ratio as the TV can switch it's pixels completely off and as a result you get completely black images that is a vast improvement over they greyish blacks we are used to see in most LED LCDs.
Viewing angles
Another of OLED's strong points is it's extreme viewing angles. LED LCD TVs were always struggling with this and manufacturers have tried various technologies and tricks to minimize the problem but to little effect. OLED on the other hand retains it's colors, brightness and black levels at viewing angles that many people won't feel comfortable at watching giving you vastly more freedom in your viewing area. As such the LG C9 managed to retain much of it's image quality up to around 45 to 50 degrees at which point we would start to see some pretty obvious color deterioration. Excellent results on this regard from the C9.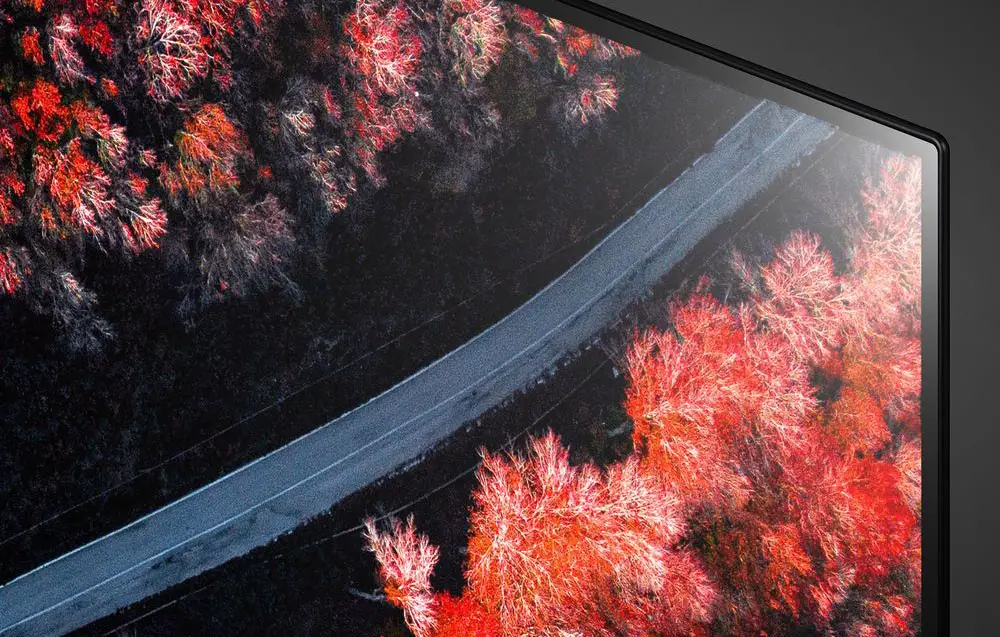 HDR support
When it comes to HDR support things are pretty standard as LG is offering the same the last few years. As such the C9 supports the basic HDR10 which is required for UHD playback, it also supports Dolby Vision which is the more advanced HDR protocol with dynamic metadata which seems to have gained much support lately as well as HLG is is used for broadcasting.
What is only missing is HDR10+ which is the new rival for Dolby Vision and we are curious to see if LG will support this with a future update because the C9 already has HDMI 2.1 so it's hardware ready for that (although in theory HDR10+ can work with HDMI 2.0 also). But for the time being it seems that HDR10+ is a Samsung's thing only.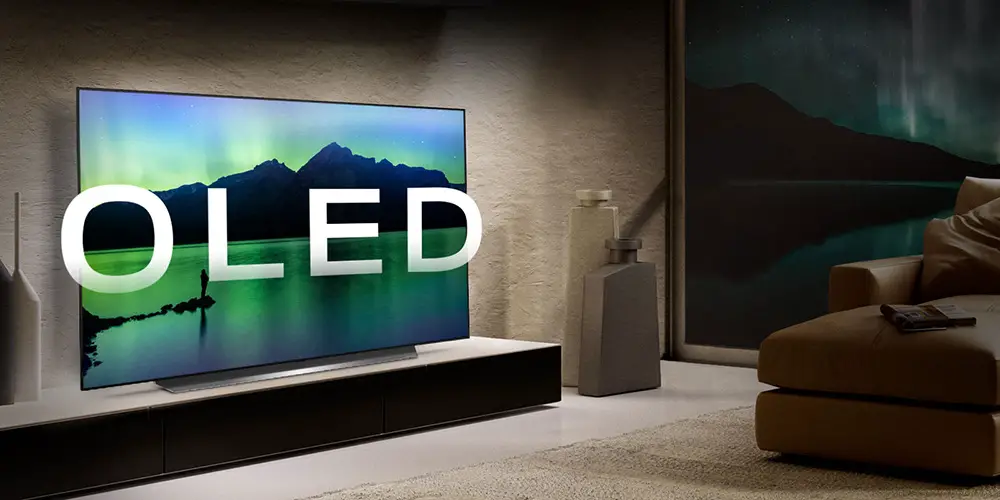 Color coverage
The LG C9 supports wide color gamut which is great especially for watching HDR content by making the colors more true to life. Measuring the coverage in the DCI-P3 color space the C9 managed to give us almost 98% coverage which is one of the highest we have seen and comes close to covering the entire mentioned color space. As for the wider REC.2020 color space measurements were also great with about 73% coverage and although this number is way above the average there are a few models we tested in the past that had a bit higher numbers than this.
In general the C9 have amazing color coverage with almost complete coverage of the DCI-P3 and great coverage of the REC.2020 which is another aspect that contributes to the TV's breathtaking image quality.
Motion performance
The LG C9 exhibited excellent motion performance which is something that we are used to lately from LG OLED panels. The C9 has a native 120Hz refresh rate and comes with both Motion Interpolation and Black Frame Insertion (BFI) features. Motion Interpolation can smooth out fast camera movements during action scenes but too much aggressive settings can reveal the dreaded Soap Opera Effect.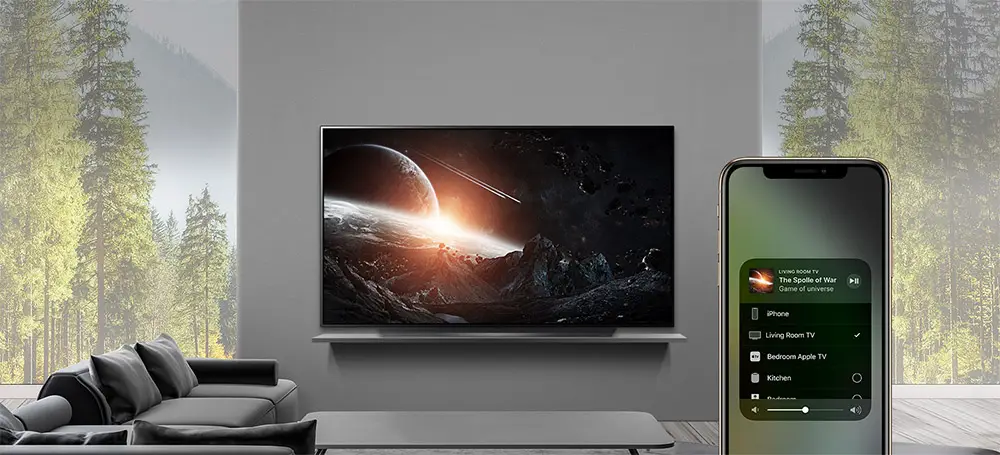 Black Frame Insertion is a feature that inserts a black frame between two individual image frames and with this technique we get a smoother motion. On the other hand this feature has an negative effect of lowering brightness a bit while flickering may also be visible to some extent. It's best to play with the motion handling settings until you find the ones you feel comfortable with.
And while the C9 supports Variable Refresh Rate (VRR) it doesn't support FreeSync or G-SYNC.
Input lag
One characteristic of many 2019 TV models seems to be their crazy low input lag times they have as it seems we have reached a point that most premium sets go under the 15ms threshold. This seems to hold true with the LG C9 as with Game mode on we measured an astonishing 13.7ms Input Lag making it one of the fastest and most responsive TV sets we have tested to date. We tried different scenarios with 1080p and 4K resolutions both with SDR and HDR and the numbers we got were similar. We also tried a bit of gaming with our PS4 on the C9 and everything felt so smooth and responsive that we were really impressed. If you want to use this TV for gaming then fear not as it will offer you one of the best gaming experiences ever.
Additionally there is support for Auto Low Latency Mode (ALLM) if you have other equipment that also support this feature.
Image quality impressions
What can we say about the LG C9 that will not feel like an understatement? OLED is at it's finest with the most deep blacks we have ever seen that stems from the ability of the panel to switch off it's pixels, has excellent color coverage, very good brightness, great motion performance, lovely viewing angles and breathtaking input lag. In all these LG has added raw processing power with the addition of the Alpha 9 Gen-2 processor which excelled in upscaling lower resolution content while also has the ability to improve video that comes from compressed sources.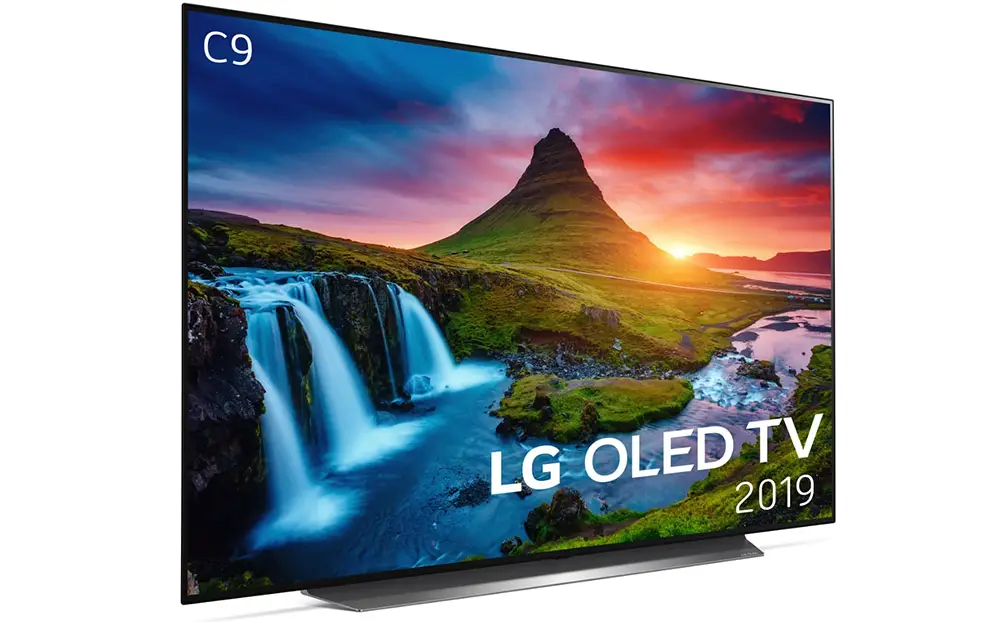 If there was one thing that the C9 falls a bit short is it's peak brightness and while we cannot complain much about it, it's one aspect that the C9 still can't compete with the LCD flagships. Lastly, while small, the C9 still has the risk of burn-in that's why LG has equipped this model with some protective features to minimize this risk like Screen Shift, Logo Luminance Adjustment and Automatic Pixel Refresher.
Audio Quality
When it comes to audio quality there is so much you can do with a panel that is so extremely thin as most OLED panels are. Limitations in space prevent manufacturers from making any meaningful improvements in this department and this is the price we have to pay for having so good looking TVs nowadays.
Even so the LG C9 comes packed with a few technologies that try to improve somehow the overall experience. The TV comes with a 2.2 channels system for a total of 40 watts power. This by itself may not look particularly special but what we found interesting is the One Touch Sound Tuning feature. What this basically does is to use the microphone of the LG remote in order to analyze the audio from the main viewing position and calibrate the TV accordingly. Think of it like the auto calibration systems that almost all AV receivers have but in a more light version. This is a feature we see first time on a TV and although you shouldn't expect miracles it somehow managed to improve the overall effect.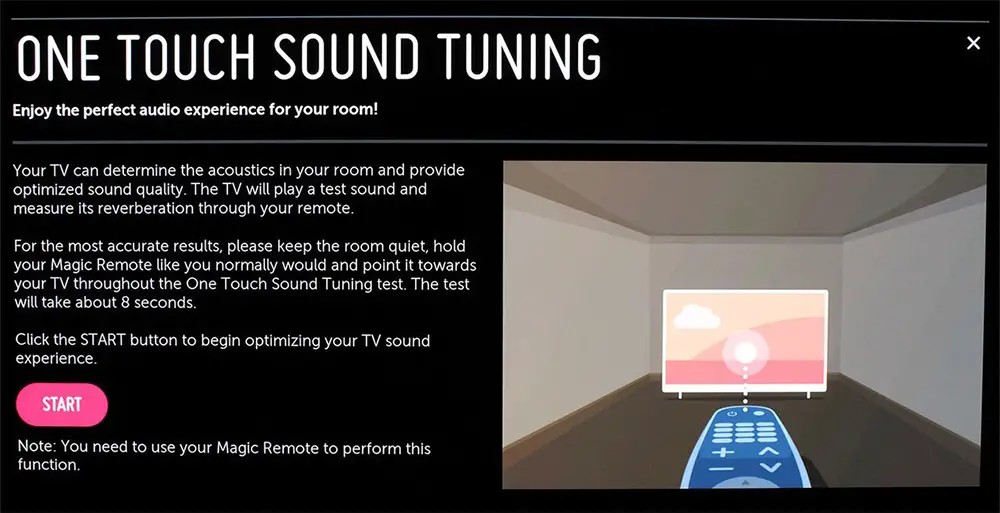 There is also an AI Sound mode that up-mixes 2.1-channel audio to virtual 5.1 surround sound giving you the illusion that sound comes from positions that there are no actual speakers. Although the effect is not very clear it did manage to widen the sound stage a bit making the experience a bit more immersive. Lastly the C9 also supports Dolby Atmos and while trying a few audio tracks with this object-oriented audio the TV was able to perform satisfactory, all things considered, by offering very clear dialogue and good audio separation but without managing to wow us as the result came a bit flat and bass left a lot to be desired.
In total audio performance was more or less what you would expect from a flat TV like this. The One Touch Sound Tuning is a nice new feature that helps a bit with audio calibration but no matter what tech they put into these TVs the overall result will always fall short of expectations. If you plan to get this amazing TV make yourself a favor and buy a dedicated surround system or at least a soundbar.
Inputs
In true LG style all connections are grouped together on the back right side and every time we see a TV with ports attached on it's main body we begin to miss Samsung's One Connect Box. We have said it many times in the past and we will say it again now. As good as these TVs are Samsung's cable management design with the One Connect Box was one of the most amazing design decisions we had seen in the last few years. Unfortunately no other TV manufacturer seems willing to follow the same route something that is a major letdown but we have to live with that.
Leaving that part aside what the LG C9 offers is a pretty standard setup but with a twist which comes by the name HDMI 2.1. The LG C9 is one of the first TVs to offer full support for the new HDMI 2.1 protocol with all 4 of it's ports being 2.1 enabled. But what does HDMI 2.1 means? It means that the C9 supports 4K resolution at 120 fps, comes with eARC support, auto low latency mode as well as Variable Refresh Rate (VRR). And while there is not a lot of equipment with HDMI 2.1 support having this means that the C9 will be future proof for many years to come.
The C9 has 3 HDMI ports looking sideways with the middle one supporting eARC which are complemented by a USB port that unfortunately is of the 2.0 variant. A second group of ports that look backwards include another HDMI port, 2 more USB ports, an Optical Digital Audio output, an Ethernet port for wired Internet connection, an RS-232C port, a composite port that has to be used with the included adapter as well as the Antenna/cable port for terrestrial broadcasting.
In a few words if we had to summarize the C9's ports we would say that it's high point is definitely the inclusion of HDMI 2.1 support while it's low points are that we still get the archaic USB 2.0 and all connections are on the main body making us miss Samsung's One Connect Box.
OS, Apps and Features
With the 2019 C9 OLED we have reached webOS 4.5 which is a minor upgrade over last year's 4.0 version. For those that are not very much into smart TV platforms webOS is LG's proprietary platform that uses on all of their LG TV models and along with Samsung's Tizen are considered the best smart TV platforms this moment with Google's Android coming a close third.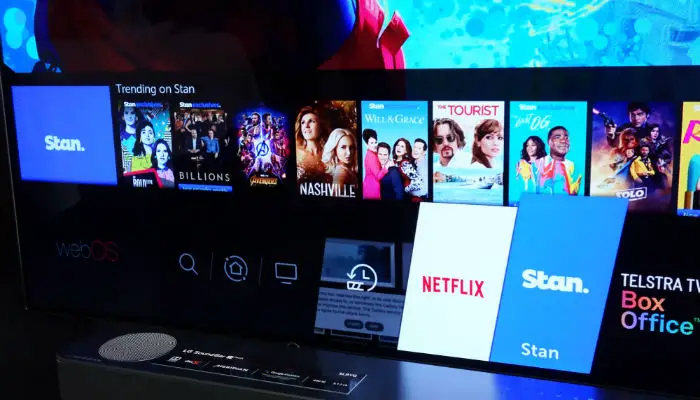 At first look you will not spot major differences between this year's webOS and last year's version but there are some key differences that makes things a bit easier and more streamlined. For this year LG has added what they call "AI Preview" which is a second row above the Launcher Bar that is responsible with giving you content recommendations or continue watching what you were watching before.
There are plenty of available streaming services like Netflix, Amazon Prime Video, Youtube, Now TV, Rakuten, Demand 5, Hulu, Sling TV, Vudu, iTV, BBC iPlayer and Google Play Movies among others. With so many apps available it can become a bit hard to navigate if you are using a handful of them. That's why LG has included an Intelligent Edit feature that rearranges your app icons depending on how often you use then in order to show these first. Other than the Intelligent feature you also get plenty of customization freedom in order to rearrange icons the way you want.
There are so many things to like with webOS. It is simple, easy and you can find anything you need with little effort. LG has made slight visual changes this year probably in order to fit the second row above the Launcher Bar while navigating between settings and menus was smooth like butter.

The LG C9 comes with another new feature that is called WiSA wireless speaker technology. This is a wireless audio standard that lets you connect wireless speakers with built-in amplifiers in them directly to your TV. Although we didn't have the chance to try this out the theory behind it looks extremely promising and can save from a lot of extra equipment needed.
As it becomes the normal lately with most top tier TV models we get various ways of controlling the C9. The most usual one is no other than the included Magic Remote which offers very good control and we consider it one of the better remotes we have seen lately. You also have the ability to use your smartphone through the Remote App but unfortunately this app offers limited control over the C9 as you cannot change settings for example or input text in services like Netflix or Youtube. Lastly if you are more into futuristic types of control you can try either Alexa or Google Assistant as both of these are supported here. We tried Google Assistant and found the system to work pretty well and react to our commands accordingly.
LG has promised to add further functionality at a future date with Apple's Airplay 2 and HomeKit coming to C9 through a firmware update later this year which make the already impressive feature set of the TV even better.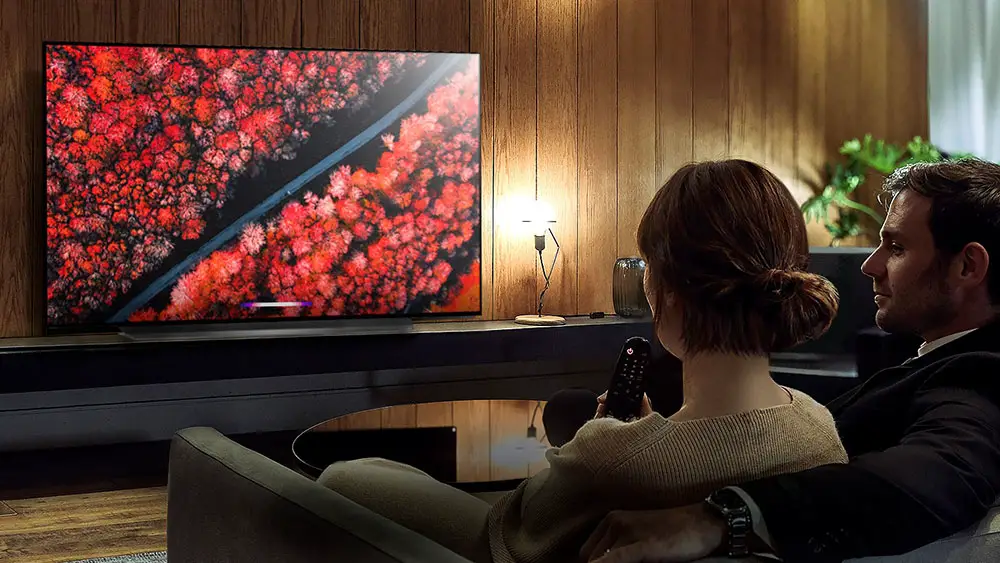 Final Thoughts
The C9 is one of the best OLED TVs we have tested up to this moment. It comes with all the amazing advantages that OLED offers like crazy deep blacks and extreme viewing angles while it also features excellent image quality, breathtaking colors, great motion handling, blink and you miss input lag, a smart TV platform that is considered one of the best out there while LG has included the new Alpha 9 Gen-2 processor that improves lower quality content, added a comprehensive list of smart and online features as well as future proofing it with the new HDMI 2.1 ports. LG has also promised future support for Apple AirPlay2 and HomeKit adding further value to an already feature packed model.
On the downsides brightness is not as high as we would like which is a problem that has to do with the technology used and not a fault on the manufacturer's part. Also as Samsung seems to be the only one against Dolby Vision similarly LG seems to be the only one that still doesn't support the new HDR10+ protocol. Also burn-in is a real, even if very small and rare, problem that OLED panels have but thankfully LG has incorporated various features to battle this. We would also like to see a cable management similar to Samsung's One Connect Box but it seems that LG is against that. Lastly the price is a bit higher than what we would like and if you compare the C9 cost with the prices that last year's C8 came out the difference is more than obvious.
Closing we will just say that right now the LG C9 OLED has become our favorite TV model. It's image quality is second to none, it's motion is great, comes with all the extra features you will need and the price although higher than last year is at more reasonable levels than the higher OLED models. And for these reason we cannot but give the LG C9 our top recommendation.
For more reviews you can check our dedicated 4K OLED TV reviews list or even look at our Product Reviews Table where you can find the brand and specific product you are looking for.
Also don't lose the chance to subscribe to our Newsletter and gain exclusive privileges.
---
[table]
[tr][th]SIZE[/th] [th]US Model[/th] [th]EU Model[/th][/tr]
[tr][td]55″[/td] [td]OLED55C9PUA[/td] [td]OLED55C9PLA[/td][/tr]
[tr][td]65″[/td] [td]OLED65C9PUA[/td] [td]OLED65C9PLA[/td][/tr]
[tr][td]77″[/td] [td]OLED77C9PUB[/td] [td]OLED77C9PLA[/td][/tr]
[/table]
---
Cheapest Places to Buy :
---
Specifications
Resolution : 3,840 x 2,160 pixels 4K UHD OLED Flat panel
Picture Processor : α9 Gen 2 Intelligent Processor
Color : Intense Color, Billion Rich Colors, Advanced Color Enhancer, True Color Accuracy Pro
Contrast : Object Depth Enhancer, Ultra Luminance Pro
HDR (High-Dynamic Range) : 4K Cinema HDR (Dolby Vision®, HDR10, HLG), HDR Dynamic Tone Mapping Pro
Clarity : Quad Step Noise Reduction, Frequency Based Sharpness Enhancer
Wide Viewing Angle : Yes
Dimming Technology : Pixel Level Dimming
Motion : OLED Motion Pro
Audio : 2.2 channels, 40 watts (20W Woofer)
Smart TV : webOS with LG Content Store and Full Web Browser
AI TV : LG ThinQ AI, Google Assistant, Alexa Built-In, Intelligent Voice Recognition
Features : 4K Upscaler
Ports : 4 HDMI IN 2.1, 3 USB 2.0 ports, 1 Ethernet port, 1 Digital Audio Out (optical), 1 Composite input (Included adapter needed), 1 Analogue Audio out, 1 RS232C, 1 Antenna/cable input
Connectivity : Wi-Fi Certified 802.11ac, Bluetooth 5.0
Remotes: Magic Remote MR19
TV Dimensions :
55″ : 48.3″ x 29.1″ x 9.9″ / 1228 x 738 x 251 mm with stand – 48.3″ x 27.8″ x 1.8″ / 1228 x 706 x 46.9 mm without stand
65″ : 57″ x 33.9″ x 9.9″ / 1449 x 862 x 251 mm with stand – 57″ x 32.7″ x 1.8″ / 1449 x 830 x 46.9 mm without stand
77″ : 67.8″ x 41.2″ x 10″ / 1722 x 1047 x 253 mm with stand – 67.8″ x 39″ x 2.2″ / 1722 x 991 x 56 mm without stand
TV Weight :
55″ : 50.7 lbs / 23.0 kg with stand – 41.7 lbs / 18.9 kg without stand
65″ : 74.7 lbs / 33.9 kg with stand – 55.6 lbs / 25.2 kg without stand
77″ : 74.5 lbs / 36.5 kg with stand – 65.9 lbs / 29.9 kg without stand