LG C8 OLED
OS, Apps and Features
9.5/10
Pros
Reference image quality
Perfect blacks
Low input lag
A lot of features
Cons
OLED still expensive compared to LCD
Motion could be better
Brightness still not as good as LCD
No HDR10+
---
Cheapest Places to Buy :
---
Every year LG is pushing their OLED technology in order to offer improved performance and features over the previous years and 2018 seems will be another good year as their new lineup offers even better performance but at the same time prices start to drop making OLED TVs just a bit more affordable. Prices still remain high and this may be a decisive factor for many to stay away but every year we see prices drop more and more and it seems that we are starting to reach the break-through point of them becoming mainstream friendly.
This year's lineup consists of four new OLED models. The entry level B8, the C8, the E8 and at the top of LG's OLED offerings the W8. Today we will be reviewing the C8 model. Last year's C7 offered a great balance between price and performance and it was one of the most popular models. You can read our detailed review of the C7 HERE. So now we will test if C8 continues the same trend offering spectacular image quality but on a more affordable price and see what LG has done to improve it over last year's C7 in our LG C8 OLED review.
Design
Design wise the C8 follows the same trend of most OLED equipped TVs retaining some key characteristics that stem from using OLED technology. There is an elegant but at the same time simple design that is effective and retains the premium feel that an OLED always has. The C8 has no bezels and comes with only a very thin metallic gunmetal grey frame.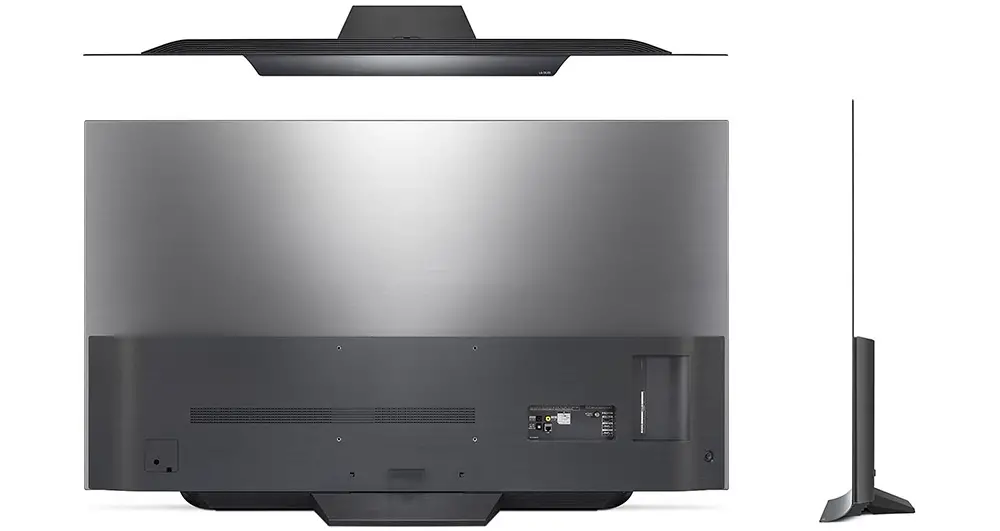 As with most OLED TVs the C8 is just a few millimeters thick at the top which is one of the advantages of OLED but naturally widens a bit at the bottom where all electronics, speakers and connections are located. The back of the TV consists of two colors, with the top being a brushed aluminium tone while the bottom where it gets thicker due to the electronics box it comes in a dark grey color and is made out of plastic. The plastic box would make you think it makes the back look cheap but it is nicely constructed and doesn't distract from the overall very good design.
There are two groups of connections in the back, with one group looking sideways and the other looking outwards. If you are planning to wall mount the TV then the ports looking outwards can practically become useless. I have pointed in our previews reviews that going the root of Samsung with their OneConnect box solution is in our opinion the best way to go and hopefully they will follow the same principle at some point in the future.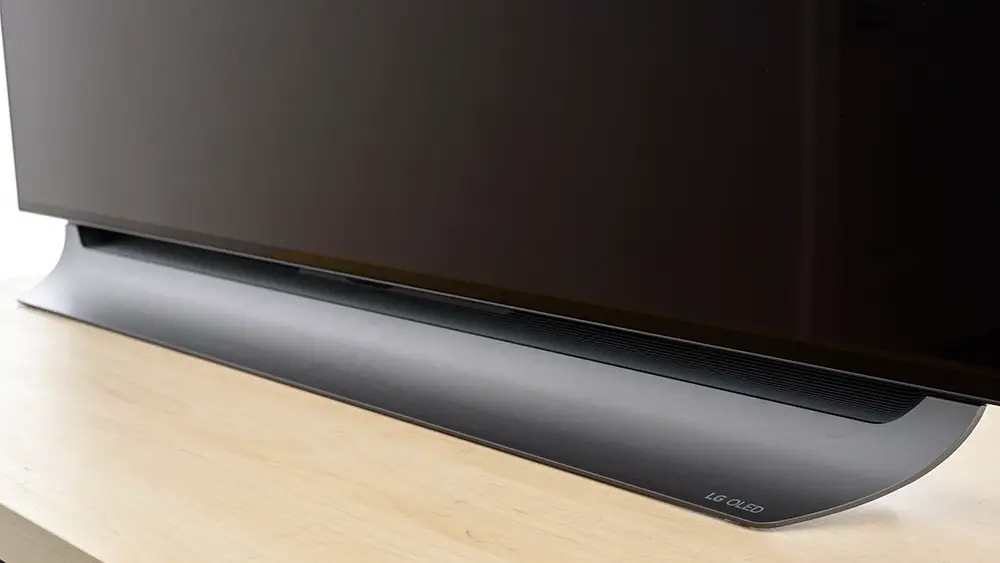 The stand design that comes with the C8 is an odd one. Firstly what we get is a wide 104cm central pedestal, a bit more wide than what we would prefer as it makes more difficult to place on smaller furniture. It also has a sloped forward design and this was made for a purpose. To redirect the sound from the down-firing speakers towards the viewer. Having such a design may seem a bit of over-thinking on behalf of the design team as sound from a flat panel can be mediocre at best but nevertheless either from a pure design perspective or for practical reasons the end result looks good.
Video Quality
For 2018 LG has equipped all their OLED TVs with the new a9 processor except from the entry level B8 which uses the less powered a7 processor. According to LG the new Alpha 9 processor is particularly good at reducing noise and improves sharpness as well as colors handling. Panel tech hasn't changed much from last year so most of the improvements are made in the electronics and mainly the image processor in order to improve the performance of the C8.
Let's talk first about brightness. The C8 offers small improvements in this area compared to last year's C7 model. Measured peak brightness hits around 800 nits which may not be a big improvement but it is evident that even though OLED technology is limited by overall peak brightness LG is working upon this every year making it better and better. It may not reach the 2,000 nits brightness of some top of the line LCD TVs but 800 nits are enough to display very bright HDR with spectacular and vivid highlights.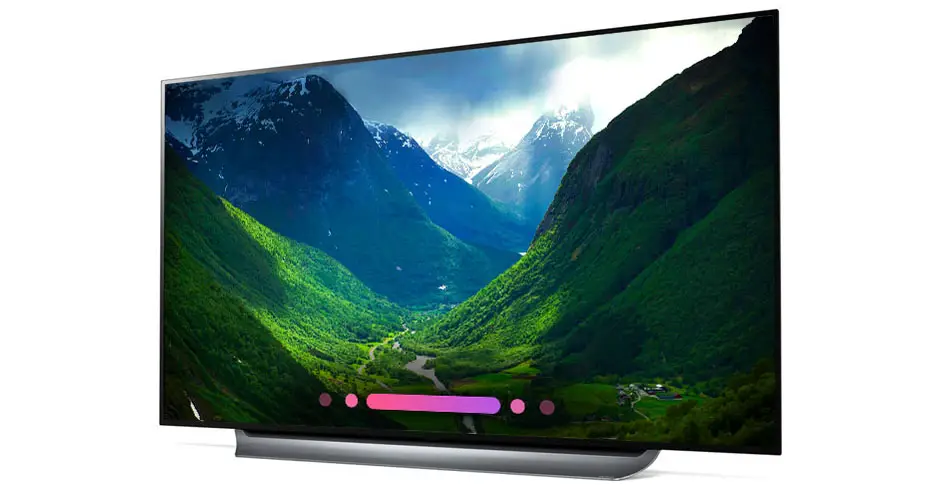 The C8 is struggling a little when it has to display images which are overall bright. In this case brightness takes a dive to around 150 nits making the image look darker overall. For this reason LG has developed a system called Dynamic Tone Mapping that analyses the brightness of each frame and adjusts it accordingly. This results in brighter images without loosing any detail and for 2018 LG has given this a dedicated menu to control.
Black levels is the most strong point of OLED Tvs and as such the C8 offers this in ample quantity. In the early years of OLED there were a few problems with poor screen uniformity and crushed blacks but it seems these are problems of the past as LG has managed to improve greatly this problems to the point of being almost non existent. The C8 offer deep blacks that create an image of pure quality, free of any of the above mentioned issues.
The C8 supports Wide Color Gamut (WCG) and measurements showed that it covers around 97% of the DCI-P3 color space and around 73% of the Rec.2020 color space bringing it in line with some of the top of the line models that other manufacturers are offering at the moment. As a result the C8 display colors that are very vivid and almost have a three dimensional feel to them.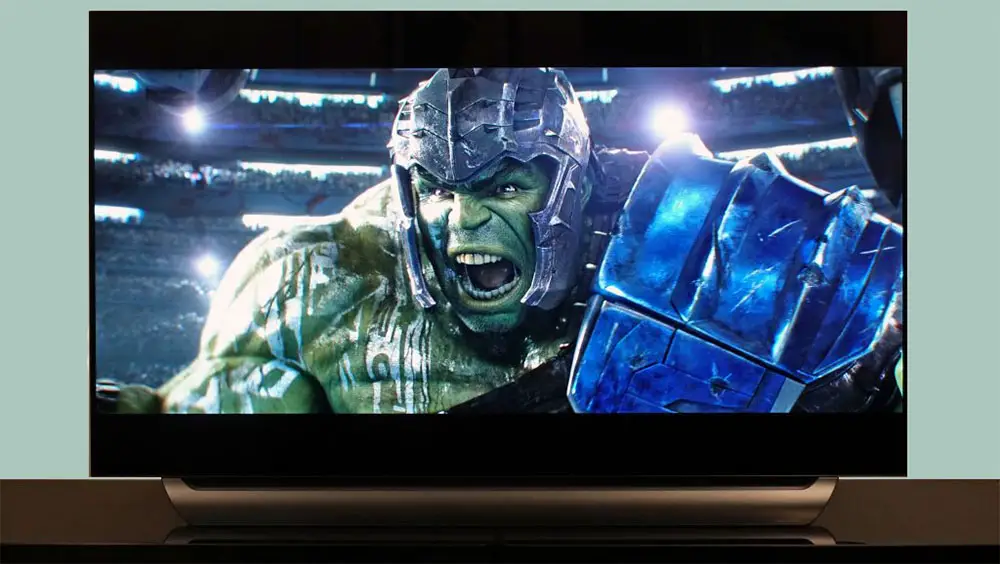 The C8 may be a TV destined to play 4K with HDR content mostly but that doesn't mean that it cannot play HD or SD material. On the contrary the C8 is a very capable upscaler and when we tried some good Full HD material the TV upscaled it retaining all the details of the original material without any unwanted artifacts. The a9 processor seems to be making wonders at upscaling lower resolution content and this is very evident after a few tests.
As for motion performance this is an area that LG has struggled a bit with their OLED panels and here things are no different. Although there seems to be small improvements the overall result is a bit more juddery compared let's say with Sony's offerings. LG has two features that you can fiddle with to improve the motion performance with one being TrueMotion but turning this feature to high levels can result in the dreaded soap opera effect (SOE) to appear.
The other feature that is new for 2018 is called Motion Pro and in reality is a black frame insertion feature where a black frame is inserted between two individual frames. This improves the overall motion but has two side effects. The first is that this feature can turn the image look more dark than it should be and second there is a chance that you will pay attention to a minimal flickering because of this rapid black frame insertion.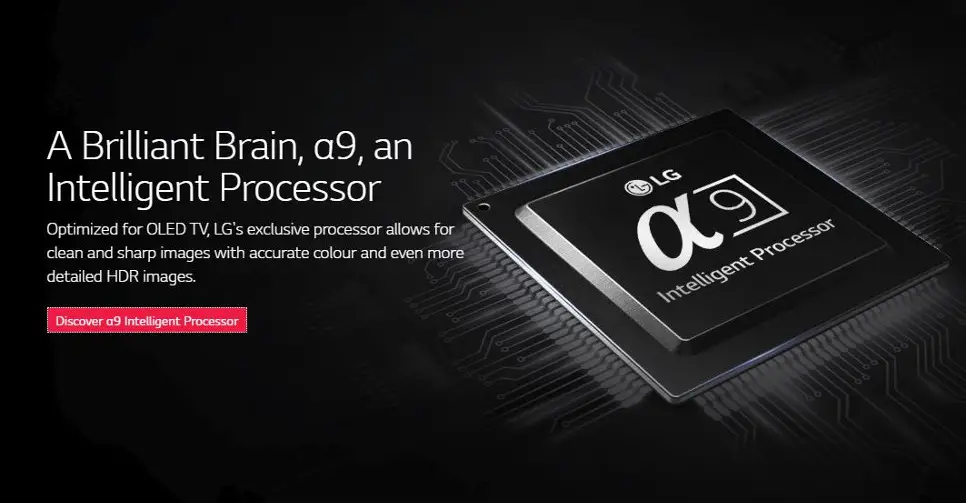 The C8 also has a very low input lag that will please even the most demanding gamers. In order to get the best out of the TV you must have Game mode on and this will result in a very acceptable 21ms input lag. Gaming sessions and especially online gaming will be a real pleasure on this TV.
The LG C8 OLED supports a wide variety of HDR protocols and for 2018 the C8 includes support for HDR10 (the minimum requirement for UHD discs), the more advanced Dolby Vision with it's dynamic metadata, HLG (Hybrid Log-Gamma) that is more for broadcasting content and Advanced HDR by Technicolor that is still in it's early days and there is not much support yet.
The only omission we see here is HDR10+ which is an open source alternative for Dolby Vision that also uses dynamic metadata. Currently HDR10+ is supported by Amazon as well as Fox and Warner but it's still in it's early days so hopefully LG will add support for this later down the road.
As with all OLED equipped TVs the C8 has a small risk of image retention or even worst permanent burn-in. To combat this the C8 comes with a few features that help minimize this problem and we definitely recommend turning these on. One is called Pixel Refresh and the other Screen Shift. There is also a feature called Logo Luminance Adjustment that you should turn to low. But even with these settings there is some danger so it is always recommended if you game or watch TV broadcasting for long hours to take a few brakes in order to let the pixels of the panel to relax and return to their normal state.
As far as sound performance is concerned things haven't changed a lot for this year. The C8 offers 40 watts of amplification coming from 2.2 channels. As last year with the C7, the C8 supports Dolby Atmos processing in order to offer a more deep sound field with just the speakers available on the panel. We cannot say that we were ecstatic with the end result but it depends on the type of use you want the TV for.
For simple viewing the sound performance is enough with good balance between highs and lows and good clarity of dialogue. But if you want this TV to offer a better overall cinematic experience then you will at least need to invest in a soundbar or for even better a dedicated speakers sound system.
Inputs
As we mentioned previously there are two groups of ports with one of the looking sideways and one looking outwards something that seems is the standard with almost all LG TVs nowadays.
In the group with the ports that look sideways we get three HDMI ports with one of them supporting ARC and one USB port. Placing three HDMI ports sideways will definitely help those that want to wall mount the TV and have easy access to the ports at the same time.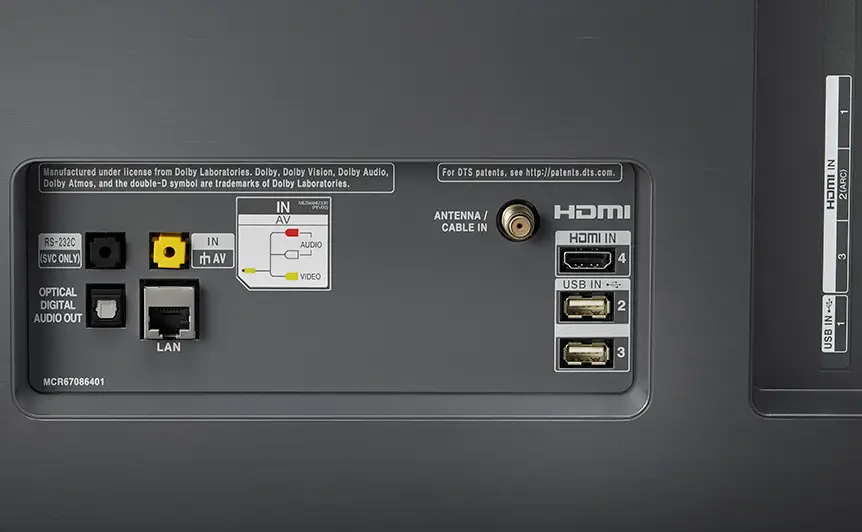 All other connections and ports are in the second group that look outwards and what we get here is one more HDMI port, another USB port for connecting external storage, an optical digital out port, an RS232 ports, an Ethernet port for wired connection to the internet as well as a composite input that needs the included adapter to be used. Lastly there is the antenna/cable port for terrestrial broadcasts.
More or less we would say that the C8 offers the standard set of ports we see in this range. All HDMI ports are version 2.0 supporting HDCP 2.2 meaning they can pass 4K signals with HDR. Unfortunately all USB ports are only 2.0 something very disappointing. For a TV of such high quality we cannot understand the logic of still using the archaic USB 2.0 instead of the much better 3.0 version. The outwards ports can be a potential problem in case of wall mounting the C8 and can limit your connection options in this case.
OS, Apps and Features
LG is using their own proprietary smart TV platform called WebOS and in our opinion along with Samsung's Tizen platform is the best smart TV OS right now. Things haven't changed much since last year but why change something that is already very good? Having a very nice and rich graphically interface makes viewing a real pleasure, each application is positioned in a logical way and all settings offer customization so you can reorder everything to your liking. There is no notable lag and menu navigation is butter smooth and fast.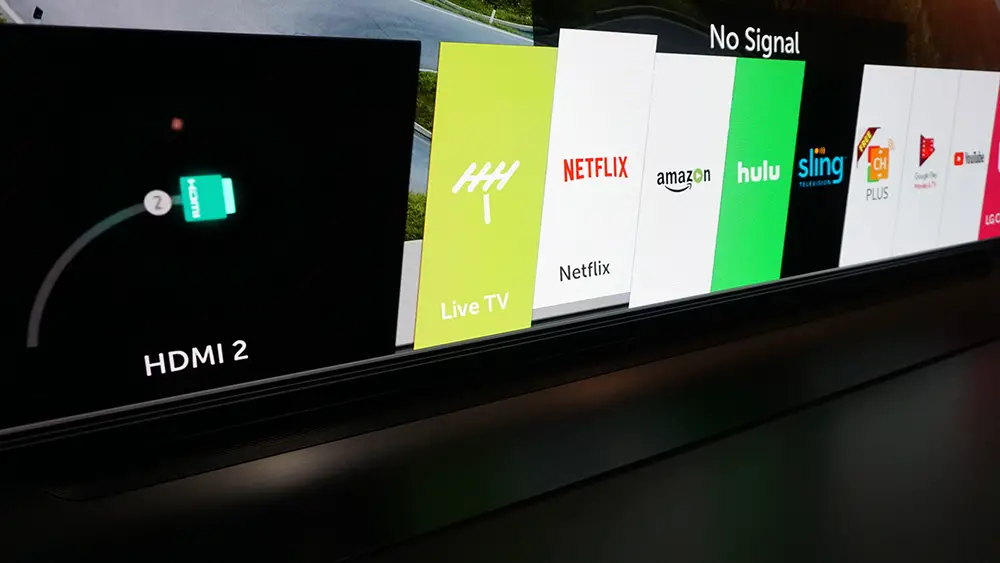 WebOS of course couldn't be a complete platform if it wouldn't offer 4K HDR streaming and there are three apps that support this being Amazon, Netflix and Youtube with Netflix also offering Dolby Vision and Dolby Atmos in their content. But these are not the only apps on offer as there is a plethora of streaming services and apps on offer with more available to download from the internet if needed.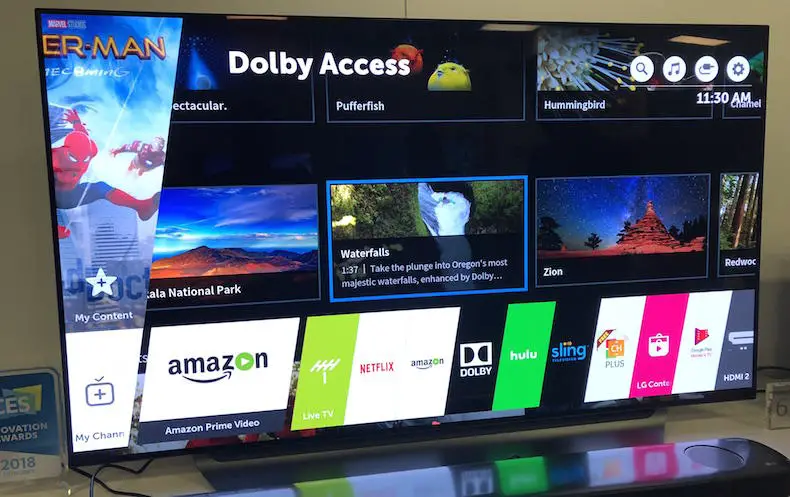 WebOS may be one of the best smart TV platforms but when it is combined with LG's remote is when it takes the edge over the competition. The Magic Remote may be a bit overwhelming when you first use it but after a while and when you learn it's functionality it becomes a powerful tool for easy and fast navigation.
Other than it's normal use you have the ability to click through the menus and settings with the built-in pointer system. You can now type a username and password at no time in contrast to selecting each character like you have to do with a conventional remote. Also you can appoint specific buttons on the remote for specific apps that you prefer in order to save time from navigating to find them other than the two Netflix and Amazon dedicated buttons on offer.

As with most smart remotes there is a built-in microphone also for voice control navigation. Voice control is part of LG's ThinQ AI which is the AI being used in WebOS and it can control not only your TV's functions but also other devices that support the ThinQ protocol. There is also support for Google Home and Amazon Echo AI speakers. In all WebOS remains one of the best smart TV platforms on offer and LG seems to improve it little by little every year. In combination with their Magic Remote we have a winner in the smart TV segment. The competition simply has to take notes on how it is done.
Final Thoughts
The LG C8 OLED continues LG's tradition of creating spectacular models in their OLED lineup. The improvements in image quality may be small this year but 2017 models were already offering spectacular image quality so even small improvements is an impressive feat.
The C8 offers breathtaking 4K image quality with exceptional HDR even if it cannot reach the peak brightness of some top of the line LCD models like the Q9FN from Samsung. Deep black levels and exceptional dark colors really help the dynamic range of the images shown. Low input lag is a welcome addition for gamers and WebOS remains one of the best smart TV platforms available. In all this the design of the C8 follows the classic look of most OLED TVs making the end result more than pleasing.
On the other hand the C8 as with all OLED panels cannot get bright enough as most LCD TVs can nowadays. There are small improvements over this every year but still the C8 is far from reaching 2,000 nits that some LCD panels can this year. Also one area that LG seems to be a bit behind is their motion performance but only by a small margin. Sony has done exceptional work on this area with their OLED models and hopefully LG will catch up in the future. Also since there is such a wide support from LG for all HDR protocols we would like to see support for HDR10+. Maybe a future firmware update will rectify that. Last but not least the price of OLED technology still is a bit on the expensive side even though it has become cheaper with every new lineup.
In general the C8 is a remarkable TV and our guess is that it will be one of the more popular ones combining spectacular image quality, a wide range of features with good price making it one hell of a deal thus earning our highest recommendation.
For more reviews you can check our dedicated 4K OLED TV reviews list or even look at our Product Reviews Table where you can find the brand and specific product you are looking for.
Also don't lose the chance to subscribe to our Newsletter and gain exclusive privileges.
---
Cheapest Places to Buy :
---
Specifications
Screen sizes (US) : 55″ C8 (OLED55C8PUA), 65″ C8 (OLED65C8PUA), 77″ C8 (OLED77C8PUA)
Screen sizes (Europe) : 55″ C8 (OLED55C8PLA), 65″ C8 (OLED65C8PLA), 77″ C8 (OLED77C8PLA)
Resolution : 3840 x 2160
Processor : α9 Intelligent Processor
HDR supported : Dolby Vision®, Advanced HDR by Technicolor®, HDR10, HLG

Video : 4K Cinema HDR, Infinite Contrast, Pixel Level Dimming, Ultra Luminance Pro, Intense Color, Billion Rich Colors 10-bit, True Color Accuracy Pro, 4K Upscaler, Wide Viewing Angle
Audio : 40W 2.2Ch Dolby Atmos, DTS-HD
AI TV : LG AI ThinQ®, Google Assistant, Google Home Compatible (Google Home device sold separately), Amazon Alexa Compatible (Amazon Alexa device sold separately), Intelligent Voice Recognition
Smart TV : webOS Operating System, Magic Remote Control, Universal Control Capability, Gallery Mode, LG Content Store (App Store), Full Web Browser, Channel Plus
Inputs / Outputs : 4 HDMI ports, 3 USB ports, 1 Ethernet port, 1 Digital Audio out, 1 Composite input, 1 RS232 mini jack, 1 RF In port
Connectivity : Wireless IEEE 802.11a/b/g/n/ac support, Wired through RJ-45 port, Bluetooth 4.2

Dimensions : 57.0″ x 34.7″ x 9.1″ / 1722 x 1052 x 253 (with stand) – 57.0″ x 32.7″ x 1.8″ / 1722 x 991 x 56 (without stand)
Weight : 56.0 lbs / 36.5Kg (with stand) – 46.3 lbs / 29.9Kg (without stand)