LG OLED55C7P (US) - OLED55C7V (Europe)
Design -

92%

Video Quality -

94%

Inputs and Ports -

92%

OS, Apps and Features -

94%

Price / Quality -

94%
---
Cheapest Places to Buy :
---
2017 was a great year for 4K UHD TVs as we have seen some very nice models from all manufacturers utilizing different kind of technologies, all of them having their strengths and weaknesses. Both rival technologies LCD and OLED continue to improve upon their strengths and for one more year they presented the best quality possible. And while Samsung continued to focus on improving their LCD technology with their Quantum dot models LG went both ways by giving us LCD and OLED models.
A few months ago we tested the B7 OLED from LG getting our high recommendation for it's quality and performance and you can find our review HERE. So now it's time to check the C7 model, as it was considered one of the best OLED TVs and one of the best TVs overall for 2017. Keep reading our LG OLED55C7P review to see how it fairs…
Design
As with most OLED TVs the OLED55C7P sports a remarkable design giving it a very premium feel. Because there is no need for a backlight like the LCD technology the C7 is so thin that you will not believe it if it's the first time you see an OLED TV. In addition to the unbelievable thickness of the TV as well as the fact that there is no bezel the end result is a feast for the eyes and certainly is on a league of it's own. On the bottom naturally gets a bit thicker as that part houses most of the electronics, power supply and speakers but that doesn't change the fact that the C7 is a remarkably thin TV.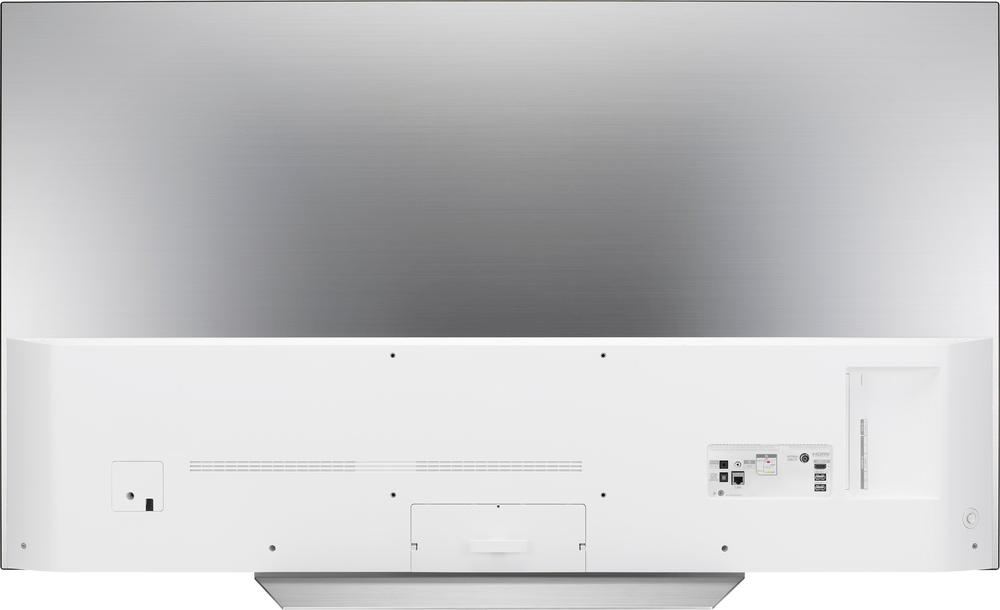 On the back of the TV the top half is in silver while the bottom part where all the electronics are housed are in white giving it a different look than most TVs that prefer to use black for the back. White certainly has a different feel to it and LG has really nailed the colors they chose in order to make this TV feel a luxury device before you even press the power button.
The only thing I don't like is the outward connections because if you want to wall mount the C7 then these ports become unusable and you have to rely only to the side ports for your connections. This is a problem with most LG TVs and it's a design matter that should be considered in the future. Samsung have solved this the last few years with their One Connect Box and personally this is the ideal solution for most TVs nowadays.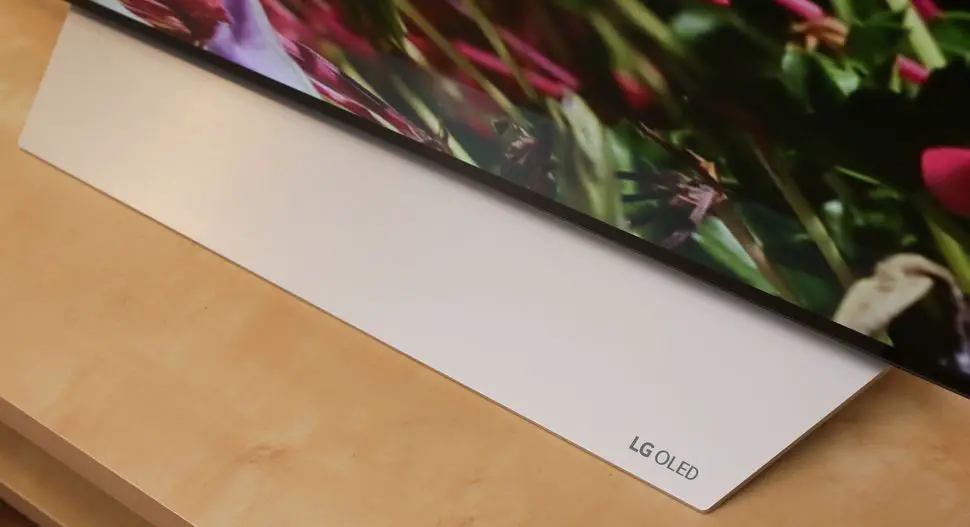 The stand is made out of metal with a brushed silver finish and it can very easily be attached to the back of the TV with four Philips-head screws. Installation takes just a few minutes and you are ready to begin setup. Having a single center stand also makes it easy to be placed on small furniture something very practical for many that don't have big space.
Video Quality
Having reviewed the LG B7 a few months ago I was expecting to see similar results from the C7 since all of the 2017 OLED TVs from LG use the same panel and processor so performance wise there shouldn't be any difference. Testing showed exactly that with the C7 having amazing picture quality with unbelievable black levels and spectacular contrast that makes HDR look gorgeous. The end result is so good that will spoil you and anything less will pale in comparison.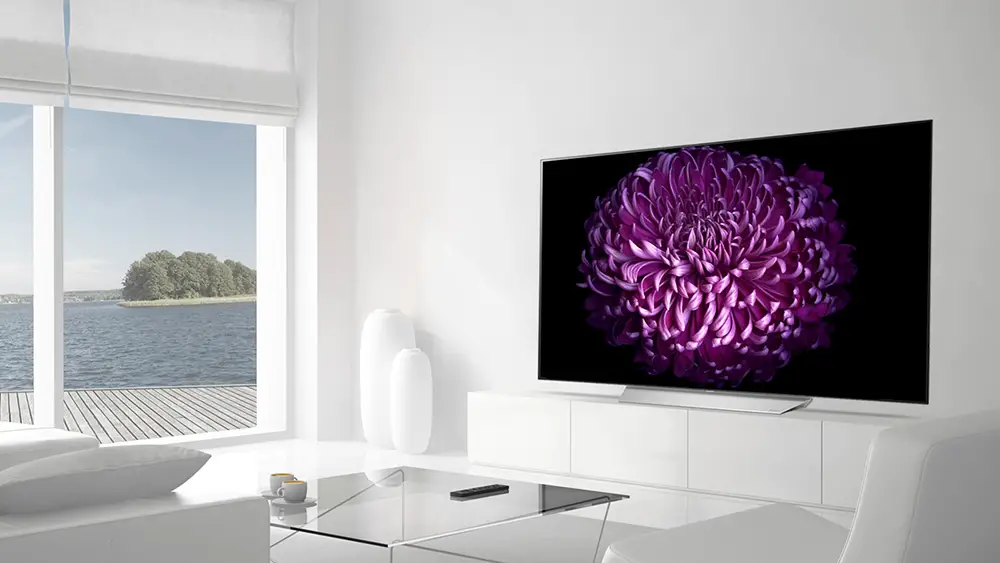 The C7 model offers various improvements over the 2016 models and although there are no spectacular changes LG has managed to improve almost all aspects of it's performance making the end result better than the performance we got from the 2016 models. Firstly let's check the brightness. It seems LG has given it a boost in comparison to the previous year as the peak HDR brightness on a 10% window gave us a result of around 700 nits which may not seem very high compared to some top of the line LED LCD TVs but because OLED technology offers much deeper blacks bright highlights are more pronounced giving you an amazing result.
Another area that LG improved in the C7 is the above pure black colors, low light scenes and this is a result of three factors. Due to better processing near black color noise has been reduced offering better clarity and definition. The second factor is C7's better brightness control that let you set black levels correctly in order not to crush shadow detail. Lastly transition from pure black to near black colors happens faster and with more precision improving the overall result.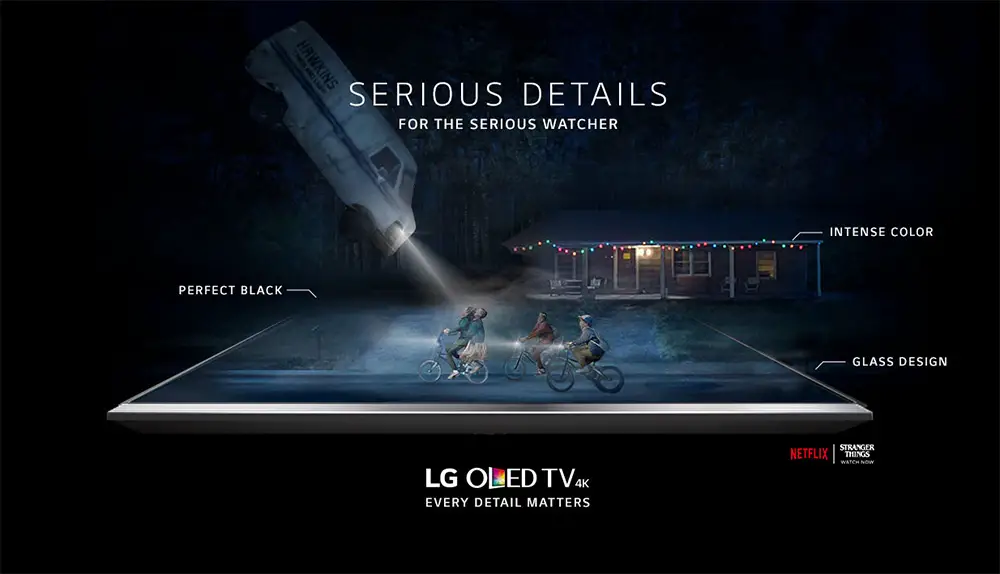 The LG C7 is a great upscaler also delivering very good results when it is fed with an HD/SDR signal. LG has improved this aspect for 2017 also and its high definition to 4K upscaling has better definition with a sharper image and less noise. LG is still doing some catch up on this department compared to Samsung or even Sony but the gap has been closing lately with the improvements LG is making.
Although improving every year, motion in OLED TVs can still be a bit tricky and with the C7 it still looks a bit more juddery with movies compared to some LCD TVs. LG's TrueMotion motion processing can help improve things a little by reducing motion blur but this can create artifacts and the dreaded soap opera effect in 24p movies. But with some calibration you can get very good and pleasing results. Gamers will be very happy with this TV set as it has a very low input lag that was measured at 21ms which is great for gaming sessions.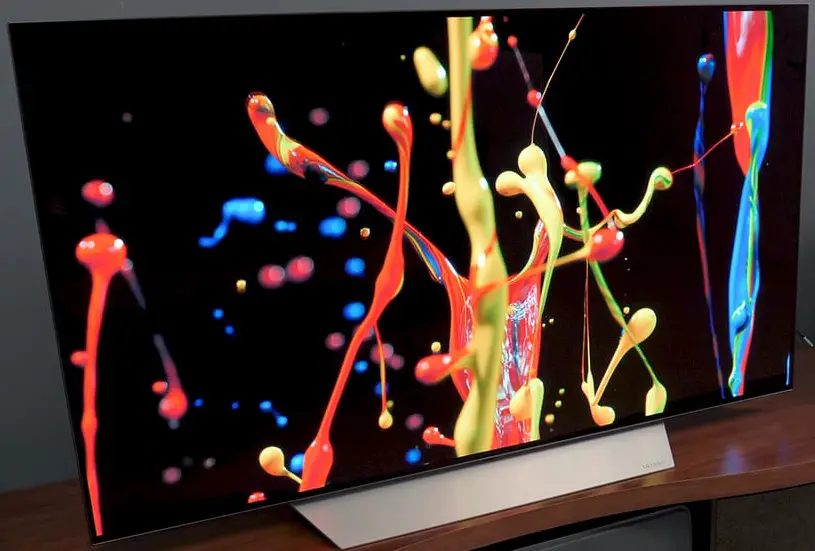 The LG OLED55C7P supports all the available HDR protocols including HDR10, HLG and most importantly Dolby Vision with the extra layer of dynamic metadata creating an even better image quality than the standard HDR10 protocol given you have the right equipment to support it.
In the sound department things are average at most. Although on paper the C7 supports Dolby Atmos the end result cannot be compared to having a dedicated Dolby Atmos system by any measure. Also the C7 is a bit picky with the audio containers it can playback but this was to be expected by a TV player. But to be honest you don't buy such a TV for it's audio but rather for it's spectacular image and if you combine it with a good Dolby Atmos sound system expect to be amazed.
Inputs
As with B7 that we reviewed before LG continues the trend of placing all the connections on the TV and so the C7 has all it's ports on the back with some of them looking sideways while most of them look outwards.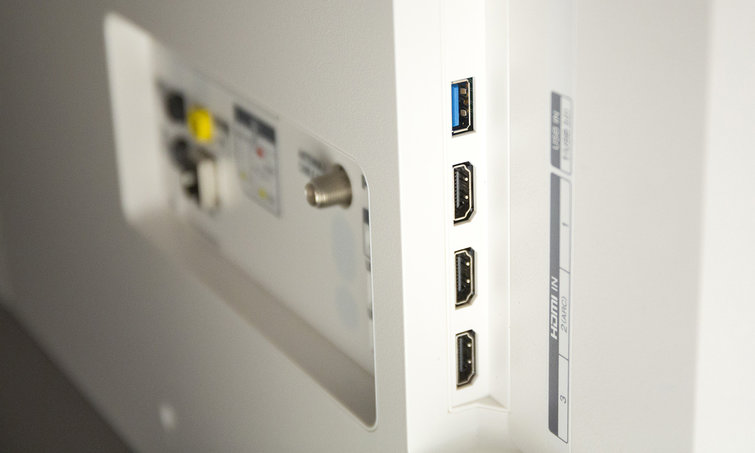 For the side ports what we get is three HDMI ports with one of them supporting ARC and one USB 3.0 port. At least LG had the wisdom to place enough HDMI ports to the side in case you want to wall mount it. For some, three may still not be enough but for most that will use a dedicated sound system will make most connections on the AV receiver so you will not have any trouble with how many HDMI ports to use.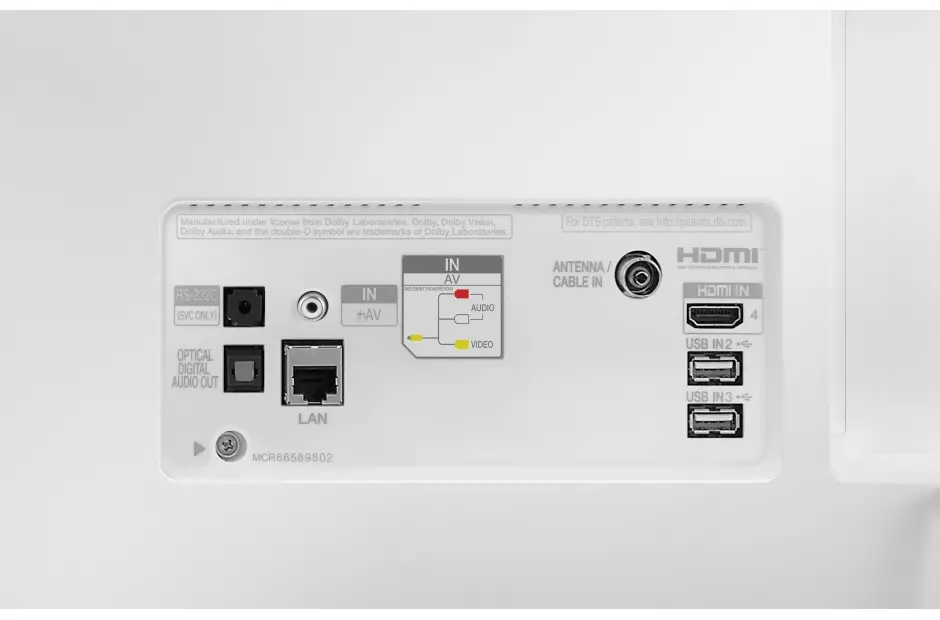 All the other connections are looking outwards and what we have here is one HDMI port, two USB ports, an optical digital audio out port, an RS232 port, an Ethernet port if you prefer a wired connection to the internet as well as a composite input that you can use with the included adapter. Lastly we have the antenna/cable port for terrestrial broadcasts.
As far as the amount of ports we get I am very pleased and since most of your connections will use the HDMI ports they will cover most of your needs. The only problem I mentioned before is the outwards ports will become useless in case you wall mount the TV limiting a little your options but even like this what you get is more than enough.
OS, Apps and Features
As with Samsung's Tizen OS, LG's proprietary smart TV OS called WebOS is easy and simple and can be used even by those that are not very much into all these tech stuff. When you navigate through it's menus it gives you the feeling that it was developed specifically for TV and not for smartphones or tablets like the Android OS that other TV sets have. Also it has a very rich graphically interface for pleasant viewing, logical positioning of each app and setting options as well as offering customization in order to place everything to your liking. Navigating through it's menus could not be easier and faster and everything feels smooth without any noticeable lag.
With WebOS you get a very well optimized platform for 4K HDR streaming from apps like Amazon and Netflix and WebOS will inform you with corresponding graphics the kind of signal your TV is getting. But other than these two services you get a plethora of other apps and services to choose from and you can also download more from the internet.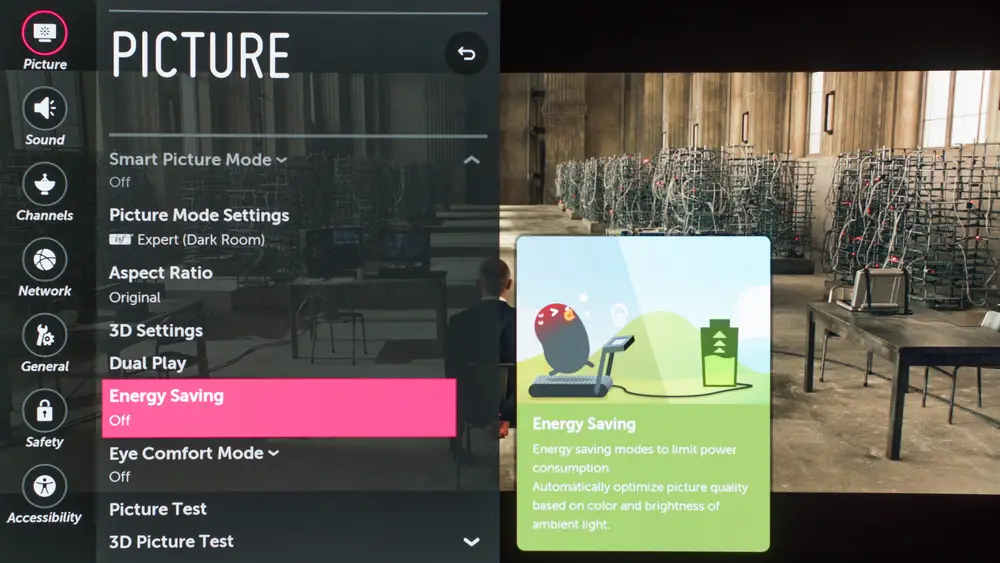 What makes LG's OS better than the competition is when you combine the WebOS with the Magic Motion remote. Except from it's standard specs you have the ability to click through the menus and settings with it's built-in pointer system something that vastly improves menu navigation. Typing a username and password was always time consuming with a standard remote and with the Magic Motion remote it could not be any faster or easier. You also have the ability to use specific number buttons as shortcuts for your favorite apps except from the two dedicated buttons for Netflix and Amazon.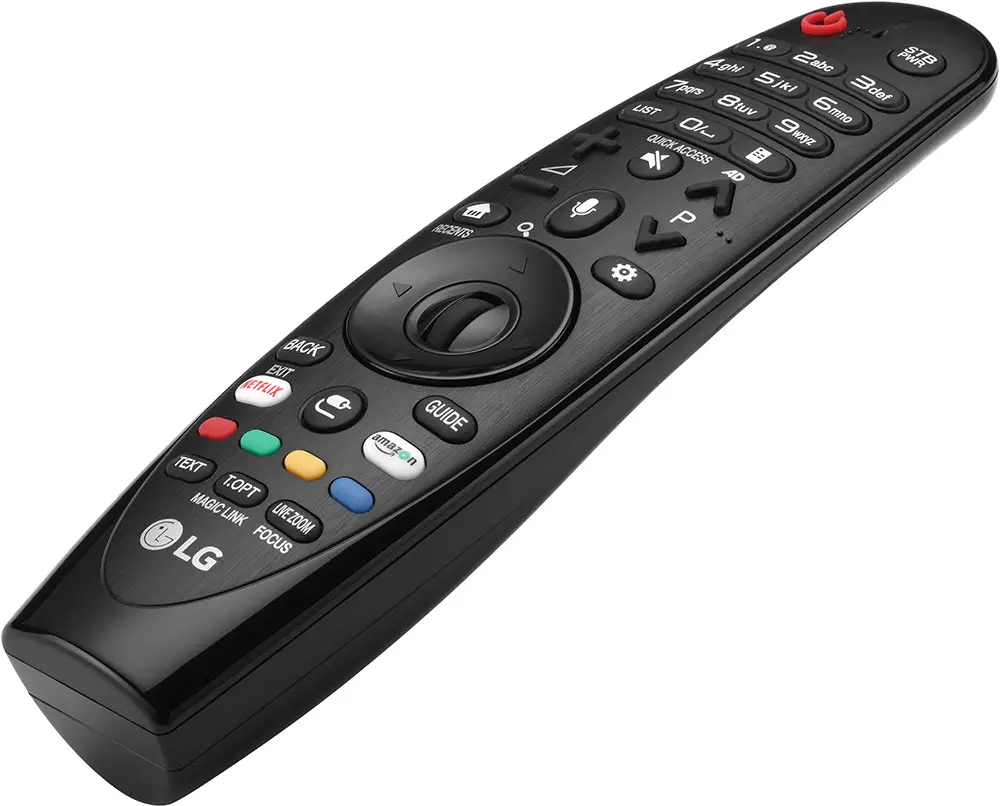 As with all smart TV remotes it also has a built in microphone for voice control navigation something that can be handy for easy and simple commands but it has a long way to go before it can understand more complex sentences. Buttons on the remote are made of rubber and have good distance between them but I would prefer them to extrude more from the remote surface in order to be easier to press. Also I never liked the design of the volume and channel buttons with their symbol style design. But despite it's minor flaws the Magic Motion remote remains one of the best and easy to use smart remotes out there and show the amount of work LG has put in developing it.
Final Thoughts
The LG OLED55C7P is an amazing TV that offers a beautiful and modern design, spectacular colors, mesmerizing HDR and pristine black levels getting very high marks for its performance overall. If you are looking for a premium TV then the C7 is a model you should consider. When it came out in 2017 it was an excellent buy for anyone who was looking for the best performance possible and now that the 2018 models come out it's price will fall enough to become a really affordable one that will be hard to pass. It was one of the best buys you could make in 2017 and it will be the same this year at an even better price, just hurry to get one as long as stock lasts. Highly recommended.
For more reviews you can check our dedicated 4K OLED TV reviews list or even look at our Product Reviews Table where you can find the brand and specific product you are looking for.
Also don't lose the chance to subscribe to our Newsletter and gain exclusive privileges.
---
Cheapest Places to Buy :
---
Specifications
55″ OLED Resolution : 3840 x 2160
HDR supported : HDR10, Dolby Vision, HLG
Video : Active HDR with Dolby Vision™, HDR Effect, Perfect Black, Cinematic Color, True Color Accuracy, Wide Viewing Angle, Billion Rich Colors, ULTRA Luminance, 4K Upscaler, Pixel Level Dimming

Audio : 40W 2.2Ch Dolby Atmos, Dolby surround, DTS-HD
Video Codecs support : HEVC, VP9
Audio Codecs support : AC3(Dolby Digital), EAC3, HE-AAC, AAC, MP2, MP3, PCM, DTS, DTS-HD, DTS Express, WMA, apt-X
Ports : 4 HDMI 2.0b ports, 3 USB ports (1X3.0), 1 Ethernet port, 1 Digital Audio input, 1 Composite input, 1 RS232 mini jack, 1 RF In port

Network : Wireless IEEE 802.11a/b/g/n/ac support, Wired through RJ-45 port