LG E9
Design -

98%

Video Quality -

96%

Inputs and Ports -

90%

OS, Apps and Features -

96%

Price / Quality -

85%
---
Cheapest Places to Buy :
---
LG is arguably the king of OLED for one more year as they offer the most diverse lineup of OLED TVs among it's main competitors. With so many models at hand they have the ability to scale them accordingly and offer both affordable ones like this year's B9 but also crazy expensive like the top tier W9. Here comes our LG E9 review that focuses on one of the higher end OLED offerings for 2019.
The E9 OLED may look different but at it's core it's essentially the same as LG's cheaper offering the C9 as they both share the same OLED panel technology, the same a9 Gen-2 processor and the same webOS 4.5 software. But what the E9 does differently is to pack all this technology in a more premium and stylish design in what LG calls a "Picture in Glass" which in reality is a piece of glass that the screen is stuck on. The design is definitely unique as the glass surrounds the panel and gives the illusion that the TV is floating on the air. The second major difference comes in the audio system as the E9 comes with an updated, Dolby Atmos enabled, 4.2 channels system which is a clear improvement over what C9 comes equipped with.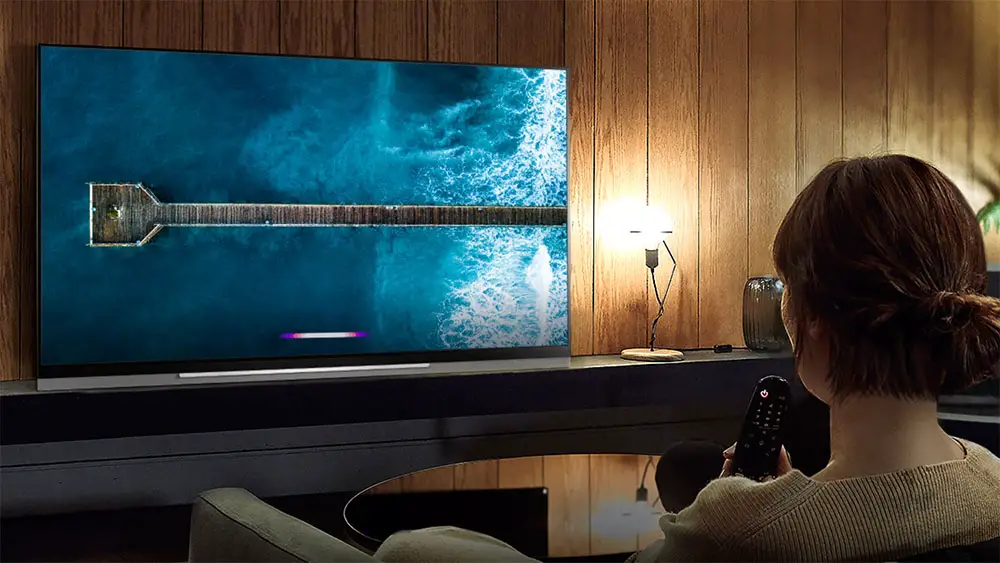 But what should be of real concern here is that the E9 comes with an additional cost of $700 compared to it's more budget friendly brother making it a bit of a difficult choice if you are torn between the two. Does the design and audio upgrades justify this higher price or the E9 is just for those few that want a good looking TV above all else? Continue reading to find out.
Design
The E9 has a lot going for it but certainly one of the first things that catches the eye is the "Picture on Glass" design that certainly make it stand out from the average looking TV designs. What LG has done here is they have taken a piece of glass and stuck the screen on it with glass extending below it in order to give the illusion that the TV is not touching anywhere. Being an OLED the TV is crazy thin especially at the top but even the bottom half that houses the electronics box has a maximum 1.77″ (4.5 cm) of thickness making the E9 a very thin and good looking model overall.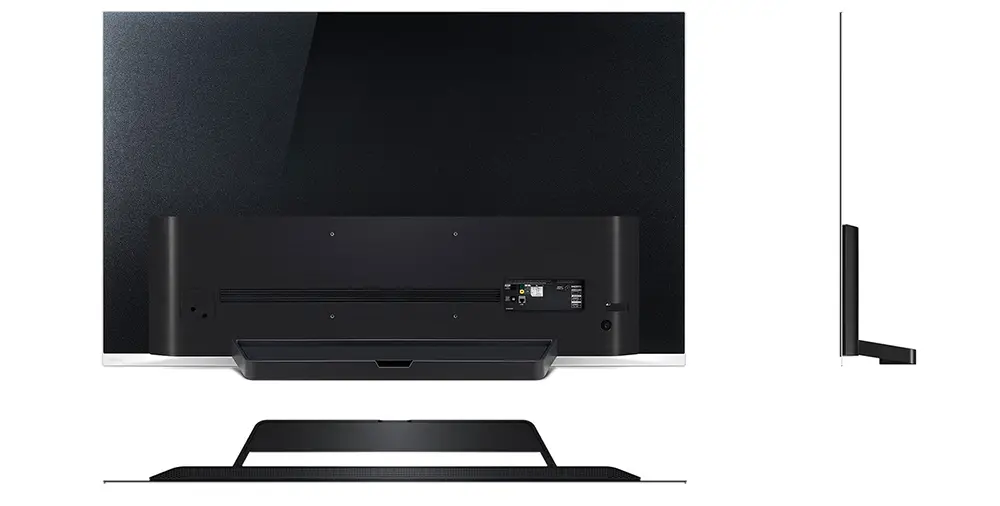 Looking it from the back the E9 comes with a very clean design with the upper half having a very reflective surface due to the glass being used while on the right of the bottom half we find the connections separated into two groups with one looking sideways and the second looking backwards which can be a bit hard to use if you want to wall mount the TV. We would definitely prefer some down facing ports that we have seen Sony using instead of the design LG goes for.
The front of the TV uses the glass under the panel as a stand but this is not the only part the TV uses to keep it steady. There is a plastic extension on the back in order to keep it stable and also help with the cable management. The plastic stand looks a bit more cumbersome than what we would like for such a sexy looking design but we guess this was dimmed necessary in order to provide the stability needed for such a large screen.

The remote that comes with the E9 is exactly the same we had previously used with the C9 model and it's the same 2019 version of Magic Remote (codenamed MR19) that comes with many LG models this year. Changes from previous years are not dramatic as basic button layout remains the same and we get some minor cosmetic improvements as well as button functionality depending what new features are being used for each coming year. Obviously the highlight of the Magic Remote remains it's function as a mouse pointer that can make navigation so much easier and smooth. The remote uses Bluetooth for communication making direct contact with the TV unnecessary while this year you have the ability to program it as a universal remote if you have other equipment that doesn't support HDMI-CEC.
Design wise the E9 is one of the best looking TVs this year. Build quality is top notch while the "Picture in Glass" design gives it a look that separates it from the rest and gives it a premium feel from the first moment you look at it. From a pure design perspective the E9 wins hands down.
Video Quality
Processor technology used
One key upgrade we see in almost all OLED TVs from LG in 2019 is the use of the newly developed a9 Gen-2 processor. Except from the lowest entry, the B9 OLED, all other models use this top processor that offers various upgrades in the image and audio processing department. It's been very evident lately that manufacturers have reached a plateau as far as OLED panels is concerned and we have seen that the last 2-3 years the differences are marginal. As a result manufacturers are turning their attention to other parts that can be further improved and image processing seems to be one of them.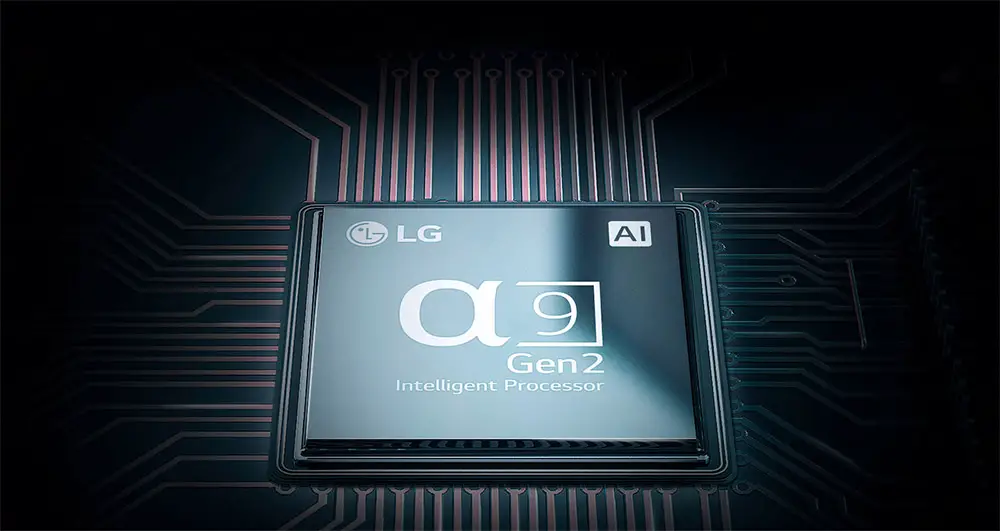 But what does this 2nd generation of the a9 processor offers more compared to last year's offering? LG is heavily promoting the AI aspects of the new chip and claims that by using a database of more than 3 million sample images it can analyze each individual image and adapt it's settings in order to present the best possible result. Any kind of content from low resolution video to ultra high definition 4K content benefits from all this processing power but it can be particularly handy to lower resolution images with it's effective upscaling capabilities and noise reduction techniques. Another characteristic is it's ability to clear banding as well as undesired macroblocking that can be very visible in streaming media that usually is highly compressed.
One more feature we get is the Dynamic Tone Mapping that was designed in order to counter the HDR brightness limitations of OLED panels. By dynamically analyzing each frame the E9 OLED can adjust the tone mapping and improve each HDR frame accordingly.
Lighting technology used
OLED's main strength from the very beginning was that they had absolutely no need of any kind of backlight in order to function and this strength bears the same importance to this day. The E9 OLED, as with all OLED TVs, can turn each of it's pixels on and off individually which is a huge advantage over anything a traditional LED LCD can achieve. The most obvious advantage of this ability is the amazing control of light OLED has compared to LCD which eliminates completely any light blooming.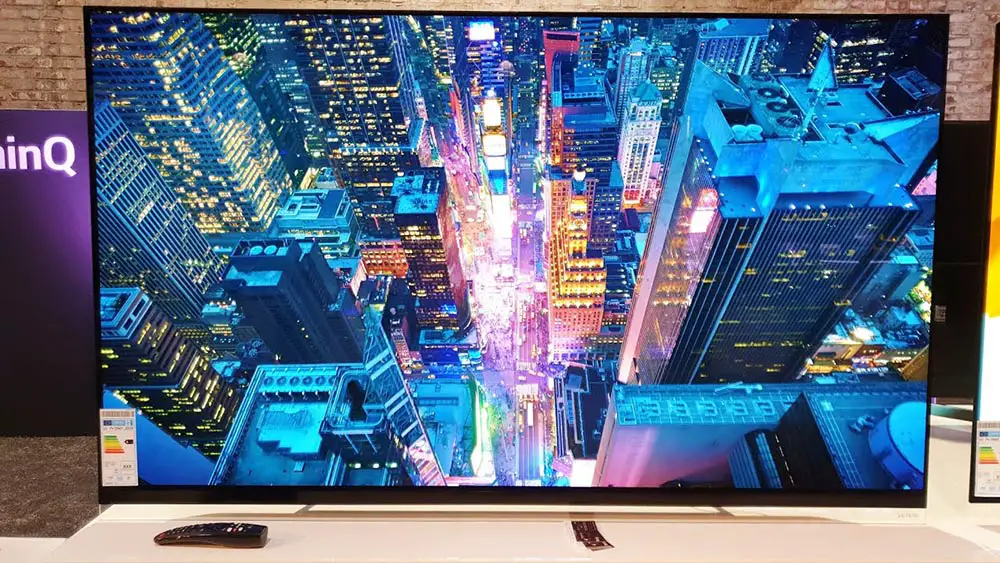 For those unfamiliar blooming is visible in a LCD when a bright object appears in front of a relatively or completely dark background. A light halo then appears around the object due to the nearby pixels light leakage due to the intense backlight. OLED has no such problems as each pixel is self-emitting and seeing the kind of light precision an OLED can achieve is really breathtaking.
Brightness / Contrast
And while OLED can achieve amazing light control compared to LED LCD TVs it's major weakness remains it's peak brightness. And while many top LCDs today can display north of 1500 nits of brightness most OLEDs struggle to display half of that. In the early years we had seen OLED panels improve on this but it seems that further development has hit a wall.
We had recently reviewed LG's C9 so in regard to brightness performance we were expecting to see very similar results and indeed this was true. First we measured E9's peak SDR brightness which gave us a 416 nits measurement over a 10% window while HDR brightness over the same 10% window revealed 812 nits according to our readings. We had mentioned before that as far as SDR content is concerned 416 nits is more than enough as the needs are far lower while the measurements we got for HDR were very good without being anything extraordinary.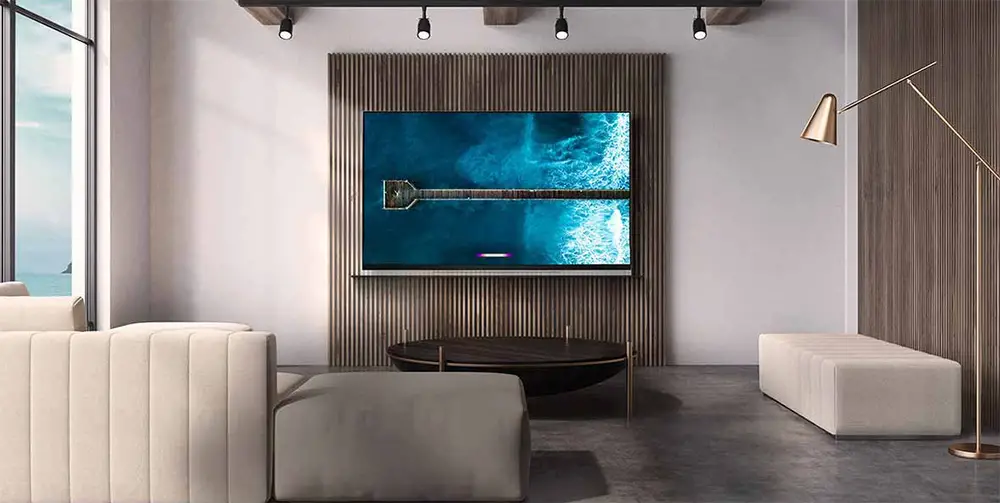 One thing to keep in mind is that the E9 uses the same Automatic Brightness Limiter (ABL) that we had noticed during our C9 testing. What this system does is to lower overall brightness when a certain amount of the screen becomes too bright. Also the new Peak Brightness setting changes how the ABL system behaves as selecting higher settings to it will increase the brightness of small highlights.
As far as the contrast being an OLED panel means that the E9 has infinite contrast ratio as it can completely turn off it's pixels and the end result is deep black images that are amazingly better than the greyish blacks we are used to see with LCD models.
Viewing angles
If deep blacks in the number one characteristic of OLED panels then the extreme viewing angles we would have to say is the second. LCD TVs could never much OLED in this regard and while manufacturers have tried to improve this by using various technologies OLED still remains the number one option if you are planning to watch your TV from less than ideal positions.
Almost all OLED panels have pretty similar performance in this regard and the E9 is no different as the panel was able to retain most of it's image integrity up to around 45 degrees of angle. Pushing this even more can still offer a good viewing experience but colors, brightness and black levels take a serious hit and quality decreases dramatically.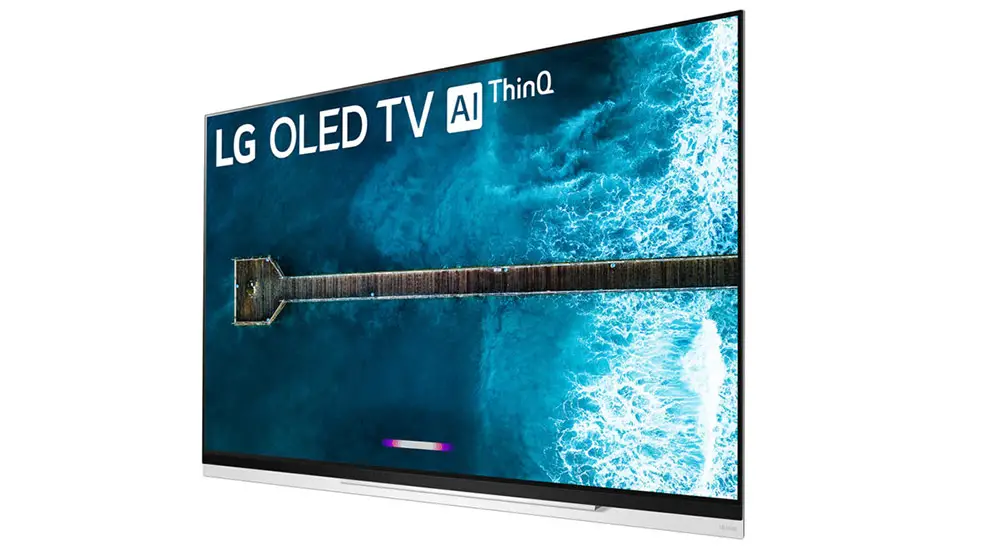 HDR support
It has become pretty clear where thing are headed when it comes to HDR support. LG is one of the major manufacturers to support Dolby Vision in most of their medium and higher tier TV sets and as such for one more year we get the trio of protocols that include the basic HDR10 that is needed for UHD playback, HLG that is used for broadcasting as well as the more advanced Dolby Vision that supports dynamic metadata.
The major omission here is HDR10+ that tends to be Dolby Vision's rival and so far Samsung is heavily backing it up so we are not so optimistic that we will see it being supported by LG any time soon. HDR10+, unlike Dolby Vision, doesn't need any special hardware to function so one can only hope that if it gains enough traction it will also be supported by LG. But this is not the case for the time being.
Color coverage
The E9 naturally comes with wide color gamut support that improves images by making colors appear more lifelike and vibrant. The E9 measure 97% coverage on the DCI-P3 color space which is very good even if just a hair lower that what we had measured in the C9. In the wider REC.2020 color space we measured 72% coverage which is also great and almost similar to C9 and we consider this above the average with only a few models having rated higher than this.
We cannot say that we didn't expect these numbers. Although they are just a bit lower than both last year's E8 and this year's C9 the difference is so small that it will show only in numbers and you wouldn't be able to tell with naked eyes. Excellent color reproduction by the E9 and a real showcase of what a top OLED TV can display.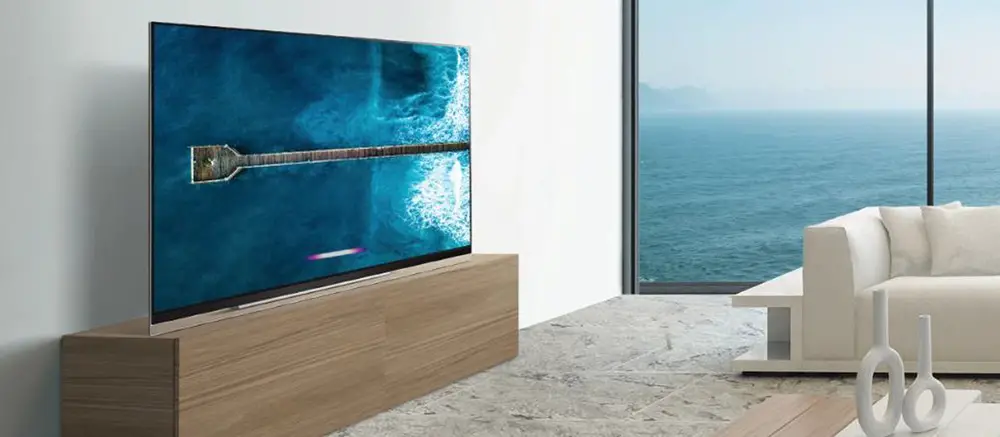 Motion performance
Regarding motion performance the E9 managed to performed very similar to the 2019 C9. Both these TVs use almost the same hardware that's why they are so close in performance. The E9 has a native 120Hz refresh rate and manages to offer smoother motion with the addition of Motion Interpolation as well as Black Frame Insertion (BFI) features. Using motion interpolation creates smoother camera motion but you should always be careful not to use very high settings in order to avoid the infamous "Soap Opera Effect" that can make a film look strange and unrealistic.
Black Frame Insertion is an additional feature that has become standard lately and what does it do is to insert a black frame between two individual frames in order to give the illusion of smoother motion. And while this feature can really improve motion as a side effect it lowers brightness due to the black frames inserted while flickering may be visible to some that can be a little bothering. As we always say in these situations you should try out different motion handling settings in order to find the best results according to your tastes.
Finally we should mention that the E9 supports Variable Refresh Rate (VRR) but unfortunately no FreeSync or G-SYNC. VRR is still relatively new and only Xbox One is currently supporting it but we expect new hardware to support it in the future also.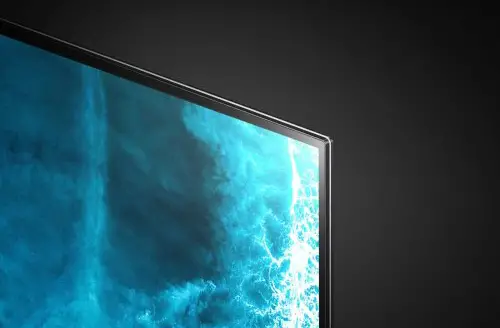 Input lag
Input Lag has seen great improvements the last few years as it was not so long ago that we were commenting how good it was to see TVs with input lag that was hovering in the 25-30ms range. But it seems that this is history as LG has really improved this and now we have reached a point that many of their 2019 models offer crazy low input lags. The E9 is such a model as according to our measurements with Game mode on we got a crazy fast 13.5ms input lag that is low enough to satisfy even the most hardcore gamers. As always we tried a bit of Call of Duty WW2 in our PS4 and what we got is a butter smooth experience with fast and accurate responses.
As other OLED models this year the E9 also supports Auto Low Latency Mode (ALLM) that can be used if you have the necessary equipment. Both PS4 and Xbox One X support this feature.
Image quality impressions
Having already tested the 2019 C9 we were pretty much aware of what to expect from the E9 which is basically the same TV with a different design. OLED remains the best TV technology today and the E9 manages to showcase this with style and looks. Being able to close each individual pixel gives it unreal light control while it's amazing colors, good overall brightness, solid motion performance, extreme viewing angles and unbelievable input lag sums up what this TV is capable of. The a9 Gen-2 processor adds the necessary computing power and AI functions in order to improve image and lower resolution content while also offer improvements on the audio department.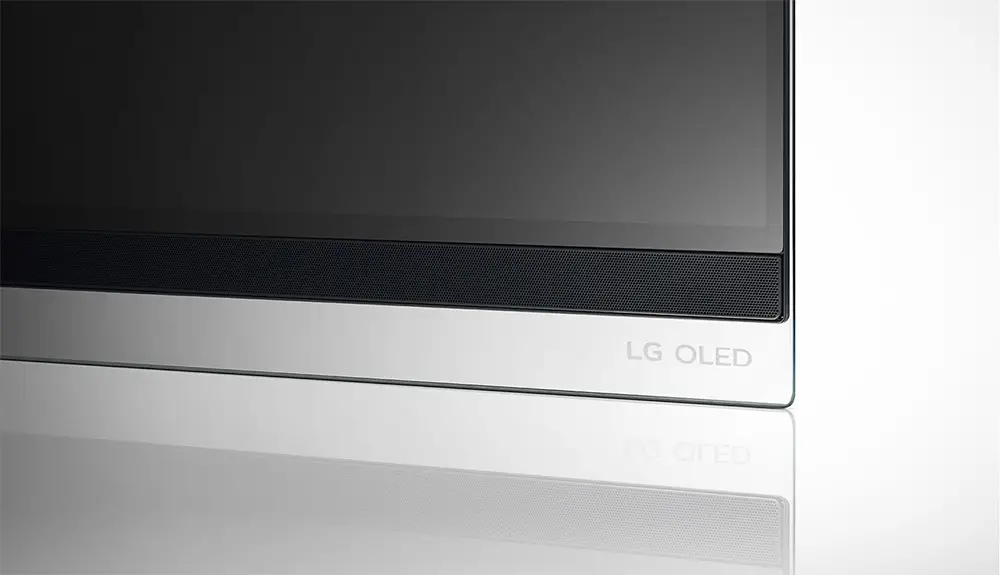 The only weakness that plagues the E9 is the same that more or less plagues the sum of OLED TVs and this is peak HDR brightness. Advancements in this regard seems to have hit a wall in the last couple of years and we are not sure if there will be any further improvements in this area as we have seen manufacturers focusing in other areas instead.
Also as with all LG OLEDs there is a slight risk of permanent burn-in that's why the E9 incorporates various features to combat this like Screen Shift, Logo Luminance Adjustment and Automatic Pixel Refresher. Also you should always keep in mind not to leave static images for long periods of time or broadcasting channel logos for many hours as this can increase the risk.
Audio Quality
The E9 may be very similar to the lower priced C9 by having the same OLED panel and processor but if there is one key area that the E9 wins over it's competing little brother is in it's audio performance. Of course when you have such a thin design as with all OLED TVs there is so much you can do with the audio but nevertheless the E9 tried to improve things a bit.
While the C9 OLED was using a 2.2 channels down firing audio system with the E9 we get a completely different setup. Here we get a 4.2 channels system with a total of 60 watts power giving the audio a bit more flexibility. Another thing we should mention is that the drivers here are forward firing which is much better in the end. And the differences in hardware end there as when it comes to software we get exactly the same features.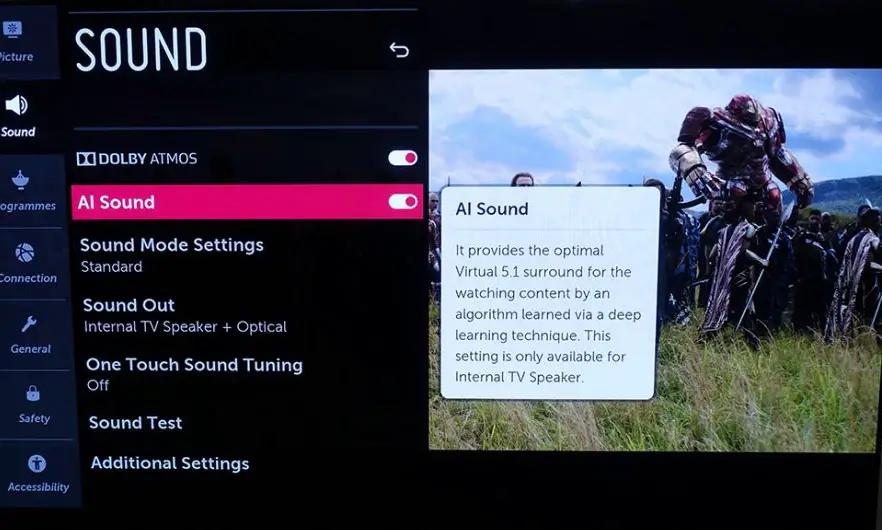 First of all the LG E9 supports Dolby Atmos if you watch content that supports such a mix. And while sound may feel a bit more "full" and more encompassing the audio system cannot fully take advantage of the audio's full potential. There is also an AI Sound feature that is an up-mixing mode and can create 5.1 channels of virtual surround sound from simple two-channel audio. The results are a bit of a mixed bag to tell you the truth. There were instances that we could feel a more wide soundstage but we cannot say that it can offer a complete surround experience as a dedicated system can, not by a long shot.
Another unique feature that we had also seen in other LG TVs is the relatively new One Touch Sound Tuning. What this does is that by using the microphone of the LG Magic Remote it analyzes the audio from your sitting position and make adjustments and calibrations to the TV audio accordingly in order to provide the best possible result. This is in essence similar to the audio calibration systems we see in home cinema AV receivers only a more simpler one. It may not offer the advanced options you would expect but it is not meant to. It was created as a way for users to improve the audio as much as possible without the hustle to go through the audio calibration settings of the TV.
Overall the E9 offers an improved out of the box audio experience by having a much better audio system that is more than enough for casual viewing. But if immersive surround performance is what you expect then you better go for a dedicated surround audio setup. It's a pity to have such an amazing TV and not be able to pair it with a similarly good audio system.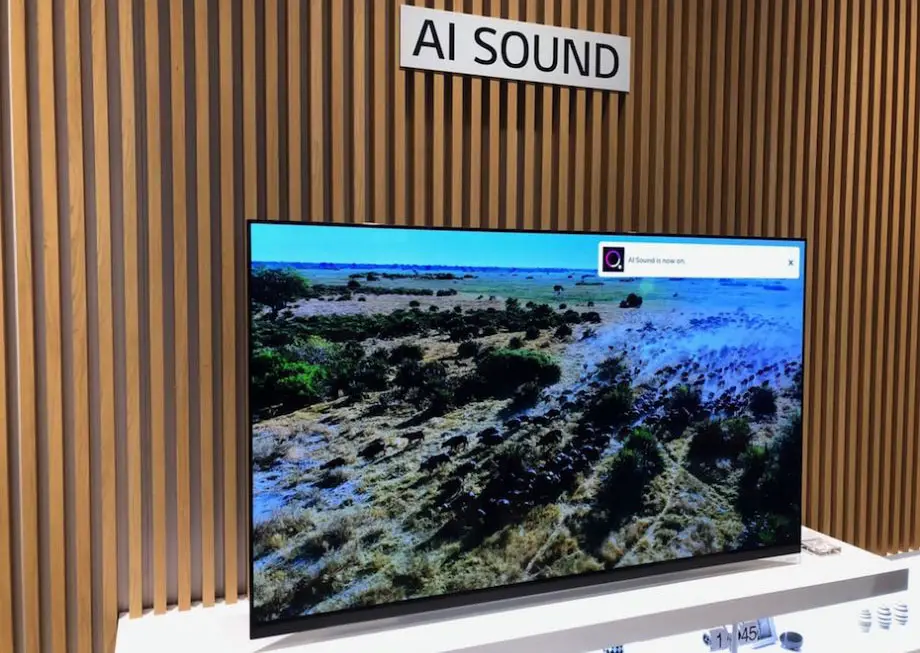 Inputs
As far as connectivity goes things are pretty much standard as we have seen the same kind of connectors layout in many other of LG models lately. This means that we get the same two groups with one facing sideways while the other backwards which can be a pain to use if you plan on wall mounting this beast. Situations like this make us wish we had Samsung's One Connect Box but no other manufacturer seems to go that route.
The major difference this year is that LG has equipped all their top models with the new HDMI 2.1 ports making them the first major manufacturer to fully support it. HDMI 2.1 means that the E9 supports 4K resolution content up to 120fps and new features like eARC, Auto Low Latency Mode (ALLM) as well as Variable Refresh Rate (VRR) if you have the necessary equipment. There is still very little support for the HDMI 2.1 protocol but with LG fully backing it from this year we expect stronger support for it soon.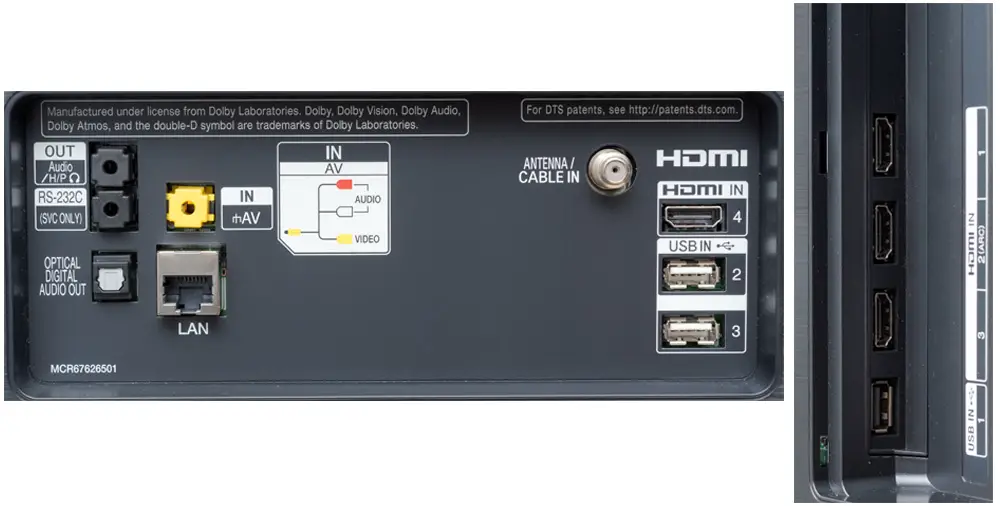 As for the ports we do find in the E9 we get three side looking HDMI and one USB port. All the other look backwards and include another HDMI port, two more USB ports, an Optical Digital output, a composite video/audio input that can be used only with a special adapter, an RS-232C mini jack, a Headphones output, an Ethernet port as well as the usual Antenna/Cable input. Our only other observation is that the USB ports are all 2.0 and there is not a single 3.0 to be found which is really very disappointing.
Not much to say here. On the plus side we find the new HDMI 2.1 ports while we don't like that we still get only USB 2.0 variants in such a premium TV. Cable management is also lacking with no One Connect Box to be found as it seems for the time being it remains a Samsung thing only.
OS, Apps and Features
Software wise the E9 comes with exactly the same features we saw in our C9 testing so this part of our review will be more or less similar to our observations we made the last time.
All of LG models in 2019 that have smart TV functionality use the latest webOS 4.5 which offers minor upgrades over the previous 4.0 version. webOS is LG's proprietary smart TV platform and have seen various upgrades both in design and functionality over the years. Right now we consider it along with Samsung's Tizen the best smart TV platform there is with Android TV being in 2019 a very close third.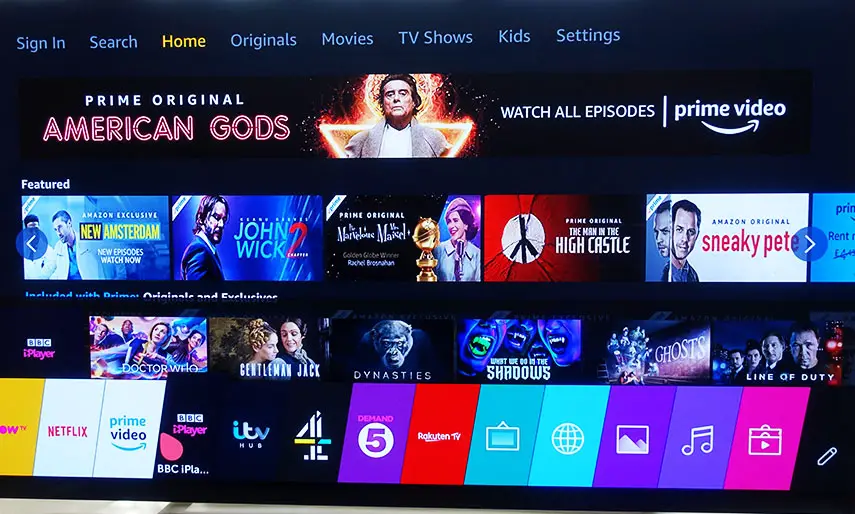 If you had experienced webOS in any form the previous years don't expect to find a completely redesigned system here as LG is just tweaking things just enough to offer a smoother experience overall. What new we find this year is the "AI Preview" feature which basically is a second row that appears above the launcher bar and presents you with various content recommendations depending your viewing habits.
webOS always had strong support from developers and as such you will get a huge collection of apps and streaming services to choose from. Netflix, Youtube, Rakuten, Demand 5, Hulu, Now TV, Amazon Prime Video, Sling TV, Vudu, iTV, Google Play Movies and BBC iPlayer are some of them with much more to choose from making it impossible to mention everything. Some of these of course may be location dependent so you need to check the ones you are interested in if they are supported in your country. With so much content it can be a bit hard to navigate around, especially if you are using more than one service. But LG is thinking for you and they created the "Intelligent Edit" feature that reorganizes the apps according to the use you are making. Of course you get plenty of customization freedom also in order to arrange everything to your liking.
We said it before and we will say it now. We are in love with the webOS as it is so simple and easy to use that it shouldn't make it hard for you to learn it either if you are a complete newbie to it or an experienced user. With webOS 4.5 LG has improved the overall experience even further making us wonder what else we will see in the future. We also didn't notice any lag or delay when navigating through the menus and in general we had a completely smooth experience when using it.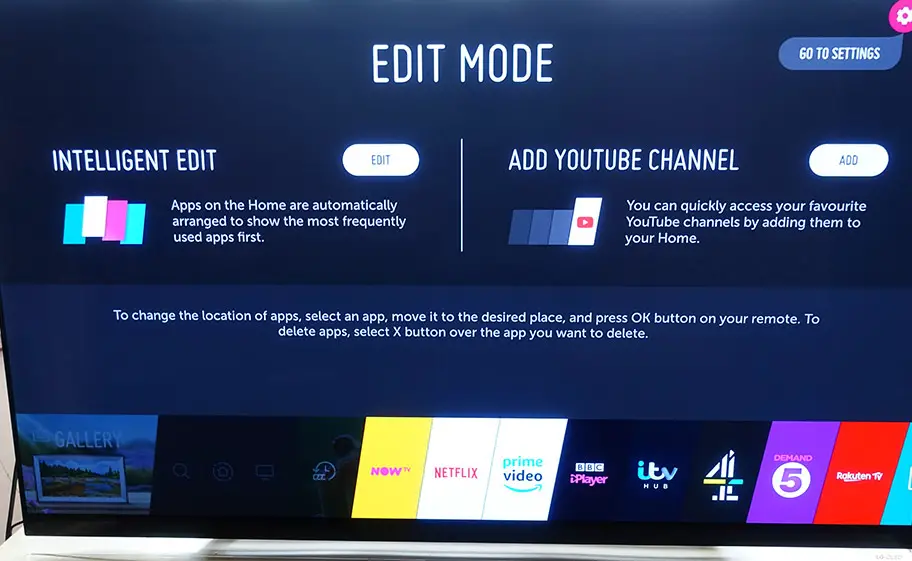 A new feature we found in many LG models this year is support for WiSA wireless speakers technology. If you have any WiSA enabled speakers around your house then you can connect them to the E9 and have a true multi-room audio environment. So far we were not able to test this but hopefully we will be able to try it out at some point in the future.
Gone are days when a remote was enough to control your TV. Giving options to the consumer is a must today and as such we see new TVs being controlled with various different ways that you can choose from. Other than the plain old remote LG has also created the Remote App that you can install to your smartphone or tablet and control the E9 through that. We had tried this app before but functionality is a bit limited as you cannot use it to change TV settings or input text in streaming services like Netflix or Youtube. Lastly there is also voice control with both Alexa and Google Assistant being supported. The E9 seemed to respond very well to our commands so if you like voice control you will feel right at home with this one.
Lastly LG had promised to add Airplay 2 and HomeKit support by a firmware update which seems to be out now. So if you are interested in these features make sure to update the TV in order to gain access to them.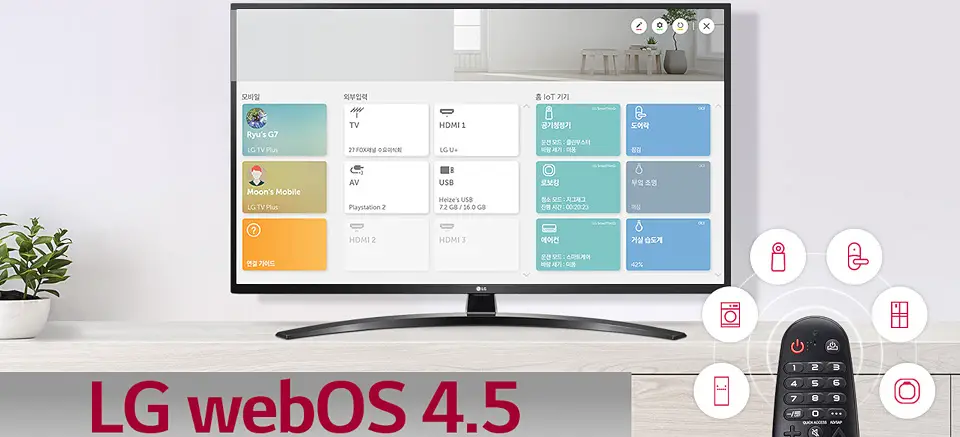 Final Thoughts
When we reviewed the C9 OLED earlier this year we claimed to be one of the best, if not the best, OLED TV so far. The E9 OLED takes everything the C9 has and wraps it around a more premium design and with a better audio system. This means that we get extreme blacks and viewing angles in addition to amazing image quality, great color reproduction, very solid motion performance and crazy low input lag. Add to the mix the webOS that has reached version 4.5, added support for Airplay 2 and HomeKit, the inclusion of HDMI 2.1 and a powerful a9 Gen-2 processor with all the improvements it offers and what you get is a killer TV model.
Do we find anything missing here? Well, HDR10+ is an obvious omission and it seems that LG stays firmly behind Dolby Vision for the time being. Also it seems that all other manufacturers including LG refuse to use Samsung's idea of One Connect Box that it can be so much convenient and trouble free. We also need to mention a couple of weaknesses that have to do mostly with the OLED tech in general rather than with E9 in particular. There seems to be no improvement in brightness or color reproduction this year showing that further OLED development have hit a wall somewhere. Also OLED is more prone to permanent burn-in so you should be carefully using it and also use LG's prevention features that are included in the E9 to minimize the risk.
But in our opinion the single biggest minus of the E9 is it's price. We can hear many users ask why to pay the extra premium when the C9 offers exactly the same performance? This holds true, to a certain extent. The E9 is basically a C9 wrapped in a nicer glass design and sports a better audio system. Does this make it worth the extra cost? This is not for us to say as there are many consumers that believe looks and performance bear the same importance. If you are one of them and don't care to pay the extra price to get a more premium design then the LG E9 OLED will not disappoint you. It has the looks, the performance and the features to name it a true killer flagship OLED TV.
For more reviews you can check our dedicated 4K OLED TV reviews list or even look at our Product Reviews Table where you can find the brand and specific product you are looking for.
Also don't lose the chance to subscribe to our Newsletter and gain exclusive privileges.
---
---
Cheapest Places to Buy :
---