LG 65SK9000PUA (US) - 65SK8500PLA (Europe)
OS, Apps and Features
9.4/10
Pros
Great image quality with HDR
Full Array Local Dimming lighting system (FALD)
WebOS has matured a lot
Many online and smart features
Cons
Average black levels
No One Connect Box
Backlight is noticeable
Sound is so and so
---
Cheapest Places to Buy :

---
The LG OLED series may be the hot topic discussed mostly among home cinema fans and enthusiasts but we should not forget the Super UHD series that offer a good alternative to the otherwise expensive OLED offerings. The SUHD series is often overlooked but taking a closer look you will find out that this is a solid series offering some nice features and premium specifications without having to go over-budget something very important for the mainstream consumer.
With technologies like Nano Cell Display, Full Array Local Dimming, support for all HDR protocols including Dolby Vision as well as including a wealth of online and smart features like LG's ThinQ artificial-intelligence (AI) technology and built-in Google Assistant functionality the 'Super UHD' series has all the latest technologies to make it's models not only some of the best LCD in market but also very affordable.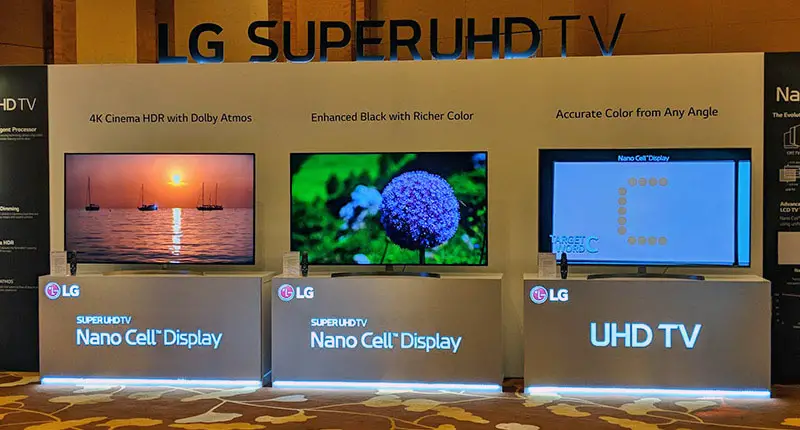 For this article we will be looking at the LG SK9000 model. Originally LG had named this as SK8500 but later they changed this for the US market to SK9000 while keeping the SK8500 numbering for Europe. Today we will test the US 65″ model with model number 65SK9000. For those that want a smaller size there is also a 55″ model available in both markets. So now that we made the model numbering clear let's proceed with our LG SK9000 review.
Design
The SK9000 sports a lovely design that is modern but at no time did it felt like we were looking at a premium model. Bezels are particularly thin almost to the point you cannot see them. The panel is attached on top of the frame and has a nice metallic look.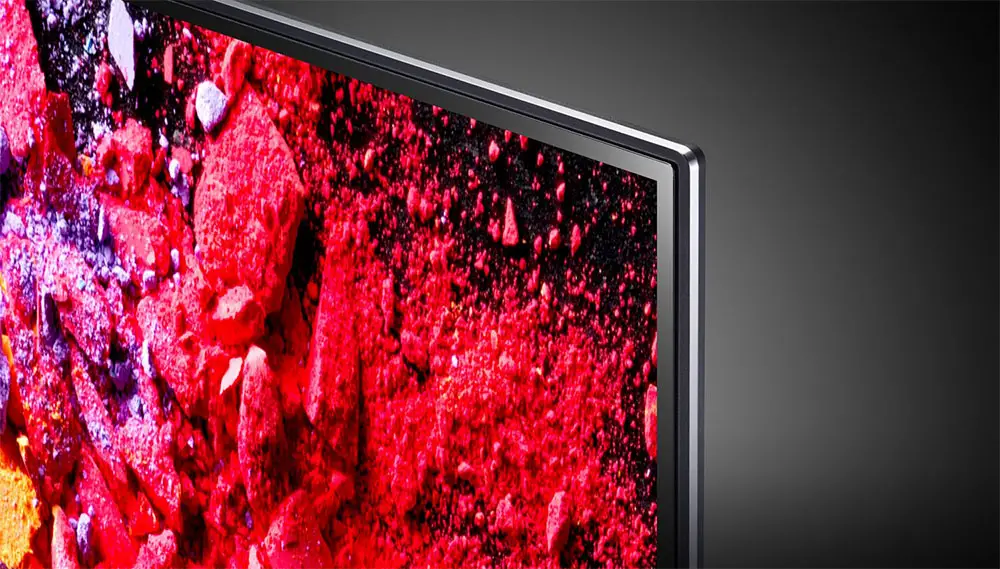 The back of the TV is all covered in plastic featuring a black, brushed-metal finish and we find all ports and connections being attached to the main body. Unfortunately Samsung's One Connect Box is a feature we still find only in Samsung's models and we wish that the other manufacturers will at some point start using a similar design for cable management. There is also support for VESA 300 X 300 wall mounts.
Featuring a Full Array Local Dimming lighting system may help the TV having better light control but as a side effect it also makes the TV have bigger thickness than models that utilize edge lighting. The difference is not very big to make it look bad or anything but nevertheless it's a detail that we should mention. When looking it from the side the top of the TV has a nice curve leading to the top while towards the bottom is where the TV has its thickest point measuring around 60mm.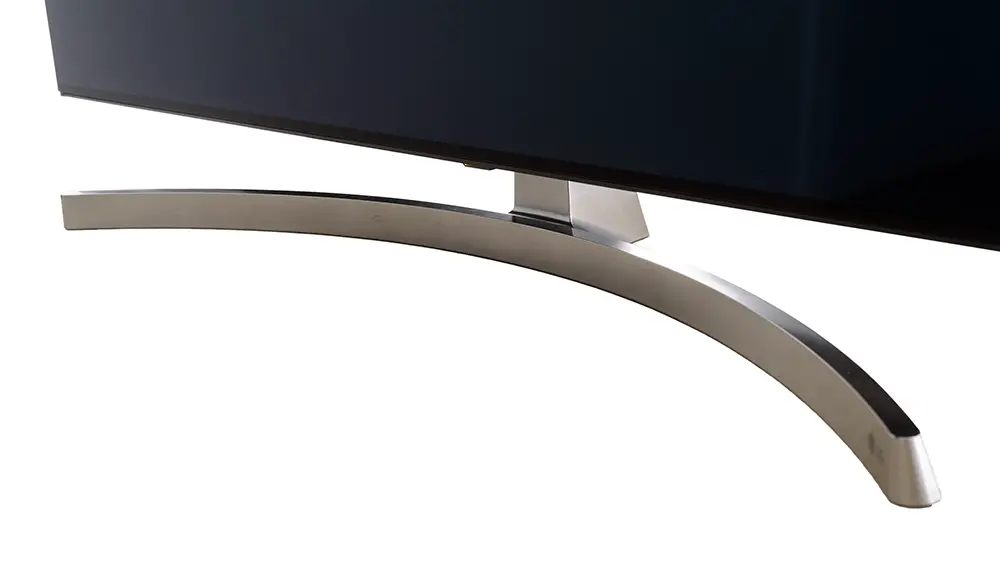 The TV comes with a metallic stand that has a curved, crescent type design and although we didn't experience any stability problems these Y shaped stands always make the TV wobble a bit without it being too much to run the risk of falling down. There is no major cable management present here with only a simple center hook at the back where the stand connects to the main body that helps to gather all cables together.
We cannot say we are either thrilled or disappointed with the design of the SK9000. Mostly we would say it gets the job done and will be the least of what this TV offers that you will pay attention to. Cable management could be better but even like this we didn't find it bothering or difficult to manage.

The TV comes with the same remote we found in LG's C8 OLED model. We are talking about the known Magic Remote which may seem a bit too much cluttered with buttons but after a while using it and learning its ins and outs it will become a second nature in your hands offering easy and fast navigation.
Other than its obvious uses what distinguishes itself from the rest is its unique built-in pointing system. You need to type a username and password? No problem as you no longer have to click through a virtual keyboard to press the correct characters. You can now use the pointer and fast click on the characters you want with speed and precision. Also you can appoint specific buttons to open specific apps that you use frequently something very time saving. There are already two dedicated buttons for Amazon and Netflix but many use other streaming services also so more dedicated buttons are necessary.
As a smart remote it also has a built-in microphone for voice control navigation. Controlling the TV through voice commands is part of LG's ThinQ AI which is included in the WebOS and it is not only limited with your TV as it's function extends to other devices that support the ThinQ protocol. Support also extends to Google Home as well as Amazon Alexa making the remote a control hub for all your smart home devices.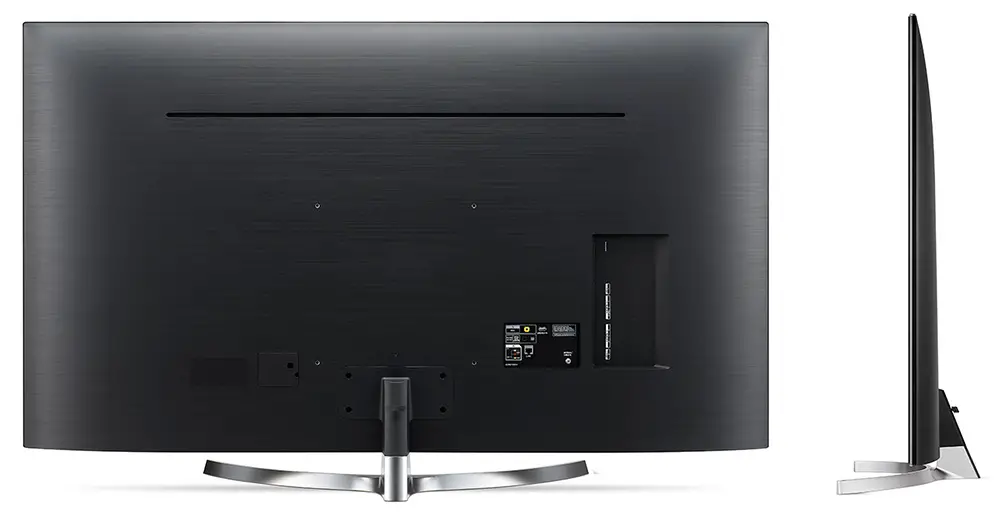 Video Quality
The LG SK9000 is using a Full Array Local Dimming (FALD) lighting system and this is important for the overall image quality. Having a FALD system means that compared to Edge Lit TVs the SK9000 has the ability to turn on and off particular parts of the panel that is separated in what is called zones and in doing so the TV has the ability to better control the light that is being emitted.
In no way this system can reach the black levels an OLED TV can produce but it is the best system a LCD panel can have right now. But although the SK9000 is utilizing this technology it's algorithms that control it are not very responsive and as a result we see that during displaying fast moving highlights, the local dimming is reacting too slowly.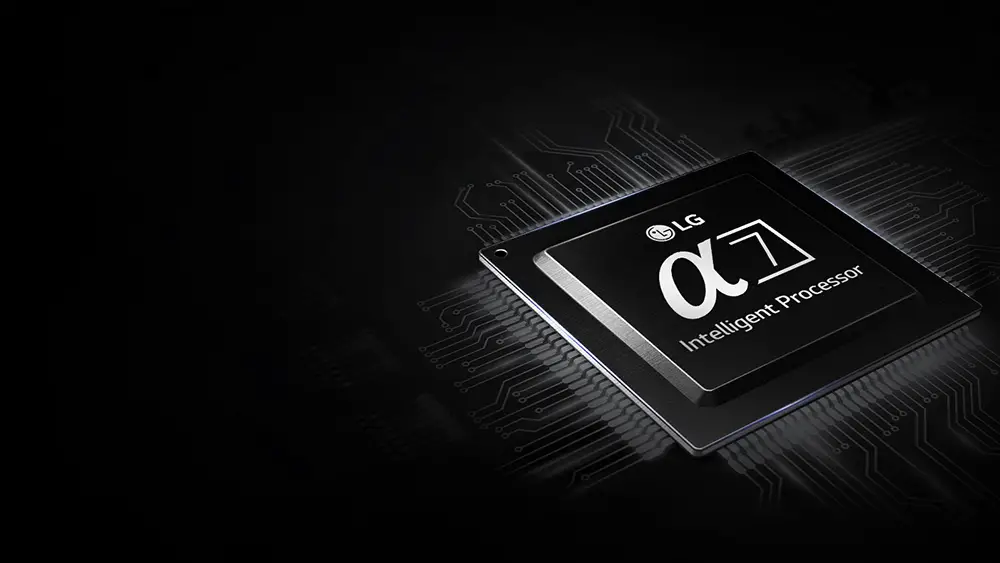 Also the small number of dimming zones in the SK9000 makes highlights being surrounded by halos. this happens because when brightness it too high when displaying HDR content, let's say at more than 1000 nits, the panel cannot block all light and there is some leak in the surrounding pixels resulting in this effect.
LG has equipped the TV with a semi-gloss finish the reduces reflections and as a result this helps with the overall image quality. It seems manufacturers are improving this feature every year and although differences are not so obvious, there are improvements which is a good thing especially in bright-lit environments.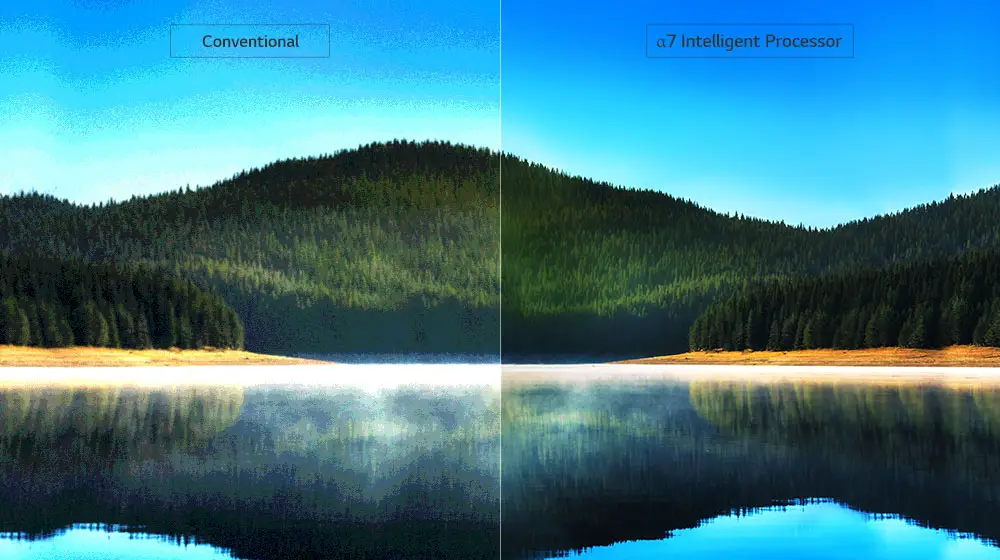 The TV also offers support for a wide range of HDR protocols and this includes the standard for UHD discs HDR10, HLG which is mostly for streaming, Dolby Vision with it's dynamic metadata as well as the relatively still unknown Advanced HDR by Technicolor. There is no HDR10+ support naturally as this is Samsung's answer to Dolby Vision so we didn't expect to find it here in any way or form. Supporting almost every single type of HDR really makes this TV future proof by covering all bases and will definitely make you breath at ease knowing that.
Let's see now how 4K playback with HDR fared during testing. We decided to try a few different 4K UHD discs with our main testing film being Pacific Rim: Uprising. The 4K image was crystal clear and sharpness was extraordinary. LCD panels can produce more brightness than OLED panels and this is the strong point of this technology and the one manufacturers are basing the marketing to promote these models. Measuring HDR brightness gave us some really good results as on a 10% window we got almost 1.200 nits which may not be the most bright panel we have tested but it certainly is more than satisfactory. During a real scene, full screen brightness was measured around 550 nits which is satisfactory but not the best it could be.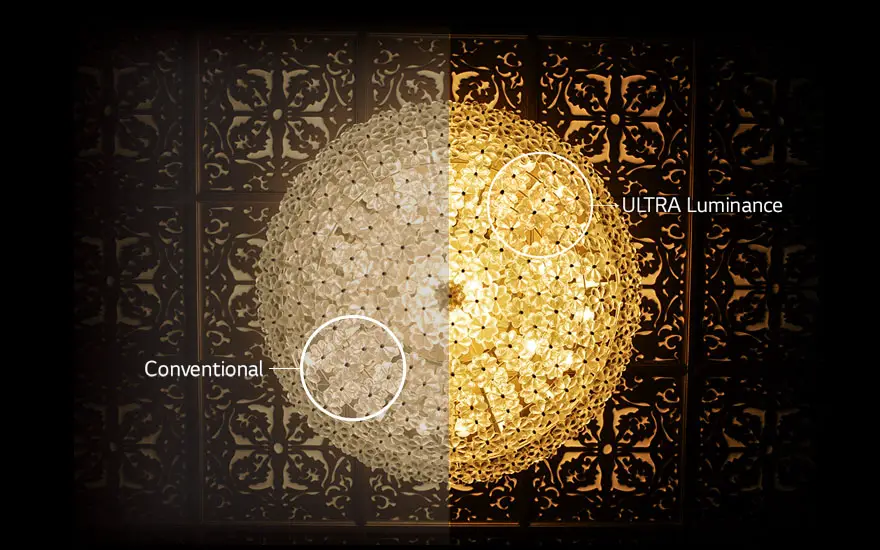 The SK9000 supports Wide Color Gamut (WCG) and in doing so it can display more lifelike and accurate colors compared to other non WCG panels. The TV could cover around 92% of the DCI-P3 color space and around 70% of the REC.2020 color space according to our measurements. The results are very good and although not the best we have seen they are more than adequate to display amazing colors.
Black levels may not be very good but in general we would say they are adequate and typical for IPS panels. When in a bright environment this may not be very apparent, but in a completely dark room blacks will appear mostly as dark greys making this TV to have decent but not great contrast.
SDR content was very good and we really liked what we saw. Colors were accurate and since there is not such a high demand for brightness in HD content the Sk9000 performed admirably. We did notice some gradient handling problems with some scenes revealing color banding but it was never too much to ruin our viewing experience. Upscaling of SD content to 4K resolution was done without any additional noise or artifacts.
The TV performed also very well in the motion department with low amount of stuttering noticed. Having a 120Hz panel certainly helps and with the addition of TruMotion which is the motion interpolation feature as well as the Black Frame Insertion (BFI) feature the TV can produce very good results. Keeping motion interpolation at low levels is a must for films viewing as excessive use of it can produce the famous 'Soap Opera Effect'. On the other hand what the Black Frame Insertion does is insert a black frame between every two picture frames and this results in more smooth motion but at the expense of brightness while some people also notice some flickering so it's better to try it yourself to see if the results satisfy you.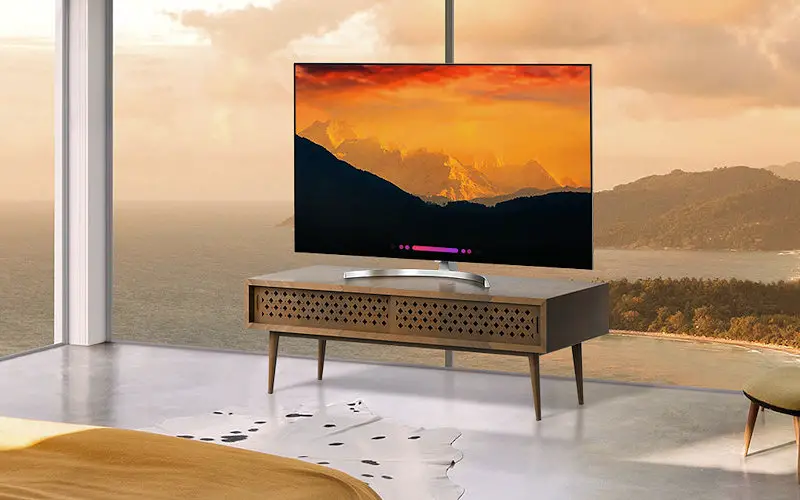 The SK9000 was able to give us very low input lag making it ideal for gaming. In 4K resolution with HDR we got around 22ms which is great while in Full HD 1080p resolution we got around 16ms. In both cases Game mode was used. If you are a gamer then this TV should definitely be one to consider. Viewing angles on the other hand are mediocre at best. Anything more than 25 degrees from center and colors as well as brightness will take a huge hit. Results are a little better than VA panels as the SK9000 is using an IPS panel but still not good as the OLED ones.
Lastly sound performance is adequate for normal broadcasting but for true immersive viewing you will need a dedicated audio system. Volume can go pretty high and we didn't get any major distortions but you will not be able to fully appreciate what this TV offers in it's visual department without the appropriate sound system.
Inputs
As with all LG TVs all connections are placed at the back of the TV making us really miss the One Connect box that Samsung uses for their top of the line models. LG has separated the connectors into two groups with one group looking sideways in order to be more accessible if you want to wall mount it and another group that looks outwards.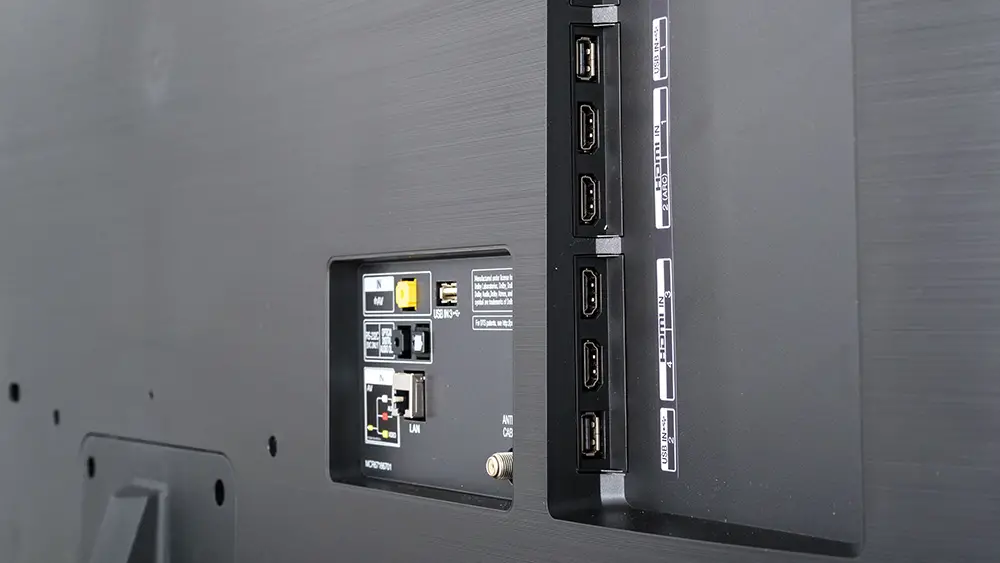 The group that looks sideways consists of four HDMI ports with all of them supporting HDCP 2.2 while HDMI 2 also supports ARC. Placing the total number of HDMI ports looking sideways is a good design choice because if you want to wall mount the TV it will not limit the amount of connections you can use more easily. This group also includes two USB ports for connecting external storage.
The second group that looks outwards includes a third USB port, an RS-232C port, an optical digital audio out port, an Ethernet port for wired connection to the internet as well as a composite input that can be used with the necessary included adapter. This group also includes the port for connection the terrestrial antenna.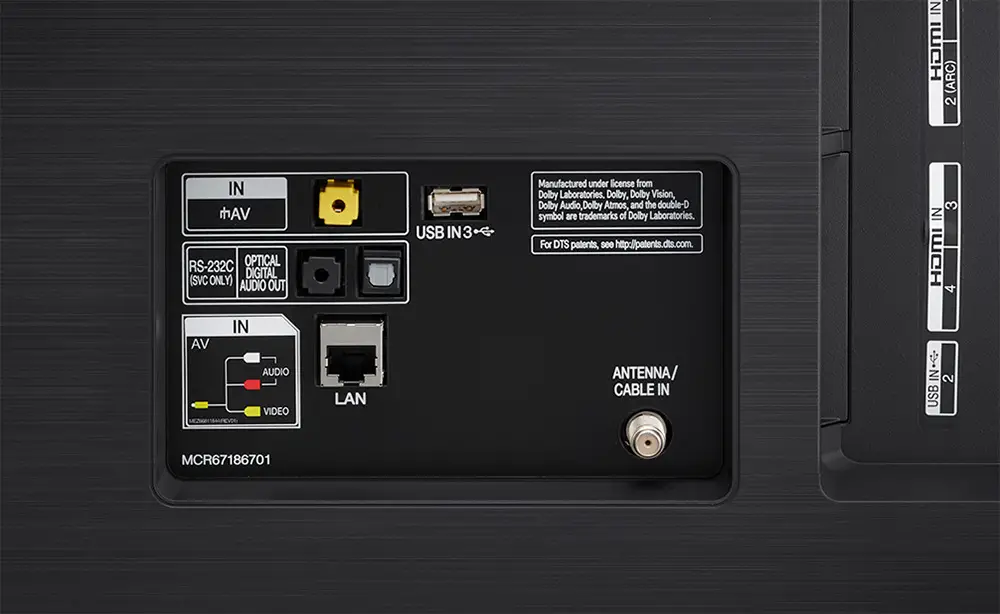 In total we have to say that what we get here is pretty standard for this category. The TV doesn't have any component inputs or any analogue audio outputs but this is not a huge problem as most connections will be made with the HDMI ports. We are also frustrated that there is no USB 3.0 and we have to use a USB 2.0 ports but there have been very few TV models that use the newer port so far so this was to be expected.
OS, Apps and Features
The LG SK9000 is using 2018's version of LG's proprietary smart TV operating system called WebOS and together with Samsung's Tizen platform in our opinion right now they are the best smart TV platforms in the market. We still prefer Tizen just a bit more but we have to give kudos to LG for improving their OS every single year to the point that it has become a matter of personal preference rather than capabilities as more or less they offer the same things.
WeobOS offers a graphically rich environment that makes it really pleasing to the eye while all settings, menus and apps are positioned in a way that are easy to navigate and find. Having a wide range of options make customization a necessity and WebOS offers that so you can rearrange all apps to your liking and keep only those that you use the most.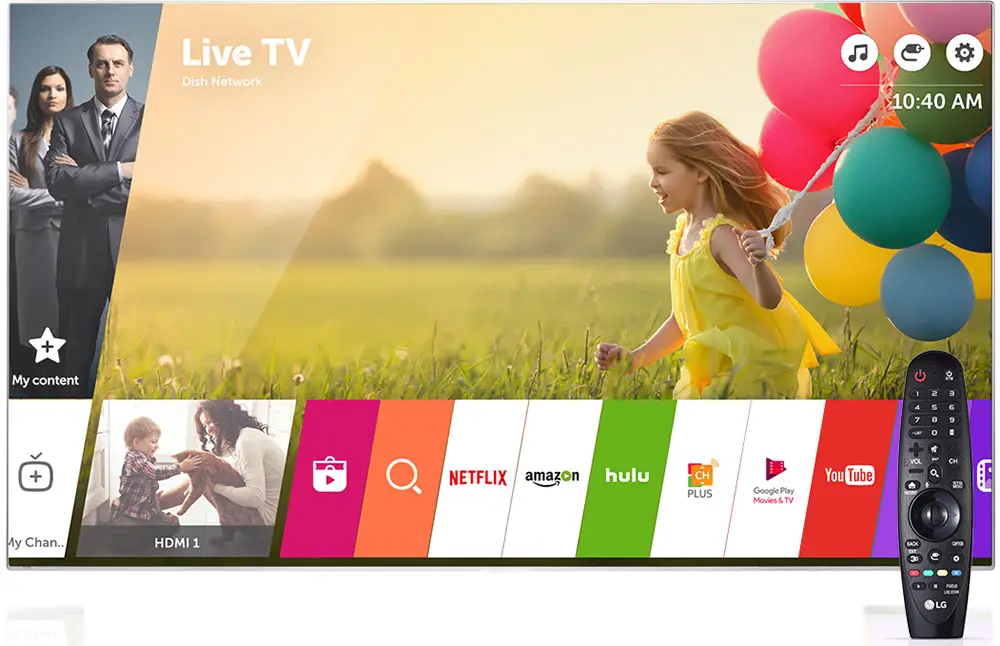 In our testing time everything we saw was exactly the same as the one we had seen in our OLED C8 review with one small difference. Since the SK9000 is using a more weak processor, the a7 instead of the a9 we had seen in the OLED C8, navigating and opening various applications revealed a little bit of lag. It is not a big problem and certainly not bothering but it should be mentioned as the difference from the butter smooth navigation we got from the a9 processor was a little noticeable.
There is also support for 4K streaming with HDR and we tested the three included apps to see if this is true and indeed  with Netfilx, Amazon and Youtube you can watch content in full 4K with HDR enabled while Netflix also offers Dolby Vision and Dolby Atmos in the limited content that these are included. Of course there is a huge catalogue of online and streaming services and apps you can download from LG's content store giving the SK9000 an enormous amount of flexibility and usefulness.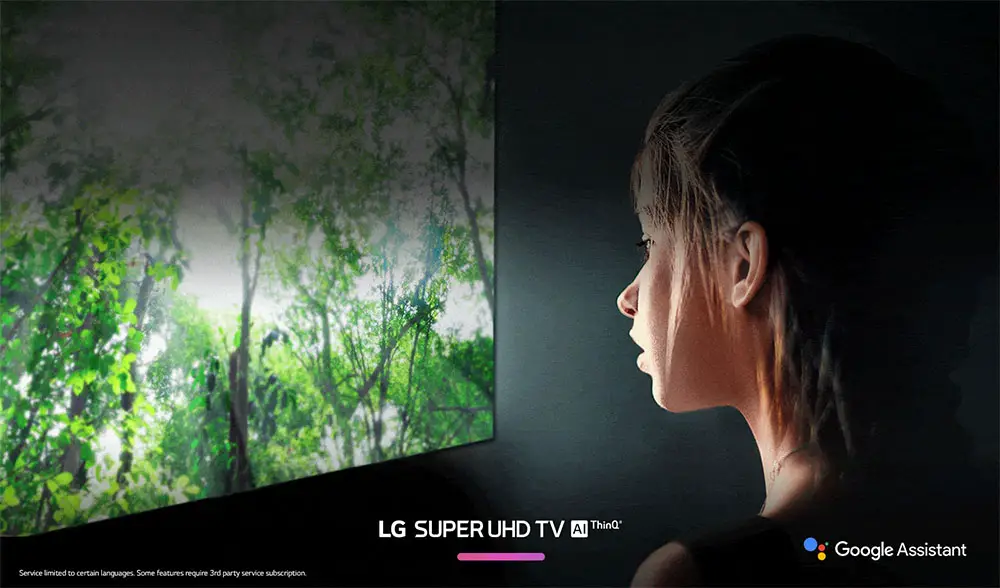 One interesting feature we find in the SK9000 is the Gallery Mode and it seems that LG brought this from their premium OLED series to their SUHD lineup giving you the option to display famous artworks when you are not actively watching the TV making it a bit more interesting rather than watching a black panel.

WebOS may be a great smart TV platform but when it is combined with the Magic Remote it's when it really shows it's strengths. LG's AI ThinQ is the technology for all smart control and voice commands functionality and in this regards we see clear advances compared to what we had seen in the last few years.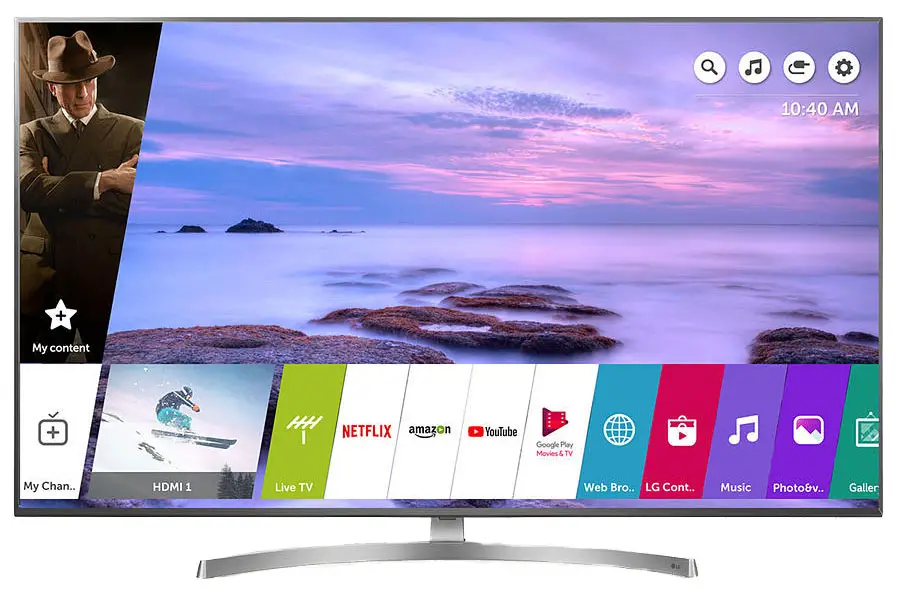 In general we are not very fond of this systems as a lot of times they fail to recognize commands or will give wrong results. But LG seems to have improved upon this a lot as the system responded very well and although there are still occasional misses, most of the time it responded rather well. For now we still remain a bit skeptical but if advances continue with this rate this voice control technology may win a few more skeptics rather soon.
We could not be more happy with WebOS as it remains a solid and very attractive smart TV platform and LG has made their best to improve this little by little every single year. Combined with the Magic Remote they create a powerful system that is hard to be rivaled. Excellent work by LG and we are anxious to see what other advances we will see in the future.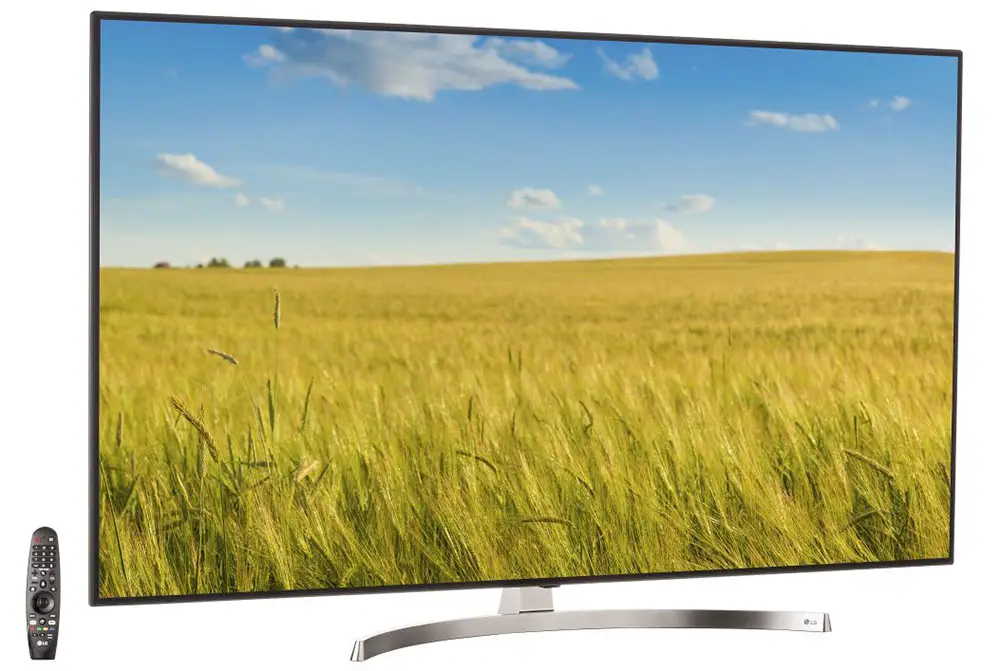 Final Thoughts
OLED is still considered the best technology you can get if money is not a problem. On the other hand the SK9000 is a great alternative that may not be able to offer the deep blacks or infinite contrast but if you look how it performed in total then you get amazing value for money. It's image quality is great especially with 4K content and HDR is breathtaking as the TV can get very bright. The Full Array Local Dimming system helps a lot to improve the overall image quality while motion performance and input lag got very good scores. Add to these the plethora of streaming and online services as well as the TV's smart functionality with Google Home and Alexa support, the very nice Magic remote and the very matured WebOS and this TV has definitely something that you will like.
On the other hand as with all LCD panels blacks can never reach the levels of OLED. The backlight helps but it can do only so much and in a dark room blacks will mostly show as dark greys. We would also like to see a better cable management system similar to what Samsung has done to their premium models. Design although not bad was nothing special to talk about while sound was average at best and if you want something better you will need either a soundbar or a dedicated audio system for full and immersive enjoyment.
LG SK9000 is a model that offers so much and LG has tried to create a model that would be close to their OLED flagships but falls just short of them. It includes almost all the features their premium lineup has and only falls short in the image department with inferior blacks and light management. If you can afford to spend a bit more then you could try to go for the LG OLED C8 model which offers everything the SK9000 has and also all the OLED advantages. If not then the LG SK9000 is an excellent choice and one that you will definitely be very pleased with.
For more reviews you can check our dedicated 4K LED LCD TV reviews list or even look at our Product Reviews Table where you can find the brand and specific product you are looking for.
Also don't lose the chance to subscribe to our Newsletter and gain exclusive privileges.
---
Cheapest Places to Buy :

---
Specifications
Screen sizes (US) : 55″ (55SK9000PUA), 65″ (65SK9000PUA)
Screen sizes (Europe) : 49″ (49SK8500PLA), 55″ (55SK8500PLA), 65″ (65SK8500PLA)
Resolution & Panel : 3,840 x 2,160 pixels UHD IPS Flat Nano Cell Display
Processor : α7 Intelligent Processor
Refresh Rate : TruMotion 240 (Refresh Rate 120Hz)
Local Dimming : Full Array Local Dimming
HDR (High-Dynamic Range) : Dolby Vision®, Advanced HDR by Technicolor®, HDR10, HLG
Picture features : 4K Cinema HDR, Nano Cell Color Pro, Billion Rich Colors, True Color Accuracy, Nano Cell Black, Ultra Luminance Pro, 4K Upscaler
AI TV features : LG AI ThinQ®, Google Assistant, Google Home Compatible, Amazon Alexa Compatible, Intelligent Voice Recognition
Smart TV features : webOS, Magic Remote Control, Universal Control Capability, Gallery Mode, LG Content Store (App Store), Full Web Browser, Channel Plus
Smart share features : Screen Share, Content Share

Audio

: 2.2 Channel X 40W (WF: 20W), Dolby Atmos®, DTS Decoder (DTS-HD), Bluetooth Audio Playback, LG Sound Sync
Connectivity : Wi-Fi® Built In (802.11ac), Bluetooth® 4.2, Wi-Fi Direct, IP Control, Simplink (HDMI CEC), Tuner (ATSC, Clear QAM)
Input & outputs : HDMI (HDCP 2.2) X 4 (side), Audio Return Channel Support (via HDMI 2), USB v 2.0 X 3 (1 rear, 2 side), RF In (Antenna/Cable) X 1 (rear), Composite In X 1 (rear), Ethernet X 1 (rear), Digital Audio Out (Optical) X 1 (rear), RS232C (Mini Jack) X 1 (rear)
Wall mount : VESA 300 x 300
TV dimensions (65 inch model) : 57.3″ x 35.6″ x 12.5″ / 

1455 x 903 x 319 mm

with stand, 57.3″ x 32.7″ x 2.5″ inches / 

1455 x 835 x 63 mm

without stand
TV weight (65 inch model) : 61.9 lbs / 28.1 Kg with Stand, 58.6 lbs / 26.6 Kg without stand