LG SL5Y
Design -

80%

Movies Performance -

84%

Music Performance -

86%

Inputs and Features -

88%

Price / Quality -

92%
---
Cheapest Places to Buy :
---
LG has been very consistent when it comes to their soundbar releases and for one more year they have created a whole series consisting of seven models in order to cover all budgets and needs. For this year we get the SL4Y, SL5Y, SL6Y, SL7Y and the Dolby Atmos enabled SL8YG, SL9YG and SL10YG. Today in our LG SL5Y review we will be testing the second model from the bottom which is mostly for those looking for a cheap and easy to handle solution in order to improve the audio of their flat TV.
Having previously tested the LG SK10Y and LG SK8Y that belonged to the 2018's series of soundbars we got the impression that while they may not be the kind of audio systems that will win any kind of audio rewards they definitely have their merits and they for sure can elevate the audio experience you get in comparison to any kind of built-in TV audio. But with the SL5Y, LG is trying  to offer not only better audio but also simplicity and ease of use that many users usually seek in this price range.
And this seems to be the main focus for many low priced soundbars. To offer satisfactory performance, easy setup, ease of use and a few extra features thrown in for good measure. So how the LG SL5Y fares with all these? Does it manage to tick all the right boxes in order to be considered a true extremely low budget soundbar that can distinguish itself from the rest? Keep reading as we put it to the test.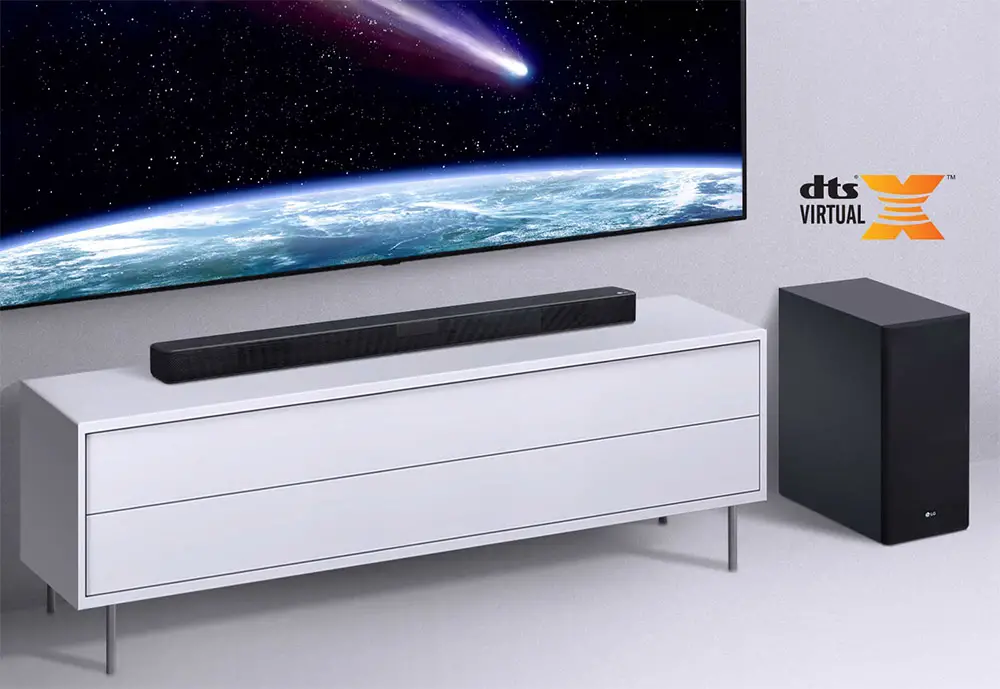 Design, Inputs and Features
Exterior
The LG SL5Y is designed as a 2.1 channels system and as such in the box we find the main soundbar that features the two main channels along with a wireless subwoofer. The soundbar is pretty compact measuring just 35.03″ x 2.2″ x 3.4″ (890 x 57 x 85 mm) and weighting 5.2 lbs (2.35 Kg) making it easy to be placed under any kind of TV either placed on a furniture or on the wall. With such a low weight handling it is piece of cake making setup so much easy and effortless. Following the same small form design is the included subwoofer as it's dimensions, measuring 6.7″ x 15.5″ x 9.8″ (171.0 x 393.0 x 248.5 mm) and with a weight of 11.7 lbs (5.3 Kg), makes it small enough that you can surely find an empty spot on the floor to place it. Being also wireless helps as you only will need to have a single power cord coming out of it.
Let's talk about the general design now. Obviously when we are talking about a sub-$200 soundbar you shouldn't expect anything fancy or cool and the SL5Y makes sure to offer a basic but at the same time pleasant to the eye design with it's curvy corners and clean look. Plastic is the main material used as the front is closed in full with a perforated face while the top uses a slightly rough surface with just the LG logo on the right top side.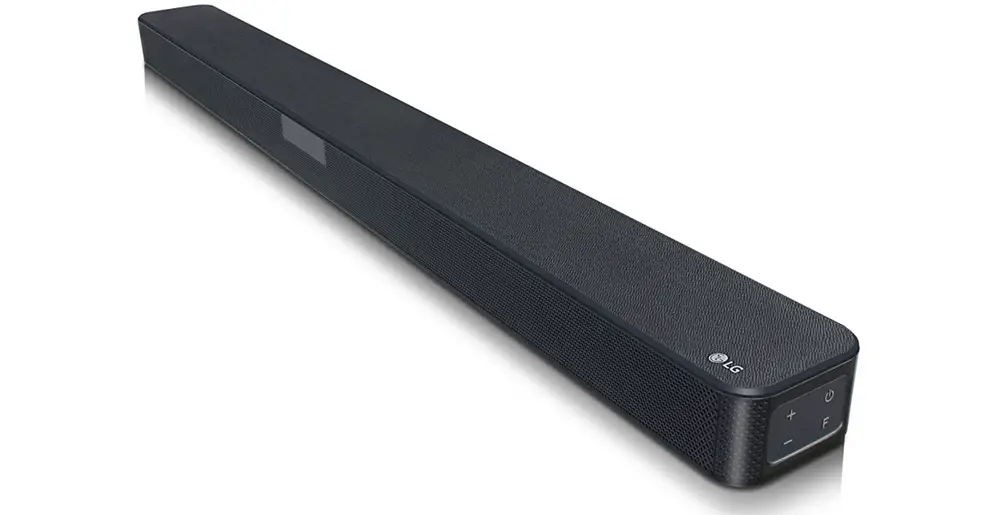 On the right side we do get a few basic buttons with a power on/off, volume control and an F button that can be used for various functions depending how many times you press it like input selection, Bluetooth and USB. Naturally these are physical buttons but LG has hid them behind what can be called like a membrane in order to keep them as hidden as possible.
Usually when we review a lot of these low cost soundbars one thing we keep missing is a front display as some of them in order to reduce the cost use either simple LED lights or no visual display at all. We were a bit surprised when we saw that the LG SL5Y did come with a full LED display that is positioned at the center of the front face and provide you with various information like input selection and volume among others. We also liked the fact that if there is no key press for 15 seconds the display will be darkened automatically so it will not be distracting when watching TV. Having a LED display certainly puts it in front of many other competing soundbars that don't have one and improves ease of use in a major way.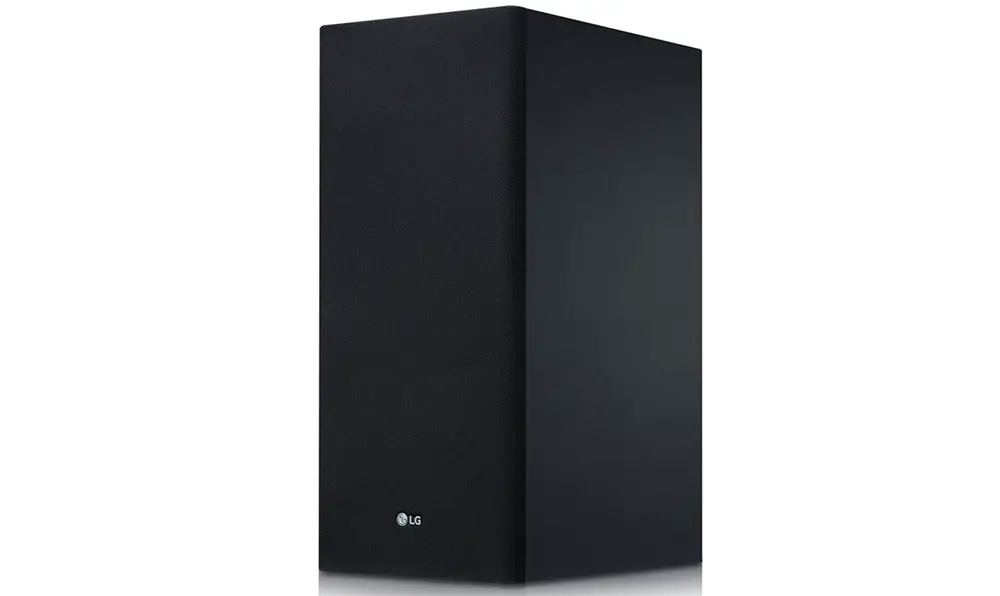 At the back we find all the available ports that we will analyze shortly. One thing we would like to mention that we also have seen in many other soundbars is that the power connector is placed away from the rest of the connectors which can be very inconvenient when you try to keep all those cables together. Having them placed close to each other would make things easier as they are right now it needs a bit of effort to hide them separately. Also we need to mention that the SL5Y features a low profile making placement under a TV not a problem. Bigger soundbars need to rely on IR repeaters in order to pass signals to the TV's IR sensors. This is not the case here as the soundbar is low enough to let the sensors of most TVs unobstructed.
Lastly there are some wall brackets included in the package that you can use in case you want to wall mount it. The soundbar has only forward firing drivers so there is no option of placing the soundbar in any other position than how you would place it on a furniture. Not very surprising as this is a feature only a few soundbars have but it should at least be mentioned.
In general build quality is rather good for this price. The SL5Y is a lovely looking soundbar that features a low profile and a small footprint making it ideal for any small room, bedroom or media area.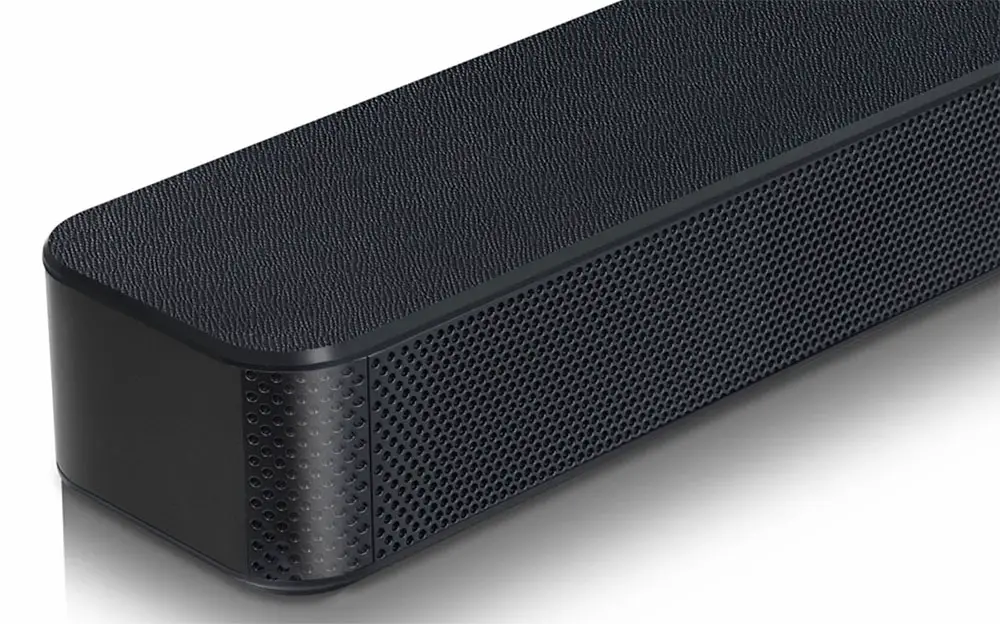 Internal Hardware
The front grille of the SL5Y is non removable but LG is kind enough to provide us with the necessary information regarding the kind of drivers that come with the unit. What is hidden are two 40 x 100mm oval woofers that are accompanied by a couple of 20mm Silk Dome tweeters. Finding these oval woofers in this one doesn't surprise us as we have seen a few other soundbars using oval drivers in order to be able to offer a lower profile than the rest without sacrificing it's performance. The drivers are placed in a closed enclosure type.
The included subwoofer on the other hand features a single 6″ driver in what appears to be a Bass Reflex enclosure while the front grille is fixed and cannot be removed.
Output Power (THD 10%) for the main drivers is rated at 90W (45W+45W) x 2 for a total of 180 watts while the subwoofer comes at 220 watts for a grand total of 400 watts of power which is not bad at all for such a small looking soundbar. SPL is rated at 82dB for the main unit with 4 ohm impedance and 85dB for the subwoofer with 3 ohm impedance.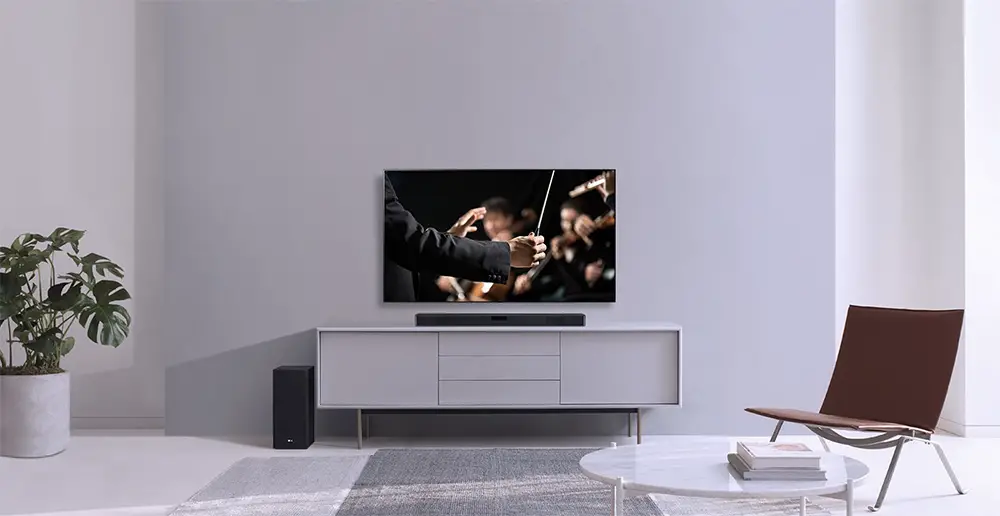 Connectivity
Let's see now what we get in terms of connectivity. For this price we were not expecting anything out of the ordinary but LG managed to surprise us once again by offering more than what we would expect from a sub-$200 soundbar. In one inset that is placed right next to the power connector we get a Digital Optical input that is strangely separated from the rest of the connectors that are placed on another inset in the right side of the back face.
In this second inset we get a HDMI input, a HDMI output that has added ARC support as well as a USB port that you can use to connect external storage and stream audio from there.
A couple of observations to make here. Firstly with HDMI 1.4 used there is only ARC and no eARC support something that may disappoint a few as LG seems to fully support eARC in their TVs for 2019 and it's something that we will probably have to wait another year before we see in their soundbars also. Secondly their is no AUX port that we usually see but in our opinion since there is an optical as well as HDMI ports available, missing an AUX port is not such a big deal.
Wireless capabilities of the SL5Y are limited to the inclusion of Bluetooth 4.0 as the unit is missing WiFi.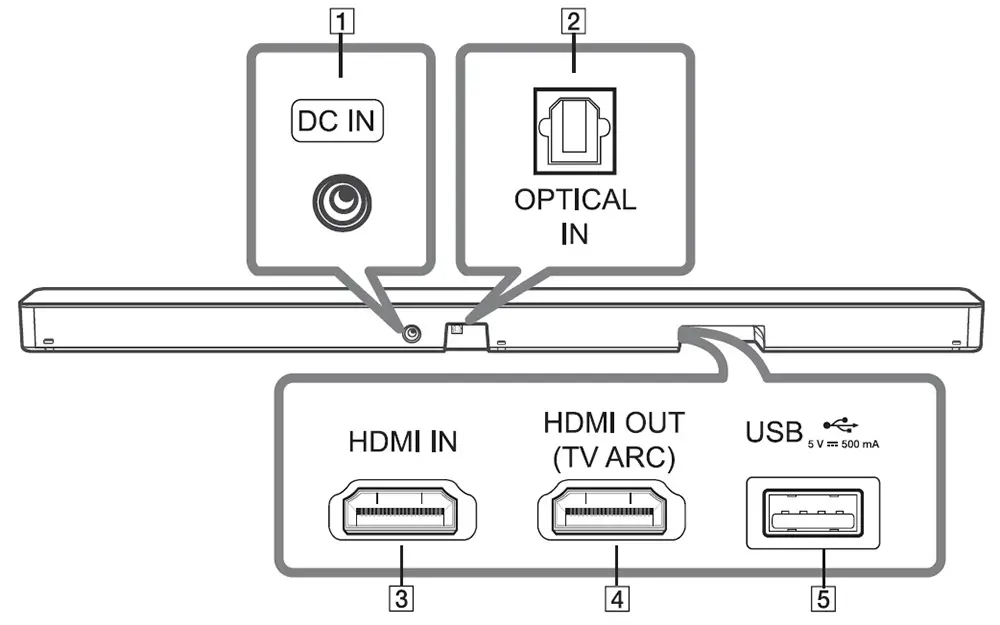 Control Options
Control options in this category is usually very limited but the LG SL5Y managed to surprise us in this regard also. But let's take the obvious out of the way first. As we mentioned above there are a few buttons placed on the soundbar itself that let you handle the most usual of functions like input selection and volume control.
Next there is the included remote which provides all the necessary buttons in order to control all of the soundbar's functions. But let's see what buttons it has. At the top, shaped in the usual power symbol, we find the power on/off with two large buttons below that control the volume, mute sound and circle through functions and inputs button. Under these there are three big circular playback buttons that you can use when streaming music while below them are a group of six buttons that handle different functions like sound effects, sound tuning, information, repeat as well as folder selection.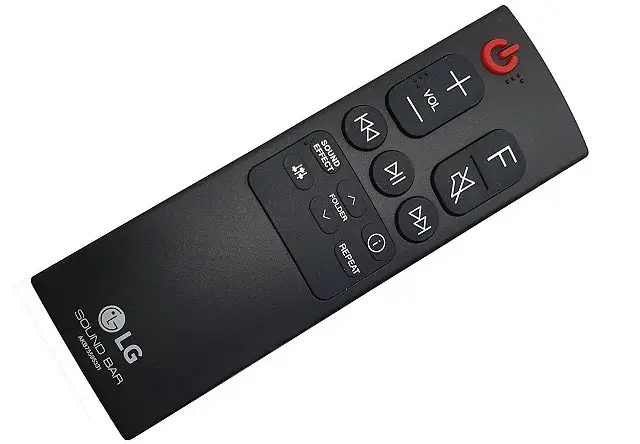 The remote is rather big for the buttons that it has and it could very well be smaller as you can see from the picture half of it is empty space. The buttons have the usual rubber feel but we liked their big size as it made it easier to press the right one. And with no backlight available button's size help not to press the wrong one in the dark. The remote although a bit cheap on the looks felt very responsive even though you have to point it directly to the soundbar.
But in a rather interesting move LG has also included mobile app support as you can use the "Music Flow Bluetooth" app to your tablet or smartphone. Unfortunately the app supports only Android devices so Apple lovers are out of luck with this one. The app lets you control all the basic functions as you would be able to do with the remote but has also a few extra features that you cannot control otherwise. These include a Dynamic Range Control, the Auto Volume Leveler as well as the included Night mode making the app more useful than just having an additional means of control.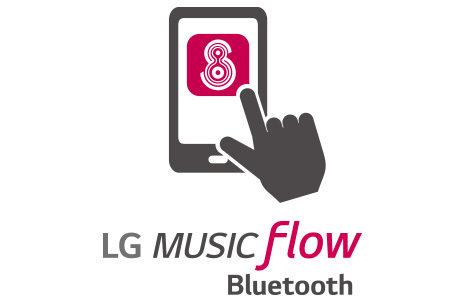 Extra Features and Services
As we said in the beginning of our review one of the most important features when it comes to these low cost soundbars is simplicity and ease of use. This means that they don't have many complex features and sound modes that could make handling of such a unit troublesome for people that are not very accustomed with such equipment.
So let's see what there is on offer with the LG SL5Y. First of all there is Bluetooth support which means you can stream music from any mobile device like smartphone or tablet to your soundbar. The process could not be easier as you connect your device and streaming starts. Easy and fast and while it only has Bluetooth 4.0 support we found connection to be very stable and streaming very smooth.
Also very simple and straightforward are the available sound modes which include ASC (Adaptive Sound Control) which analyses the input audio and adjusts the sound accordingly for the best audio result, Bass Blast that enhances the low frequencies, Standard that is supposed to offer a more balanced acoustic result as well as DTS Virtual:X which is the one that is mostly advertised in the SL5Y and will talk about a little later.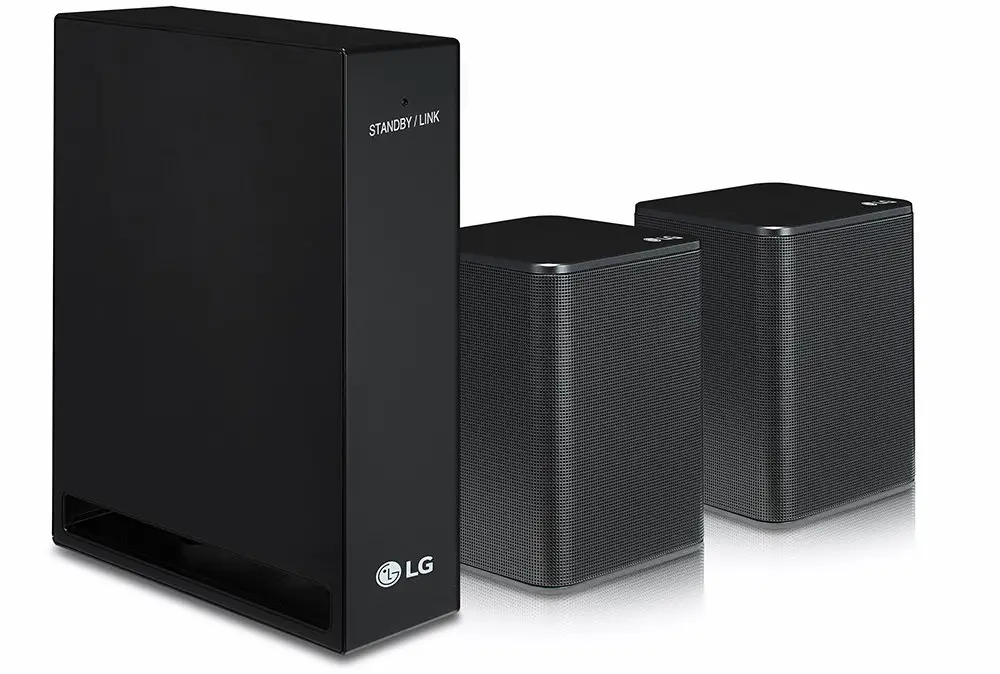 Another, rather intriguing feature that we get is support for wireless rear speakers. Being a 2.1 channels soundbar, surround performance of the SL5Y is very limited as we will analyze a bit later in this review so having the ability to add extra surround speakers gives this unit amazing flexibility. This optional kit (SPK8-S) includes a receiver unit that can connecting wirelessly to the SL5Y and with simply pressing the sound tuning for 3 seconds you can enable or disable the surround activity. It's as simple as that.
Obviously the surround speakers will set you back an additional $200 which is as much as the soundbar costs itself but for $400 total you get a full 5.1 surround system which is not bad at all. Unfortunately there is no option to adjust each surround speaker separately as you only get the option to adjust both rear speakers at the same time which is a bit limiting in case you have to place them in different distances from your sitting position.
Lastly the soundbar supports HDMI-CEC, LG Sound Sync and SIMPLELINK which means you can use the TV's remote in order to control the unit which can be very useful in order to minimize the number of remotes you need to use.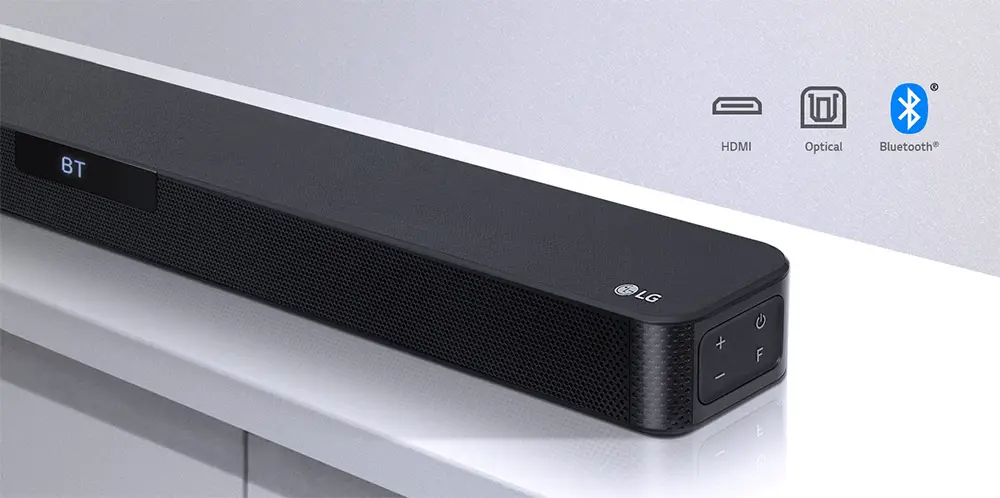 Initial Setup
Setting this up for the first time could not be any easier. Low cost means that many features are stripped and while the more the better having so little options means you don't have to mess around with difficult setups and calibration options. Having tested a few other low cost soundbars in the past it seems that they all share the same plug-and-play design logic.
When you first unpack the unit you have to connect both the soundbar and the subwoofer to a power outlet. Then you have to choose how you will connect the SL5Y as you get to choose between a HDMI or a digital optical connection. In our case we decided to connect our UHD player to the soundbar and then from the HDMI out to a HDMI input on our TV.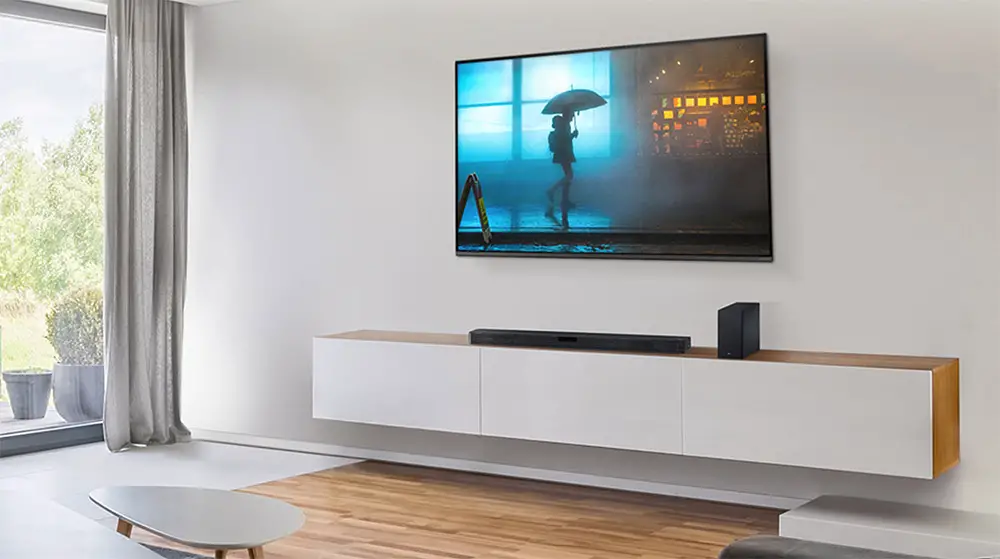 When all wires are connected you power up the unit and you are ready to go. At the back of the subwoofer a green light should indicate that pairing with the main unit is done since this is usually done at the factory but even if it's not by pressing the pairing button should do the trick. If you have added the surround speakers then by pressing the sound tuning button on the remote for 3 seconds you enable them otherwise this function is disabled.
Having finished with the above there are only two functions that you can really change. One is the sound mode and the other is sound tuning that changes the level of treble, bass and subwoofer so you can adjust them to your liking. And that's all. No complex settings or crazy calibration options. You can be set and ready in just a few minutes. This is how easy the LG SL5Y can be.
Movies
Before we proceed with our movie testing we should mention that the LG SL5Y can support various audio formats that include LPCM, Dolby Digital and DTS. And while these are the most basic ones this unit also supports DTS Virtual:X which is a technology that creates the illusion of sound from positions that there are no physical speakers. For such a low cost unit featuring such tech is a big thing and that's why we see LG marketing this so much. But does it make a difference when it comes to real world situations? From previous experience this tech don't make a huge impact so let's see how this one will do.
We decided to go with a favorite film of ours which is the 4K UHD version of Jurassic World as it comes with a jaw-dropping DTS:X track that is exactly what we need to push the unit to it's limits.
With the LG SL5Y being only a 2.1 channels soundbar means that we don't get the full effect that the DTS:X track can offer so only the core DTS track is played here. We tried using all the sound modes available to see their differences but we will focus mostly on two of them as we found them to be the ones we preferred the most and we believe that many people will do also.

First we tried the Standard mode which we felt offered the most balance from them all. In this mode the SL5Y managed to give a very solid and respectable performance. Even with such a small size the unit doesn't lack power. With the help of the subwoofer all the dinosaur roars and rumble were recreated with very good clarity and resolution. We felt that mid-range was slightly lacking as it didn't sound as alive and full as we would like. On the contrary highs fared much better which was a plus.
If you don't have the surround speakers don't expect to get any kind of surround immersion. Action was strictly limited at the front although we felt like the soundstage was extending a bit further to the sides than the physical boundaries of the soundbar. The front channels we crystal clear with good separation and shifting between the left and right. Such a small soundbar would definitely have problems with the lows in such a film but the subwoofer even with it's small size managed to provide us the necessary shaking. It may not have the oomph of bigger and dedicated subwoofers but it will do it's job just fine for this price.
In total the Standard mode provided a very balanced performance that is a major improvement from any built-in audio system any TV can offer. And if you add the surround speakers also then immersion will increase tenfold. But for those that can't get the extra speakers either due to space limitations or budget constraints the SL5Y provide you with the DTS Virtual:X technology as an alternative.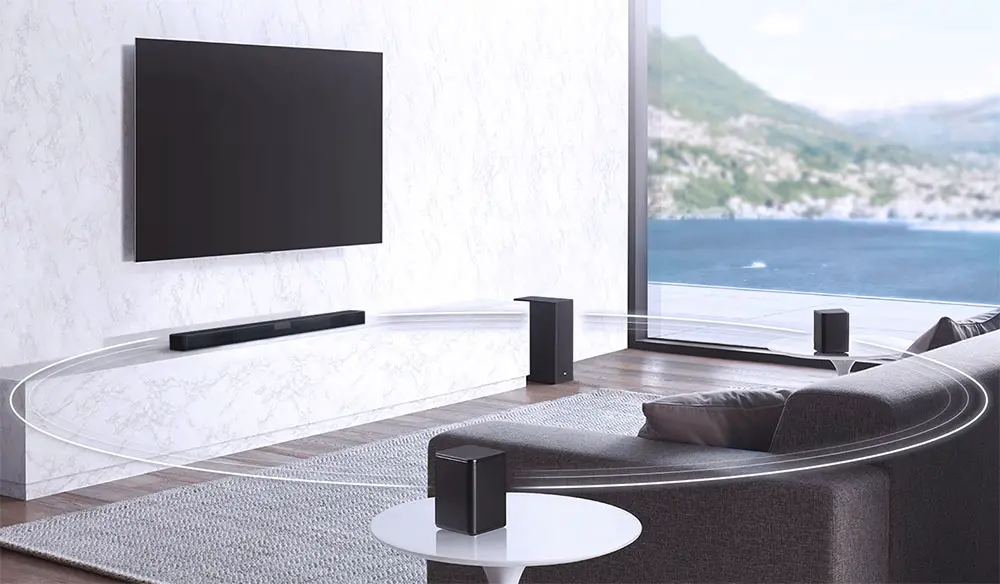 We also tried Jurassic World with this mode in order to get a sense of difference and in all honesty the result is a mixed bag. On one hand the soundstage definitely expands. It is not as full and immersive as if you had real surround speakers but this mode for sure expands the immersion bubble a little both in the sides and closer to us. We have a feeling that this tech will perform differently depending on the room you place this unit as smaller spaces will create a better acoustic result than open areas.
But while sound came more full it also felt more over-processed and artificial. Processing artifacts were more evident mostly in the mid-range which may be audible to some and not to others. In the end we are sure that there will be many people that like this setting as it definitely provide a more cinematic result that many seek but for others the sound comes very different than it should and will prefer to choose a different mode.
From all we have seen and tried it is a matter of choosing between the Standard and DTS Virtual:X setting depending the content you watch. In general we are pleased with the kind of performance such a small unit was able to provide. The cost may be extremely low but this doesn't stop the SL5Y from impressing us.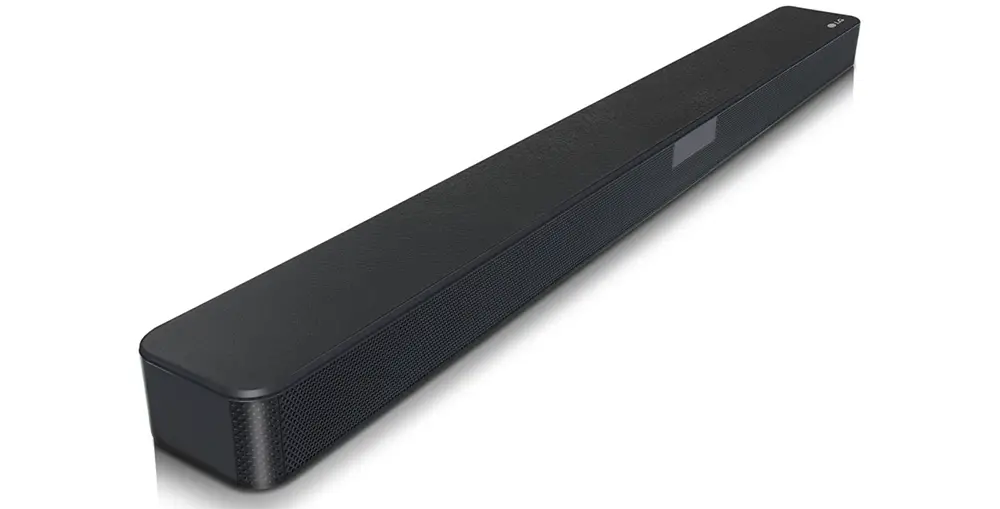 Music
Let's move on to our music testing to see how this ones behaves when you throw a bit of music to it. First of all we should mention that the SL5Y supports Hi-Res Audio with FLAC and WAV files being recognized up to a sampling rate of 24bit/192kHz. Along with these the soundbar can also play the more usual MP3, WMA and OGG files. As the unit supports USB streaming all these files can be played through the USB port using some external storage connected to it.
As the soundbar shows mostly frontal activity while playing some music, it doesn't seem to have such a negative impact as it had during our movie testing and this has to do with the fact that surrounds are not needed so much when playing music. With such a budget friendly soundbar obviously you should keep your expectations at check but nevertheless the SL5Y managed to perform admirably for it's size and capabilities.
We did once again got the sense that the mid-range was lacking a bit compared to the rest of the frequencies but it was not something that could affect the overall performance by much at least for the casual listener. The subwoofer did it's best to provide the necessary bass tones while highs appeared well defined. Vocals were rich and of good quality and in general we felt that this soundbar will do just fine in filling any small room with great musicality.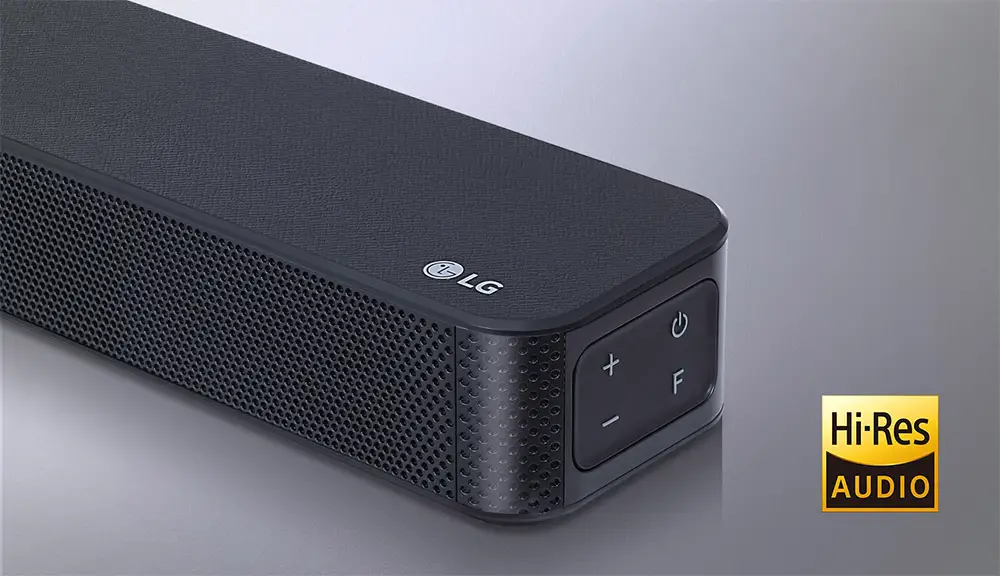 Final Thoughts
Finishing up with this review we have to admit that we liked what we saw, or better we should say heard. The soundbar being almost at the bottom of the performance ladder is stripped of almost all fancy features and tech and aim to gain the attention of those that want something easy and simple to improve upon their TV's audio.
The SL5Y is the epitome of a plug-and-play device as you can have it up and running in just a few minutes. Calibration settings are very few and basic and for sound modes a simple press of a button will choose the one of your liking. The general look of the soundbar is nothing fancy to talk about but build quality is very good for the price asked while we liked that it had a front display as well as two HDMI ports with one of them supporting ARC. Performance wise you will get exactly what you would expect from a sub-$200 soundbar which is good front activity and powerful bass for both movies and music.
But if you believe that surround sound is of great importance to you the SL5Y has even the ability to expand to a full 5.1 system by buying the optional kit (SPK8-S) with the two extra surround speakers. But even if you find the price of this kit too much for your wallet the soundbar can at least provide some sense of a more immersive environment with the use of DTS Virtual:X.
On the downsides if you plan to use only the soundbar with the subwoofer don't expect to get much activity on the rear as the included DTS Virtual:X can do so much to improve things in this regard. Also the extra surround speakers kit will cost you almost as much as the main unit so we guess that anyone who chooses this soundbar most probably will not be able to afford the extra cost. Also mid-range felt a bit weaker than what we would like even though it didn't affect the overall performance by much and lastly we would expect a smaller remote since there is a lot of empty space on it that would make it possible for a more compact design.
The LG SL5Y ticks most of the right boxes for it's category as it provides a cheap and easy to use solution that will greatly improve the audio performance of your TV and will sit comfortably at any small room, bedroom or media area while offering just the right amount of features to make this one a very attractive offering.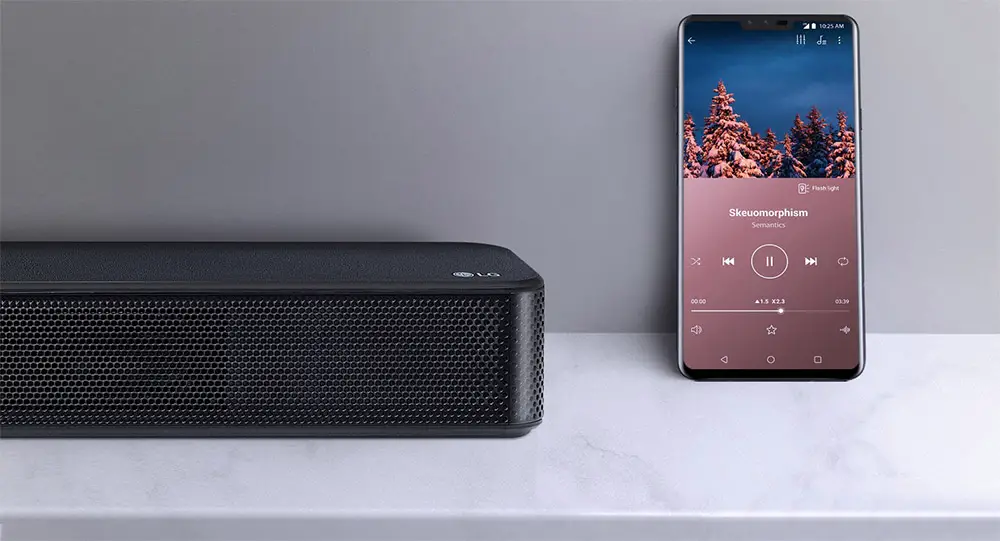 For more reviews you can check our dedicated Soundbar-subwoofer combo reviews list or even look at our Product Reviews Table where you can find the brand and specific product you are looking for.
Also don't lose the chance to subscribe to our Newsletter and gain exclusive privileges.
---
Cheapest Places to Buy :
---