LG SL8YG
Design -

90%

Movies Performance -

90%

Music Performance -

88%

Inputs and Features -

85%

Price / Quality -

86%
---
Cheapest Places to Buy :
---
LG really went all out with their 2019 lineup of soundbars as they released 7 different models in order to cover all needs and all budgets. From the low end SL4Y all the way up to their flagship, Dolby Atmos enabled, SL10YG it would be hard not to find a unit that would suit your needs and requirements. Today's LG SL8YG review will be focusing on another of their 2019 with the SL8YG being the lowest Dolby Atmos enabled unit in the series.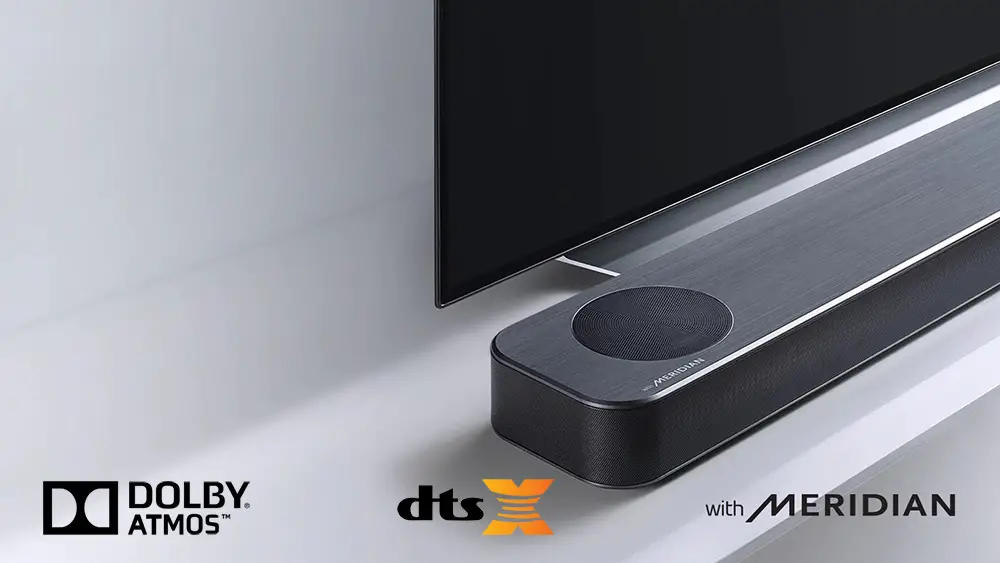 The LG8YG is a soundbar-subwoofer combo and with 5 channels on the main unit this model offers a 3.1.2 channels setup with the three front channels, 2 up-firing channels for the Dolby Atmos effects along with the subwoofer for the low end action. LG made sure to add a wealth of functions and features in order to make this one a very interesting proposal. Along with it's support for Dolby Atmos and DTS:X this soundbar also supports High Resolution Audio, WiFi, Bluetooth and USB streaming, includes Chromecast and Google Assistant built-in and can be upgraded to a full 5.1.2 surround setup by adding the optional SPK8-S rear speaker kit.
LG has gone a step further and they used Meridian's help in order to develop the technology that would power this soundbar. Now in theory the SL8YG sounds like a very interesting proposal. It is compact enough, comes with Dolby Atmos drivers, it can expand to a full surround system and includes all the bells and whistles a modern, high-profile soundbar should have. But how all these sound in reality and can the SL8YG really create an immersive Dolby Atmos experience? Let's find out.
Design, Inputs and Features
Exterior
When it comes to it's general look the SL8YG doesn't resemble very much 2018's SK8Y. We would say that the SL8YG keeps more in line with the rest of the 2019 lineup and most closely to the top SL9YG and SL10YG with it's two up-firing Dolby Atmos drivers that are responsible for the overhead effects. And to be honest this makes sense as the SL8YG is part of the Dolby Atmos soundbars family so keeping some parity between them is normal.
With the size of the main unit being 41.7″ x 2.2″ x 4.7″ (1060.0 mm x 57.0 mm x 119.0 mm) with the foot included and weighting 9.7 lbs (4.39 Kg) the SL8YG manages to strike a balance between size and performance. With it's length it can nicely fit under any TV of 49″ and above making it very flexible when it comes to positioning under any kind of TV setup. As for the subwoofer we are pleased to find the exact same model we got in the bigger SL10YG. With a size of 8.7″ x 15.4″ x 12.3″ (221.0 mm x 390.0 mm x 312.8 mm) and a weight of 16.8 lbs (7.62 Kg) it is bigger than what we usually find in such combos but it's not that big that could pose a problem in a small room of media area.
Belonging at the upper levels of the performance ladder LG made sure to create a nice looking outer shell that looks premium but without going overboard that could make the price skyrocket. An anodized metal surface makes this unit look more expensive than already is while the front metal grille hides the front drivers and wrap all the way around the chamfered edges to the back. Just make no mistake, because the grille goes all the way around doesn't mean there are any side firing drivers like the SL10YG has as here is a pure aesthetic design.
At the top the Atmos drivers are covered by non removable perforated metal grilles featuring a circular design. In general we dig the design very much and the straight lines with it's rounded edges and good looking texture makes this one of the better looking soundbars we have seen lately.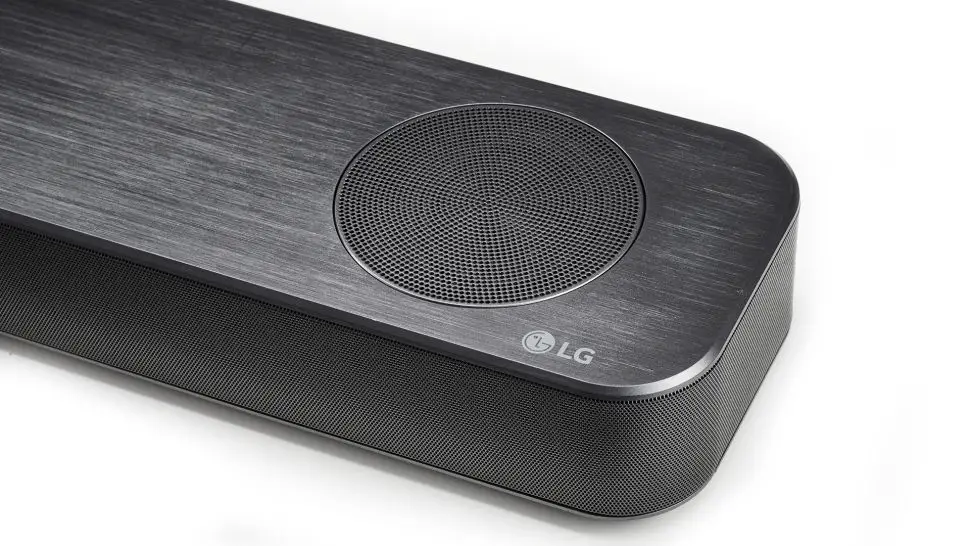 But LG hasn't stopped there as part of the unit's more premium features, includes built-in touch sensitive buttons that are placed on the middle top face. Having touch sensitive buttons is a double edged sword really, as they may look nice in day they are hard to find in a dark environment. The buttons we get are 7 with power, a Function button to select the input source, volume controls, a start/pause button, a mute microphone button and a Google Assistant button. Exactly below this line of buttons we find the built-in array of microphones enabling the soundbar to use voice controls without the need of an external speaker.
When it comes to the unit's display we find again a similar design as the SL10YG. The front display is being located behind the front perforated grille and positioned slightly to the right as this was necessary with the presence of the center channel. The display comes with four LED lights under it that indicate the function of Google Assistant when in use. If you don't press any button for 15 seconds the display will turn off which is a major plus if you are using it in the dark which can be very distracting.
Looking the back of the unit once again we find a familiar setup as it seems that the SL8YG shares many similar elements with LG's flagship. At the center and slightly to the left in a special inset we find all connections grouped together and we will analyze them shortly while on the opposite side there is the power connector. The unit is not very high in general but there may be some situations where the soundbar could be obstructing the IR sensor of your TV. And having no IR repeater to pass the signal on the TV might be a problem in some situations. Lastly there are special brackets that can be used in order to wall mount it.
As for the subwoofer our opinion remain the same. It is a big black squarish box with a black fabric cloth that wraps the front and sides that covers the front firing driver while the top features a dark grey color. The cabinet is made out of MDF and feels like it has a pretty sturdy construction. You don't have to worry about anything extra on the subwoofer as just a single pair button is all that you will find at the back that you will need to use only in the case that the sub is not paired with the soundbar.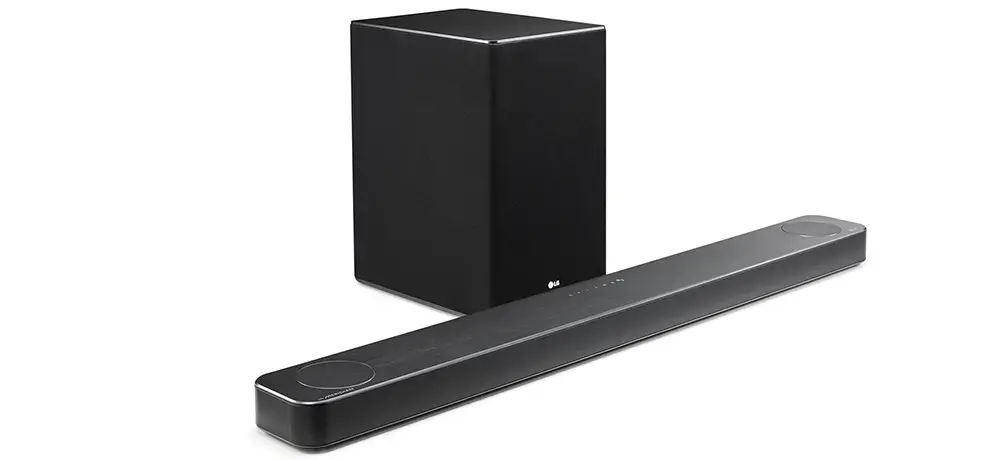 Closing this section we can say with certainty that the SL8YG is a nice looking soundbar featuring above average quality materials and keeping it's lines simple but also attractive at the same time. The subwoofer is less attractive but equally good in quality which is what matters the most in this case.
Internal Hardware
It seems that when it comes to details on the internals of it's soundbars LG is not providing much information so we had to look a bit deeper to find what is used and it seems that the SL8YG is using similar drivers to the ones we saw in their flagship unit. As such for the front right, left and center channels we find 40mm x 100mm (1.6″ x 3.9″) woofers along with 20mm (0.8″) silk dome tweeters for each of them. The ovals woofers seems to be a necessity in order to offer a lower profile without sacrificing performance. On the top face we get two 2.5-inch woofers for the left and right Atmos channels.
The subwoofer features a 7-inch front firing driver and if this was considered big already when we were reviewing the SL10YG then we consider it an even more unusually big size for this unit which is only good in our books if it can perform accordingly without overshadowing the rest of the soundbar's performance. Lastly we should mention that as with many of the other LG models, this one can also accept the extra surround speakers kit that are not included in the box. More details on these momentarily.
The five channels of the main soundbar along with the subwoofer give us a rating of 440 watts of RMS power. The front right and left channels are rated at 50 W RMS (4 Ω at 1 kHz, THD 10 %) while the center and Atmos channels at 40 W RMS (4 Ω at 1 kHz, THD 10 %). Lastly the subwoofer is rated at 220 W RMS (3 Ω at 80 Hz, THD 10 %) giving us the total of 440 watts which are plenty for a soundbar of this size.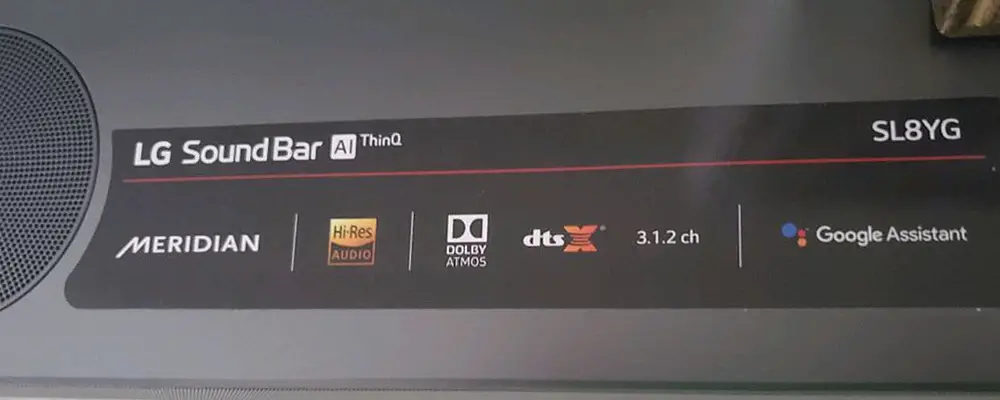 Connectivity
Keeping all ports grouped together is a major one as it greatly helps with cable management and keeping everything clear and tidy. As we already mentioned this unit features a similar design when it comes to it's connections with it's bigger brother, meaning all of them are grouped together in a special inset that was specifically created to help with the wire connectors while the power port in the only one kept separated and placed on the other side.
When it comes to the actual number of ports it seems that LG was not very keen to add many to their units and rely more on their wireless capabilities. We saw this in their flagship and we see the same thing here. What we do get is two HDMI 2.0 ports, one input and one output along with a digital optical input and a single USB port. And that's all there is to it. At least the HDMI output comes with ARC support if you are fond of using that feature.
HDMI specs seems to be the same as they both are HDCP 2.2 enabled meaning they can support up to 4K/60fps passthrough with HDR and Dolby Vision but no HDR10+ which is what we expected really as it seems LG is refusing so far to support this HDR protocol. And while HDR10+ may not be so big deal having no eARC is a bummer as all their 2019 TVs come with HDMI 2.1 and eARC making this a curious choice.

Two more things that we need to mention. First there is no Ethernet port and while this may be because of LG's intention to use more of the built-in WiFi capabilities of the unit there may be situations where the wireless connection is bad so a wired solution should always be available as an option. And secondly the position of the USB port at the back. We never understood the logic of placing such a port at the back of a device as using it for USB streaming can be a chore.
As for it's wireless capabilities, the SL8YG supports WiFi  for both 2.4 and 5GHz channels and of course Bluetooth v5.0.
Control Options
Controlling this unit can be done with various ways as LG has included all of the known ones available. The most usual and obvious one is with the included remote. Most, if not all of their models feature a similar looking design and the only thing that changes slightly is the button layout in order to incorporate the different functions and features of each model.
The SL8YG features exactly the same functionality as the SL10YG so it was natural to find the exact same remote here also which we cannot say is anything special but gets the job done. It is the typical plastic remote with simple rubber buttons on it and while the remote is missing a backlight function that could help using it in a dark environment at least the large buttons help you avoid pressing the wrong one. It may not be the best solution but at least it is something.
At the very top we find the power button, with two large buttons below that for volume control, a Function button for input selection and mute. Under these there are three smaller ones for sound effects, Google Assistant and microphone mute while in the middle of the remote they have grouped 9 buttons together that include playback controls, settings, information, repeat and Night Mode.

Alternatively you can also use an app for mobile devices that LG created called Smartphone Remote App that is available for both Android devices and iOS. With this app you can control various functions of the soundbar through your telephone or tablet and there are even a couple of functions that are exclusively available to it including Auto Volume Leveler and Dynamic Range Control. Now we don't know why LG chose to include these only with the app but maybe it's their way of trying to promote it further. The app is free so we would suggest you to go ahead and try it out to see if you like it.
Lastly we should not forget to mention the availability of Google Assistant. Now LG soundbars were supporting voice control from previous years but the major change with the SL8YG is that here this function is built into the system and you don't need an external Google Assistant device for it to work. That's why the soundbar has it's own microphone array to receive commands. We also liked that there is a microphone mute button in case you don't like the soundbar to spy on you all the time. If there is one thing missing is Amazon Alexa and since both these voice platforms seem to get equal support it would be nice to have the choice to choose between them. Maybe in future releases LG will offer both of them.
LG has included the whole package when it comes to control options for the SL8YG giving you the flexibility and freedom to use it the way you want. Excellent work on this regard.
Extra Features and Services
Let's take a look at the features that are included with this unit. The SL8YG is rated as a 3.1.2 channels soundbar and comes with support for both Dolby Atmos and DTS:X which we consider an improvement as some of their 2018 soundbars were missing DTS:X support which was rather disappointing. In 2019 LG seems to have fixed this as most their models also support DTS:X getting a thumbs up from us.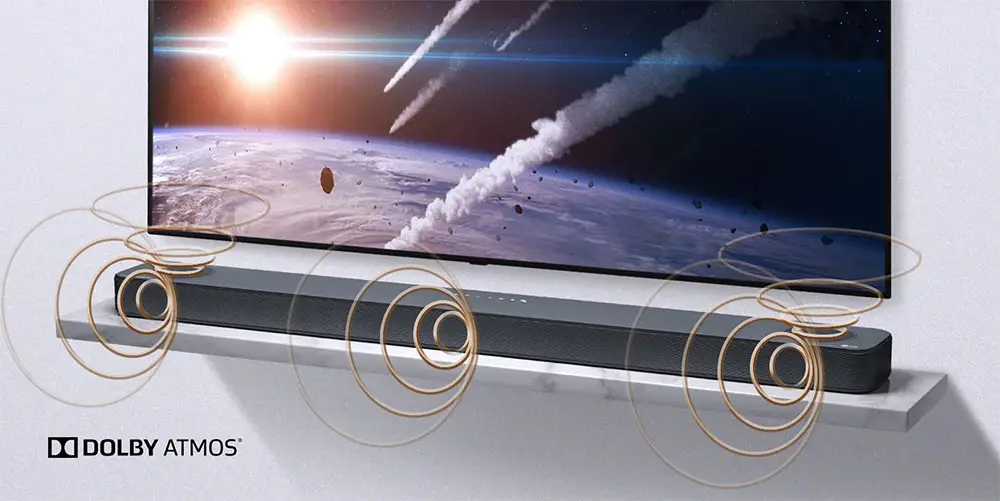 And while Dolby Atmos and DTS:X are the formats that obviously are advertised the most the soundbar can support all the older versions of these depending on the content played. This includes simple 5.1 channels Dolby Digital and DTS tracks or even legacy 2 channels stereo mixes. With the included Atmos speakers the soundbar can also add height to the created soundstage.
This is achieved with what is called a bouncing effect as the sound directed upwards bounces of the ceiling and comes down on you giving you the illusion of overhead action. One thing to keep in mind is that for this effect to work effectively is for your ceiling not to be particularly high. We would say that around 9-10 feet is the maximum before the Atmos effects start to diminish greatly. So as you understand the kind of room you have will play a great role in the performance of the SL8YG.
The soundbar comes with 6 different sound modes that you can choose depending the content being played. First is LG's ASC (Adaptive Sound Control) that it's like an auto system that lets the soundbar determine the best settings for the content being played. Standard mode uses Meridian technology in order to playback the audio as it should, Bass Blast and Bass Blast+ give priority to the low frequencies while the Movie mode is supposed to enhanced the surround effects and immersion.
One thing to keep in mind is that when Dolby Atmos or DTS:X are detected you cannot use any of these modes as the soundbar switches to the appropriate object oriented sound mode and stay locked in that.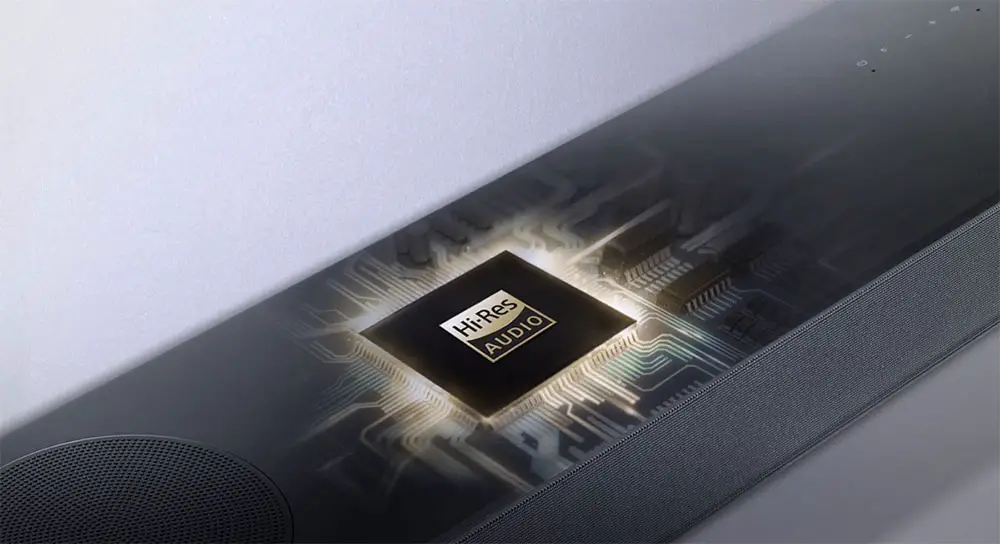 Additionally LG has included a Night mode that helps reducing sound intensity in content if you want to listen at low volumes that can be very practical for the night and with other people sleeping in your house. One mode that is missing is some kind of dialogue or voice boosting mode that many other soundbars have but seems that LG hasn't included to any of their 2019 units.
High Resolution Audio support is also available but compared to the SL10YG here we get a lower quality DAC which has an impact on the kind of files that can be played. Audio files support include FLAC (Up to 192kHz), OGG (Up to 48kHz), WAV, MP3 and AAC / AAC+ files.
Streaming is one key function of this unit and LG made sure to include various ways of doing so. There is a USB that you can use to stream audio by connecting some external storage but this way has certain limitations as only MP3, OGG and AAC files can be played. Bluetooth is also available as you can stream music from any kind of Bluetooth enabled mobile device to the soundbar.
But streaming locally is not the only option as the SL8YG has Chromecast built-in which means you can use one of the available online streaming services for your music pleasure including Spotify, Google Play Music, TuneIn and Deezer among others. So as you understand there are many options to choose from which ups the value of this unit even further.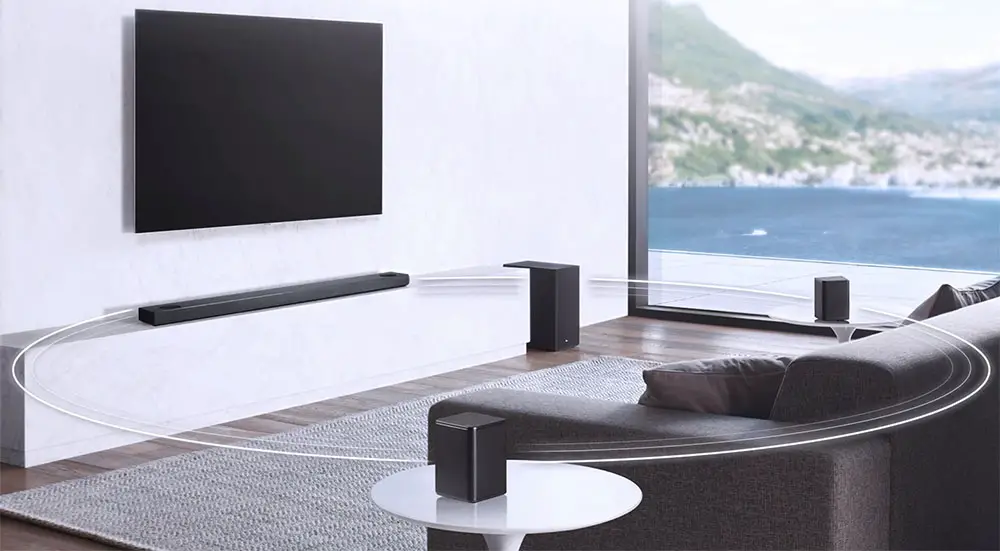 One thing that we particularly liked was the ability to expand the unit to a full 5.1.2 channels surround system by purchasing the Rear Speaker expansion Kit (model SPK8-S). Obviously this will add to the overall cost but it offers amazing flexibility and freedom to choose if you need it or not. In case you absolutely want to have surround immersion you will need this otherwise the front main unit will have to suffice.
One last feature that is worth mentioning is SIMPLELINK (HDMI-CEC) which means that if you connect your TV and soundbar through the HDMI ports and your TV also has this feature you can use the TV remote to handle both devices which can be a huge help in reducing the number of remotes you will need for your system.
We are very glad to see that the LG SL8YG comes with so many features. It literally has something for everyone and although there are a few features missing here and there we would say that in general it is a feature complete soundbar. And with it's price tag it should be, which is a good thing.
Initial Setup
When it comes to connecting the soundbar and going through the initial setup we followed exactly the same steps we did with the SL10YG showing that LG has created universal specific steps to follow among their units. As such after initial unpacking and placement of the soundbar and the subwoofer we connected our Panasonic UHD player to the HDMI input of the soundbar and used the HDMI output to connect the SL8YG to our test TV. Usually the soundbar and subwoofer are pre-paired from the factory but even if not it's very simple to do so by following the manual instructions.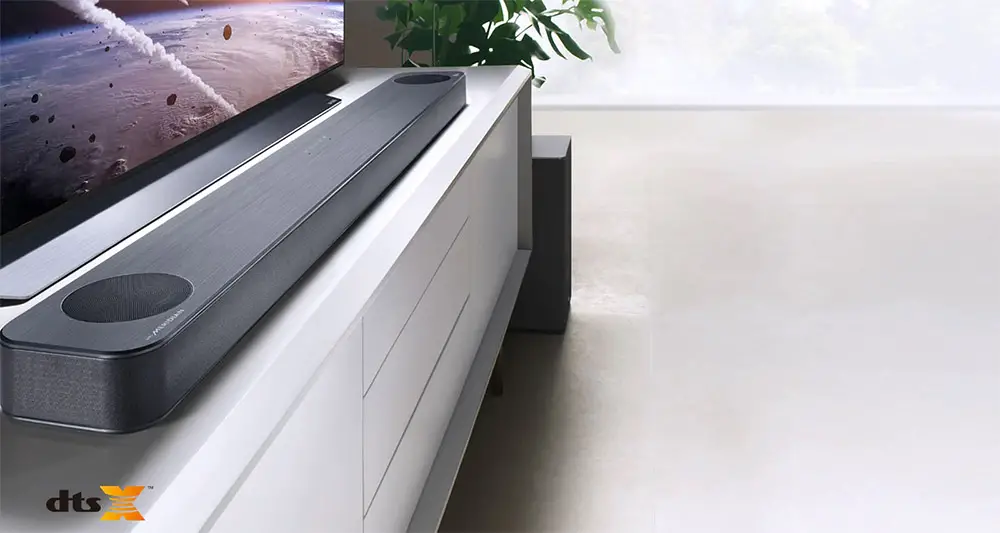 After you power up the unit you have to connect it to the internet and this can be done by using the Google Home app that you have to download in your smartphone and follow the on-screen instructions. Everything should be up and running in just a few minutes so the last step includes calibrating the various channels of the unit. Keep in mind that there is no auto calibration system here so everything has to be done manually.
This calibration can be done by pressing the sound tuning button on the remote. With this you can adjust the volume of the subwoofer, center channel, overhead channel, treble and bass. If you also have rear speakers connected there will be an additional option for those also. There is no setting for each individual rear speaker so in case you do get these you have to make sure to place them is similar distance from the viewing position in order to achieve optimum surround performance.
Usually this calibration you will have to do only once. What is left is to choose the correct sound mode according to the content you want to watch and you are set to go.
Movies
Just to clarify our testing was done without the rear surround kit. We decided on this because we wanted to see how good a performance we could get out of the core unit. And as this is the way most people are going to experience this soundbar we had to make sure to test it this way. With this out of the way our first test included the 4K UHD version of Midway, a recently released film about the Battle of the Pacific during World War 2.
Some of the sequences we decided to test included the Pearl Harbor attack and the Battle of Midway. What we immediately felt was how powerful and dynamic the front soundstage was. The unit managed to expand the sound slightly beyond it's physical limits to both sides even though it doesn't have any side firing drivers as the SL10YG had. As for the overhead effects here things got interesting.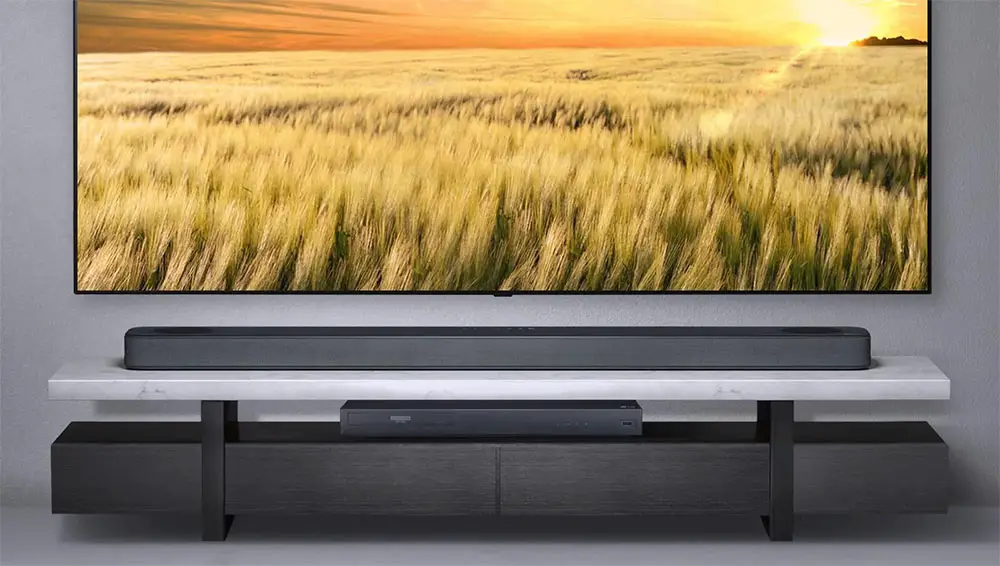 What we saw was that if you sit at a specific distance from the soundbar, which we calculated was around 6 feet, the Atmos effects felt more clear and accurate. Although you could understand that sound was not coming directly above our heads the SL8YG did manage to give height and push the immersion on the top layer. But as we moved further back it felt like this effect was loosing both in clarity and accuracy. Now the Atmos effects were felt more at the front of us rather than above.
This made us understand that the soundbar's Atmos capabilities have a certain sweet spot that felt rather narrow. You will have to sit around 6-7 feet away from the soundbar to get the best results that could stretch to around 9 feet. Any more than that and don't expect to get the kind of Atmos experience the soundbar can give. Now we have an idea that this may have to do with the angle of the up-firing drivers that is not the ideal one but this is our guess and we have no way of confirming that.
As for the surround activity while the soundbar made valiant efforts to push the action behind us there was no real activity behind our viewing position. Even in Movie mode that is supposed to push on the surround performance things just got slightly closer to us at best.
The bass on the other hand felt very powerful and fulfilling. The subwoofer did great job at reproducing all the explosions, machine gun fire and roaring of the airplanes giving us plenty of shakes. Don't expect to get the sound pressure some advanced dedicated subwoofers can offer but for such a subwoofer the bass performance was way above average. We also liked that even with so powerful lows they never overshadowed the rest of the effects or dialogue.
We also went on to test the Blu-ray version of Lord of the Rings: The Two Towers with it's reference quality DTS-HD Master Audio mix. We skipped forward to the Battle of Helms Deep and the soundbar really created an amazing atmosphere. The film does not rely so much on the surrounds so the experience we got felt much more fulfilling and satisfying this time around. The bass heavy sequence was the perfect opportunity for the subwoofer to push the lows as much as possible. When the Helms Deep wall exploded throwing rumble across the battlefield the subwoofer dig deep and shook our testing area with a very authoritative way.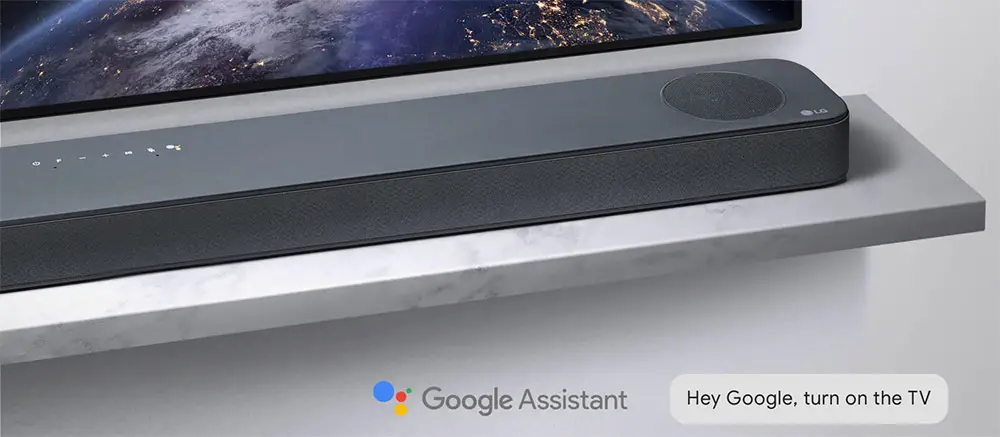 The orchestrated soundtrack along with the various sound effects were faithfully recreated by the SL8YG and the action in front of us gave us a great sense of the enlarged stage.
The soundbar in general lacks a bit in clarity and refinement but what is missing in these makes up with a powerful front soundstage with a solid center channel, convincing Atmos performance, if inside the sweet spot, and earth-shaking bass. Surround activity is non-existent but action was pushed closer towards our position which was to be expected by a soundbar without surround speakers. If you absolutely want surround activity then you will certainly have to buy the optional rear surround kit.
Music
As the unit supports FLAC files we decided to test some music files in this format as it provides the best quality possible. We tested all the sound modes available and while we cannot say that any of them particularly excited us we felt that the Music or Standard modes were the ones that reproduced the sound as accurate as possible.
In general music performance was good enough but it will certainly not excite you. if you are a hardcore audiophile you will probably not go for such a system but if you do, the kind of music you get will feel underdeveloped and a bit swallow. The soundbar can obviously go loud and keep a heavy punch no matter the material we did through at it but it could not reach the level of finesse that we would like.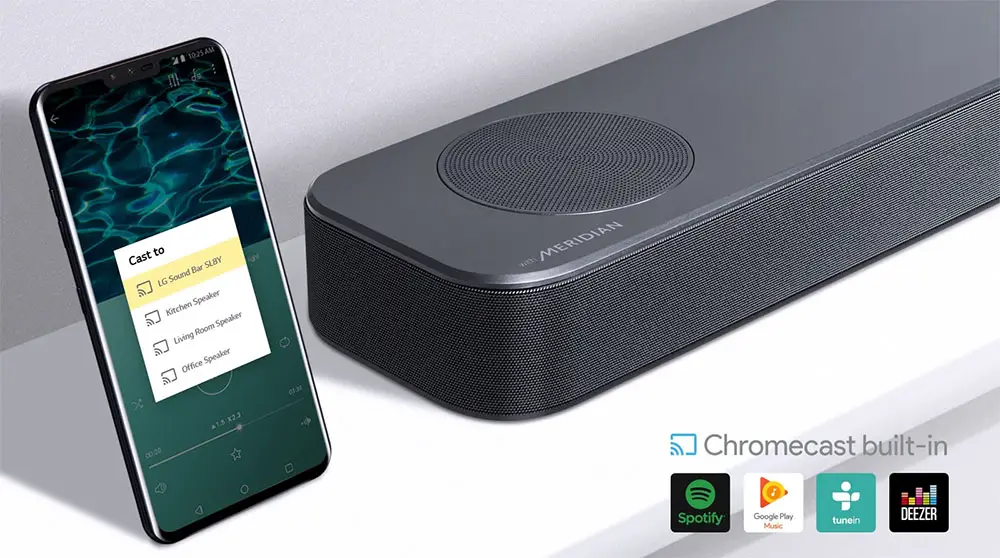 The sound at the front of us had good volume and very accurate imaging with the mid-range keeping a solid tone while the highs would be characterized as satisfactory. On the low end the sub didn't have any problem to push down as much as the driver would allow it and did it with a satisfying even if slightly cumbersome way.
For the casual listener that wants to relax and hear some music the SL8YG is perfectly fine and will satisfy a large chunk of the consumer market that seeks an all around music performer. But if you are looking for a soundbar that can have a bit more finesse instead of pure power there are a few other options to look at.
Final Thoughts
Having tested LG's 2019 flagship, the SL10YG, we can find many similarities with the SL8YG but also a few key differences. It was very evident what LG tried to do with this model. Offering any kind of Dolby Atmos experience on a budget is not an easy feat so what they managed to create is a soundbar that can indeed offer that but at the same time feel very basic.
On the one hand LG tried to cram as much features and functions in such a relatively compact design. The SL8YG managed to impress us in this regard. With Dolby Atmos and DTS:X support, High Resolution Audio, USB and Bluetooth streaming along with WiFi capabilities, many sound modes to choose from, a built-in Google Assistant along with Chromecast support there is almost everything you could ask from such a unit.
As for it's performance the soundbar can produce a very dynamic and powerful front soundstage while the up-firing speakers can give you a taste of what is to have a true Dolby Atmos setup. And if you add the ability to expand to a full 5.1.2 channels with the optional SPK8-S rear speaker kit then you can get the full immersion package.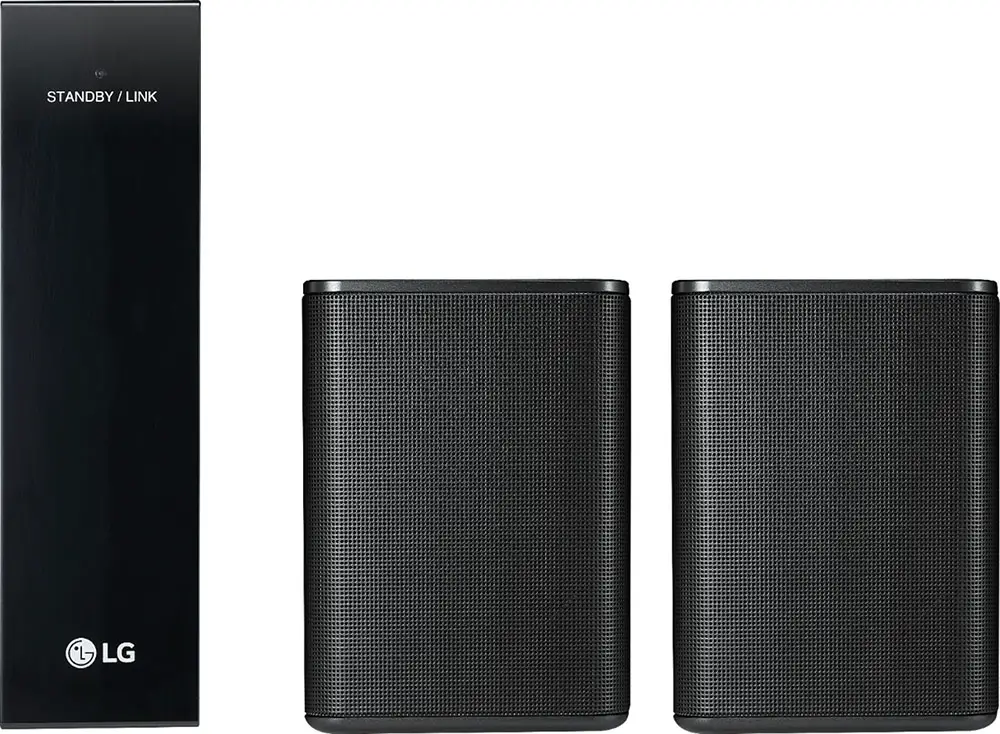 But not everything is perfect as we mentioned above. The thing with up-firing drivers is that the ceiling must not be more than 9 feet high, otherwise the overhead effects diminish greatly. Also you have to sit as a certain distance from the soundbar, measuring around 6 feet, for the Atmos to be heard convincingly meaning that there is a fairly limited sweet spot otherwise the overhead effects are heard mostly at the front rather than above.
Also this is not a cheap soundbar so if you want the full surround effect buying the surround kit will cost you a considerable extra amount of money. We were also hoping the HDMI ports to support the newer eARC protocol since all LG TVs do but alas this is not the case here. Lastly although there is USB streaming this is fairly limited as only a few files are supported.
Closing we can say that while this soundbar has certain limitations if your needs are specifically tailored to it's strengths it can really give you an excellent acoustic experience. If your ceiling is maximum at 9-10 feet (around 3 meters) and you plan on sitting at a maximum of 6-7 feet (2 to 2.5 meters) away then the Atmos capabilities of the SL8YG will certainly be felt making this a great Atmos system either you go for the surround speakers or not. And if you add all the other extras included then the LG SL8YG is an excellent entry level Dolby Atmos enabled soundbar for you to consider.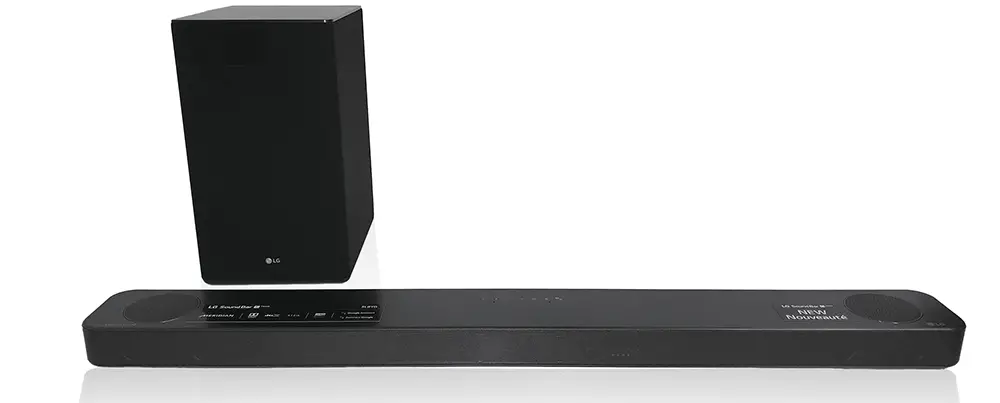 For more reviews you can check our dedicated Soundbar-subwoofer combo reviews list or even look at our Product Reviews Table where you can find the brand and specific product you are looking for.
Also don't lose the chance to subscribe to our Newsletter and gain exclusive privileges.
---
Cheapest Places to Buy :
---