LG SL10YG
Design -

90%

Movies Performance -

87%

Music Performance -

86%

Inputs and Features -

86%

Price / Quality -

80%
---
Cheapest Places to Buy :
---
The last few years LG has got us used in refreshing their yearly lineup of soundbars that is one of the most extensive among the most known manufacturers. In 2019 their main series consisted from 7 different models along with a couple special ones that ranged from simple 2.1 channels soundbars on the low end LG SL4Y all the way up to their top tier flagship that was the LG SL10YG with it's 5.1.2 channels. We had the pleasure in testing a couple soundbars in the 2019 SL series with the SL5Y and SL6Y both getting good scores for their respective categories.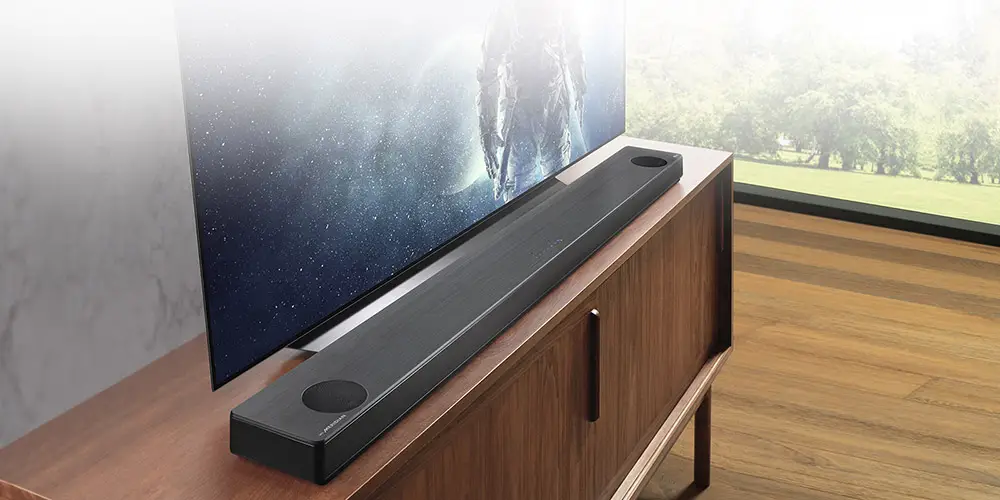 Today in our LG SL10YG review we have the pleasure in trying out LG's flagship for 2019 to see if it can offer the kind of immersion and performance that a Dolby Atmos soundbar should be able to. With the SL10YG featuring up-firing drivers as well as side-firing ones it tries to emulate a completely immersive environment without the use of dedicated surround speakers. Usually the outcome in such situations is not very good so we will determine if this one here can make a difference in this regard.
But the SL10YG doesn't stop there as except from Dolby Atmos and DTS:X support we also get High Resolution Audio, 7 different sound modes, USB along with Bluetooth streaming, Chromecast and Google Assistant support and the ability to use extra dedicated surround speakers. With 570 watts of total power and a bigger than usual size the SL10YG is one of the largest soundbars we have tested. Does it manage to be a true successor to the previous SK10Y and how much of an improvement did the 2019 model was? Read on to find out.
Design, Inputs and Features
Exterior
The 2019 model seems to be very similar to the 2018 SK10Y both in terms of design and size. The SL10YG is rated as a 5.1.2 channels soundbar with the main unit having three from firing drivers, two up-firing Atmos drivers and two side firing drivers that are responsible for the surround effects along with a single subwoofer that can help the soundbar go very low. So while in theory what we have here is a 5.1.2 channels setup in reality the two surround speakers don't offer a clear cut solution as they are incorporated into the main unit and this changes things a bit as you will find out during our testing.
The main unit is big one measuring an impressive 56.8″ x 2.5″ x 5.7″ (1443.0 mm x 63.0 mm x 146.0 mm) and weighting 16.5 lbs (7.48 Kg). On a similar note the subwoofer comes with a size of 8.7″ x 15.4″ x 12.3″ (221.0 mm x 390.0 mm x 312.8 mm) and 16.8 lbs (7.62 Kg) of weight making it bigger than the average subwoofer we usually get with soundbars. But the SL10YG is not a usual soundbar as it's size and power place it among the most powerful units in this category.
With the above in mind this model is definitely not meant for small sized rooms. With it's size it is better suited for middle sized areas with TVs that are in the 65″ range and above. Not that you cannot use it with smaller sized TVs but it's length will make it stick out unnaturally making it look a bit ugly.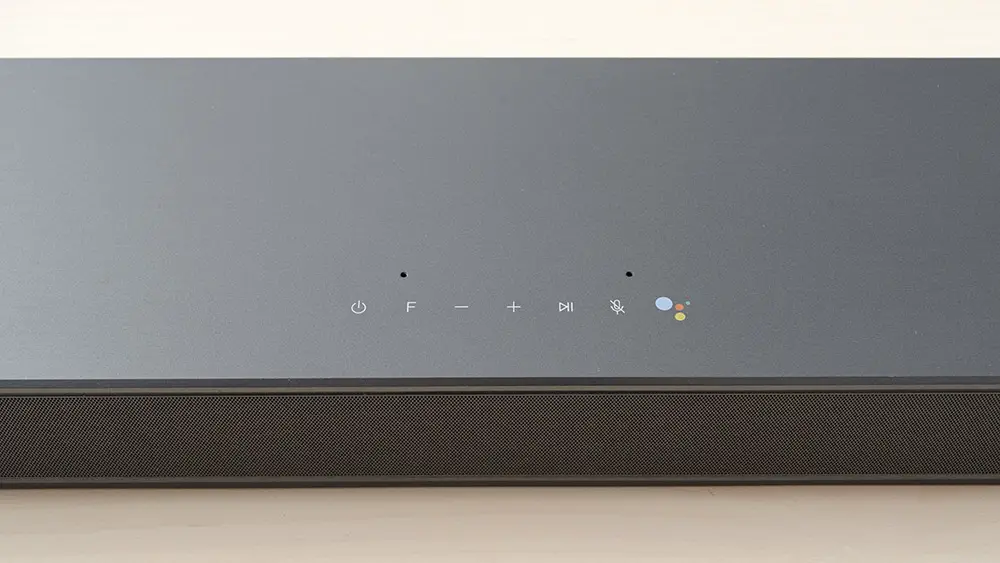 Being the flagship of the series build quality was bound to be good. The front and side firing drivers are covered by a full covering perforated metal grille that cannot be removed while the rest of the main body including the top is made out of plastic that has a brushed metal finish giving it a more premium look. The top Atmos drivers are also covered by non removable perforated metal grilles and feature a circular design. The soundbar features straight lines with slightly curved corners and overall while nothing fancy the unit manages to give you a sense of being sturdy and expensive.
In a top center position we get the usual built-in buttons that almost all soundbars have but keeping in line with it's premium stature the SL10YG features touch sensitive ones and with them you can power on/off the unit, select input source, adjust volume, start and pause playback, mute the built-in microphones as well as enable Google Assistant. Touch sensitive buttons are a nice touch improving overall looks but they can be a bit impractical to use in the dark.
At the front face, behind the perforated grille, we also get a small five characters display that is responsible for giving you some visual indication of what is going on along with a set of four LEDs under it that show Google Assistant's functionality depending their light status. The display will also auto dim itself after 15 seconds of inactivity in order to not bother you during viewing.
At the back we get all the inputs grouped together in a special inset that is placed towards the left side while the power cable is permanently attached to the main body and positioned on the opposite side. The unit features a relatively low profile for it's size and as such it doesn't have the need to use any IR repeaters in the back although for such a premium model we would like to have them just in case as there are TVs low enough to have their IR sensors blocked. If you want to place it on the wall there are special wall brackets that keep the soundbar in the same front looking position as if placed on a furniture.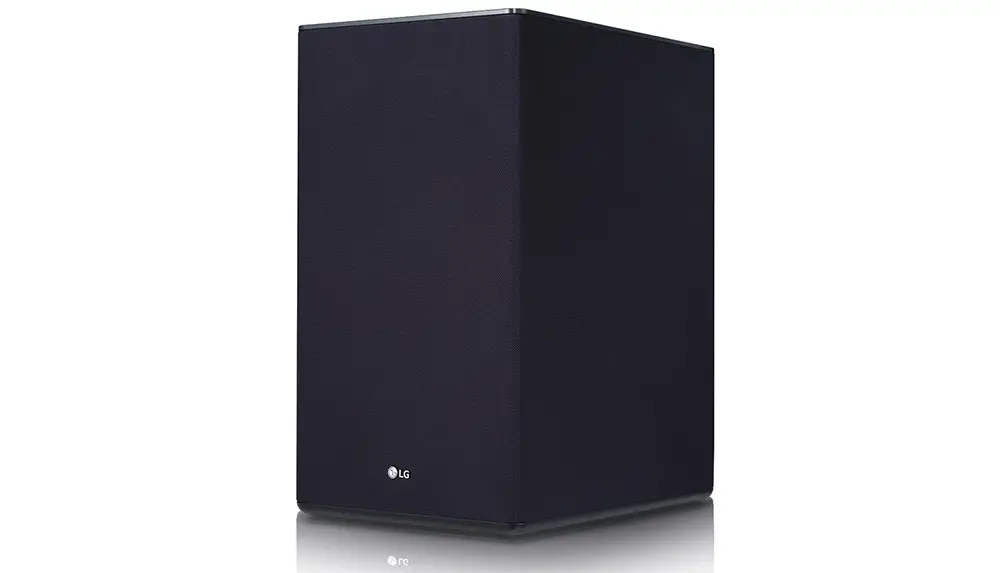 As for the included subwoofer there is not much to talk about design wise. It comes with a simple box type style with the front and sides being covered by a black fabric hiding the front firing driver while the top features a dark grey face. The chassis is made by MDF which felt sturdy and solid enough. The back is pretty much empty with only the bass port at the bottom, the power connector in the middle and a small pairing button above for connecting it with the main unit.
In general we felt that the LG SL10YG offers nice looks and good quality materials. It may not be the best we have seen but it is definitely way above average and justifies it's position at the top of the series.
Internal Hardware
Trying to identify what is hiding under the non-removable grille proved to be a bit more hard than we thought. LG is not giving details on the drivers used either in the manual or on their website but after a little digging we were able to find that the SL10YG uses a combination of a 40 x 100mm woofer along with a 20mm silk dome tweeter for each of the three front-firing channels of the main bar. There are a couple more 40 x 100mm woofers, each used for the side firing speakers while 2.5-inch woofers seems to be used for the up-firing Atmos channels. Featuring a low profile meant that it was almost a given that oval woofers would be used in order to maintain a good performance and this proved to be true.
The subwoofer on the other hand comes with a single 7-inch driver featuring a bigger than usual size for a soundbar making it capable of pushing the lows even further and create quite a shake. The SL10YG is also capable at accepting a couple of dedicated wireless surround speakers but these come as extra and are not included in the main box so we will talk about these momentarily.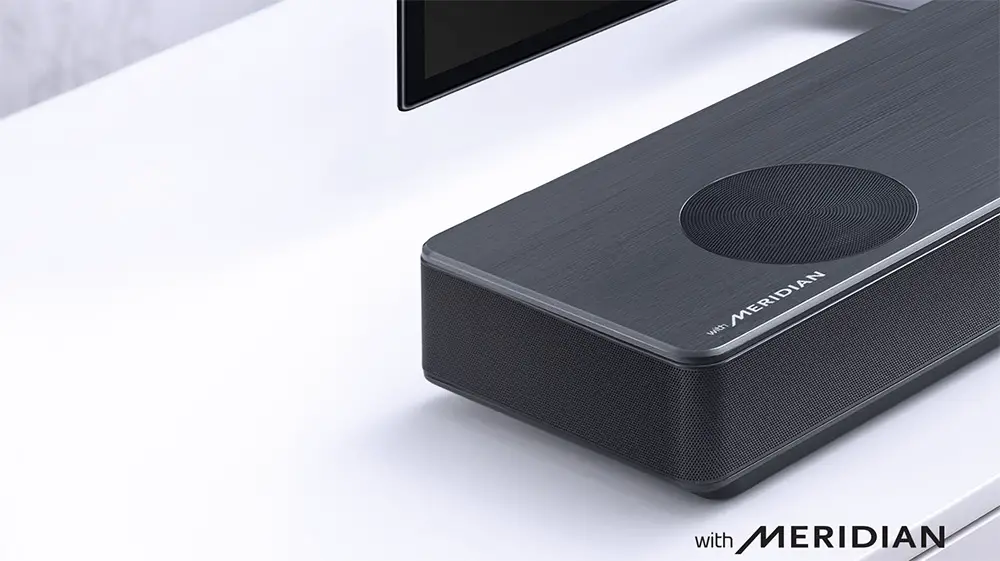 With the 7 channels of the main unit along with the subwoofer we get a total rating of 570 watts of RMS power. With 50 watts (4 Ω at 1 kHz, THD 10 %) for each channel along with the 220 watts RMS (3 Ω at 80 Hz, THD 10 %) of the subwoofer this unit packs quite a punch and can go pretty loud that will certainly satisfy you if you are a power hungry user.
Connectivity
One thing that we dislike in soundbars is when manufacturers separate the connections in two different groups. This can make things more difficult when it comes to cable management and hiding all wires as opposed to having them all together. Thankfully the SL10YG has all of them in one place inside a special inset to keeping them grouped together and make our life, and yours, easier.
When it comes to connectivity naturally you should expect a lot from such a monster of a soundbar, correct? The reality is that there is an actual reduction on the ports being offered this year compared to the SK10Y. But let's see first what we do get. There are a couple of HDMI 2.0 inputs along with a HDMI 2.0 output with added ARC functionality. There is also a digital optical input and a single USB port for connecting external storage…and that's it.

Two things we need to point out. First of all the HDMI ports are all HDCP 2.2 which means 4K/60fps passthrough, with HDR and Dolby Vision support. What is not supported is HDR10+ which we can understand as LG is firmly supporting Dolby Vision. But there is also no eARC which is a bit puzzling with all 2019 LG TVs coming with HDMI 2.1 and could greatly benefit from getting that.
As for the other thing we need to mention is that compared to 2018 SK10Y the SL10YG has lost the 3.5mm analogue input along with the Ethernet port. And while for the analogue input the loss is not so big as we cannot think of many situations that you would use it, the Ethernet port is a big omission. If it happens you not to have a good wireless signal you are bound to have a problem and we cannot get the reason why LG would remove this in such a top tier unit.
Lastly when it comes to wireless capabilities the soundbar comes with built-in WiFi that supports both 2.4 and 5GHz along with Bluetooth v4.2 (SBC).
Control Options
Being at the top of the series it usually means a lot of features and this includes the means of controlling the unit. This holds true here as there are many ways you can control the soundbar with and the most obvious one is with the included remote which looks very similar to last year's remote but comes with a few button changes in order to incorporate various functions of the unit.
The remote is nothing extraordinary to talk about as it is made our of plastic and has a few rubber buttons in various sizes according to their usage. And while quality is average, response was instant and we didn't observe any obvious delays to our commands. At the very top there is the power button with two huge buttons below for controlling volume, input selection and mute. These are the usual ones we find in all of LG soundbar remotes lately.

What has changed comes below that as in the SL10YG we get smaller circular rubber buttons for sound effect, Google Assistant and microphone mute. Below these there is a group of nine even smaller buttons for playback, settings, information, repeat and Night mode. There is obviously no backlight function making it harder to use in the dark but at least the large buttons help a little with this problem.
LG has also created an app that you can download on your mobile device and supports both iOS and Android. The app is called LG Wi-Fi Speaker and is a good alternative to the included remote. The app is nice and can do a few things that you wouldn't be able to do with the remote like creating playlists as well as a few more specialized functions including auto volume leveler and Dynamic Range Control.
Lastly we need to mention about the unit's Google Assistant capabilities. This can be called a true smart soundbar as we have seen many times before a soundbar to support voice controls but most of them need an external speaker to function as they lack the necessary hardware. Not with the SL10YG as it's built-in microphone array can be used to detect your voice anywhere in the room. Just say the usual 'Hey Google' command and you are good to go. What we liked a lot is the ability to turn off the microphones if you worry about your privacy and don't want to have an always on microphone in your room.
For the price asked the unit offers almost the full package. Obviously we are missing Amazon Alexa and this can turn off a few people that are very loyal to Amazon's platform but other than this we don't have any complaints.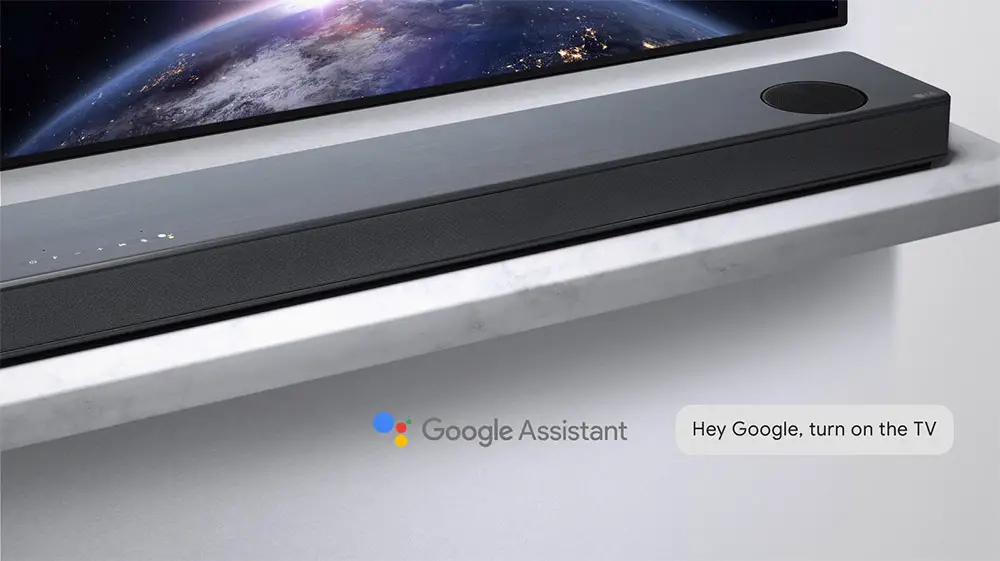 Extra Features and Services
Although the unit cannot be classified as a true 5.1.2 channels system it does come equipped with the channels required and as such it was a given that we would get Dolby Atmos support. What is different for the 2019 unit is that this time it also supports DTS:X that was missing from the SK10Y and it was a major letdown for such a flagship unit. At least LG rectified this problem in the SL10YG.
Obviously as the unit supports the latest object-oriented tracks it can go all the way back to the older versions in case you have content that don't utilize the latest sound. As for the Atmos effects, equipping the unit with up-firing speakers means that the sound bounces of the ceiling in order to give you a sense of elevated action. This can work pretty good if you have a relatively low and even ceiling but it is not so good if it is very high or it is uneven or in angle. So the end result greatly depends on the kind of room you have.
The unit comes with 6 different sound modes with most of them being self-explanatory and easy to determine when to use them. The ASC (Adaptive Sound Control) mode is obviously the one that you let the soundbar determine what is best by analyzing the content and optimizing the sound accordingly. Standard sound uses Meridian technology to give you the best results with the sound being produced as it is, Bass Blast and Bass Blast + enhances the low frequencies while Movie mode enhances the surround effects.
There is an extra Night mode that you can use if you watch content at low volumes by reducing sound intensity and improving fineness and softness. Very practical if you have kids sleeping in the night but you still want to enjoy a good night's movie. What we found strange is the omission of any kind of dialogue or voice boosting mode. Most soundbars have one but not this.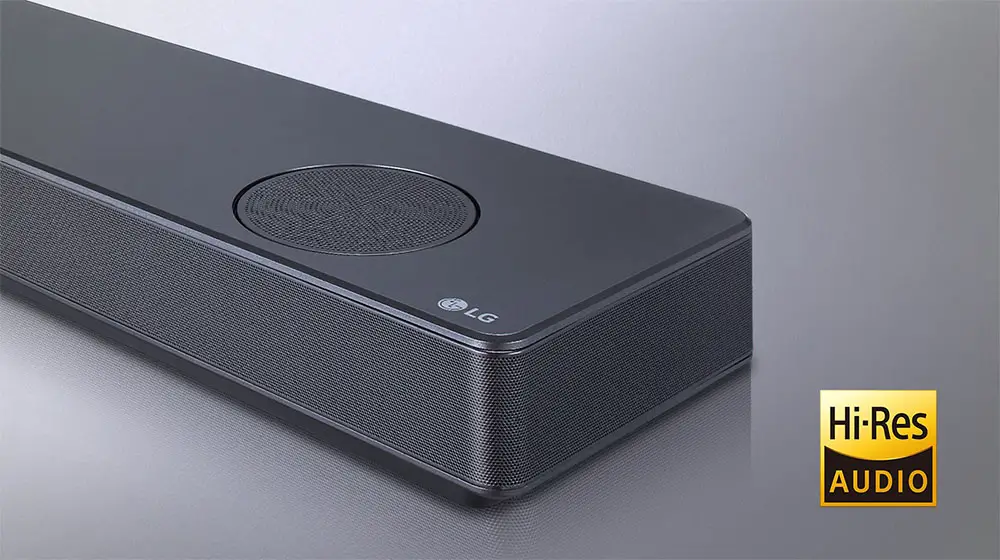 In terms of audio the soundbar uses a a 192kHz/24-bit DAC and as a result supports High Resolution Audio. There is a wide range of audio files that can be played back by the unit that includes FLAC (up to 192kHz), OGG (up to 48kHz), WAV, MP3 and AAC / AAC+.
Even if the unit is advertised as a 5.1.2 channels system there is also the ability to add the Rear Speaker expansion Kit (model SPK8-S) meaning you can go for a 7.1.2 channels setup if you wish. Obviously this will add to the total cost of the system but if you want true surround effects we really recommend this to you as without it surround performance lacks greatly.
Streaming is one of the soundbar's strong points. With the included USB port you can stream music from an external storage device although the back facing port makes it difficult to be used all the time. There is also the option of Bluetooth streaming from any mobile device you want. Connection and pairing is as easy as it gets and we didn't observe any problems with connectivity.
But the SL10YG also comes with Chromecast built-in which means you can stream music from an online streaming service like Spotify, Google Play Music, TuneIn, Deezer or Youtube among others. So as you can understand there is something for everyone in this unit and will sure keep your streaming needs at check.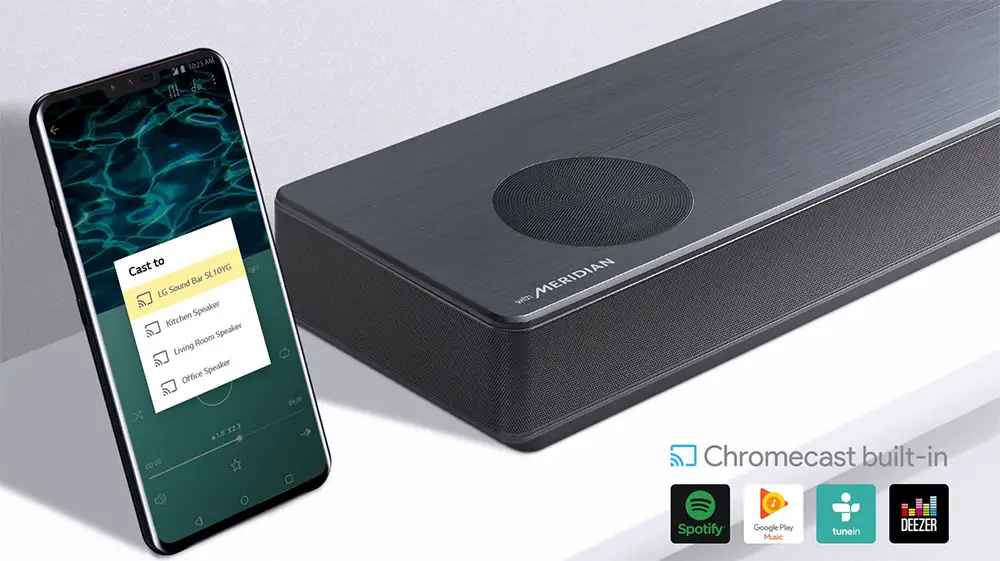 Lastly there is SIMPELINK (HDMI-CEC) support which means that you can use your TV's remote to control certain functions of the soundbar if your TV also supports the same feature. It's a very practical function in case you want to reduce the number of remotes you need to have to your viewing area.
Closing we would say that although the unit doesn't include every single feature you can get in a soundbar today it certainly ticks all the right boxes and offers the ones that will be the most useful ones. It's almost as if LG tried to catch as wide a range of needs possible without going overboard and it seems like they succeeded in doing so.
Initial Setup
Setting up the soundbar for the first time is very easy if you follow closely the manual instructions. After unpacking the unit and placing it in front of the TV we connected them using the HDMI port. After powering up both the main unit and the subwoofer the two should be already paired but in the rear case they are not there is a pairing button at the back that you can press in order to complete this step manually.
Now for connecting the soundbar to the internet you will need to download the Google Home app and follow the on-screen instructions. Things are pretty simple and shouldn't take you more than a few minutes to complete this step. When everything is set and done the next step is to make some calibration of the sound by using the soundbar's settings. Keep in mind that the SL10YG lacks any kind of auto calibration system so whatever changes you do will have to be made manually.
There are not many options available so you shouldn't worry about being overwhelmed with audio settings. By pressing the sound tuning button on the remote you can adjust the volume of the subwoofer along with center, side and Atmos channels. There is also level control for treble and bass and the optional rear channel if it happens you to have the surround speakers connected. There is no individual speaker calibration for the surrounds so you will have to be very careful to place them in equal distances in order to have the same acoustic result.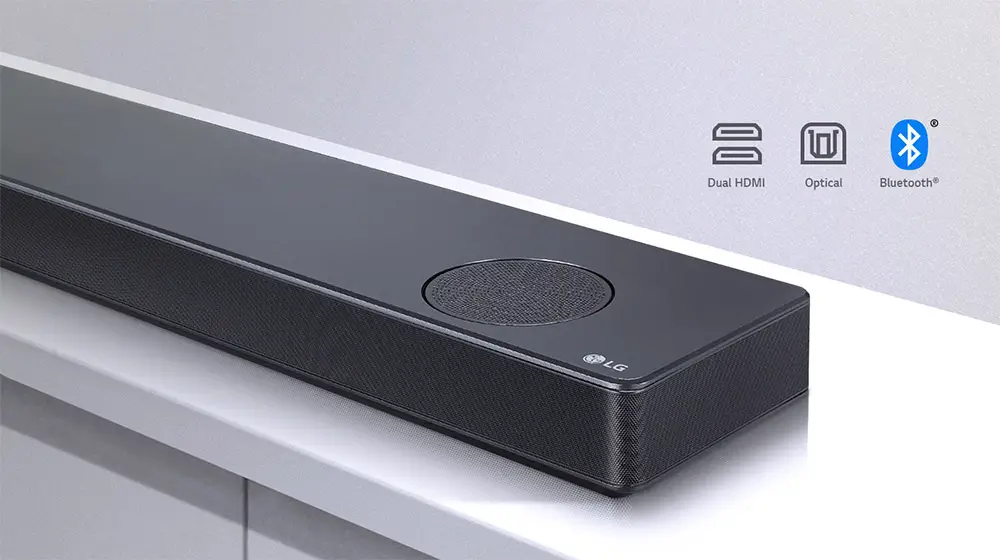 After finishing with these the only thing you have to do is to choose your sound mode depending on the content you will be watching. That's all, really simple and easy and shouldn't take you a lot of time to complete even if you are completely inexperienced in all this.
Movies
One movie we try almost always when we have a Dolby Atmos capable soundbar is the 4K UHD version of Transformers: The Last Knight with it's jaw-dropping Dolby Atmos track that is ideal in order to test how good a unit can perform in both the overhead layer as well as in the surround activity. And with the SL10YG featuring both up-firing drivers for the Atmos effects and side-firing ones for the surrounds this would turn out to be an interesting test.
First of all we need to clear out that we tested the unit without the surround speakers so all our observations comes with just the main unit along with the subwoofer. As such the first impression we got was how powerful and authoritative the sound felt. The unit can go loud, and we mean as loud as very few other soundbars can go. Featuring such a wide length it really stretched the front soundstage front one side of our testing area to the other which only upped the immersion.
Now as far as the side-firing solution that we get, it only managed to boost the side performance but it failed completely to give us any kind of surround activity as the action felt firmly positioned at the front. The Atmos speakers on the other hand were able to provide more height to the action but to be honest we were expecting more as even with the Overhead Volume Control cranked up the Atmos effects felt a bit underwhelming and not as vivd or precise as with a few other Dolby Atmos soundbars we had tested recently.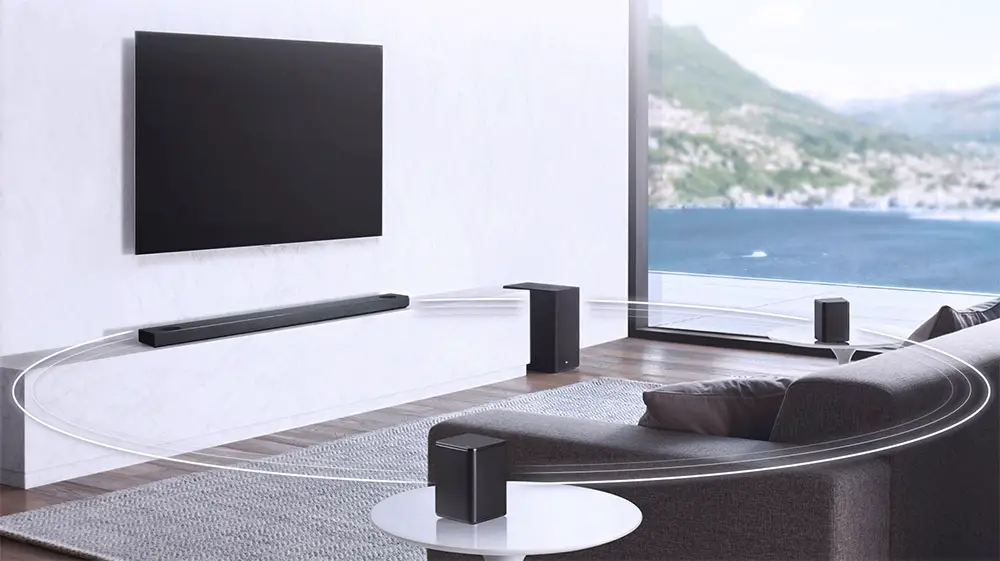 If you take into consideration the above the front activity was very impressive, alive and kicking. Laser fire and projectiles were traveling across the TV and felt like punching through the visual limits of our screen both from the sides as well as above. Even if the overhead layer was not as obvious as we would like or expect it still managed to push the height up a notch or two making things even more impressive. Channel shifting was spot on while the center channel provided the necessary clarity to the dialogue even among all the mayhem.
And while the main unit made sure to keep us glued to the front the subwoofer had enough punch to provide the necessary low end extension. With huge robots battling out in the city streets the one that came with the SL10YG kept a straight head without any distracting distortion. Obviously it cannot compete with some dedicated subwoofers we have seen and cannot do as low and deep but for it's class we can say we were surprised by the kind of oomph it had and will certainly upset more than a few neighbours if you are a heavy bass fan.
And while Transformers: The Last Knight was the kind of film that goes all out with it's earth shattering track we also opted to try out our all time favorite Blu-ray disc of Lord of the Rings: Return of the King which comes with a reference DTS-HD Master Audio track that is a little bit more delicate and melodic than Transformer's offering. And oh my, what kind of audio does the SL10YG can give when it goes away from all this action cacophony and has to play something with a bit more finesse.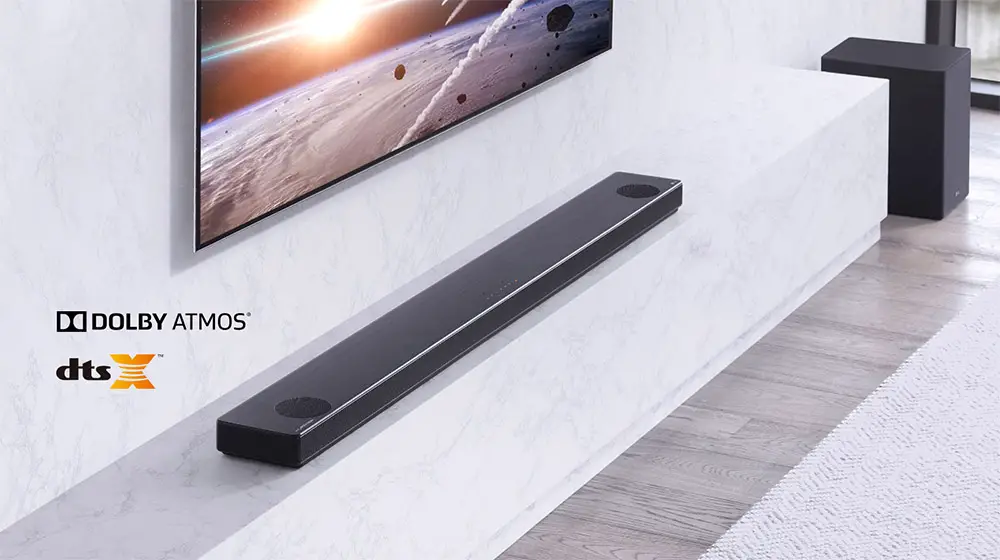 Don't get us wrong, Transformer's track is amazing. It's just that the Lord of the Ring mix is the kind of material that can truly show how many details a track hides in every scene that not only include the front main sounds but background and ambience noise also. And with the addition of the excellent orchestrated music from Howard Shore the soundbar really gave us an almost perfect front performance that felt extremely wide, deep and overall entertaining.
Once again what was obviously missing was the activity behind us. LG's solution with the side firing speakers is not enough to give the necessary depth but for pushing the side boundaries of activity they did a very good job. If you absolutely want to have surround action then getting the optional surround speakers is a must.
Closing we will summarize everything in a few words. The soundbar offered an extremely wide and slightly elevated front soundstage due to the included speakers the main unit has. Along with the pretty good bass and the ability to go extremely loud the SL10YG can be an wild and enjoyable experience that can be extended to the back if you opt for the extra surround speakers.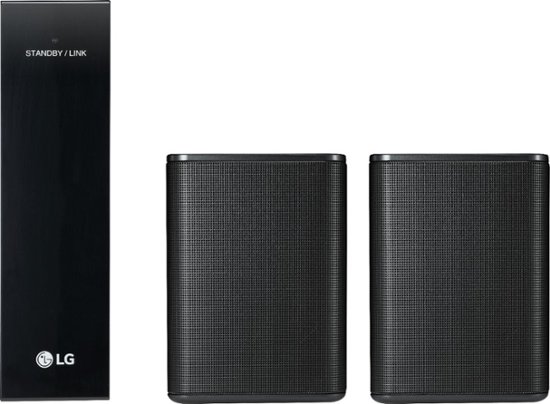 Music
Thankfully the soundbar does support High Resolution Audio so what better thing to do than to stream some music in FLAC format to see what this model can do when you throw some music tones to it. We tried almost all sound modes and the Music mode felt like it provided the more balance and natural sound in our situation.
The lows proved to be very balanced even if slightly over-powered while vocals felt distinct and alive. Stereo separation was exceptional as the over the average length and side speakers combination seemed to favor this. Mid-range was good and had a certain kick to it without overshadowing the rest of the frequency spectrum. Lastly sound imaging was satisfactory with us being able to discern the various musical instruments in space.
The LG SL10YG can prove to be a very good music performer. With music some of the soundbar's weaknesses are hidden and is able to show more of it's strengths. With surround and overhead activity not used here the unit was able to give us what is was best designed for. An amazing, loud and over exciting front performance.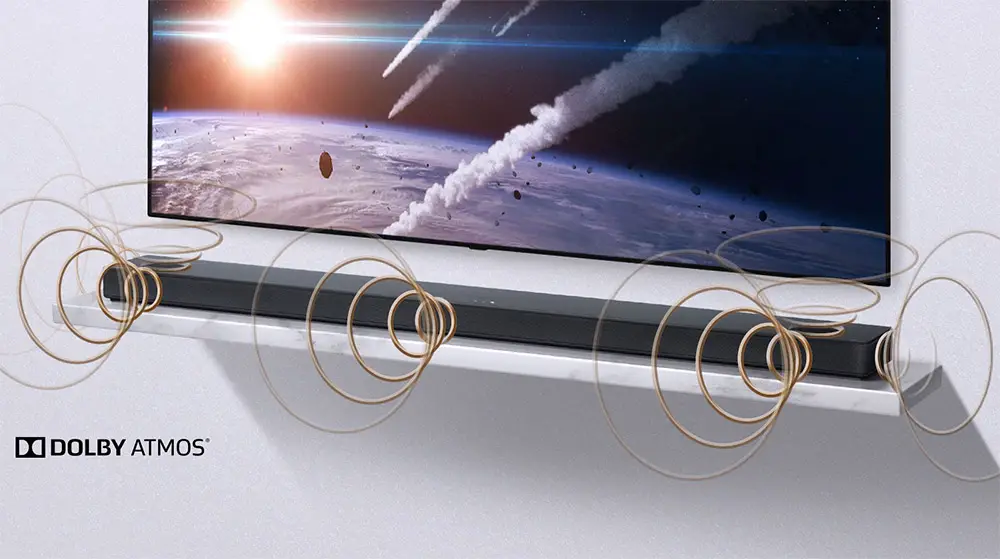 Final Thoughts
The LG SL10YG is a very good soundbar and subwoofer combination that comes with a few obvious weaknesses. LG really took everything that was good in 2018's SK10Y and tried to improve upon it and the end result is a unit that has the same DNA but manages to improve in certain key areas.
First of all the soundbar can get really loud and if you are a power hungry person then you will be pleased by the kind of output this one can offer. The enormous length of the main bar along with the side-firing and up-firing channels ensures that the front soundstage is bigger than what we are used to and also make the separation of the channels easier to distinguish.
LG even managed to up the power slightly and along with the added DTS:X support to complement Dolby Atmos 2019's flagship seems like it comes with very satisfying performance capabilities. If you add to this the nice feature set that includes High Resolution Audio, USB and Bluetooth streaming, Chromecast and Google Assistant support and the ability to expand to a 7.1.2 channels with two dedicated surround speakers, it comes with everything a flagship should have.
On the downsides the most obvious one is that if you don't get the surround speakers then the action is firmly at the front as the side-firing speakers fail to give any sense of rear activity. Also there is an actual reduction on the ports offered and while we can live without the analogue port we cannot understand why they took out the Ethernet port that can be vital in certain situations. Also there is no eARC and no HDR10+ support. Lastly being close to the $1,000 mark this unit is certainly not cheap and can be a deciding factor for many when choosing a new soundbar.
The LG SL10YG has the power and features that any model that claims to be a flagship should have. It is certainly meant for medium sized areas and for TVs that ideally are of 65″ and above but it is the kind of soundbar that can offer an exciting and alive front stage both in movies and music and go as loud as humanly possible.  If you plan to go big then this one should make it in your list of choices.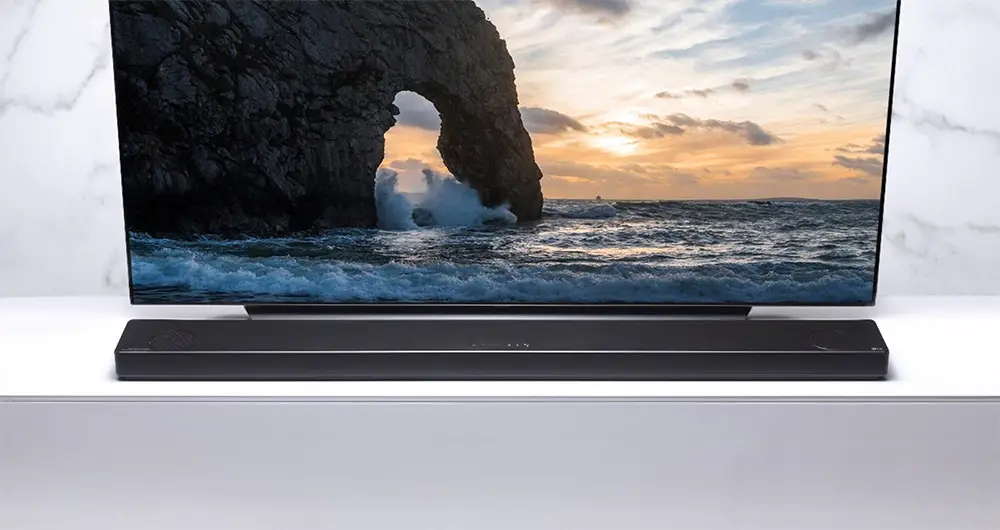 For more reviews you can check our dedicated Soundbar-subwoofer combo reviews list or even look at our Product Reviews Table where you can find the brand and specific product you are looking for.
Also don't lose the chance to subscribe to our Newsletter and gain exclusive privileges.
---
Cheapest Places to Buy :
---