LG SM8600
OS, Apps and Features
9.5/10
Pros
Good color reproduction
Very low input lag
Huge list of services, features and smart functions
Great price
Cons
Average contrast
HDR not so exciting
Low light precision due to Edge LED
No HDMI 2.1
---
Cheapest Places to Buy :
---
We all love the next best thing. Who wouldn't want to have the latest and great OLED flagship or the best QLED offering in Samsung's arsenal? But as much as we want to be on the cutting edge of technology all these features come at a great cost especially if it's a new model that just got released. And if home theater and movie fans in general would be willing to go the extra mile and pay a hefty price to get one of the top dogs that doesn't apply also for everyone else that want a good quality TV but cannot afford or are not willing to pay an extremely high price for a new TV.
Here comes LG's middle range of TVs called NanoCell which is essentially last year's Super UHD series offering some features of the top OLED range but at the same time are toned down enough in order to be able to have a much more affordable and consumer friendly cost. The SM8600's key characteristics are it's IPS LED panel with Edge LED backlight and local dimming, comes with a NanoCell film in order to produce better colors, it's the last model to support the a7 Gen 2 Intelligent processor, comes with updated motion handling features while it comes equipped with the full feature set of LG's smart TV functionality.
But are all the above enough to keep this model competitive especially when we are talking about the middle range where we find so many models available from all manufacturers? It's current price for the 65″ sits right now under $1,200 which is certainly exciting but can we say the same about it's performance? Keep reading our LG SM8600 review as we uncover every little secret this TV has to offer.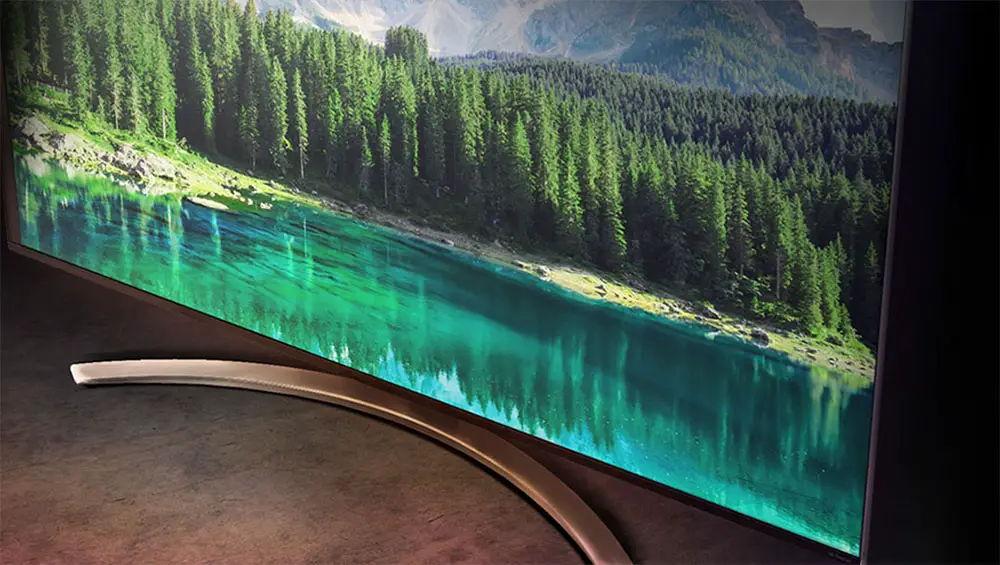 Design
Since we are in the middle range here someone would expect a more modest design as well as quality but when we saw the SM8600 we were surprised by it's above average aesthetics. Being an Edge LED TV naturally it is thicker than the ultra sexy OLED panels but it's not bothering thick as it measures around 2.50″ (6.3 cm) on the bottom part while the back top curves a bit making it a bit thinner. It comes with a thin metal border while the distance between the border and the pixels is relatively small making the SM8600 looking very good for a middle tier TV.
As with all LG TVs all connections are placed on the back of the main body. All of them are located on the right back side while a small inset helps a little with cable connections if you plan to wall mount it. The back of the TV is made out of a thin metal with a brushed texture which is rather unusual as most TVs have a plastic back cover.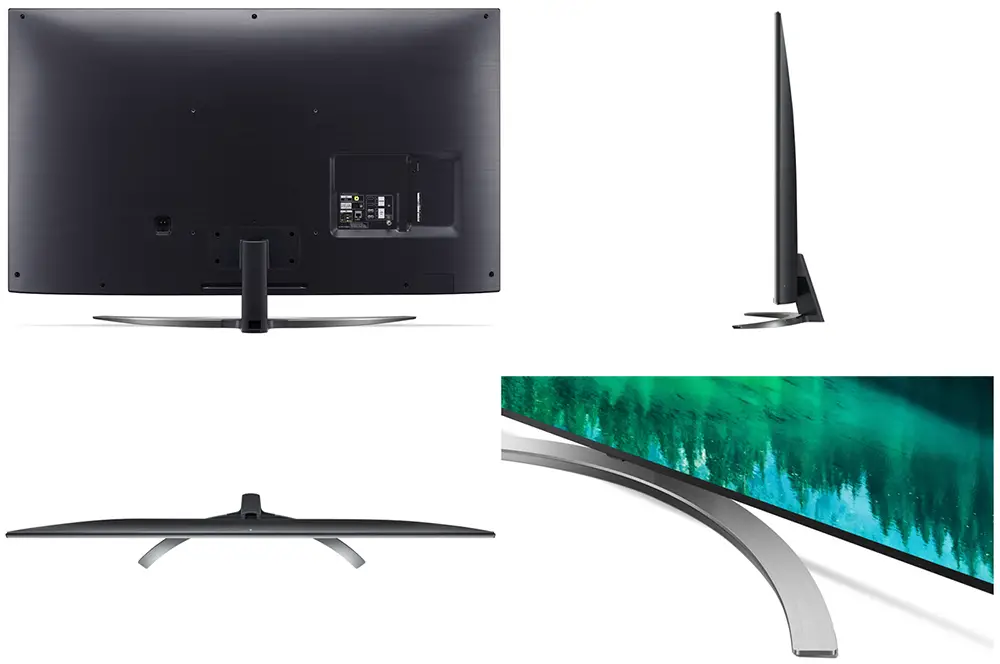 The stand of the SM8600 has a crescent curved design that is thin enough in order not to look bulky and while it seems like it's made out of metal it's actually made of plastic and as a result the TV can wobble a lot if pushed. Helping a bit with cable management LG has made the back of the stand hollow so you can run the cables through there and cover them with a removable cover. We cannot say we are thrilled with this design but it is definitely better than let's say last year's SK8000 that used a simple clip to hold all the cables together.
The included remote is exactly the same as the one we saw during our LG C9 testing. It's 2019 MR19 version of Magic Remote that can be used either through the traditional way or can also be used as a mouse pointer which is a unique but very practical feature that can make your life far easier if you want to type some text for example. It also communicates with the TV through Bluetooth which means better reception as there is no need for direct pointing it to the TV for it to work.

New this year is that it can also work as a universal remote to control other devices with it's IR blaster that can be very practical if your other equipment don't support HDMI-CEC. Everything else is the same as before with the remote including a microphone in order to issue commands if you prefer that way. Magic remote is one of our favorite remotes along with Samsung's smart remote and keeping it fairly similar the last few years shows that LG and consumers like it's design and functionality.
For a middle tier TV we are pleased to see LG offering such quality. It's not a mind blowing design by any standard but for the money you pay it is above average.
Video Quality
Processor technology used
We are hovering in the middle range here so hardware wise we are a step down from what the top OLED models are equipped with. As such the LG SM8600 comes equipped with the second generation of the a7 Intelligent processor that has also been updated compared to last year's already very good a7 variant.
The a7 Gen-2 processor keeps all the features we saw in the a7 but also adds AI in the mix for this year. By analyzing the content displayed it can optimize noise, clarity and sharpness in order to improve the end result while it can also adjust brightness by analyzing the environment through the built-in light sensor in order to provide the best picture possible no matter the light conditions in your viewing space.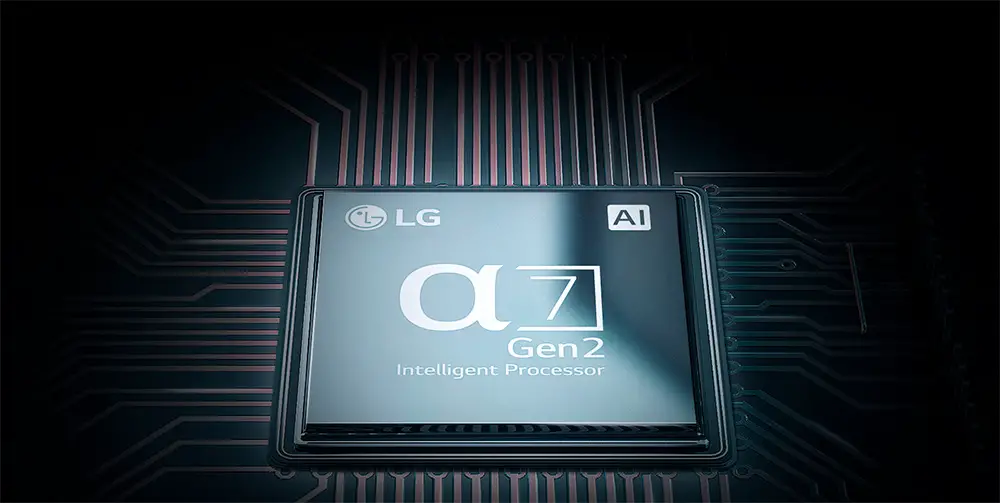 But improvements don't end there as the a7 Gen-2 processor also offers improvements in the audio department. As such the SM8600 can recognize the content being played and optimize it's sound accordingly. There is also up-mixing of 2.0 channels to virtual 5.1 surround sound while the TV can also recognize your viewing spot and calibrate the sound accordingly in order to get the best result where you sit.
The a7 processor offered excellent results last year to the middle range models and offering an improved version this year is a welcome addition.
Lighting technology used
While all the NanoCell models above the SM8600 come with some kind of FALD system this model unfortunately does not as we get an Edge LED lighting system with local dimming. Edge LED systems offer a vastly inferior type of light control as LEDs are placed on the edge, usually the bottom of the screen, which has a very obvious downfall. When local dimming is enabled the SM8600 show large vertical columns when you view a bright object in front of a dark background. In a fairly bright scene you will not see this at all but on a black background it is more than obvious and distracting.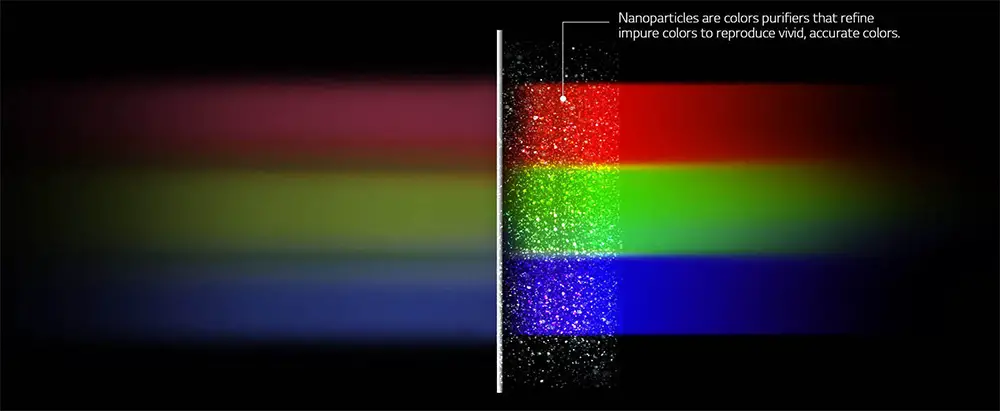 Blooming can become a bit less if you lower the setting of the local dimming feature so we suggest you test it a bit to find what is more pleasing for your eyes. In our opinion a medium setting is the most preferable but this problem will still be obvious no matter what.
Brightness / Contrast
Brightness seems to be one of the main weaknesses for the SM8600. Our measurements were made by using the Cinema picture mode along with medium Local Dimming, max backlight and Warm 2 temperature. These settings are pre-calibration which means that we don't get very accurate colors here. SDR brightness in a 10% window gave us 432 nits which is good for SDR content as requirements are pretty low here. But when measuring HDR brightness with the same settings we got only 525 nits which is less than exciting.
When we compared these numbers with our post-calibration ones it is obvious that when trying to get better color representation brightness takes a major hit. So you have to decide if you want better colors or better brightness.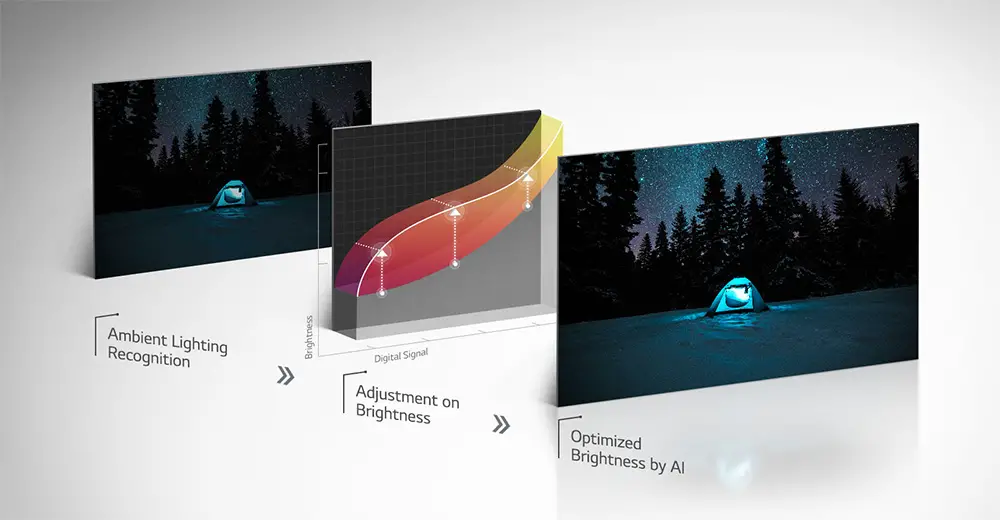 Contrast is also not very good as the combination of an IPS panel with an Edge LED light system and bad local dimming create blacks that look very greyish. If you plan on using the TV in a dark room this becomes even worse while a bit of light will make the problem milder.
Viewing angles
Being equipped with an IPS panel means that viewing angles are fairly good compared to other types of LCD panels. Although the SM8600 cannot reach the extreme angles of OLED it still manages to keep image integrity at angles that reach about 30 degrees which is fairly good and gives you a lot of freedom when it comes to the best viewing position. If you need higher viewing angles than this then your only choice is to go the OLED way.
HDR support
With HDR support things are bit standard as most middle and top tier TVs from LG support the same types. As such the SM8600 not only supports HDR10 which is the basic HDR protocol but also HLG that is used for broadcasting and Dolby Vision that is the more advanced HDR with dynamic metadata.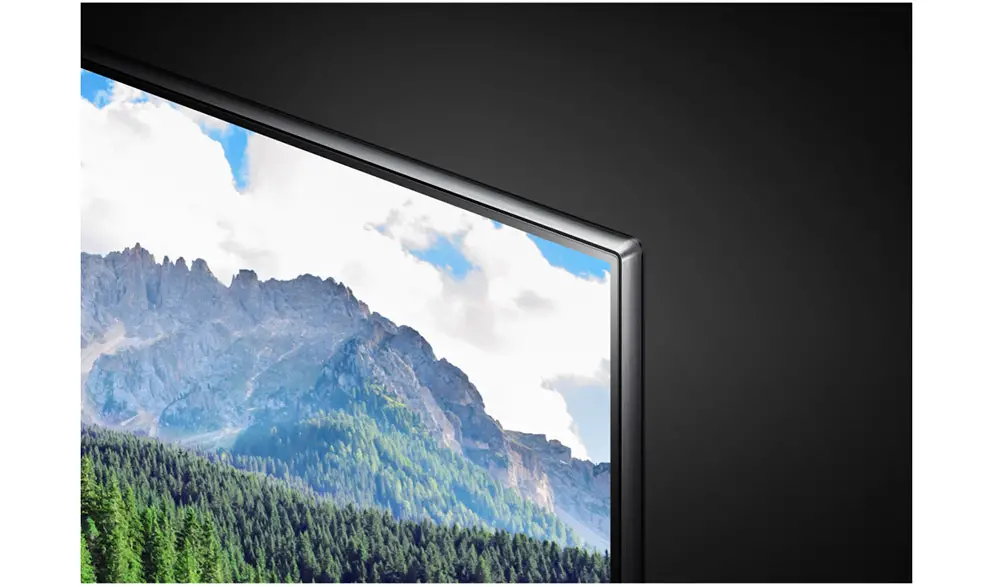 Two observations we need to make here. First of all as with every single model in LG's arsenal there is no HDR10+ support and we are curious to see if LG will ever support this as it's mostly backed up by rival Samsung. The second thing we need to mention is that if you need a TV with Dolby Vision then this is the lowest model you can get it with as all the other NanoCell models below this as well as the 4K UHD ones come only with HDR10 and HLG support. This here is the most affordable Dolby Vision enabled model from LG.
Color coverage
The SM8600 supports wide color gamut but also comes equipped with a NanoCell layer that helps to absorb unwanted light in order to boost the purity of the red and green colors on screen. This is the equivalent of Quantum Dot that Samsung extensively uses in all their QLED models while LG was using it in their previous Super UHD models. But we guess NanoCell has a more catchy sound that's why LG decided to rename it's technology.
Measuring the color coverage in the DCI-P3 color space gave us 89% coverage which is very good considering the cost of the SM8600 while looking at the wider REC.2020 color space the TV was able to cover 71%. We are impressed by these numbers especially when you think we are approaching the bottom end of the NanoCell lineup. As a result the SM8600 was able to produce images during testing that were not only sharp and crystal clear but also with amazing and lifelike colors that pop out of the screen.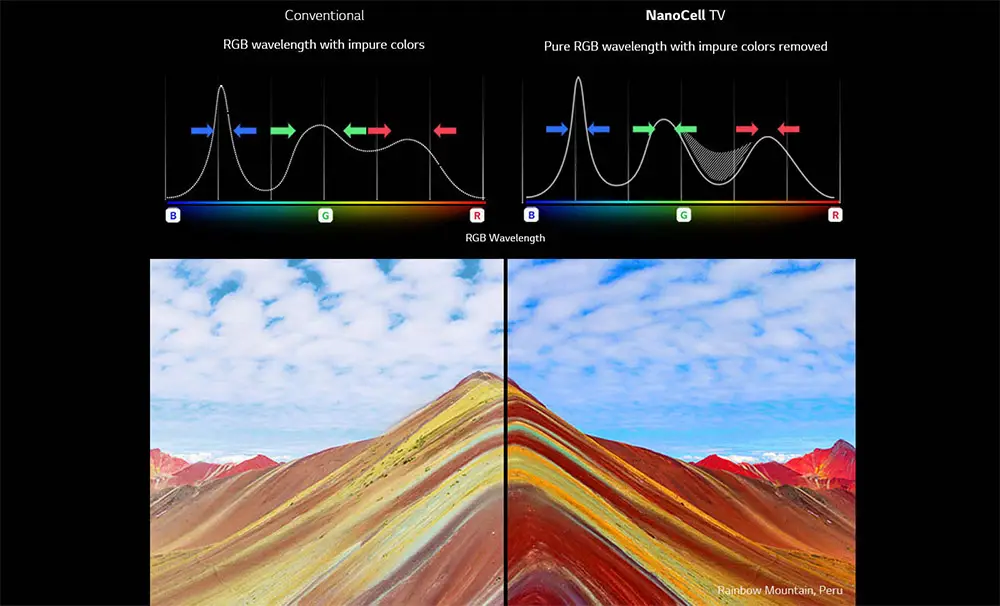 Motion performance
LG SM8600 has a more or less standard set of motion features that come in all medium and top range TVs nowadays. As such this model includes both Motion Interpolation and Black Frame Insertion (BFI) features. With Motion Interpolation the SM8600 was able to smooth out camera motion a bit although during very fast scenes some jerking was noticeable.
We also tested the Black Frame Insertion (BFI) feature which created very smooth images but on the other hand it lowered the overall brightness while there was flickering visible due to the flicker frequency dropping to 60Hz. The SM8600 unfortunately drops support for Variable Refresh Rate (VRR) that we saw in higher LG models this year. There is also no FreeSync but in the beginning of 2020 LG released a new firmware update that supports NVIDIA's G-Sync. Although the SM8600 didn't wow us with it's motion performance it gave respectable results that are in line with it's asking price.
Input lag
Input lag is especially important if you use the TV extensively for gaming and you want fast response times and in this regard the SM8600 passed with flying colors as the input lag we measured hovered around the 14.6ms mark which is amazing and makes this model ideal for any gamer that plays games that need very fast reaction times. Of course to get so low input lag the TV must engage it's Game mode as without it the input lag goes much higher. We tried both 1080p and 4K resolutions with Game mode enabled and the results were fairly consistent. We dedicated a bit of our time for some Call of Duty WW2 in our PS4 and we were very pleased with how trouble free and smooth our session was.
And while the SM8600 does not have HDMI 2.1 support we do get Auto Low Latency Mode (ALLM) that can be used if you connect equipment that also supports this feature.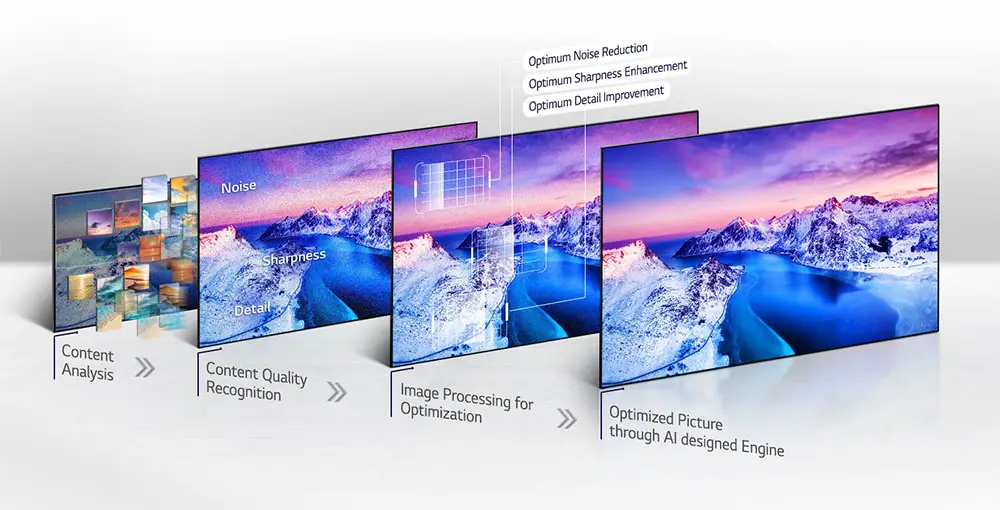 Image quality impressions
With the LG SM8600 things are pretty clear when it comes to it image performance. It can display very clear and sharp 4K resolution images, it has very good upscaling capabilities, great wide color gamut and color coverage due to the inclusion of the NanoCell film, viewing angles are very good for a LCD panel while it's extremely low input lag makes it ideal for anyone who wants to use it for gaming.
On the other hand brightness and HDR are mediocre at best while contrast is not good at all with blacks appearing more like grey while this becomes even worse if you are watching in a completely dark room. Also having an Edge LED panel means very low precision and light control while it's Local Dimming left a lot to be desired as large vertical columns of light appear when a very bright object is shown against a dark background.
Edge LED is the main weakness here but with such a low price it was almost a given that we wouldn't be able to get a FALD system. Can we complain from what we saw? Considering the cost no. Because in writing you may think that this TV is bad but in reality watching a 4K UHD disc will make you think that it's performance is actually good. And when you consider what you have to pay for it things definitely are better than they sound.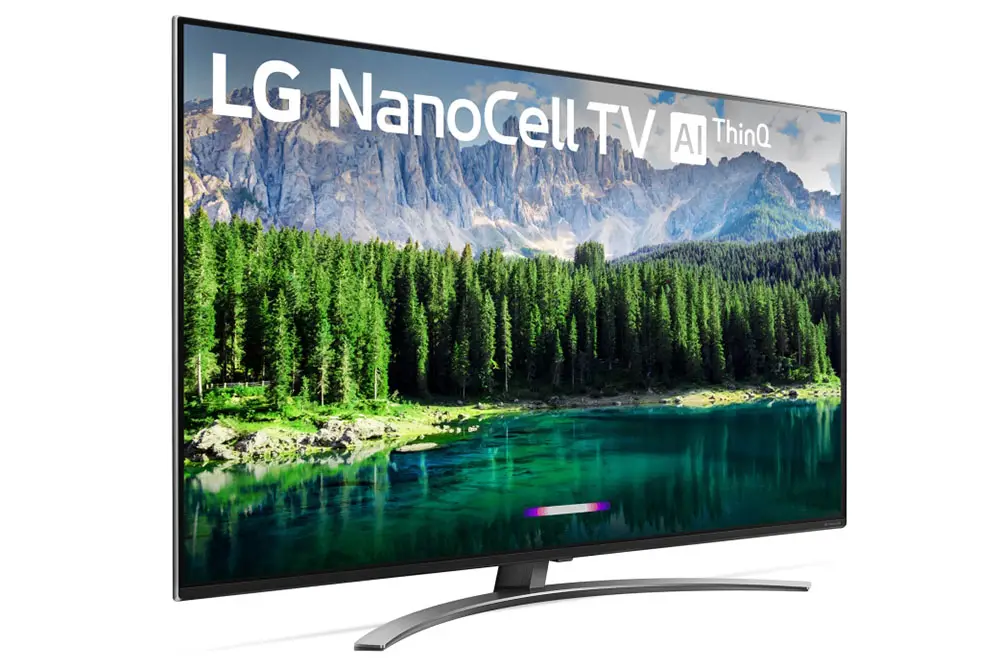 Audio Quality
Checking the audio capabilities of the SM8600 we got the sense that LG really tried to improve performance a bit but we cannot say that the overall result was very exciting or that the added features made any real difference. The TV comes with a 2.0 channels system with 20 watts of power making it just adequate for casual viewing. The One Touch Sound Tuning makes it's appearance here also as we had seen in the C9 OLED which is a unique system that LG created and by using the remote's microphone the TV analyzes the audio from your viewing position and calibrates the audio settings accordingly for the best result possible.
There is also upmixing of 2.0 channels audio to virtual 5.1 surround sound in order to offer a more wide and immersive soundstage. We also find Dolby Atmos support but the TV fails to offer any real immersion or sound depth. Lastly the TV is able to analyze the displayed content and optimize the sound output with the help of the included AI Engine.
All of the above features are part of the new a7 Gen-2 processor that adds AI into the mix in hope of improving audio performance. We could admit that in some instances audio fared a bit better but don't expect anything fancy. A 2.0 channels system from a flat TV can do so much so if you need something better go get a soundbar or take the extra mile and get a full surround audio setup.
Inputs
Let's now see what kind of connections we get with this one. As usual all of them are grouped together on the back right side of the main body. Some of them are looking sideways for easier access if you want to wall mount it while the rest look backwards.
The ports that looks sideways are 2 HDMI ports and 1 USB. The ones looking backwards include 2 more HDMI ports, 2 more USB ports, an Ethernet port for wired connection to the internet, an RS-232C, an Optical Digital Audio output and 1 Composite input that works with the included adapter. Lastly there is the usual antenna/cable port for terrestrial broadcasting.
Unfortunately this is the first model that drops HDMI 2.1 and we have to settle with the usual 2.0 version for all four of them instead. This means all of them support 4K/60fps, wide color gamut and HDR while we loose 2.1 specific features like eARC and VRR. Also all USB ports are version 2.0. In general we get a pretty standard configuration that we have seen in most LG TVs. Even higher tier models have almost similar port configuration so we cannot complain with what is being offered here.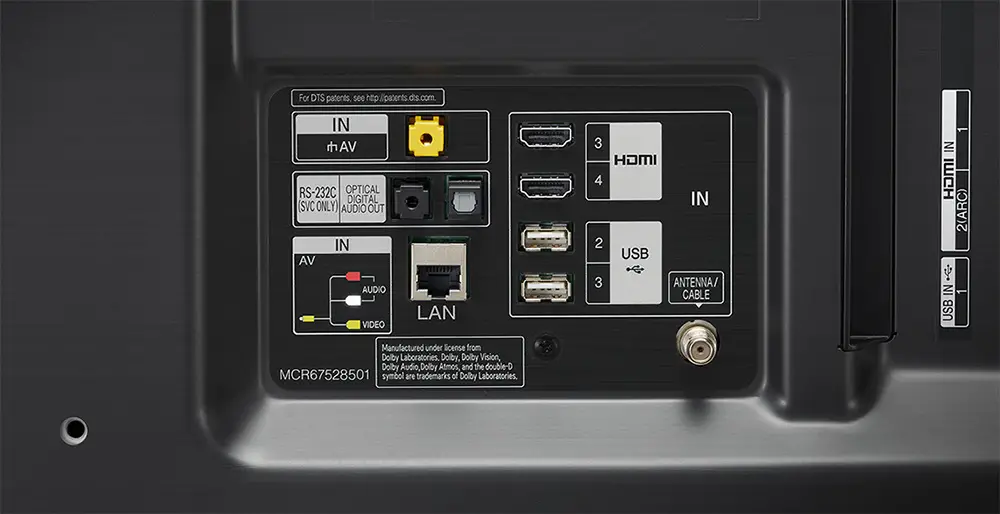 OS, Apps and Features
When it comes to smart TV functionality things are pretty clear concerning 2019 as all of their models from the top OLED series all the way to the bottom 4K UHD models come with the same webOS 4.5 and offer similar smart functions. We had a first experience with webOS 4.5 recently during our LG C9 OLED testing and left us with very good impressions as this year's version took everything that was good from 2018 and made minor improvements to some key elements to give user a better overall experience.
At first glance differences are not so obvious if you have used any of the earlier webOS versions but one of the changes this year is the "AI Preview" which is a second row that appears above the Launcher Bar and it gives you content recommendations depending on what you have watched before which can be very handy if you are looking for specific things.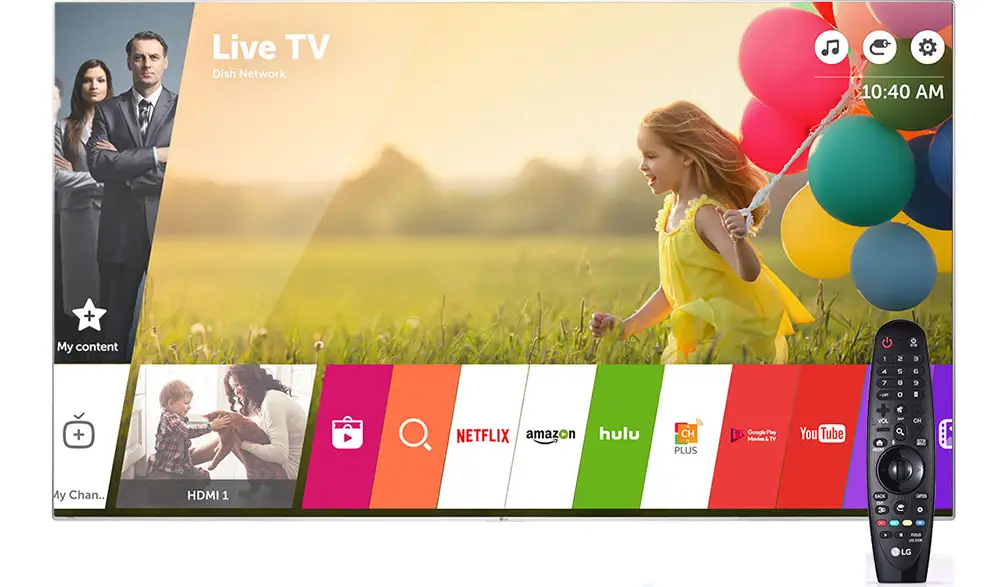 As far as streaming services is concerned there is a huge list available with the most known ones available including Netflix, Amazon Prime Video, Youtube, Now TV, Rakuten, Demand 5, Hulu, Sling TV, Vudu, iTV, BBC iPlayer and Google Play Movies among others. There is so much content and apps available that if you are using many of them it can be a bit difficult to fast navigate between them. For that reason LG has added an Intelligent Edit function that rearranges the app icons according to how often you use each one of them. But other than that you also get plenty of customization freedom in order to rearrange everything the way you like the most.
LG made small changes thing year to webOS but in all honesty we have reached a point that it doesn't need any major overhauling. Visual changes were necessary probably because of the inclusion of the new Launcher Bar while the inclusion of the AI Preview helps a bit with the enormous amount of available services making navigation a bit smoother and easier.
A new feature we find in many of 2019's models is support for WiSA wireless speaker technology which is a new audio standard that lets you connect wireless speakers with built-in amplifiers directly to the TV. But while this is supported here to use it you need to buy a separate dongle in order to work. This is a nice feature and we hope to see more speakers support using this function in the future and hopefully we will be able to try it firsthand at some point.

Controlling the TV can be achieved with various way as has become the norm nowadays. We already talked about the included remote which we consider one of the best smart remotes to day. But if you are more into using your smartphone or mobile device LG has created a Remote App that you can download and control the TV through that. But as we mentioned before the app doesn't offer very thorough control options while you cannot input text in some services like Netflix or Youtube.
Voice control has also become the standard and as such we get support for both Amazon Alexa and Google Assistant. But what we like the most is that you don't need a separate Alexa or Google Assistant device for these to work as both are built-in and you can simply use the Magic Remote's microphone for them to work. Also control is not limited to only the TV's functions as you can issue commands to other smart devices in your home that are connected to your local network.
Lastly we should mention that LG has promised to include more functionality with a future update that will enable Apple's Airplay 2 and Homekit to the SM8600. With Airplay you will be able to stream content from an Apple device to your TV directly or you can create your own multi-room environment if you have other Airplay 2 compatible speakers around your house. Update is given a 2019 release date without LG being more specific but at least it's good to know it is coming.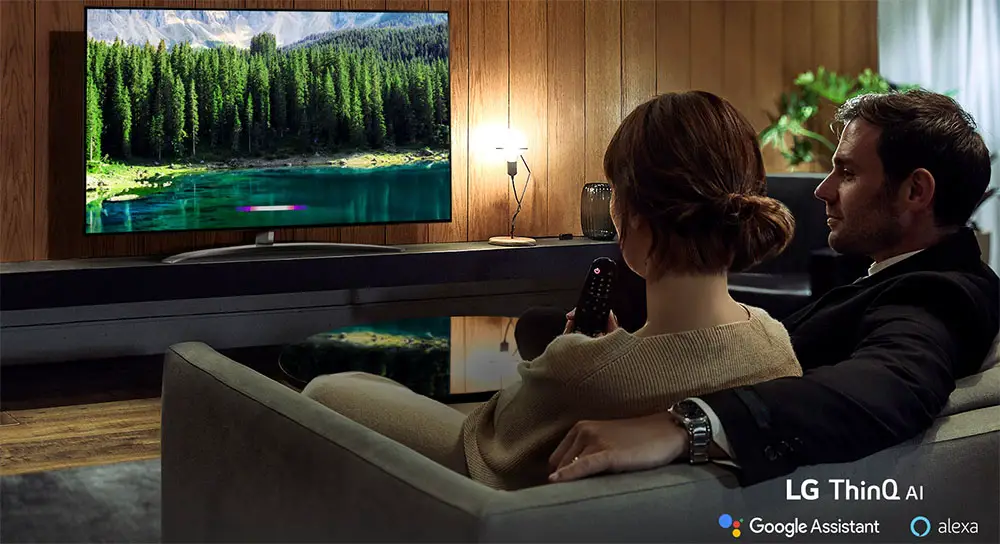 Final Thoughts
The SM8600 has a lot of things that we liked. Being equipped with the a7 Gen-2 processor means excellent upscaling capabilities and improved AI sound. Also the included NanoCell film and Wide Color Gamut offer very good colors reproduction while it's extremely low input lag make this the perfect gaming TV. Having an IPS panel also means very good viewing angles giving you a lot of freedom concerning your viewing position. The TV comes with the full set of smart features and online service with the inclusion of webOS providing enormous capabilities and control over not only your TV but all your smart devices. Lastly the price is low enough to be considered affordable by most and we believe that there is great value with what is offered.
On the other side there are some aspects that left us a bit disappointed. The included Edge LED system offers inferior light control compared to FALD systems while it's Local Dimming functionality is not the best there is. Also brightness is on the low side and while with SDR content this may not be a big problem during viewing HDR content the inability of the TV to show very bright images is obvious. Contrast is also very average with the SM8600 failing to show deep blacks and these usually appear as grey. Lastly this is the first model that drops HDMI 2.1 and while this may not be such a big deal at the moment as there are not much equipment and content to support this it is a feature that would make this TV more future proof.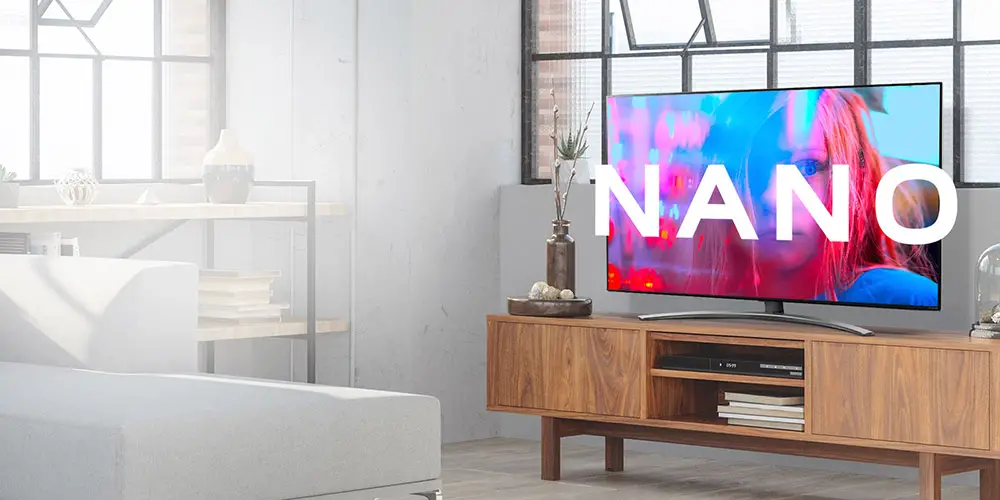 Closing we will say that while the LG SM8600 has some clear weaknesses concerning mostly it's brightness and overall HDR performance if you look at it as a whole and what is on offer in combination with the very good and affordable price makes this model a very good option to consider especially if you are tight on budget or you are not so crazy about getting the best performance possible but at the same time you would like to enjoy some quality time with 4K content.
For more reviews you can check our dedicated 4K LED LCD TV reviews list or even look at our Product Reviews Table where you can find the brand and specific product you are looking for.
Also don't lose the chance to subscribe to our Newsletter and gain exclusive privileges.
---
---
Cheapest Places to Buy :
---