LG SN10YG
Reviewed at $1,100.00
Design -

90%

Movies Performance -

88%

Music Performance -

87%

Inputs and Features -

88%

Price / Quality -

82%
---
Cheapest Places to Buy :
---
Today we will look once more into LG's extensive soundbar lineup in our effort to cover as many of their 2020 releases as possible. It seems there is a growing market out there as LG has not only offered a new lineup year after year but they seem to be extending their portfolio with new models and thus closing the gap between each of their offerings in their try to offer extensive variety that would ensure that all consumers can get exactly what they need. And in our today's LG SN10YG review we will be looking at the number two in their 2020 lineup that comes just behind their monstrous SN11RG.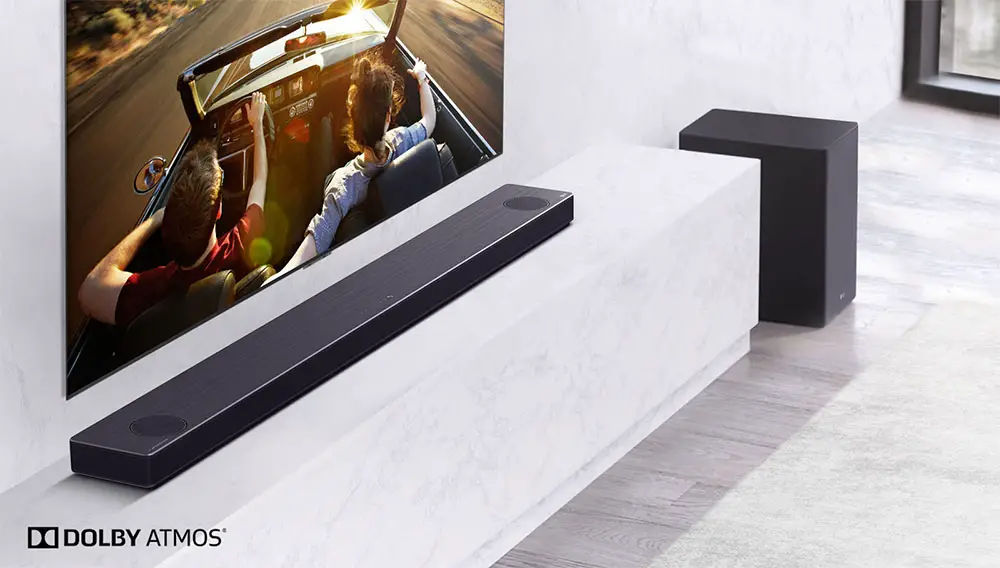 Now one thing that needs to be mentioned is that the SN10YG is not all that different from 2019s SL10YG which was LGs flagship for that year. Basically the two units have much more in common than what you would expect and it seems that LG just took the SL10YG and made some minor adjustments and improvements in order to be more in line with the rest of the models in 2020. And while this soundbar may have lost its flagship status it still remains a heavy hitter both in terms of performance and extra features.
As such the LG SN10YG is basically a 5.1.2 channels soundbar-subwoofer combo unit that supports Dolby Atmos and DTS:X along with High Resolution Audio, 7 different sound modes, USB and Bluetooth streaming, Chromecast and Google Assistant support and the ability to use extra dedicated surround speakers and expand your system to 7.1.2 channels. And while all these sound awfully similar to what we found in the SL10YG, in the SN10YG LG has added AI Room calibration, eARC, upped the Bluetooth to v5.0 and made minor adjustments to its sound output that we will talk about momentarily. With 570 watts of total power and a bigger than usual size the SN10YG is still a beast, make no mistake about it.
And with such power and features comes a hefty price as the SN10YG still manages to break the $1,000 price mark. And if you consider purchasing the extra surround speakers kit then the price goes even higher. Does the unit deserve such a price and how much of a difference is there compared to its predecessor? Let's find out…
Design, Inputs and Features
Exterior
In many ways the SN10YG is a SL10YG which has been slightly improved in order to be more in line with some of the specs we find in the SN11RG along with some of the other releases in 2020. As such our review of the SN10YG will be very similar to these two and especially the SL10YG while we will make specific changes and alterations to our review wherever we deem necessary.
The SN10YG is rated as a 5.1.2 channels soundbar with the main unit having three front firing drivers, two up-firing Atmos drivers and two side firing drivers that are responsible for the surround effects along with a single subwoofer that can help the soundbar on the low frequencies. Keep in mind that while LG rates this as a 5.1.2 channels soundbar in reality there are no surrounds as the two side-firing drivers offer more of an extension at the front rather than over-the-shoulder activity.
The main unit is a big one measuring an impressive 56.8″ x 2.5″ x 5.7″ (1443.0 mm x 63.0 mm x 146.0 mm) and weighting 15.9 lbs (7.2 kg).  But the SN10YG is not a usual soundbar as it's size and power place it among the most powerful units in this category that can be challenged only by its bigger brother, the SN11RG. If you are considering this unit then make sure you have a big enough furniture and TV as anything smaller that 65″ will make the soundbar look slightly out of place. Not that you cannot use it with smaller sized TVs and if it doesn't bother you extending more than your TV then by all means go for it.
Build quality, as with all LG soundbars, was bound to be good. The front and side firing drivers are covered by a full covering perforated metal grille that cannot be removed while the rest of the main body including the top is made out of plastic that has a brushed metal finish giving it a more premium look. The top Atmos drivers are also covered by non removable perforated metal grilles and feature a circular design. The soundbar features straight lines and if you have seen any of LGs top soundbars the last 2-3 years then you know more or less what you will find here.
At the top, placed right in the center, we get the usual built-in buttons that almost all soundbars have but as LG has got us used with most of their premium offerings the SN10YG features touch sensitive ones in a straight line with two small holes above them that feature the build-in microphones for the voice control functionality. Touch sensitive buttons are a nice addition improving overall looks but they can be huge frustration if you try to push the correct one in a dark environment. Also some times touch sensitive buttons fail to register making things even worse.
One thing that we are very critical when it comes to soundbar designs is the use of a front display that shows various functions of the unit. Some soundbars lack a fully working display making it very hard for the user to know what the soundbar is doing. Thankfully the SN10YG comes with a fully working display that LG placed to the right side of the center speaker. This display can show you various information like input source and volume among others.

But LG has not stopped there. Because the unit comes with built-in Google Assistant, beneath the display we get a secondary array of LEDs that are used to display the various functions of the voice controls. This way the main display is not occupied by these and you can have feedback from both the soundbar and Google Assistant at the same time. Great design by LG and one that LG now utilizes in all their top soundbars that feature Google Assistant also.
At the back of the unit we find a specially designed inset with all the ports grouped together placed towards the left side with only the power cable being placed separately on the right side which can be slightly frustrating if you want to group all cables together and keep them hidden from plain sight. As for wall mounting there are special holes located at the bottom of the unit as the special wall brackets gently hold the unit in case you prefer this kind of placement.
If there is one thing that we could say it's missing that would be an IR repeater at the back of the soundbar. Now while this is a very long unit it's profile is relatively low so probably you are not going to have problems with the soundbar obstructing the TV's IR sensor. But when we talk about such an expensive unit and with LG including so many things on this one we would love to see one included at some of their future releases.
Last we should not forget the included subwoofer and it's size is not as big as you would image for such a huge soundbar but it's good enough to fit in most spaces with it's relatively small footprint. The subwoofer seems to be exactly the same as the one we had previously seen in the SL10YG  and SN11RG and measures 8.7″ x 15.4″ x 12.3″ (221.0 mm x 390.0 mm x 312.8 mm) and weights 17.2 lbs (7.8 kg) so we have a pretty good idea how it can deal with bass.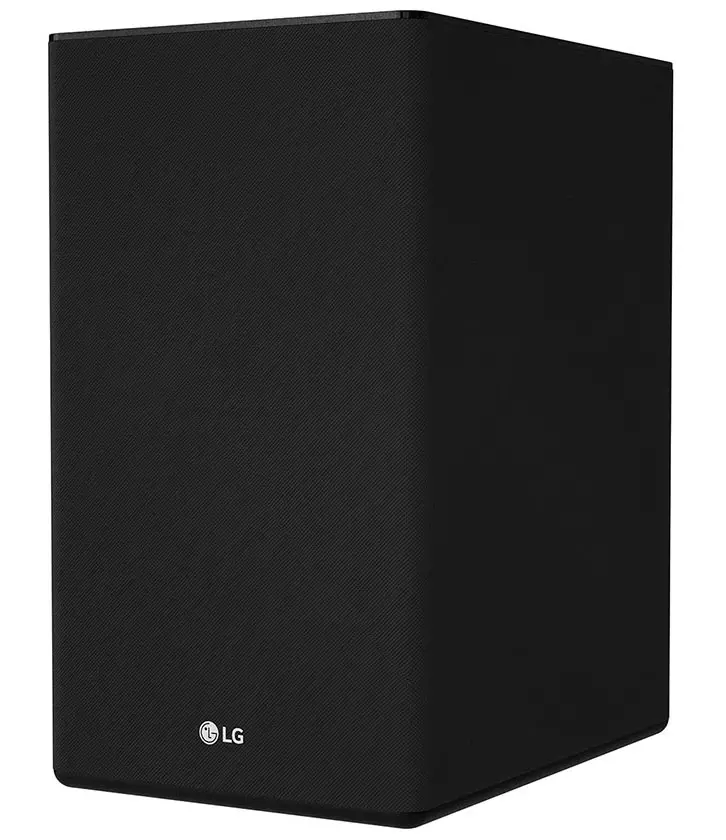 As for it's design nothing is different as it uses a cloth that covers the front and sides of it's cabinet while the LG logo we had seen on the other units seems to be missing here keeping a completely plain front face. At the back we find the power cable, a pair button in case it has lost connection to the main unit and a large bass port.
If you have seen any of LGs top flagships then its like you have seen them all. LG has been using the same designs, quality of materials and overall layout for most of their premium releases and the SN10YG is no different. By looks, the SN10YG is like for like with the 2019 SL10YG so we knew what to expect. There is a certain standard when it comes to build quality these units have and certainly we find the same here.
Internal Hardware
LG is not giving details on the drivers used either in the manual or on their website but since the soundbar is basically an updated SL10YG the SN10YG is reusing the same drivers layout we had seen before.
As such we get a combination of a 40 x 100mm woofer along with a 20mm silk dome tweeter for each of the three front-firing channels for the main bar along with a couple more 40 x 100mm woofers, each used for the side firing channels and two 2.5-inch woofers used for the up-firing Atmos channels. Featuring a low profile meant that it was almost a given that oval woofers would be used in order to maintain a good performance to size ratio.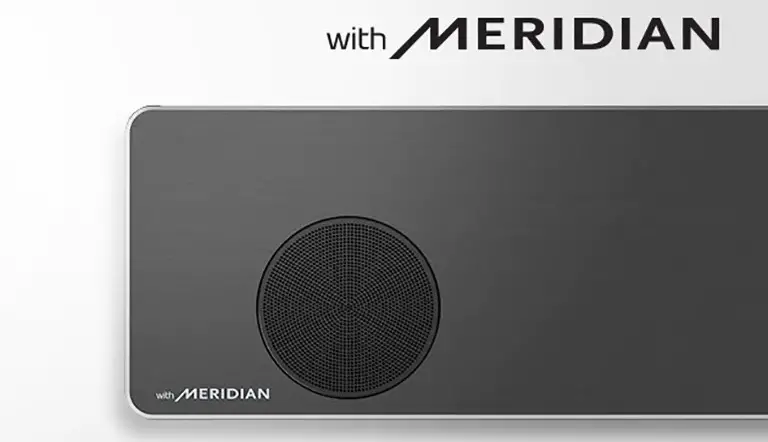 The subwoofer on the other hand comes with the same single 7-inch driver featuring a bigger than usual size for a soundbar making it capable of pushing the lows even further and create quite a shake. The SN10YG is also capable of accepting a couple of optional dedicated wireless surround speakers but these can be bought separately and are not included in the main box so we will talk about them in more detail in the appropriate section below.
The 7 channels of the SN10YG give the soundbar a total rating of 570 watts of RMS power. With 50 watts (4 Ω at 1 kHz, THD 10%) for each channel along with the 220 watts RMS (3 Ω at 80 Hz, THD 10%) of the subwoofer this unit packs quite a punch and can go pretty loud that will certainly satisfy you if you are a power hungry user. It only remains to be seen how all this power translates into real performance.
Connectivity
Continuing on the similarities with its predecessor the SN10YG comes with one of the most port rich layout we have seen in a soundbar. If there is a constant problem we have with even more premium units is that most of them don't have enough HDMI ports to support a lot of devices, in fact most of them feature only one, and you have to resort to other means in order to connect all your equipment. The top LG units seems to fare slightly better in this regard so let's see what we find here.
Keeping all connection ports together is great when it comes to cable management as very often manufacturers tend to split them into two groups. The SN10YG keeps them all together in the left sided inset and only the power cable is separated from the rest. What we get is a couple of HDMI 2.0 inputs along with a HDMI 2.0 output which has been updated this year to offer eARC functionality which is a good one as the SL10YG had only ARC and was a major let down that year. There is also a digital optical input and a single USB port for connecting external storage for streaming audio.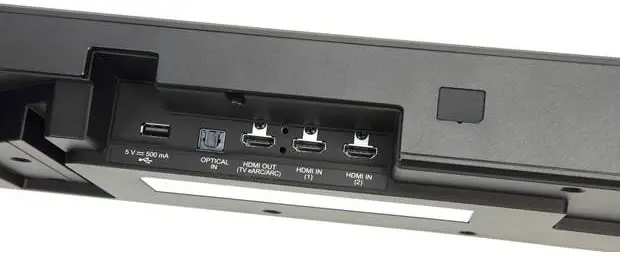 No LG soundbars from 2020 have HDMI 2.1 so the SN10YG could not be any different. With eARC now the unit can support lossless audio pass-through which was not possible before. The USB port is the older 2.0 which is a shame but we haven't seen a soundbar with USB 3.0 yet so no surprises here.
Also we shouldn't forget to mention the unit's wireless capabilities as it features built-in WiFi (802.11a/b/g/n) along with the newer Bluetooth v5.0 which ensures better and more stable connections. Bluetooth 5.0 is another minor upgrade compared to the SL10YG and one that is being utilized in LGs entire series in 2020.
If you take last year's SL10YG as a reference then the SN10YG comes with pretty much the same layout. We would like to have at least one more HDMI input but not many units feature 3 HDMI inputs and with the two available the unit fares better than most of the competition. If you see the wired and wireless capabilities of the unit as a whole then we are more or less satisfied with what is being offered.
Control Options
For all of its top line of soundbars LG is offering similar setups in terms of how you can control these units and so the SN10YG is no different offering the user a wide variety of choices in order to fit all needs.

Its been a long time since LG has changed the remote design and frankly if something is working it doesn't need much change. In fact LG has been using the same remote and only changes the buttons layout depending on the soundbar's functionality. As such the one we get with this unit is made of good quality plastic and have large enough buttons to easily use even in low lit conditions. And since there is no backlight available having big buttons is definitely a plus.
The buttons have the usual rubber feel to them and are pleasant to the touch. At the top left corner we get the power button with two huge buttons below that for volume control on the left and a dual function button on the right for function selection and mute volume. Below there are a trio of circular buttons for sound mode selection, Google Assistant activation and sound tuning. Lastly below there is an array of nine buttons that include playback controls, Night mode, folder selection, information, auto power for enabling the unit automatically when it receives a signal and Repeat functionality.
Although the LG remote is nothing special it gets the job done and it's quality is similar with all the remotes being offered by LG in the past. If only we could get backlight functionality also it would make things so much easier.
As we mentioned earlier in our review there are a few built-in touch sensitive buttons on the main unit that you can use also. These include a power button, a function button for selecting input source, volume controls, playback controls, a mute microphone button in case you don't want it to be activated all the time and a Google Assistant button for issuing your commands. Nothing out of the ordinary here as we find a pretty standard set of buttons. Now if you like to have touch sensitive buttons is a personal preference but while they do look nice they are not practical at all.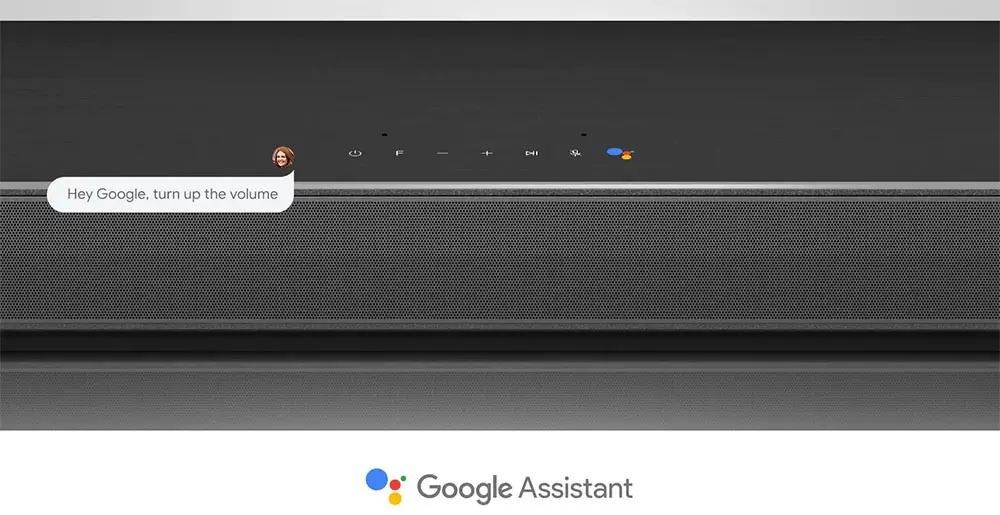 Two more features that most LG soundbars come with are Sound Sync and SIMPLINK which means that if your TV also supports either of these two functions you can use the remote of your TV to control certain functions of the soundbar. This way you lower the number of remotes you need to have in your home cinema and thus makes it a very practical feature.
But as many prefer to use voice control LG got you covered there also. Google Assistant is one of the main advertised features of the SN10YG as it is not only supported but comes built-in with the unit and with the equipped microphone array you can control the main functions of the unit without the remote. Unfortunately there is no Amazon Alexa which is the other major voice control platform and many seem to prefer it than Google's solution. Hopefully in the future LG will offer both of them in their releases but for some reason they prefer Google's solution for the time being.
Last but not least the unit supports mobile device apps for controlling certain functions. The first app is Google Home that you need anyway to make initial setup but can also be used for certain commands. There is also the main app LG suggests for this soundbar which is the LG Wi-Fi Speaker app that is supported for both Android and iOS devices. With Chromecast support you can use any Chromecast enabled app to use the unit also. One last thing to mention here is that LG's "Smart ThinQ" app is not working with this soundbar so you shouldn't try that one.
No real surprises here to be honest. The SN10YG seems to offer the full list of control options from LG and certainly offer you, the user, a lot of flexibility which should be there for such an expensive unit.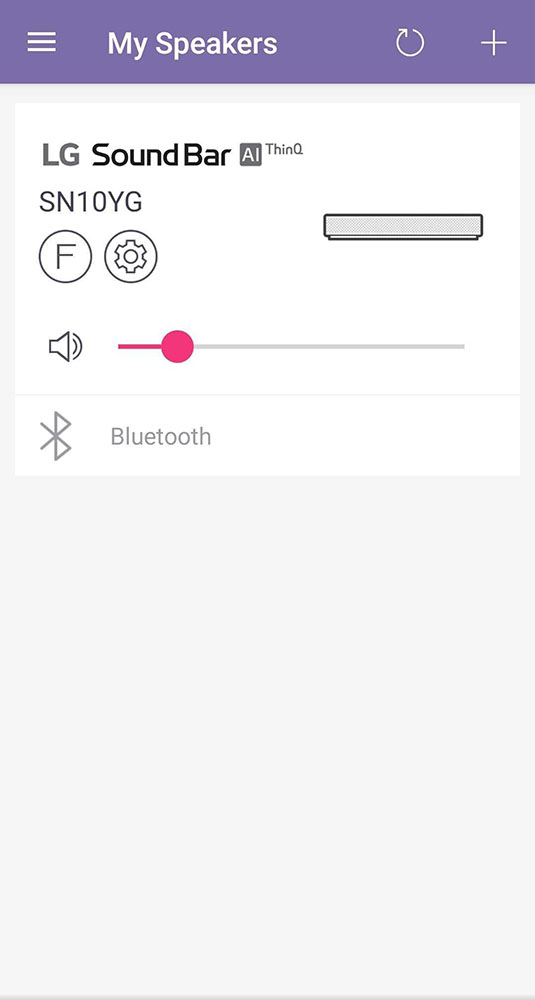 Extra Features and Services
Let's see now what is going on in terms of extra features. If extreme similarities in design and specs is any indication we don't expect to find any major differences here in comparison to either the SL10YG or the SN11RG. But let's discuss each feature separately.
First of all being a Dolby Atmos enabled soundbar means that it supports both Dolby Atmos and DTS:X formats. This means that it can also playback all the older formats including Dolby TrueHD and DTS-HD Master Audio along with the more simple Dolby Digital and DTS formats. There is also support for LPCM audio. Keep in mind that the optical port can support only up to Dolby Digital and DTS so for any of the more advanced formats you will need to use the HDMI ports.
As with all LG soundbars the unit comes with various sound modes available that can be selected with the press of a button. Now keep in mind that when the unit detects either Dolby Atmos or DTS:X signals the soundbar stays locked into that specific mode and you cannot change it. The sound modes available can be selected only when the unit gets legacy 2.0 channels audio or other legacy surround mixes like Dolby Digital or DTS.
In terms of sound modes LG was always very generous and the SN10YG comes with the same list being offered in most of their units. There is a total of five different sound modes with Bass Blast and Bass Blast+ that put more emphasis on the low end, standard which uses Meridian technology to deliver the best possible experience, Movie which gives higher priority to the surround effects for more immersion and Music that is a mode that has been balanced more for music tracks.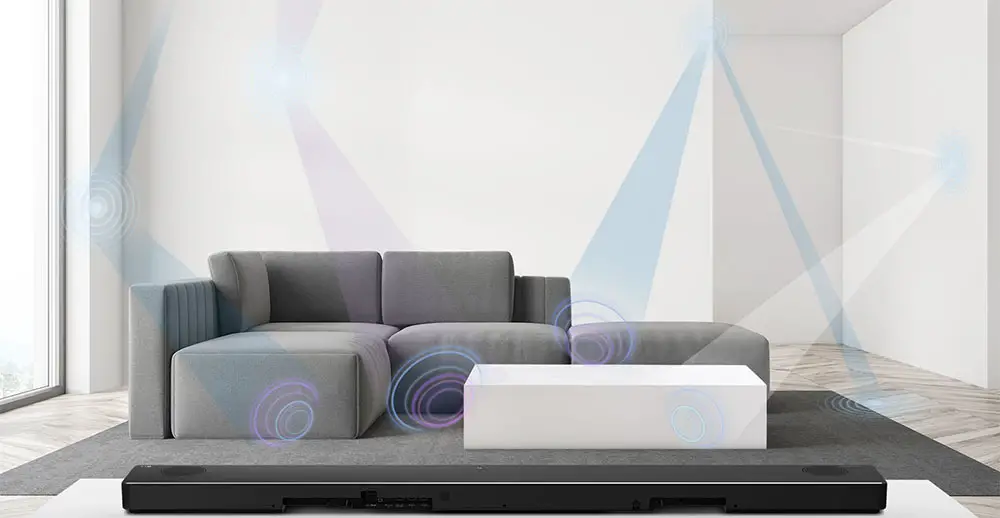 Lastly there is the AI Sound Pro mode which lets the soundbar automatically optimize sound and is for those that don't want to mess with sound options all the time. AI Sound Pro uses Adaptive Sound Control (ASC) to automatically adjust sound levels, bringing out treble or bass based on what you're watching.
Lastly there is a Night Time mode which is basically the Night mode we have seen many soundbars using. It is useful when you want to watch movies at low volume late at night. It can be used to reduce the sound intensity and improve fineness and softness.
LG has, as in the previous years, partnered with Meridian Audio in order to provide their top soundbars they release with their advanced Digital Signal Processing technology. This is used in Standard mode while with it's HiFi DAC the SN10YG also supports High Resolution Audio up to 24bit/192kHz.
So far things seem the same like 2019s SL10YG. One feature that LG seems to have added to their top 2020 releases is AI Room calibration. With this the soundbar uses spatial awareness technology to measure your room's unique characteristics. It then balances the sound bar audio settings to the environment. Basically what this does is to compensate for the environment the soundbar is placed in, by using Algorithms that improve the soundbar's sonic performance.
LG was always offering strong streaming capabilities to their units and as such this one features both USB and Bluetooth streaming. From USB you can stream all kinds of files from low quality MP3, OGG and AAC files all the way to High Resolution Audio files including FLAC and WAV as already mentioned above. As for Bluetooth we are pleased to see that LG decided to use the newer version 5 ensuring the best connections possible. All 2020 models got updated Bluetooth functionality which is certainly a plus.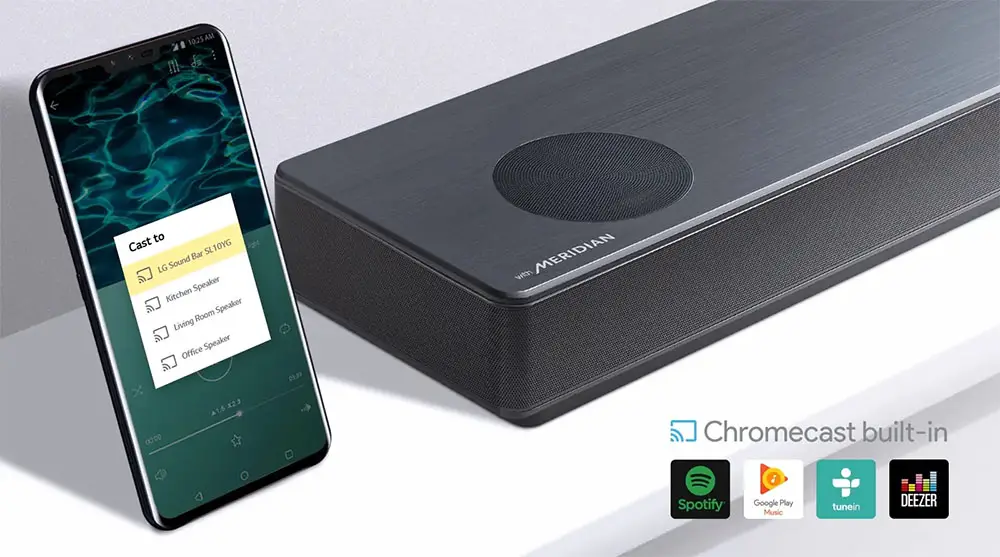 But streaming doesn't stop there as there is also Chromecast built-in and with it you can use various streaming services and platforms by downloading a Chromecast enabled app.
If there is one thing missing that is definitely the dedicated surround speakers that can put you right into the middle of the action. The SN11RG had them in the package but for the SN10YG it seems that LG decided to make them an optional choice which doesn't find us completely against. Yes this will make the cost even higher but at least you have the option to get them if you want or not. But for the best immersion possible the Rear Speaker Kit (model SPK8-S) expansion is a definite must.
The SN10YG is fully packed and offers everything LG has on the table. As it is basically a slightly updated flagship from 2019 we were not expecting anything different so all is good here.
Initial Setup
The SN10YG is very similar with most other top LG soundbars that we had tested before. Therefore initial placement and setup is no different and the steps you have to go through are exactly the same.
After unpacking and placing the soundbar and subwoofer in our testing room we connected everything to a power outlet and both them connected to each other automatically. There is a manual procedure if this doesn't happen for any reason so you can follow the manual instructions to do it yourself. Keep in mind that this unit has drivers looking sideways so we had to pay attention for both sides of the soundbar not to be obstructed in order for the side firing surround drivers to work their best.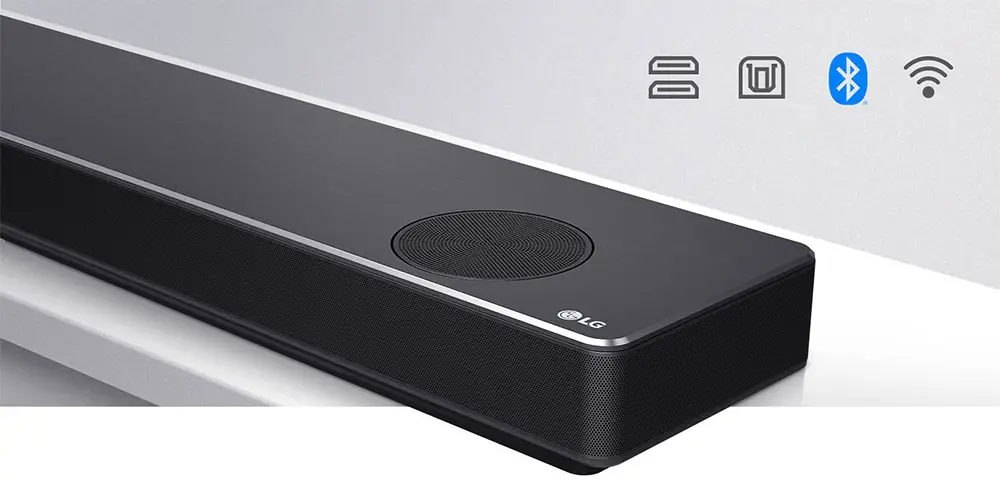 As for connecting our external devices we connected our UHD player to the HDMI input at the back while we used the HDMI output to make the connection to our test TV.
First you need to use the Google Home app in order to make the initial connections required for WiFi and then you need to download the LG Wi-Fi Speaker app in order to be able to do various audio adjustments and use the unit's audio calibration system.
When everything is finished and the unit is calibrated if you are happy with the sound then there are really only two settings you have to fiddle with depending on the content. If you want to use the surround function or not and the sound mode you will be using.
Movies
For our testing we opted to go for something loud so what better material to try out than the 4K UHD version of Pacific Rim with its gargantuan Dolby Atmos mix. Now keep in mind that as with some other Dolby Atmos enabled soundbars from LG when the SN10YG detects a Dolby Atmos signal it locks into its appropriate sound mode and you cannot change that.
Now let's start by analyzing the front first. The combination of its size along with the side firing drivers enable the SN10YG to offer an extremely wide sound wall at the front of us. We have heard many soundbars that push the envelope on that front and the SN10YG is sitting very close to the top in this regard. But things are not only good in terms of sound extension as both depth and height felt very good.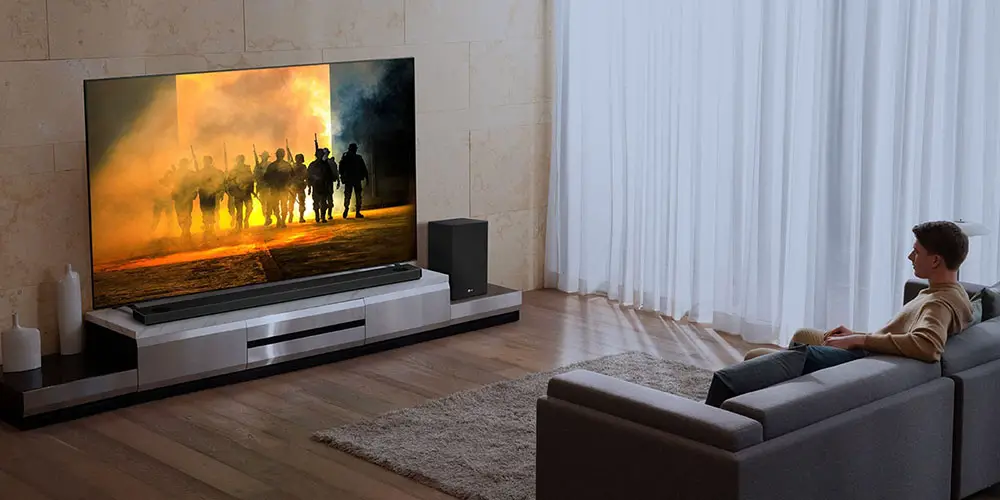 With the soundbar having a dedicated center channel dialogue was able to stay front and center and remain isolated from the rest of the mayhem. Now as the soundbar is Dolby Atmos capable many will be curious how such a soundbar can fare in this regard. The truth is that up-firing Atmos drivers cannot give you the full quality and precision of a dedicated Atmos system with ceiling speakers. Sound at the front indeed feels elevated, much more than what you get on a normal soundbar but it doesn't sound like coming from above.
One thing that should be noted here is that with up-firing drivers the ceiling plays a big role as to how Atmos effects reaches your position. The lower the ceiling the more pronounced these effects will feel. If you have a ceiling that is more than 9 feet (3m) high then you should not have high hopes concerning the quality of the Atmos effects you will get. You will still sense some kind of elevation at the front but it will not be as pronounced as it could be. Also it seems that there is a narrow position where the Atmos effects sound better and this probably has a close connection to the ceiling itself and the angle of the up-firing drivers in the soundbar.
Next thing to talk about is surround activity. Here things were not so good as the unit failed to reproduce any over-the-shoulder action and this was to be expected as there are no real surround speakers to work with. Don't be fooled by the 5.1.2 channels rating that LG is giving this one. To be honest this is a bit misleading as giving it such a rating will make most believe that you get a real surround soundbar which could not be more far from the truth. The extra two channels are basically the side-firing ones and these give mostly extension at the front rather than real surround activity at the back.
And while the unit didn't fare very well with surround performance it managed to turn the tides with its low end prowess. The subwoofer did offer plenty of shakes and managed to portray the weight and size of the Jaegers with accuracy and realism. It's not the chest pumping performance that dedicated subwoofers can offer but for its size and power it will shake your house and make the neighbors complain a lot!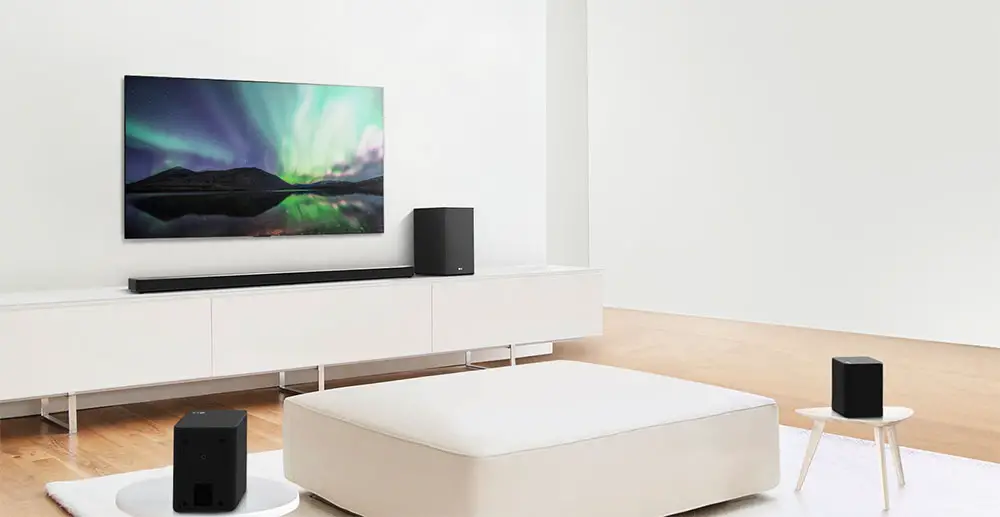 Now looking at the whole picture the SN10YG did manage to give us a very satisfying feeling in terms of how immersive an experience it can create. At the front things couldn't be better with nice panning effects, good separation between the channels, distinct dialogue and nice Atmos elevation for up-firing drivers. If you absolutely want surround activity better get the optional Rear Speaker Kit (model SPK8-S) as without it expect most of the action to be front heavy.
One last thing to mention is that for comparison shake we felt that the SN10YG was not so good when pushing it to the limits as we remembered on the SL10YG. Don't get us wrong, the soundbar can get pretty loud and keep a straight face but pushing it to its limits felt like some distortion was audible, much more than what we remembered in the SL10YG. On the other hand the SN10YG seemed more refined when it came to its channels separation as it sounded slightly better, more precise and more balanced compared to its predecessor. Small difference to be honest but we did feel there was some.
Lastly we need to mention that we tried the various sound modes in order to determine their differences and to our ears the Standard mode felt the best and most balanced of them all. Some of the other ones like the Movie mode added certain processing as they prioritized certain elements like the low end or surround effects and thus make the sound different that what it should be. And since we consider ourselves more sound purists we prefer to get the mix in as much its original state as possible.
But we do get that the other sound modes may be preferred by many users and this is just fine. This is what we like in LG soundbars, as they give you plenty of options and thus appeal in a larger audience.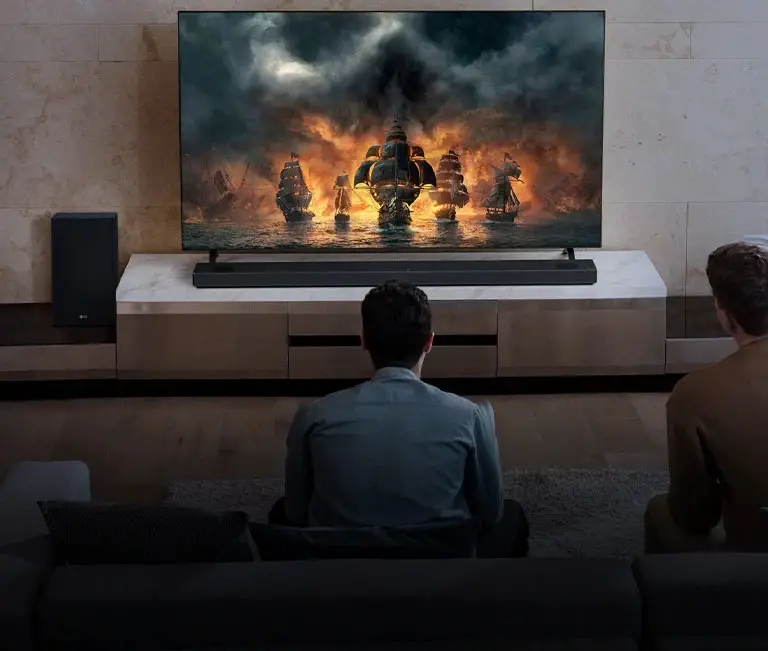 Music
Next in line is our music testing and with the soundbar supporting High Resolution Audio streaming through the USB port we selected a few favorite FLAC music tracks and streamed them through an external storage device in order to get the best quality possible.
Before we give you our full analysis here we need to mention that for this part of our tests we used the Music mode as it felt the most acoustically pleasing. Now as far as the actual music quality the sound output was not all that different from the rest of the top tier LG offerings. The SN10YG took advantage of its multiple drivers in order to render a vast music stage in our room with nice vibrancy and lively tones.
Vocals were pronounced enough and you could sense the full range of the performer's emotions. The subwoofer did a good job providing the necessary bass but we would like the performance to have a bit more life and energy to it.
We will say the same thing as we have mentioned in many of our reviews in regard to these top tier LG soundbars. If you look at their performance as a whole things are not bad at all and certainly for the casual user it will be more than enough. It's just that they do not offer anything more than just good performance. Paying so much money would make you believe that you can get something more for your buck but this is not HiFi material and you shouldn't expect as such.
On its defense the SN10YG feels slightly better balanced compared to its predecessor and if this has to do with any LG refinements or something else we do not know but the difference was for the better in terms of sound imaging, audio resolution and channels separation.
The music performance perfectly supplements the soundbar's ability to render any Dolby Atmos mix faithfully to the best of its abilities. Obviously no one looking for HiFi performance would get a soundbar no matter how expensive it is and the SN10YG knows its limitations even for such a top tier model. If you mostly watch movies but also want your fare share of music enjoyment then this one certainly has you covered.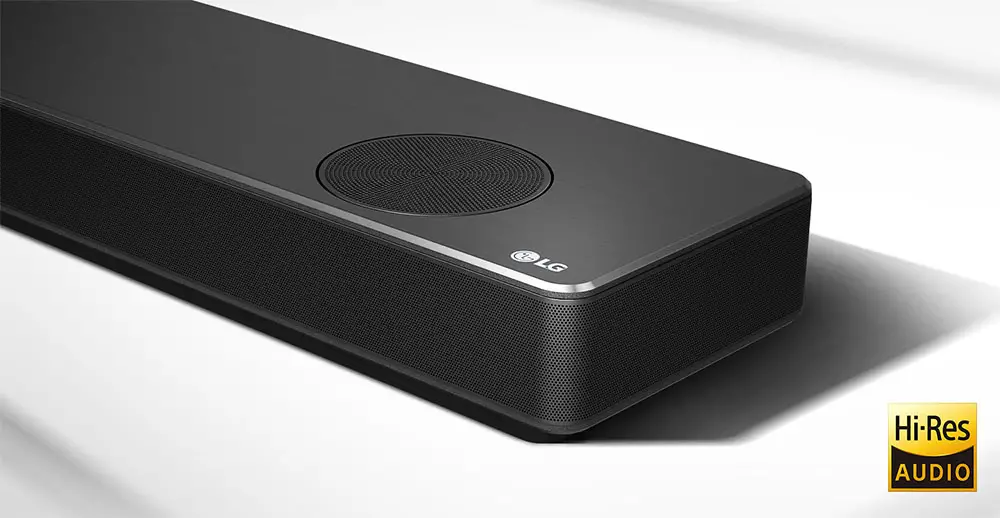 Final Thoughts
LG is pushing the envelope when it comes to soundbars each year. And this is very obvious as they take their entire last year lineup and make adjustments and fine tuning before releasing it for the next. The SN10YG is a prime example of this as this is basically a slightly improved 2019 SL10YG. And while in 2019 this was LGs top flagship in 2020 it had to settle for second place as the monstrous 7.1.4 channels SN11RG took over. But this doesn't mean that the SN10YG has lost its appeal.
Because what we have here is a 570 watts 5.1.2 channels monster that is definitely a cut above the average soundbar you will find on the market. And if you take into account LGs high quality standards, nice design and plenty of extra features including High Resolution Audio, many sound modes to choose from, USB and Bluetooth streaming, Chromecast and Google Assistant built-in, AI Room calibration and the ability to add the optional Rear Speaker Kit (model SPK8-S) then you understand that there is huge value to be found here. Sound quality also seems to have slightly improved with better separation and more refinement between the front channels.
The downsides are more or less the same as in the SL10YG. The price is pretty high for a soundbar system, even for one as advanced as this one. Size plays a big role so this is not meant for extremely small spaces while the Dolby Atmos effects don't have the same impact as having real ceiling speakers. We also would love to see backlight functionality on the remote while having only two HDMI inputs may not be enough for many users. Lastly while performance in the SN10YG felt slightly more refined as we explained above this was at the expense of loosing some stability on higher volume levels.
Another review comes to an end and what we can say about the LG SN10YG is that it remains an excellent top of the line soundbar even if it has lost its flagship status to the SN11RG. Small improvements include the newer Bluetooth v5.0, addition of eARC and the AI Room calibration while sound feels slightly better in normal listening levels making this one a still great choice for everyone looking for a high performing soundbar for their home entertainment.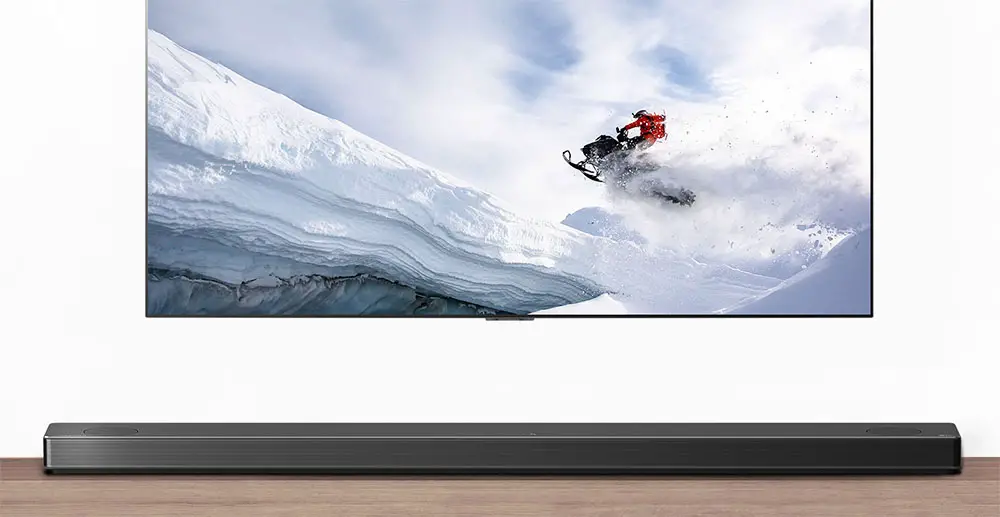 For more reviews you can check our dedicated Soundbar-subwoofer combo reviews list or even look at our Product Reviews Table where you can find the brand and specific product you are looking for.
Also don't lose the chance to subscribe to our Newsletter and gain exclusive privileges.
---
Cheapest Places to Buy :
---