---
Cheapest Places to Buy :
---
With every year we see manufacturers pushing the envelope regarding how much a soundbar can offer and one company that seems to be at the forefront of that is LG as they release year after year new lineups of soundbars that can cover all needs, spaces and budgets. And while soundbars will never be able to replicate the immersion, precision and quality of a full blown audio system manufacturers are trying their best to come close to that. But with Dolby Atmos and DTS:X now in play, to replicate the same kind of immersion with a soundbar has become increasingly difficult. In our LG SN11RG review today we will be looking at LG's flagship soundbar for 2020 that promises to offer a real Dolby Atmos experience with all the advantages a soundbar comes with.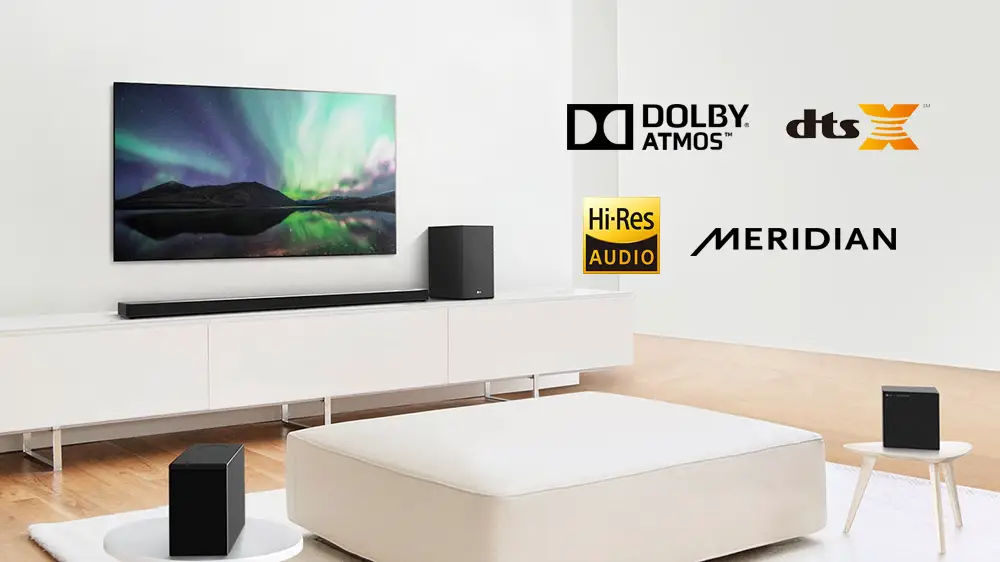 Usually when we talk about a Dolby Atmos soundbar this means that some kind of virtual technology is at play. So when you see the SN11RG being a 7.1.4 Dolby Atmos system you would think that the same is utilized here, right? Wrong, as this soundbar comes with 11 real dedicated channels plus the subwoofer promising to offer you the best immersion a soundbar has offered to this day. But the LG SN11RG doesn't stop there as it comes equipped with a huge array of features and functions to up its usability even more.
Extra features include High Resolution Audio, Google Assistant, built-in Chromecast, Bluetooth and USB streaming, eARC support, custom room audio tuning and smartphone remote app support. All these packed around Meridian's technology that promises the best quality possible making this soundbar one heck of a juggernaut to deal with. But all these fancy features come with a price and the SN11RG is not a cheap one. With a price that surpasses the $1,500 we need to determine if this one has what it takes to offer a similar experience to a similarly priced dedicated audio system. So without further delay let's start our analysis…
Design, Inputs and Features
Exterior
The SN11RG is a flagship soundbar and if you have seen the top tier models LG had offered the last couple of years then you know more or less what to expect as the one we get this year follows the same design principles and use of materials. We cannot say this is the most premium of design we have seen as some other manufacturers have created more luxurious designs but overall it should be considered above average.
First of all let's talk about it's size. We have seen a few other big soundbars before and the SN11RG must be among the biggest. Measuring an amazing 56.8″ x 2.5″ x 5.7″ (1443.0 mm x 63.0 mm x 146.0 mm) and with a weight of 15.9 lbs (7.2 kg) this is a real beast and with such a length it fits nicely only if you have a 55″ TV at least. And with such a size you should not only be careful to fit exactly on your furniture but also keep in mind that you have to keep both left and right sides open for the side surround drivers to work properly.
So from the above you understand that there are certain limitations in order to properly place this one. Usually one of the strengths of soundbars is they ease of placement but with the size and configuration of the SN11RG this is lost. It needs a wide enough furniture and not to be  closed in either sides in order to get the full benefits of surround.
Now when it comes to it's looks the SN11RG is very similar to last year's SL10YG. This means that the whole front and sides are covered by a metal perforated grille hiding all the drivers and the front display while the rest of the main body is made out of plastic with a brushed metal finish to it making it look more premium and good looking.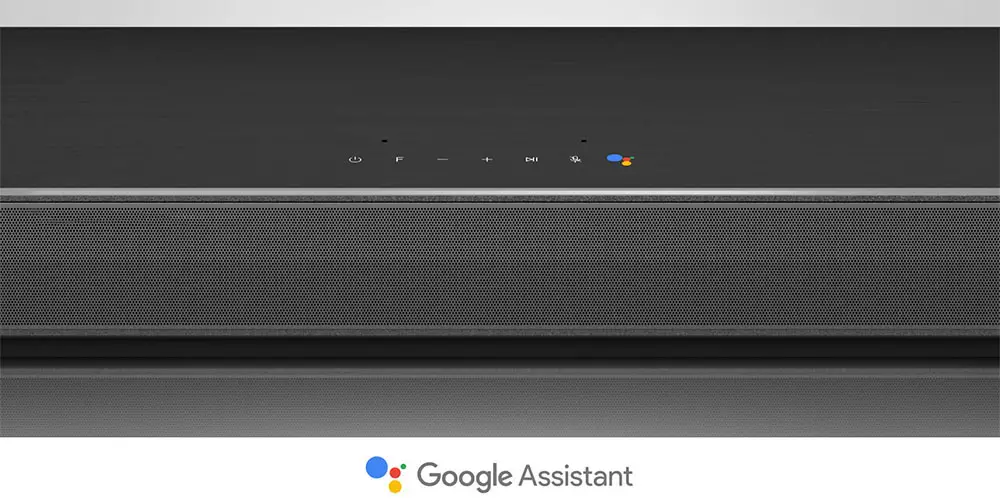 At the top face we get the built-in buttons and once again LG uses touch sensitive ones as they had done in the past. Having touch sensitive buttons is a double edged sword as we have mentioned many times in the past. On the one side they do look much better than physical buttons and make the device look more premium but on the other hand it's extremely difficult to use them in low lit conditions making them almost unusable.
But the buttons is not the only element we get at the top face as we also find the two Dolby Atmos up-firing drivers behind two round metal grilles positioned at each side of the soundbar. The Meridian and LG logos sit at both front corners completing the overall nice looking design.
One thing that we are very critical when it comes to soundbar designs is the use of a front display that shows various functions of the unit. Some soundbars lack a fully working display making it very hard for the user to know what the soundbar is doing. Thankfully the SN11RG comes with a fully working display that LG placed to the right side of the center speaker. This display can show you various information like input source and volume among others.
But LG has not stopped there. As the unit comes with built-in Google Assistant, beneath the display we get a secondary array of LEDs that are used to display the various functions of Google Assistant. This way the main display is not occupied by these and you can have feedback from both the soundbar and Google Assistant at the same time. Great design by LG on this one. We definitely approve what they did.

At the back of the unit we find a specially designed inset with all the ports grouped together placed towards the left side with only the power cable being placed separately on the right side which can be slightly frustrating if you want to group all cables together and keep them hidden from plain sight. The only other thing we find is special holes for placing the wall mounts, and that's it.
If there is one thing that we could say it's missing that would be an IR repeater on the back of the soundbar. Now while this is a very long unit it's profile is relatively low so most probably you are not going to have problems with the soundbar obstructing the TV's IR sensor. But when we talk about such an expensive unit and with LG including so many things on this one it seems like they missed adding this one. Well, maybe we get that next year.
But the soundbar is not the only speaker included. We also get two rear speakers which are wireless, although you cannot call them true wireless ones as they still need power to function so some cables are still involved but at least we don't have to connect them to the main unit as some other soundbars do with their rear speakers. The speakers LG included are relatively big ones measuring 5.1″ x 8.3″ x 7.5″ (130.0 mm x 211.5 mm x 191.2 mm) and with a weight of 11.46 lbs (5.2 kg) for both of them. But since each speaker includes two drivers both for surround and Dolby Atmos sound their size and weight is justified.
Their design follow the same lines as the main soundbar with a metal grille covering the front and top sides that the two drivers are placed while the rest of the speaker is covered by the same brushed metal finish plastic that is used in the main body. Nice rear speakers overall and goes with the rest of the design.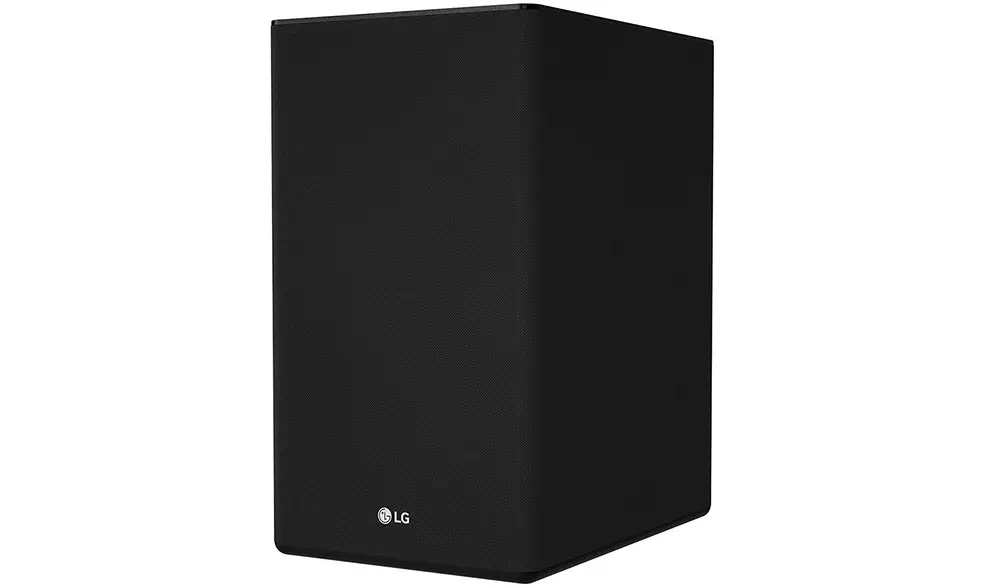 Last we should not forget the included subwoofer and it's size is not as big as you would image with such a huge soundbar but it's good enough to fit in most spaces with it's relatively small footprint. Measuring 8.7″ x 15.4″ x 12.3″ (221.0 mm x 390.0 mm x 312.8 mm) and weighting 17.2 lbs (7.8 kg) we will see how this will do on the low end during our tests.
As for it's design it looks very similar in design to the rear speakers only more enlarged while it uses a cloth that covers the front and sides of it's cabinet. At the back we find the power cable, a pair button in case it has lost connection to the main unit and a large bass port.
It total the SN11RG has both the looks and quality that a flagship model dictates. Design is nice, the touch sensitive buttons make it look more premium even though not more practical, plastics are of good quality while both the rear speakers and subwoofer are well made. We would like to see an IR repeater as this is the only real omission we could find but otherwise this is an excellent soundbar.
Internal Hardware
Now while we have seen many Dolby Atmos soundbars it's not very often to see one that actually has the number of channels it claims in it's marketing material. The SN11RG is a 7.1.4 channels Dolby Atmos enabled soundbar that includes the front right, center and left channels, a side left and a side right firing surround channels, two up-firing Dolby Atmos channels, two rear channels, two rear up-firing Dolby Atmos channels and the subwoofer.
The total power output is rated at 770 watts with the main unit being rated at 350 watts, the rear speakers at 100 watts each and the subwoofer at 220 watts. A lot of power here but we will see how all this translates in our real tests.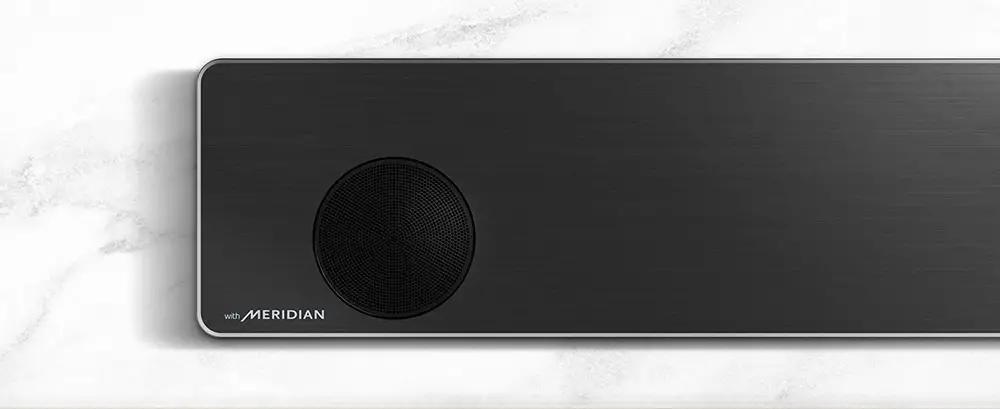 Now while LG doesn't provide details on the drivers themselves the main unit seems to be using a single 40 x 100mm woofer along with a 20 mm silk dome tweeter for each of the three front firing channels, a single 40 x 100mm woofer for each of the side-firing surround channels and a single 64 mm woofer for each of the Dolby Atmos up-firing channels. The combination of all these drivers give us this 350 watts of power.
The rear speakers utilize a single 76 mm woofer for each rear channel along with a single 64mm woofer for each rear Dolby Atmos up-firing channel. The two woofers provide 100 watts of power. Lastly the subwoofer is using a single front firing 180 mm bass driver.
The woofers of the main unit are rated at 4 Ω at 1 kHz, THD 10 % while the rear and rear height speakers have a rating of 3 Ω at 1 kHz, THD 10 %. On the other hand the subwoofer is rated at 3 Ω at 80 Hz, THD 10 %.
Very impressive specs to be honest and while this is not the first time we review a soundbar that utilizes a lot of drivers this is one of the rear cases where each driver is really used for a different channel in order to get the complete 7.1.4 channels experience.
Connectivity
Having such a flagship unit you would expect to get a lot of connectivity options as in this day and age connection requirements have increased exponentially. Most home theaters use a streaming device, media player, disc player and even a gaming console among others so there is an increased need for HDMI ports. But the SN11RG seems to fail slightly in this regard.
What we do get is two HDMI inputs, a single HDMI output, a digital audio optical input and a single USB port for streaming content from an external storage device. And that's all.
Now some observations to do here. First of all the HDMI ports are the older HDMI 2.0 which is a bit odd with many of their TVs supporting the newer HDMI 2.1 from last year already. At least the HDMI output comes with eARC support which means it can pass object oriented sound if needed. The USB port is the older 2.0 which is a shame but not entirely unexpected and the optical port is for those with older equipment and don't need the higher bandwidth of the HDMI ports.

Having only two HDMI inputs can be a problem and in case you have more devices to connect then you will have to use the TV HDMI ports to rectify this otherwise a HDMI switch will be necessary. Although having the number of HDMI ports we see in AV receivers is not possible in a soundbar we would like to have at least another one that would greatly help with more complex home theaters.
The rear speakers and subwoofer have no connections available as both of them connect to the main unit with a wireless connection.
Also we shouldn't forget to mention the unit's wireless capabilities as it features built-in WiFi (802.11a/b/g/n) along with the newer Bluetooth v5.0 which ensures better and more stable connections.
If you take last year's SL10YG as a reference then the SN11RG comes with pretty much the same layout. We would like to have at least one more HDMI input but it seems that LG thinks two are enough. If you see the wired and wireless capabilities of the unit as a whole then we are more or less satisfied with what is being offered.
Control Options
Let's see next what kind of control options the SN11RG offers. Obviously when dealing with a flagship model there should plenty of options available and LG has made sure to include a lot.
First of all we have the included remote which is similar to the remotes LG has been using in the past in many of their soundbars. Basically the design is the same and the only difference is the button layout depending on the functions each soundbar supports. As such the one we get with this unit is made of good quality plastic and have large enough buttons to easily use even in low lit conditions. And since there is no backlight available having big buttons is definitely a plus.
The buttons have the usual rubber feel to them and are pleasant to the touch. At the top left corner we get the power button with two huge buttons below that for volume control on the left and a dual function button on the right for function selection and mute volume. Below there are a trio of circular buttons for sound mode selection, Google Assistant activation and sound tuning. Lastly below there is an array of nine buttons that include playback controls, Night mode, folder selection, information, auto power for enabling the unit automatically when it receives a signal and music mode.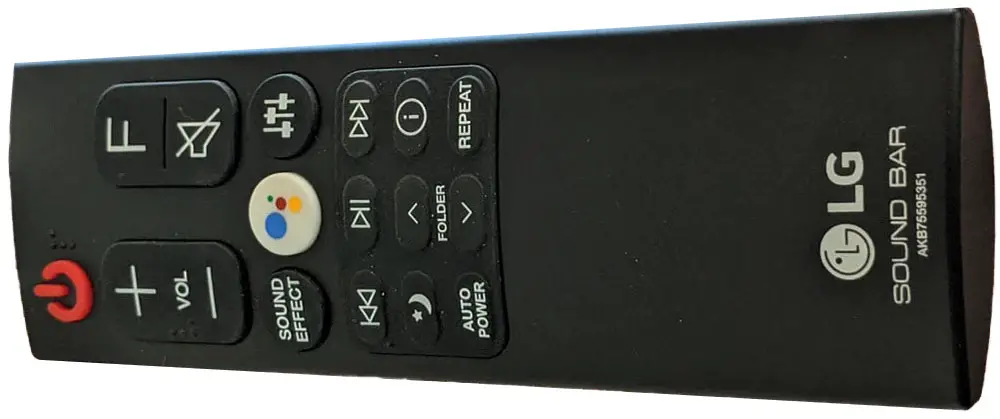 Although the LG remote is nothing special it gets the job done and it's quality is similar with all the remotes being offered by LG in the past.
As we mentioned earlier in our review there are a few built-in touch sensitive buttons on the main unit that you can use also. These include a power button, a function button for selecting input source, volume controls, playback controls, a mute microphone button in case you don't want it to be activated all the time and a Google Assistant button for issuing your commands. Nothing out of the ordinary here as we find a pretty standard set of buttons.
The unit also supports both Sound Sync and SIMPLINK which means that if your TV also supports either of these two functions you can use the remote of your TV to control certain functions of the soundbar. This way you lower the number of remotes you need to have in your home cinema and thus makes it a very practical feature.
Another way of controlling the unit is through your voice. Google Assistant is one of the main advertised features of the SN11RG as it is not only supported but comes built-in with the unit and with the equipped microphone array you can control the main functions of the unit without the remote. Unfortunately there is no Amazon Alexa which is the other major voice control platform and many seem to prefer it than Google's solution.
Last but not least the unit supports mobile device apps for controlling certain functions. The first app is Google Home that you need anyway to make initial setup but can also be used for certain commands. There is also the main app LG suggests for this soundbar which is the LG Wi-Fi Speaker app that is supported for both Android and iOS devices. With Chromecast support you can use any Chromecast enabled app to use the unit also. One last thing to mention here is that LG's "Smart ThinQ" app is not working with this soundbar so you shouldn't try that one.
Soundbars have evolved a lot when it comes to their means of control the last few years and the SN11RG follows this trend. Being a flagship model meant that LG had to include many options for you to choose from and in this regard this unit does not disappoint. So either it be the included remote, voice control or a mobile app you will certainly find the one that you like the most.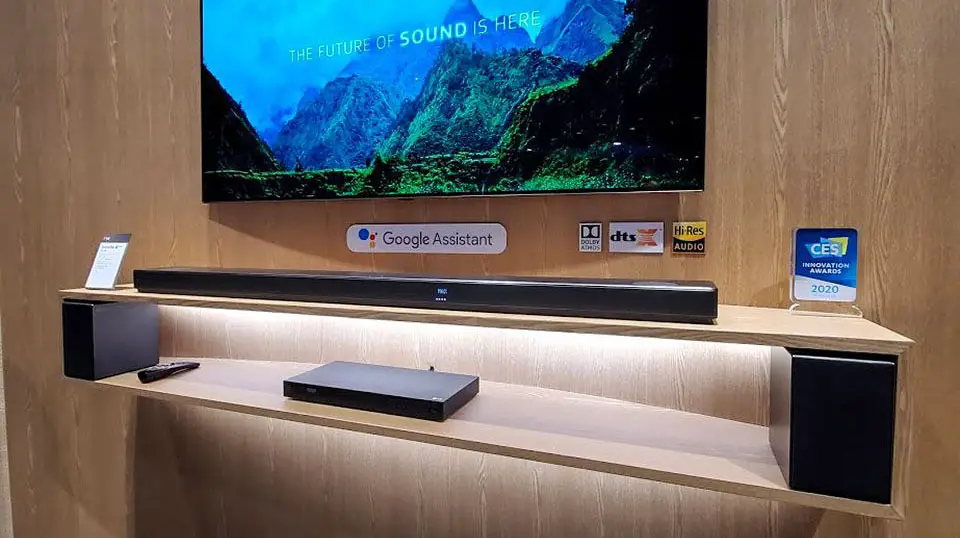 Extra Features and Services
Next we will be talking about all the bells and whistles that LG has included in this one but first of all let's see what kind of audio this one supports and can playback.
The SN11RG being a Dolby Atmos enabled soundbar means that it supports both Dolby Atmos and DTS:X formats. This means that it can also playback all the older formats including Dolby TrueHD and DTS-HD Master Audio along with the more simple Dolby Digital and DTS formats. There is also support for LPCM audio. Keep in mind that the optical port can support only up to Dolby Digital and DTS so for any of the more advanced formats you will need to use the HDMI ports.
As with all LG soundbars the unit comes with various sound modes available that can be selected with the press of a button. Now keep in mind that when the unit detects either Dolby Atmos or DTS:X signals the soundbar stays locked into that specific mode and you cannot change it. The sound modes available can be selected only when the unit gets legacy 2.0 channels audio or other legacy surround mixes like Dolby Digital or DTS.
There is a total of five different sound modes with Bass Blast and Bass Blast+ that reinforce the low end, standard which uses Meridian technology to deliver the best possible experience, Movie which gives higher priority to the surround effects for more immersion and Music that is a mode that has been balanced more for music tracks. Lastly there is the AI Sound Pro which lets the soundbar to automatically decide the optimal sound mode and is for those that don't want to mess with sound options all the time. AI Sound Pro uses Adaptive Sound Control (ASC) to automatically adjust sound levels, bringing out treble or bass based on what you're watching.
Lastly there is a Night Time mode which is basically the Night mode we have seen many soundbars using. It is useful when you want to watch movies at low volume late at night. It can be used to reduce the sound intensity and improve fineness and softness.
LG has, as in the previous years, partnered with Meridian Audio in order to provide their higher tier soundbars they release with their advanced Digital Signal Processing technology. This is used in Standard mode while with it's HiFi DAC the SN11RG also supports High Resolution Audio up to 24bit/192kHz.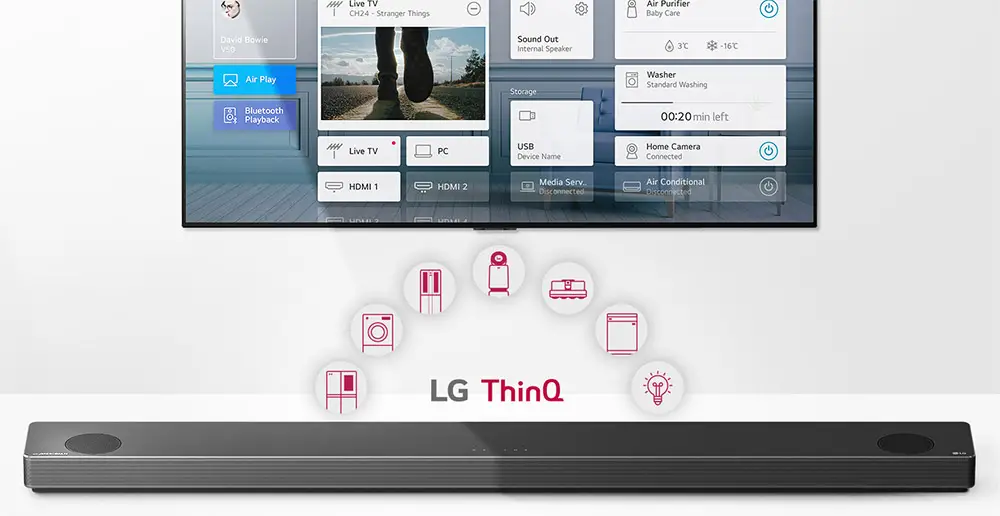 Although most low tier soundbars opt for manual calibrations certain high end models come with some kind of audio calibration system and the SN11RG is no different. With its AI Room Calibration the soundbar uses spatial awareness technology to measure your room's unique characteristics. It then balances the sound bar audio settings to the environment. Basically what this does is to compensate for the environment the Sound Bar is placed, by using Algorithms that improve the Sound Bar's sonic performance.
Any soundbar that want to call itself a flagship needs to have strong streaming capabilities and this unit features both USB and Bluetooth streaming. From USB you can stream all kinds of files from the simple MP3, OGG and AAC all the way to High Resolution Audio files including FLAC and WAV. As for Bluetooth we are pleased to see that LG has included the latest version 5 in this unit ensuring the best connections possible.
But streaming doesn't stop there as there is also Chromecast built-in and with it you can use various streaming services and platform by downloading a Chromecast enabled app.
The SN11RG brings forth the whole package really. It supports the most used audio formats, it has High Resolution Audio support, strong streaming capabilities, comes with an audio calibration system, it has all the sound modes you will ever need in order to find the one that suits your needs and also has Chromecast. You will be hard to find anything missing.
Initial Setup
Placement and initial setup is relatively easy and to be honest it takes just a few moments more than what other soundbars need as you will need to place the wireless speakers also and make the necessary calibrations. Otherwise the SN11RG is very similar with most other LG soundbars that we had tested before.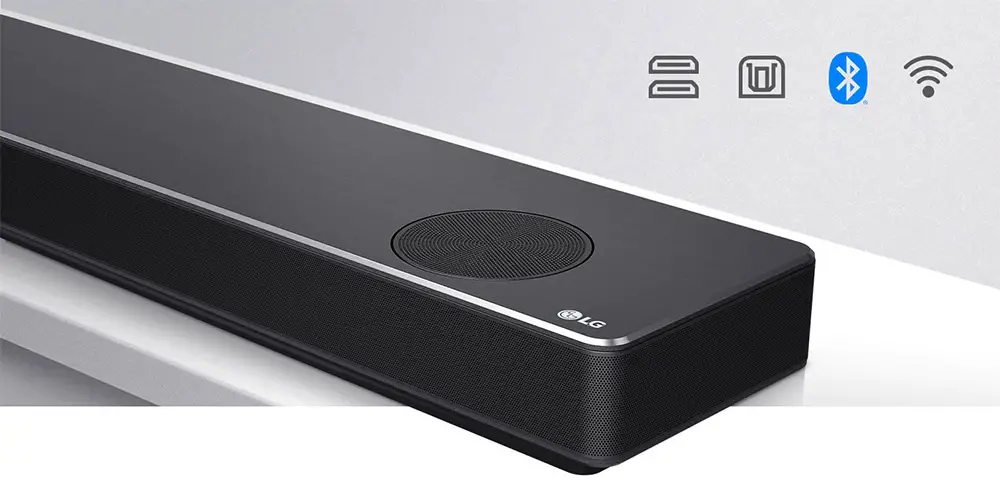 After unpacking and placing the soundbar, subwoofer and surround speakers in our testing room we connected everything to a power outlet and both the subwoofer and the rear speakers connected to the main soundbar automatically. There is a manual procedure if these don't connect so you can follow the manual instructions if this happens to you. We paid attention to both sides of the soundbar not to be obstructed in order for the side firing surround drivers to work their best and we connected our UHD player to the HDMI input at the back while we used the HDMI output to make the connection to our test TV.
Firstly we used the Google Home app in order to make the initial connections required for WiFi and then we downloaded the LG Wi-Fi Speaker app in order to be able to do various audio adjustments and use the unit's audio calibration system in order to adjust it's settings to our test room.
When everything is finished and the unit is calibrated if you are happy with the sound then there are really only two settings you have to fiddle with depending on the content. If you want to use the surround function or not and the sound mode you will be using.
For our testings we turned the surround function on and tried both the AI Sound Pro mode and Movie modes for our movies testing as we believe are the best for this type of content while we tried the AI Sound Pro and Music modes for our music testing. So let's move on and see what LG's flagship can really do.
Movies
For our first movie testing we wanted to try something loud but also good on surround and Atmos effects so we decided to try out Bumblebee on 4K UHD format that comes with an explosive Dolby Atmos track. Now keep in mind that when the soundbar detects a Dolby Atmos signal it locks into this mode so you don't actually have any control over this.
Now the film, being a true Transformers film, has all the ingredients we need in order to determine how the SN11RG can do overall. First of all let's talk about the front. The soundbar does a really good job at rendering the front soundstage and expanding the sound wall in front of us in all axis. With it's side-firing and up-firing drivers you get a greater sense of height, side extension and depth. The side firing drivers make sure to push the action to the sides far beyond the physical limits of the unit itself and while the effect may not be completely precise or very distinct we could sense the extra activity.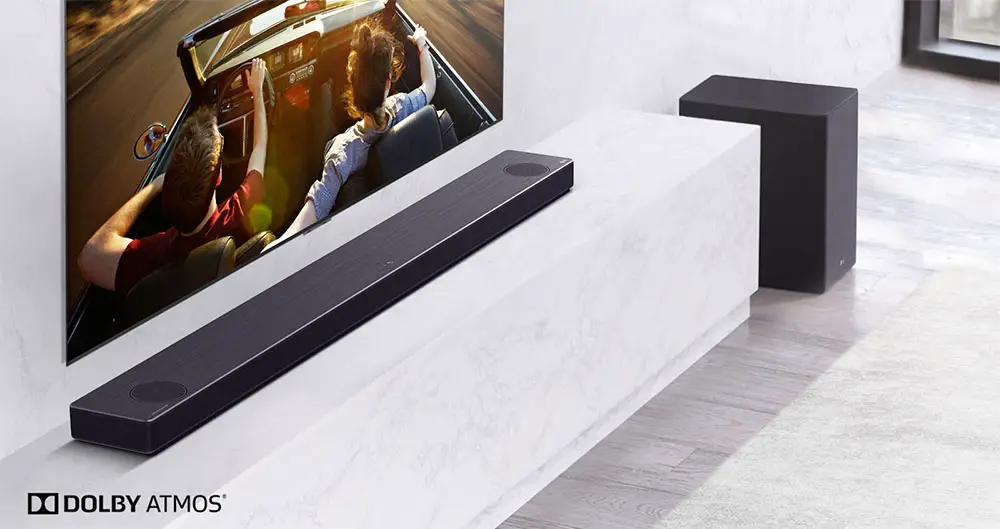 When it comes to surrounds we have always said that if you want to have true surround activity in a soundbar you really need one with dedicated rear speakers. As good as these virtual technologies have become they are no much for real speakers and they depend very much on your room configuration and acoustics. LG seems to have taken note and they have included rear speakers in this one and the result speak for itself. The soundstage behind us became alive with projectiles flying over, laser fire passing over our heads and jet planes traveling across our room with good precision and no audible delay.
Now another thing we need to talk about is the Dolby Atmos effects. The soundbar has four up-firing drivers for the Dolby Atmos effects, two at the front and two at the rear. With up-firing drivers keep in mind that you don't get a true Atmos effect as the sound bounces on the ceiling and comes down to you so you mostly feel effects with higher elevation than usual but not as high as having true ceiling speakers. As such the SN11RG manages to give certain elevation to Atmos effects both at the front and at the rear which greatly ups the immersion.
But the effect is not entirely precise or clear but this was to be expected with up-firing speakers so this is not a problem of the soundbar but actually of the implementation of the Atmos technology used. If you have a ceiling that is more than 10 feet ( about 3 meters) high then don't expect to get any meaningful Atmos effects from this one as the height of your ceiling plays a big role into all this. The lower the ceiling the more strong the effects will be.
Lastly we should mention about the bass. The included subwoofer gave a respectable performance but to be honest when you get such a flagship model that comes so fully packed with features you would expect something more punchier from it's low end performance. While the sub will give you plenty of shakes during blast fire and explosions it lacked this extra something that would make the low end really come to life. Just when you expect it to hit third gear it's like it is left without fuel. Overall we wouldn't call it bad but it's neither the low end experience you would expect from such a premium unit.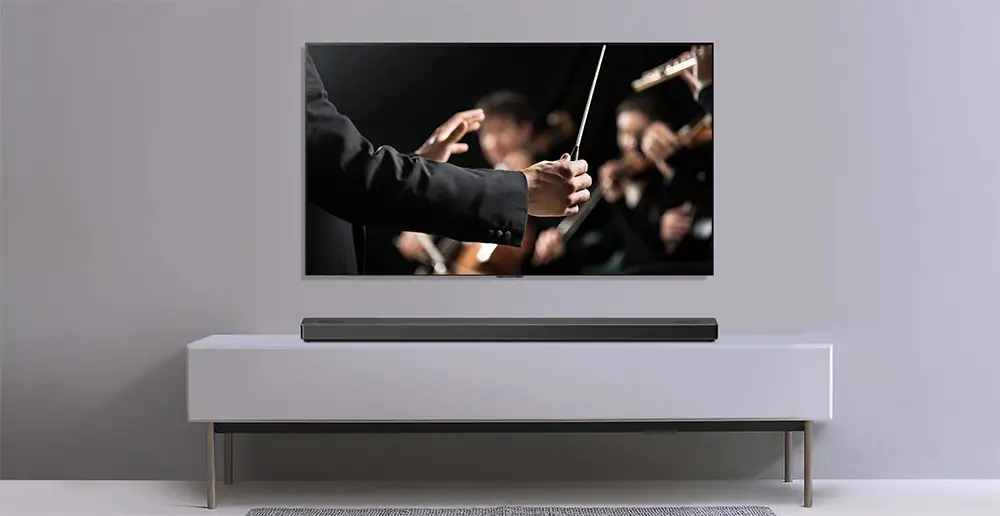 One thing that we would like to mention is that while the unit's channel performance was good with great expansive front soundstage, alive surround activity and enhanced overhead action the SN11RG seemed to lack a bit in clarity and definition. For the causal ear there is nothing bad with it and most probably a vast majority of people will be satisfied with how the sound comes from it but to be honest we were expecting to hear slightly more resolution and clarity from such an expensive unit which sadly we didn't get.
For our second film we chose The Lord of the Rings: The Fellowship of the ring just for the fact that it comes with a DTS-HD Master Audio track and this gave us the opportunity to try out the different sound modes that are available. From all the sound modes we concentrated mostly on two. The AI Sound Pro mode and Movie mode. First we went ahead with the Movie mode and the soundbar did manage to give us a very satisfying experience.
It seems that the Movie mode do give a slight priority to the surrounds and it can be an excellent choice if you watch films with lots of action and panning effects. On the other hand the AI Sound Pro mode felt like it was doing a good job at processing the sound and prioritizing the necessary channels according to what was on screen. The AI Sound Pro mode doesn't give priority to specific channels all the time and it was really distributing the sound according to what each scene was asking. In general we were very satisfied with this mode although there were a few moments were audio felt over-processed and artificial.
When our heroes were traveling through the mines of Moria we got an amazing feeling of size and depth really making you feel the grand size of the mines. Sounds echoed through the vast halls, whispers would punch through the silence and ambiance activity really created an eerie atmosphere. Pretty good for just a soundbar we would say.
Once again we got the same properties from the SN11RG as we saw in our previous test. When it comes to channels performance and separation everything was pretty good with good depth, nice activity and good channel shifting. Overall resolution and clarity was lacking a bit while the low end didn't have the overall punch we would like. It will get you through the scene with respectable results but it will not be the memorable experience you might be waiting to get.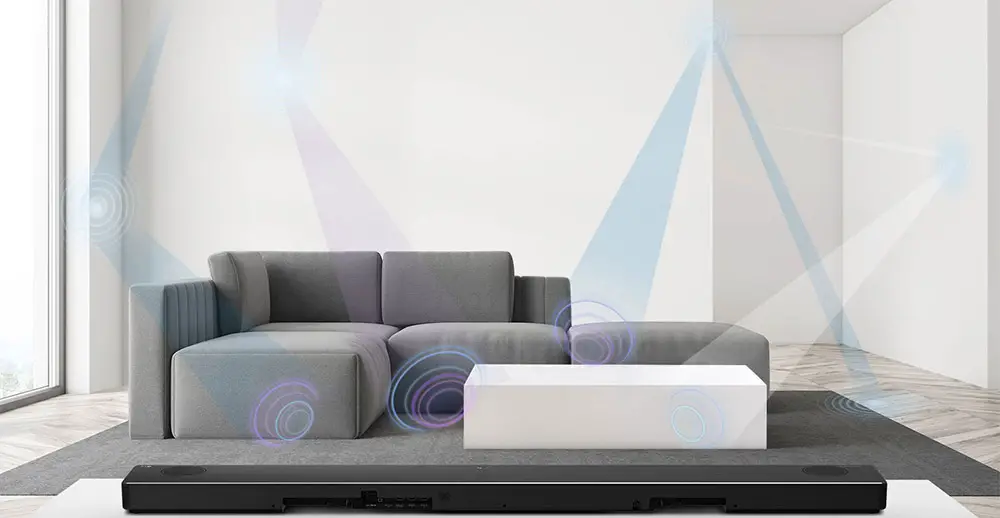 Music
Next in line is our music testing and with the soundbar supporting High Resolution Audio streaming through the USB port we selected a few favorite FLAC music tracks and streamed them through an external storage device in order to get the best quality possible.
Now for this test we believe that the Music mode can give you the best acoustic result so this is the one we used the most. The soundbar did a fine job at rendering all sound sources and gave us a very pleasant tone to all the music we tried out. We liked how the unit used all it's speakers to expand the front soundstage although the stereo panning effects were not as precise as when having dedicated front speakers.
Also vocals seemed to slightly drown under the rest of the performance when things became more complex with many sources at play. The low end although can be described as adequate it never managed to really caption the magic of each track as it lacked this extra oomph that would bring the low end to life.
Overall resolution and tonal clarity was good but once again this is the problem in general with this soundbar. Everything sounds good, even very good at some moments but never exceptional. It's like having the perfect meal only to be disappointed by an average dessert which only leaves you asking for more.
Sound imaging was good but not perfect and while there was good separation and distinction of all the sound sources in space sometimes things were getting lost in the mix.
Reading the above may make you think that the soundbar disappointed us with it's music performance but this is not true. It's just that we were expected a bit more from it and while this is not audiophile equipment when you give so much money even for a soundbar you always ask for more. In the end the kind of performance you will get certainly exceeds those with casual needs but can never even come close to those that ask for a real HiFi music experience.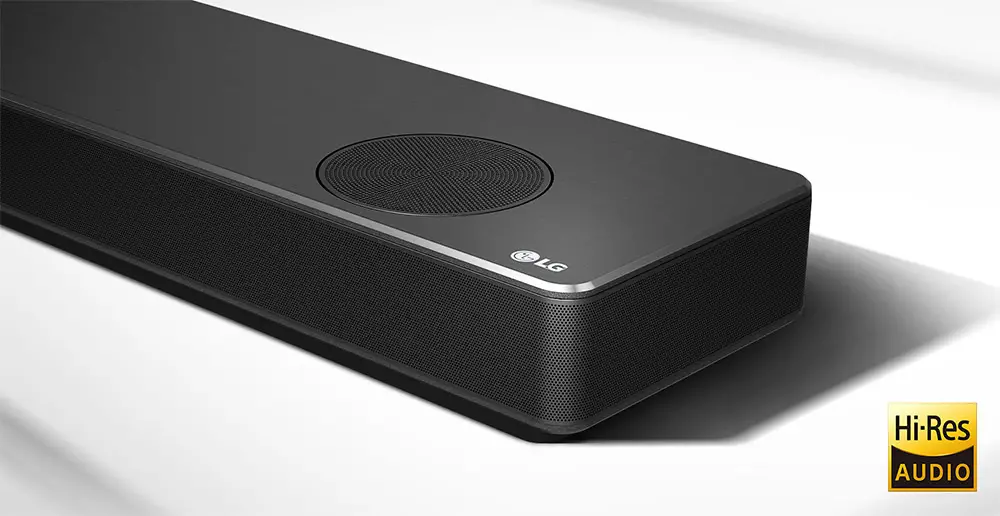 Final Thoughts
The SN11RG feels like the culmination of all the years LG has accumulated as a soundbar manufacturer. This year they tried really hard to push once again the boundaries of what is possible with a soundbar combo and while this can be characterized as a small step forward in no means it can replicate the experience you can get with a dedicated Dolby Atmos audio system that uses separate speakers.
The SN11RG is not a cheap soundbar, not by far. With the same amount of money you can make a decent audio system but this is where this unit excels. Dedicated audio systems ask for a lot of your time. Connections, speakers placement, calibrations etc etc. A soundbar gives you the luxury of simplicity and LG follows this with all their models.
The SN11RG is very easy to setup and to use and will take you literally minutes before being ready. Also while a big soundbar it still needs less space than a full dedicated system which is also a big plus for those that don't have a lot of space. And while the soundbar does include a subwoofer and rear speakers their wireless connection ensures easy placement and fast calibration. If you add to all this the enormous streaming capabilities of the unit, support for the latest Dolby Atmos and DTS:X, its built-in Chromecast and Google Assistant support along with High Resolution Audio and many more minor functions and features you get the full cinematic experience in a small factor.
What about the downsides? Well obviously the price is on the high side even for a flagship soundbar while it's huge size and side firing drivers dictate for a big furniture with free sides if you want to get the best out of it. The Dolby Atmos effects are there but not as distinct as we would like and you need to have a relatively small space with low ceiling for them to work while bass performance lacked slightly in soul and overall impact. Lastly for such an expensive unit we would expect to get slightly more connectivity options as the two HDMI inputs may not cut it in today's world.
LG knows their audience and this soundbar is designed for a very specific group in mind. If you want to get the Dolby Atmos experience but don't have the space for a full system or want to have the simplicity and ease of use of a soundbar then the LG SN11RG is definitely the one to look at. It may not be as good as a true Dolby Atmos system but the gap has become smaller than ever before.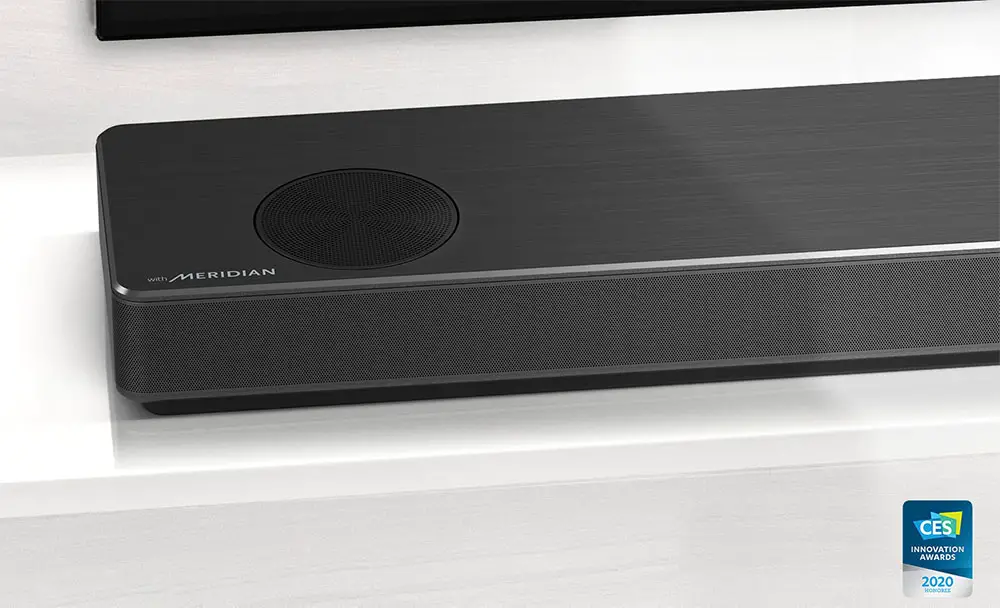 For more reviews you can check our dedicated Full Surround Soundbar reviews list or even look at our Product Reviews Table where you can find the brand and specific product you are looking for.
Also don't lose the chance to subscribe to our Newsletter and gain exclusive privileges.
---
Cheapest Places to Buy :
---