LG SN5Y
Movies Performance
8.5/10
Inputs and Features
8.8/10
Pros
Good sound output
Plug-and-play design
Optional wireless surround speakers
Low price
Cons
No real surround activity
DTS Virtual: X is a hit or miss
Mid-range is slightly lacking
No backlit remote
---
Cheapest Places to Buy :
---
If there is one company that surely puts a lot of effort year after year in order to provide an extensive lineup of soundbars this is no other than LG. And for 2020 there seems to be no stopping as they have released no less than seven new units that belong to the new SN lineup in addition to a few different variations and models that shows how much attention they put in the soundbar market the last few years. In our LG SN5Y review today we will take a look at the most budget friendly unit that belongs in the SN series and is designed for those that seek a nice audio upgrade over their TV but without the need to spend big bucks.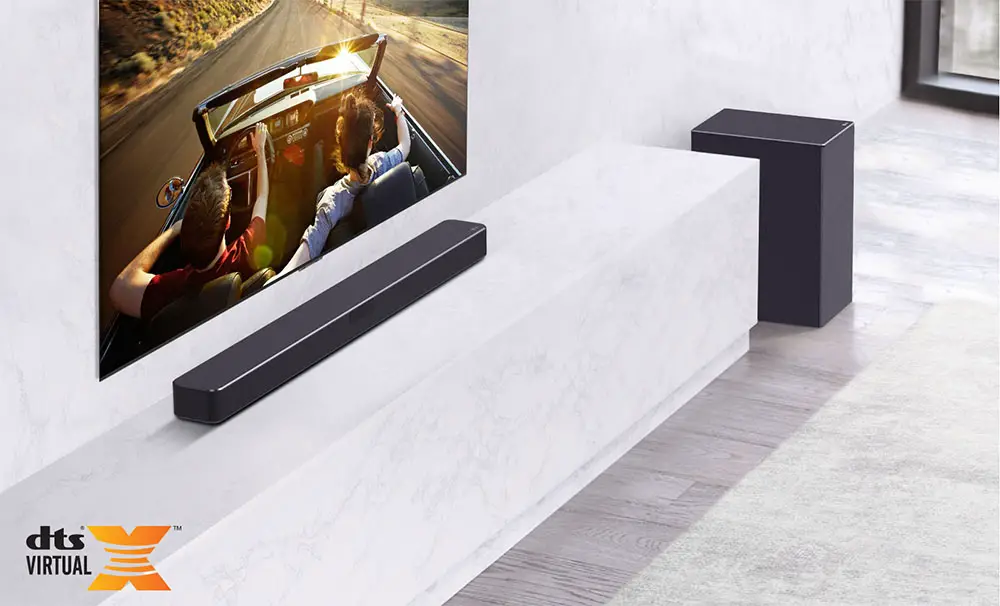 The LG SN5Y is supposedly the successor of last year's SL5Y which we had previously reviewed and to be honest upon first look of the specs the two units have awfully lot in common and this was to be expected as we were not hoping much of an upgrade for such a low budget yearly release unit. We mention this because in the higher tier models we have seen slight changes in specs compared to last year so we were curious if there is any change in this one for 2020.
But everything checks the same as the SN5Y is basically a 2.1 channels soundbar-subwoofer combo with support for Dolby Digital and DTS while it also supports DTS Virtual: X for a more fulfilling surround experience. The unit comes with basic playback and streaming capabilities as there is both USB and Bluetooth available, it supports High Resolution Audio which is a plus for such a cheap model, it has plenty of sound modes and settings for you to choose from while it also supports LGs SPK8-S Rear Speaker Kit in case you want to create a real surround system.
The SN5Y is not deviating much from the core principles LG has set for these low cost units. Ease of use, not very complex settings and setup, good quality for the price asked and an overall friendly user experience as this unit is targeting more of a casual market than a hardcore audience. So let's see if it's performance remains the same as last year or if LG managed to make any meaningful upgrades in this one. Keep in mind that since the SN5Y is extremely identical to the SL5Y some parts of our review will be the same and we will making appropriate changes whenever we find some differences or if there is something worthy of mention.
Design, Inputs and Features
Exterior
Looking at the main unit it seems that LG has made some minor changes to the overall looks even if it is not such a dramatic change. Size and overall dimensions remain the same and this was to be expected and so the main bar is measuring just 35.04″ x 2.2″ x 3.4″ (891 x 58 x 85 mm) and with a weight of just 5.2 lbs (2.35 Kg) making it very easy to handle.
Now as far as its design is concerned the SN5Y has exactly what you would expect from a soundbar that hovers just below the $200 price point. Overall design is nice, as with all LG soundbars, by featuring curvy corners and straight lines. Plastic is obviously the main material being used while the front side is entirely covered by a metallic perforated grille that slightly wraps around the corners. This grille seems to be slightly different from the one used in the SL5Y and while the change is purely aesthetic we prefer how the SN5Y looks now in comparison.
On the right side we find exactly the same layout of buttons with a power on/off, volume control and an F button that can be used for various functions depending how many times you press it like input selection, Bluetooth and USB. Naturally these are physical buttons but LG has placed them behind what seems to be like a rubber membrane in order to keep them as hidden as possible.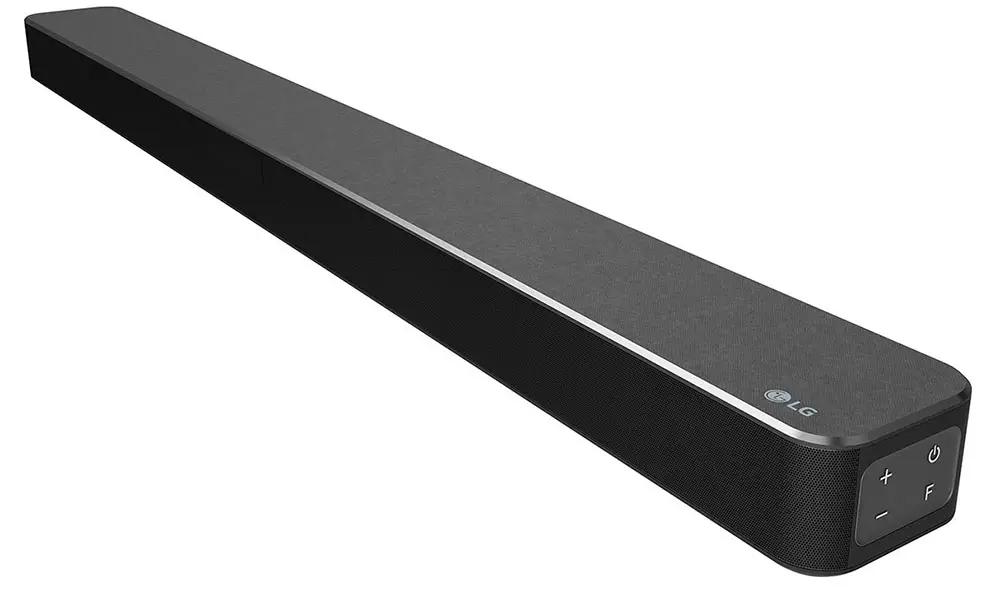 Usually when we review a lot of these low cost soundbars one thing we keep missing is a front display as some of them in order to reduce the cost use either simple LED lights or no visual display at all. Fortunately the SN5Y did come with a full LED display that is exactly the same from last year and is positioned at the center of the front face and provide you with various information like input selection and volume among others. We also liked the fact that if there is no key press for 15 seconds the display will be darkened automatically so it will not be distracting when watching TV. Having a LED display certainly puts it in front of many other competing soundbars that don't have one and improves ease of use in a major way.
Turning around the unit and looking at its back we see that the SN5Y retains exactly the same design and layout as its predecessor. Although we will talk about the available ports in our dedicated section there is one thing we would like to mention. That the power connector is placed away from the rest of the connectors which can be very inconvenient when you try to keep all those cables together. Having them placed close to each other would make things easier as they are right now, with the exception of the digital port, it needs a bit of effort to hide them being away from each other.
Also we need to mention that the SN5Y features a low profile making placement under a TV as easy as it gets. Bigger soundbars need to rely on IR repeaters in order to pass signals to the TV's IR sensors. This is not the case here as the soundbar is low enough to let the sensors of most TVs unobstructed. But just to make sure we always recommend to measure your TVs IR sensor height to be on the safe side.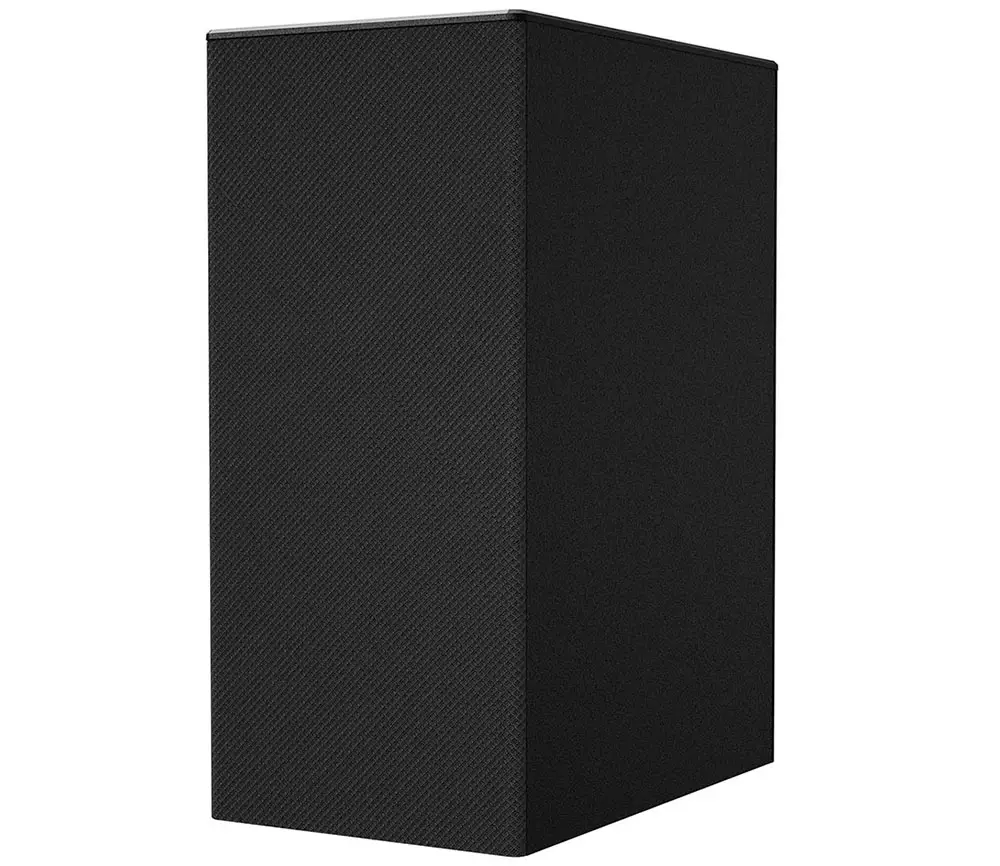 Wall brackets are also included in the package in case you plan on putting it on a wall. The procedure is pretty simple with the included wall guide while the brackets keep the soundbar from the bottom and it can be placed only in the same position as you would place it if on a furniture. This means that it may extrude slightly more from the wall but it's not much to be bothering or anything.
For last we left the included subwoofer and this seems to be slightly different from the one we found in the SL5Y as the dimensions are also different. The one included here measures 7.1″ x 15.4″ x 11.5″ (180.0 x 394.0 x 290.0 mm) and weights 11.7 lbs (5.8 Kg) and to be honest we were a bit surprised that LG has changed the subwoofer at least in design and size. The one we got here retains its simple boxy look but this time the front cloth grille is different featuring a diagonal lines texture for better or worse.
There is not much else worthy of mention here. LG has certainly designed it in a way that can fit in tight spaces while its looks will not make it an eye catcher and can go unnoticed quite easily.
Overall the SN5Y manages to get good marks for its price category. There are small design changes here and there compared to last year but it seems that these are more aesthetic and do not impact the overall design or looks of the unit which remains the most basic model in LGs arsenal this year.

Internal Hardware
LG does not provide much information about the drivers being used in the SN5Y and with the front grille being non removable it made our task harder to find what is used here. But it seems there is no change, as expected, as the unit is using two 40 x 100mm oval woofers that are accompanied by a couple of 20mm Silk Dome tweeters. This seems to be a typical configuration for many of these lower tier soundbars as the SL5Y was also using the same so we would be surprised if this was about to change here. Oval drivers are used in many low profile soundbars in order to minimize their size without sacrificing much in terms of performance. The drivers are placed in a closed enclosure type as there are no air ports available.
The included subwoofer on the other hand features a single 6″ driver in what appears to be a Bass Reflex enclosure while the front grille is fixed and cannot be removed.
Output Power (THD 10%) for the main drivers is rated at 90W (45W+45W) x 2 for a total of 180 watts while the subwoofer comes at 220 watts for a grand total of 400 watts of power which is not bad at all for such a small looking soundbar. The power rating is another aspect of the soundbar where it remained the same as last year. We guess that not much have changed in terms of internal audio components and as the included drivers are also the same the audio output is similar also.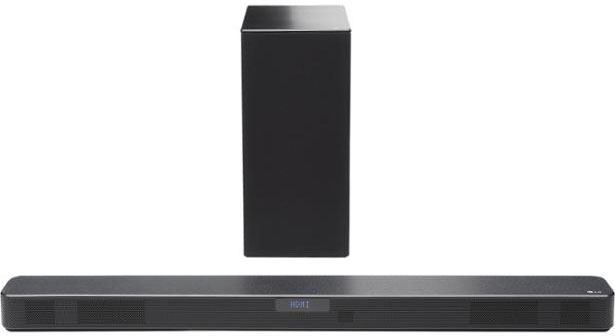 Connectivity
Next we will be looking at the connectivity options of the unit. For this price we were not expecting anything out of the ordinary and if the 2019 SL5Y was any indication we were hoping to get at least the same, and in reality we did. There are two insets at the back with one inset placed right next to the power connector where we strangely get only the Digital Optical input while the rest of the connectors are placed on another inset in the right side of the back face.
In this second inset we get a HDMI input, a HDMI output that has added ARC support as well as a USB port that you can use to connect external storage and stream audio from there.
A couple of observations to make here. Firstly with HDMI 1.4 used there is only ARC and no eARC support something that may disappoint a few as LG seems to fully support eARC in their TVs from 2019 already and it's something that we were hoping to find this year but the low cost nature of the SN5Y seems to be a deciding factor against that. Secondly their is no AUX port that we usually see but in our opinion since there is an optical as well as HDMI ports available, missing an AUX port is not such a big deal even for such a basic model.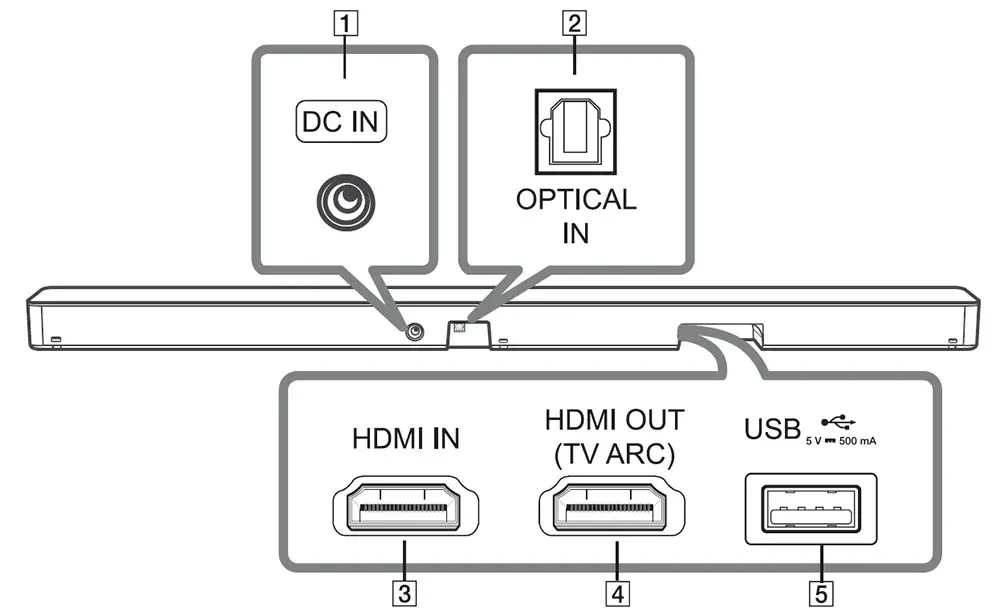 Wireless capabilities of the soundbar are limited to the inclusion of Bluetooth 4.0 as the unit is missing WiFi. We were hoping to get at least an updated Bluetooth but the SN5Y still uses the old v4.0.
Control Options
Now let's see what control options are available with the SN5Y. This is another area where the soundbar is exactly the same as its predecessor so our observations will not deviate much from what we said before. We already mentioned above that there are a few built-in buttons placed on the soundbar itself and will let you handle the most usual of functions like input selection and volume control.
Next there is the included remote which provides all the necessary buttons in order to control all of the soundbar's functions. As the soundbar has exactly the same functions and features as last year there was no need to change the remote either. So the one that comes with the unit is exactly the same one we had seen in the SL5Y.But let's see what buttons it has.
At the top, shaped in the usual power symbol, we find the power on/off with two large buttons below that control the volume, mute sound and circle through functions and inputs button. Under these there are three big circular playback buttons that you can use when streaming music while below them are a group of six buttons that handle different functions like sound effects, sound tuning, information, repeat as well as folder selection.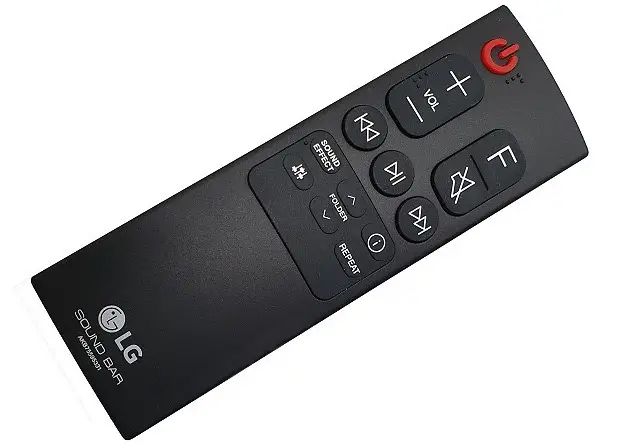 The remote is rather big for the buttons that it has and it could very well be smaller as you can see from the picture half of it is empty space. The buttons have the usual rubber feel but we liked their big size as it made it easier to press the right one. And with no backlight available button's size help not to press the wrong one in the dark. The remote is nothing special but gets the job done. In this price range you shouldn't expect anything fancy anyway.
LG has also included mobile app support in the SN5Y as you can use the "Music Flow Bluetooth" app to your tablet or smartphone. Unfortunately the app supports only Android devices so Apple lovers are out of luck with this one. The app lets you control all the basic functions as you would be able to do with the remote but has also a few extra features that you cannot control otherwise. These include a Dynamic Range Control, the Auto Volume Leveler as well as the included Night mode making the app more useful than just having an additional means of control.
Lastly there are a few more features included that add more choice to the user. By including HDMI-CEC, LG Sound Sync and SIMPLINK if you have a TV that supports any of the above you can use your TV remote to issue some basic commands on the soundbar. This can be very practical in case you want to limit the amount of remotes on your room although for more specialized commands you will still need the soundbar remote or the supported app.
The LG SN5Y unfortunately does not support any voice control platform so if this your thing you will have to look either on a higher tier model or a different brand altogether.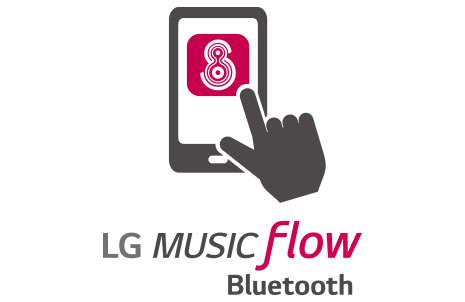 Extra Features and Services
As we said in the beginning of our review one of the most important features when it comes to these low cost soundbars is simplicity and ease of use. This means that they don't have many complex features and sound modes that could make handling of such a unit troublesome for people that are not very accustomed with such equipment.
First let's talk about the supported audio formats. Obviously the soundbar is very much limited by its included hardware so the list of audio codecs you can playback is rather basic. As such we get both Dolby Digital and DTS which is good along with LPCM although this last one is not very much used. And since the soundbar lacks any kind of surround speakers LG at least added DTS Virtual:X for good measure even if this virtual technology cannot faithfully replicate a real surround system.
Now when it comes to its sound modes the SN5Y includes all the usual ones we always get in a LG soundbar. As such there is Standard, Bass Blast and Bass Blast+, AI Sound Pro and DTS Virtual: X. Standard gives you optimized sound for most kinds of content, both Bass Blast modes give you enhanced low end and more powerful bass, AI Sound Pro uses Adaptive Sound Control (ASC) to automatically adjust sound levels, bringing out treble or bass based on what you're watching while DTS Virtual: X tries to emulate a virtual surround environment with audio that comes not only from the front but also the sides and behind the viewer. For this last one we will talk a bit in more detail in our movie testing section shortly.
There is also a Night mode available for those that want to use the unit when other people are sleeping in the house that balances output and makes dialogue more distinct. But in order to use this feature you will have to enable it from the supported app.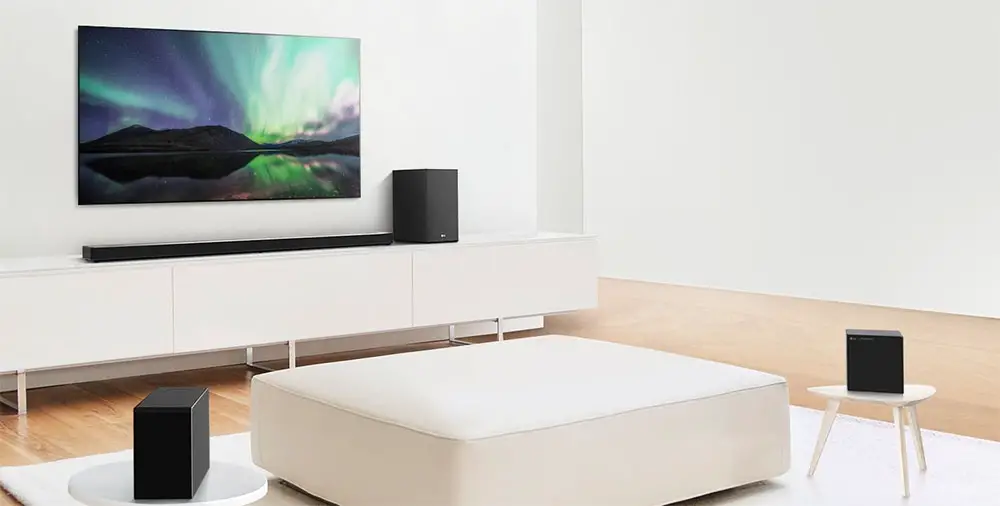 Bluetooth streaming is also available which means you can stream music from any mobile device like smartphone or tablet to your soundbar. The process could not be easier as you connect your device and streaming starts. We were a bit disappointed to see that Bluetooth v4.0 is still used in this one but at least in our tests we didn't face any streaming or connection problems.
With the included USB port you can playback audio files from an external storage device but this function has certain limitations. First of all the position of the USB port is not practical at all. Being placed at the back, hidden in such a way, it will add more to frustration trying to find it every time you want to connect a USB flash drive. Our suggestion is to use a USB extender to save you from trouble.
As for the files being supported we get the usual MP3, WMA and OGG when it comes to low quality ones but we also get limited High Resolution Audio playback for FLAC and WAV files up to 24bit/96kHz. No other High Resolution Audio files are supported but at least getting this in such a low cost unit is definitely a plus.
Another, rather intriguing feature that we get is support for wireless rear speakers. Being a 2.1 channels soundbar, surround performance of the SN5Y is very limited as we will analyze a bit later in this review so having the ability to add extra surround speakers gives this unit amazing flexibility. This optional kit (SPK8-S) includes a receiver unit that can connecting wirelessly to the SN5Y and with simply pressing the sound tuning button for 3 seconds you can enable or disable the surround activity. It's as simple as that.
Obviously the surround speakers will set you back an additional $200 which is as much as the soundbar costs itself but for $400 total you get a full 5.1 surround system which is not bad at all. Unfortunately there is no option to adjust each surround speaker separately as you only get the option to adjust both rear speakers at the same time which is a bit limiting in case you have to place them in different distances from your sitting position. So keep this in mind when placing them in order to have the best surround result.
Lastly there is an Auto Power ON/OFF function. The unit will turn on automatically when it detects a signal in either one of its inputs or if you try to connect your Bluetooth device. The soundbar will then automatically turn off if it will not detect a signal for a certain amount of time. If you don't want to bother with buttons turning on and off your devices this could come pretty handy.
Initial Setup
As we mentioned above the SN5Y continues the logic of offering an easy to setup and use system so the soundbar couldn't be easier in this regard. And with its limited functions and settings it means that casual users don't have to mess with calibrations or special setups that can be more frustrating to them than add any value to their experience.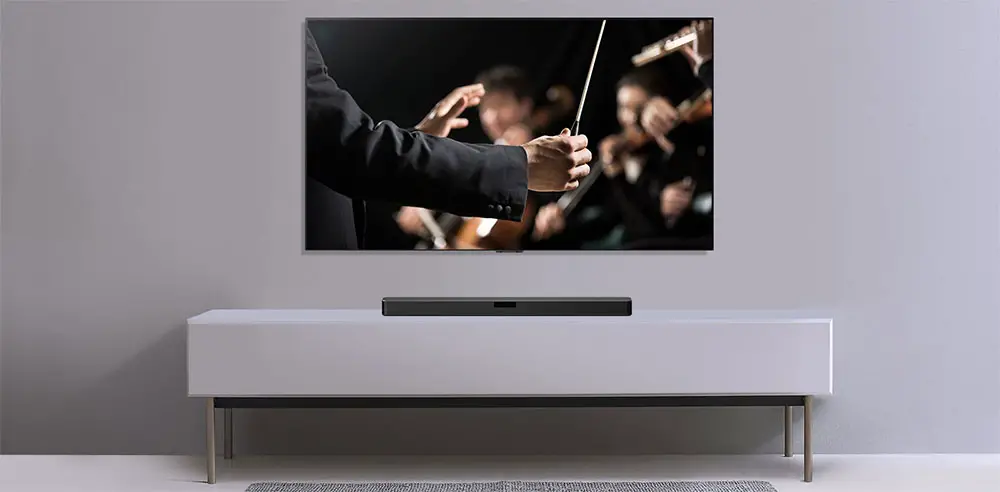 When you first unpack the unit you have to connect both the soundbar and the subwoofer to a power outlet. Then you have to choose how you will connect the SN5Y as you get to choose between a HDMI or a digital optical connection. In our case we decided to connect our UHD player to the soundbar and then from the HDMI out to a HDMI input of our TV.
When all wires are connected you power up the unit and you are ready to go. At the back of the subwoofer a green light should indicate that pairing with the main unit is done since this is usually done at the factory but even if it's not by pressing the pairing button should do the trick. If you have added the surround speakers then by pressing the sound tuning button on the remote for 3 seconds you enable them otherwise this function is disabled.
After everything is said and done there is not much you have to fiddle with. Choose the sound mode you want depending on the content you will watch and through the Sound Tuning you can adjust the treble, bass and subwoofer levels to your liking. We may have seen a couple of soundbars offering an even more simple setup but we like how LG managed to combine plug-and-play simplicity with some audio options in order to have this certain flexibility according to the content you will be watching.

Movies
For this review we decided to try out the 4K UHD version of Battleship that features a bombastic DTS:X mix. With the SN5Y obviously we will only be able to enjoy the core DTS mix but this is the best we can get out of this unit anyway.
Now for our review we decided to use the Standard mode as we believe it offers the most balanced output. Bass Blast although it was able to enhance the low end it was not good enough overall making the rest of the frequencies slightly overshadowed by it.
Now as far as its performance the SN5Y will certainly offer you a gently boost of sound in all aspects compared to what your TV could output. At the front the soundstage came to life as the SN5Y added certain volume that was missing before and certainly expanded the front sound wall in all directions. Although the soundbar couldn't offer the degree of expansion beyond its physical limits that we had seen in some other more advanced models it still managed to push the sound slightly further to the sides as well as create additional depth.
When the alien ship was launching its explosive pegs on the human battleship you could feel them travel across the front space with a convincing trajectory. Also during the last scene were the USS Missouri is throwing all its ordnance to the Alien mothership the SN5Y throwed everything at us and really created an impressive atmosphere at the front.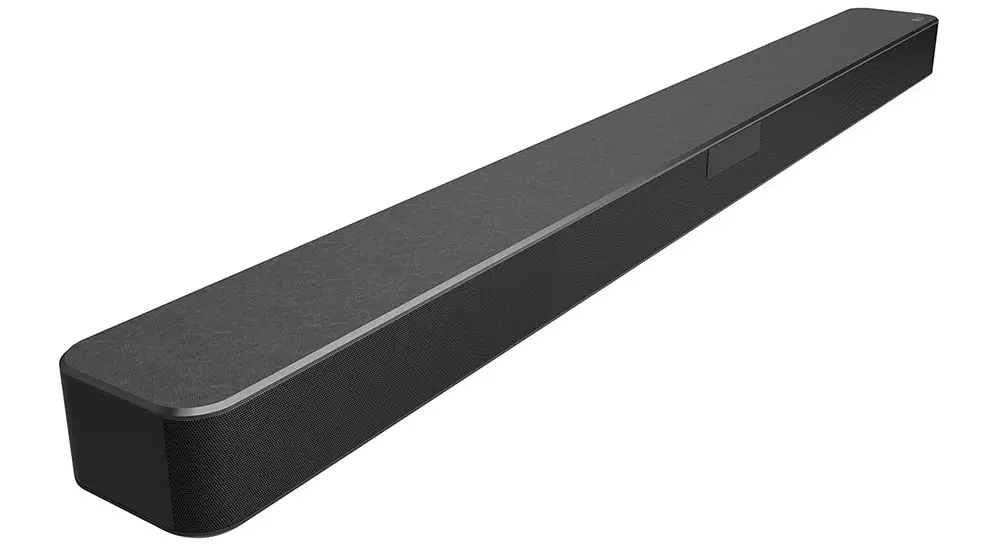 The soundbar is missing any kind of Atmos hardware or Atmos capable virtual tech so no overhead effects here and after all we already mentioned that this unit is not Atmos capable at all. As for the surround activity with the Standard mode enabled we can say that the soundbar failed to create any kind of over the shoulder action. All sounds were firmly positioned at the front which obviously lowered the overall immersion.
Dialogue was pretty distinct even during busy action scenes and even without a dedicated center channel the SN5Y did a pretty good job at keeping dialogue clear without overlapping with the rest of the effects while it was isolated at the center in front of us.
On the low end things were good enough, all things considered, with the included subwoofer doing a good job as providing the extra bass power needed. When the alien pegs hit the destroyer and explode cutting the ship in half we were hit with a powerful wave that really shook us. Every cannon fire, explosion and low end effect was rendered with might and enough power necessary to make them feel more convincing. Yes, the sub is not the powerhouse that will hit you in the chest and make you hold your breath but it still adds enough to the whole performance.
Following is our test of the same movie but this time we switch sound modes in order to test the supporting DTS Virtual: X feature. If you are not planning on getting the optional rear surround kit this mode is your next best bet in case you want some surround action. Now keep in mind that this virtual technologies are never accurate or distinct enough and add a lot of processing to the overall sound output. But there are cases were the end result can be satisfactory enough to be used.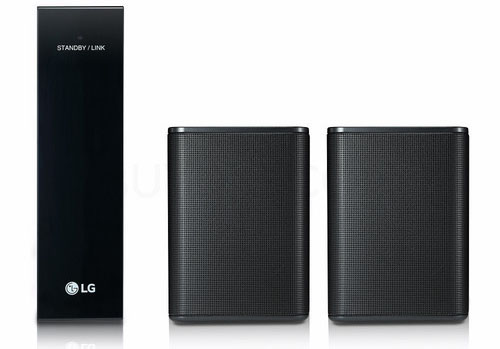 In our case when we switched to the DTS Virtual: X mode the change was immediately apparent. We sensed the sound to have more volume and be closer to our listening position than before. Sounds were still coming from the front and there was no distinct action from the back but there were plenty of occasions were we felt sounds coming from positions that we didn't hear before. Usually this was more obvious when surround effects were kicking in from the sides or the back and the SN5Y did a valiant effort to reproduce them from the exact positions it should.
In the end the DTS Virtual: X mode is neither very accurate or offer any kind of satisfactory surround activity. Keep in mind that the layout of your room plays a big role on how this mode will behave and the smaller the room with straight walls will help the SN5Y give you a slightly more convincing surround performance. But the end result many times feels over-processed and many of the effects that should originate from the back are heard in other positions which may sound slightly strange and distract you from the moment.
Closing this part we can say that the SN5Y behaved more or less as we expected. Nice boost at the front soundstage, good separation between the effects and dialogue and energetic low end will provide you with an good enhancement over your TVs audio. Surround activity was lacking a lot and while the included DTS Virtual: X mode can slightly help with this if you need a real surround experience you should definitely get the optional surround kit.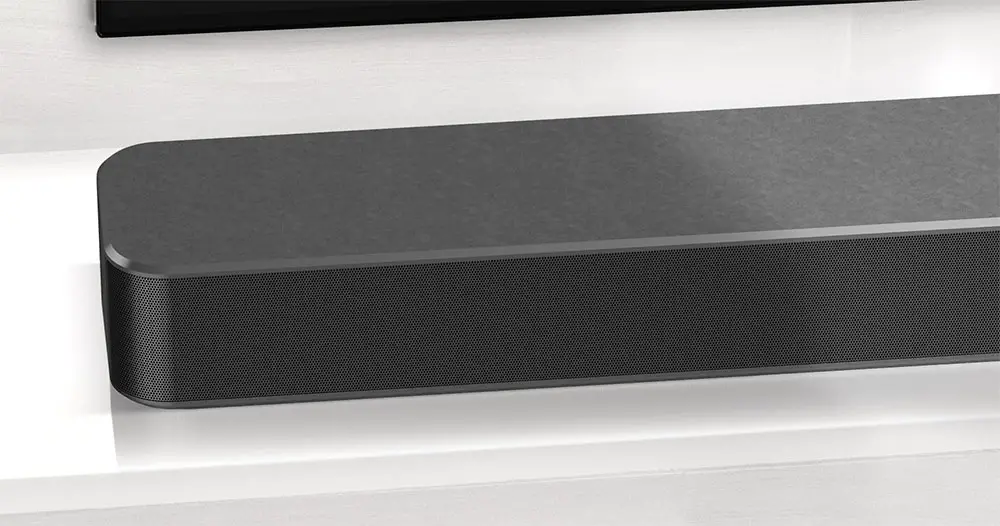 Music
Next is our music tests and as the SN5Y supports High Resolution Audio along with USB playback we were able to select a few favorite music tracks in FLAC format that we streamed thought the USB port for the best quality possible.
The output we got was more or less what you should expect from a unit of this class and price. The SN5Y did create a lively front stage with enough power and vigor. Music instruments were clearly rendered in space although they lacked a bit of refinement and precision. Stereo panning effects were audible but the soundbar lacks the ability to make them as impressive as some other higher tier units.
On the low end the subwoofer did a good job at providing the necessary weight while it felt like it could keep the pace even with hectic rhythms and tunes. In our opinion the mid-range was the weak part of the unit here but this is mostly for those looking at the details and for a casual user the experience is more than satisfactory. Vocals were distinct and had good emotion in them without overacting of being extremely exciting.
The SN5Y is clearly not HiFi material but you should never expect it to be with a $200 price tag. It's an excellent casual proposal and will offer plenty of music fidelity and quality for those that want to enjoy some music without nitpicking at the quality too much.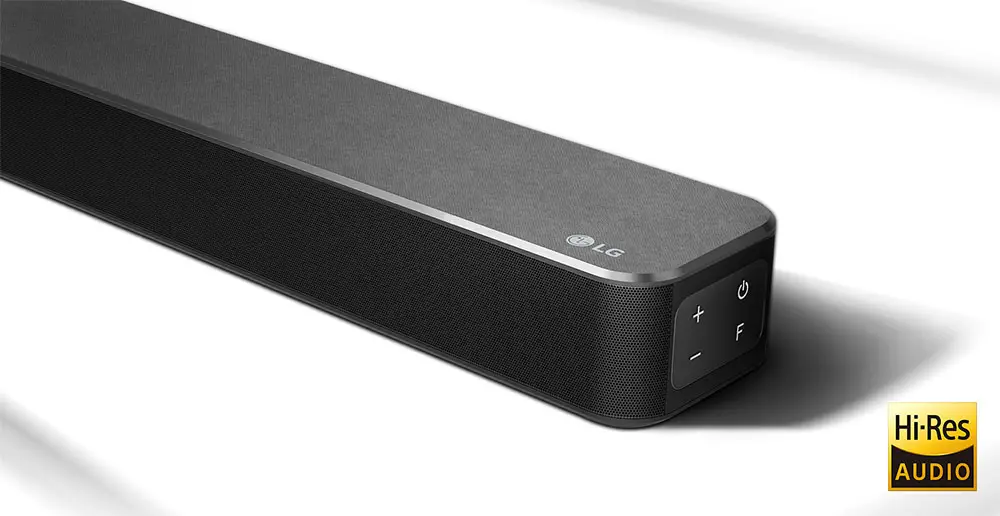 Final Thoughts
We have reached the end of our review and what we can say is that the LG SN5Y is not all that different from its predecessor. It is a low end yearly release so things are pretty much the same without this being necessarily a bad thing. LG had an already good low end performer on their hands and this continues well into 2020.
The SN5Y is an excellent choice in case you are looking for an easy to handle and simple to use soundbar as its plug-and-play design will certainly attract many casual users. General design and build quality hasn't changed much and retains a level that LG has got us used to. Sound performance is good enough for what you pay for while LG made sure to keep sound settings to the minimum in order not to create a complex system. And by adding a few but certainly important extra features like Bluetooth and USB streaming, app control, optional wireless surround kit extension and High Resolution Audio support they created a very attractive offering.
The downside of the unit is obviously the lack of any real surround activity. In this case you have two options. Either use the included DTS Virtual: X mode which is not very accurate and leaves a lot to be desired or go ahead and buy the optional wireless surround kit that will cost you a considerable extra amount of money. As for the soundbar's actual performance the unit can go loud and really up the quality of sound you get by creating a more fulfilling soundstage but just don't expect any miracles as it lacks the necessary hardware to bring the audio to another level. And once more we miss a backlight function on the remote. We don't get our hopes up but we will never stop waiting for this.
The LG SN5Y continues to be an excellent low cost offering that is ideal for casual users looking for a system that will upgrade their TVs audio without spending too much money or having to deal with complex settings and features. Either you love watching movies, playing games or listening to music this soundbar will cover you for sure.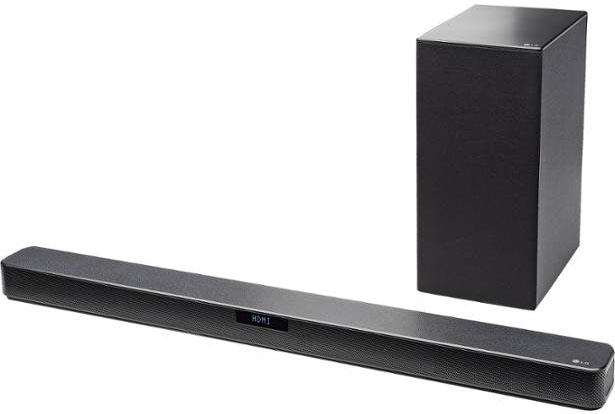 For more reviews you can check our dedicated Soundbar-subwoofer combo reviews list or even look at our Product Reviews Table where you can find the brand and specific product you are looking for.
Also don't lose the chance to subscribe to our Newsletter and gain exclusive privileges.
---
Cheapest Places to Buy :
---