---
Cheapest Places to Buy :
---
LG is taking no prisoners with their soundbar series as the last few years we have seen them releasing many new yearly models in order to cover absolutely all budgets and needs. And with this years no less than seven new releases the Korean electronics giant is determined to get a big piece of the soundbars market as they see that they become more and more popular in today's home entertainment arena. Today we will be looking another of their latest releases and in our LG SN8YG review we will test this middle tier soundbar that claims to offer an immersive Dolby Atmos experience on a budget.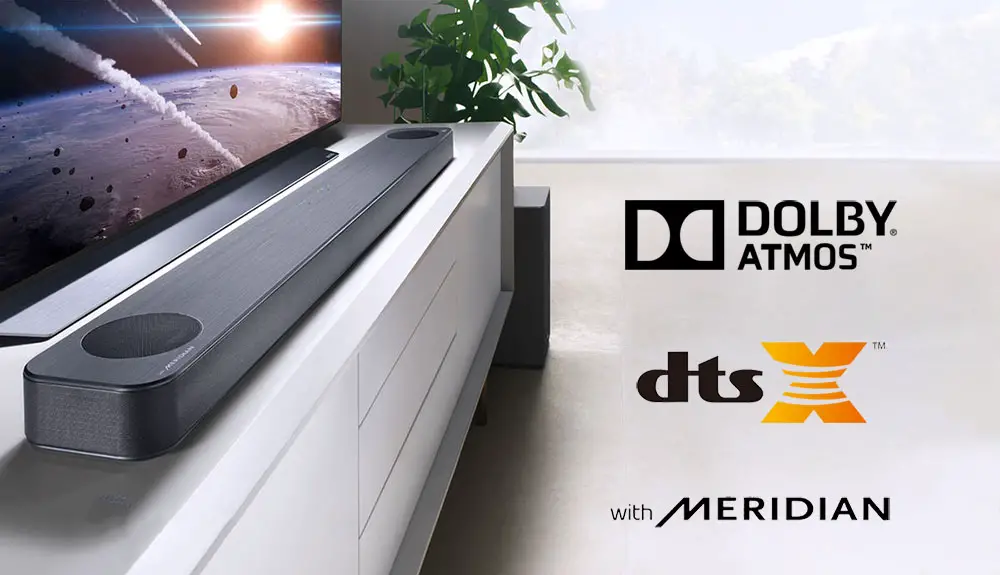 Now if you are on the lookout for a new soundbar and you are eyeing some of LGs offering you will rightfully be a little confused what to choose as many of them look awfully similar. A prime example is the SN8YG we have here today with the SN9YG that we tested very recently and you can see our review HERE. This happens because with so many models in their lineup a lot of them have honestly very small differences and the reason why this happens is because LG wants to be sure there is a right soundbar for everyone. The SN8YG is basically a shorter SN9YG that looses the side firing drivers in order to fit in smaller spaces.
But even so this model has a lot going for it and LG is known for adding a lot of functionality to their new offerings lately. The SN8YG is a 3.1.2 channels soundbar with Dolby Atmos and DTS:X support, it's another model that uses Meridian technology to improve its sound quality, it supports High Resolution Audio and streaming from both USB and Bluetooth, it comes with Google Assistant and Chromecast built-in, has an automatic calibration system that can be very helpful for the casual users and it has the ability to add rear wireless speakers for better surround activity.
But no matter how many features it comes with its performance will ultimately determine how good this model can be. So without further delay lets start…
Design, Inputs and Features
Exterior
If you have seen one of the LG soundbars in the last years then there are no surprises waiting for you as all of them feature the same design lines with basically three variations that defines the high, middle and lower tier models. Up until the SN9YG we were seeing practically the same unit with different length while the SN8YG is the first that slightly differentiate itself from the top group.
Obviously the most notable difference is its size as the SN8YG comes shorter by measuring 41.7 inch x 2.2 inch x 4.7 inch (1060.0 mm x 57.0 mm x 119.0 mm) and with a weight of 9.7 lbs (4.4 kg) making it ideal for any TV of 49″ and above. Placement of this unit is not only easier because of its shorter length but also due to the fact that it doesn't have any side firing drivers. So if you have a furniture with side walls it will not affect the performance of this unit much.
As for how it looks we get the familiar plastic shell with a brushed metal finish to it while the corners at both sides are more rounded than the bigger models in LGs lineup. At the front we find a metal perforated grille that covers the drivers that wraps around to both sides of the soundbar. Also the slight bevel corners gives it a nice look overall without being anything extreme or highly premium.
At the top we get the built-in buttons that have been placed dead center while the decision to use touch sensitive buttons is certainly a questionable one. One one hand touch sensitive buttons makes the unit look more premium and expensive but if you have tried to find these little buggers in a low lit room you will know that its almost impossible to press the correct one.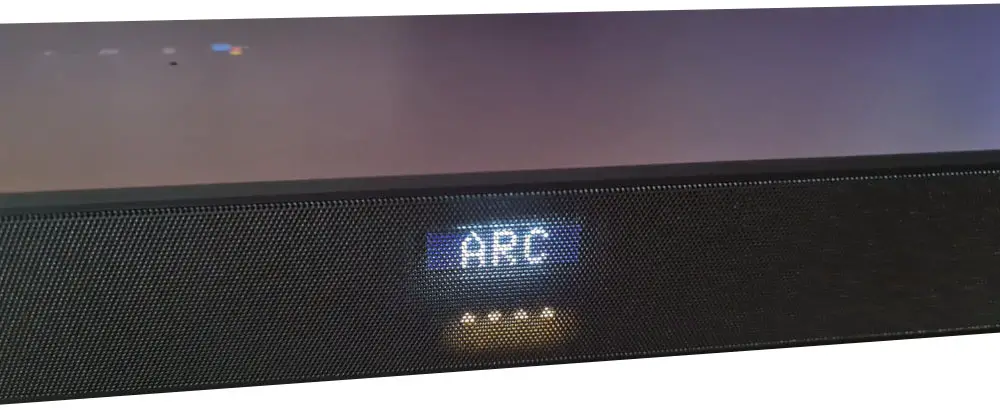 Under the buttons we find two small holes which is the microphone array that is used for both the Google Assistant as well as the auto calibration system. At each side we get a circular perforated metal grille that protects the Atmos up-firing drivers along with the LG and Meridian logos sitting directly below them.
LG may have created some lovely designs for their soundbars but it's not the only element that stands out. Their display system is also unique as it uses a dual display system. Between the center and right channels we get a display window that shows various info like volume, input selected and sound modes among others while exactly below that there is an array of four LED lights that are used for the Google Assistant functions. This way you can have input from both the soundbar and the Google Assistant at the same time.
The display lights when you issue a command and will go off after a few seconds in order not to bother you during viewing. Overall a very nice and smart design from LG.
The back of the unit is very simple with a single inset hiding all the connections while we don't like that the power connector is separated from the rest as it makes grouping of all cables more difficult. There are no holes at the back as the included wall brackets are holding the soundbar from under it.
And in case you were wondering the SN8YG, as with all other LG soundbars, does not feature an IR repeater. As we have said before LGs soundbars have a pretty low profile but there are certain TVs that have very small stands and this unit can potential hide the TV IR sensor so a repeater would be nice. So make sure you measure correctly if it fits under your TV otherwise you will have to be creative to solve this problem.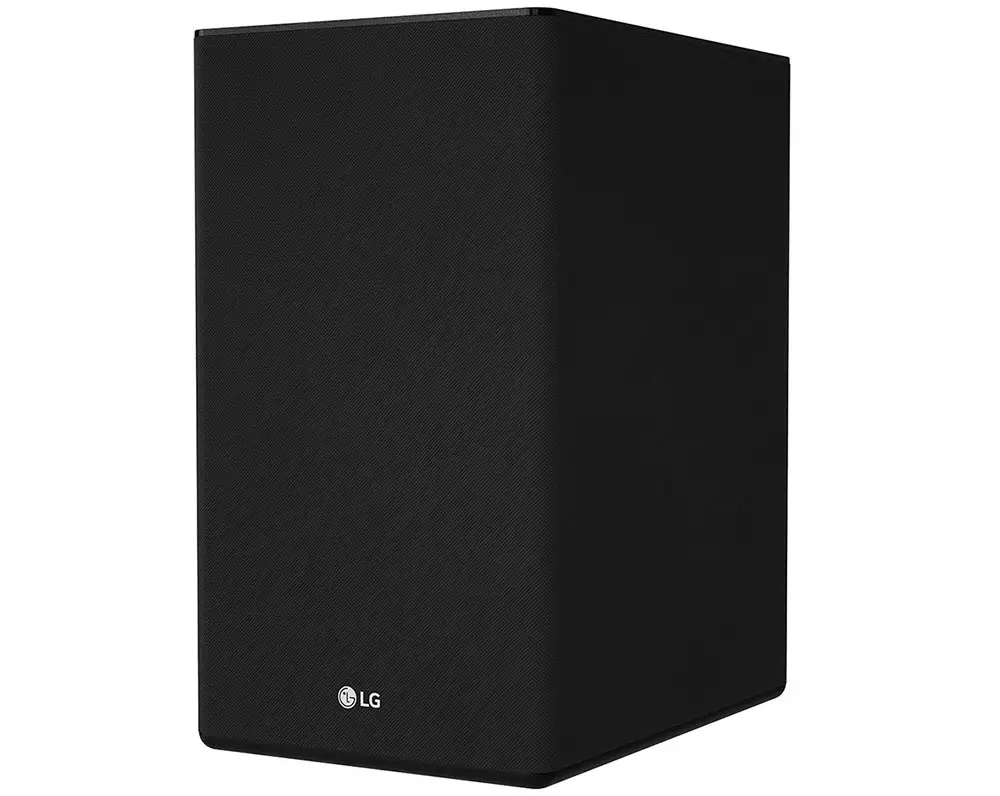 Lastly we shouldn't forget to mention the included subwoofer which is identical to the ones we had seen in the SN11RG and SN9YG. Design wide LG went for a boxy look that will certainly go unnoticed in a room but helps with its placement. The front and sides are covered by a black fabric while at the back we see a big port with the power connector and a single pairing button. The subwoofer measures 8.7 inch x 15.4 inch x 12.3 inch (221.0 mm x 390.0 mm x 312.8 mm) and with a weight of 17.2 lbs (7.8 kg) it seems to fit the size of the main soundbar exactly.
The unit doesn't come with any surround speakers as LG has made this an optional choice in case you don't need them. But for those interested the SN8YG is wireless surround ready and can connect to the wireless rear speakers kit (SPK8-S) in order to create a 5.1.2 channels system.
The SN8YG is a nice looking, compact soundbar that follows the same design principles we have seen in all LG soundbars. Nothing majorly impressive but also neither disappointing.
Internal Hardware
When talking about Dolby Atmos soundbars we have two distinguishable categories. On one hand we have those that use virtual technologies in order to simulate the necessary elevated action and those that use real, dedicated up-firing drivers. The SN8YG belongs in the second category that is honestly the best way in order to get overhead action when comparing the two options you have available.
The soundbar is classified as a 3.1.2 channels soundbar with the three main front channels for right, center and left along with the two up-firing Atmos channels and a single subwoofer. Compared to the recently tested SN9YG here LG has stripped the side-firing surround drivers so we get a more straight-forward design.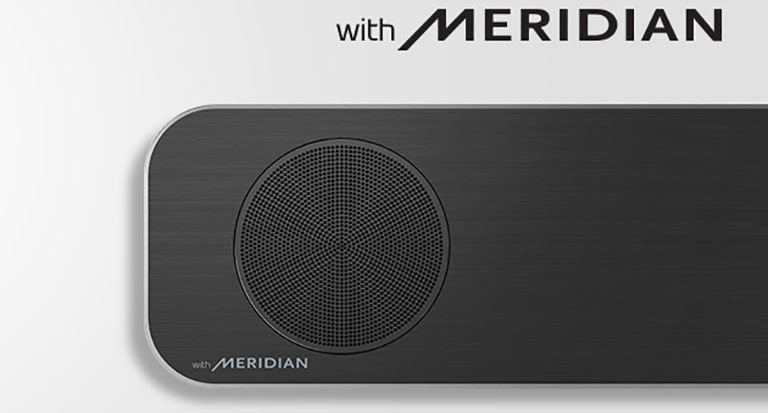 For the three front channels LG is using a combination of a 40 x 100 mm woofer along with a 20 mm silk dome tweeter for each channel. For the up-firing channels LG used a single 2.5″ woofer for each of them while for the subwoofer we once again find the usual 180 mm bass driver that is used in both the SN9YG and the SN11RG. In terms of the drivers used there are no surprises here as LG is using the same dimensions of drivers in many of their soundbars and the SN8YG seems to be using exactly the same ones we had seen in their higher tier models.
The total power output of the soundbar is rated at 440 watts which is normal for its category and a step lower from the 520 watts we saw in the SN9YG. The front three channels have a rating of 40 watts RMS (4 Ω at 1 kHz, THD 10 %) each while the up-firing Atmos channels are rated at 50 watts RMS (4 Ω at 1 kHz, THD 10 %) each. On the other hand the subwoofer has exactly the same specs as it comes at 220 watts RMS (3 Ω at 80 Hz, THD 10 %).
As we go down the performance ladder a natural reduction in total power is evident but this doesn't come from lower drivers specs but due to the omission of the side firing woofers. All the other drivers still present are the same ones we have seen on the other bigger units from LG so in terms of what is there the soundbar doesn't have many differences from its bigger brother.
Connectivity
LG soundbars are known for having rich feature sets as LG is adding more and more in their yearly releases. But while they offer so much in terms of software if there is one aspect that they seem to slightly disappoint is on the number of physical connections being offered. We saw this in both the SN11RG and the SN9YG so we were pretty sure a similar layout would be available in the SN8YG also. And to be honest the SN8YG is more than similar as it offers exactly the same ports as the SN9YG.

Looking at them from the left we find an HDMI output, an HDMI input, a digital optical audio input if you have devices that don't support HDMI and a USB port (5V/500mA) for connecting external storage or flash drives. And that's it.
Now both HDMI ports are v2.0 and are HDCP 2.3 enabled which means that they can support content up to 2160p@60/50Hz 4:2:0. We also get ARC and eARC functionality which is good but we are missing any other new features that HDMI 2.1 ports could bring like HFR. We find it strange that LG is including HDMI 2.1 in their TVs from last year already but still in 2020 none of their soundbars do.
But the biggest problem here is not the missing HDMI 2.1. As with the other LG soundbars the number of available HDMI ports is the problem. With only a single HDMI input you will have to get creative in order to connect all your available devices. So you will either have to use the HDMI ports on your TV or use a HDMI switch with multiple inputs.
When it comes to wireless support the soundbar gets both built-in WiFi (802.11a/b/g/n) along with the latest Bluetooth 5.0 which ensures better and more stable connections. The subwoofer on the other hand is connecting to the main unit with a wireless connection with the two of them being paired from the factory and makes placement so much easier this way.
Control Options
The LG SN8YG features exactly the same control options as we saw in the SN9YG so no surprises here. We like that LG includes many options which makes things easier for consumers and certainly allow for a lot of flexibility showing how much they are trying to cover all possible situations that buyers could find themselves in.

First on the list in no other than the remote and the one we found with the SN8YG is exactly the same as the one we used in the SN9YG which doesn't really surprise us as the two soundbars have literally the same functions and features so there was no real need to use a different remote. But in general the remote design has remained the same the last few years with the only real change being the buttons layout in order to accommodate the functions of each model.
We once again find the usual dark plastic remote with huge rubber buttons. Plastic quality feels good enough and seems like it can handle a few falls on the floor while the rubber buttons have a nice touch to them while pressing is distinct and with good response. We would like at some point LG to include a backlight function in these remotes as it could really help in dark environments. The huge buttons at least help with this a little bit although it cannot be an outright solution.
At the top left corner we get a single power button with two big controls below for volume on the left and a functions/mute combo button on the right. A trio of circular buttons are below for sound mode selection, Google Assistant and sound tuning. This last one has also a double function as it can enable the surround speakers in case you have connected the optional surround kit. Last we get an array of nine buttons with which you can control various aspects of the soundbar like playback controls, Night mode, folder selection, information, auto power  and a repeat mode.
Other than the remote which is always the main means of controlling these devices, we also have the usual built-in buttons that offer some basic functionality. In similar fashion the layout here is the same as in the SN9YG with a power button on the left, a functions button next to it for selecting input source, volume controls, playback controls, a mute microphone control in case you don't want to feel like someone is spying on you and a Google Assistant button for enabling voice control functionality.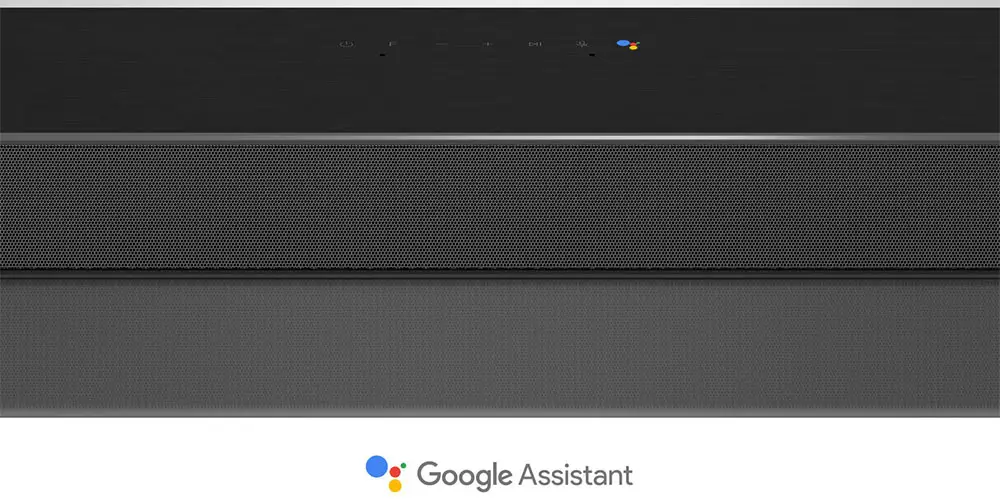 LG has also included a couple of functions that can further extend the control diversity of the unit and as such we find Sound Sync and SIMPLINK which are two technologies that enable you to use your TVs remote in order to issue the soundbar some basic commands. This way you can limit the number of remotes you need to have in your entertainment area.
But using physical buttons may not be for you so you also have Google Assistant in case you like to control the unit with voice commands. Obviously voice control includes the most basic functions so for certain settings and calibrations the remote is still necessary. Also Amazon Alexa is missing which is also very popular among users but for some reason it seems that LG remains more loyal to Google's offering.
Lastly this wouldn't be a LG soundbar if there was no app support. First of all you need Google Home in order to finish the initial setup to connect the unit to the internet while with it you can issue some basic commands also. But for main use you have to download the Wi-Fi Speaker app that LG will be using for their soundbars from now on as the Smart ThinQ app will no longer be supported here. Lastly as there is built-in Chromecast support you can use the Chromecast app to control the soundbar also. We like how many options LG is giving us here.
Extra Features and Services
Let's now see what features and additional functions are included in this one. Once again it seems that the SN8YG is not all that different from its bigger brother the SN9YG so this part of our review will also include the same set of features we had seen before.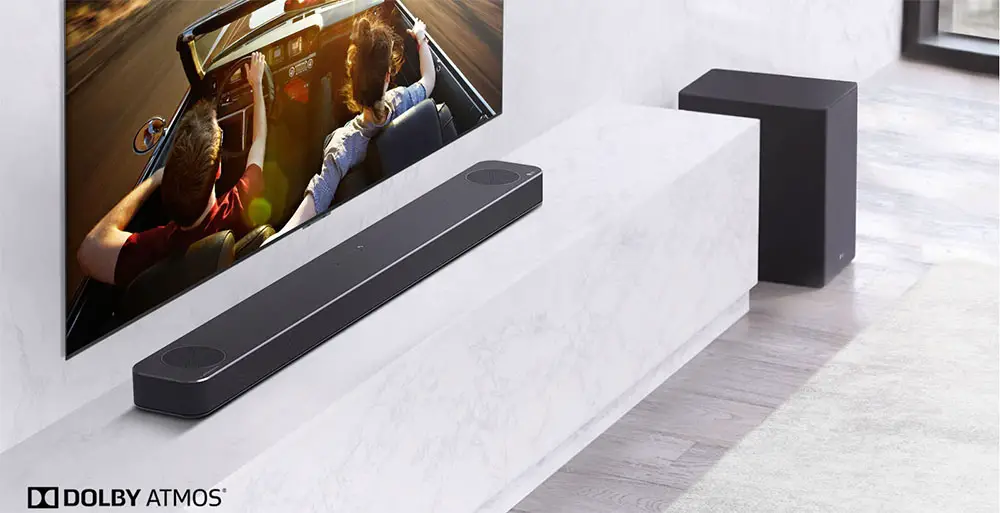 First of all comes the audio formats that are supported. The soundbar can playback not only Dolby Atmos but also DTS:X. With these two it means that we get support for all the older backwards compatible formats including Dolby TrueHD, DTS-HD Master Audio and the more simple Dolby Digital and DTS tracks. Keep in mind that for anything other than Dolby Digital and DTS you will need an HDMI connection while for those two the optical cable can suffice.
We like that LG always include many sound modes in their soundbars. Although some of them are not so good at least giving you this flexibility is always good. So in the SN8YG you have no less than six different sound modes to choose from without including the Dolby Atmos and DTS:X modes as these are locked automatically when the appropriate signal is detected.
For all the other formats we get to choose from Bass Blast and Bass Blast+ modes that enhance the lower frequencies, the Standard mode that uses the Meridian technology and seems to be the best and more balanced for every situation, the Movie mode that gives higher priority to the surround effects and Music that has been adjusted to enjoy better sound from a music source.
For last we left the AI Sound Pro mode which uses Adaptive Sound Control (ASC) in order to analyze the property of the input sound and provide the sound optimized for the content in real time. We would say that AI Sound Pro can be considered, along with the Standard mode, another all around solution if you don't want to mess with calibration options all the time.
On the other hand if you are a late night watcher the included Night mode , that is called Night Time here, can reduce the overall sound intensity and improve fineness and softness of sound for better late nigh viewing.
And since we talked about the sound modes we couldn't continue without making a special mention to Meridian that for one more year they offer their expertise and tech to LGs soundbars by using their high quality Digital Signal Processing technology. The SN8YG also supports High Resolution Audio due to the included hardware and can playback high quality files up to 24bit/192kHz.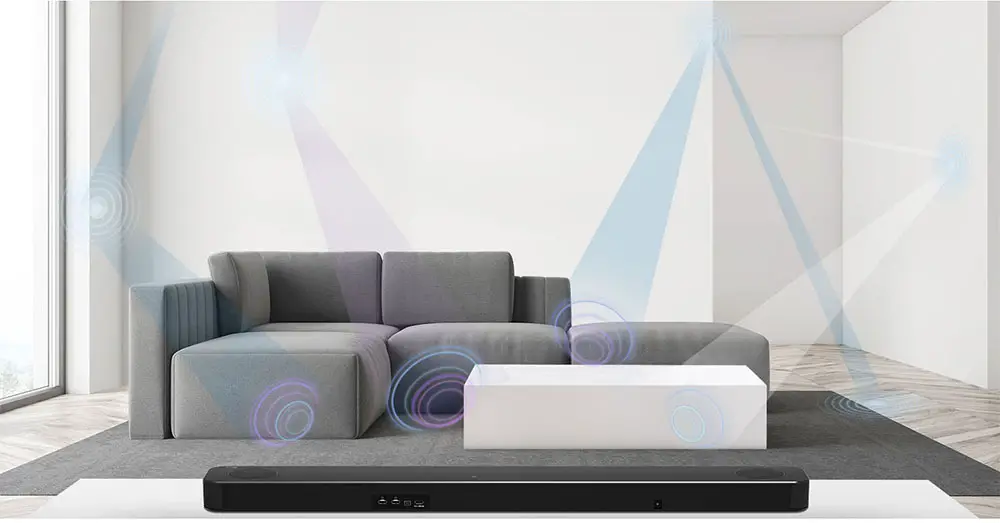 Another feature that all the higher tier soundbars from LG have is the AI room calibration. The system is using spatial awareness technology in order to measure your rooms acoustics and then adjusts the soundbar settings accordingly. Although this system may not be the most feature rich or as advanced compared to what we see included in AV receivers at least we do get one in comparison to many low and middle tier offerings that have to rely only on manual tuning. The AI room calibration can be used through the Wi-Fi Speaker app that is available for both Android and iOS devices.
The soundbar also supports both USB and Bluetooth streaming. And while Bluetooth offers convenience with USB you can stream High Resolution Audio up to 24 bit/192kHz. The supported file formats include the lower quality MP3, OGG and AAC files while you can also playback FLAC and WAV files for the audio purists.
But local streaming is only one option as through Chromecast you can stream from various online streaming services. You will need the Chromecast app for that but you can find it either in Google or Apple stores.
As we mentioned above the soundbar may be a 3.1.2 channels unit but it can be expanded to 5.1.2 with the use of the optional wireless rear speakers kit (SPK8-S). We like that LG grands you this option since many may not have the space to accommodate the surround speakers and thus would limit the consumer market this would be ideal for. The downside in this is that the price goes up if you consider purchasing it which can also be a deciding factor.
Even going a step down from the SN9YG we are not missing a thing when it comes to extra features and functionality. The SN8YG remains a feature complete soundbar.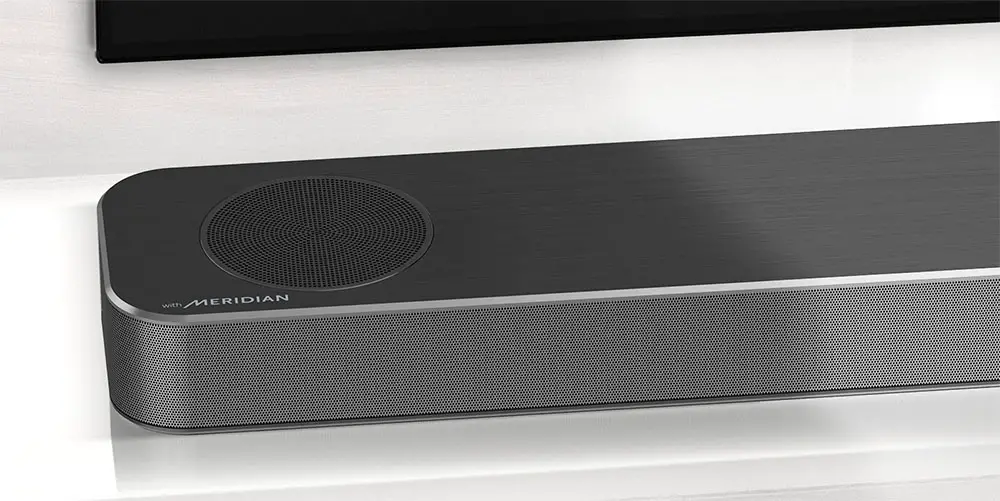 Initial Setup
LG has made sure to create a universal procedure for initial setup of all their LG soundbars that is fast, easy and pretty much straightforward. So we pretty much followed the same steps we did with all the other LG units previously.
After unpacking and placement we connected everything to a power outlet and the soundbar paired with the subwoofer immediately. We used the HDMI input to connect our Panasonic 4K UHD player and used the HDMI output to drive a HDMI cable to our test TV.
After we downloaded the Google Home app from the store in order to connect the unit to the network and then downloaded the LG Wi-Fi Speaker app in order to make the necessary adjustments and use the audio calibration system that is available. You can also manually adjust each channel if you feel like you need to but the only downside we saw was that there is no individual adjustment for each of the optional surround speakers which means that you will have to place them at equal distance in order to perform the same.
The last step includes if you want to use the surround option or not and set the sound mode to the one of your preference in case it is not an Atmos or DTS:X signal as it will switch automatically to it when detected. In theory all these may sound a bit too much but trust us when we say that the procedure is easier than it sounds and shouldn't take you more than a few minutes to have everything ready.
Movies
For our first movie testing we decided to go for the 4K UHD version of Thor: Ragnarok which features a very good Dolby Atmos mix.
The soundtrack is not shy of going loud although it's not the most defining mix this object-oriented track has given us. The soundbar did a pretty good job at the front but since our experience with the SN9YG was still a bit fresh it was obvious that the SN8YG was a bit more limited in its ability to extend the action far beyond its physical limits. Keep in mind that there are no side-firing drivers here that could create the illusion of sound coming from the sides so the three front channels had to do all the work.
But nevertheless the SN8YG did manage to create a pretty satisfactory sound wall in front of us, even if a bit limited in length. Sound separation and shifting was good although not entirely precise. Dialogue came out clean at the center but there were certain moments that the dialogue would get lost in the mayhem.
As for its Atmos performance the soundbar had similar characteristics as the other Atmos soundbars from LG. The overhead layer was pretty alive although with just up-firing drivers you will get a sense of elevated sound rather than coming from directly above you. A very characteristic scene is the arena fight between Thor and Hulk and as the crowd is cheering you can hear the top layer becoming full and with more volume.
One thing we did notice was that once again the sweet spot for the Atmos effects to be more audible was pretty narrow and their presence and strength also depended on the height and shape of the ceiling so keep this also in mind when considering this one. The lower your ceiling the more pronounced these effects will be. As a general rule of thumb the maximum height of your ceiling shouldn't be more than 9 feet for the up-firing drivers to do their job convincingly.
Now as far as surround activity the soundbar failed to give any kind of behind-the-shoulder action with all activity situated firmly at the front of us. If you are really concerned about this getting the optional wireless rear speakers kit (SPK8-S) is your only option. All panning effects like laser fire and spaceships sounds came directly from the front. Even those that were supposed to come from the back you will hear them in front of you making the sound feels a bit strange some times.
Lastly the subwoofer did behave as expected as we have already seen this one in action before. But while in our previous test it felt a bit underpowered for the size of the SN8YG it seems like it has exactly the right amount of oomph needed. The low end is not very well defined but it has the necessary strength and will give you many shakes during busy action scenes. Just don't expect the most defined low end you have heard but for the casual user it will be more than enough.

For the second film we tried out the Blu-ray version of Lord of the Rings: The Fellowship of the Ring that comes with a staggering DTS-HD Master Audio track. There is one scene we like in particular and this is no other than the Mines of Moria. The soundbar did a very nice job in giving you the illusion of grand space even though it's constraint design didn't let the unit expand sound as much as we would like.
During the first part of this scene where the Fellowship passes through the mines the soundbar made a good job on those ambient effects by giving them nice volume and necessary depth. When certain sounds break the silence you could sense the echo traveling through the room at the front of us. Dialogue was pretty distinct and clear while the center channel kept it firmly at the center.
Once again surround activity was missing in action. When we heard the echoes in the mines we expected them to travel not only at the front of us but behind us also but the soundbar couldn't push the sound too close to our viewing position making us wish we had some surround speakers connected for the occasion.
On the low end things fared much better as the subwoofer did a very fine job by giving the necessary weight to the scene. When the cave troll arrived you could hear it growl deep and natural while each step of Balrog made the room shake. Balrog's growl came out a bit to muffled but if you don't pay much attention it is not so much bothering. Overall a satisfying performance for such a subwoofer. Just don't expect to get reference quality sound out of it.
Overall we would describe the SN8YG as a nice performer that will certainly feel the area in front of you and will give you some pleasing elevated effects when present. Channels separation and shifting was good but not excellent while the lower end was satisfying and with enough punch although it was missing a bit in definition. And while things looked good enough at the front from a casual point of view the unit failed to push the action towards our position so get ready to get the surround speakers if this is of utmost importance to you.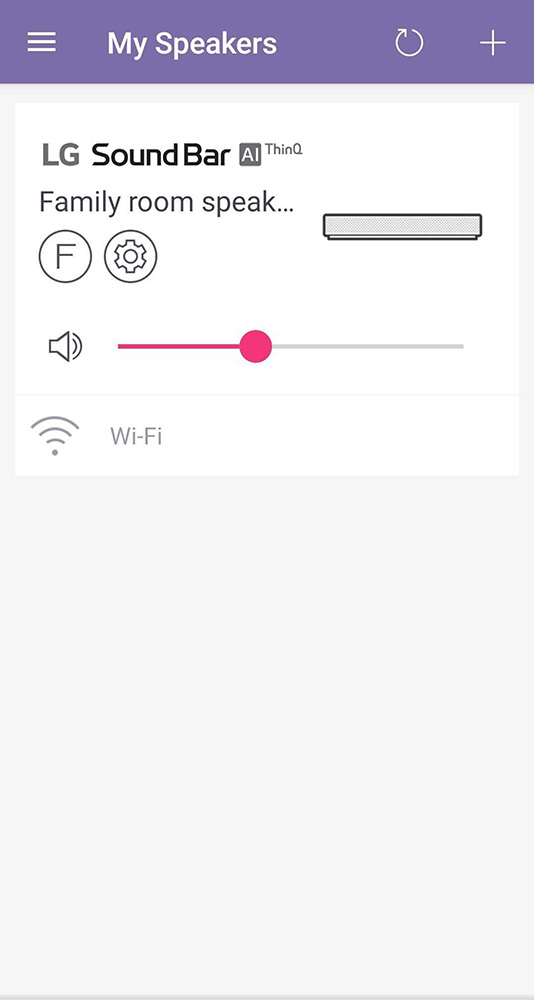 Music
Next came our music test and for this one we chose a few FLAC selections that we streamed through the USB port for the best possible quality. We once again found ourselves being torn between the Standard and Music modes but in the end we settled for the Standard mode as we felt it gave us the best results no matter what kind of music we through at it.
The kind of performance we got out of this unit can be described as the perfect casual experience. We would say that the audio quality we heard was pretty similar to the SN9YG meaning that while good for the most casual of listeners it will certainly not please the more demanding users something that is normal for a device that costs close to $650.
First of all when it comes to the sound stage the soundbar did a pretty good job at giving us the illusion of grander size. Not by much but we did feel the sound coming from slightly beyond the physical positions of the drivers. Stereo imaging was rather good and distinct as the musical instruments were easily distinguishable even if not entirely clear from where they originated sometimes. Stereo panning effects were distinct and with good precision even if there was not much separation between the center the the two other channels.
We wouldn't say that the soundbar was lacking in a specific area. We felt that it did a pretty good job overall with good mid-range and satisfying highs while on the lower frequencies the subwoofer offered satisfying bass for each track. With more demanding songs we felt like the subwoofer was struggling a bit to keep up but this was very apparent with certain songs and didn't distract very much from the overall experience.
The LG SN8YG left us with pretty much the same feeling we had when we tested the SN9YG. Good overall, without missing the mark by much in any particular category but without it shinning in any particular one either. If you are looking for a HiFi soundbar you should look elsewhere but if you are after a soundbar for your casual ears and don't have high expectations from it then the SN8YG can be a very good consideration.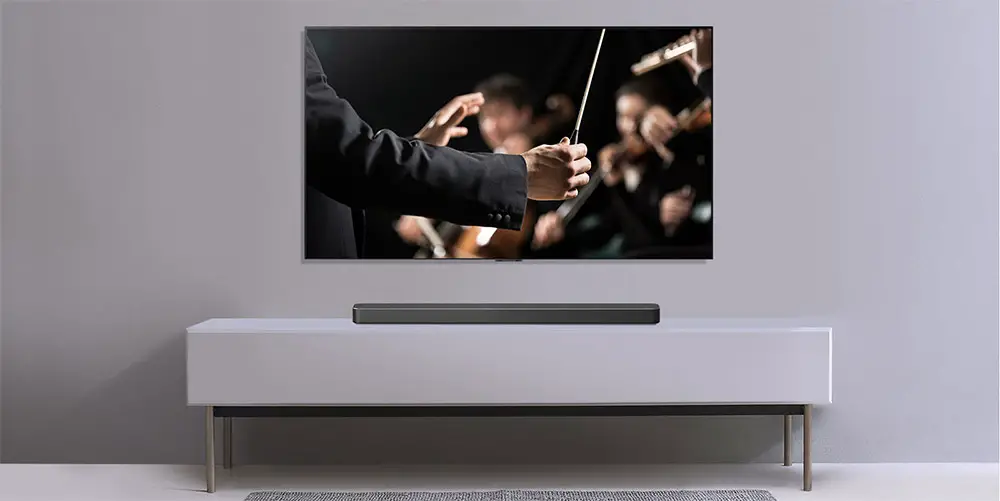 Final Thoughts
We are slowly reaching the end of our review so what we can say is that it was pretty obvious what LG had in mind when creating the SN8YG. This model is basically a toned down version of the SN9YG as the only real difference is the omission of the side firing drivers which resulted in its shorter length and this way it can fit nicely under small TVs of 49″ and above while the lack of side firing drivers is not making its placement more difficult than it needs to be.
The SN8YG is a soundbar that has a lot going for it as it can playback Dolby Atmos and DTS:X formats and use its up-firing drivers to elevate the overhead layer making the soundstage feel more full and with greater volume. Meridian technology is being utilized for better sound while there is an extensive list of extra features including High Resolution Audio, the ability to add wireless surround speakers, built-in Google Assistant and Chromecast, streaming either from USB or Bluetooth, an automated calibration system and smartphone app support making the SN8YG a soundbar that covers all bases.
On the downsides the most obvious is the lack of any kind of surround activity. Without the optional wireless surround kit the soundbar cannot offer a 360 degrees immersion. Also as we had tested the SN9YG recently the shorter length of the SN8YG along with the omission of the side firing drivers makes the front sound wall feel a bit narrower while the front channels shifting and separation feels slightly less clear and accurate. The Atmos drivers do manage to give a sense of elevated sound but the sweet spot for giving you the maximum effect is pretty narrow. Also if you plan on using the soundbar in a low lit or completely dark room the remote is going to give you a hard time as it doesn't have a backlight function.
Overall the LG SN8YG gave us a satisfying experience that will be more than enough for any casual use. If you are on the fence between this or the SN9YG their difference is that for about $250 less you loose the side firing drivers and get a shorter soundbar. Everything else is exactly the same so your decision should be made based on your room size and budget restrictions. If you don't have a problem with either of them then go for the SN9YG as it can give you a slight edge in performance otherwise the LG SN8YG is a great offering for your small room and low budget and will offer you plenty of moments of cinematic and music pleasure.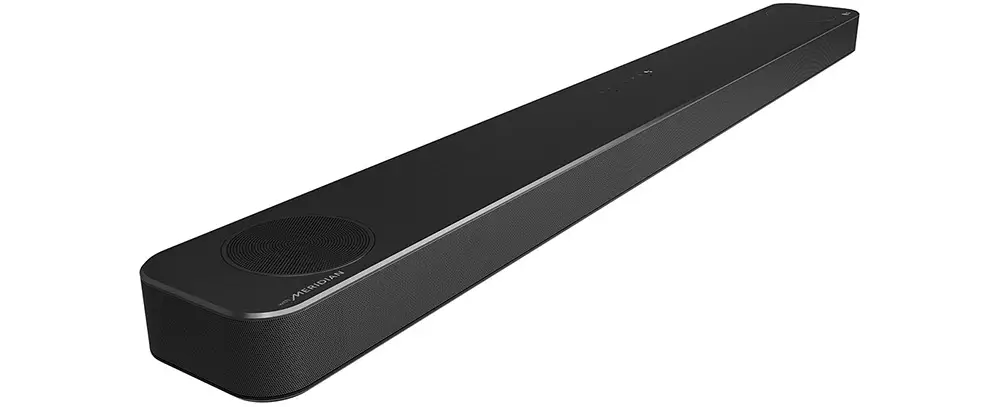 For more reviews you can check our dedicated Soundbar-subwoofer combo reviews list or even look at our Product Reviews Table where you can find the brand and specific product you are looking for.
Also don't lose the chance to subscribe to our Newsletter and gain exclusive privileges.
---
Cheapest Places to Buy :
---