---
Cheapest Places to Buy :
---
LG has been offering 4K products for a few years now and certainly their crown jewel is their 4K OLED TV lineup that has gathered huge praise among consumers. But this doesn't mean they only concentrate in making 4K TVs but also offer a wide variety of 4K enabled electronics like their 4K UHD bluray players. 2017's LG UP970 was a very capable 4K UHD player offering some premium features and very good performance. You can read our review of that player HERE.
So in 2018 LG released a couple of new 4K UHD players, the UBK90 and the UBK80 with the UBK90 being the one replacing last year's UP970. So we were curious to see what LG changed on an already solid performer and if their new players can distinguish themselves from an already very competitive field. All these in our LG UBK90 review.
Design
When you first look at the UBK90 it certainly gives you a feel that it is a very budget friendly player. If you had previously seen the UP970 then you can definitely mistake the UBK90 for LG's last year offering as it has almost the same design. Everything from size, to weight, to the front buttons and disc tray is similar.
The only minor differences that only a few eagle eyed people will see is that the UBK90 has an exposed front USB port while last year's UP970 was covered. Also the LG logo is positioned in the front right corner in comparison with last year's front left corner. And this is where the differences end as everything else is the same.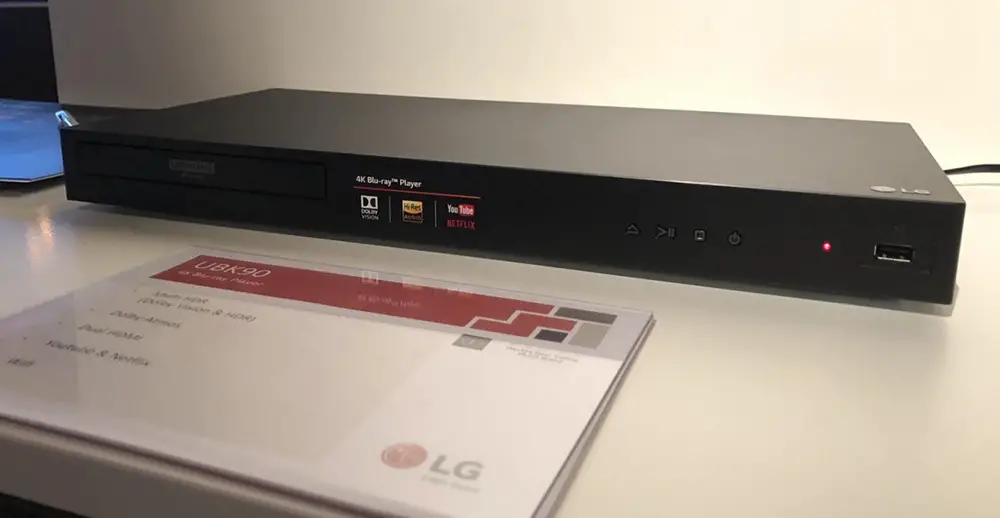 What we get with the UBK90 is a plain rectangular black box with a brushed metal effect finish for it's plastic cover. There is no front display that can be both good and bad depending if you are the kind of person that is paying attention to it. Towards the right side you will find four icon shaped buttons for ejecting the disc tray, play/pause, stop and power. We didn't like last year's icon shaped buttons as they were a bit hard on the touch and we don't like them this year also as LG seems to keep them exactly the same.
To the right of the buttons is a small LED light and this is the only indicator available showing that the unit is working or not. To the far right we find the USB port and this year LG decided to keep it uncovered for easier and faster access. Being better or not is up for discussion but in our opinion we prefer last year's covered USB as it was hiding the port better.

All other ports are placed in the back of the player and we will analyze them a little further down this review. In general LG made little effort to change the outside looks of their player compared to last year. Outside looks may not be the most important factor for buying such a player but we still would like LG to put a bit more effort to create a more interesting design.
Video / Audio Quality
The UBK90 may come at a relatively low price compared to other 4K players and in a rather cheap looking case but when it comes to 4K playback with HDR the results are more than pleasing and exactly what you would expect from a 4K player in the year 2018. As of lately we are using the 4K UHD disc of Pacific Rim: Uprising for image testing and what we saw was great image reproduction similar to some more expensive offerings from other manufacturers.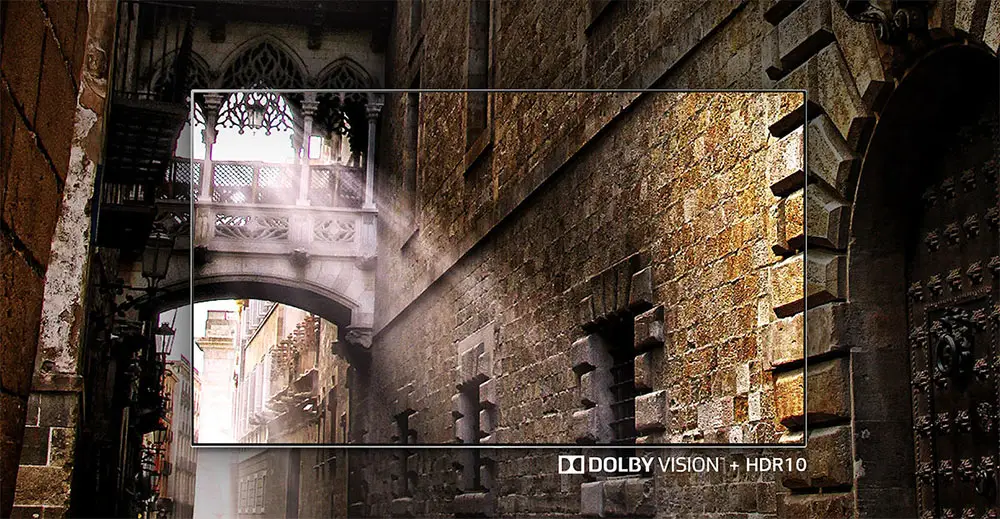 The amount of sharpness was revealing even the smallest of details and the overall image had an extraordinary clarity. Wide Color Gamut (WCG) helped to provide a wider palette of colors while HDR offered enhanced highlights and an overall more alive image. We must note that the UBK90 comes with Dolby Vision support right out of the box for those that have equipment that support it and the result must be seen to be believed. On the other side there is no HDR10+ as LG is known for going the Dolby Vision route for all of its devices.
The UBK90 also has the ability to upscale lower definition signals to 4K. The results we got with Full HD 1080p content was very good providing some extra details especially if the 1080p content is good enough. As for SD content we cannot say we are ecstatic with the result but I guess this was a given for such low resolution video. At least the end result is adequate for viewing so if any of you still have some DVDs in your library rest assured they will not become useless.The player also offers HDR to SDR conversion for those not having an HDR capable TV.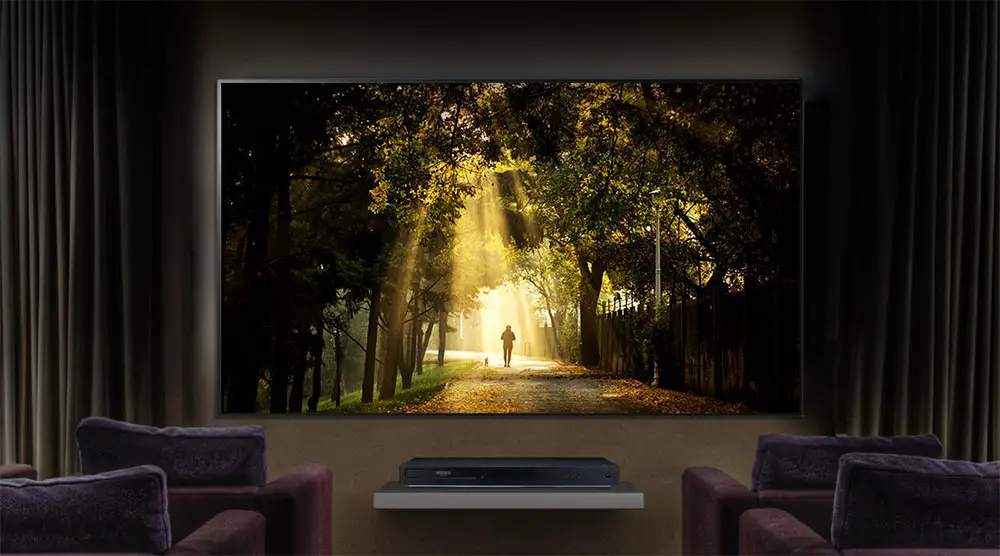 Audio performance we got from the LG player was as good as expected. The UBK90 is capable of reproducing all kinds of Dolby Digital or DTS tracks up to the most recent Dolby Atmos and DTS:X ones. The results we got from testing Pacific Rim: Uprising was breathtaking with all the clarity and power of the track being fed to the receiver and all the necessary information passed as it should in order to create a sound field that was expanding both in depth and height. There is also high-res audio support through the USB port and although a common feature in today 4K players it's good to have it here also.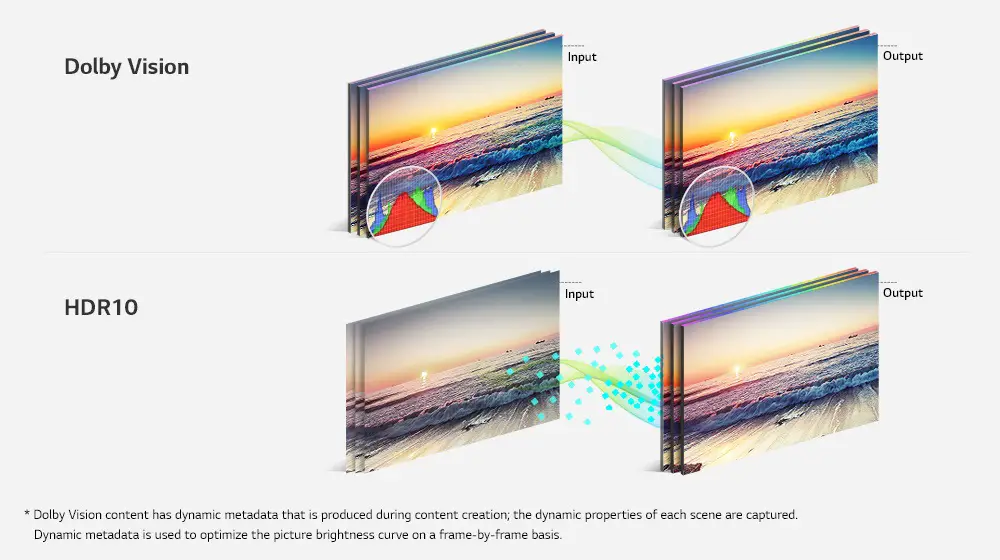 The disc tray is generally silent and loading times are fast. We didn't experience any bothering noises either from the tray or during the disc spinning. In total we would say that performance wise the UBK90 offers the same quality we got from last year's UP970. Crystal clear 4K image, mesmerizing HDR and excellent sound reproduction makes this player an excellent choice for those looking for a player that may not have the looks but definitely has what matters the most. Great video and audio performance.
Inputs / Ports
Looking at the ports we get exactly the same setup as we saw in 2017's UP970 player showing that it's not only the outside looks that is almost the same but at least some internal parts are also similar.
We already mentioned the frontal USB port for connecting external storage so let's analyze what is there in the back. What we get is two HDMI ports with one of them being HDMI 2.0a and HDCP 2.2 with 4K/60p, HDR (both HDR10 and Dolby Vision), and Wide Color Gamut (WCG) support. The second HDMI port is only version 1.4 and is meant only for audio.

With two HDMI ports you have the ability to connect the one to your TV directly and the other to your AV receiver, sound bar or dedicated sound system and some manufacturers call this the optimal way although having tried only one HDMI port through the AV receiver directly, we haven't seen any difference in audio quality.
As for the rest we get an optical audio out port and an Ethernet port for wired connection to the internet although the player has built in WiFi for wireless connection. That's all we get for connections and to be honest you cannot expect anything more. The HDMI and Ethernet ports are in my opinion the absolute minimum that should be offered and here we get a second HDMI port as well as an optical audio out as a bonus which we find a pleasant addition.
OS, Apps and Features
One characteristic from last year was that LG players are very easy to set up. Within a few minutes everything is up and running. You choose language, internet connection and that's all. Going to the basic menu everything looks so familiar as not much have changed since last year's UP970. Offering a simple design makes it easy to navigate and to find any feature of setting you want. Just like the UP970, the menu of the UBK90 offers five main options with them being Movie, Photo, Music, Premium and Settings.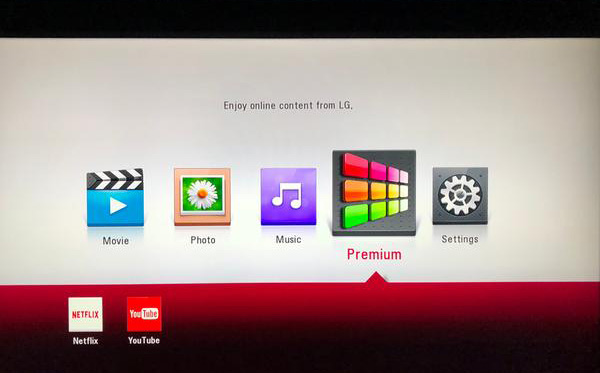 Inserting a disc will show what kind it is before you run it. Through the Movie, Photo and Music options if you connect some external drive you can navigate through it's folders. The player supports a wide variety of formats both for video and audio and as many as we tested it seemed to be running them normally. There are a few weird formats and containers that the player may not run as it is not a dedicated media player but for the most part it works very good.
As for the premium section this is where two streaming services are located with them being Netflix and Youtube. We tried Netflix and it supports 4K resolution with Dolby Vision. Next we tried Youtube and we were able to stream content in 4K with HDR. There is no online store supported so you cannot download any other apps or streaming services so in a way you are stuck with only these two. If you need some other service then you may have to look for a different player.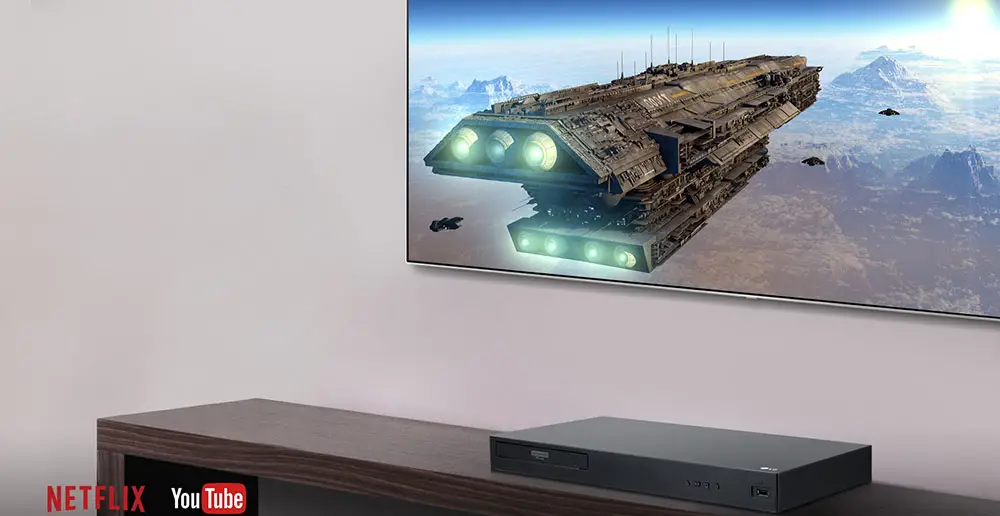 In the settings we can find various options that you can play with like Aspect ratio, Resolution, Display mode, HDMI color setting, 3D mode and Home Menu Guide. The Display mode still doesn't have an auto option like last year and this is a major omission from LG. Also from looking at the settings the player doesn't offer some of the more advanced options some other premium players have like chroma subsampling or bit depth.
For the audio there is a Digital output option that you can choose between PCM Multi channel or DTS Re-encode. You can leave it to auto and let the player decide the best. You will also find a Sampling Freq. with 48, 96 and 192KHz options, a DRC setting with on, off and Auto options and lastly an HDMI Audio setting in order to choose from which HDMI port you want the audio to be channeled.

The remote that is offered with the UBK90 is exactly the same as last year. Simple, offering all the basic controls and functions without anything fancy. Numerical buttons on the top, playback buttons under them, menu navigation buttons in the middle and various control buttons on the bottom. There is no backlight here so this could be a bit of a problem when using it in low light situations.
Final Thoughts
The LG UBK90 is clearly a budget friendly player with a few premium features on offer. What is very surprising is how similar it is with last year's LG UP970. From the external casing design, to video and audio performance, menus and streaming services everything seems to be almost the same which brings the question why LG rolled out a new model with a different name if it is almost the same player.
Although in our review of the UP970 we didn't notice any problems there was talk in forums about a few playback problems of the unit so maybe LG addressed them this year. Anyhow we didn't see any problems with any of the discs we tried with the UBK90 so hopefully all problems are solved.
The player has some major strengths offering very good 4K content reproduction with HDR and Dolby Vision. It offers a second HDMI port for audio, it is very easy to setup, you can start using it in no time and the price for a Dolby Vision unit is definitely attractive.
On the other hand it has a very basic design that in all honesty looks rather cheap. It offers only two streaming services and no online store to download more limiting your options. It doesn't have any front display so some times it may be hard to understand if the unit is working or not and the settings on offer are pretty basic that can make a few people that like to dive deep in calibration settings to look elsewhere.
The player continues from where last year's UP970 left, offering what is most important. Good video and audio performance including Dolby Vision. If you want more fancy features and settings there are other players to look at but if you just need a player that will make the dirty job and you don't care about anything else then the LG UBK90 is more than enough to cover your needs and at a price that you will not regret.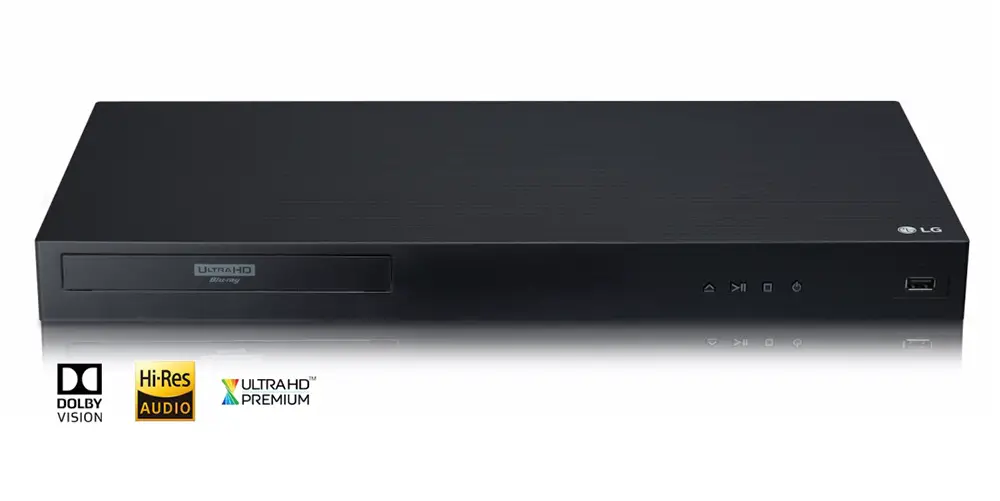 For more reviews you can check our dedicated 4K UHD Blu ray Player reviews list or even look at our Product Reviews Table where you can find the brand and specific product you are looking for.
Also don't lose the chance to subscribe to our Newsletter and gain exclusive privileges.
---
Cheapest Places to Buy :
---
Specifications
Highlights : Ultra HD Premium, Multi-HDR (HDR10 and Dolby Vision), 4K Blu-Ray Disc Playback, 3D Blu-Ray/ DVD Playback, 4K Streaming Content, Built-in WiFi
Playable Disk Types : BD-ROM, BD-R, BD-RE, DVD-ROM, DVD-R, DVD+R, DVD+RW, DVD-RW, Audio CD, CD-R, CD-RW, DTS-CD, UBD-ROM/UBD-R/UBD-RE
Video Format :

MPEG-1, MPEG2 PS/TS, MPEG4 AVC (H.264), SMPTE VC1 (VC-9), H.265, Xvid, MKV, AVC Rec, AVCHD, M4V, WMV, 3GP, MP4, MOV, FLV, VOB, TS, DAT

Audio Format : LPCM, Dolby TrueHD, Dolby Digital Plus, Dolby Digital, Dolby Atmos®, DTS, DTS-HD Master Audio, FLAC, AAC, WMA, MPEG 1/2 L2, MP3
Features :

3D, SIMPLINK, USB Playback, External HDD Playback, 4k Upscaling, Noise Reduction, NTSC⇔PAL Conversion, FCC TTS, FCC Closed Caption

Connectivity : Ethernet, Wi-Fi, Optical Audio Output, HDMI OUT 2.0a x 1, HDMI OUT 1.4 x 1, USB Playback
Dimensions : 16.9″ x 1.8″ x 8.1″ / 430mm x 45.5mm x 205mm
Weight : 3.6 lbs / 1.92 Kg