LG UQ9000
Reviewed at $479.00 (55")
Ports & Connectivity
8.7/10
OS, Apps and Features
9.3/10
Pros
Good viewing angles
Extremely low input lag
webOS 22
Very low price
Cons
Not good SDR or HDR brightness
Mediocre contrast ratio
Average motion performance
No Dolby Vision, DTS or HDMI 2.1
---
Cheapest Places to Buy :
---
Obviously when it comes to a new TV we all want to buy the latest and greatest but there is a huge market out there that just wants a TV for casual use or don't have the budget for anything more. As such in our LG UQ9000 review we will be looking at one of LG's most affordable models that has been released for 2022.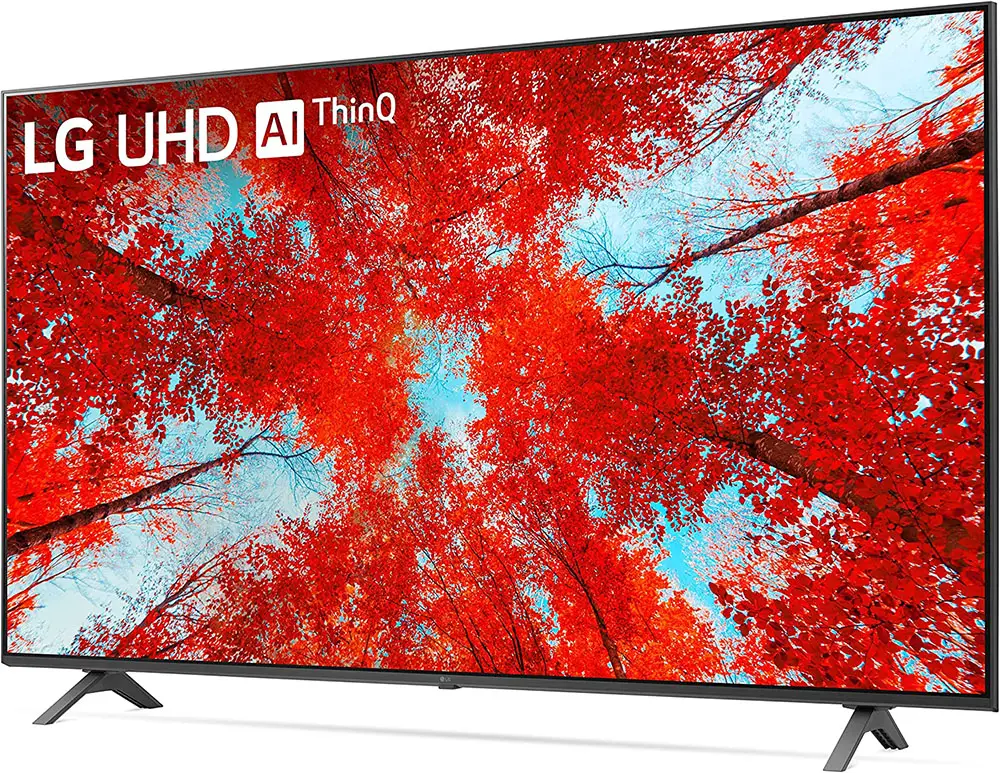 The UHD series from LG sits at the bottom of the performance ladder, just under their Nanocell series and offer basic specs and functionality. There are four main models in the series with the UQ9000, UQ8000, UQ7500 and UQ7000 with many more in between but all of them look awfully similar in specs. Usually the differences have to do with minor performance changes, colors, stand design and some specific apps and streaming services being offered in specific markets.
As for the UQ9000 in particular, this is a new entry in the UHD series this year as there was no equal in 2021. The closest one was the UP8000 which you can read our review HERE. The UQ9000 uses an IPS panel, with the exception of the 50″ and 70″ sizes which come with VA ones, along with a 50/60Hz refresh rate. It uses the new a5 Gen 5 AI Processor 4K, supports HDR10 and HLG, has Dolby Audio for sound and comes with the latest webOS 22.
Very basic specs so image quality is surely not one of its strongest points. Is it any better than last year's UP8000? Let's start our tests to find out…
Design
Looking at the UQ9000 we failed to find any major differences compared to last year's UP8000 so it seems that LG is using the same shell for many of its budget friendly UHD series this year.
One thing that really was noteworthy last year was the reduction of its overall thickness and it seems that the UQ9000 keeps the same slim design. As such this one measured just 2.4″ (6.1 cm) which is good enough for such a low cost unit and will not extrude much when wall mounted. Usually we see more slim designs in the middle tier section and above so it's nice to see such a low cost unit featuring such an elegant design.
The TV also comes with thin enough borders making the image look good while its bezels are also thinner that what we usually see in such a category. Turning the TV around we find a fairly plain design with all the connectors being separated into two groups and positioned on the right side with the power connector being the only one kept separately on the left. The layout is pretty similar to last year's low budget models so no surprises here.
Unfortunately one thing that was not very good was cable management and this is very much the same in the UQ9000. At least LG provides in both lower corners, just above the feet, some short of plastic hooks and you can keep all your cables together this way. Well, in this price you cannot ask for more…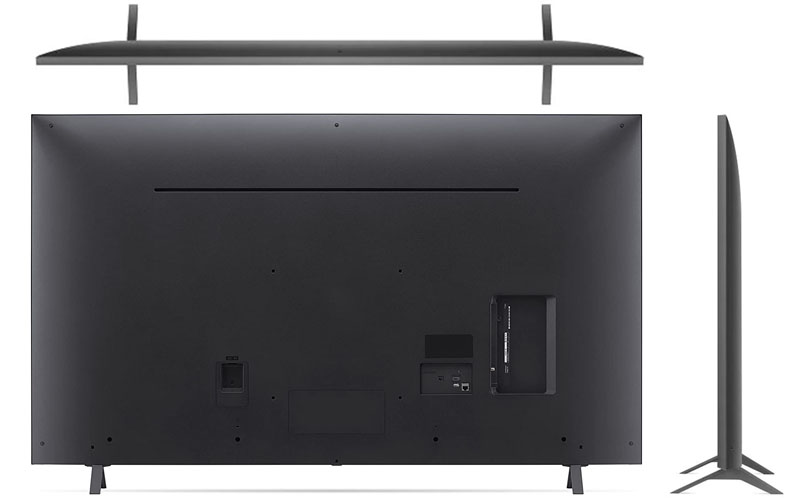 As for the stand once again the UQ9000 copies the UP8000 directly. The TV is using a standard bench type stand with the two legs locked in place at the very edges of the TV which may be good for stability but certainly will require a bigger furniture for you to place it on. Keep in mind that these lack any kind of cable management to help drive the cables through the back so the available hooks above them is the only thing that can keep the cables together.
Here we should note that the European/UK version of this TV is the UQ9100 and comes with a central stand instead. Everything else is exactly the same but for some reason LG prefers this stand design for many European countries.
Continuing with the similarities the UQ9000 comes with the same Magic Remote that was updated last year but has more or less the same functionality. LG has kept exactly the same design and buttons layout for 2022 so no changes to be found.
The redesigned Magic Remote has lower number of buttons compared to older versions but at the same time increased the dedicated ones. While before we had buttons only for Netflix and Amazon Prime now we also get Disney+, LG channels along with special buttons for both voice assistants. Also dedicated playback buttons are a thing of the past. The latest Magic Remote may seem different than before but it remains the same functional one as it always was.

Not much to say here. The UQ9000 is a copy of last year's UP8000 both for the TV and the remote. Build quality is ok but don't expect anything premium like the more expensive releases from LG.
Video Quality
Processor technology used
One noteworthy difference this year is the processor being used in the UHD series. The a5 Gen 5 AI Processor 4K, as LG calls it, is a new entry as until last year we only had the a9 and a7 processors and for their more affordable releases they just used a quad core variant without any more information about it.
Now, we don't know if this new a5 Gen 5 AI Processor 4K is the same "quad core processor" that was being used in 2021 or something entirely new, as manufacturers are very secretive of anything that has to do with their new processors and usually only stay behind their usual marketing jargon to impress the masses, but looking at the capabilities of the UQ9000 one aspect that seems to be different is that now AI is being utilized when it comes to its upscaling features.
In our upscaling tests the UQ9000 did really good and all kinds of content we threw at it upscaled nicely into 4K without any visible artifacts or any other problems due to the upscaling process. Obviously with low quality 480p content don't expect any miracles but what you get is more than adequate.
Also the new a5 processor comes with AI Sound Pro which essentially is LG's virtual technology in order to upmix 2.0 channels audio into a full 5.1.2 channels experience.
With the AI Sound Pro audio suite also comes Clear Voice which is responsible of boosting the dialogue in specific scenes in order to make it more clear and easy to hear.
Lighting technology used
When it comes to the lighting system used what we get is a Direct LED system with no Local Dimming so no real changes compared to last year and to be honest this was to be expected as all low cost TVs come with Direct LED backlights nowadays. LG has reserved their mini LED, FALD and Edge LED light systems only for the medium and high tier models.
The Direct LED system is using light behind the included IPS panel but is much less capable than a mini LED or FALD system which means far less brightness output, less light accuracy and lower contrast which means that blacks will appear more greyish than true blacks. And with the UQ9000's IPS panel low contrast capabilities and omission of Local Dimming makes things even worse.
In our blooming test patterns things were not as bad as you may imagine and with bright scenes you are not going to notice it but with a dark background and smaller bright objects appearing on screen blooming can be more than noticeable and somewhat distracting.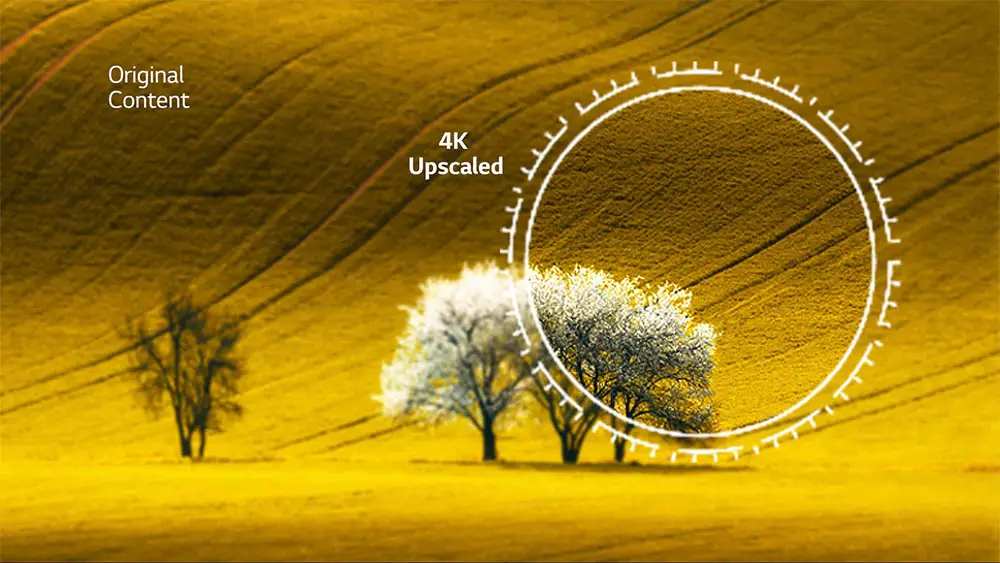 We were not expecting much here as having a Direct LED system is pretty common the last few years in the lower end category and in line with what we have seen in many other TVs with a similar price. At least having an IPS-like panel in combination with the Direct LED light system makes the UQ9000 less prone to any major burn-in problems.
Brightness / Contrast
Brightness is one of the most important aspects of any HDR TV nowadays as with HDR content the need for high brightness output is bigger than ever. Unfortunately these low cost TVs do not have the necessary peak brightness to make HDR justice.
Using the Expert (Dark Room) mode, in our SDR brightness test over a 10% white window we got 255 nits which is mediocre even by SDR content standards. On our HDR brightness test over a 10% white window we got 317 nits of brightness which again is not good at all and HDR really fails to impress here.
These numbers indicate that the UQ9000 is not all that different from last year's UP8000 which was to be expected.
Brightness levels followed the EOTF reference values really close up to its roll-off point but we did notice that near black levels appear very bright which is due to the TV's low contrast ratio capabilities.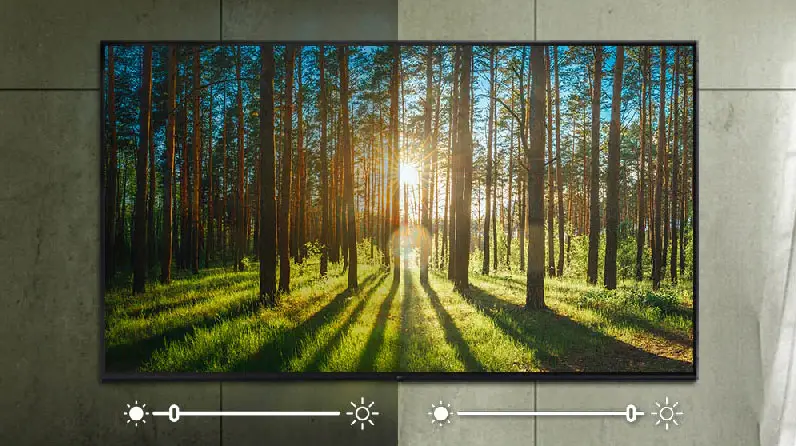 In terms of contrast the UQ9000 comes with an IPS panel and as a result contrast ratio is not good at all. As a result black colors appear more grey which show even more if you use the TV in a completely dark environment.
The UQ9000 seems to fare slightly worse than the UP8000 but in general their numbers were very close and not easily distinguishable in real world content.
Keep in mind that the 50″ and 70″ seem to be using VA panels instead so if this is really the case then these sizes surely will do better in terms of black levels and contrast ratio. Unfortunately we don't have these sizes available in order to confirm this ourselves.
Viewing angles
The UQ9000 is using an IPS panel and this usually means good things in terms of viewing angles. It cannot reach the extreme angles of OLED technology but IPS and IPS-like panels perform far better than any VA ones will ever be capable of.
For this unit specifically we would say that a maximum of 30-35 degrees is the best you can get as anything more and the color accuracy, brightness and black levels take a major hit to remain watchable.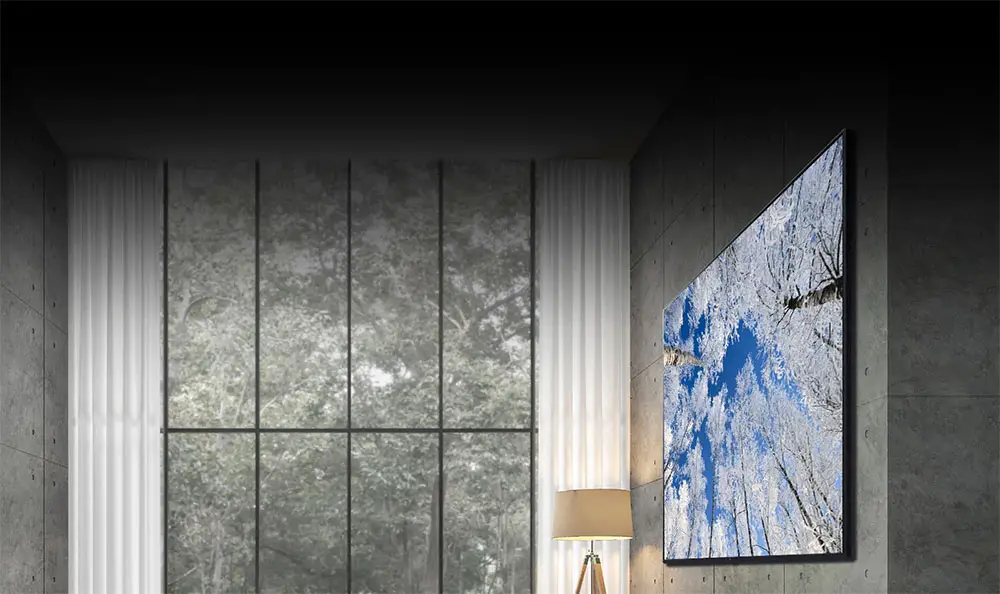 The TV is lacking any kind of wide viewing angle technology that we see in some of the top tier models but for its class it fares pretty good to be used as a family TV. Keep in mind that the 50″ and 70″ sizes are using VA panels and this means that viewing angles in these sizes will be much worse than what we have experienced here.
Overall if you plan on using the UQ9000 for family use or plan to watch from angles other than the sweet spot then this one can be considered a good low cost option.
HDR support
As far as HDR support the UQ9000 gets only the basics which is the same as all low tier UHD releases from LG. We only get the basic HDR10 that is required for 4K UHD playback along with HLG that is used mainly for broadcasting.
And along with Dolby Vision, gone is also the feature we saw in the LG C2 called Dolby Vision IQ that could automatically adjust the Dolby Vision dynamic tone mapping according to the ambient light in the room. No reason obviously to have that since Dolby Vision is completely absent.
What is available in the UQ9000 is HDR10 Pro which basically adjusts the brightness level of every image in order to enhance color and clarity.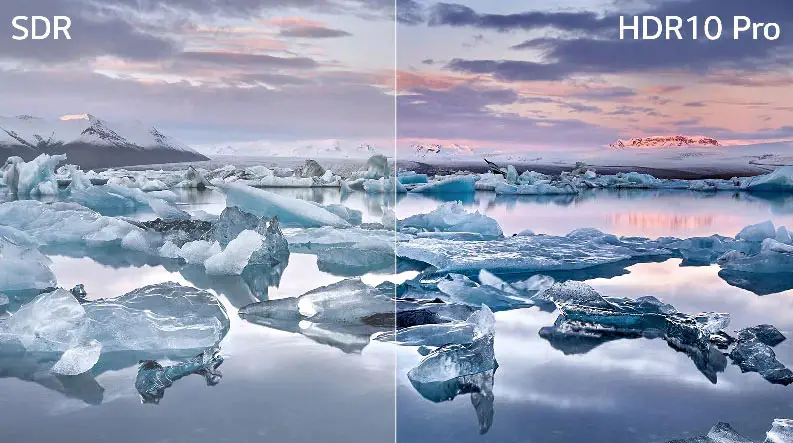 This shouldn't be confused with HDR10+ which is completely missing from all LG TVs, and is similar to Dolby Vision, and we don't see them supporting it in the near future, at least with LGs strong support of Dolby Vision and the rivalry they have with Samsung on the HDR front.
Color coverage
Another characteristic we see in these budget TVs is the lower color coverage they can achieve. And while manufacturers don't directly mention it usually these TVs cannot display wide color gamut that is essential for 4K HDR viewing. And this is another grey area on these so called HDR TV sets as they may be able to display HDR but without wide color gamut they shouldn't be considered true HDR TVs.
In our test sample we measured 78% coverage of the DCI-P3 color space which is just ok and similar to the UP8000. On the wider REC.2020 color space we got a coverage of 56% which is mediocre and practically means that the TV does not support Wide Color Gamut.
Overall it seems that the UQ9000 is performing very close to last year's UP8000 with very small deviations.
Before calibration the UQ9000 had good enough color accuracy but it showcased a few problems. White balance needed adjustment and a few colors, especially cyan, had values above the DeltaE limit of three. Both of these can be corrected after calibration.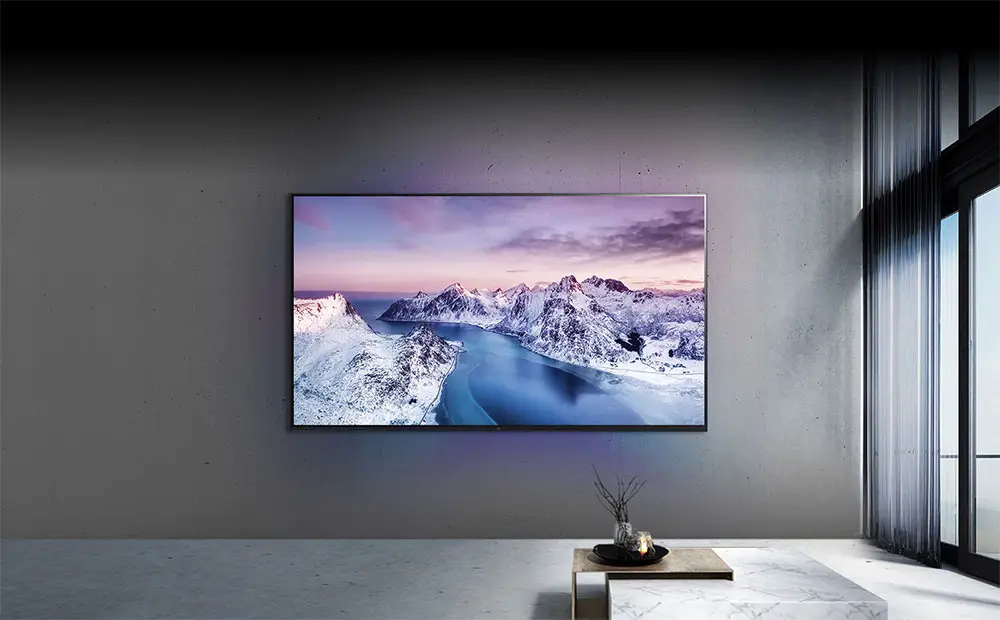 Color gradients were good although some banding was visible in some darker shades which is common in many TVs we have tested. There is also a Noise Reduction function in case banding is bothering you but you are going to loose some fine detail if enabled so use it wisely.
Motion performance
Next is our motion performance tests and from what we saw the UQ9000 is using a 50 Hz (or 60 Hz depending on your region) panel along with a 120 Hz backlight dimming frequency. All sizes from 70″ and above seem to go for a 100/120Hz frequency panel instead so surely these will perform better than the smaller sizes.
The TV comes with the standard Motion Interpolation in order to smooth out motion and can be enabled from the TruMotion setting and by adjusting the De-judder slider. In contrary to higher tier models the UQ9000 doesn't have the second De-blur slider showing the limited capabilities we get here.
There is no Black Frame Insertion (BFI) available either so the standard Motion Interpolation through the TruMotion setting is your only bet for improving somewhat the motion in case you find its performance very distracting.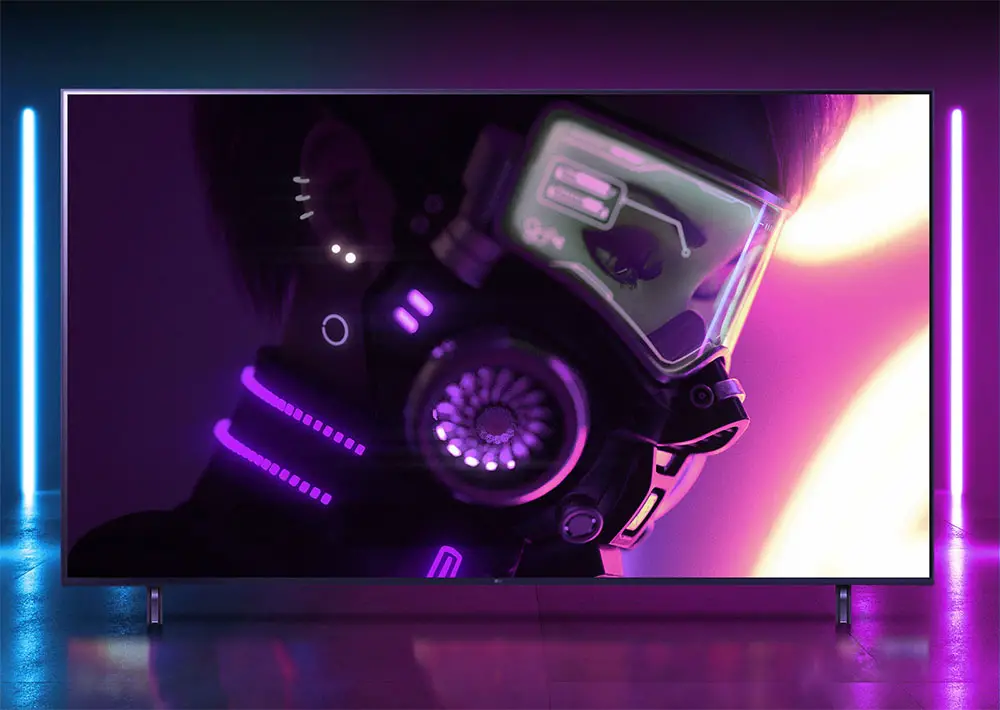 Overall we were a bit disappointed with the UQ9000's motion performance which seemed to be even worse than last year's UP8000. There was a lot of motion blur during fast camera movements and there was not much that could be done to rectify this. For casual use it will be just fine but don't have any high expectations out of it.
Input lag
The last few years manufacturers push the envelope more and more when it comes to their TVs input lag performance and we have reached a point where we get amazing low values even with these low budget releases.
According to our measurements the UQ9000 measured an average of 10.3ms input lag in both 1080p and 4K resolutions at 60Hz with the use of Game mode. The TV does not support 120Hz, only the 70″ size and above do, so no measurements were taken with this frequency.
With such low figures, gaming can really be a pleasure but in order to get such a low value you have to keep in mind that you need to use the available Game mode as outside that the input lag will greatly increase to around 118ms which is a bit too much even for slower paced and offline games.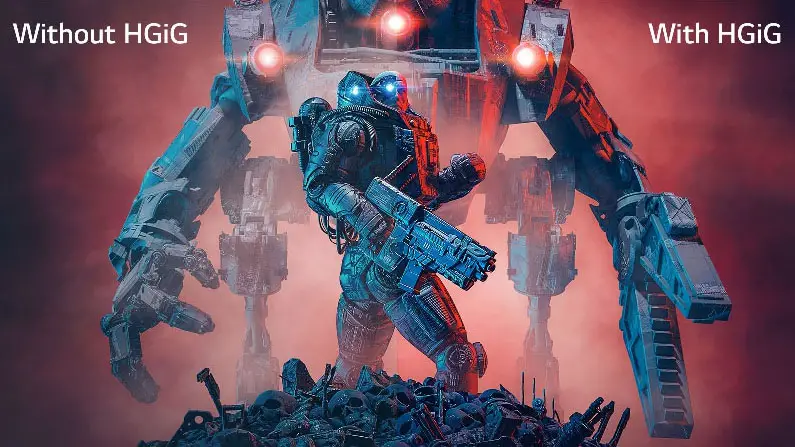 We should also not forget to mention that the TV supports Auto Low Latency Mode (ALLM) that can be used with any devices that support that like the PS5 and Xbox consoles and can greatly benefit users. Once again we get HGiG Mode which is HDR Gaming Interest Group's technology that ensures you enjoy HDR games the way that their creators and developers intended.
Also keep in mind that the UQ9000 doesn't have any kind of VRR support either it be HDMI Forum VRR, FreeSync or G-Sync which is a bit disappointing but not entirely unexpected in this price. If you are a gamer and would like to have these then you should definitely look for a higher tier TV than this.
And since we talk about gaming we should not forget to mention that the UQ9000 does great with cloud gaming as it supports both Google Stadia and Geforce Now. Obviously you will need to have the appropriate subscription and gamepad but having built-in support is characteristic of all LG releases in 2022.
Before ending this section of our review we connected our PS5 and went through a session of Call of Duty: Vanguard. Even though the UQ9000 is missing a lot of gaming features its low input lag made gaming a real pleasure so in case you are really tight on budget then we can assure you that this TV, even though limited in features, will offer you a great gaming experience.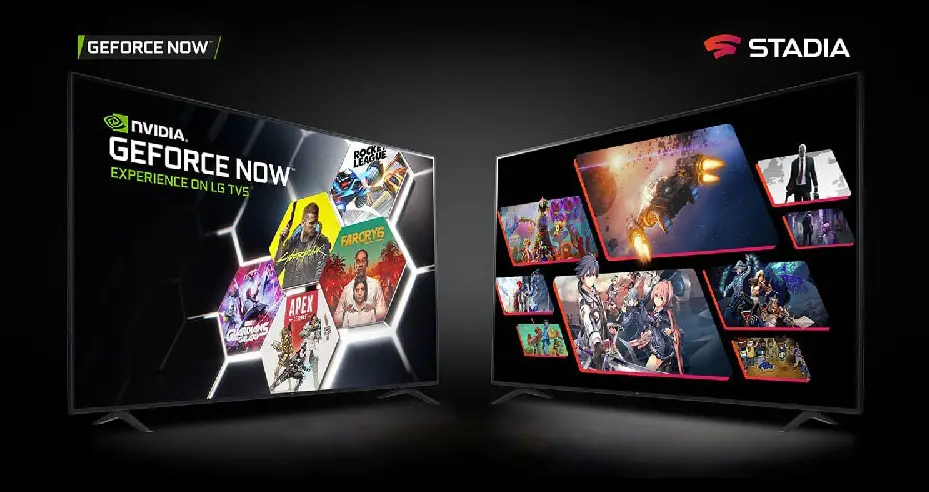 Image quality impressions
In many aspects the UQ9000 is similar to the UP8000 of last year. Motion performance felt somewhat worse but in all other aspects the two TVs were very close with each one having its own strengths.
Overall the UQ9000 is a low cost TV and this reflects upon its image quality. It's not bad if you know what to expect but surely falls short of other higher tier offerings. If you are not too picky with image quality it will offer you good entertainment but for its category you should have your expectations at check.
Audio Quality
Next in line is sound performance and from what we see the UQ9000 features a pretty standard 2.0 channels audio system with a total of 20 watts of power which is the normal for this category. The included system is adequate for casual viewing but in general it cannot offer anywhere near the kind of immersion of a surround system.
The TV behaved as you would expect from a 2.0 channels system. It can go loud, dialogue is clear and distinct but audio lacks low end prowess, feels a bit flat with action scenes and is completely lacking in surround activity.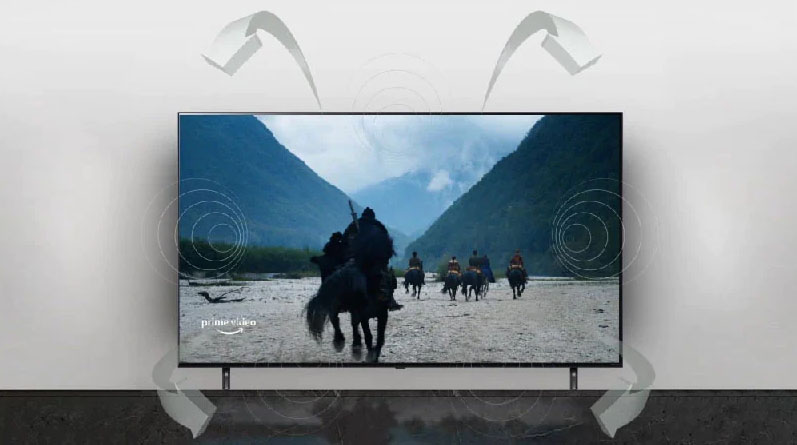 Another feature we get is called AI Sound Pro and this is actually an upgrade as the UP8000 utilized the simpler AI Sound system. This is responsible for up-mixing legacy audio into virtual 5.1.2 channels surround sound. Basically this is a virtual technology which tries to create surround audio without surround speakers. The end result is a mixed bag really and while there are moments it can make the sound feel more immersive it cannot simulate a real surround audio system as no such virtual tech can.
We also get the AI Acoustic Tuning system which the TV uses along with the help of the Magic Remote's microphone in order to adjust the audio settings accordingly and provide the best possible result. Think of this similar to the automatic calibration systems we find in almost all AV receivers but in a more simple form.
Lastly the TV is Bluetooth Surround Ready which is a feature first introduced in 2020 LG TVs and with this you can use the built-in Bluetooth to connect rear speakers to the TV. But keep in mind that by adding a couple of rear speakers doesn't mean that you can have a true 5.1 channels audio system as the TV will use only a legacy stereo track and up-mix it to all the available speakers along with the rear Bluetooth ones. As a result the surround effect is not as good or precise as you would expect but certainly is slightly better than the simple two front channels.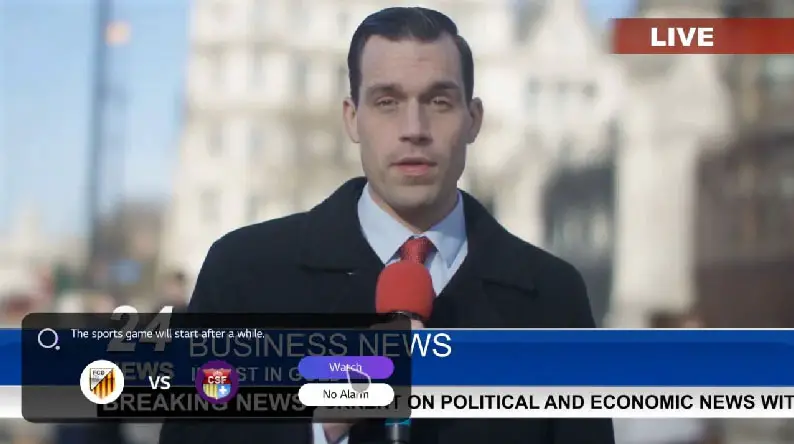 After LG dropping support for DTS a couple of years ago it seems that this is going to be a permanent thing as the UQ9000 along with the entire LG lineup has no DTS support whatsoever which is really disappointing to be honest even if Dolby audio is the prevalent format these days. At least with the inclusion of eARC you can pass-through Dolby Atmos to an external audio device. If you really want DTS Sony is the only of the big three that still supports it as Samsung has also dropped support for it.
Overall not much have changed in the sound. Yes, we do get AI Sound Pro this time but to be honest virtual tech, especially with such low performing 2.0 channels systems, is more like a gimmick than a really useful feature. For casual use the audio of the UQ9000 is just fine. But not for anything more.
Ports and Connectivity
Next we will be looking at the available ports and connectivity options of the TV. The UQ9000 is exactly the same as the UP8000 was as it has two groups of ports on the right side of the back panel with one looking sideways and is easier to use when the TV is wall mounted while the second one look backwards and can be used mostly if you plan to place the TV on a furniture.
Starting from the side connectors first we find a couple of HDMI ports along with a single USB port for connecting external storage or other streaming devices and the usual antenna/cable input. For the back-facing ports we get one more HDMI input, another USB port, a digital optical audio output and an Ethernet port.
For one more year there is no component or any kind of analog ports as these have started disappearing last year and from what we see there is no turning back which is not so much surprising.
Also all UHD models have only HDMI 2.0 ports so if you were hoping for some HDMI 2.1 features don't be as you will have to look far higher in price as not even the NanoCells have them this year. The most affordable model with HDMI 2.1 this year is the QNED80. At least we get eARC in one of the HDMI ports if that interests you.
Unfortunately for one more year the Ethernet port will only support up to 100Mbps which is a real shame but not entirely surprising given the fact that all manufacturers still include 100Mbps adapters in their TVs. Hopefully this will change in the future as Gigabit adapters should be the standard.
Lastly we should mention that the UQ9000 comes with built-in WiFi (802.11ac) while we are pleased to see support for the newer Bluetooth 5.0 which ensures better and more stable connections.
OS, Apps and Features
The UQ9000 is using LG's latest webOS 22 and while this is not a major upgrade compared to last year there are certain improvements and additions that are worthy mentioning. Basically what we have here is the same platform we saw in the LG C2 OLED so our observations here will be similar.
WebOS's UI is still taking up the whole screen and provide you with far more visual information than any of the previous versions ever did. This was a change made last year and seems to continue in 2022. We do get that some may prefer the old design that could still allow you to watch what was on screen but this is completely a personal preference.
The latest webOS looks a lot like Google TV's and the new Tizen's layout. It seems that smart TV platforms opt for a more personalized experience and as such the new webOS 22 tries to provide you with options that are tailored to your viewing habits. As such there are personalized ads, recommendations based on your viewing patterns both for streaming services and broadcasting channels and even shopping suggestions.
And here is the first addition in the 2022 version as now we have user profiles and each family member can have their own favorite settings and streaming apps. Keep in mind that these user profiles do not extend to the image settings of the TV itself as these will remain universal.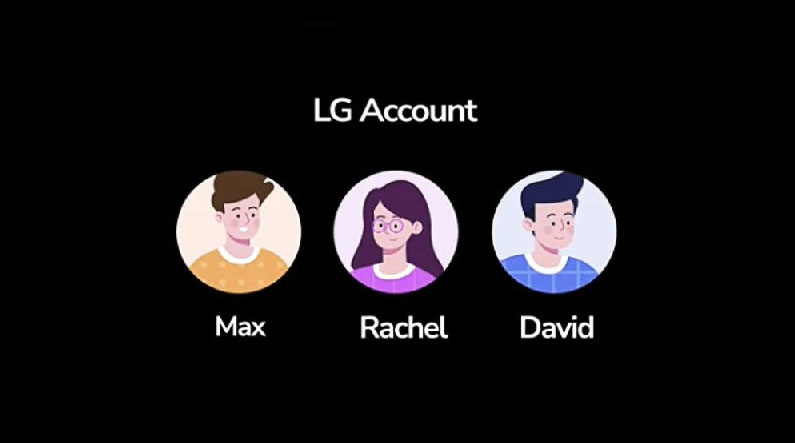 When you first look at the new design you will certainly feel like it's a cluttered mess but if you spend a few minutes with it most of its architecture will dig in and you will get the hang of it fairly fast. By pressing the Home button the main webOS page opens where you still get a single row of your apps on the bottom that you can re-arrange any way you want.
Once again at the top you get three big tiles for sponsored content, weather and time along with search. Below a single row with recommendations depending what LG's algorithm believes you would like to watch. Under the apps row there are many more options to choose from like the Home Dashboard, broadcasting channels, shopping recommendations, Sports Alerts messages and much more.
Another thing that we did notice was that the new webOS felt more quick and more responsive than previous versions we had tried. Apps would open faster and navigation felt smoother which certainly helps provide a more pleasant experience.
One thing that hasn't changed in the new 2022 version of webOS is app support and as such you will find all the apps you may need with more available from the online store for downloading. All the big names are present with Netflix, Youtube, Amazon Prime, HBO, Vudu, Hulu, Google Play Movies, Disney+ and Apple TV+ just to name a few of the most notable ones. Some of them may be region dependent so be sure its available in your area.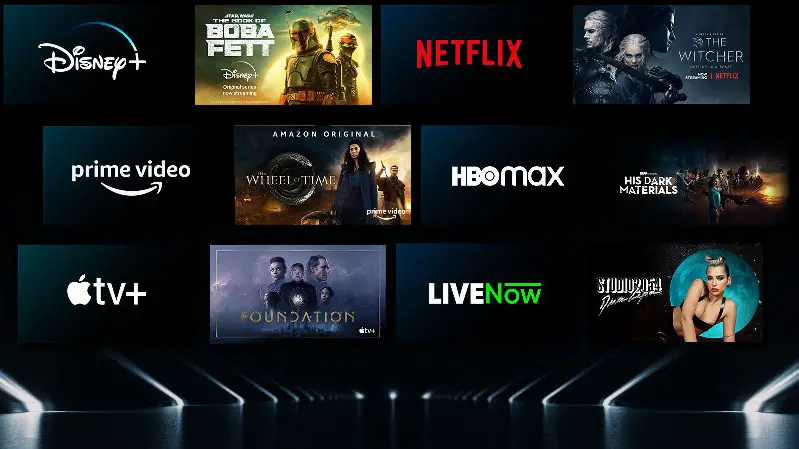 Other available apps include Apple Airplay 2 and Apple Homekit. With Airplay 2 you can stream content from other Apple devices on your TV while HomeKit lets you control certain aspects of the TV through your mobile device.
Another feature that makes a comeback this year is Sports Alert. You can set your favorite team on the TV and the UQ9000 will inform you when a match will be shown and in which channel while it can also give you score updates and the likes. The Sports Alert feature seems to be working with the internal tuner and it gives you the ability to choose from a wide range of teams and sports.
And since we are talking about a smart TV platform we could not go by without mentioning  voice control functionality. LG has included not only their own ThinQ AI that you can use to search for various information but also the two most used voice control platforms including Amazon Alexa and Google Assistant. By using the Magic Remotes built-in microphone you can issue your commands like search for a specific TV show or control your TVs volume and change channels.
There is also mobile app support if you prefer that instead of using the included remote. LG is using their ThinQ app that is supported both by Android and iOS devices and with it you can issue some basic commands to your TV.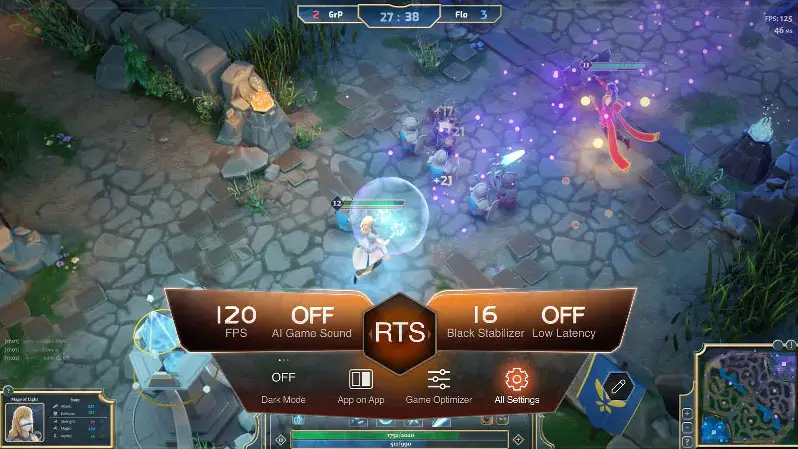 For another year we find what LG calls Home Dashboard which is a nice little feature that lets you have an overall look at all the connections of the TV. From last year the Home Dashboard has been fully intergraded into the webOS Home screen making its access faster than before.
Other features available include screen sharing, a web browser, the ability to add a USB camera and Multi-View capabilities.
Lastly we should make a mention about the updated Game Optimizer and Dashboard feature that was added the year before and LG has made some improvements on it in 2022. With it you can check specific settings during gaming including fps, image options, colors, sound and many more. It is in a way similar to what Samsung has done and it shows that manufacturers have put a lot of effort in order to offer more practicality and accessibility to gamers which was to be expected with the new generation of consoles now out in the market.
Last year webOS went for a drastic overhaul, at least in terms of design and look as its functionality remains as good as ever. This year LG did minor changes and additions which was to be expected and as a result the new webOS has a lot going for it and surely has something for everyone looking for a smart TV in general.

Final Thoughts
With such an extensive lineup in 2022 including OLEDs, QNEDs, NanoCells and the most affordable UHD TVs, it was natural that the UQ9000 would be pushed even further down the performance ladder. But in reality its performance was not all that different from last year's low cost offerings.
Its upscaling capabilities were good enough, viewing angles were acceptable for family use, out of the box color accuracy was good enough even if not great, it had very low input lag making it ideal for demanding gamers and the inclusion of ALLM and HGiG surely add to its gaming virtues. The inclusion of the latest webOS surely ups its value and the Magic Remote is the same being offered in the more premium TVs from LG.
On the downsides the most obvious would be its very low peak brightness in both SDR and HDR, its mediocre motion performance, its low contrast ratio resulting in more grey than deep black colors and its average color coverage. The TV is also missing Dolby Vision, DTS support and HDMI 2.1 ports. For DTS you are out of luck with LG as for the other two you will have to look much higher in the lineup, to at least the QNED80 for them.
Closing what we can say about the LG UQ9000 is that it can be an ideal low cost option for secondary or casual use like for a bedroom for example but if you are looking for a main TV make sure your expectations are at check at least in terms of image quality and performance as it is pretty limited at what it can do. If you are ok with that then its low price is surely its saving grace.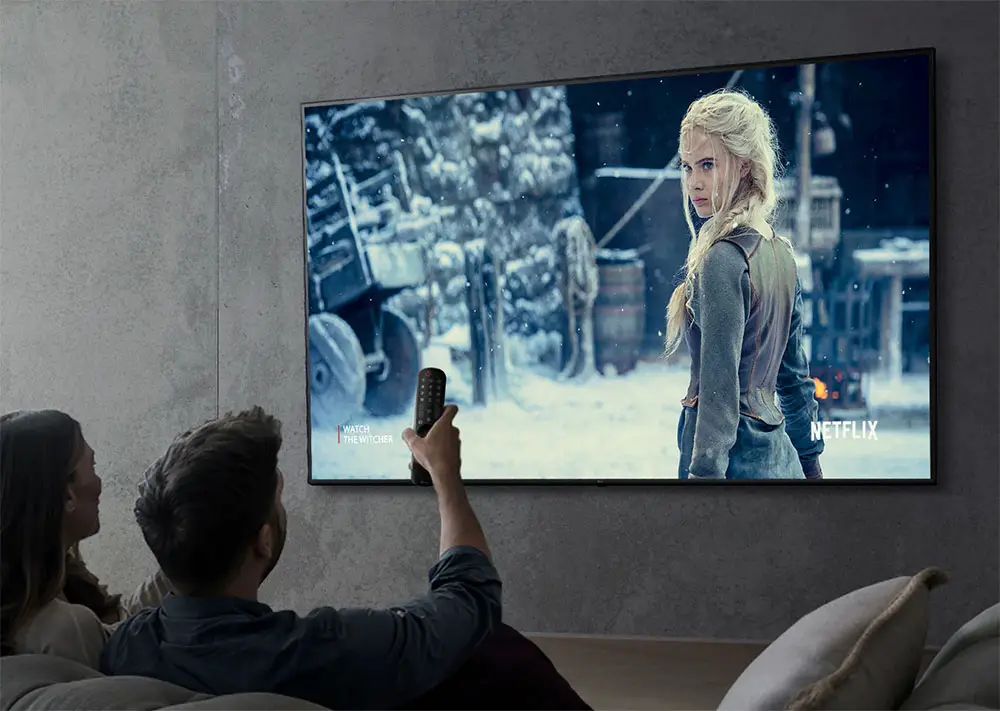 For more reviews you can check our dedicated 4K LED LCD TV reviews list or even look at our Product Reviews Table where you can find the brand and specific product you are looking for.
Also don't lose the chance to subscribe to our Newsletter and gain exclusive privileges.
---
---
Cheapest Places to Buy :
---