LG UR8000
Reviewed at $399.00 (55")
Ports & Connectivity
8.7/10
OS, Apps and Features
9.1/10
Pros
Decent contrast
Great out of the box performance
Very low input lag
Plenty of online and streaming options
Cons
Very low brightness
Bad viewing angles
Missing many gaming features
Sluggish webOS navigation
---
Cheapest Places to Buy :
---
Everyone likes to have the best in TV technology. But unfortunately not everyone can afford to pay the premium for the top tier releases. A huge portion of the market just wants a TV that can do the basics and this is why most manufacturers pay a lot of attention in this market segment. As for this reason, today in our LG UR8000 review we will test one of the most affordable TVs LG will be offering in 2023.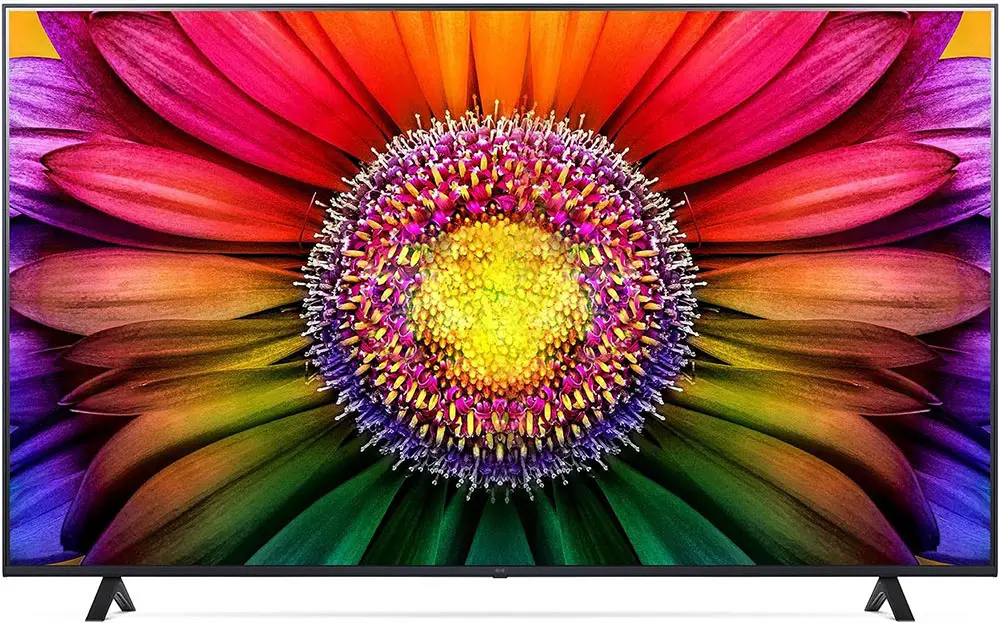 The UR8000 is replacing last year's UQ8000 which unfortunately didn't have the chance to test. It sits below the UR9000 which we did test a few days back and you can check our review in the link. The TV belongs in LG's most affordable UHD series, under the mid tier QNED models. Keep in mind that most of these low budget UHD models come with very similar specs so it is hard to find any meaningful differences between them.
So let's go over the specs of the UR8000. The TV uses a VA panel with a 50/60Hz refresh rate. For processing we find the new a5 Gen 6 AI Processor 4K, it supports HDR10 and HLG, has Dolby Audio for sound and comes with the latest webOS 23.
The UR8000 is missing a lot of features that we find in the higher tier releases. Its ultra low price wouldn't allow for much more anyway. So can this new budget release justify its low price? And how good is it compared to the competition? Let's start our analysis to find out.
Design
We cannot really compare the UR8000 with its predecessor since we didn't have the chance to test that one. But in general all these low budget TVs tend to have the same or similar looks from previous years.
The design of the UR8000 is typical for its price and honestly there is nothing impressive to talk about. Plastic is obviously the main material you will see and its look is very simple which reflects on its cost.
Measurements
We measured the thickness of the main body at around 2.3″ (6 cm) which is typical for a Direct LED TV.
Its black borders are thin enough and very similar to the ones we saw in the UR9000.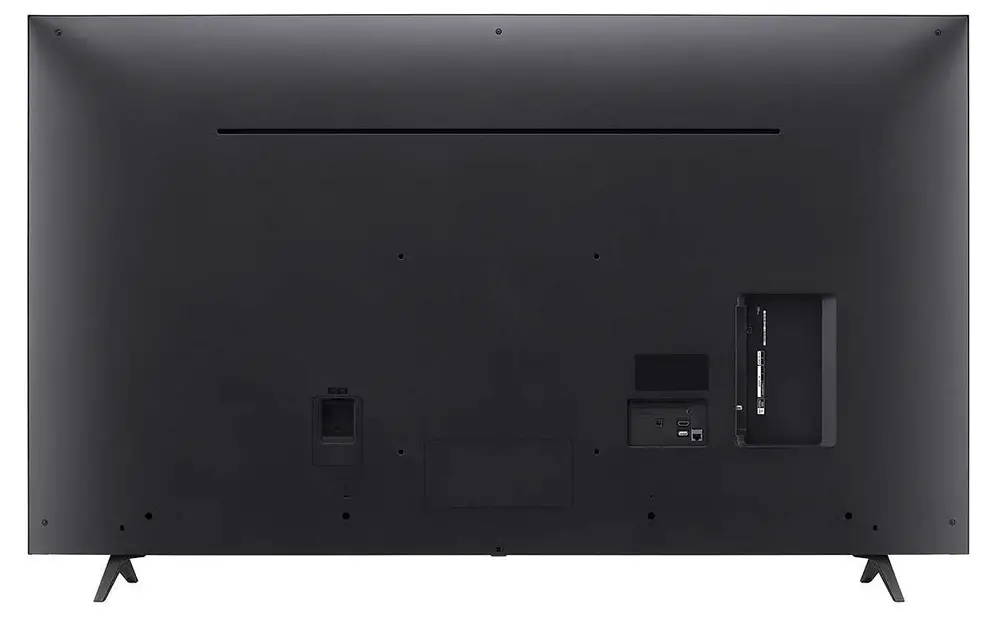 Back Side
The back side does not reveal anything out of the ordinary. It is pretty simple looking with the plastic cover keeping a very clean look.
We find all connectors on the right side with only the power connector being on the other side, as usual. There are also two special clips, just above each leg, in order to group all cables together which help a bit with cable management.
Stand
The TV is using a standard bench type stand with the two legs locked in place at the very edges of the TV. This may be good for stability but certainly will require a bigger furniture for you to place it on.
Unfortunately, unlike the UR9000, which you could place the feet in different positions for smaller furniture, the stand of the UR8000 doesn't allow that. As such you only have one stand placement option.
Also the legs are different from the ones used in the UR9000 as these are not hollow on the back. This means that the clips provided above them are the only way for some short of cable management.
Lastly, we measured the height left between the TV and the surface you place it on and this was about 3.4″. This height allows for almost all soundbars to fit under it so in theory you shouldn't have any problems with that.
Remote
As for the remote, this is exactly the same one we saw in the other 2023 LG TVs, like the G3 OLED, the C3 OLED and the UR9000. It is very similar in design to last year's one so no major changes to mention here.
All functions remain the same with LG's unique pointer system, the same universal remote functionality and smart features. Also the lower number of buttons is a welcome one while we still get six dedicated buttons as before.
These feature Netflix, Amazon Prime, Disney+, LG Channels, Sling and Amazon Alexa. The only change this year is the switch from Google Assistant to Sling, which is a rather strange one. But we have seen that in some regions this is used for other functionality. So it really depends on the market.
Overall build quality is what you should expect from such a basic and low budget model. Good for its price point but nothing extraordinary to talk about.
Video Quality
Processor technology used
The TV is using LG's a5 Gen 6 AI Processor 4K which we find in many of their lower tier models. The a5 version came out last year and it seems that LG kept the model naming for 2023 also.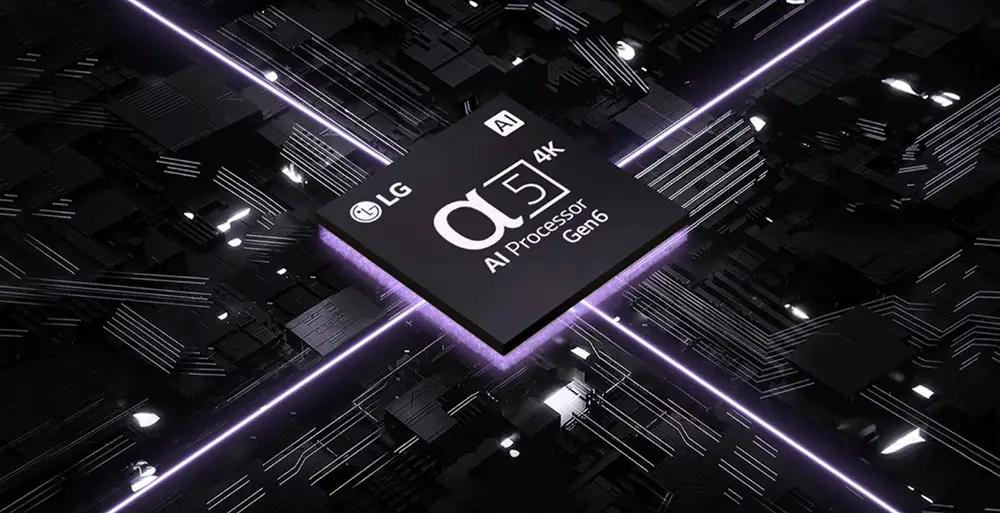 In terms of capabilities we do not know if the a5 Gen 6 AI Processor 4K is any different from last year's 5th generation of the a5 chip. Manufacturers are very secretive of anything that has to do with their new processors and usually only stay behind their usual marketing jargon to impress the masses.
And with their focus being mostly on their best performing chip, the a9 Gen 6 processor, there is almost no information regarding the a5 version this year.
But from what we do know we cannot find any substantial differences between the two versions.
Resolution and Up-scaling
For our first test we run a few videos in different resolutions ranging from ultra low quality ones, some 480p DVDs, some in 720p and obviously 1080p resolutions. We tried broadcasting signals, streaming content and discs to have a better, all around idea of the TV's capabilities.
The results were honestly average. The UR8000 is struggling to retain a lot of details in its upscaled images. As a result the final image felt a bit blurry and uninspiring. Low quality streaming content was ok but some macro blocking became visible in specific scenes.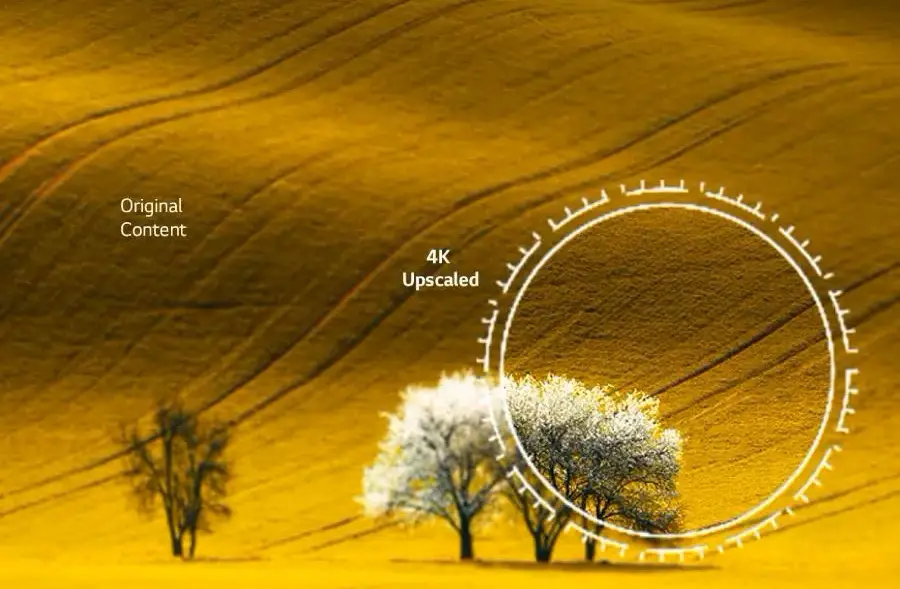 Audio Processing
Also the new a5 Gen 6 processor comes with AI Sound Pro which essentially is LG's virtual technology in order to up-mix 2.0 channels audio into a full 5.1.2 channels experience. But more on sound on its dedicated section.
Lighting technology used
Usually low end TV models come with the same type of backlight system. So since the UR9000 is using an Edge LED backlight with local dimming you may think that the UR8000 is using the same also.
But surprisingly it is not. And it seems that LG used a Direct LED system with no local dimming instead for this one.
Direct LED Explained
The Direct LED system is using light behind the panel but is much less capable than a FALD or a mini LED system. This means far less brightness output, less light accuracy and lower contrast. As a result blacks will appear more greyish than true blacks when some bright object appears.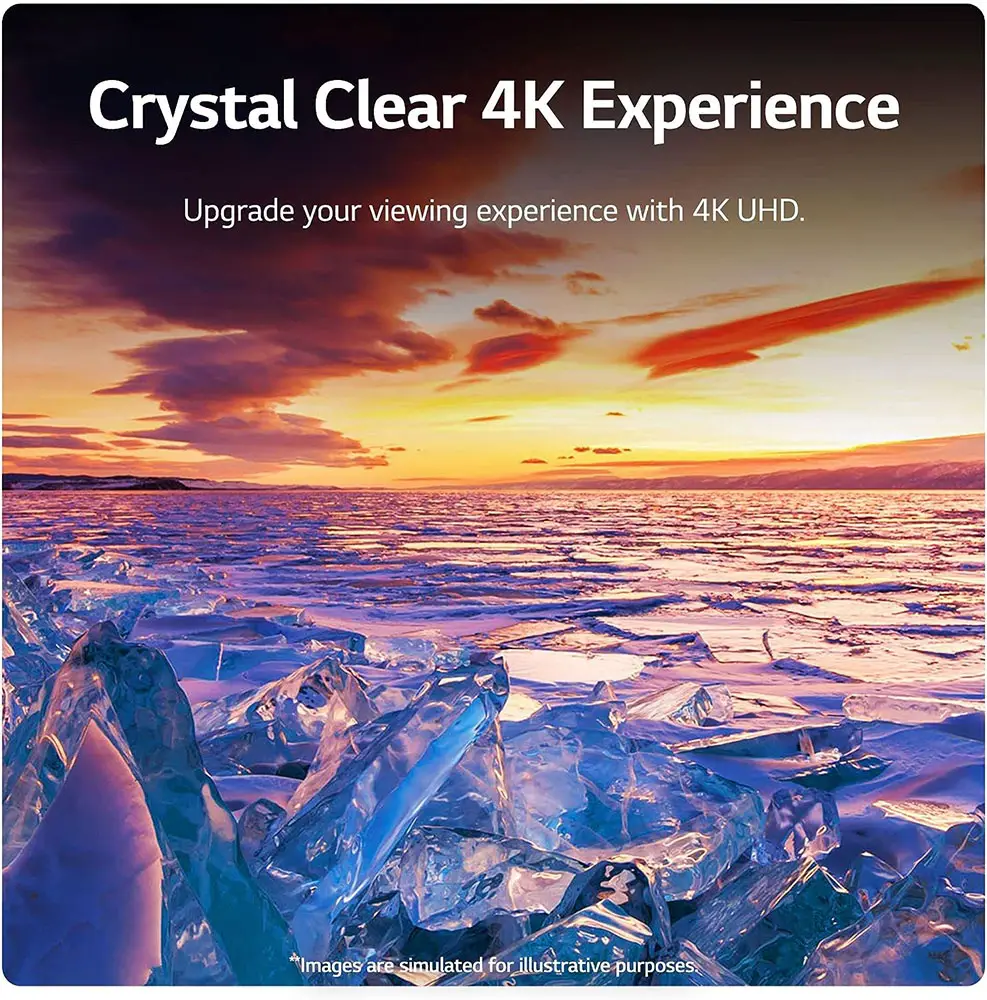 This happens due to the omission of a local dimming feature. When a bright highlight is on screen the TV cannot raise the brightness of that specific area. It has to raise the brightness of the entire screen. The result of this is that the whole image will look washed out and over brighten.
Having a Direct LED system is pretty common the last few years in the lower end, budget friendly categories. And is in line with what we have seen in many other TVs with lower capabilities. At least having a VA panel in combination with the Direct LED light system makes the UR8000 much less prone to any major burn-in problems.
Number of Dimming Zones
With no local dimming available the UR8000 does not use individual dimming zones.
Blooming & Zones Transitioning
The above has some major disadvantages, as we already mentioned above. But even such a low performing system has its own merits.
First of all the TV does not suffer from blooming. Since there are no dimming zones the UR8000 cannot light specific parts of the screen. But the lack of blooming is replaced by a washed out picture instead.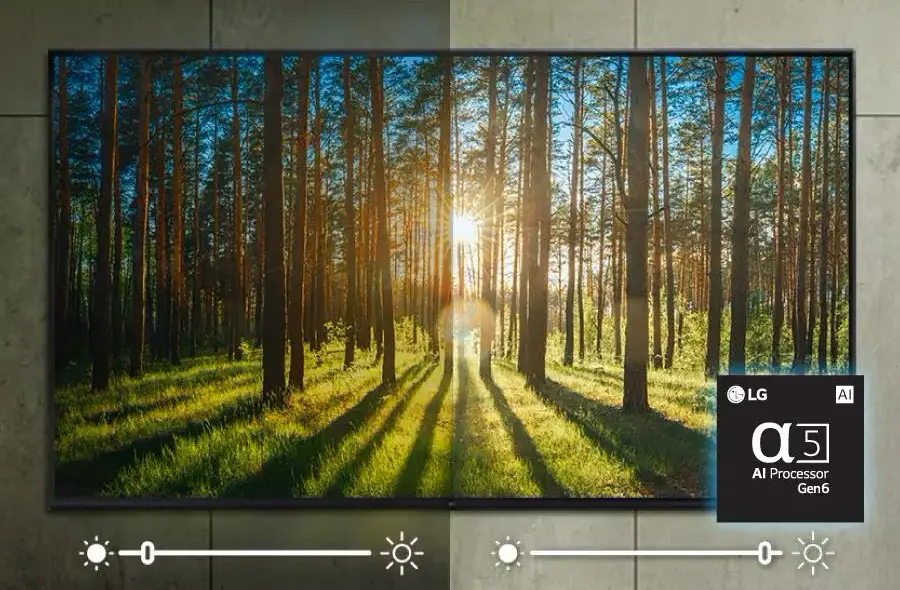 Furthermore with local dimming it means that a fast moving bright object on a dark background is bound by the algorithms performance. Such content, test the speed the individual zones will light up or turn off. If these changes happen late then various undesired effects like flickering or ghosting will appear.
The UR8000 is not affected by these at all. And from our tests all objects would appear moving smoothly across the screen no matter their speed or size.
Brightness / Contrast
Next we will be looking at the brightness of the unit. The UR8000 is obviously a TV with very limited capabilities so we are curious how it will do in these tests.
SDR and HDR Measurements
First test is the SDR brightness over a 10% window and the number we got was 252 nits which is mediocre, even for SDR. For a dark room it may be ok but when the TV is used in a very bright room it surely cannot do much to combat glare.
We then switched to HDR content and in our HDR brightness over a 10% window test we measured 303 nits. This is very disappointing and honestly the TV cannot present HDR as it should.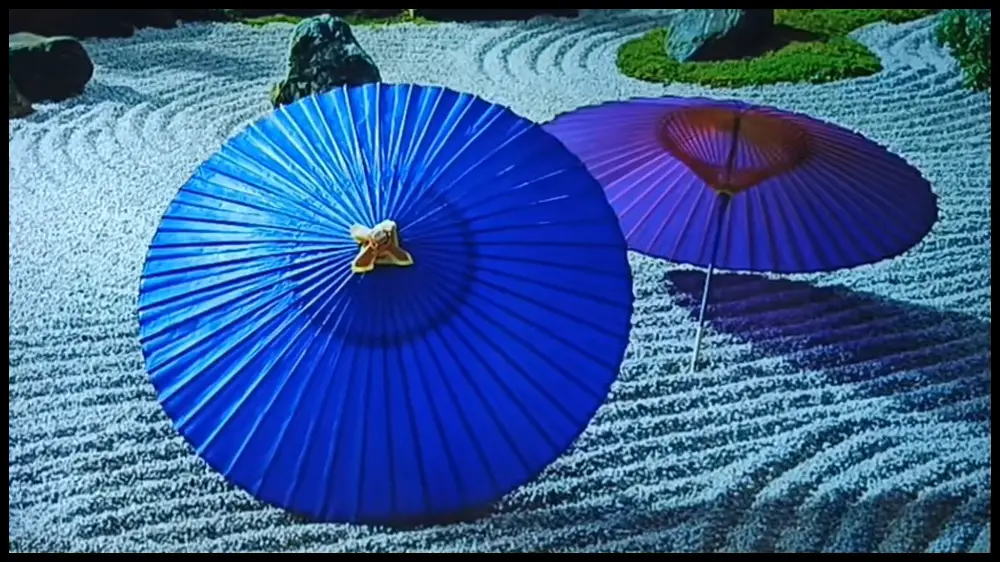 Automatic Brightness Limiter (ABL)
As with most TVs nowadays the UR8000 comes with an Automatic Brightness Limiter (ABL). This system lowers the overall brightness of the screen when large parts of it become very bright for a long period of time.
The UR8000 managed to maintain its brightness no matter how long a bright image displayed on screen. We didn't notice any major changes in the brightness either it was SDR or HDR content. Keep in mind that this kind of ABL behavior is very common with low tier TVs.
In these cases the ABL is not so much necessary as the brightness output is far too low for the ABL to kick in. And this is the reason why we did not notice changes at all compared to TVs with very high brightness limits.
Last Year Comparison
Unfortunately, as we mentioned at the beginning of our review, we didn't have the chance to test last year's UQ8000. So we cannot really compare the two of them.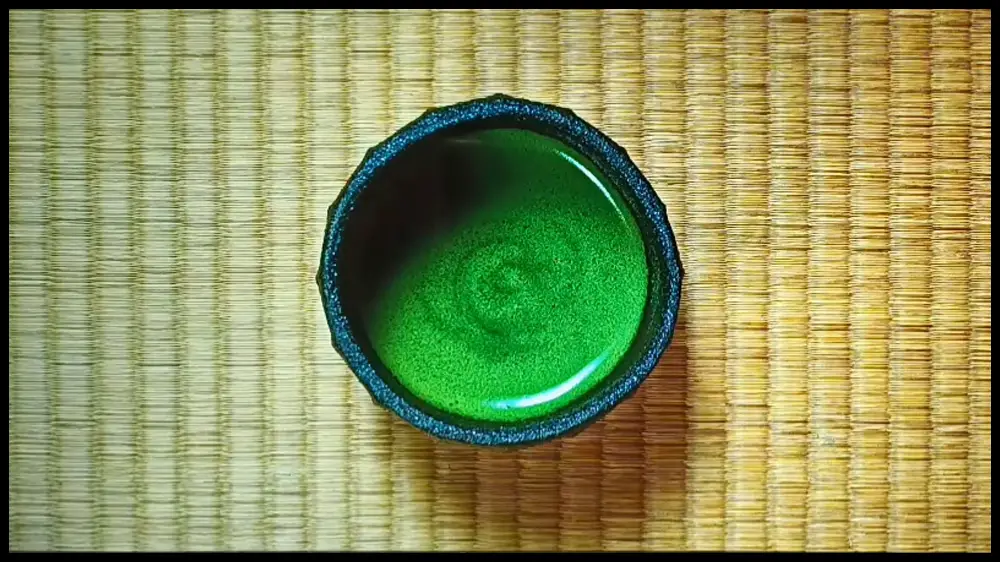 EOTF Tracking
Brightness levels did follow the EOTF reference values really close. Its peak brightness may be really low but up to that point the TV proved to be very accurate.
Only the near blacks levels appeared slightly elevated but this was to be expected due to the missing local dimming feature. The rest of the curve appeared to be spot on up to its relatively smooth roll-off point.
Contrast Performance
Contrast of the UR8000 was pretty good which is the result of the VA panels it uses. Keep in mind that there is no local dimming feature here, that could potentially improve contrast even further. So what you see is what you get.
But compared to the UR9000 which is a higher tier TV compared to this, the UR8000 performs much much better. And this shows why VA panels do better in this category compared to ADS or IPS panels. Especially when they do not have a local dimming feature or when the one they have performs badly.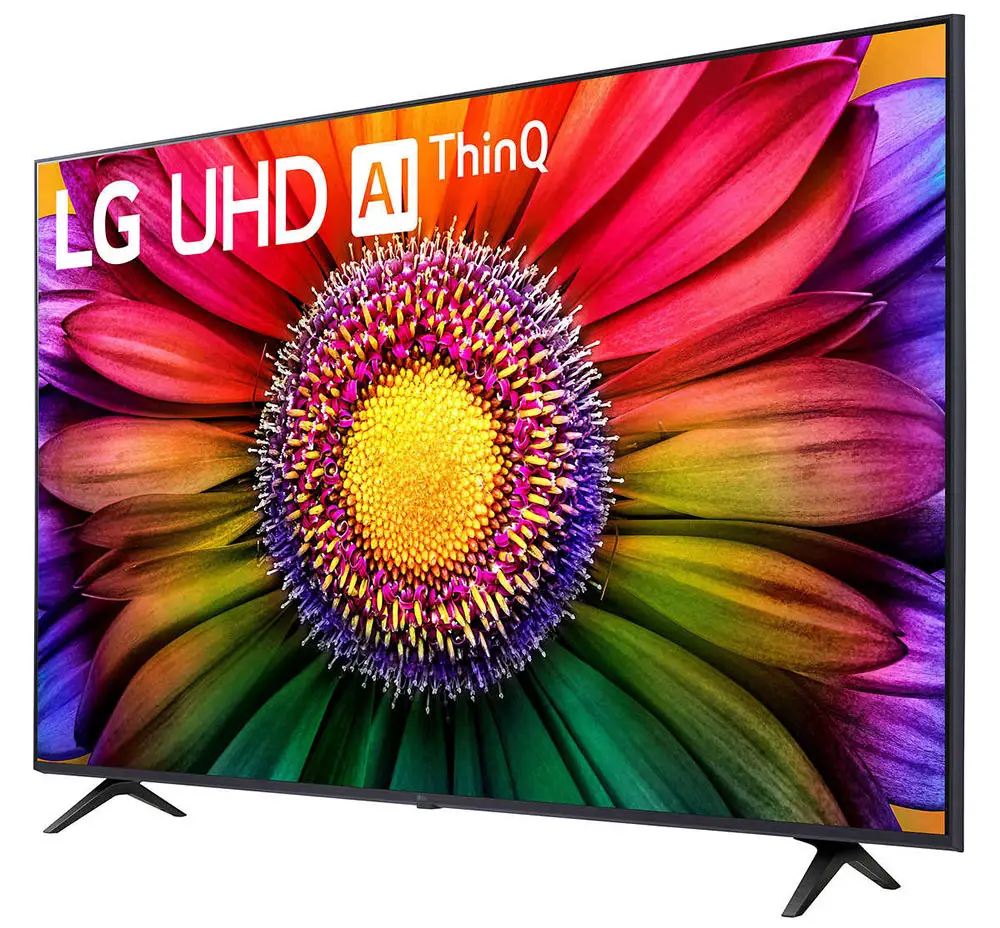 Viewing angles
The TV comes with a VA panel and these in general don't have very good viewing angles. Also, due to its low budget nature the UR8000 is not using any special layer to improve its performance in this regard. In essence the TV performs similar to all other TVs that come with VA panels.
As a result we would say that 20 to 25 degrees off center is the best this TV can do. Anything more and image colors, black levels and brightness downgrade rapidly.
If you have a sweet spot from where you will be watching then this is not a big deal but if you plan to use this one in a family room then we would strongly suggest you try it out first before purchase.
HDR support
As far as HDR format support the UR8000 gets only the basics. This is the same as all low tier UHD releases from LG the last few years and exactly the same with the UR9000. We only get the basic HDR10 that is required for 4K UHD playback along with HLG that is used mainly for broadcasting.
And along with Dolby Vision, gone is also the feature we saw in the LG G3 and LG C3 called Dolby Vision IQ that could automatically adjust the Dolby Vision dynamic tone mapping according to the ambient light in the room. No reason obviously to have that since Dolby Vision is completely absent in this model.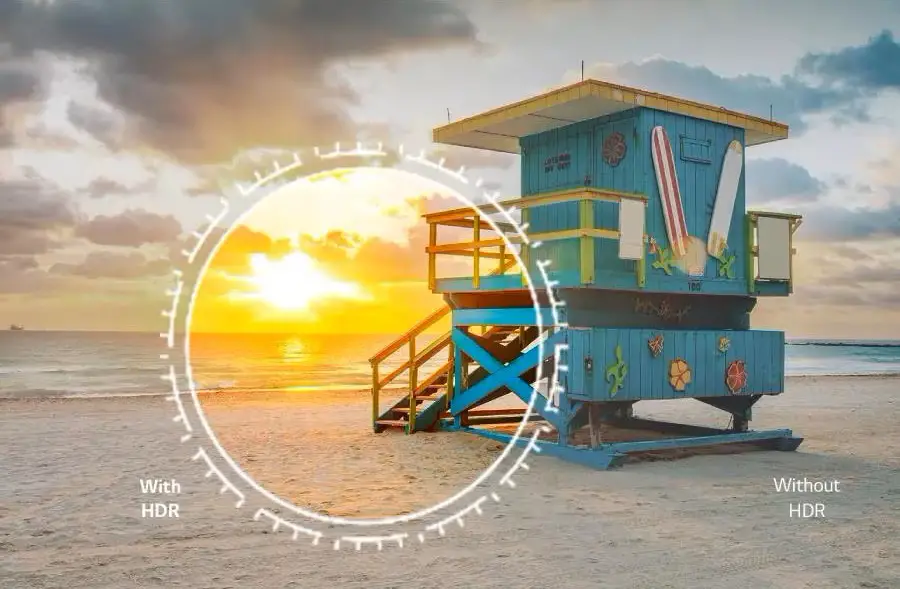 One feature that is available in many low performing LG TVs and is present here is HDR10 Pro. This basically adjusts the brightness and color levels of every frame individually. And is basically LG's dynamic tone mapping feature for HDR10 content.
This shouldn't be confused with HDR10+ which is completely missing from all LG TVs, and is similar to Dolby Vision. HDR10+ and Dolby Vision use dynamic metadata for each frame while with HDR10 Pro the TV itself has to process each frame individually and apply its dynamic tone mapping.
Color coverage
Unfortunately something that we see a lot in these low budget TVs is the low color coverage they can achieve. Manufacturers don't directly mention it but these TVs cannot display wide color gamut which is essential for 4K HDR viewing. And this is another grey area these so called HDR TV sets have. As they may be able to display HDR but without Wide Color Gamut they shouldn't be considered true HDR TVs.
In our test we measured 81% coverage of the DCI-P3 color space which is ok. On the wider REC.2020 color space we got a coverage of 60% which is really average and practically means that the TV does not support Wide Color Gamut.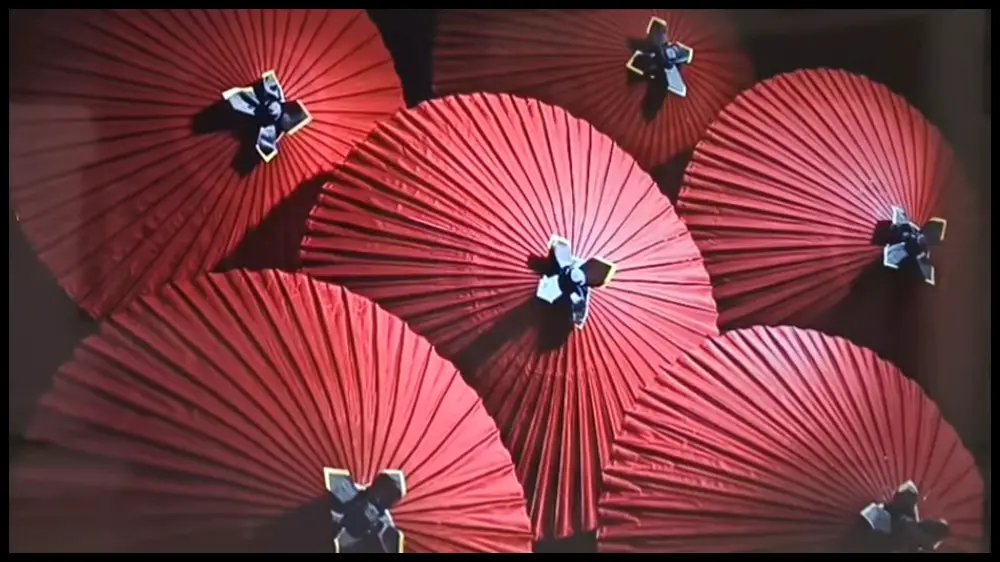 Surprisingly the UR8000 performed better than the UR9000 here. The difference may not be huge but having a lower tier model perform better is a bit surprising.
DeltaE Errors
Before calibration the TV had really great color accuracy. All colors managed to stay under the DeltaE limit of three. Gamma was almost perfect while white balance and color temperature needed some minor tweaking.
After calibration we managed to perfect all these minor inconsistences. We managed to further improve some of the colors while white balance and color temperature became more accurate.
From all the above we can say that if you are a casual user that doesn't like to go into much trouble calibrating this TV you will surely love the UR8000. The TV is not only very accurate out of the box but improving it further proved to be a very easy task.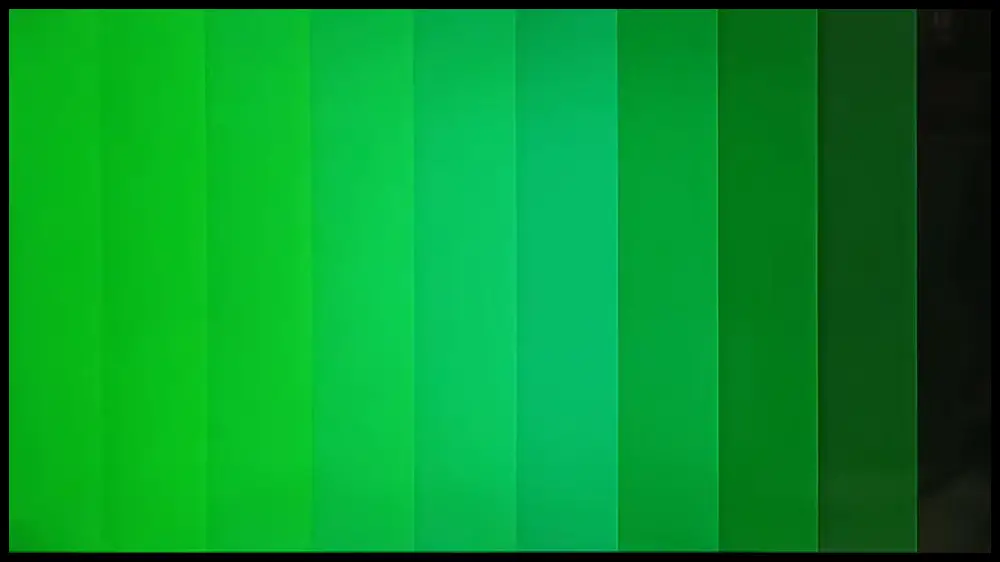 Color Gradients
Unfortunately color gradients in the UR8000 were not very good. We noticed banding in almost all shades with the most obvious being dark blue and gray colors. With real world content this was still very much visible but not as severe as with our test content.
There is also a Noise Reduction function in case you do see it. But if you enable it some detail is lost and in general we didn't like this feature much.
Panel Uniformity
UR8000's panel uniformity was average at best. Our tests revealed dark vertical bands across the entire screen. With real content this was not so obvious but the fact remains that these do appear in specific scenes.
Near black and black uniformity was much better. We did see some clouding but this was very subtle and wasn't very bothering.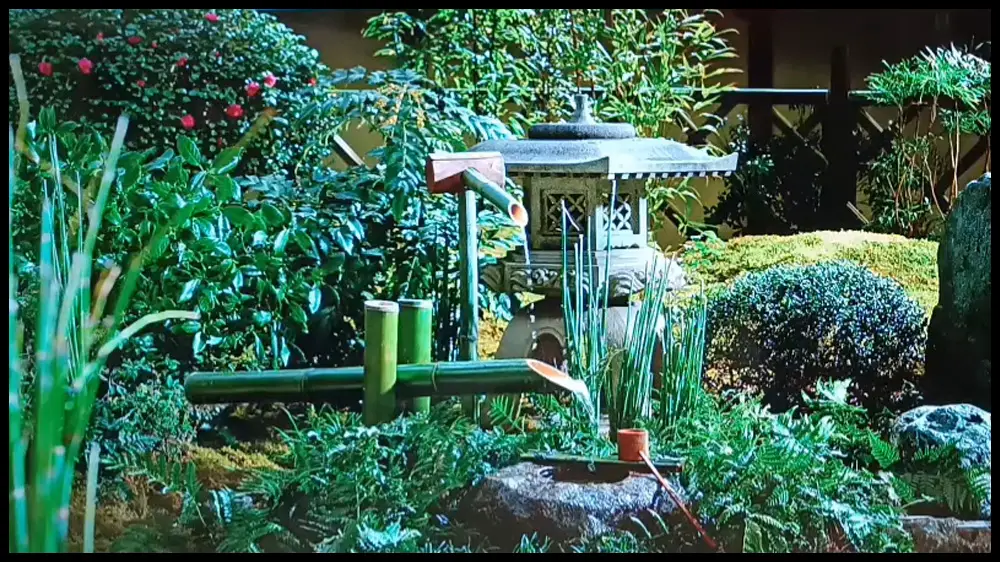 Motion performance
We move on to our motion performance tests. The UR8000 comes with a 60Hz (or 50hz depending the region) panel along with a backlight dimming frequency of 120Hz.
Unlike the UR9000, the backlight dimming frequency seems to be fixed at 120Hz at all times and does not depend on the picture mode selected.
When using the TV without any motion interpolation, motion was ok but not as good as we would like it to be. Image duplication was very much obvious. On the other hand stutter was kept at a minimum due to the slow response times measured.
Motion Interpolation
The TV comes with the standard Motion Interpolation in order to smooth out motion. This you can enable from the TruMotion setting and by adjusting the De-judder slider. In contrary to higher tier models the UR8000 doesn't have the second De-blur slider showing the limited capabilities we get here.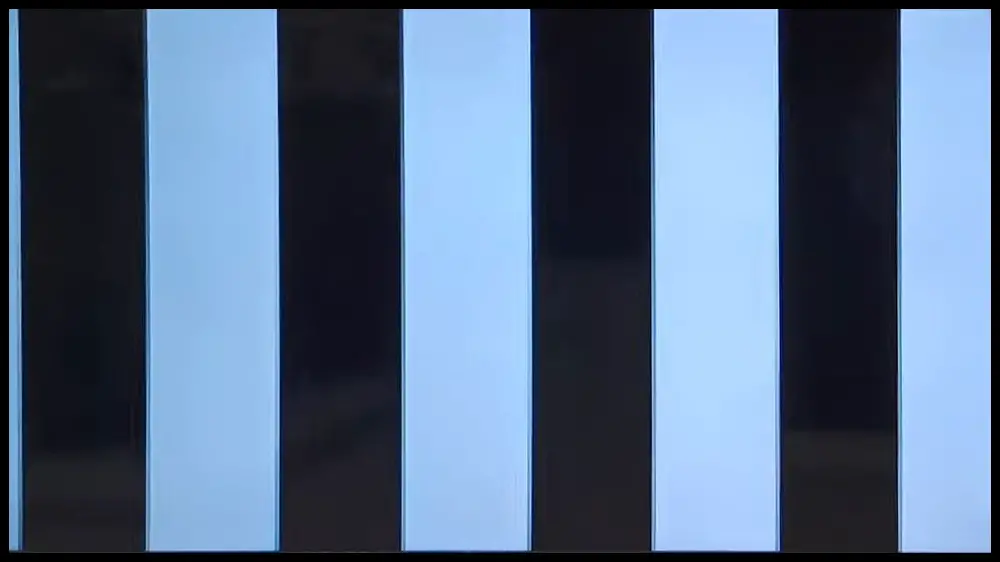 With motion interpolation enabled the TV was capable of smoothing the motion of various test content we tried. But as always the results are very much scene to scene dependent. Slow paced scenes fared better. But with fast moving objects or camera pans the TV simply couldn't keep up. In these cases a lot of artifacts appeared which downgraded the final image quality considerably.
Black Frame Insertion (BFI)
The UR8000 does not have a Black Frame Insertion (BFI) feature. So the standard motion interpolation is your only option.
Overall Motion Impressions
Overall motion performance on the UR8000 was average. The TV had a lot of problems either with motion interpolation or without it. Obviously for such a low cost model there should not be a lot of expectations. And this was very evident from what we saw.
Input lag Measurements
Let's take a look at the TV's input lag performance next.
According to our measurements the TV displayed an average of 10.0ms input lag in both 1080p and 4K resolutions at 60Hz. There is no support for 120Hz so this is the best you get. We took both measurements after we obviously switched to Game mode.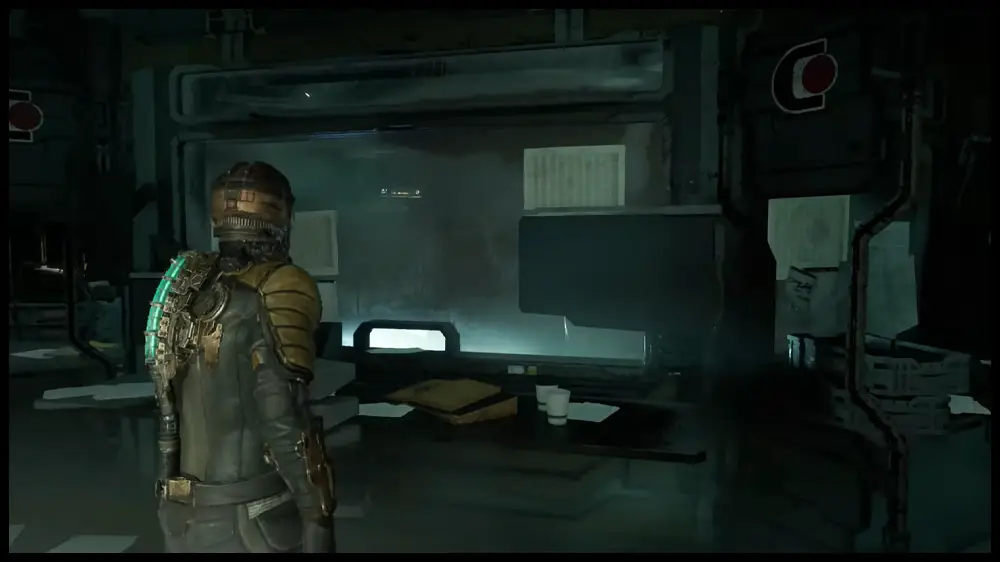 Outside of Game mode we got an average of 162.0ms which is far too high, even for slow offline games.
With Game mode the TV was in par with most other models we have tried the last few years. Unfortunately outside Game mode the UR8000 cannot keep up. Any other mode is practically unusable for gaming.
Other Gaming Features
The TV may be stripped of most gaming features but at least it still supports Auto Low Latency Mode (ALLM). And both the PS5 and Xbox consoles support this feature, so the TV will switch to Game mode automatically.
HGiG Mode is not missing either. This is HDR Gaming Interest Group's technology that ensures you enjoy HDR games the way that their creators and developers intended.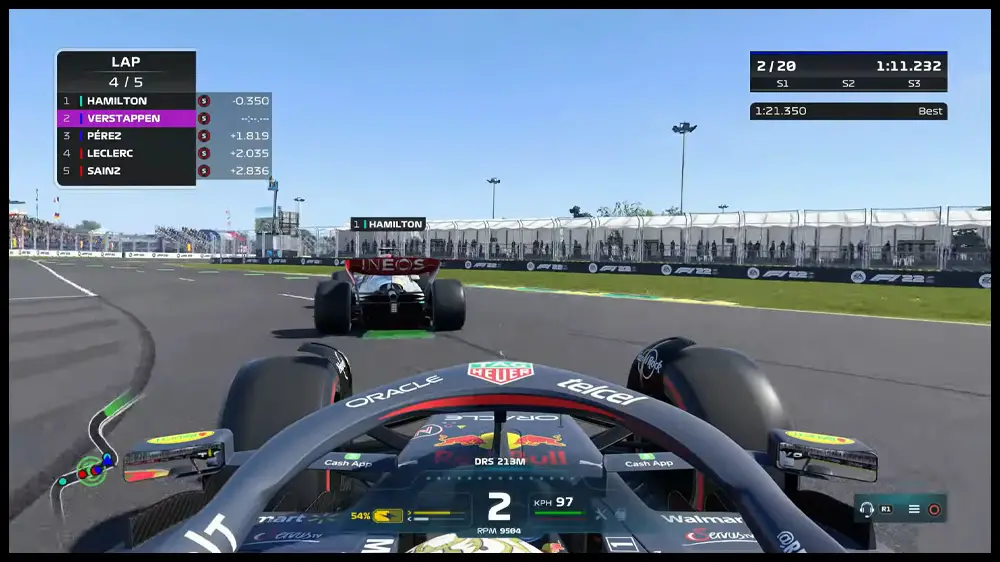 VRR Support
Unfortunately the UR8000 doesn't have any kind of VRR support. Which is a bit disappointing but for such a budget TV, it was expected. If you are a gamer and would like to have VRR then you should definitely look for a higher tier TV than this.
And since we talk about gaming we should not forget to mention that the UR8000 does support cloud gaming. Unfortunately this year we only get Geforce Now. Google Stadia that was available in LG TVs in previous years is no longer available as Google decided to shut down the service.
Obviously for GeForce Now you will need to have the appropriate subscription and gamepad but having built-in support is another plus.
Trying Out a Few Games
For our real gaming testing we tried a couple of games. The first one was F1 2022 while the second was Dead Space. Both of them in 60Hz mode as the TV cannot do anything more than that.
Obviously we tested both games with Game mode enabled. And from what we saw the TV did really good with no bothering issues. Low input lag made gaming exceptional and even F1 22, which is a really fast game, reacted immediately to our commands.
Unfortunately anything outside Game mode was unplayable. With Dead Space, which is a slow offline game, our experience was not good at all. It takes a lot of effort to adapt to the extremely high input lag and in all honesty, it is not worth it. So for gaming stick to the Game mode only.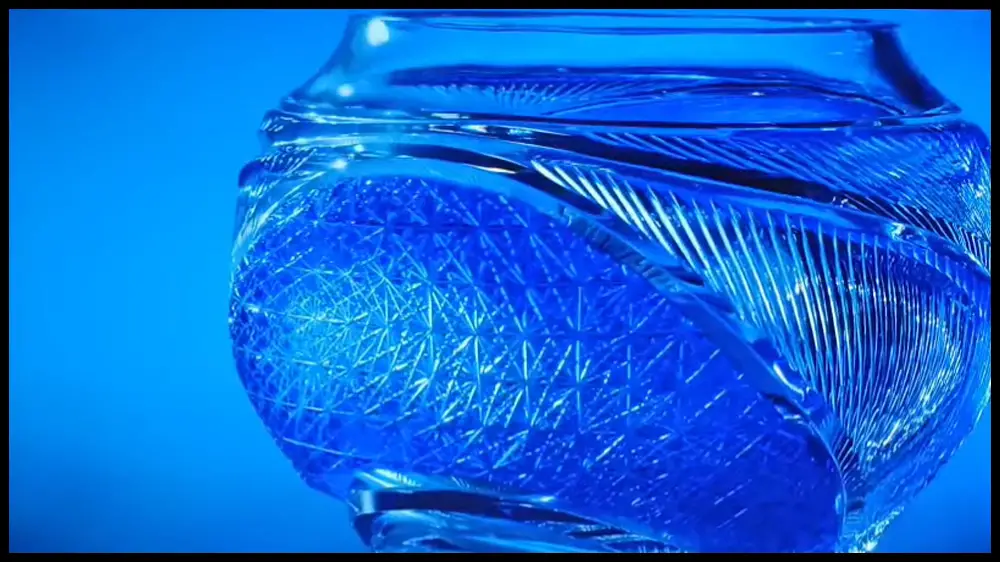 Overall Image Quality Impressions
Not much to say here really. The UR8000 is your typical low cost TV. Being branded as an HDR TV tells only half the truth. And the reality is that the UR8000 is not capable of showing HDR content in all it glory. Peak brightness is low and the TV lacks Wide Color Gamut, two of the requirements for true HDR playback.
Audio Quality
All these low cost TVs use very basic audio systems and the UR8000 is no different. What we have here is exactly the same system we saw in the UR9000. So we do not expect any surprises in this area.
Audio System – Channels & Power Rating
The TV uses a 2.0 channels configuration with 20 watts of power output. The speakers are naturally placed at the bottom of the panel looking downwards.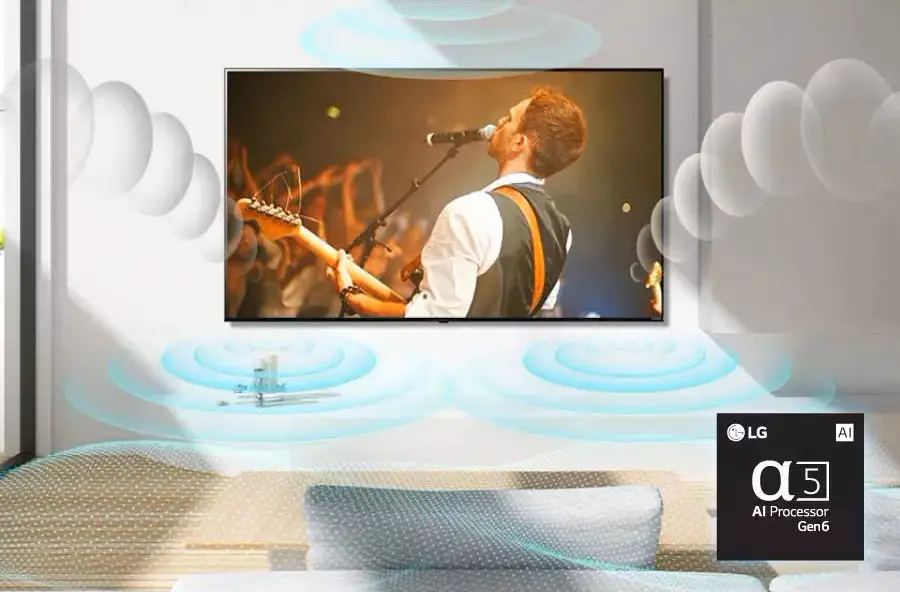 Audio Formats Support
The TV supports Dolby Audio but there is no native Dolby Atmos. At least you can pass-through Dolby Atmos through the included eARC to some Dolby Atmos soundbar or dedicated sound system.
Unfortunately, while LG brought back DTS support this year for some of their higher tier models like the G3 OLED and C3 OLED, this is not the case with the UR8000. The same applied for the UR9000 so it seems that only specific models get DTS in 2023. Let's hope that next year they will expand this to cover even more of the lower tier releases.
Audio Features
A feature we find in all LG TVs is AI Sound Pro. This is responsible for up-mixing legacy audio into virtual 5.1.2 channels surround sound. Basically this is a virtual technology that tries to create surround audio without surround speakers.
The end result is a mixed bag really, as is the case with most virtual sound technologies. There are moments it can make the sound feel more immersive but it cannot simulate a real surround audio system, not even close.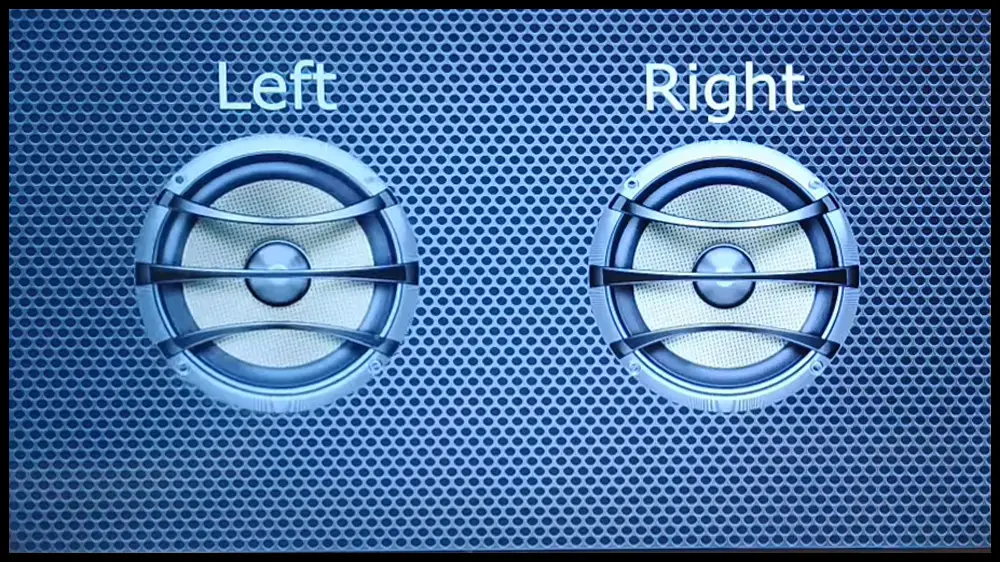 Another returning feature from last year is Bluetooth Surround Ready. With this you can use the built-in Bluetooth to connect rear speakers to the TV. But keep in mind that by adding a couple of rear speakers doesn't mean that you can have a true 5.1 channels audio system.
As the TV will use only a legacy stereo tracks and up-mix that to all the available speakers along with the rear Bluetooth ones. As a result the surround effect is not as good or precise as you would expect. But certainly is slightly better than the simple two front channels.
Overall Audio Performance Impressions
We tried various content including broadcast material, sports, some TV series and movies and our overall impression hasn't changed for such low cost systems. The TV is good for casual viewing at best. The TV can get loud and dialog is clear enough. But if you are looking for any cinematic values you are going to be disappointed.
The sound output was completely flat, it had no weight and no depth whatsoever. Also it lacked the necessary extension in order to give you the illusion of surround sound. As a result everything was fixed front and center which surely takes away from any immersion you could hope for.
Ports and Connectivity
Next we will be looking at all the connection ports available. And the UR8000 is really straightforward here.
Starting from the top we get a USB port for connecting external storage devices. Next there are two HDMI ports and lastly we find the antenna port at the bottom. All the above ports look sideways.
At the second group looking backwards we get another HDMI port, a second USB port, a digital optical audio output and an Ethernet port.
The UR8000 seems to be slightly different from the UR9000 but ultimately both feature similar connections.
HDMI Specifications
Nothing out of the ordinary as the UR8000 comes only with HDMI 2.0 ports. This means that you do not get any of the gaming centric features these have.
At least we do get eARC in HDMI 2 which allows you to pass audio to an external sound system.
Connectivity Observations
Again, the Ethernet port is still the usual 100Mbps one. But this does not surprise us, as we have yet to see a TV making the transition to Gbit adapters.
Streaming requirements and internet connections have greatly advanced the last few years. This made the 100Mbps limit obsolete a while back. And while most TVs update their WiFi capabilities (some models even support WiFi6 this year) the Ethernet adapters are still the same.
And lastly the USB ports are the older 2.0. Don't expect to get a USB 3.0 when even top tier TVs still use this archaic version.
Wireless Capabilities
When it comes to its wireless capabilities the LG UR8000 supports WiFi5 (802.11ac) along with Bluetooth 5.0 which is similar to other LG TVs this year.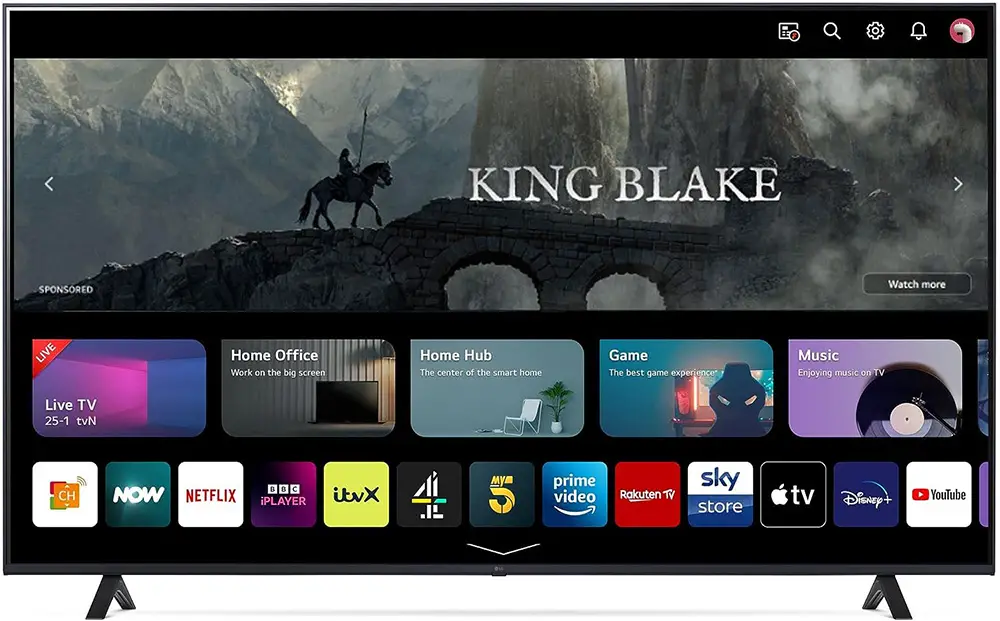 OS, Apps and Features
The new UR8000 is using LG's latest webOS 23, which is found in all their 2023 releases. While the OS is fundamentally the same it seems that LG decided to make a facelift this year. The previous design, that we got in 2021, could use some updating. So LG's plan was to improve things a bit.
What we have here is similar to the software we experienced in our recent LG C3 and LG G3 OLED reviews. The only noticeable difference was the navigation speed. Which to be honest was not very good with the UR8000. Opening and closing apps very fast was sluggish at best. And you could feel that navigation is not as butter smooth as in the higher tier releases.
WebOS 2023
The WebOS's UI is still taking up the whole screen and provide you with far more visual information than any of the old versions ever did. This was a change made in 2021 and seems to continue well in 2023.
The latest webOS looks a lot like Google TV and its layout. It seems that smart TV platforms opt for a more personalized experience and as such the new webOS 23 tries to provide you with options that are tailored for your viewing habits. As such there are personalized ads, recommendations based on your viewing patterns both for streaming services and broadcasting channels and even shopping suggestions.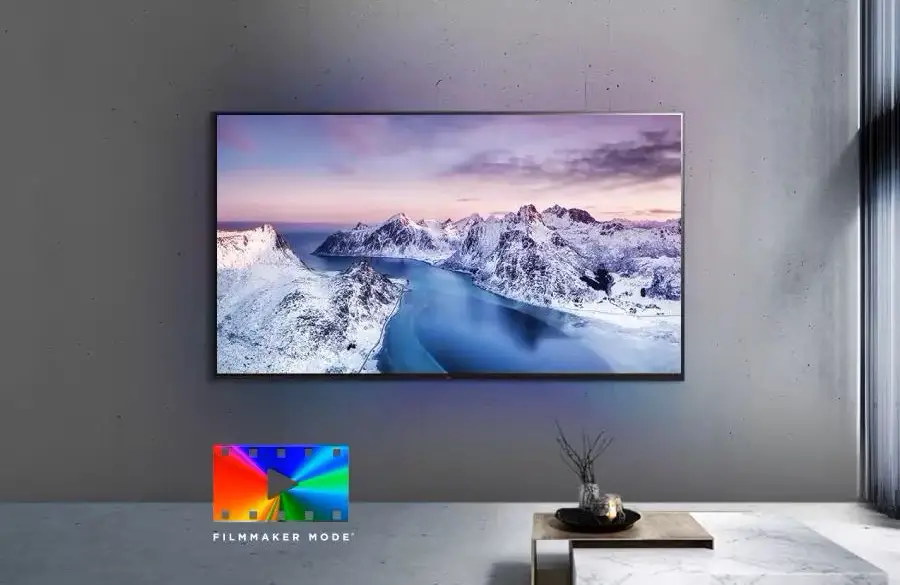 One feature that appeared for the first time in 2022 was user profiles. And obviously LG kept it for 2023 also. With it each family member can have their own favorite settings and streaming apps. Keep in mind that these user profiles do not extend to the image settings of the TV itself as these will remain universal.
In 2023 version the main screen is basically divided into three sections. At the top we get sponsored content. Below it there is a row with quick tabs that you can select and lastly a row of installed apps. Each quick tab opens specific sections like Games or Music for fast access.
In the second screen, which you can access by pressing the down button, you will find highlighted content as well as the "Now Streaming" section. This includes tabs from various streaming services among others.
Home Hub
For another year we find what LG calls Home Hub, previously called Home Dashboard, which is a nice little feature that lets you have an overall look at all the connections of the TV. From last year the Home Dashboard has been fully intergraded into the webOS Home screen making its access faster than before.
Streaming Capabilities
One thing that hasn't changed in 2023 is app support. As such you will find all the apps you may need with more available from the online store for downloading. All the big players are present with Netflix, Youtube, Amazon Prime, HBO, Vudu, Hulu, Google Play Movies, Disney+ and Apple TV+ just to name a few of the most notable ones.
Other available apps include Apple Airplay 2 and Apple Homekit. With Airplay 2 you can stream content from other Apple devices on your TV. While HomeKit lets you control certain aspects of the TV through your mobile device.
Sports Alert
Another feature that makes a comeback this year is Sports Alert. You can set your favorite team on the TV and the UR8000 will inform you when a match will appear. It will also inform you in which channel it is in while it can also give you score updates and various other information.
The Sports Alert feature is working with the internal tuner and it gives you the ability to choose from a wide range of teams and sports.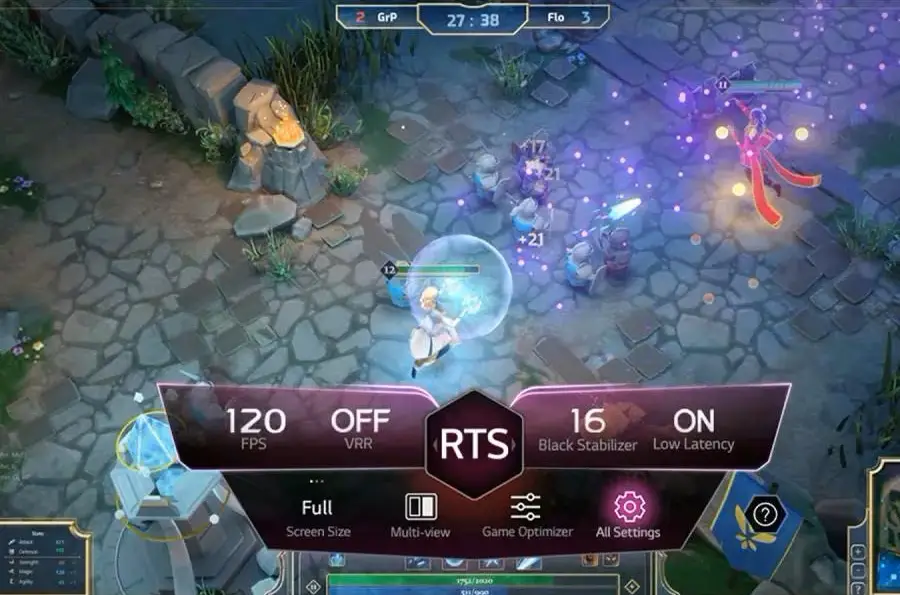 Voice Control
And since we are talking about a smart TV platform we cannot do without voice control functionality. LG has included not only their own ThinQ AI that you can use to search for various information. But also the two most used voice control platforms including Amazon Alexa and Google Assistant.
By using the Magic Remote's built-in microphone you can issue your commands. These can be search for a specific TV show or control your TVs volume and channels changing.
Keep in mind that while Amazon Alexa is built-in the TV for Google Assistant you will need an external device.
Mobile App Support
There is also mobile app support if you prefer that instead of using the included remote. LG is using their ThinQ app that is supported both by Android and iOS devices. And with it you can issue some basic commands to your TV from your mobile device.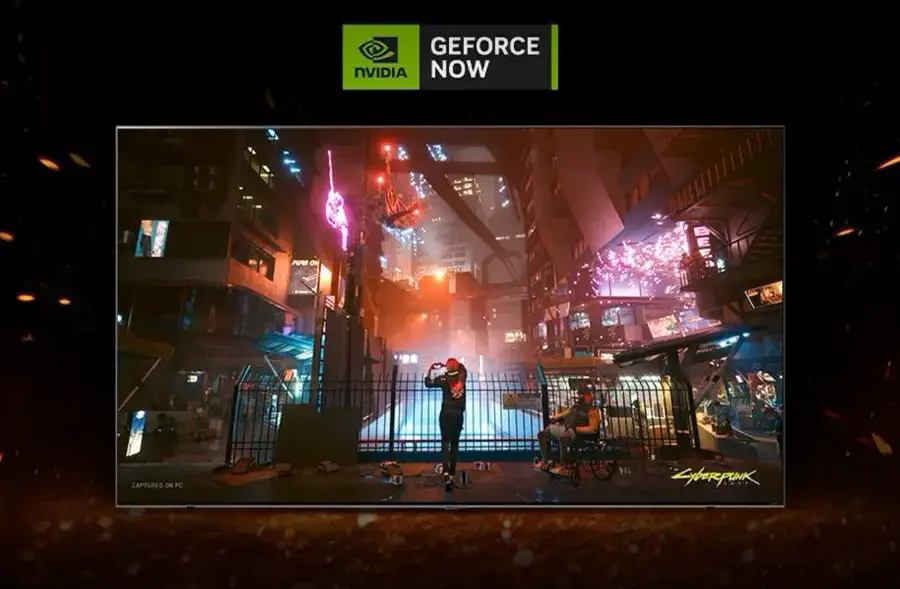 Game Features
LG TVs were always at the forefront of gaming. And some of their dedicated features make them the best gaming TVs you can get. The UR8000 may be a low budget TV but it does comes with LG's now famous Game Dashboard & Optimizer menus.
These two menus provide easy access to a wealth of gaming settings without the need to navigate through a myriad of menus. This way you can focus on what matters the most, which is having fun.
And as we already mentioned above, there is also support for Cloud Gaming with GeForce Now available.
Compared to other TVs
The most obvious comparison here would be the 2022 LG UQ8000. But since we hadn't tested that model we cannot really give you an honest opinion or comparison between the two.
From LG the most close competitor is the 2023 UR9000. Now, based on the model name and the slightly higher price you would assume that it's better than the UR8000. But the truth is that it's not and each TV has its own strengths and weaknesses. On the one hand the UR8000 has better contrast, higher color coverage and more accurate image. On the other hand the UR9000 is a bit brighter and has better viewing angles. So it really depends what you need the most.
From Samsung the direct competitor is the Samsung CU7000. The UR8000 is better here with slightly higher brightness, higher color coverage and overall better image accuracy.
Lastly a close competitor in price is the 2022 Hisense U6H, even if slightly more expensive. The Hisense is far better in almost all areas. It is much brighter, it has much better colors and supports not only HDR10 and HLG but also Dolby Vision and HDR10+. In our opinion this is the definite buy in this price category. At least until we can check some of their 2023 models.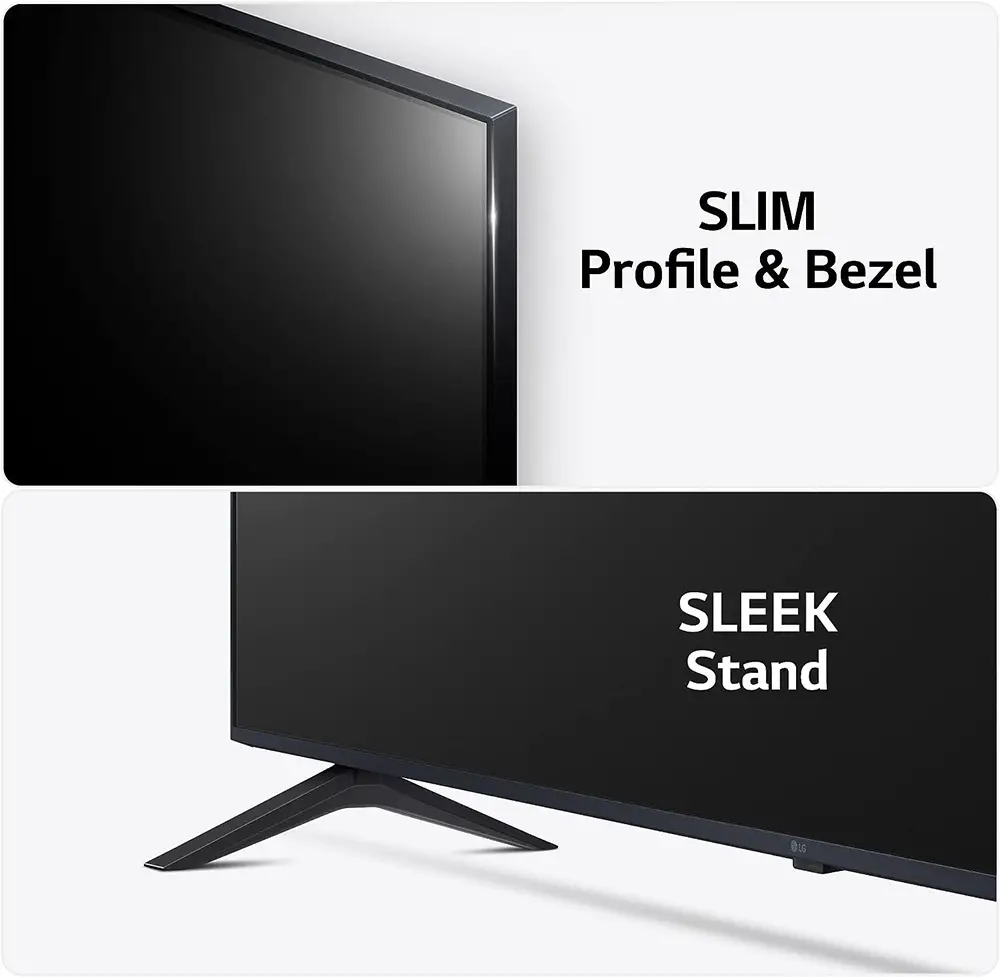 Final Thoughts
When it comes to such low budget models you cannot expect much in terms of performance and image quality. Although there are some exceptions, like Hisense, with most brands we get relatively limited features in this price range.
The UR8000 is overall an ok TV that will not wow with its performance but will serve you well within its capabilities. On the plus side the TV has good contrast, decent colors and really good out of the box performance. This last one is very important in this category as many casual users do not bother with calibrating their units. Lastly input lag was really good with Game mode.
On the other hand the TV's brightness is disappointing, color coverage is relatively low, it is missing a lot of gaming features and viewing angles are mediocre at best. The webOS 23 was a bit sluggish and navigation was not as smooth as we would like it to be.
We reached the end of our review and what we can say about the LG UR8000 is that if you look for a low cost LG TV for casual use then this one is definitely a good one for your consideration. Keep your expectations at bay and you will not be disappointed as its price is definitely the driving force behind this particular model.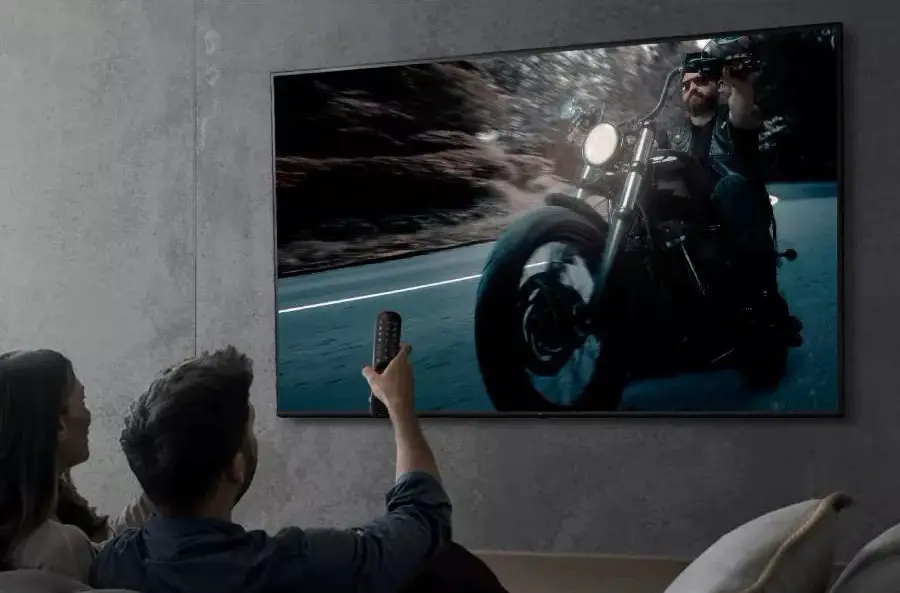 For more reviews you can check our dedicated 4K LED LCD TV reviews section or even look at our Product Reviews Table where you can find the brand and specific product you are looking for.
Also don't lose the chance to subscribe to our Newsletter and gain exclusive privileges.
---
---
Cheapest Places to Buy :
---