Logitech Harmony 650
Design -

85%

Setup -

88%

Interface -

90%

Everyday use -

92%

Price / Quality -

90%
---
Cheapest Places to Buy :
---
One of the first things that comes to mind when you think about universal remotes is the name Logitech. Over the years the company has made a name for it's Harmony universal remotes having made not only budget friendly but also expensive ones. But all of them are made with some specific characteristics like having great device support, all of them handle well and are relatively easy to setup.
A couple of months ago we had reviewed their top remote, the Logitech Harmony Elite which you can read HERE, that offered a huge amount of features but also comes with a hefty price so if you are on the lookout for a cheaper alternative then you have many options to look for. Today we will check if the budget friendly offering from Logitech is worth a look in our Logitech Harmony 650 review…
Design
Logitech Harmony 650 may be a budget friendly universal remote but it's design doesn't make it feel cheap with it's rectangular grey colored design and the small color LCD screen. Of course you shouldn't expect much from such a model so the LCD screen has not touchscreen capabilities but it's there to display some basic functions, channels and commands. The good thing is that the remote is equipped with an accelerometer so every time you pick it up the LCD turns on automatically.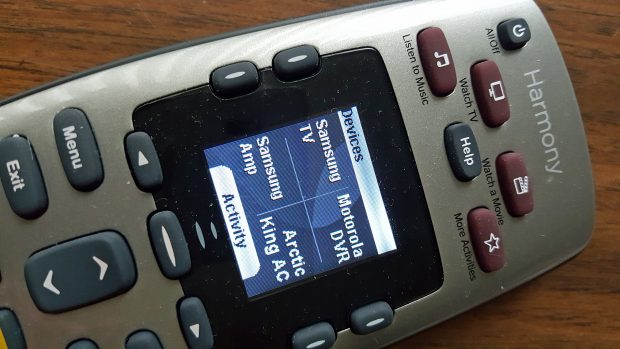 With a remote like this it's natural to be full of buttons and here Logitech has made a good job at placing them in such a way to keep different functions grouped together. At the top above the LCD screen you will find some key activities buttons for watching movies or listening to music. Under these we have the LCD screen with buttons around it that control the screen's functions. Below we have menu and settings navigation buttons as well as controls for volume and channels. Under that is the playback buttons and at the bottom we find the numerical pad.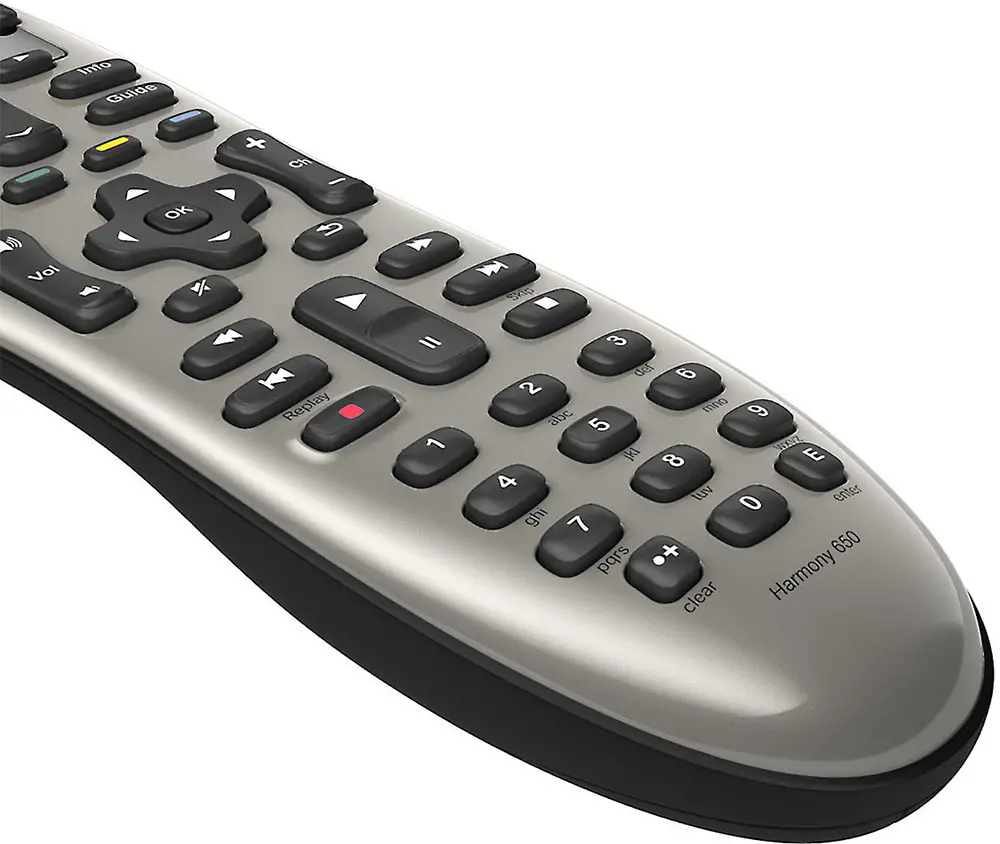 The buttons respond very well even to a soft touch but there were moments that a small lag was obvious between pressing the buttons and executing the corresponding command especially when pressing buttons fast in succession.
The remote is larger compared to previous versions and more than a few times you will need to use both hands to press the corresponding buttons. It may look a bit chunky but it is definitely very comfortable to hold. It also feels to have a sturdy design and it will for sure survive a few drops from your table or sofa.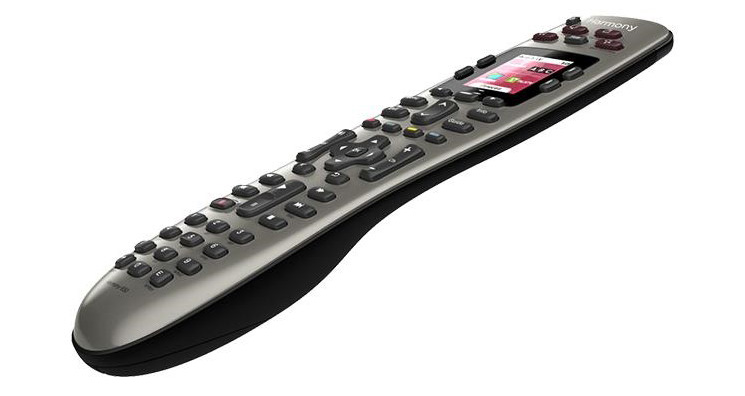 Being a budget friendly remote means they had to cut a few corners and one of them is with the batteries as the Harmony 650 doesn't use rechargeable batteries or any kind of docking station. Good old AA batteries work here and you will have to be sure you keep a few of them stacked in case you need them.
Setup and Interface
These universal remotes are made with one thing in mind. To make our lives easier and controlling our devices faster. With this in mind before you even start using the remote you will have to spend some time to set it up that can take up to an hour to do so if you are not very much tech experienced. The first thing you will see when you enter the batteries is to select a language from the LCD screen. When you do that the next step requires a computer as will all Harmony remotes in order to continue setup.
The remote is connected to the computer through a USB port and when this is done and your computer recognizes the remote, you have to use your internet browser to enter the correct website (yes you will need internet connection for setup to continue). It would be nice if there is an automatic direction to the correct website address but you will have to do this manually.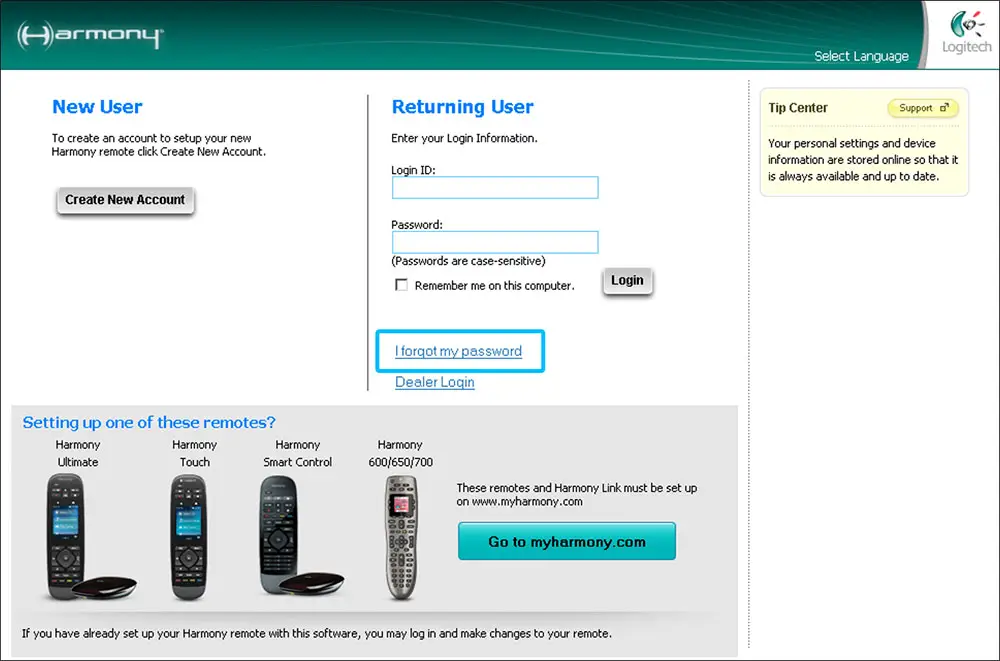 The next step is to download the corresponding software after choosing your computer's OS and proceed with the installation which is pretty quick and will finish in just a few minutes. Upon running the application it will look if there are any updates and will also ask to create an account by entering some basic information like username, password, email as well as country you live. Once your account is created you are ready to start setting up the Harmony.
One thing you have to keep in mind is that the Harmony 650 can only support 5 devices at any time, a huge limitation in my honest opinion even for a budget remote like this. So with this in mind you can choose your devices from a few pull-down menus that correspond for Device, Manufacturer and Model. It is recommended before you start the setup to write in a paper the exact model number of each of your devices you want to control with the Harmony in order not to loose the time looking around for them during setup.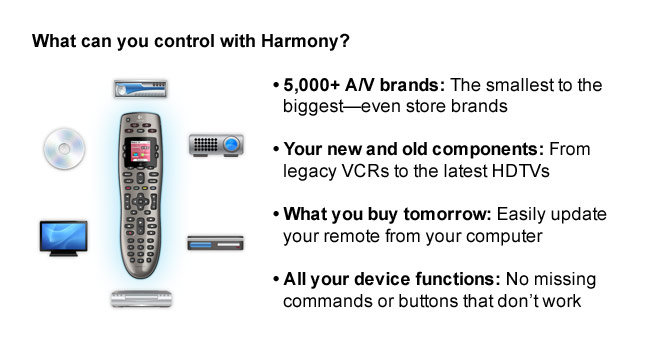 The Harmony 650 supports a huge list of manufacturers and devices and Logitech makes sure to update the list in order to widen it's support even more. For our situation we chose our Samsung TV, Panasonic UHD player, Onkyo AV receiver and Zidoo media player. There is also support for media centers, climate systems as well as video game consoles. One drawback is that it doesn't support devices that need Bluetooth connectivity as the remote only supports IR.
Once you finish with your devices you can set up the activities buttons so with the press of a single button you can have a predetermined group of functions enabled. For watching movies for example we chose our Panasonic player as our bluray player, our Samsung's HDMI as source input and our Onkyo AV receiver for the volume controls. When you finish with that part the only thing remaining is to sync the remote in order to program all the buttons accordingly and you are ready to go!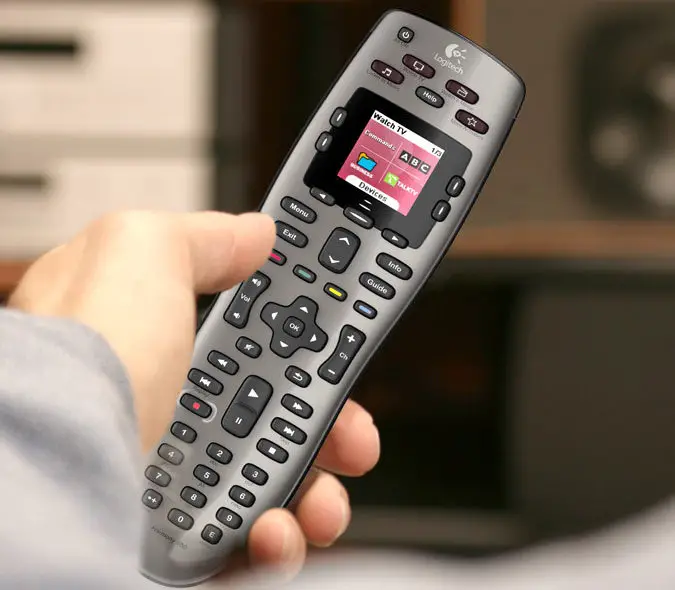 As you can understand from all the above it may seem a daunting task for many but if you look at the whole picture the actual process is not so much complicated. I would rather say that it just needs to devote some of your time and that's it. Logitech had made sure to make the whole process as painless as possible but no matter how simple the procedure may be, it will still need to devote some of your time to setup your devices and let's be honest here, it is worth to invest a little time that will make your life easier later on.
Everyday use
Having a universal remote really helps you with your everyday activities especially if you use your devices very often. Having a single remote instead of a flock of remotes will certainly take some burden off your hands. If you have used a universal remote before then you know this feeling when you stop seeing remotes all around your home cinema room or your viewing space. If you haven't experienced the pleasure of using a universal remote before and this is the reason why you are reading this review then be sure that when you use it for the first time you will never want to go back again. And the Harmony 650 makes sure to help you with all that with it's good ergonomics and simple setup.
Good and bad points
The Harmony 650 is a really nice remote that can do many things that much more expensive remotes are capable of. The overall design is good and the LCD screen gives a little extra information and control. The quality is good in general and it feels sturdy enough to stand a lot of punishment in contrast to other more expensive remotes that would definitely break after a couple of falls. Buttons are well organized and easy to press.
Setup although takes some time to complete it is designed in such a way that could not be made any easier even for the inexperienced user to finish and choose the appropriate devices. And all the above in a price well under $100.

But when we are talking about such a device there are bound to be a few drawbacks and some pretty major ones. First and foremost the 5 device limit is the biggest and one that dramatically lowers the value of the remote. If you don't have more than five devices you want to control then you are perfectly fine but if you want a higher number of device support then you will have to look for a different remote.
A couple more drawbacks are the non rechargeable batteries that is using and no support for Bluetooth making any device that needs Bluetooth connectivity unsuitable for this remote.
Final Thoughts
When you look at a remote like the Logitech Harmony 650 you have to think first of it's price. When you understand that it's a well under $100 universal remote then you can judge better if it's good enough to warrant a purchase. Personally I believe it's good points outweigh the bad and if the remotes you want to replace are not more than five then the Harmony will be the perfect replacement without breaking the bank. But if you want support for more than five devices at the same time you will have to look for a more expensive alternative to cover your needs.
For more reviews you can check our dedicated Universal/ Smart Remote reviews list or even look at our Product Reviews Table where you can find the brand and specific product you are looking for.
Also don't lose the chance to subscribe to our Newsletter and gain exclusive privileges.
---
Cheapest Places to Buy :
---
Specifications
Connection Type : USB port
Infrared (IR) : Yes
LCD Display : Color Smart Display
Battery Details : 2 AA batteries