Logitech Z906
Design -

86%

Movies Performance -

88%

Music Performance -

88%

Inputs and Features -

82%

Price / Quality -

93%
---
Cheapest Places to Buy :
---
Many of you when you hear the name Logitech mostly think of computer peripherals like keyboards, mice and web cameras but there are a couple more of product categories that have made them known to home theater fans also. One of them is their universal remotes with the Harmony series being considered one of the best someone can get while they have been known for their quality speakers also that may not be the best money can buy but they were always considered a step above most computer speakers in the market today.
But while creating a home theater surround system for a computer is one thing making it ideal for both a computer desk but also the living room is another. With the Z906 Logitech wanted to create a more versatile system, one that would not only meet the criteria of PC gamers but that could also stand proud as a normal home theater system under a huge TV in a living room or entertainment area and combine this with a relatively low price and ease of use that would make it lucrative even to beginners.
So today we will put this little system to the test and see how good it can be in a pure home theater setup and if Logitech managed to create a compact design that combines versatility but also good audio performance. Because after all it's not only a matter of being small and cheap. We demand the best audio quality possible for the price we pay. So let's see what we will get in our Logitech Z906 review that follows.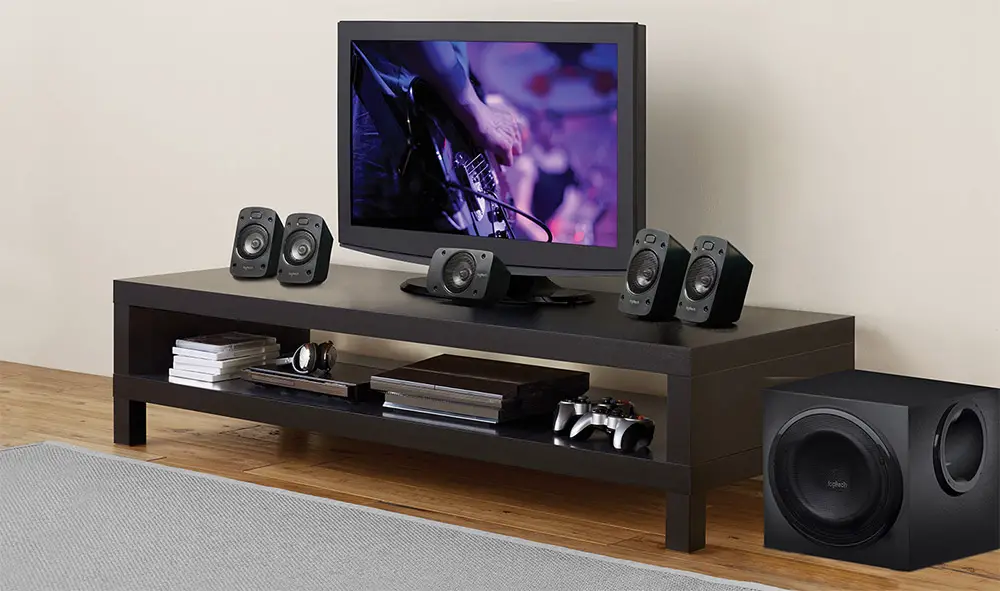 Design, Inputs and Features
Exterior
The Z906 is a THX rated 5.1 channels surround system with 500 watts of RMS power and as such in the package we get 4 identical satellite speakers, 1 horizontal center channel and 1 subwoofer. Also in the package we find the control console and the remote control.
Now let's speak about the satellite speakers and center channel first. They are relatively small ones and have a very distinct PC type of design that may look great next to a gaming PC but some may dislike it for their home theater. It didn't bother us but as this depends purely on taste we leave it at that. Logitech is known for their good quality so while the speakers have a plastic shell they feel pretty sturdy. They all feature a dark grey finish with meshed grilles and look distinctively upwards when placed on a furniture. You also have the option to wall mount them as they feature screw holes at the back.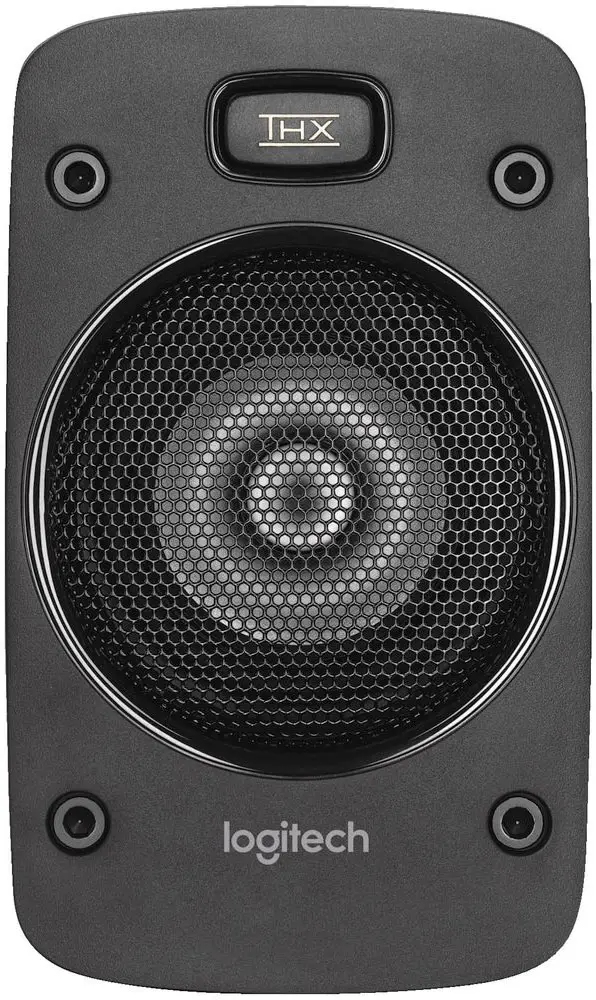 One thing that we usually see in similar complete surround systems is the use of proprietary connections something that can be very frustrating if the included wire is not as long as you desire. In that case splicing the wires would be a necessity which is something that we definitely would like to avoid. Logitech seems to have taken notice and as such has included simple bare wires here in case you would like to replace the ones provided with longer ones. The wires included measure 4.6 meters for the fronts and 7.6 meters for the rears just for your information.
The included subwoofer comes with a cube shaped design and is a front firing type with a side bass port. It's size is relatively small that can be useful when looking for a place to put it while in also features all the connections of the system as all speakers are connecting on it as well as the control console. It also has a dark grey color that fits with the rest of the speakers and in general will go unnoticed in a home theater room.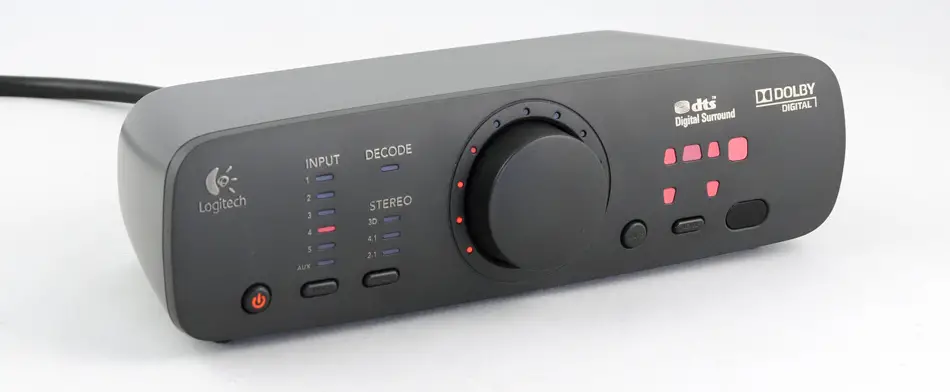 And lastly we shouldn't forget to mention the control unit which is connected on the subwoofer with a single cable and is responsible for providing various information like volume, active inputs and speakers configuration while also receive all the commands from the remote control. The unit is not very big so you can place it anywhere or even hide it if you want but one thing that did bother us a little was the LED lights it has at the front and can be a bit distracting in a dark room. We would definitely like if they had included a dimming function or turn off entirely after a while but unfortunately we get neither.
The console also features a dark grey plastic shell that fits with the rest of the speakers and has a big volume knob dead center with LED lights all around to have an idea of volume level. On the left we get a round power button while next to it there is the input selection button with the active input illuminating above it and next to it we find the processing effect button that you can use to turn stereo sound in 3D, 4.1 or 2.1 channels.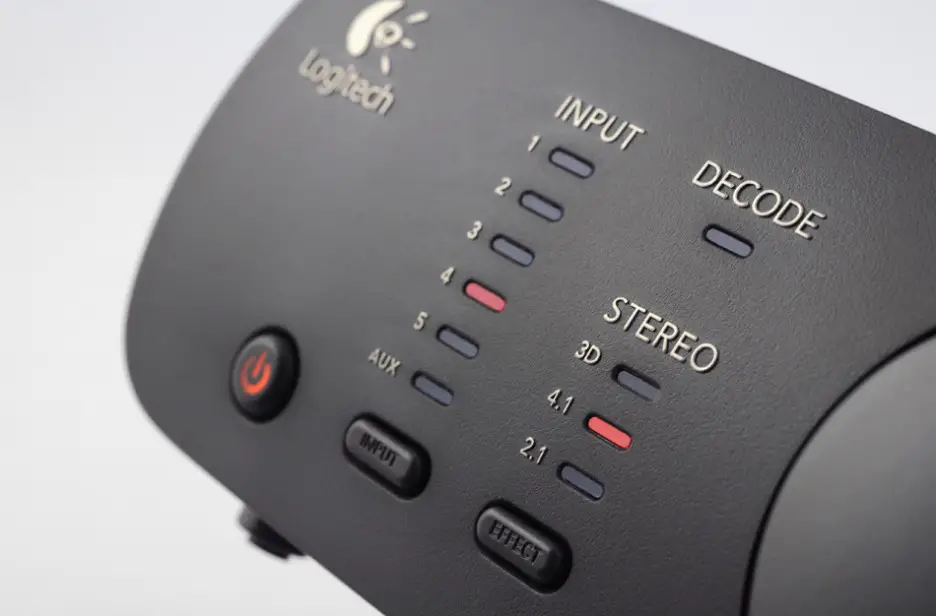 On the right side there is a mute button and a level button that you can press in order to change the volume of each speaker separately. Above that there 6 LED lights in order to show which speaker is selected by flashing the appropriate one and lastly there is one big IR sensor for the remote.
In general we are pretty happy with the kind of quality we find here and although it definitely has a PC-centric look we believe it will look just fine in any given space and home theater configuration.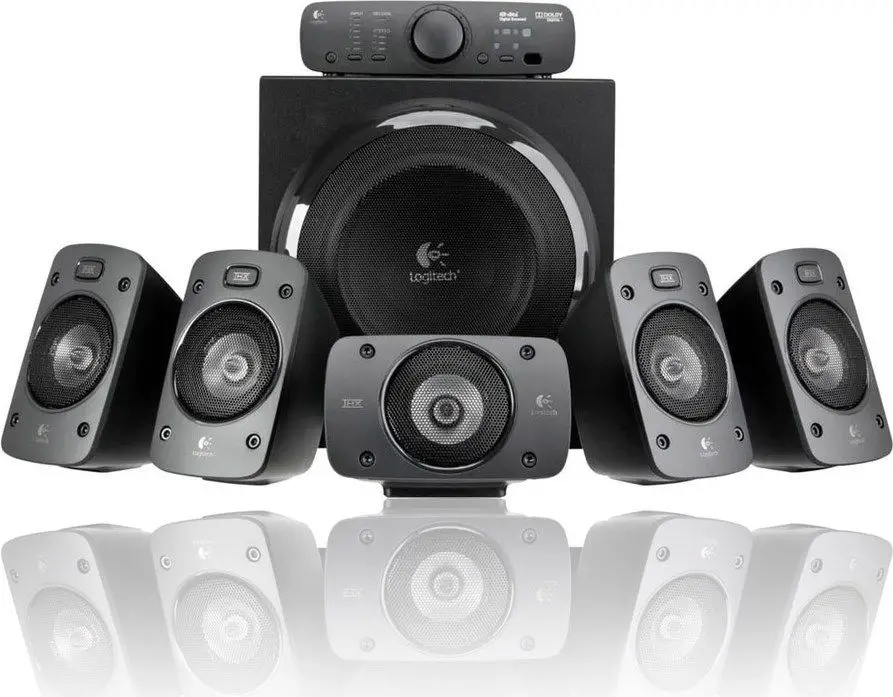 Internal Hardware
Let's see now what makes these speakers tick. Logitech has put a lot of thought on making this system look good but how about what really matters?
The four satellites and the center channel seem to feature 3" polished aluminum phase plug drivers and are rated at 67 watts per channel (4 ohms at 3.85kHz, at 10% THD). The subwoofer on the other hand comes with a 8" high-excursion ported driver with a 6th-order bass reflex enclosure and 165 watts (6 ohms, at 52 Hz, at 10% THD) of power emitting from an ultra efficient Class D amplifier.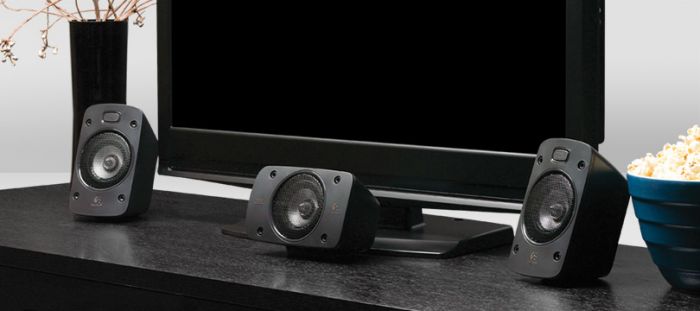 The combination of the speakers with the subwoofer gives the whole system a rating of 500 watts of RMS power which is amazing for such a small factor system. It also has a frequency range of 35 Hz – 20 KHz, 110 dBC maximum SPL and 95dB of Signal to Noise ratio.
The Logitech Z906 is capable of decoding Dolby Digital and DTS signals through it's included ports. Unfortunately it cannot do Dolby TrueHD or DTS HD Master Audio as it lacks any HDMI port that would be capable of transmitting the necessary information. Naturally this means also no Dolby Atmos or DTS:X but this was to be expected as it lacks any kind of overhead channels to recreate these sounds.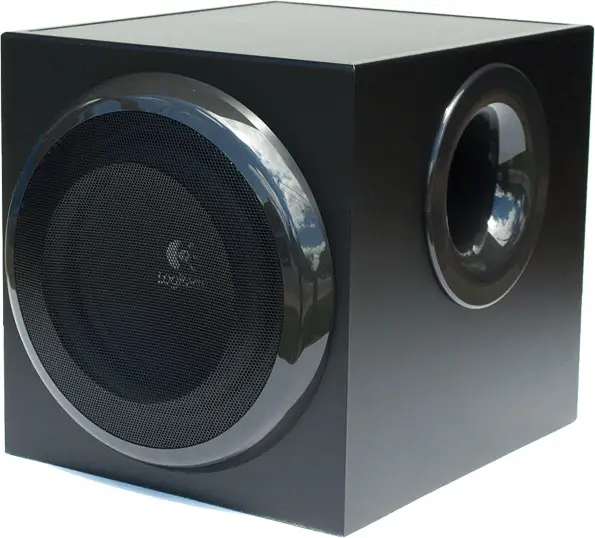 Connectivity
As we mentioned earlier most connections are housed on the back of the subwoofer with a couple of them being placed on the control console of easy access.
We will mention them with numerical order as they are marked by Logitech and as such we get a six channels direct input through three 3.5mm ports that can be used to connect the corresponding three ports that we usually find in all desktop computers, an analogue stereo input, 2 digital optical and 1 coaxial input that you can use to connect streaming boxes, video games consoles, blu-ray players, TVs and media players, a port to connect the control console as well as 5 speaker terminals for the satellite and center speakers.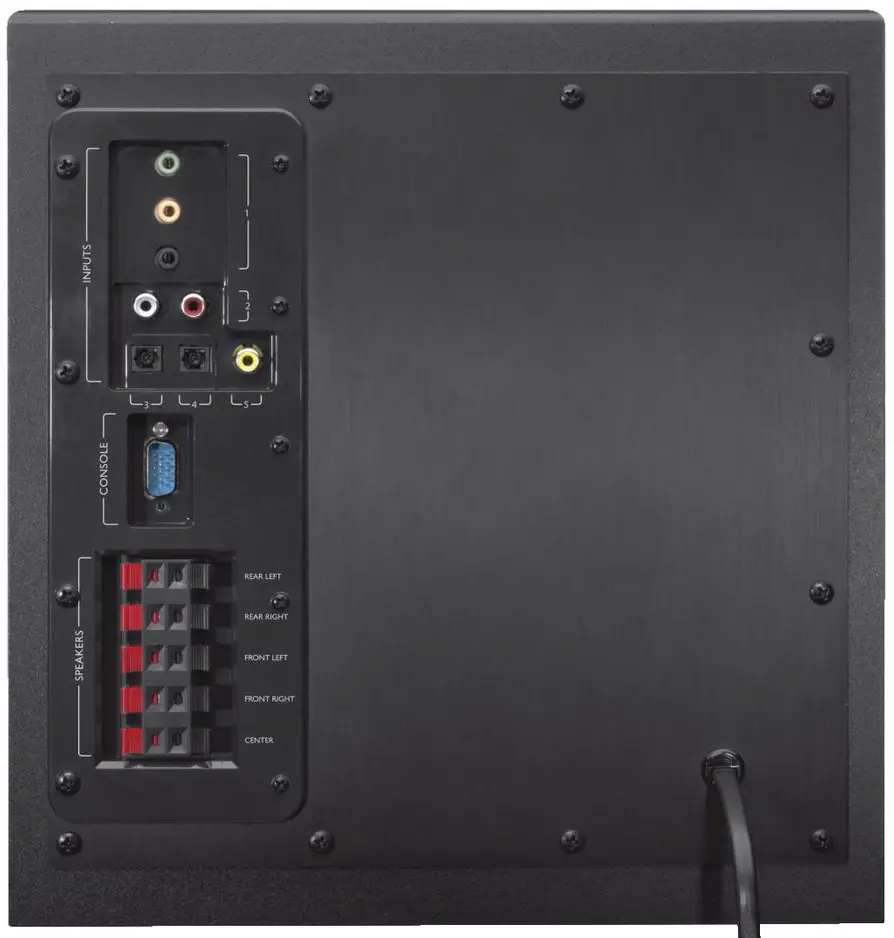 There is also a headphones jack and another 3.5mm analogue audio input located at the right side of the control console for easy access. And that's all.
If there is one thing that we are missing is definitely an HDMI port. Most home theater equipment nowadays are mostly using an HDMI port for audio transfer and since Logitech wants to promote the Z906 as both a PC audio system as well as a home theater one they should have included at least one such port. As it is right now it severely limits the options you get mostly when it comes to home theater connections as you have to use the digital inputs to pass surround audio to the Z906.
Control Options

The control console may offer a few buttons for some basic functions like volume, input selection or stereo effect selection but for full control you will need to use the included remote which is a small and rather simple one. The system doesn't have a lot of functions and this reflects on the remote as we basically get three round buttons at the top for powering the unit, input selection and mute while under it we get four buttons in a roundish configuration that are for volume, stereo effect selection and speakers level adjust.
The remote is rather small while the buttons are big enough with a nice rubber touch to them. The design is nothing special but it provides everything necessary and you will not have any trouble using it even in low light areas as the low number of buttons makes things easy even when you cannot see very good.
Extra Features and Services
The Logitech Z906 is a THX certified 5.1 channels surround system which is a bit impressive for such a little system. THX certified means that it has passed all the rigorous audio tests in order to provide the best quality possible according to THX standards.
Performance
Placement of the speakers and setup could not be easier with the Z906. There are instructions in the manual how you can place the speakers in your area and in combination with their relatively small footprint you will have them placed and ready in no time. The connections at the back of the subwoofer are very easy to understand and find what you need to connect.
What may take you a bit more time is to calibrate all speakers with the included audio test mode. Since the Z906 doesn't have any kind of automated system you have to make calibration by yourself which may be a piece of cake if you have done it before but it could sound a big hustle if you are new to all this.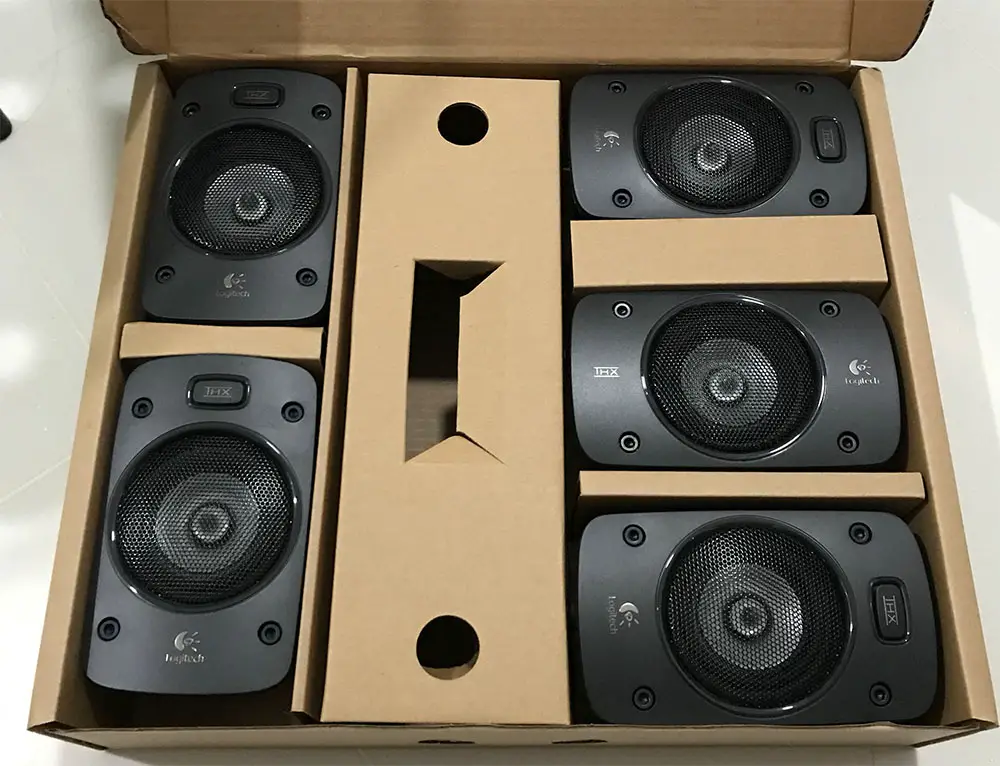 But things are easier than they look. The Z906 will play an audible sound from each speaker individually so you can adjust all the speakers to have equal output. During that time on the control console the corresponding LED light of each speaker will blink so you know which one you are adjusting. When you feel all speakers are in balance you exit the calibration with a press of a button. That's all.
Movies
The film we chose for this testing was the 4K UHD version of Saving Private Ryan. This version of course comes with a fantastic Dolby Atmos track but we would be able to only get the core Dolby Digital mix out of it due to the inability of the Z906 to decode anything else higher than Dolby Digital. All out tests were made after we connected our UHD player to the Logitech Z906 through the digital optical port.
The scenes we usually try with this film is the first one with the landing on Omaha beach as well as the finale with the battle of Ramelle.  During the Omaha beach landing we were surprised by how "full" the audio felt. Having such a small system can give you very false expectations so when we finally fired it up it provided our listening area with a nice overall soundstage.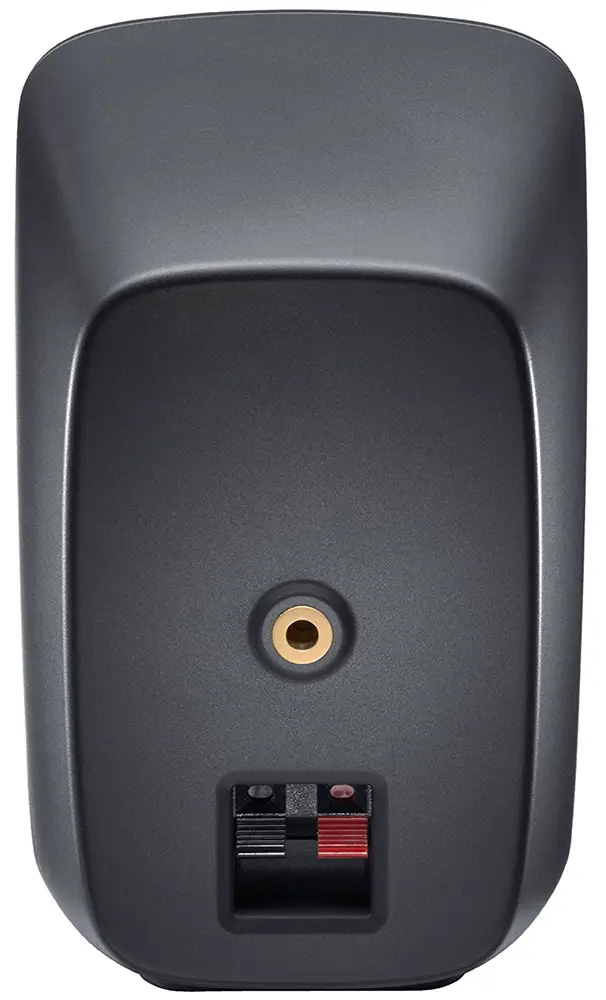 This scene is very heavy on the bass as the German artillery is pounding the beach while German machine guns are ripping through the Allied soldiers. Two things were immediately obvious. The subwoofer was a bit too loud compared to the rest of the speakers so we had to turn it down a couple of notches. The second was that the surround effects were not as strong as they should in order to create the necessary encompassing soundstage. So we had to up the surrounds a little to make them more alive.
When everything was said and done we felt that the Z906 managed to perform nicely as you could feel the bullets fly all over the place with relatively good precision while channels shifting was spot on. The dialogue was very clear in all this mayhem and was never overshadowed by the rest of the channels. The subwoofer was good in trying to give us all the pounding such a film has but keep in mind that it will not be able to handle bass as some more expensive units can.
Tank fire, explosions, projectiles, bullets flying around and debris all made you feel right in the action while the incoming German armor echoed through the ruble of Ramelle with an ominous tone.

Lastly we felt that the system was lacking a bit in the high frequencies. Nothing overly major but it just felt like the sound had a more "plastic" and artificial sound than what we would like. This may have to do with the fact that the speakers have no dedicated tweeters but it's a fact that we paid attention to and should be mentioned.
Music
Next we tried a few music tracks to see how the system can handle a few more rhythmic tones. The Logitech Z906 managed to give us some very nice tones in the mid-range while the subwoofer felt accurate and tight without overwhelming the rest of the frequencies. Once again we felt that the system was struggling a bit with the highs as they didn't felt as bright as they should.
Vocals were reproduced with great clarity and precision while musical instruments could be easily distinguished through space. Overall we believe that if you are not an audiophile that has very high expectations from an audio system such as this then you will be pleasantly surprised by how nice it's musical performance can be.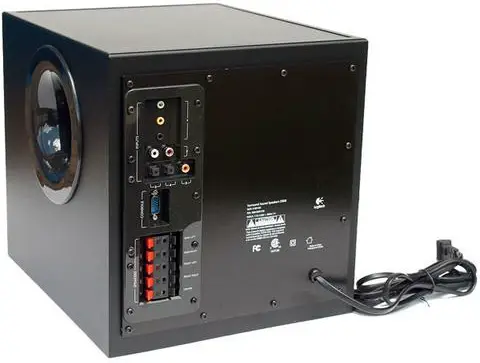 Final Thoughts
The Logitech Z906 is a lovely little 5.1 channels audio system and it is very clear the target audience Logitech is aiming with this one. First of all we liked that it can be used either as a PC-centic audio system or as a full blown home theater surround system. This way they target such a bigger audience. It managed to perform admirably considering it's small size while build quality was very good something that Logitech is known for.
It can be an excellent entry level home theater system as it is remarkably easy to connect and setup and you can have it running in minutes something that is extremely practical for all those that just don't want to mess with connecting AV receivers, speakers and having to calibrate all these. Lastly the price is very good if you consider you are getting a full 5.1 channels system.

On the other hand the unit has some very obvious limitations. It has no HDMI port which is a shame considering it has become the number one connection in today's home theaters and also cannot decode anything above Dolby Digital or DTS which means no Dolby TrueHD or DTS HD Master Audio. Obviously there is also no Dolby Atmos or DTS:X as the system lacks any kind of overhead speakers. Also the LED lights on the control console can be a little distracting while it packs enough power for mostly small rooms and entertainment areas.
Logitech has created a THX certified system that for what it was made for it really excels. With good build quality, nice performance, ability to be used either as a PC audio system or a home theater one the Logitech Z906 will satisfy all those that don't have the space and the money to go for anything more advanced and only care to have some good old 5.1 channels surround sound without any fancy latest tech. And in our opinion Logitech really nailed it with this one.
For more reviews you can check our dedicated Complete Home Cinema Speakers reviews list or even look at our Product Reviews Table where you can find the brand and specific product you are looking for.
Also don't lose the chance to subscribe to our Newsletter and gain exclusive privileges.
---
Cheapest Places to Buy :
---
Logitech Z906 Specifications